Having a skinny pear shape means you have narrower shoulders and wider hips and thighs. Even though you are overall thin, you always gain weight in your bottom half, which can give the impression of bottom heavy.
Since I have a petite clothing line, I receive feedback from thousands of my customers constantly, many of whom are the skinny pear. Based on their feedback, I've put together this guide to help you find the best swimsuits.
Styling Goal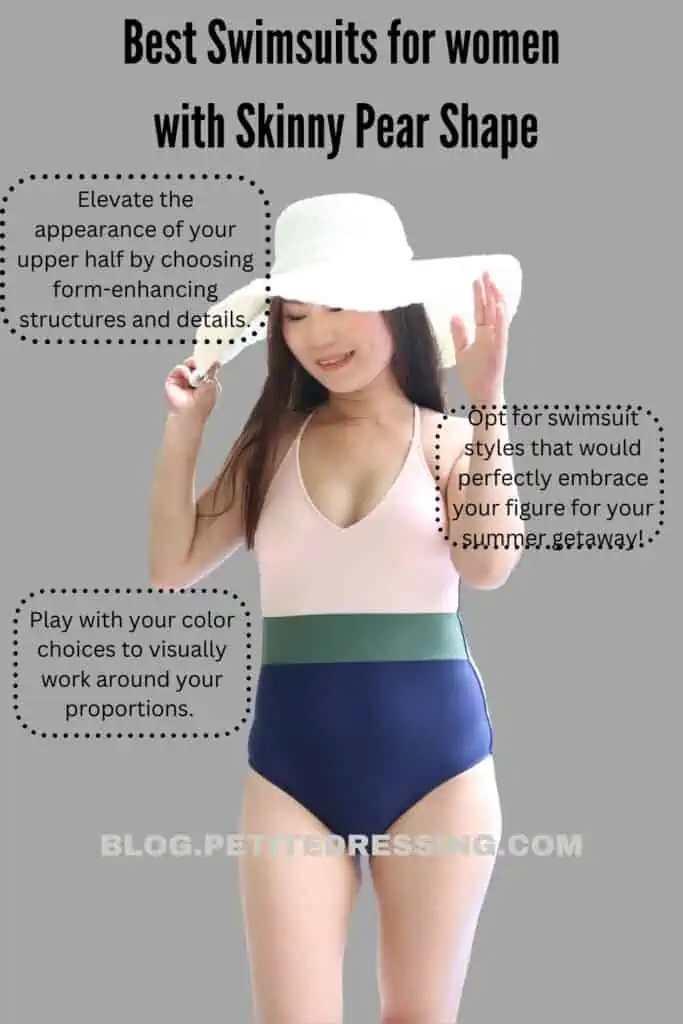 Elevate the appearance of your upper half by choosing form-enhancing structures and details. Focus on enhancing your bust and shoulders as they are usually way less prominent compared to your larger hips and thighs.
Ensure the right fit as it is very important for skinny pear-shaped women who naturally have naturally unbalanced proportions. This would also mean picking the right type of stretchy fabric to give your figure a snug fit.
Play with your color choices to visually work around your proportions. For instance, look for swimsuits with bold, bright colors or patterns to draw attention to your upper body while dark colors for your bikini bottoms create a more balanced appearance.
Swimsuits can be quite tricky for skinny pear shapes but with these styling goals considered, you can definitely find the right styles for you. Now let's take a look at the specific swimsuit styles that would perfectly embrace your figure for your summer getaway!
V-Neck Bikini Tops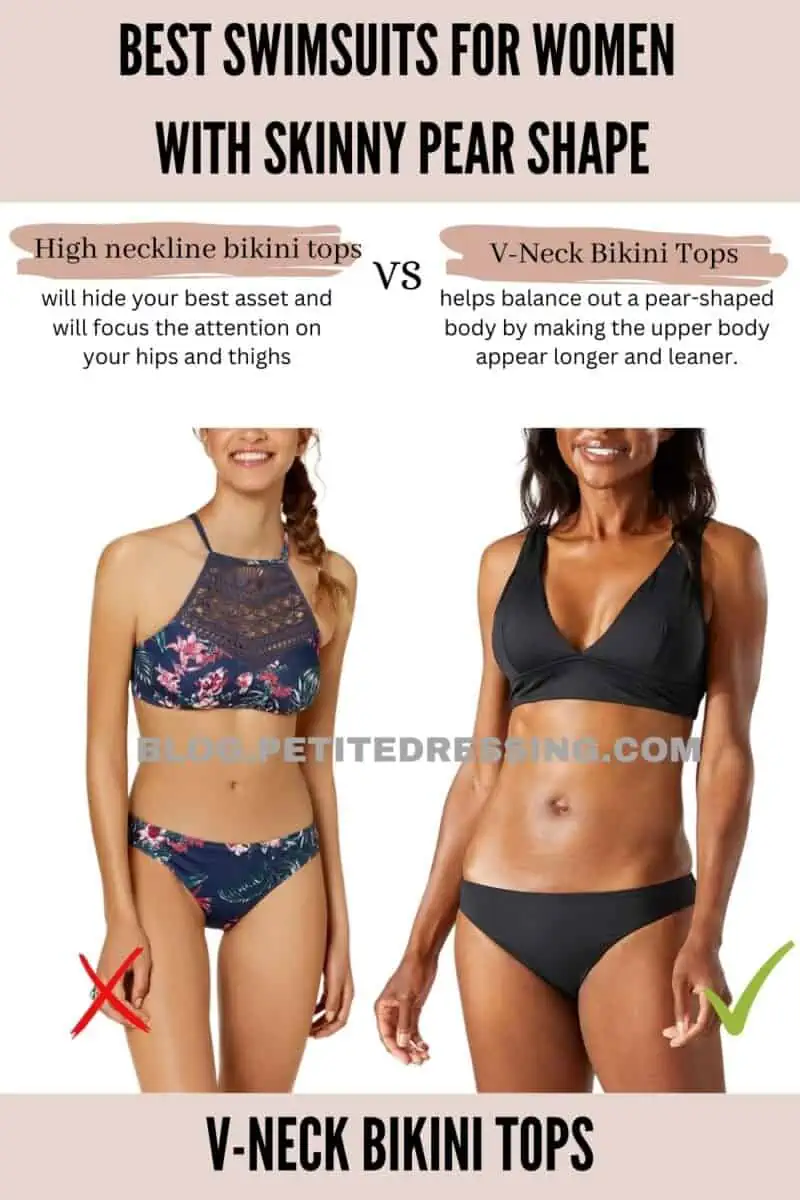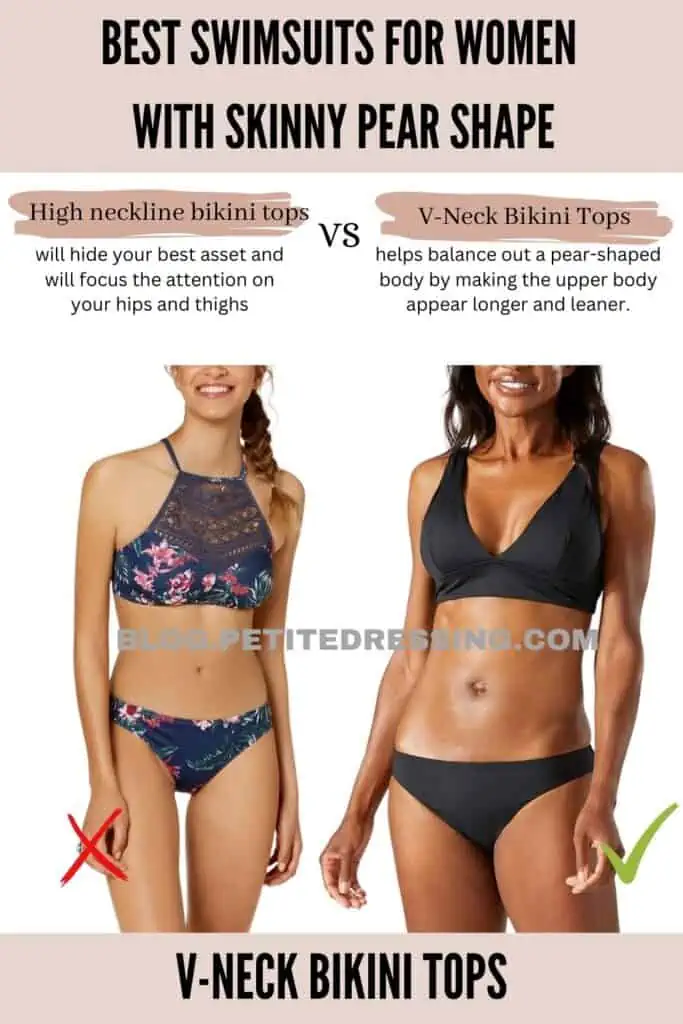 V-neck bikini tops create a vertical line that draws the eye upwards to steer the eyes away from your area of concern, which are your wide hips and thick thighs. This helps balance out a pear-shaped body by making the upper body appear longer and leaner.
V-neck bikini tops are also great for enhancing the appearance of the bust. The V-shape draws the eye toward the center of the chest, creating the illusion of a fuller bust.
They also have a slimming effect on the body. The diagonal lines of the V-shape create a slimming effect by drawing the eye toward the center of the body and creating a more streamlined appearance.
Swimsuits with Shoulder Details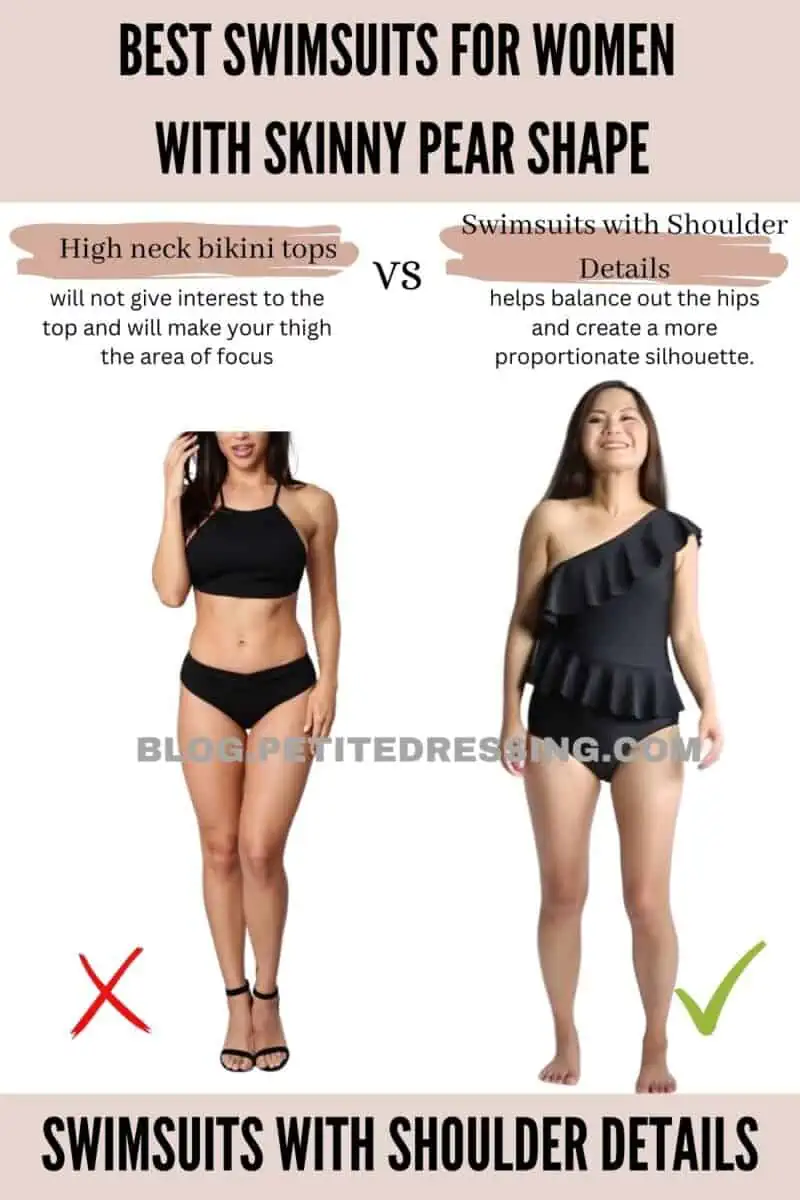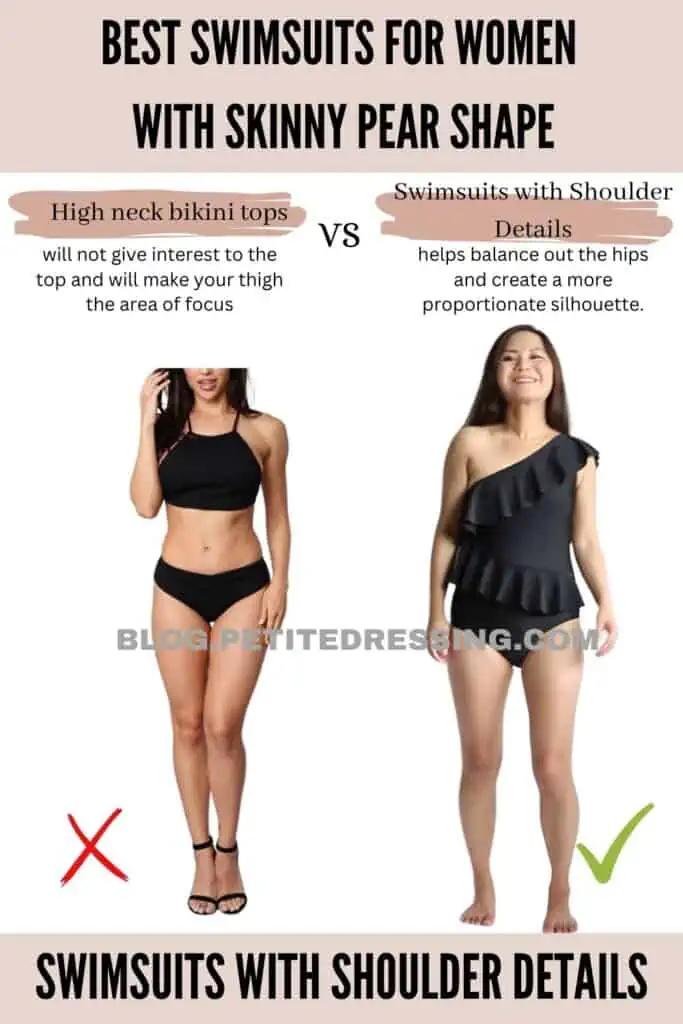 Swimsuits with shoulder details create the illusion of wider shoulders as these details draw attention to the shoulders and create a broader and more prominent appearance. This helps balance out the hips and create a more proportionate silhouette.
It also helps enhance your bust. While as a skinny pear-shaped girl, your breasts are usually nicely shaped but since they are relatively smaller in comparison with your heavy bottom half, you'd need something to accentuate your bust.
Additionally, shoulder details can add interest and dimension to a swimsuit, making it more visually appealing and flattering. This can help distract from any areas of the body that a person may feel self-conscious about and draw attention to their best features.
Halter Bikini Tops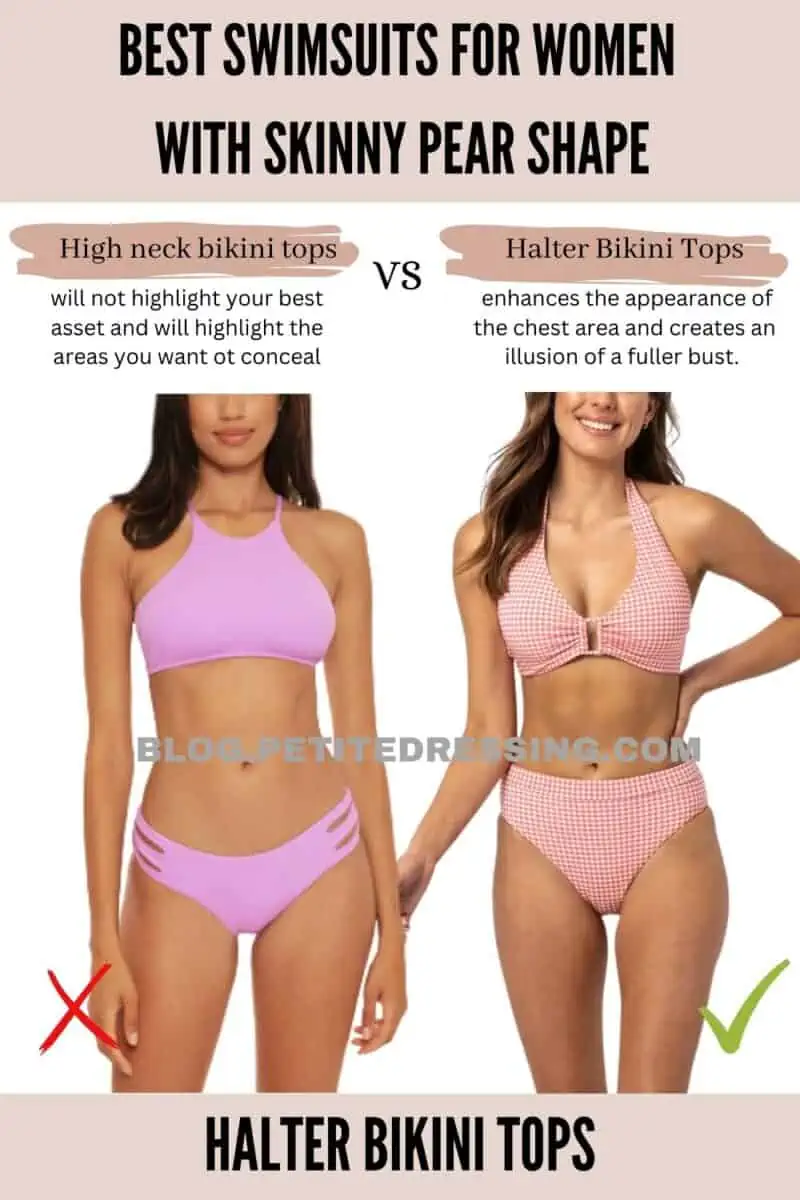 Halter bikini tops are a popular choice among women for their unique style and flattering fit. It's pretty obvious that they are a classic, but on top of their timelessness, they can be an excellent choice as they help balance out the proportions of the body, highlighting your curves and enhancing your overall appearance.
The pear-shaped body is characterized by a smaller upper body and wider hips and thighs, making it essential to choose a bikini top that draws attention to the upper body and creates a balanced look. Halter bikini tops do just that by providing a wider opening to bare your shoulders, which enhances the appearance of the chest area and creates an illusion of a fuller bust.
The straps on the halter top tie behind the neck, draw attention upwards, elongating the neck and giving the appearance of a leaner frame. To come up with the perfect choice, choose a fabric that is stretchy and comfortable, providing ample support and coverage.
Bikini Tops with Large Prints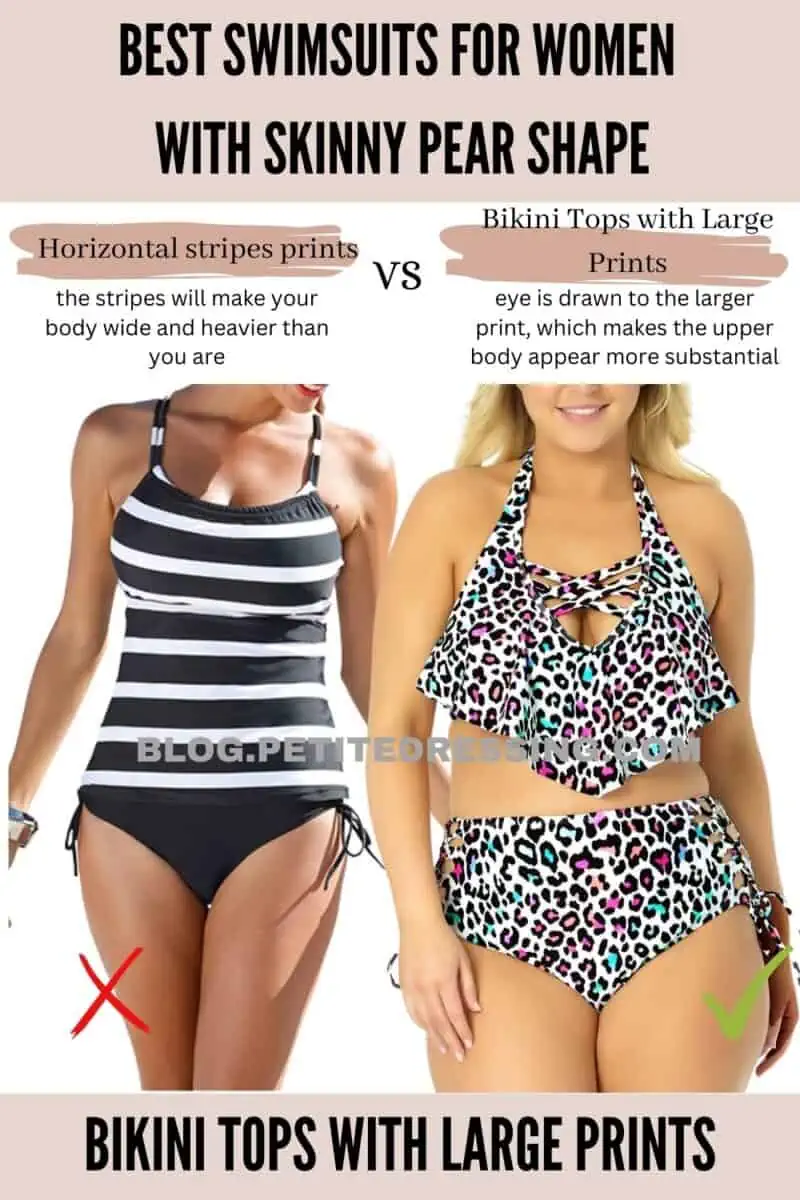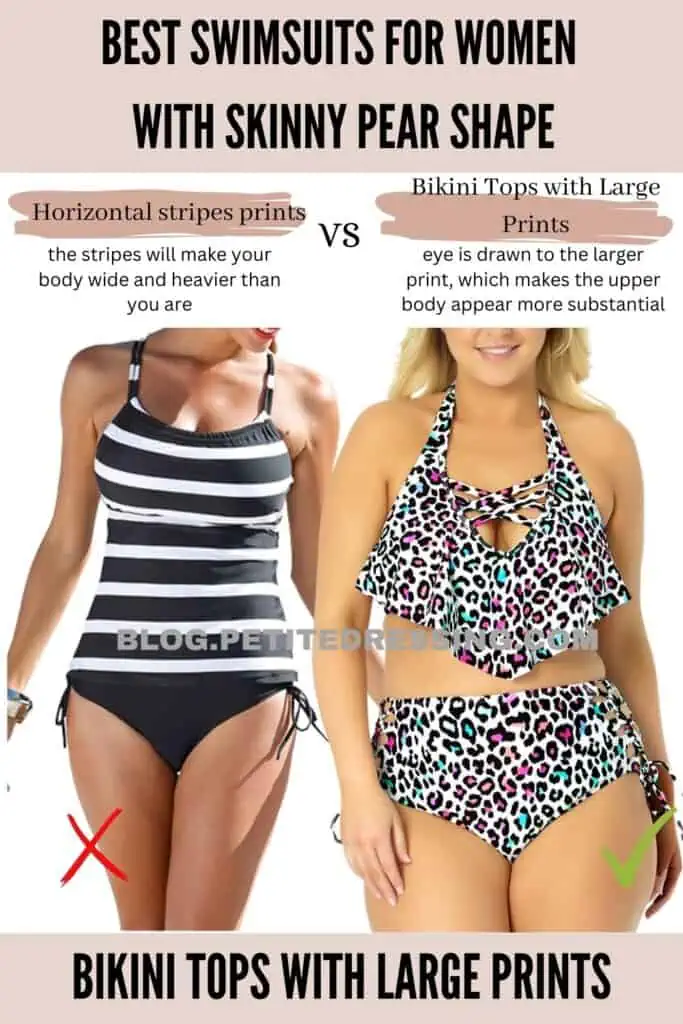 Wearing bikini tops with large prints can have several style benefits for those with a skinny pear-shaped body. When it comes to prints, larger ones can help create the illusion of a fuller bust by drawing the eye upward and making the chest area appear more prominent.
Large prints can also create an optical illusion that helps balance the proportions of the body. This is because the eye is drawn to the larger print, which makes the upper body appear more substantial, while the smaller lower body recedes into the background.
When selecting a bikini top with large prints, it is essential to choose a print that complements your skin tone and body type. For instance, a bright and bold print can create a striking look, while a more subdued and neutral print can provide a more classic and elegant appearance.
Ruffled Off-The-Shoulder Bikini Top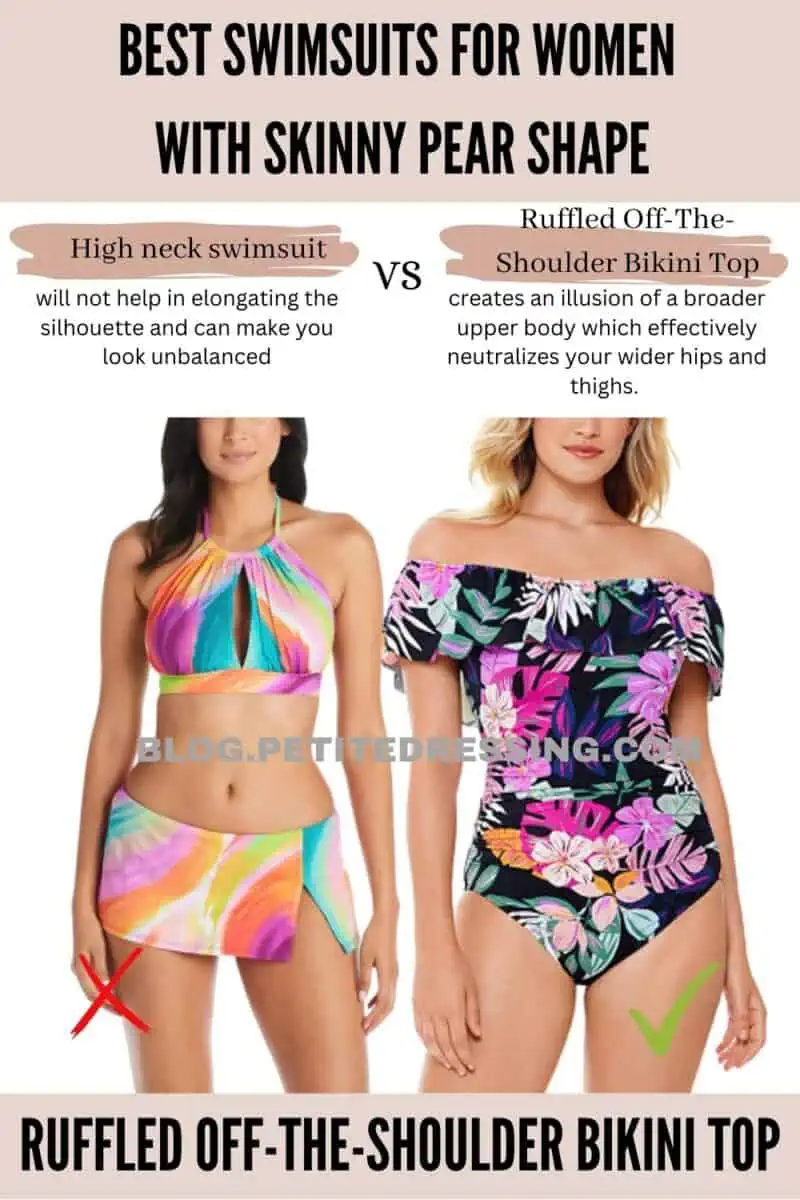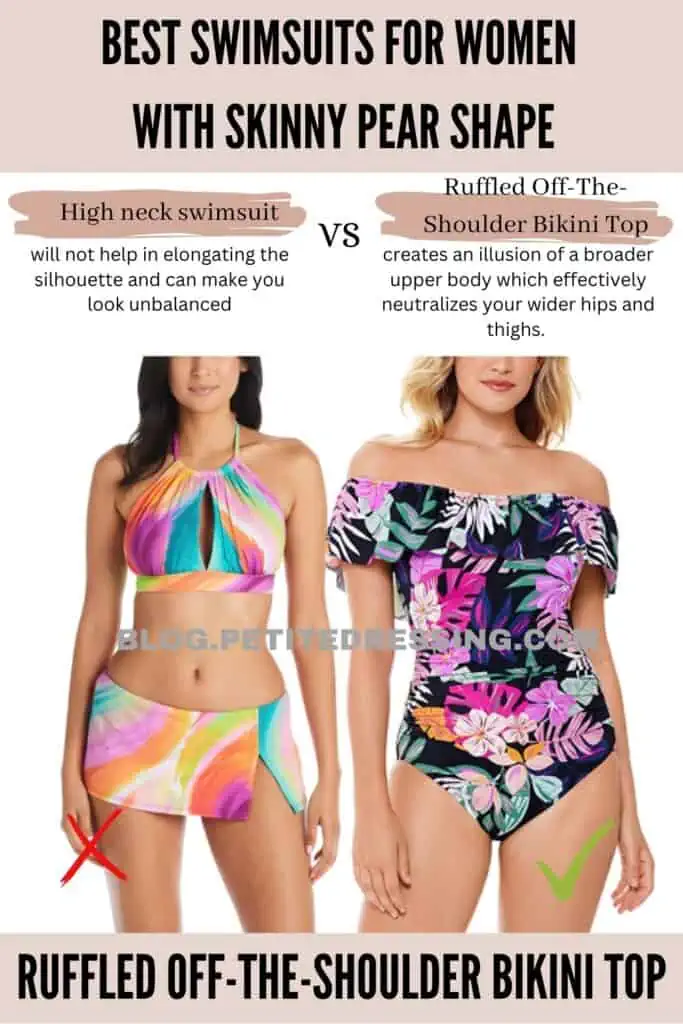 One of the main benefits of wearing a ruffled off-the-shoulder bikini top is that it highlights the upper half of your body, more particularly your bust line. This creates an illusion of a broader upper body which effectively neutralizes your wider hips and thighs.
The ruffles also add volume to the chest area, making it appear fuller and more defined. This is visually flattering for those with a smaller bust who want to enhance their curves and create a more balanced look.
Another advantage of ruffled off-the-shoulder bikini tops is that they can help elongate the neck and create a more streamlined appearance. The off-the-shoulder style draws attention upwards, highlighting the collarbones and creating a vertical line that makes the neck appear longer.
Padded Push-up Bikini Tops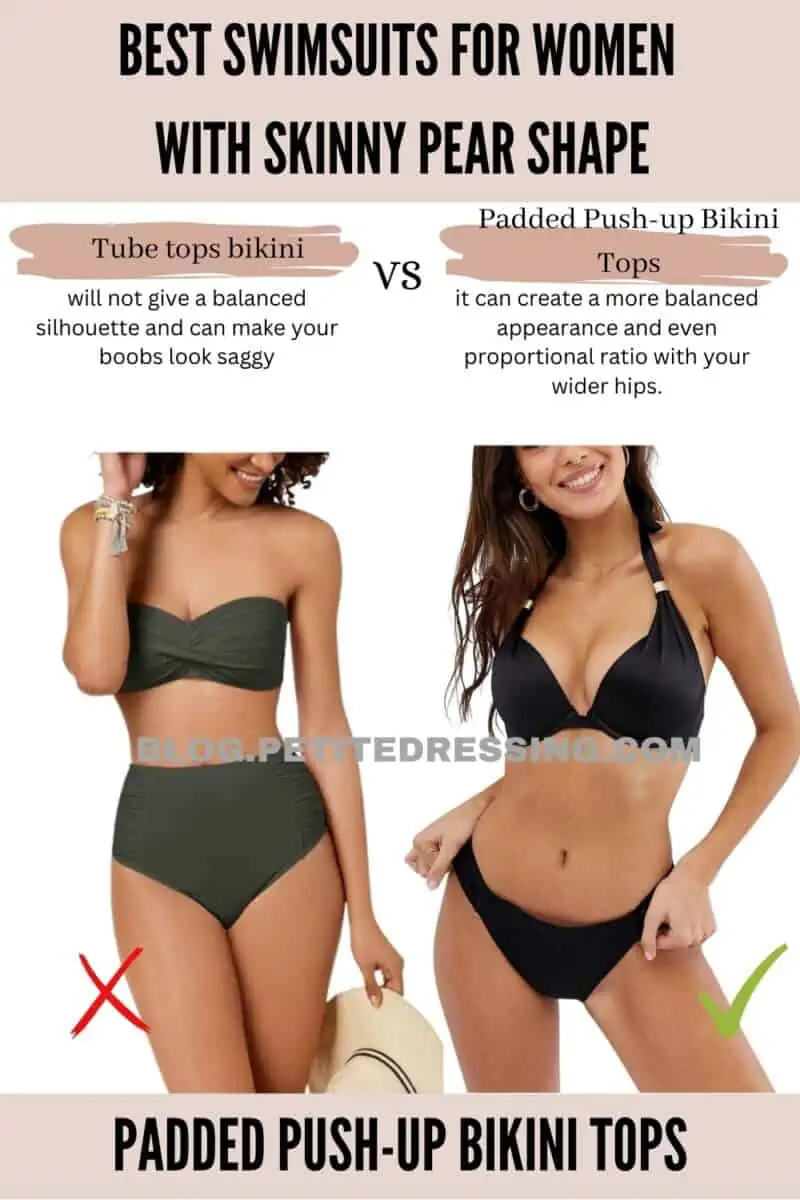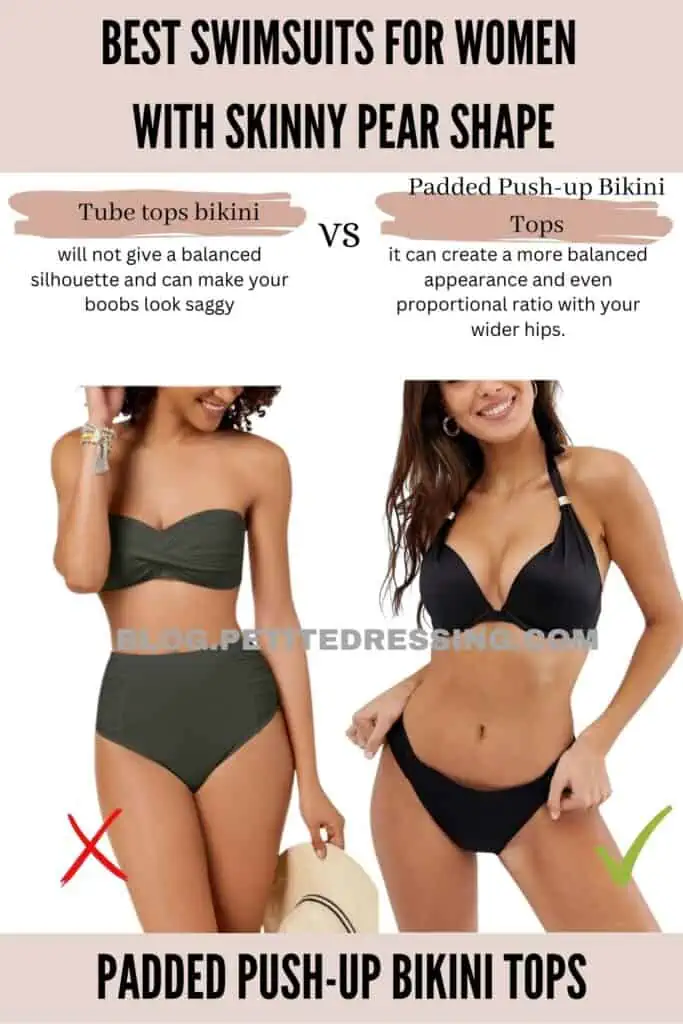 Skinny pear-shaped ladies will absolutely benefit from wearing padded push-up bikini tops to create a more balanced and visually appealing look.
Padded push-up bikini tops will help create the illusion of a fuller bust, by giving your breasts a nice lift and an ample amount of support. This is especially beneficial for those with a smaller bust, as it can create a more balanced appearance and even proportional ratio with your wider hips.
You may opt for those with underwire support or plain lifting pads to give your chest area a more defined look. The bottom line is, choose what makes you feel comfortable!
High-waisted Bikini Bottoms in Dark Colors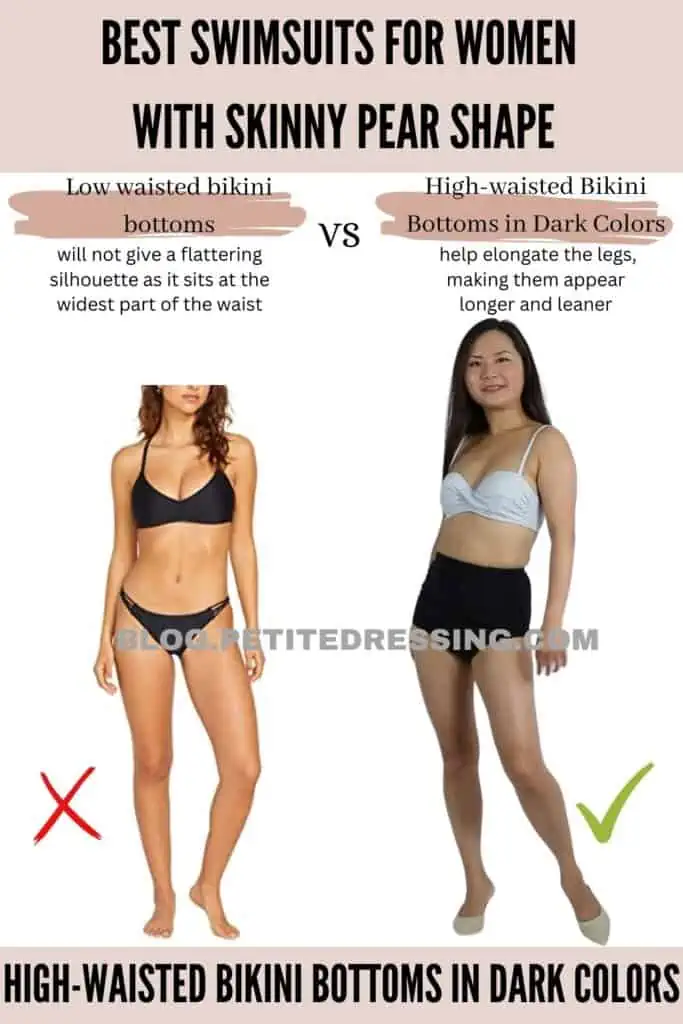 Color plays a vital role in creating a balanced and proportional look. Darker colors tend to create a slimming effect, which is why it can greatly benefit skinny pear-shaped women who tend to carry more weight on the hips and thighs.
Skinny pear shapes can opt for darker colors at the bottom and brighter hues on the upper body to draw attention away from the hips and towards the upper body. This creates an illusion of a nicely proportionate figure.
In addition to the color choice, high-waisted bikini bottoms help elongate the legs, making them appear longer and leaner. They also provide extra coverage and support to the midsection, creating a smoother and more streamlined appearance.
Color Blocking Swimsuit (Light-colored Top and Dark-colored Bottom)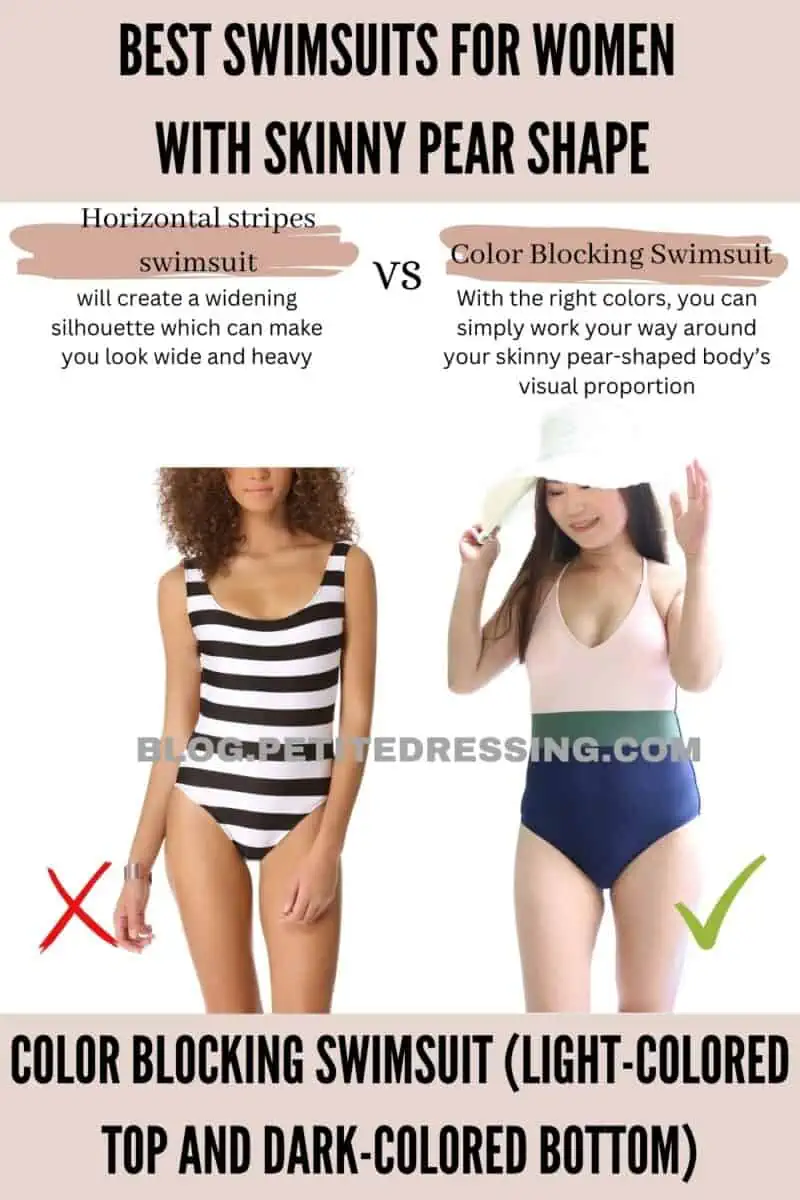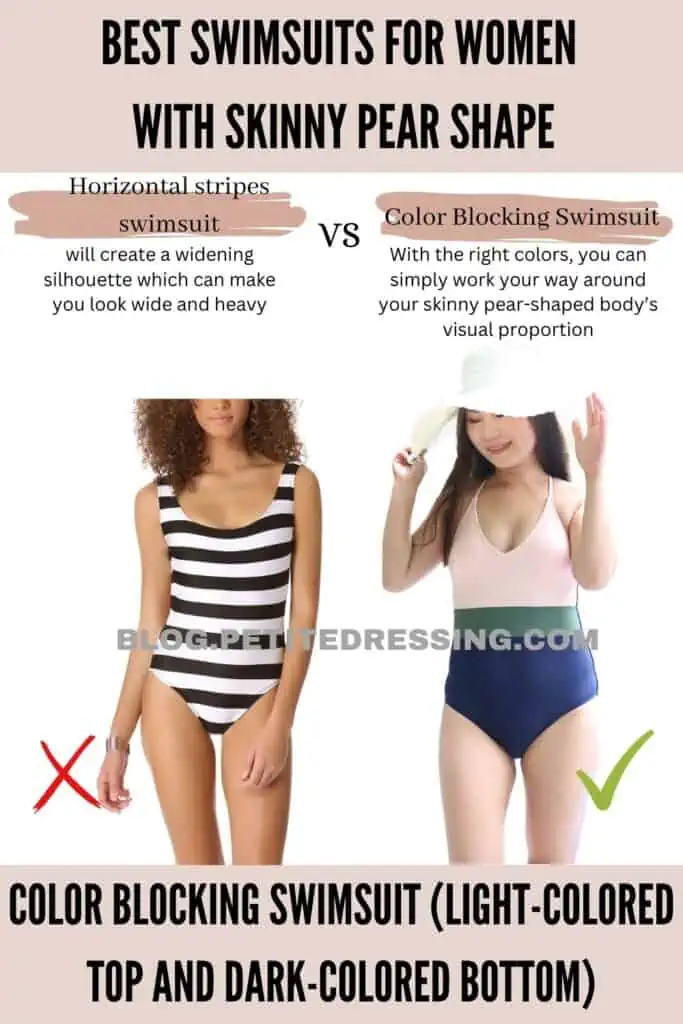 As I have already mentioned about color choices, this is another type of swimsuit that can give your figure a better balance by going for light colors on the upper area and darker colors on your waist and hip area. With the right colors, you can simply work your way around your skinny pear-shaped body's visual proportions.
You can consider such a design on either one-piece or two-piece bikinis. It all goes down to your level of comfort and personal preference.
One-piece Swimsuits with Vertical Patterns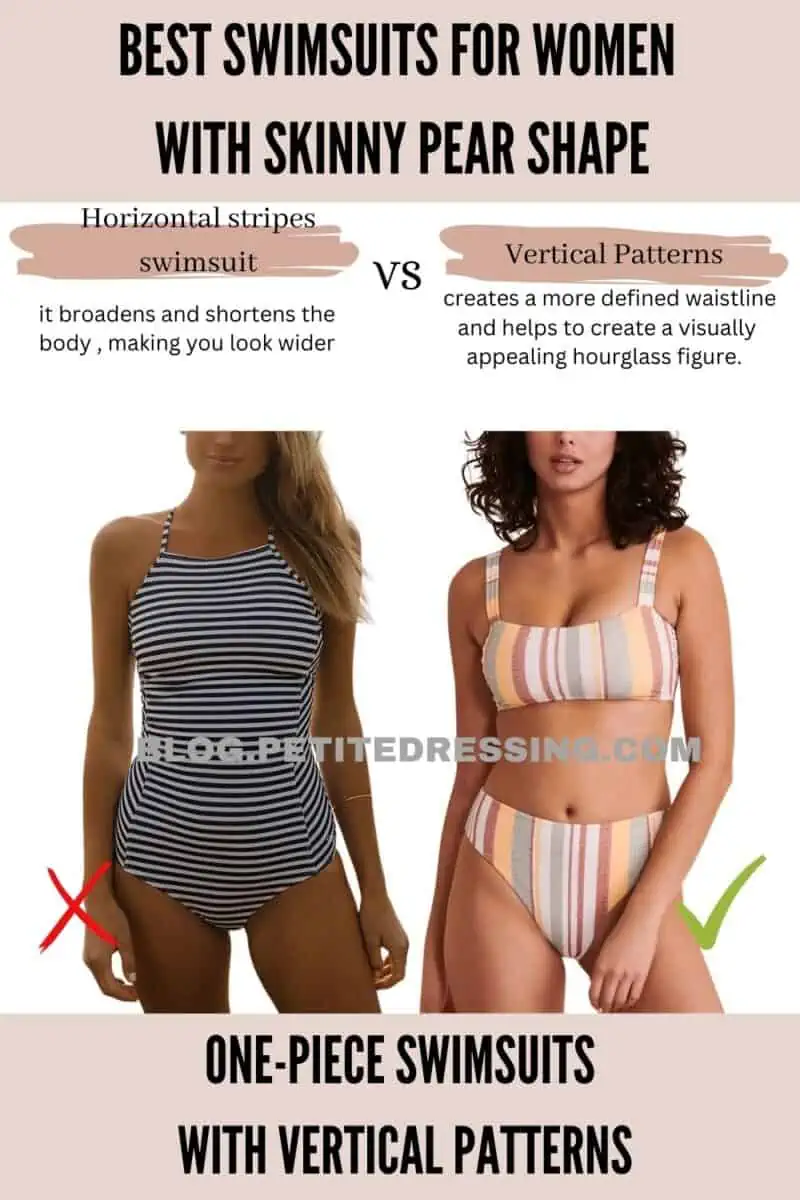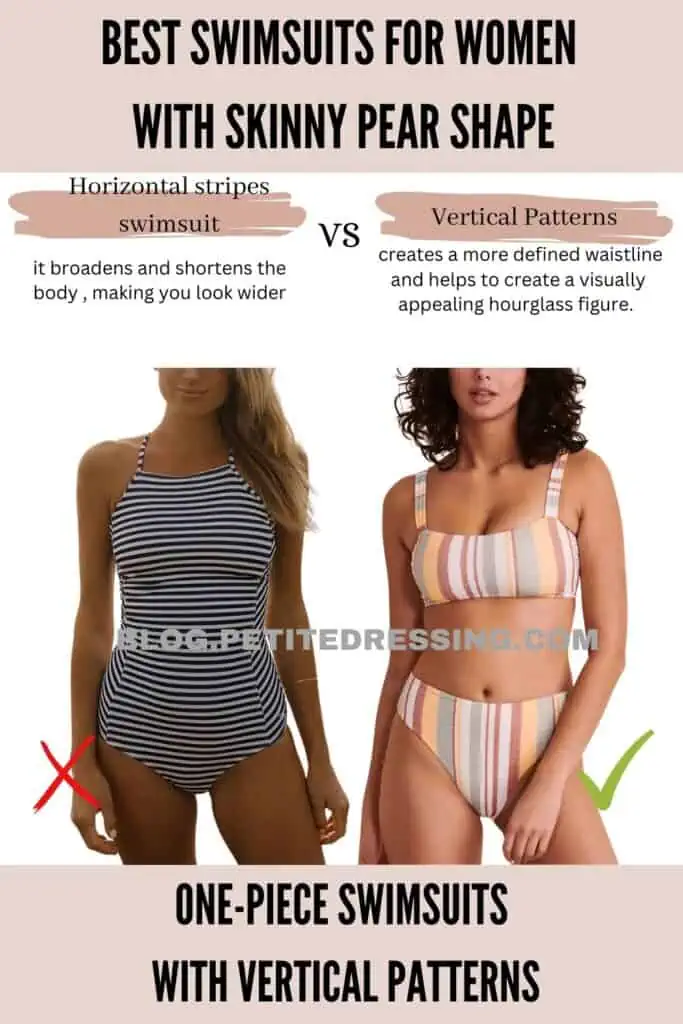 The vertical pattern on the swimsuit creates an elongating effect on the body, making it appear longer and leaner. The vertical pattern further enhances this effect, creating an illusion of a more toned and defined appearance.
Additionally, one-piece swimsuits offer more coverage and support than bikini options, providing a smoothing effect on the midsection. This creates a more defined waistline and helps to create a visually appealing hourglass figure.
Not only that vertical lines strategically tone down your wide hips, but this style pattern is also a very classic choice that's easy to pull off.
The Key Takeaway
The right swimsuit can make a whole world of difference to how your body figure looks! Being a skinny pear-shaped girl, the natural imbalance between your upper and bottom half can be a bit difficult to work with but with these particular swimsuit styles, you can tweak your way through it!