If you have thick legs, sometimes that can make you feel self conscious, especially when you are looking for shorts. Since shorts "expose" our legs more so than jeans and pants, they can make your thick legs or wide thighs look more obvious. If you would like to make your legs look more slender, generally look for the shorts that offer plenty of space in the leg shape and avoid anything that is clinging to your thighs as those will only make thick legs look more obvious. After I experimented with numerous shorts styles and lengths, these are the 9 best shorts if you have thick legs.
High Waisted Shorts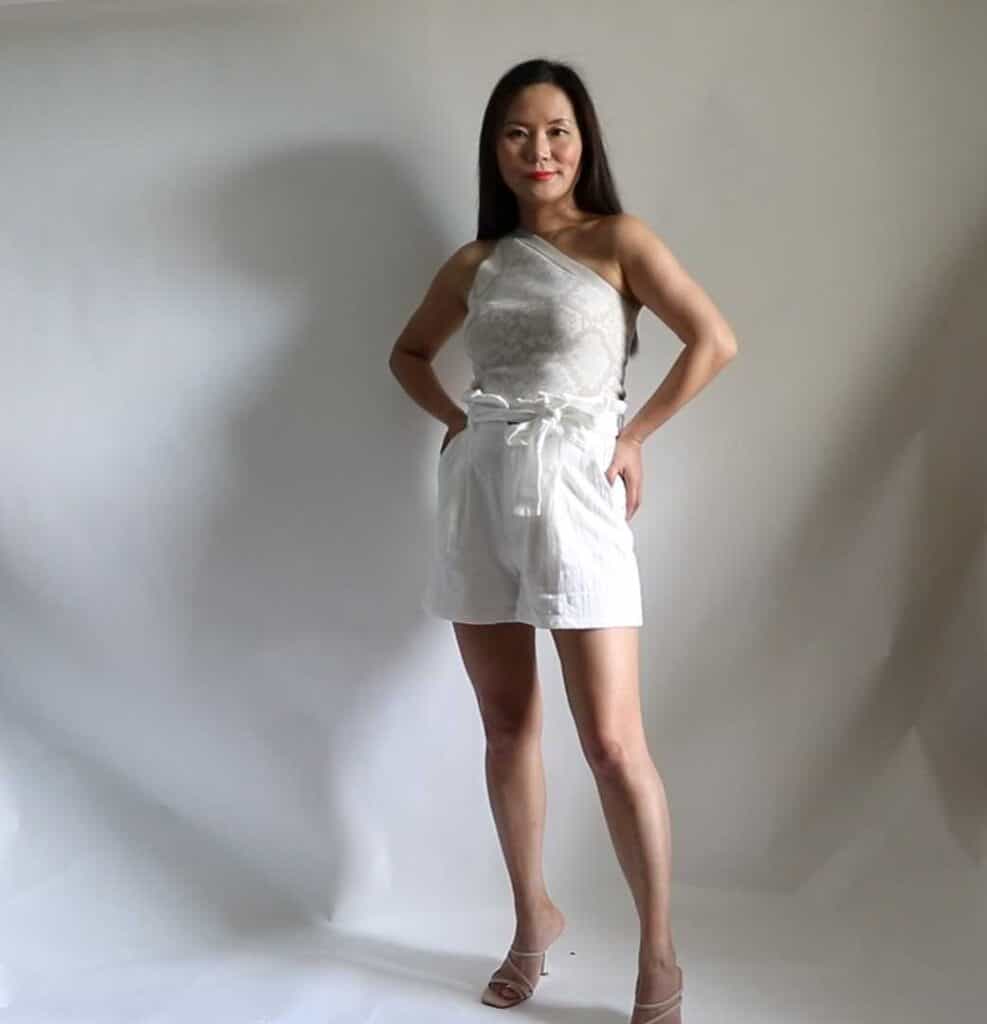 One element that you should always pay close attention to when selecting shorts to flatter your body, no matter your body type, is the rise and how it lays on your shape. With thick legs, high rise is the most flattering option.
I was wearing an ivory paper bag shorts, and not only is this flattering, but also my go-to style because they are very comfortable in the summer when the weather gets hot.
Although you can definitely get away with mid-rise as well, high rise shorts are best fit for thick legs. The reason is it draws more attention to the waistline, with less focus on thick legs and creates an overall elongated, slimming effect to the bottom half of the body. This is because a high rise elevates the waistline on the body making it appear higher on the body than it naturally is. Fortunately, high rise shorts are EVERYWHERE this year because they're not just flattering but they're also on trend – so now is the time to add high rise shorts to your wardrobe collection.
Longer Inseam Shorts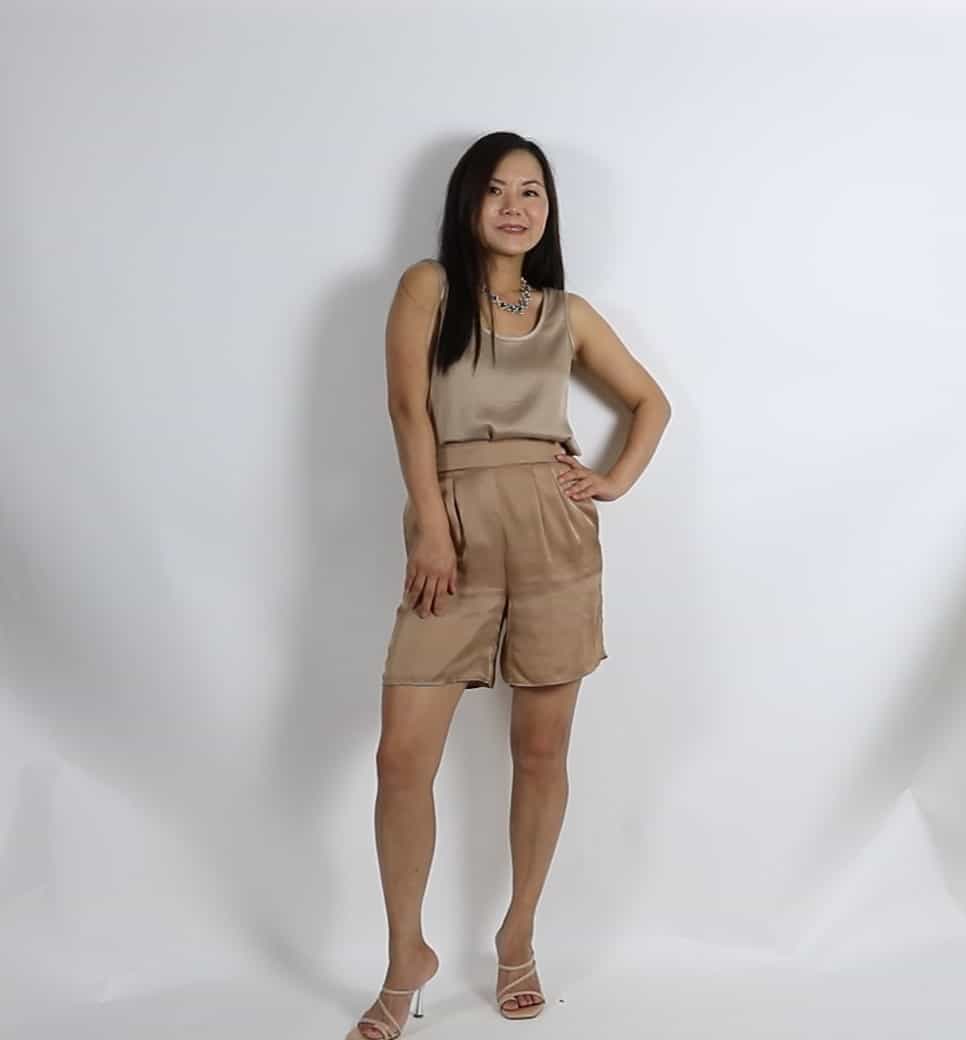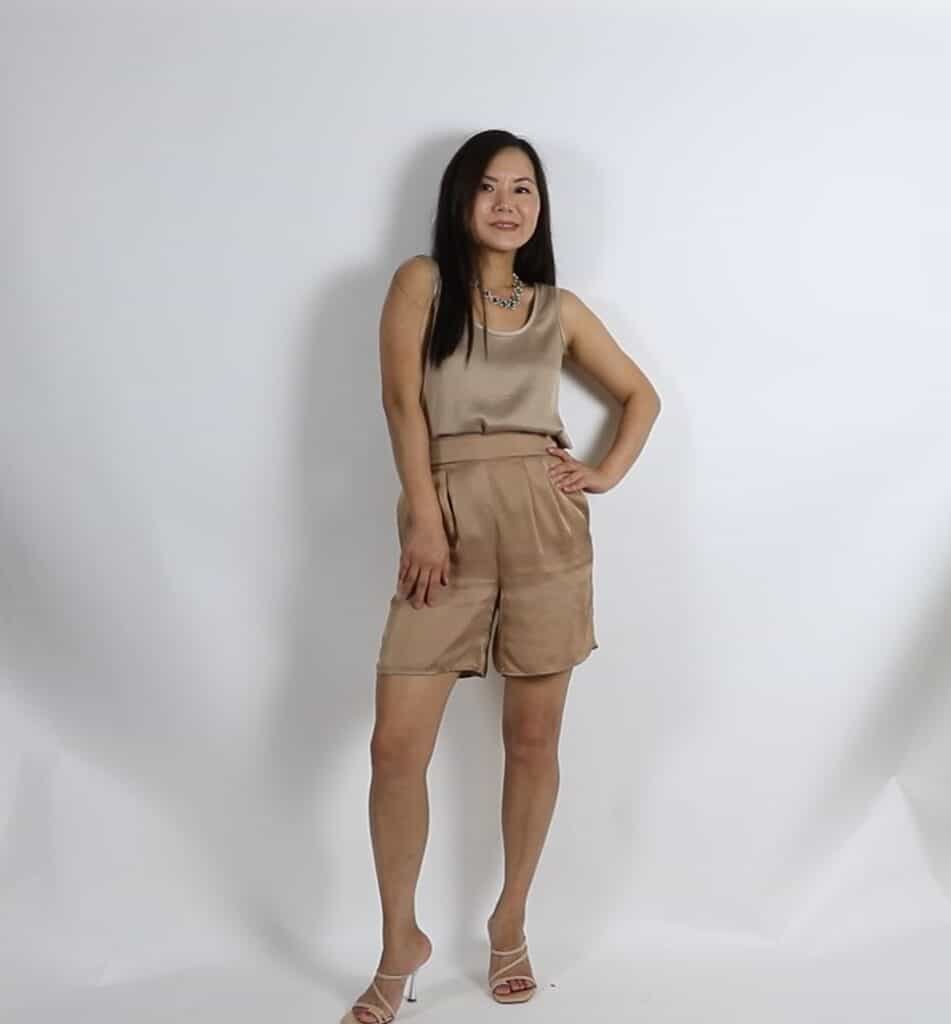 It's no secret that shorts come in a variety of lengths. We've all seen shorts range from Bermuda length to short shorts. When selecting shorts to flatter thick legs, choosing the right length of shorts is crucial to adapt some figure flattery benefits. You probably know your typical inseam length for jeans and pants, and it is just as important to know what is the best shorts inseam for you. Generally speaking, longer inseam shorts are more flattering if you have thick legs. By that, I am referring to inseam 5″ and above.
I was wearing this 5″ long inseam shorts, and you can go with this length or even longer if you have thicker legs and prefer more coverage.
There is one major rule of thumb when selecting the perfect length of shorts. Make sure the length rests either right above or right below the thickest part of your thigh. The eye is drawn to wherever the shorts cut off on the body, so if they rest right at the widest part of the thigh that is the area that becomes more of the focus. On the flip side, when shorts rest above or below that area it takes some of the attention away from thicker legs subtly.
Pleated Shorts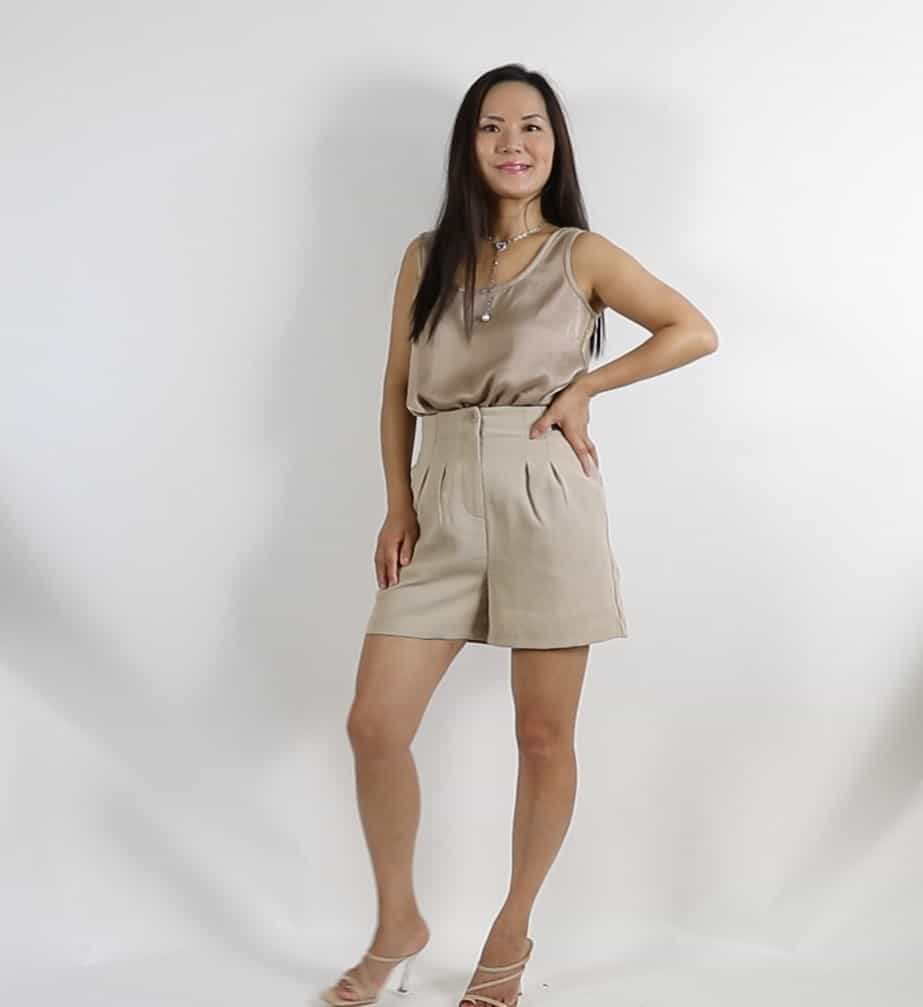 If you have thicker legs, often times you may also have wider hips. Whether or not that is the case, you are better off with shorts that offer plenty of space on the hips and thigh are. That is why pleated shorts (like this one I'm wearing) can be quite flattering on women with thicker thighs.
Pleated shorts have plenty of space in the hips and the thigh area, which can make thicker legs look less obvious. In addition, having all that extra space is just much more comfortable and allows you to move around more easily, compared with tighter shorts.
Dark Colored Shorts
The age old fashion rule rings to be true yet again – dark colors offering a slimming effect that's undeniable. If your goal is to minimize and slim the thigh area of your body then you'll want to embrace dark colored shorts. It's one of the easiest ways to instantly minimize a particular area of the body in this case, thick legs.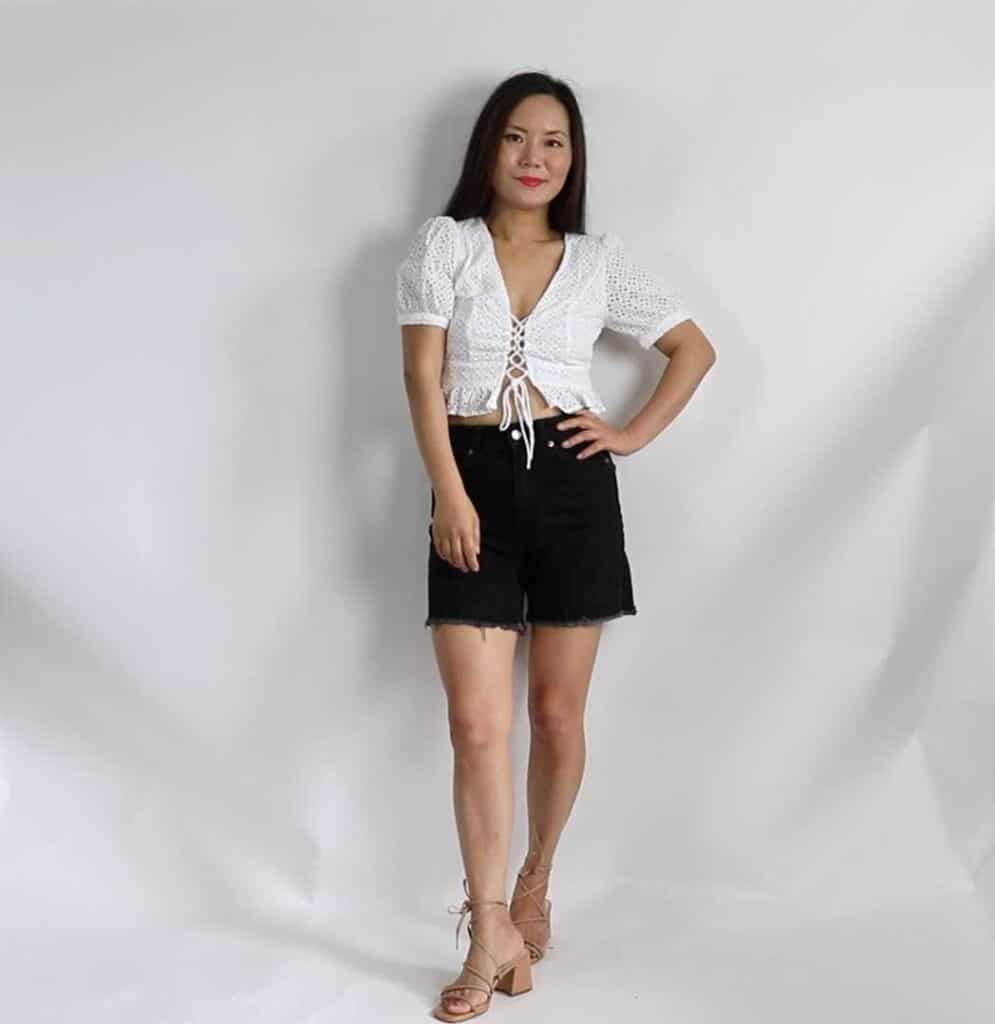 Keep in mind, however, that not all dark colored shorts are created equal. The overall fit of the shorts should still be right along with the length to ensure that the shorts are truly flattering on your legs.
I was wearing this black denim shorts, which is quite comfortable thanks to the high rise design and the longer length, and it can totally make thick legs look more slender.
Skorts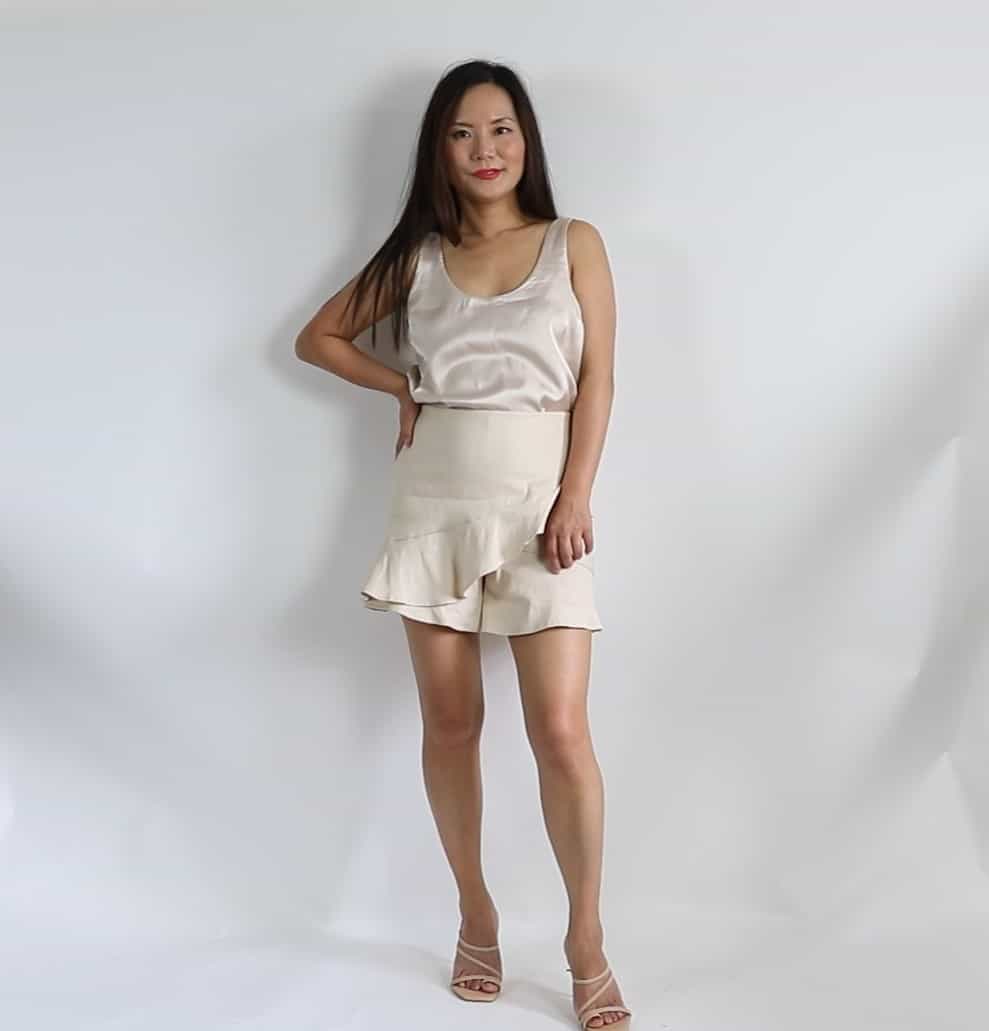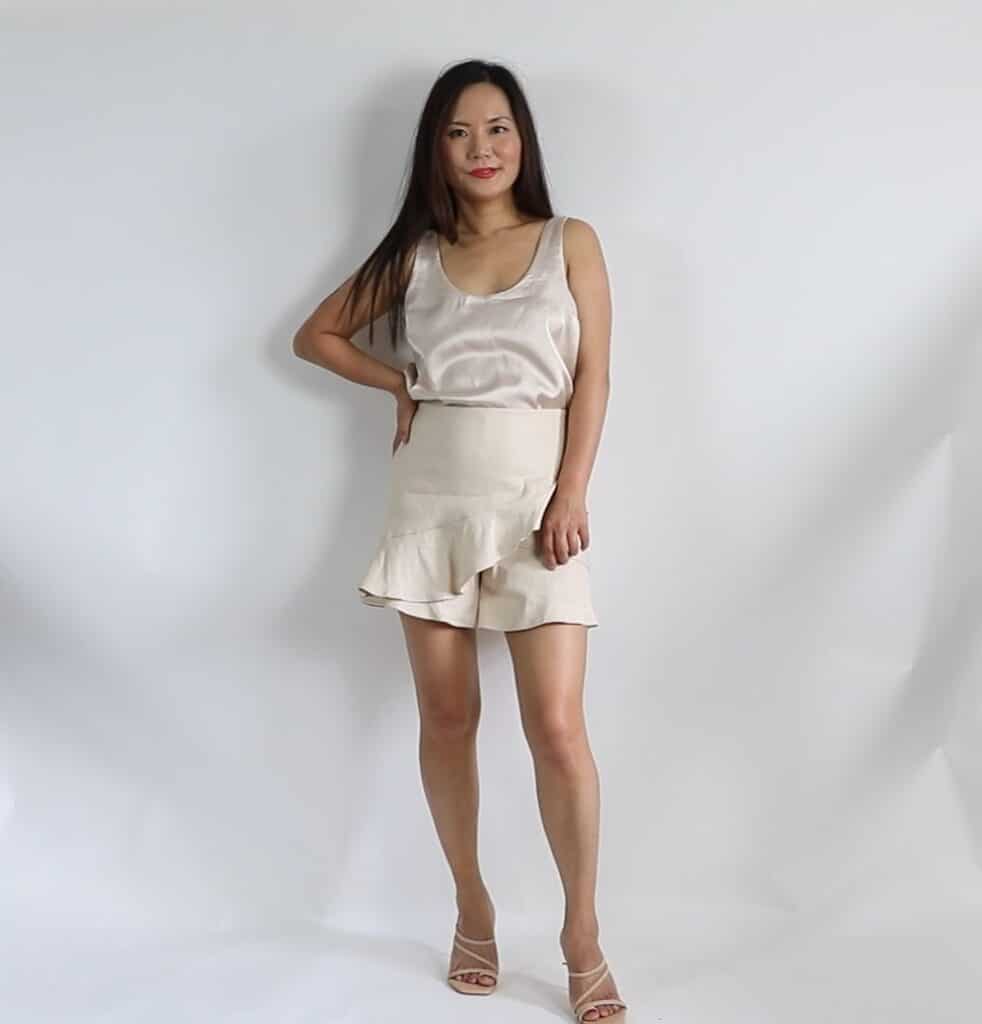 Skorts, like the name suggests, is a combination of skirt and shorts. You probably have seen them on the tennis court, as they are a popular outfit for playing tennis. The good news is you can also wear skorts for everyday style (like this one I'm wearing), and they are quite flattering for women with thicker legs.
The reason is skorts offer a lot of coverage for your hips and thighs, and that can visually camouflage your thicker thighs and legs.
Wide Leg Shorts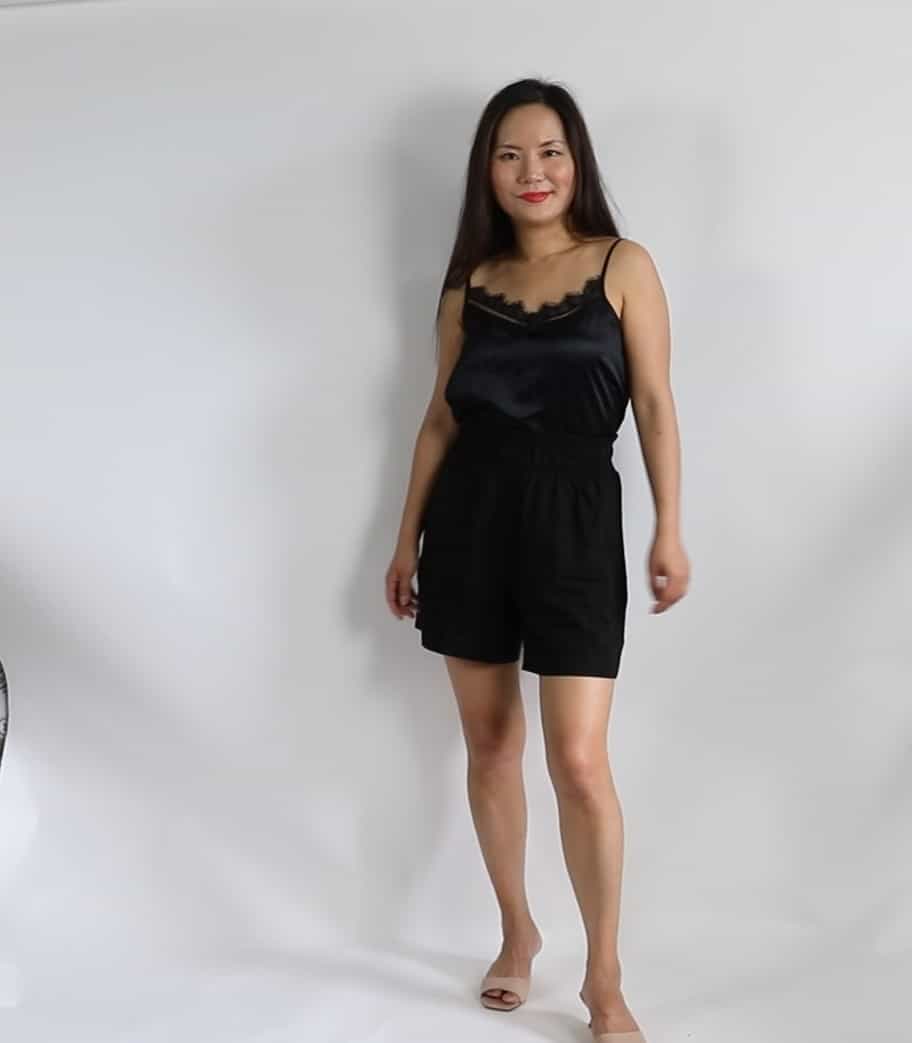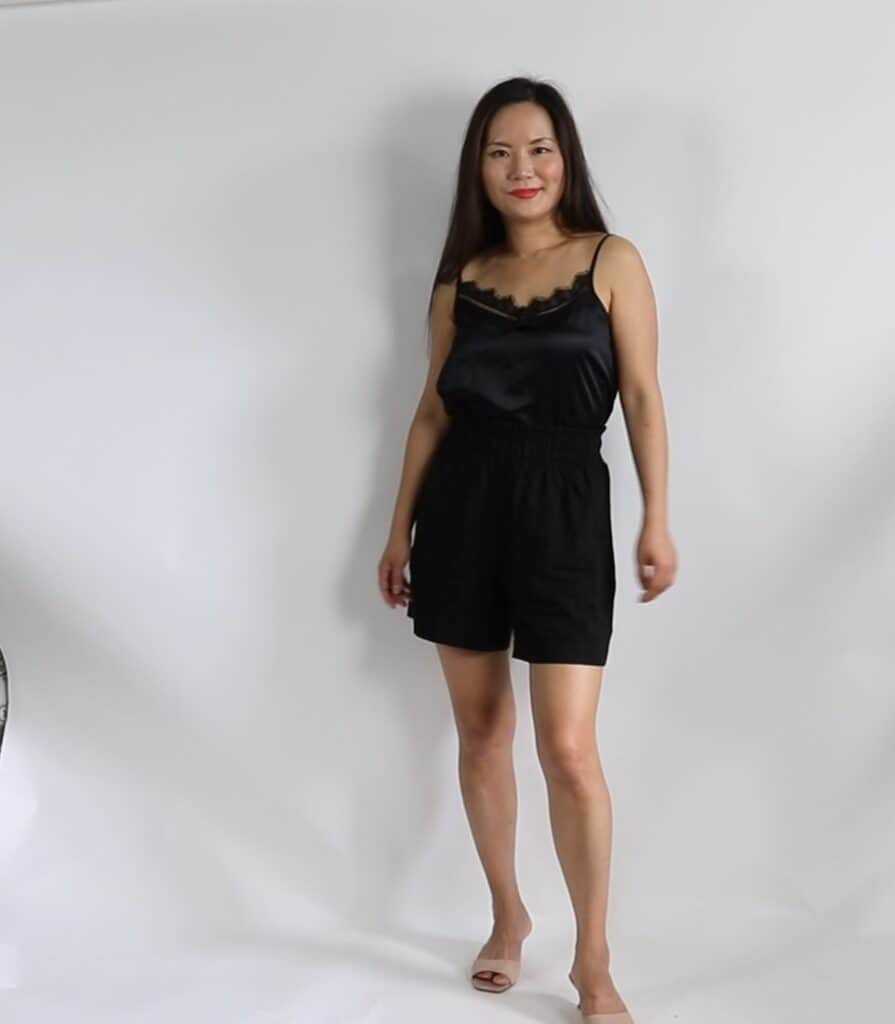 Just like the jeans which come in different leg shape, shorts also have different leg opening. One of the main struggles for women with thick legs is shorts fitting too snuggly around the thigh area. Not only can this be uncomfortable but it isn't the most flattering fit. When any garment type fits too snug on an area of the body it accentuates that area. This is why, when you have thick legs, it's best to look for shorts that offer a larger leg hole.
Don't worry – it is possible to find shorts with this fit. Generally you will want to look out for shorts in the category of wide leg or relaxed fit, these are often the short styles that provide a larger leg hole opening. When the leg holes fit properly they can actually provide a slimming effect to thick legs. This is primarily because the shorts, well…fit the way they should and they aren't cinching in around the thighs.
I was wearing this wide leg shorts and it is quite comfortable because it has plenty of space for my hips and thighs
This being said, make sure the leg hole and fit isn't TOO big. They should fit close to the body and still allow you to have some free movement, but baggy and super loose isn't ideal. Shorts that are too loose in their fit will add a lot of extra bulk to the body, primarily the leg area.
A-Line Shorts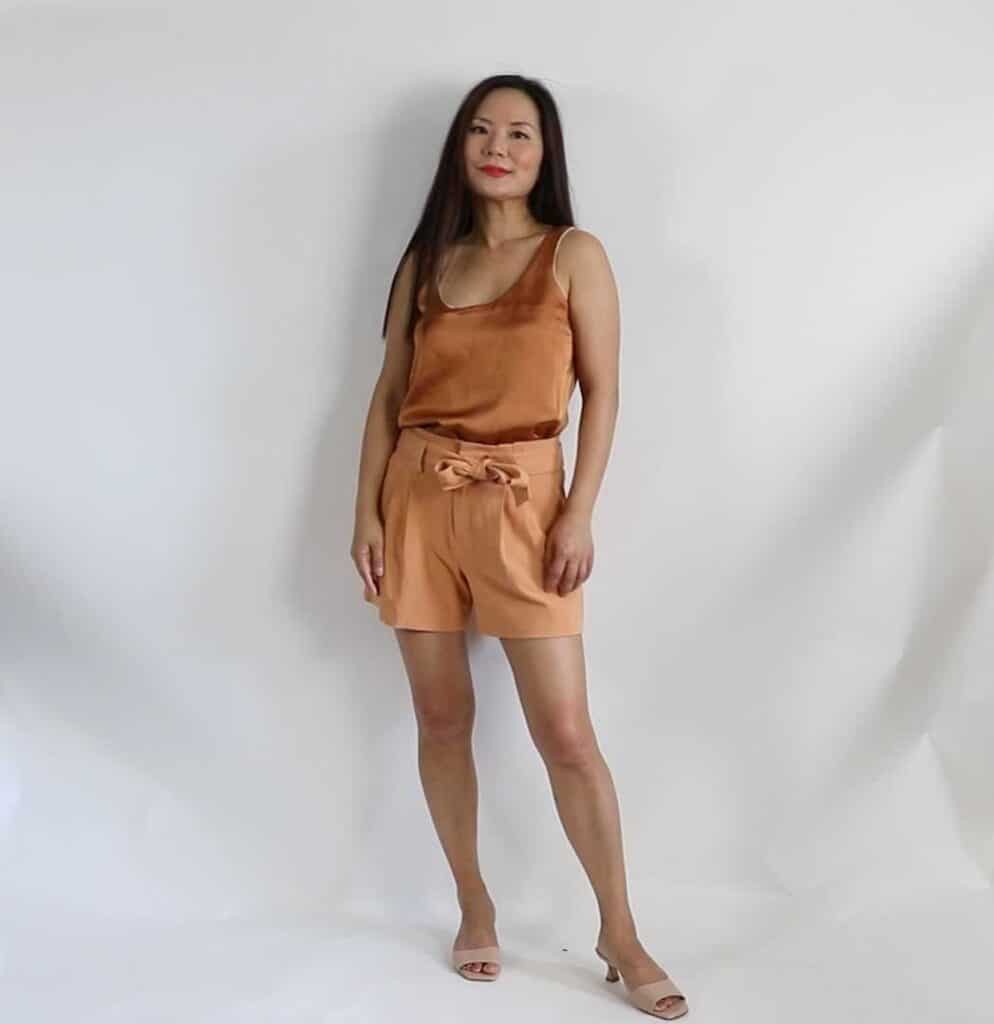 Everyone is familiar with a-line dresses and skirts but did you know that shorts are also available in an a-line fit? Well, they are! The best part is an a-line shorts silhouette is a major style win for dressing thick legs. In case you're not quite familiar with the a-line shape, the main attribute of this fit is that it sits close to the body high on the waist and ever so slightly flares out from the body as it gets closer to the bottom of the garment.
That slight flare is what plays a lot of magic in flattering thick legs, particularly when it comes to wearing shorts. Because the fit is close at the waistline that are of the body is highlighted and slimmed with the subtle flare skimming by thighs adding just enough volume to lengthen and slim the legs. What many women love about a-line shorts, in particular, is they offer an opportunity to camouflage some of the thigh area while still allowing you to enjoy wearing shorts during the warm weather months.
Shorts with Side Slides
Side slides tend to be a detail that isn't often thought of when it comes to selecting shorts to flatter your body type. As someone with thick legs, it's a detail you should start paying closer attention to. Side slits added to shorts accommodate thick thighs in a couple of ways. One is that side slits can provide a little extra room in the thigh area of shorts. Another is it can give a slimming effect to legs.
Both of these benefits really work hand in hand together to give an overall really flattering fit in shorts to thick thighs. Keep in mind that the side slits don't have to be incredibly drastic or large in order to reap the benefits either. Even a very small slit will do the trick and give you a much more comfortable and figure enhancing look.
Give Bermuda Shorts a Try
Another major trend that's come to fruition this year is the rise of Bermuda shorts. It's a trend many of us who lived through a while back probably didn't see resurfacing anytime soon but here it is. The good news? It can be a flattering choice for thick legs. Because of the added length Bermuda shorts provide this can often be a more comfortable choice for someone who doesn't want to show a lot of their legs. Furthermore, because Bermuda shorts are longer (generally resting right above the knee) they create an elongated effect to the top half of the legs. This is a really wonderful benefit because anytime an area of the body appears longer than it is, it also looks thinner – something that most women with thick legs strive to achieve from their clothing.
While Bermuda shorts are meant to be a longer fit, it's still important that they rest in the right placement to fully reap the benefits from this style. Similar to mentioned above, you will want to ensure that the shorts length is either just above the knee or right below the widest part of the thigh. This is going to lengthen while still giving you the trendy Bermuda effect.