For women with thick thighs, finding the right dress styles is critical. The best dress for your shape should skims your body without clinging, especially on the thighs, to make sure it flatters your curves without over emphasizing your thighs.
This is a comprehensive guide with 10 best types of dresses for thick thighs, and 2 dress styles you should use caution or stay away from.
Wrap dress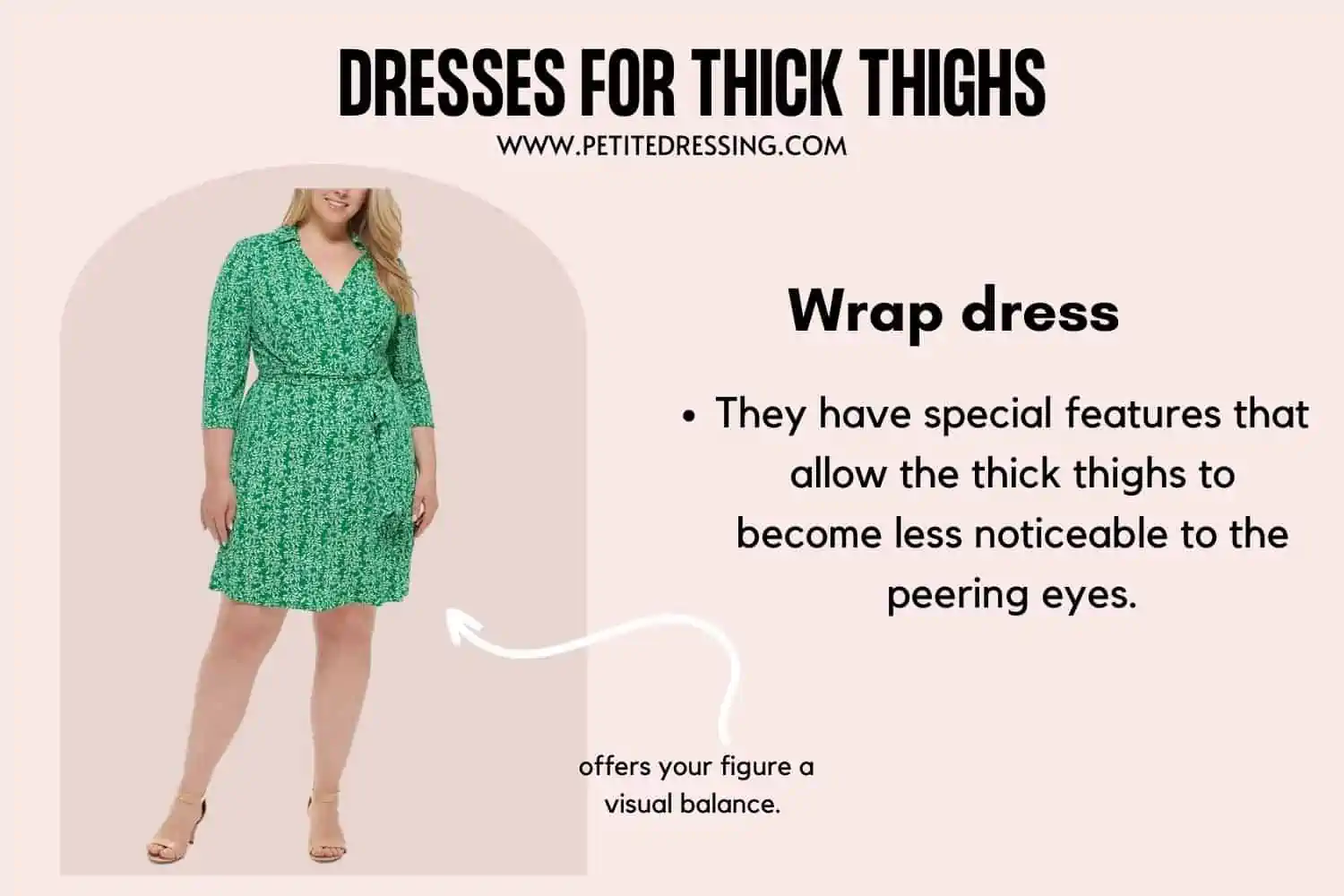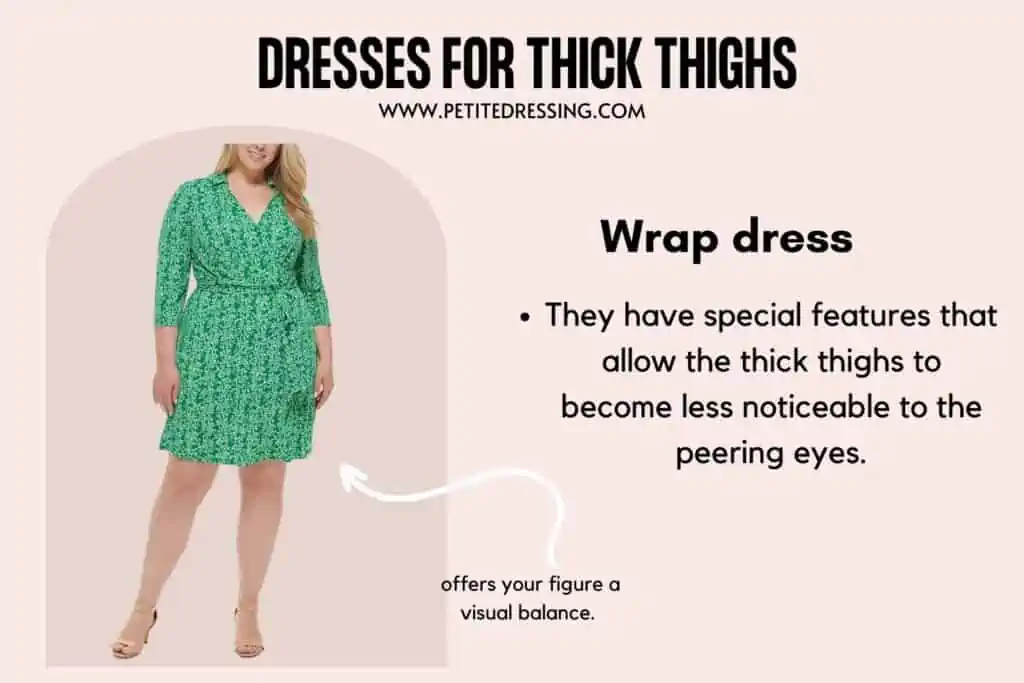 Every dress comes with its unique features and the wrap dress is always topping the table for the best dress in any shape. This incredible and absolutely beautiful dress is an ideal choice of dress for a woman with thick thighs.
You would always look exceptionally sophisticated and stylish in a wrap dress no matter how you style them. They have special features that allow the thick thighs to become less noticeable to the peering eyes.
Rock the wrap dresses for any occasion and be certain that you would not be uncomfortable even if you have thick thighs. The wrap dress has a classic silhouette that cinches your waist and offers your figure a visual balance.
Dresses made of structured fabrics
The kind of fabric used in making your dress must be considered if you have thick thighs because the wrong fabric can wrongly accentuate the concerned area. That's why the fabrics you intend using to make your dress must be structured.
Dresses made of structured fabrics are classy and they should be an excellent option for you to wear during summer. Enjoy every bit of elegance that structured fabrics offer by making your most preferred dresses with them.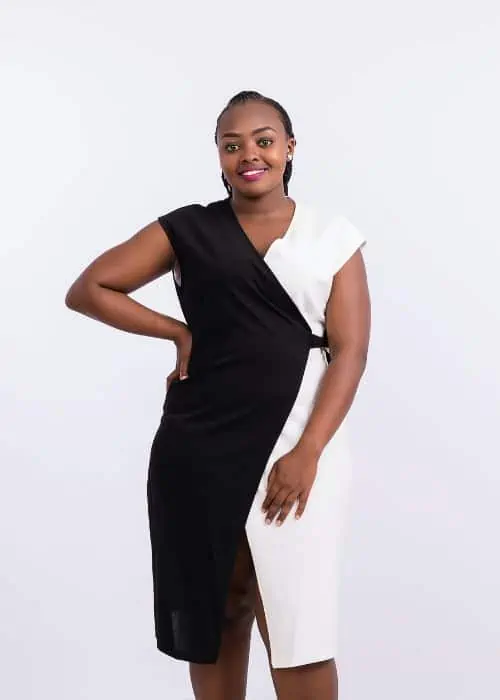 What to expect when wearing a Structured dress
Structured fabrics act as timeless pieces that are durable and efficient in uplifting the general appearance of your figure.
Cotton fabric is a type of structured fabric that is versatile and comfortable on a woman with thick thighs.
Color block dress with bright color on top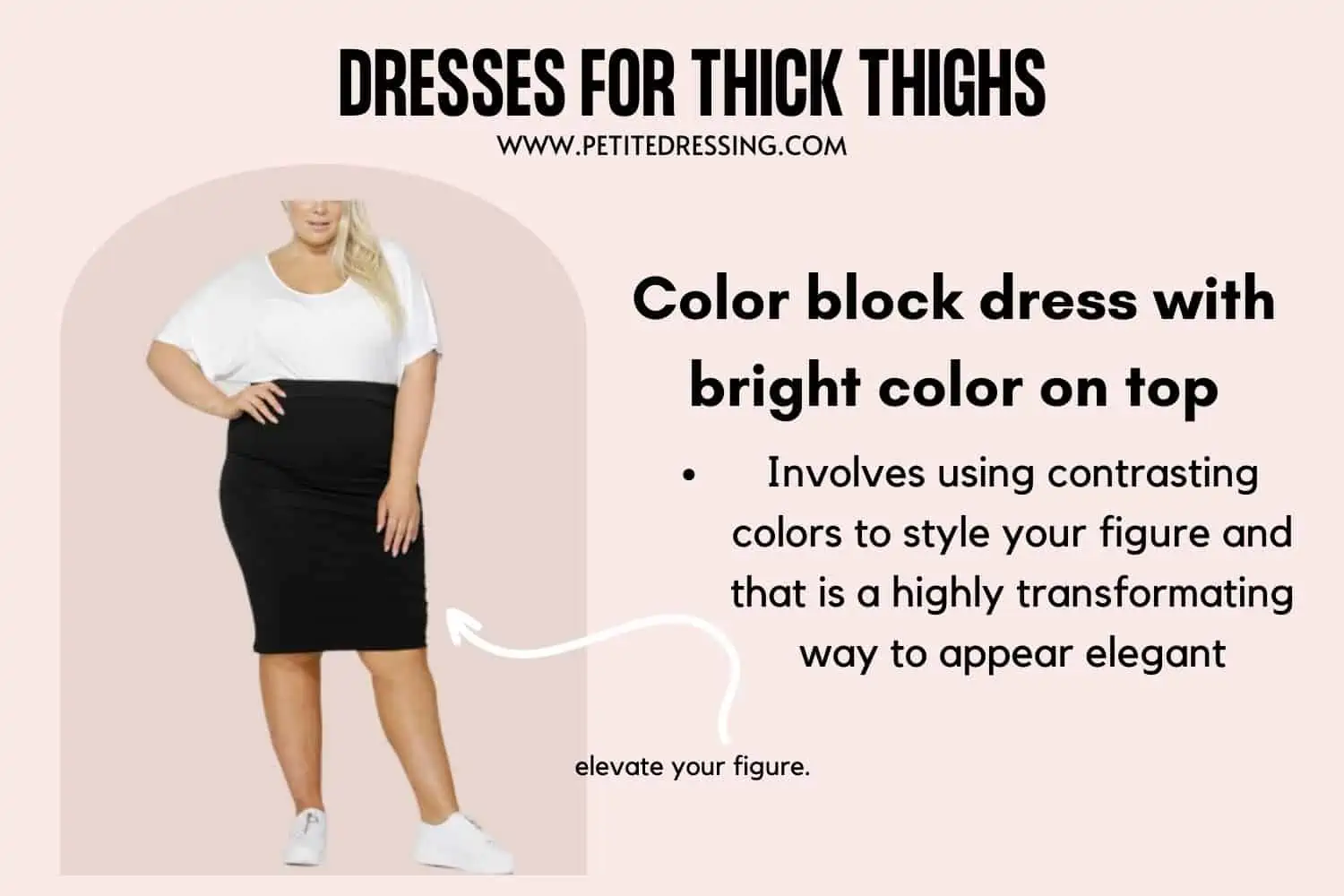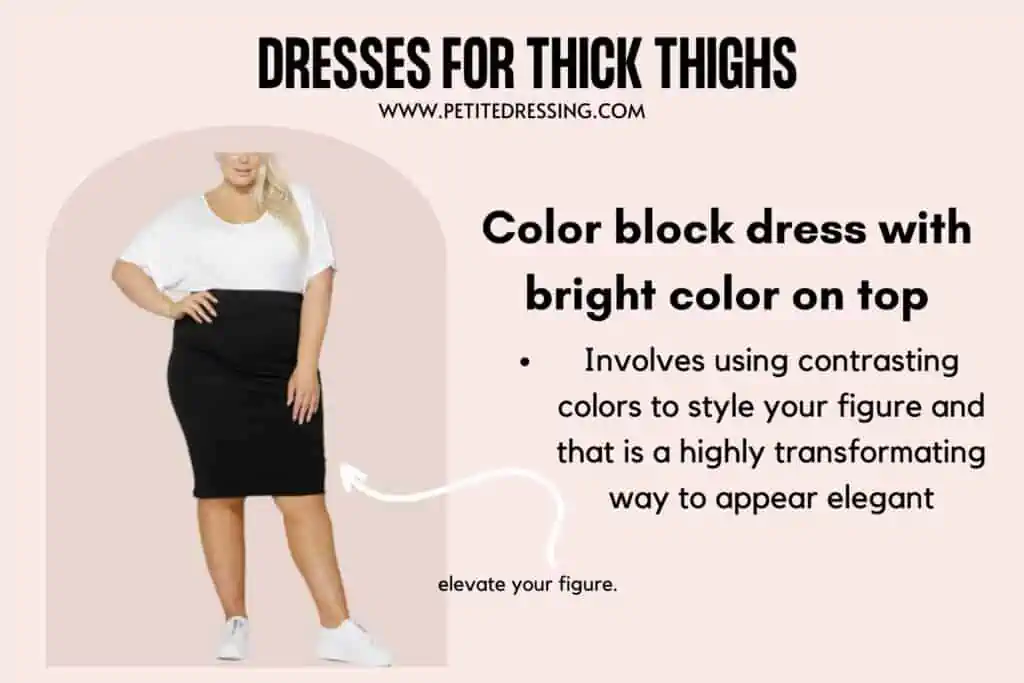 Color blocking in a dress simply involves using contrasting colors to style your figure and that is a highly transformating way to appear elegant. You should also be careful when color-blocking your dress especially if the concerned area is in your bottom half.
Your thick thighs can be less noticeable to the eyes if you correctly color block your dress by making the top a brighter color and leaving the lower one dark. This is because colors have a visual effect on the eyes.
Bright-colored tops are very beautiful and they could act as great attention seekers so use them to achieve the right balance for your body proportion. Tuck the tops properly to achieve a streamlined look that could elevate your figure.
Off-the-shoulder dress
Explore an off-the-shoulder dress on your figure especially if you have thick thighs because they are a very flattering silhouette ideal to uplift your general figure. The dress reveals the skin around your upper half and captures the focus of the eyes on the shoulders.
With this, the thick thighs become the least point of attention so less emphasis is laid on them. Off the shoulder dress is a classy and stylish way to own your figure so rock them to any occasion.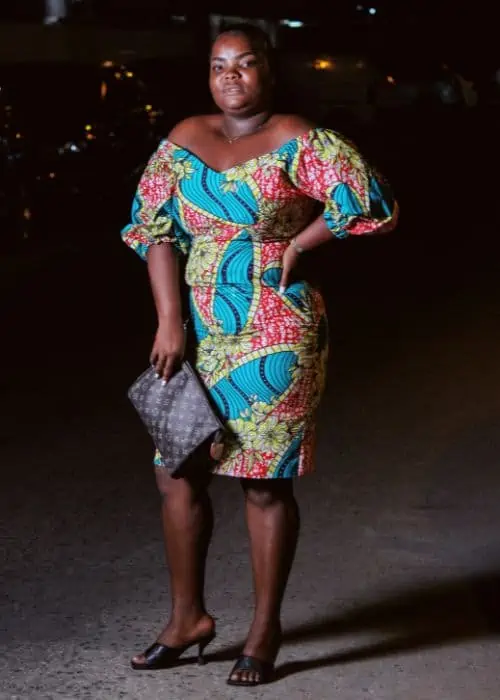 Why you should opt for an Off-the-shoulder dress
They are timeless trendy pieces that ideally fit and compliments your shape to achieve the necessary balance in your body proportion.
If you have thick thighs then you are encouraged to own an off-the-shoulder dress as a major wardrobe staple.
A-line dress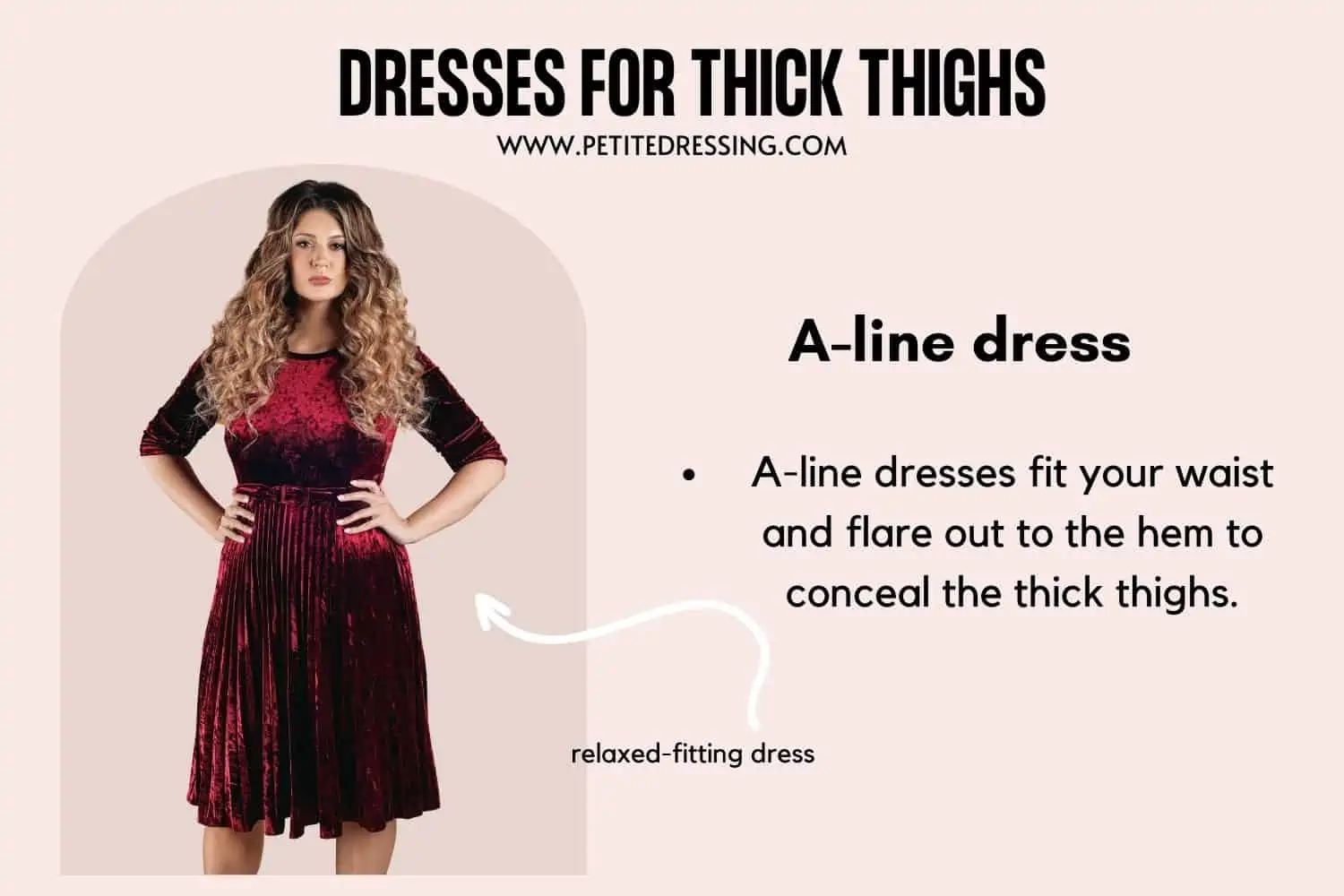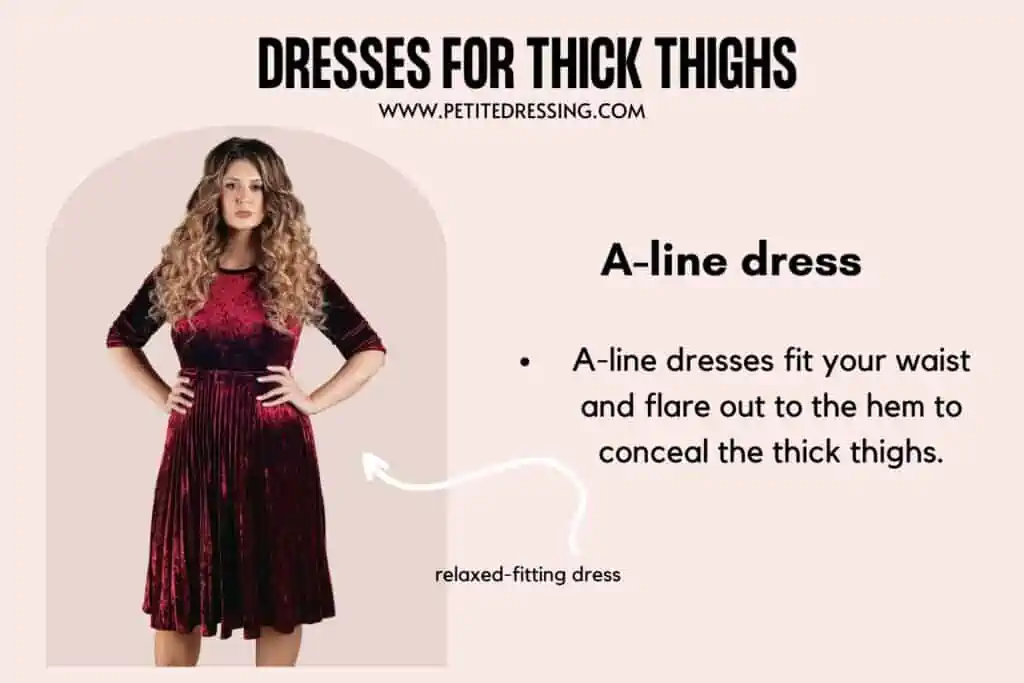 Dressing up or down if you have thick thighs can be achieved with ease with an A-line dress because they add a feminine touch to your lower half. A-line dresses fit your waist and flare out to the hem to conceal the thick thighs.
They are not too complicated designs for your shape so don't stress over the idea of not making them a major wardrobe essential for your thick thighs. This dress is simple and unique so make the best out of this relaxed-fitting dress because hr would elevate your frame.
With an A-line dress, more attention is focused on the waist and the thickness in the thighs is made invisible because of the flare in the dress. This dress can also make you look longer than you are naturally and that's because the cinched waist is above your natural waistline.
Dresses with vertical stripes
Vertical striped dresses are special with details that work well for any body shape and are also very efficient in slimming down thick thighs. The effect vertical stripes give to the figure is desirable to attain a visual balance.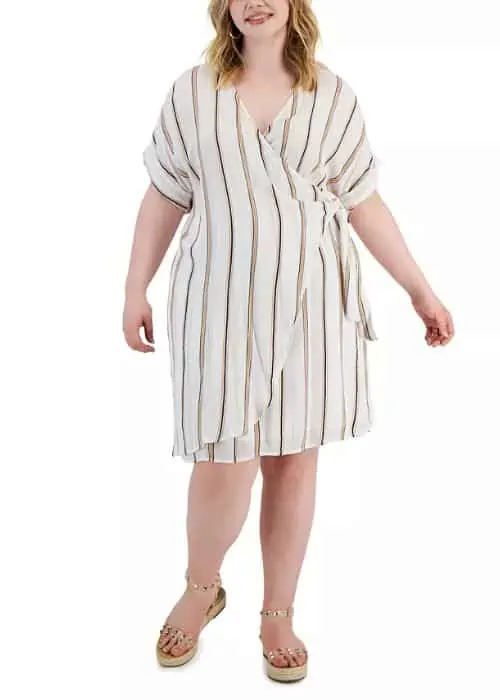 How to choose a striped dress
With vertical stripes, you do not have to consciously focus on the effect your thick thighs give on your figure
It adds an amazing aesthetic to your overall frame and your thick thighs are then given less attention.
Do not attempt opting for a horizontal striped dress because it would only alter the visual balance your body desires.
They are not the most flattering dress pattern to keep you fashionable and outstanding in summer.
Fit and flare dress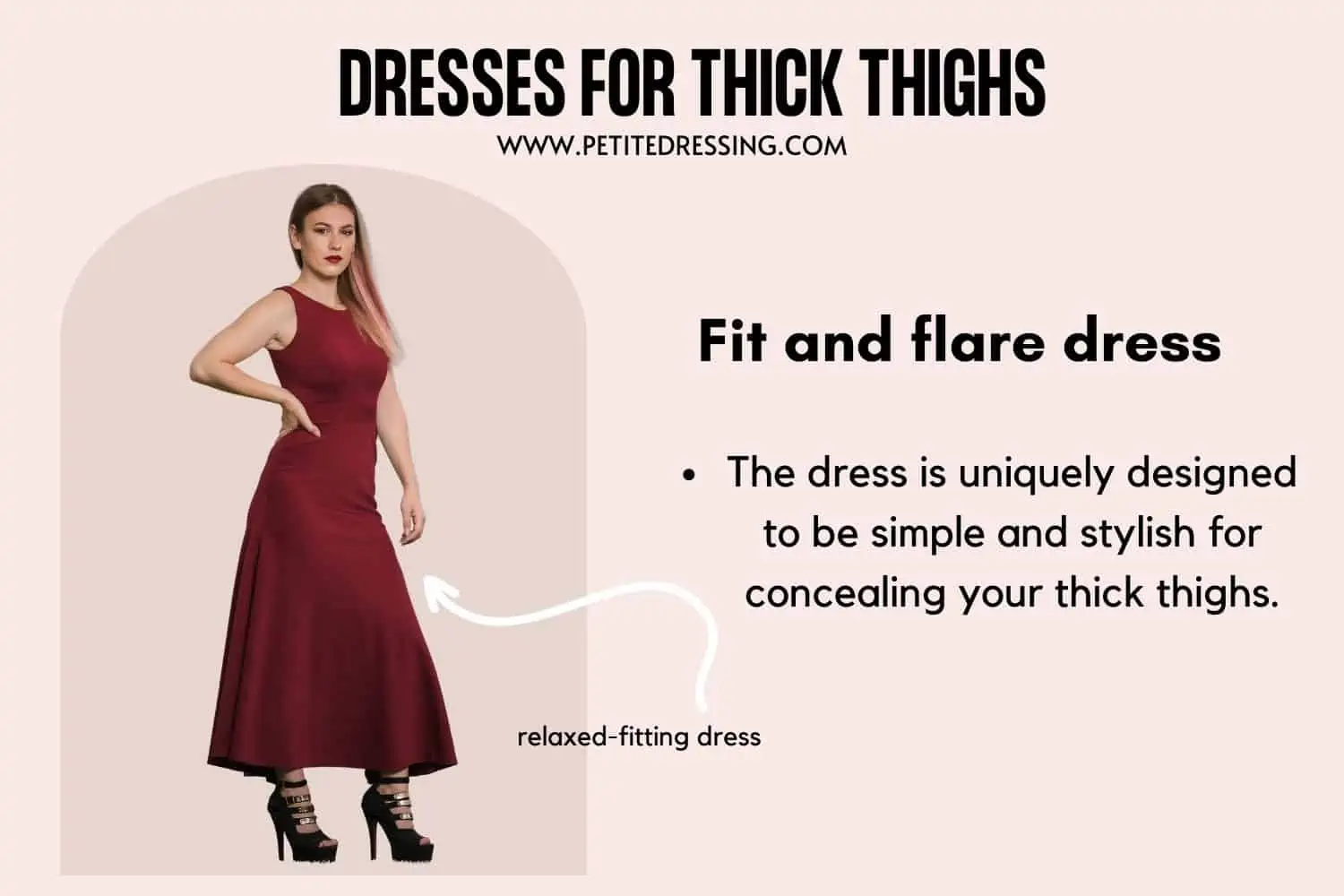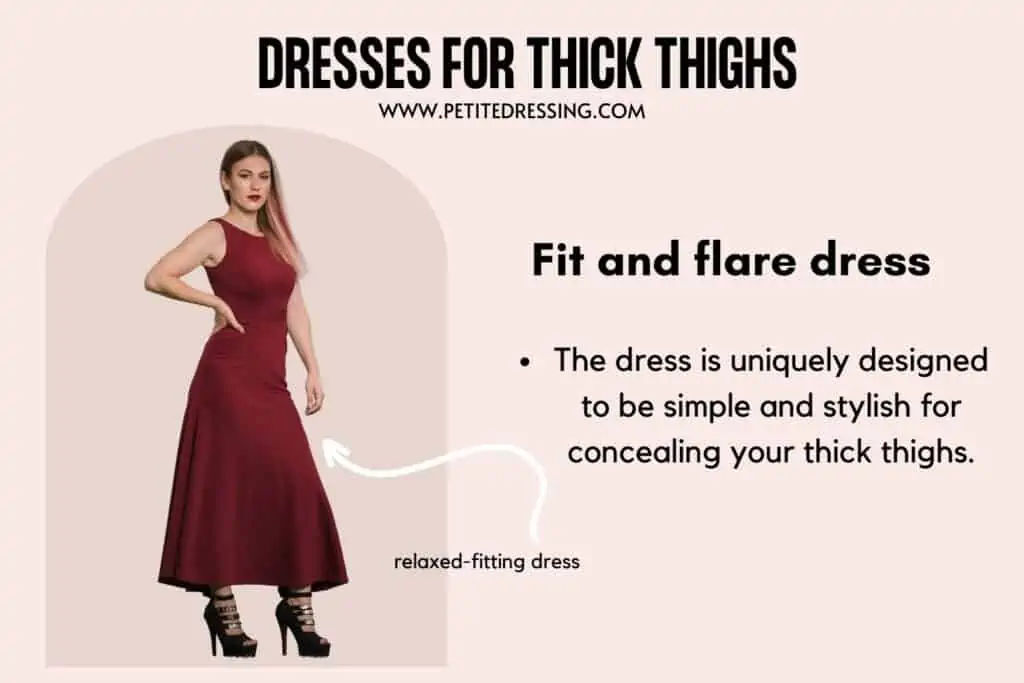 The fit and flare dress is a comfortable dress style to showcase your elegant figure on any occasion. The dress is uniquely designed to be simple and stylish for concealing your thick thighs.
It is an ideal dress because it cinches the waist before flaring out over the thighs to cover it and reduce the attention of the eyes on the thick thighs. They highlight your waist by making the torso appear shorter and your legs seem longer.
This way the flared part conceals the thighs and a balance in your figure are achieved effortlessly. Fit and flare dresses are perfect for a stylish summer appeal so make them one of your most desired dresses if you have thick thighs.
Flowy dresses
With flowy dresses, there is little or no reason to become too conscious about the thick thighs because they stylishly conceal them and offer you comfort in your lower half. They are effortlessly classy and flattering silhouette that works well for your shape.
The midi length flowy dress is the most preferred length of the dress that suits your ultimate figure. It lets you appreciate your thick thighs and still creates a visual balance in your overall outlook.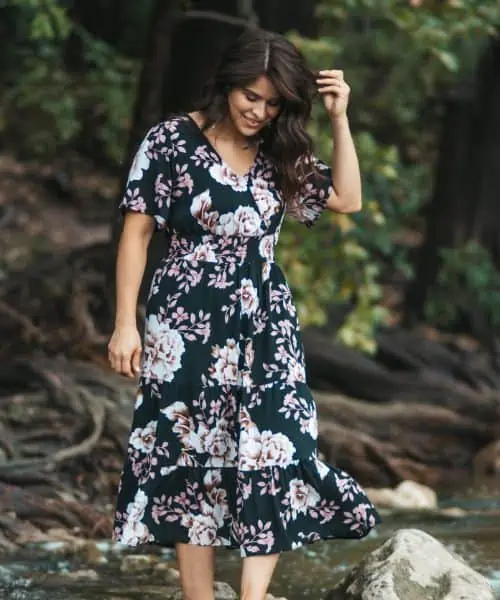 Why opt for a Flowy dress?
You most definitely would appear effortlessly chic in a flowy dress and as such are a go-to style option that can be used to complement your figure.
They should be among your wardrobe essentials and also make sure you style them with heels that are not too weighty to help uplift your figure.
Dresses with an empire waistline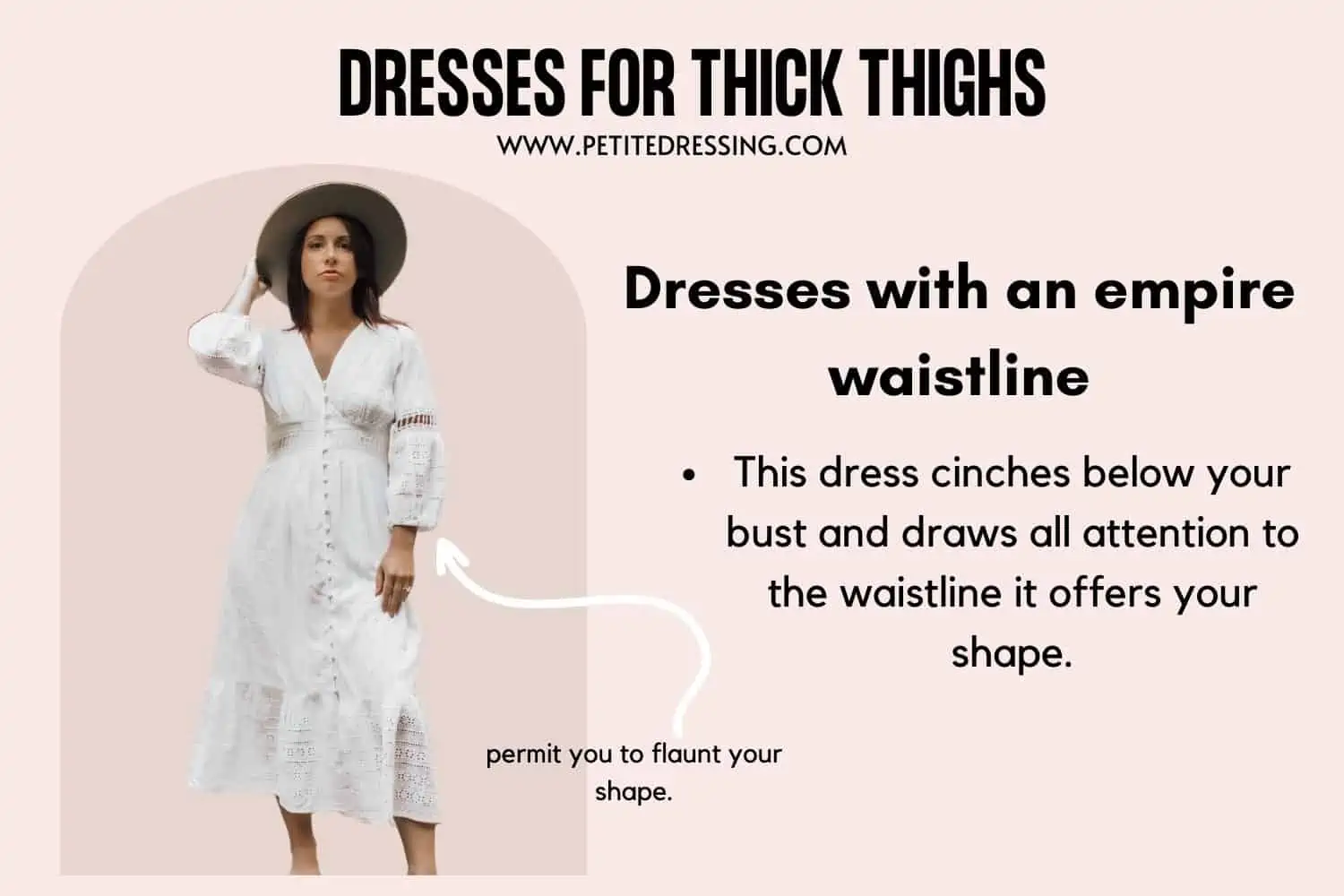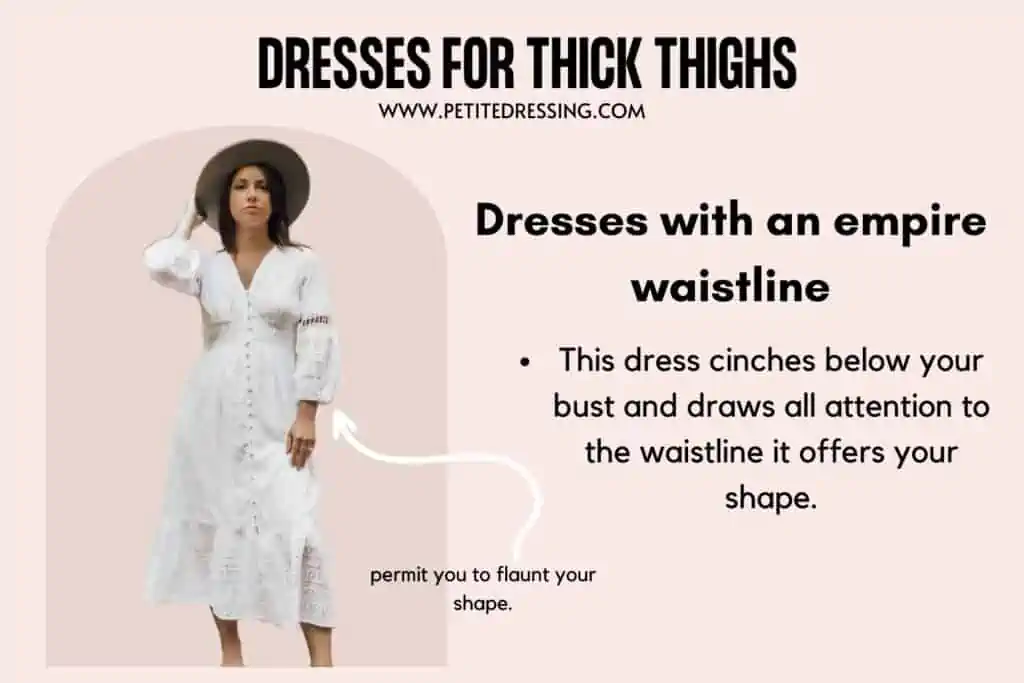 Simplicity and maturity in fashion can be achieved with the empire waistline dress so go ahead and purchase a few if you have thick thighs. This dress cinches below your bust and draws all attention to the waistline it offers your shape.
The flare that comes below the cinched waist would comfortably hide the thighs and give you an exceptional look that is stylish for summer. You should make this dress a part of your favorite dress styles because it'd permit you to flaunt your shape.
One shouldered dress
This dress is useful in flattering your figure and diverting attention away from the thick thighs because it reveals the skin on the shoulder. The one-shouldered dress can make you look elegant and scream sophistication.
Use a one-shouldered dress to compliment your figure and rightly create a visual balance in your body proportion. They are suitable to be worn for any occasion so rock them with confidence and reduce the consciousness you give the thighs.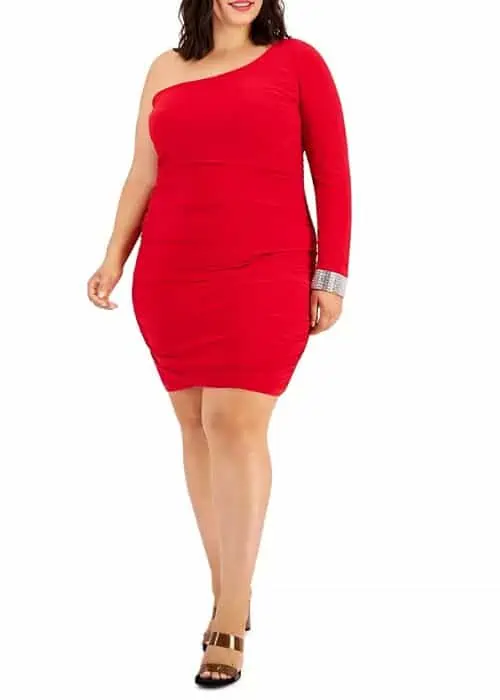 One shoulder dress is a must-have
It would help you embrace your shape and eliminate any form of insecurity the thighs may give your overall shape.
This is one of those few trendy dresses that you should own if you have thick thighs because it would make the concerned area in your bottom half less noticeable.
Avoid mini-length dress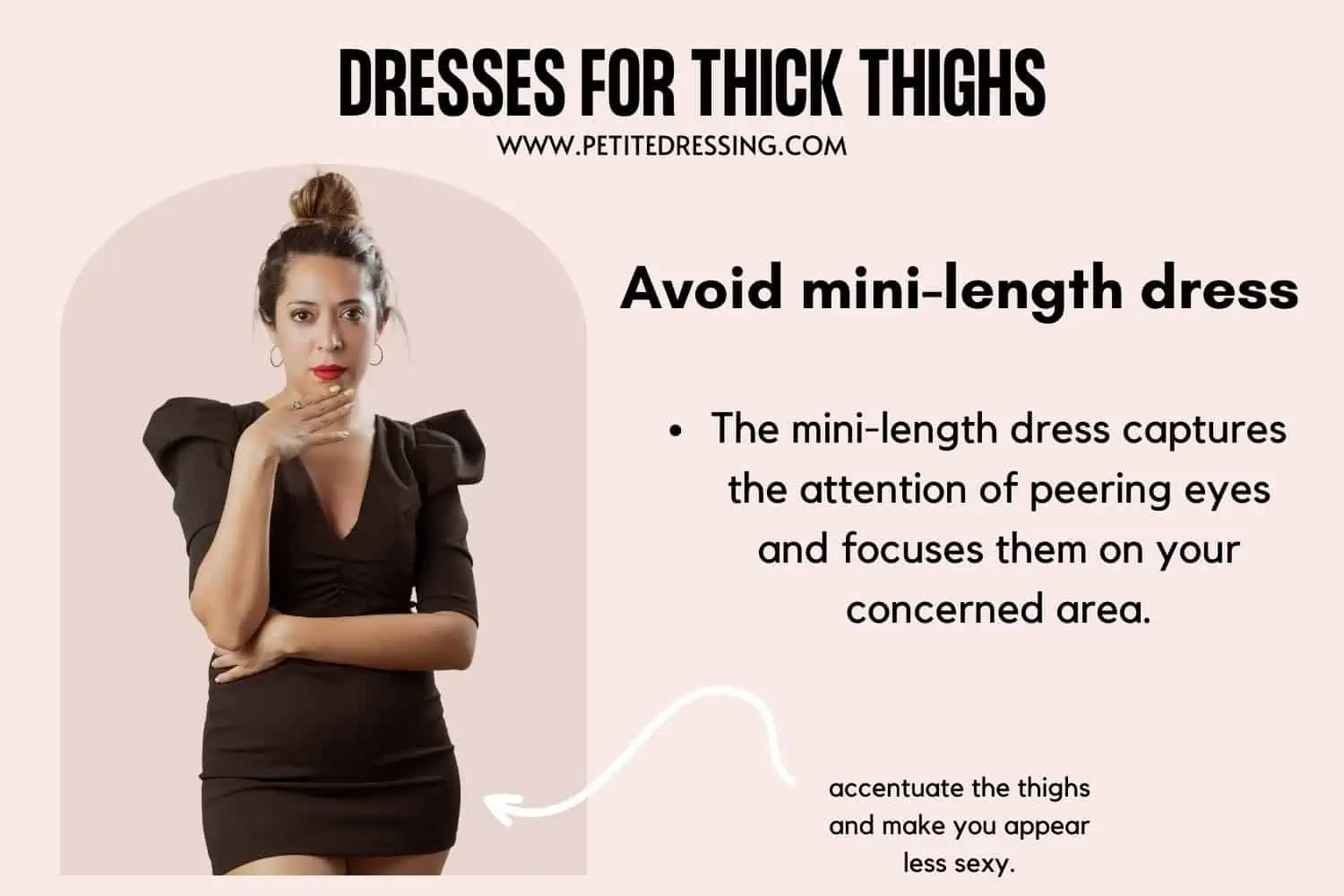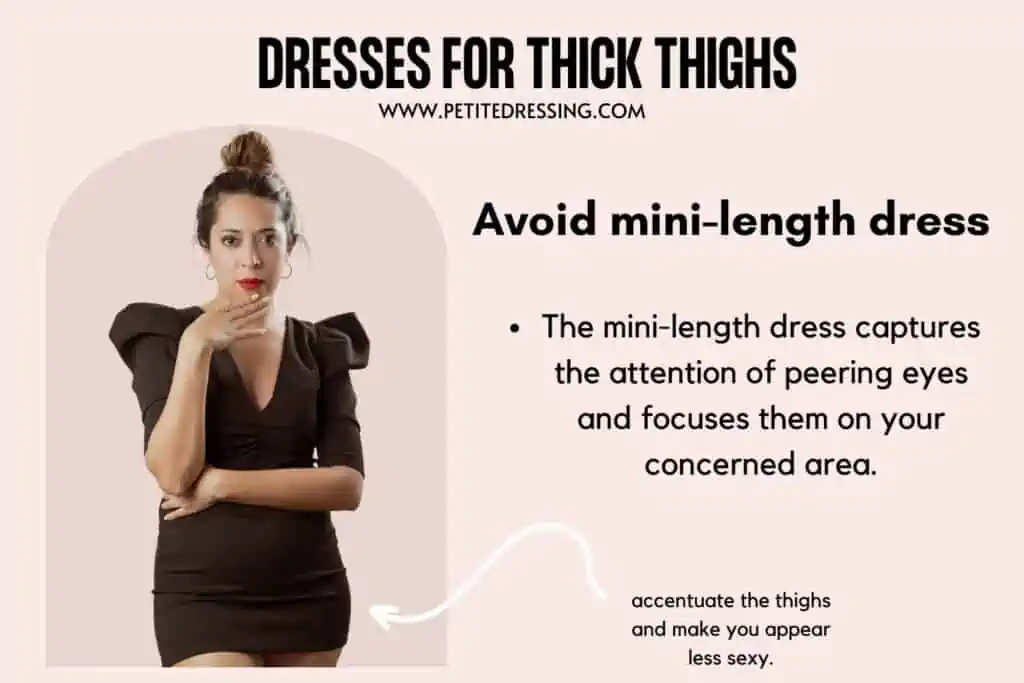 Do not flaunt your thick thighs with a mini-length dress because it is not the best dress to compliment your figure. The mini-length dress captures the attention of peering eyes and focuses them on your concerned area.
They apply more emphasis on the legs without helping your figure achieve an overall balance in your body proportion. Mini-length dresses are not the prettiest dresses for your thick thighs as they would accentuate the thighs and make you appear less sexy.
This dress is not an ideal dress to showcase your elegant frame so make sure you avoid wearing them to any occasion. Mini length dress is not an edgy and stylish dress suitable to make you appear elegant if you have thick thighs.
Avoid bodycon dress
It is okay to wear dresses that help you appreciate your figure but the best designs would not keep the eyes focused on your concerned area. The bodycon dress is a tight-fitting dress that hugs your figure tightly to reduce the comfort you require when walking.
This dress style accentuates your thick thighs and gives the eyes an illusion that is far thicker than it appears. Avoid the bodycon dress because it is not a perfect design suitable to complement your general outfit.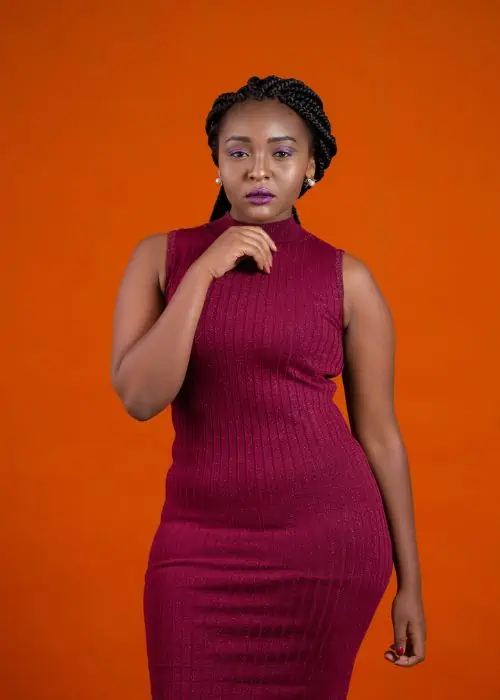 Bodycon dresses are not the best for women with big thighs
Sometimes the bodycon dress may appear too provocative and would also reveal the lumps around your figure.
They are not ideal for every body shape and the shape with thick thighs is not an exception to the bodycon dress.