Depending on what silhouette you are going for, the design and cut of a dress can either conceal your chest or accentuate what you have. Finding the type of dress that makes you feel the most confident with.a smaller bust will provide you with a key piece for your closet.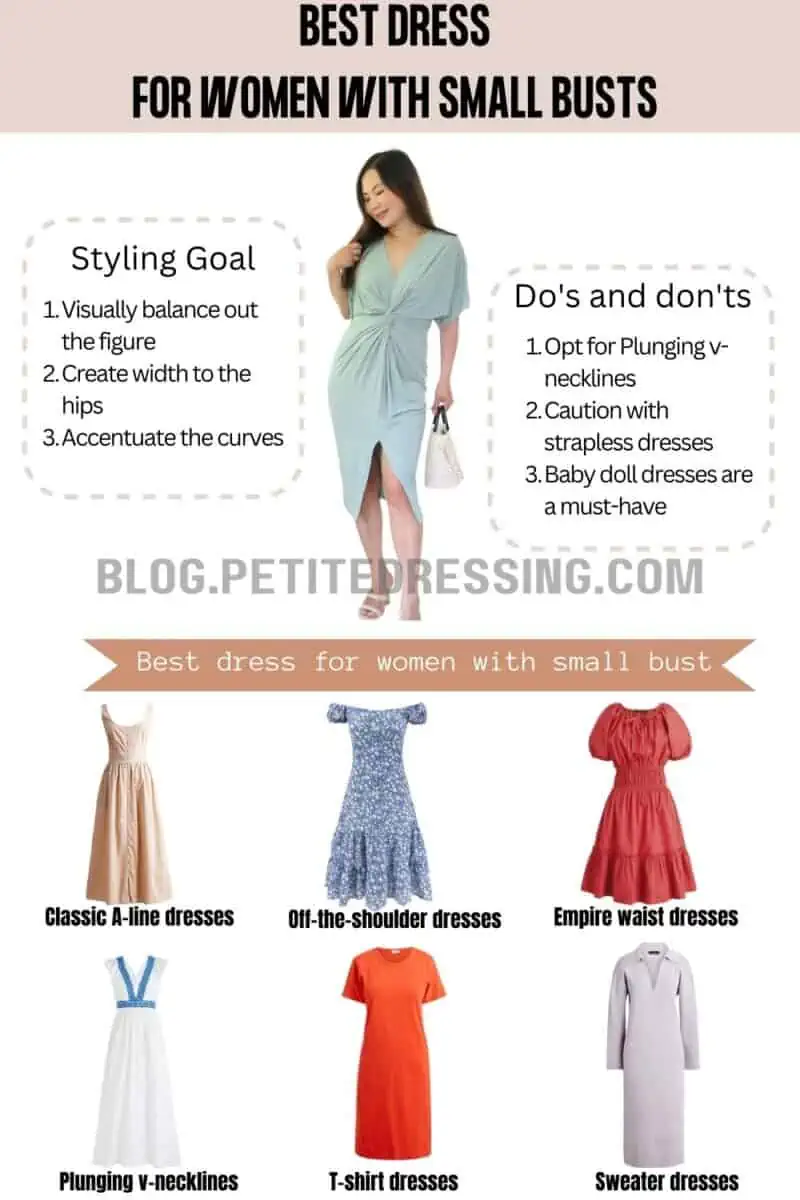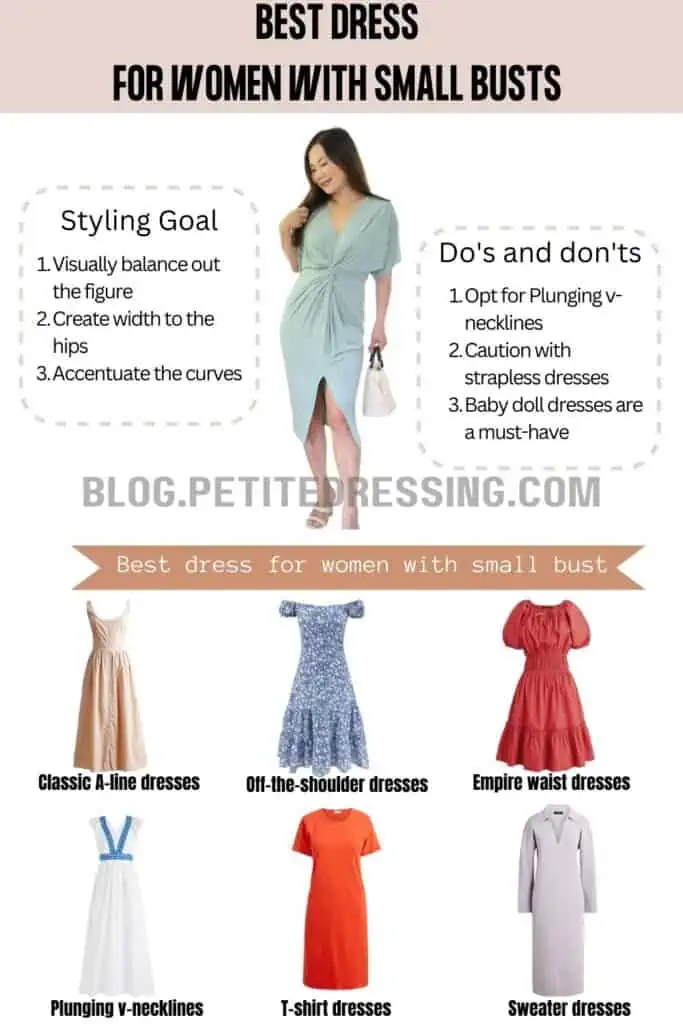 Having a small bust is not something you should be insecure about. There are plenty of positive effects that come with this, including the ability to wear more revealing clothing without it looking improper.
Classic A-line dresses
The search for the perfect dress often starts with finding a dress that will create an hourglass illusion. With a small chest, this task becomes more difficult.
A-line dresses cinch at the smallest part of your waist and flares out past the cinch. Because of this flare, your hips will look bigger than they are. With a more petite frame, your body will fit ideally into the A-shape that these dresses create.
This type of dress will not make your top half look bigger, but it also won't make it obvious that you have a flat chest. The top part of A-line dresses is usually less form-fitting, leaving room for the imagination.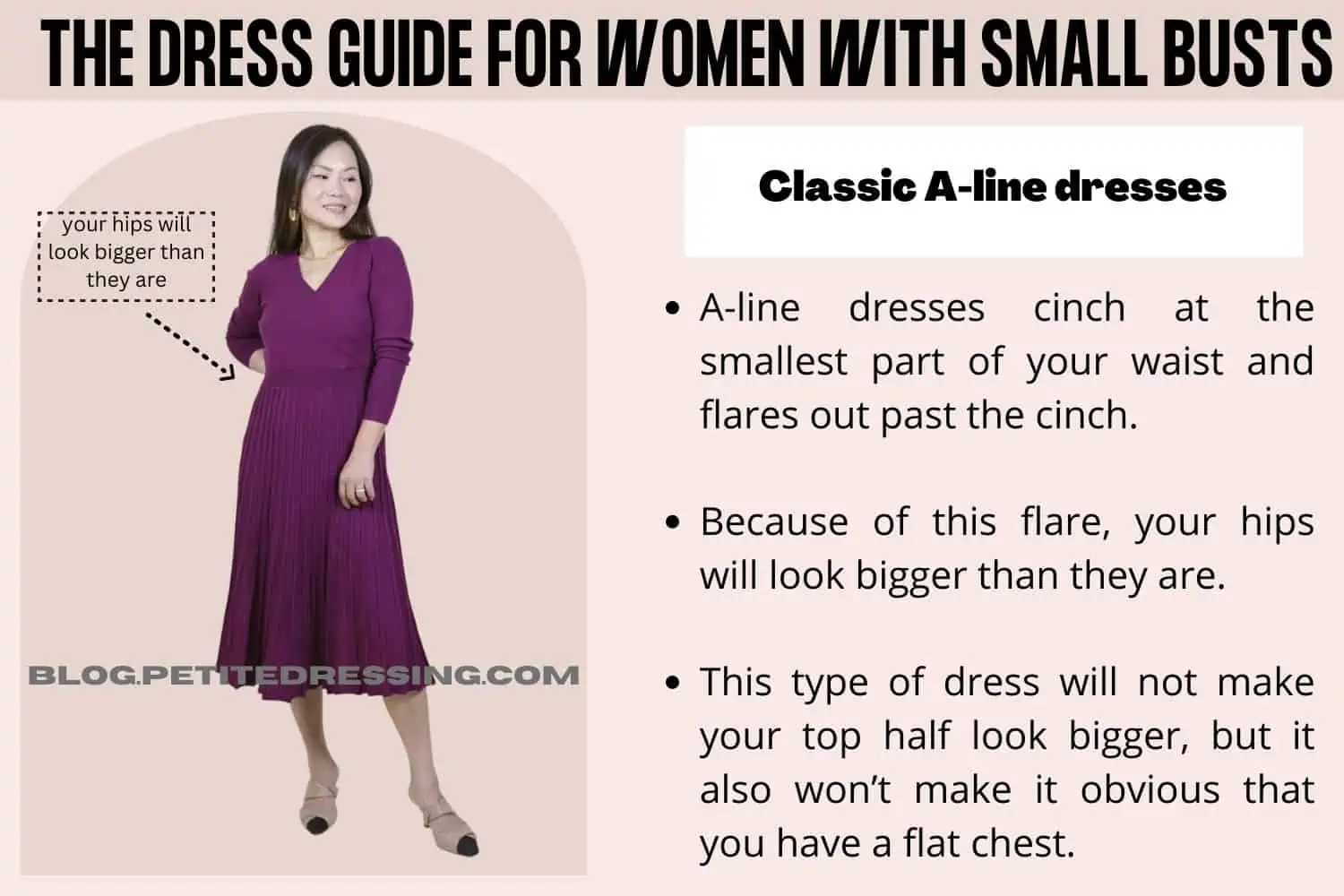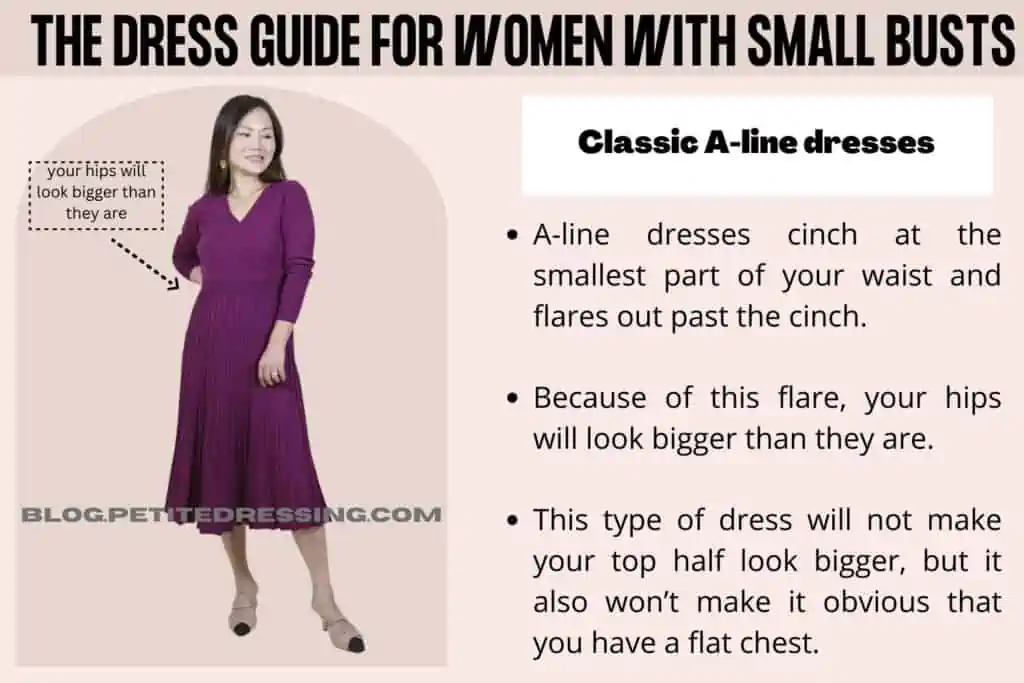 Off-the-shoulder dresses
With a small chest, you are able to show more skin with the top half of the dresses you choose to wear. The bulk of the straps that go directly across or just above your chest will create the look of a larger chest area.
The way the straps wrap around your arms, adds to the hourglass look. The key is to wear an off-the-shoulder dress that has thick straps in order to accentuate that area of your body.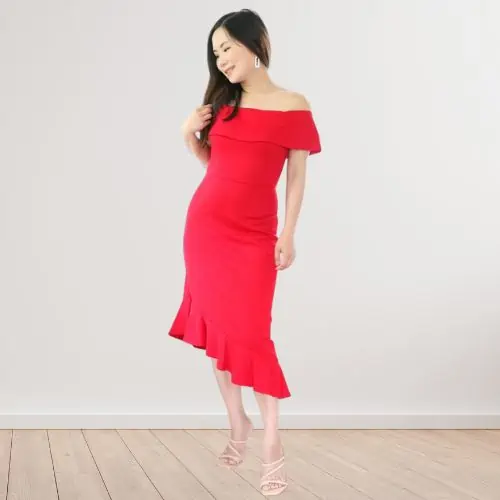 Why opt for the off-the-shoulder dress?
Off-the-shoulder dresses are very elegant and sophisticated.
The neckline allows you to show off your collarbone and shoulders.
This will make your collarbone more of a centerpiece instead of your chest, which may be ideal for those with a small bust.
Empire waist dresses
Empire waist dresses cinch directly below your chest, which is ideal for women with a small busts. Creating a waistline that is higher up on your body will make your bust appear larger.
The cinch placement is also perfect for building an hourglass shape. With your hips appearing lower than they would with a low-rise skirt (for example), the design will make them balance out with your small chest.
This style elongates the lower half of your body, which is a flattering look for women who are more petite, especially on the upper half of your body.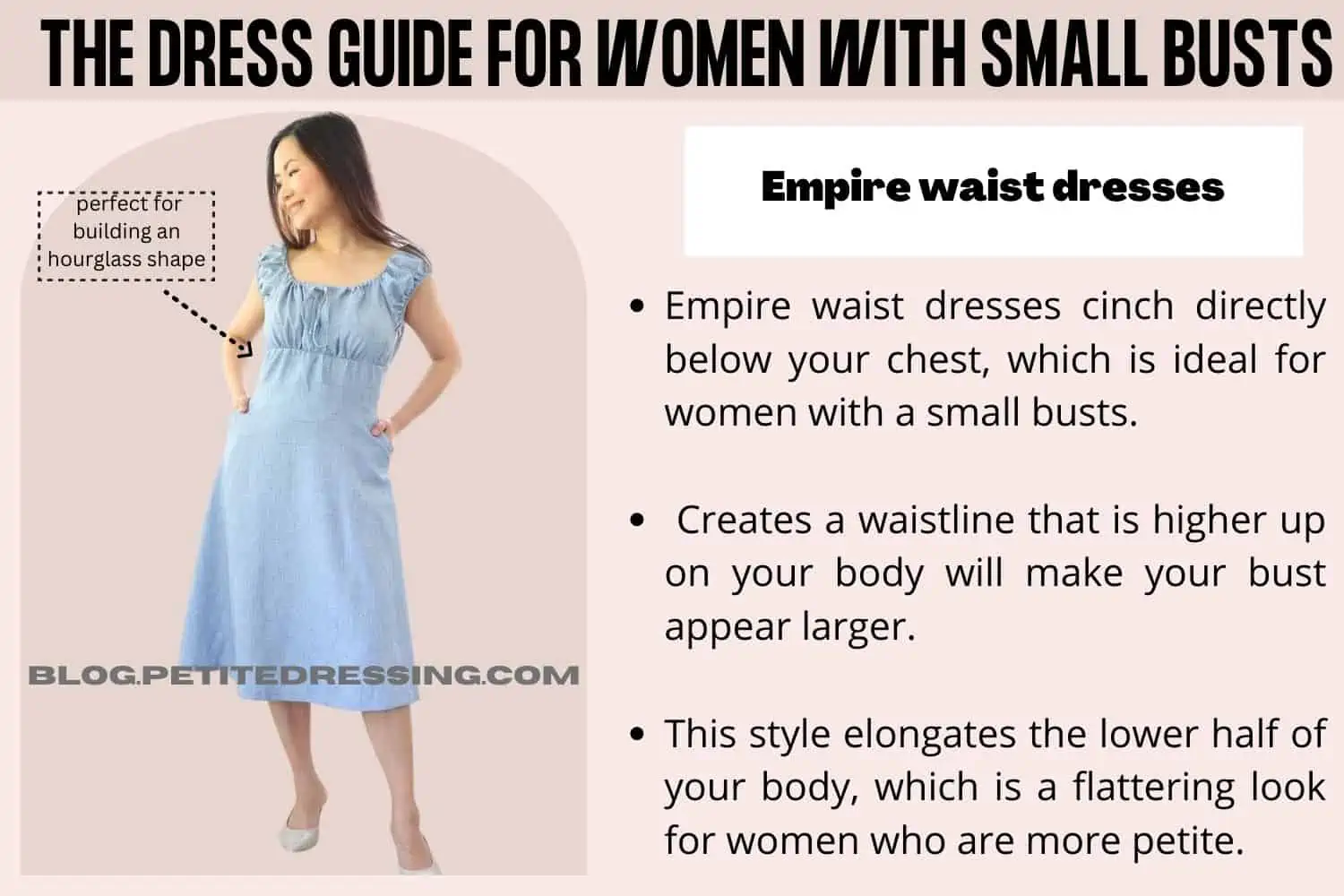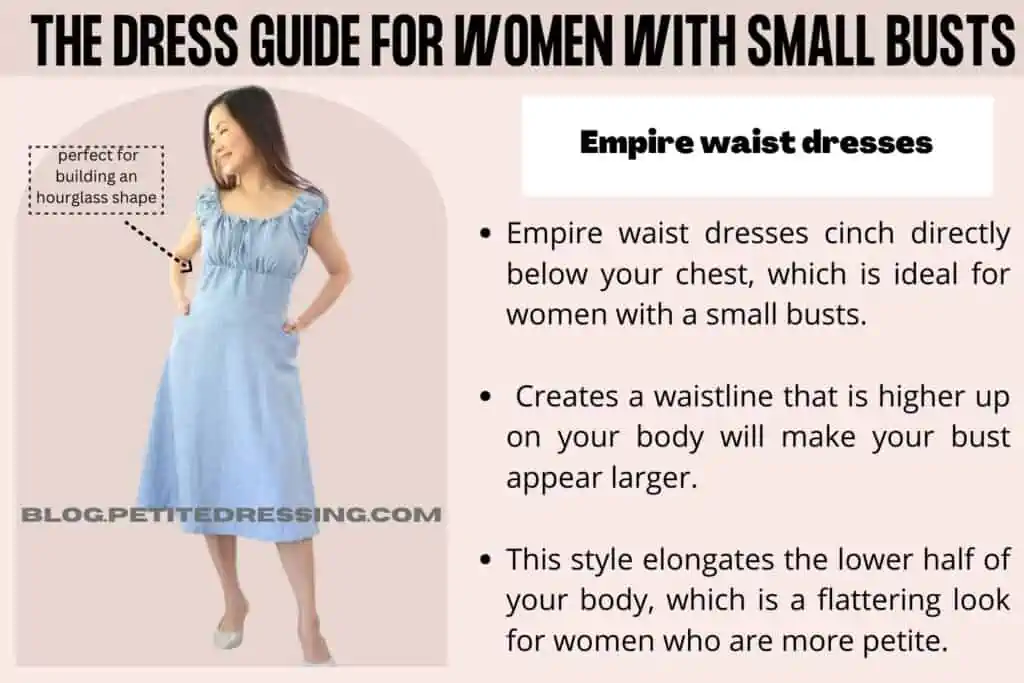 Plunging v-necklines
Just because you have a small bust does not mean you should be afraid of showing it. One pro of this is that showing some skin won't appear as scandalous as it may for women with large chests.
With a small bust, it is not likely that you will have to worry about wearing a bra. This allows you to experiment with necklines and find a plunge dress that makes you feel confident and beautiful when wearing it.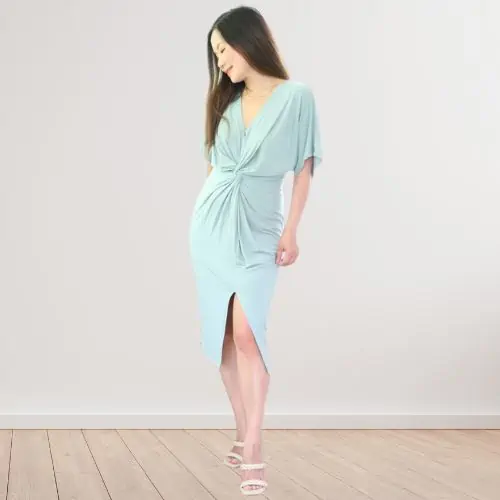 How flattering can v-necklines be?
Plunging v-necklines can be incredibly flattering if styled the right way.
You can wear this type of neckline to most formal events and look absolutely stunning.
If you want to dress more casually, you find dresses with a smaller plunge that is much less revealing.
T-shirt dresses
T-shirt dresses are a very casual look, but they can also be incredibly chic if styled with the right accessories. If you are looking for a loose-fitting and comfortable dress to wear on a day out, t-shirt dresses are an excellent choice.
Women with a large bust will not find this style of dress to be very flattering. T-shirt dresses look best on women with small busts since the waistline of the dress will be as wide as your chest size. With a large chest, the dress will be very wide and make your body look much bigger than it actually is.
T-shirt dresses will not draw attention to any specific part of your body, since they are generally flowy and plain.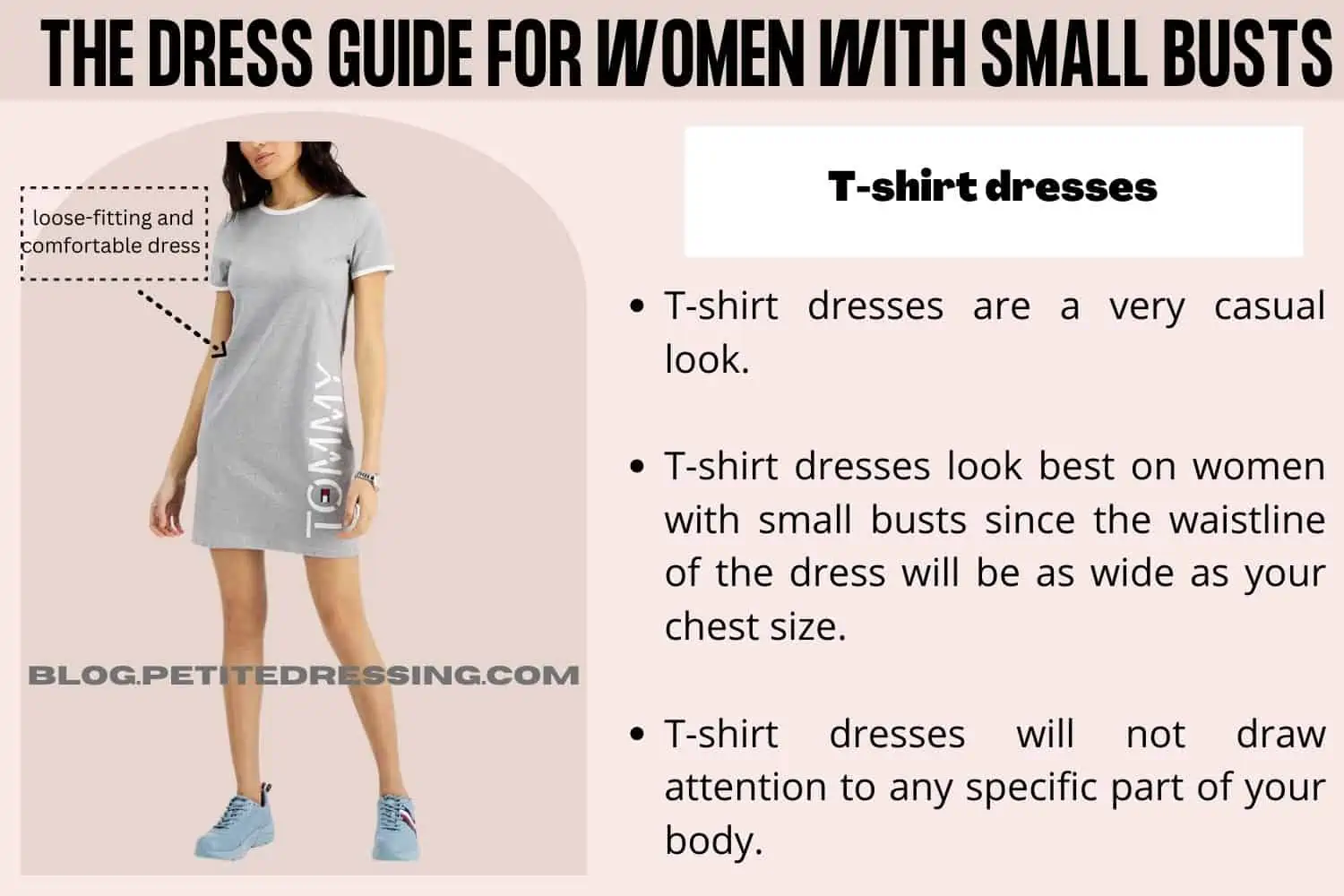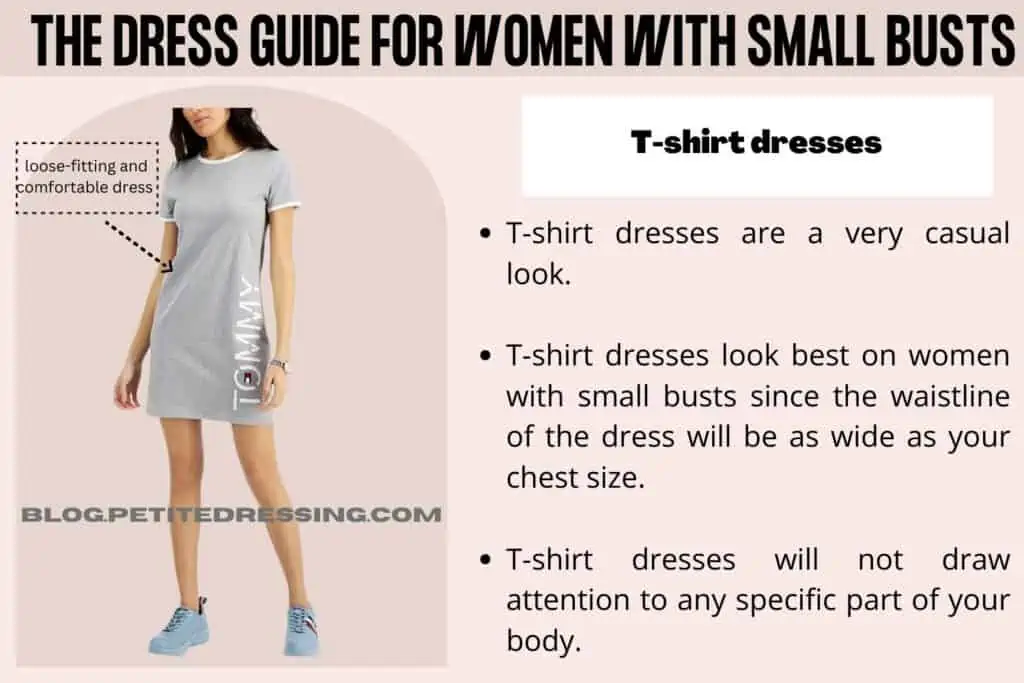 Sweater dresses
Sweater dresses are chic and ideal for the colder seasons. They are typically very soft and comfortable and provide plenty of coverage.
Similar to t-shirt dresses, sweater dresses will have the same waistline as the size of your chest, making them generally shapeless dresses. If you have a petite frame, this type of dress is very flattering.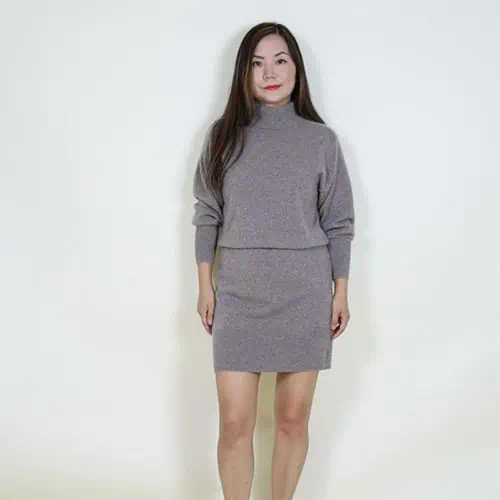 Sweater dresses are a must-have, here's why
With a small bust, this dress will be both flattering and stick to an appropriate length.
Women with a larger bust will want to avoid this dress because it can rise and be too short and bulky all at once.
Spaghetti strap dresses
When you have a smaller bust, it is more flattering to wear feminine outfits and focus on building a more petite frame. Spaghetti straps are thin, and they will give you plenty of support since you have a small bust. The thin straps will create space to highlight your shoulders, collarbone, and neck.
If you wear a spaghetti dress with a lower neckline, you can also show off the bust you have. The small straps will make your chest look bigger since more fabric will be focused there.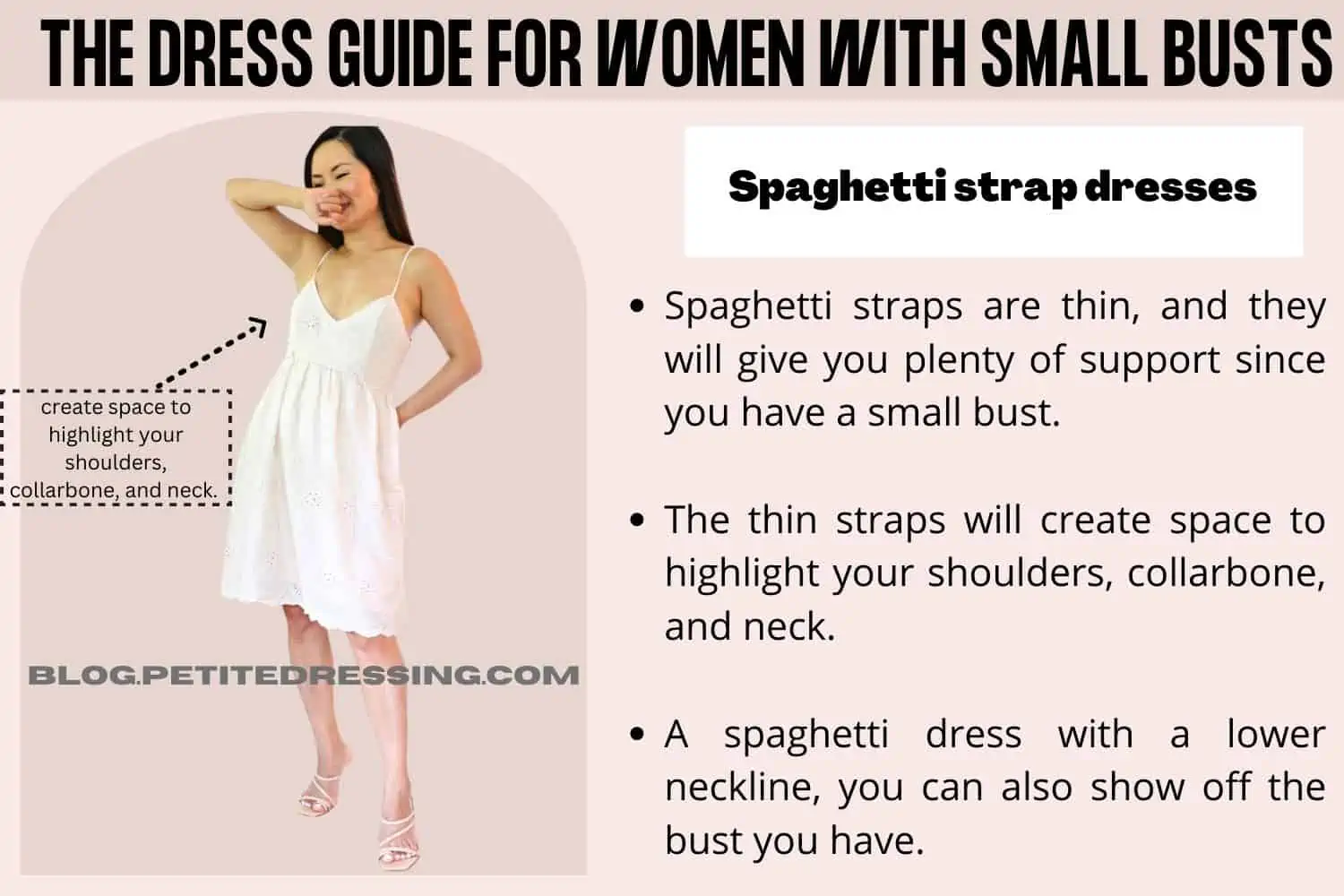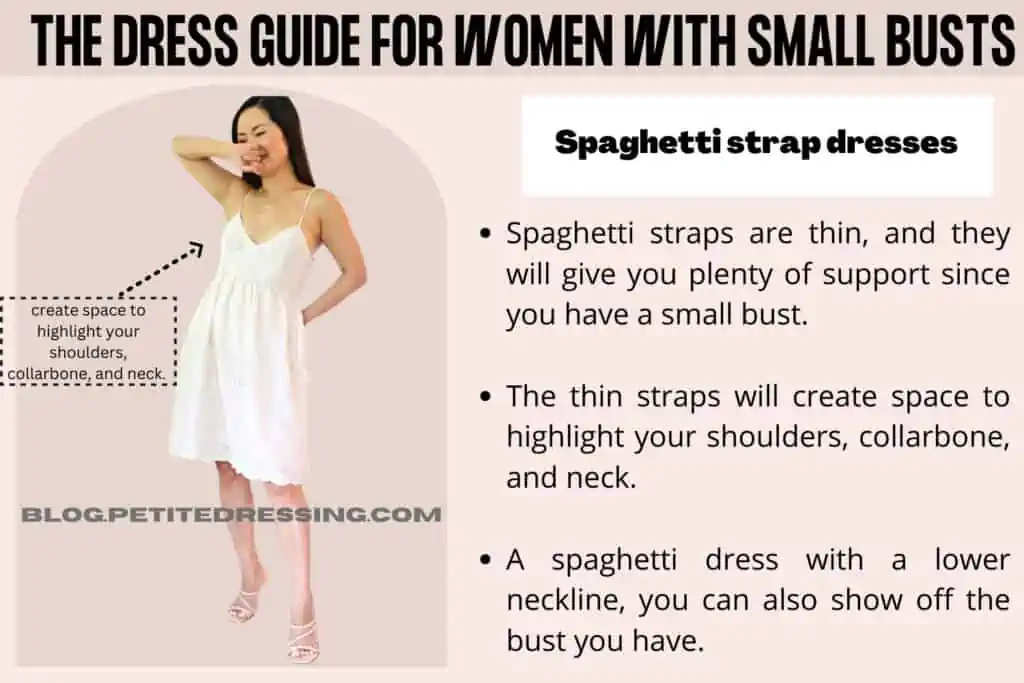 Cutout dresses
Cutout dresses are bold statements, but they can be incredibly flattering on women with small busts. If you get a dress with a cutout directly under your chest, you can draw attention to that area while also concealing the fact that your ribs may be wider than your chest.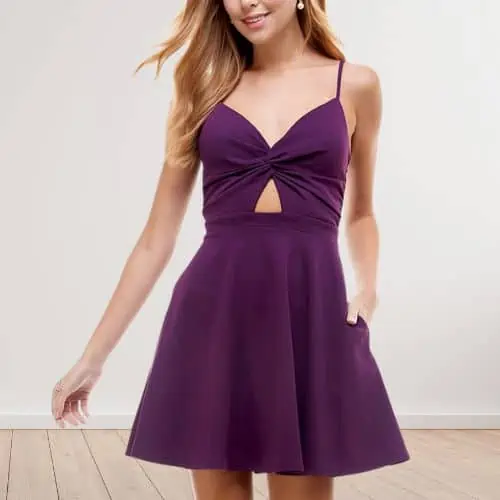 How do cut-out designs flatter your figure?
Cutouts add distractions to your chest while also showing some skin in a classy way.
You can also find dresses that have cutouts where your cleavage would show in order to accentuate that part of your body.
Babydoll dresses
Babydoll dresses have become increasingly popular over the last few years. They are chic, fun, and classy. Babydoll dresses are short and flowy and flare out starting from the very top of the dress.
If you are not a fan of form-fitting dresses that draw attention to your chest, this dress is an excellent choice. It is still trendy and pretty without the need to cling to your body.
Babydoll dresses are usually tiered with a lot of fabric. The puffiness of the dress could also help to make your chest seem a little bit larger than it is without creating a bulky silhouette.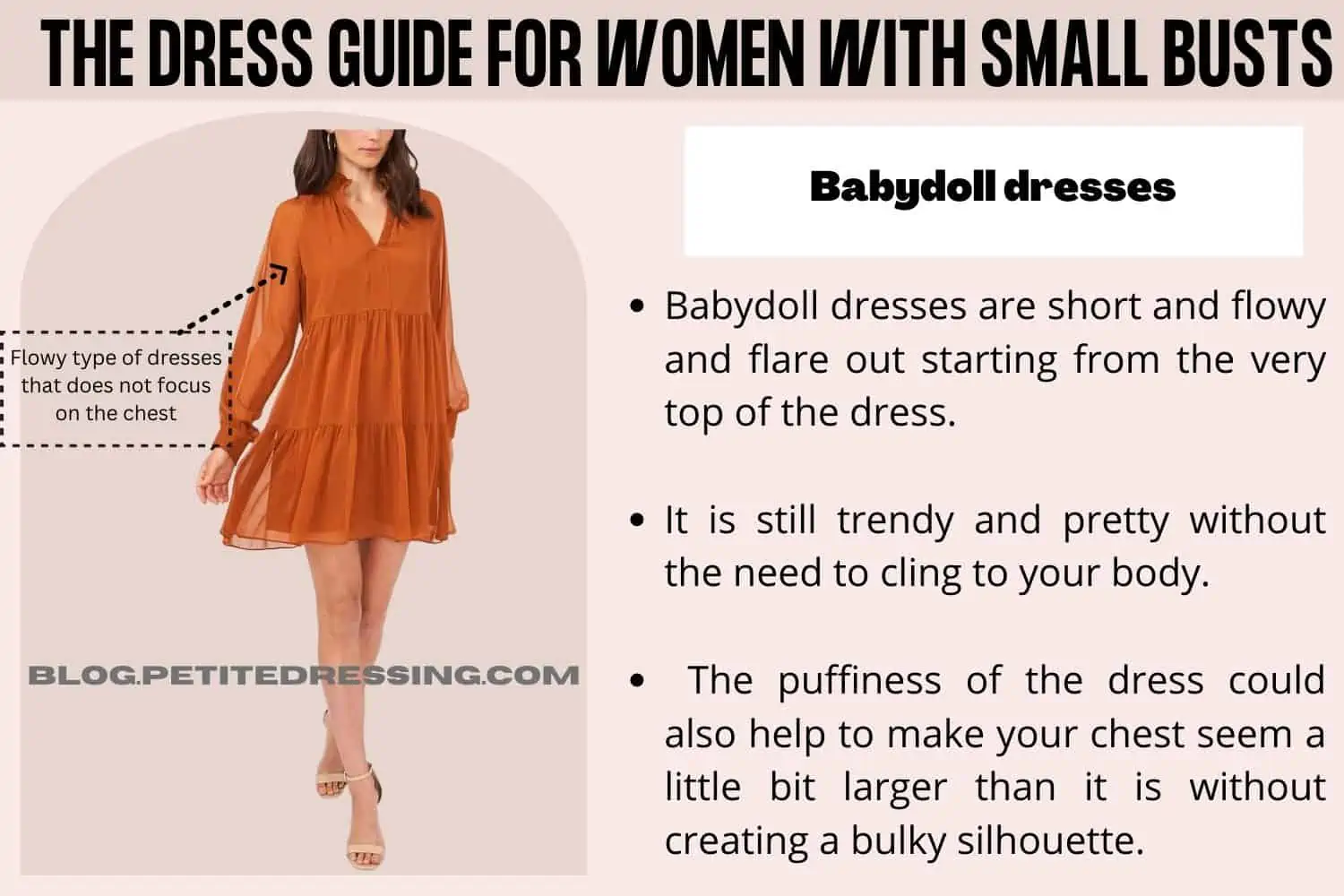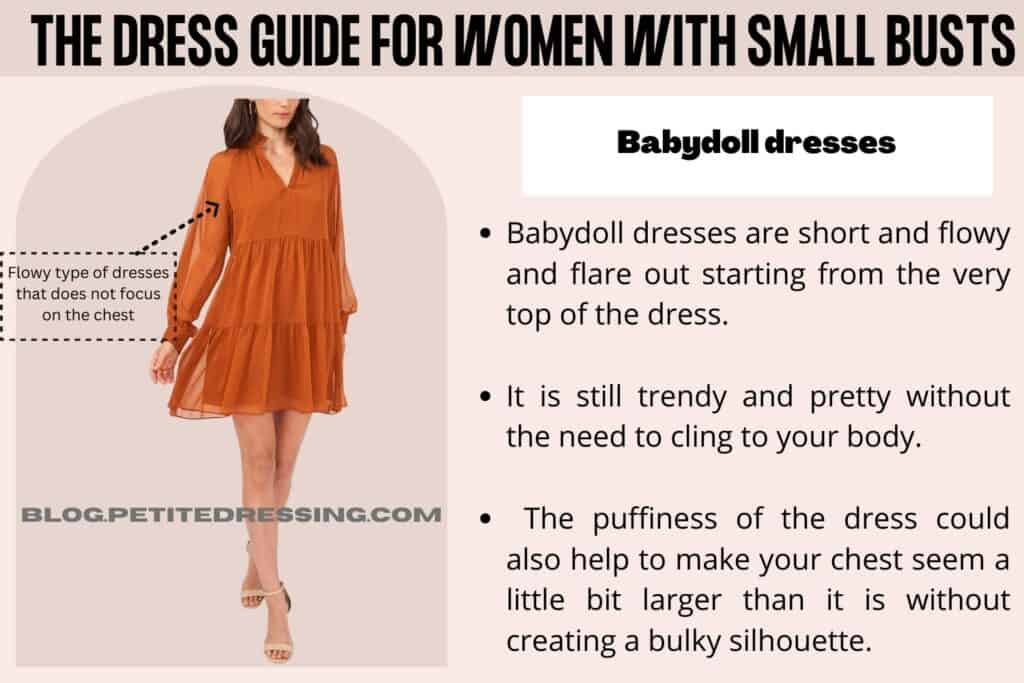 Ruffle dresses
Ruffles can be your best friend if you are looking to add some volume to your chest area/ Dresses with a few playful ruffles can be very elegant and classy.
Ruffles add a feminine flare to the dress and create a distraction from what they are sewn on top of. You can use ruffles to draw attention to other parts of your body as well.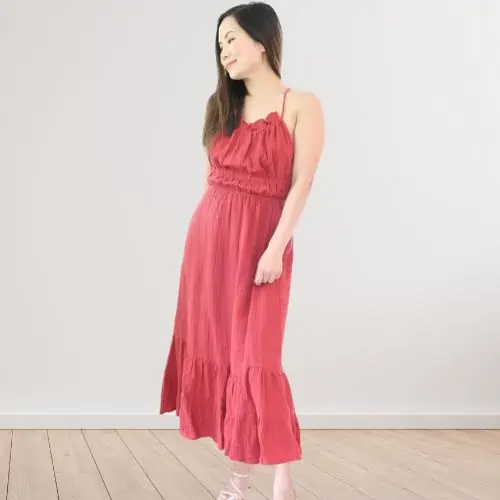 Consideration when choosing ruffles
It is important to make sure that you don't go overboard with the ruffle additions.
Sometimes ruffles can look flashy and tacky if they completely dominate a dress, which is not a look you want to go for.
Caution with strapless dresses
Strapless dresses do a good job of creating space to show off your collarbone, neck, arms, and shoulders. If you are confident about those things and want to show skin on your back as well, a strapless dress should be an excellent choice.
For women with flat chests, this style of dress can be a problem. If the dress doesn't have enough chest to cling to, it will slide down. This would lead to you constantly having to pull up the dress, leaving the possibility of an embarrassing wardrobe malfunction.
If you still have a small bust but are not completely flat-chested, this dress will be very flattering and fairly easy to wear.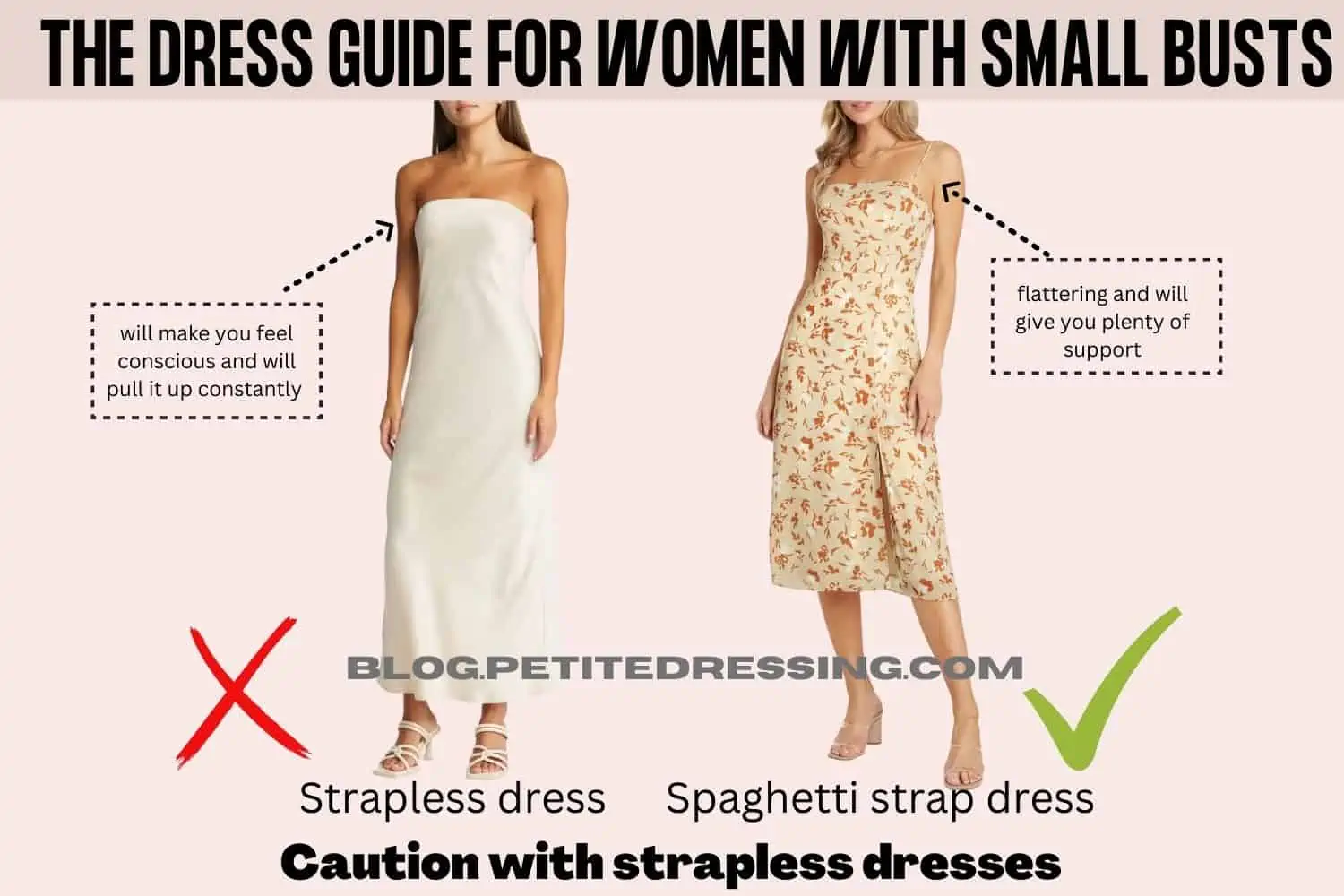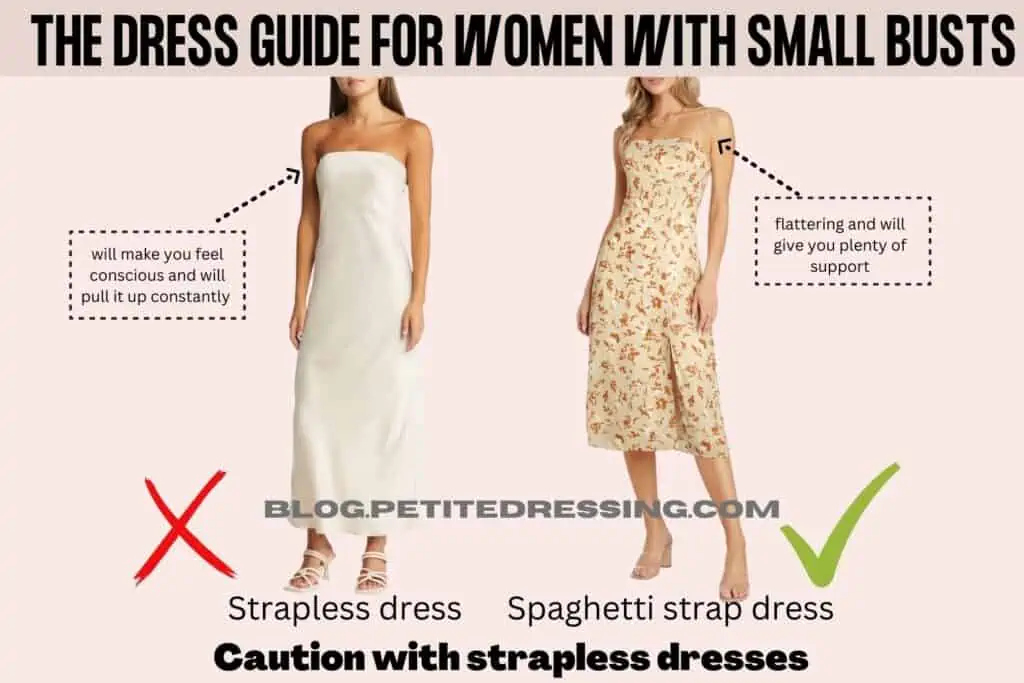 Caution with corset dresses
Corset dresses have a built-in corset that you can tie and style to slim the waist and push up your bust. Corsets on dresses are designed to give you an hourglass shape and highlight your curves.
Corset dresses can sometimes accomplish the opposite of their goal. If your bust is pushed high enough, it will become obvious how small it is. The tight form-fitting build of a corset can also showcase wide ribs.
Corsets can also be unhealthy if tied too tight, so you will want to make sure that you can still breathe comfortably. As long as you feel comfortable and the push-up effect is subtle, corset dresses can be extremely flattering for women with small busts.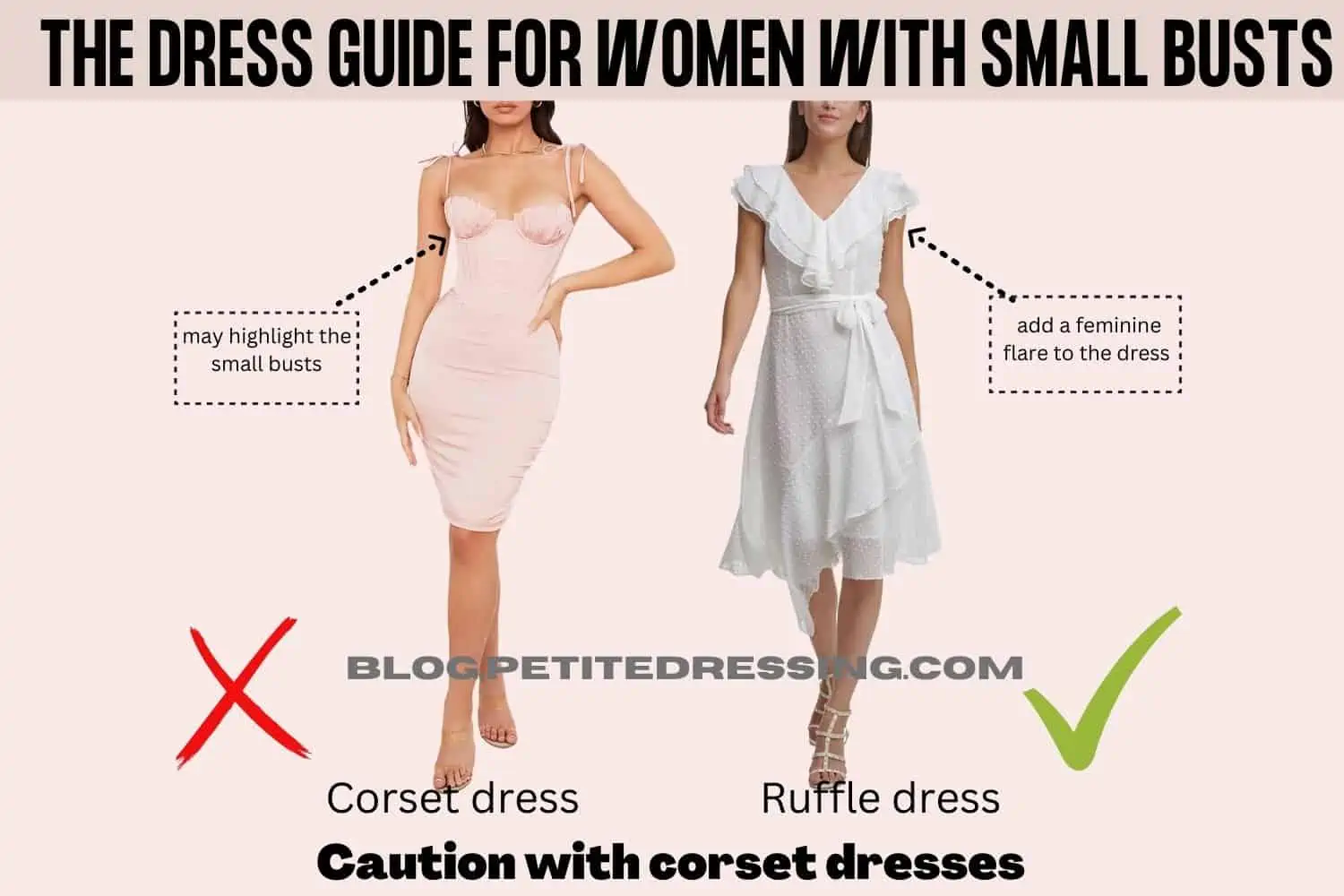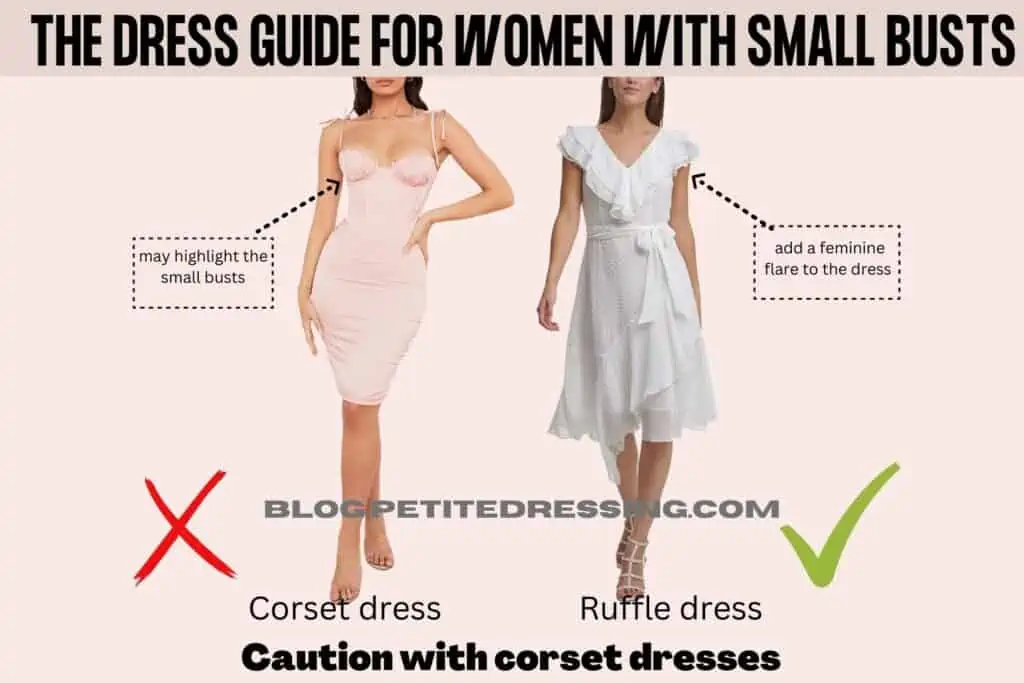 Caution with body con dresses
Body con dresses are totally form-fitting and cling to every part of your body. They are also usually paired with a low neckline in order to accentuate a medium to larger-sized bust.
For women with small chests, it becomes very obvious and noticeable with a body con dress. The fabric of a body con dress is clingy and thin, and can not be utilized to create a certain shape or silhouette.