If your thighs are thick, find the right styles of pants is critical to flatter your shape, Your goal should be to look for pants that skims your legs without clinging to it, and therefore hugs your curves and provide a balance for your shape.
Below is a complete guide of 9 best types of pants for women with thicker thighs, and 3 pant styles you should stay away from, or use caution.
Wide leg pants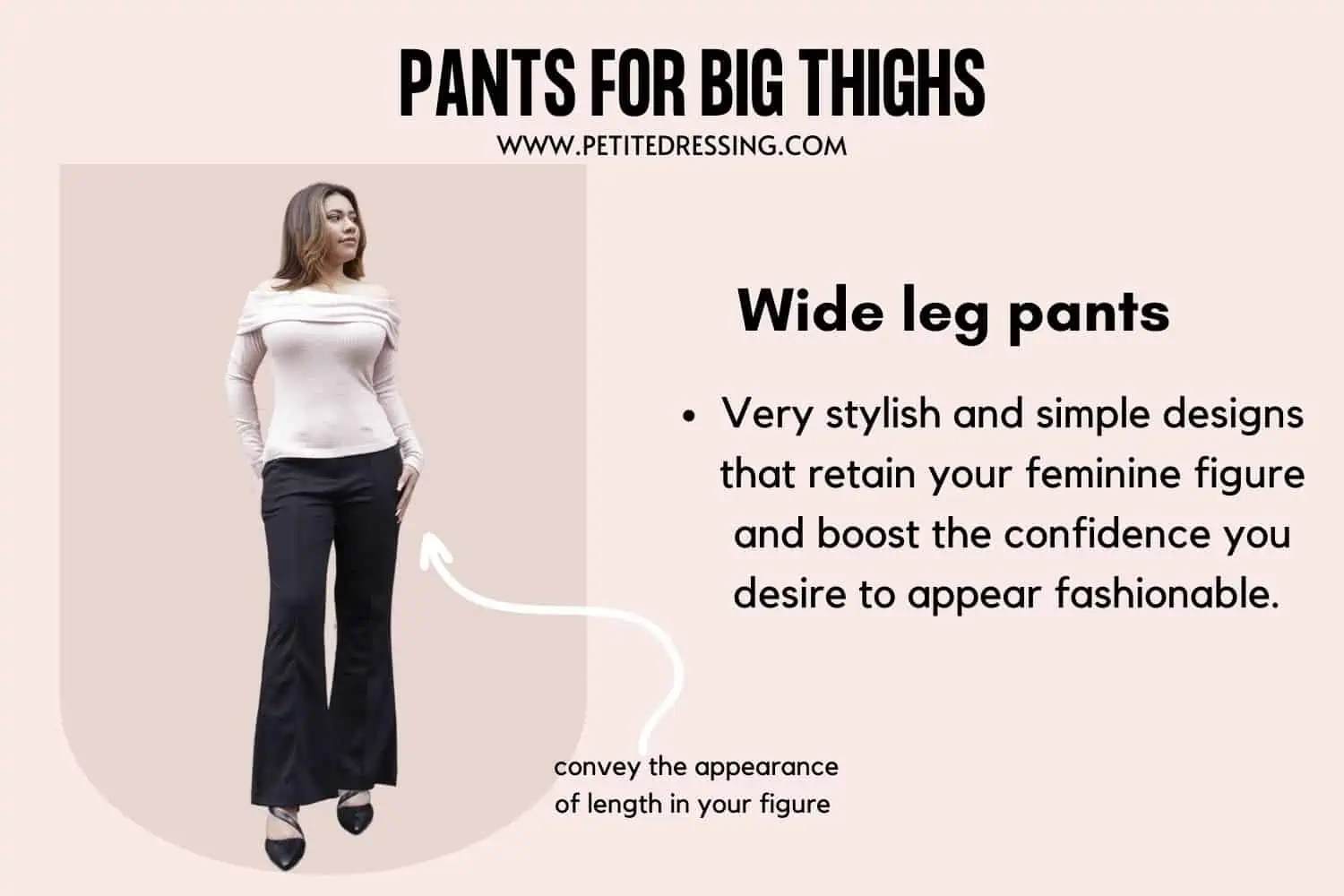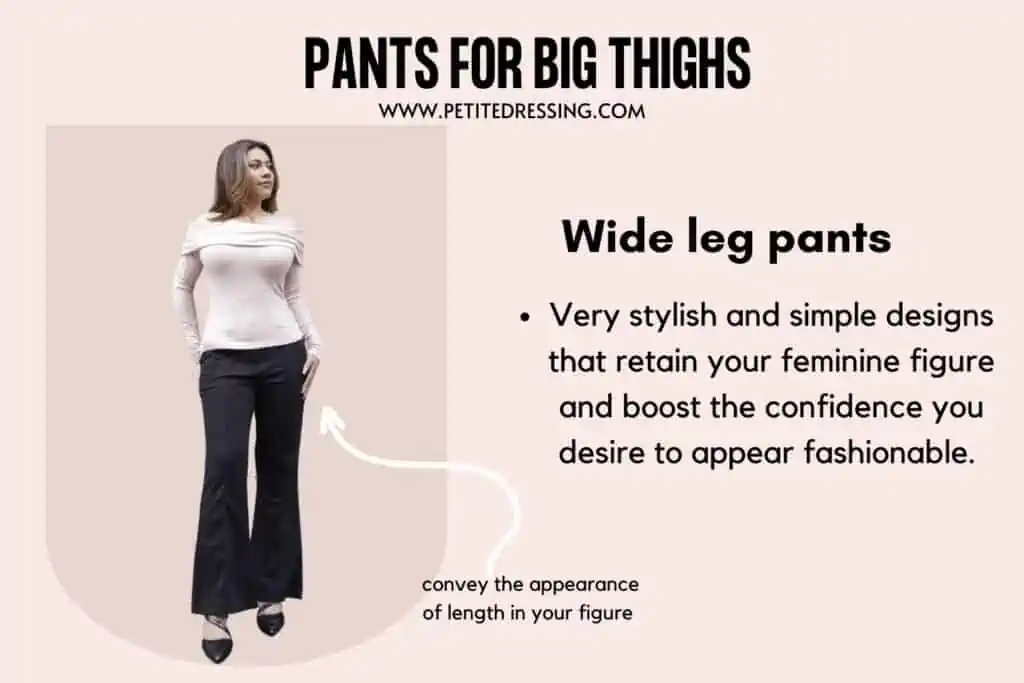 Big thighs can be made to appear slimmer if wide-leg pants are worn on them and this is because of the spacious fitting it gives to your bottom half. They not only make the big thighs look slimmer; they also help conceal the exact size of the thighs.
Wide-leg pants are very stylish and simple designs that retain your feminine figure and boost the confidence you desire to appear fashionable. They are a good pant option for a woman with thick thighs and styling them with the most appropriate top would add a soft finish to your shape.
Add them as an essential part of your wardrobe as they would further help to convey the appearance of length in your figure. The wide-leg pants are very comfortable and would not cause any form of restriction around your big thighs.
High waisted pants
The most unique waistlines for your pants are those that extend slightly above your natural waistline because they are a better way to assume the illusion of length in your figure. The eyes would be diverted to the waistline and less attention would be drawn to the big thighs.
It is for this reason that high-waisted pants are chosen in preference to low-waisted pants. High-waisted pants are universally flattering with a feel of utter sophistication around the big hips and your overall figure.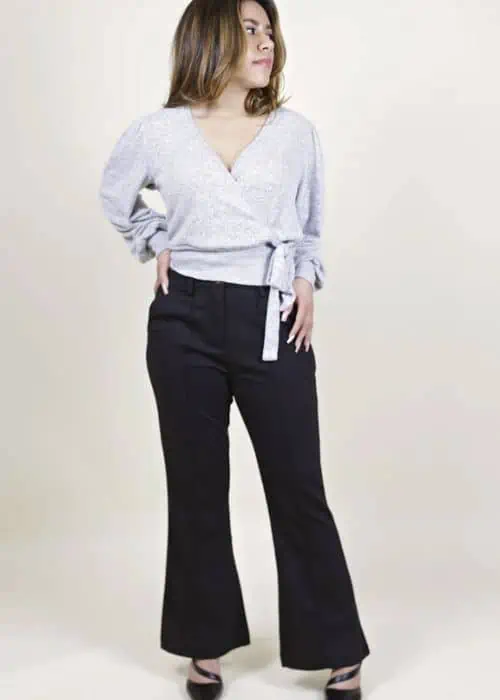 Why should you opt for high-waisted pants?
They are trendy pants that work well for virtually any figure and the woman with thick legs is not an exception.
High-waisted pants cinch the waist and are pretty stylish in elevating your entire body frame if properly styled with the right top.
Straight cut pants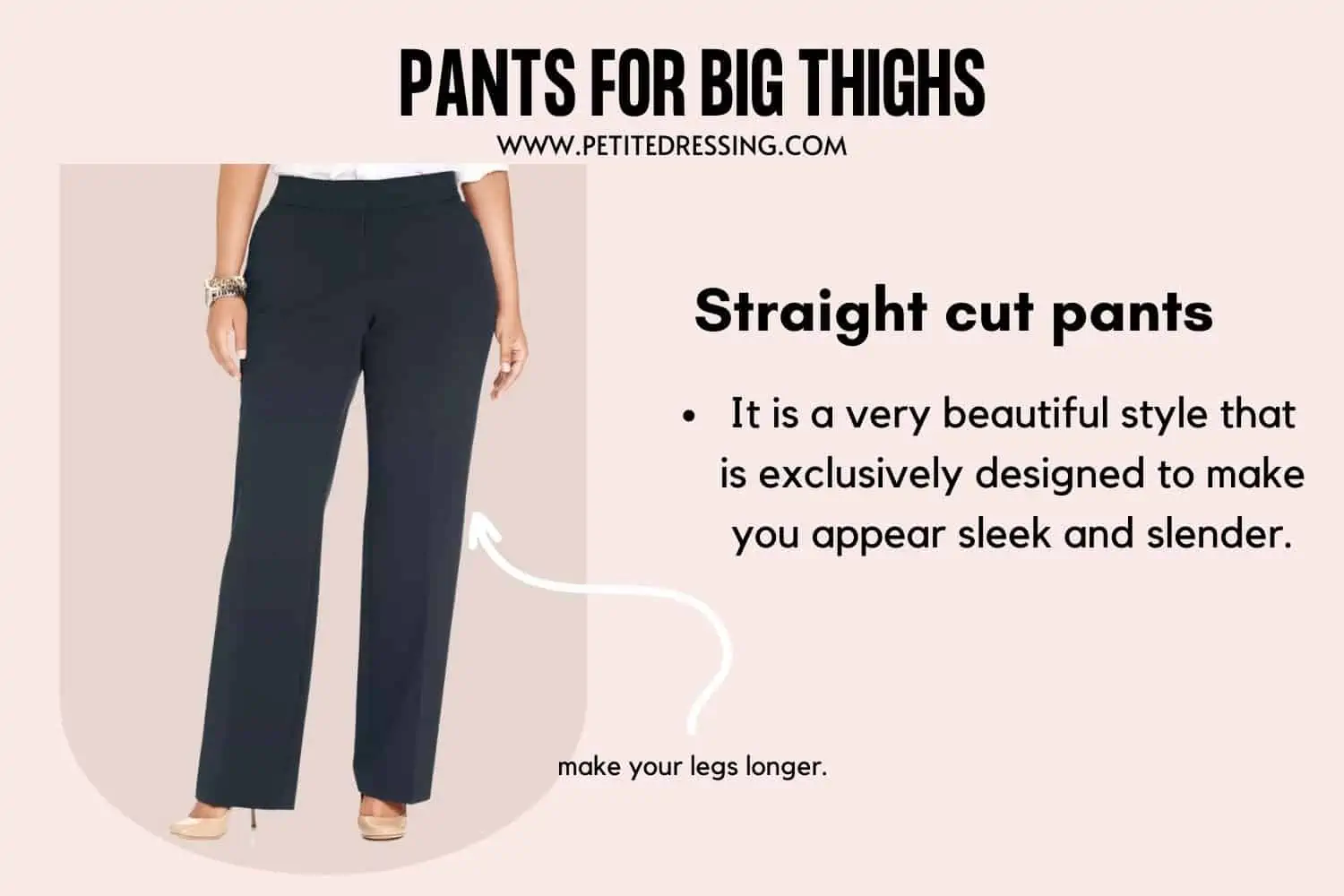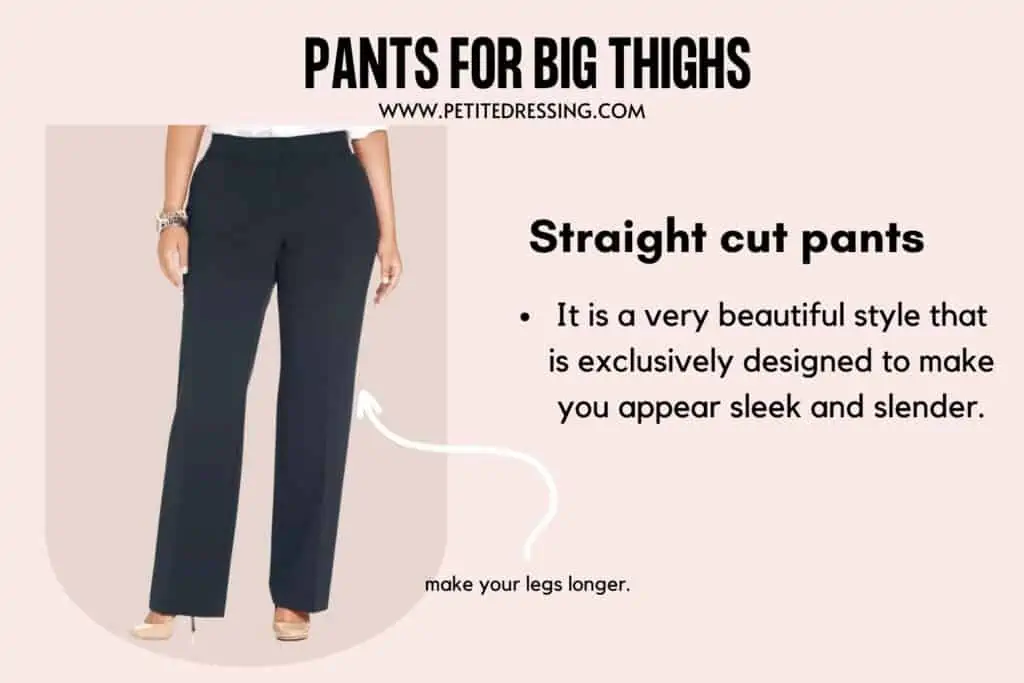 You can never go wrong nor appear shapeless in straight-cut pants which are therefore highly recommended for thick thighs. The straight-cut pant does not taper below the knee but is designed to have a cut that runs from the top of the leg to the bottom.
They are neither tight nor loose fitting but have a very unique cut that comfortably accommodates the thick thighs and offers them the freedom to move. It is a very beautiful style that is exclusively designed to make you appear sleek and slender.
Straight-cut pants have a relaxed fitting that does not change shape at the knee but extends all the way to make your legs longer. The pant is an effortlessly cool design that is incredibly fashionable and suitable to boost the confidence of a woman with big thighs.
Well-tailored pants
The best pants for your shape are often very difficult to come by and that is why well-tailored pants should be a go-to option for your shape. The first tip to getting the right pant that fits your big thighs is to get your measurements taken.
Well-tailored pants are very elegant and do not cause any form of discomfort around your hips. You can also take your oversized pants to your tailor to give them a good shape that is suitable for your figure.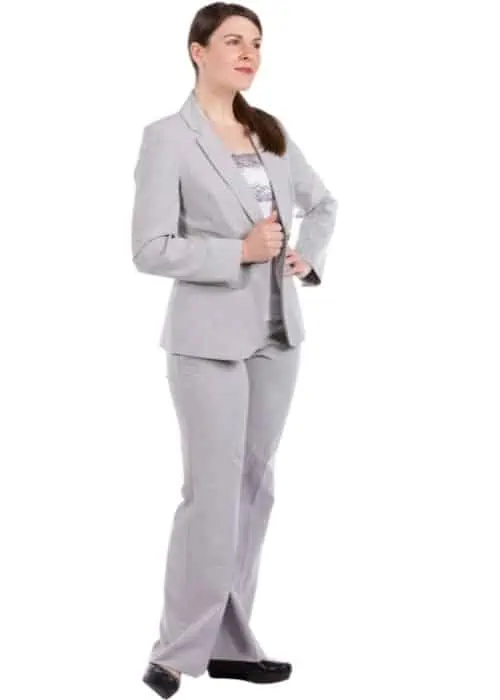 importance of getting pants in your size
If you have big thighs, you should either get a tailor to make your pants or go along with your measurements when purchasing pants.
Well-tailored pant is never oversized nor undersized and would most certainly sit well to accommodate your big thighs.
Pants with vertical stripes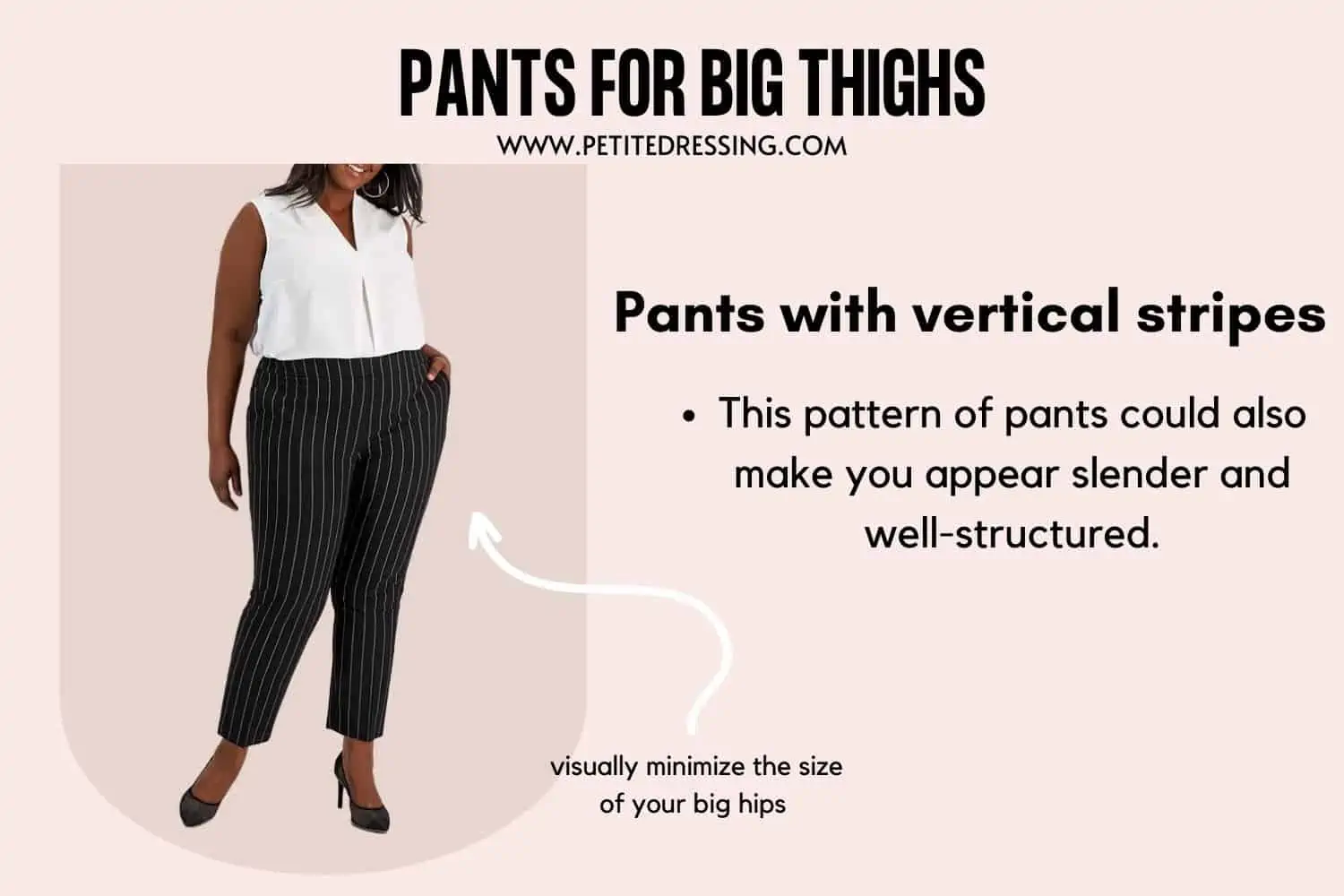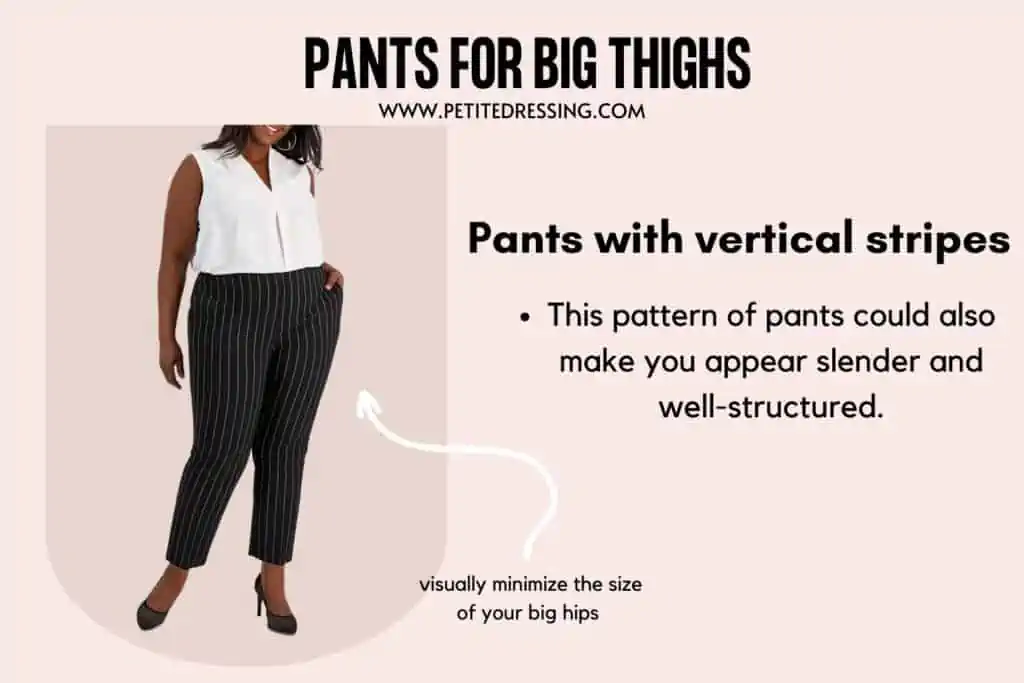 Striped pants can be worn in place of colored pants and you should be mindful when choosing the type of stripes and their size. You can visually minimize the size of your big hips by wearing pants with vertical stripes.
Pants with vertical stripes make the eyes assume length in your figure and this could make your big thighs look smaller than normal. This pattern of pants could also make you appear slender and well-structured.
To avoid any contrasting effect, then avoid wearing horizontal striped pants because they would make your big thighs noticeable and that is not a great style idea. Rule out horizontal striped pants and make the vertical striped pant your favorite pattern of striped pants.
Palazzo pants
You can efficiently create room for your big thighs without losing your shape and looking cropped by wearing palazzo pants. They are quite different from wide-leg pants as they have more space to allow free movement of your thighs.
Most palazzo pants are crafted from light fabrics that are super comfortable and give a graceful flare as you walk. This loose flare pant is flattering and considered a classic wardrobe staple for your big thighs.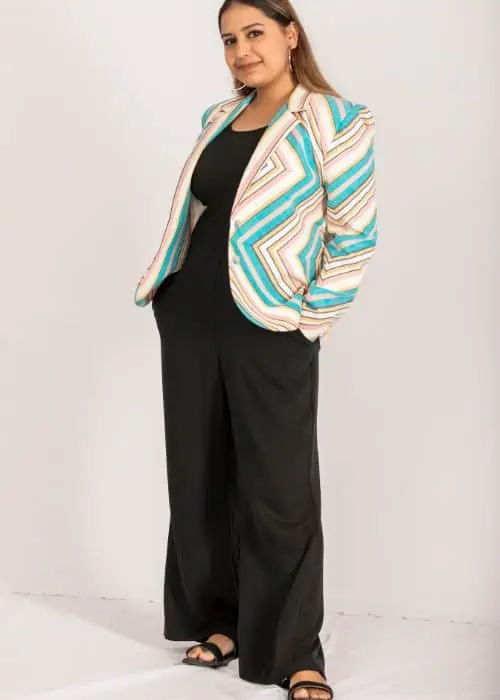 Palazzo pants are a must-have
This stylish legwear provides your figure with the ultimate comfort that gives you the epitome of utter sophistication.
The pants do not have so many embellishments around your concerned region so you do not have to be too conscious about your big thighs whenever you rock them.
Sailor pants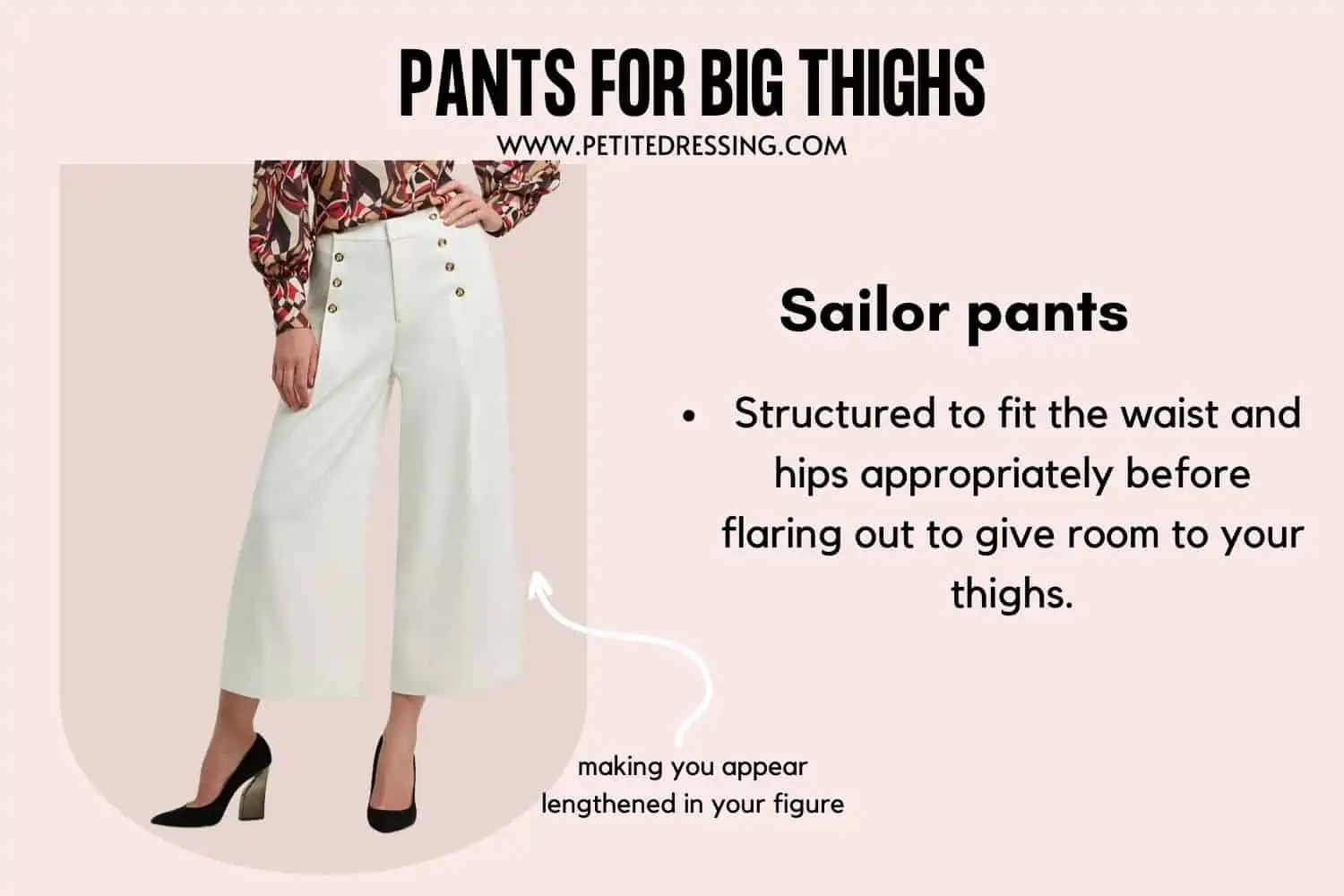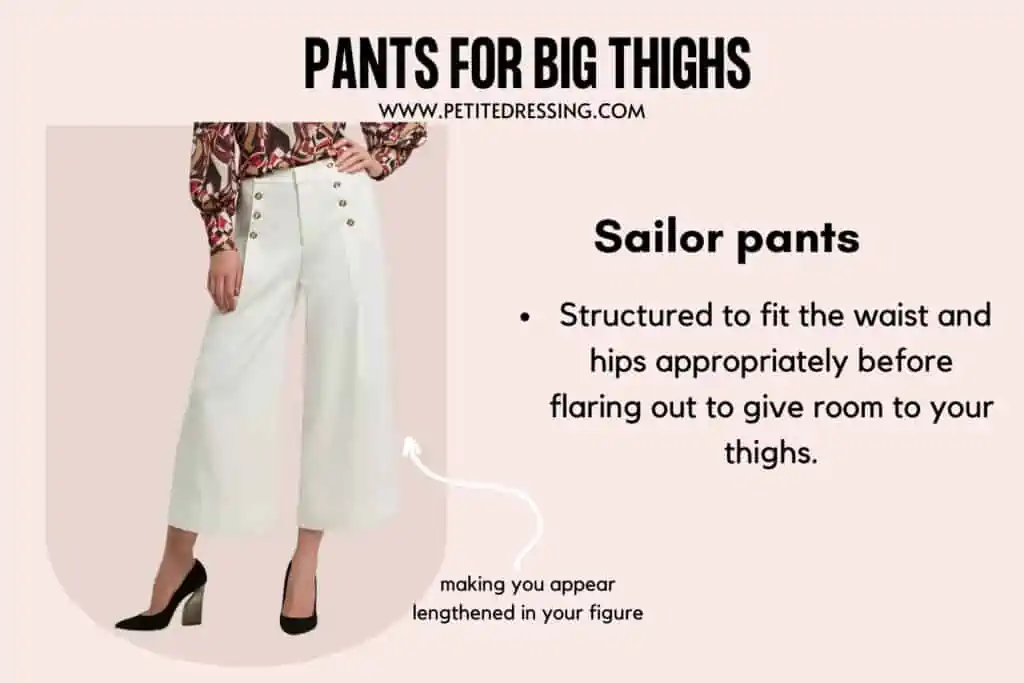 Another style of comfortable pants for your big thigh is the sailor pant that is structured to fit the waist and hips appropriately before flaring out to give room to your thighs. They are also best in making you appear lengthened in your figure.
Sailor pants are loose-fitting pants that are edgy and stylish to uplift the look of a woman with big thighs by reducing the consciousness she gives her concerned region. It lets you own and embrace your figure.
You can appear more elegant if you style your big thighs with high-rise sailor pants and a fitted top. You most definitely cannot go wrong in sailor pants so make them a part of your wardrobe staple.
Pants in dark colors
If you want a different style of pants for your shape then consider those pants with a dark color shade because they would not add a visual imbalance to your shape. Pants with dark colors give a natural slimming effect to your big thighs.
They are also the most feminine shade of color that is pretty stylish and suit your shape. Other neutral colors that have a tone similar to your skin are not also a bad option but dark colors are most preferred.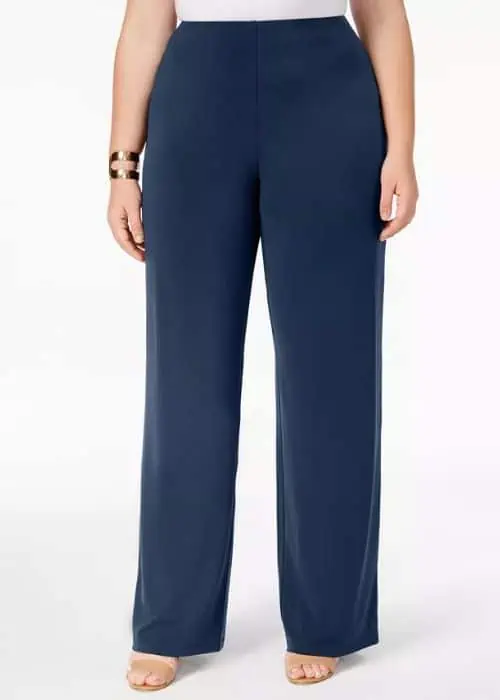 Why you should not use bright-colored pants
You do not need bright-colored pants on your shape because they would not rightly flatter your figure and they would give the eyes an illusion of width in your big thighs.
They have no form of elegance attached to your big thighs so do not attempt purchasing them for your shape.
Flare pants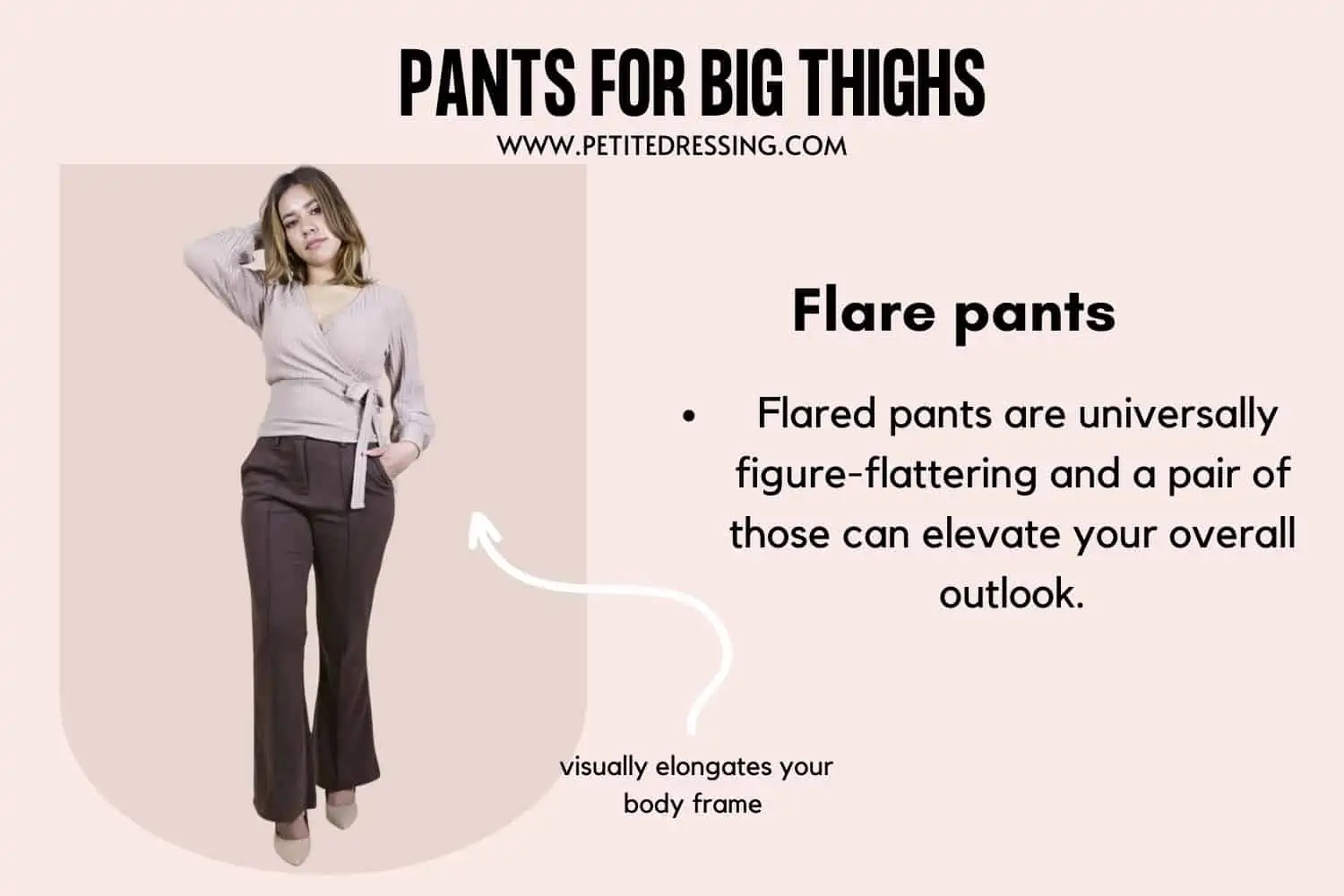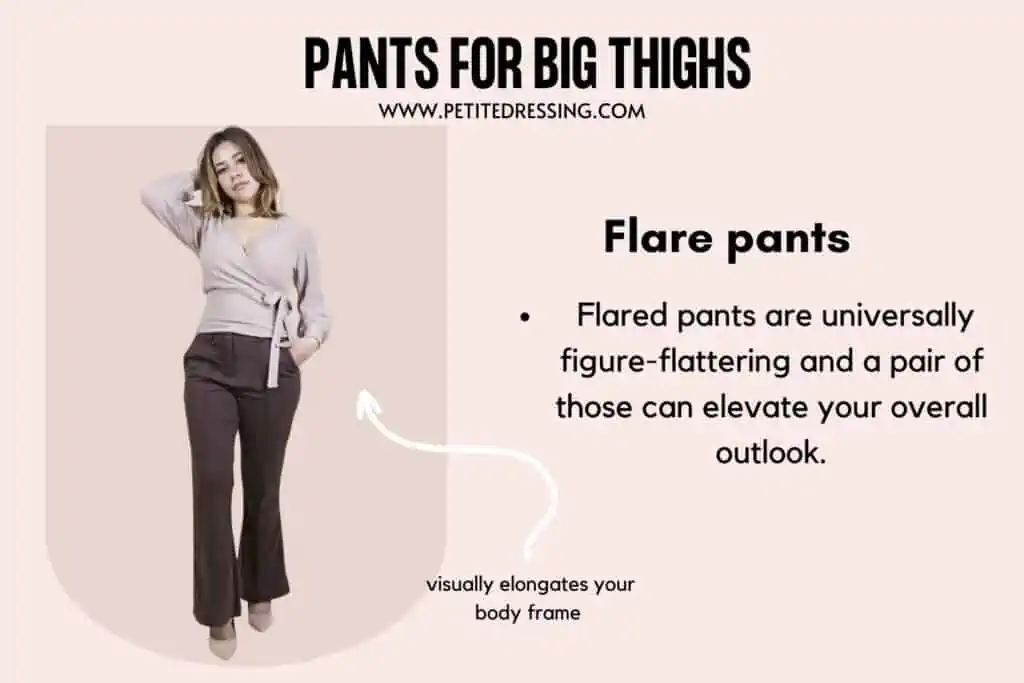 The flared pant is a pant designed to widen from the knee and increase to a conservative flare as it approaches the ankle. It is a very beautiful design that diverts the attention of the eyes to the flared region while still maintaining balance in your lower half.
Flared pants are very stylish fashionable pants that work well for big thighs but be conscious of the flare it features. If the flare is too much it may drown your frame so purchase flared pants that are not too voluminous at the lower section of the leg.
The pant is versatile and those with a subtle flare creates a vertical line in the leg that visually elongates your body frame. Flared pants are universally figure-flattering and a pair of those can elevate your overall outlook.
Avoid Cargo pants
Big thighs are not designed for cargo pants because of the excessive embellishments around the hip and thigh regions. Cargo pants have different types of pockets and hoops that would keep the keen attention of the eyes on your bottom half.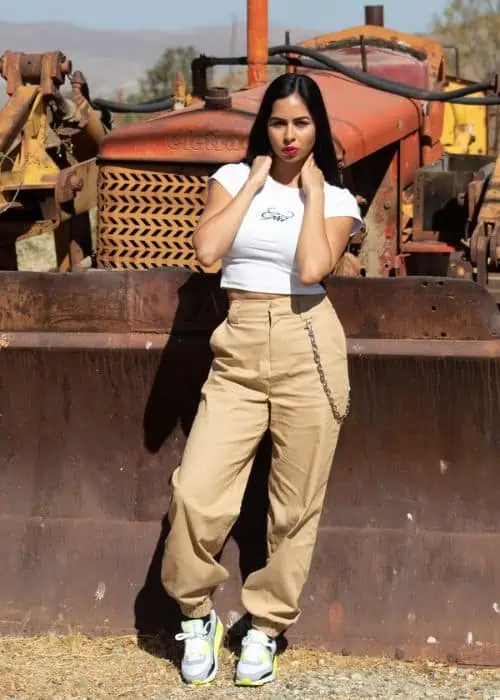 Cargo pants should be out of your wardrobe staple, here's why
They may be considered as comfortable but the numerous pockets it features would make them appear too wide.
Cargo pants are not the most fashionable pant pattern for your big thighs and so do not wear them.
Avoid cargo pants because they are not flattering on big thighs and would not give you any reason to appreciate your body frame.
Do not make them an essential style for your wardrobe staple.
Avoid skinny pants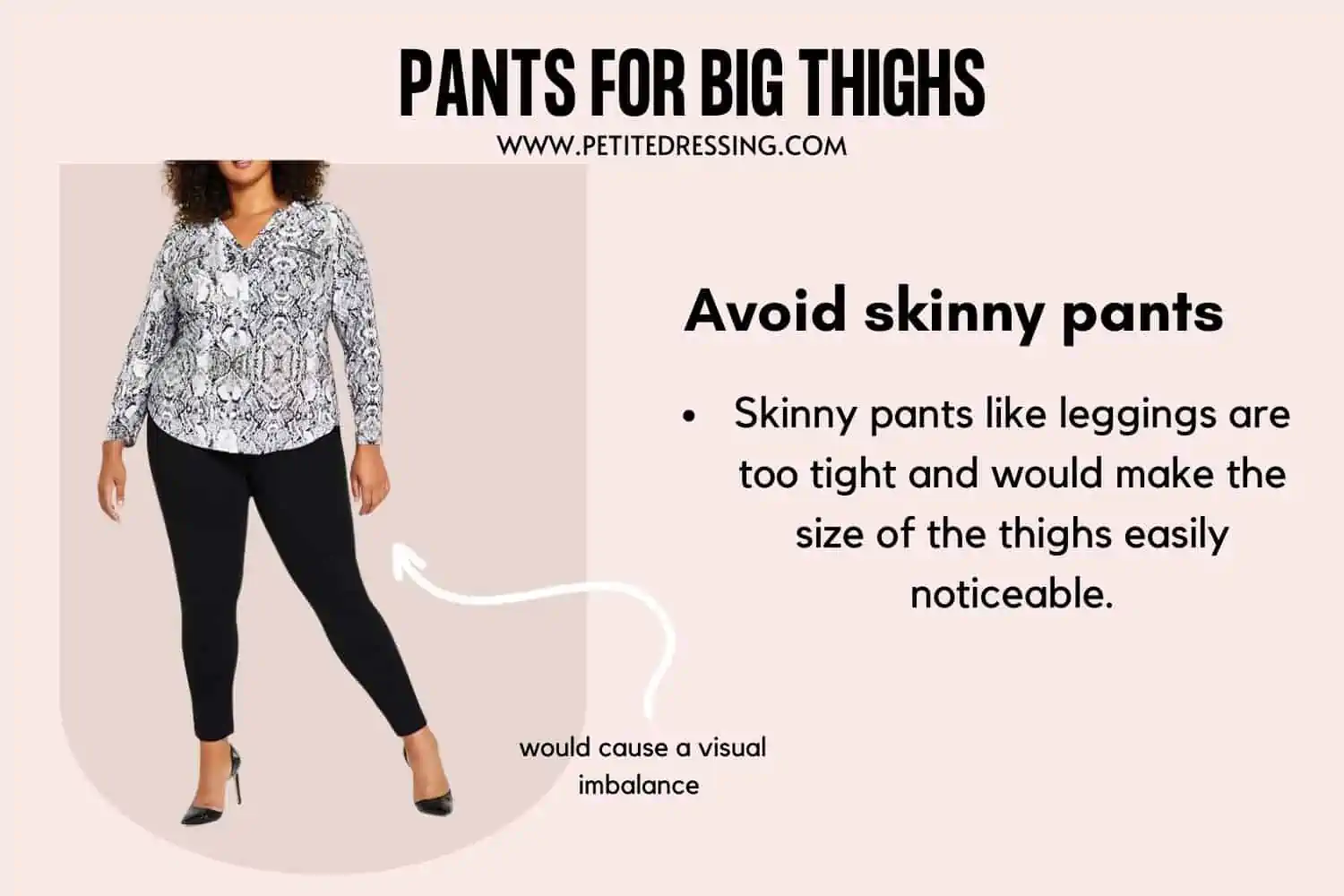 They are slim-fitting pants used to accentuate the big thighs and as such do not work well with your shape. Skinny pants have narrow legs with small leg openings that don't create breathable space for the big thighs.
Do not try to rock them because they are not fanciful pant styles that would flatter your unique figure. Skinny pants like leggings are too tight and would make the size of the thighs easily noticeable.
They would cause a visual imbalance by making the thighs appear bigger than their normal width. Try out other pant styles and avoid skinny pants because they do not fit your big thighs.
Avoid horizontal striped pants
Keep your big thighs away from peering eyes by not wearing pants with horizontal stripes. They would give the eyes the illusion of width in the big thighs.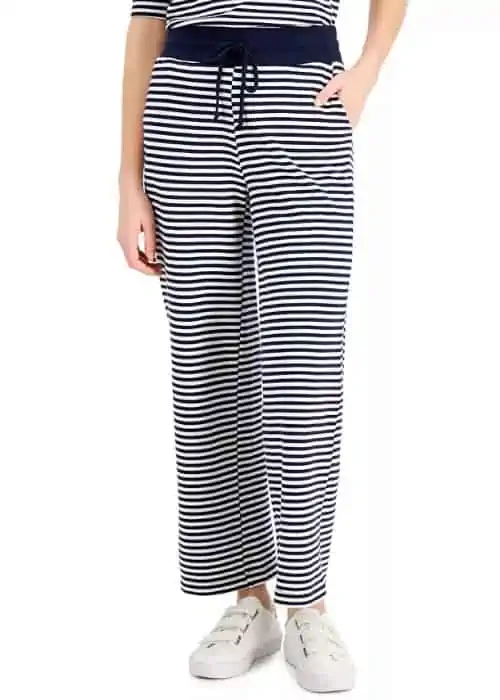 Pants with Horizontal lines are not the best for big thighs
There is no perfect way to style these striped pants to achieve the best fit because the design is not structured for your shape.
To appear elegant and subtle in your shape on any occasion, avoid pants with horizontal stripes.