If you are like me, i.e. don't have much natural waist definition, you may know how important it is to find the right styles to flatter your figure. Besides, I also have a petite clothing line for women 5'4″ and under, so I style petite models of all kinds of body shapes and sizes every week for our photos and product fitting.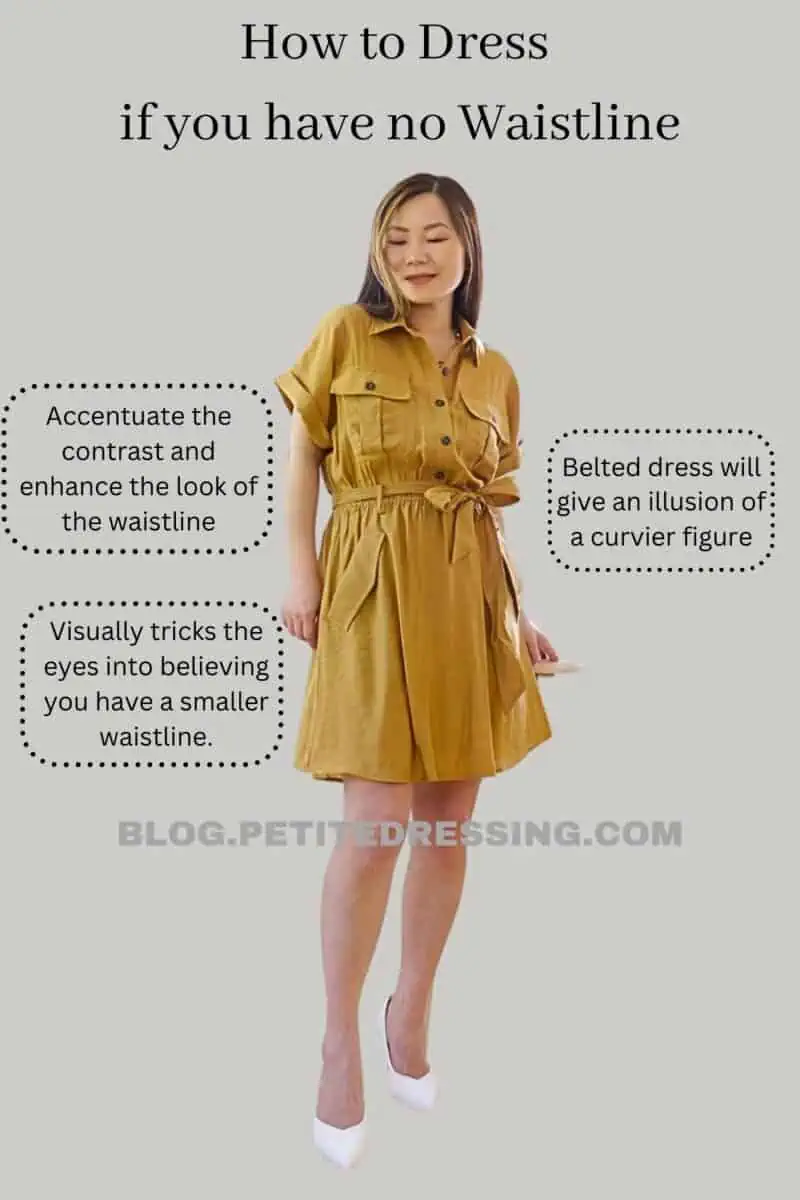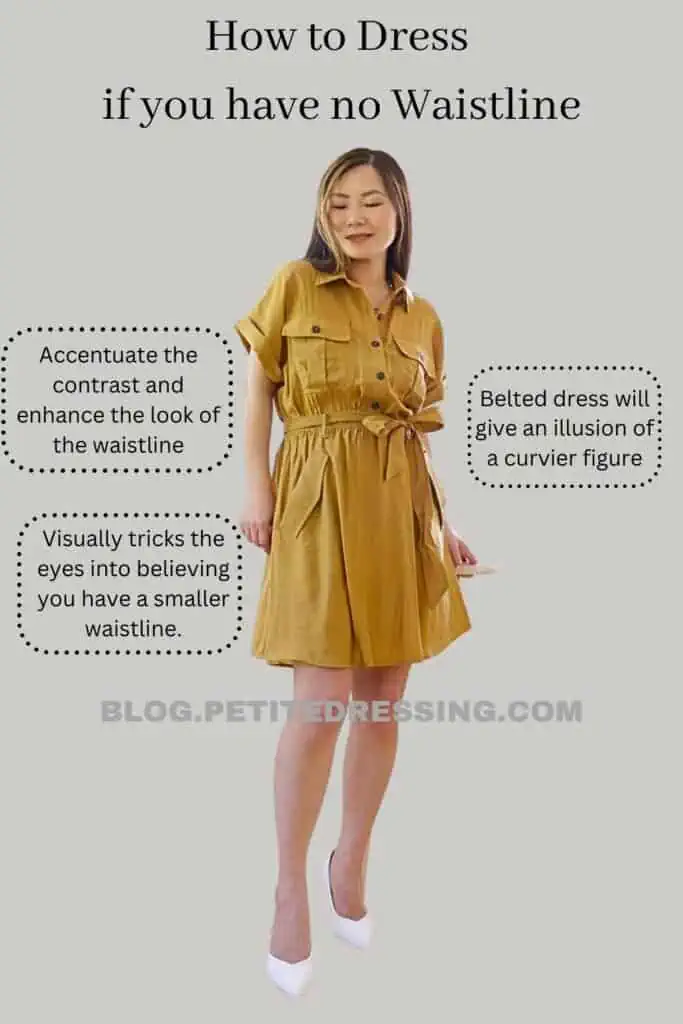 First off, if you are the no waistline figure, it could be many reasons. It doesn't necessarily mean you need to lose weight. In fact, some body types tend to gain weight around waist even if they gain only a tiny bit of weight.
Based on my first hand experience, as well as feedback from thousands of my customers, I've put together this guide to help you with your fashion journey.
Belted dress
If you want to create the waistline, the most obvious choice is to wear a dress with a belt.
A belted dress will give you a waist definition instantly, so this is the easiest way to flatter your figure.
The key to find the right style of belted dress is to make sure the best is positioned at the optimal place.
What I mean is the belt need to be be sitting higher on your natural waist (even though you do not have an obvious waist, you can still find the narrowest point of your torso which is your waistline), in order to give you the most slimming effect.
Besides, it also can immediately make your body proportion appear better and legs look longer.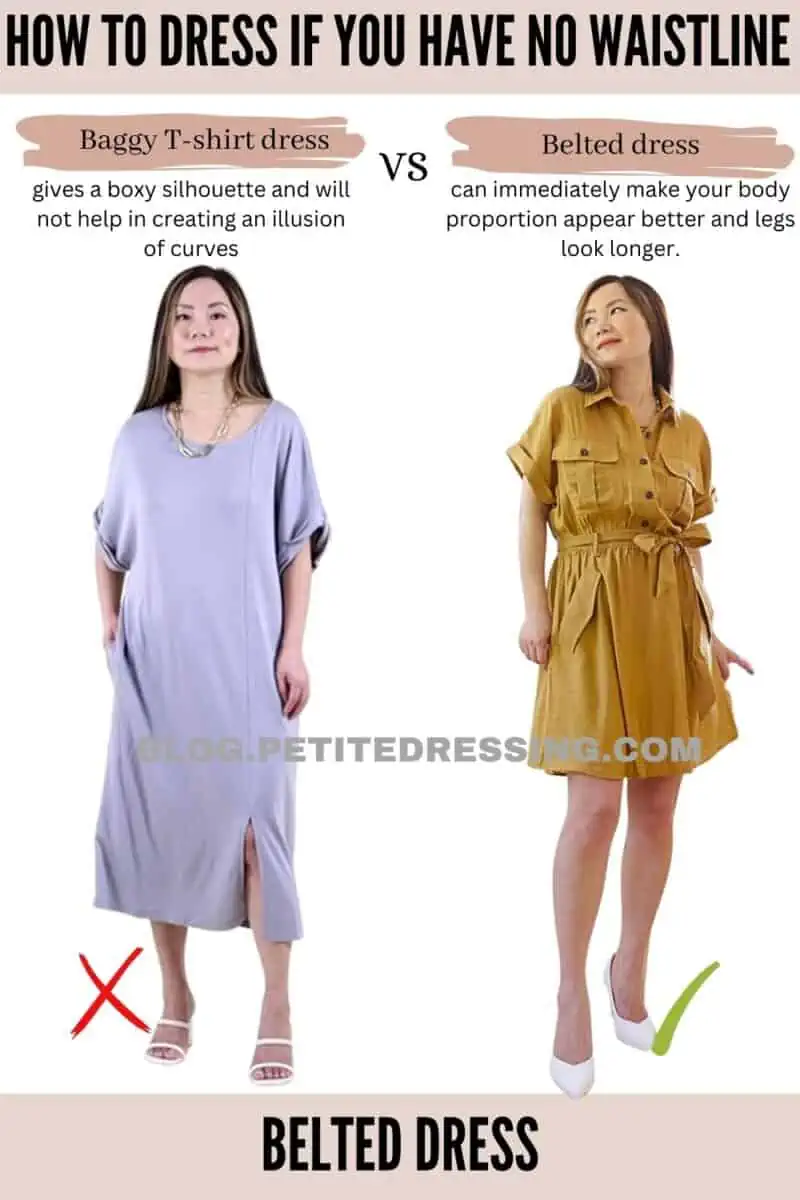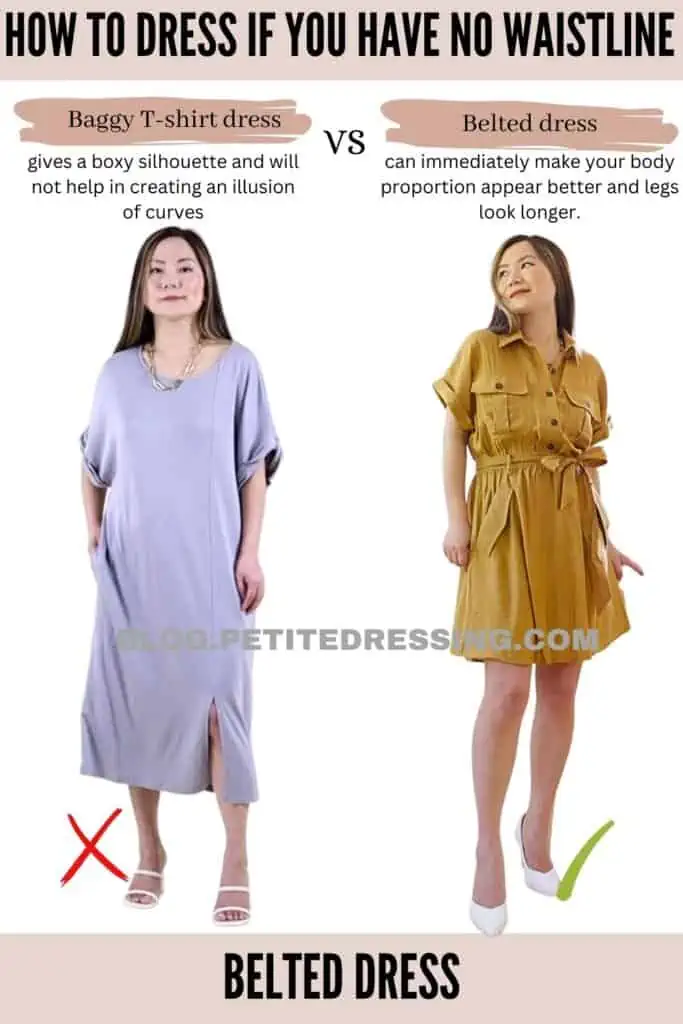 Caution with wide belt
Even though belts can effectively define your waist, I do have to caution you when it comes to anything too wide.
A wide belt will take up the entirety of your torso and therefore draw a lot of attention there.
Since we don't have much waist to begin with, this sometimes can work against us, or at least make us feel more self conscious about our lack of waist difintion.
Besides, a wide belt can also make your torso look shorter, so they are not the best option if you happen to be shorter liker myself and have shorter torso to begin with.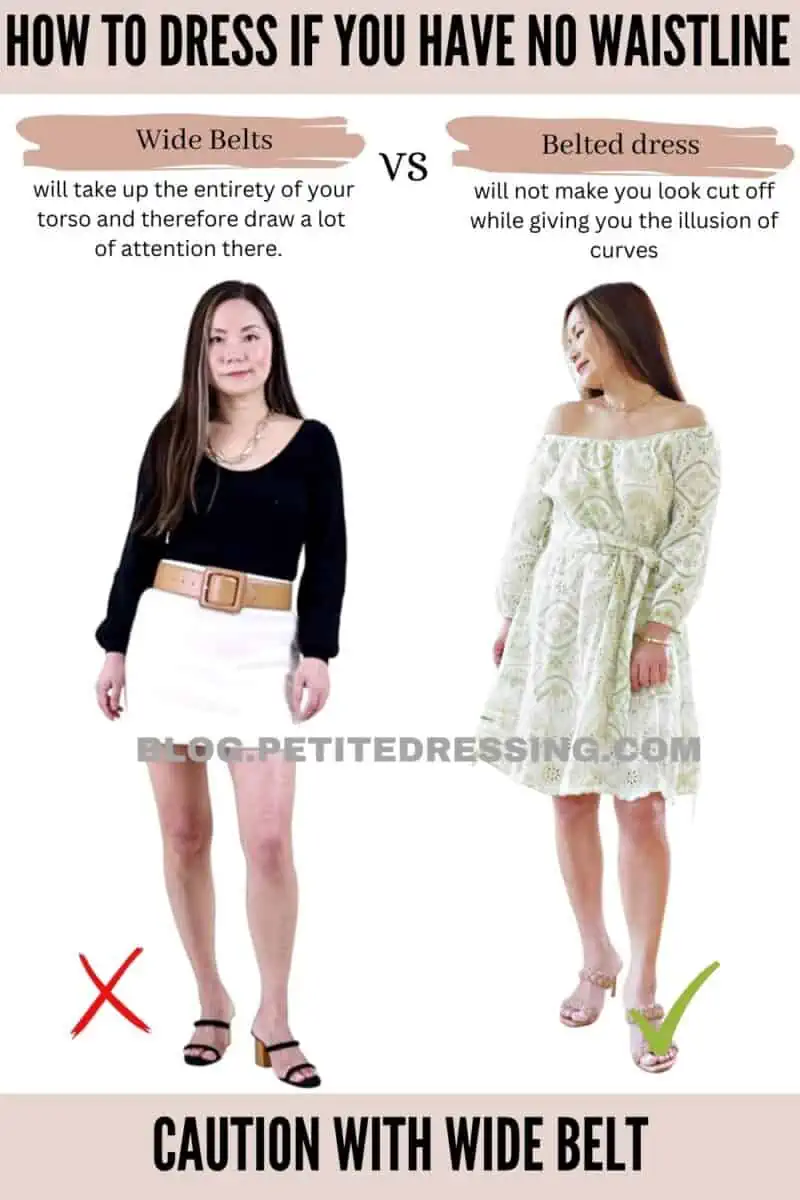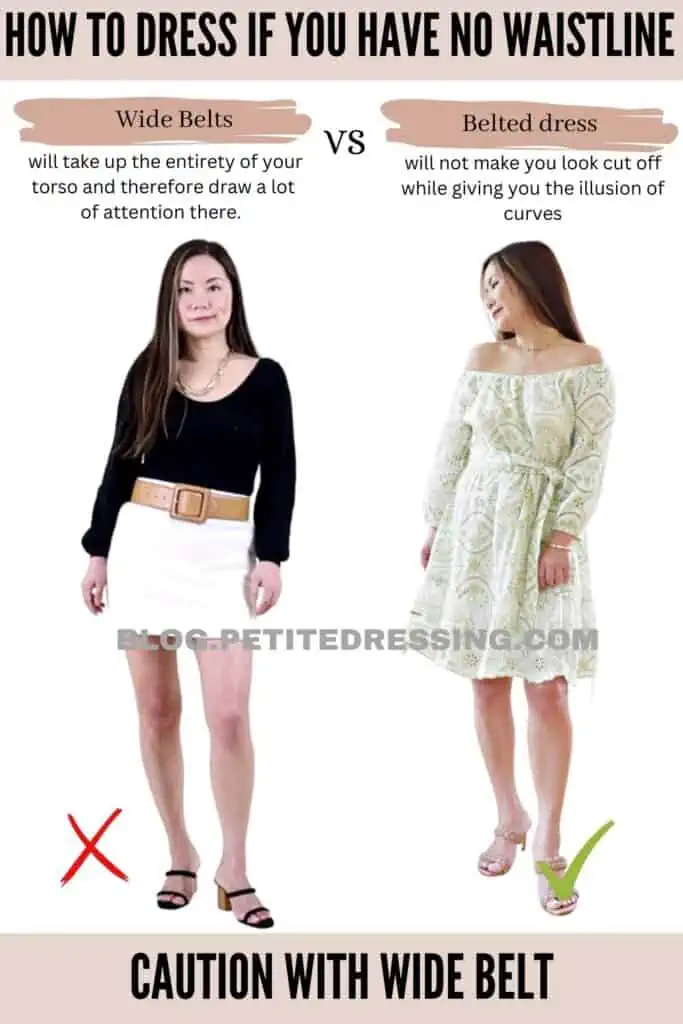 Empire waist dress
Empire is a style in clothing in which the dress has a fitted bodice ending just below the bust, giving a high-waisted appearance, and a gathered skirt which is long and loosely fitting but skims the body rather than being supported by voluminous petticoats.
The outline is especially flattering to those wishing to disguise the stomach area or emphasize the bust. The shape of the dress also helps to lengthen the body's appearance.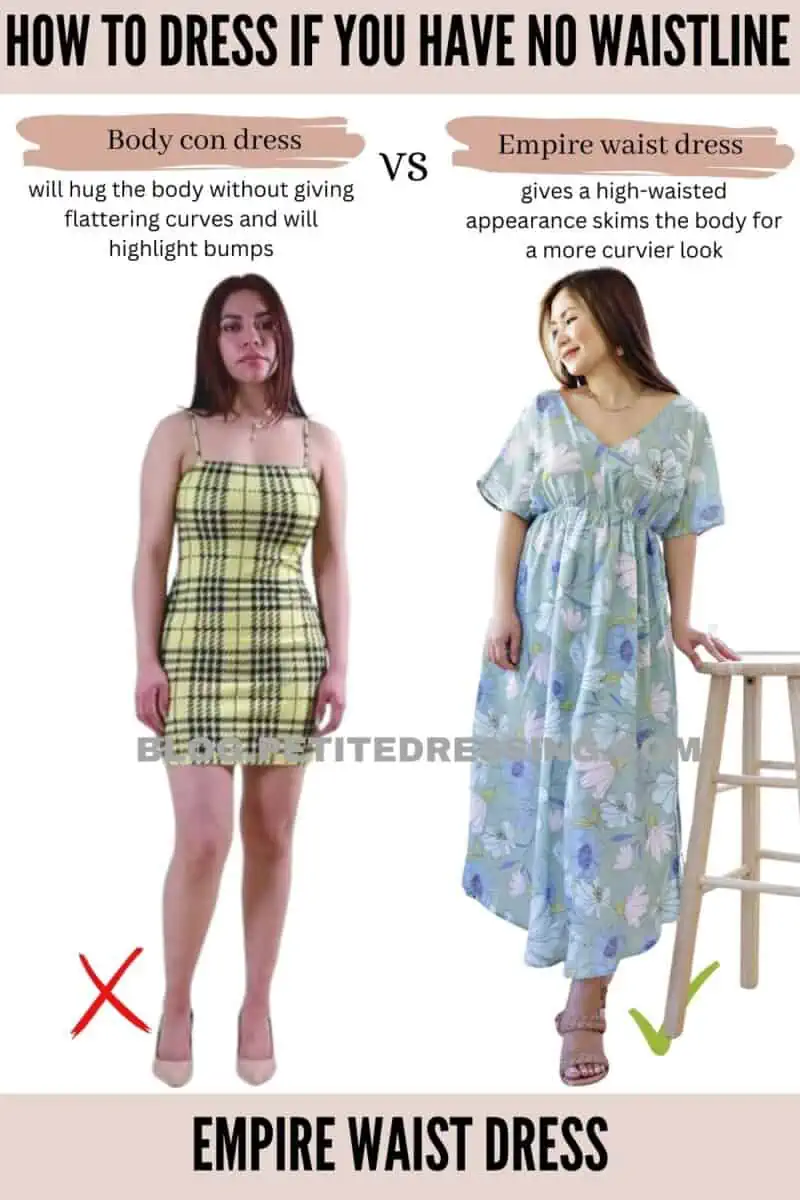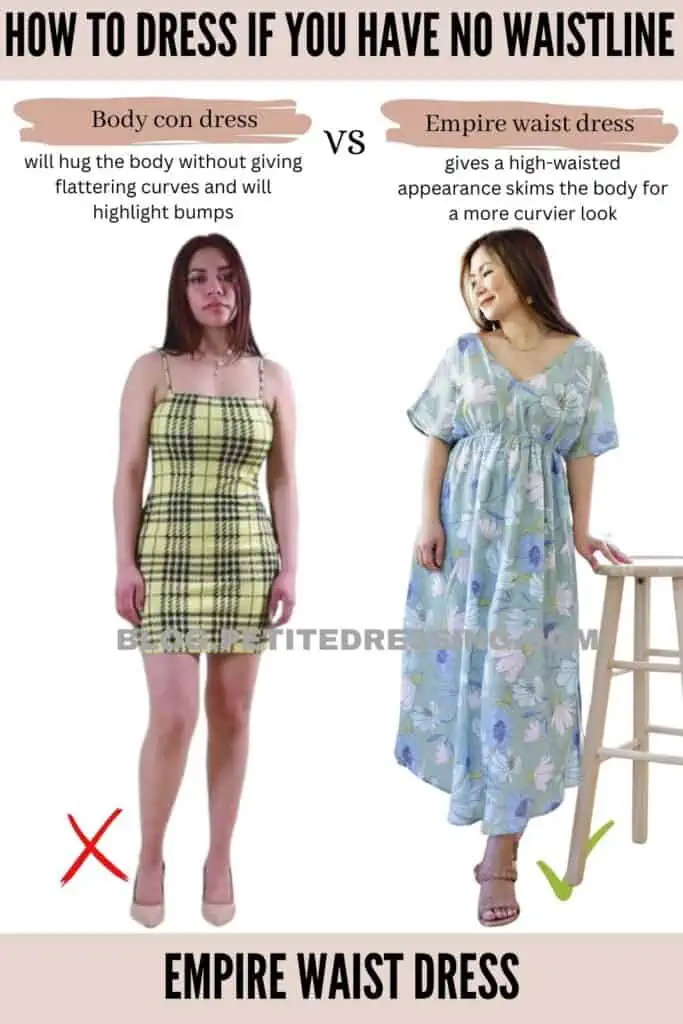 Color blocking
This can be achieved in various ways.
If you are wearing separates, you can simply choose a lighter top with a darker bottom, weather its pants, skirts, or shorts.
The point is the contrast of your top and bottom will make the eye believe that you have a waist definition.
This applies to not only separates, but you can go for a dress or jumpsuit that has a lighter top and a darker bottom.
Your bottom does not have to be black, but they need to be a darker color than your top.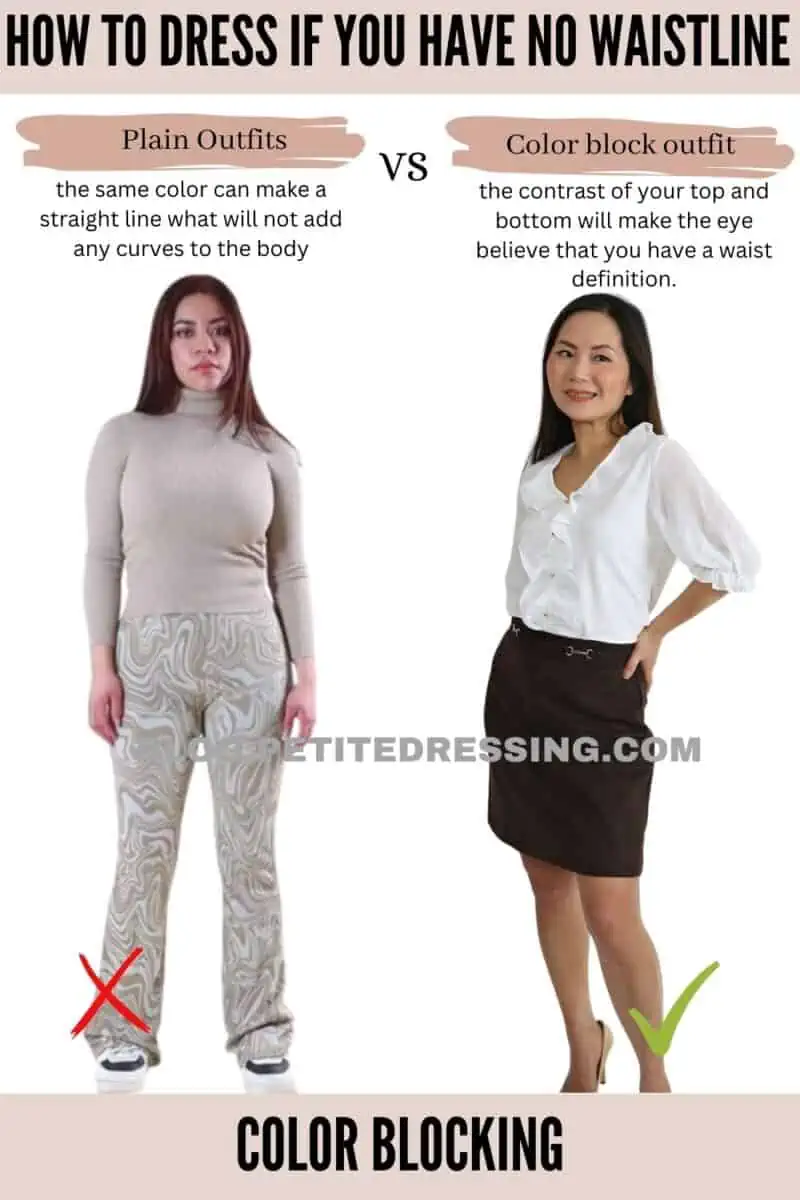 Peplum tops
Peplum tops are heaven sent for women without much waist definition.
This is a design where the waist of tops are nipped in just below the bust line – the smallest point on the torso – and will give the illusion of a defined waistline.
Since the peplum top comes with a flared skirt-like hem, it widens under the cinched waist. That is why it easily make your waist appear smaller.
This is one of my favorite designs and I have plenty of them in my closet as well as carrying them in my clothing line. If you have not tried them yet- make sure you try it and you will be pleasantly surprised how well they work!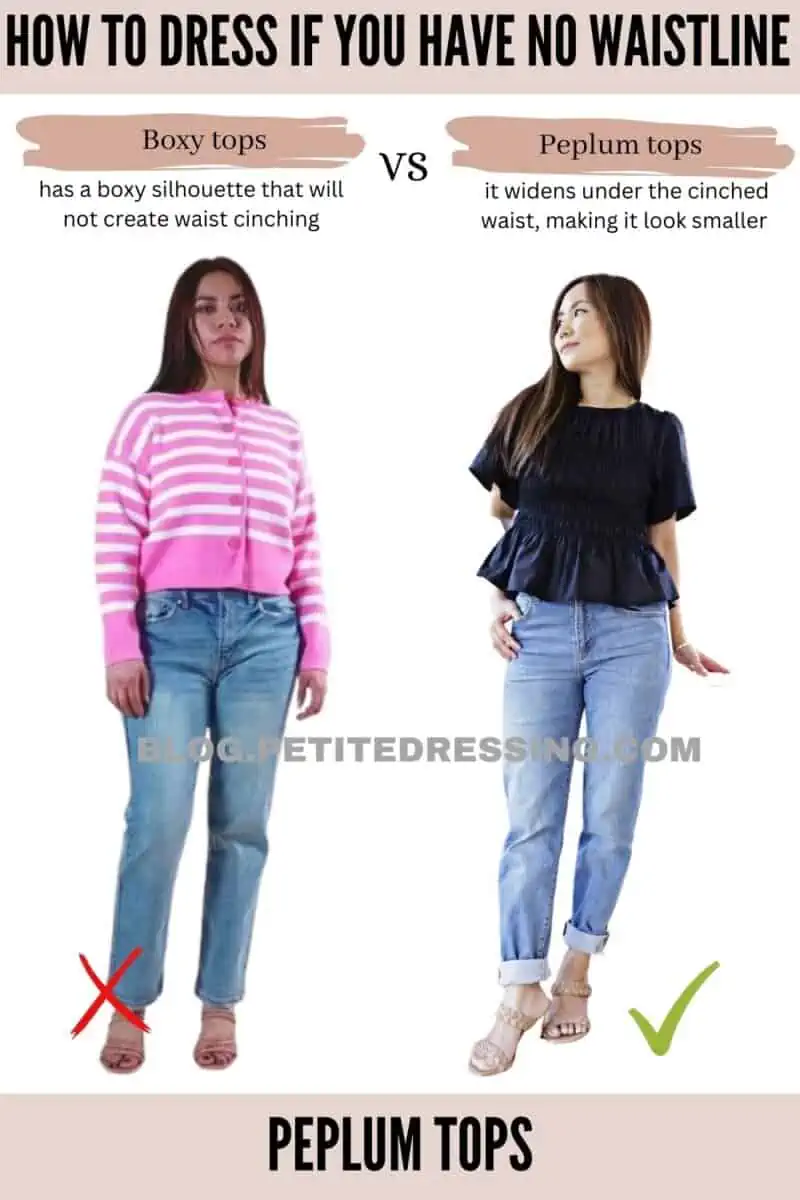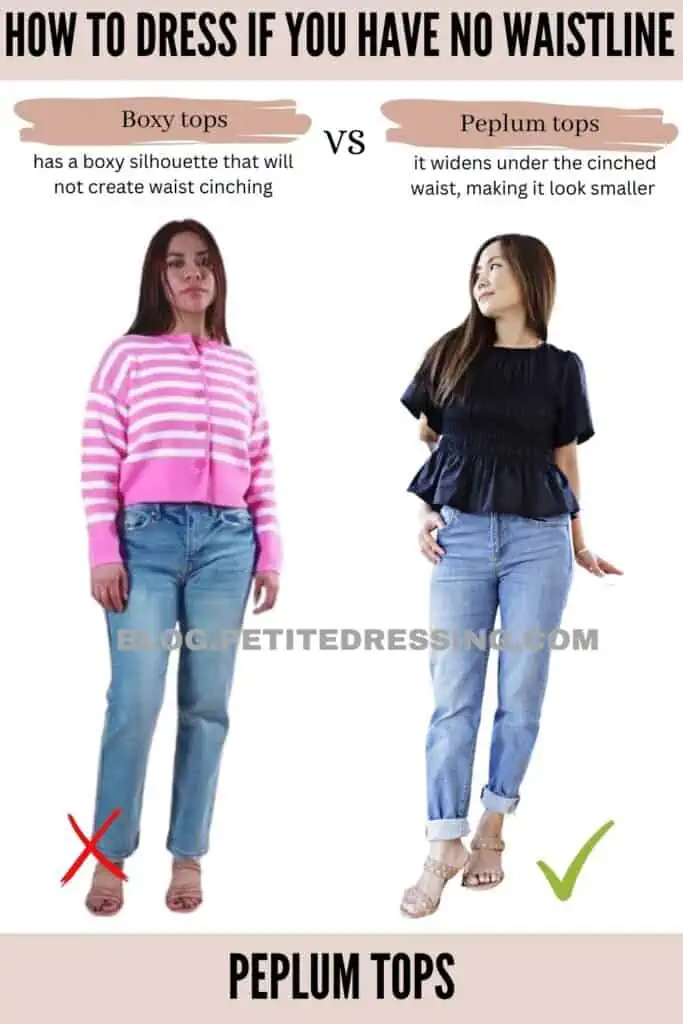 Belted coats
Choose a coat that's fitted at the waist to instantly create a narrow looking middle.
Consider light shoulder pads to broaden narrow shoulders.
Find belted coats and jackets to create curves in all the right places. Once again, the key is to make sure the belt is actually above your natural waistline.
By elevating the waistline, a belt can instantly change your body proportion, in addition to making your waist look smaller.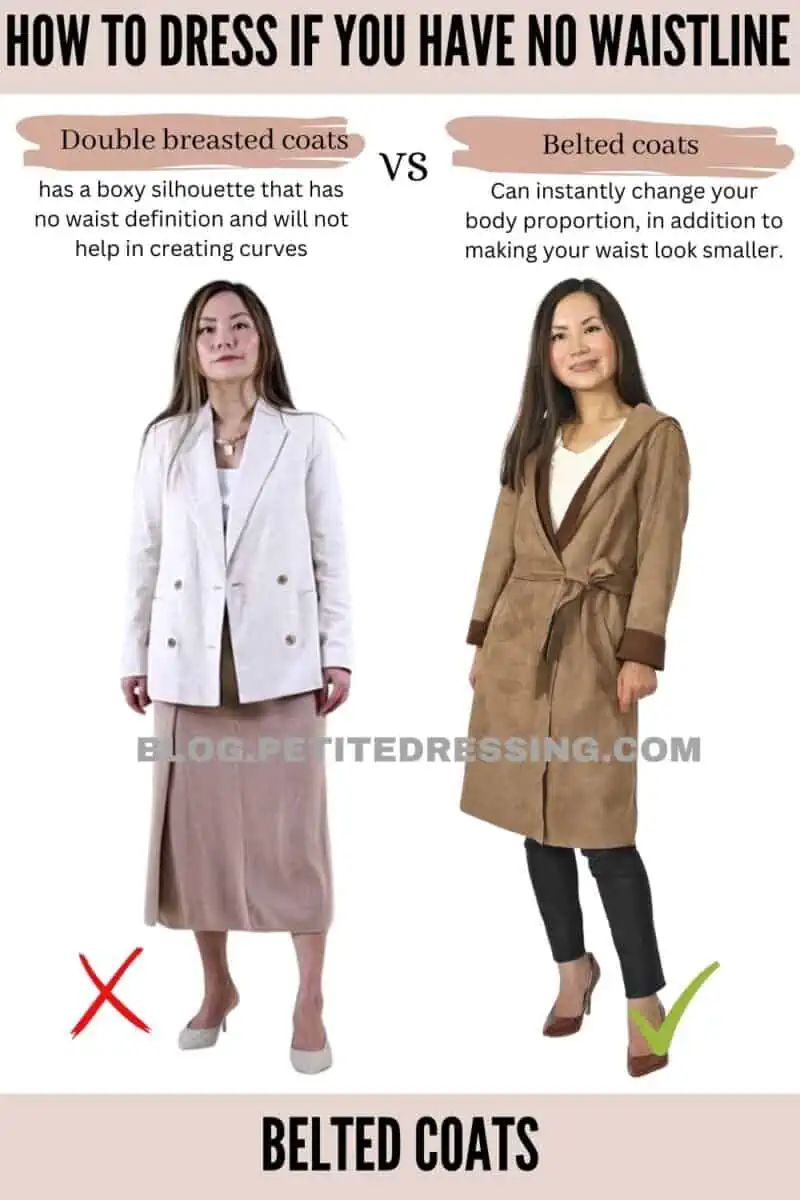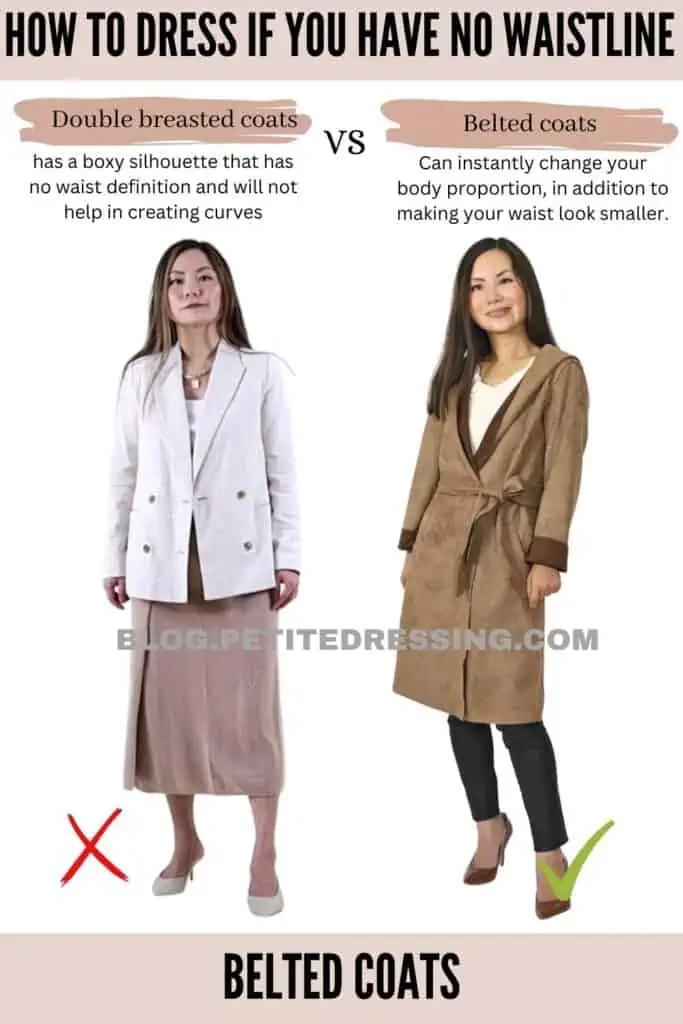 Fit and flare dress
If your body lacks waist definition, wearing a fit and flare dress (also called skater dress) will do a fantastic job to create that wanted waistline.
The design of the dress is fitted at your torso but flares out under your waist, which visually look your waist looks smaller and trick the eyes into believing you have a smaller waistline.
Besides, a fit and flare dress is a universally flattering design because it is very forgiving, no matter what body shape you have and where you carry weight.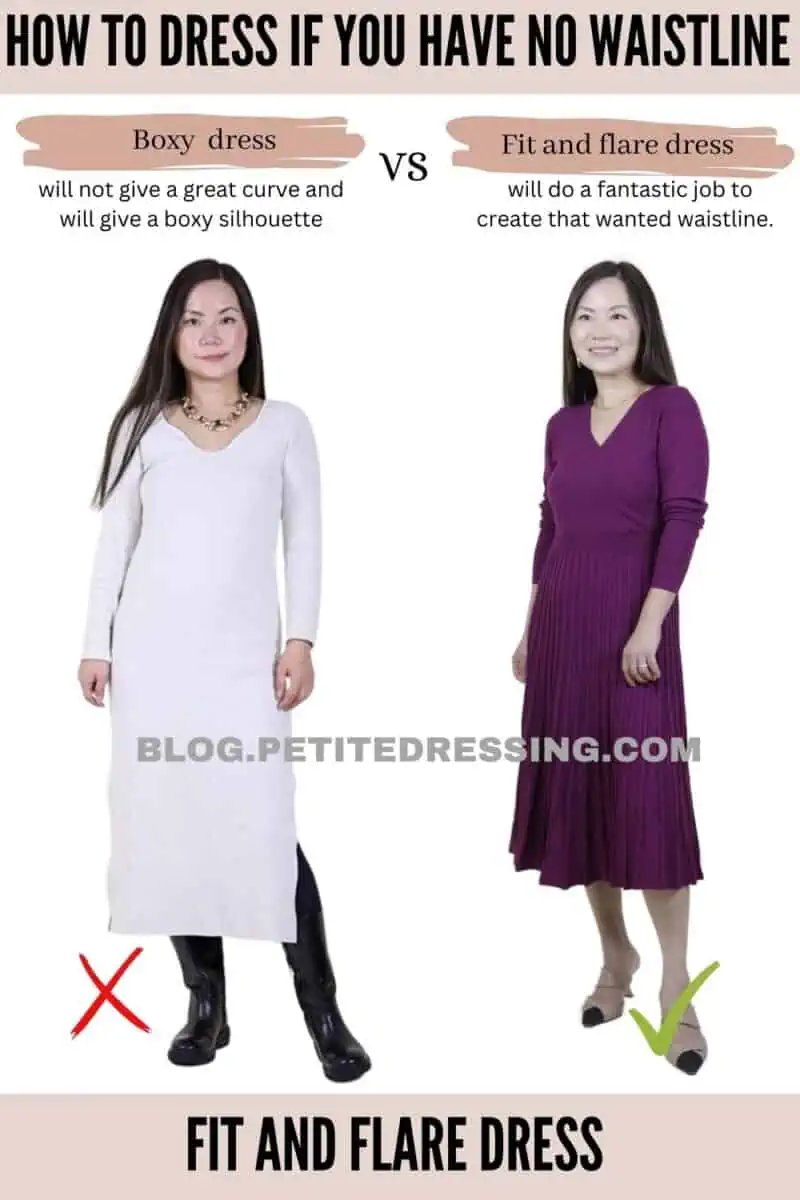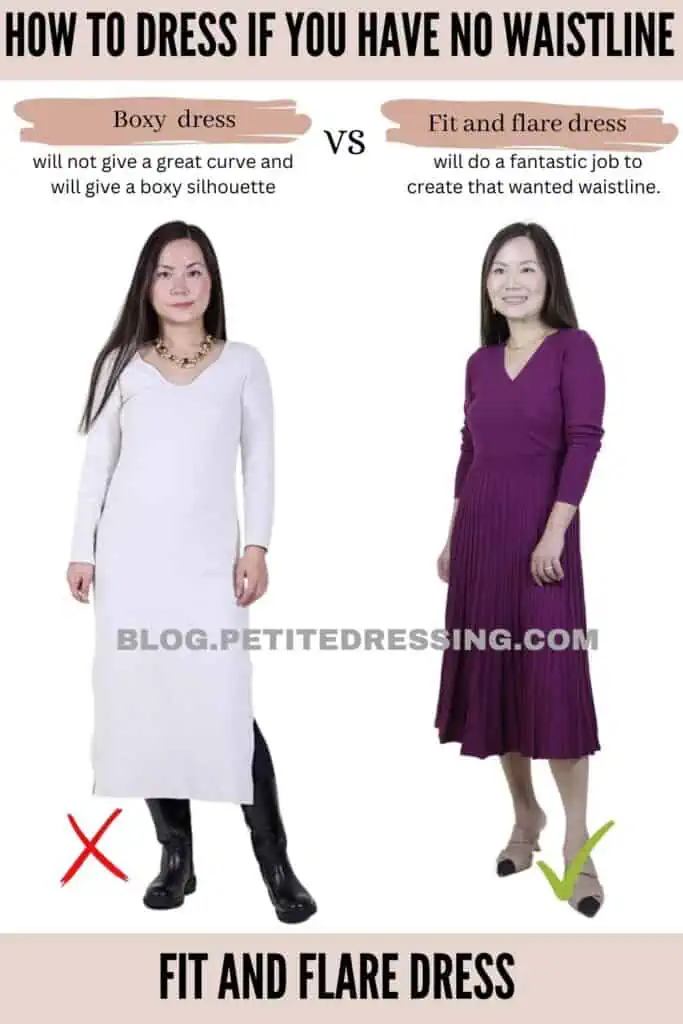 Since most women without waist definition tend to have a bigger tummy as well, a fit and flare silhouette is one of the most slimming dress types you should make it a staple of your wardrobe.
Go for a shorter length, if your goal is to make your appear longer.
A-line skirt
The A line shape is generally flattering for women who want their waist to appear more slender.
Since A-line skirts are fitted at the hip and flare out slightly toward the hem, they accentuate the contrast and enhance the look of the waistline- so they should be the top choices to create a more balanced proportion.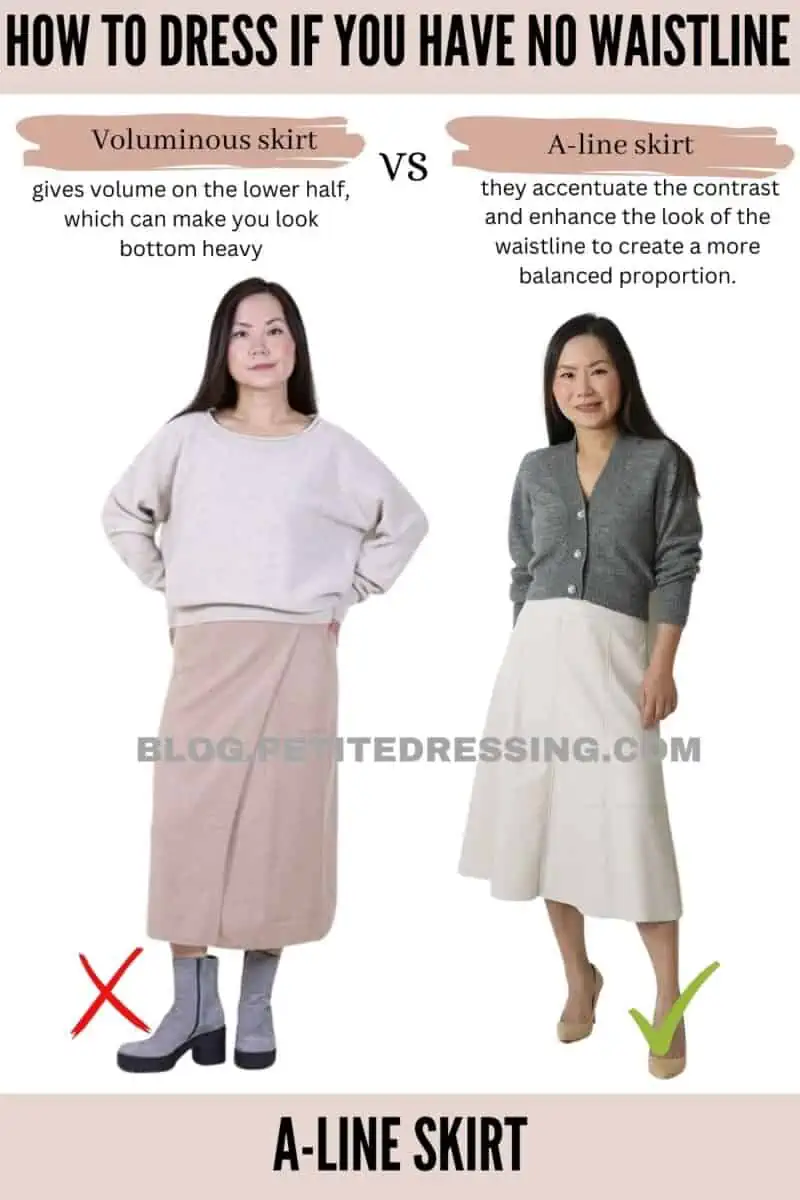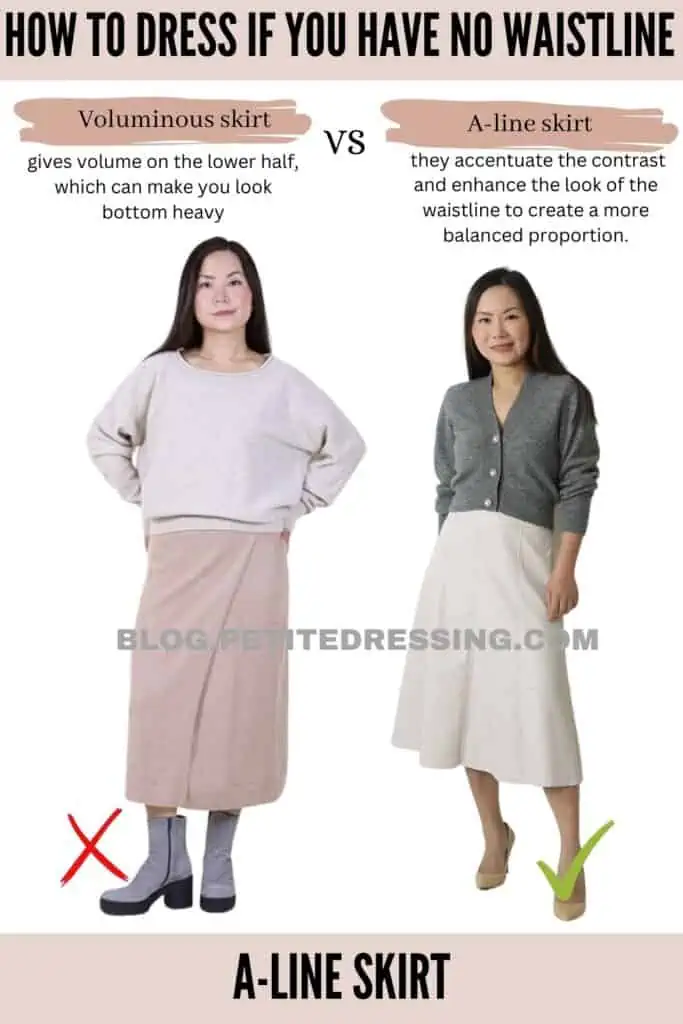 If you want the most result, I recommend wearing a black (or darker color) skirt, with a light color top. The color contrasting will give you the strongest effect to make the eye believe the waist is smaller than it actually is.
Avoid skinny belt
Skinny belt is quite tricky, and that is why I want to caution you.
It may sound like skinny belt is easy to style, but they are not for everyone.
For women who lack natural waist definition, skinny belts can serve the opposite purpose. Since they are tiny, they can form a sharp contrast with your waist, and therefore make it appear even thicker by comparison.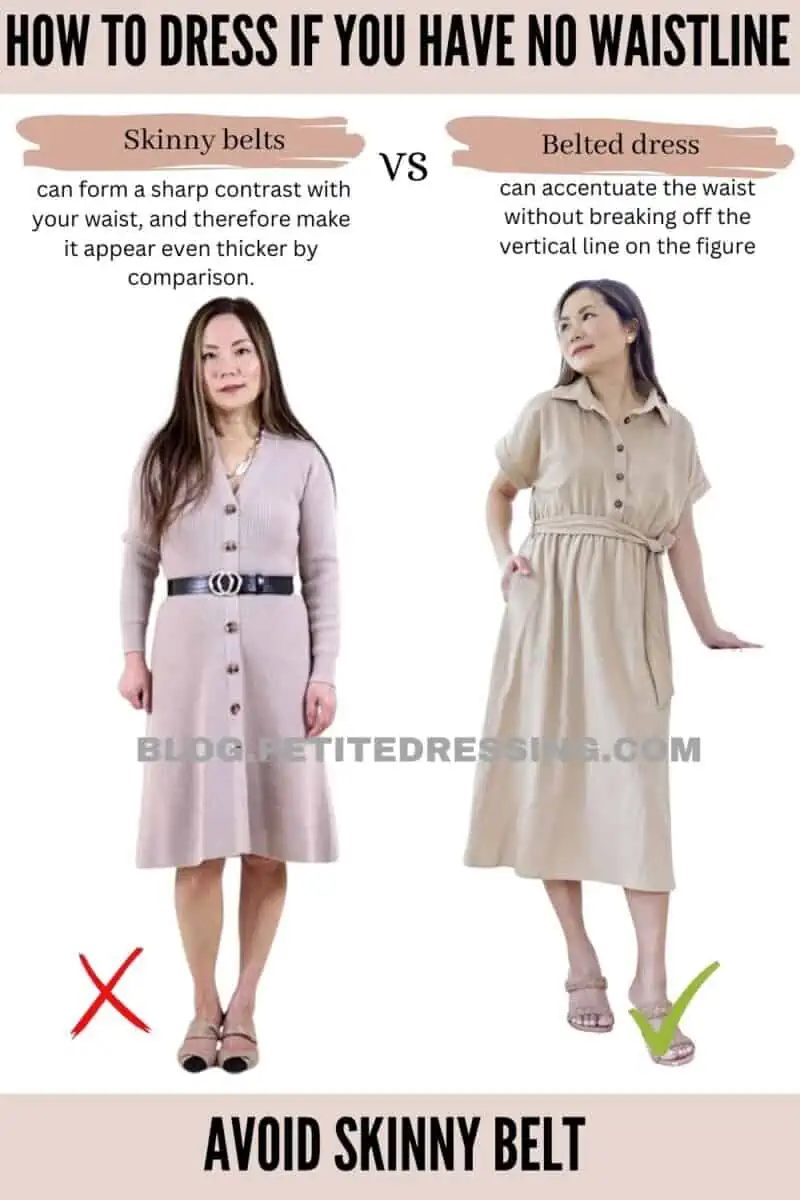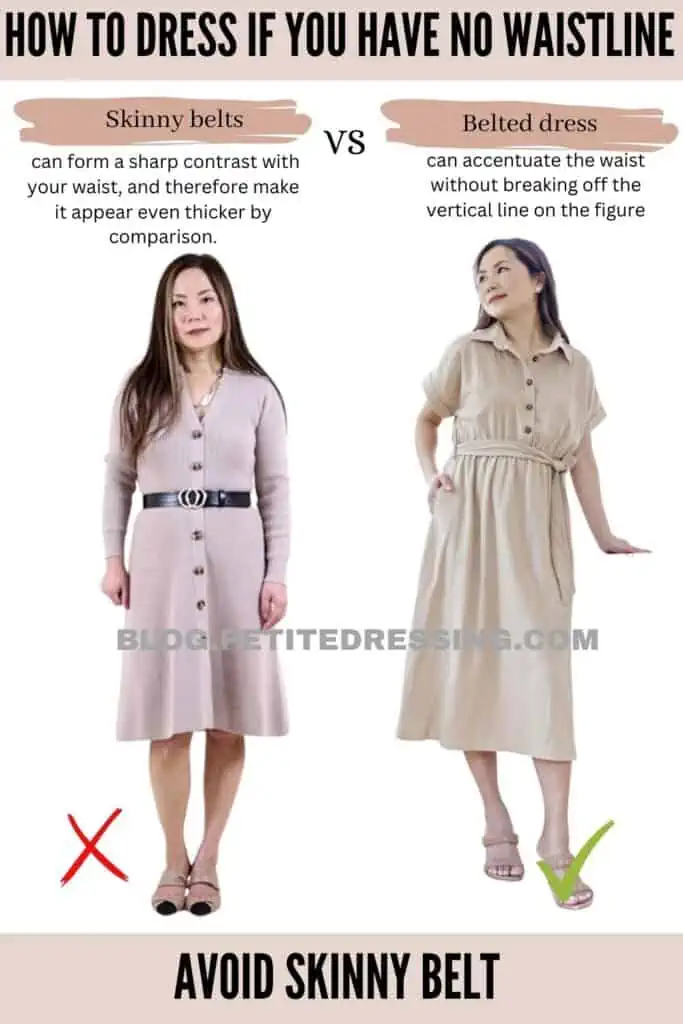 This is especially the case when you wear a skinny belt that has a sharp contrasting color with your outfit.
If you do not want to draw too much attention to your waist, the best strategy is to skip the skinny belt.
Corset or bustier tops
It may seem old-fashioned, but many women enjoy wearing a corset. They love how small their waist looks and the sleek silhouette provided. On the other hand, a bustier is a more modern style. It's helpful to think of it as a fancy-bra-meets-shapewear. It'll make your chest look more "uplifted," while it smooths and flattens your midriff.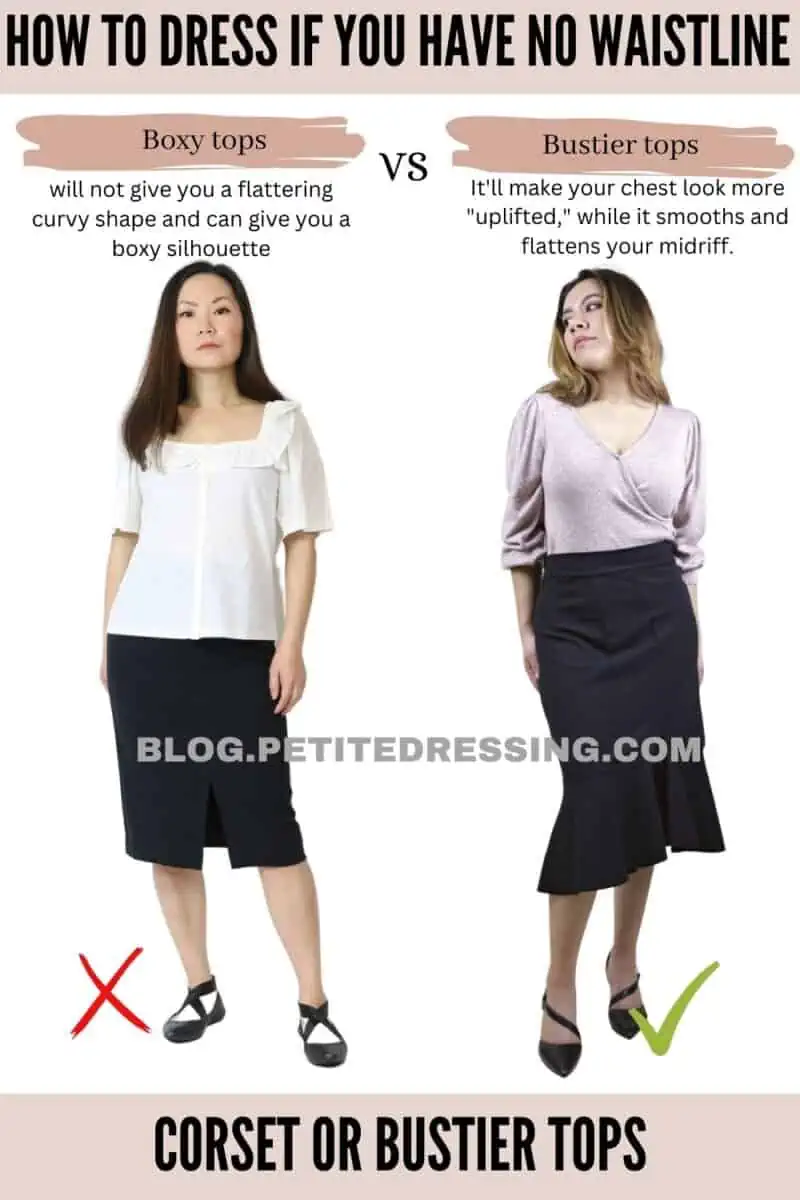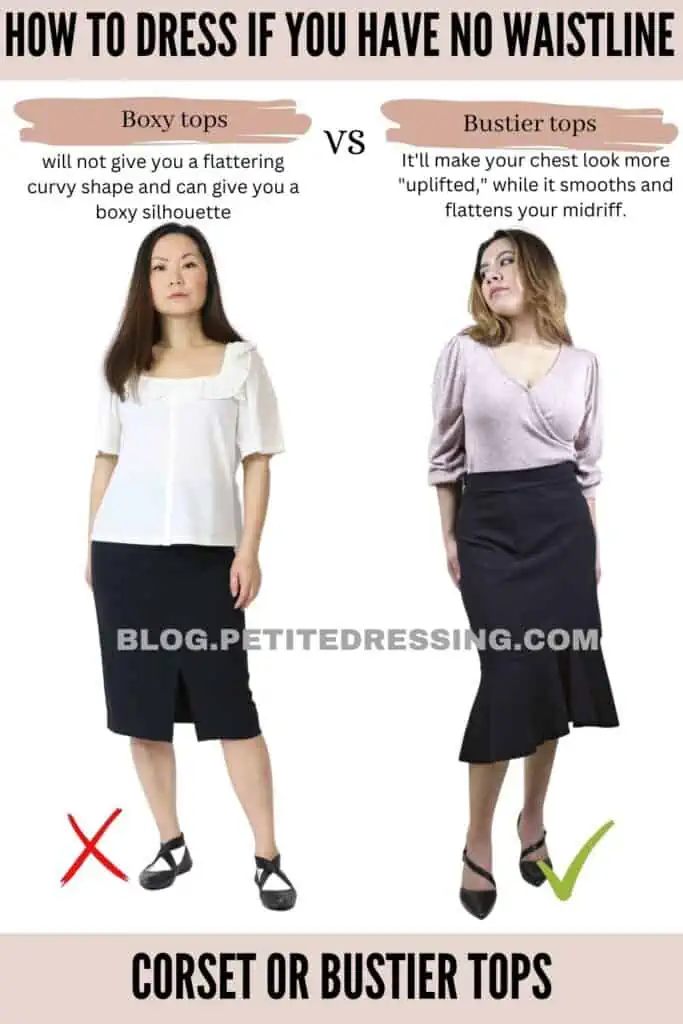 If you wish to make your mid section look smaller and define your waist, nothing does a better job than a corset or bustier. A corset top reinforced with boning in a more rigid fabric will also knock a few inches of your midsection and give you added cleavage to boot. The ehanced bustline will accentuate the contrast with your waist and create the illusion of waistline.