There's no age restriction when it comes to fashion. Women over 40 can style pants in various ways to look chic and fashionable. It all comes down to your confidence and how you carry different styles.
We have a comprehensive guide for wearing pants for women over 40. Here, you will find out how you can style different pants and slay your look.
Styling Goal for Women Over 40
As you age, your fashion goal is more inclined toward elegance. You can wear any style of pants in your 40s.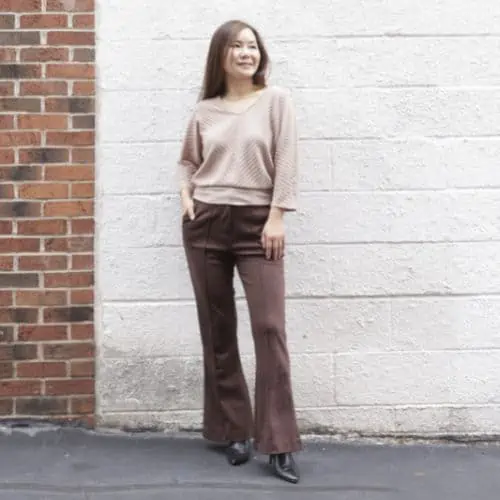 Fashion goals to remember:
The concept of age-appropriate clothes means different things for different women. But you can wear different styles of pants by styling them the right way to make them look age-appropriate.
To look fashionable, you should consider the ongoing trends, your comfort zone, as well as what would suit you and make you look chic.
You have to choose a pant style according to your body type. Pants that flatter your body type should be your top priority.
Go for trendy pants that suit your body type and style them up with the right tops, shoes, and accessories. Choosing the right elements to pair with the pants is crucial for a perfect style.
How to Choose Pant Colors
Prints like geometric, floral, butterflies, etc, make the pants look chic. But can women in their 40s wear such pants?
Women in their 40s can rock printed pants if they style them the right way.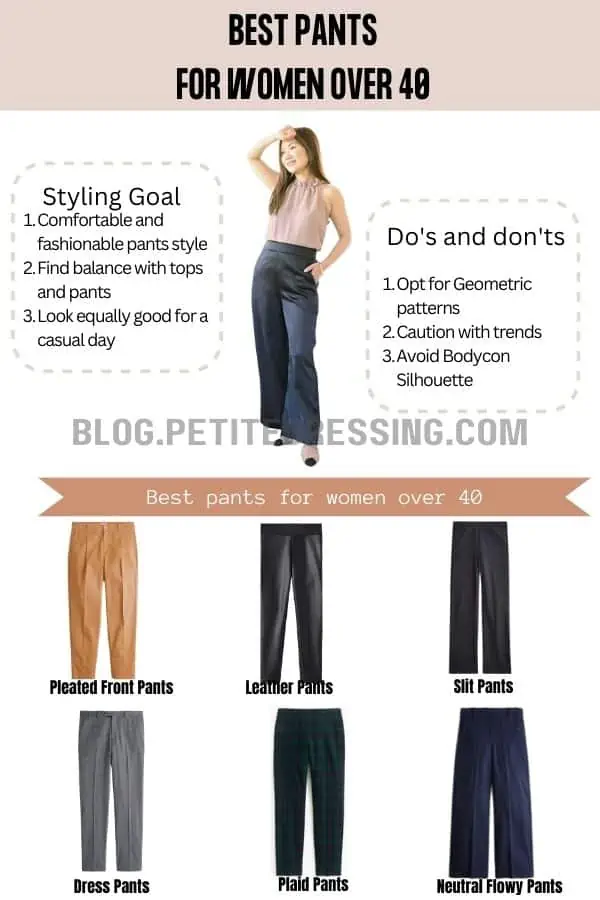 Here's the thing:
Pair up geometric patterns with a plain blouse of the same color for a minimal look.
You can also mix and match different patterns but that's quite tricky.
Floral shirts look good with geometric pants. But they wouldn't look good with another print.
Similarly, you can pair up cheetah-printed shirts with cheetah-printed pants for a put-together and organized look.
While using colors and prints in your pants, go for colors that suit you.
Make sure to choose prints that are appropriate for your age such as cheetah prints, geometric prints, floral prints etc.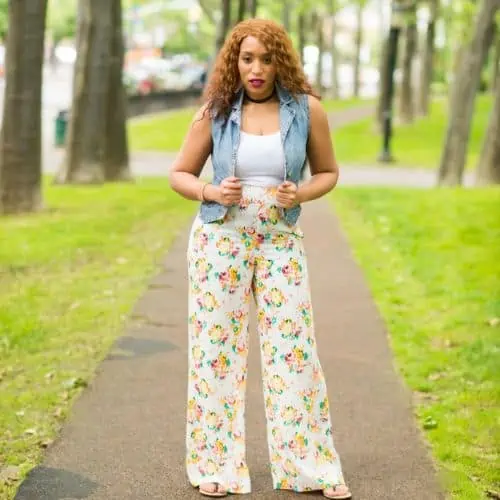 Women in their 40s can rock printed pants if they style them the right way.
Printed pants are hard to style. Too many prints and colors in an outfit don't look good on everyone especially if you are looking for an age-appropriate outfit.
Choose neutral colors for printed pants.
Don't go for printed skinny jeans if you want to look elegant. Those would be hard to style. Rather go for straight pants or mom jeans.
Geometric patterns look glamorous on women over their 40s.
Let's check out some of the best styles of pants that women can rock in their 40s!
Pleated Front Pants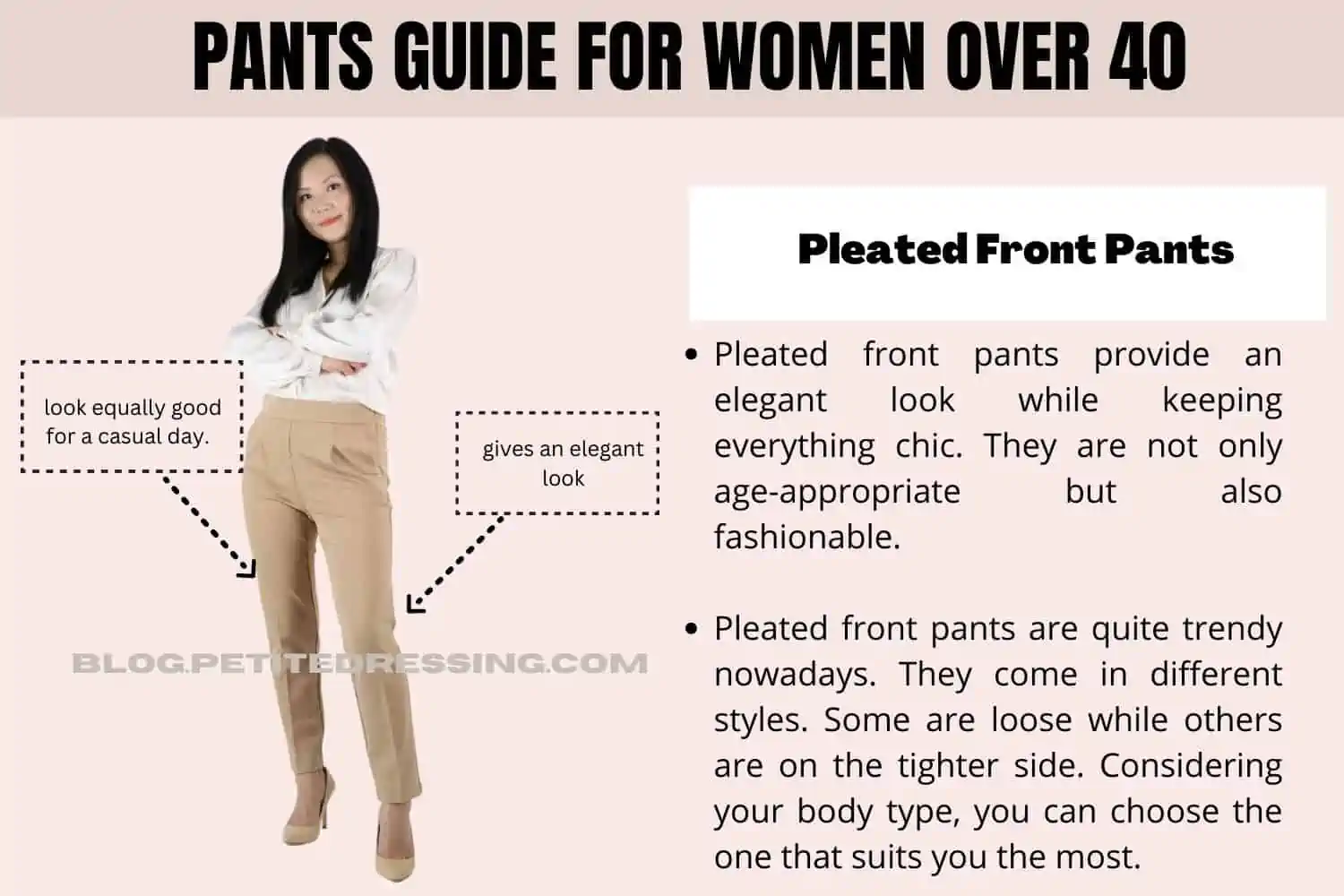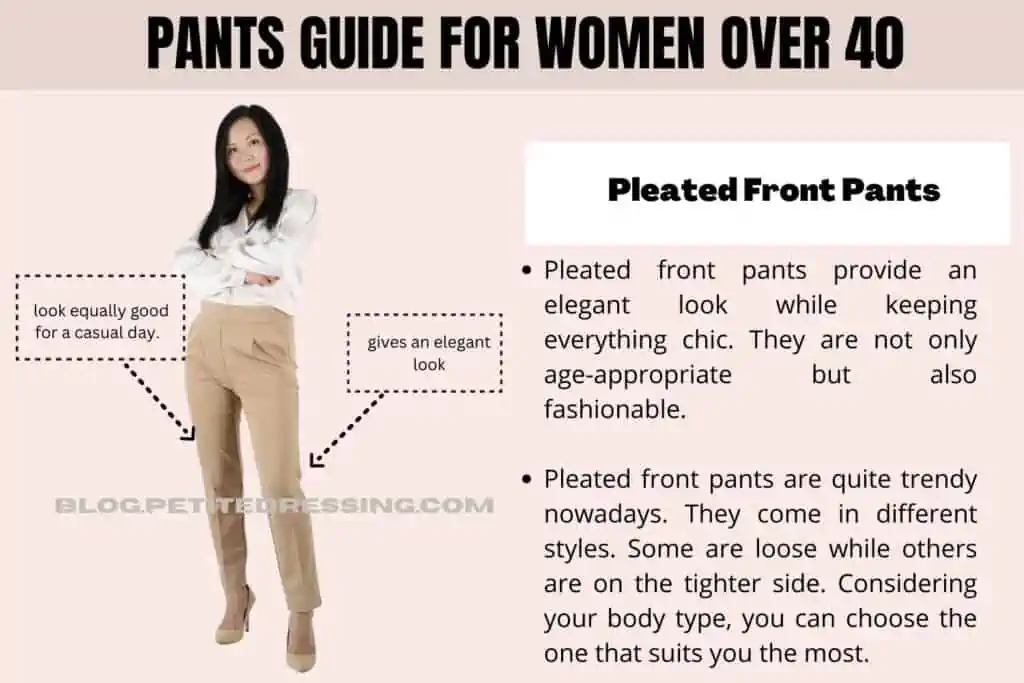 You might consider pleated front pants for a professional outfit. But these pants look equally good for a casual day.
Pleated front pants provide an elegant look while keeping everything chic. They are not only age-appropriate but also fashionable.
Pleated front pants are quite trendy nowadays. They come in different styles. Some are loose while others are on the tighter side. Considering your body type, you can choose the one that suits you the most.
What to pair up with pleated front pants?
Well, you can pair up button-down shirts for a formal look or a t-shirt for a casual look. In fall, beige pleated front pants with a dark brown mock neck are a perfect outfit.
With loose pleated front pants, you can wear a stylish bralette top and pair it up with a mid-length blazer. This would be a perfect fit for anyone who wants to amaze the onlookers.
Leather Pants
You can never go wrong with glamorous leather pants. Get leather pants in black, brown, or beige, pair them up with a sweater, and rock the style.
You can style leather pants with a cropped top and a leather jacket/blazer over top. A pair of black boots or heels with leather pants will enhance your style.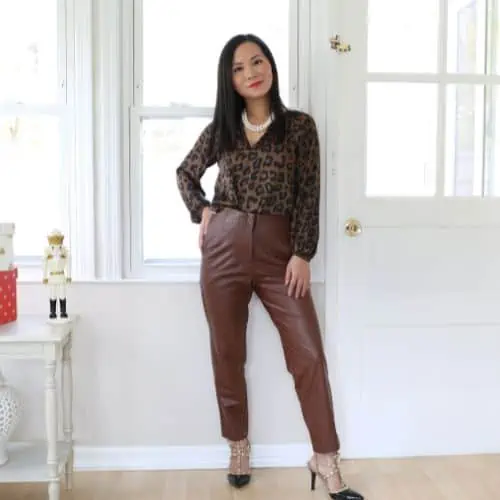 Why opt for leather pants
The thing about leather pants is that you can find them in various fits.
So, all women in their 40s can find a suitable leather pant style according to their body type.
Leather pants are perfect for a mature and sassy look.
It looks super fine on women in their 40s especially if you pair them up with the right tops.
Slit Pants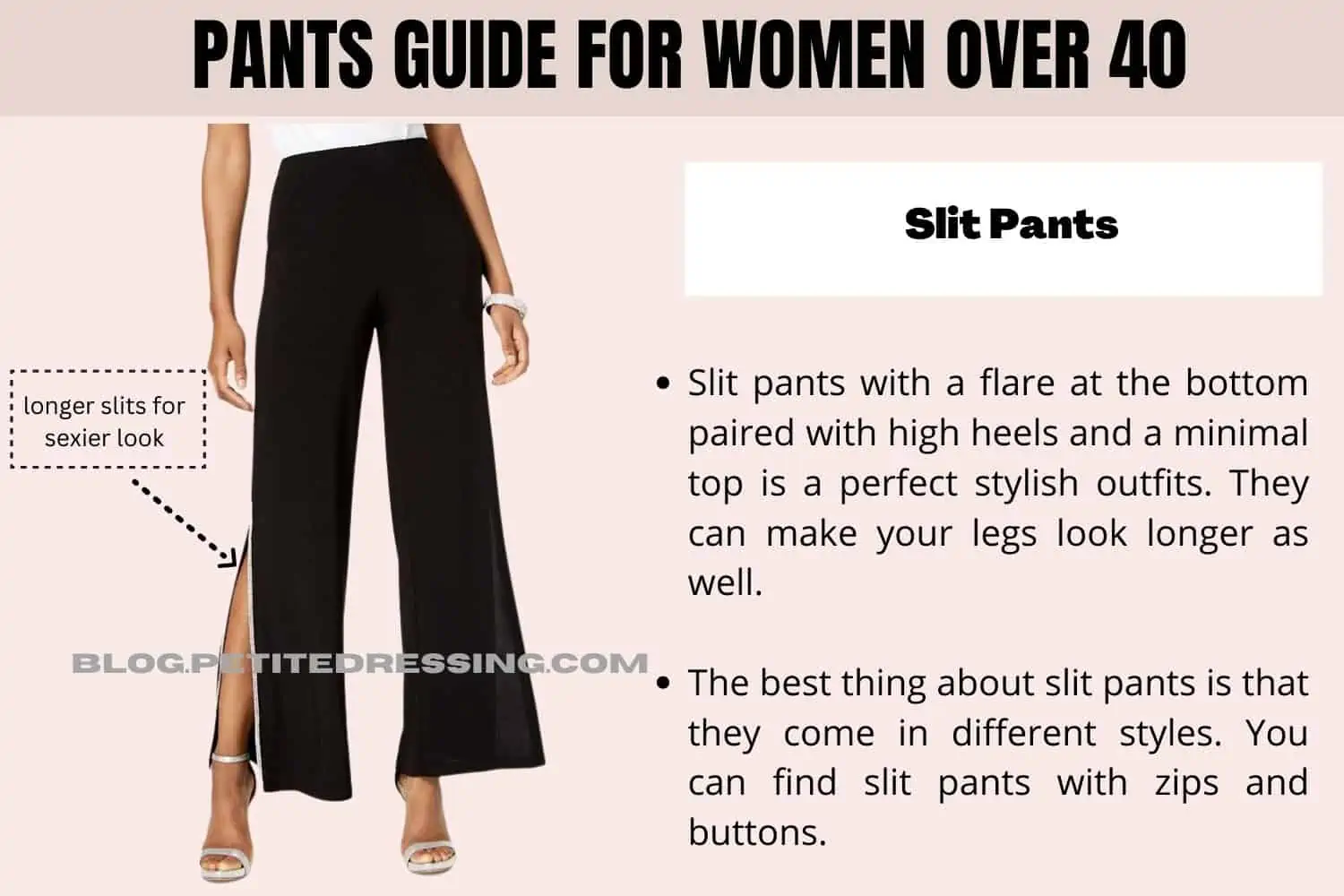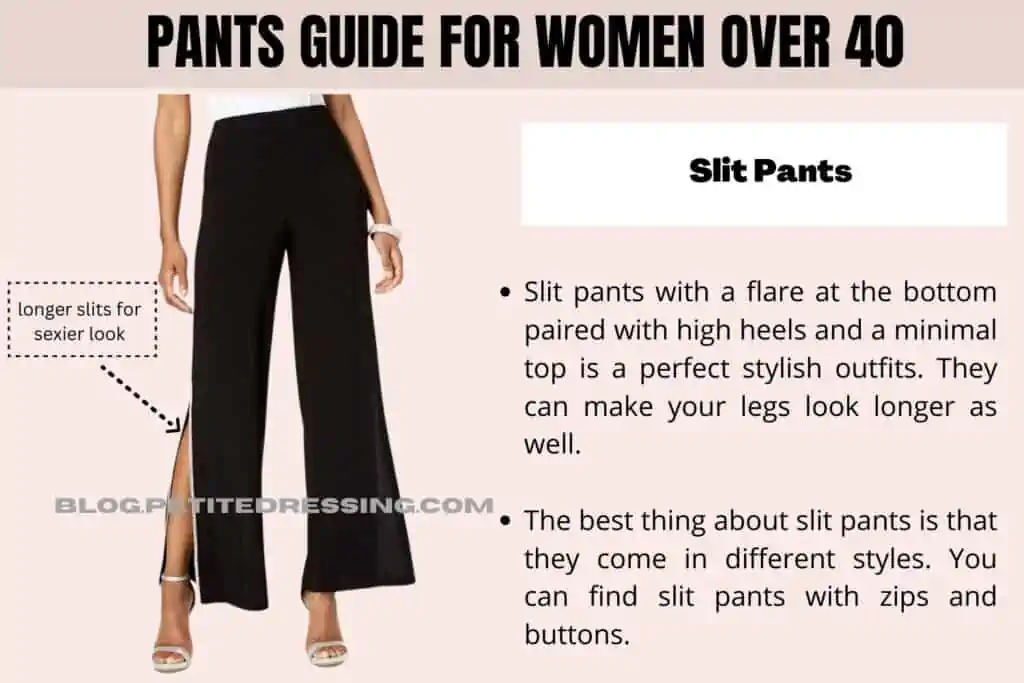 Want to look modern and stylish in your 40s? Try out the slit pants trend!
Slit pants with a flare at the bottom paired with high heels and a minimal top is a perfect stylish outfits. They can make your legs look longer as well.
The best thing about slit pants is that they come in different styles. You can find slit pants with zips and buttons.
You can also find slits of various sizes. Go for the one that seems comfortable to you. They come in different sizes. Some slits are quite short while some are very long going all the to the knees.
You can go for short slits for a casual outfit while the long slit pants look good when you want a sexier look.
If you want some pant styles for a business casual outfit, we have got some amazing ideas for you. Check them out below!
Dress Pants
Straight dress pants with a button-down shirt and blazer on top are the perfect business casual outfit. You can take it a step ahead by using pleated front pants instead of straight dress pants.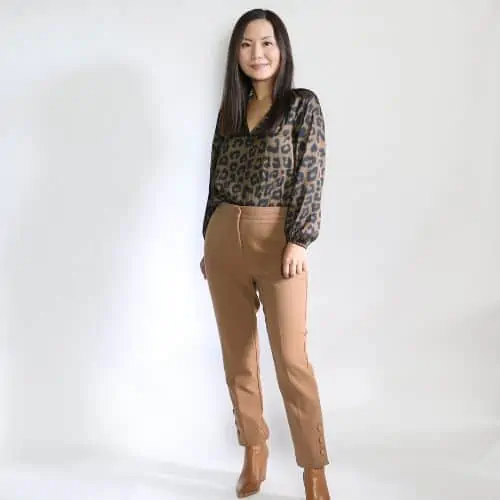 How to use dress pants
To spice it up a bit, pair up straight dress pants with high heels.
High heels with dress pants will make you feel empowered.
Dress pants are suitable for women of all ages especially women over 40.
They provide a subtle, confident, and beautiful look.
Plaid Pants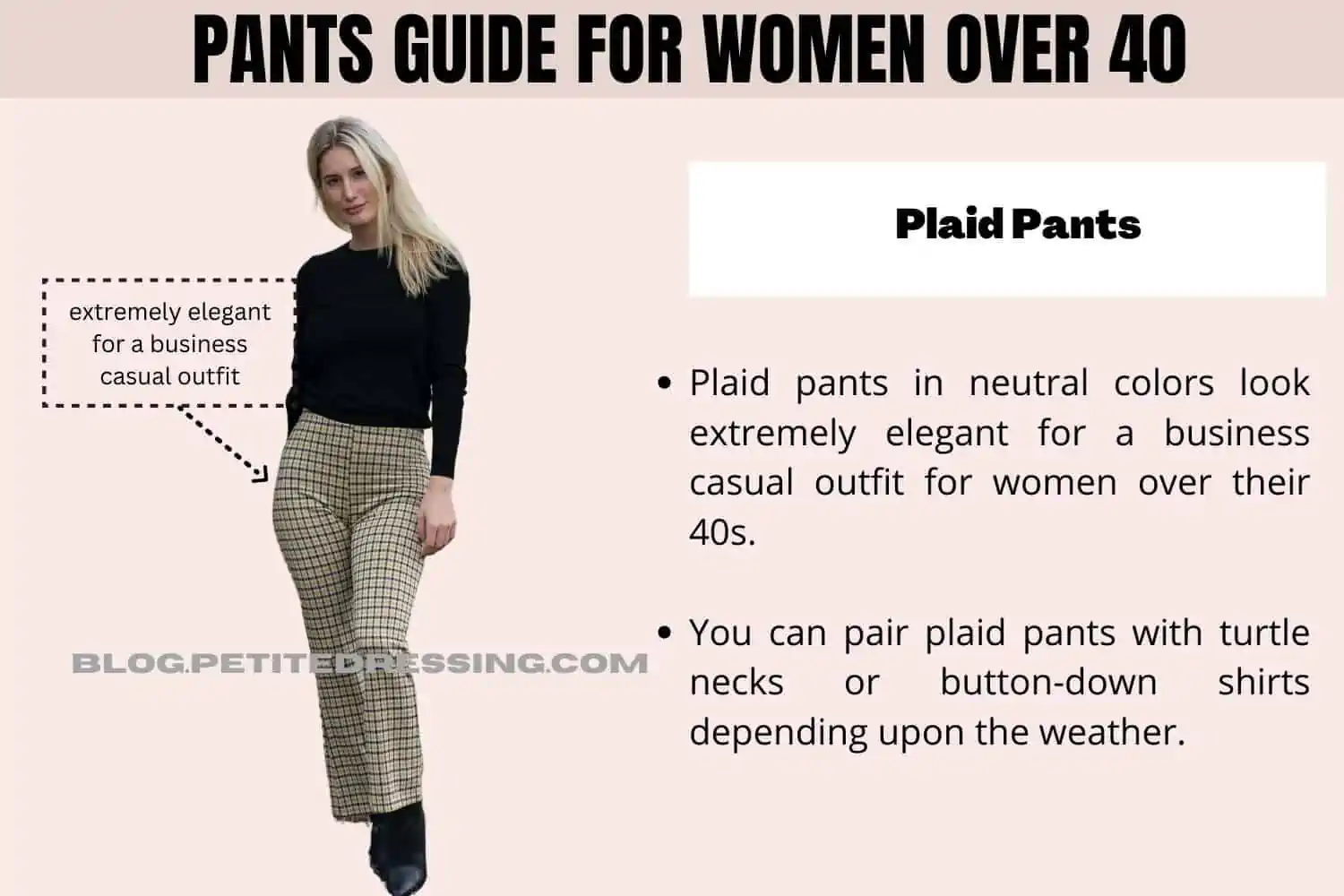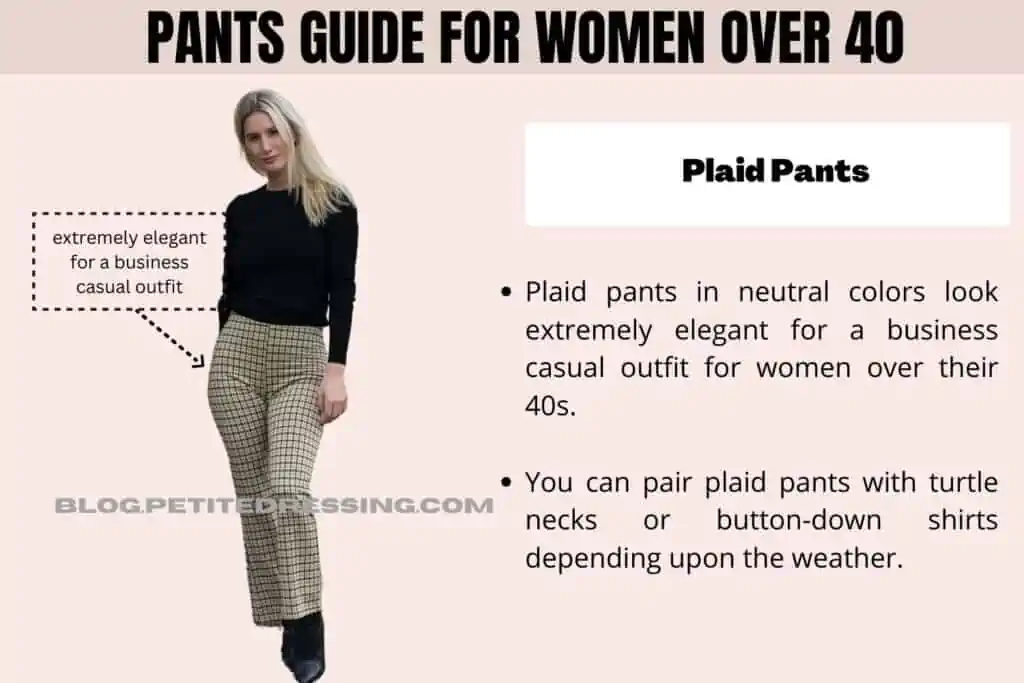 Plaid pants in neutral colors look extremely elegant for a business casual outfit for women over their 40s. You can pair plaid pants with turtle necks or button-down shirts depending upon the weather.
Plaid pants come in various styles. You can find paper bag style plaid pants, baggy straight plaid pants, skinny plaid pants, etc. Choose a suitable style according to your body type.
Neutral Flowy Pants
Neutral flowy pants with a button-down shirt look unique for a business casual outfit. Women in their 40s can especially rock this style. If you are a petite woman, you must try this style out.
Flowy pants are also extremely comfortable. People of age groups such as the 40s want both comfort and fashion in their clothing. Therefore, flowy pants paired with a neutral t-shirt are a perfect combination.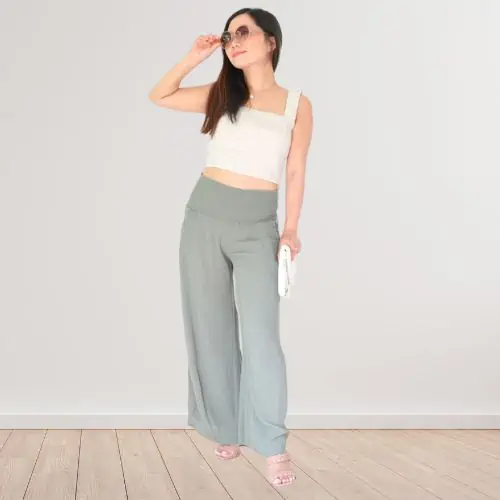 How to use neutral flowy pants
You can accessorize the outfit by adding a casual belt.
Some flowy pants also come with belts so you can get something like that for a more fashionable and put-together look.
Wide Leg Pants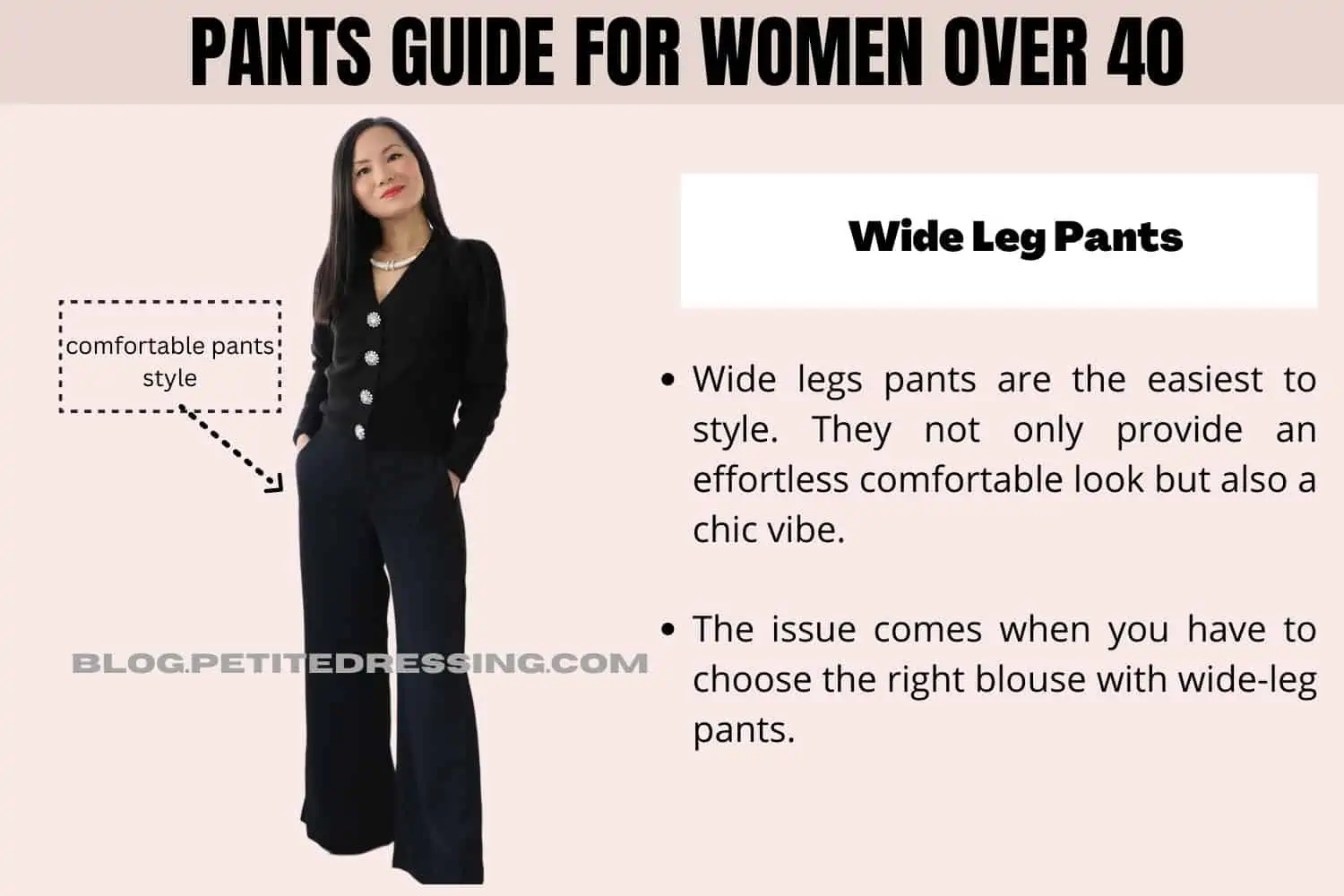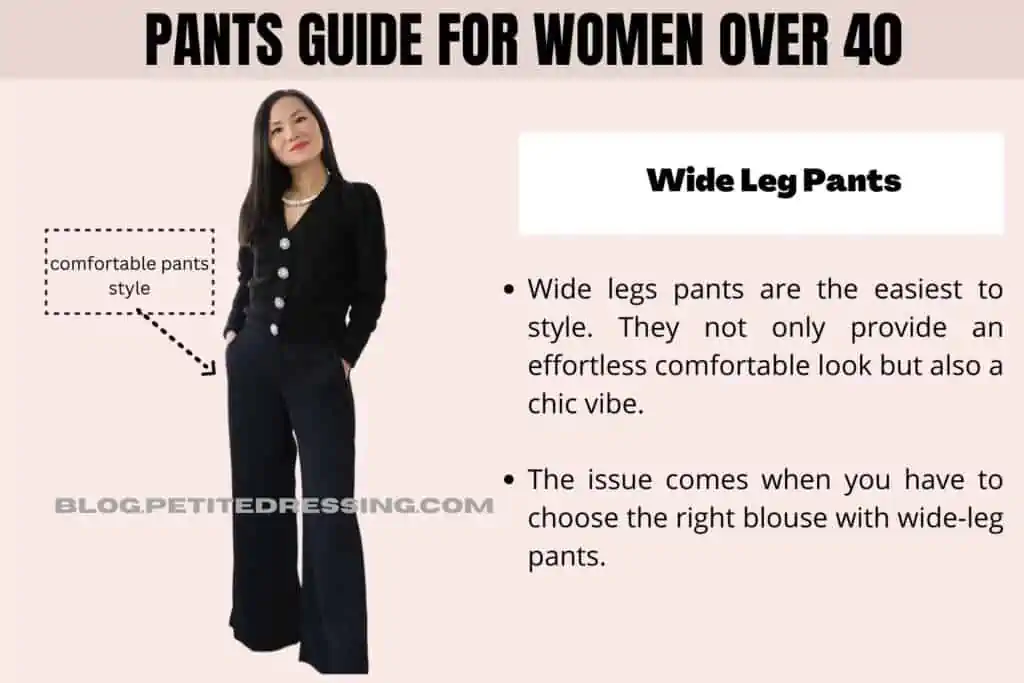 Wide legs pants are the easiest to style. They not only provide an effortless comfortable look but also a chic vibe.
The issue comes when you have to choose the right blouse with wide-leg pants.
Halter necks, tank tops, cropped tops, and other such blouses with less fabric are perfect for wide-leg pants. Ripped tank tops are quite in vogue nowadays. So, this combination will provide a balanced and modish look.
Caution with trends
A stylish outfit isn't all about wearing what's trendy. You can get inspiration from the ongoing trends.
But it's not guaranteed that the trends would look good on you. Therefore, you should go for trends that look flattering on you.
While choosing a pant style, go for a fit that flatters your body type.
You should also prioritize your comfort zone. If you don't feel comfortable in skinny jeans, don't go for them.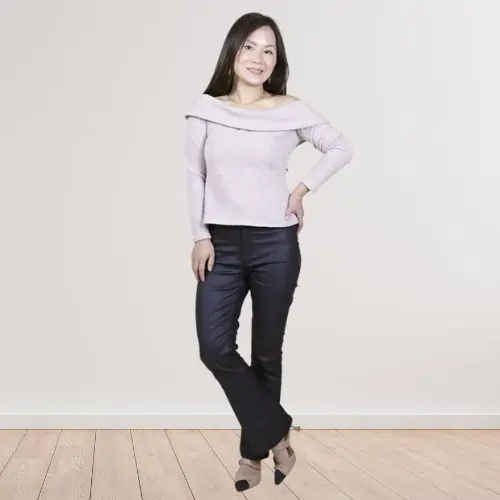 Things to remember when choosing your outfit
Comfort is an important aspect of looking stylish.
If you aren't comfortable you won't look confident.
A lack of confidence can make even the most stylish woman in the room look dull.
Avoid Bodycon Silhouette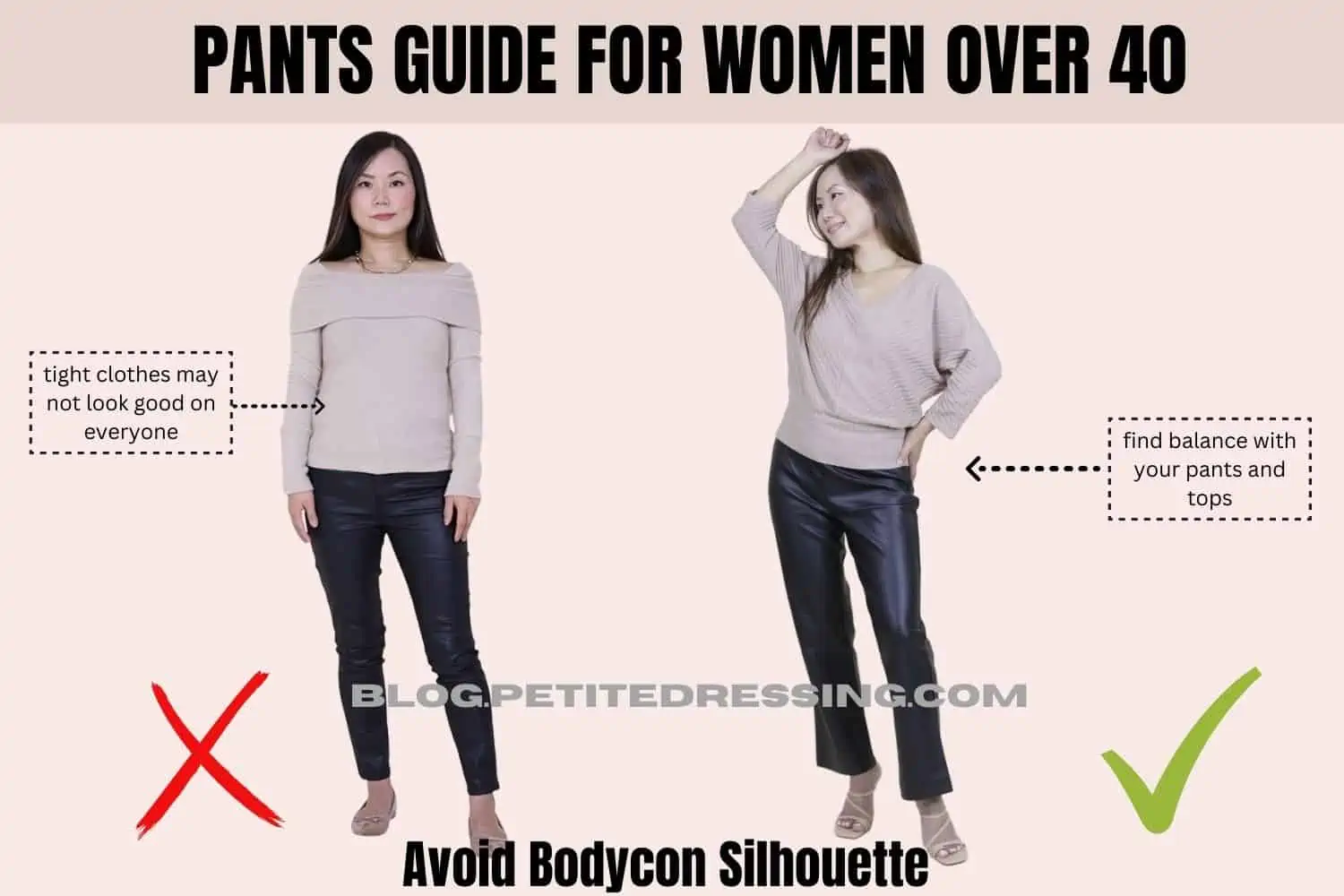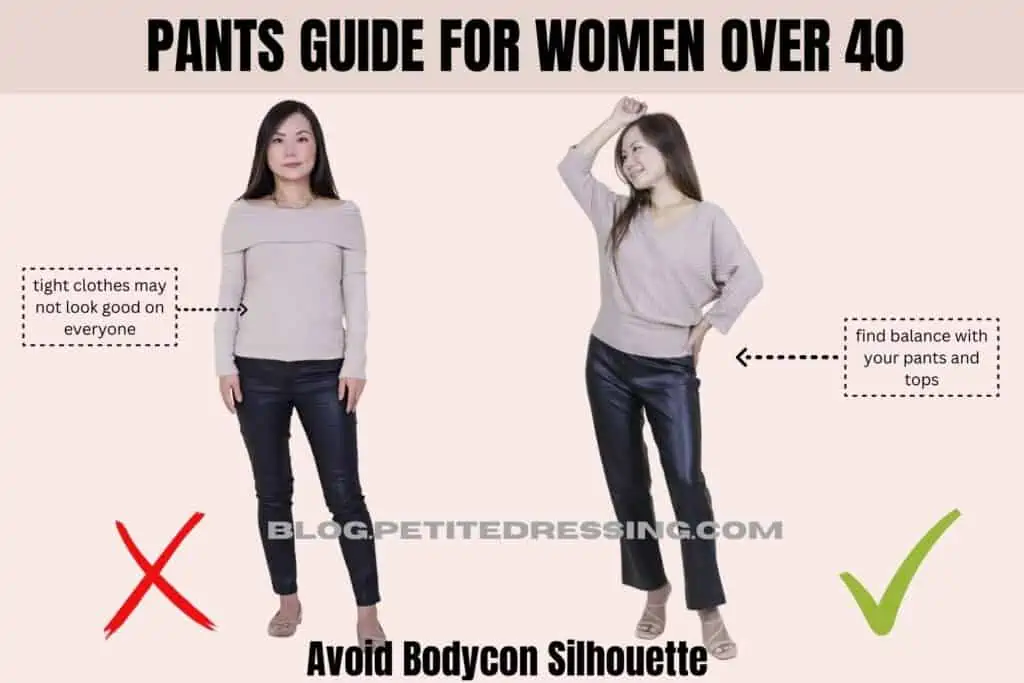 Style in an age like the 40s is all about finding the right balance. A tight top with tight pants might not look good on everyone.
Find a balance between the fittings of your tops and pants.
Avoid Overall Baggy Style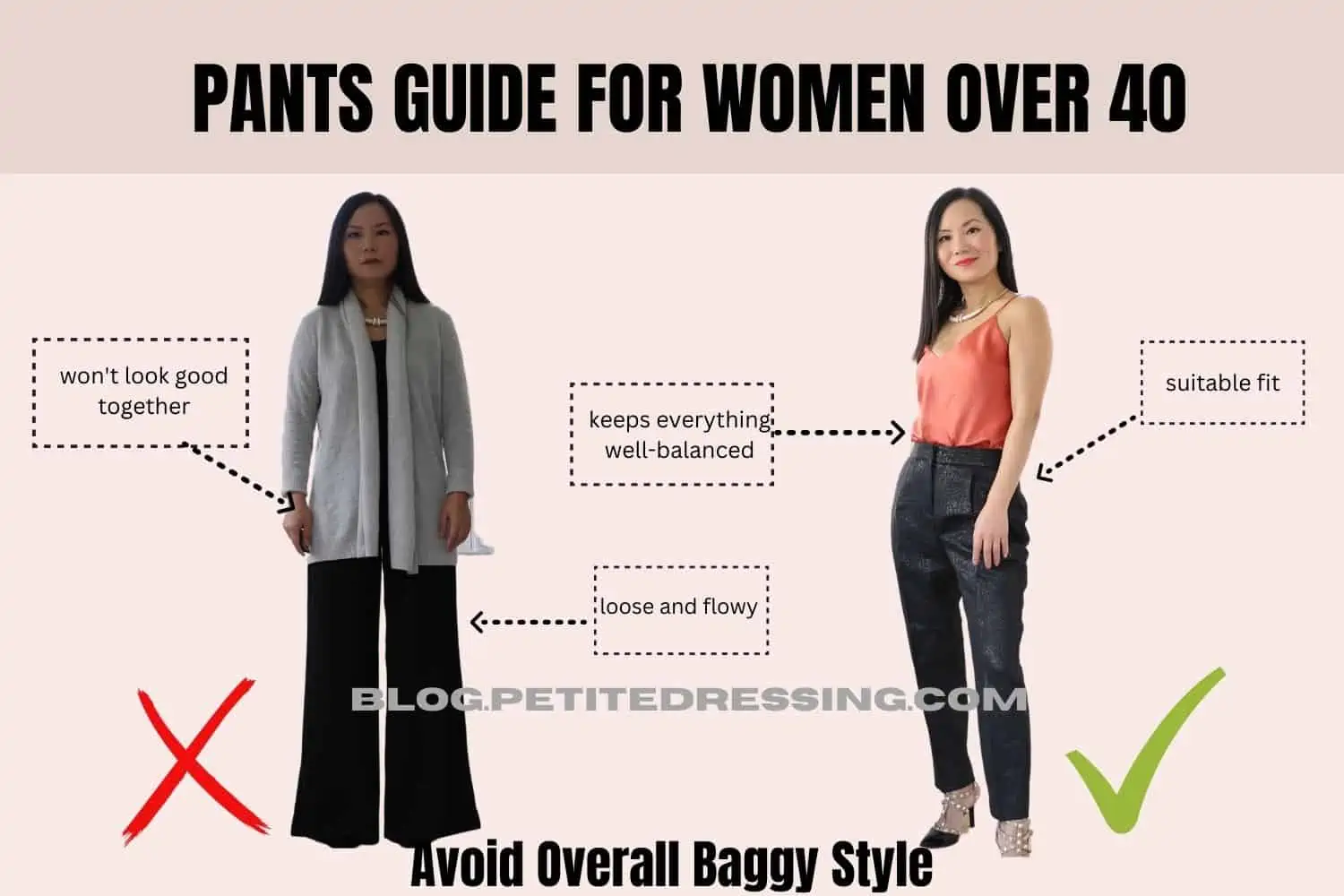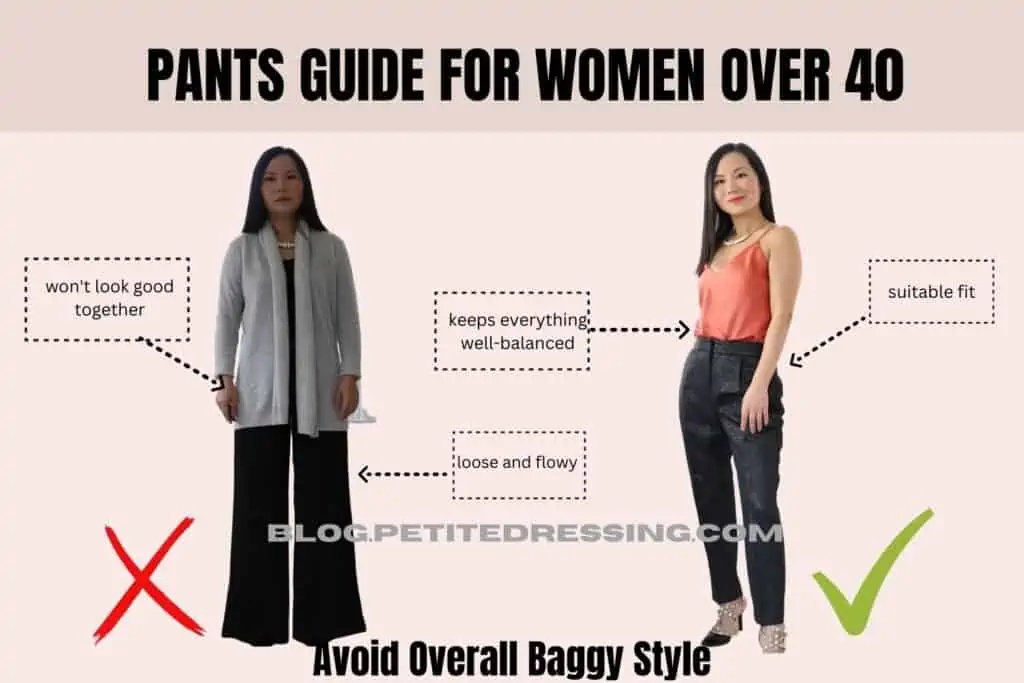 Loose and long tops with flowy pants won't look good if you want a put-together style. Therefore, you have to find the right balance between your pants and tops.
Usually, if you go for fitted pants, a comparatively loose top is better. Flowy blouses and long tops are also suitable for such jeans.
In Conclusion…
Now you know how you can style different pants in your 40s. Styling pants in the 40s is all about finding the right style for your body type and keeping everything well-balanced.
All you have to do to rock pants in your 40s is to find your body type, choose suitable fits for different pants and pair them up with the right tops and accessories.
Whether you are a curvy short woman in her 40s or a petite tall woman, you can slay in different pants.