If you are looking for jeans that make your bum look smaller, I presume that means you have heavier butt and that's why you'd like to know how to make your hips look slimmer.
If you have wider hips, typically that means you have a pear shaped or spoon shaped body, but it could also because you are generally curvy (for instance, if you are a plus size girl).
Now, whether you should try to make your bum look smaller is really just a matter of personal preference.
Celebrities with Bigger Bum
There are plenty of celebrities with pear shaped body, who are known for having bigger bum but they never attempt to make them smaller at all.
It's quite the opposite. They actually always wear very tight bottoms to make their bum look more noticeable.
The most famous examples are probably Kim Kardashian and Jennifer Lopez.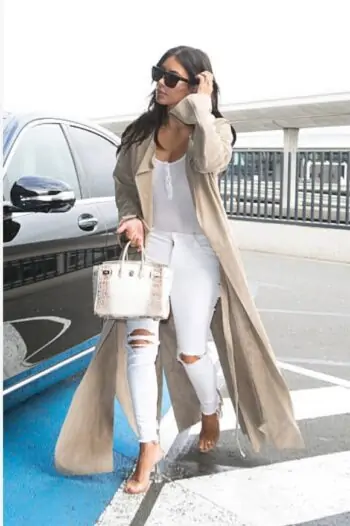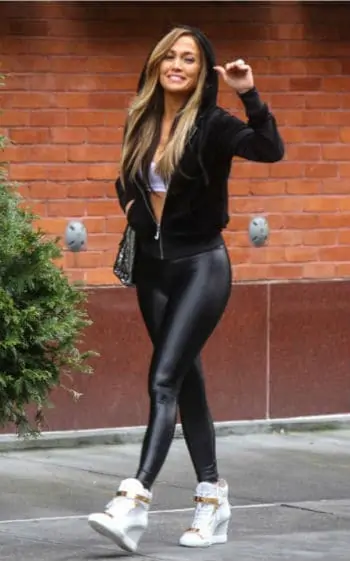 So, as you can see, you don't have to try to make your butt look smaller. But, if you really do still want to know what jeans to wear to make your bum look smaller, then I got some great tips for you.
The easiest option to have a slimmer bottom half is to invest in a few pieces of high quality hip and thigh hugging shapewear, but what I'm about to tell you is to how to wear jeans to make your hips look slimmer.
Wide Leg Jeans
You should look for jeans that draw attention away from the lower half and up towards the chest.  You want the eye to skim over your bottom half and not attract attention there. That is why wide leg jeans are one of the best jeans to make your bum look good.
If you are a pear shape, which means you have small waist with wider butt and prominent thighs, then high waisted are also great because they highlight your small waist.
Flare Jeans
Flare leg is the most universally flatter leg shape for jeans, regardless your height or your body shape. For women who want to make their bum appear smaller, the flared jeans creates extra volume below the knee, thus they will help balance you out.
Plus, flare leg does the best job in making your legs look longer. No matter how tall you are, when your legs appear longer, you will always look leaner and thus your bum will look better.
Boot Cut jeans
If you want to draw the attention from how big your thighs and bum are, wear loose fitting tops with slim fitting pants or jeans. One of the best jeans for pear figure is boot cut stretch jeans.
Straight Leg Jeans
Straight leg jeans create a vertical fluid and not to mention flattering lean vertical line on your shape. A great option when you want to make your bum look smaller.
Straight leg is referring to the leg shape, and they can come in different jeans style such as the boyfriend jeans or Mom jeans.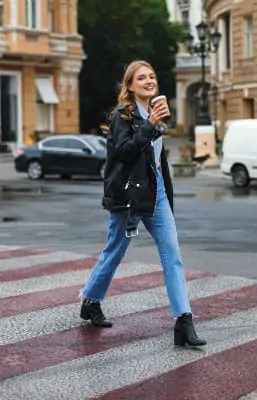 Black Jeans
Wearing solid, dark colors on the bottom is always a good choice, if you prefer to make your butt look slimmer.
When it comes to making your rear more slender, black jeans is undoubtedly the best for the slimming effect. So, black jeans should be your go to, if your goal is to make your butt look less heavy.
Since most women with bigger bum also tend to have wider thighs, black jeans can help you on both front, because they can make your thigh area look slimmer at the same time.
Dark Wash Jeans
In addition to black jeans, the dark wash denim in general have better slimming effect than another color jeans. Many petite women with pear figure are concerned about their full thighs. If that is your case, you should try flared and boot-cut jeans.
Jeans with Big Pockets
This may sound counter intuitive to you, if you want to make your butt look smaller,shouldn't you go with smaller pockets? It's actually the opposite.
When the jeans have big pockets, they actually make your bum make more slim!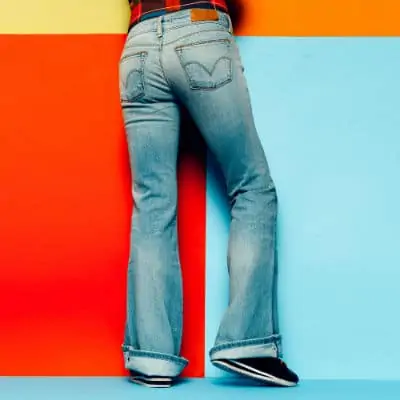 If you find it challenging to find a pair of jeans that doesn't gape in the waist, a high waist jeans can solve the problem because the fabric is designed to cover more than just your backside.
What to avoid
Skinny jeans
If you have wider hips, you should avoid tightly fitted skinny jeans, as they might make your hips and thighs more prominent.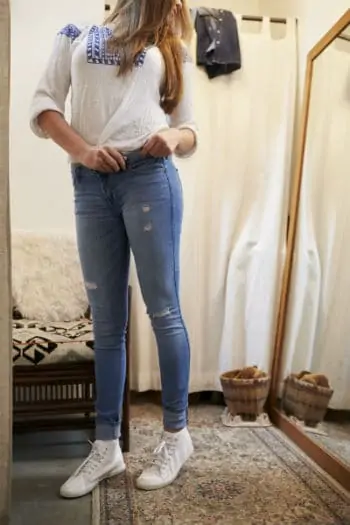 That said, you probably notice Kim Kardashian is constantly seen in skinny, which is one of her signature looks.
So, it really is up to you how what you would like to emphasize. If the Kim Kardashian like curvy look is what you are going for, you can experiment with skinny jeans.
Jeans with Small Pockets or Angled Pockets
I already touched upon this point earlier. The smaller the jean pockets are, the more contrast they form with your butt and therefore the more obvious they will make them look. If you want your butt to look less
Jeans with Details on Pockets
In order to make your butt appear smaller, you should stay away from too much embellishments on the butt or pockets with flaps. Those details will only make your butt appear larger.
Other ways to make your hips look slimmer
The best way to dress your bottom heavy shape is to achieve the balance between your wider hips and thighs and the smaller upper body.
I have addressed what kind of jeans you should wear in order for your butt to look smaller, but the other part of the equation is how to make your top look more balanced.
That can be achieved through enhancing and adding volume (or the illusion of volume) to your upper body while emphasizing your waist and de-emphasizing your lower body to create a balanced, hourglass appearance.
The easiest way to do this is to wear a brighter color top with dark color jeans. That will draw attention away from your bottom and towards your face and shoulders.
There is many other ways to style your top to add volume, which I have mentioned in my articles on how to dress the pear shape, which is why you should read them.
Everything else you need to know about pear shape
As mentioned earlier, having bigger butt itself doesn't necessarily mean that you have a pear shape, there is other factors that need to be considered to determine what body type you are. If you don't yet known your body type, take the easy quiz to find out.
If you do know you have a pear shape, then I highly recommend you also read my other posts on how to style the pear shaped body.