There are many reasons you may have thick legs. Most women notice their leg tend to get chubbier when they gain some weight. Genetics also plays a big role in the shape of our leg shape. Certain body types such as the pear shape tend to accumulate fat more easily on their thighs. Whether you have saddle bag thighs or thick calves, there are many exercises you can do to make your legs look more toned and tighter. If you want your legs to look thinner FAST, then follow these styling tips.
In order to make your legs look slimmer, you should draw focus to your upper body and direct attention away from your bottom half. Since most women with chubby legs also have big busts, you should accentuate your full breasts because they are one of your best assets. Generally you should avoid light color pants or any bottoms that cling to your legs because they will only make your thick legs the focus of your outfit.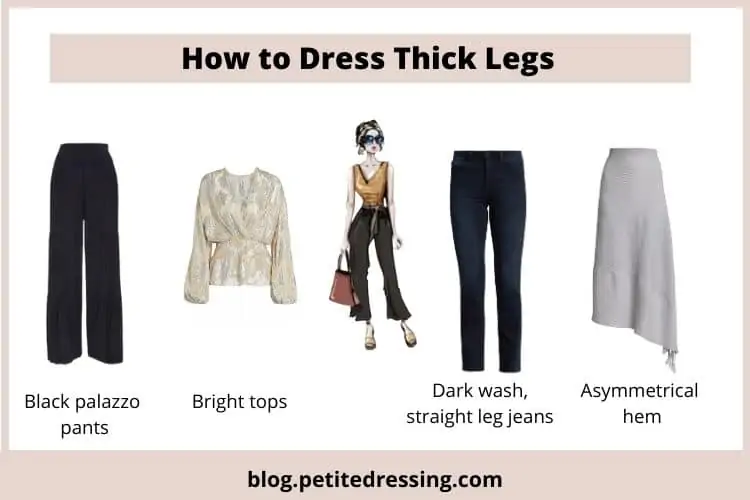 Boyfriend Fit Denim
Boyfriend fit gives just enough wiggle room in their fit, to give legs a thinner appearance. The fit is a great option for casual wear. Due to the fact that boyfriend fit denim creates a straight line down from the widest part of your leg and/or hip area, it creates a straight line down your body which is what makes them so flattering.
The key here is to make sure the denim isn't TOO loose of a fit. Look for denim that's a happy medium between skinny and very loose for the perfect boyfriend silhouette.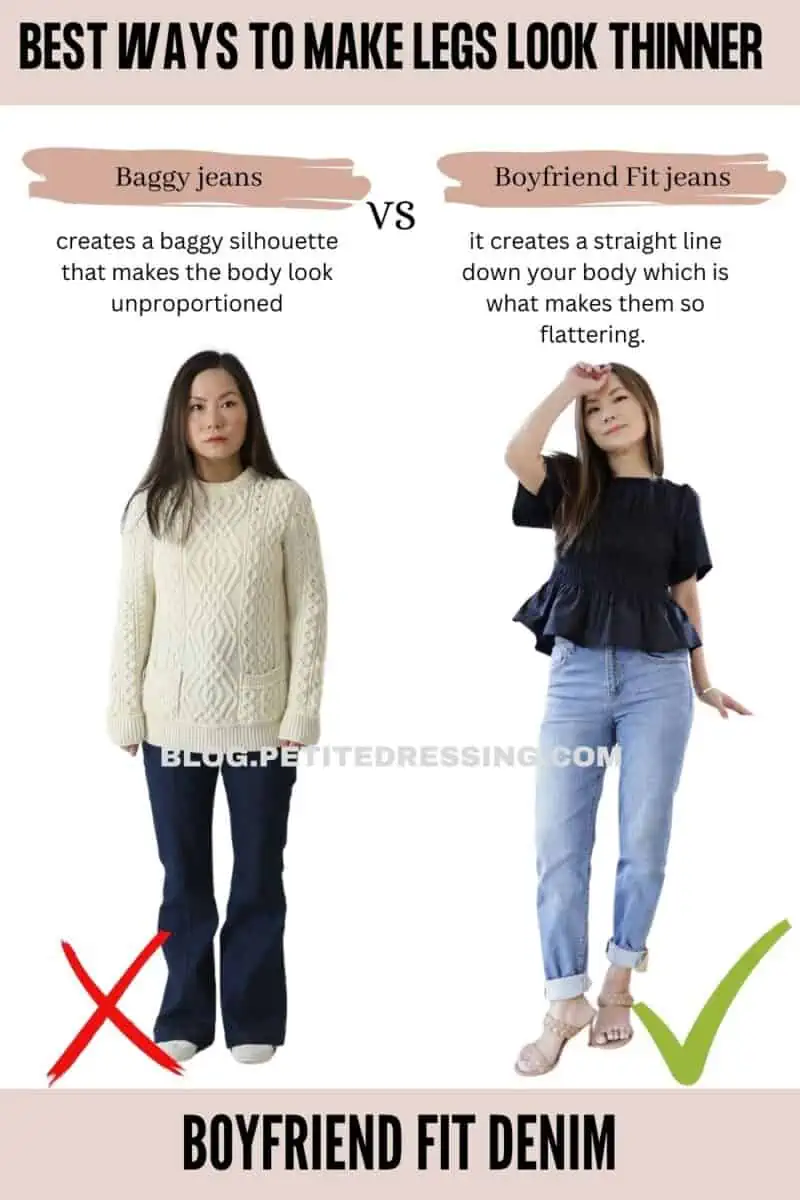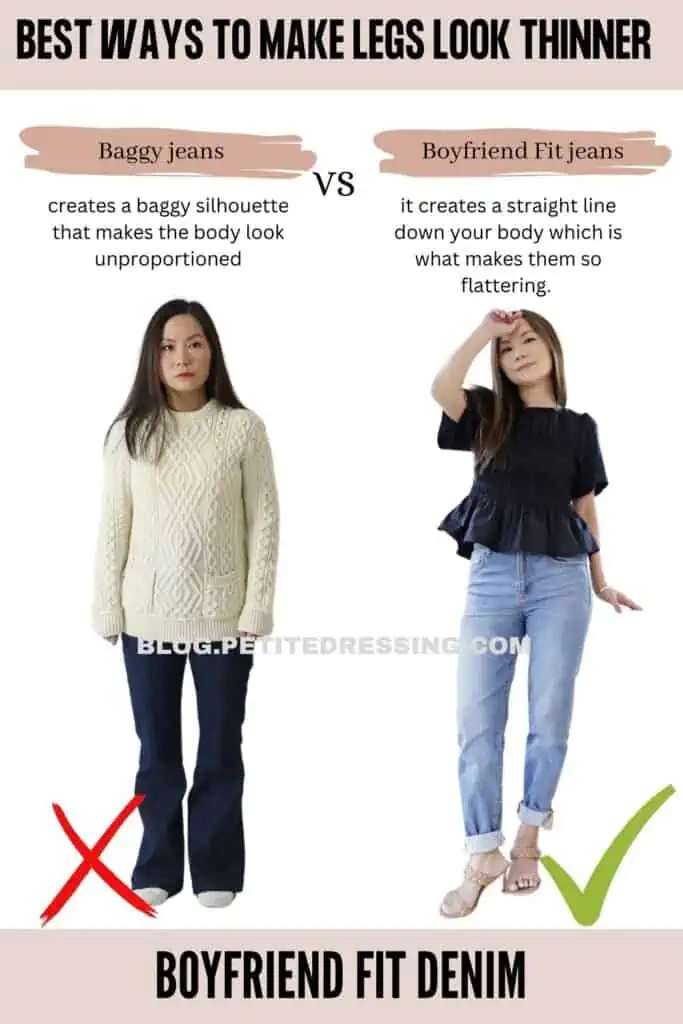 Avoid Cropped Pants
Cropped pants cut the leg line, which causes legs to appear shorter and, you guessed it, thicker.
Because a key element to making legs look thinner is elongating their length (or the illusion, at least), cropped pants are tricky. Full-length pants tend to aid in giving legs a naturally elongated effect.
Of course, this isn't to say you can't ever wear cropped pants. If you do, just make sure they lay just above or just below the widest part of your calf. Otherwise, just stick to a full length to achieve a thinner looking leg line.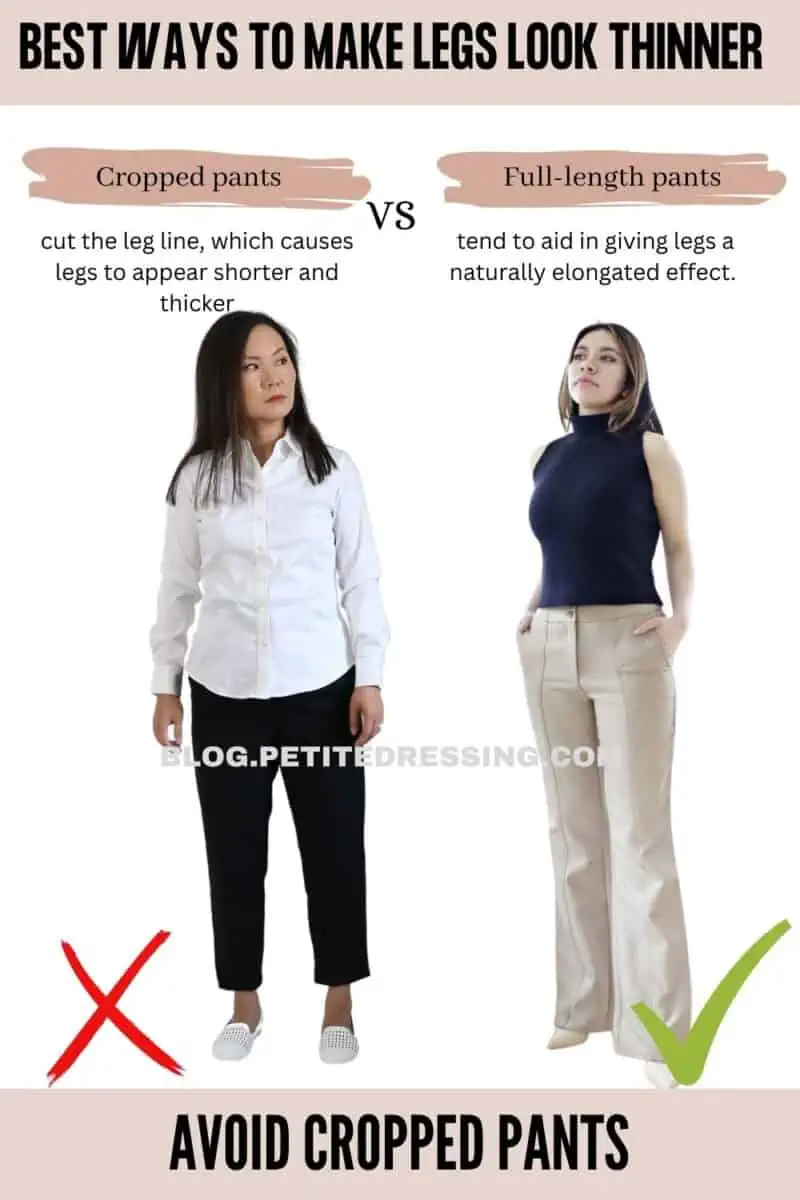 Wear Palazzo Pants
If you have thick legs, palazzo pants work effectively to camouflage it. The main reason they can be flattering to women with chubby legs is the extra space from the legs shape. Since they do not cling to your legs like the skinnies, you will feel much more comfortable and less self-conscious about having thicker legs.
The best palazzo pants for women with thick legs should be dark color and made of flowy fabrics. Choosing colors that have a shrinking effect such as black or navy is key to make the palazzo pants flattering on you.
Since they are wide leg pants, they do add some volume to your bottom half. To avoid looking too bulky, the best way is to wear them with a tighter top to shift the focus to your top and pair the pants with high heels for a slimming effect.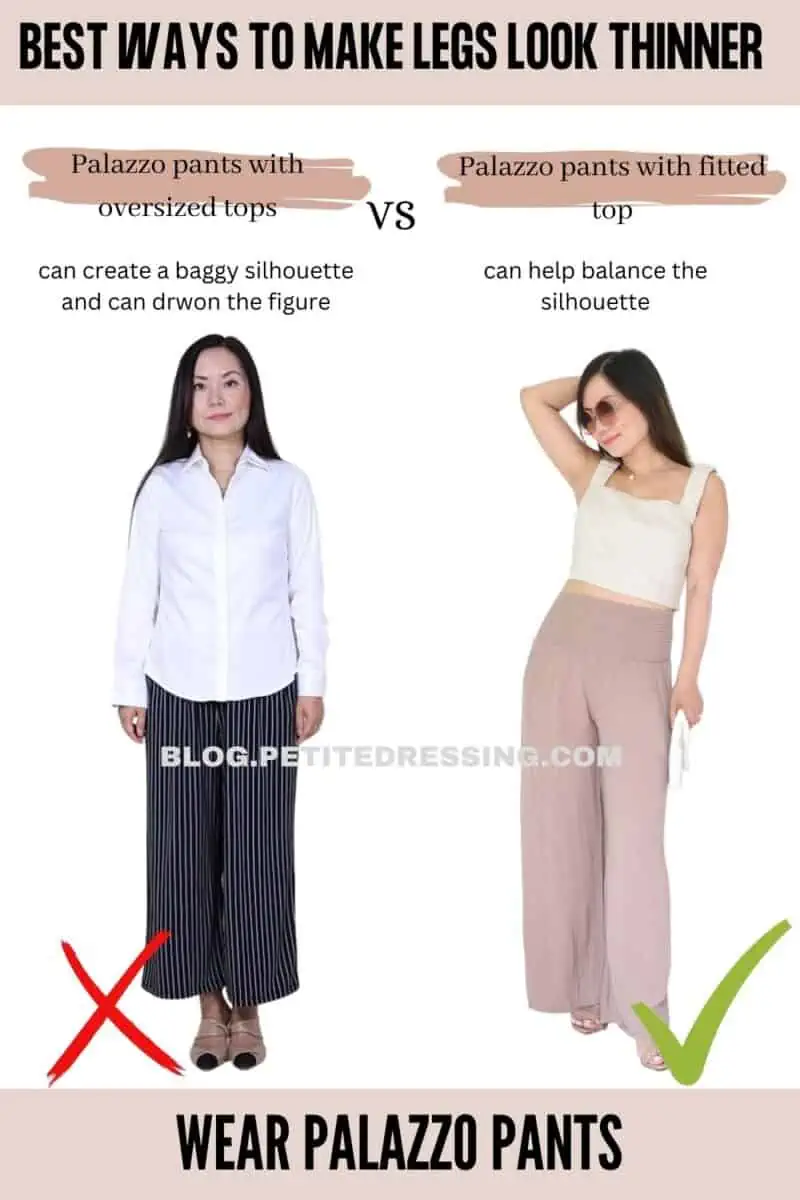 Wear High Rise Pants
One of the best ways to make legs appear thinner, is by giving the illusion that they are longer. Long leg line = elongated shape. An easy way to fake longer legs is with high rise pants (and skirts!). Because of the rise higher up on the body, it looks as though your legs begin higher up on the body.
Build your wardrobe with a selection of high rise bottom options in different fabrics and styles to maintain a look that makes legs look thinner no matter the occasion.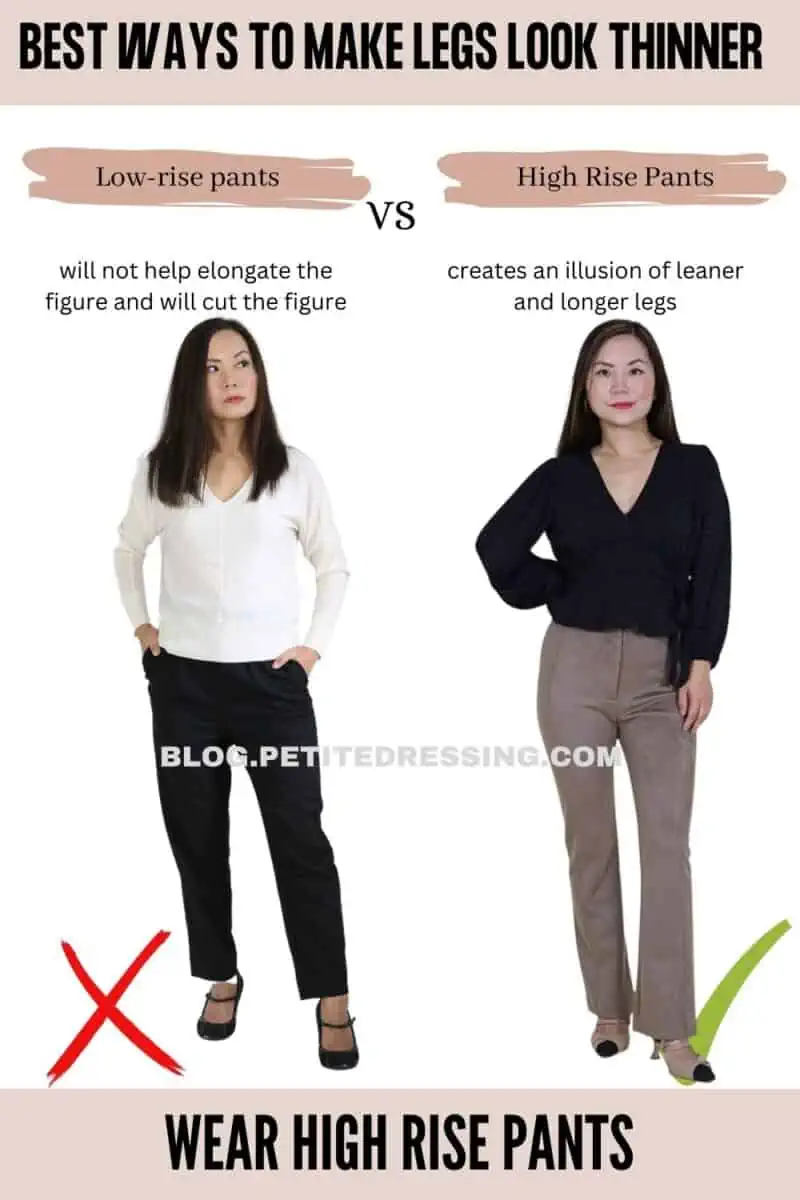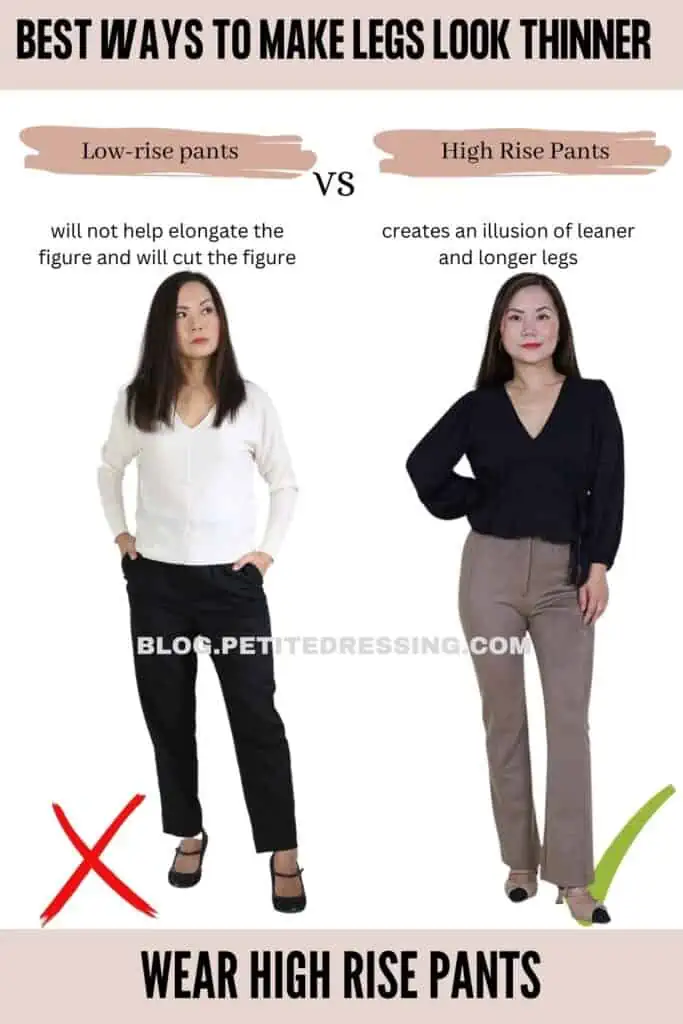 Avoid Light Wash Denim
It's no secret denim comes in a wide variety of colors and styles, especially now. Anytime you're dressing to make legs look thinner it's best to select dark wash options. Dark wash denim is just like black with its 'slimming effect.'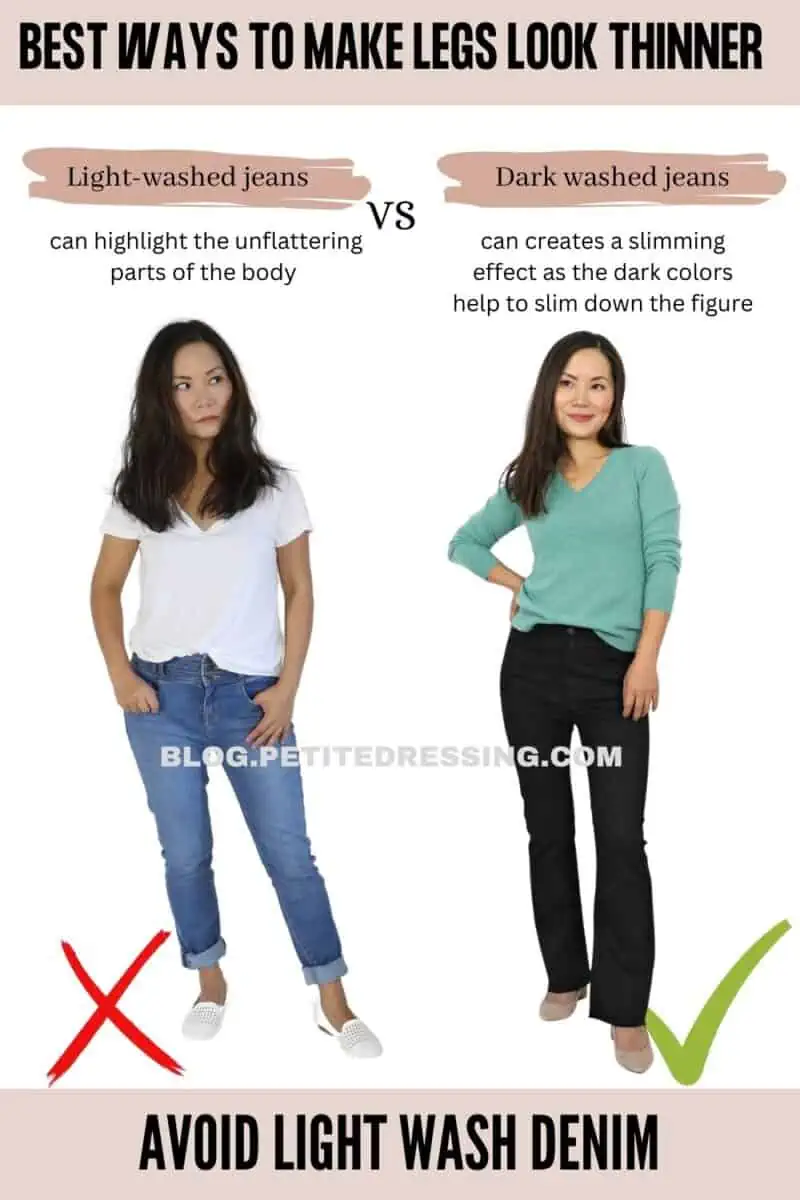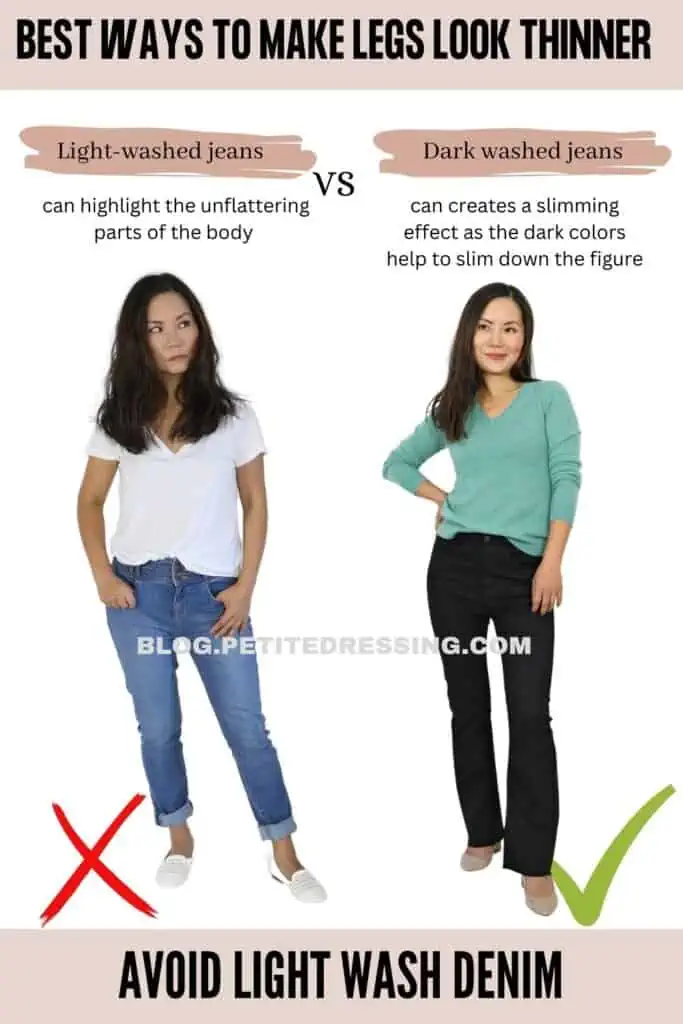 Vertical Stripes
Opposite of horizontal stripes in direction and style effect, vertical stripes are an amazing print to achieve a long, thin aesthetic. The great thing about vertical stripes is you can embrace them just on the bottom half with pants or a skirt, OR a dress. More vertical stripes only mean making your legs look longer.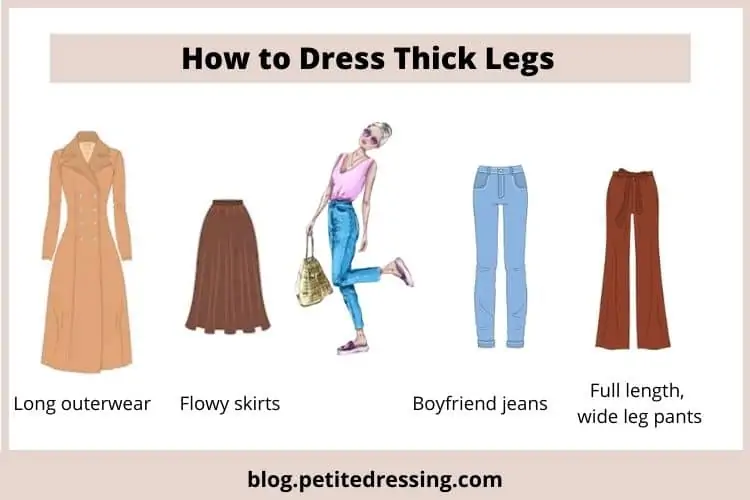 Flowy Skirts
Flowy skirts can be intimidating, but they're a style to embrace to make legs look thinner. Thanks to the flowy fit of the skirts they drape around your legs in a way that's incredibly flattering. Similar to the way wide leg pants should be favored, you will want to make flowy skirts predominate in your wardrobe. Tuck your shirt(s) into the flowy skirts to make legs look longer and enhance your waistline.
When selecting flowy skirts, steer clear of options with a lot of voluminous details to them. Details like pleating and peplum are examples. These types of additions to flowy skirts will add bulk to your legs, which won't give them a thinner aesthetic.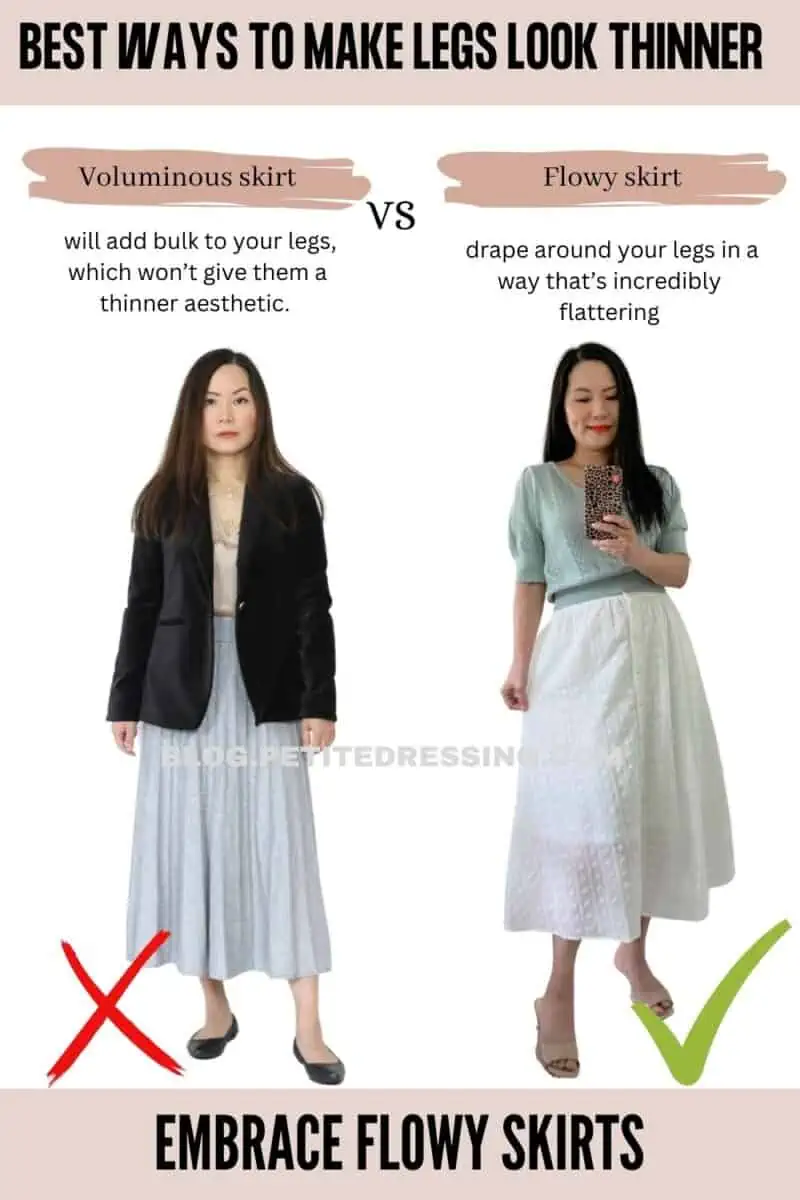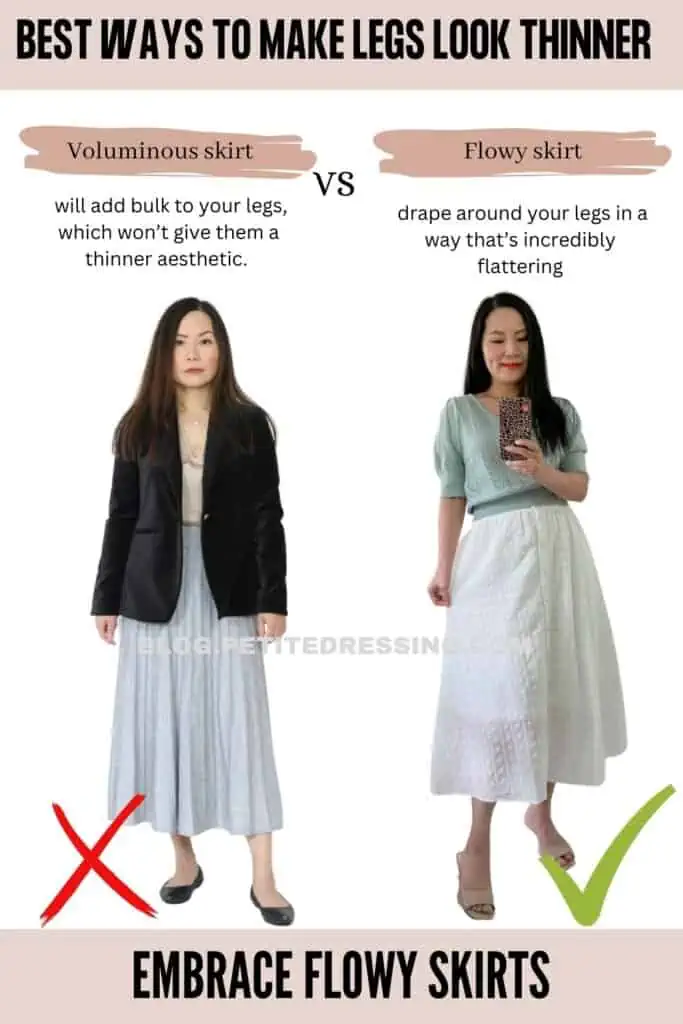 Asymmetric Hemlines
An often forgotten style hack is the use of asymmetric hemlines.
Due to the unique shape, this style of hemline plays with balancing shape beautifully.
Legs look longer, as the eye is drawn towards the shortest part of the hemline. Asymmetric hemlines are ideal anytime you want to elongate your legs without wearing a mini skirt.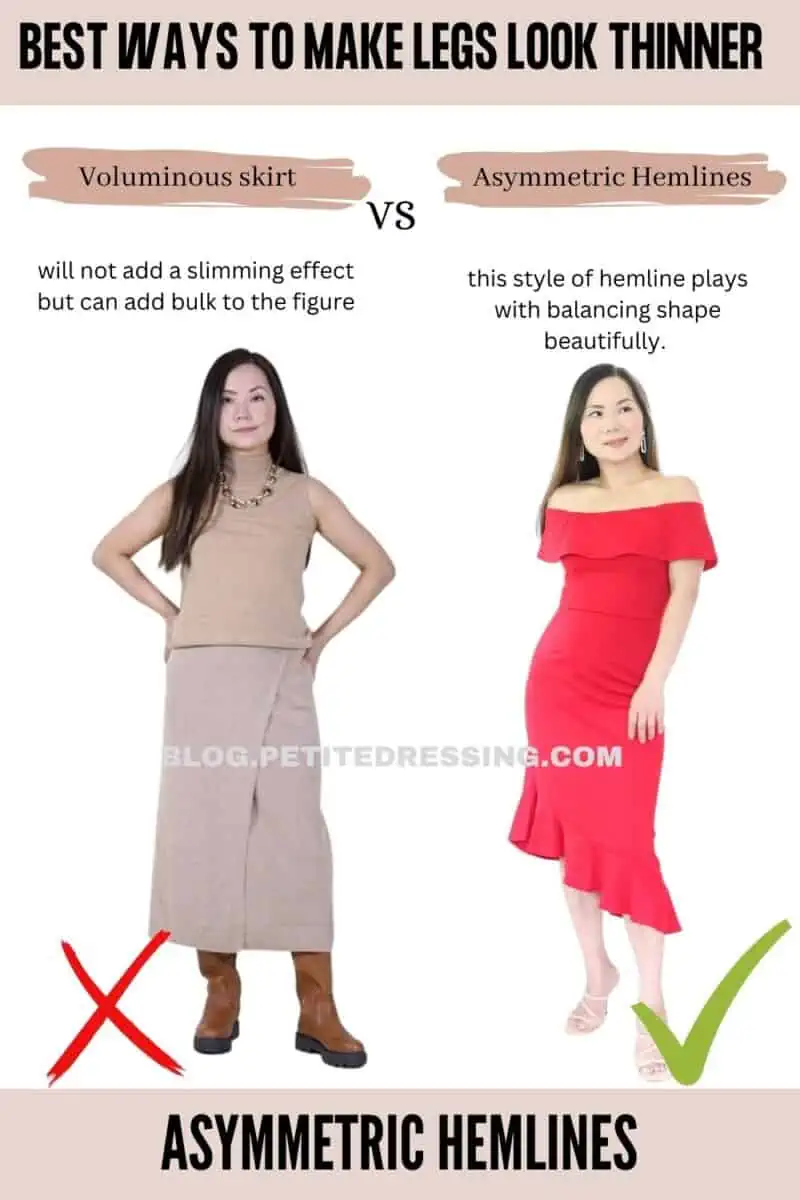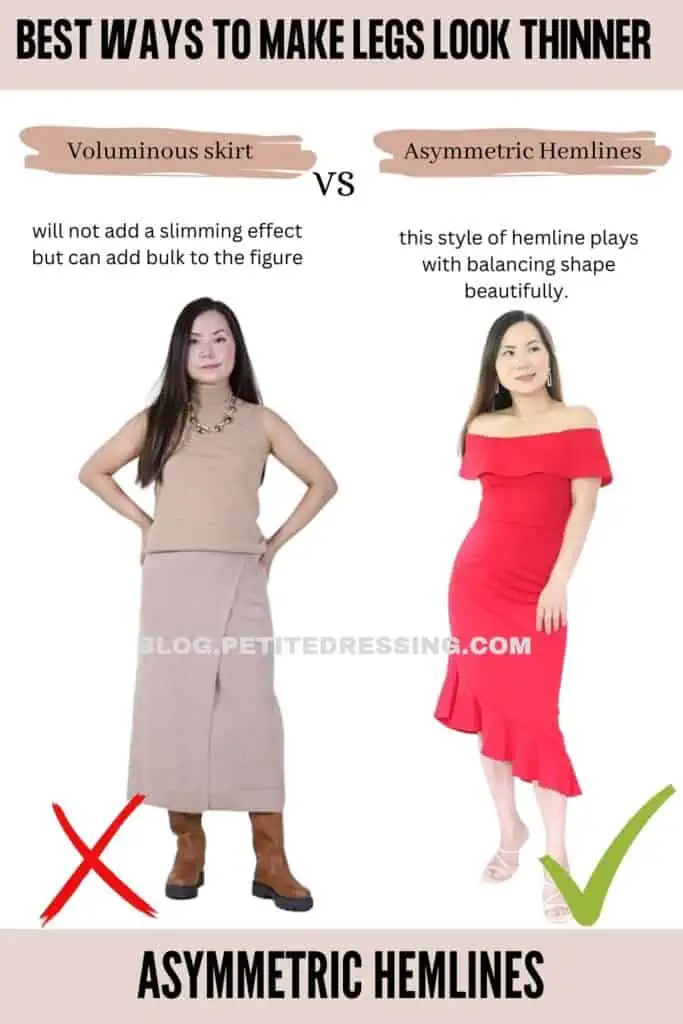 Highlight the Upper Half
A styling trick that makes your body appear more balanced in proportion is highlighting the opposite area of the one you're trying to make look thinner. For example, to make legs look thinner, wear pieces that bring a lot of highlight to your outfit around your upper body.
Many women with thicker legs also have full breasts, which are a great asset that you should definitely highlight. When you bring focus to your top, whether your legs are thick or not become much less noticeable and you will feel more confident about yourself overall.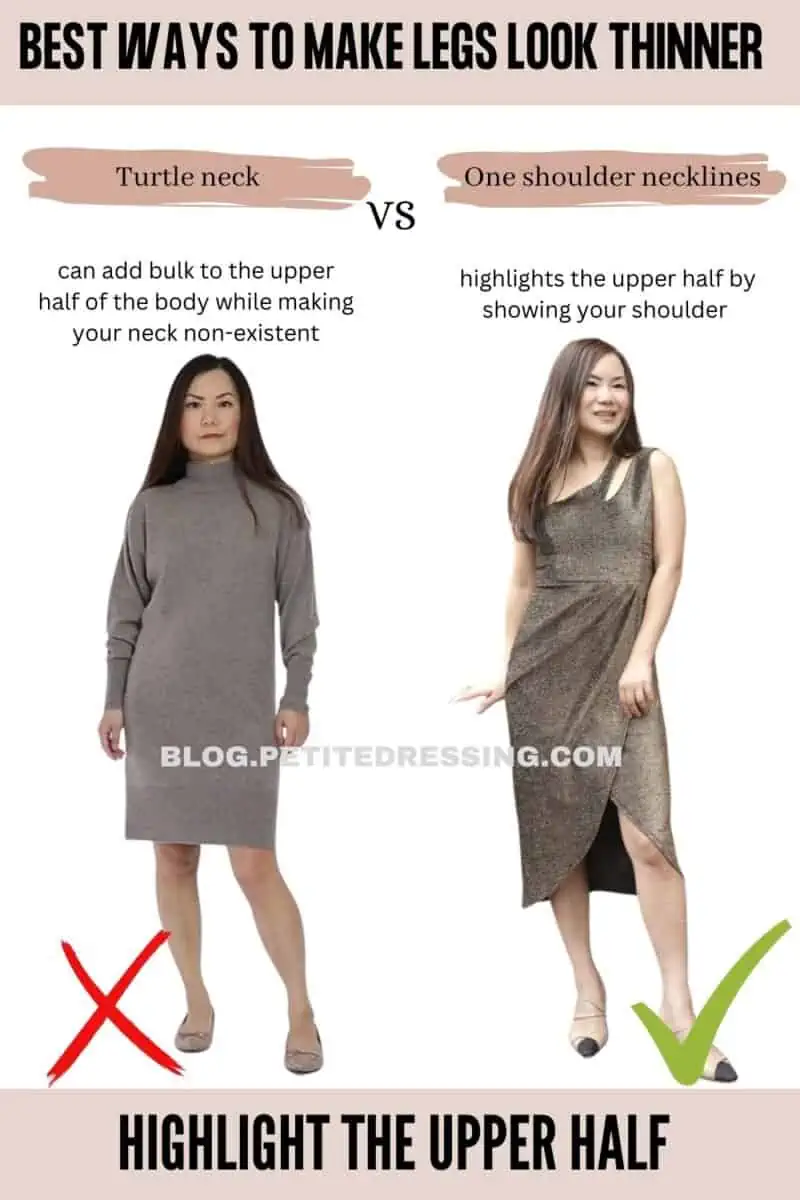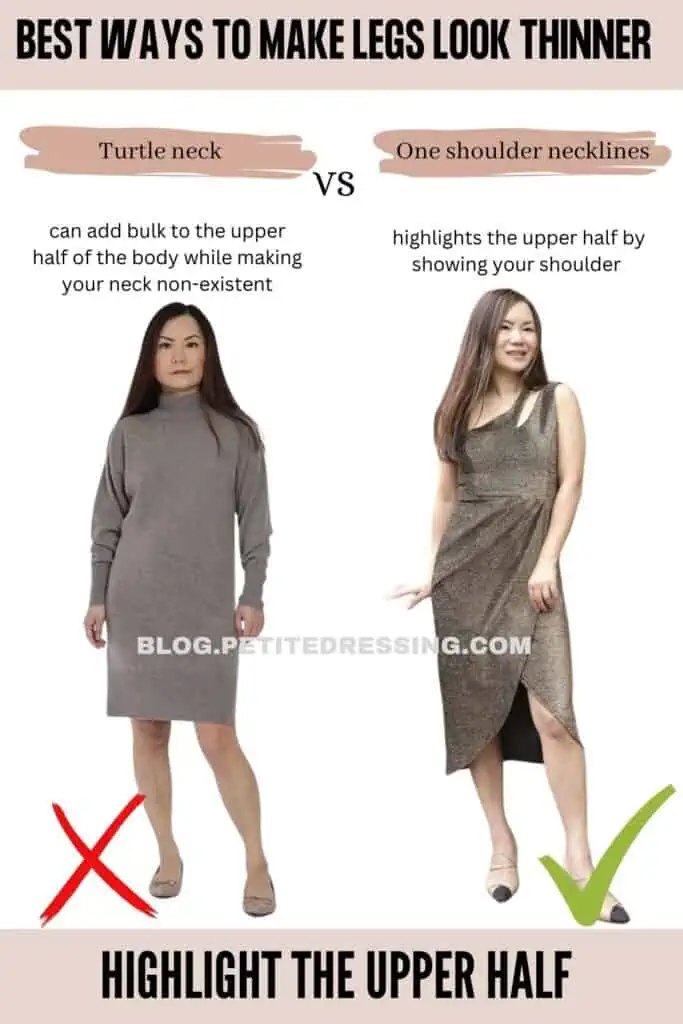 There are a lot of ways you can make your upper body stand out.
Wear tops with fun and unique sleeves
Wear one-shoulder necklines
Wear bright and bold colors/prints
To make the most of this style hack, keep the bottom half neutral and solid.
Layer with Long Pieces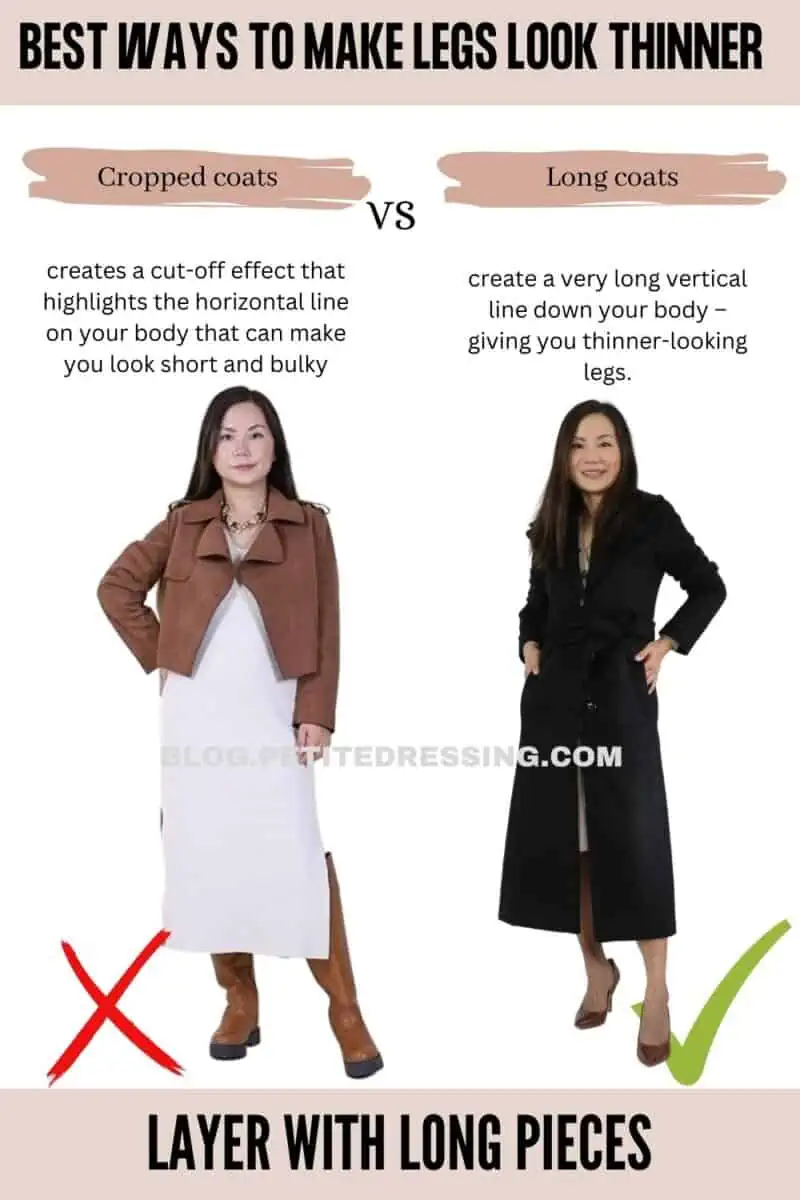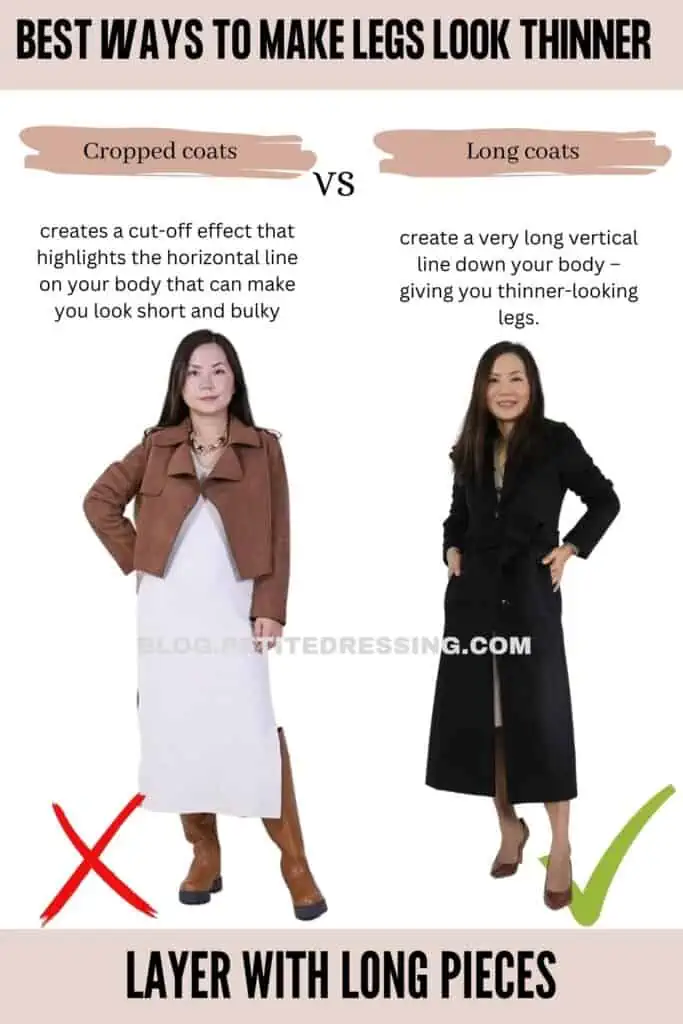 By now you know the goal to make legs look thinner is making your shape elongated in subtle ways.
Add a figure-flattering element to your outfit by layering with a long, maxi length, pieces.
This can be anything from a lightweight cardigan to a vest and anything in between.
Because these layers are quite long they create a very long vertical line down your body – giving you thinner looking legs.
Thigh High Boots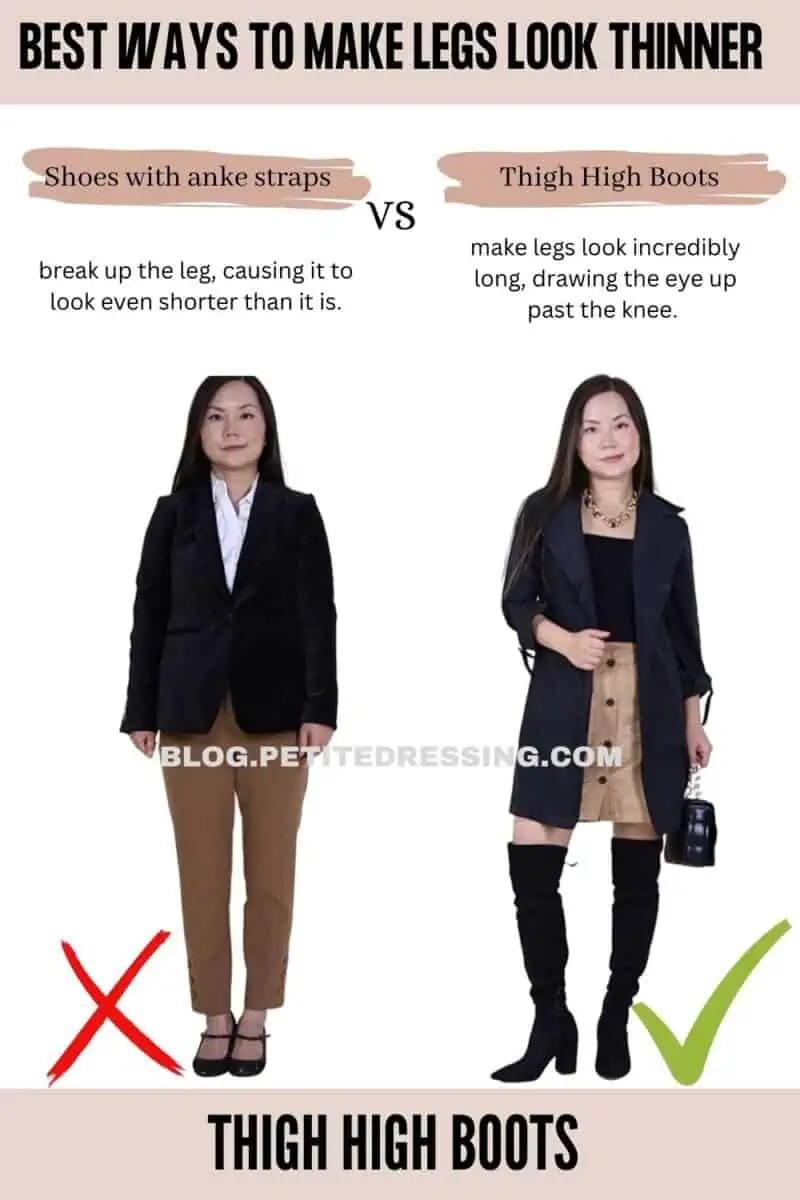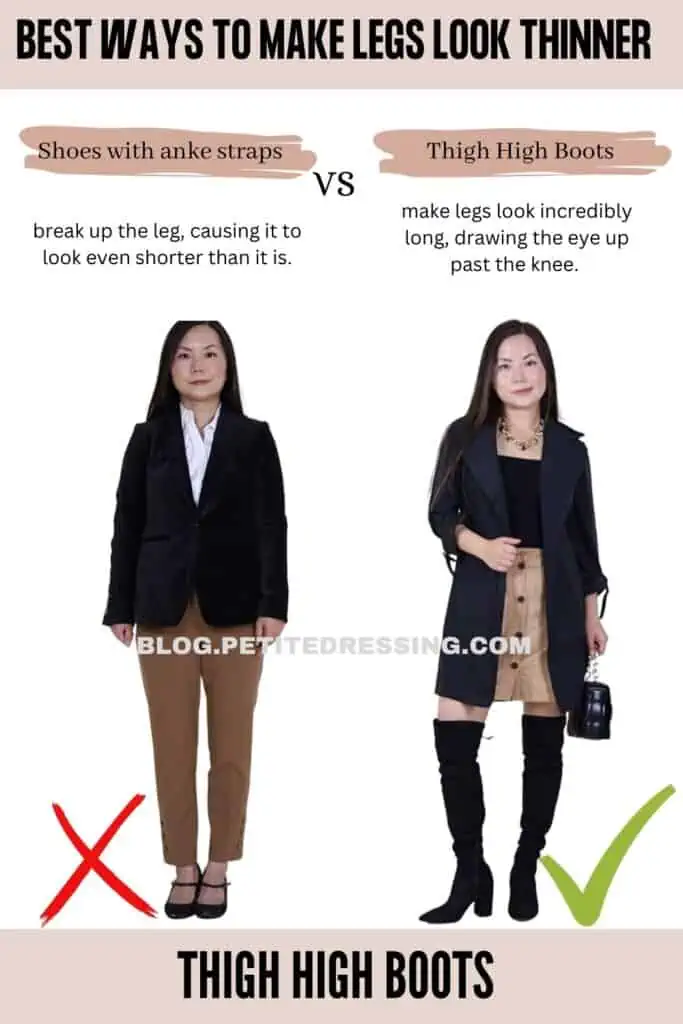 Believe it or not, over the knee boots are a great option to making legs look thinner.
The reason they're slimming is because they make legs look incredibly long, drawing the eye up past the knee.
When wearing this style boot it's even more effective to style them so no skin shows at the top. Magnify long legs with boots that meet your skirt or dress.
Avoid Ankle Straps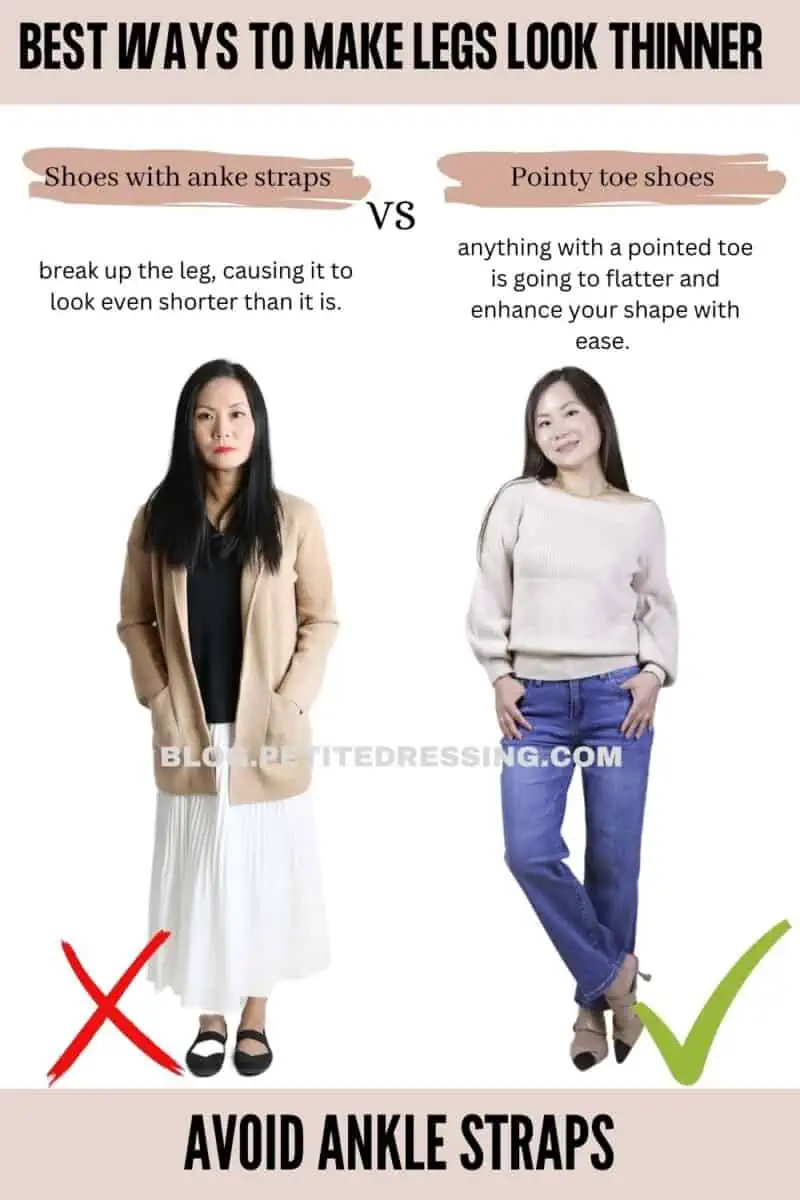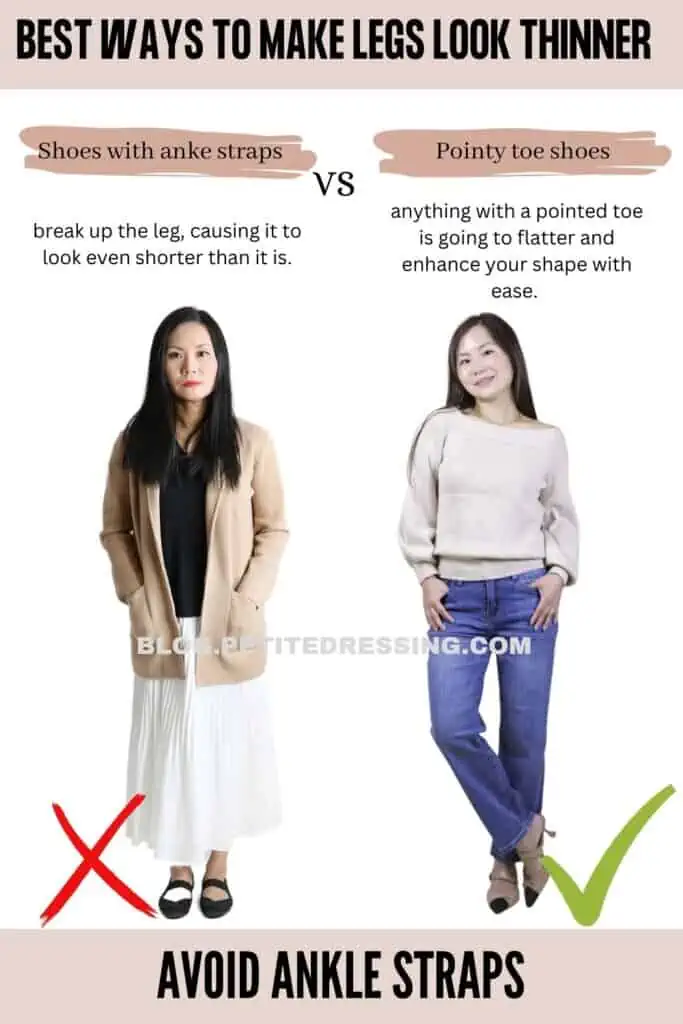 Ankle straps break up the leg, causing it to look even shorter than it is. For that reason, it's generally best to ditch this style shoe. Styles that offer open space on the top of the foot and ankle add length and leanness to legs.
Furthermore, pointed toe shoes (as a whole) should be a staple in your wardrobe. Whether flats or heels, anything with a pointed toe is going to flatter and enhance your shape with ease.
Monochromatic Dressing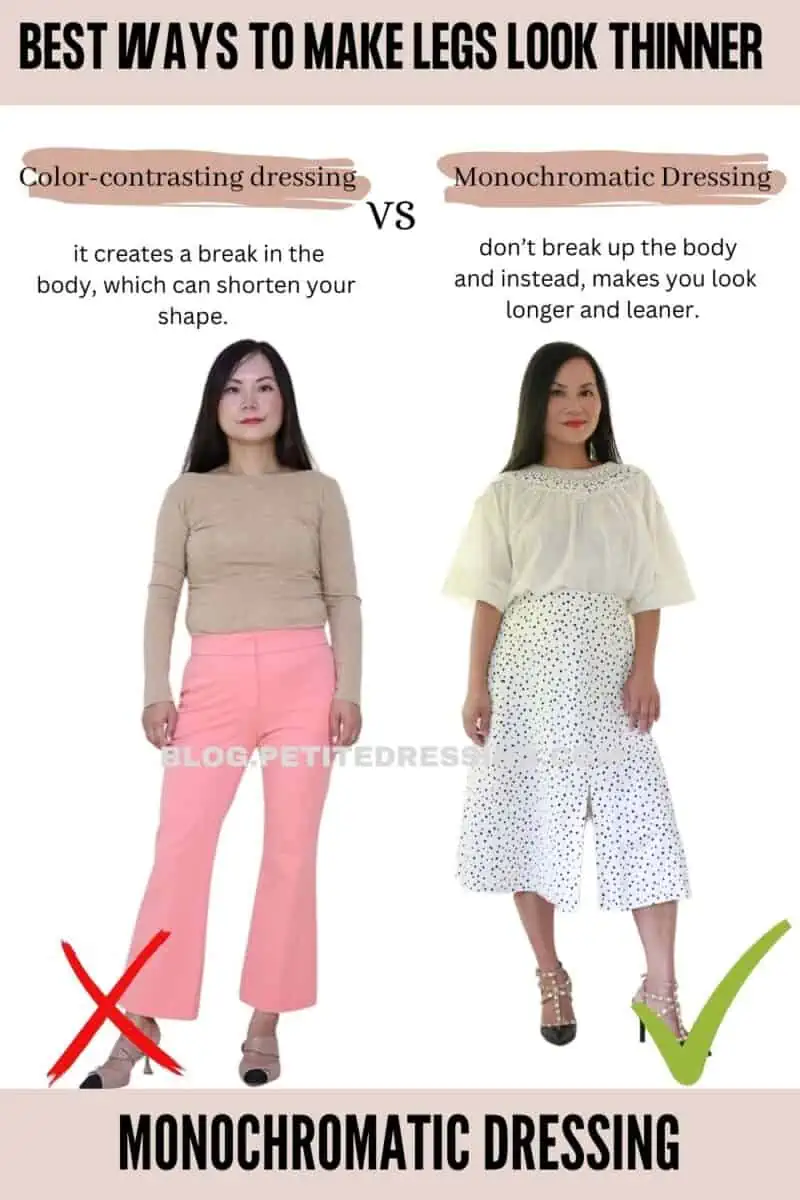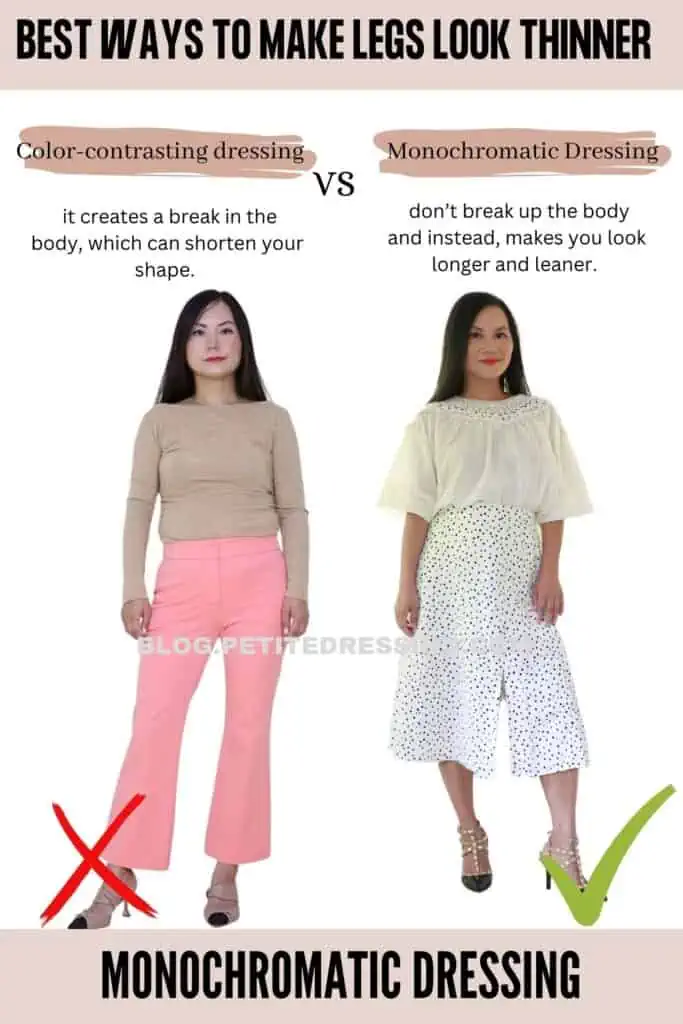 Wearing one color from head to toe is a favored styling trick among stylists and celebrities.
Thanks to the consistent color scheme down the body this type of dressing don't break up the body and instead, makes you look longer and leaner.
Anytime you wear pieces in contrasting colors it creates a break in the body, which can shorten your shape. Hence why monochromatic dressing is so popular.
Adapt this trick using any color, yes any!
Oversized Blouses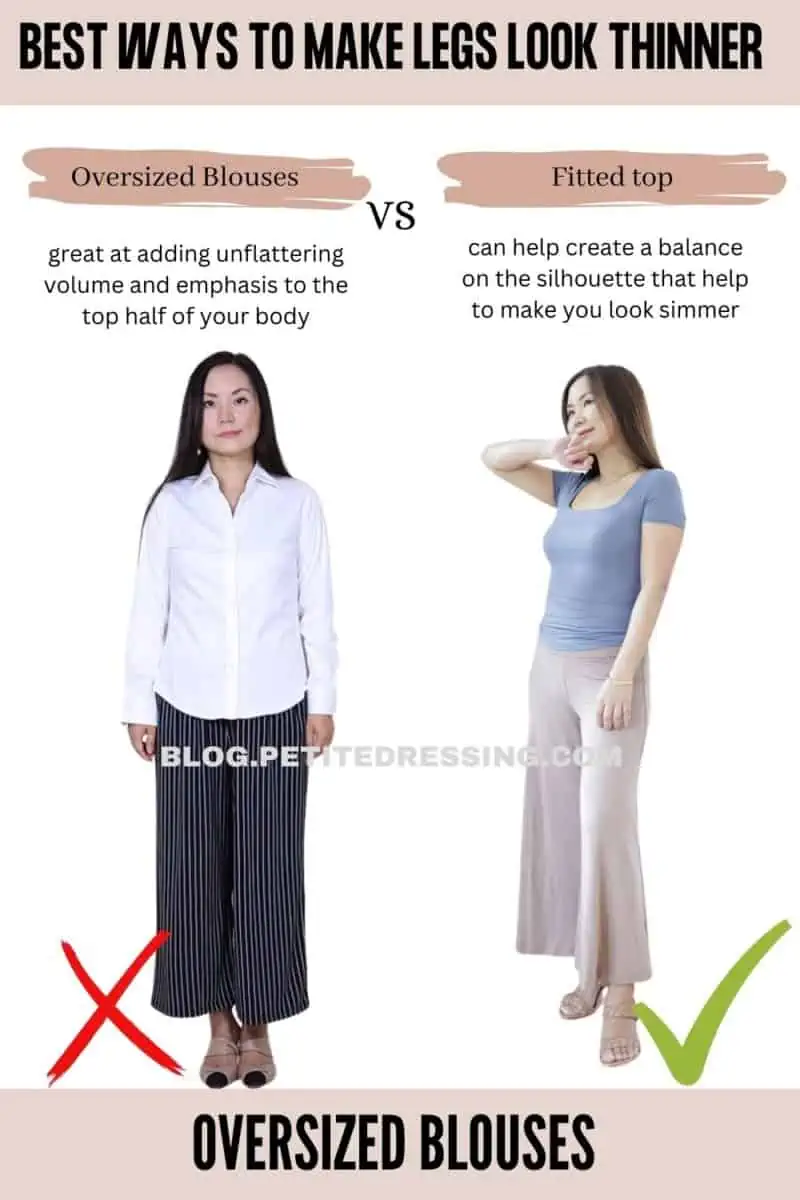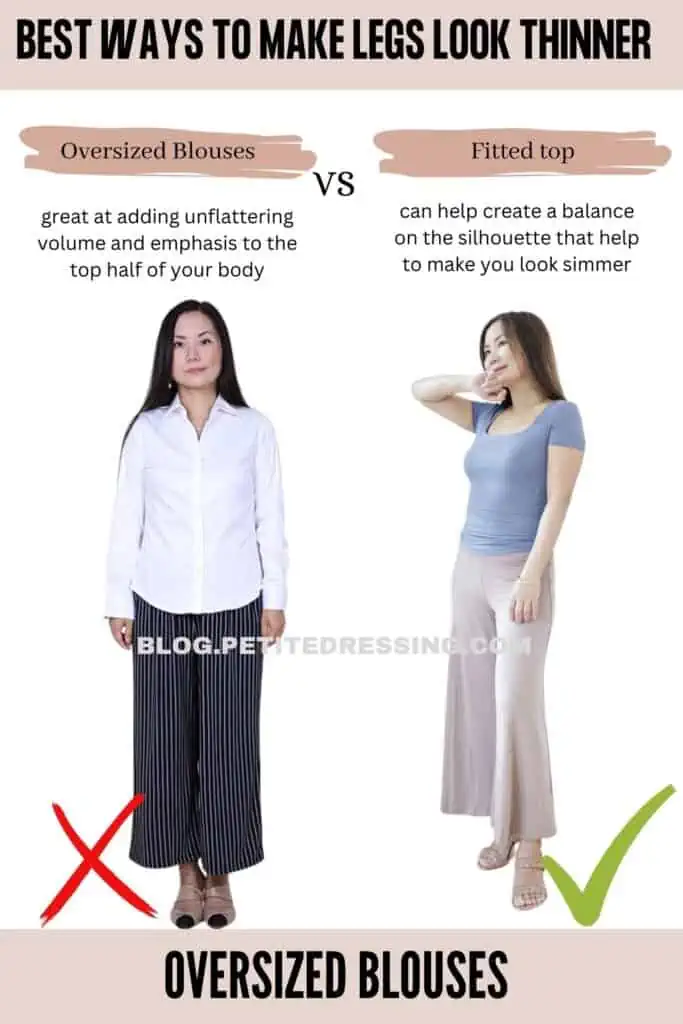 Oversized silhouettes have been trending this year, which is great when you want legs to look thinner.
Adding volume and emphasis to the top half of your body, with something like an oversized blouse or sweater, instantly makes legs look thinner.
Pair oversized tops with slim-fit bottoms to play with proportion even more.