The pear body shape (sometimes also known as the spoon shape) is known for having narrower shoulders and wider hips. In other words, pear shape carries weight and tends to be bottom heavy.
Here is the most flattering dresses that can perfectly balance out your pear shaped body.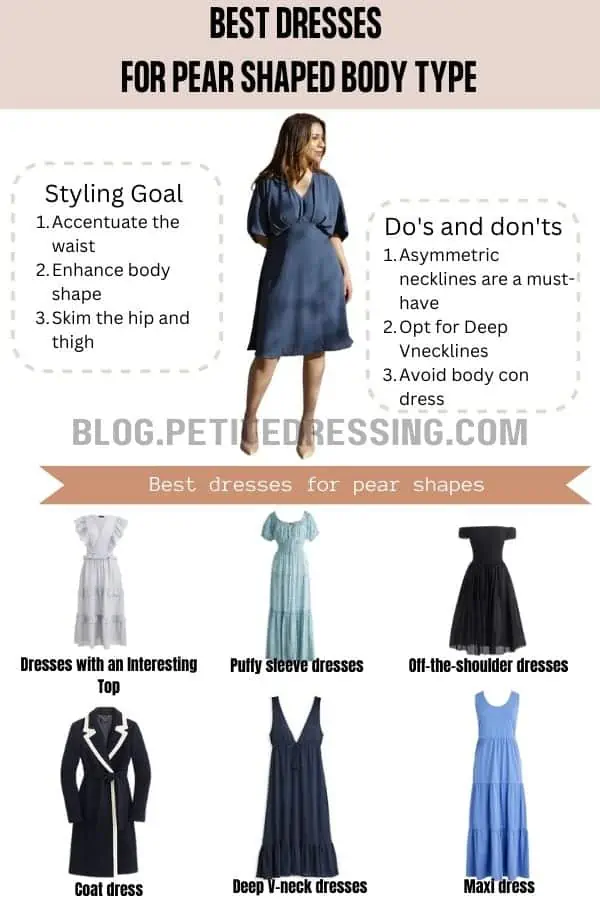 Dresses with an Interesting Top
Focusing on the top is a great concept to keep in mind, no matter what you're wearing, when you have a pear shaped body.
The reason you want to bring focus to your top half is that it creates the illusion of balance to your shape. This means in order to create more balance to your body, with dresses, you want to try dresses that have interesting details on the top half.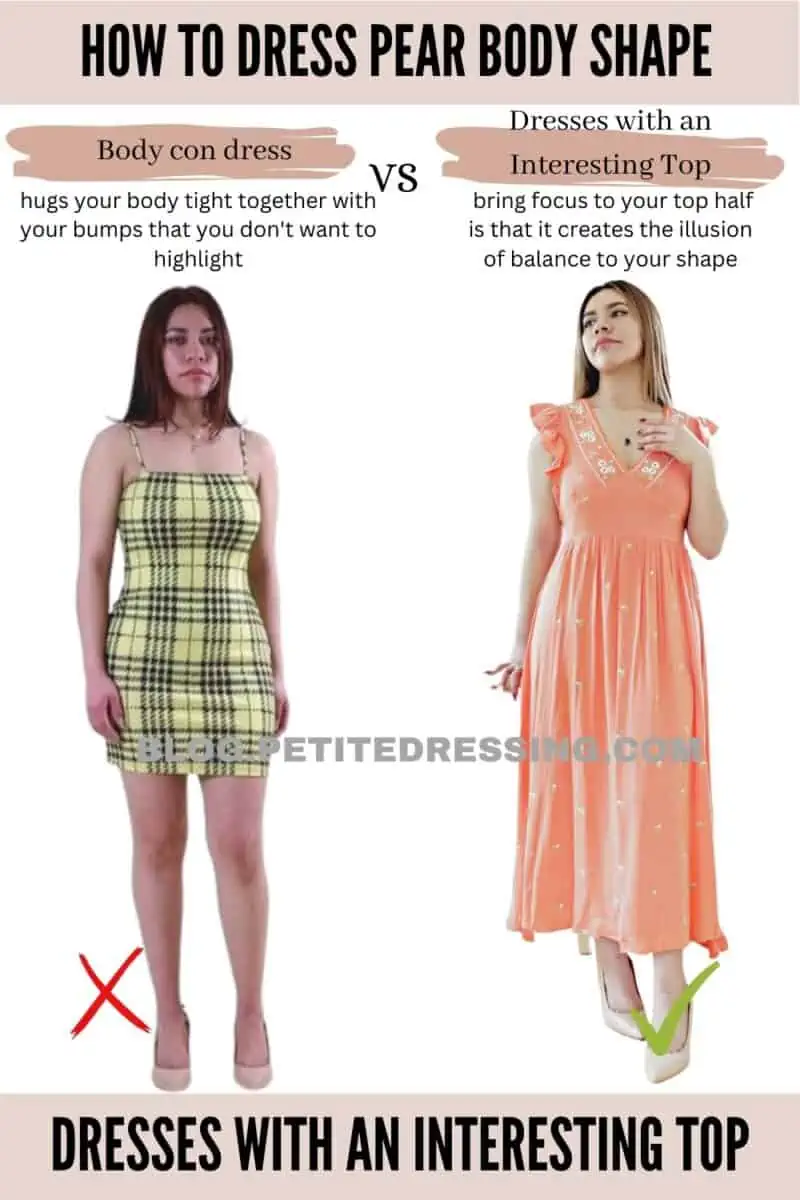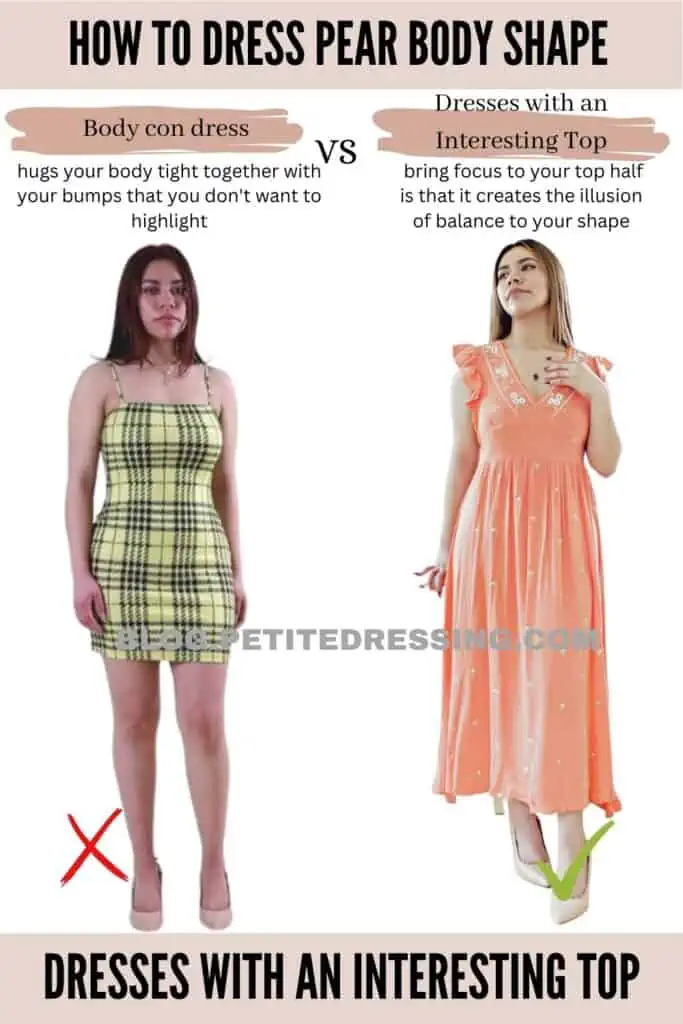 Puffy sleeve dresses
Puffy sleeves are very on trend, which is great news for women with a pear shaped body.
Since pear-shaped women tend to have narrow sloped shoulders compared with their hips, puffy sleeves are very flattering for your shape.
Not only puffy sleeves can broaden your shoulders, but also they can draw more attention upwards, and away from the heavier bottom, providing a perfect balance for your shape.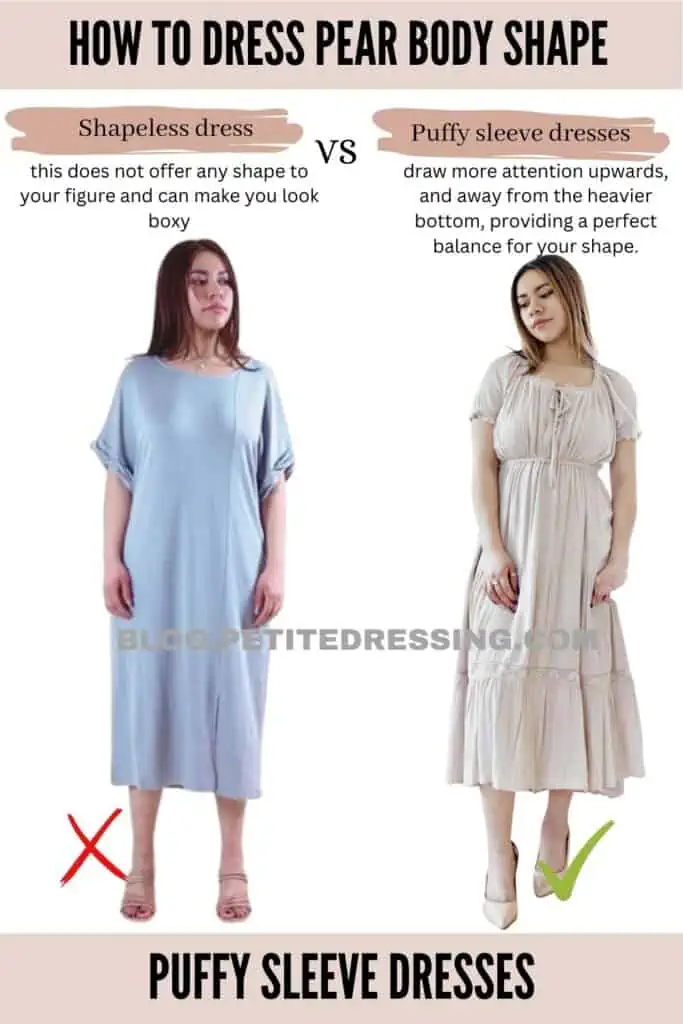 Off-the-shoulder dresses
Choosing the right neckline is especially important for pear-shaped women.
Off-the-shoulder is one of the most flattering necklines for women with a narrow top and wider bottom, because it forms a horizontal line right at your shoulder, creating the illusion of broader shoulders which in turn balance with your wider hips.
So, if you have a pear body shape, dresses with this kind of neckline are a must have in your closet.
Blazer dresses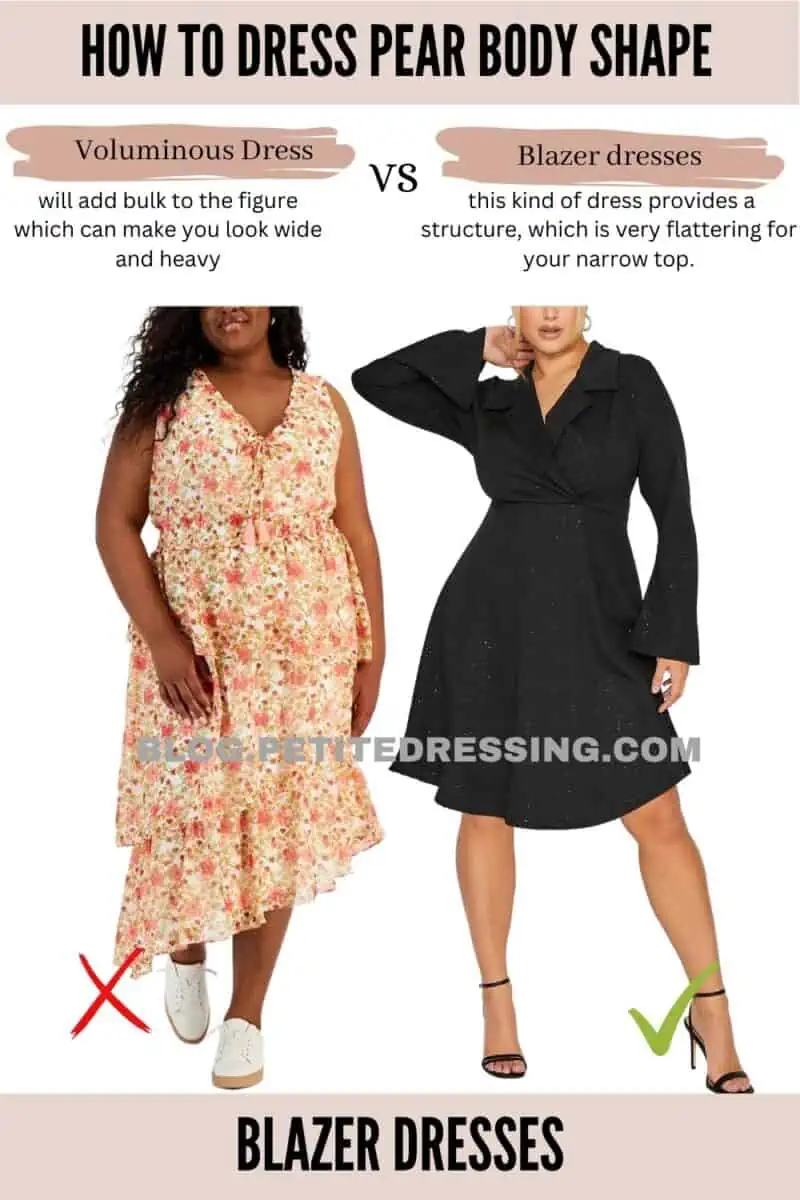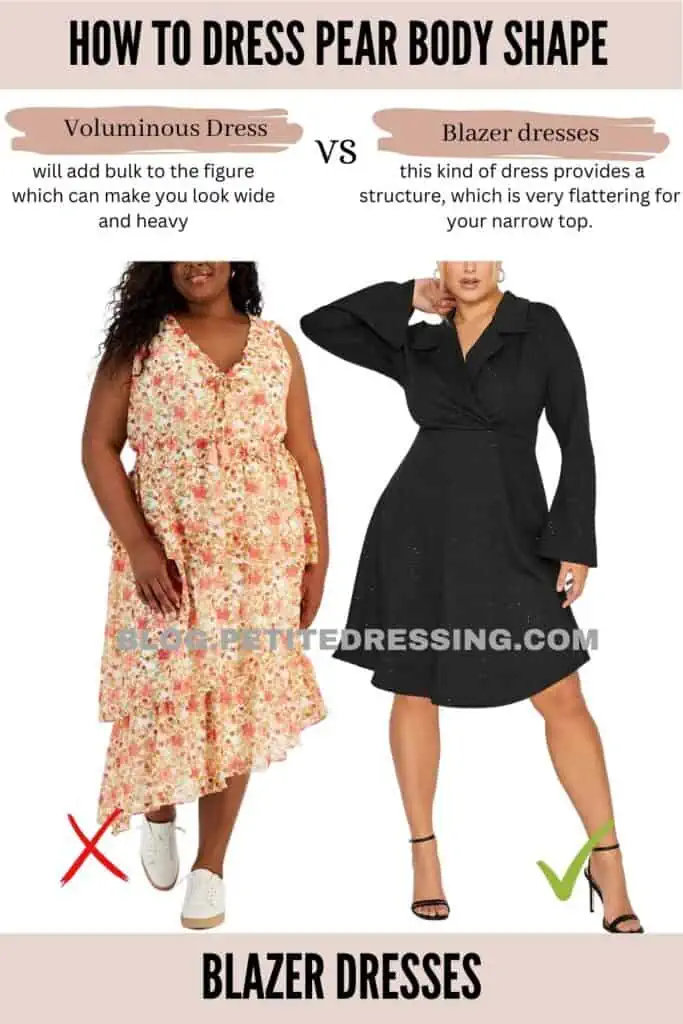 This is a new type of dress that combines a blazer like top and a skirt bottom, and it has been very popular in the last couple of seasons.
This is a great option for pear-shaped ladies, as the blazer top of this kind of dress provides a structure, which is very flattering for your narrow top.
Make sure to choose a blazer dress with padded shoulders, as this will double the effect of broadening your shoulders and flatter your shape.
Deep V-neck dresses
A deep v-neckline dress is a great way to balance the smaller top of the pear shape because it creates space in your top half.
Since the wide opening of this neckline draw attention to your face, this can effectively balance out the narrow shoulders of the pear shaped body.
Embroidery top dresses
Choose a dress with embroidery top to draw attention to your top half is a great way to style the pear shaped ladies.
Go with any interesting stitches or embellishments to highlight your top half, and this will provide a wonderful balance to your body shape.
Asymmetric neckline dresses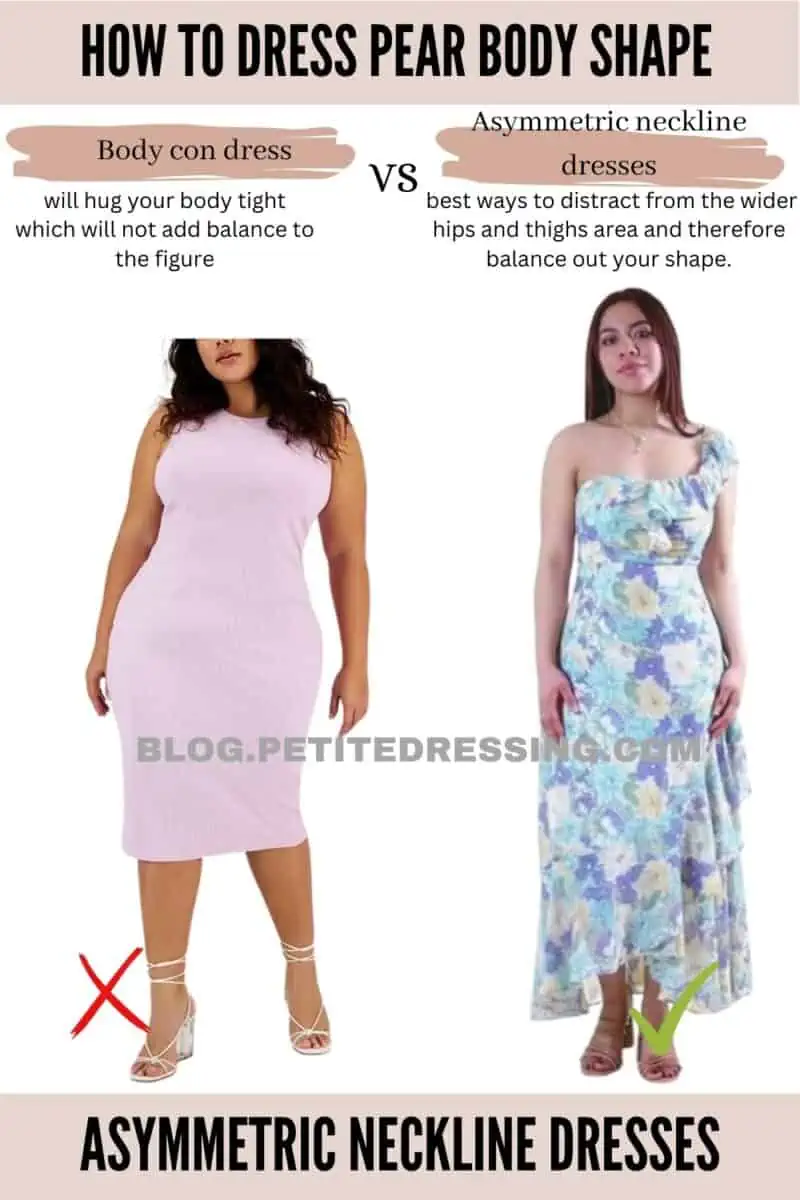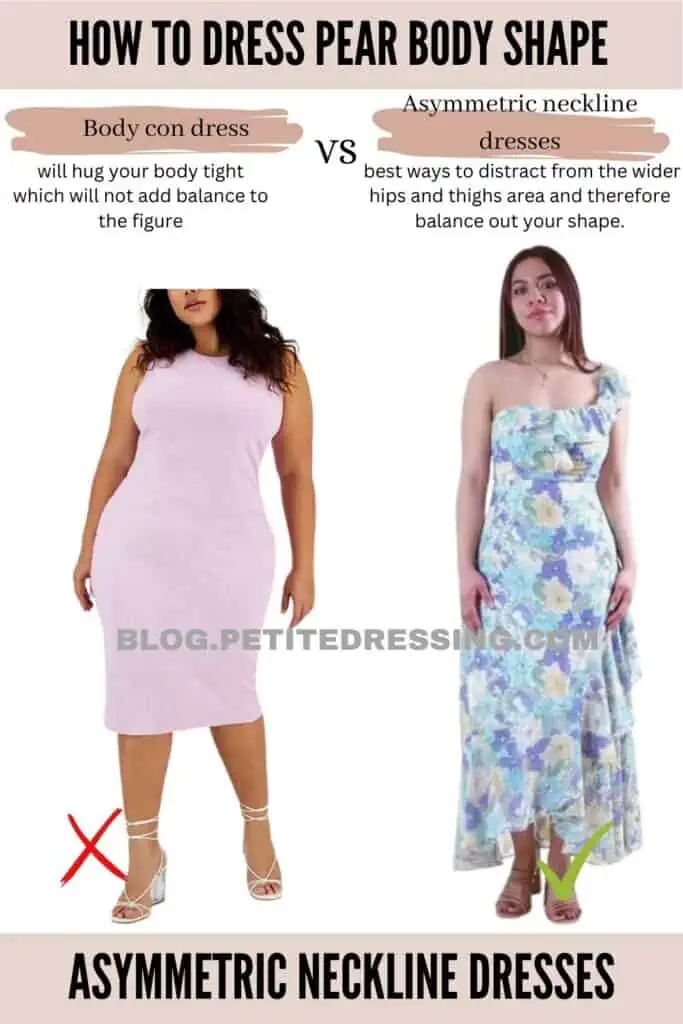 Any neckline with asymmetries, such as one-shoulder, or uneven-shoulder designs, is also great options when it comes to choosing the best dresses for the pear shape.
The reason is unique neckline design is meant to draw attention to your top half, which is one of the best ways to distract from the wider hips and thighs area and therefore balance out your shape.
A-Line Dresses
A line dress is one of the most classic dress silhouettes around. While this silhouette is flattering on many body shapes, it's an especially gorgeous choice for our pear-shaped women.
Why is it so flattering for you? A few reasons!
For starters, an a-line silhouette accentuates the narrow waist and shoulders that are common for pear-shaped bodies.
Additionally, the a-line silhouette generally skims the hip and thigh area so it doesn't add volume but rather flatters it instead. Both are major winning points when you're pear-shaped!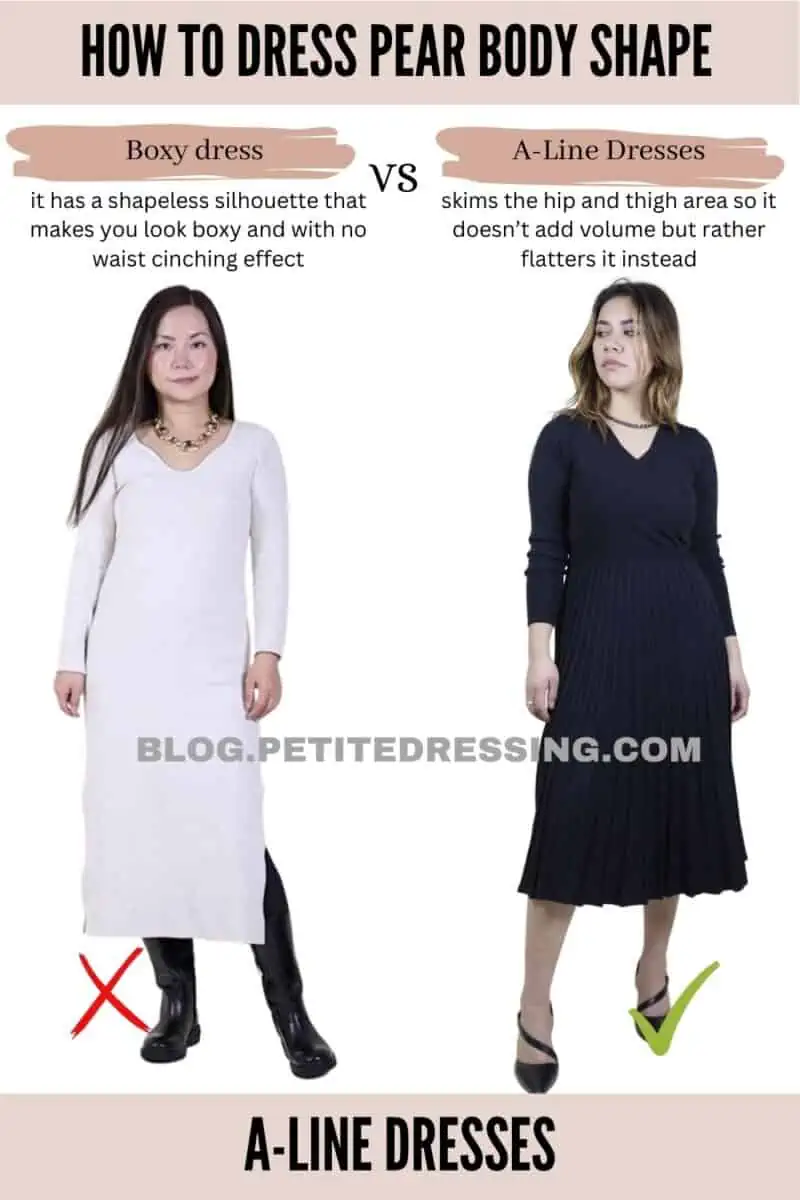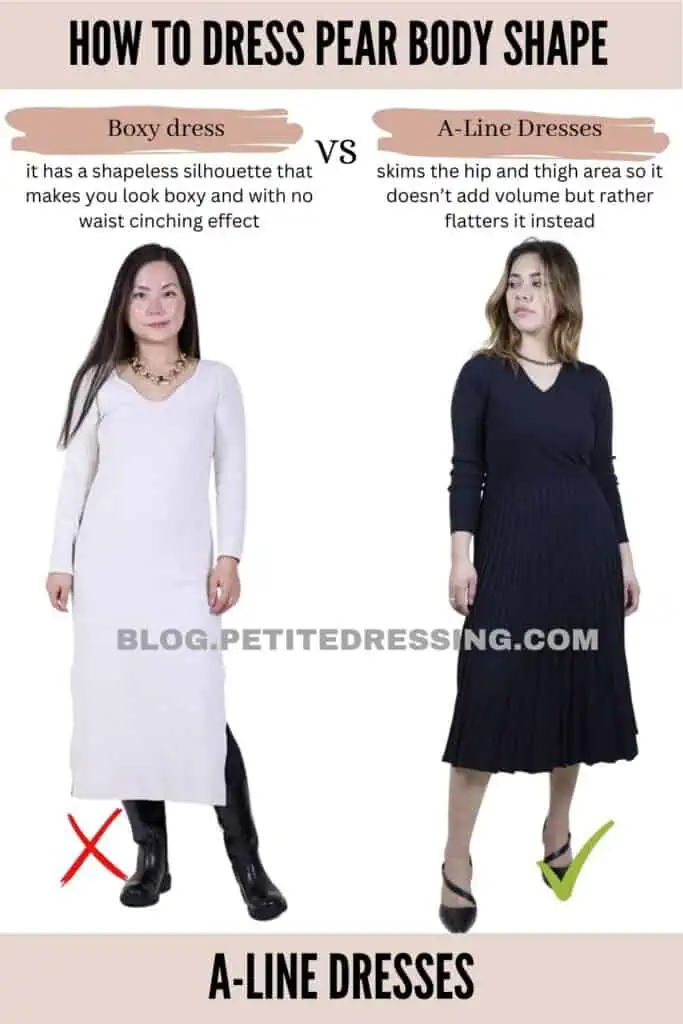 Wrap Dresses
This style of dress is incredibly flattering when you're pear-shaped. We've noticed many women are a bit afraid of the wrap dress in fear that it won't be flattering but let's walk through this quickly.
First things first, a wrap dress is amazing for pear-shaped bodies because how it subtly highlights your narrow waistline.
In case you aren't familiar, a wrap dress is well…wrapped around the waist. It's typically not SUPER defined, which makes it a great subtle touch to enhance your body shape.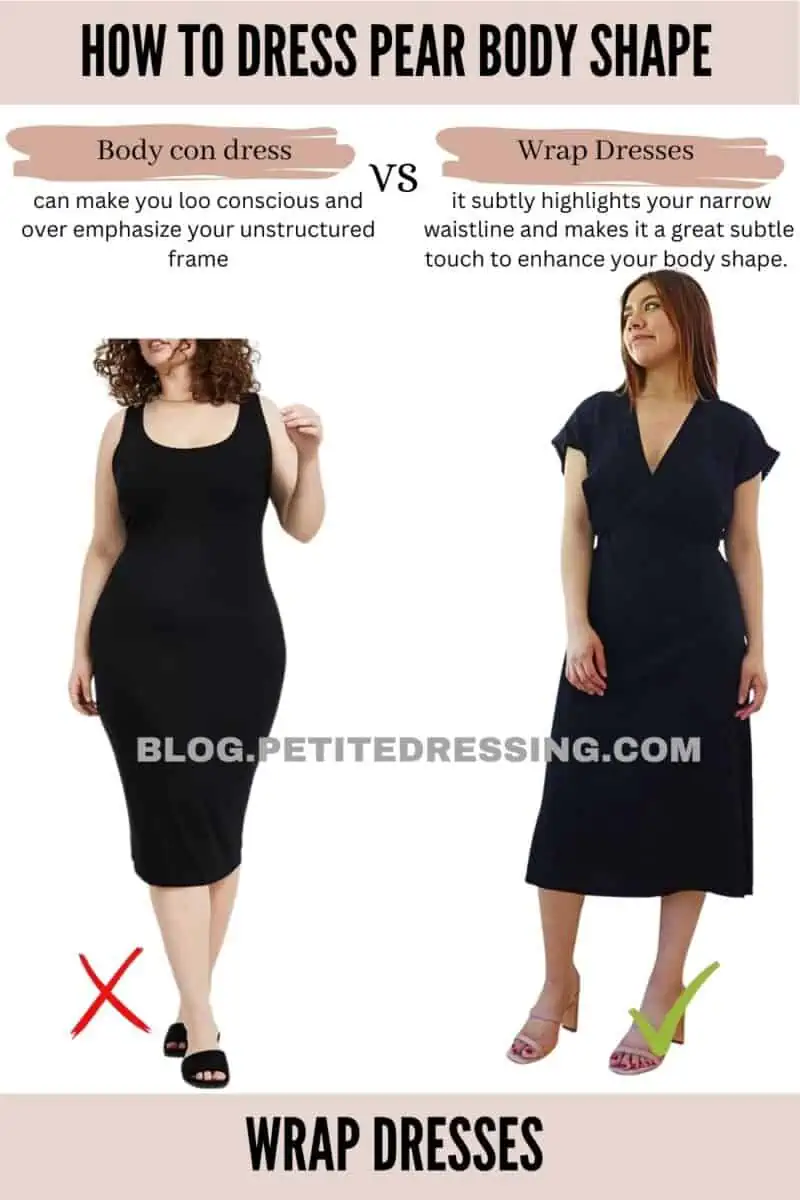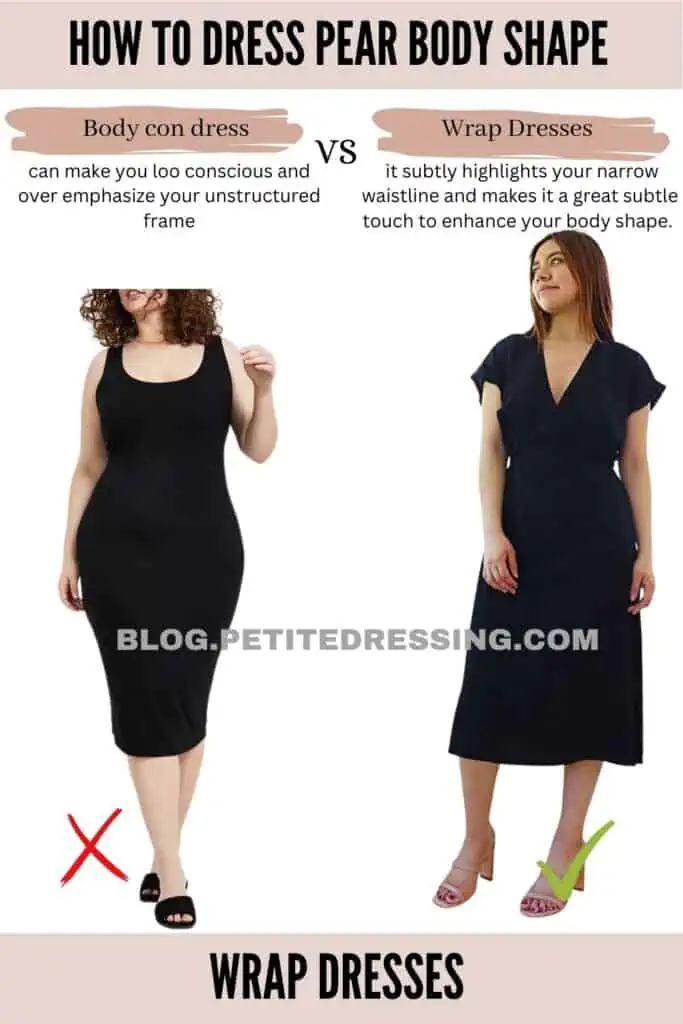 The other reason we love wrap dressed for pear-shaped bodies is because of the overall fit of this silhouette. Most of the time wrap dresses fit close to the body without being bodycon style, so you don't have to worry about feeling like your body is fully on display it's just flattered perfectly with the fabric that naturally skims the body.
Finally, the reason I like wrap dresses is that you will often see them with a deep v-neckline. This deep v-neck is perfect for a pear-shaped body. It brings just enough attention to the top half to complement the rest of the dress's attributes.
Midi Dresses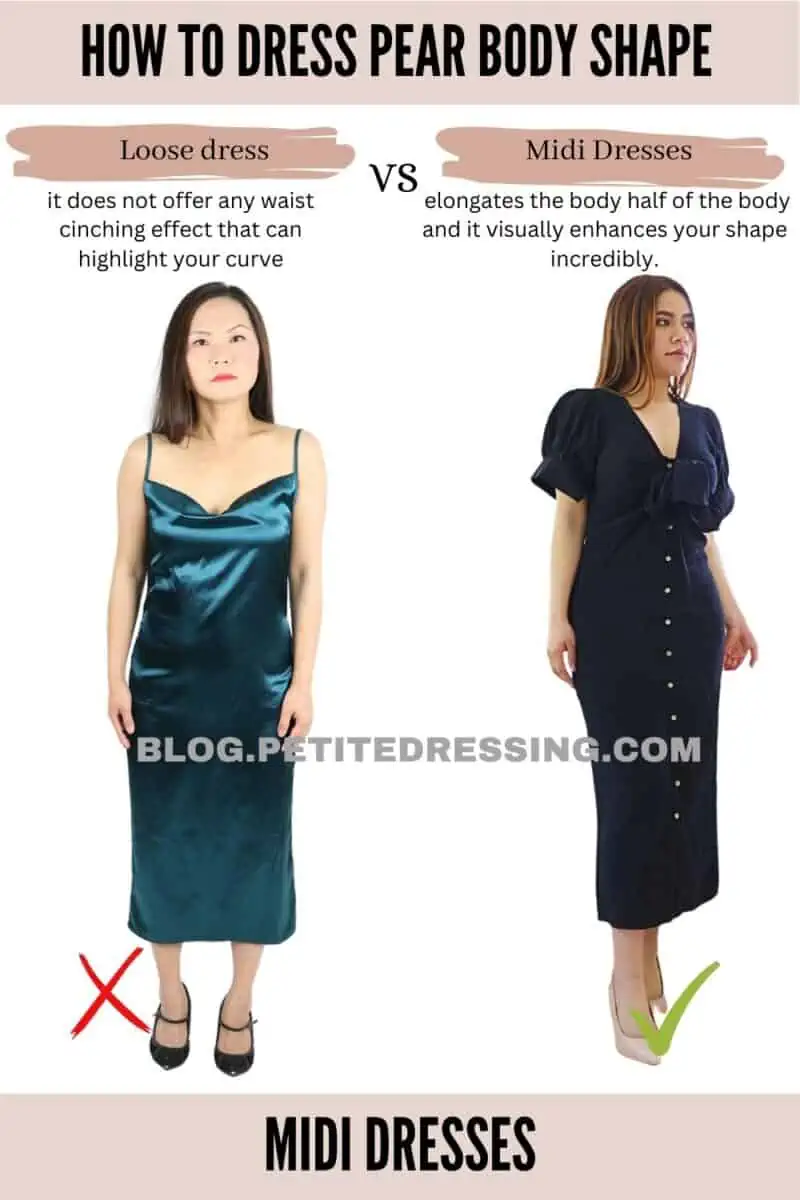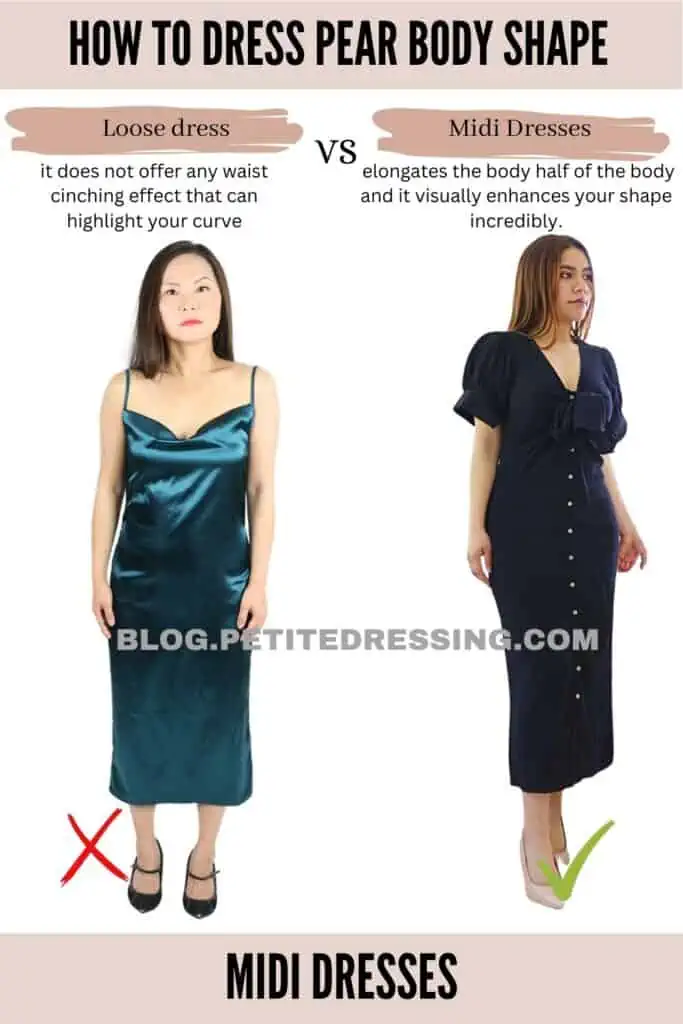 I probably don't have to tell you that midi-length skirts and dresses have become extremely popular. While the midi length can be tricky to wear for many women, it can be a great option when you're pear-shaped. The longer length of a midi elongates the body half of the body and it visually enhances your shape incredibly.
Of course, when you do try midi-length dresses just make sure you're keeping the other style tips in mind. EX: a skirt that's too voluminous! As long as you consider all of the tips together, you may be surprised at just how much you like wearing a midi dress and how it flatters your body shape.
.
Even though I am a big believer that women of all body shapes should dress the way that truly makes them happy, i do have to say it is important to always be selective. The reason is simple. Not all the dresses are going to look equally flattering on you.
Here's several types of dresses that are least flattering to the pear shaped ladies.
Avoid Body con dresses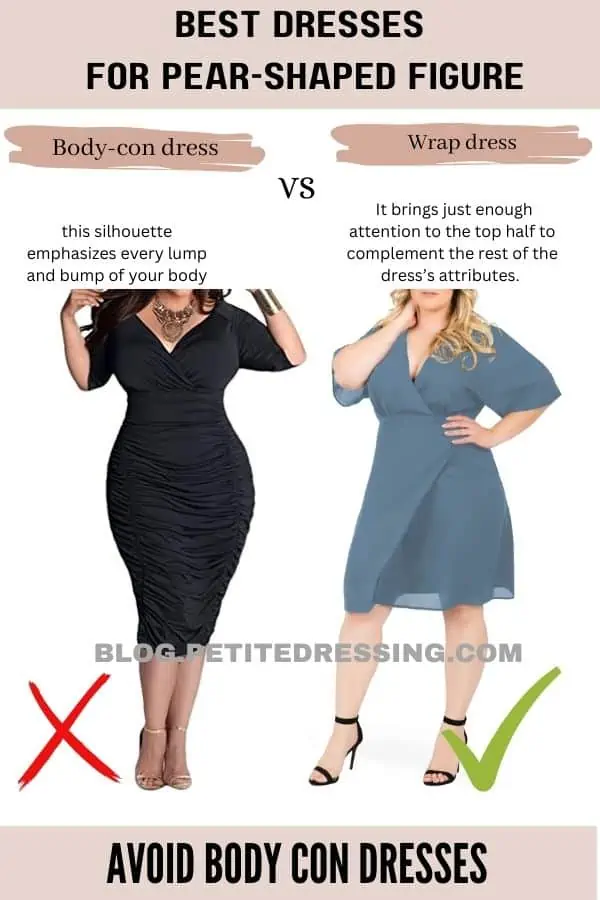 Body con dresses are those dresses designed to be clinging to your body from top to bottom. While this type if dresses is very on trend, especially in today's pop culture, it is not the most flattering dresses if you have a pear body shape.
The reason is that this silhouette emphasizes every lump and bump of your body, making a pear-shaped body look even more "pear shaped", without providing any balance.
Besides, since the dress clings to your bottom, they tend to be the least forgiving when you do gain weight in your hips and thighs, a typical pear feature.
Avoid Voluminous dresses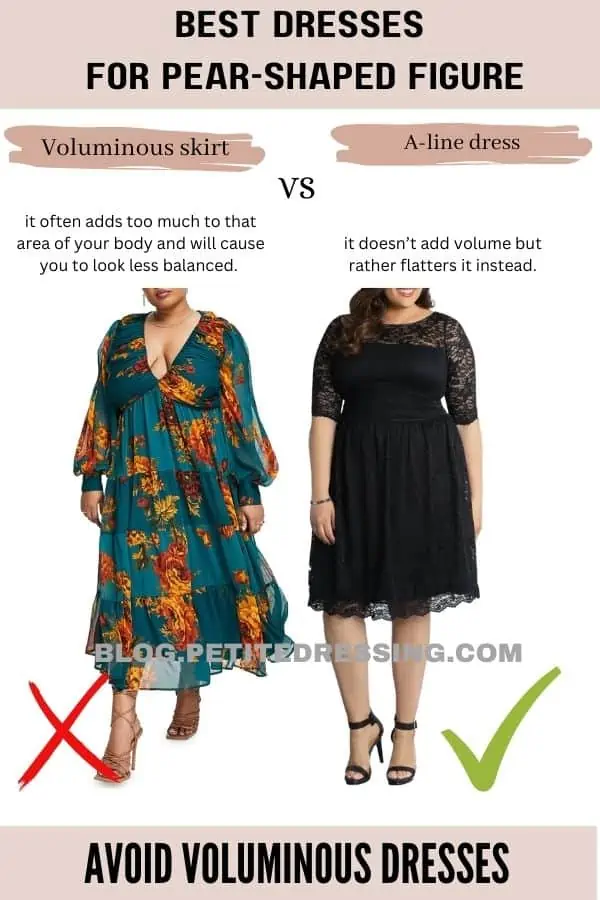 I want to point it out that you should avoid dresses with really voluminous skirts, which sometimes people get confused with an a-line silhouette.
To clarify, you don't want an a-line that has a very voluminous skirt portion to it. Of course, there are plenty of other dress styles that can come with voluminous skirts to them. Unfortunately, these styles aren't the best option when you're pear-shaped.
When selecting a dress that has a very voluminous or detailed skirt portion it often adds too much to that area of your body and will cause you to look less balanced.
Avoid Loose top dresses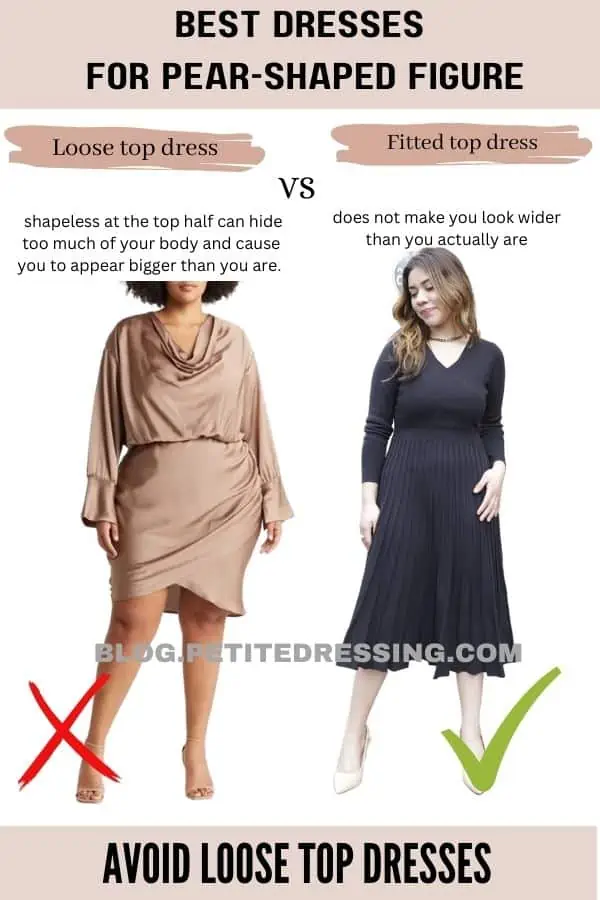 Be cautious of dresses that are extremely blousy or loose fitting around the top half.
While you want to add balance to your hips, selecting a dress that's too loose or shapeless at the top half can hide too much of your body and cause you to appear bigger than you are.