Calling all pear shaped women! We're focused on you today and we want to give you the best tips on finding the right dresses for pear shaped body.
The pear shape sometimes is also called the spoon shape. Dressing to flatter your body shape is something everyone struggles to do, and do well. One of the big reasons many of us struggle to style our body shapes well is because if we're really honest with ourselves, many of us have a hard time feeling confident and truly accepting our bodies for what they are.
That's why we want to give you some easy style tips to follow to help you feel a bit more confident as you go about choosing dresses (and clothes in general) for your body shape. We want to help you embrace your shape!
We highly recommend another blog post "The Ultimate Style Guide for the Pear Shaped Body", which touches everything you need to know about how to dress the pear shape.
Today, we're focusing on dresses. If you're anything like I am, you love to wear dresses. Not only are they fun and cute, they're SO easy to wear because they're just one piece to throw on.
What it Means to be a Pear Shape
Before we dive into how to dress a pear shape body, let's chat a bit about WHAT a pear shaped body really means.
Generally speaking, the following are the most common features of the pear shaped body:
Your shoulders are narrow and top half of the body is narrower than the bottom half. In other words, you tend to have wider hips and thigh area are a bit curvier.
You have prominent thighs, even when you are thin
When you gain weight, you first notice it on your hips and thighs
The pear shaped women could be thin, or curvy, just as any other body type.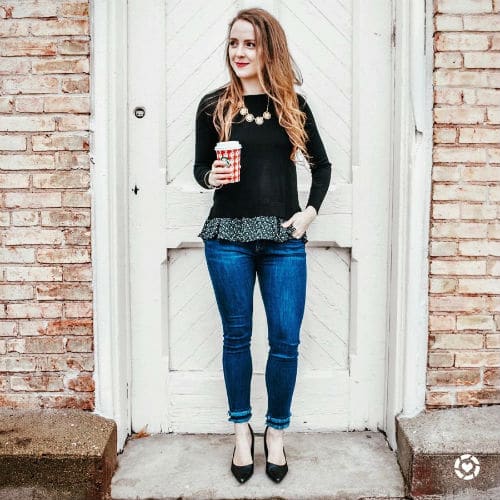 Before we get into the best dresses for the pear shape, I suggest you watch my video on how to dress the pear shaped body overall. After you watch it, read the full article on the best dresses for your shape!
Best Dresses for the Pear Shape
Now that we've established what a pear shaped body actually is, let's get into the nitty-gritty details of how to choose dresses for your body.
Dresses with an Interesting Top
Focusing on the top is a great concept to keep in mind, no matter what you're wearing, when you have a pear shaped body. The reason you want to bring focus to your top half is because it creates the illusion of balance to your shape. This means in order to create more balance to your body, with dresses, you want to try dresses that have interesting details on the top half. Choosing the right necklines for your sloped shoulders is especially important for the pear shaped women.
There's a number of ways this can be done with dresses.
Deep V-neckline Dresses
Asymmetric neckline dresses
Dresses with embroidery top
Dresses with bell sleeves
Honestly…the options are endless! One thing to keep in mind, however, is to be cautious of dresses that are extremely blousy or loose fitting around the top half.
While you want to add balance to your hips, selecting a dress that's too loose or shapeless at the top half can hide too much of your body and cause you to appear bigger than you are.
A-Line Dresses
A line dress is one of the most classic dress silhouettes around. While this silhouette is flattering on many body shapes, it's an especially gorgeous choice for our pear shaped women.
Why is it so flattering for you? A few reasons!
For starters, an a-line silhouette accentuates the narrow waist and shoulders that are common for pear shaped bodies. Additionally, the a-line silhouette generally skims the hip and thigh area so it doesn't add volume but rather flatters it instead. Both major winning points when you're pear shaped!
I want to point it out that you should avoid the dresses with really voluminous skirts. I wanted to mention this because sometimes people get confused with an a-line silhouette.
To clarify, you don't want an a-line that has a very voluminous skirt portion to it. Of course, there are plenty of other dress styles that can come with voluminous skirts to them. Unfortunately, these styles aren't the best option when you're pear shaped.
When selecting a dress that has a very voluminous or detailed skirt portion it often adds too much to that area of your body and will cause you to look less balanced.
I suggest skipping this altogether – but no worries, there are plenty of other dress styles you can choose.
Wrap Dresses
Ok, ladies we want to introduce you to your new (dress) best friend. Enter: the wrap dress. This style dress is incredibly flattering when you're pear shaped. We've noticed many women are a bit afraid of the wrap dress in fear that it won't be flattering but let's walk through this quickly.
First things first, a wrap dress is amazing for pear shaped bodies because how it subtly highlights your narrow waistline.
In case you aren't familiar, a wrap dress is well…wrapped around the waist. It's typically not SUPER defined, which makes it a great subtle touch to enhance your body shape.
The other reasons we love wrap dressed for pear shaped bodies is because of the overall fit of this silhouette. Most of the time wrap dresses fit close to the body without being bodycon style so you don't have to worry about feeling like your body is fully on display it's just flattered perfectly with the fabric that naturally skims the body.
Finally, the reason I like wrap dresses is because you will often see them with a deep v-neckline. This deep v-neck is perfection for a pear shaped body. It bring just enough attention to the top half to complement the rest of the dress's attributes.
Midi Dresses
I probably don't have to tell you that midi length skirts and dresses have become extremely popular. While midi length can be tricky to wear for many women, it can be a great option when you're pear shaped. The longer length of a midi elongates the body half of the body and it visually enhances your shape incredibly.
Of course, when you do try midi length dresses just make sure you're keeping the other style tips in mind. EX: a skirt that's too voluminous! As long as you consider all of the tips together, you may be surprised at just how much you like wearing a midi dress and how it flatters your body shape.
How to Layer the Dresses as a Pear Shape
Now that you have some easy tips to consider when choosing a dress to flatter your pear shape, let's chat a bit about what to wear WITH those dresses.
I know, especially during the cold winter months, many of us need to dress in layers. Even if it doesn't get extremely cold where you live, layers are also just a fun way to change up your look and style your dresses in different ways. Using cardigans, blazers and jackets are easy ways to achieve that layered look.
That being said there is one crucial thing to keep in mind when selecting layering pieces to wear with your dresses. What is it?
To make sure the layers (whether you are wearing a cardigan, or jacket) are cropped length!
This is so important because with a pear shape, cropped layers are going to lay above your hip and thigh area. Since your hips are curvy, layers (like jackets and blazers) that lay at the hip will add too much volume and attention to that area of the body and lead you to looking unbalanced.
Instead, when you opt for cropped length that lies above the hip area you draw more attention UP which creates that balance to your pear shaped body that we've been talking about.
How to Accessorize the Dresses if you have a Pear Shape
Naturally, we want to help you create a whole look with your dresses.
Since we've gone in to quite a bit of detail on the types of dresses to choose to flatter a pear shaped body, accessorizing properly is a must! This really goes back to what we mentioned above, with bringing attention to your top half only this time it relates to your accessories.
hen you're selecting the accessories to wear with your dresses, I suggest opting for earrings and necklaces. These are the accessory types that are going to bring more of that attention to your top half.
This doesn't mean you have to wear MAJOR statement earrings or necklaces, of course you want to make sure the accessories flatter the rest of your dress. However, instead of stacking up a bunch of bracelets consider earrings and bracelets to better enhance your pear shape to go along with the rest of your outfit.
All in all if you're pear shaped, you're pretty lucky! Dresses are pretty easy to wear when you're pear shaped and you have quite a few options to try, so have fun with it!
Pear Shaped Celebrity Inspo
If you want to look at real life references of who got the pear shaped body, there is plenty of famous celebrities with this shape. Anytime you're having a hard time knowing what works for your body shape, I always recommend looking to other people for inspiration.
Find someone, whether it's a celebrity or friend, who has a body shape that's very similar to your own. Scroll through pictures and see what types of silhouettes and styles flatter their body the most.
Chances are if your body shape is similar those types of silhouettes will also be flattering on you!
Sometimes you just have to get out of your own head when choosing dresses to flatter your body shape, no matter what your shape is. This is an easy way to get a little inspiration to do that.
The good news is now there are celebrities and public figures who all have very different body shapes, so it makes this practice much easier to utilize.
Rachel Bilson is an example of thin pear, while Byonce, Jennifer Lopez and Kim Kardashian are the famous example of the curvy pear.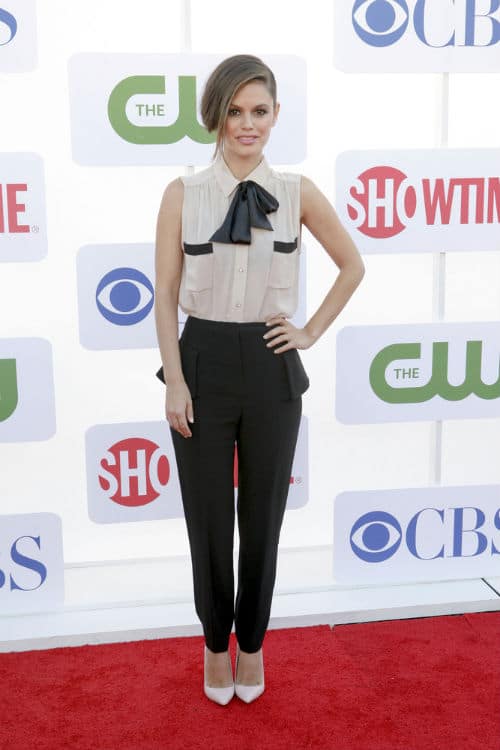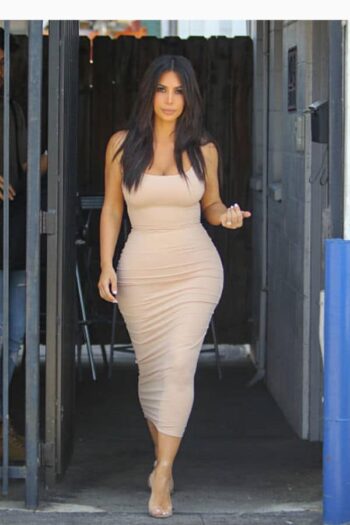 Everything else you need to know about pear shape
I highly recommend you also read: