Do you have inverted triangle body type? Wondering how to best dress the inverted triangle shape? If so, this is the post for you.
Amongst my readers, the inverted triangle shape (sometimes known as the strawberry shape) is a smaller percentage than the other body types, compared with the hourglass figure and apple body type. Still, I get a fair amount of questions on what are the best clothes for inverted triangle body.
Let me start with this is "supposed to be " one of the easier to dress body type, in the sense that you see many super models have this shape.
But, it's one thing to be able to walk the catwalk, and it could be quite another to find what to wear every day.
In general, you come across as athletic and toned. That is quite coveted. Your wide shoulders could be a plus or minus, depending on how you look at them. I will talk about this in length next.
What is inverted triangle shape
Having broad shoulders is one of the main features of the inverted triangle body shape. But of course that is not all.
That is why I want to first go over with you what it means to have an inverted triangle shape. Then I will share with you how to style an inverted triangle body.
Let's take a close look at all the characters of inverted triangle body and see how many of below applies to you.
First, of course, you got broad shoulders
A typical inverted triangle shape also has narrow hips.? Normally an inverted triangle shaped woman's hips are noticeably narrower compared with the wide shoulders (thus combination is what makes the body shape looks like an inverted triangle)
Since you have narrow hips, that also means you don't have much waist definition
Inverted triangle shaped tend to have flat buttocks
You have a strong upper body (think swimmers and other athletes)
You have nice and lean legs!
When you gain weight, you gain it above the waist.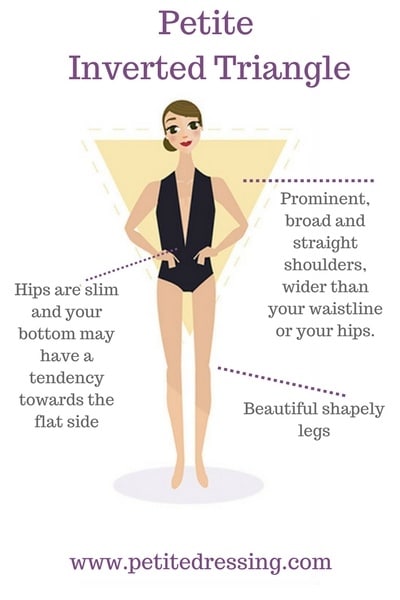 How many of the above facts are you?
If your answer is most, then you probably have an inverted body type. If you are still not sure, take our body type quiz to find out.
Is Inverted Triangle Shape Attractive?
So, the question I hear often about is if inverted triangle shape is attractive.
Having studied all of the 5 common body types (hourglass, pear, apple, inverted triangle, rectangle) and hearing from readers of all body types, I of course understand everyone, regardless of their body type, has something that she is self-conscious about (perhaps except for the hourglass, which is the most balanced body type).
So, as an inverted triangle shape, you might be wondering whether your broad shoulders and narrow hips are considered attractive.
In my view, your shoulders is what make a super model the super model! The reason that models can pull off any looks that others can't is because of their toned body and nice shoulders, which is exactly what you have. That is why women with sloping shoulders really wish they could have shoulders like yours!
That said, I also understand you might wish to add a little bit more curves, since your toned body plus the wide shoulders could give the impression of more "athletic" shape than feminine.
If you are still not convinced if the inverted triangle shape is attractive, I'm about to give you the list of famous celebs who have the inverted triangle body type and you can certainly see everyone of them is considered very attractive!
Celebrities with Inverted Triangle Body
Since the inverted triangle shape is the "super model shape", you won't be surprised that many who walk the run way have this body shape. There's also quite a few celebrities with inverted triangle body shape in Hollywood. Here I'm listing several most well known below, but list goes on and on.
Cameron Diaz, 5'8"
Naomi Campbell, 5'8"
Jennifer Gardener, 5'8"
Victoria Beckham, 5'3″
Lucy Liu, 5'2″
Renee Zellweger, 5'4″
Priyanka Chopra, 5'5″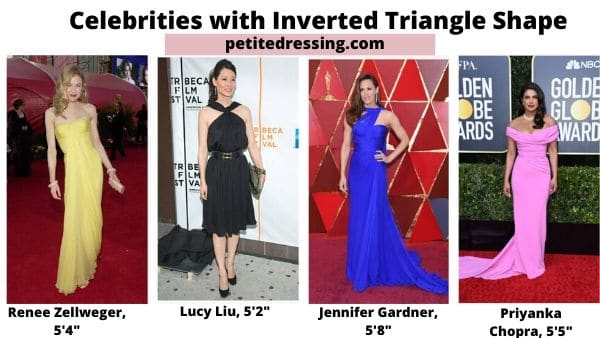 Strengths and Weaknesses
As I mentioned, if you have inverted triangle body type, you have a very athletic body frame, which is a big positive in many ways.
I also mentioned earlier that looking athletic could go also sometime work to your disadvantage, because you could come across as less feminine. So, in order to achieve a more balanced look, your goal should be to add some curves to your body.
Your biggest assets? The inverted triangle body frame is quite common among catwalk models, who are known for long and lean legs.
If you consider your broad shoulders assets, you don't have to camouflage them and show them off by all means. Otherwise, you can try some styles to soften them a bit for a more balanced look.
Overall, the most important strategy to style the inverted triangle shape is to add volume to the bottom and avoid any extra volume to the top.
I will talk in great details next on how you can achieve that.
Best Tops for Inverted triangle shape
If you have an inverted triangle body shape, tops never seem to fit you just right. There's two reasons.
First, your shoulders might be one size bigger than the rest of your body.
Second, inverted triangle shape also typically tend to have longer arms. That could mean you may find sleeves are usually a bit shorter than what you need.
For you, the most important thing is of course to find the right tops that fit both your shoulders and have the right sleeve length. In addition, you need to avoid that top-heavy look.
Jackets with wide lapel
These jackets are flattering for inverted triangle shape because the wide lapels will put your shoulders more in proportion.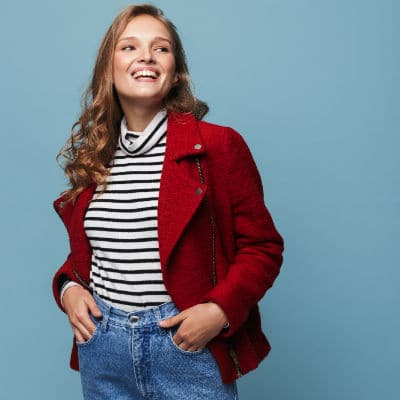 Tops with asymmetrical neckline
The asymmetrical necklines can break up the broad shoulders to make them look less prominent. A good example is the one shoulder top, which is one of the faves of Jennifer Gardner and Cameron Diaz.
Peplum top
Since the inverted triangle shape typically has small waist and flat bum, that also means you do not have much waist definition. That's why a peplum top is ideal for short girls with inverted triangle shape.
The flared hem will add volume to your hips, which at the same time creates the illusion of a waist.
What to avoid
Padded jackets
Since you already have broad shoulders, anything that adds more definition to your shoulders will just make them more obvious. So, you should avoid padded blazers or coats.
Shoulder details
Additionally, any details on shoulders such as the puff sleeves are not a good idea for you, because they draw attention to that area.
Off the shoulder
In terms of neckline, you should stay away anything that forms a horizontal lin at your shoulders. The most obvious is the off-the-shoulder tops, even though they are super trendy.
Jackets with narrow lapels
For the same reason, jackets with narrow lapels tend to make your shoulders look even wider, because of the contrast. If that's not your intention, then you want to stay away from them!
Best skirts if you are inverted triangle body type
The key to styling inverted triangle figure is to add volume to the bottom to balance out the broad shoulders.
Skirts that flare slightly will generally balance out your top half and to call more attention to your lower body.
You should consider full and flaring skirts such as A-lines skirt, circle, balloon, etc. anything that flares around the hemline and create more curves around your hips.
Aline skirts
A-line skirts will be perfect to add volume and bulk to your lower half. Because they fill out your slight hips, they are a good choice to balance your upper body.
Look for details around the hips or bold colors and prints to further enhance the effect.
Tulle skirts
This shape skirts are great because they add curves to your lower half and balance your broader, upper body.
Pleated skirts
Pleats and patterns will also be good because they add volume to your lower body.
Skirts with a lot of details
Details such as panels, ruffles, and other styles that will make your hips look broader and therefore more proportionate to the shoulders.
Best length of skirts
I mentioned earlier your best assets are your beautiful legs. You have amazing legs so feel free to play with skirt lengths.
Best Jeans god Inverted Triangle Shape Women
As mentioned earlier, in order to balance your bottom with your prominent shoulders, what you can do is to create volume in your bottom half. A nipped-in waist and flared bottom will add curves to your hips.
Flared jeans
Jeans with flared legs are flattering to almost anyone with any body type, but they are especially flatter to the inverted triangle figure as it adds the curves to your bottom half.
Wide leg jeans
This is another leg shape that works great on inverted triangle body type because it adds volume to your bottom.
Jeans with pocket details
If you are concerned about flat buttocks, whiskering at the hips and flap-pockets will add curves to your lower half. Side pockets or flap-style back pockets also help balance your upper body. Cargo style pants are particularly flattering.
Best pants for Inverted triangle
Your narrow hips and legs are primed for all kinds of pants, and you just need to choose what can best show off your legs!
Cigarette pants
If you like the tightly fitted look, best high waisted pants for you is cigarette pants in light or bright color, which will balance your broad shoulders and add some femininity to your athletic body frame. Even though a lot of people CAN wear slim fit pants, the inverted triangle shape has the best legs to REALLY pull off the cigarette pants.
Another thing to remember is if you're wearing skinnys or anything that is slim-fitted, make sure you wear something that minimizes your upper part a little bit (like a solid, dark colored sweater) on top and a pair of bright colored (or anything eye-catching) shoes to balance the look and add volume and width around your hips and down.
Cargo pants
These look good on you because the side pockets have the expanding effect to your bottom.
Wide leg pants
These add volume to your bottom, so they are good choices for you. Again, for inverted triangle shape ladies who are also petite, your best option is full length wide leg pants so that your legs won't look cut-off.
Best dresses for inverted triangle shape
Below are the best dress shapes for the inverted triangle, but your options are not limited to these.
Since your body is naturally "top heavy", you want to choose dresses that will minimize any volume on top but will add volume to your bottom at the skirt part. You can certainly experiment with other types of dresses not mentioned here, as long as you keep this rule of thumb in mind.
Fit and flare dresses
This is a universally flattering dress silhouette that I recommend to almost every body type. But, for different body types, there is a different reason.
The fit and flare is ideal dress for inverted triangle shape because it is the opposite of your natural shape thus it can balance out your "top heavy" shape.
Aline dress
This is a close cousin of the fit and flare. It's a more modest shape, but the same concept, because it flares out, it balances your natural shape.
Mermaid/trumpet shape dress
If your goal is for this look more feminine, nothing looks better than the mermaid silhouette (or the trumpet silhouette). The mermaid or the trumpet shaped dress hugs your body nicely, thus creating the illusion of the curves you are looking for. Plus, the flounce skirt adds perfect amount of volume to your lower body to balance your shoulders.
Best Shoes
Since your best assets are your toned and long legs, let's bring more attention to them!
Bright-colored or eye catching shoes are suitable for your inverted triangle figure because they are sure to grab attention to your lean legs.
Everything else you need to know about the inverted triangle shape
I highly recommend you also read my other articles on how to dress the inverted triangle body type.