Are you petite and do you have inverted triangle body type?  If so, this article is for you to better understand your body type and find the best skirts and pants for you.
First of all, let's take a close look at the characters of inverted triangle body. See how many of below applies to you.
Your shoulders are wider than your hips, and normally your probably have noticeably broad shoulders and relatively narrow hips
You have a strong upper body.
You have an athletic body frame with nice, lean legs.
You might have a flat butt.
When you gain weight, you gain it above the waist.
How many of the above facts are you?  If your answer is more than half, then you probably have a petite inverted body type. If you are still not sure, take our petite body type quiz to find out.
If you have petite inverted triangle body type, you have a very athletic body frame, and people will probably easily notice your broad shoulders.  The inverted triangle body frame is quite common among catwalk models, who are know for long and lean legs.   Even if you are petite, you are still likely to have nice toned legs, which is one of your best assets you should accentuate.  The most famous petite women of inverted triangle body shape is Victoria Beckham.  If you have a petite inverted triangle body shape, tops never seem to fit you just right, and the challenge is avoiding that top-heavy look.  The key to styling petite inverted triangle figure is to add volume to the bottom to balance out the broad shoulders.  If you consider your broad shoulders assets, you don't have to camouflage them and show them off by all means.  Otherwise, you can try some styles to make them less obvious for a more balanced look. (Victoria Beckham, photo: Getty Images)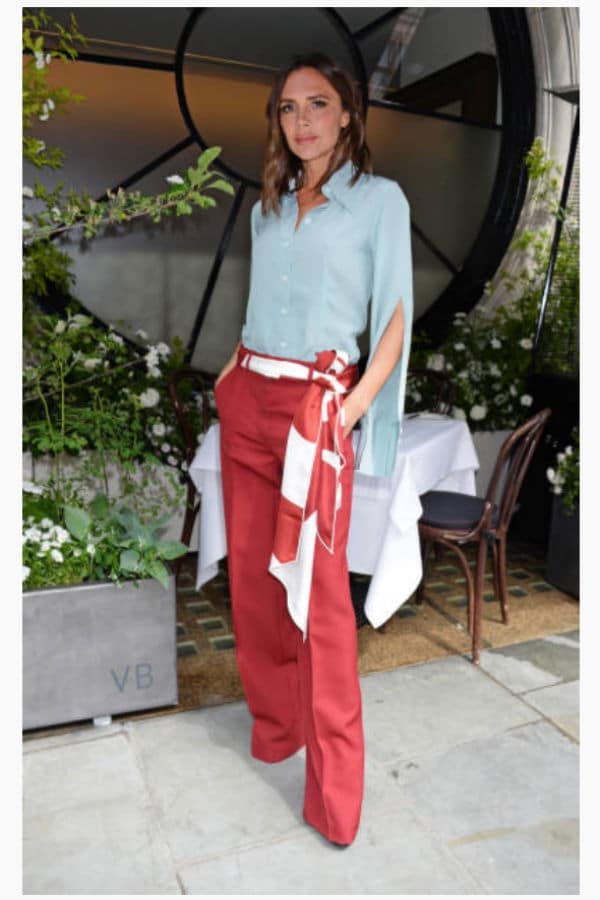 Best petite skirts if you are inverted triangle body type
-Skirts that flare slightly will generally balance out your top half and to call more attention to your lower body.  You should consider full and flaring skirts such as A-lines skirt, circle, balloon, etc. anything that flares around the hemline and create more curves around your hips.  A-line skirts will be perfect to add volume and bulk to your lower half.  Because they fill out your slight hips, they are a good choice to balance your upper body. Look for details around the hips or bold colors and prints to further enhance the effect.
–High waisted puff, full circle and tulip skirts shapes are great.  Full or ballerina type skirts add curves to your lower half and balance your broader, upper body.
-Pleats and patterns will also be good
-Add volume to your lower body with skirts with a lot of detail, such as panels, ruffles, pleats and other styles that will make your hips look broader and therefore more proportionate to the shoulders.
-Pencil skirts that drop straight from the waist instead of coming in towards the knee.  This is the signature look of Victoria Beckham.
We mentioned earlier your best assets are your beautiful legs.  You have amazing legs so feel free to play with skirt lengths.  As a petite woman, you should especially pay attention to the length of the skirt because when the hem of a skirt falls across a thick part of the leg, either thigh or calf, it makes you look wider and shorter. In most cases, the best skirt length for short women is 3-4 inches just above the knee. However, don't go too short otherwise you will further a top-heavy look.
As mentioned earlier, in order to balance your bottom with your prominent shoulders, what you can do is to create volume in your bottom half.  A nipped-in waist and flared bottom will add curves to your hips. Pants with wide or flared legs are flattering to your figure, especially flared pants with a subtle flare at the hemline.  Because of your petite height, you don't want the flare to be too exaggerated, which would widen you horizontally and make you look shorter.
Your narrow hips and legs are primed for all kinds of pants! Examples are gauchos, harem pants, cargo pockets etc. Boot cut, slightly flared, or trouser cut jeans are the most flattering on your figure.  If you are concerned about flat buttocks, whiskering at the hips and flap-pockets will add curves to your lower half.  Side pockets or flap-style back pockets also help balance your upper body. Cargo style pants are particularly flattering.
If you like the tightly fitted look, best petite high waisted jeans for you is straight or skinny jeans in light or bright color, which will balance your broad shoulders and add some femininity to your athletic body frame.  Olive color jeans has been the favorite choice of color for jeans by many Hollywood celebrities and models in recent years, because it is sexy, classic and chic.  Victoria Beckham (5'4″) has prominent broad shoulders and muscular build, a typical petite inverted triangle body type. Sarah Jessica Parker (5'3″) has broad shoulders, slender waist and very athletic build.  Because of her full chest and slender waist, Sarah Jessica Parker could be a combination of inverted triangle and petite hourglass (the skinny version).  They both love olive jeans, a very flattering jeans color for petite women with inverted triangle traits.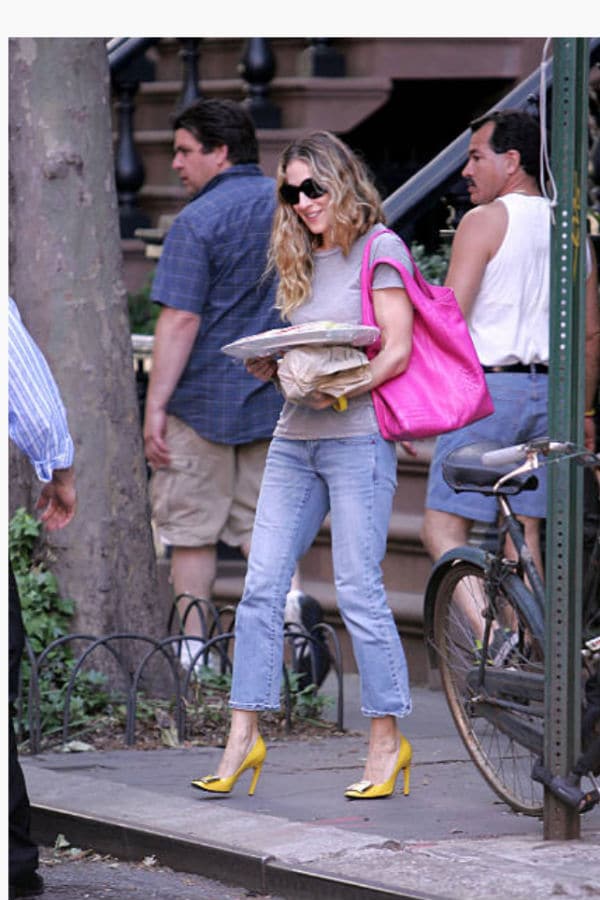 Sarah Jessica Parker (5'3″, Getty images)
If you're wearing skinnys or anything that is slim-fitted, make sure you wear something that minimizes your upper part a little bit (like a solid, dark colored sweater) on top and a pair of bright colored (or anything eye-catching) shoes to balance the look and add volume and width around your hips and down.  Bright-colored or eye catching shoes are suitable for our inverted triangle figure because they are sure to grab attention to your lean legs.  Paring a nice high heel pump with a shorter skirt, 3-4 inches above the knee is the perfect length for your petite height, which will show off your endless legs and make you look taller.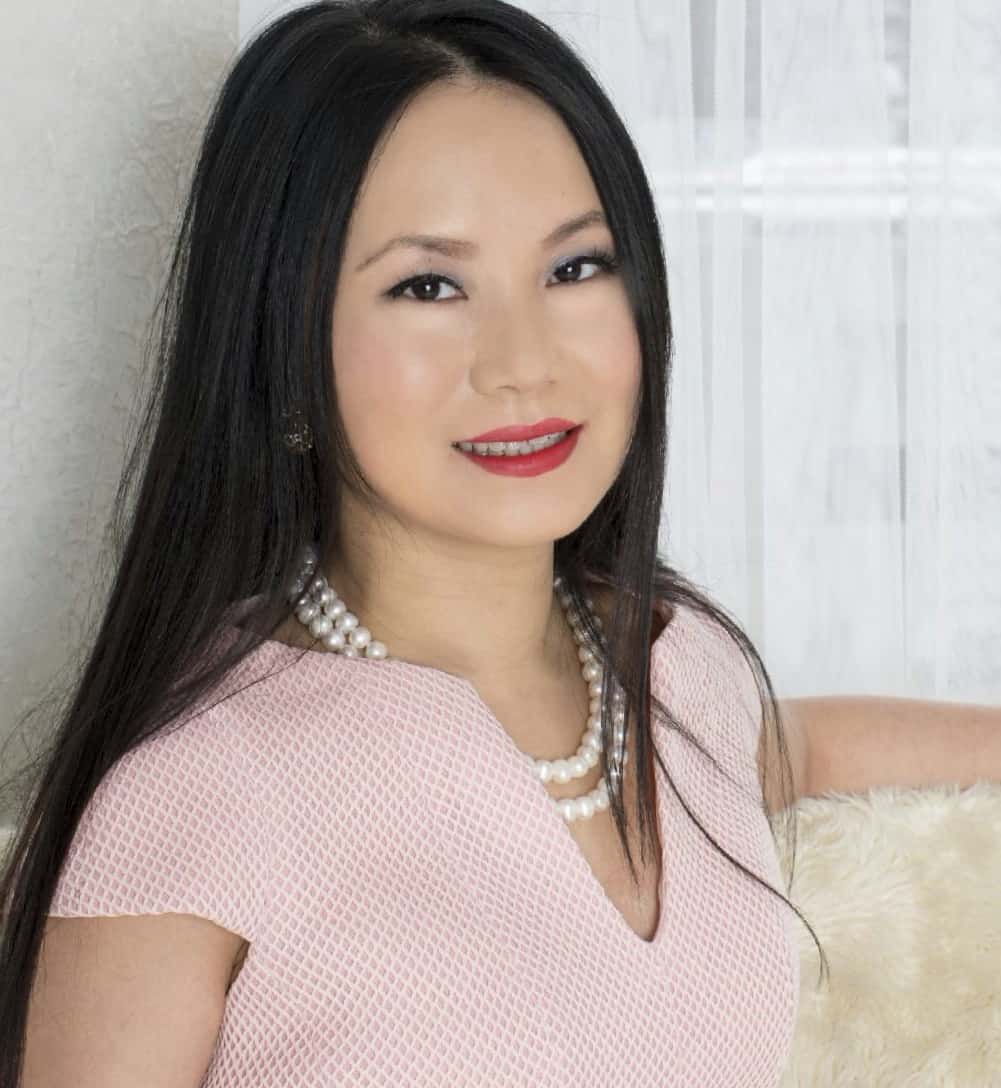 Chi is 5'2″ founder of Petite Dressing, an online petite clothing store dedicated to women under 5'4″.  Petite Dressing blog is here to help you understand yourself and look your best ever.  If you are new, start here.  Visit my Youtube Channel. Comment below and share your thoughts about this post!