CHARACTERISTICS
The inverted triangle shape (sometimes known as the strawberry shape) come across as athletic and toned. That is quite coveted. Your wide shoulders could be a plus or minus, depending on how you look at them.
Here's the characters of inverted triangle body and see how many of below applies to you.
First, of course, you got broad shoulders
A typical inverted triangle shape also has narrow hips. Normally an inverted triangle-shaped woman's hips are noticeably narrower compared with the wide shoulders (thus combination is what makes the body shape looks like an inverted triangle)
Since you have narrow hips, that also means you don't have much waist definition
Inverted triangle shaped tend to have flat buttocks
You have a strong upper body (think swimmers and other athletes)
You have nice and lean legs!
When you gain weight, you gain it above the waist.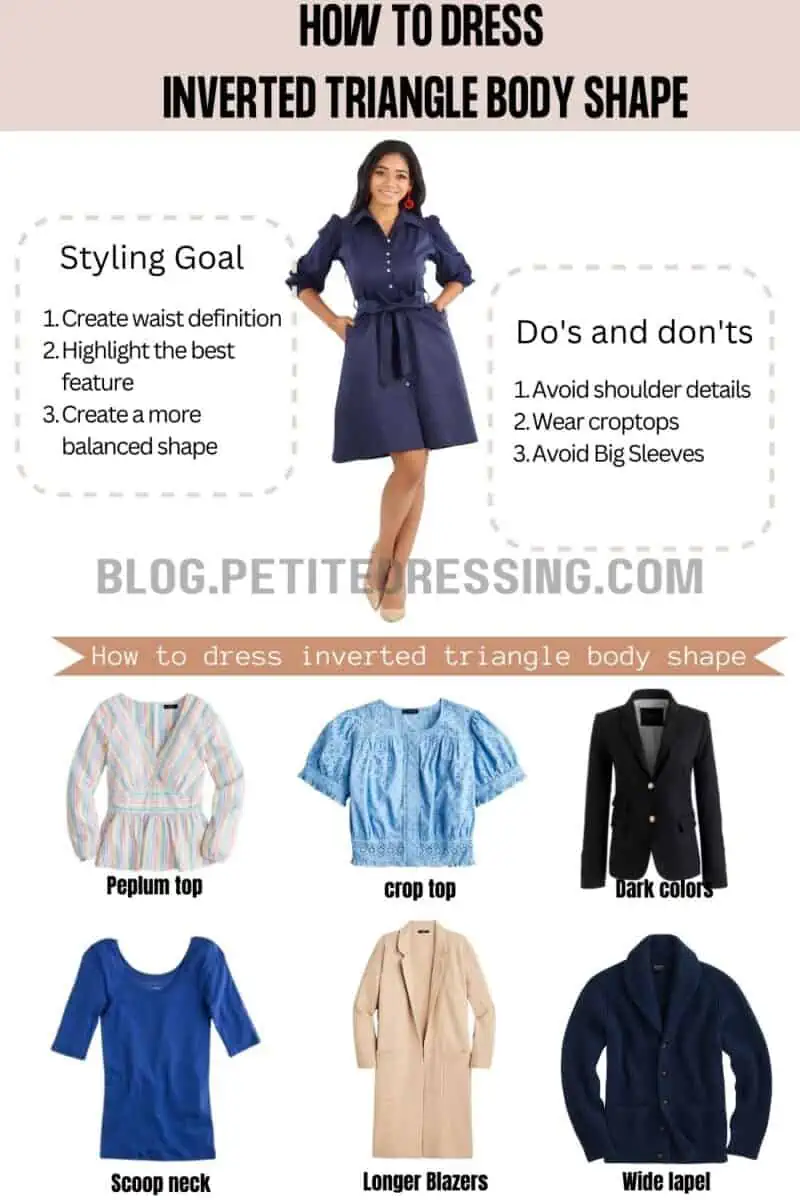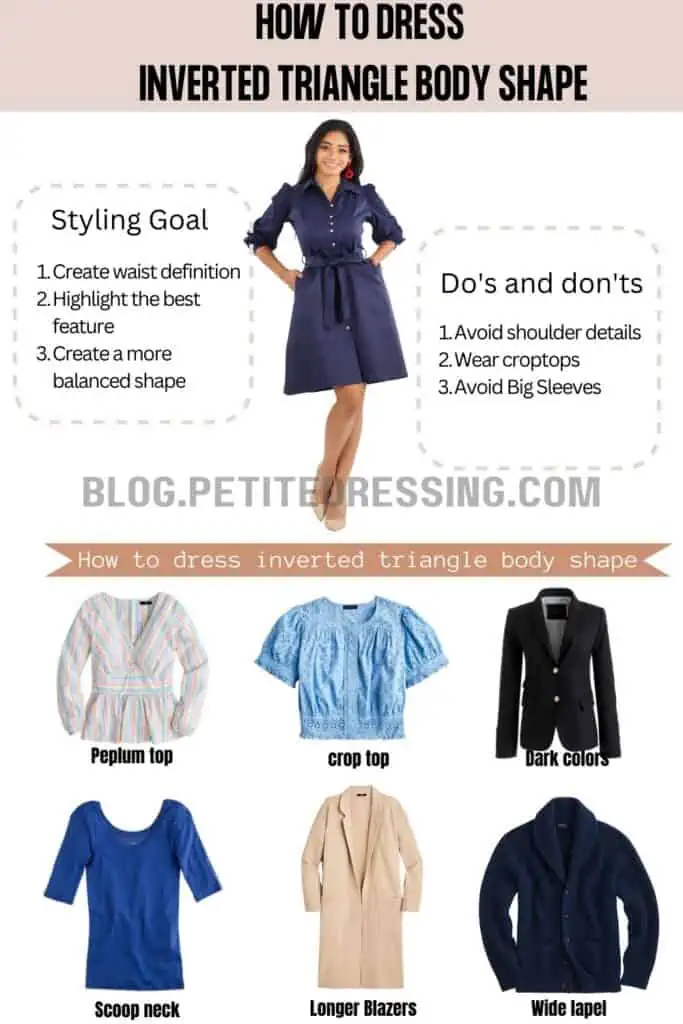 STYLING GOAL
Overall, the most important strategy to style the inverted triangle shape is to add volume to the bottom and avoid any extra volume to the top.
If you consider your broad shoulders assets, you don't have to camouflage them and show them off by all means.
Otherwise, you can try some styles to soften them a bit for a more balanced look.
On the other hand, looking athletic could go also sometime work to your disadvantage, because you could come across as less feminine.
Add some curves to your body, and accentuate your biggest assets, i.e. your long and lean legs.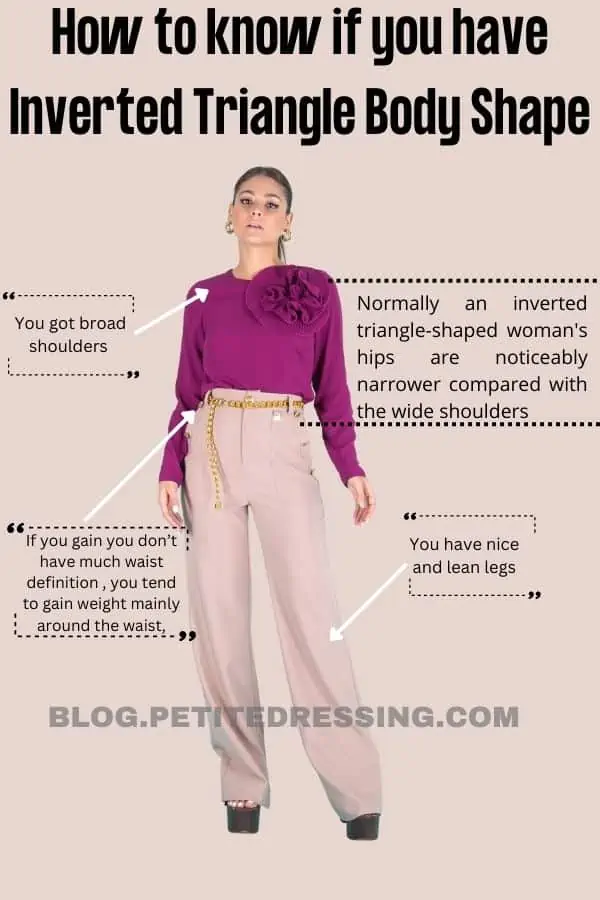 TOPS
Peplum top
This may be a pleasant surprise, but peplum shapes are incredibly flattering for inverted triangle body types. The reason? Peplum silhouettes add definition to the waistline (it may create a defined waistline if you don't have one naturally), and draws the eye down towards that area of the body away from broad shoulders which leads to a much more proportioned shape.
Since the inverted triangle shape typically has small waist and flat bum, that also means you do not have much waist definition. That's why a peplum top is ideal for short girls with inverted triangle shape. The flared hem will add volume to your hips, which at the same time creates the illusion of a waist.
If you haven't adapted many peplum pieces in to your wardrobe, now is a great time to do that. Try tops and dresses that offer that really chic peplum shape for the ultimate figure flattery.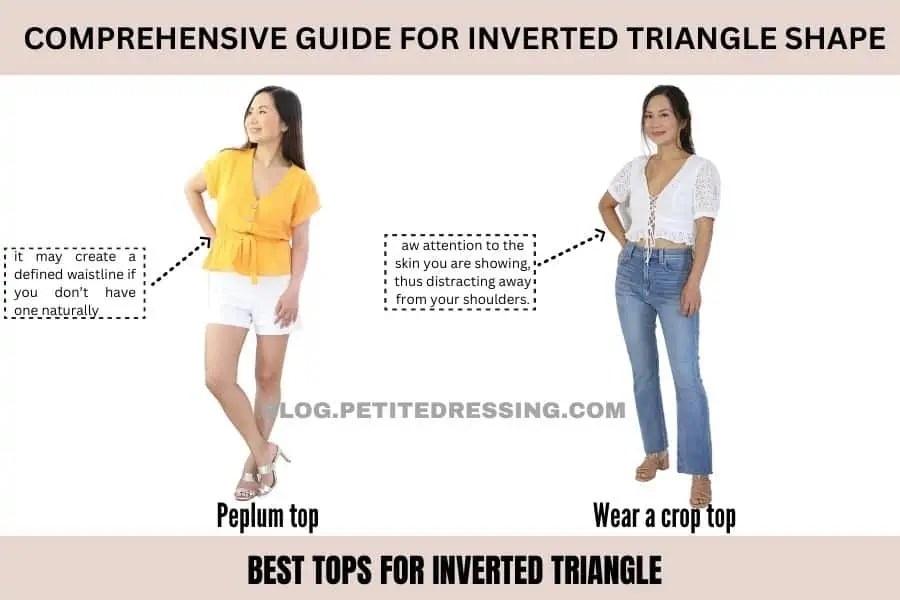 Avoid shoulder details
Any garment that has shoulder detailing on it whether its ruffles, exaggerated sleeves, embellishments, shoulder pads, etc. will emphasize broad shoulders. This is why, when you are dressing to achieve a more balanced shape it's best to steer clear of those types of shoulder detailing and opt for clothing choices that are very minimal around the shoulder space.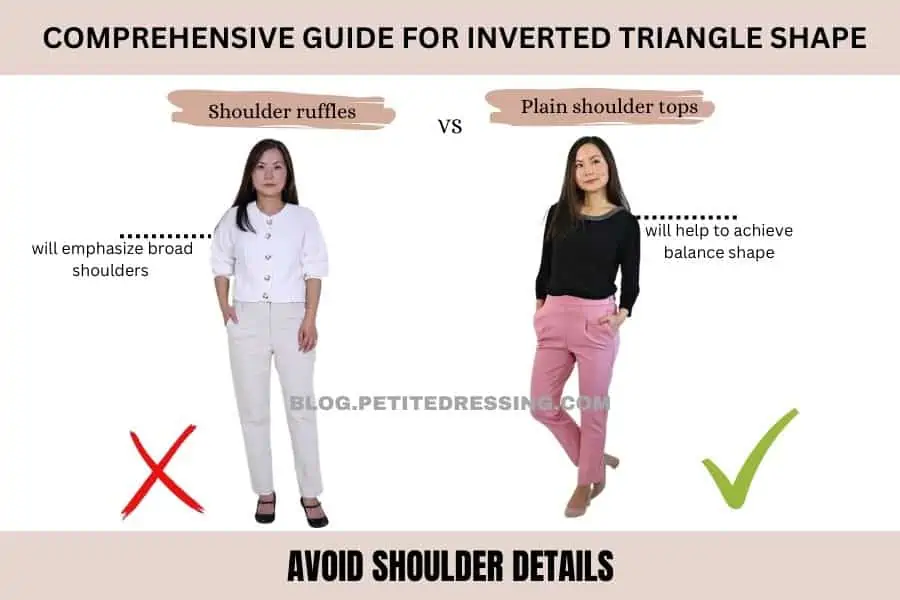 Avoid Big Sleeves
Whether the sleeves are short, long, or somewhere in between – sleeves that are big, voluminous, and even puffy are best to be avoided with a triangular body type. Because shoulders are already broad, these types of sleeves will further emphasize that rather than give proportion to the shape. Keep your sleeves minimal in detail and volume so your shape is shown yet balanced.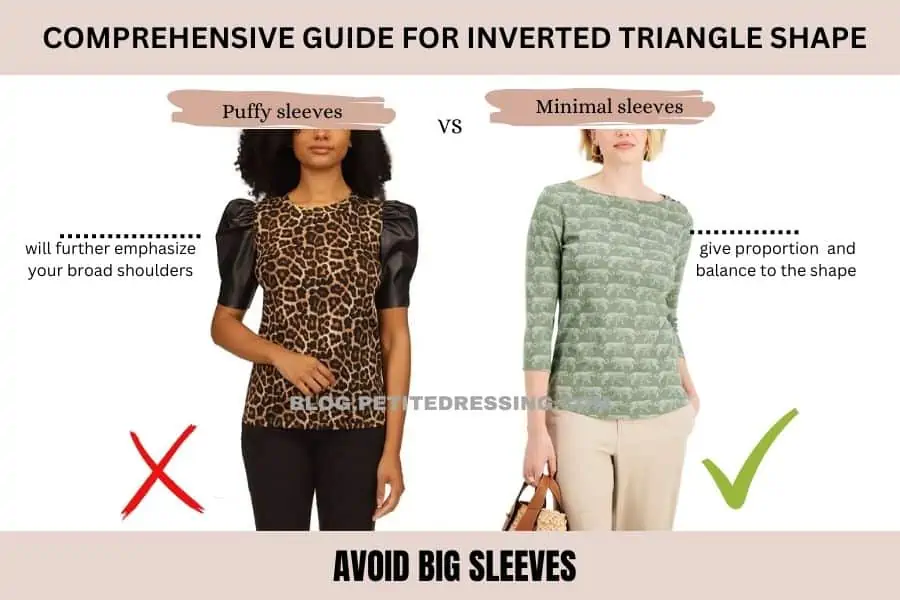 Wear a crop top
This may sound a little counterintuitive to you, as the crop top seems to have nothing to do with camouflaging your broad shoulders. The reason cropped tops (like bandeaus) work well for the inverted triangle is that they draw attention to the skin you are showing, thus distracting away from your shoulders.
If you are more on the conservative side with your style and are not sure if the cropped look is for you, you can easily add a cardigan, or even a button-down shirt, on top of the cropped top. That way it will make sure you are not showing too much. You DO still want to keep your cardigan or shirt open in the front, in order for this to serve the purpose of drawing attention away from your shoulders.
Dark Colors
Color placement is a surprising way you can really enhance your triangular body type. To minimize, or add balance to, broader shoulders you can do this by wearing darker colors on the top and brighter, lighter or even bolder colors/prints on the bottom half.
Adding a pop to the bottom half, whether it's with pants, a skirt or even a dress, brings more focus to that part of the body which gives the illusion of a more proportioned body shape. This means even if you want a simple outfit like a t-shirt and boyfriend jeans, for example, you can still flatter your inverted triangle shape by using colors strategically in your outfit.
Charlotte styled her look with darker colors on the top half, the ideal combination for a triangular shape.
Unbutton your shirt
This is very important when you wear a bottom down shirt.
When you unbutton the first 2 buttons on your shirt, it draws attention to the center of your chest (since you are showing skin there), and takes attention away from your shoulders.
Of course you need to do it based on what you are comfortable with- do not show too much cleavage if you don't want to!
NECKLINES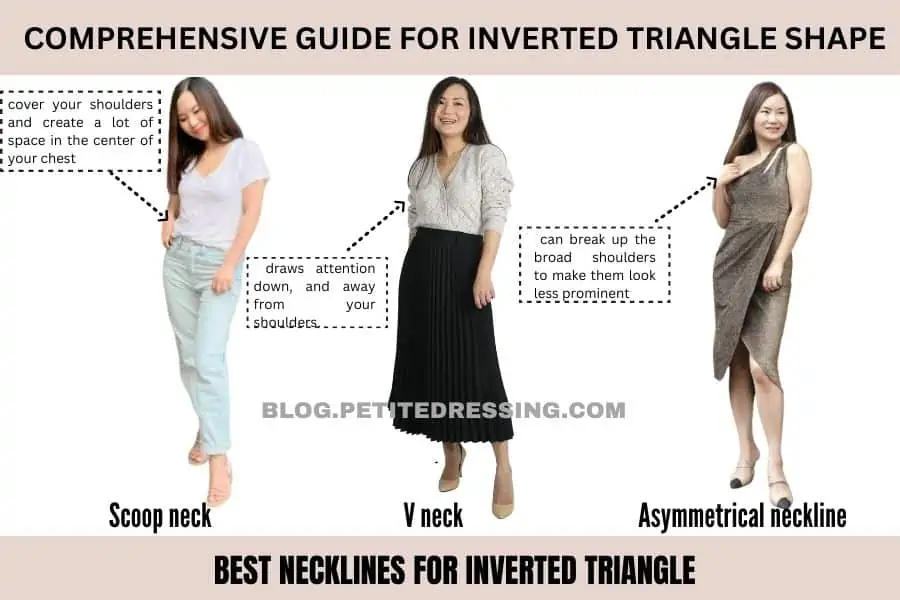 Scoop neck
Your choice of neckline is critical, when you have an inverted triangle shape. If your goal is to distract from your broad shoulders, go with a lower neckline such as a scoop neck. These cover your shoulders, but in the meantime also create a lot of space in the center of your chest. That is why they are one of the most flattering options when you have an inverted triangular body type. These necklines add just enough to the top half of the body to open up the space and reduce the width of shoulders.
V neck
Like the scoop neck, a lower V neckline is also flattering to the inverted triangle, because it draws attention down, and away from your shoulders.
Amy's v-neckline opens up the space around her chest and minimizes the appearance of broad shoulders.
Asymmetrical neckline
Asymmetric necklines offer an opportunity to break up the space on your shoulders and create a vertical line that lengthens the body. This is a really fun trick to dressing an inverted triangle body shape.
The asymmetrical necklines can break up the broad shoulders to make them look less prominent. A good example is the one shoulder top, which is one of the faves of Jennifer Gardner and Cameron Diaz.
Avoid off the shoulder
In terms of the neckline, you should stay away anything that forms a horizontal line at your shoulders. The most obvious is the off-the-shoulder tops, even though they are super trendy.
Avoid Wide Necklines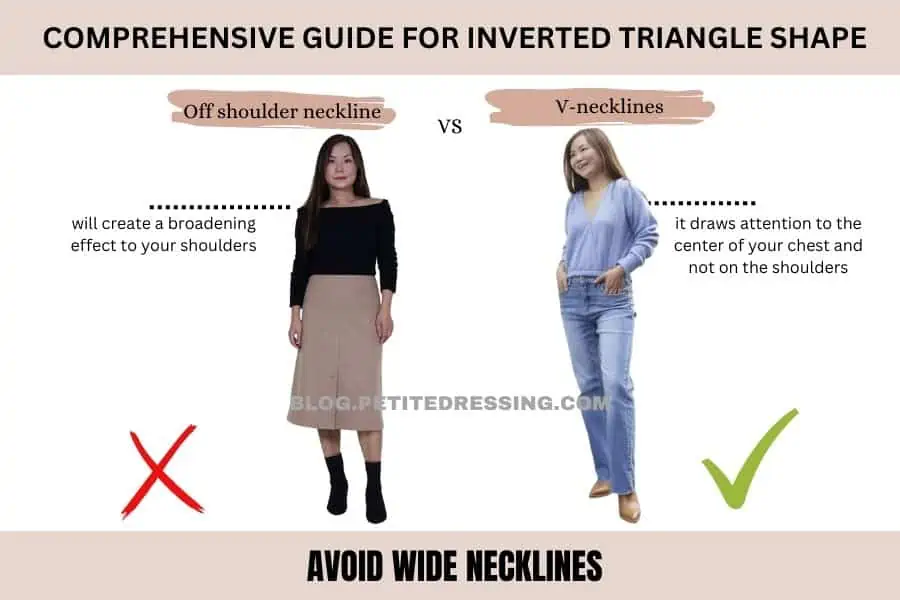 Wide necklines rest right around the widest part of an inverted triangular body shape, the shoulder area, which will create a broadening effect to that area of the body.
This is why stylists suggest being cautious, as an inverted triangle shape, when wearing anything that has a wide neckline. Wide necklines include options like boat neckline, etc.
JACKETS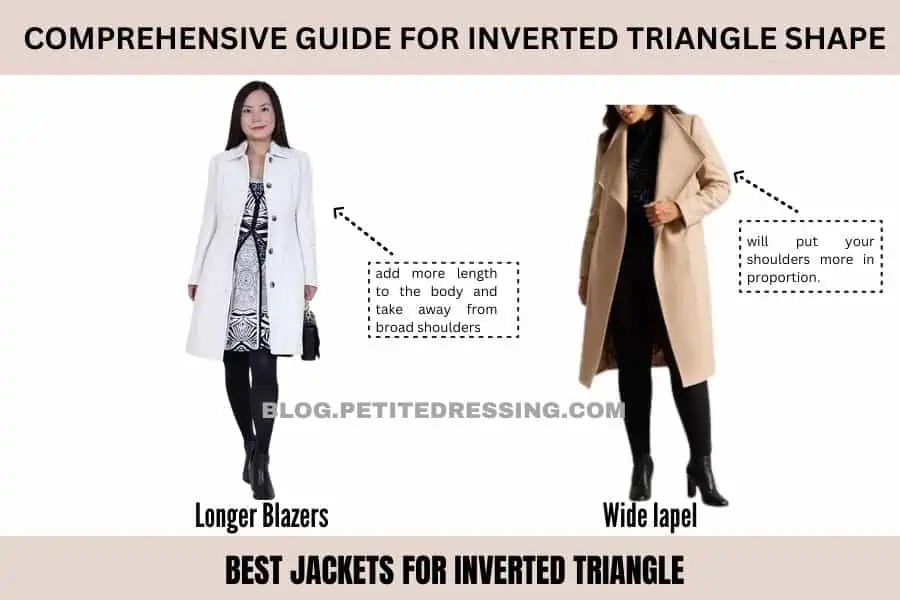 Longer Blazers
Long, even oversized, blazers aren't always the easiest shape to pull off .
However, as a triangular body type, they're actually something you should start favoring as a part of your wardrobe.
Longer blazer and jacket options add more length to the body and take away from broad shoulders. This is of course, as long as the blazers don't have shoulder pads or a lot of extras around the shoulders.
Avoid Cropped Jackets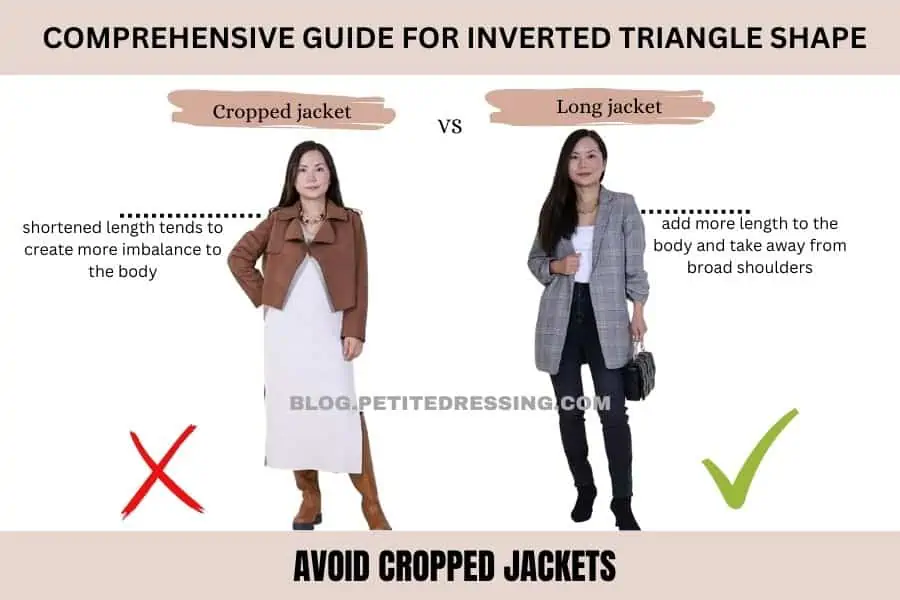 Cropped blazers can be fun but with a triangular body shape, the shortened length tends to create more imbalance to the body and can cause you to appear top-heavy.
Stick to jackets and blazers that are around the hip in length to make the most of your layering pieces.
Wide lapel
These jackets are flattering for an inverted triangle shape because the wide lapels will put your shoulders more in proportion.
For you, the most important thing is of course to find the right jacket that fit both your shoulders and have the right sleeve length. That sometimes can be quite a challenge for women with broad shoulders.
Inverted triangle shape also typically tend to have longer arms. That could mean you may find sleeves are usually a bit shorter than what you need.
Avoid narrow lapels
For the same reason, jackets with narrow lapels tend to make your shoulders look even wider, because of the contrast. If that's not your intention, then you want to stay away from them!
Avoid padded jackets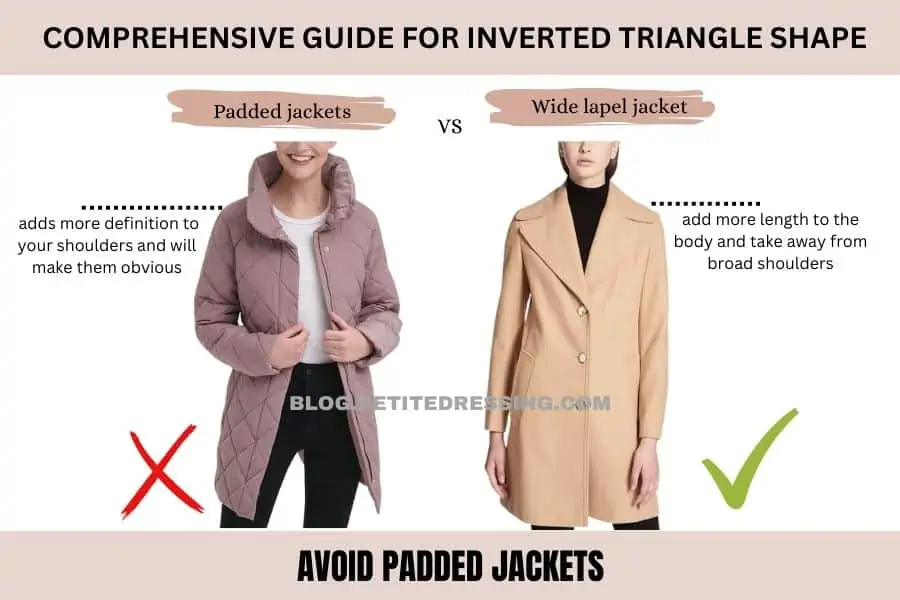 Since you already have broad shoulders, anything that adds more definition to your shoulders will just make them more obvious. So, you should avoid padded blazers or coats.
Single Breasted Outerwear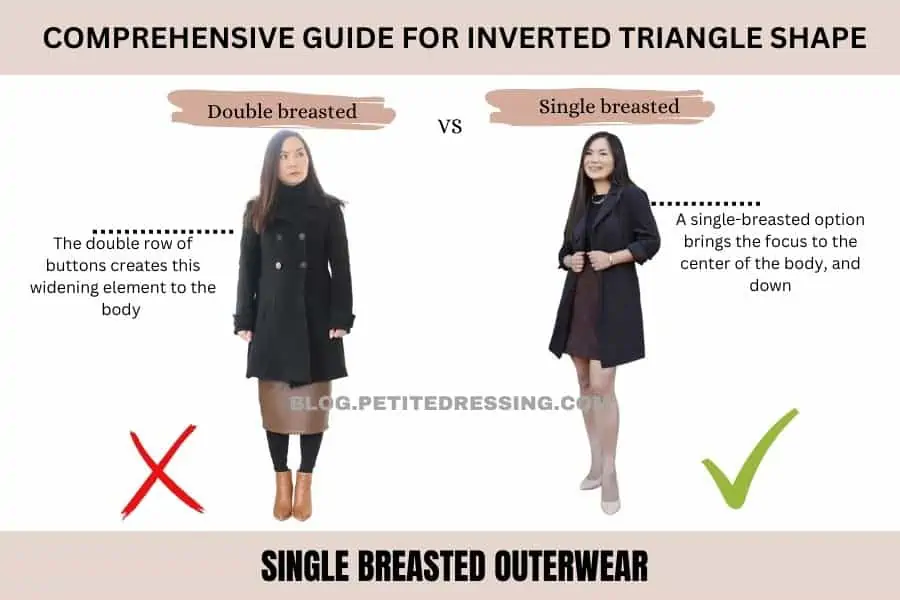 Yes, even buttons and the placement of buttons can play a role in how your shape is flattering (or not) in clothing. With an inverted triangle, you will want to skip anything that's double-breasted.
The double row of buttons creates this widening element to the body that isn't suitable for a triangle body.
That's why single-breasted, and jackets that have a single line of buttons down the center of the body are a better option.
A single-breasted option brings the focus to the center of the body, and down – perfect for an inverted triangle.
SKIRTS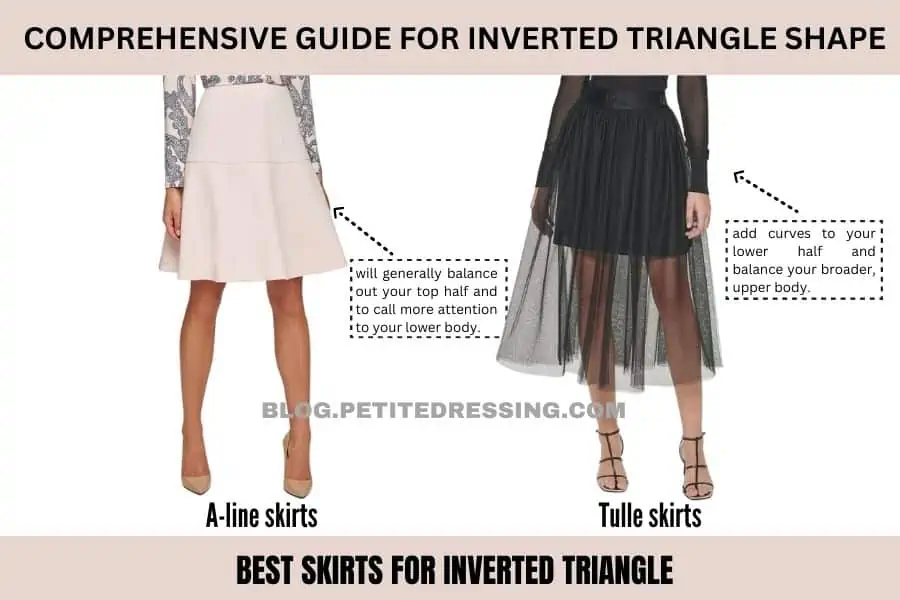 A-line skirts
Skirts that flare slightly will generally balance out your top half and to call more attention to your lower body.
A-line skirts will be perfect to add volume and bulk to your lower half. Because they fill out your slight hips, they are a good choice to balance your upper body.
Look for details around the hips or bold colors and prints to further enhance the effect.
Cam's a-line skirt draws the attention towards her bottom half, balancing a triangular shape.
Tulle skirts
The key to styling inverted triangle figure is to add volume to the bottom to balance out the broad shoulders.
This shape skirts are great because they add curves to your lower half and balance your broader, upper body.
Pleated skirts
Pleating in skirts and pants isn't always the easiest to wear for most women unless you have a triangular body type. In fact, it's something to really begin embracing and experimenting with in your sake.
Because of the added detailing around the waist and hip area that pleating provides it adds this subtle volume to that part of the body that gives this really beautiful proportion.
That being said, things like ruffles and other fun layering techniques can offer a similar benefit when work on garments that rest around the bottom half of your body.
The pleated skirt Amanda styled here adds subtle volume to that area of her body, without overwhelming her shape.
Skirts with a lot of details
Details such as panels, ruffles, and other styles will make your hips look broader and therefore more proportionate to the shoulders.
I mentioned earlier your best assets are your beautiful legs. You have amazing legs so feel free to play with skirt lengths.
JEANS
Flared jeans
As mentioned earlier, in order to balance your bottom with your prominent shoulders, what you can do is to create volume in your bottom half. Jeans with flared legs are flattering to almost anyone with any body type, but they are especially flattering to the inverted triangle figure as it adds the curves to your bottom half.
The reason these are so great for an inverted triangle is that they add some volume and highlight to the bottom half, that beautifully balances out broad shoulders. That means these aren't the only styles of pants you can wear with easy, just keep an eye out for anything that has more exaggeration to the bottom half of your body.
Jordyn's flares are a major style statement, which is perfect when dressing an inverted triangle body type.
Wide leg jeans
Since the goal of the inverted triangle is to create volume in the bottom, anything wide leg will work quite well with your shape. When you go with wide-leg jeans, they can add extra volume to your lower body to balance out your broad shoulders.
Jeans with pocket details
If you are concerned about flat buttocks, whiskering at the hips and flap pockets will add curves to your lower half. Side pockets or flap-style back pockets also help balance your upper body. Cargo style pants are particularly flattering.
Caution with skinny jeans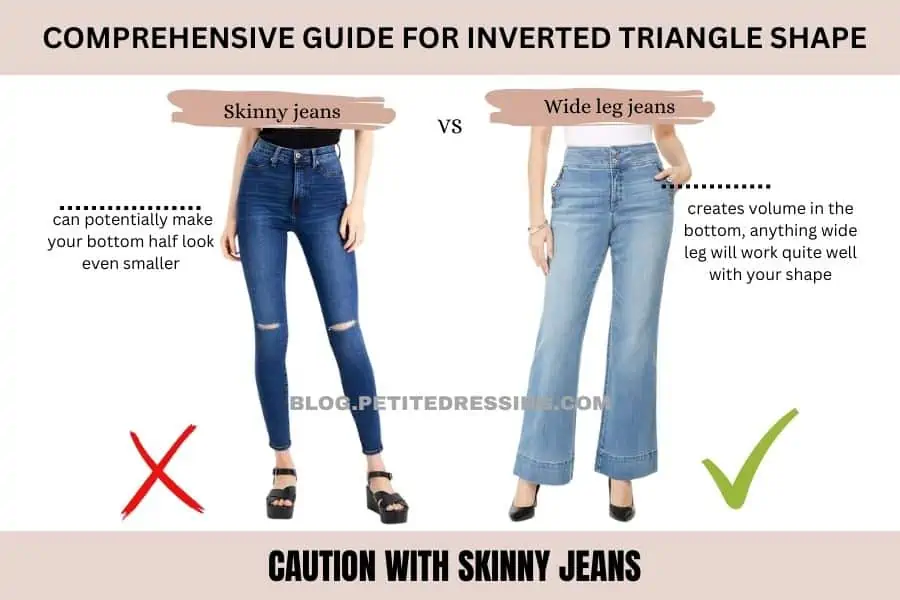 It's not to say that inverted triangles have to stay away from skinny jeans, but you just need to be strategic with them. The reason is anything fitting so tight on your legs can potentially make your bottom half look even smaller, compared with your wide shoulders.
If you're wearing skinnys or anything that is slim-fitted, make sure you wear something that minimizes your upper part a little bit (like a solid, dark colored sweater) on top and a pair of bright colored (or anything eye-catching) shoes to balance the look and add volume and width around your hips and down.
PANTS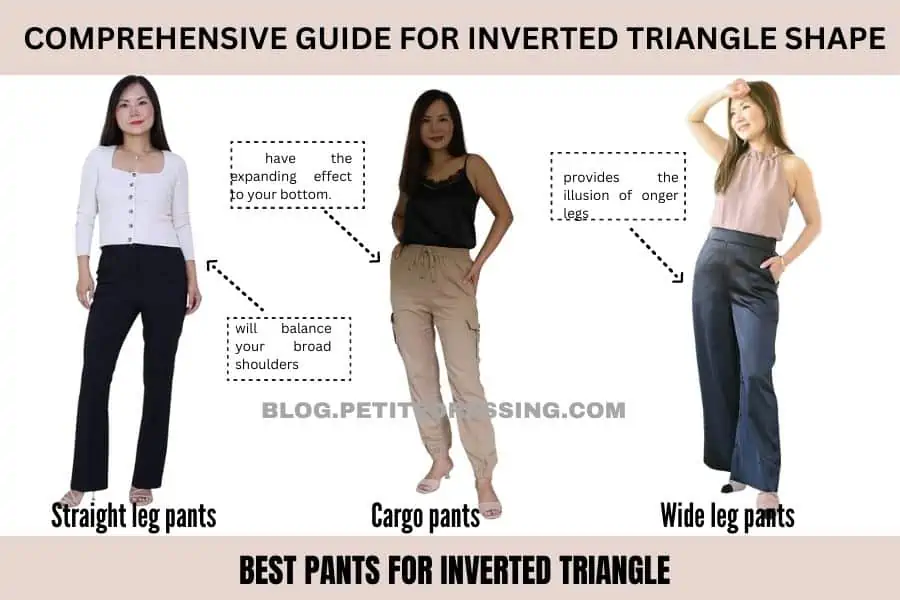 Straight leg pants
Your narrow hips and legs are primed for all kinds of pants, and you just need to choose what can best show off your legs!
If you like the tighter-fitted look, you can go with straight leg pants in light or bright color, which will balance your broad shoulders and add some femininity to your athletic body frame. Even though a lot of people CAN wear slim fit pants, the inverted triangle shape has the best legs to REALLY pull off the cigarette pants.
Cargo pants
These look good on you because the side pockets have the expanding effect to your bottom.
Wide leg pants
Wide leg pants aren't something everyone can wear easily, unless you have an inverted triangle body type. Similar to the way a-line silhouettes add volume, wide-leg pants do the same to the body. Wide leg pants provide a little extra figure flattery, too, because they give this long line down the body that can make your legs look a mile long!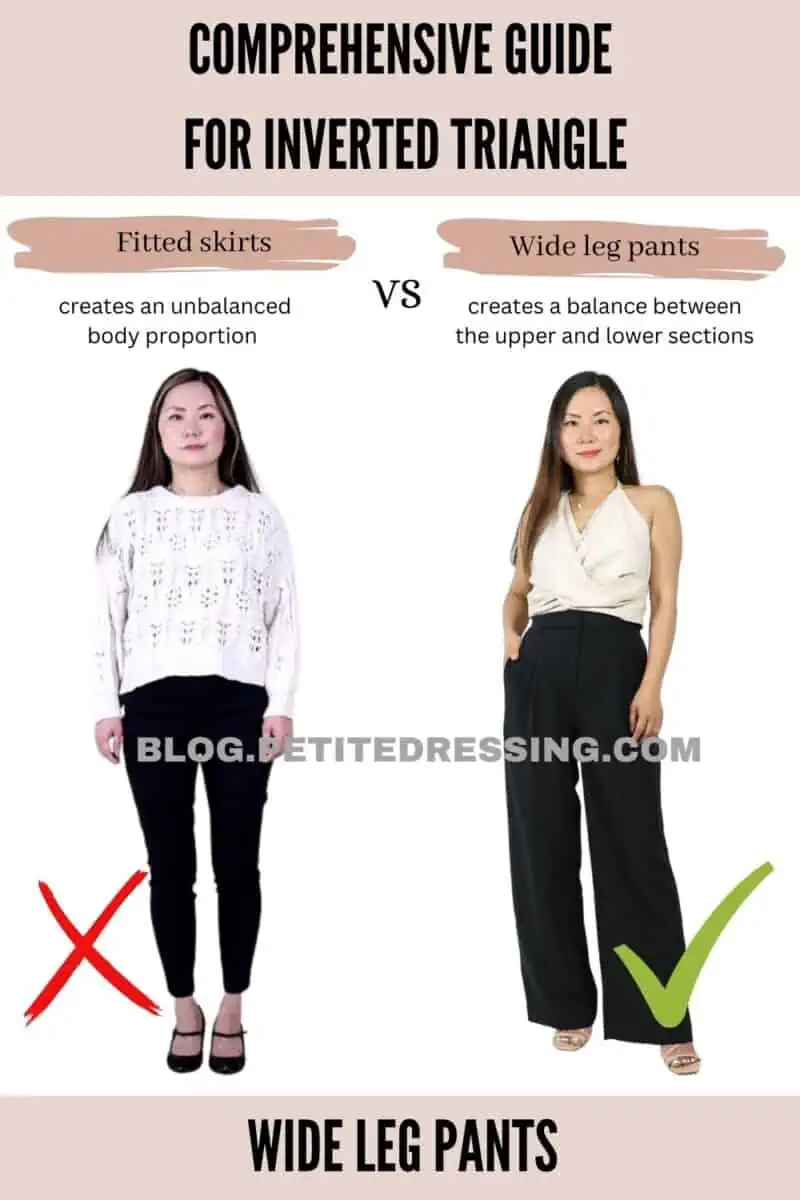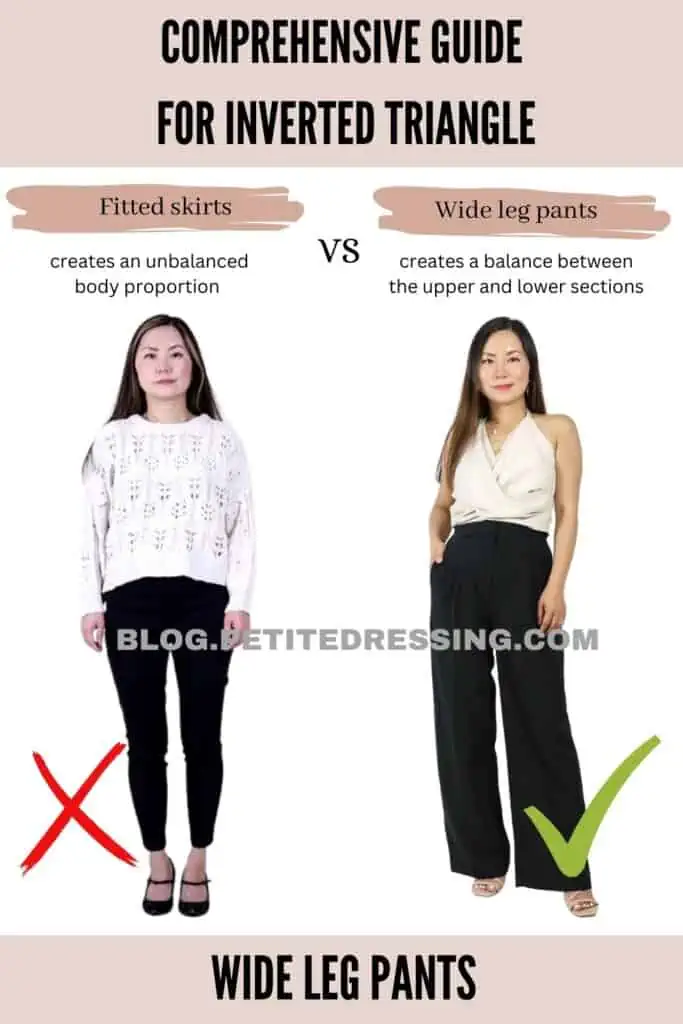 For inverted triangle shape ladies who are also petite, your best option is full length wide leg pants so that your legs won't look cut-off. This is a great tip if you're petite and want to add length to your body.
Caution with Skinny Fit Pants
By now you may be wondering if skinny fit pants are an option for you. Of course, if you enjoy them and feel confident wearing them – they are!
DRESSES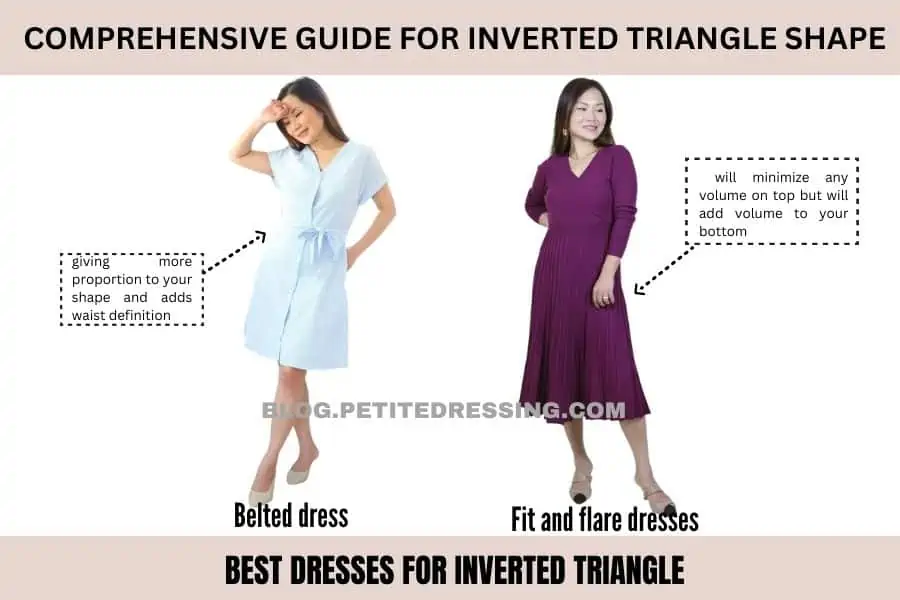 Belted dress
This has been mentioned a bit throughout, but it can't be stressed enough – focus on dressing in a way that defines your waistline.
While most women with a triangle body type don't often have a super-defined, natural, waist it is something that can be created using the right clothing.
Seek out garments that have built-in belts, wide waistbands, etc. that really highlight that part of the body. Whether your waist is defined on its own or not, this styling trick can do wonders for giving more proportion to your shape. Again, it really brings the eye down away from the shoulders – notice the theme!
Technically, however, skinny fit is a tricky silhouette to pull off with a triangle body shape.
Because the fit is so close to the bottom half of the body, and even makes the ankle area appear smaller than usual it often makes a triangle shape look even broader on top.
This means if you want more balance to your shape your beloved cigarette pants may not be the best option for you to wear.
The good news is there are plenty of other options you can wear and really enjoy doing so.
Fit and flare dresses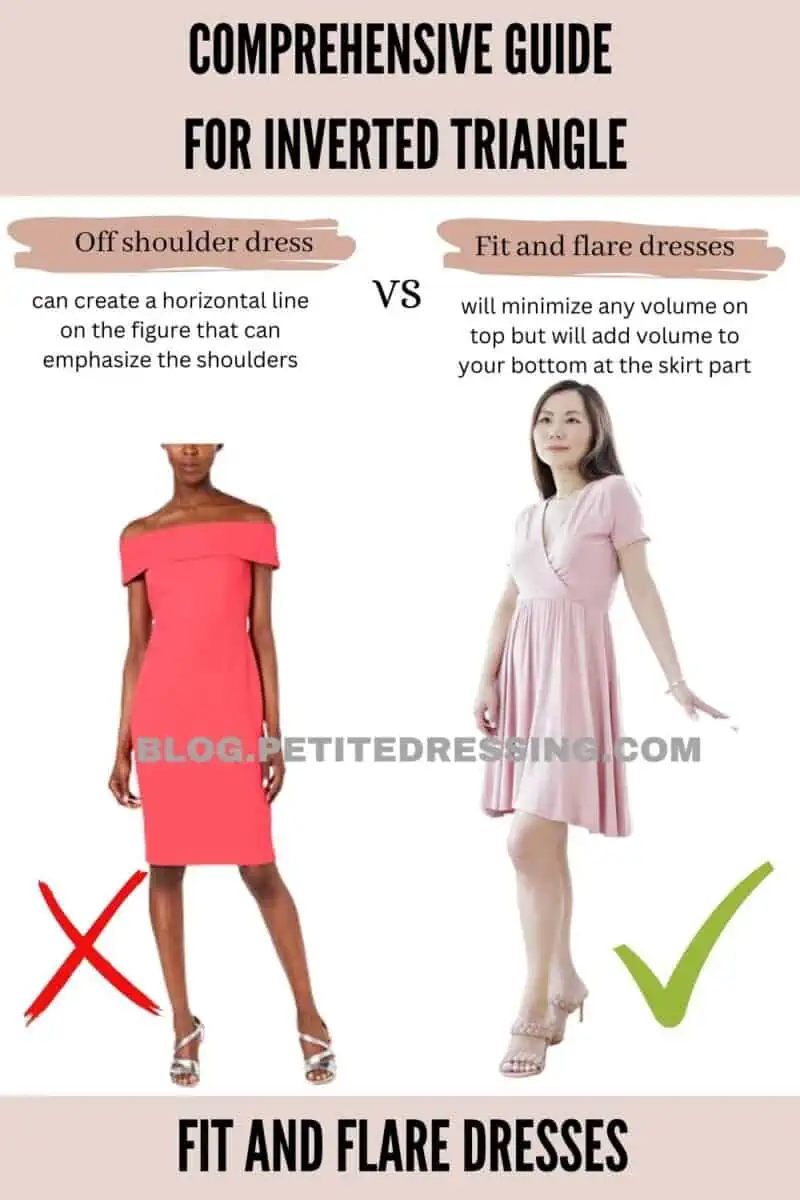 This is a universally flattering dress silhouette that I recommend to almost every body type. But, for different body types, there is a different reason.
The fit and flare is ideal dress for inverted triangle shape because it is the opposite of your natural shape thus it can balance out your "top-heavy" shape.
Since your body is naturally "top-heavy", you want to choose dresses that will minimize any volume on top but will add volume to your bottom at the skirt part. You can certainly experiment with other types of dresses not mentioned here, as long as you keep this rule of thumb in mind.
A-line dress
This is a close cousin of the fit and flare. It's a more modest shape, but the same concept, because it flares out, it balances your natural shape.
Speaking of creating balance to your body shape, a-line silhouettes are an incredible way to achieve that with a triangle body type.
Because your shoulders are broad, wearing clothing and shapes that add some volume and emphasis to the bottom half of your body is a great way to give you really great proportion to your shape.
That's why a-line silhouettes are something to favor as a triangle, the a-line shape adds subtle volume to that lower half of the body.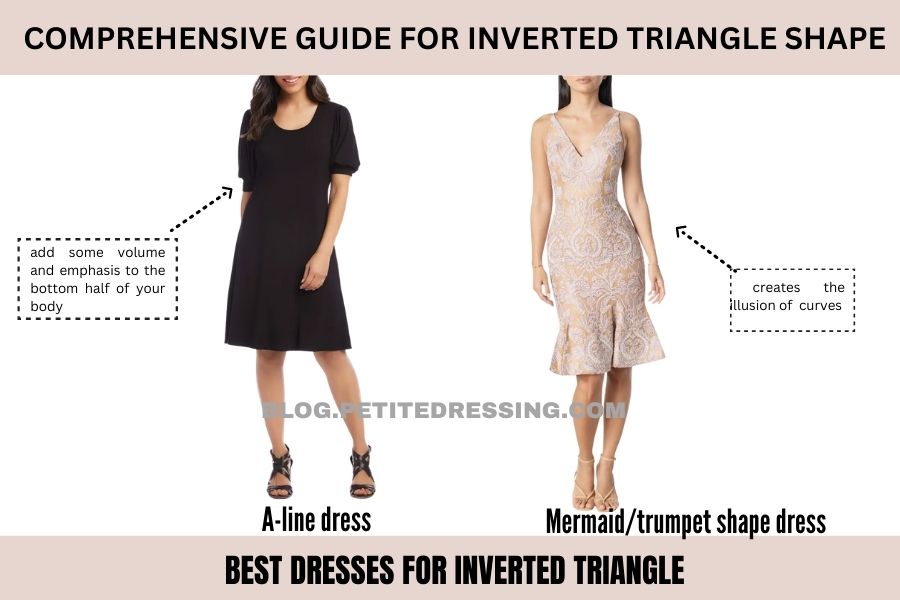 Mermaid/trumpet shape dress
If your goal is for this look more feminine, nothing looks better than the mermaid silhouette (or the trumpet silhouette).
The mermaid or the trumpet-shaped dress hugs your body nicely, thus creating the illusion of the curves you are looking for. Plus, the flounce skirt adds the perfect amount of volume to your lower body to balance your shoulders.
SHOES
Wear brighter shoes
Since your best assets are your toned and long legs, let's bring more attention to them!
Bright-colored or eye-catching shoes are suitable for your inverted triangle figure because they are sure to grab attention to your lean legs.
ACCESSORIES
When you wear a longer pendant necklace dangling in the front of your chest, this will also serve the purpose of drawing attention to the center of your chest, thus distracting away from your broad shoulders.
Celebrities with Inverted Triangle Body
Since the inverted triangle shape is the "super model shape", you won't be surprised that many who walk the run way have this body shape. There's also quite a few celebrities with inverted triangle body shape in Hollywood. Here I'm listing several most well known below, but list goes on and on.
Cameron Diaz, 5'8"
Naomi Campbell, 5'8"
Jennifer Gardener, 5'8"
Victoria Beckham, 5'3″
Lucy Liu, 5'2″
Renee Zellweger, 5'4″
Priyanka Chopra, 5'5″