Characteristics and styling goal
Having a pear shape mainly means you have a small top half, likely a small bust and narrow shoulders.
Pear shape is bottom heavy, meaning a defined waist, large hips, and thick thighs.
Any weight gained is first seen at the hips and the thighs.
You tend to have a longer waist which implies you have a longer torso and shorter legs, compared with women with your height.
Pear shape should avoid anything that clings to the hips and thighs, and should create the illusion of a broader shoulder to balance out the "bottom-heavy" shape.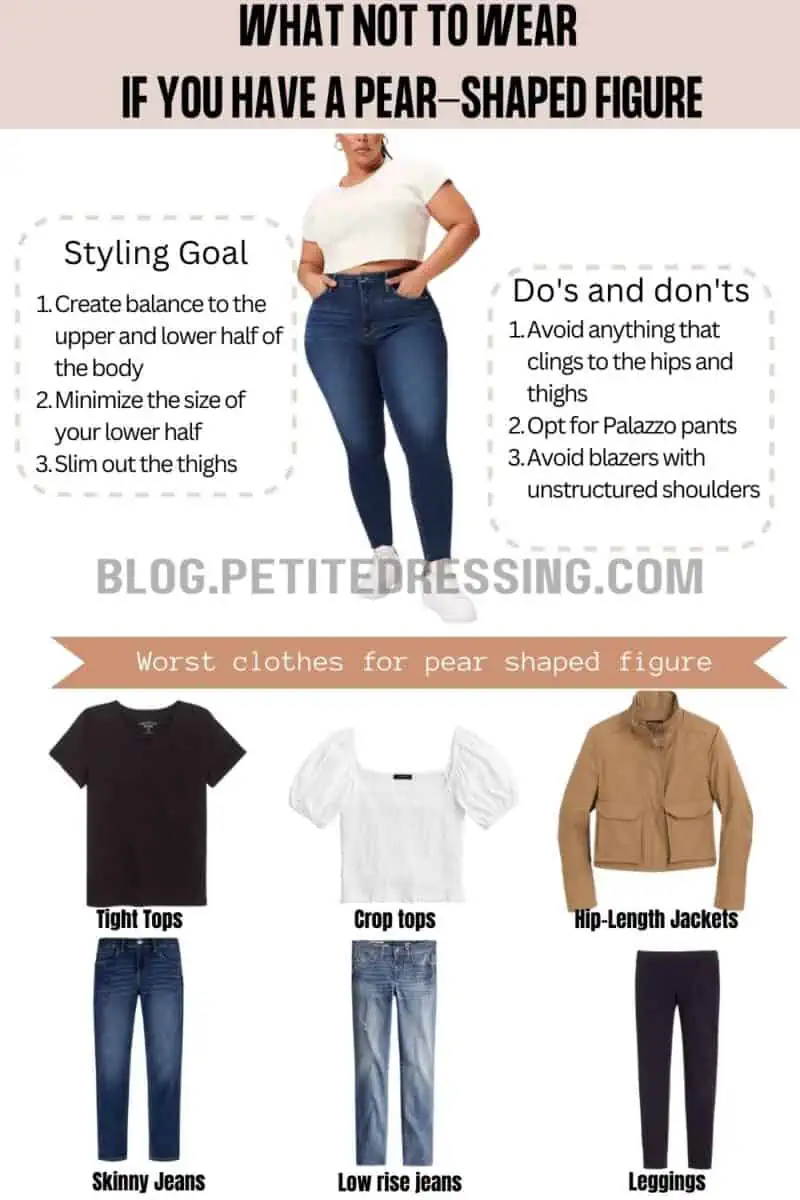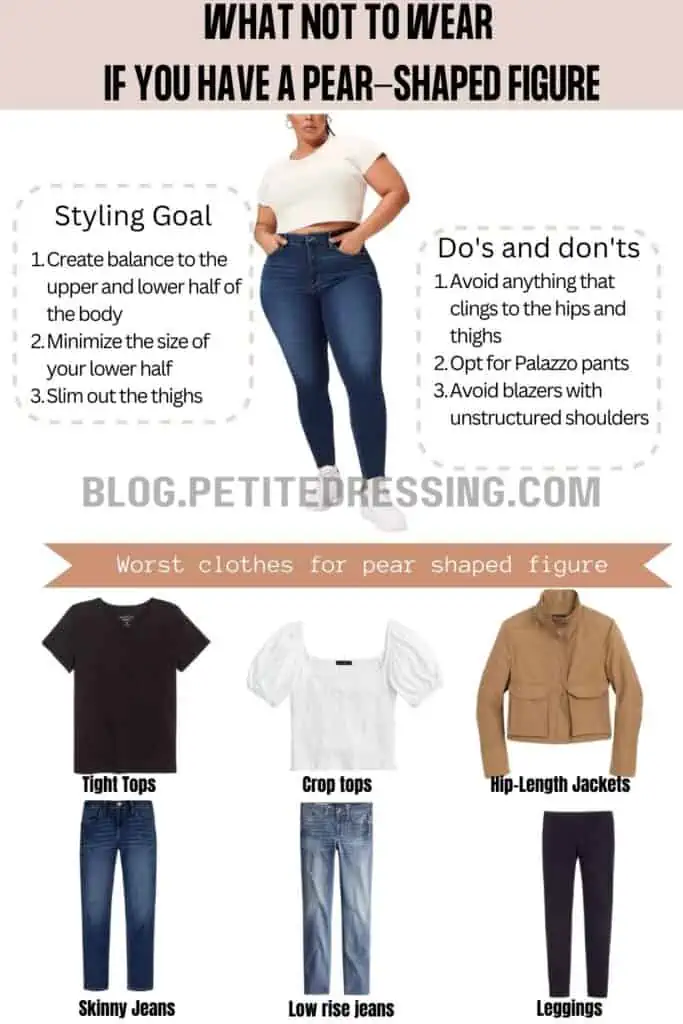 Here is a list of what the pear shaped women should avoid:
Tight Tops
Tight tops generally are not the best choice for the pear shape, if you happen to have narrow shoulders. The reason is they make your narrow shoulders look even more obvious, and by contrast, make your wide hips look stand out even more.
Tops with hip details
Steer clear of tops with pockets or prints around the hips which make them look even wider. Look sophisticated by wearing a simple bottom and a stylish top. So wear tops with subtle details that draw attention away from your hips.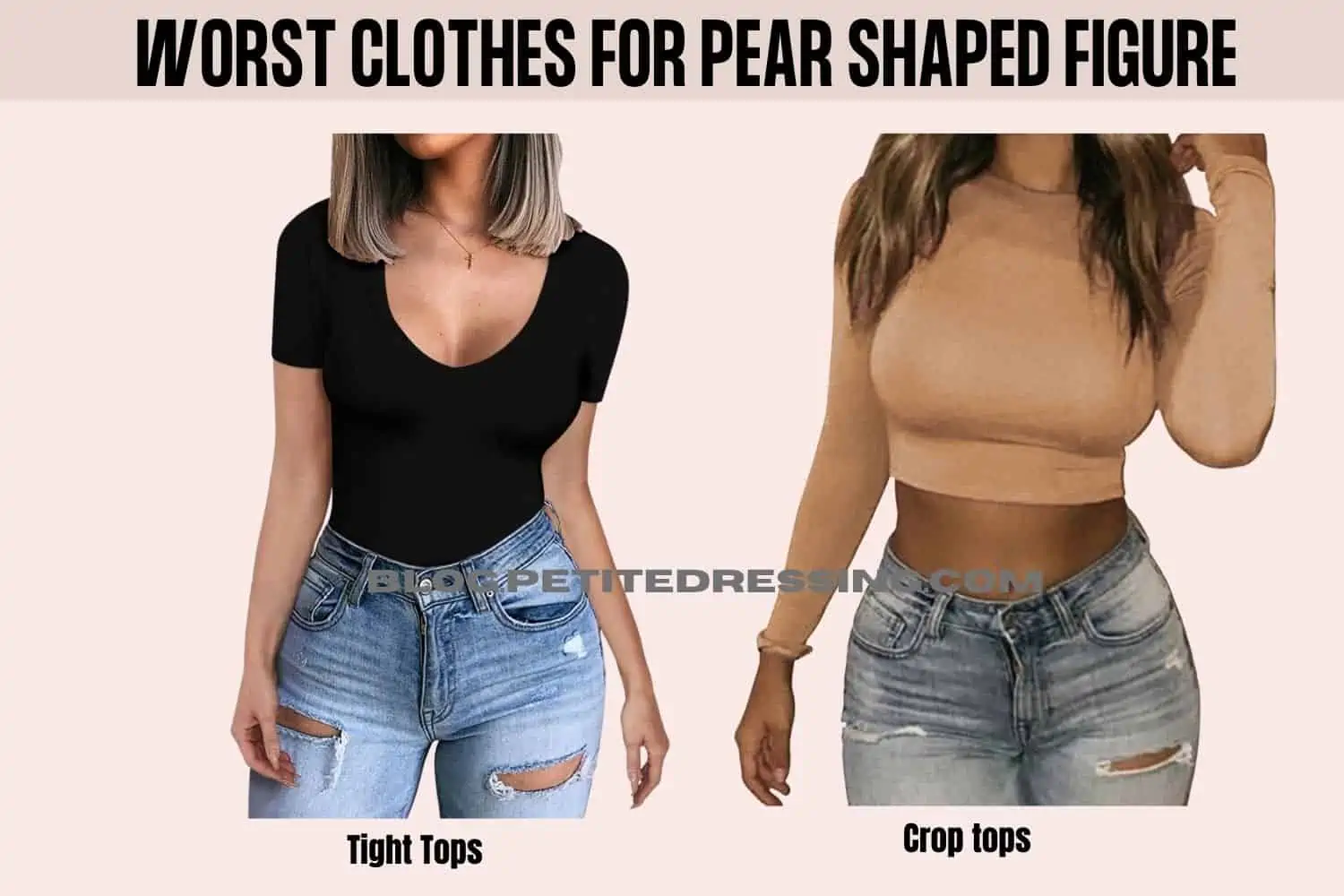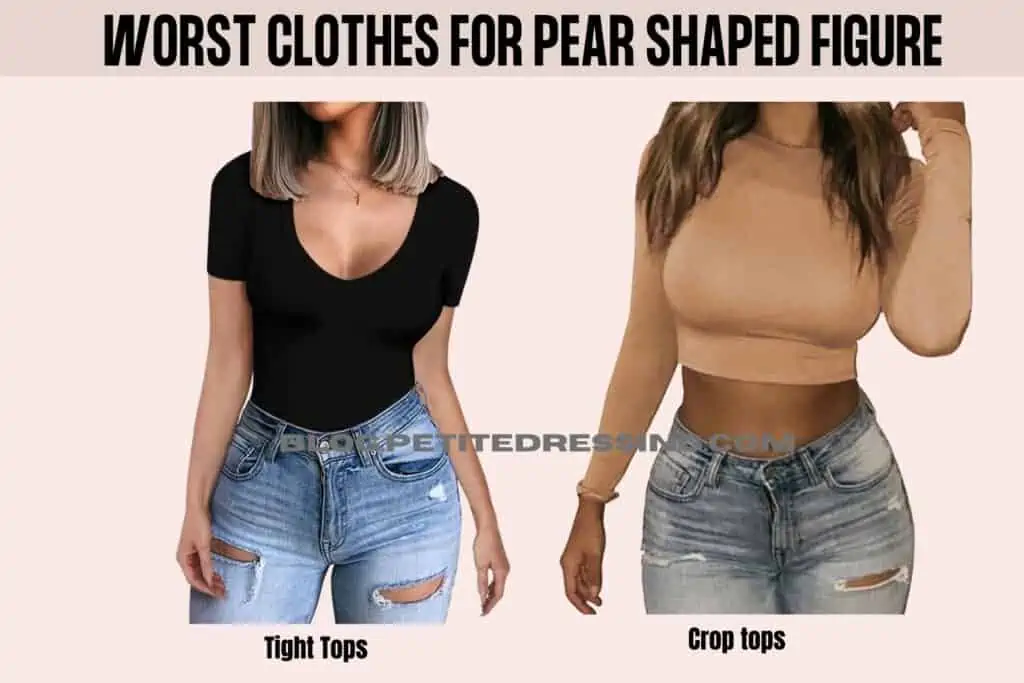 Crop tops
It's not that all cropped tops are not good on you, but you should probably avoid any cropped top that ends at the widest part of your buttocks. The best tops for pear shape should bypass the widest part of your hips and thighs, i.e., ending either above or under that point.
If you have a pear-shaped body, generally you should use an abundance of caution with cropped-length tops. The reason is the cropped length top can "expose" your wider hips and thighs, thus not flattering if your goal is to camouflage them.
All cropped tops are not created equal though. If you are interested in the crop top trend, go with a shorter length and wear it with a pair of black wide-leg pants or an A-line skirt to distract from your hips.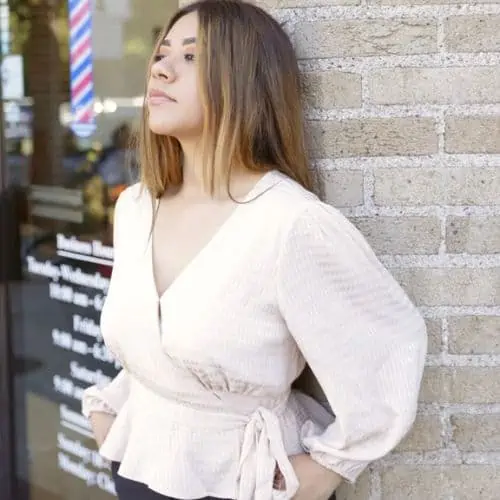 What Tops to Wear Instead
A peplum top as it is a waist-defining, ultra-slimming top.
A square-neck top or V-neck top paired with a long necklace draws attention up.
A cowl-neck top with draping adds volume and length.
A boat-neck top as it broadens the shoulders in order to look more symmetrical.
Use vertical line sleeves to bring attention to a narrow waist.
Tops with subtle florals.
Tunic tops that are neither tight nor baggy.
Hip-Length Jackets
Don't wear hip-length jackets which ends at the widest part of your buttocks.
Do wear a long cardigan that ends past your hips, not directly at them, to help hide your problem areas.
For a cool look, wear a cropped denim jacket to make you look slender. For an edgy one wear a trapeze jacket. Another sassy alternative is the cropped bomber jacket. For more formal occasions opt for a long blazer or a long shearling jacket to add volume and structure.
Blazers with unstructured shoulders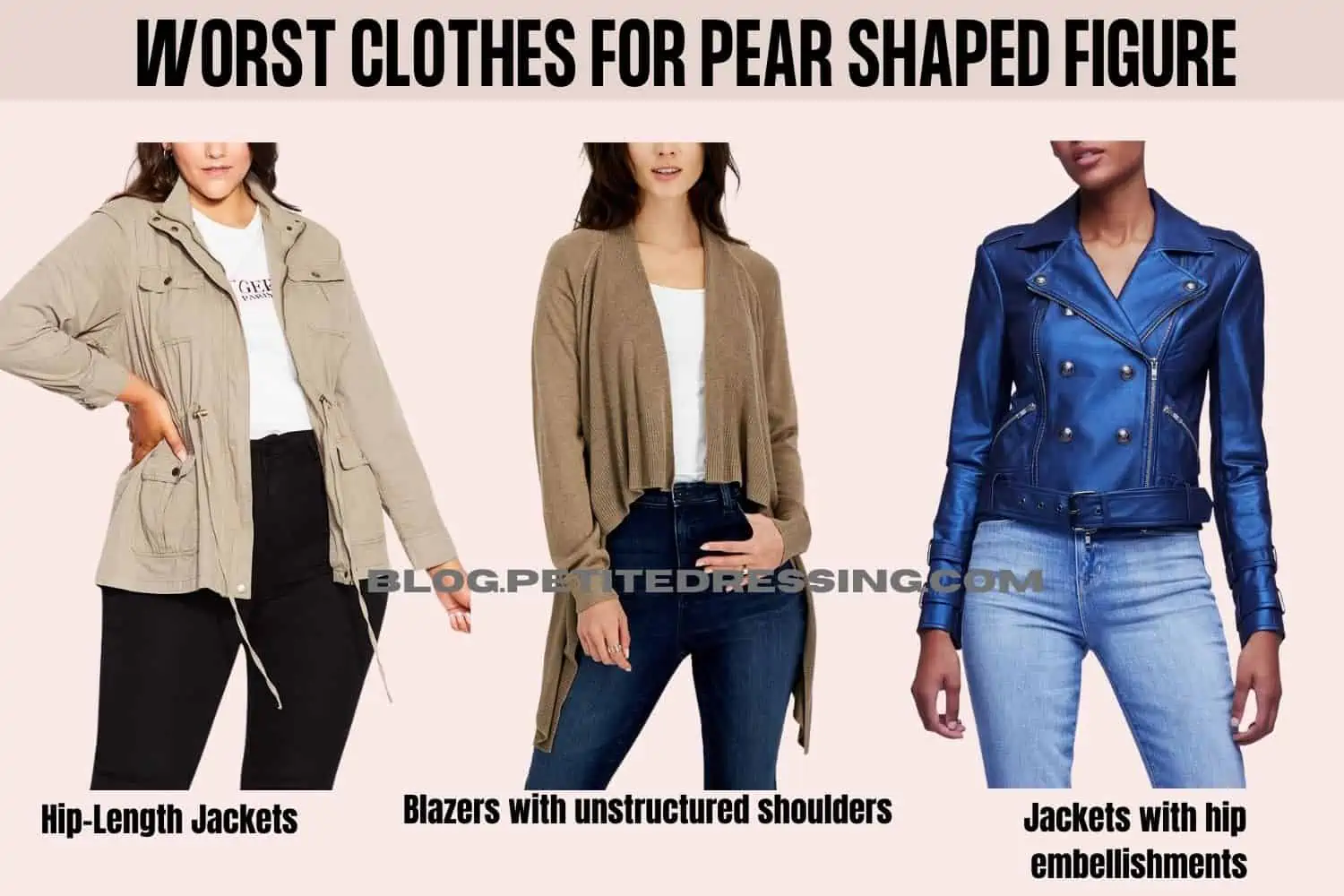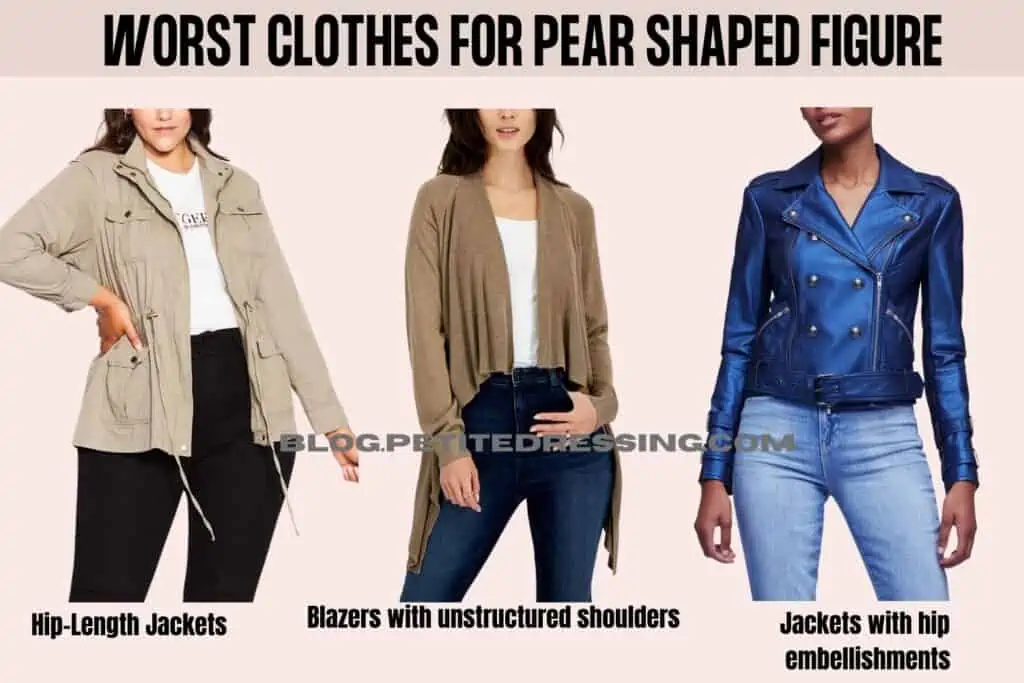 If the blazer or jacket does not have a structured shoulder, they will only make the narrow shoulders of the pear shape stand out even more.
Long jackets with well-structured shoulders in dark colors are your best friends because they define your shoulders to make you look slimmer.
Jackets with hip embellishments
The pear shape should avoid any jacket with hip embellishments such as crystals or belts, and metal studs. Opt for neck and shoulder embellishments instead to draw the eye up.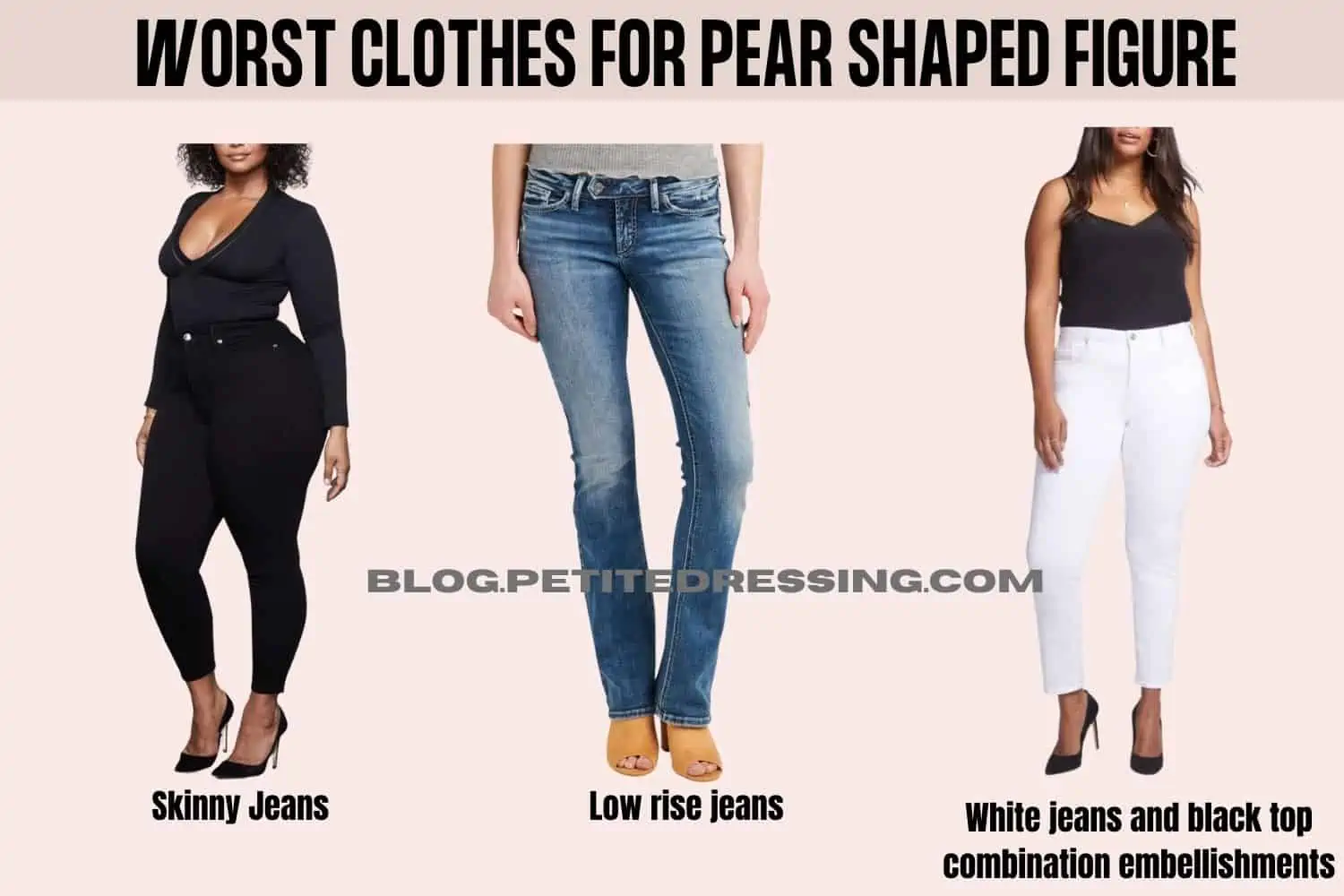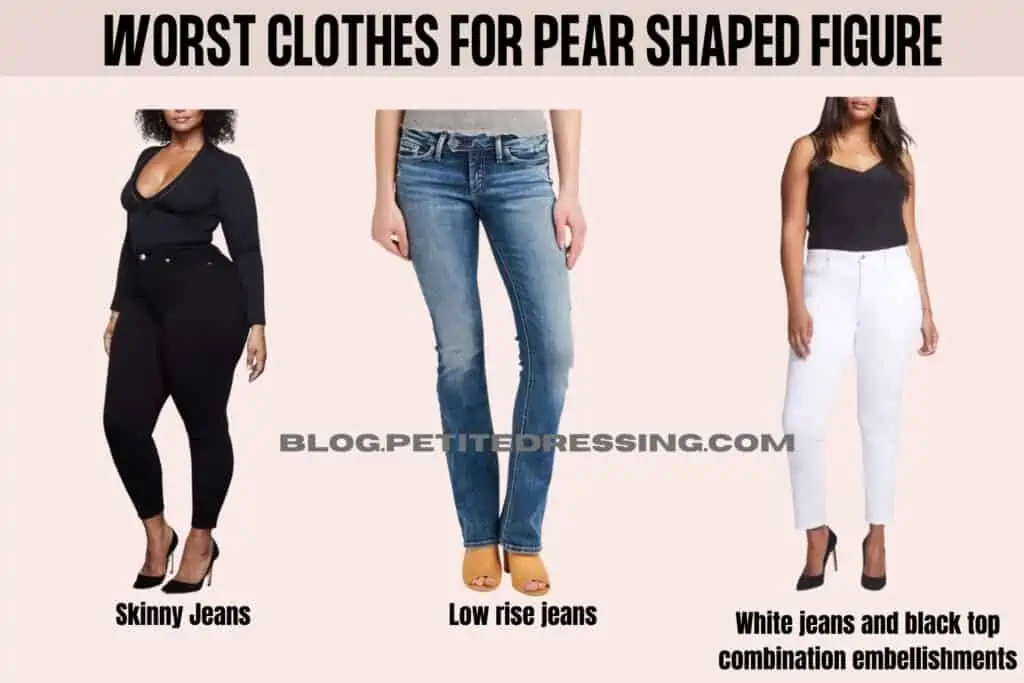 Skinny Jeans
Avoid skinny jeans that are skin-tight and cling to the hips. This draws attention directly towards your curves which are your weakest points.
Low rise jeans
If you happen to be a pear shape with a long torso and short leg body proportion, stay away from low rise jeans as they can makes it even more obvious.
Do wear mid to high rise jeans, especially those with a wide leg shape or flare leg, preferably in a dark wash finish which elongates leg length. If not, choose a straight-cut or boot cut jeans which balances out your hips and overall proportions. They can create the illusion of longer legs and shorter torso.
White jeans and black top combination
Pear shape should avoid wearing white jeans with a black top, and this outfit is especially not flattering if the top is a cropped length.
If you are interested in white denim, go with a longer top or cardigan which covers your thighs and hips without exposing them.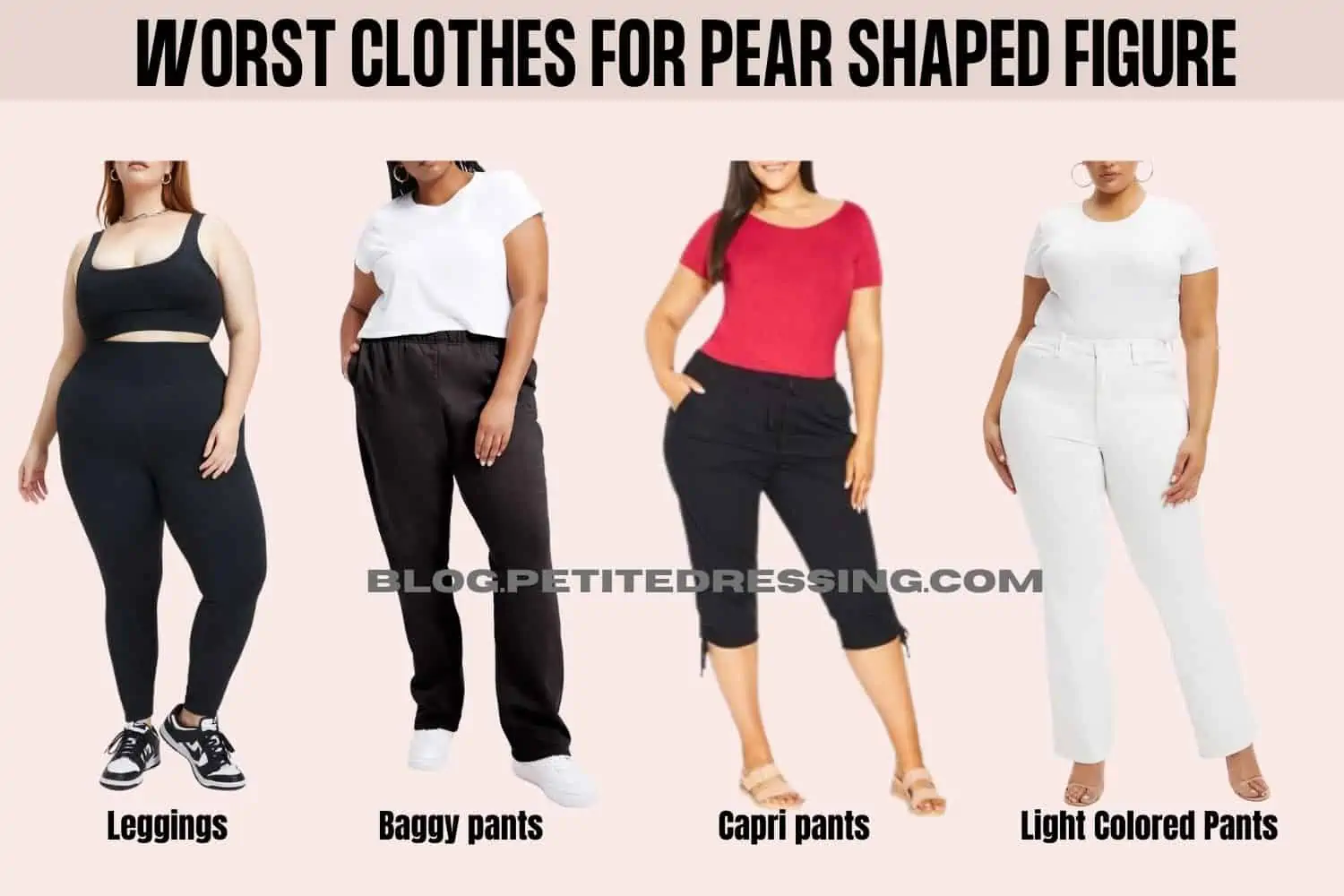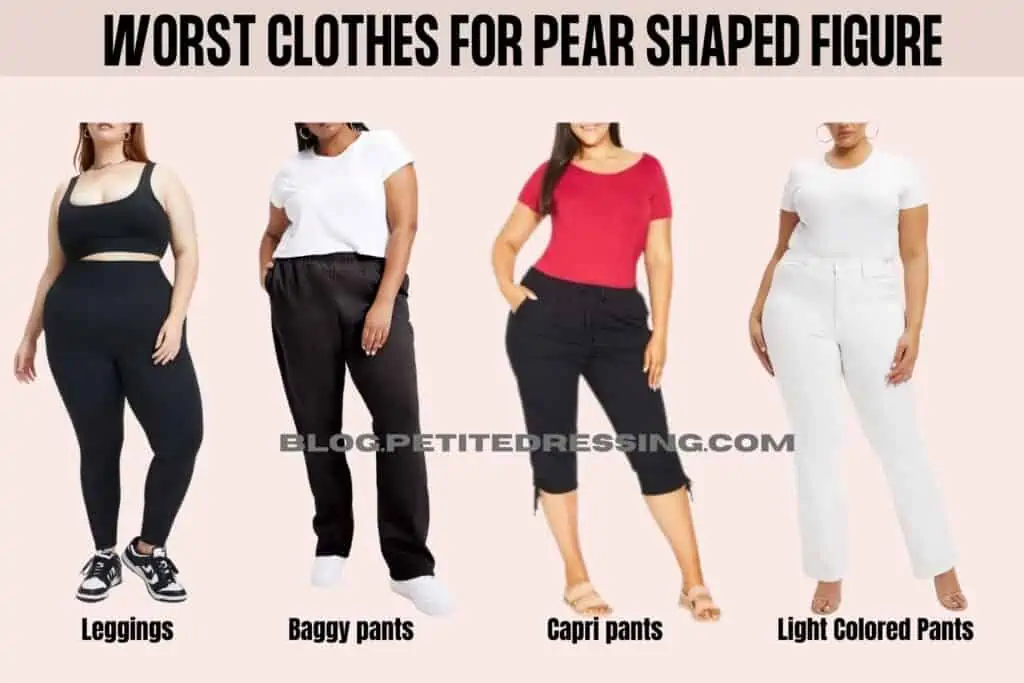 Leggings
Under no circumstances wear suffocating leggings unless you're working out. These cling to your thighs so tight that they accentuate the heavier bottom of the pear shape.
Baggy pants
Don't wear baggy pants either which would make you look even wider than you already are.
Instead, wear high-waisted pants or slim or straight pants to add structure to your silhouette.
Capri pants
Avoid capri or tapered pants at all costs as these can make your legs look even shorter.
Light Colored Pants
Don't wear light colored pants with a light colored top. Bright colored pastel pants reveal every curve. This monochromatic look will make you look wider, whereas darker colored pants will make you look slimmer. In other words,
The general rule of thumb is if you wear light colored pants, then you wear a darker colored top and vice versa. For instance, if you wear a white top then you are better off to pair it with black flair pants.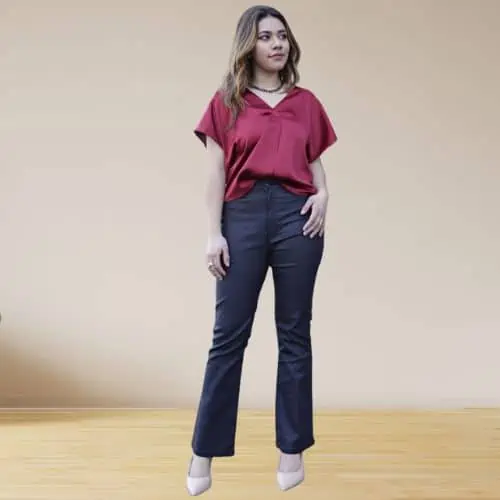 What Pants to Wear Instead
Palazzo pants, because the stretchy fabric with a well-defined waistband will minimize the size of your lower half to make you look quite smaller and skinnier.
Black wide-leg pants drape down from your hips without clinging to your butt or thighs. For a casual look, pair a white top with a black wide-leg or flare pants.
Bootcut pants. The flared leg shape balance out the curves of your hips and a pair of bootcut pants look fabulous for everyday wear.
Well-tailored, flat-front pants are perfect for workwear.
Big Buckle Belts
The end goal is to divert attention away from the hips, so wearing a big buckle belt would essentially do the opposite of that. Big buckle belts emphasize the size of your hips.
If you have a smaller waist, wear a small belt because that is your opportunity to show off your best assets. There's a plethora of slim designer belts to choose from. For example, Chanel, Dior, Valentino, Versace, and Louis Vuitton.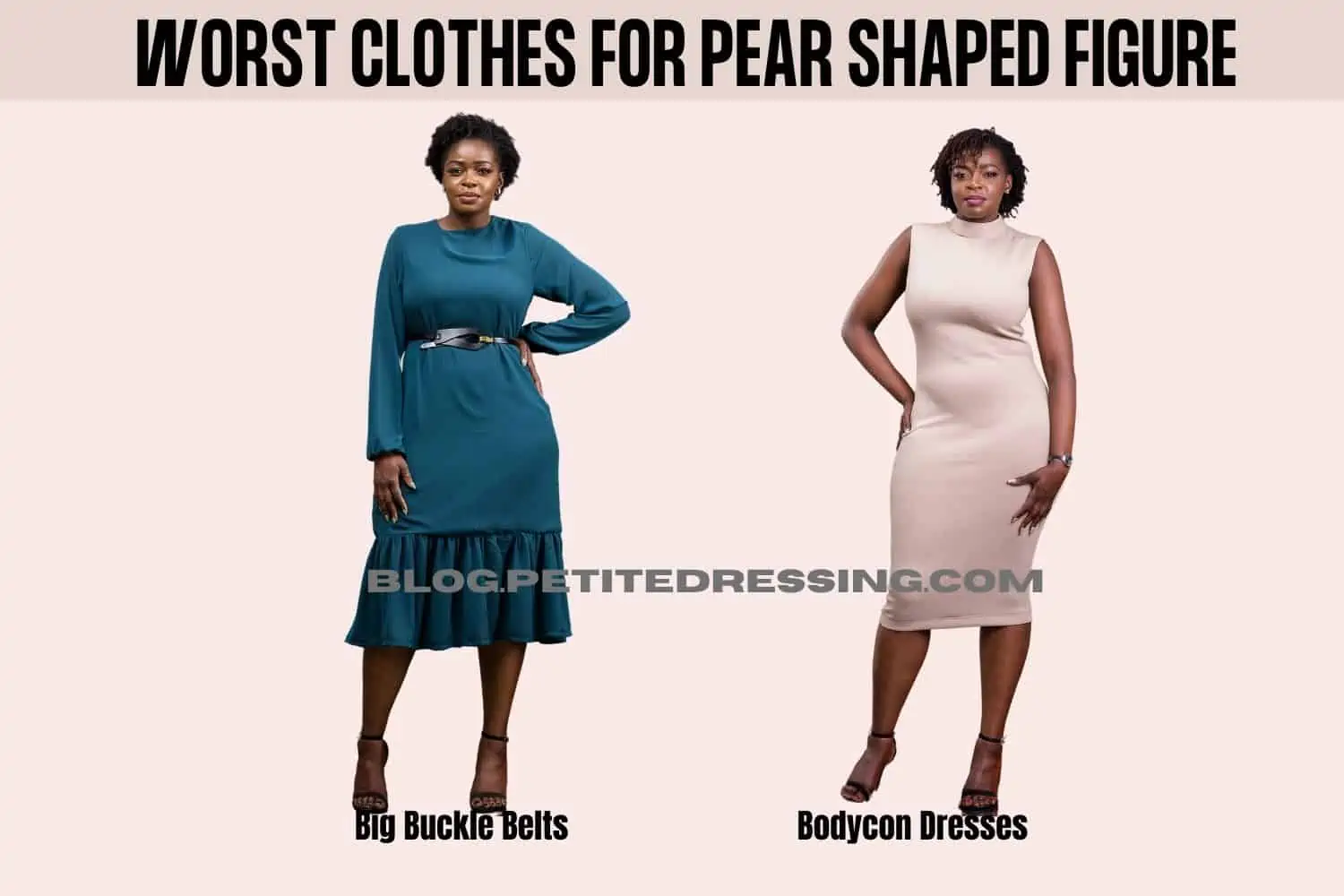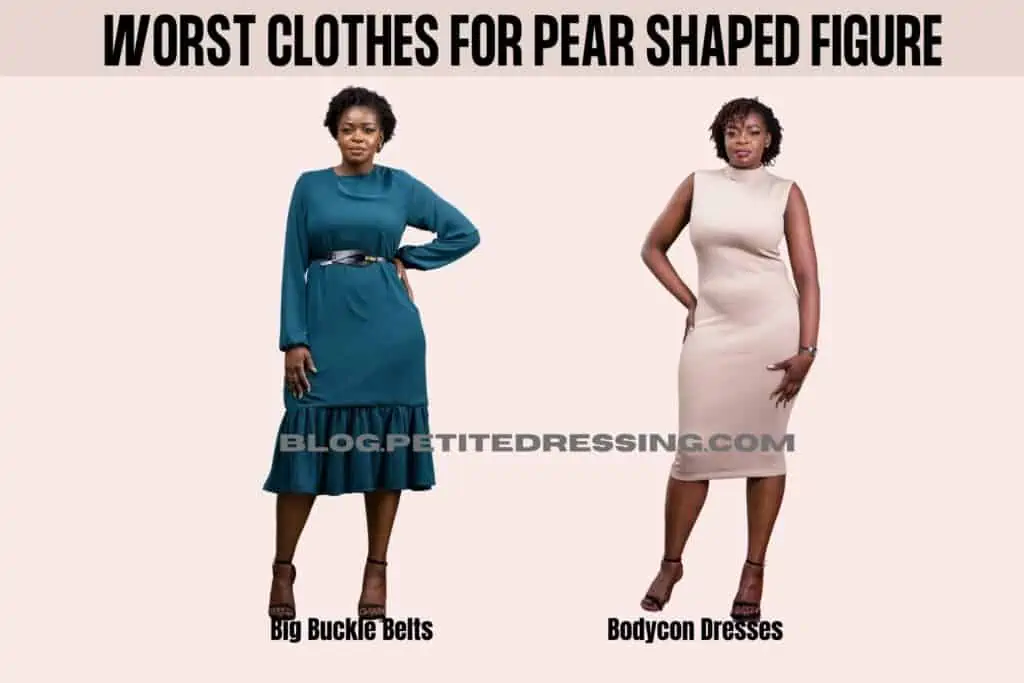 Bodycon Dresses
Bodycon dresses are not for everyone simple because they are body-hugging. These types of dresses showcases every curve and the end goal is to camouflage not to reveal.
Avoid a tight-fitting, satin dress with fabric and stitching that are unforgiving especially if you gain the tiniest amount of weight.
However, if you do want to wear a body-con dress there's one caveat, go for an off-shoulder dress. Opt for an off-shoulder empire dress to add width and length which balances out your curves. This will be a dress that you wear over and over again.
What dress to Wear instead
A flattering option is an X-line dress with horizontal lines that add volume and dimension. A horizontal shape balances out your wider hips. A classic wardrobe essential is the tulip dress simply for its effortless glamour and design that flatters your figure. Always choose a dress that hides your bust. For example, Kim Kardashian does this a lot because not only does this look balanced but also beautiful.
Think of those Magda Butrym dresses paired with Amina Muaddi heels that all the influencers on Instagram are wearing because these designs are universally flattering.
V-neck wrap dress that will define your waist to give you a more hourglass figure.
Choose a vertical wrap-dress dress which follows the figure and slims you down. in point, the famous Diane Von Furstenburg's legendary timeless wrap dresses which remain to be a style staple to today.
For the best results choose a fitted, flare out A-line dress which is forgiving because it conceals curves and just fits well. An X-line dress would balance out the body by defining the best features and hiding the worst ones. A fit and flare dress will be in your wardrobe rotation all year round.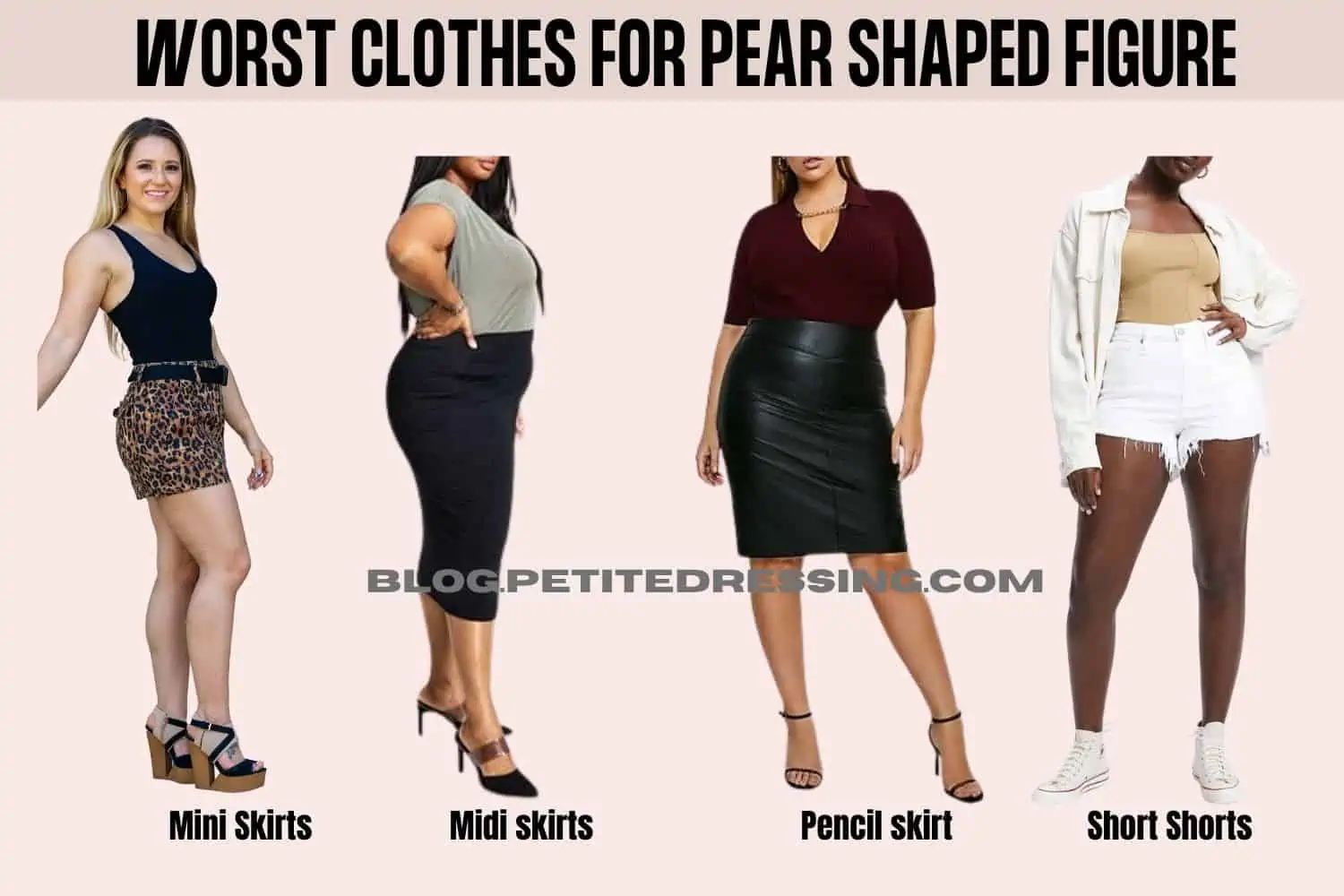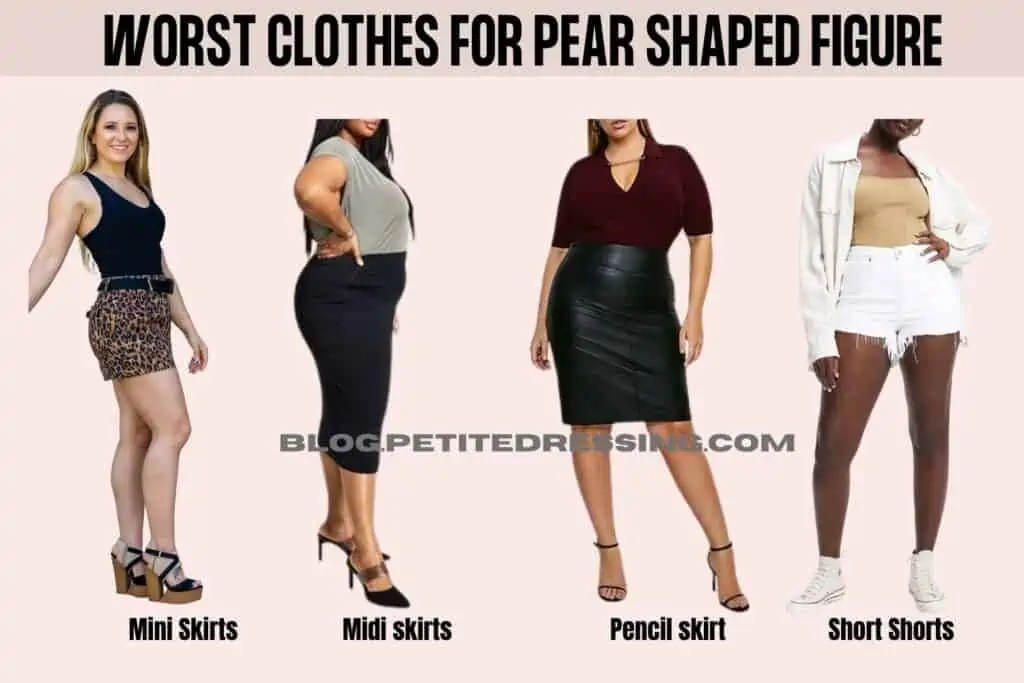 Mini Skirts
A pear-shaped figure should avoid mini skirts at all costs because it highlights the heaviest areas.
Best option for a pear-shape is to A line skirts, which are universally flattering and also they make you look more balanced. Preferably use a strategical vertical drape that starts above the hips. For example, a full length skirt that adds drama to any look. If not choose an A-line shaped, paneled skirt that flares out at the end, paired with a belt this accentuates your assets and disguises your weaknesses.
You can also pair a tulip skirt with a slim belt to define your waist with a nice top for a ladylike look.
Bias cut anything
Bias cut skirts or dresses can accentuate the wide hips and thighs of the pear shape, thus they are not the most flattering design if your goal is to de-emphasize these areas.
Midi skirts
Avoid a mid-length skirt that end at the widest part of your calves, which will make your legs look shorter than they already are. Thinking of body proportions is crucial to look your very best whether you're petite or tall.
Choose a longer-length skirt to elongate your legs which will make you look much taller and slimmer than you really are.
Pencil skirt
These can highlight the fact that you have wide hips and thick thighs, as they cling to your body curve. If you are looking to camouflage those areas, then avoid the pencil skirts that fit too tight to your body.
Short Shorts
Short that are too short and too tight will draw attention to your thighs and maximize your actual size. Do avoid light-wash denim shorts that highlight your weakest points. Stay away from any detailed designs, vivid colors, and embellishments that will make you look unbalanced. Not only will this make you look heavy but also flabby as well.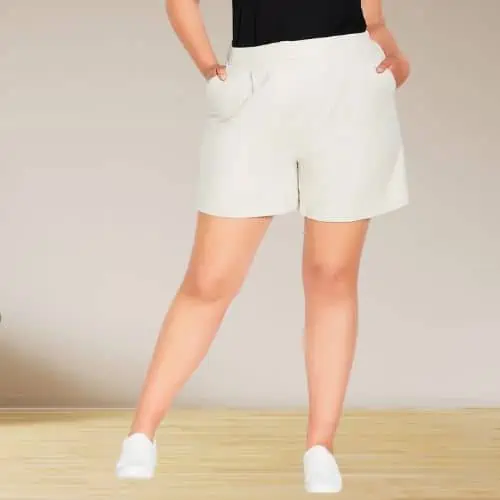 How to choose a shorts
Choose long and roomy denim, khaki or linen shorts that extend past the thickest part of your thighs and have a flare leg.
These tailored, knee-length shorts are what suit you best and make you look more proportionate.
If you have a smaller waist do accentuate your assets with high-waisted shorts with a belt. Again just like with jeans and pants, choose darker-colored shorts to look leaner.
Ankle Strap Shoes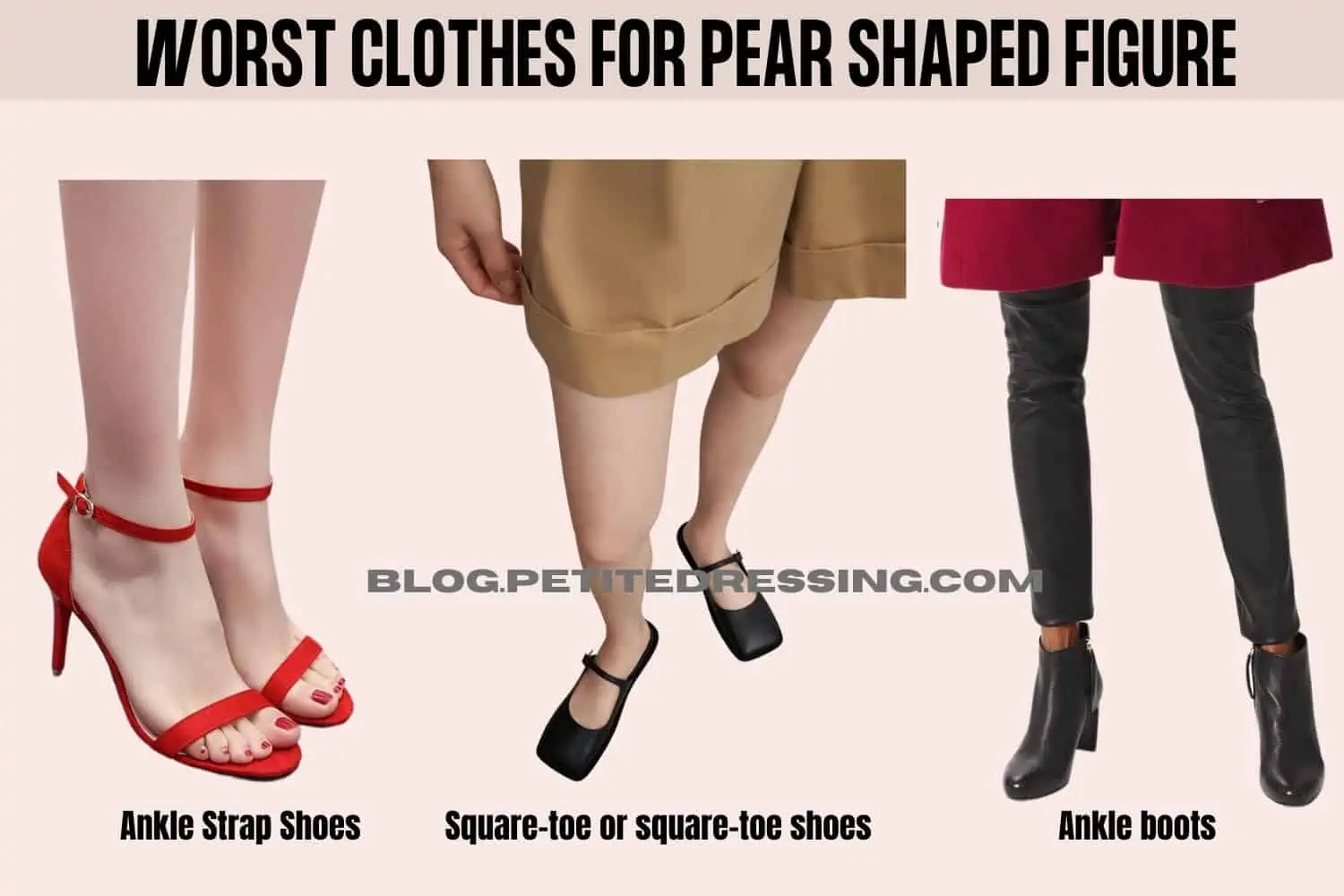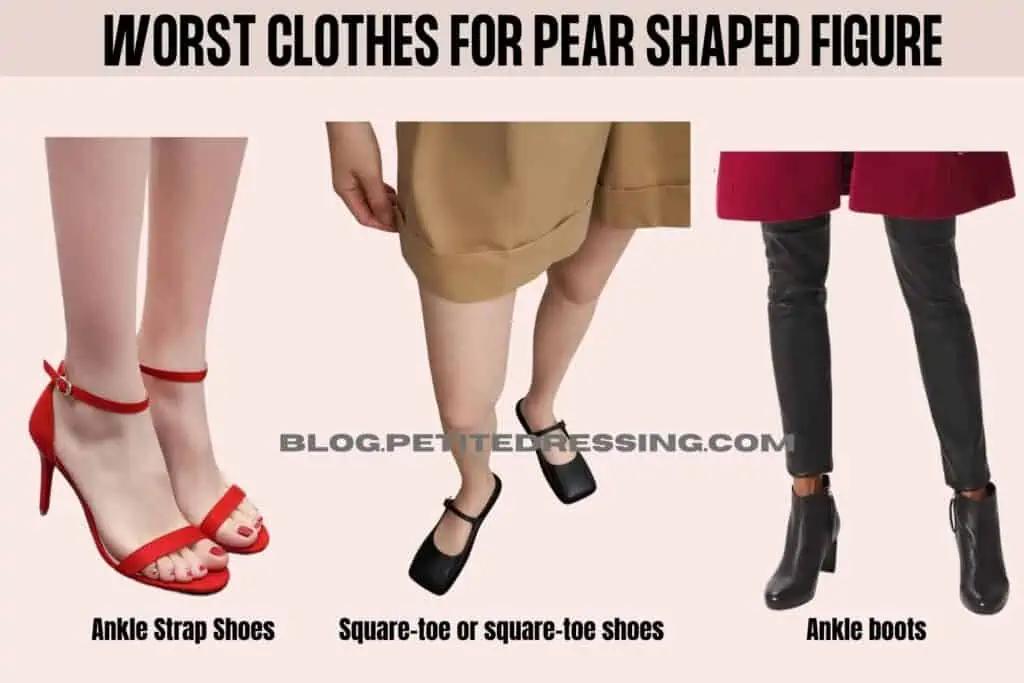 Stay away from ankle straps or any strap shoes for that matter because both of which make short legs look even shorter than they are. If you happen to have a pear-shaped body with a longer torso and shorter legs, then avoid any ankle-strapped shoe.
Square-toe or square-toe shoes
Avoid round-toed shoes or square-toe shoes which shorten feet length and therefore make you look shorter, heavier, and less proportional.
Pointy shoes such as mules make you look slender.
Ankle boots
These can be tricky as they can make your legs look more cut-off. If you are a pear shape with long torso and short legs, then these can potentially make your legs look even shorter.
However, if you do choose a long dress, you can pair it with ankle boots to extend your leg length. High heels add height where the taller you will look, the slimmer you will seem. Now, who doesn't want that?