Being petite can already be a struggle to style on its own, but it gets tougher when you're pear-shaped since you have to put extra effort into working around your body proportions.
I'm 5'2 and I own a petite clothing line that caters to all body shapes. I get feedback from thousands of my petite customers, so, believe me when I say that I precisely know the dilemma of finding the right fit. I have already taken this journey myself and I'm here to share the style mistakes I've encountered so you won't end up doing the same.
Styling Goal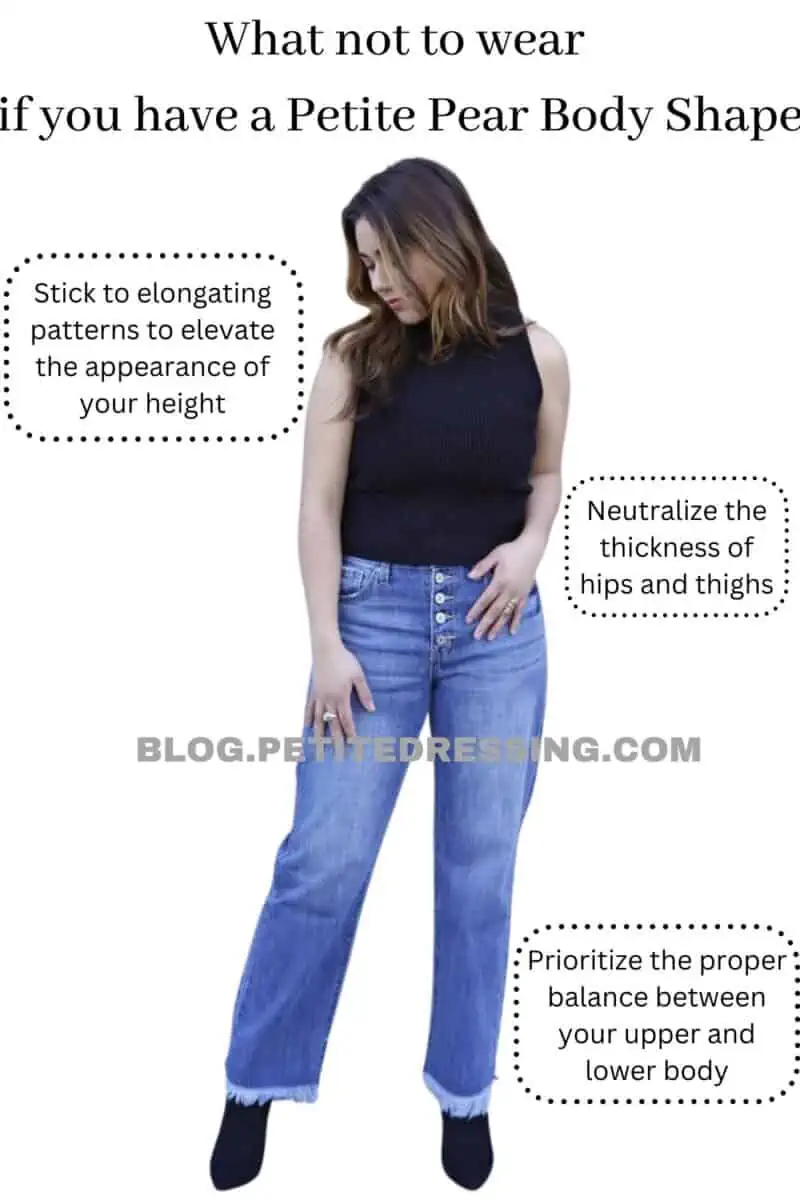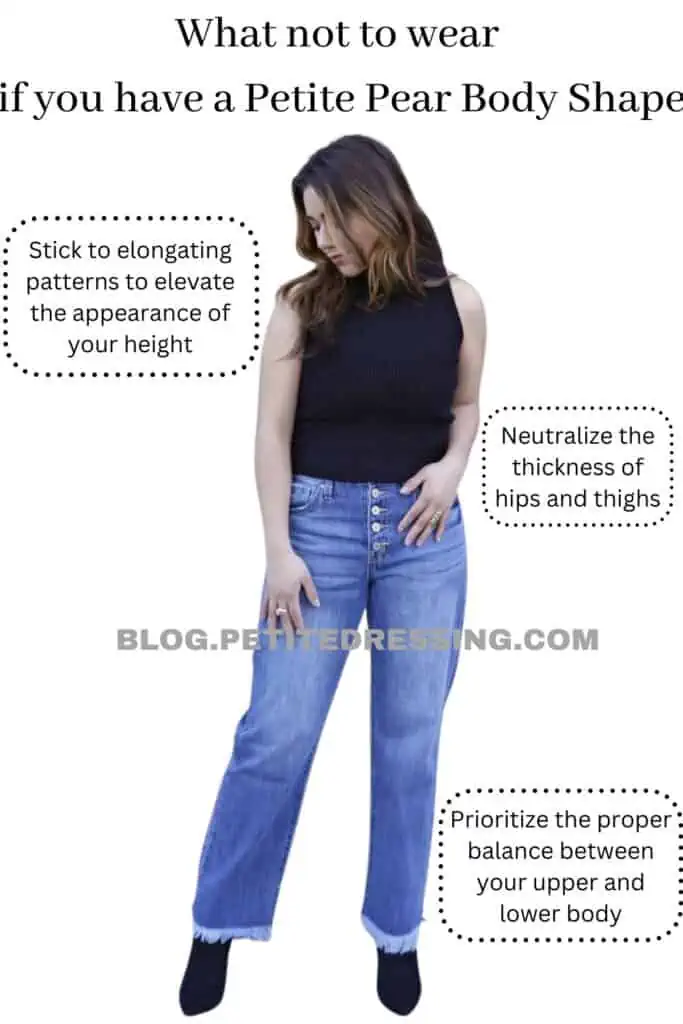 Petite pear body shape girls are 5'4 in height (or below), have a smaller upper half, and have wider hips and thighs. Below are the goals you should keep in mind.
Prioritize the proper balance between your upper and lower body. This is because your upper body (bust and shoulders) is way smaller than your lower body (hips and thighs).
Stick to elongating patterns to elevate the appearance of your height. Vertical patterns are some of the best examples of patterns that can make you appear taller.
Neutralize the thickness of hips and thighs. This can be a source of insecurity for petite pear shapes so you need to choose the right fit and pattern to tone down its size.
Cling Tops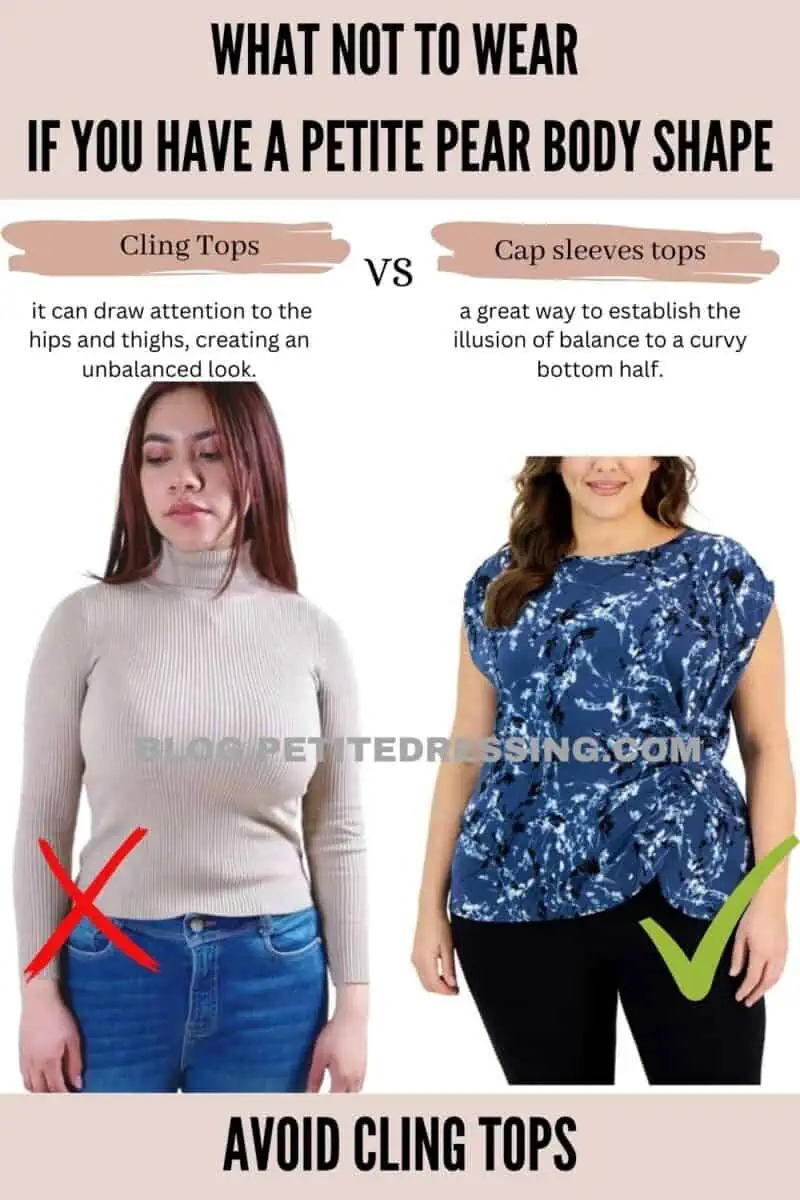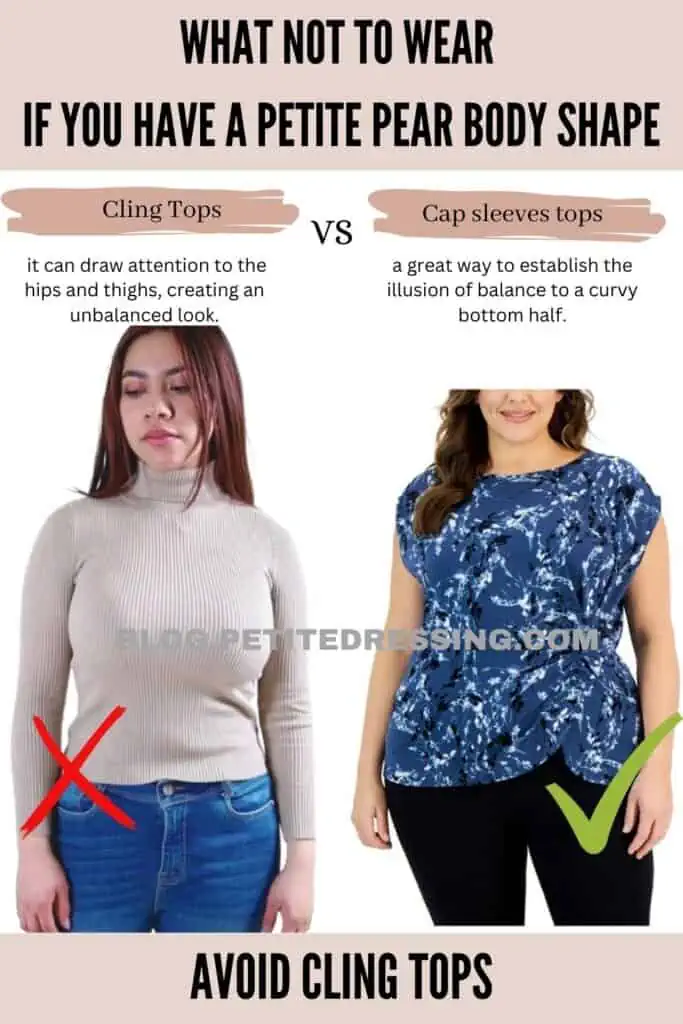 Petite pear-shaped bodies should avoid tight tops because they can emphasize the wider hips and thighs and make the body appear disproportionate. Having a pear body shape means you have a smaller upper body and a wider lower body so when a tight top is worn, it can draw attention to the hips and thighs, creating an unbalanced look.
Instead, it's way better to wear tops that emphasize the upper body by choosing open and elongating necklines such as V-necks. It's also ideal to go for tops that fit seamlessly – not too tight and not too loose.
These styles can create an illusion of broader shoulders and draw attention to the neckline, rather than the lower body.
Caution peplum tops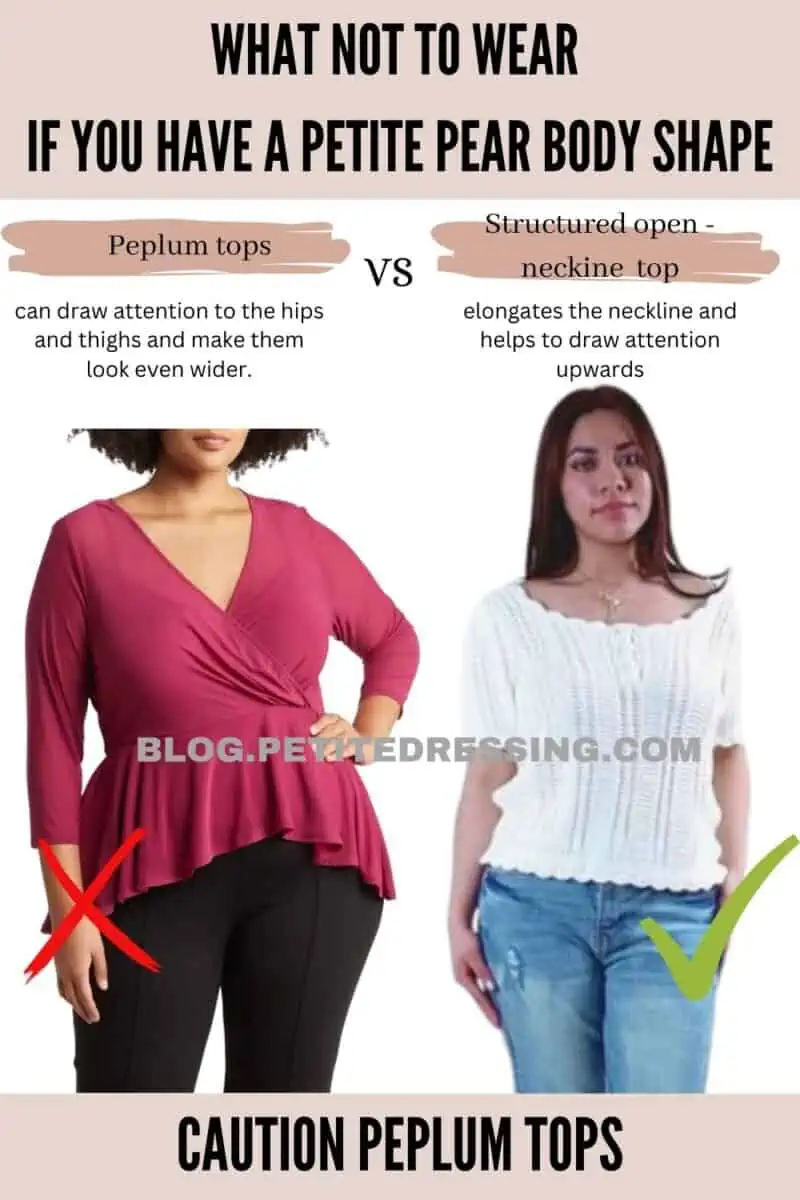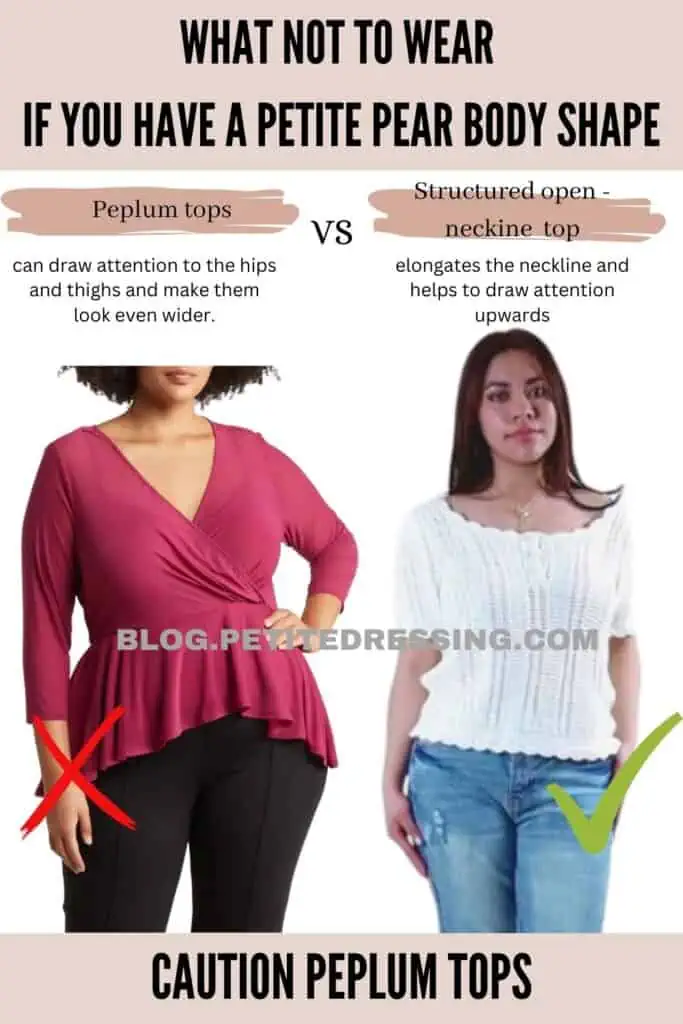 Peplum tops are all pretty and preppy but if you're a short pear-shaped girl, they can add extra volume around the hips and thighs (which are already your area of concern!). Peplum tops typically have a ruffle or flared fabric at the waistline, which can draw attention to the hips and thighs and make them look even wider.
For petite pear shapes, it is generally recommended to choose tops that draw the spotlight to the upper body to create a more balanced silhouette. These can be structured tops, blouses with open necklines, or tops that have details such as ruffles or embellishments at the neckline or shoulders to draw attention upwards.
Midriff Crop Tops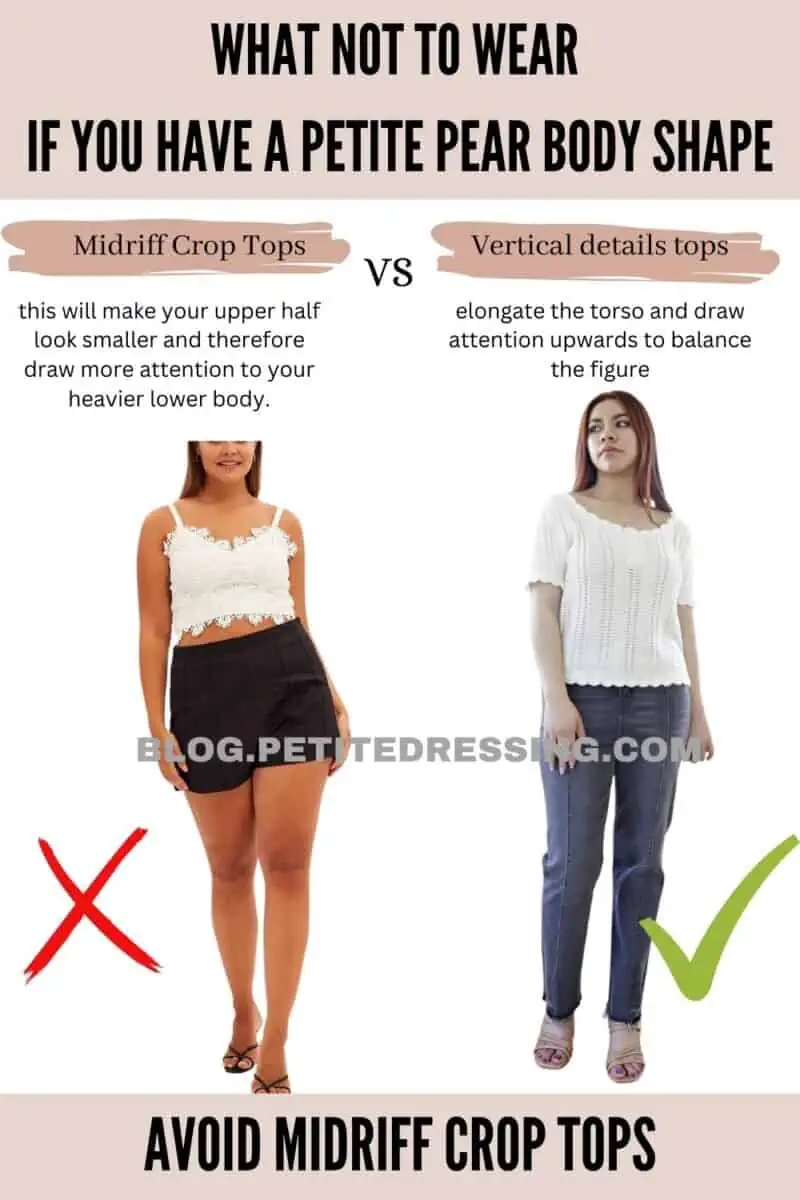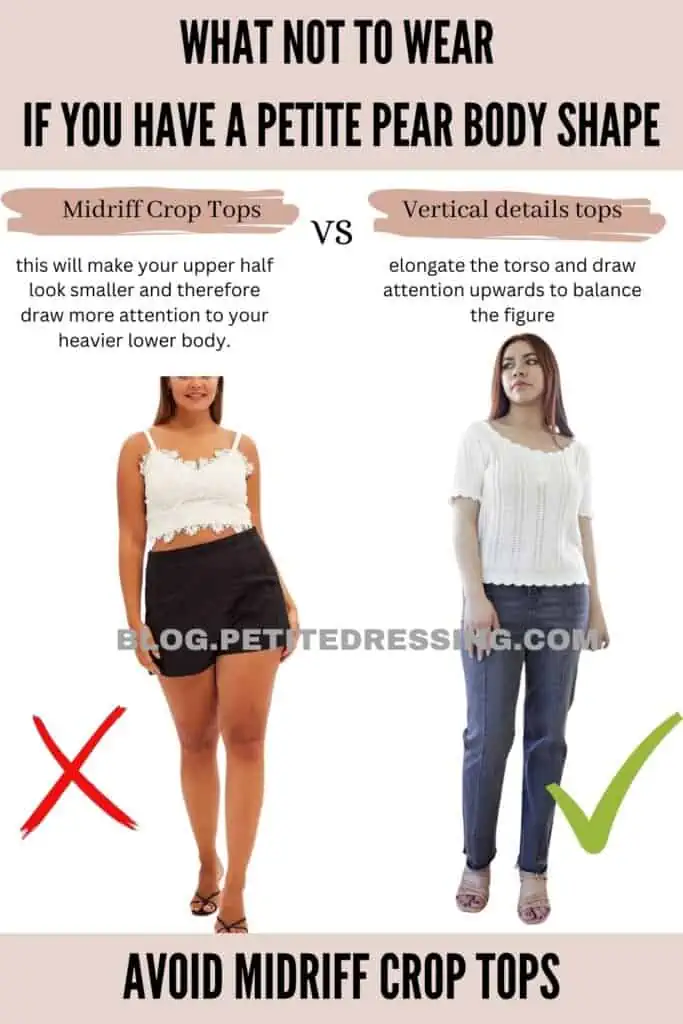 Petite girls usually go for crop tops because they can give the illusion of a taller frame. However, it can be a bit tricky when you have a pear-shaped body because of your visibly smaller bust and shoulder line.
But then this doesn't mean that you should dodge all types of crop tops! What you have to avoid are tight-fitting crop tops that end at the midriff because this will make your upper half look smaller and therefore draw more attention to your heavier lower body.
So as an alternative, you can opt for tops that elongate the torso and draw attention upwards such as tops with vertical stripes or patterns, or tops that have detailing or embellishments around the neckline or shoulders. You can also consider wearing tops that are slightly longer in length and fall just slightly above the hip, as this can help to balance out the proportions of the body.
Unstructured Jackets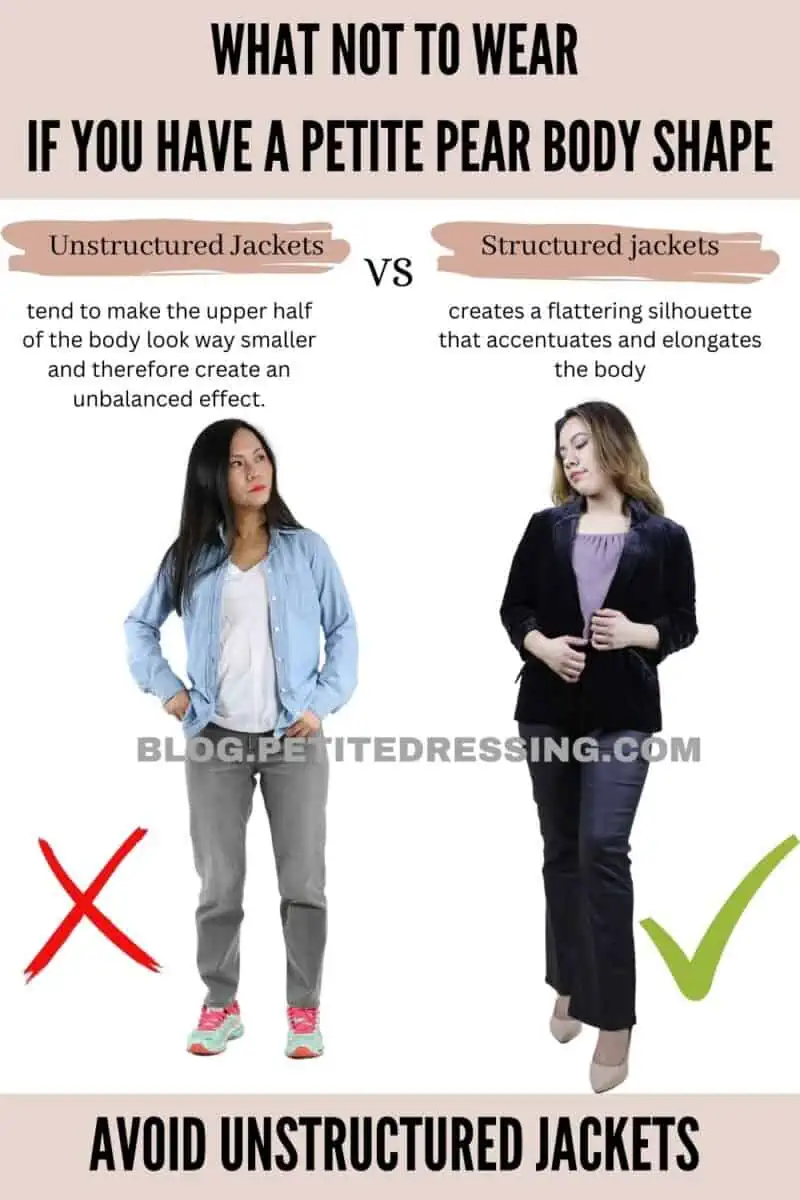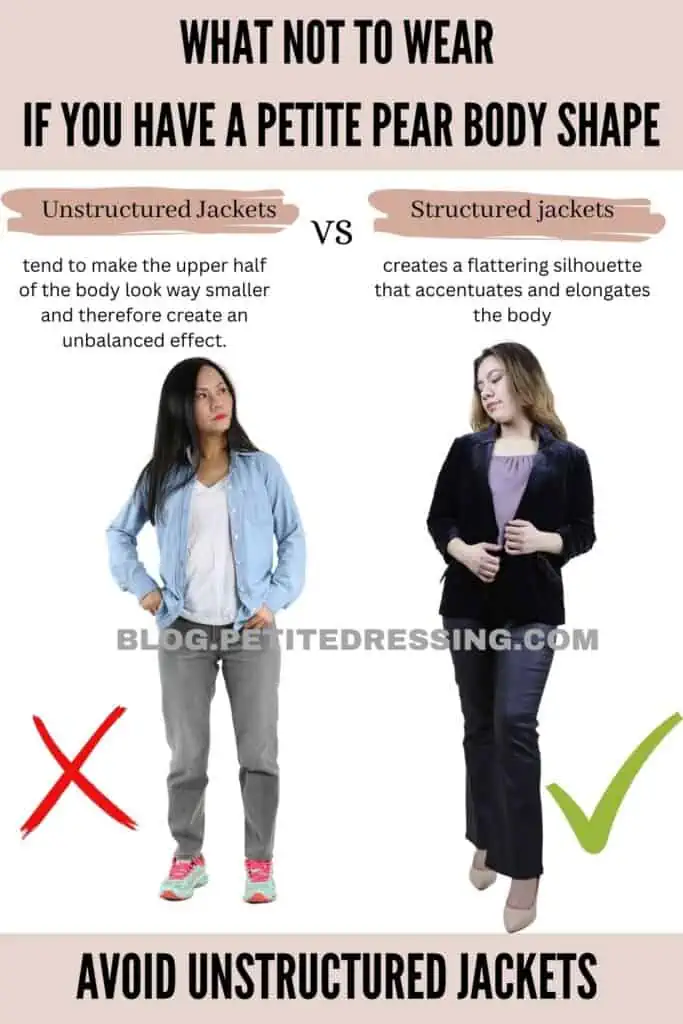 One of the usual insecurities of short pear shapes is their narrow shoulders. Since the shoulders lack definition and prominence, they tend to make the upper half of the body look way smaller and therefore create an unbalanced effect.
This is why you should avoid tops and jackets that have no structure. Unstructured pieces such as slouchy tops and jackets will just emphasize the narrowness of your shoulders and therefore draw more attention to your bigger hips and thighs.
Your shoulders could use a bit of help by going for clothing pieces with shoulder embellishments or enhancers like shoulder pads or epaulets.
Hip-Length Blazers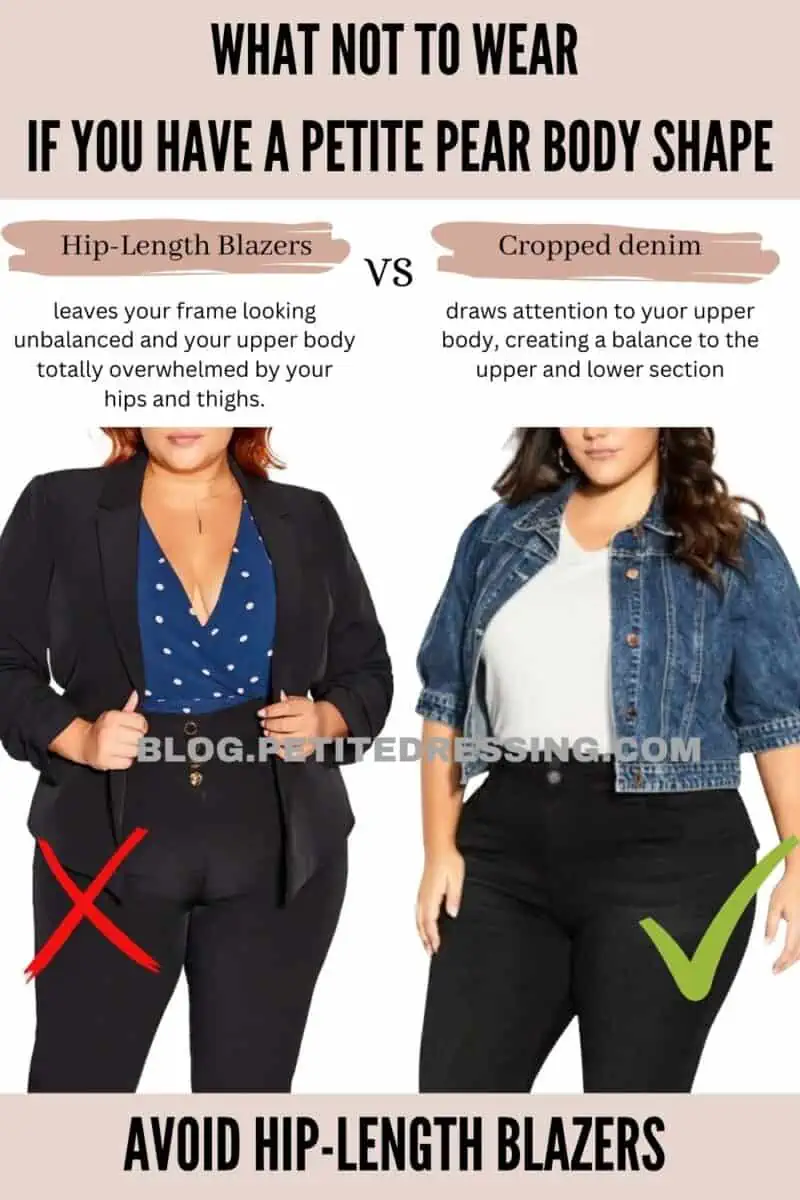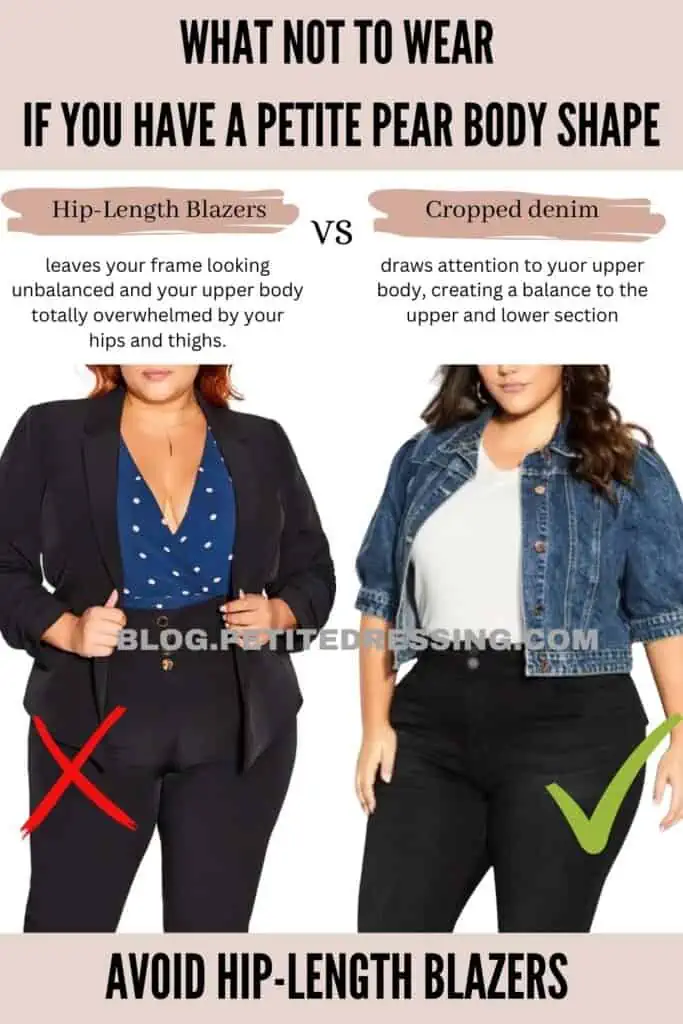 Hip-length blazers and jackets aren't the most flattering type of wardrobe pieces for short pear-shaped ladies because they end at the widest part of your body, which is your hips. This leaves your frame looking unbalanced and your upper body totally overwhelmed by your hips and thighs.
What you need to check are jackets and blazers that are slightly shorter in length, such as cropped jackets or blazers that hit at the waist because this will help give the illusion of longer legs and a more balanced silhouette. Additionally, choosing jackets and blazers with a more tailored fit can help to accentuate the waist and create a more flattering look overall.
Skinny jeans and leggings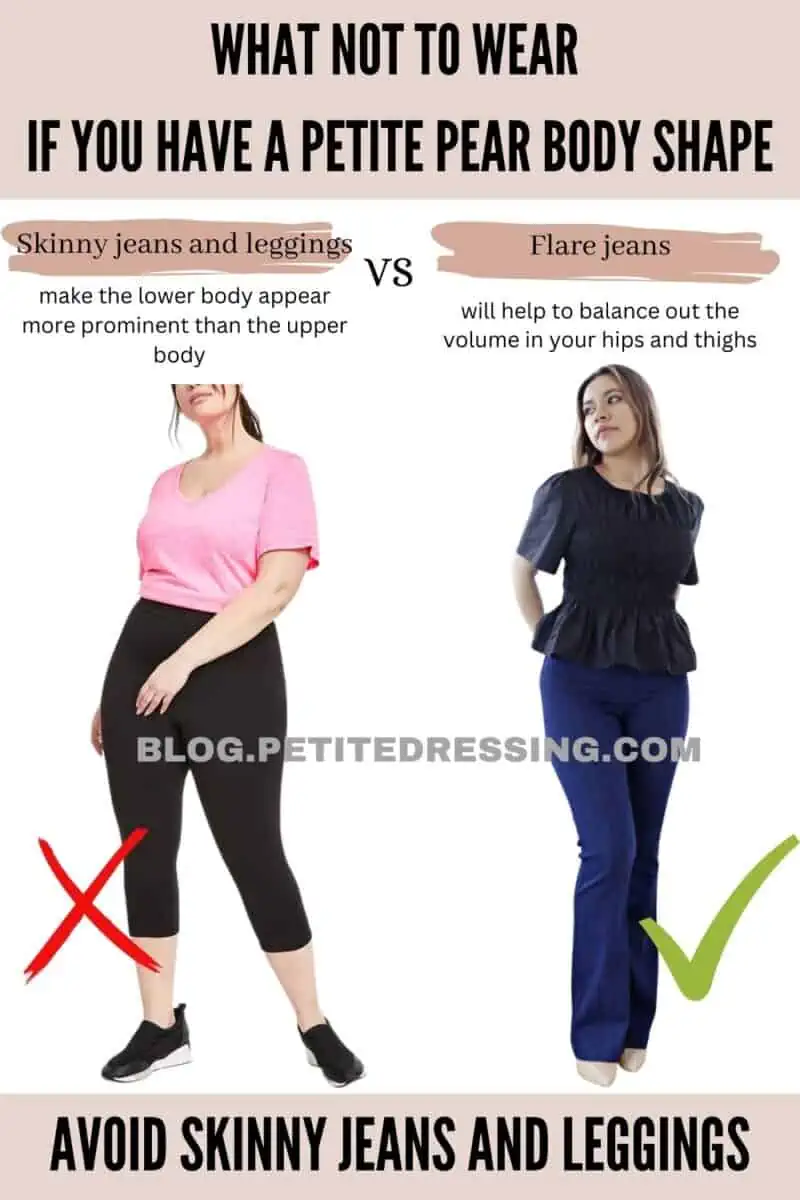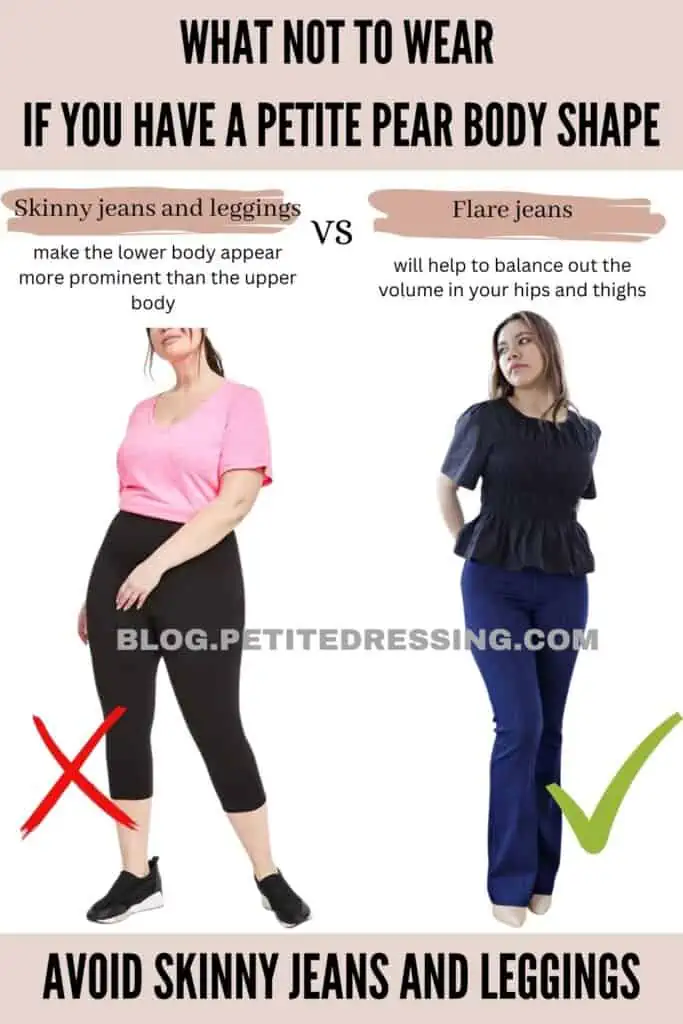 Skinny jeans are totally trendy and leggings can be the most comfortable thing in the world! But, as a petite pear-shaped lady, wearing these types of bottoms can be one of your major fashion faux pas.
The last thing you'd want would be to accentuate your wide hips and thick thighs. This is what skinny jeans and leggings do so that's one of the reasons why you should avoid wearing them.
Skinny jeans and leggings make the lower body appear more prominent than the upper body so it may give an awkward unproportionate look.
Bulky pockets and details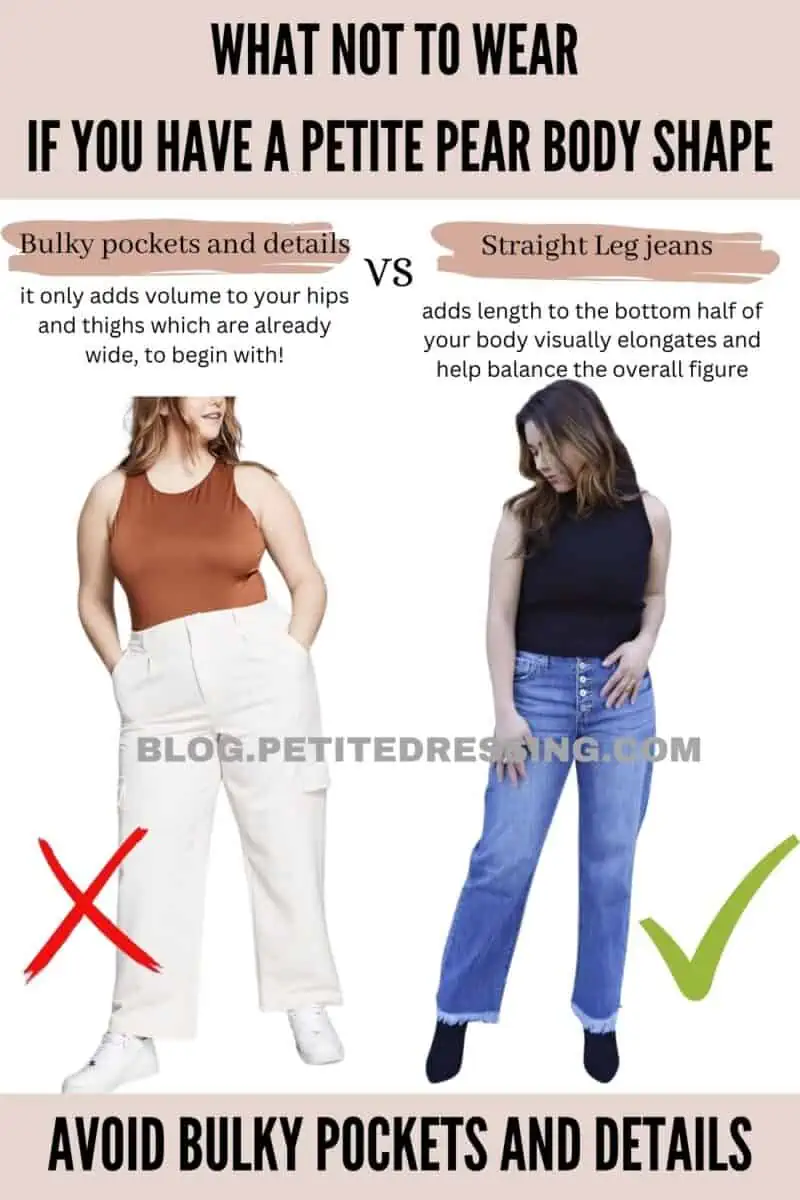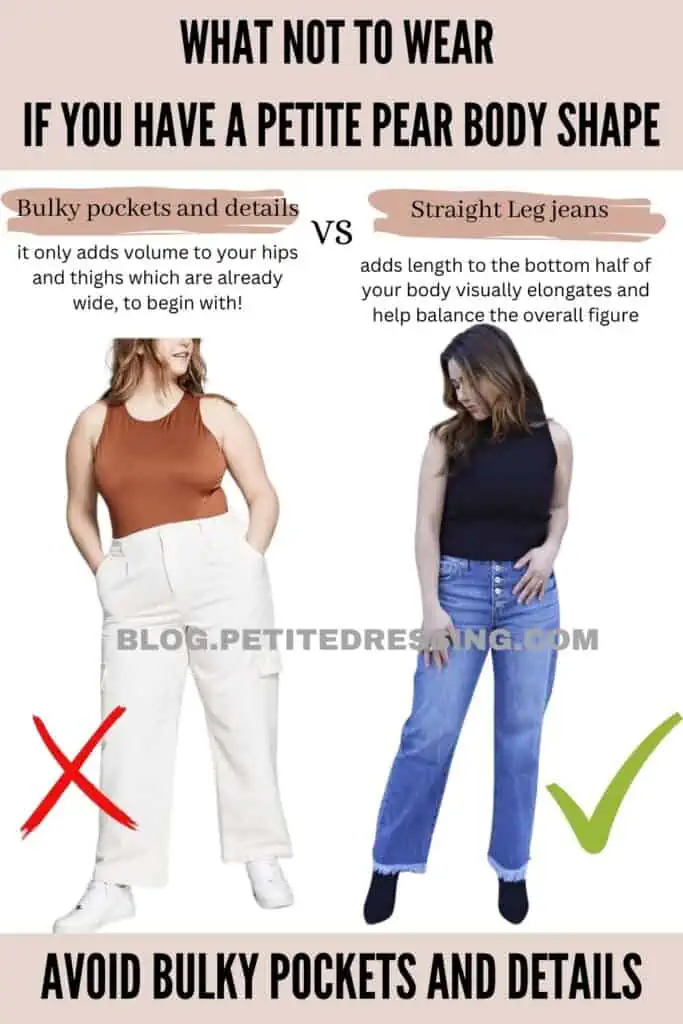 One example of this would be cargo pants, which feature oversized pockets on the sides of both pants. Your pear-shaped body won't really find this flattering because it only adds volume to your hips and thighs which are already wide, to begin with!
Such an effect can make the lower body look larger and out of proportion with the upper body. Bulky pockets and details on the lower half of the body will definitely draw attention to the widest part of the body and therefore overwhelm your upper half.
Instead, opt for structured pants that feature neat seams. This will help elongate the legs and slim your hips and thighs down visually.
Voluminous Skirts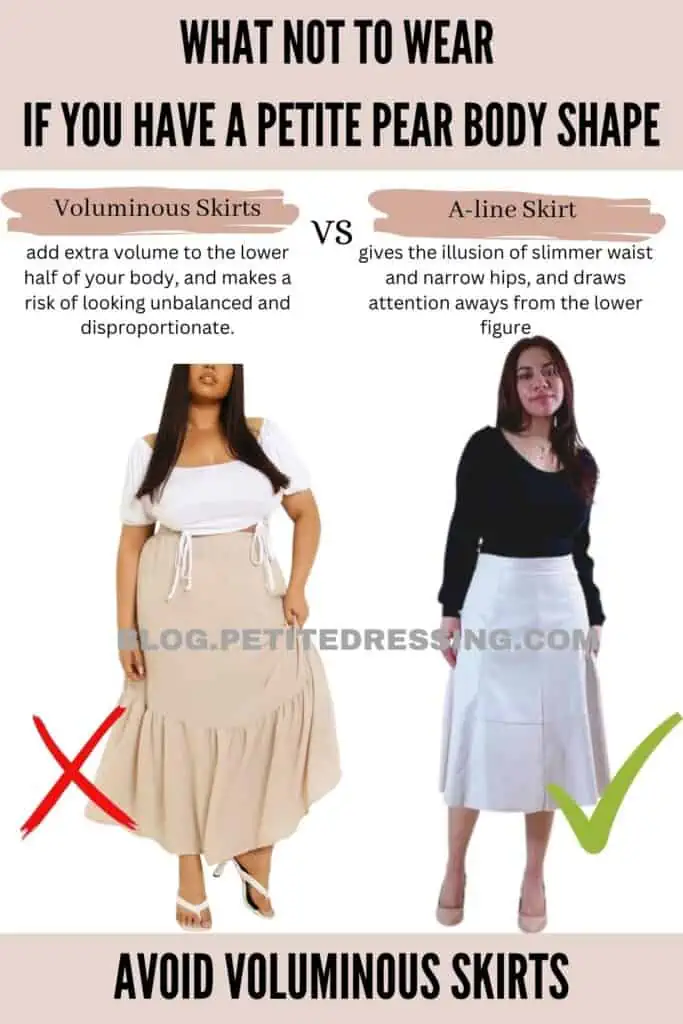 Picture this: You're a petite pear-shaped woman with a gorgeous figure, but when you try on that beautiful voluminous skirt, you're left feeling like a big, billowy mess! Well, while voluminous skirts may look amazing on the runway, they can be a tricky style to pull off for women with a pear-shaped figure, especially if they're on the shorter side.
Since your hips and thighs are naturally wider than your shoulders and bust, they can be easily overwhelmed by a voluminous skirt by making the lower portion of your body way bigger than it already is. When you add extra volume to the lower half of your body, you risk looking unbalanced and disproportionate.
Instead of a voluminous skirt, opt for a skirt with a more streamlined silhouette, like a pencil skirt or an A-line skirt. These styles will hug your curves in all the right places, without overwhelming your frame.
Big Statement Belts
Big statement belts straight-up cut the vertical visual line of your frame, making you look shorter and wider. But apart from its visual effect on a petite girl's height, it gets more problematic for petite pear shapes.
It's because big statement belts are placed on the waist, just right before the hips. This attracts more attention to the lower body by drawing the eyes from the big statement belt downwards.
Bodycon (Skin-tight) Dresses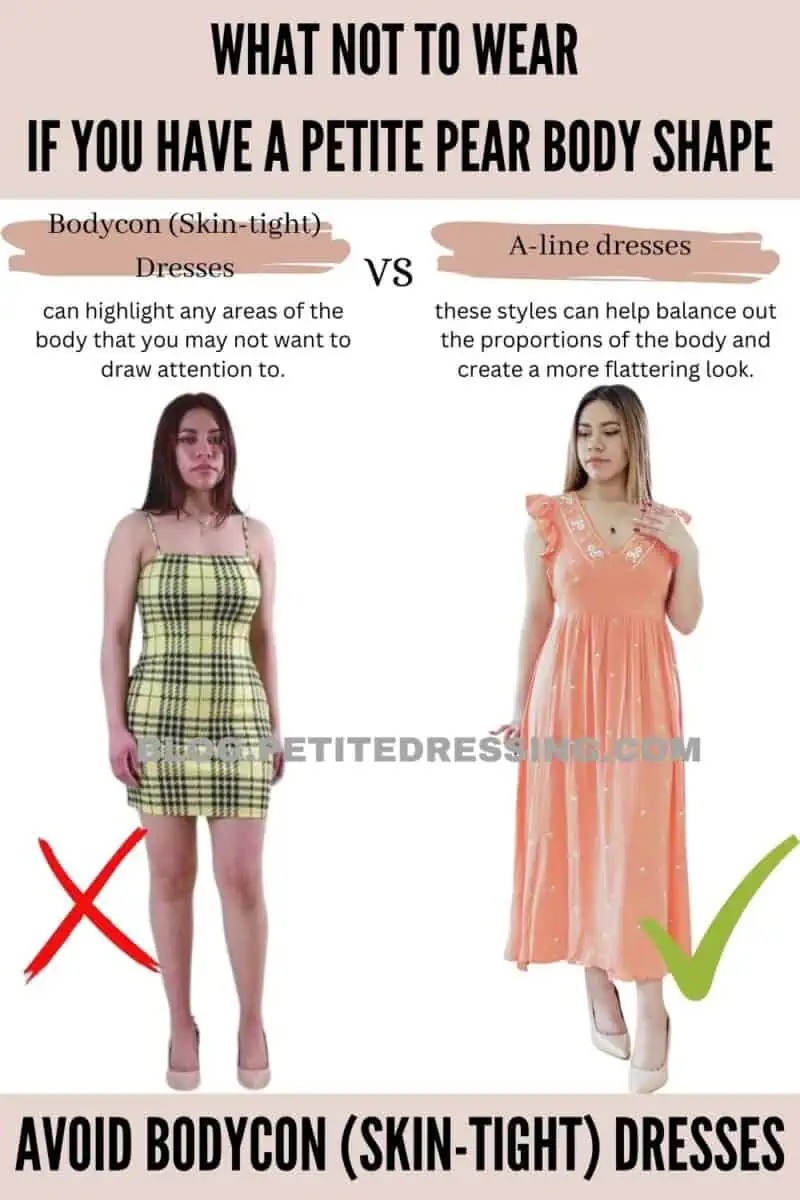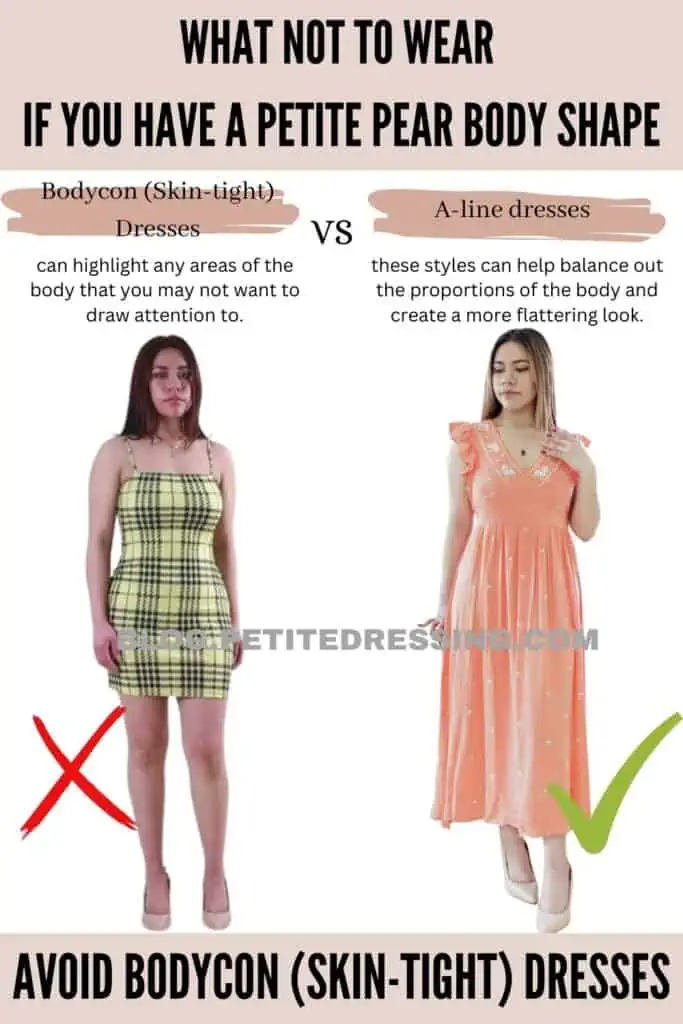 Bodycon dresses can accentuate the hips and thighs, which are already more prominent in pear-shaped body types. They are designed to fit snugly to the body so this can highlight any areas of the body that you may not want to draw attention to.
Similar to the effect of tight-fitting tops, it will only highlight the size difference between your upper body and lower body. Alternatively, you may want to consider dresses that have a more A-line or flowy silhouette, as these styles can help balance out the proportions of the body and create a more flattering look.
Tight Bermuda Shorts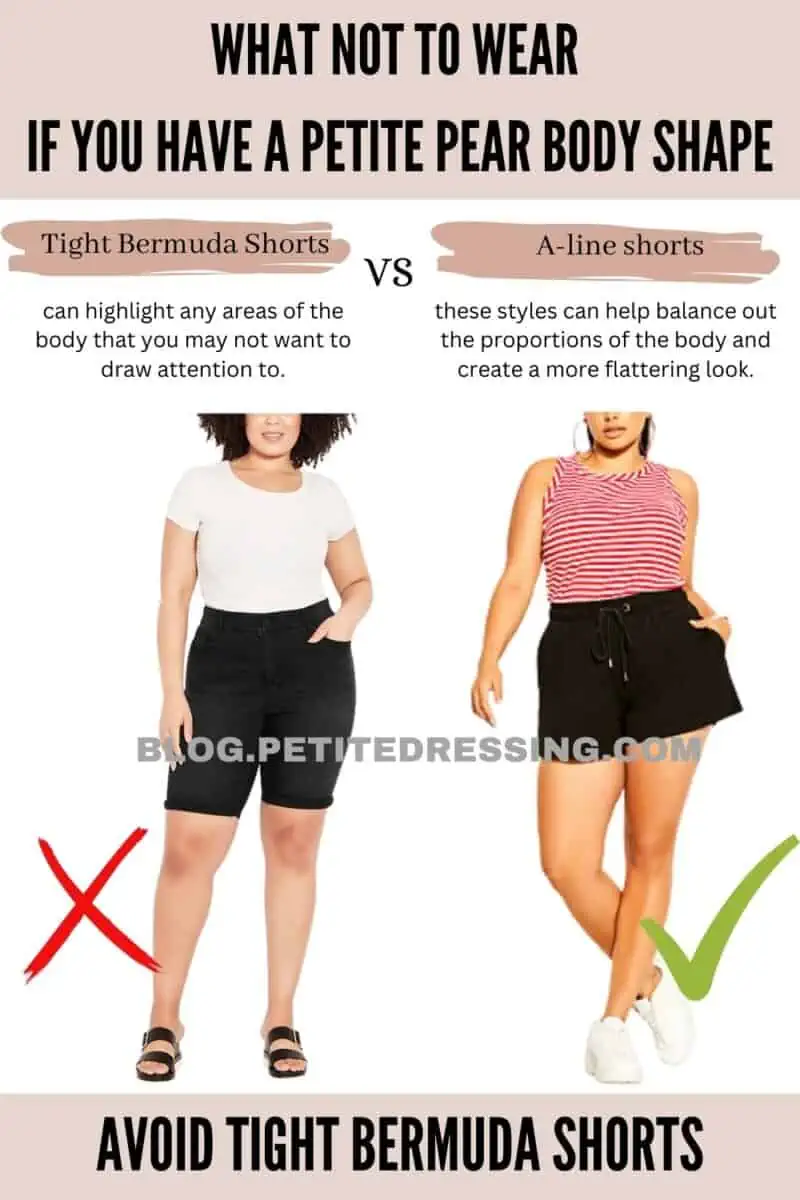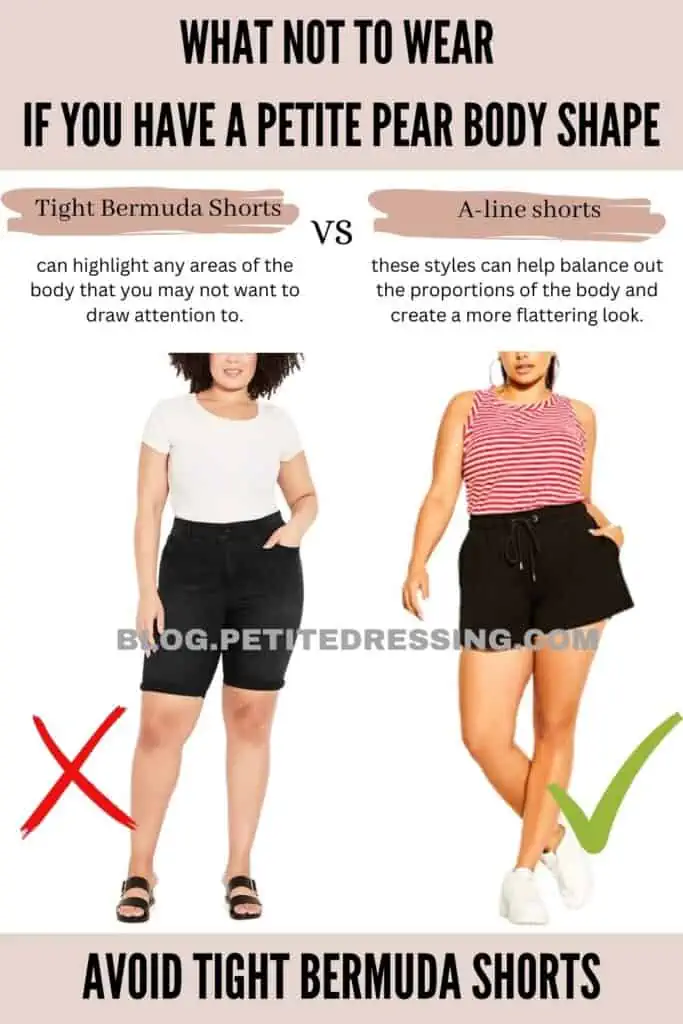 There are two main reasons why tight bermuda shorts aren't for you: it's Length and Fit. Bermuda shorts typically end at or just above the knee, which can cut your visual silhouette and make you look shorter.
In addition, its tight fit will just accentuate your heavier bottom and totally overwhelm your upper body. Bermuda shorts also have a wide opening which significantly adds volume to your thighs and legs.
This can create an unbalanced look, especially for pear-shaped women who may already have wider hips and thighs.
The Key Takeaway
Understanding your body type is absolutely necessary for you to come up with the right set of ensembles. Now it's time to check your wardrobe once again to see if there are clothing pieces there that you have to let go of!