When the beach season comes around, one of the most common questions is how can I look thinner in a bathing suit? Since swimsuits do not cover much of your body, finding the right style is critical in order to make you look more slimmer. The best bathing suits to make you look thin, without having to lose weight, should direct attention away from your concerned area where you carry weight such as bigger tummy, wider hips, or thick thighs. Below are the tried-and-true bathing suits that can make you appear more slender recommended by our readers:
Plunging neckline one piece
One of my favorite tricks to look thinner in a one piece bathing suit is opting a plunging neckline. Believe it or not, it's a major style hack. A plunging neckline is slimming because it draws the eye, and attention, towards the center of your body which creates the illusion of a slimmer figure. It's also a way to show a bit of skin, in a figure flattery manner, in a one piece suit.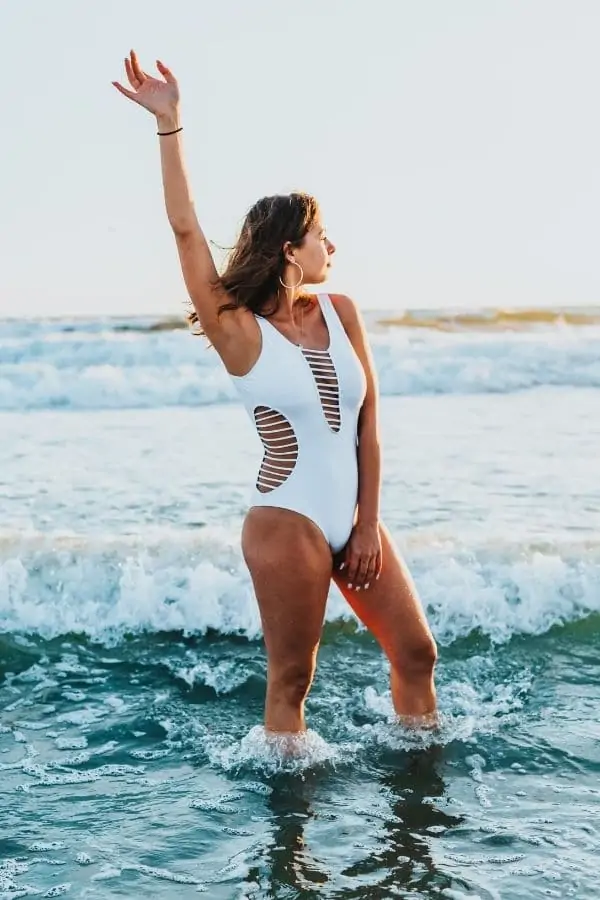 Bathing suits with ruching
If you're looking for a way to camouflage your midsection, bathing suits with ruching around that area should be your new best friend. If you are not familiar with ruching, it is a gathered overlay of fabric strips that are pleated, fluted, or gathered together to create a ripple-like effect.
Below are our picks of ruched bathing suits from Calvin Klein and Anne Cole for the new season. This type of detail provides a slimming effect to the area it rests around your body, masking any lumps and bumps thanks to the added texture.

Draped swimsuits
Similar to ruching, draped swimsuits is another design that can disguise a bulging belly and make you appear thinner. The drapery on the swimsuit top can distract the eye from the focusing on the heavy midsection, thus making you appear more slender. Below are our picks from Macy's for draped swimsuits for the new season.

Busy prints
While solid black and dark colors are known for their slimming effect, it's not the only option in swimwear. In fact, bright bold prints are a great choice when you want to look thinner in a swimsuit. Why? Busy prints deflect attention away from any area you don't want to be the focal point. This tip can be applied to one piece or two piece bathing suits, too!
Swim dress
If you carry weight in your buttocks and thighs (typical feature of the pear shape), then a swim dress is one of the most slimming options for you. The reason is the dress flares out under your waist, completely camouflaging any concern you may have about the hip area. If you are self conscious about thicker thighs, then go with a longer swim dress so that it can cover the widest part of your thighs.

Solid black swimsuits
This is one of the most slimming swimsuits that we all are familiar with. We are know that black shrinks, so when you wear black bathing suits, whether it's one piece, bikini or tankini, they are going to make you look more slender, compared with similar style swimsuits of lighter colors.
Even though black is traditionally considered the most slimming color, this applies to not just black swimsuits. You can also wear other dark solid colors including navy, dark brown, you name it.
Swimsuits with vertical stripes
Say yes to vertical lines! They're a great way to elongate and slim your body shape in swimwear. It doesn't have to be traditional, bold vertical lines if that's not really your style. Any swimsuit that has vertical lines added into the print/color will add this effect subtly.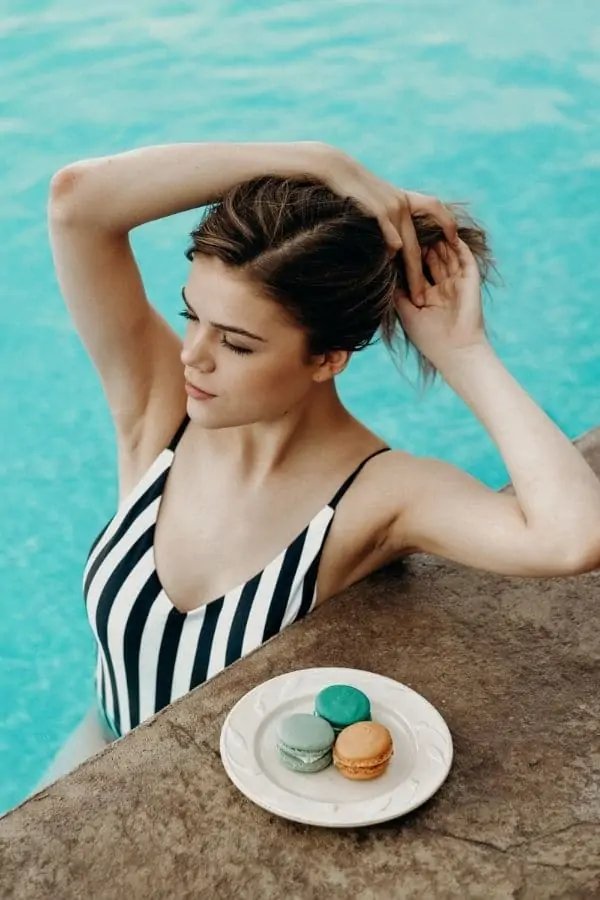 Skirted bikini bottom
Similar to the swim dress, a skirted bikini bottom can hide a heavier bottom half and thus make you appear slender. It will be able to make your buttocks and the upper thighs appear thinner, since those areas will not be directly "exposed" like the traditional swimsuit styles.
You can choose the right length according to your own body shape. Blow are our picks from Nordstrom for the new season.

High waisted bikini or tankini
Bikinis or tankinis can be intimidating, especially when you want to look thinner in a bathing suit. However, they can be just as slimming as one pieces.
The key here is to opt for bikinis that offer a little more coverage than the traditional string bikinis. Swimsuit styles like high waisted bottoms, tankinis, etc. are all options that give you the ease and style of a bikini while having a bit more coverage that flatters your shape.
Bathing suits with built-in shapewear
This is a major win in the bathing suit realm – built in shapewear! Who knew? Shapewear, as you know, is an easy way to smooth your shape and achieve a subtle slimming effect. That's why it can be a characteristic to look for when shopping for bathing suits. There are more and more options available with this factored in, so you can still have fun with your swimwear.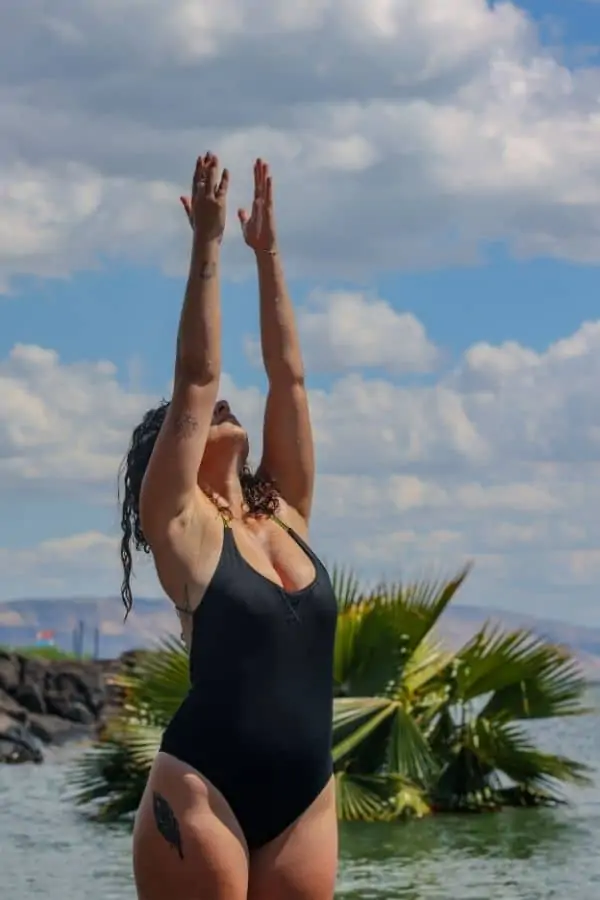 Color blocking swimsuits
Color blocking is another one of my favorite ways to subtly flatter your shape, particularly with swimwear. Look for bathing suits that have color placement that plays up your shape. For example, if you want to make your midsection appear a bit slimmer try a bathing suit that has a darker color on the bottom half and something a little brighter or fun on the top. Visually what this does is slims the area you want, while drawing attention away from it towards another area.
That's not the only way to utilize color blocking, though. Swimwear that offers color blocking on the sides can give this elongated, slimming effect as well. If you want to try this option, look for a one piece that has a 'stripe' like block down the sides in a contrasting color to the rest of the suit.
Below are our top pics of color blocked swimsuits from Macy's, a great way to look more slender.

Belted swimsuits
I often talk about the benefits of defining your waistline with special occasion and everyday clothes, the fact is this is something that can help you in swimwear too. Anytime you wear something that creates a very defined waistline it gives the illusion of a slimmer shape and waist. Whether you have a naturally defined waist or not, this is a trick to try out. Look for one piece bathing suits that have a defined waistline built into the suit, you will often see a band-like detail here. But it's not exclusive to one pieces, high waisted bikinis also create a defined waistline.
Corset one piece swimsuit
The reason this type of swimsuits is so slimming is because it has a structure to hold everything in. The corset is traditionally worn to train the torso into a desired body shape, typically a smaller waist and a larger bottom (i.e. the hourglass). When the swimsuit has the corset structure, it's going to create the illusion of a slimmer waist and rounded bottom, leading the eye to believe you are thinner than you are.
Unlike some of the shapewear, the corset one piece swimsuit typically is quite comfortable as long as it has enough stretch.
Bra sized swimwear
Most women who would like to look more slender tend to have a fleshy body with full bust. When the bust is well lifted by the swimsuit, you posture will improve, and you will naturally look more slender.
That is why you need to go with swimwear sized like a bra with cups from A to ZZ, instead of the traditional swimsuits sized from S to L. Bra sized swimwear provide more accurate sizing, a great benefit for women who need bigger cups and more lift.
Below are some of the brands that make bra-sized swimwear, Ann Nicole and Coco Reef, and these are our picks from Macy's for the new season:

Well-fitted swimsuits
Fit in swimwear is just like any other type of clothing, it's one of the most important factors to figure flattery. It also tends to be something that's overlooked in bathing suits. When you want to look thinner in your bathing suit, make sure you're paying close attention to the way they fit your body.
Stay away from anything that's too loose and too snug – it should be right in the middle for the perfect fit. If anything is too snug it will likely pinch and push your body in a not-so-flattering manner that will do the opposite of slim. It's not uncommon to have to go up a size or two in swimwear, keep that in mind when trying on options. Ignore the size on the tags and instead focus on how it lays on your body and flatters your shape.