If you have the pear shaped body, you have feminine curves, because of your wide hips and thighs. The key to dress your body shape is find the right style pants that flatter your curvy bottom and create an overall balanced silouette.
This is a comprehensive guide with 5 best pants styles for women with the pear shaped body, and 6 pants styles you should be cautious to wear or perhaps stay away from.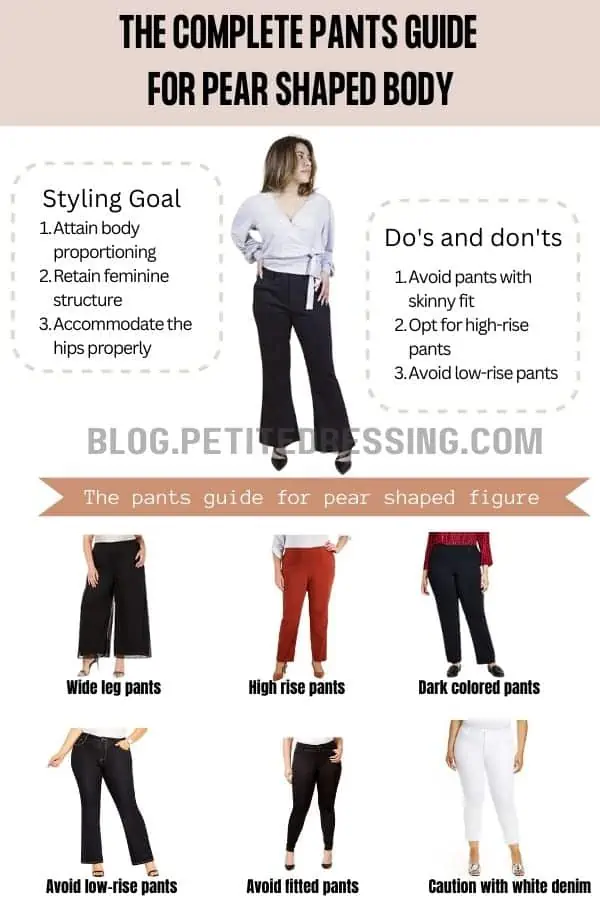 Wide leg pants
These types of pants are a great investment for the pear shape figure as they are loose-fitting styles that do not cling tightly to the wide hips. Wide-leg pants are flattering pant styles that you should appreciate on your shape.
They are best in concealing the actual width of the hips without adding unnecessary volume to your lower half. You would appear extremely beautiful in these pants and it would help you attain better proportioning in your overall figure.
Focus is drawn from the hips to the upper part of the body when you wear the wide-leg pant in the pear shape. Also, it is important that the wide-leg pants that you have chosen have a full length so it could offer a figure-lengthening effect to your feminine figure.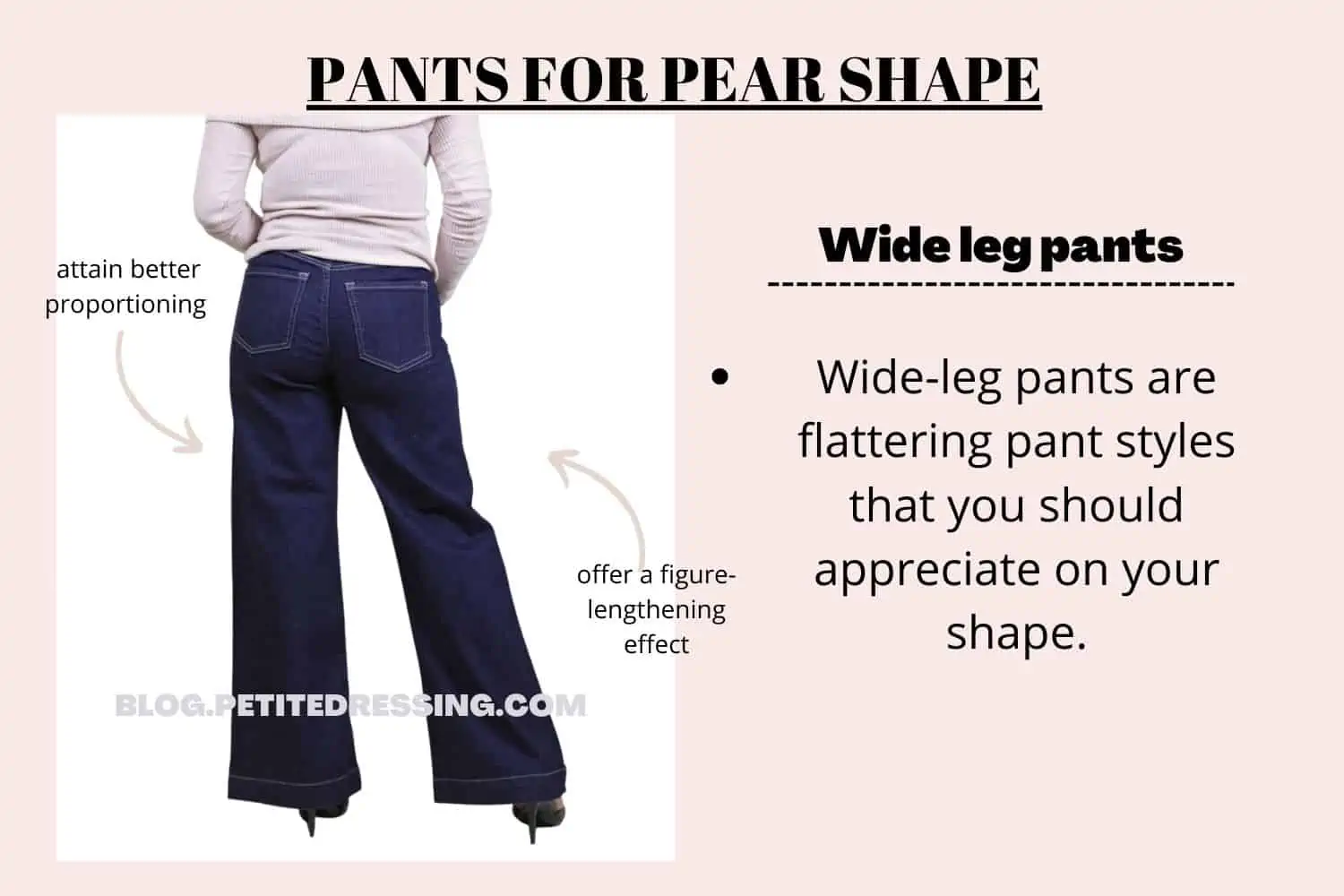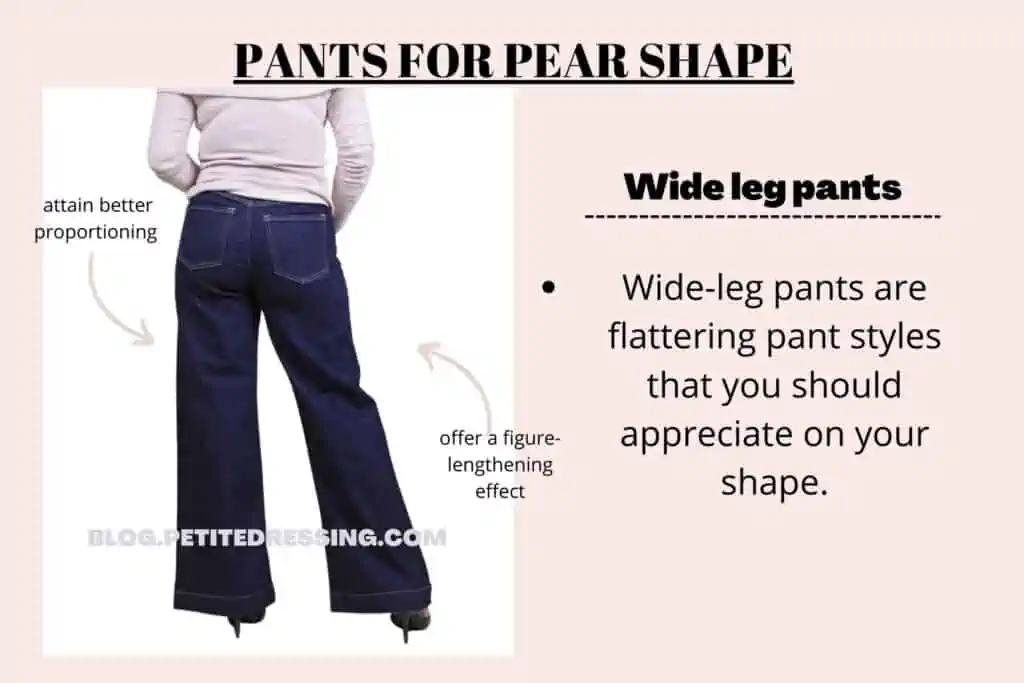 High rise pants
When your pant has a high rise then you are good to go because that is just a simple way to elevate your pear shape figure. The rise of your pants is basic tip that should be focused on whenever you intend to style your overall body frame.
High-rise pants are flattering pant rise that you are advised to own because they work perfectly with the pear shape. With high-rise pants, the eyes are given the illusion of a slender hip and an elongated body frame which is why they are not styles to be kicked against.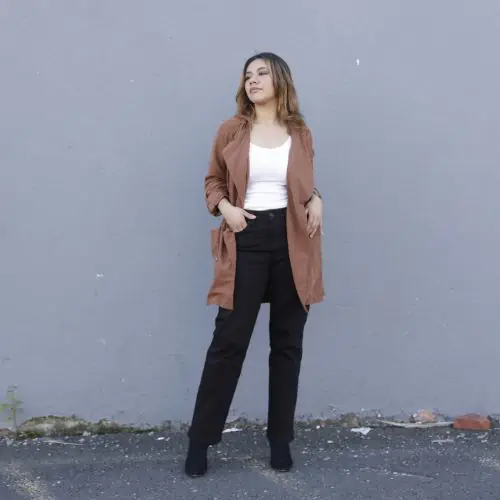 Expectations with high-rise pants
The pant also offers complete coverage to the lower half and are positioned above the natural waistline of the woman.
You should always feel confident whenever you have the high-rise pant style on your pear shape because with them less emphasis is laid on the lower half.
Flare pants
For a cool and less complicated pant style for the pear shape, a flare pant would be recommended. It is an ideal pant choice because the flare below the knee works well in creating a balance between the legs and the wide hips.
They would offer you a classic look that would not make you appear too weighty in your lower half because they add no volume to the hips and thighs. You would never go wrong with flare pants because they would help to further retain your feminine structure.
For whatever occasion you intend to attend the flare pant would make you outstanding and beautiful. Just make sure the style you have chosen has a relaxed fit on you.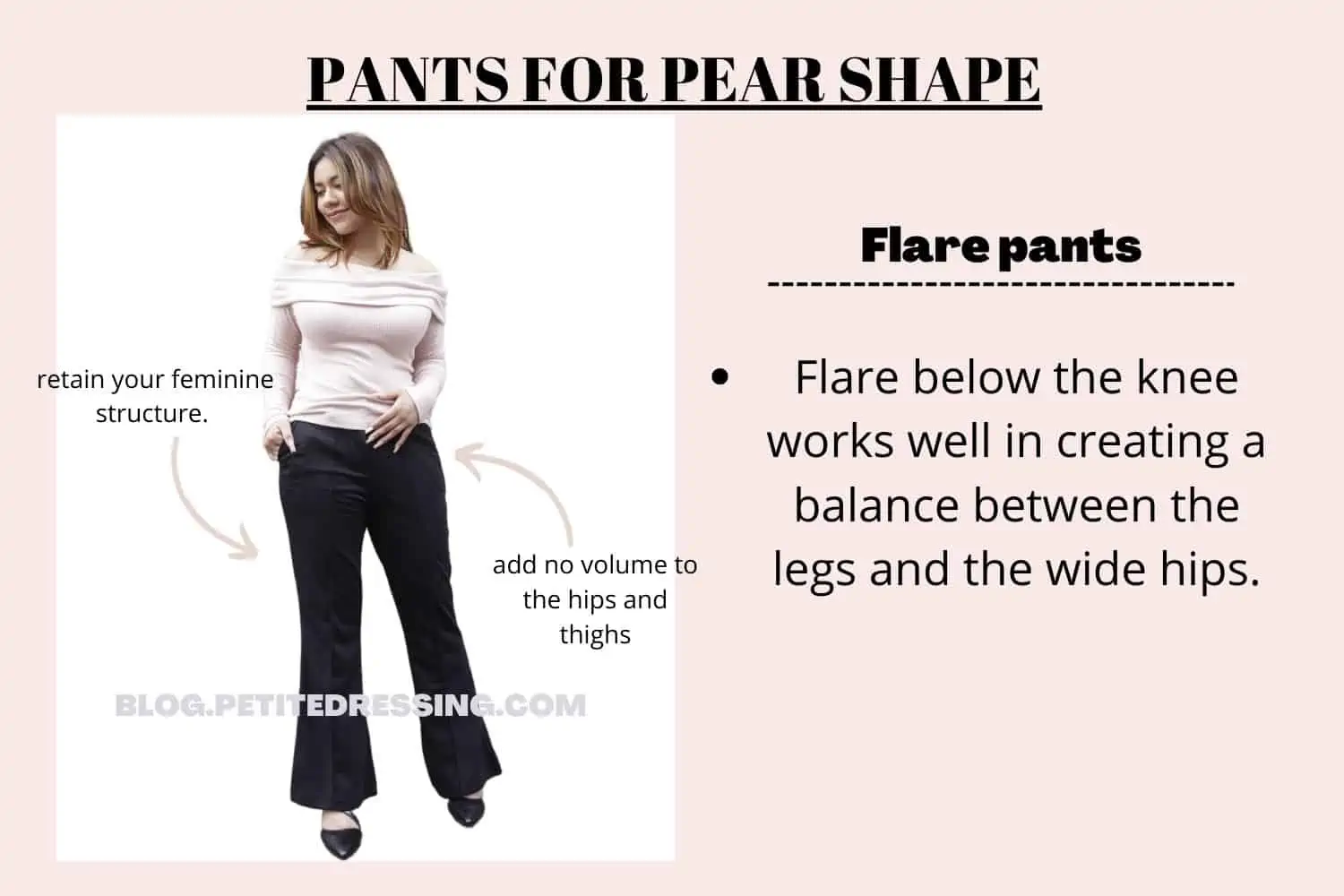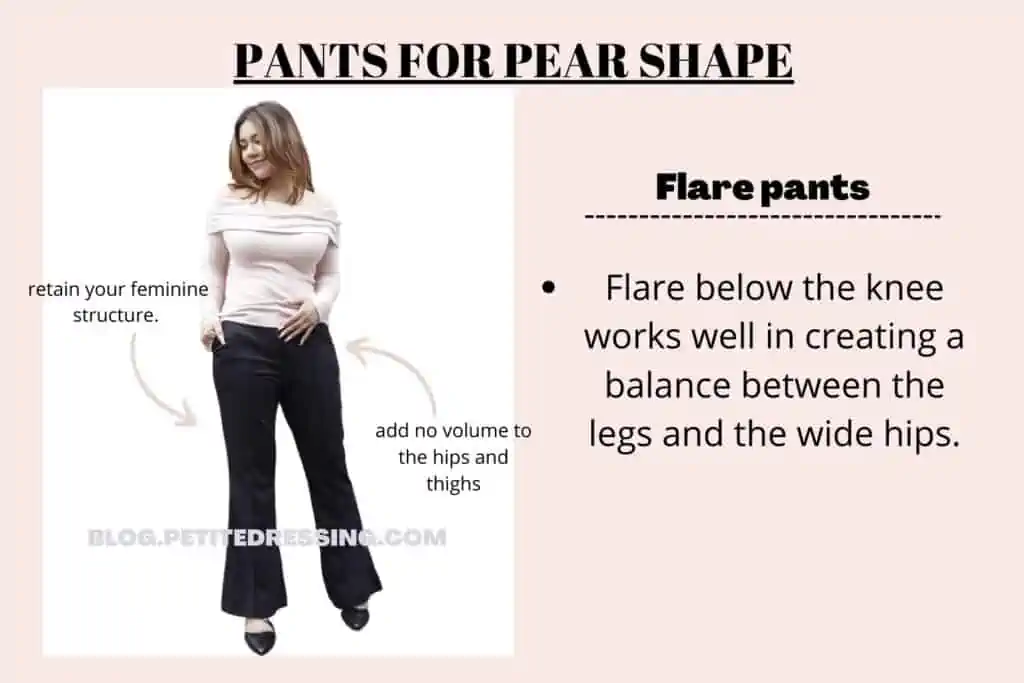 Dark colored pants
Dark colors are the best color styles for the pear shape because it has the ability to easily slim down the wide hips so balance can be easily attained. Dark colors are great because they do not attract the attention of the eyes to your lower figure.
They have the tendency to effectively lengthen the legs of the pear-shaped woman. The dark colored pants should be the most preferred pant for you and having them as a wardrobe essential is a super incredible styling idea.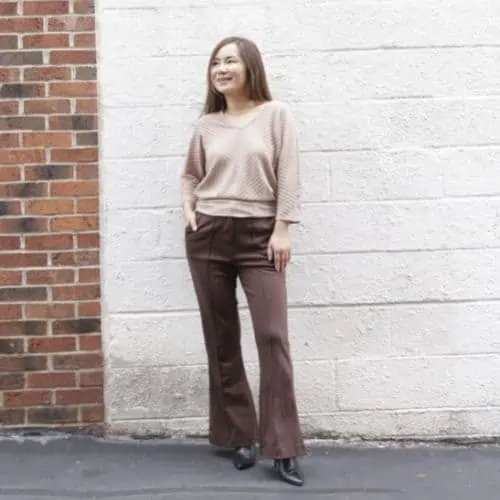 Dark-colored pants are a must-have
You would always appear elegant and fashionable whenever you have dark-colored pants on so do not feel they would throw you off balance.
This type of pant would move the focus of the eyes to the top half of the woman and make less noticeable her wide hips.
Straight leg pants
You should try the straight-leg pants on your pear shape body because they would rightly flatter your figure and not alter your body balance. The cut of the pant follows the natural line in your figure and this is a unique way to improve the length of your body frame.
Straight leg pants are incredible pant styles that have a relaxed fit on the pear shape woman. They are not known for adding volume to your lower frame so there's never a reason to feel too conscious about your appearance.
They can accommodate your hips properly and give an elegant structure to your feminine figure so do not hesitate to make them a part of your favorite styles. Straight-leg pants are outstanding styles that offer a gentle feel to your wide hips.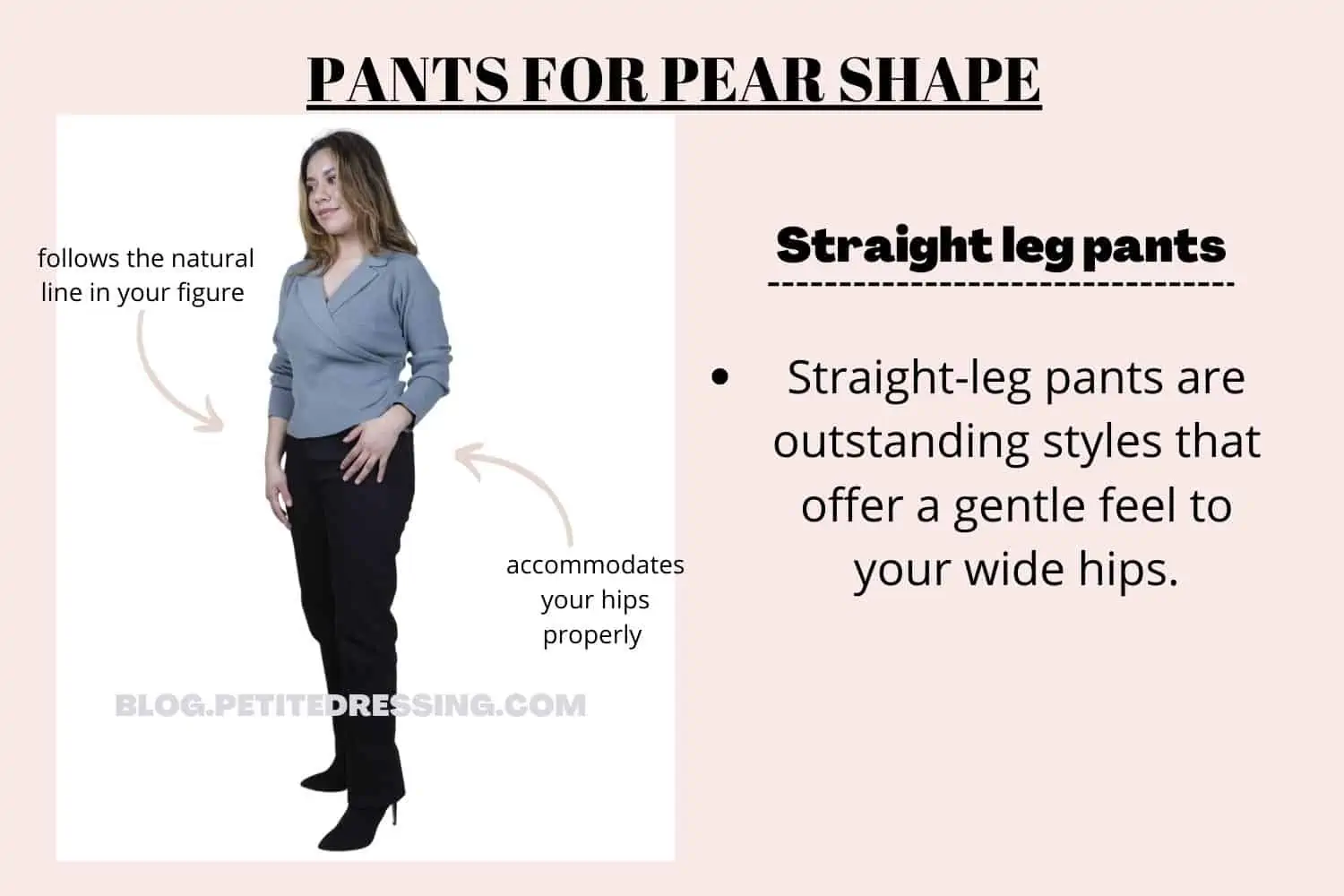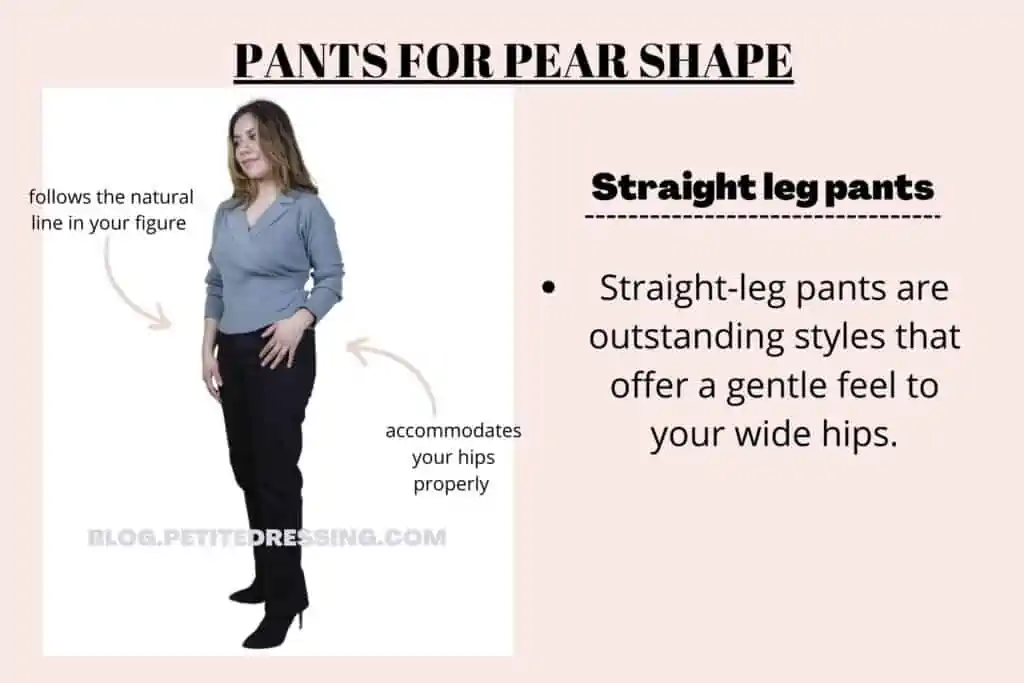 Avoid pants with skinny fit
Anything that appears to be tight should never make it to your wardrobe and should never be worn over your pear shape. Pants with skinny fit would only turn out to be attention seekers as they would pull so much focus to the lower half.
Pants with a skinny fit would not help you achieve the best styling goal for your pear shape and they could alter your body proportion. They also appear to be uncomfortable pant styles that could cause restrictions to the woman.
You could easily be thrown off balance when you wear a pant with a skinny fit because they would accentuate the hips and make you appear provocative. With these kinds of pants, the pear shape would become too weighty in her bottom half so make sure you avoid them.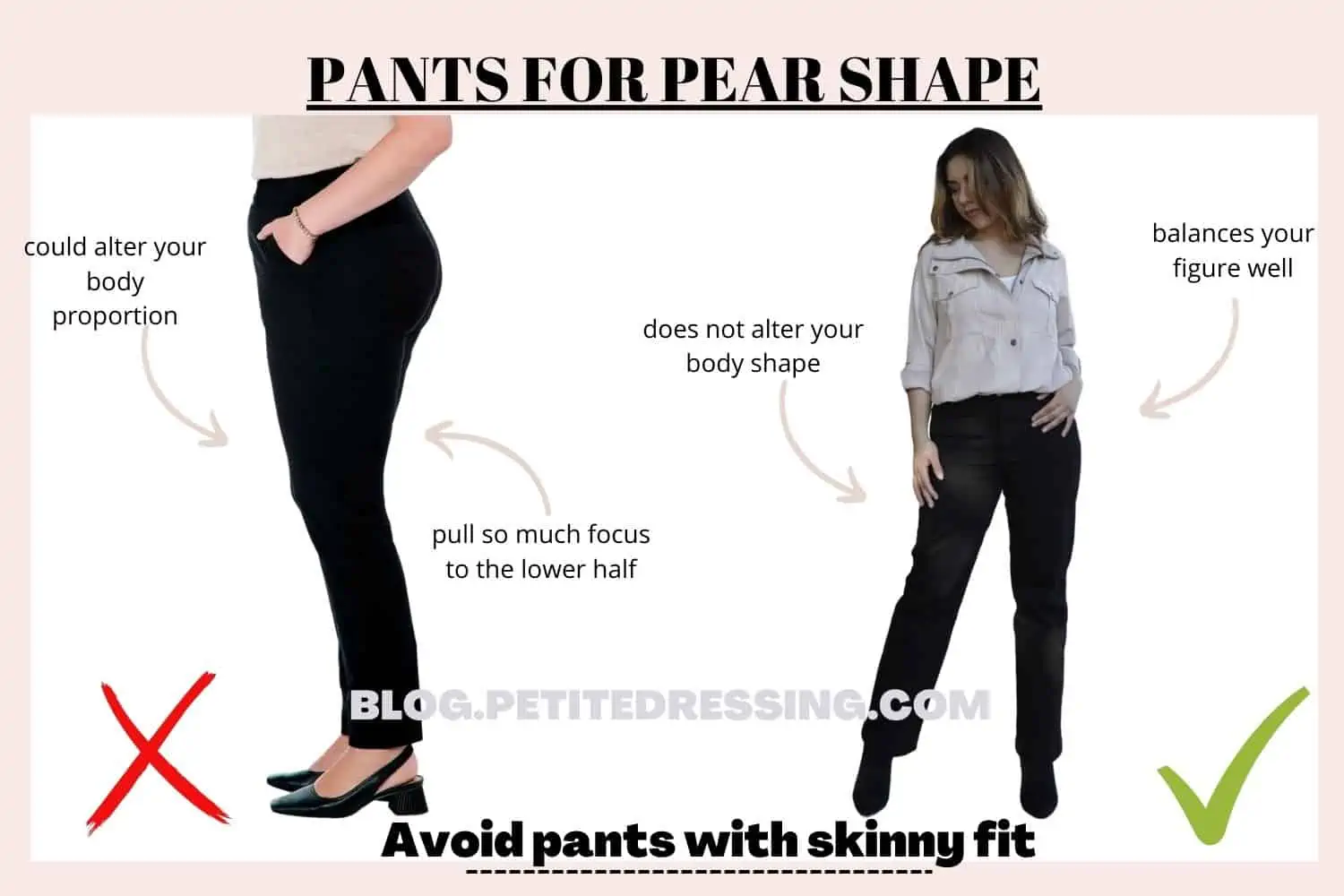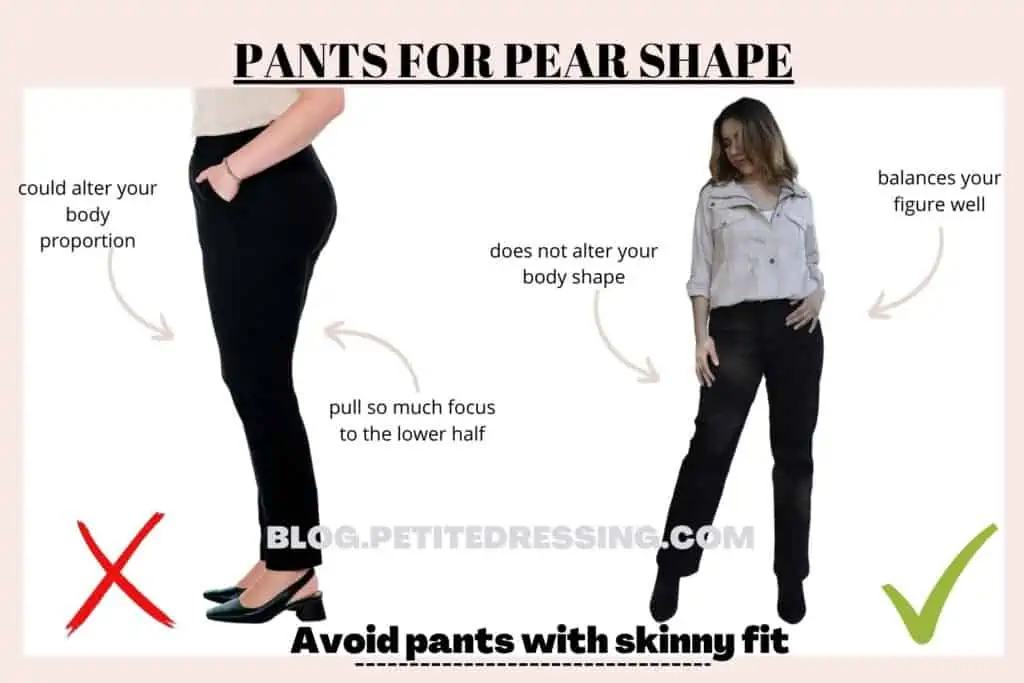 Avoid low-rise pants
The wrong pant rise can break your shape and it is therefore important that you be careful when making your choice of pants. A low-rise pant has no positive effect on the pear shape because it is designed to be just below the natural waistline of the woman.
It is the best pant rise for most body shapes and no matter how on-trend they may appear to be, you are not advised to rock them. If the rise in your pant isn't going to minimize the width of the hips and elongate your legs then do not invest in them.
This rise of pants would make noticeable the exact width of the hips and that is not fashionable for the pear shape. Most women with a pear shape have a shorter rise and wearing the pant with a low rise would cause the women to look shorter than normal.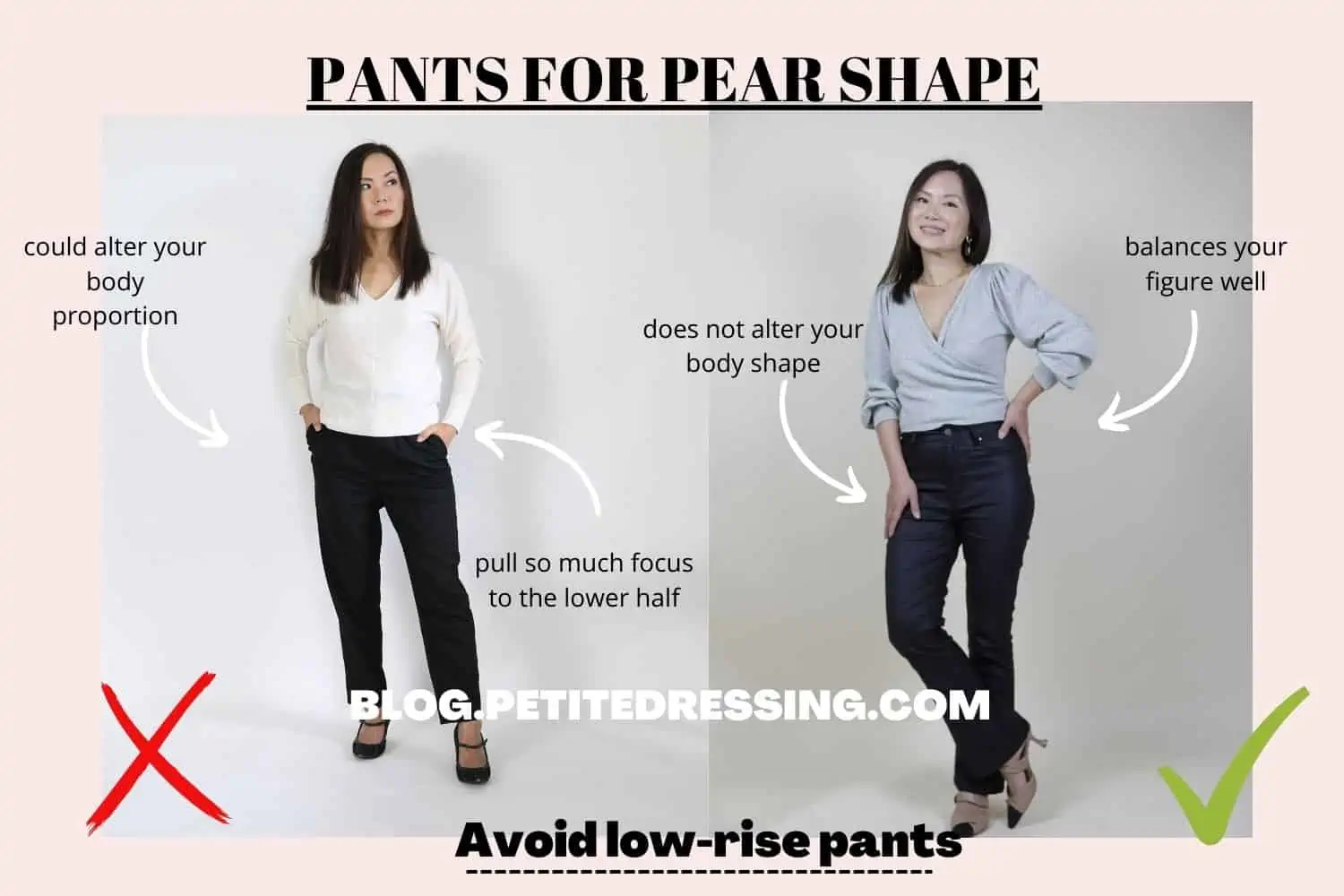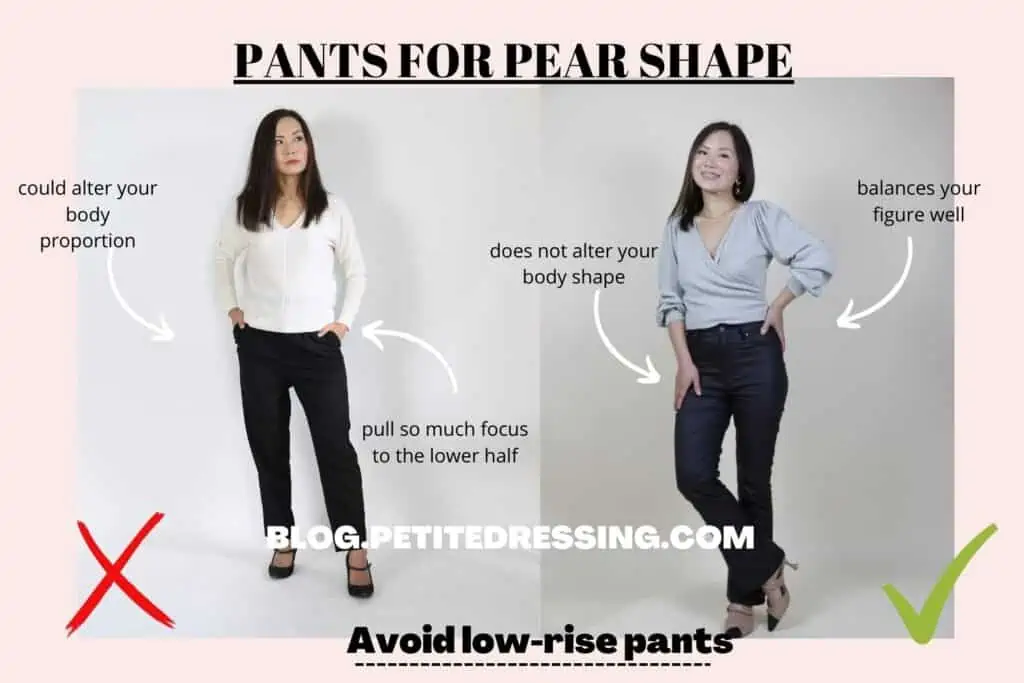 Avoid tapered pants
If you have a pear shape then you should not wear tapered pants because they are not going to fit your figure as much as they should. They would literally shorten your legs and alter the structure of your feminine figure.
The pant is known to gradually narrow towards the ankle and overly emphasize the width in the hip region. Since you are heavy in the bottom the tapered pant would not work for you so avoid them at all costs on your pear shape.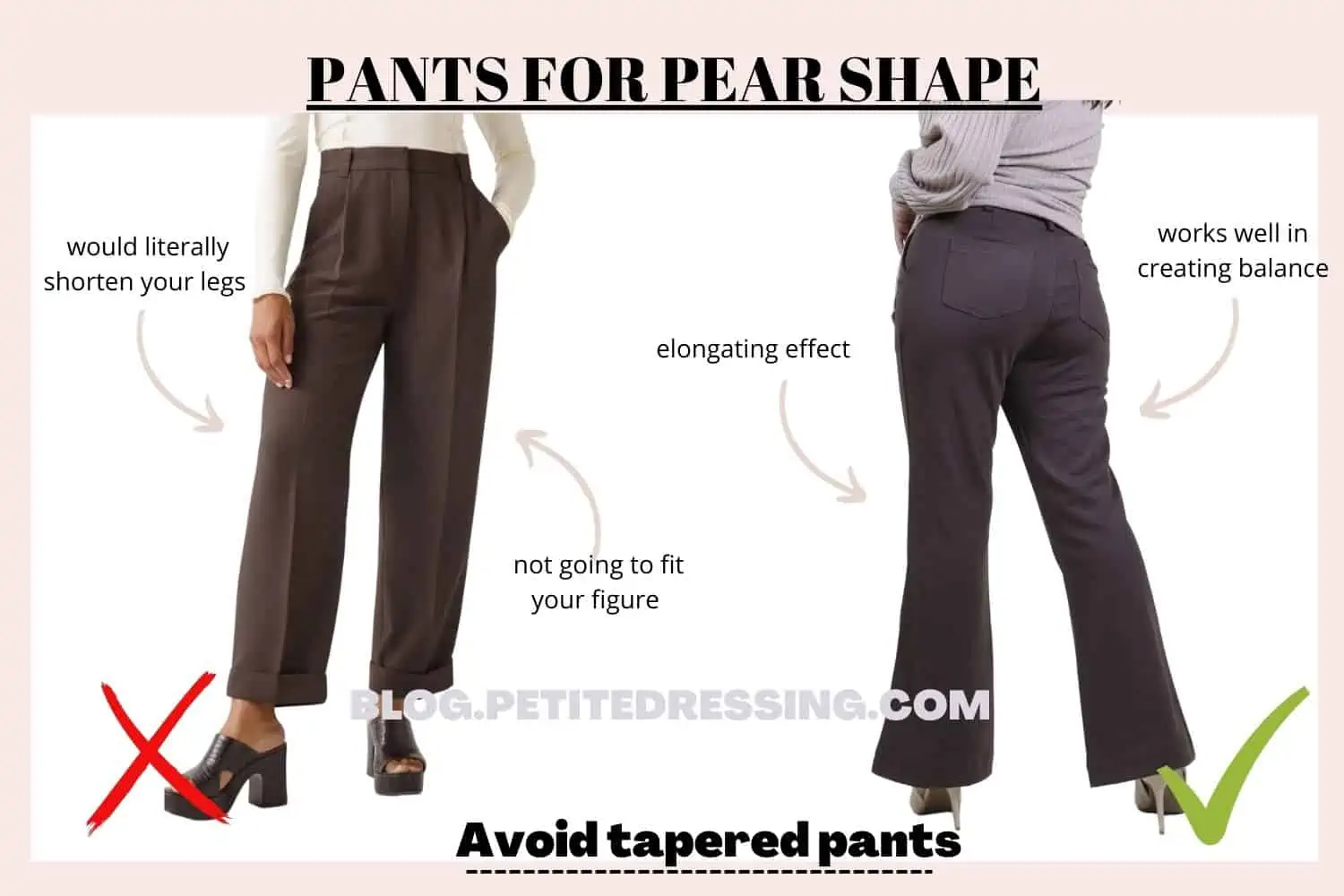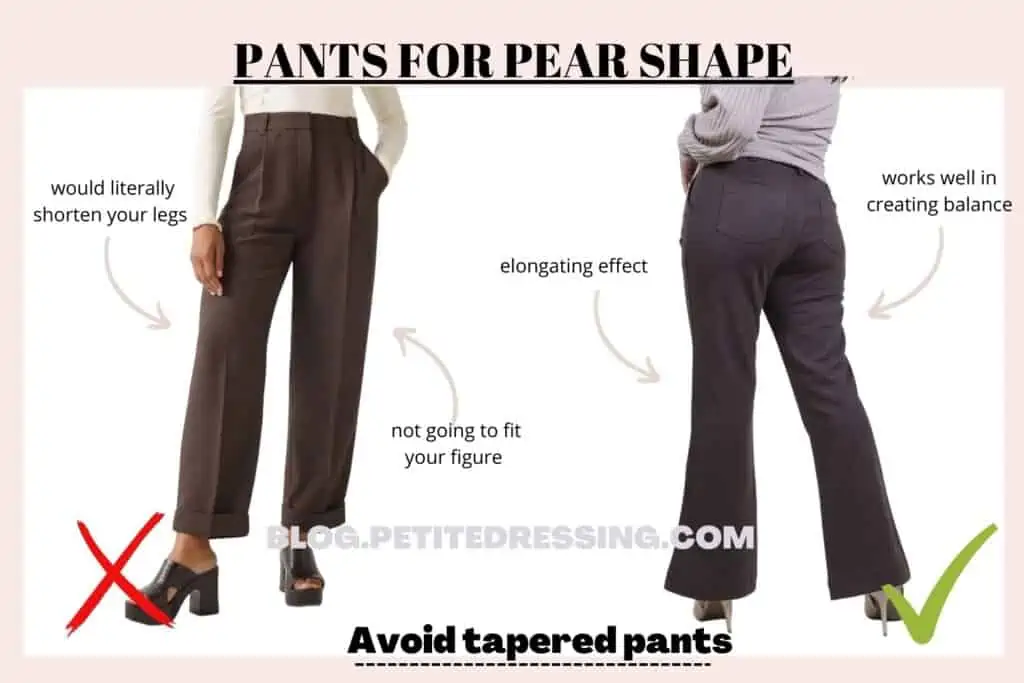 Tapered pants are not great in complementing your pear shape because they often work against your body structure. To avoid making a disaster of your figure and your unique style then do not make them a favorite pant style.
Avoid sailor pants
A sailor pant has a design that would default the shape of the overall appearance of the pear shape and can never be recommended. The sailor pant has buttons along the pockets that could visually widen the hips of the pear shape.
The lower half of the pear shape already has added width so fixing a sailor on it is seen as a fashion disaster that should be avoided.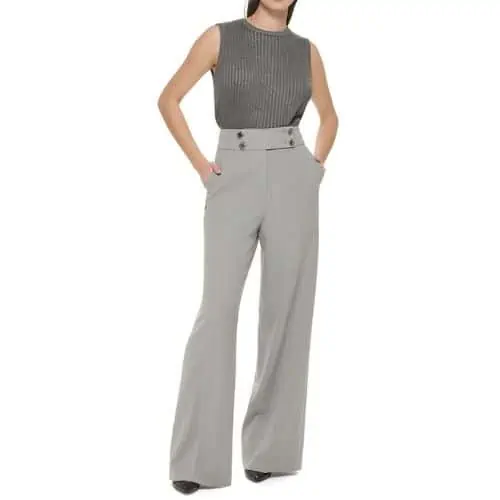 Sailor pants are not for you when you're a pear shape
They may appear to be stylish but can act as a turn-off for the pear shape because of the added volume they appear to pose at the front of the pant.
The pocket embellishment in the pant is considered to be an overly disruptive design that would most often work against the pear shape.
Caution with white denim
Once again, it is important for you to pay attention to the color of your denim because they can either make or break your overall appearance. Caution with white denim because the color design has a strong effect on your legs.
White denim are not flattering designs for the pear shape because they tend to make your bottom look bigger than normal. it is not a design that can help conceal your concerned area because they can easily attract the attention of the eyes.
Another area you should take note of is the shape of the leg because your major concern is in your bottom half. If you have a pear body shape, you should be very selective with the leg shape by going with a straight or wide leg.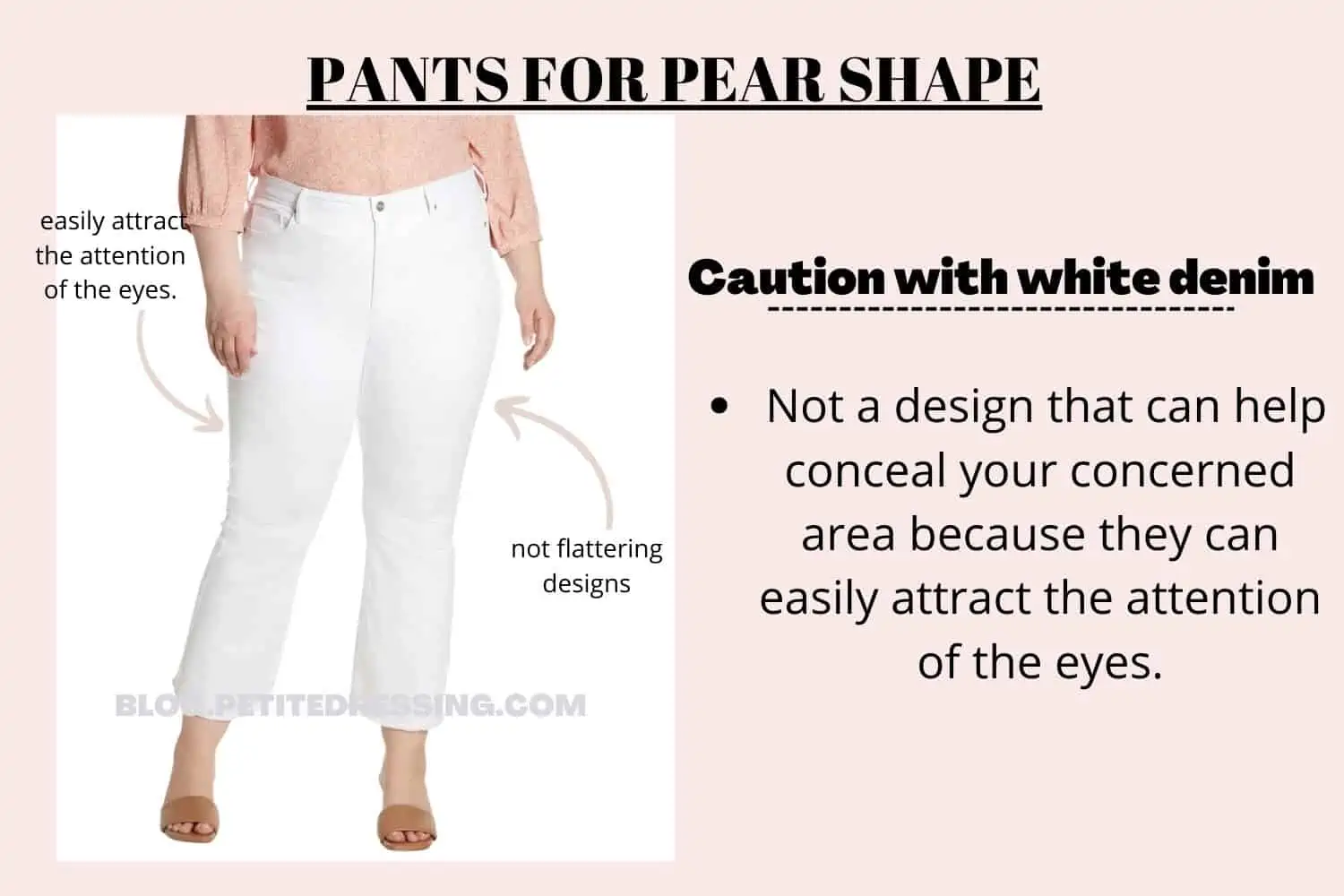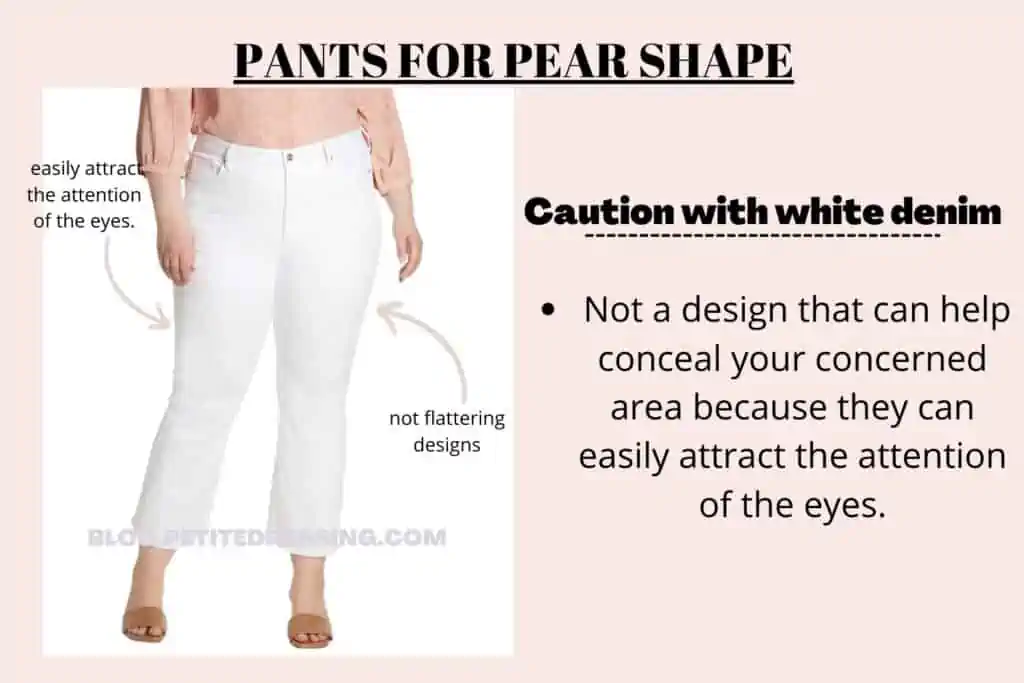 Avoid pants with bold prints
Pants with bold prints are not considered great for the pear shape because they are designs meant to visually widen the body frame. Wearing pants with bold prints could also bring focus to your lower figure and this could cause it to appear even wider than normal.
It is advisable that you go for designs with small prints because those designs would give the illusion of minimal hips to the eyes. Pants with small prints would give the right proportion your figure desires.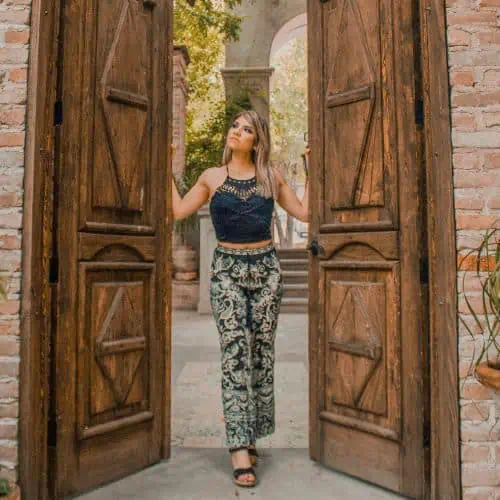 Why you should not opt for pants with bold prints
They are not stylish and comfortable designs that could boost the confidence you need to efficiently appreciate your beautiful shape.
The pear shape figure is not a naturally balanced one and wearing pants with bold prints would easily accentuate the concerned area.