I'm 5'2 myself so I know how certain patterns and structures can make a whole world of a difference to our petite frame. I also have a petite clothing line, so I dress petite women of all body shapes and sizes.
Petite pear-shaped ladies have a significantly smaller upper body which means they have narrow shoulders and a not-so-defined bustline.
So, it can also get a bit more complicated when you're dealing with the natural imbalance of your pear body shape.
Well, my goal here is to put that struggle to an end. Based on the feedback from thousands of my petite customers, I've put together this guide for any short girls with the pear body shape.
Styling Goal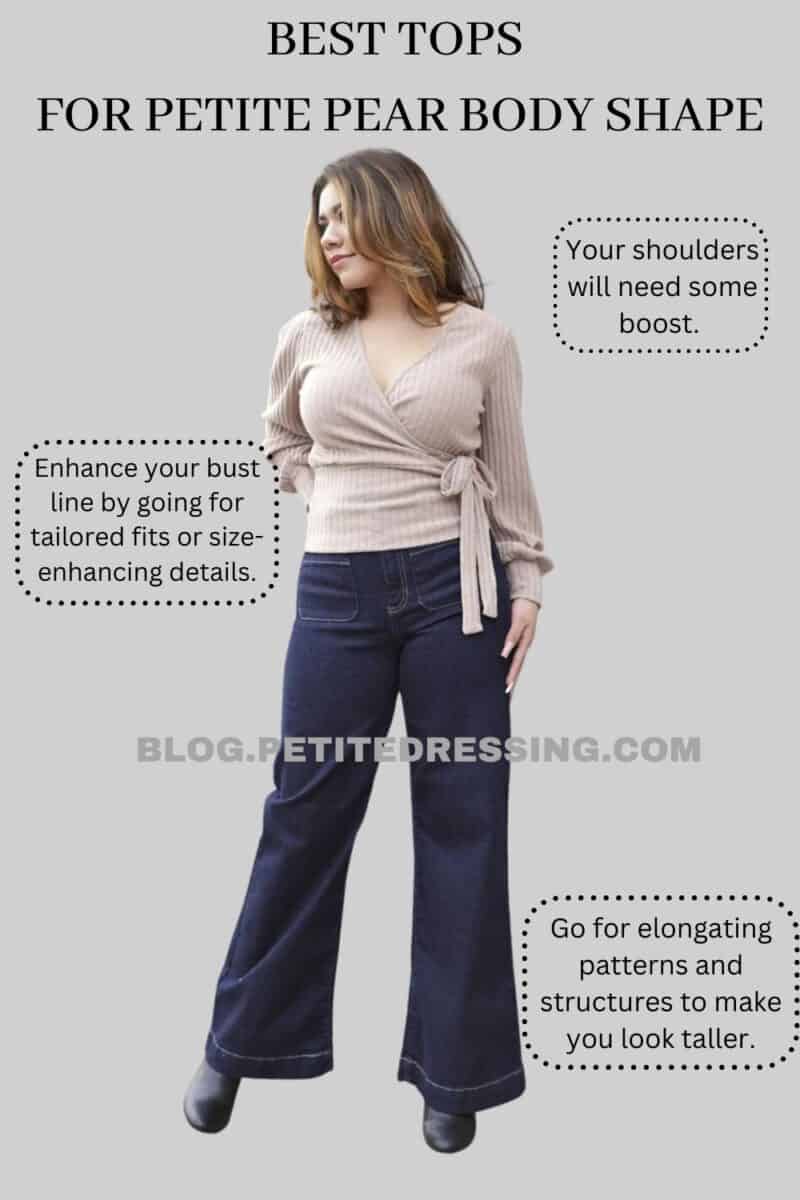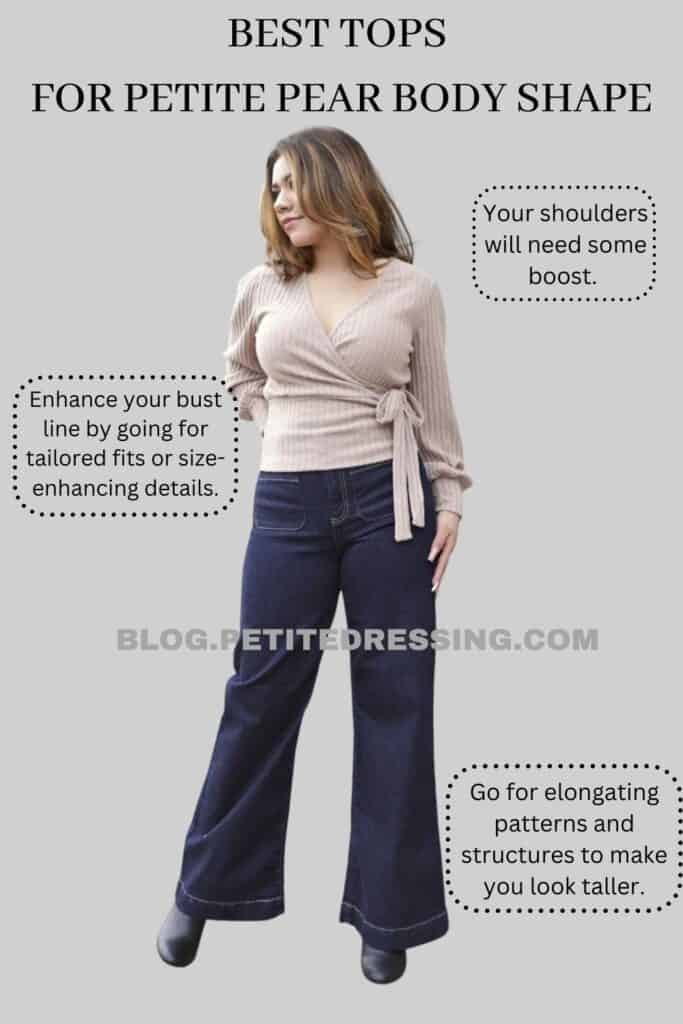 Your shoulders will need some boost. Having a petite pear body shape means that you have narrow shoulders so to create a balance between your upper and lower body, you need to give your shoulders a bit more structure.
Enhance your bust line by going for tailored fits or size-enhancing details. One example would be subtle ruffle detailing along the bust line to balance it with your wider lower body.
Go for elongating patterns and structures to make you look taller. This will also neutralize the appearance of your wide hips and thick thighs.
Now that we've covered these styling principles, you're now ready to shop for tops that embrace your petite pear body shape!
Boatneck Tops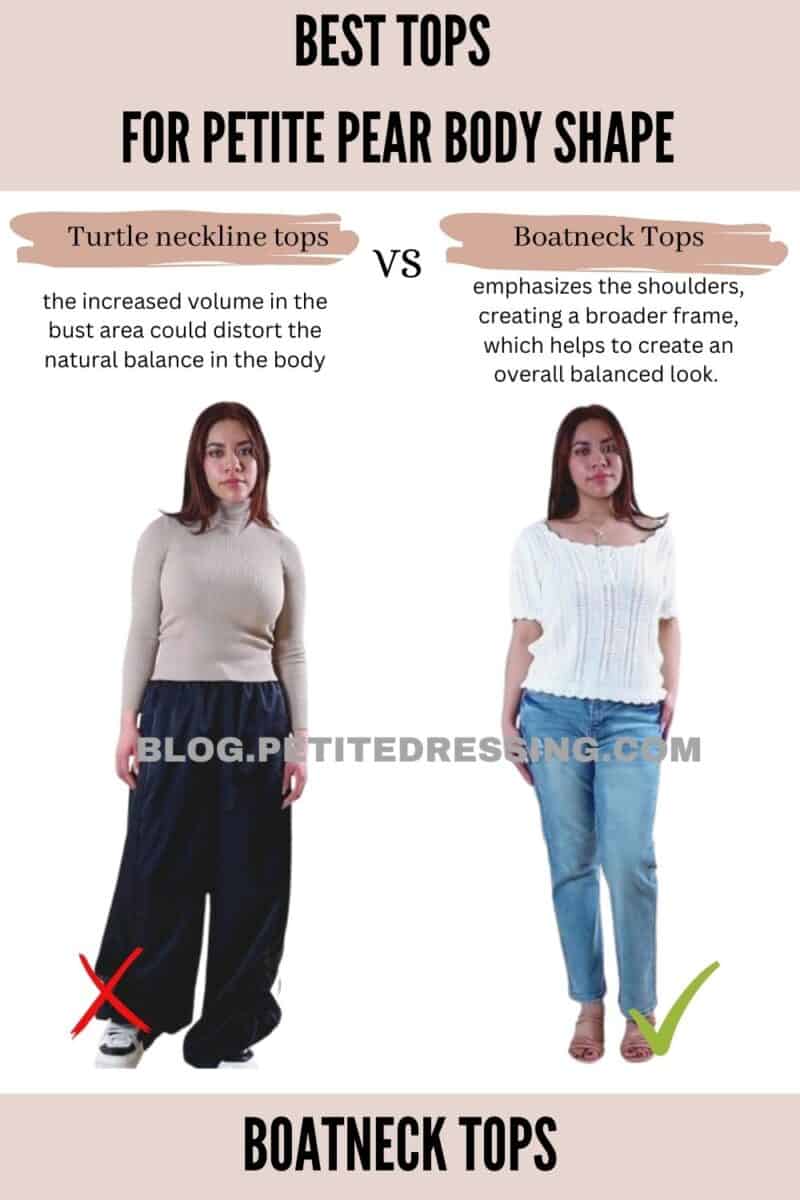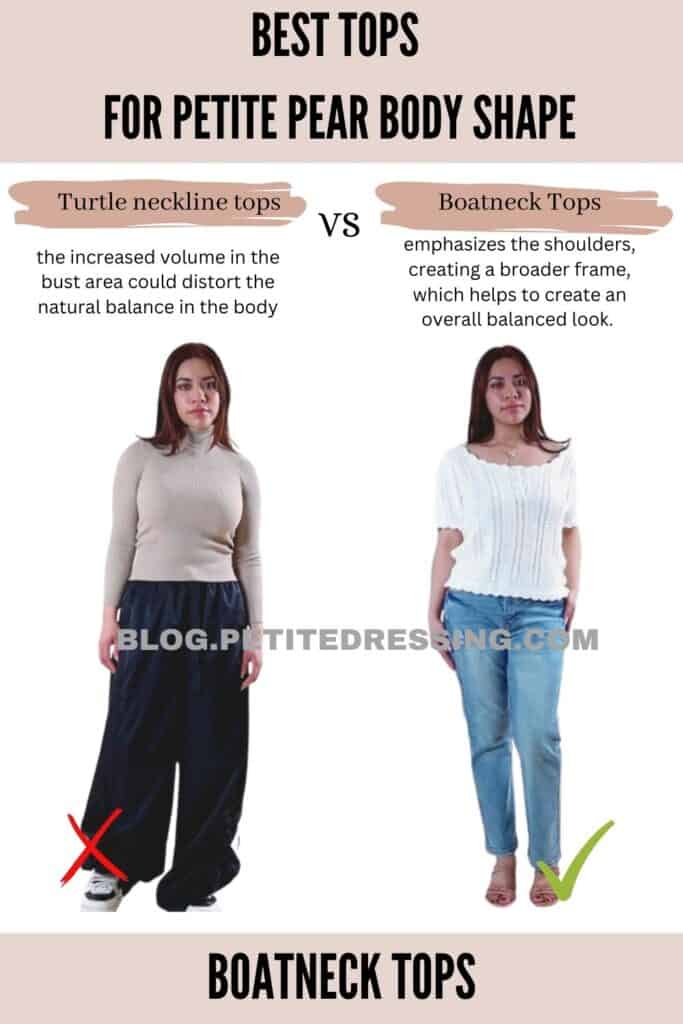 The Boatneck top (also called Sabrina neckline) is a style that is flattering for petite pear-shaped women because this particular neckline style draws the eyes upward, creating an illusion of a longer neck and a more balanced upper body.
It can totally be an excellent choice because it highlights the collarbones and shoulders to nicely balance out the width of the hips. This style emphasizes the shoulders, creating a broader frame, which helps to create an overall balanced look.
Additionally, this neckline can help elongate the neck, which is definitely a plus for women who need some height boost.
Off-the-Shoulder Tops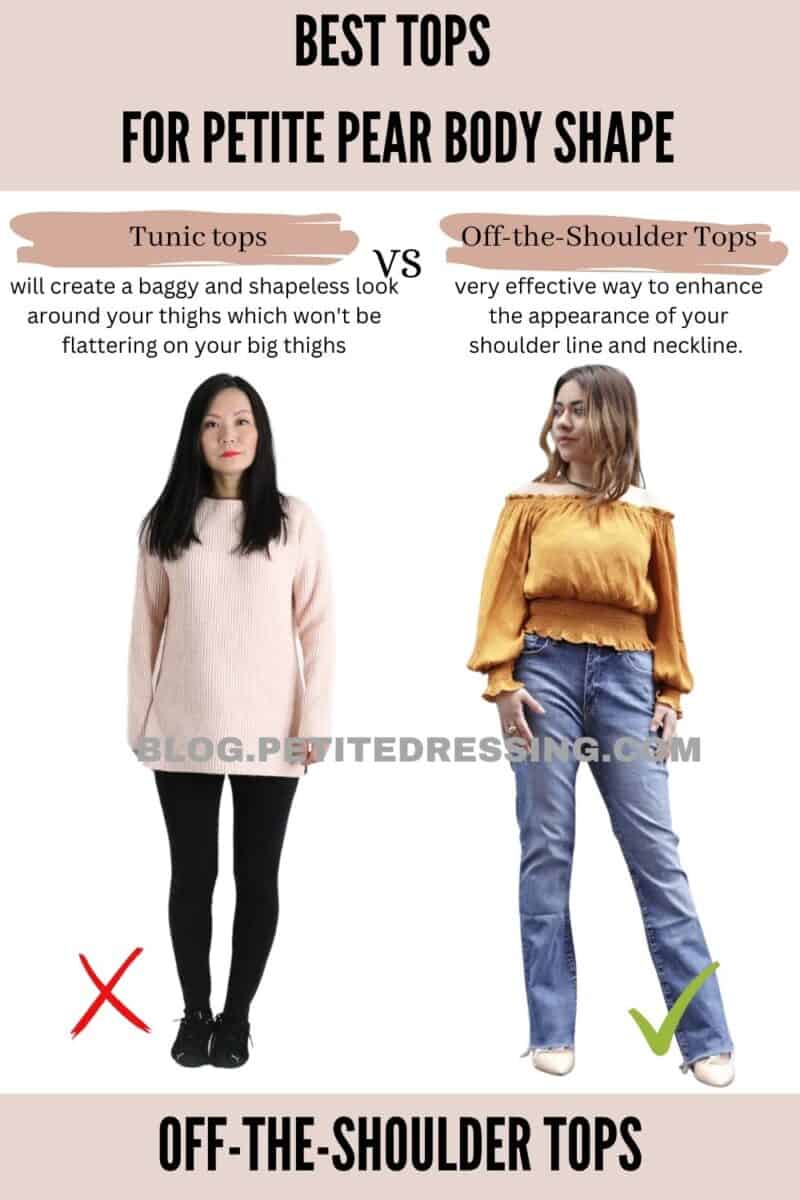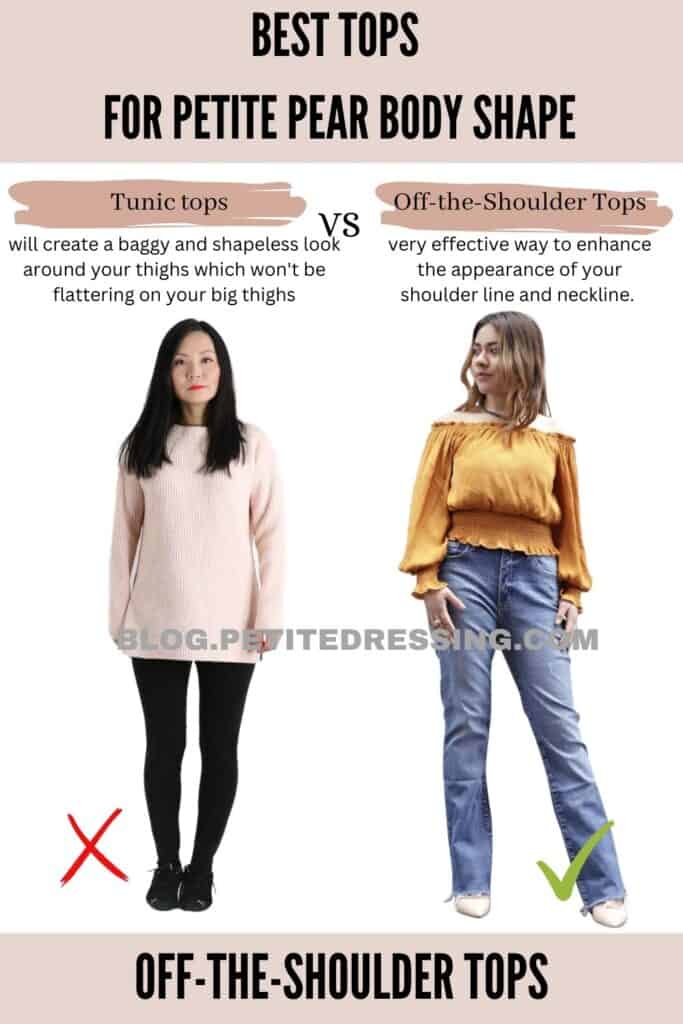 Remember how our goal is to enhance your shoulders? Going for off-the-shoulder tops is one very effective way to enhance the appearance of your shoulder line and neckline.
Wearing off-the-shoulder tops is a great way to draw attention to the shoulders and collarbones to give your shoulder line a bit of a boost. This attention to the upper body also helps to create an illusion of a longer and leaner neck, which is especially helpful for petite women with narrow shoulders and small busts.
They can be your go-to spring and summer wardrobe piece because apart from their very feminine and flattering design, they are also quite comfortable to wear.
Structured Blouses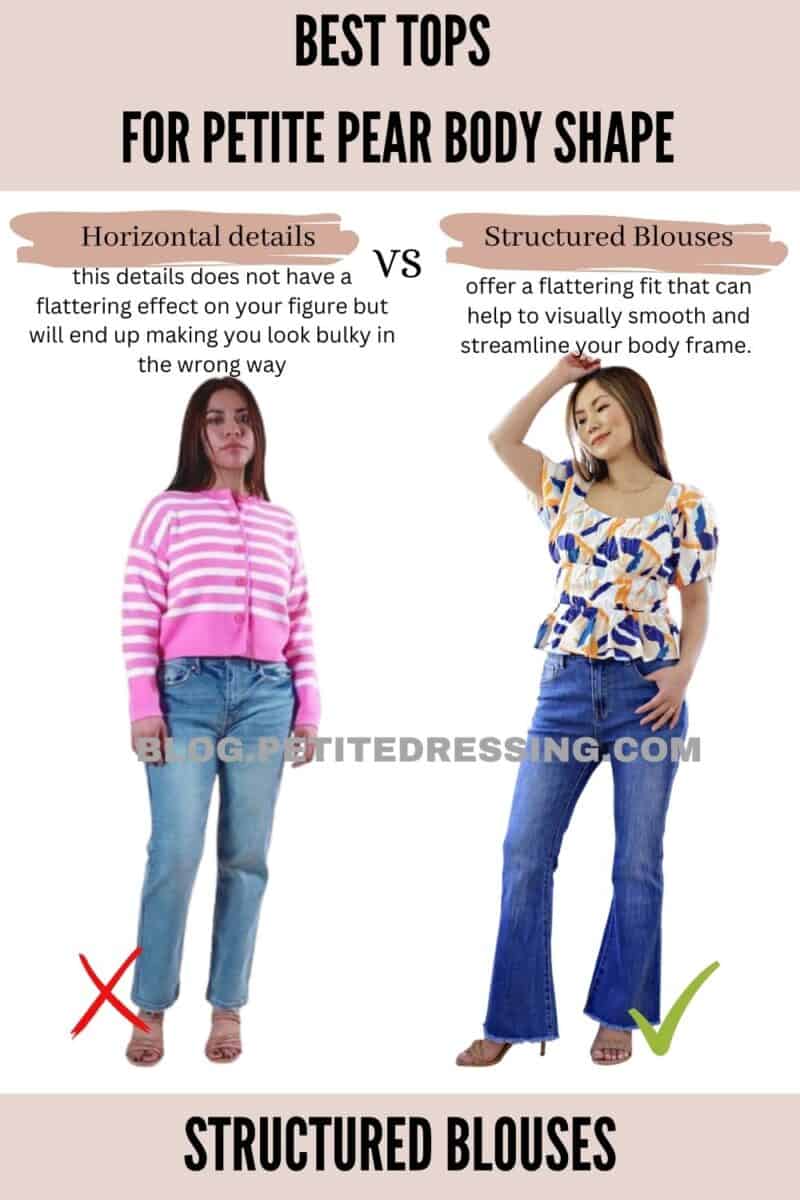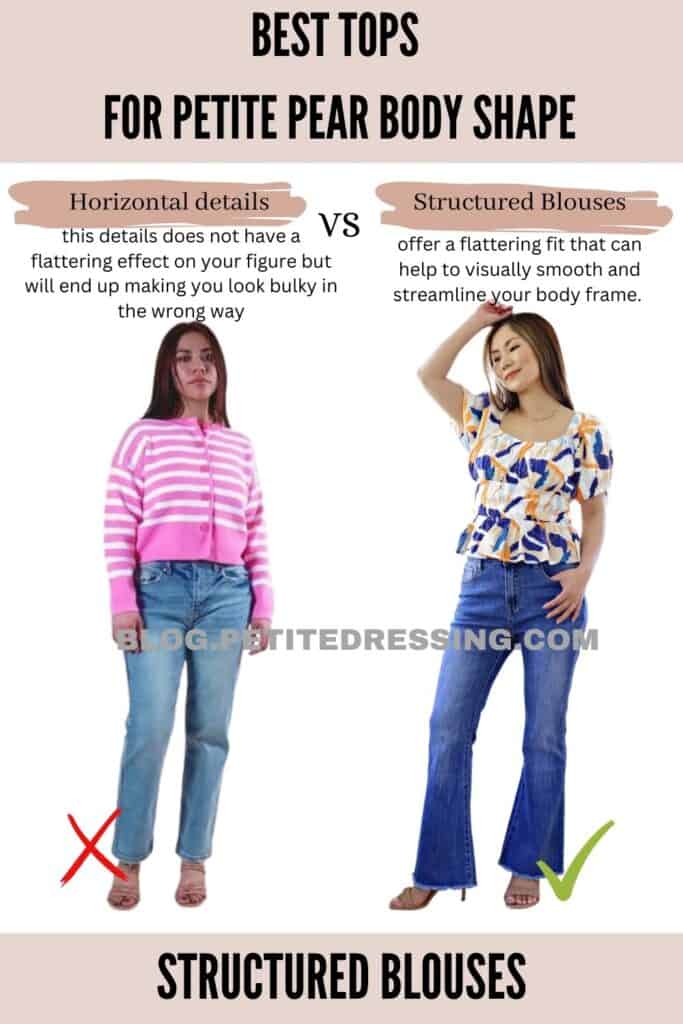 As pear-shaped girls lack upper body definition, structured tops are undoubtedly one of the best pieces you should have in your closet. Not only do they offer a sleek and polished look, but they also help bring balance to your frame by having to match the size of your upper half to your wide hips and thick thighs.
Structured tops offer a flattering fit that can help to visually smooth and streamline your body frame. With their tailored construction and supportive fabrics, structured tops help to shape and sculpt the upper body to create a more defined waistline and enhance the bust.
Tops with Shoulder Pads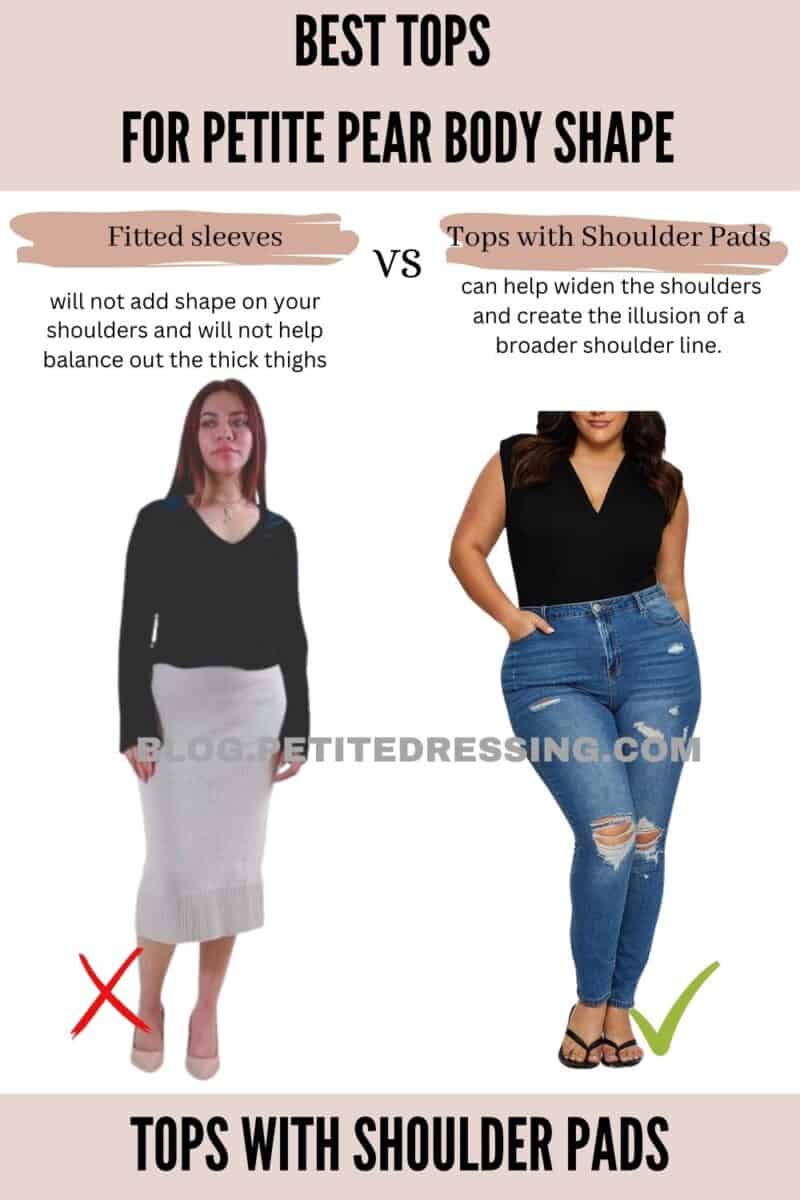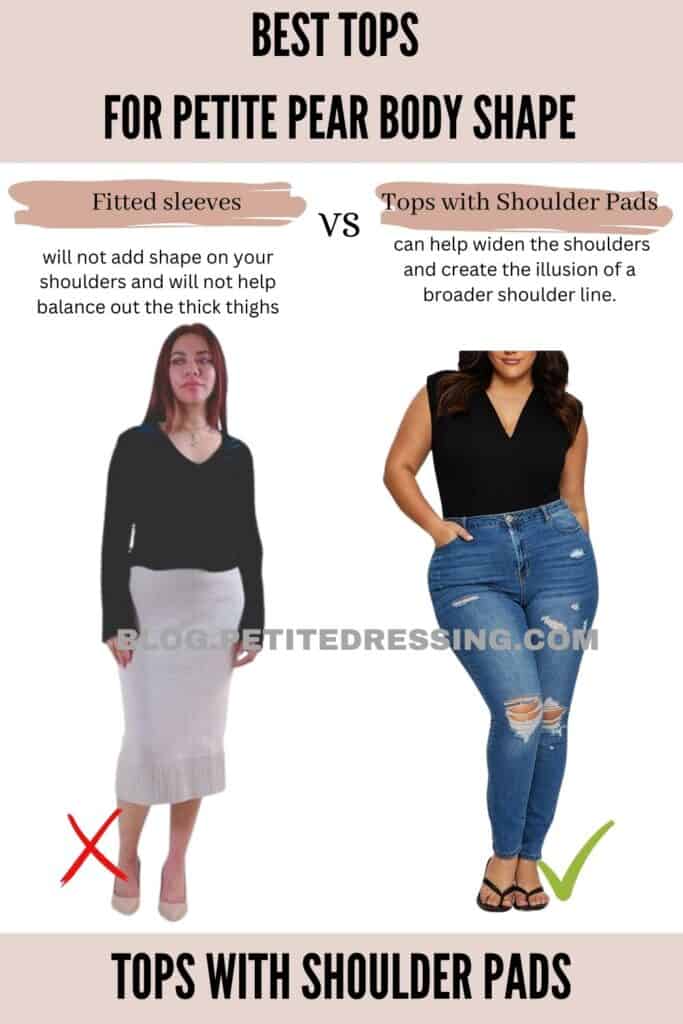 Shoulder pads were a popular style element in the 70s and early 90s, but vintage pieces never really go out of fashion and this can actually be very flattering for short pear shapes! For petite pear-shaped women, wearing vintage-style tops with shoulder pads can offer several style benefits.
As pear-shaped women tend to have a narrower upper body compared to their lower body, shoulder pads can help widen the shoulders and create the illusion of a broader shoulder line. By adding volume to the shoulders, pads can also help to draw attention away from the hips and create a more streamlined look.
Additionally, shoulder pads are just giving you the intense "girl boss" vibe as it also creates the illusion of a modelesque figure, as well as a longer and leaner neck. The added height and structure of shoulder pads can help to elongate the neck, creating a more elegant and sophisticated look!
Lightweight Wrap Tops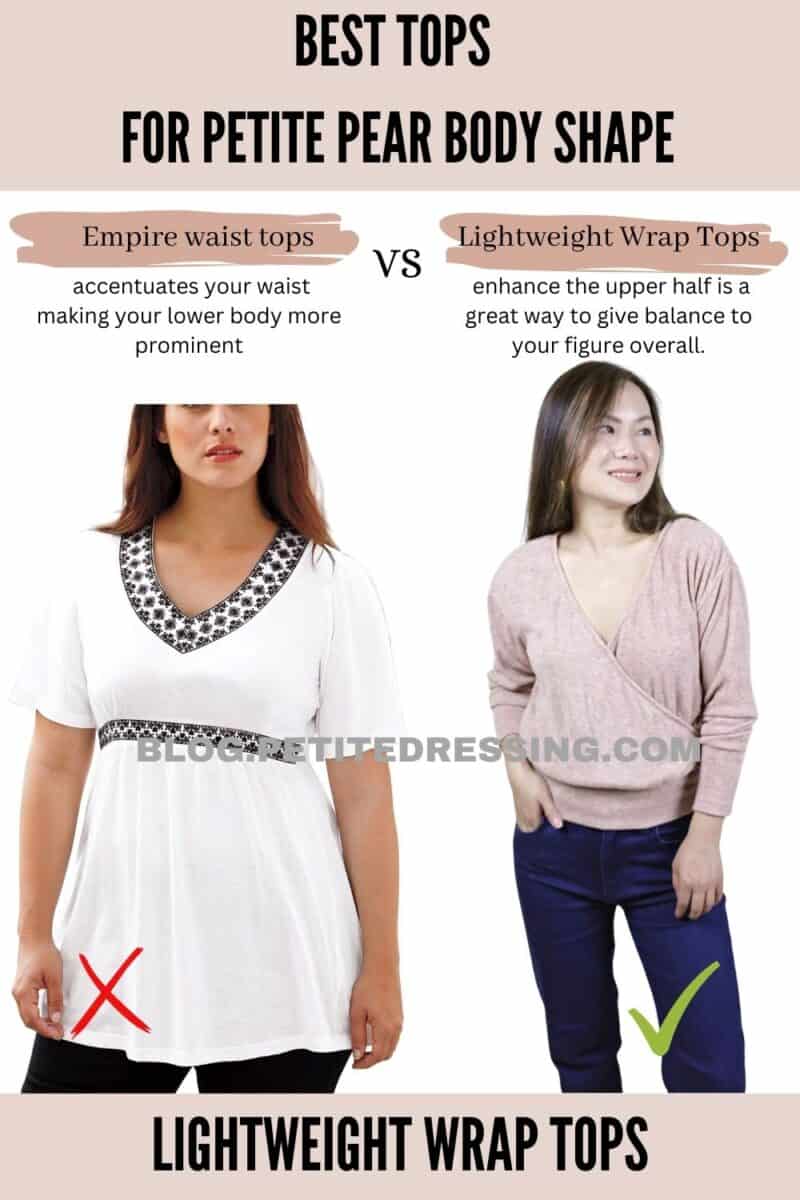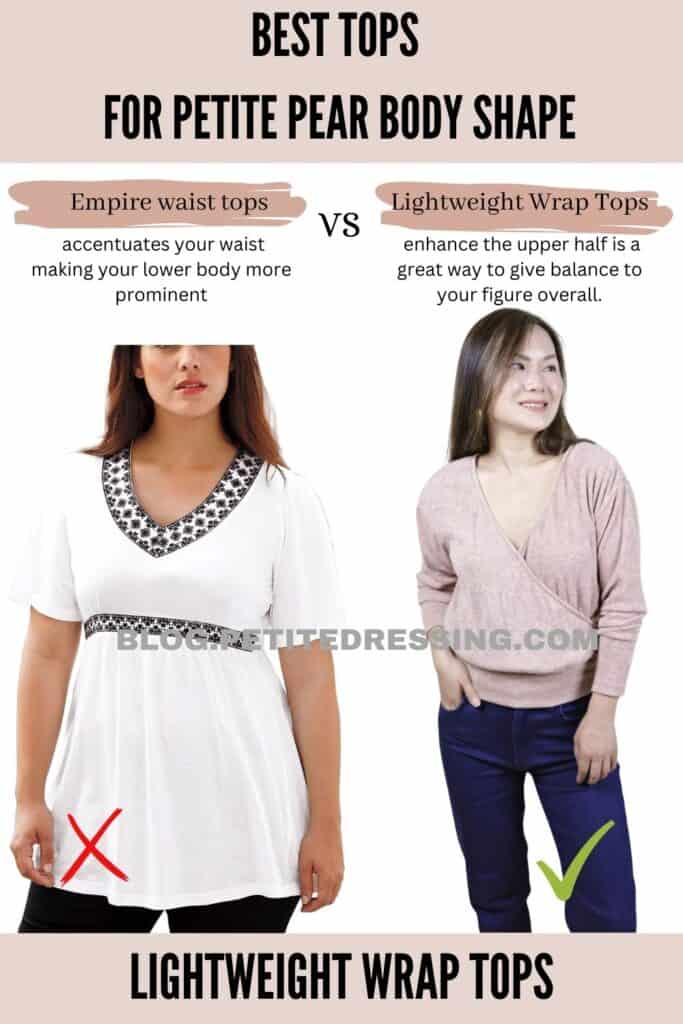 Wrap tops are absolutely a versatile and flattering choice for women of all shapes and sizes, but they offer unique style benefits for petite pear-shaped women. Its universally-flattering beauty is enough reason for you to at least have one in your closet, but for pear shapes, the way wrap tops enhance the upper half is a great way to give balance to your figure overall.
With their cross-over design, wrap tops help to accentuate the waistline and enhance the bust, which can be especially beneficial for pear-shaped women who may want to create a more defined and hourglass shape. This can also help to draw attention away from the hips and therefore equalize the attention to your entire frame.
Its silhouette also gives a continuous visual line from the shoulders to the hem, making you appear taller and leaner.
Tailored Tops with Belts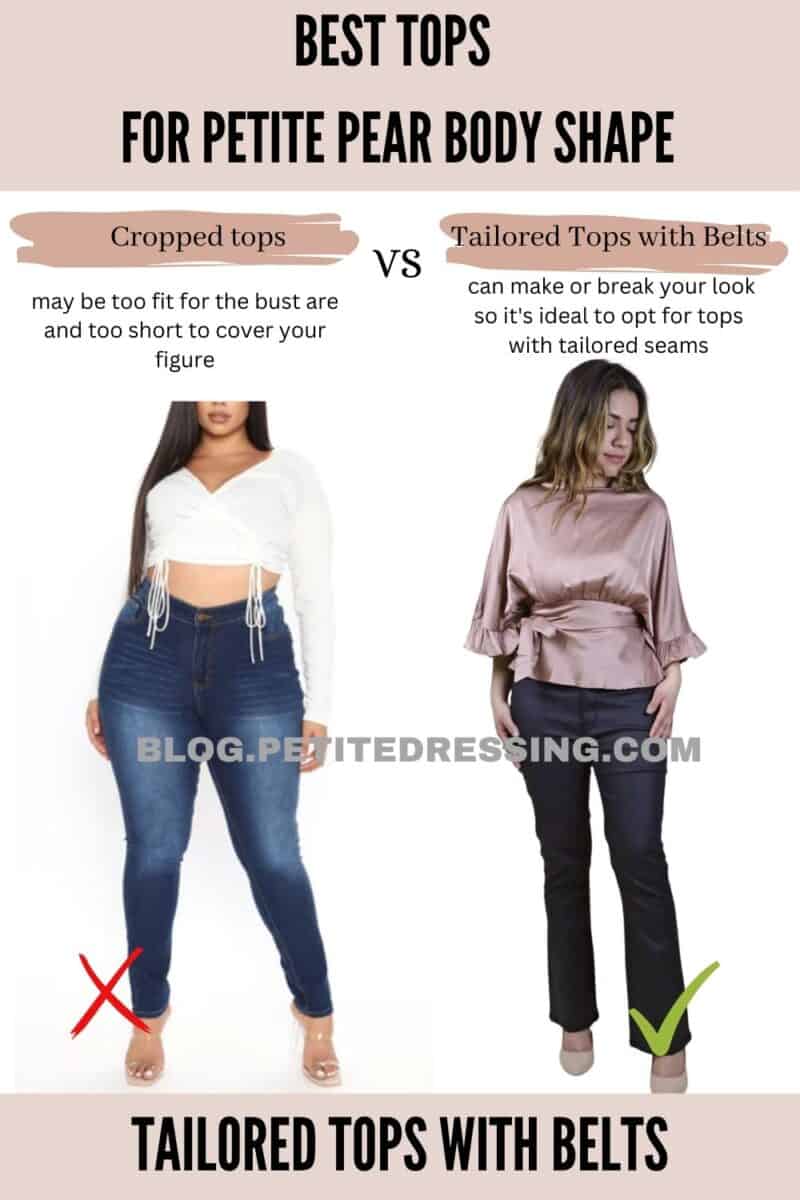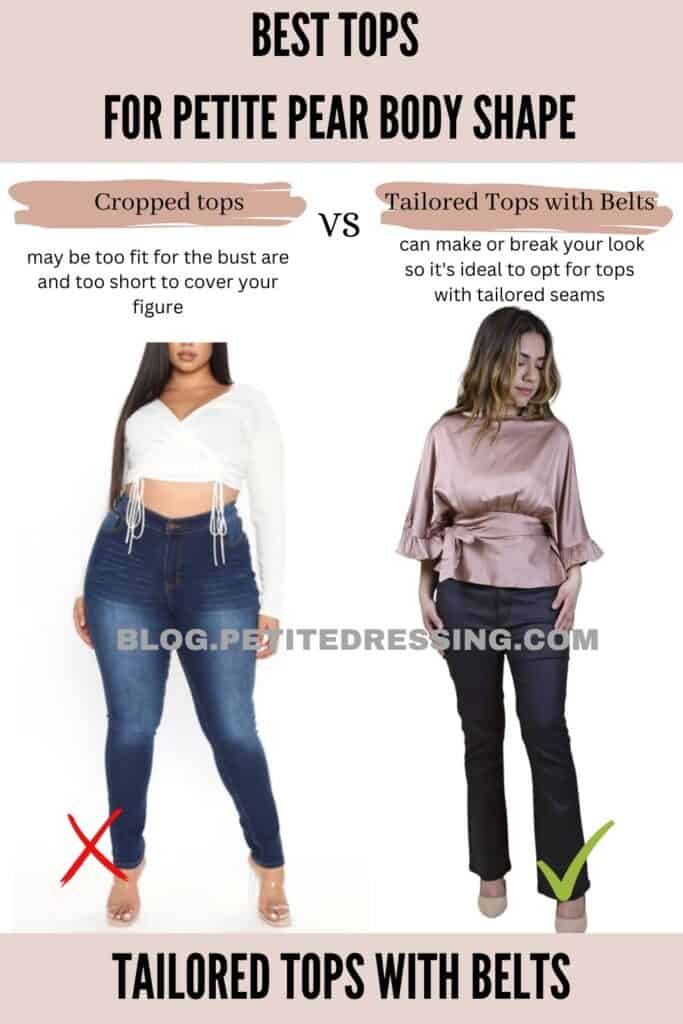 Tailored tops paired with a flattering belt will bring a nice visual balance to your figure as it cinches the waist to elongate your frame. What you have to take note of when choosing belted tops for your petite pear shape body is to always go for the right fit.
The right fit can make or break your look so it's ideal to opt for tops with tailored seams. Look for tops that are snug around your bust and waist and flow loosely over your hips.
Bow Tie Tops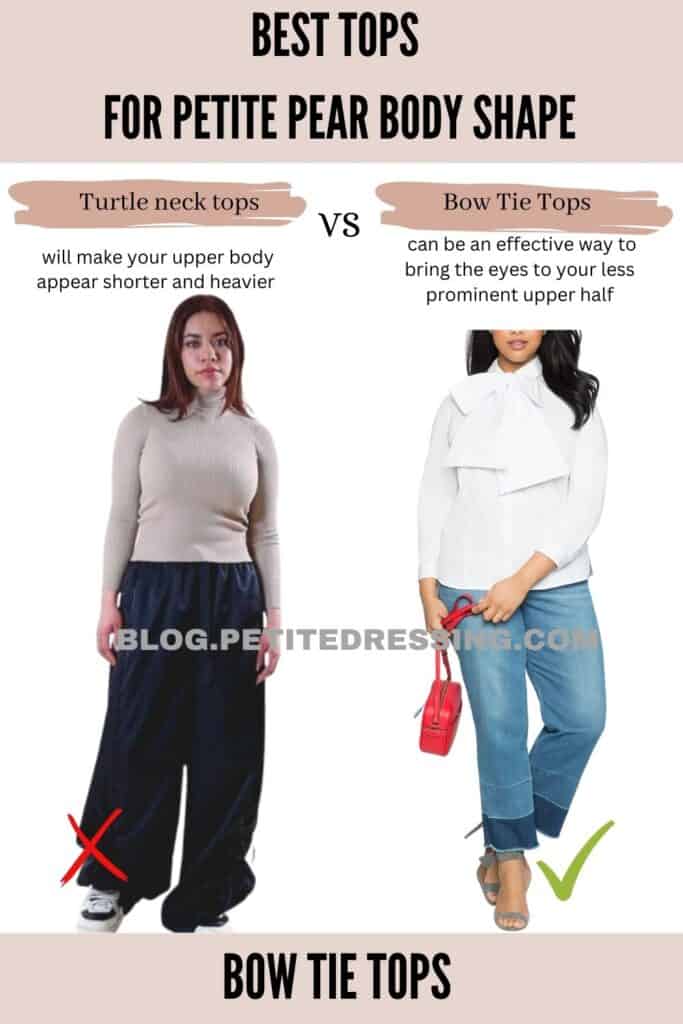 A bow tie blouse is a type of top that typically features a high, ruffled neckline with a long, dangling bow or scarf (which is also known as a lavaliere) tied around the neck. This blouse style is often made of lightweight, flowing fabric and a streamlined fit.
For petite pear shapes, this style can also be an effective way to bring the eyes to your less prominent upper half. The high neckline draws attention to the face and neck and away from the hips and thighs, which can help balance out a pear-shaped figure.
Additionally, the loose, flowing fabric of the blouse can help create the illusion of a more hourglass-shaped figure, as it drapes over the hips and creates a gentle A-line silhouette. The long, dangling lavaliere scarf can also help elongate the torso and create a more vertical line, which can also be flattering for petite women.
Ruffled Sleeve Tops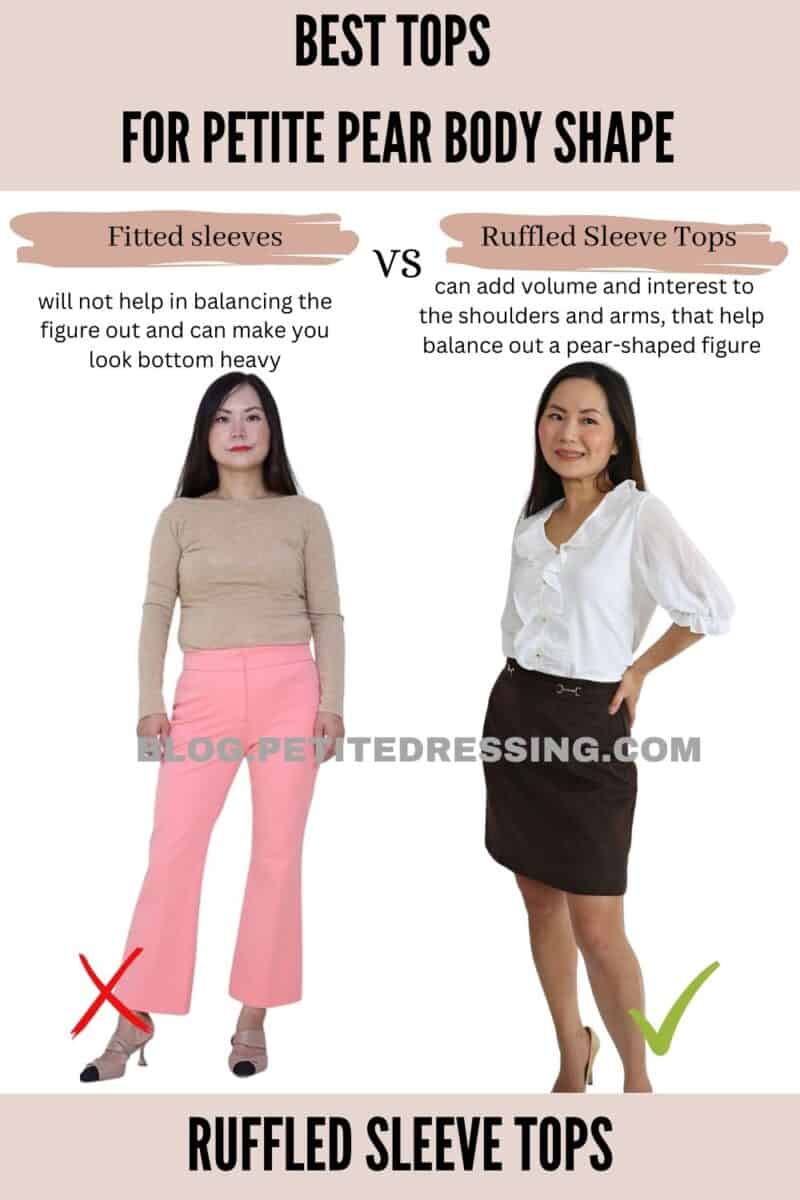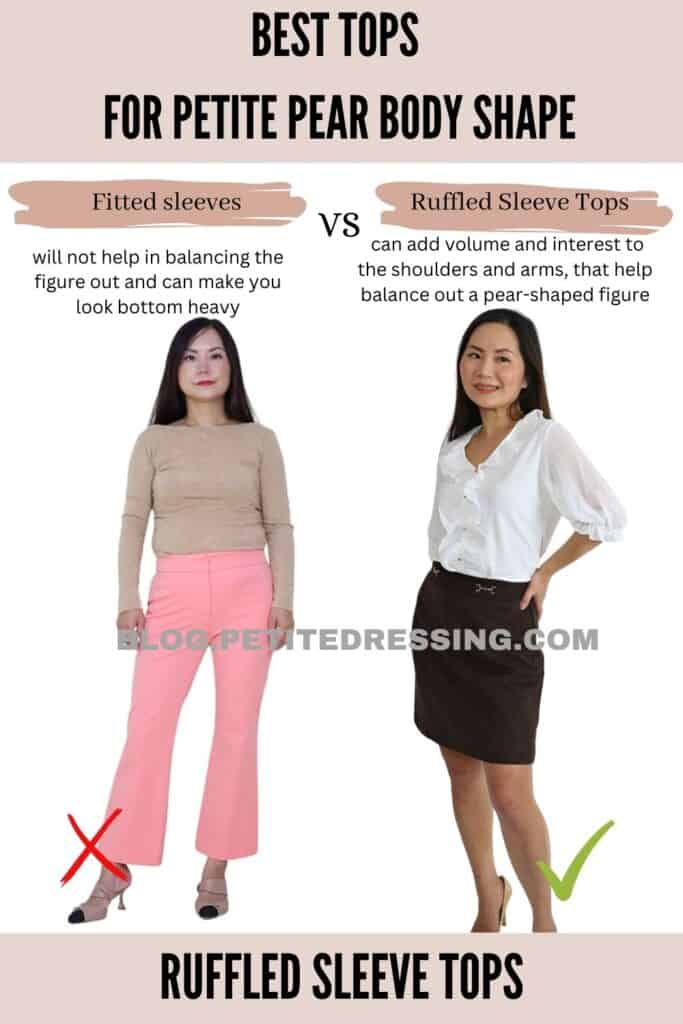 Tops with ruffled sleeves can absolutely be a good choice for petite pear-shaped women depending on the specific style and fit of the top. Ruffled sleeves can add volume and interest to the shoulders and arms, which are usually less apparent for pear-shaped bodies.
Ruffled sleeves placed on the shoulders can also help balance out a pear-shaped figure and draw attention upwards toward the face. This will minimize the attention being drawn by your wide hips and thick thighs.
The Key Takeaway
Choosing the right top or blouse is very important for petite girls with pear-shaped bodies because of how it can affect the overall balance of your frame. With this style guide, I hope you were able to figure out which ones should look best on your beautiful body figure.