I am 5'2″, with a typical apple body shape. It has never been easy for me to find the right jeans for apple shape.
When we talk about the apple body type, a lot of people first think about women who are plus size.
That is not necessarily true.
You could be a plus size, but you could also be skinny and have an apple shaped body (like myself). Whether you are thin or curvy, apple shape share the same features and challenges (and of course we have our assets too).
What to Look for
Of the 5 body types, apple body shape is most prone to a heavier midsection, thus women with apple body type are commonly concerned about hiding muffin top. If you are a typical apple shape, then chances are you are likely to have a bigger stomach, while your legs are quite skinny.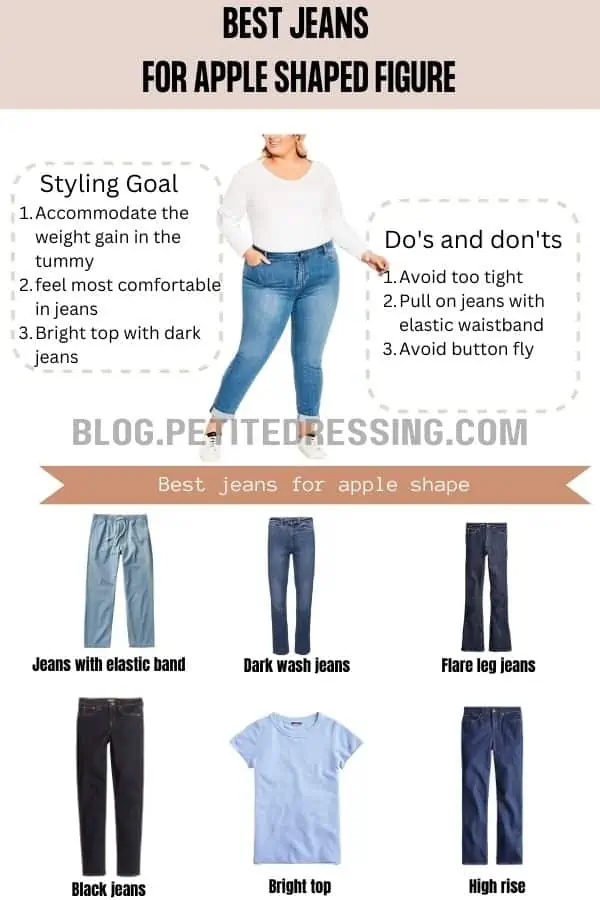 A typical apple body type is very likely to have slender legs, but bigger waistline. That means it is just so much harder to find jeans for apple shape that can hide muffin top while not looking too loose on the legs!
For that reason you should look for jeans that are
Roomy enough for your waist without being too loose on your legs
Have a slimming effect for your stomach
Can accommodate the weight gain of the apple shape which typically first show up on your waist
Choosing the Right Size
Avoid too tight
Since I'm a typical apple shape, my legs are slender but my waistline is not. For most of the tops, a size XS to S works perfectly for me.
However, when it comes to jeans, I should size up because of my waist, which I did not realize for a very long time.
The mistake I made in the past is that I decided my jeans size based on my top size, ignoring the fact that my waistline needs a bigger size. Therefore, the jeans I got used to are too tight for my waist, which makes my midsection look even more obvious!
If you are like me, choose the correct size of the jeans based on your waist instead of elsewhere. What you should keep in mind is if your jeans size is too small, they would only make your belly look more noticeable!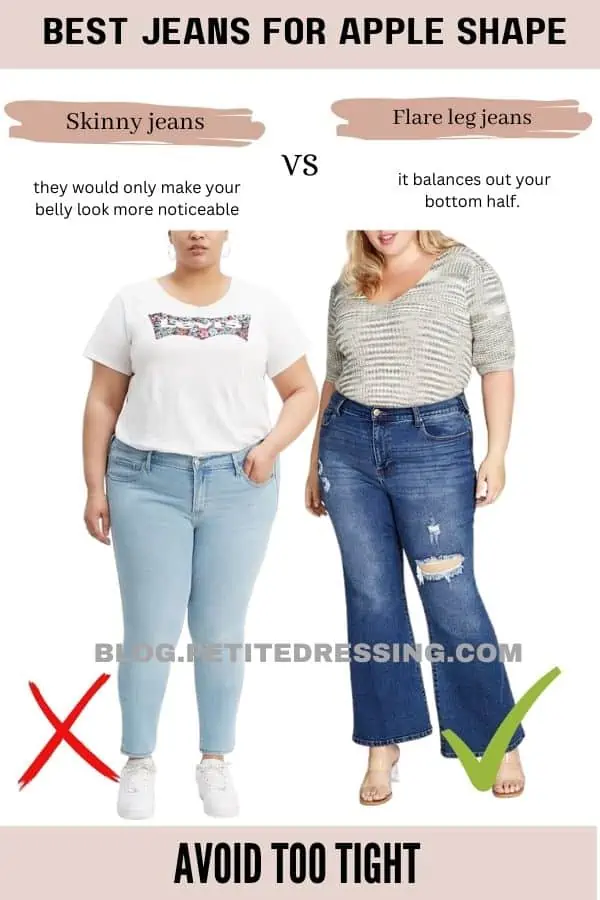 Size up
If you are in-between sizes, go one size up. Here is the deal, you'd rather your jeans look looser in the waist than too tight. If it looks looser, it gives the impression that your waist is smaller than the pants.
On the other hand, if it looks like your belly is overflowing under that jeans- it simply makes your waistline even worse.
Best Styles
Pull on jeans with elastic waistband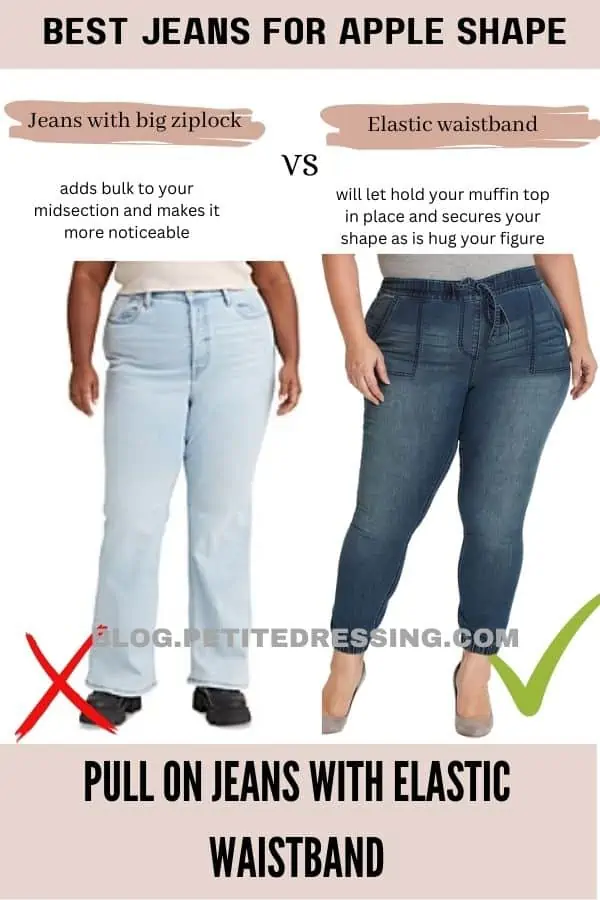 This is the number one tip I want to share with you! Traditionally jeans were made with front zippers, and pull-on jeans are a newer trend.
Why do pull-on jeans make s difference for apple-shaped women (or anyone with a muffin top)?
The reason is front zipper adds bulk to your midsection and makes it more noticeable.  On the other hand, pull-on jeans generally have a side panel with a stomach-flattening effect for your midriff.
Later on, in the round-up for best jeans for big tummy, you will notice the top brands all embrace this concept of the tummy control panel.
Avoid button fly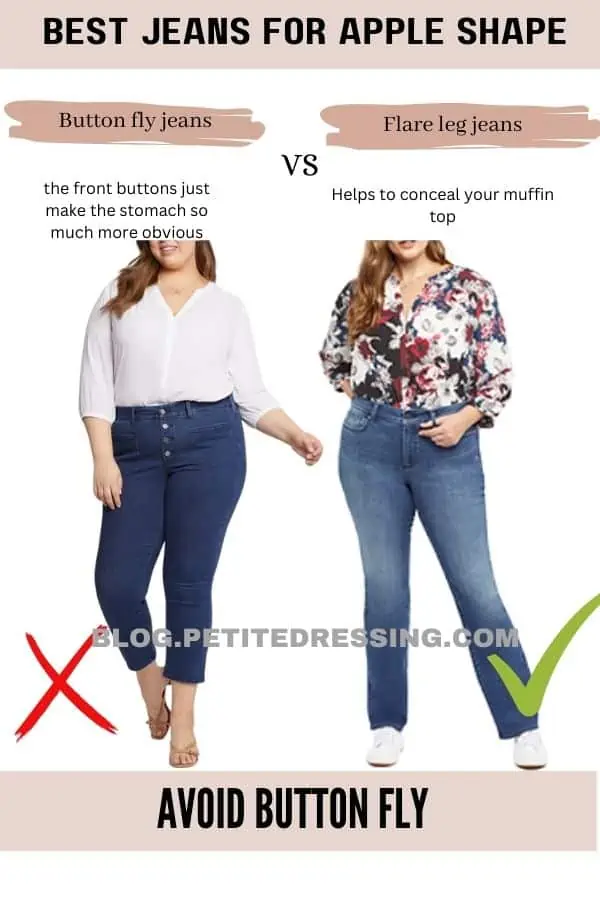 Okay, the button fly jeans are absolutely adorable and they are just so on-trend! They are my personal favorite! However, I can only wear them when I am really skinny and when my midriff is not very obvious. As soon as I gained a few pounds, I will have to stop wearing them, because the front buttons just make my stomach so much more obvious!
I'm not saying you have to stay away from button fly jeans completely, but they are not the most flattering if your goal is to hide the muffin top.
High rise
High-rise is the best choice for petite women in general because they extend you vertically and make your legs look longer, like these High Rise Skinny Jeans ($69.00)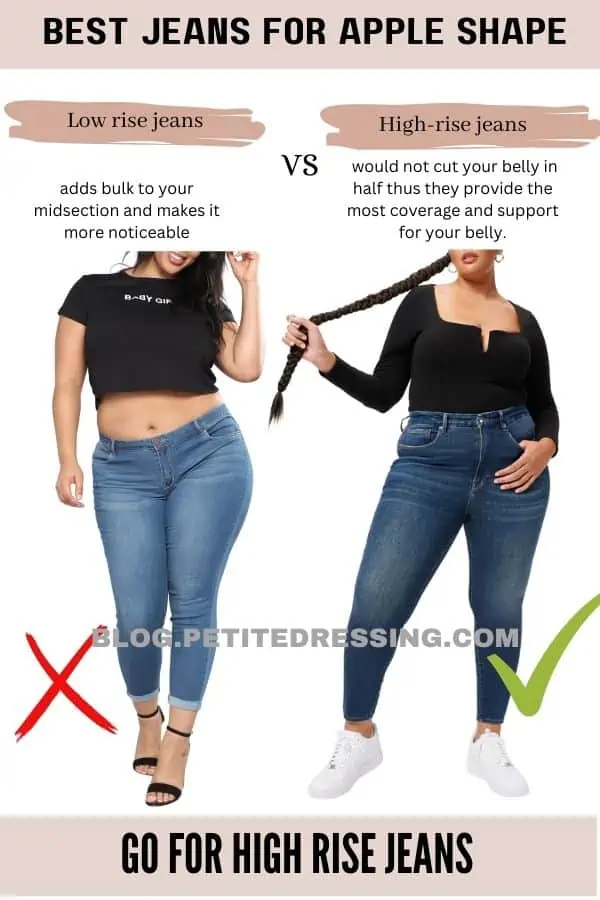 They are especially great for women looking for jeans for a big stomach since they would not cut your belly in half thus they provide the most coverage and support for your belly.
How high should you go? It is really hard for me to give you a specific number because it really depends on your rise.
If you are not familiar with the concept of rise, read my other post to understand if you are long rise/short leg or short rise/long leg body type.
You should choose the rise that you feel most comfortable about but of course no need to go to the extreme (I.e. you don't want to feel like it's reaching your rib cage…).
Flare leg
Flare leg is one of the best jeans for women with a bigger midsection because it balances out your bottom half. Plus, flare leg jeans are the most flattering style for Petites- they instantly make your legs look so much longer!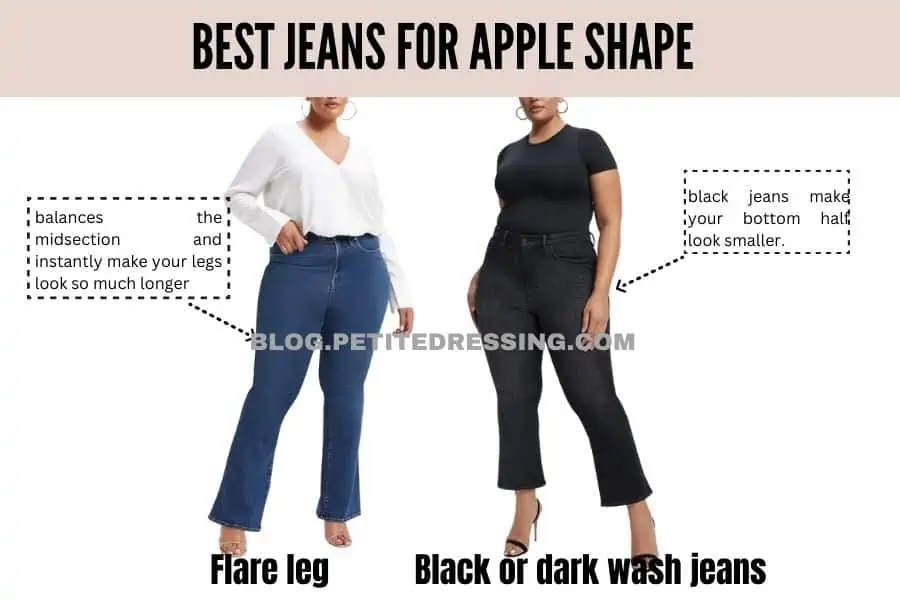 Black or dark wash jeans
It is obvious to most women that black is the shrinking color, thus black jeans make your bottom half look smaller.
Did you know that dark-washed jeans have the same effect?
How to Style
Bright top with dark jeans
Here's a bonus tip most stylists wouldn't tell you- when you wear a bright color top and pair it with black jeans or dark-washed jeans, they actually have a more slimming effect than if you were to wear a black top with black jeans.
The reason is the contrast created by the top and the bottom!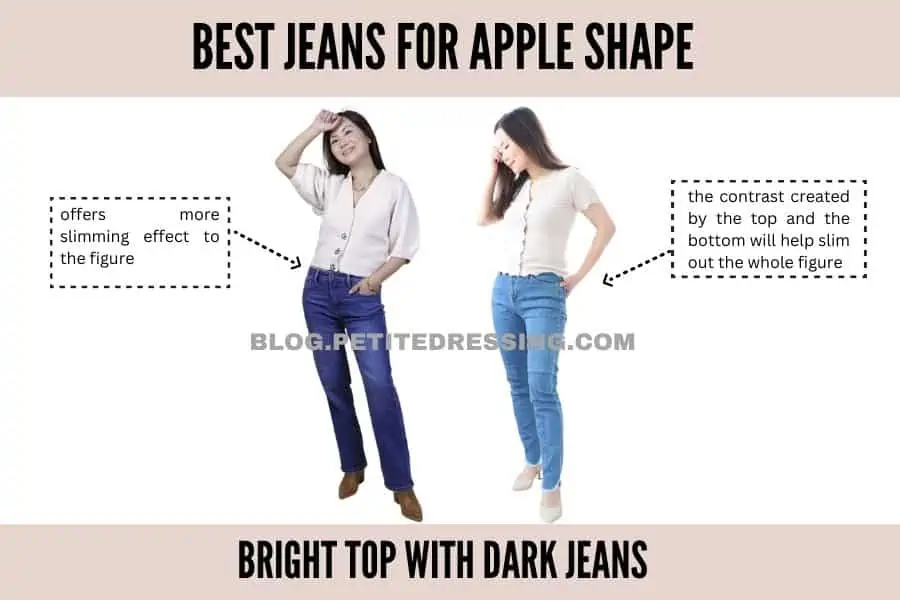 Careful with tucking
When you tuck your top under the jeans, you are immediately drawing attention to your belly! Obviously, that is what you want to avoid!
Avoid skinny belt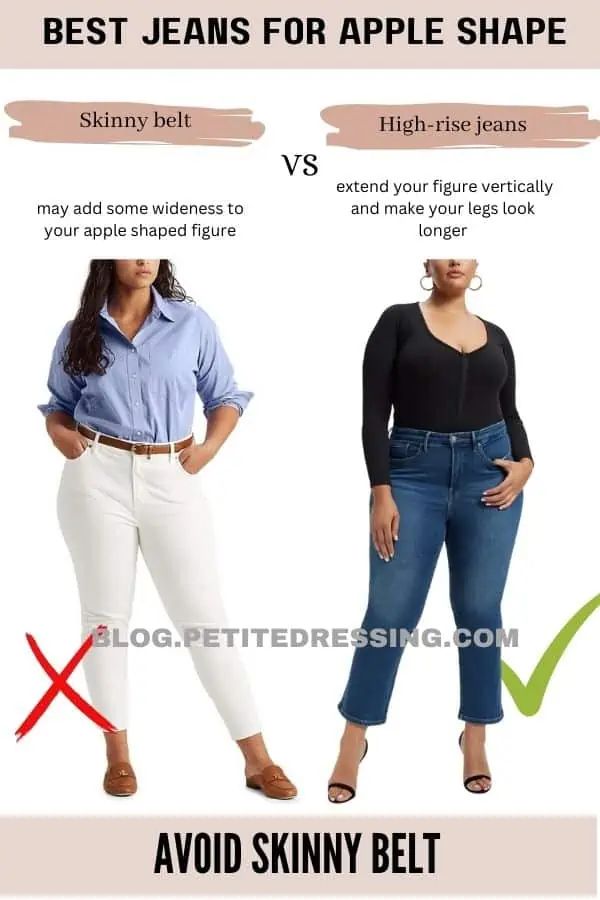 Are you surprised by this one?
It makes sound like the skinny belt is supposed to make you skinny, right? But it is the opposite! If you are looking for jeans that flatter the big tummy, you should stay away from wearing a skinny belt over the jeans.
In this picture, the model is an hourglass shape, i.e. her waist is significantly smaller than the hips. That is not the case with an apple shape. If you and I wear the skinny belt,, the contrast of the skinny belt and the heavy midsection makes things so much worse.
Top 7 best jeans brands for apple shape
Now that you know how to choose the best jeans for apple shape, you know what to look for. Next, I will give you a round-up of the best jeans brands for the apple body type, based on the feedback from our readers. Most of these brands have one thing in common- they have tummy control waistband and they are made of stretchy fabrics. This makes it possible for them to accommodate the muffin top, while also fitting our skinny legs at the same time.
Not Your Daughter's Jeans (NYDJ )
Our readers love this brand! They believe this brand is actually cut for an apple-type body. There is plenty of room in the waist to accommodate a bigger waistline, and they stretch pretty well, like these Tummy Control Straight Leg Jeans $99.00).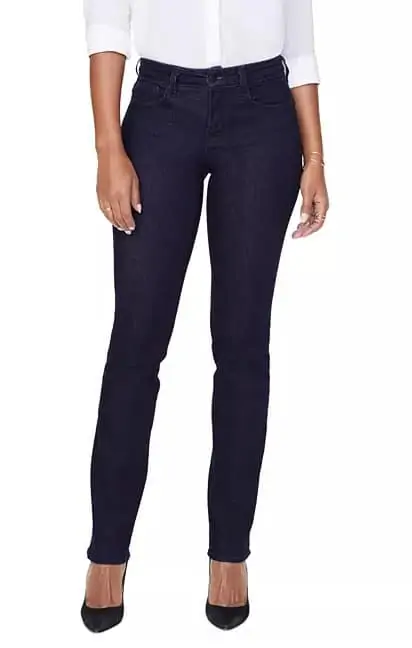 Spanx Jeans
A lot of our readers voted for them because of the very flattering fit. Our readers also love the fact that there is an extra tummy panel inside for extra support. And, of course not surprisingly, since this is made by Spanx, they stretch really nicely and slide on very easily, like these Ankle Length Skinny Jeans ($140.16).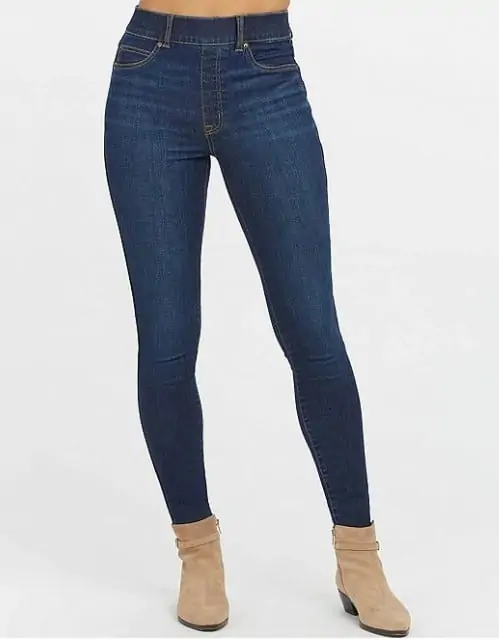 Style & co Jeans
Our readers love this brand because of the inner panel and higher waist, which provide more coverage and control in the tummy area. Also, the stretchy fabrics add extra comfort and make sure the jeans stay in shape longer, like these Pull On Jeggings ($49.00).
The best part? The price tag! With the original prices under $50, you can easily pick out different colors and styles without feeling guilty.
Jag pull on jeans
These jeans go up and over your mid-section and smooth it all out. The Jag jeans pull-on style has a wide band at the top and has no front zipper. That strong ring of thick elastic is what holds your belly in and makes your midriff look flat, like these Women's Peri Straight Jeans ($69.00).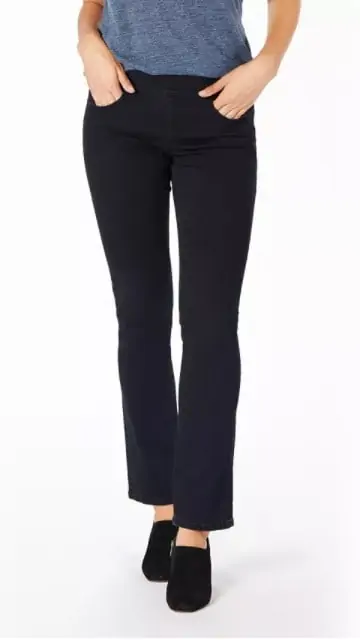 Ann Taylor
If you are petite, I'm sure you are familiar with this brand. Our readers speak highly about their petite denim, especially the Modern line and the curvy fits. Although the original price could be a bit high, they are always having sales- so it's not unusual for their jeans to go down to as low as $50. Also, if you are not far from outlet stores, you might be able to find even more deals in an Ann Taylor Outlet store.
If you are looking online, you can try these Highest Rise Skinny Jeans ($98.00).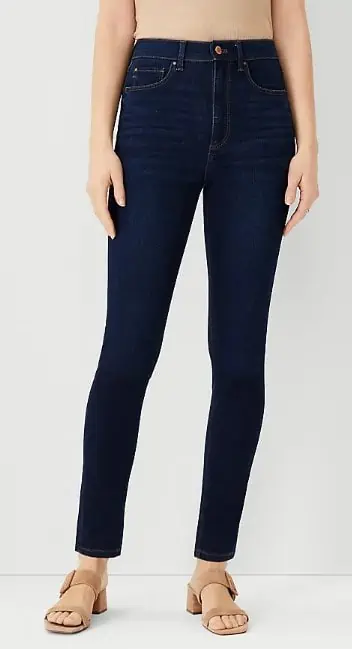 Gap skinny jeans
Our readers raved about the "Always Skinny" from GAP. They now make the "True Skinny", which are similar. If you have a thick middle, you'll love these. They are mid-rise, a little bit stretchy, and not too skinny.
Our readers with apple body shape recommended them because the waist-to-hip ratio is just right. One of my choices is these Vintage Slim Jeans ($69.95).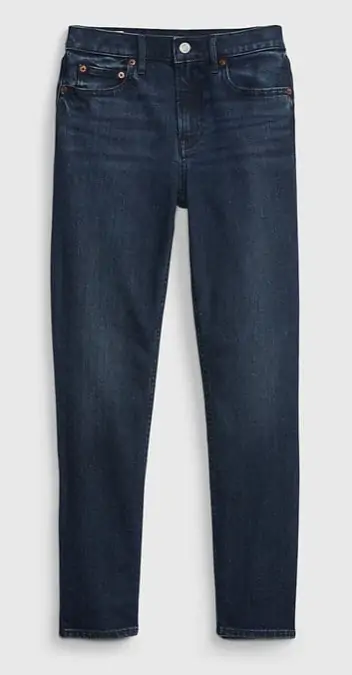 Miracle body jeans
This is a division of Miraclesuit, the leading brand in control swimwear. They are one of the faves of our readers who are concerned about hiding the muffin top. This brand is known for premium super-stretch fabrics, which enable jeans to retain their shape and keep you looking flawless without sacrificing comfort. What makes it flattering for an apple body shape is that each pair features a tummy-flattening panel.