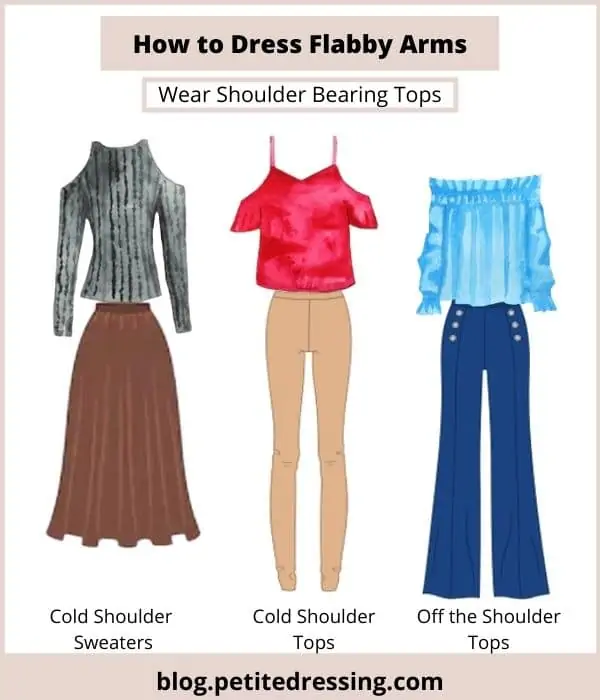 Most women tend to accumulate fat on their arms when they gain weight, and some of us notice our arms grow bigger as we age. Since I have a petite clothing line, I receive feedback from thousands of my customers, many of whom have mentioned they are looking for clothing to de-emphasize the chubby upper arms.
Based on their feedback on what works the best, I've put together this guide with 16 best ways to dress if you have flabby arms, and you'll immediately feel more confident.
Wear shoulder-baring pieces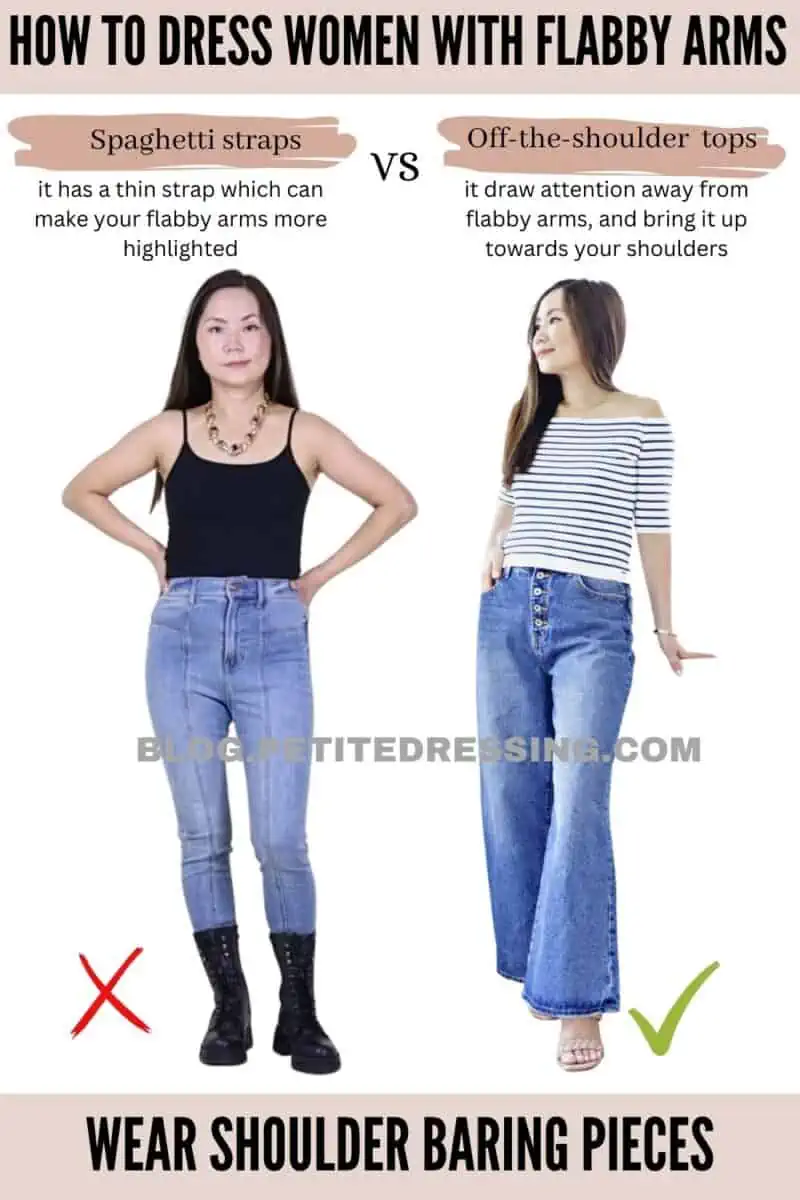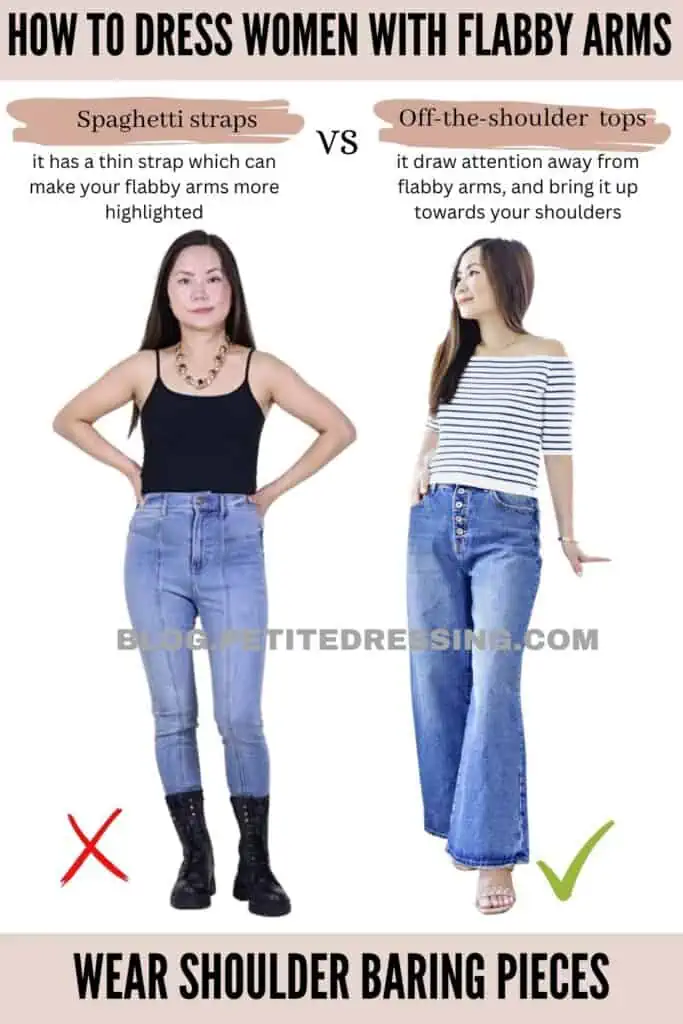 Draw attention away from flabby arms, and bring it up towards your shoulders with pieces that highlight your shoulder area.
The best way to achieve this goal is to wear off the shoulder or cold shoulder design to cover the wide area of arms with an open neckline to show a bit of skin.
Both off shoulder and cold shoulder are very much on trend, so you have many options in tops, dresses and even sweaters to choose from throughout the year.
Off the shoulder tops or dresses are universally flattering to any body type, and especially flattering if you happen to have a pear shaped body. This type of tops create a horizontal line on your shoulders to balance out the wider hips.
Wear V neckline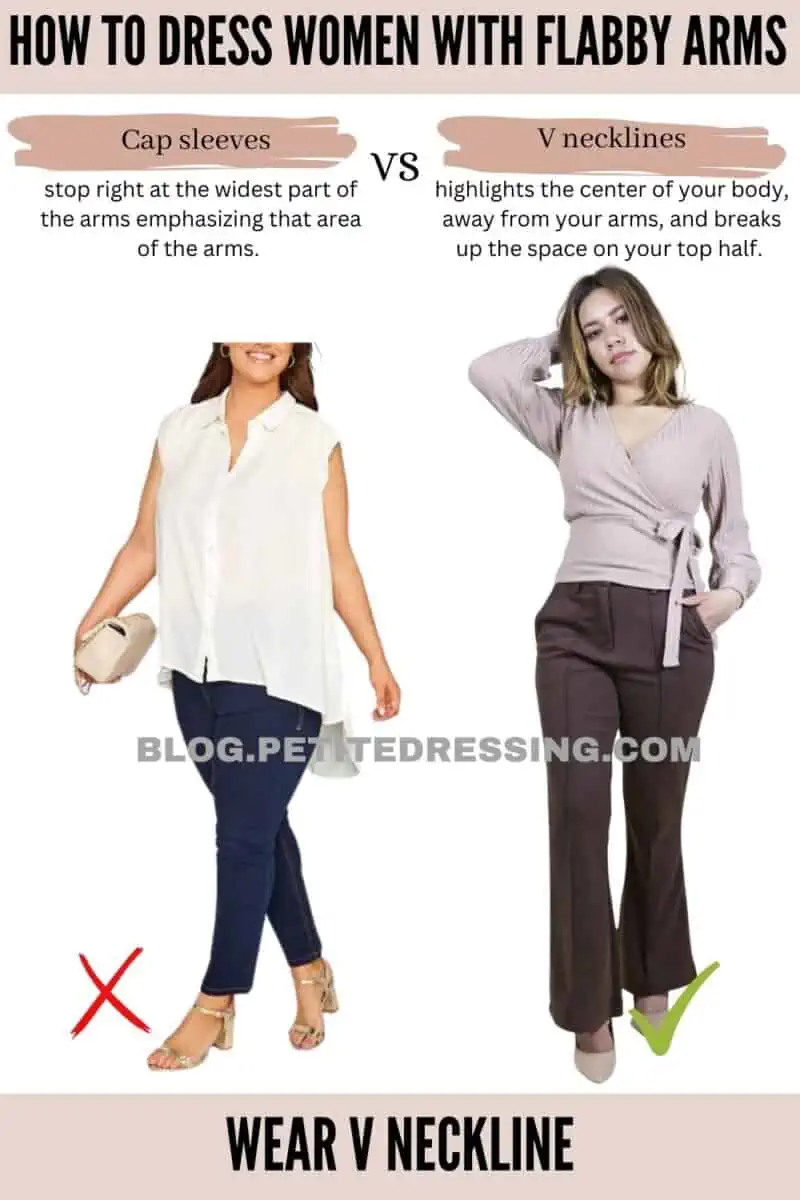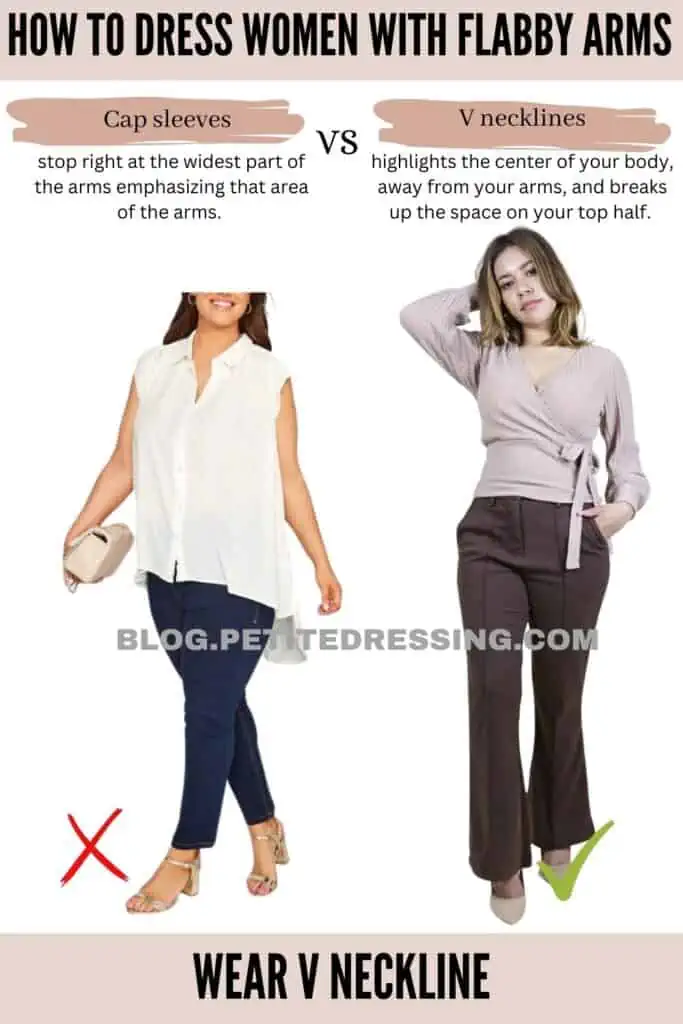 Bring attention to your face and neckline with v-necklines is a great way to distract from bigger arms.
Open necklines highlight the center of your body, away from your arms, and breaks up the space on your top half. Most women with bigger arms also have big boobs, which is one of your best assets.
When you wear a V neck, especially a deep V, you will be drawing attention to your full breasts and your arms will be much less noticeable.
Highlight your waistline
This is a similar strategy to direct attention away from your arms by accentuating your assets. You can bring the focus away from your problem area by highlighting another part of your body, like your waistline.
Add a fun belt or choose a dress with a clearly defined waistline to add a pop to the center portion of your body. Not only does this distract from your arms, but it creates more space between your body and arms.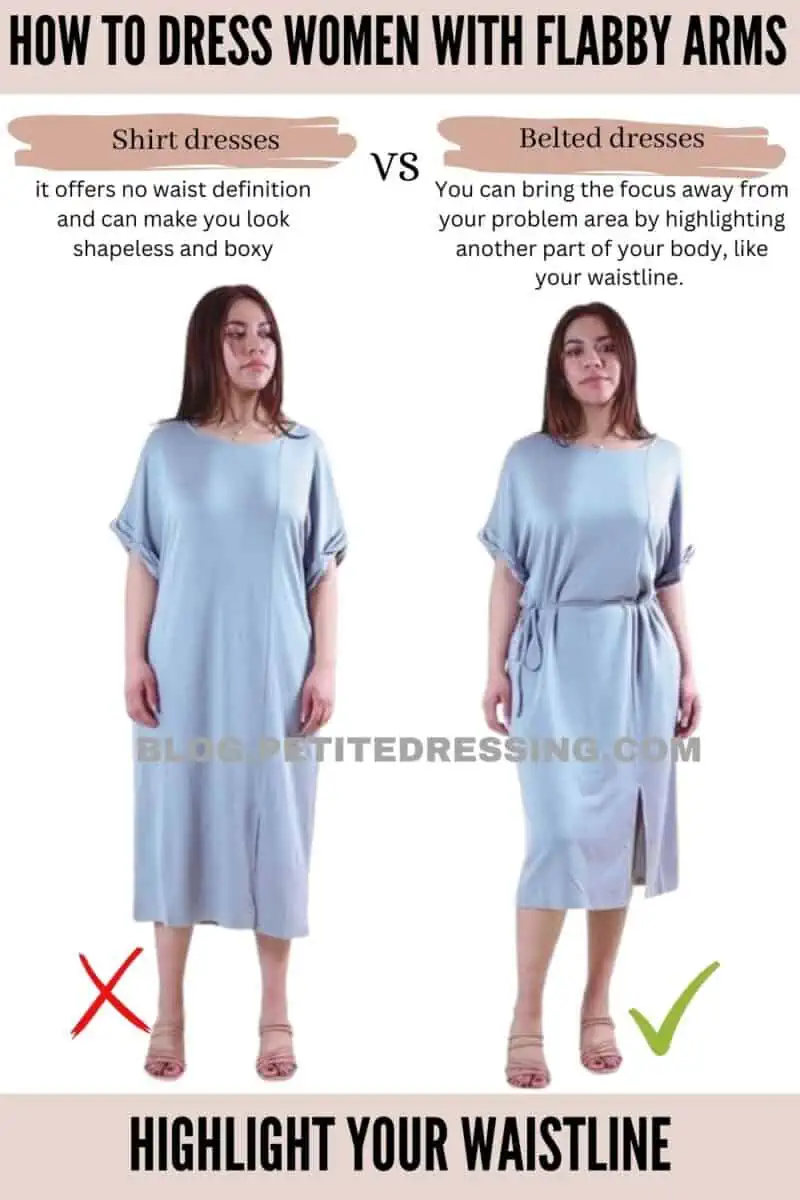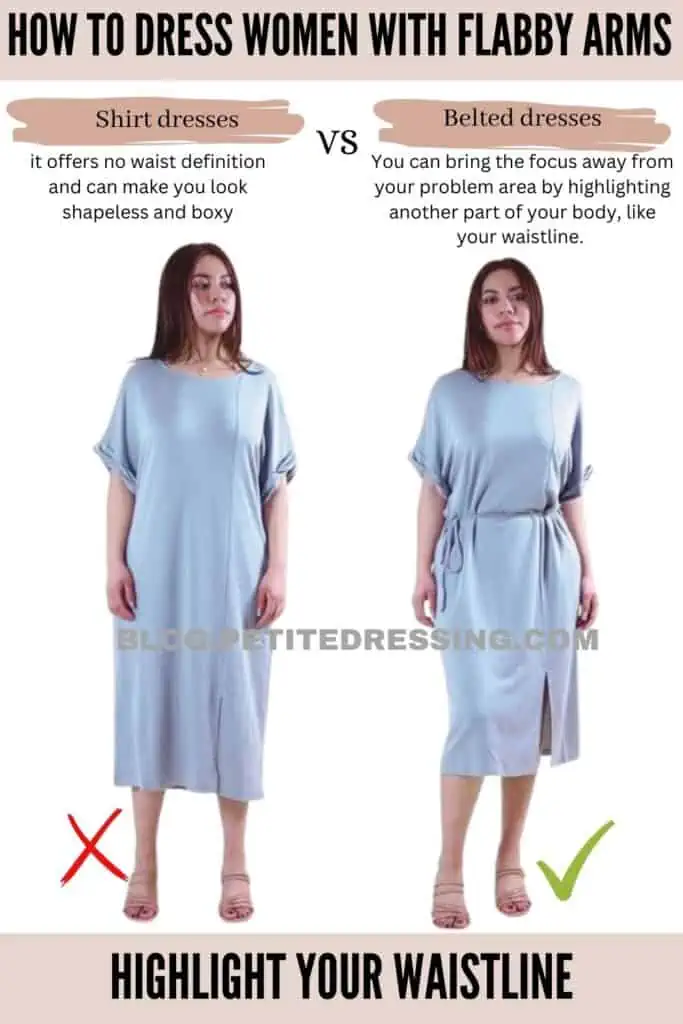 Wear dark colors on top
Dark colors are slimming, which makes them ideal to wear on the top half of your body, specifically around your arms.
If you want your arms to look slimmer, then darker colors are the best choices for the tops. Give the illusion of more balance to your shape by wearing light or bright colors on the bottom half to add contrast to dark colors.
Of course, the opposite is also true, i.e. if you wear a bright color on top, then more attention is drawn to your top. That means you should be very cautious of brighter tops if you do not want your arms to become the focus of the outfit.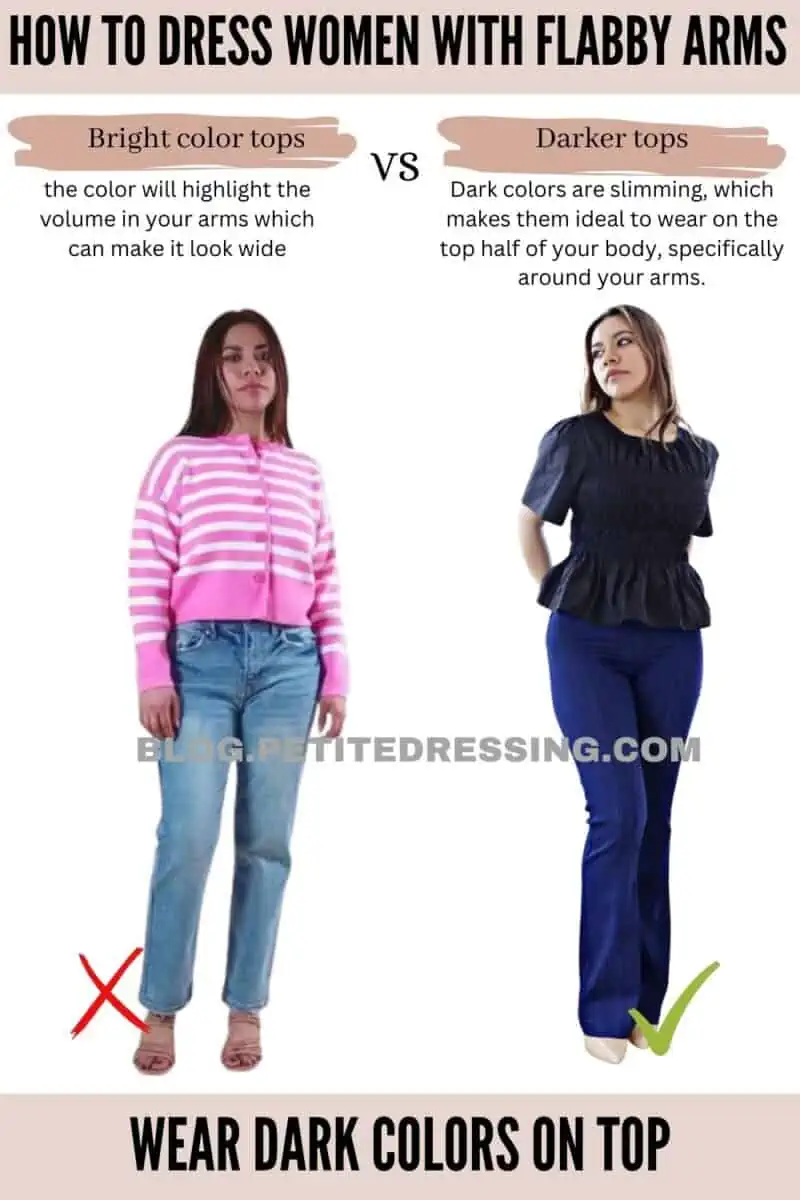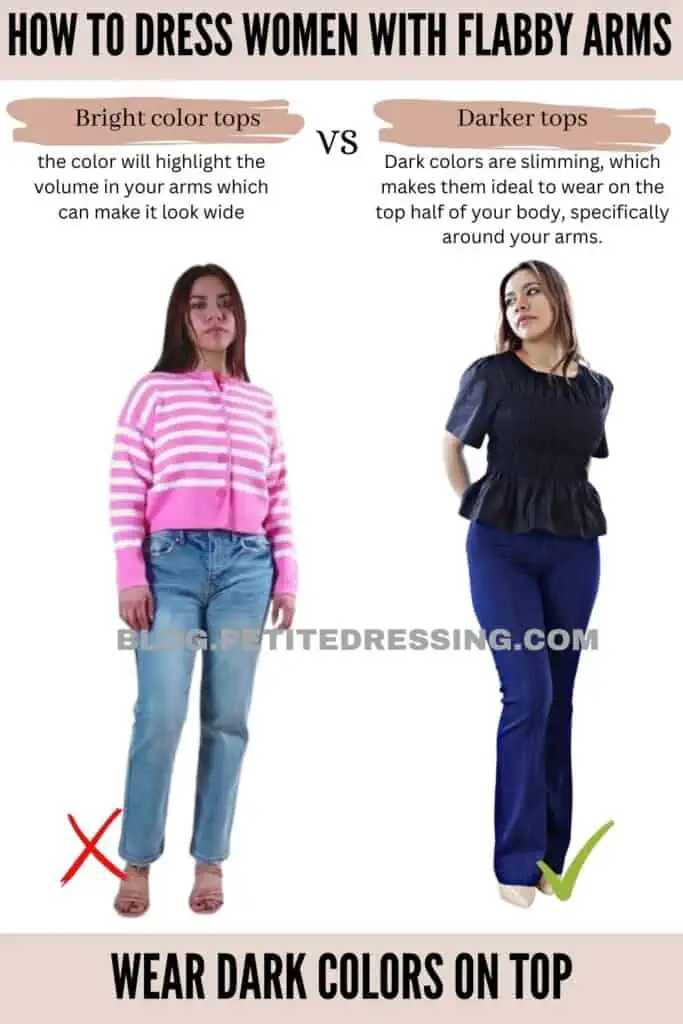 ¾ Length Sleeves
A universally flattering sleeve length, ¾ is particularly great in hiding flabby arms.
The magic of the 3/4 sleeves is that it draws focus to your wrist, the smallest part of our upper body. This is one of the most feminine ways to dress, whether or not you are concerned about having big arms.
Because some of the wrist area is exposed, this sleeve style adds a feminine aesthetic to the look and draws attention away from the top half of the arm.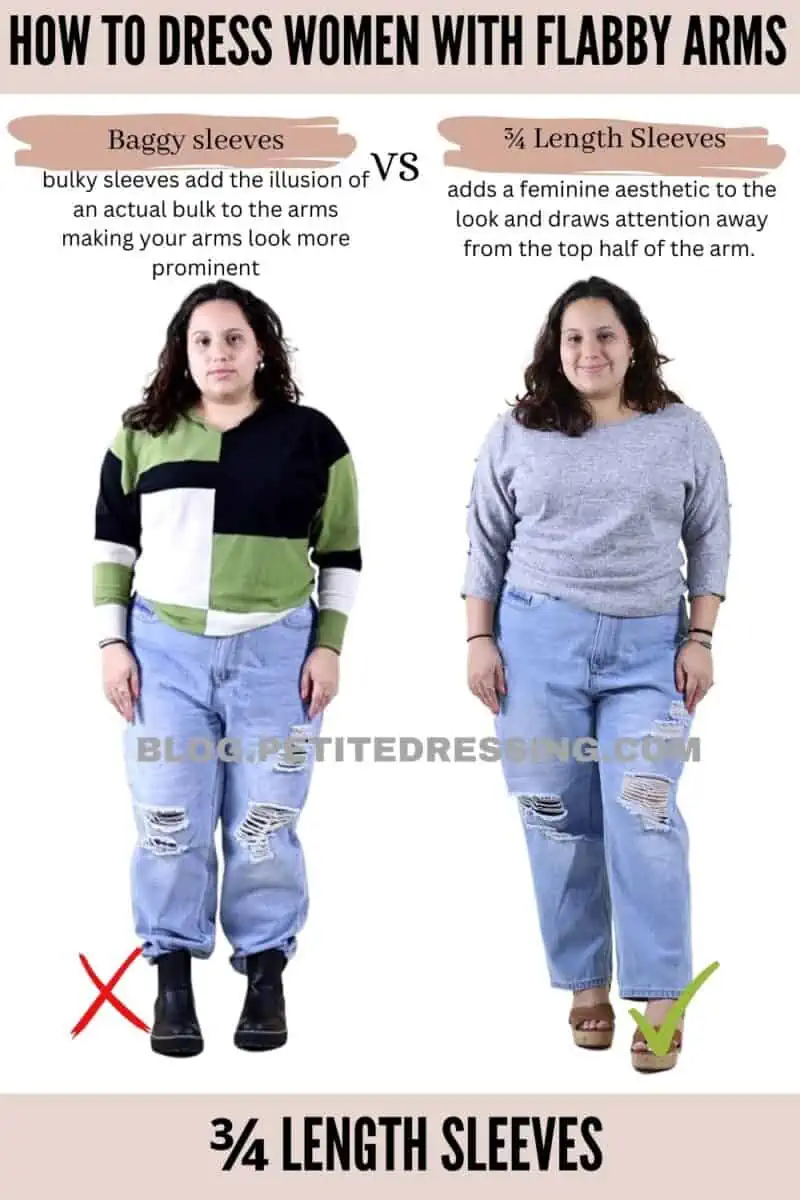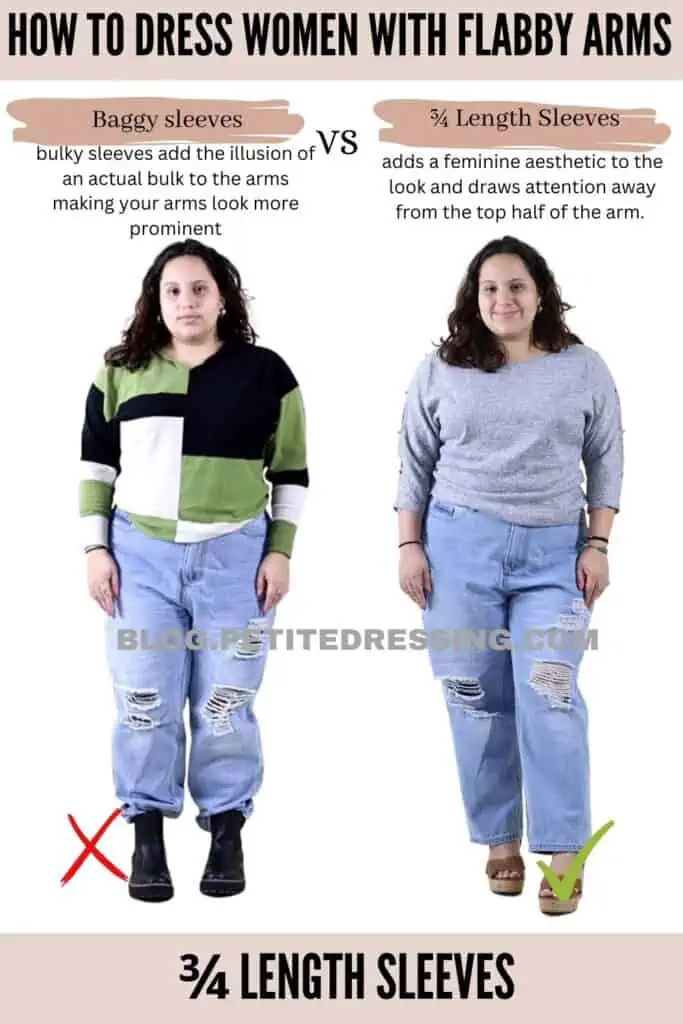 Flutter sleeves
Add interest and style to your outfit with flutter sleeves.
This is another style of sleeves that has plenty of space to be both flattering and comfortable for women with bigger arms.Not only do they provide coverage to flabby arms, but they make arms look smaller because of the 'fluttering' effect that flows around the arms.
Wear Bolero Style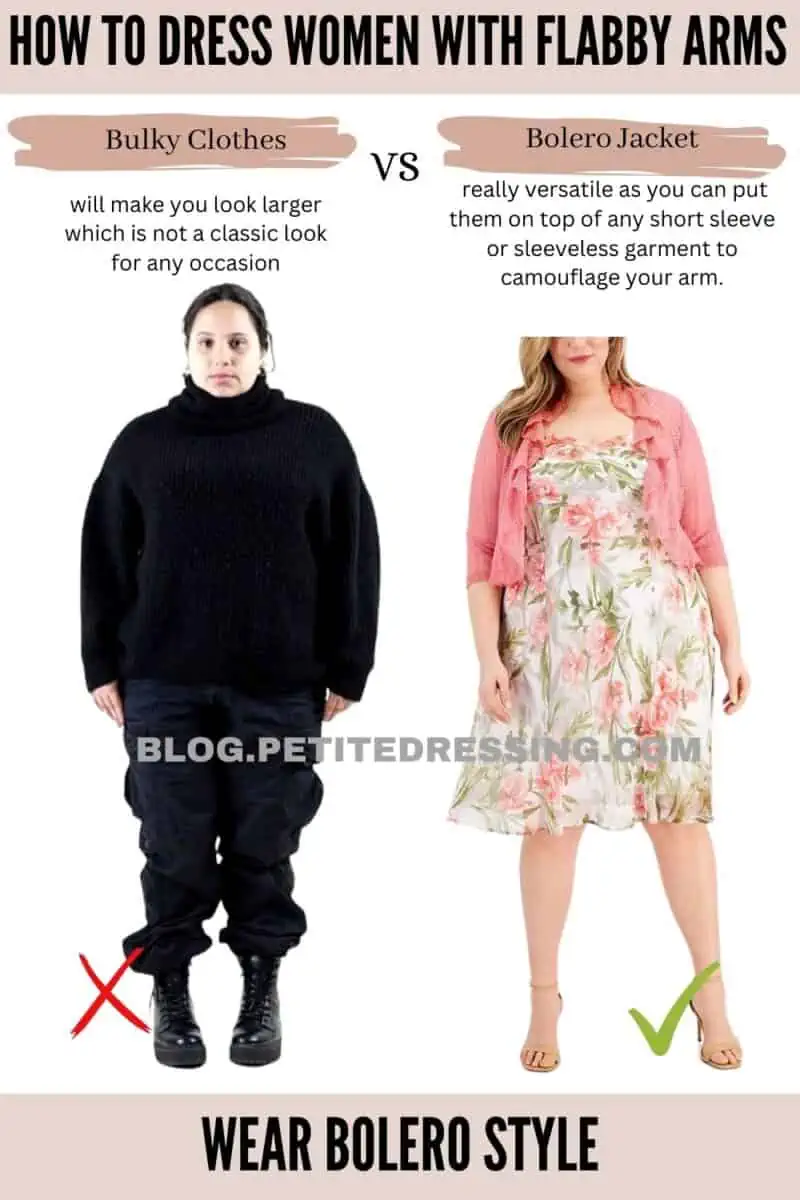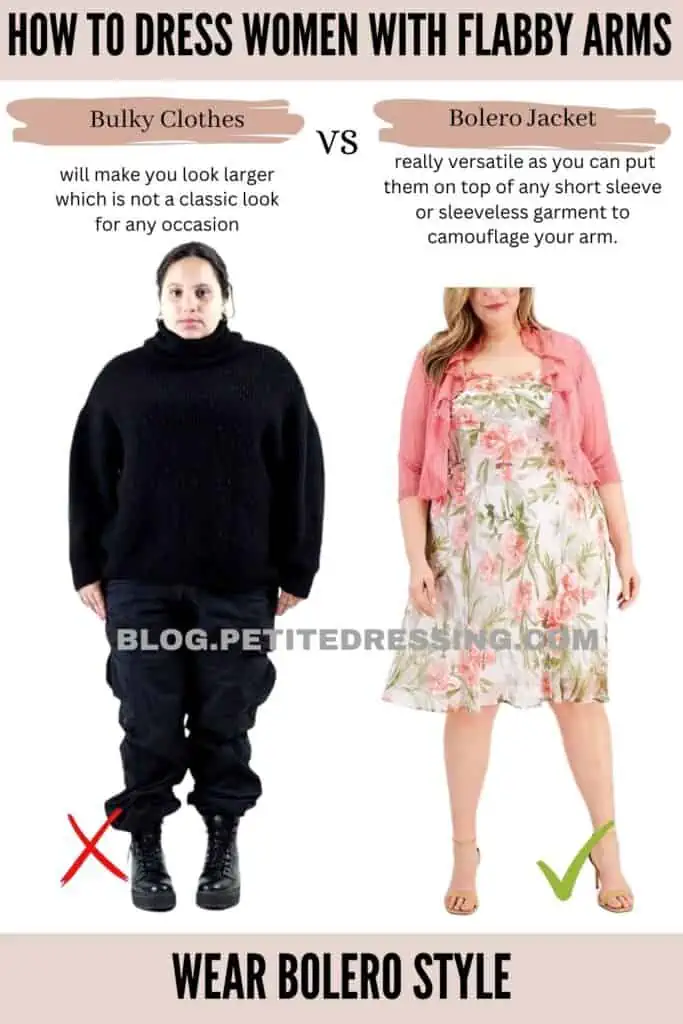 If you are self-conscious about your arms not looking tight enough, then a bolero style jacket is your best friend. This kind of coat/jacket sometimes is also called a shrug. They are really versatile as you can put them on top of any short sleeve or sleeveless garment to camouflage your arm.
If you have a formal occasion coming up where you are looking to wear an evening gown, you can add a bolero jacket on top for the final touch.
In fact, many mother-of-the-bride dresses come in two pieces with a gown and a shrug, a perfect combination for any women who want their arms covered while wearing a formal dress.
A bolero jacket can not only be worn with a formal dress, but also you can wear it with a sleeveless top paired with pants or jeans in a casual outfit. They are good option year around for anyone who don't want their arms exposed.
Sheer sleeves
When you wear sheer sleeves, it will make the flabby arms much less noticeable.This is a perfect choice for dressy occasions where you do not want your arms to be totally covered but also do not want them completely exposed.
Many dresses for mature ladies come with sheer sleeves, which is a great alternative to completely covering up your arms.
Wear Kimono Style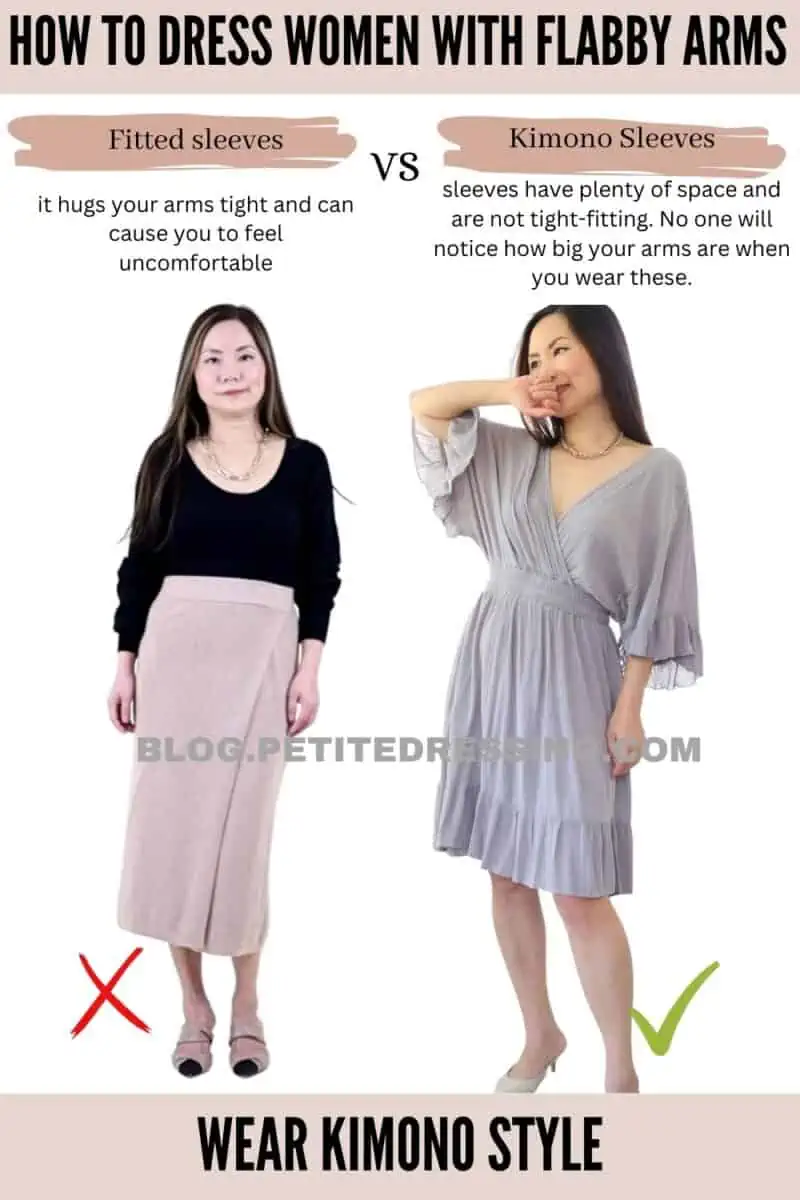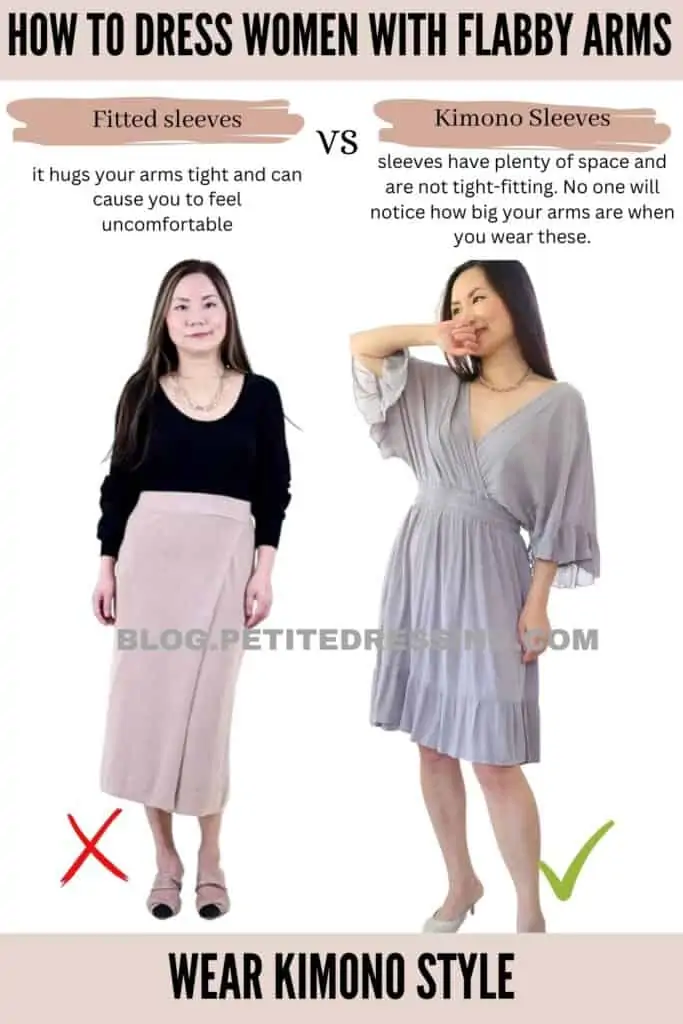 If you have big arms, a top with kimono-style sleeves will not only be flattering but also comfortable for you. These kinds of sleeves have plenty of space and are not tight-fitting. No one will notice how big your arms are when you wear these.
Add accessories to your wrist
Styling women with flabby arms do not have to always focus on your arms.
In fact, the opposite is true.
Using accessories to distract is a great strategy to flatter your shape.
Styling visual interest to your wrist, with accessories like bracelets, takes the attention away from the bicep area.Because the accessories sit low on the arm, that's where the focus is naturally drawn.
The wrist is the most slender part of your arms. By drawing interest to your wrist, you will create the illusion of having slim instead of arms.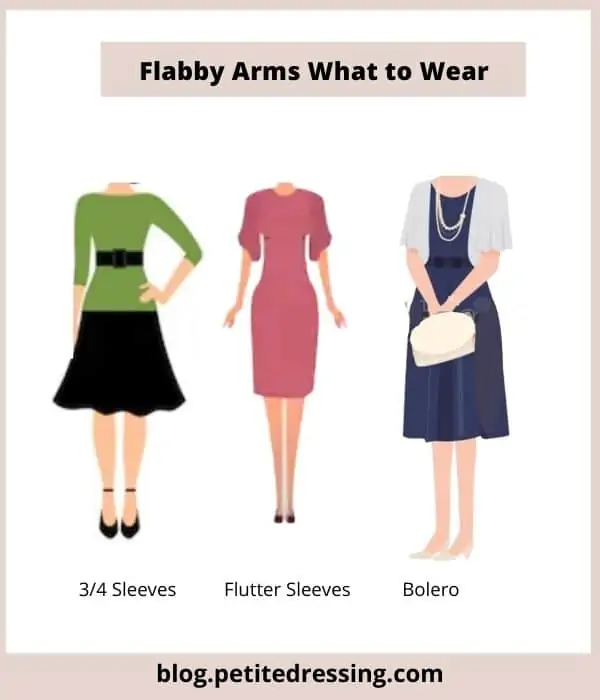 Statement Earrings
Another simple way to pull focus away from your arms is by wearing earrings. Naturally, earrings add visual interest to your face drawing the eye up towards that part of your body.
The bigger and bolder your earrings are, the better they will serve the purpose of highlighting your face and in turn making your big arms less noticed.
Add statement necklaces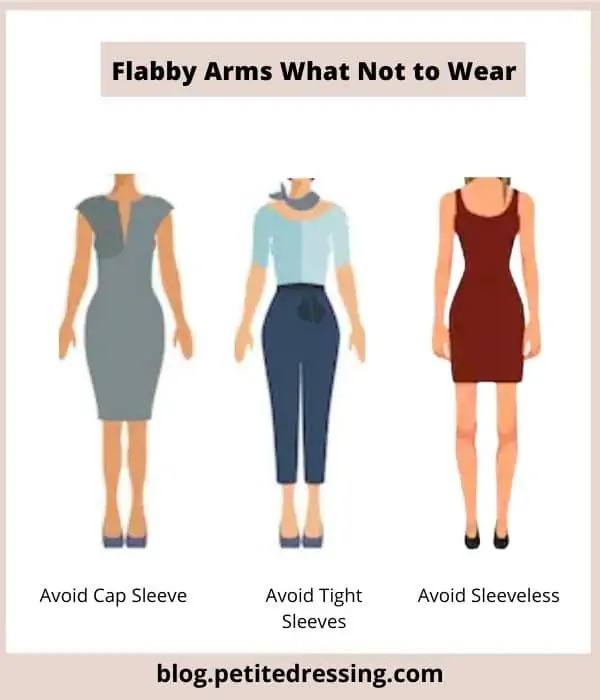 Wearing statement pieces near your face is a great way to flatter women with flashy arms.Like the earrings, any necklace that is bold and noticeable will draw attention to your face, and make your arms much less noticeable.
Statement necklaces are one of the biggest trends in recent years, and women with bigger arms should totally enjoy this trend because they work really well on you.
Avoid tight-fitting sleeves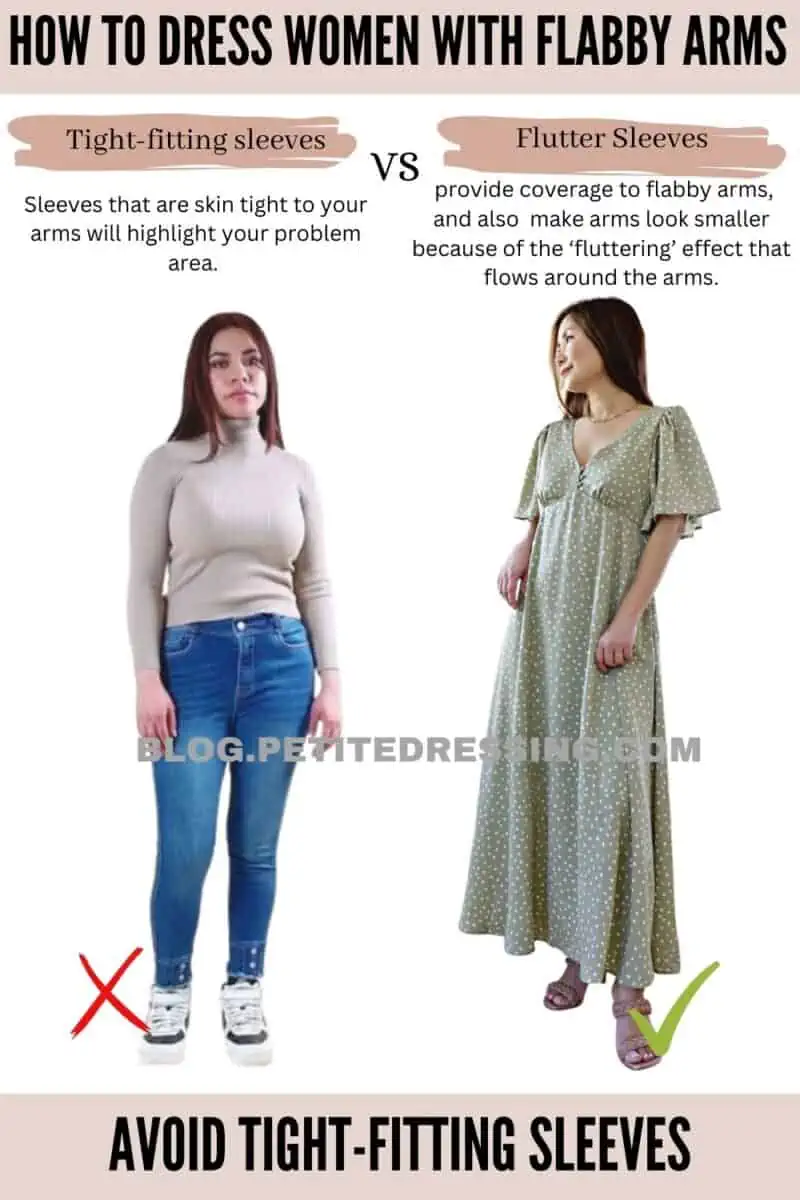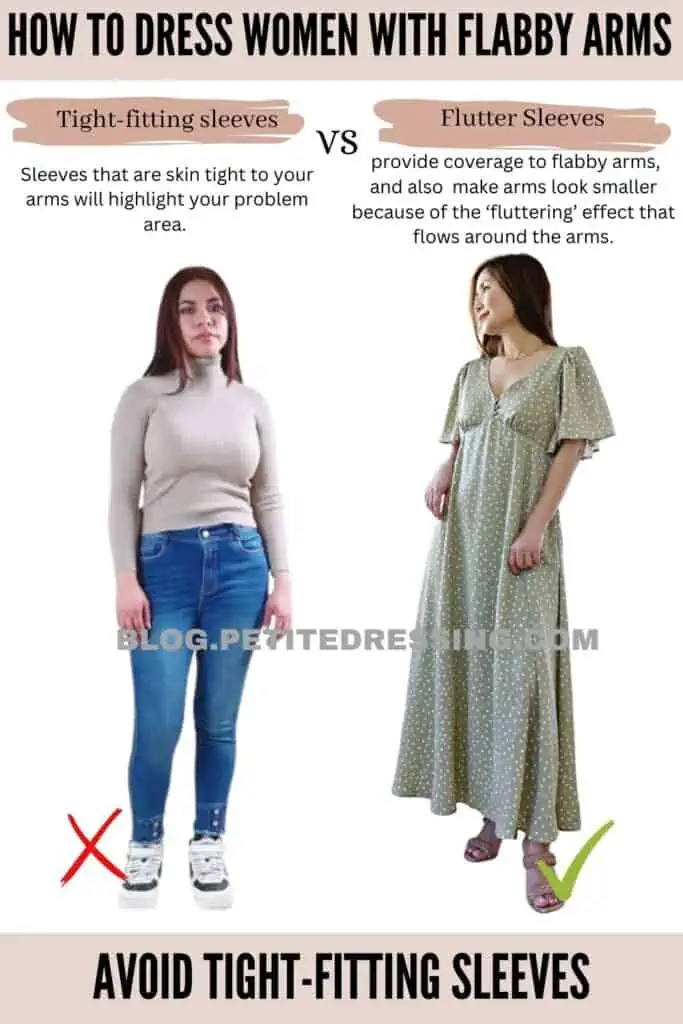 It goes without saying if you do not want your flabby arms noticed, then you should stay away from anything that draws attention to them.
Sleeves that are skin tight to your arms will highlight your problem area.
Instead, select sleeves that have some wiggle room to them like the kimono sleeve or flutter sleeve I mentioned earlier.
This way the garments skim across your arms without suffocating them.
Avoid sleeveless clothes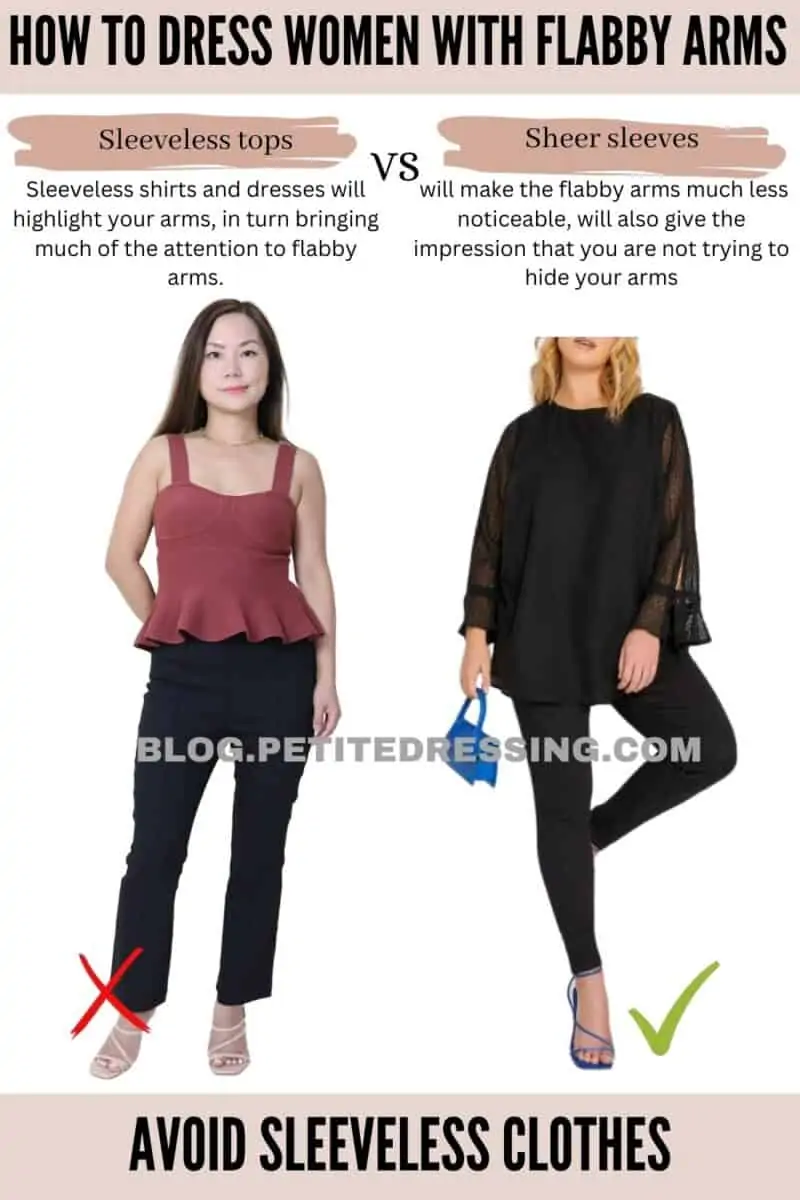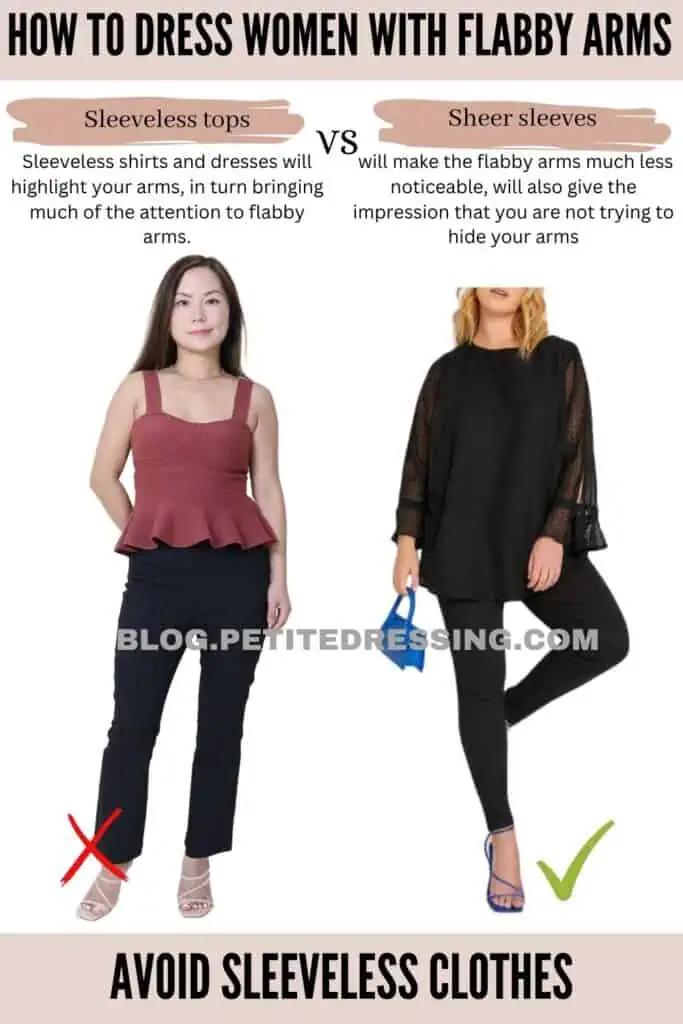 Sleeveless shirts and dresses will highlight your arms, in turn bringing much of the attention to flabby arms.
Opting for clothing with coverage to the arms will cover the area in a way that's much more flattering.
In the event you need to wear sleeveless dresses for a more dressed-up occasion, then wear a lightweight cardigan or bolero jacket over sleeveless pieces as I mentioned earlier.
Avoid Cap Sleeves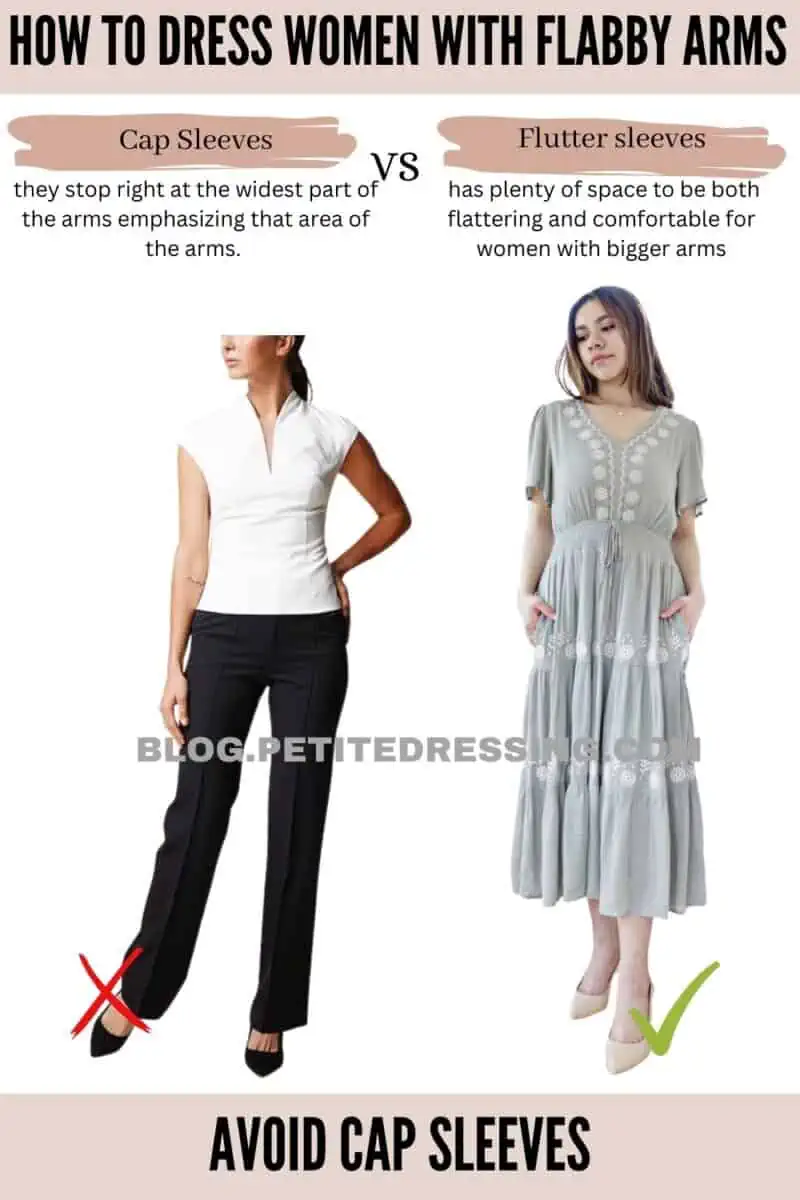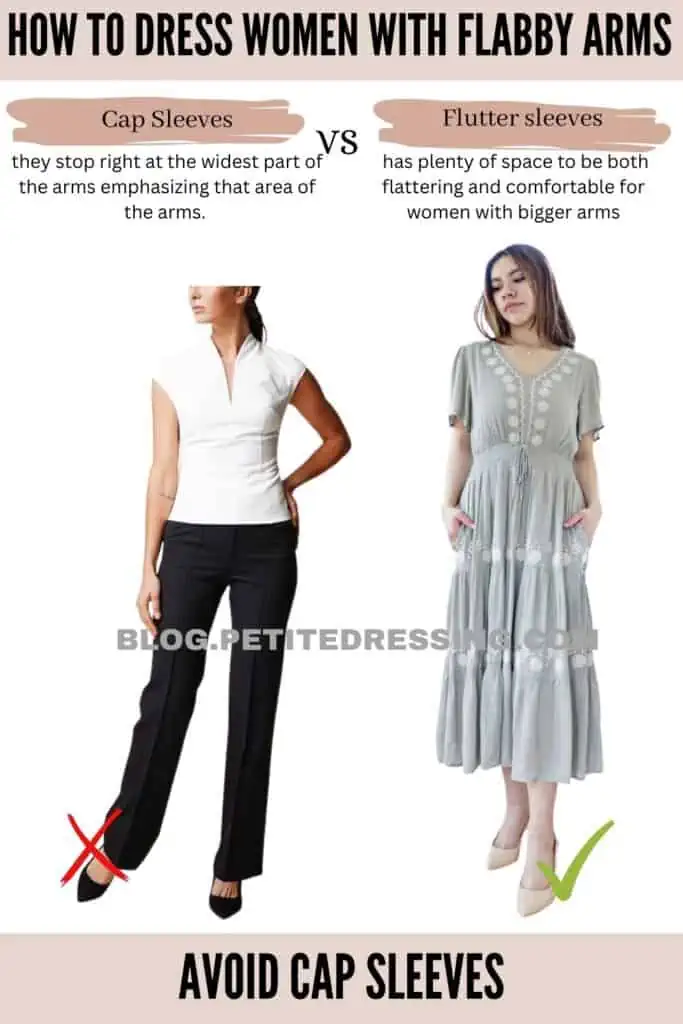 Cap sleeves are very similar to sleeveless garments when styling wide arms.
Because of where cap sleeves lay on the arm, they stop right at the widest part of the arms emphasizing that area of the arms.
Instead of cap sleeves, consider options that lay just below the largest part of your arm.
Avoid strapless anything
Strapless clothing is known to expose the arms, shoulder, and chest area of the body.
That being said, this isn't an ideal silhouette to dress to flatter flabby arms. Since your shoulders and arms will both be totally exposed, they are very likely to become the center of attention. If that is not your intention, then clothing with sleeves is much more flattering and distracts from wide arms.