If you are petite, you probably feel finding anything to fit your height is quite a challenge. I know this from first hand experience, as I am 5'2″ myself.
If you are short and have a pear shape, that can make it even harder, as the pear carries the weight in your hips and thighs, which can make your legs look shorter than otherwise.
Because I have a petite clothing line for women 5'4″ and under, I work with petite models of different shapes (including the pear) and sizes on a weekly basis for our fitting and photo shoot.
Based on that as well as the feedback I receive from thousands of my petite customers, I've put together this guide to help you choosing the best style pants for your shape.
Styling Goal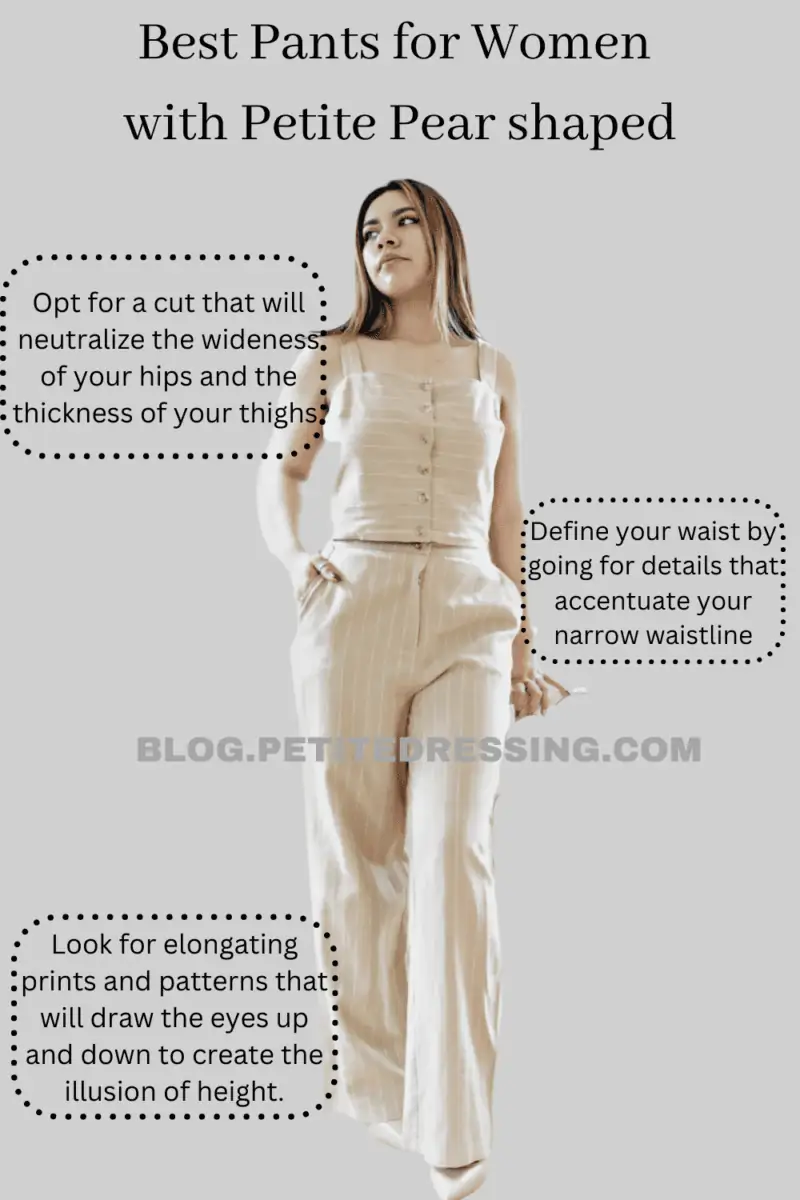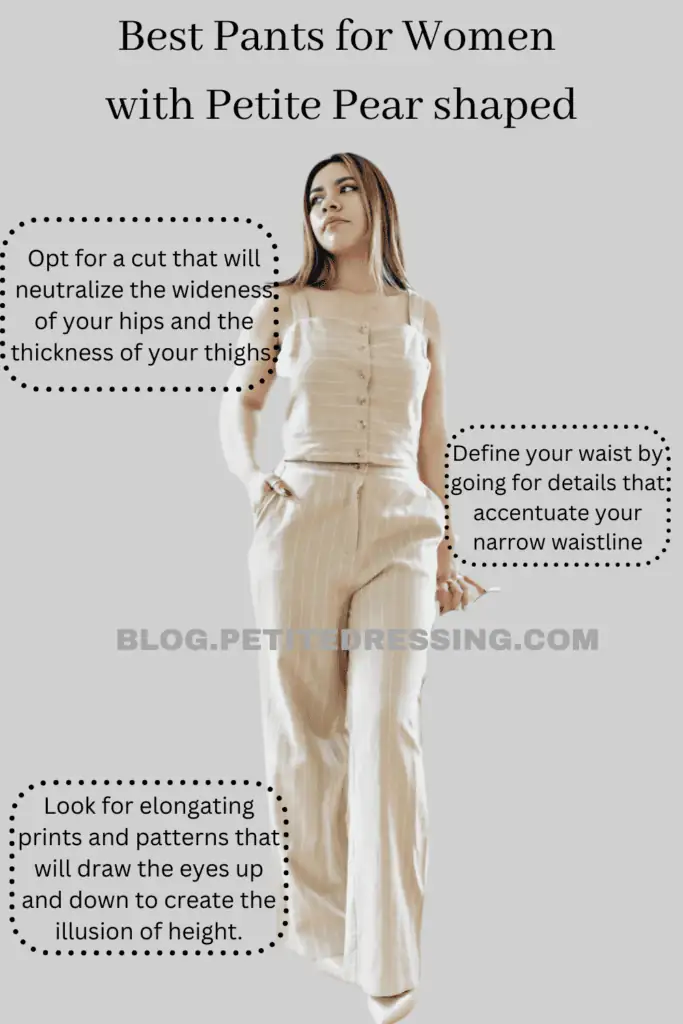 Opt for a cut that will neutralize the wideness of your hips and the thickness of your thighs. You wouldn't want to lose these curves, but choosing the right structures of pants will help balance out the width of your lower body in comparison to your narrower upper half.
Look for elongating prints and patterns that will draw the eyes up and down to create the illusion of height. Streamlined seams, vertical stripes, and straight line patterns are some examples of designs that visually make you appear taller.
Define your waist by going for details that accentuate your narrow waistline. Going for pants that are able to cinch the waist is a great way to draw the eyes to your waistline and add significant definition.
The types of pants that feature these key styling goals would make them quite flattering for your petite pear body shape. So without any further ado, let's dive into the different styles of pants that will surely compliment your petite pear body shape.
Bootcut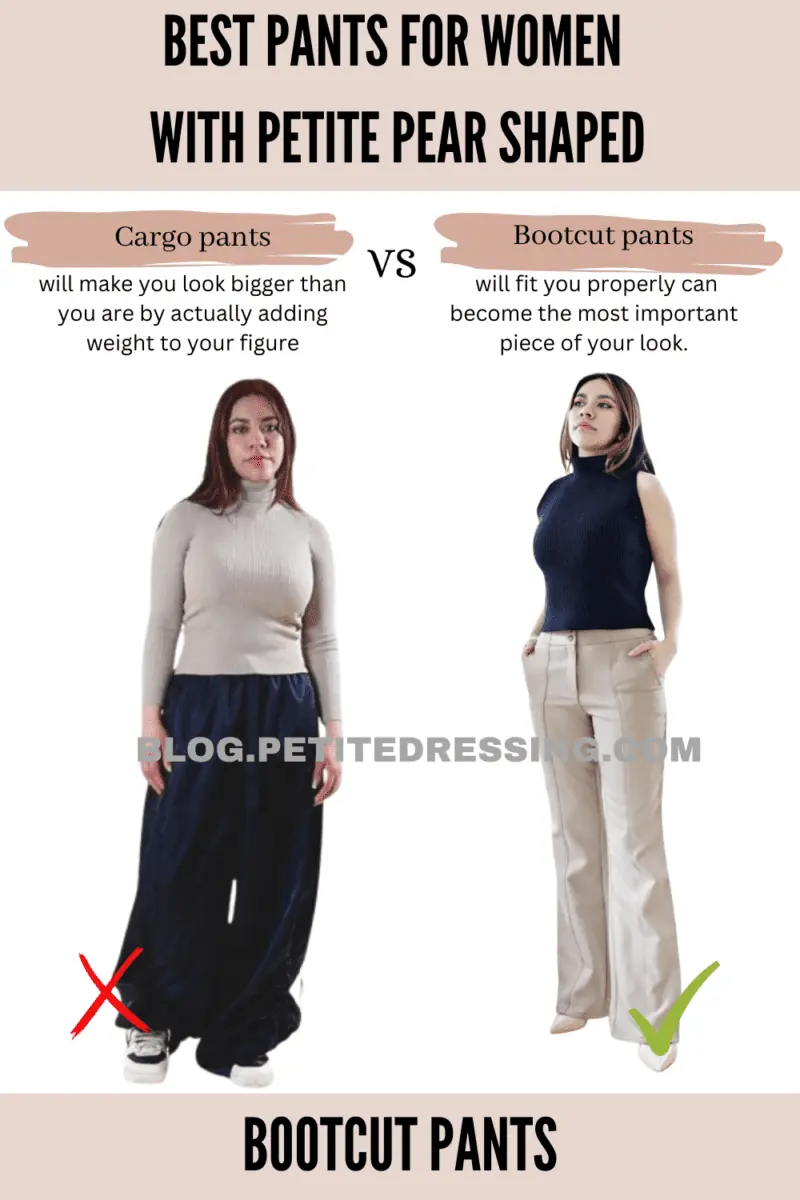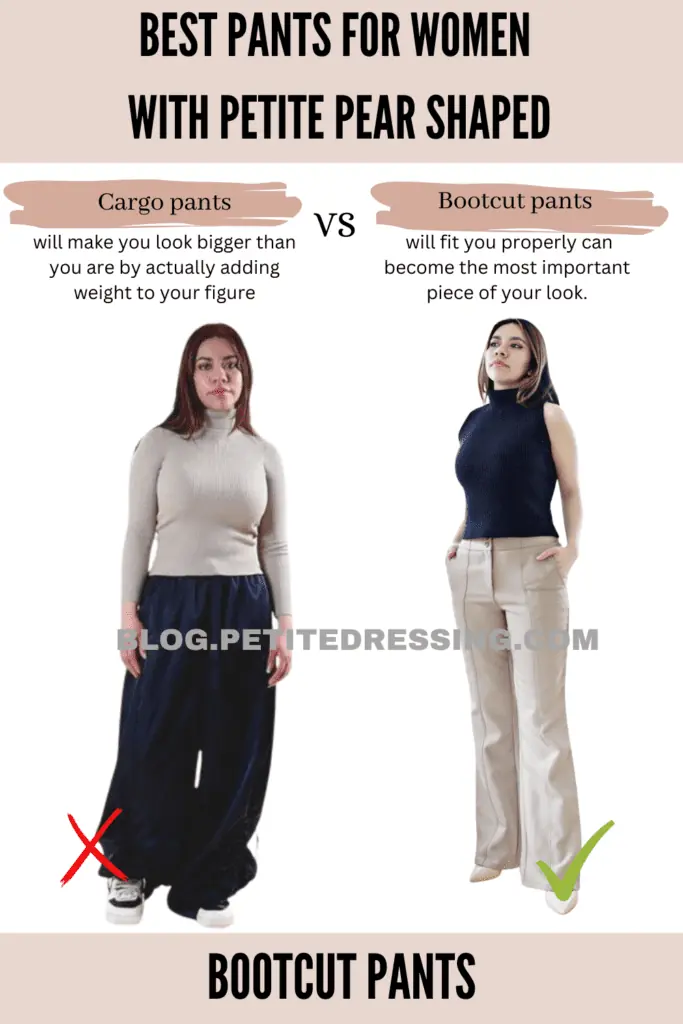 First on our list are the bootcut pants. Bootcut pants are a good option for petite women with pear-shaped bodies because they can help balance out the thickness of the hips and thighs while also elongating the legs.
The slight flare at the bottom of the pant leg can create a more even proportion from top to bottom for a significantly more balanced silhouette. Additionally, the form-fitting thigh and hip area accentuates the curves of the body without adding any bulk or volume.
This can be particularly flattering for pear-shaped women who may want to emphasize their curves without overdoing their look with a tight fit. Overall, it's a nice pair to have if you'd like to channel your curves the more natural way!
Streamlined Straight Leg Pants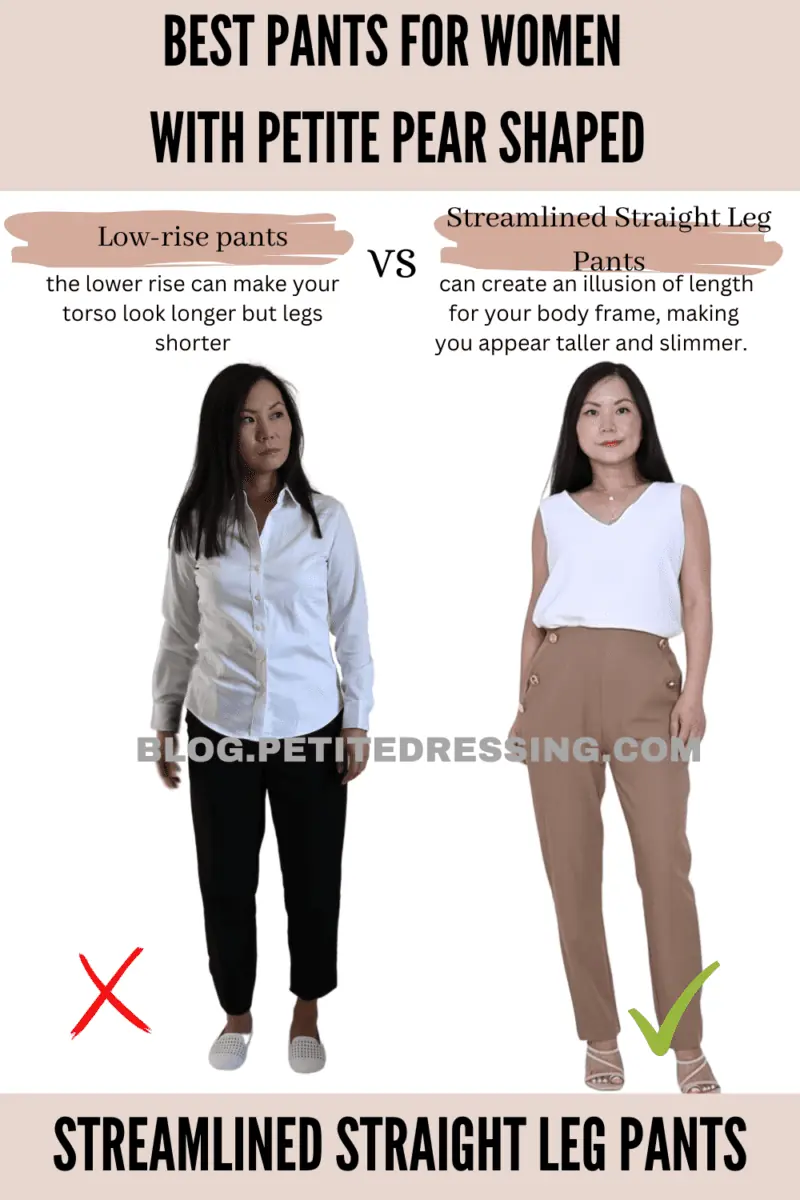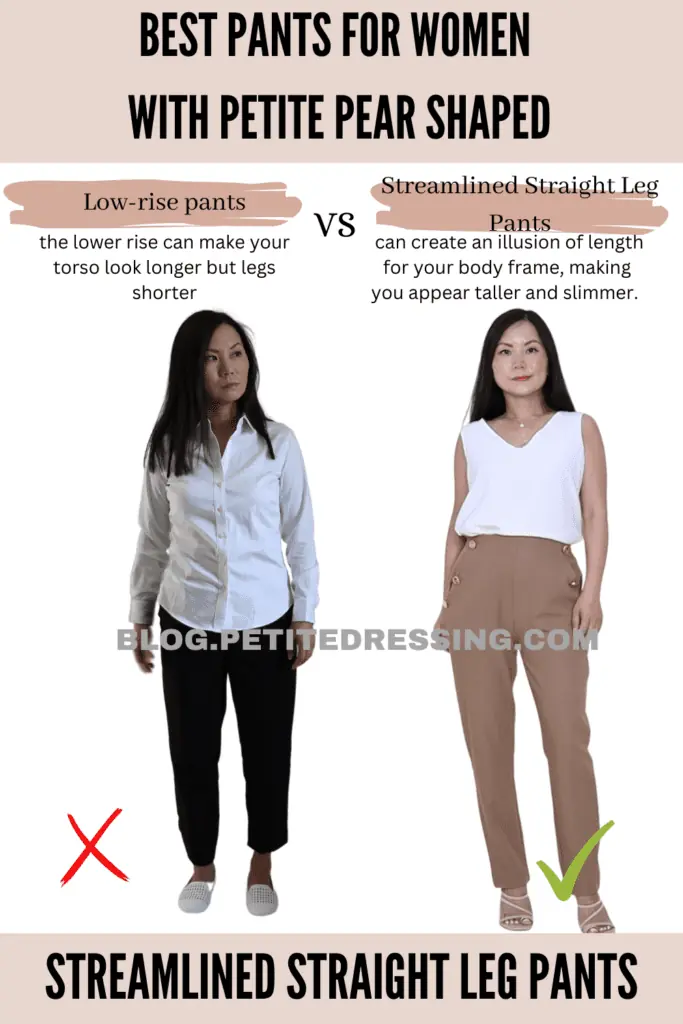 For pear-shaped individuals, straight-leg pants are the perfect choice as they can enhance your figure without disrupting your body's balance thanks to their streamlined silhouette. They offer a comfortable, flattering fit that can elevate any outfit while maintaining a natural balance for your body shape.
These pants naturally complement the curves of your hips but without highlighting their significantly bigger size compared to your upper body. One of the most significant benefits of straight-leg pants is that they can create an illusion of length for your body frame, making you appear taller and slimmer.
Unlike other pants that can add bulk to your lower body, these pants have a relaxed fit that won't draw unnecessary attention to your hips. It's not too eye-catching so if you wear a top that would boost the upper half of your body, chances are it'll get more attention than your wide hips and thighs.
Dark-colored Wide Leg Pants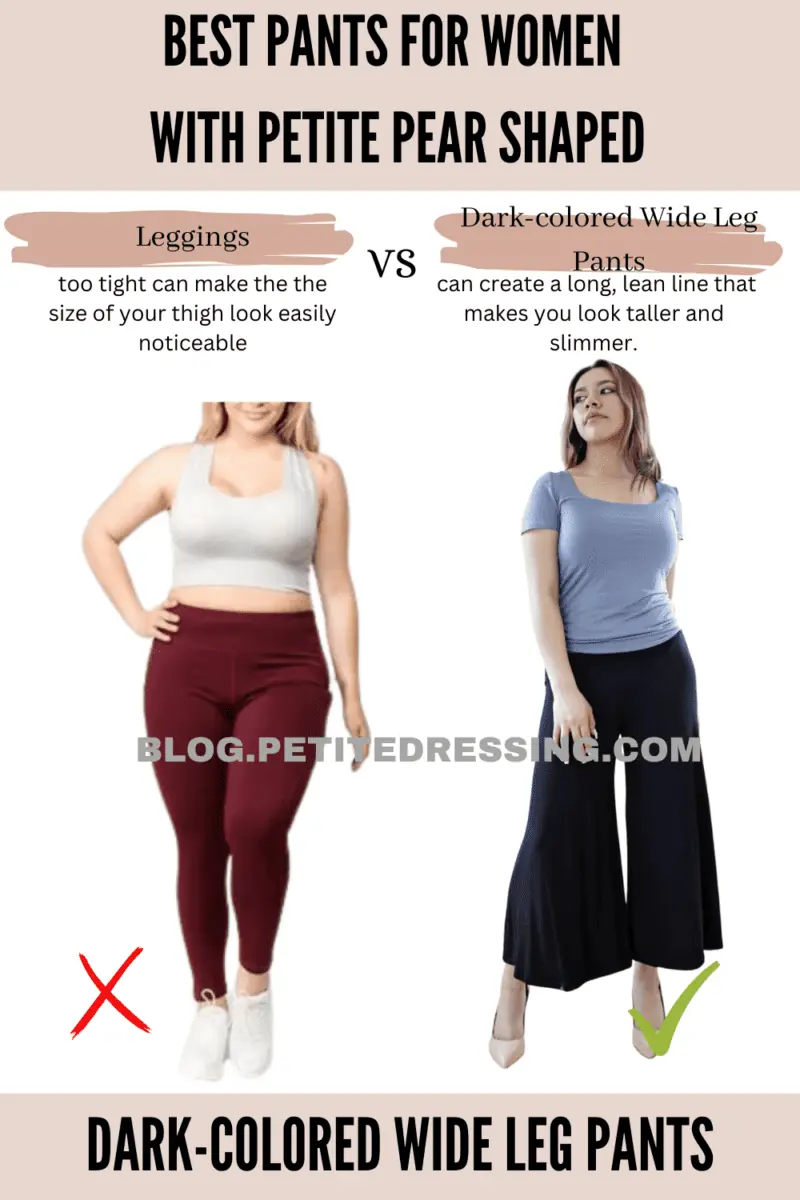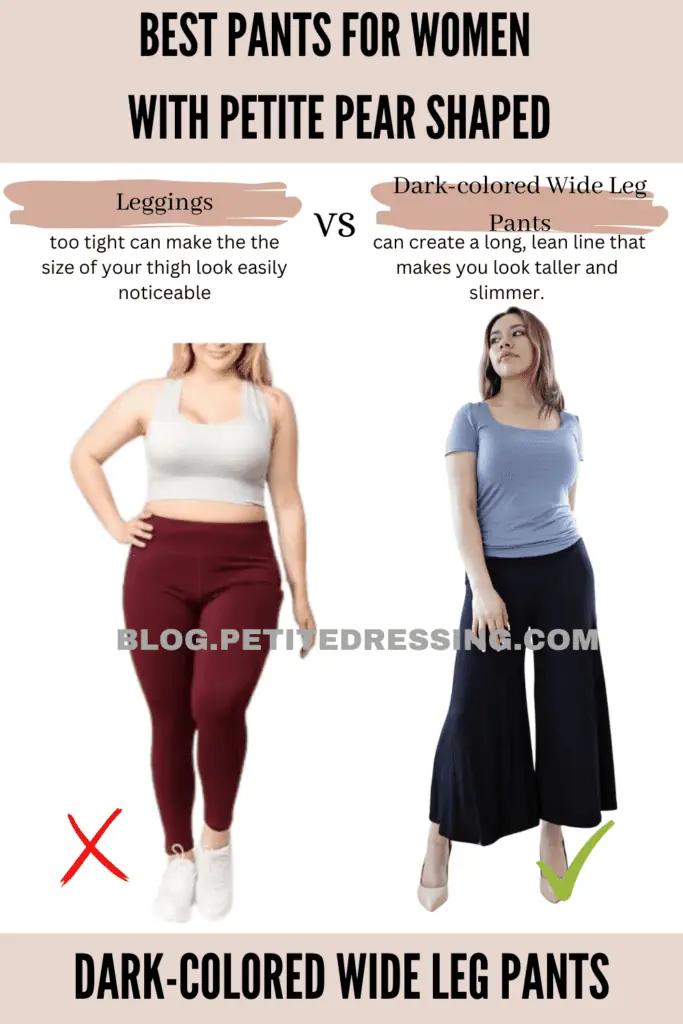 Well in general, dark colors have a slimming effect that can help neutralize the proportions of your pear-shaped body. When combined with the loose, flowing silhouette of wide-leg pants, they can create a long, lean line that makes you look taller and slimmer.
Since wide-leg pants offer more space for the lower body, it doesn't highlight the fact that your hips and thighs are way wider than the rest of your body. The pants give your legs a subtle volume in a flattering way in order to balance out your hips and make your lower body proportionate to your narrower upper body.
Additionally, they drape gracefully over your hips and thighs, accentuating your curves without making you look bulky and imbalanced.
When choosing wide-leg pants, it's essential to pay attention to the fit and length. The pants should sit high on your waist to elongate your legs, and the hemline should skim the heels to create a sleek, streamlined appearance.
Structured High-Waisted Pants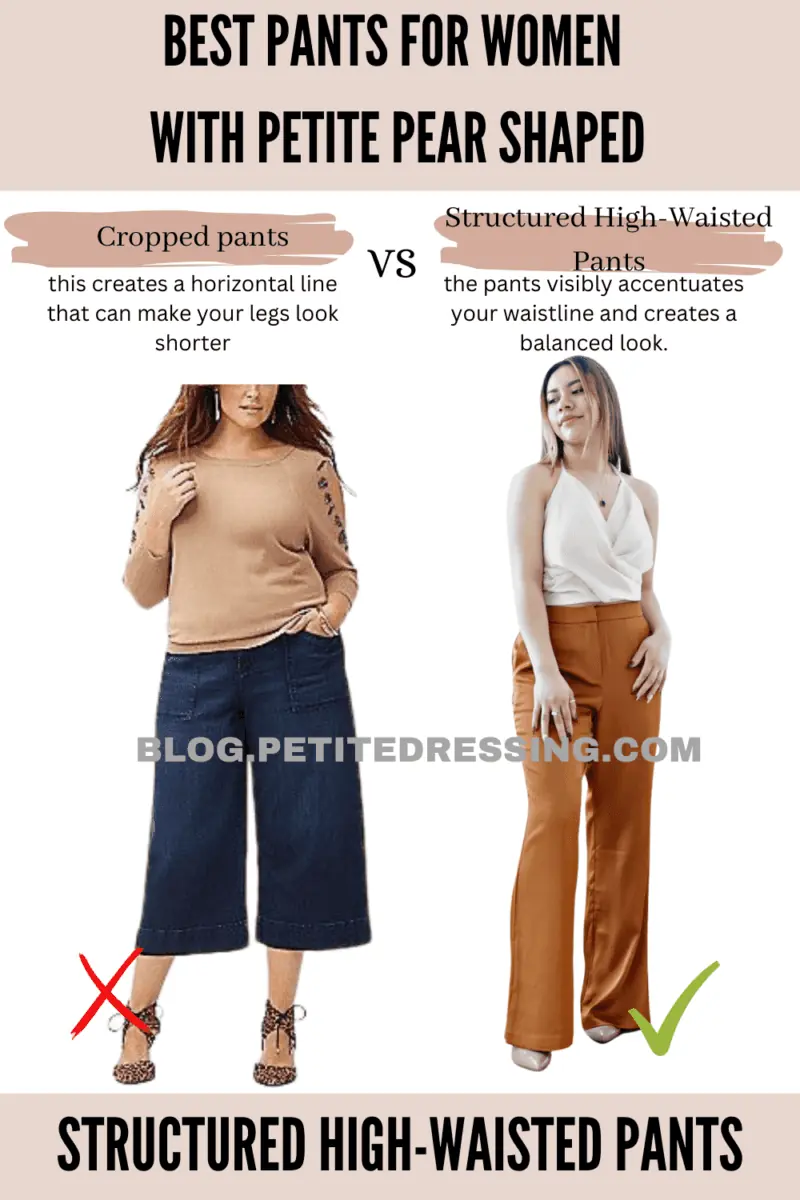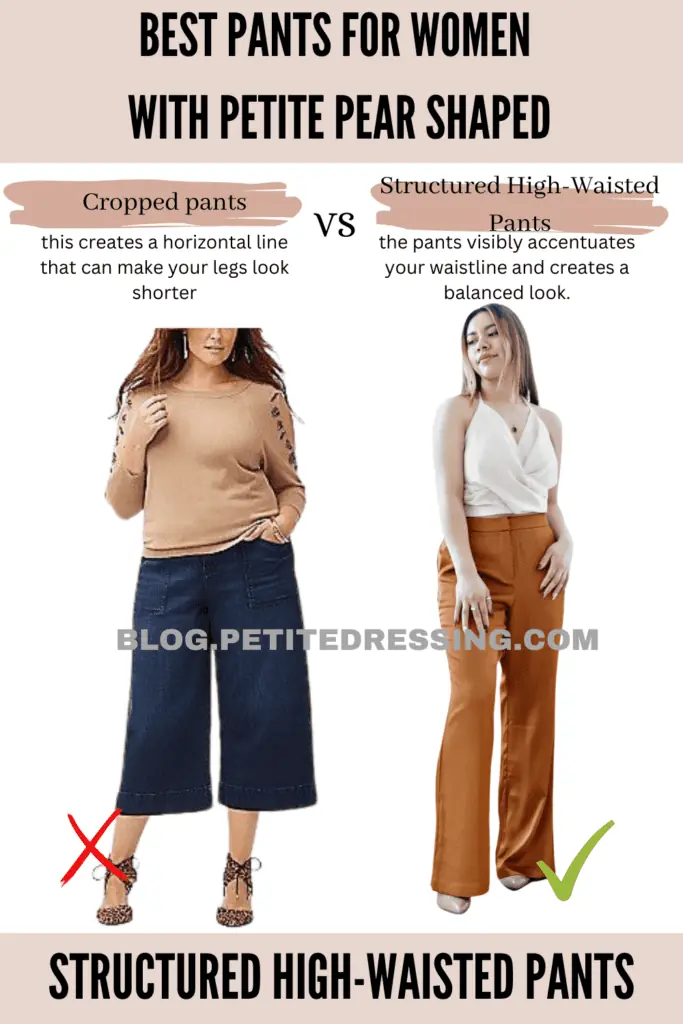 This may have already been an obvious given since structured high-waisted are pretty popular among petite ladies, including those with pear-shaped body types. The high-waist design of these pants instantly gives you that visual illusion of looking taller and leaner.
As a petite woman, you may feel like your legs are on the shorter side but with the high-waisted pants, you can create an illusion of longer legs. When you wear these pants, they also sit at the smallest part of your waist, creating a streamlined look that makes your legs appear longer and leaner.
The high-rise waistband of the pants visibly accentuates your waistline and creates a balanced look. Most pear shapes are also quite prone to a stomach bulge (also known as a muffin top), so structured high-waisted pants can also address this concern.
Tailored Trousers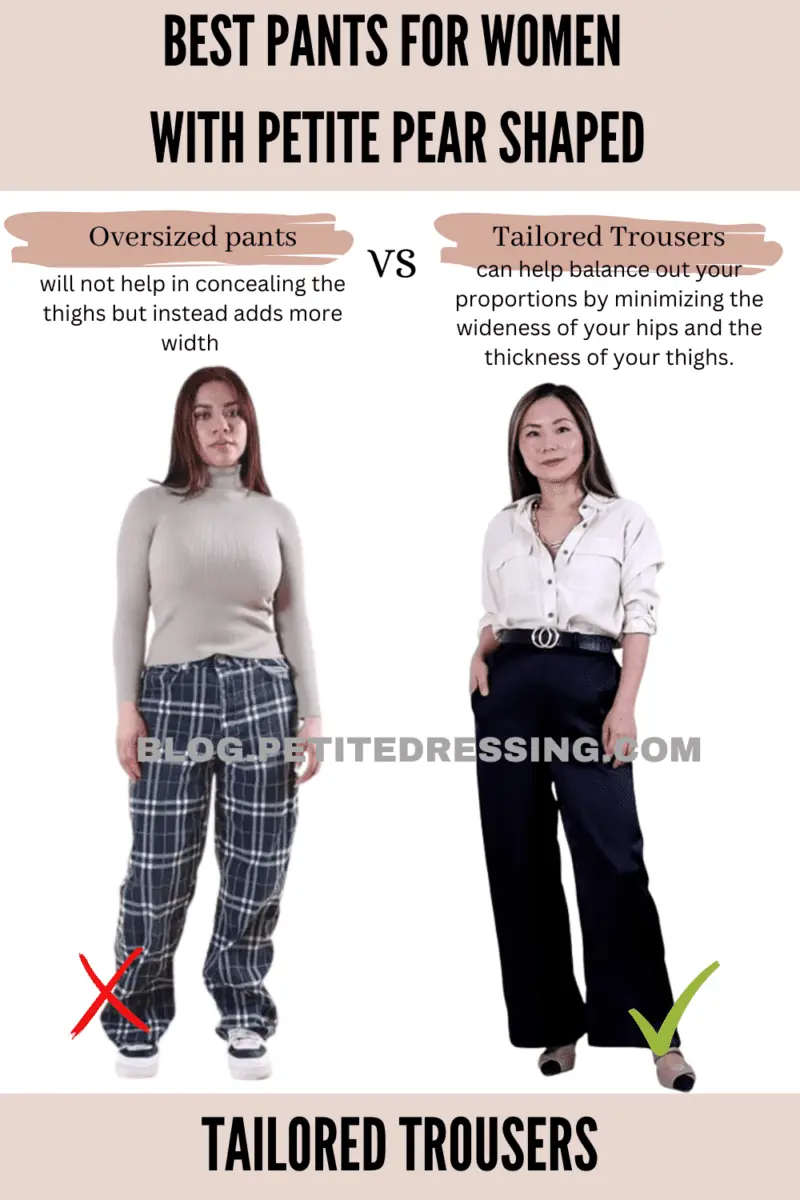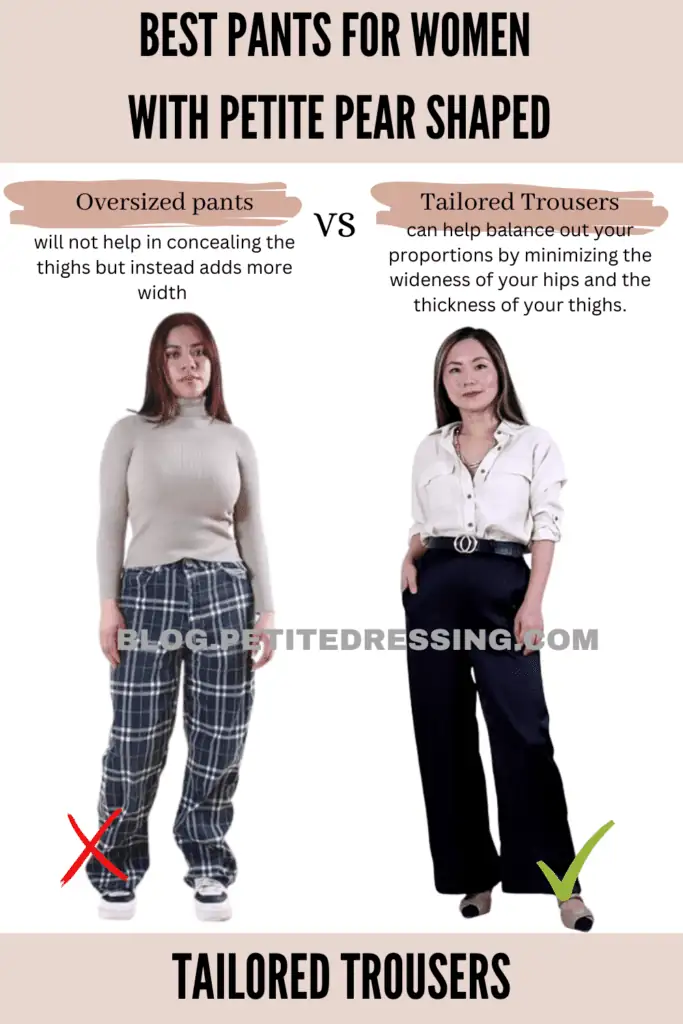 Tailored trousers are designed to have a bespoke-inspired fit, creating a streamlined silhouette that flatters your pear-shaped figure. This can help balance out your proportions by minimizing the wideness of your hips and the thickness of your thighs.
They typically have a high-rise waist as well, which can be very flattering for petite pear-shaped women. A high-rise waist helps elongate your legs and accentuates your waistline which is particularly important for petite women, as it can help add length to your frame and create a more balanced look.
Pinstripes or Vertical Patterns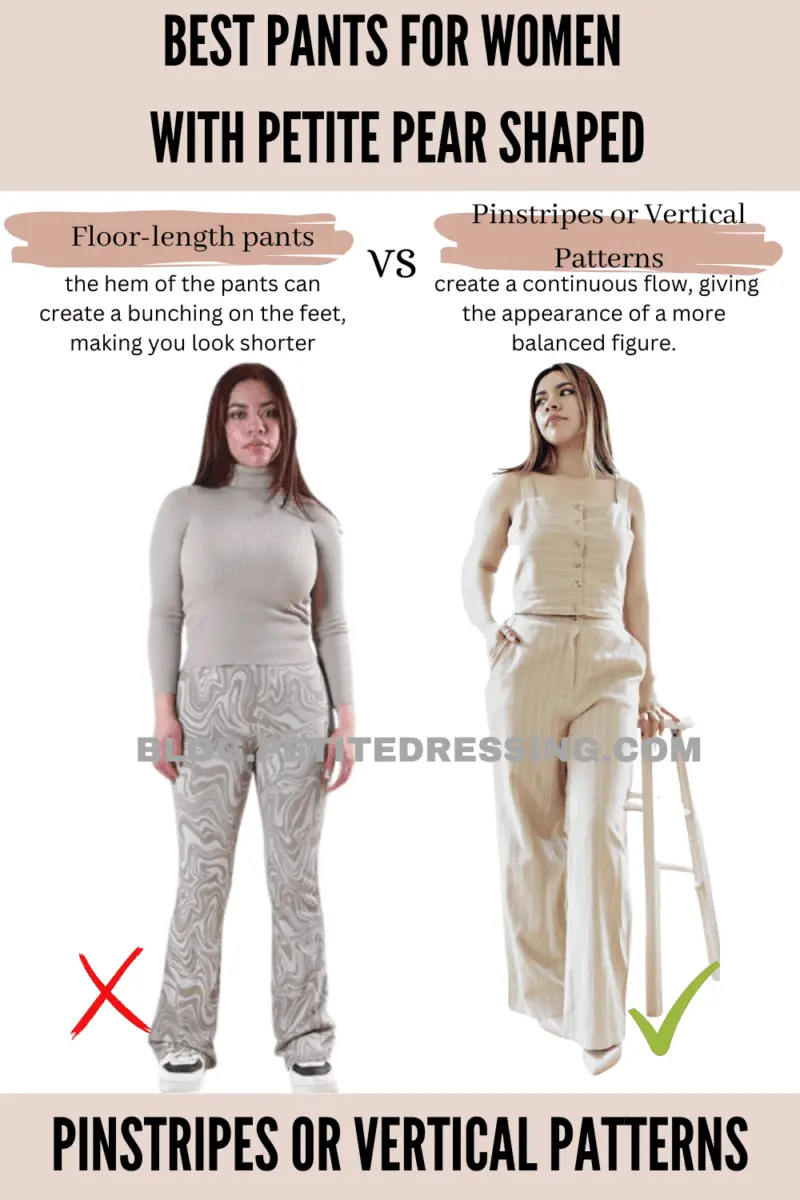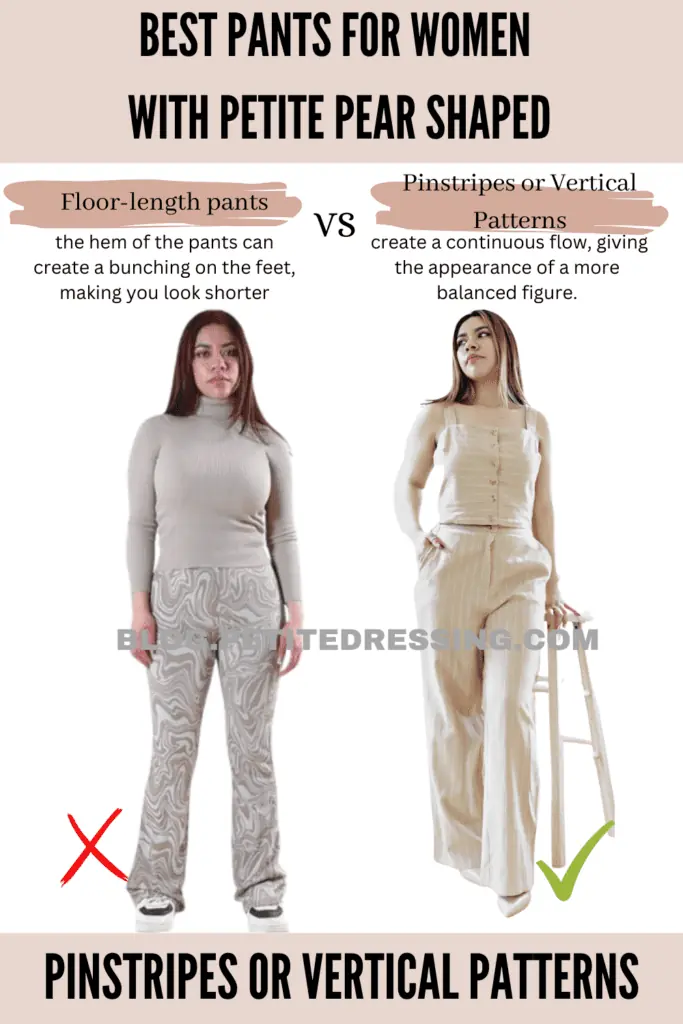 For petite girls, any pattern that would elongate the legs will always be a great fashion choice! One of the classic leg-elongating options is pinstripes and vertical patterns because they simply create an illusion of length.
By wearing pants with pinstripes or vertical patterns, you can create an elongated look that adds inches to your legs. These patterns draw the eye up and down, rather than side to side, making you appear taller and leaner.
Moreover, pinstripes and vertical patterns help to balance out your figure. As a pear-shaped woman, you likely have a smaller upper body and wider hips so by wearing pants with pinstripes or vertical patterns, you can draw attention to your upper body and away from your hips.
The vertical lines create a continuous flow, giving the appearance of a more balanced figure. If you opt for subtle prints, you can pair them with pretty much anything, while dramatic prints are better with plain tops.
Curvy-Fit Pants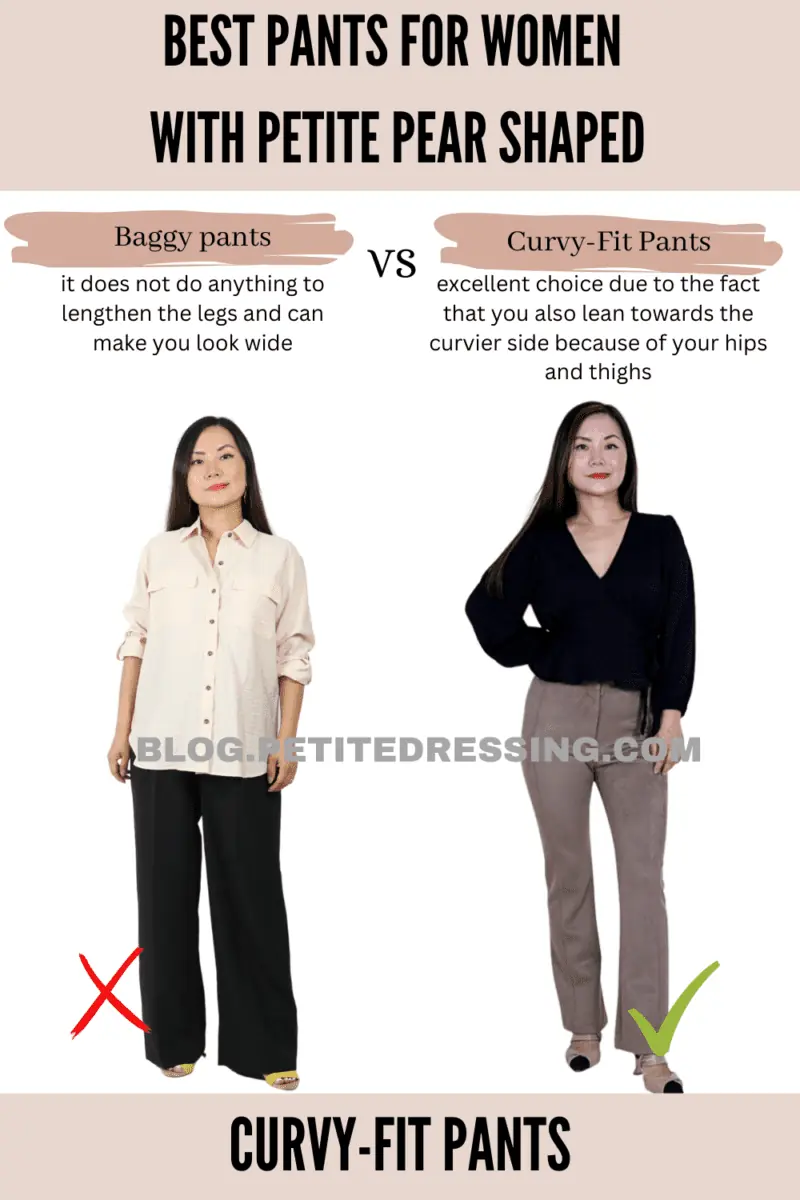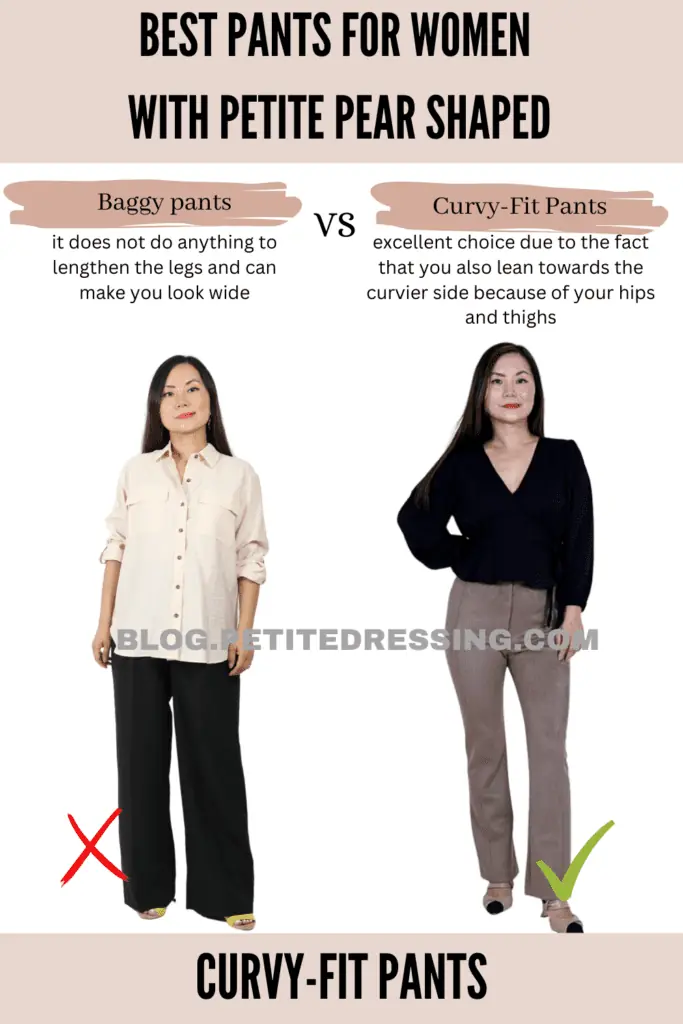 Curvy fit pants are designed with a snug, waist-hugging enclosure, and fuller hips and thighs, catering to the needs of women with curvier figures. These pants are often made with stretchy materials that conform to the body's natural contouring to give a comfortable and flattering fit.
For you petite pear-shaped women, curvy fit pants can be an excellent choice due to the fact that you also lean towards the curvier side because of your hips and thighs. These pants are tailored to neutralize the waist and hips while minimizing the significant size difference between your upper half and bottom half.
In addition to its ability to embrace your curves, curvy fit pants are typically made with stretchy materials that provide a comfortable and flexible fit. As a petite pear-shaped girl, you may struggle to find pants that fit both your waist and hips so going for a stretchy material (but not too tight) should give you superior comfort.
Avoid Cargo Pants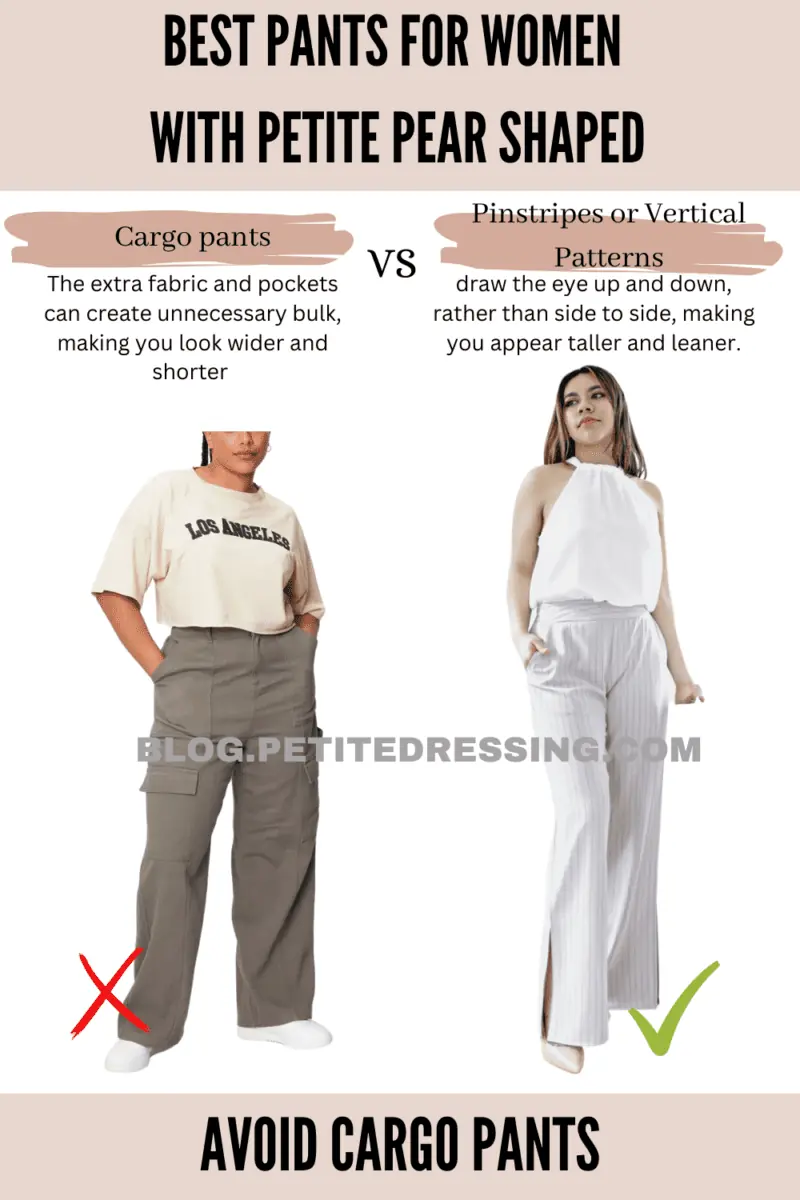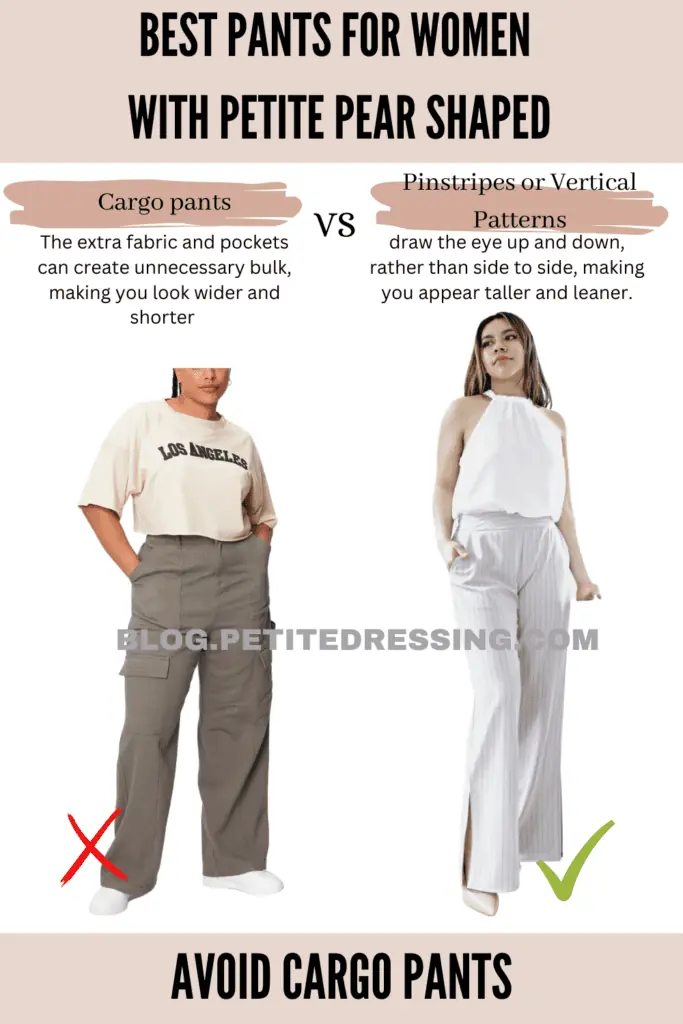 Cargo pants are typically designed with a looser fit and multiple pockets, which can definitely add bulk to your frame. For petite pear-shaped women, cargo pants may not be the most flattering choice as they can make your wide hips and thighs look wider than they already are.
Cargo pants tend to have a boxy and loose fit, which can overwhelm a petite frame. The extra fabric and pockets can create unnecessary bulk, making you look wider and shorter so this can really throw off the balance of your figure and make the size difference between your upper half and lower body more apparent.
Additionally, most cargo pants tend to have a low-rise waist, which can be unflattering for petite pear-shaped women because they can cut off your figure, making your legs appear shorter and your hips wider. While there are high-waisted options, they can still affect the proper proportions of your pear-shaped body as they can draw attention to your lower half and create an unbalanced look.
The Key Takeaway
Choosing the right pair of pants for petite pear-shaped beauties is truly not always easy because you need to work around the imbalance between your narrow upper half and wider hips and thighs. However, by sticking to this guide, I hope shopping for pants will be a much easier and more fun fashion task for you!