You can look stylish at any age. Yes, even when you're over 40! Since I am 40s, I wanted to give you some tried and true style tips to help you find the best dresses.
These tips are going to help you look at dresses in a whole new light and give you some great ideas to consider, as you shop for your next dress to add to your wardrobe. Since I have petite clothing line, I receive feedback from thousands of my customers constantly. This guide is based on my own experiences as well as numerous feedback from my customers.
The Silhouete
Since I suggested that you stick with classic dress silhouettes for women over 40, I'm going to break down a couple of the most common classic silhouettes and the body shapes they best flatter to help you navigate this.
Fit & Flare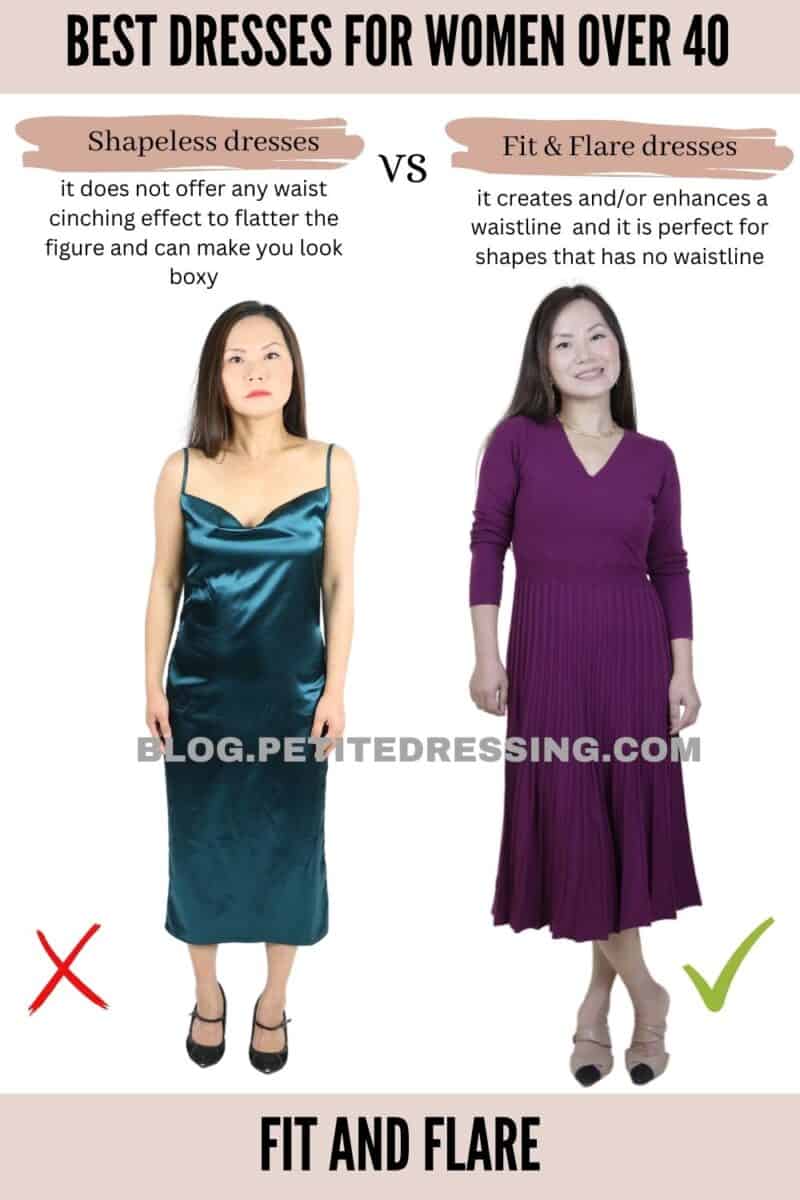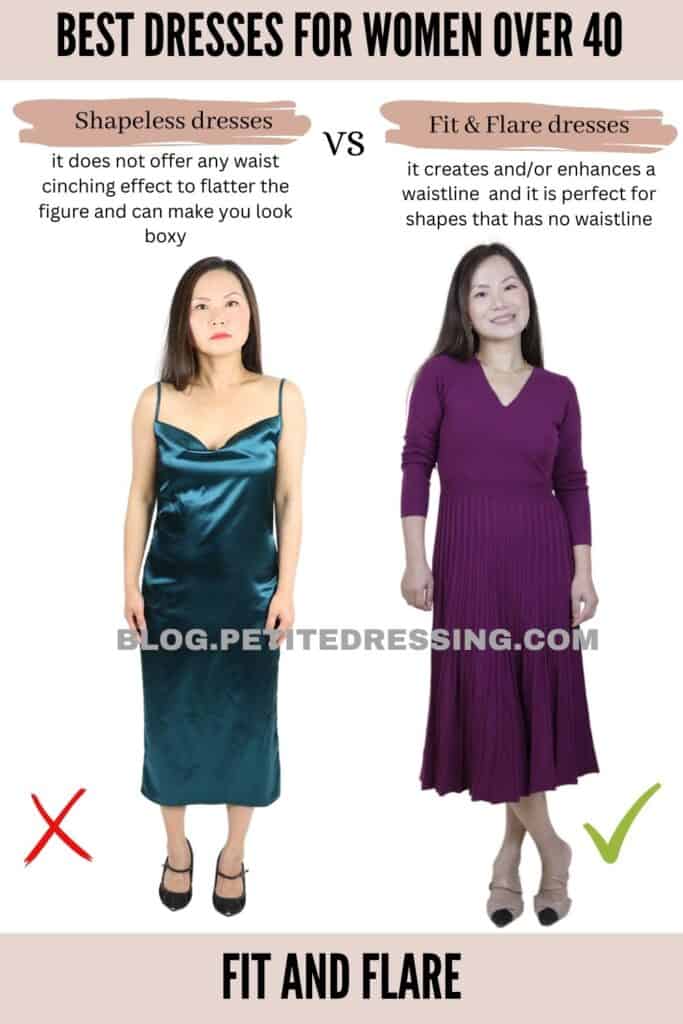 This silhouette is perfect to balance a large top half and/or bust. If you're an inverted triangle body shape, fit and flare is a great option for you.
Fit & flare is also a great option for a woman over 40 who doesn't have a naturally defined waist, such as apple body shape or rectangle body type. Because of the shape of this dress, it creates and/or enhances a waistline.
Sheath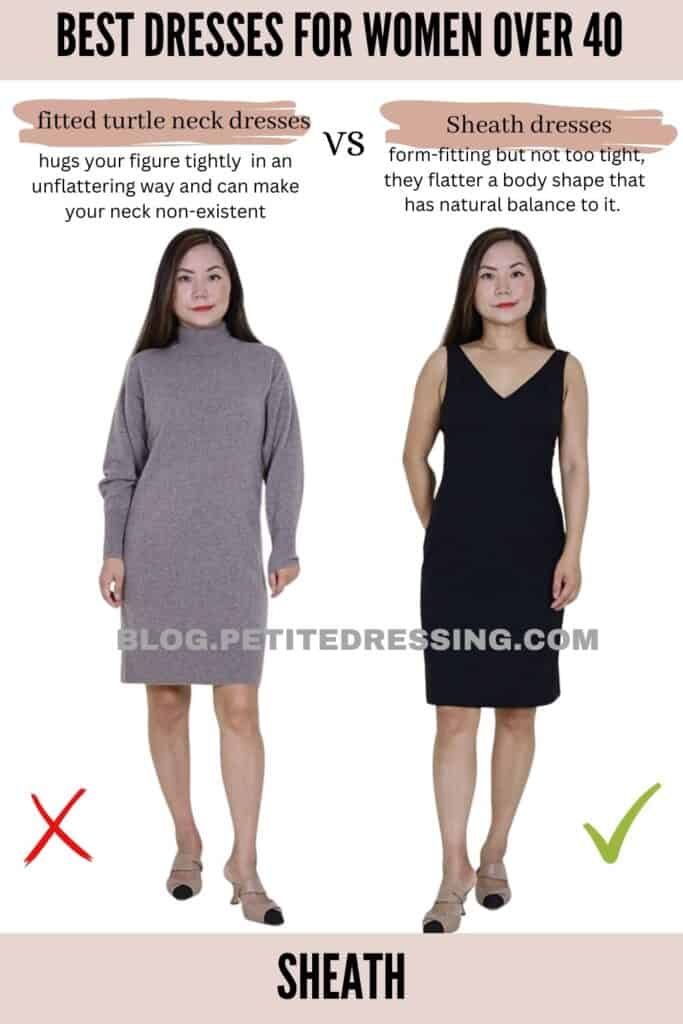 Another great classic dress silhouette for women over 40, particularly a woman who has an hourglass body shape or rectangle body shape. Because sheath dresses are form-fitting but not too tight, they flatter a body shape that has natural balance to it.
Shift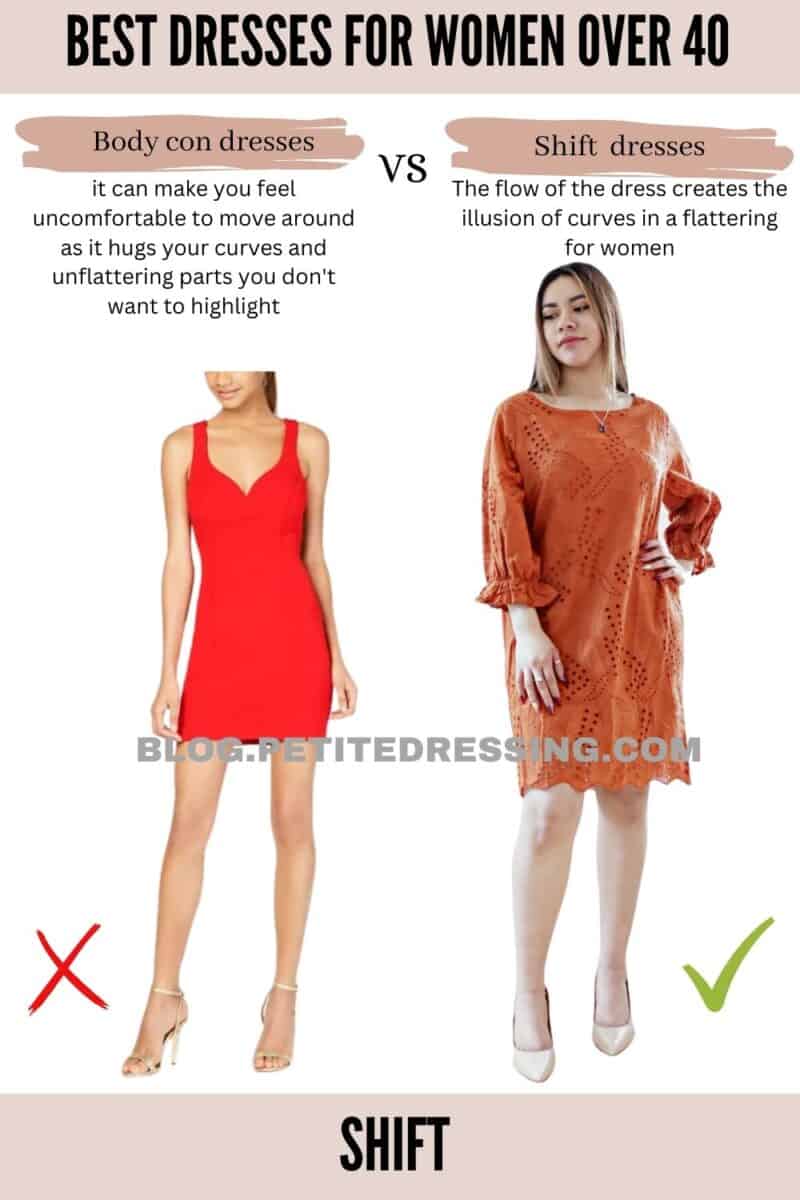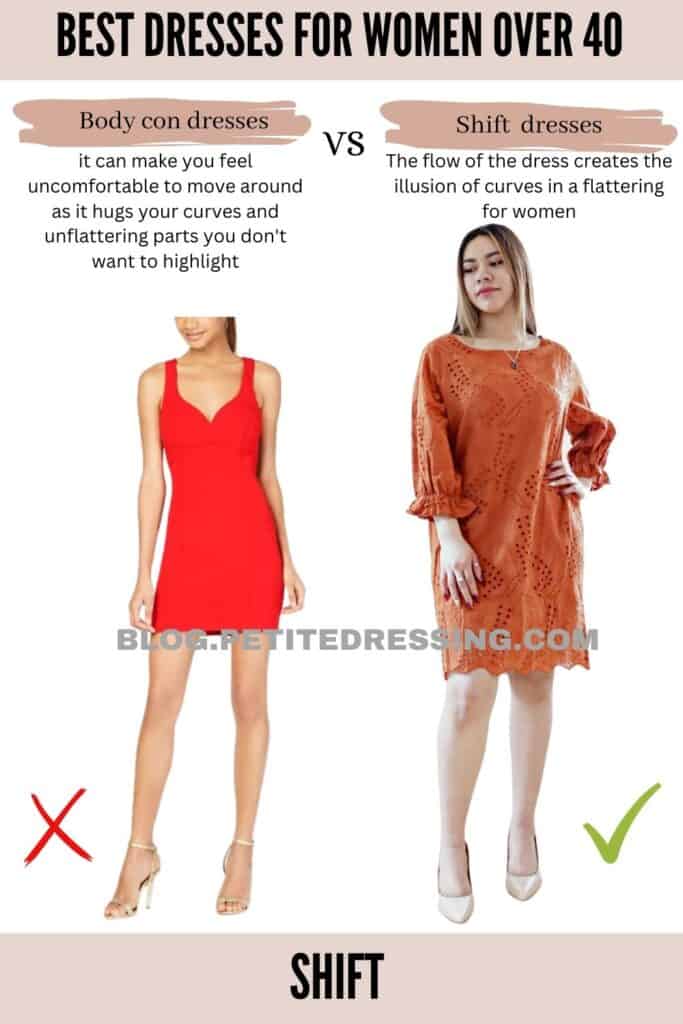 The shift dress isn't form fitting but also isn't overly loose in fit. Because of the style fit of the shift dress, it's best when worn on a woman who has a rectangle body shape, or has a pear body shape.
The flow of the dress creates the illusion of curves in a flattering manner for a woman with a rectangle body shape, which is straight up and down. Typically shift dresses have sleeves and details at the top of the dress, which creates balance for a pear body shape.
Wrap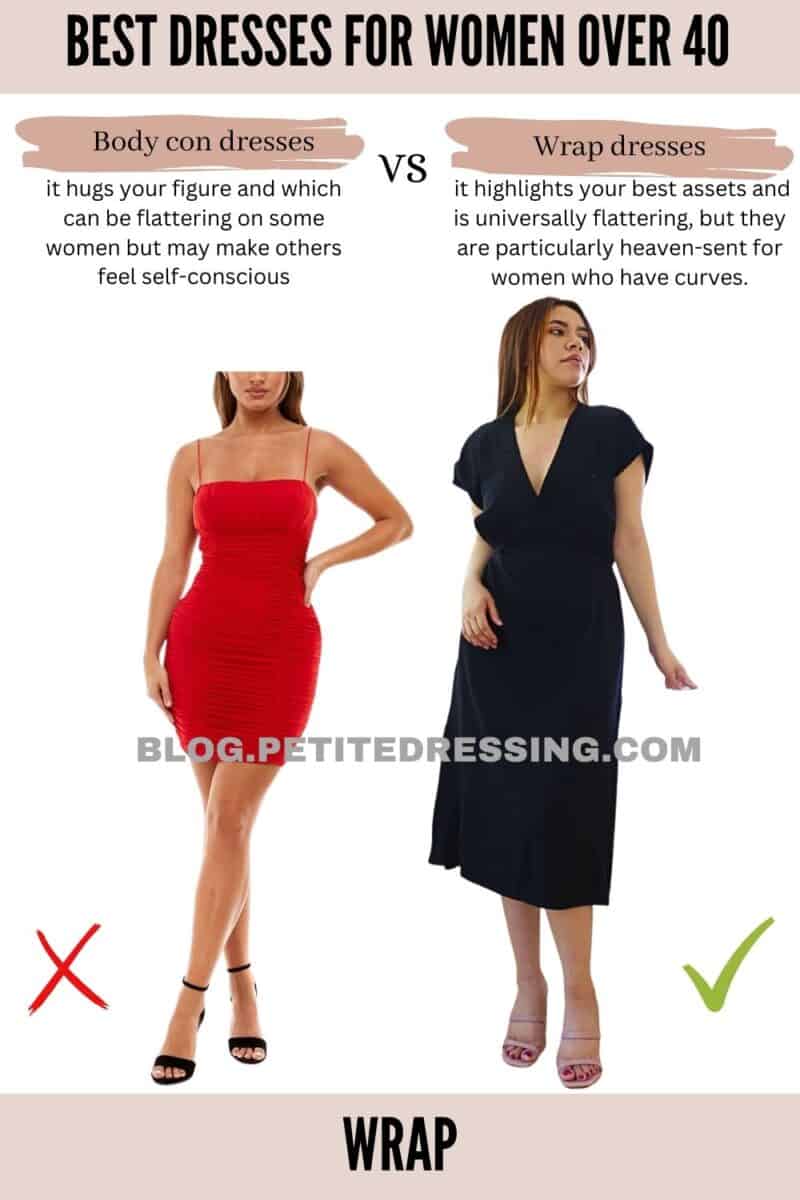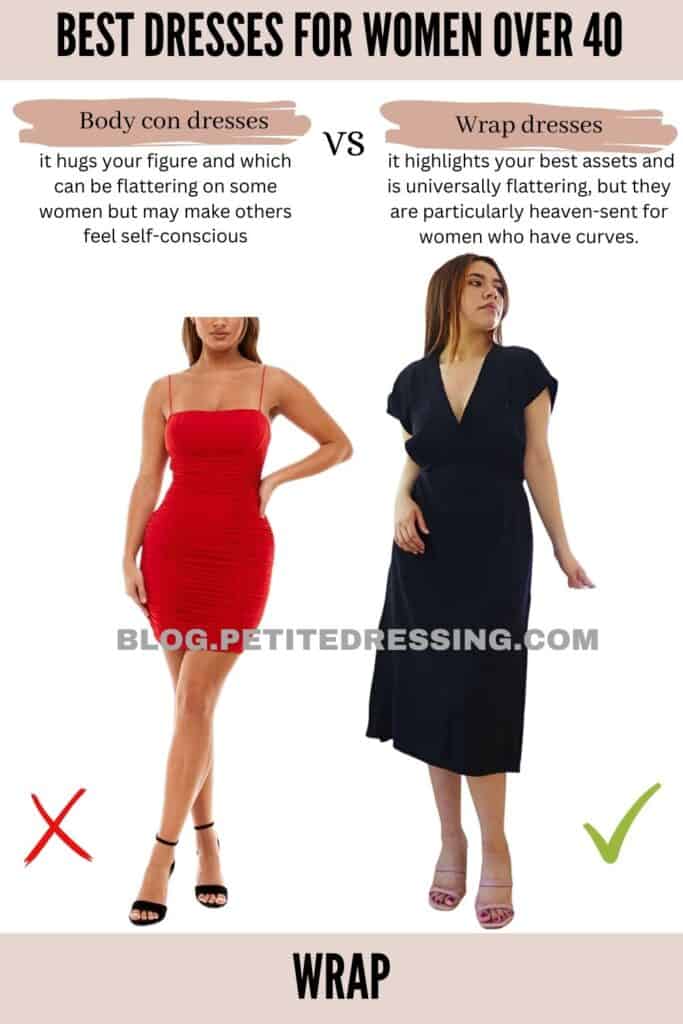 Wrap dresses are one of the best silhouettes for women over 40, because it highlights your best assets. Wrap dresses are universally flattering, but they are particular heaven sent for women who has curves.
Most women over 40 tend to look "rounder" than in their 20s and 30s, and the wrap silhouette is one of the best options to show off your curves but still look classy and elegant.
Because the wrap dresses come with a belt that is adjustable, it allows you to determine how loose or tight you want the dress to be and is most accommodating even if your body shape changes or gain weight after 40.
The Length
Length plays a big role in dresses regardless of your age! These are the most flattering lengths for women over 40.
Above the knee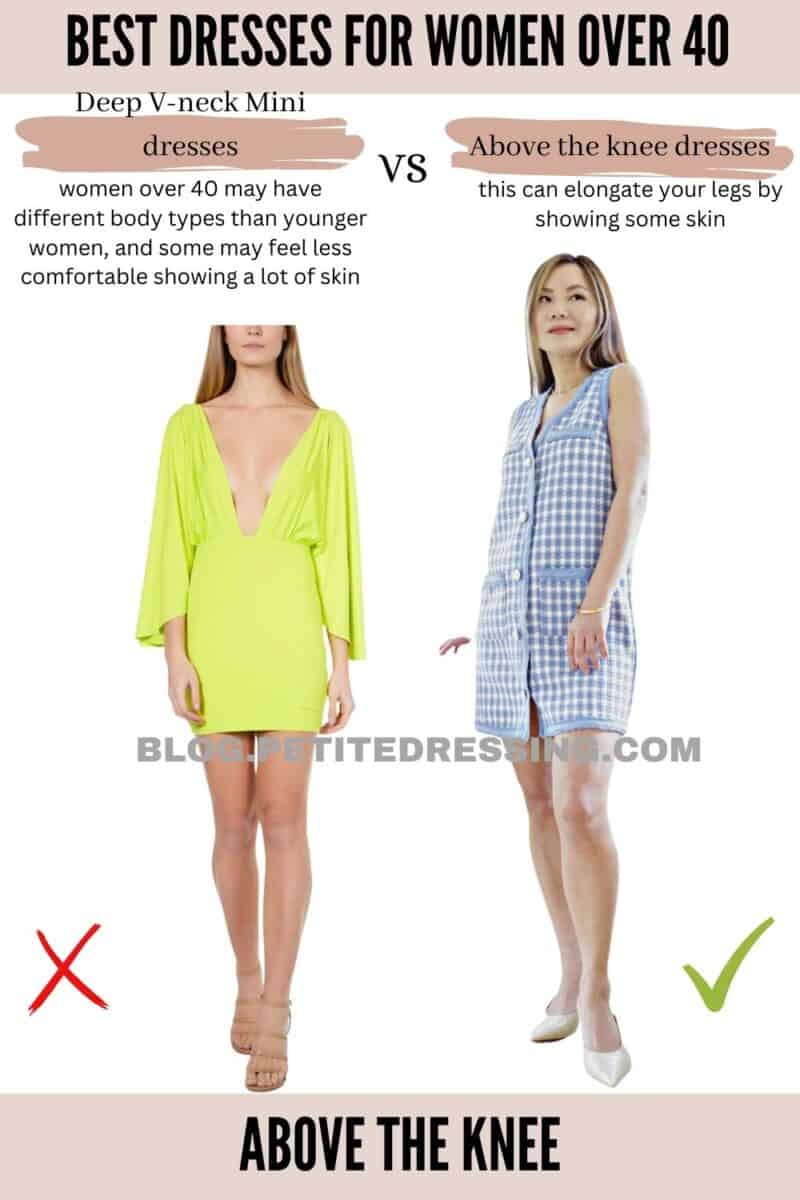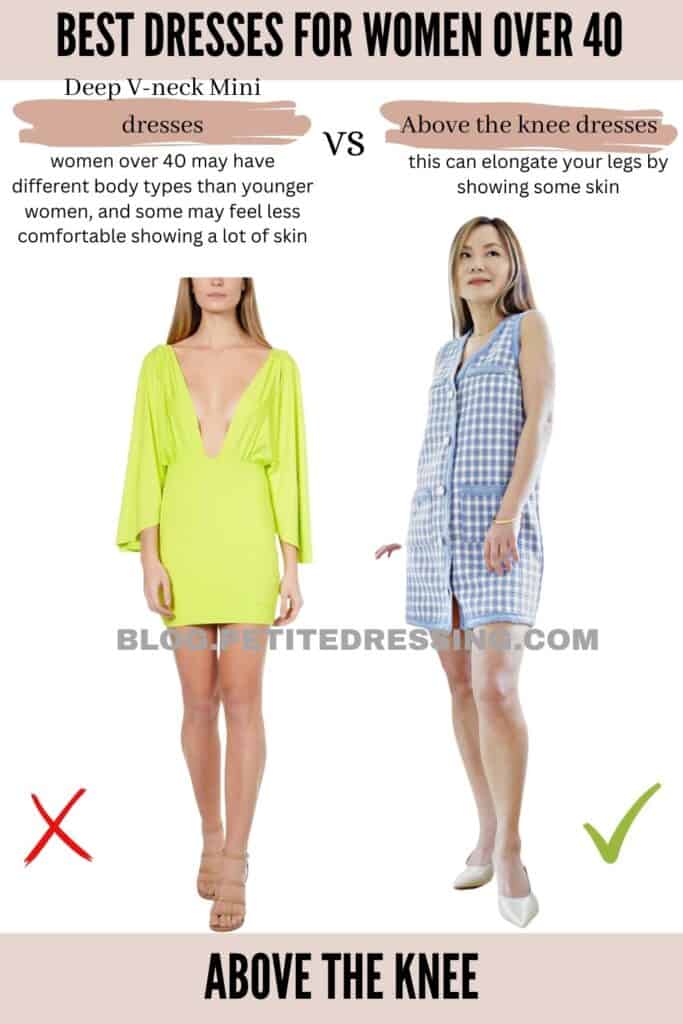 Instead of going super short with your dresses, simply bring the length down a tad.
This doesn't mean you should (or have) to wear only maxi-length dresses. Instead, consider dresses that rest just above the knee.
Knee length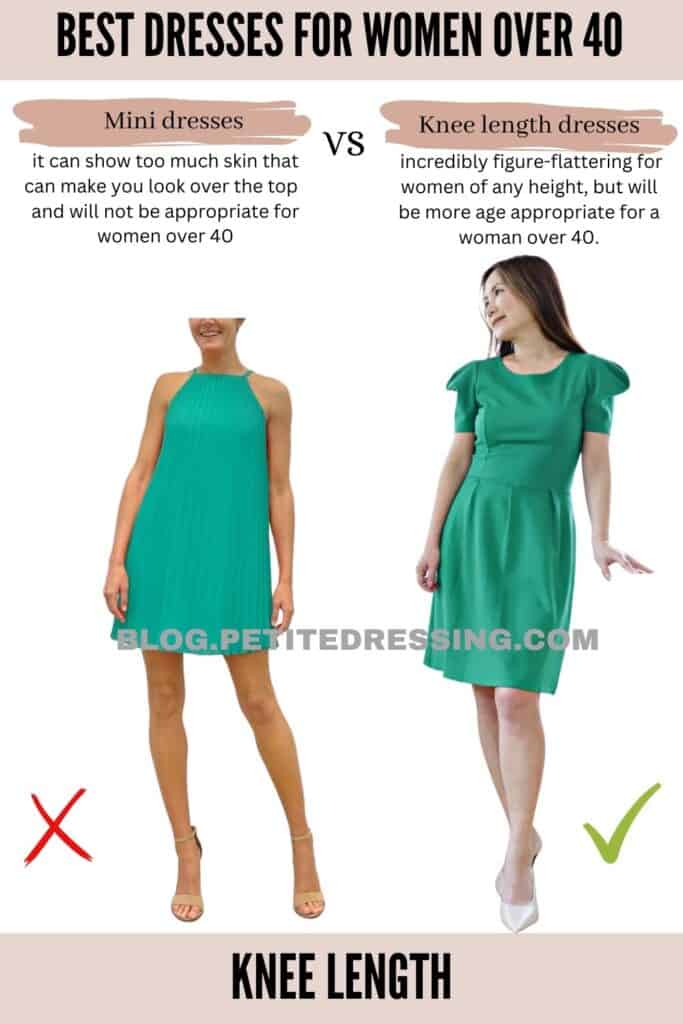 Knee length is the classic length that you can never go wrong.
This length shows off your legs, but it still looks classy. This length is still incredibly figure-flattering for women of any height, but will be more age appropriate for a woman over 40.
Tea length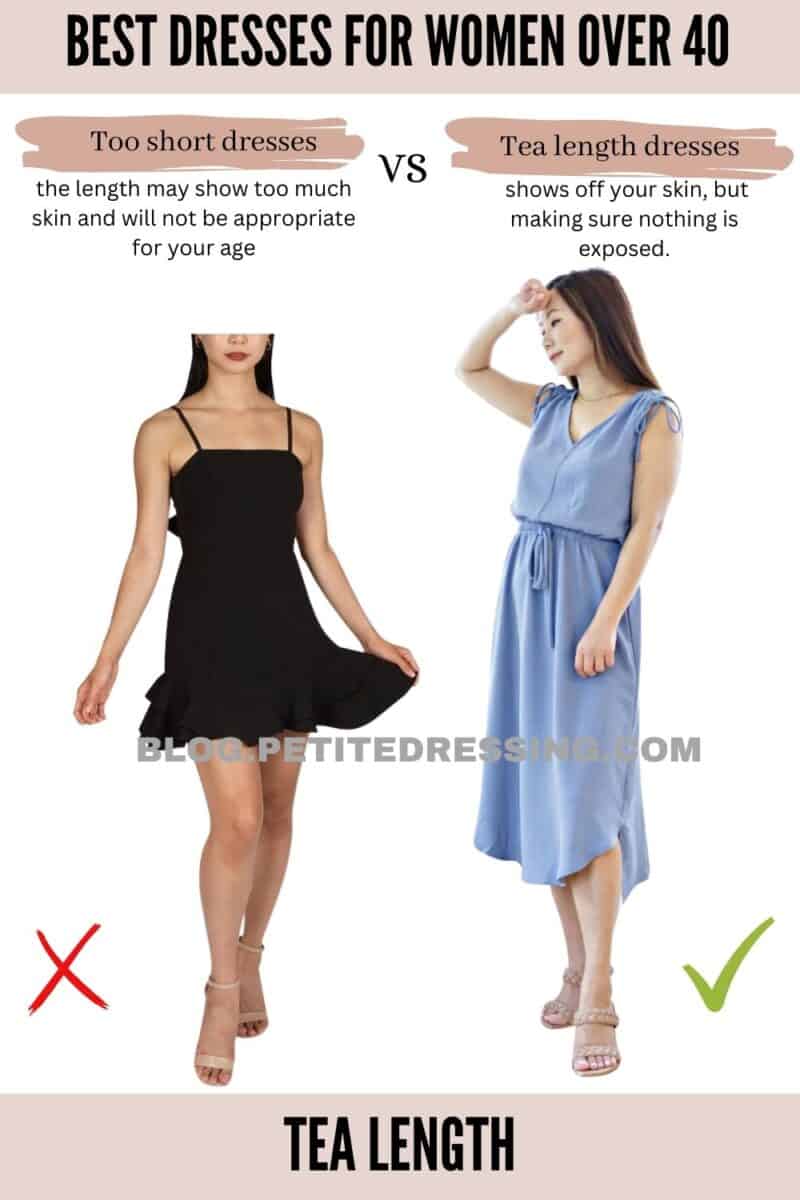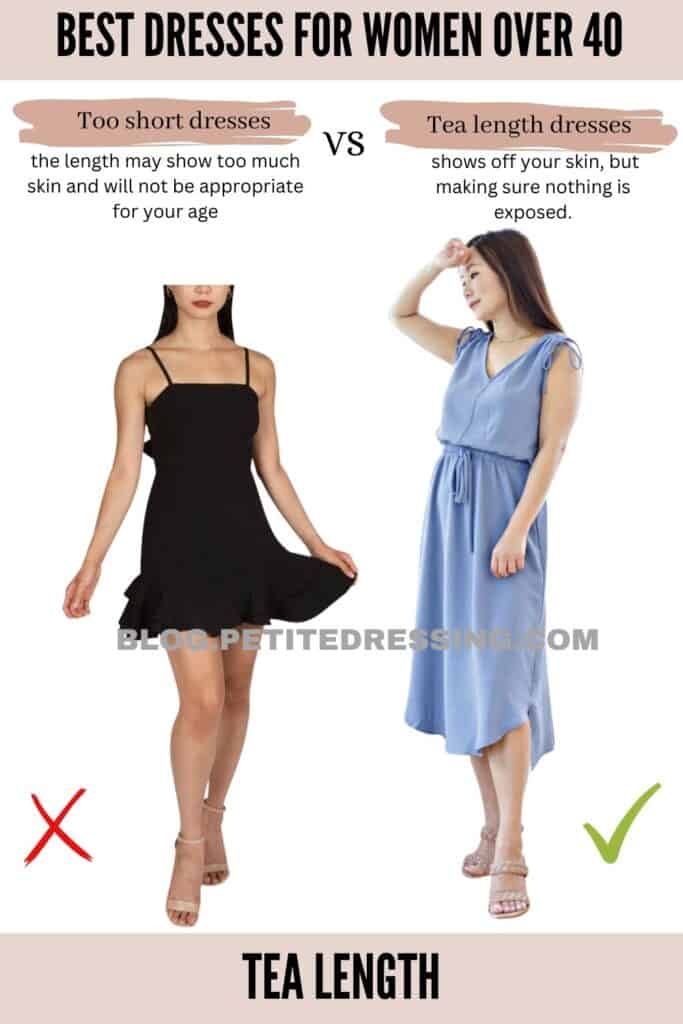 This is also called the "midi length", which means your dress ends somewhere below your knee and above your ankle. This is the most elegant dress length for women over 40, as it still shows off your skin, but making sure nothing is exposed.
Choose this dress length for special occasions such as wedding guest outfits or any event that is fancy or dressy.
Maxi length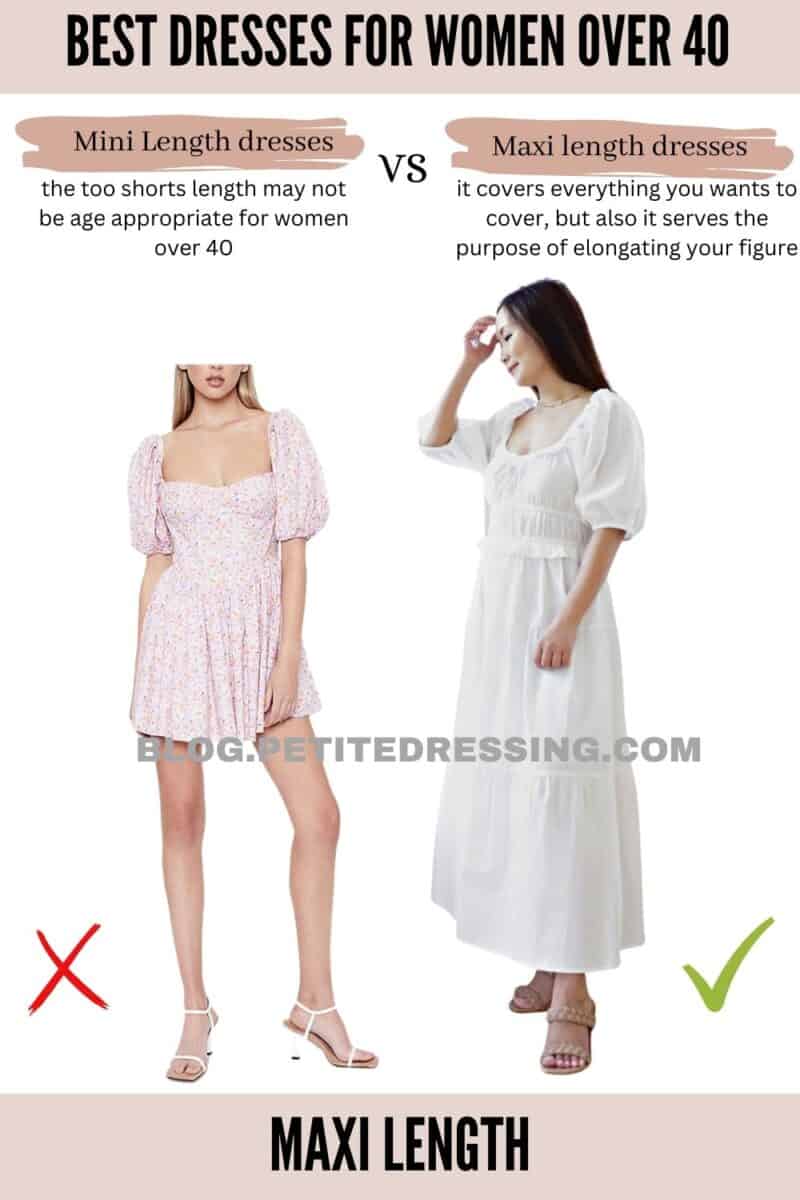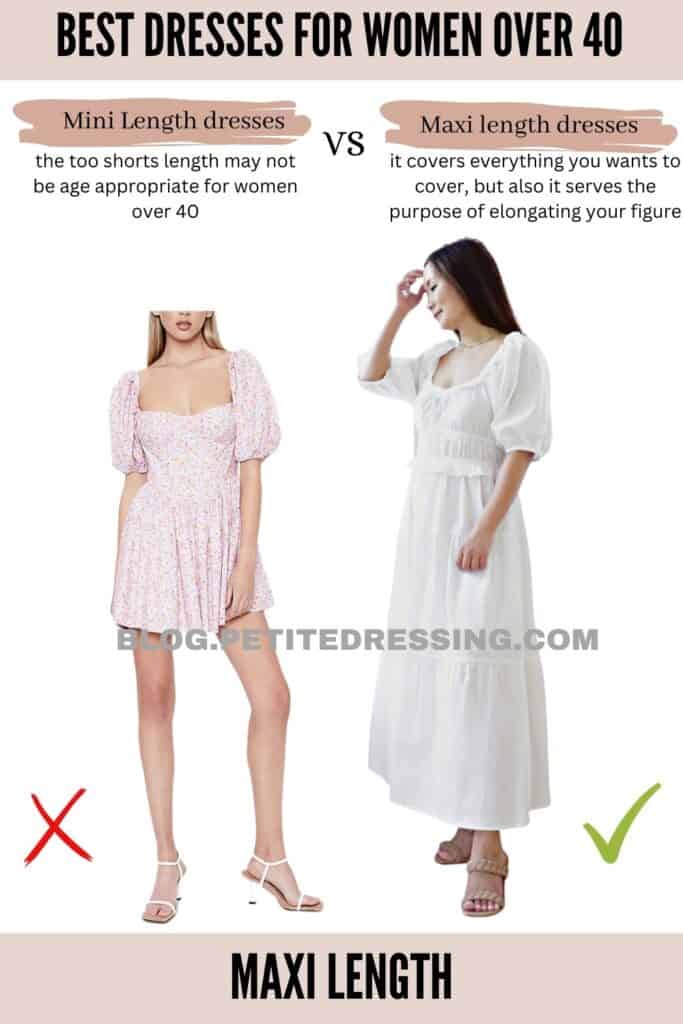 No matter what age you are, maxi dresses can always be the safe bet.
The benefit of wearing a maxi-length dress over 40 is not only it covers everything you wants to cover, but also it serves the purpose of elongating your figure, making you look longer and leaner.
Colors and Prints
As much as I want you to have fun with the clothes that you're wearing as a woman over 40, there are some color/print elements to take into consideration. I mentioned above that it's best to focus on classics when choosing the best dresses for women over 40, colors and prints are included in this.
Neutrals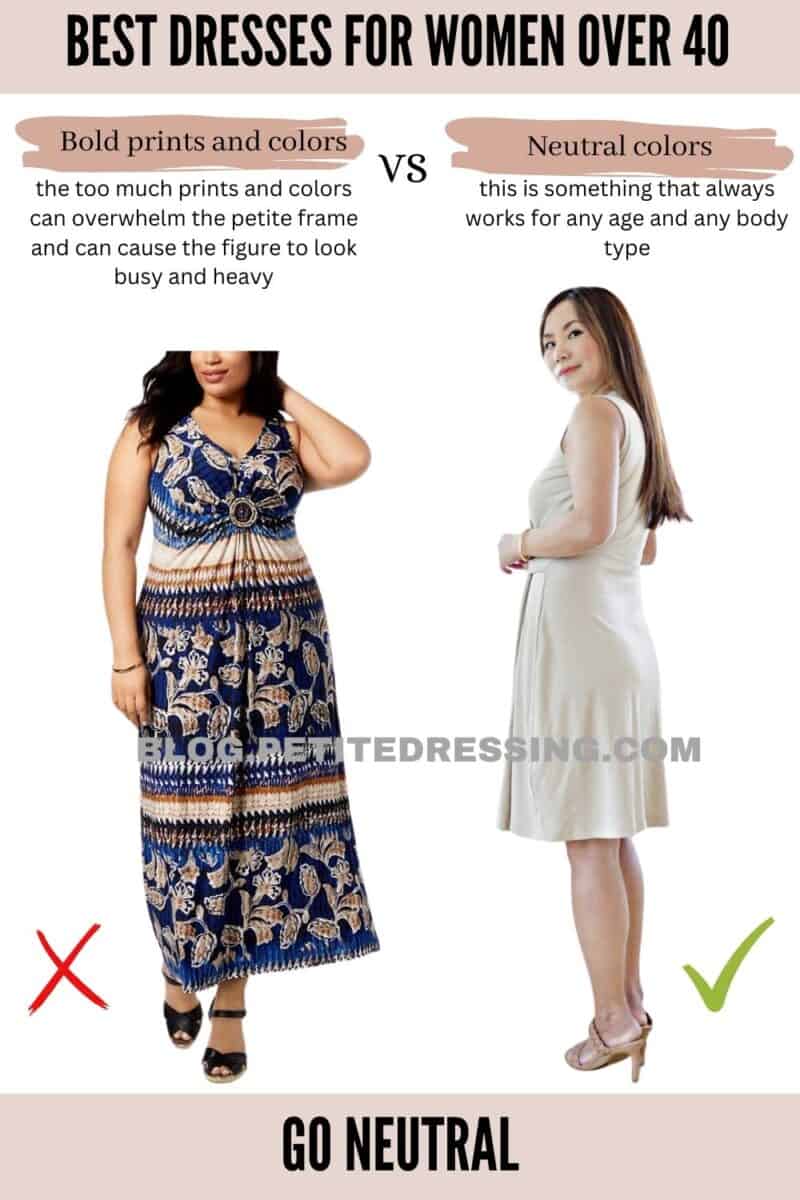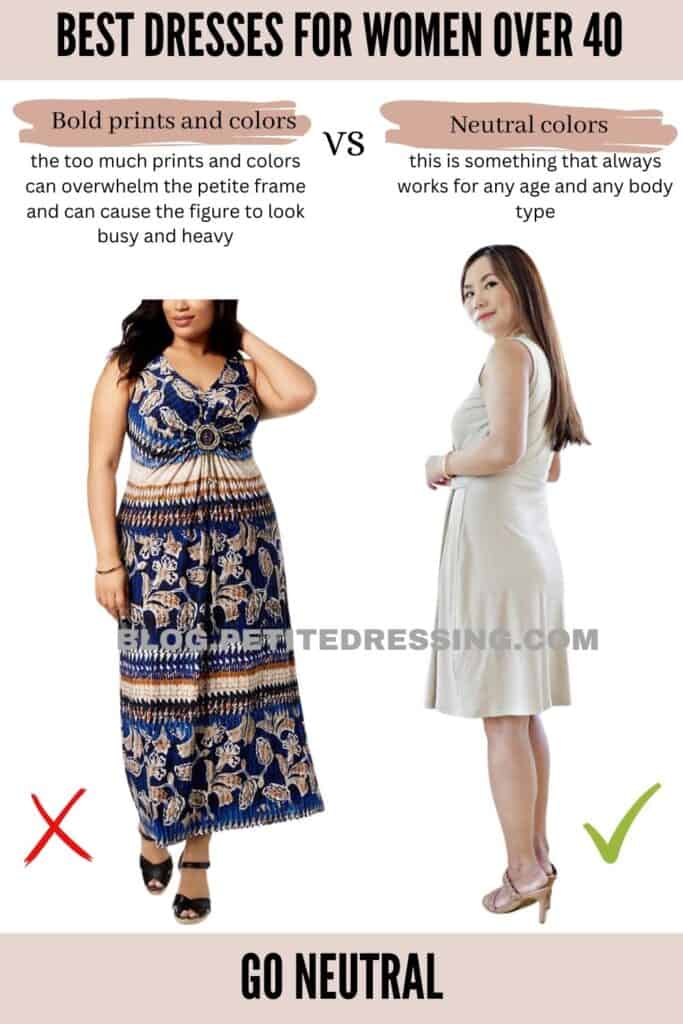 If you want something safe or something that ALWAYS works, I recommend sticking to the basic colors like black, white, navy…you can even go with a dark purple or red.
You CAN definitely wear colors, just make sure they aren't super bold colors (think neon), or very busy prints (but there is one exception which I will talk about next), etc.
Avoid Overpowering Colors
The reason behind this is that when you have a dress that is in a color and/or print that is very bold and overpowering, it tends to be more of a trend piece.
Not that you can't ever wear a trend again, it tends to make us look older than we are when something overpowers us with color and/or print.
Animal Prints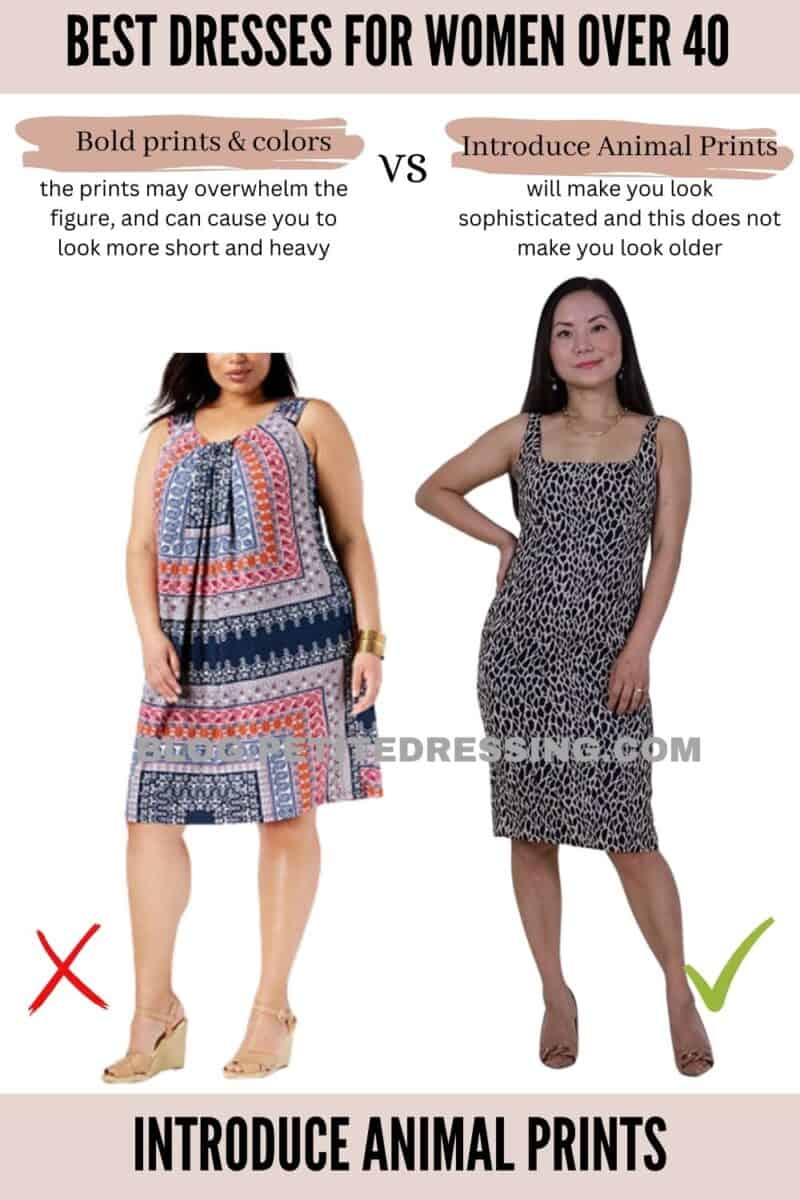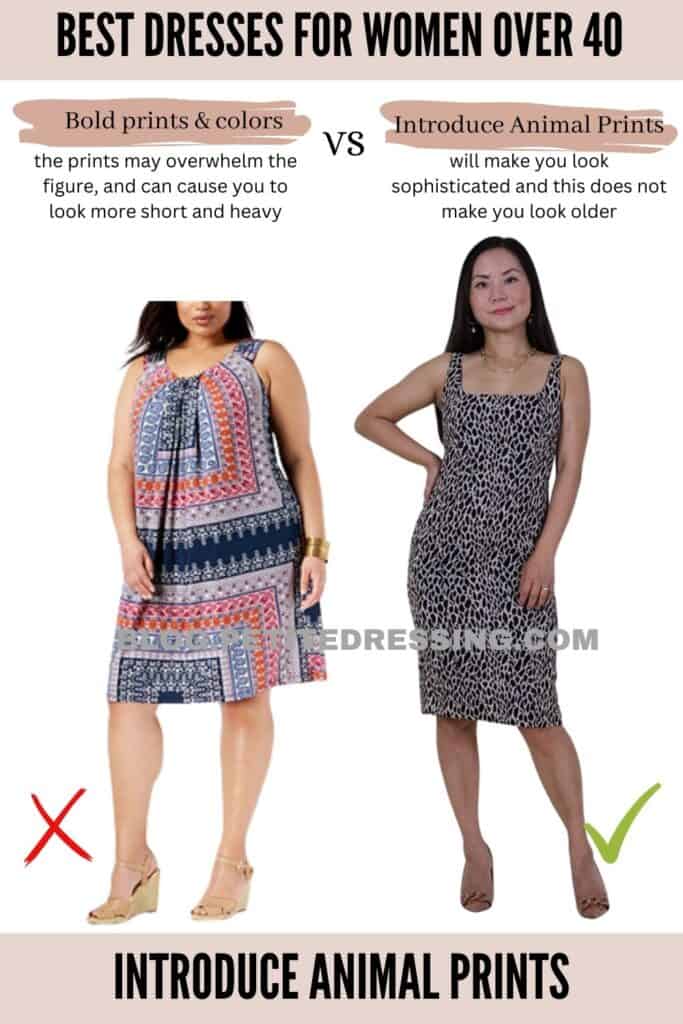 The exception here is animal prints. The leopards or snake prints themselves do not really define any age. That might explain why you see them worn by 20-somethings as well as 50-something. However, what I noticed is that our age gives them different looks.
If a 20-year-old wears animal prints, we think sexy and wild. If a 40-something wears it, then she looks sensual and sophisticated. If you were hesitant in your 20s and 30s about trying animal prints, then the 40s are the perfect time to try this look! There is something about the maturity of women that brings out the bold and authoritative side of the animal prints.
What to Avoid
Even though I am a big believer that women of any age should wear what truly makes them happy, I still have to say not everything will look the same on you, and it is always wise to be selective. Below are some tips on the dresses that may not be as flattering when you are over 40.
Shapeless dresses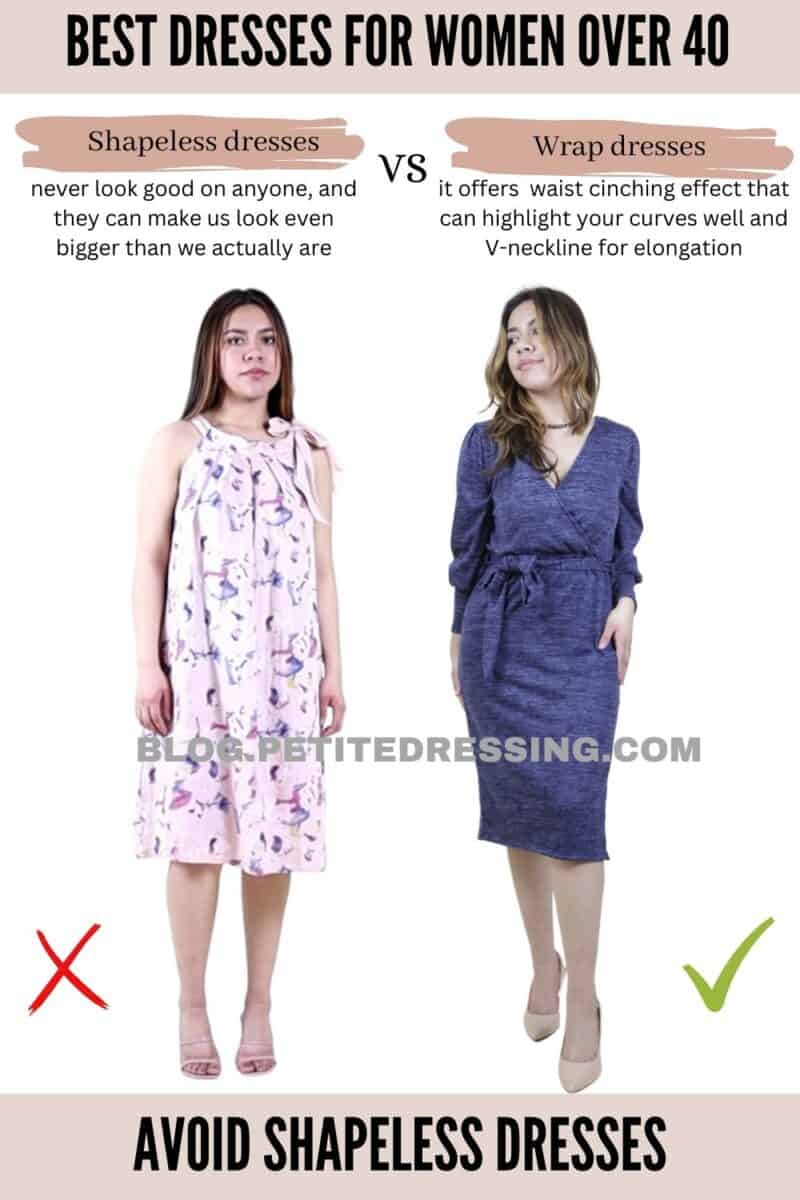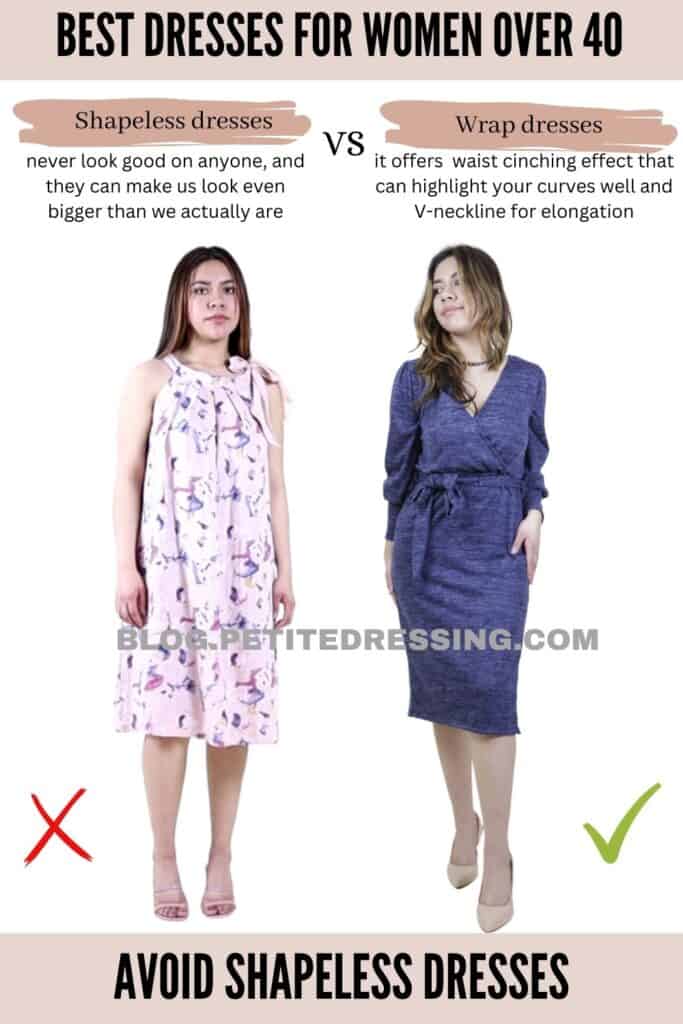 As we go through life, it's very normal that we might gain weight and our body no longer looks like our 20s. Therefore, it is very tempting for us to go for loosely fitted dresses, hoping they will "disguise" what we do not want to show.
When that happens, a lot of women tend to lean towards dresses that have little to no shape. Although shapeless dresses seem to be the short cut to hide your weight gain, the problem is shapeless dresses never look good on anyone, and they can make us look even bigger than we actually are, once we are over 40.
Body Con dresses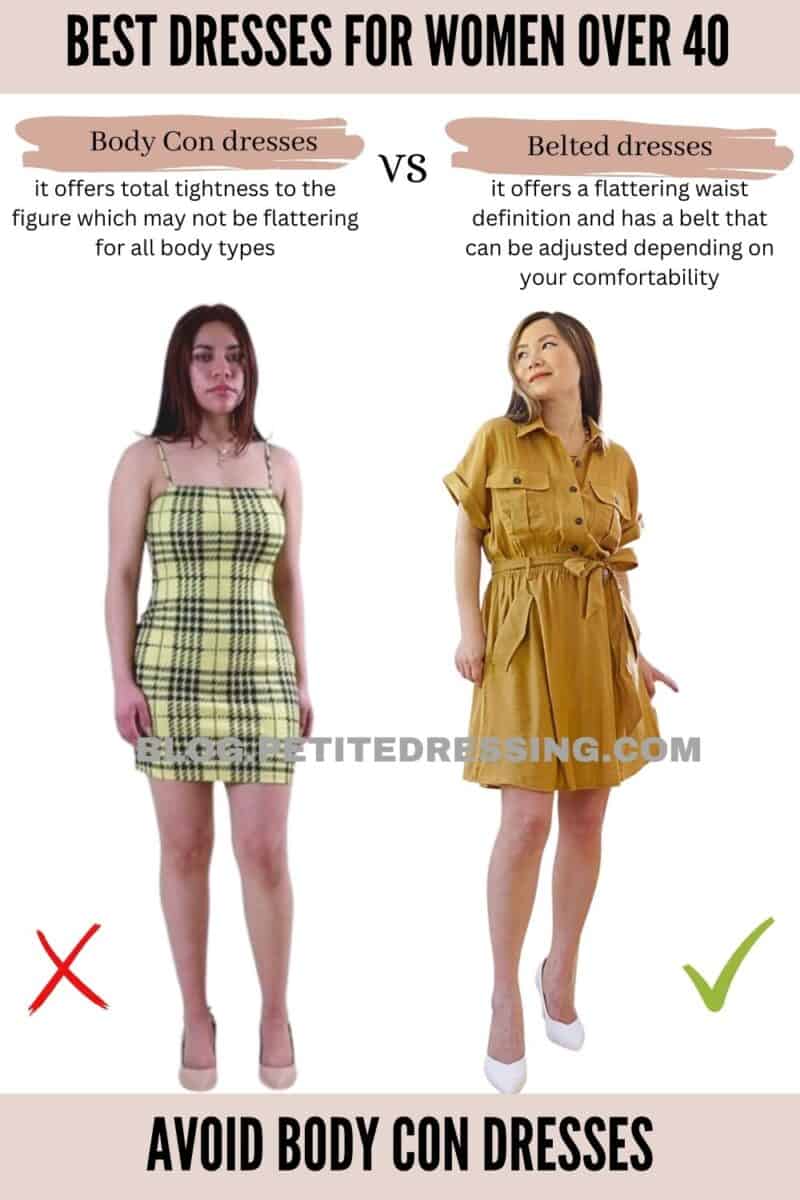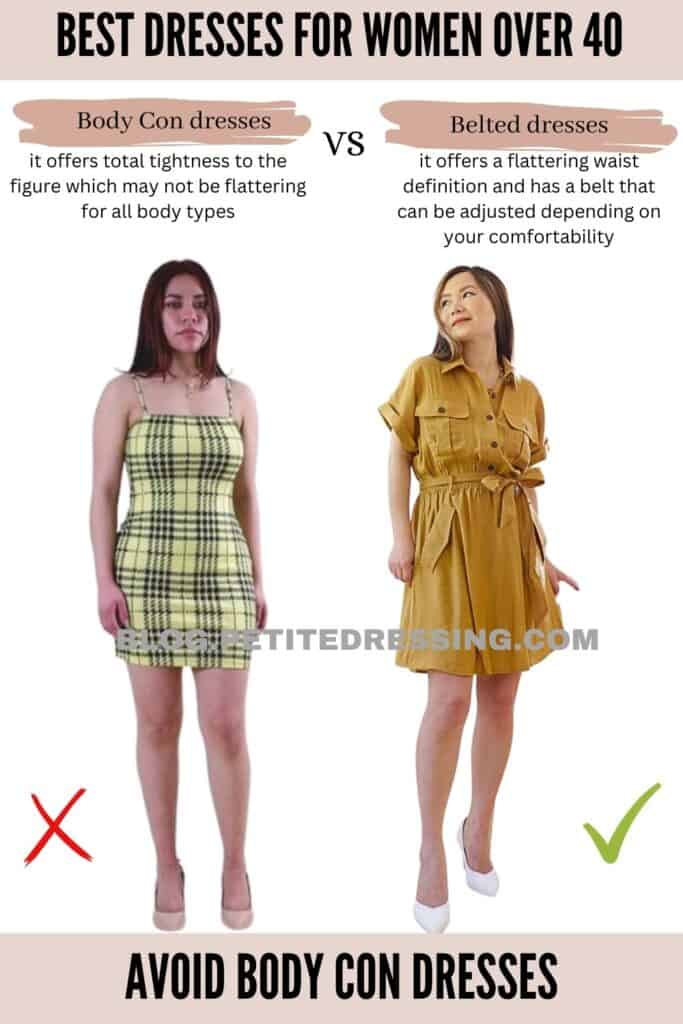 Body con is referring to the kind of dresses that fit tight from top to bottom. While this silhouette can look fun and flirty in your 20s and 30s, once we are over 40, they tend to be less accommodating.
It's not uncommon to experience a difference in your body shape at this point in your life, which could result from many different factors. Your hormone and metabolism level could start to change after turning 40. Or, perhaps you had a (another) baby, and losing weight just becomes a lot harder than when you were in 20s or early 30s.
Since body con dresses are designed to completely cling to your body, it is one of the least forgiving kind of dresses when you are over 40.
Too trendy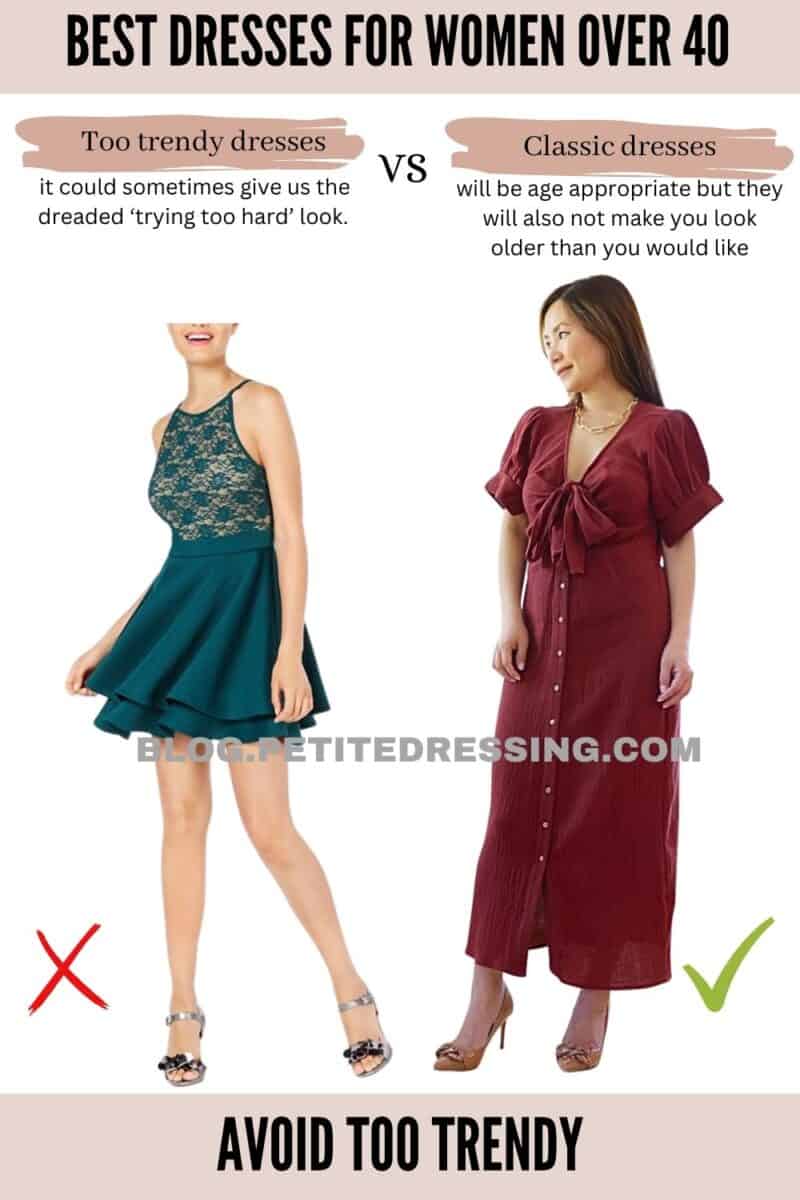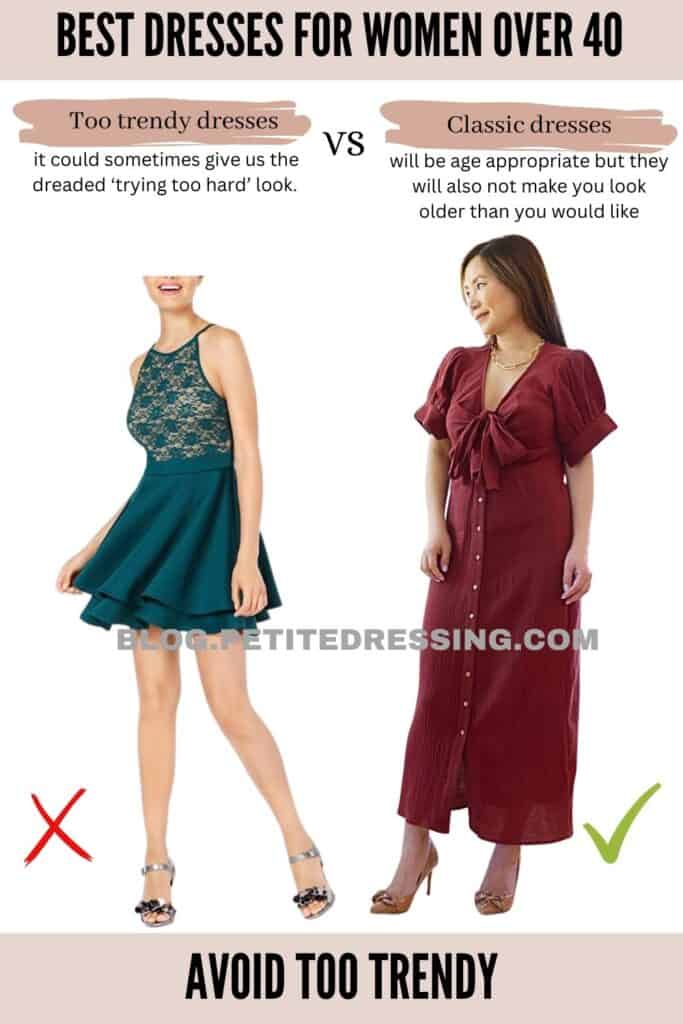 As a woman over 40, one of the key style tips to keep in mind is to begin paying more attention to classics instead of trends. Wearing more classics and wardrobe staples will often make you look younger (major win at any age, right?) and by this time in your life you're probably exhausted trying to chase all the latest trends season after season.
I'm not saying that you can't wear or embrace ANY trends. I'm simply suggesting to begin to do so sparingly. When we wear a lot of trends over 40, it could sometimes give us the dreaded 'trying too hard' look.
When you are thinking about the best dresses for women over 40, start to think more about the classic dress styles for this reason. These types of dresses will be age appropriate but they will also not make you look older than you would like. And, as an added bonus, you will get a lot more years and wear out of them because they are classic.
Too short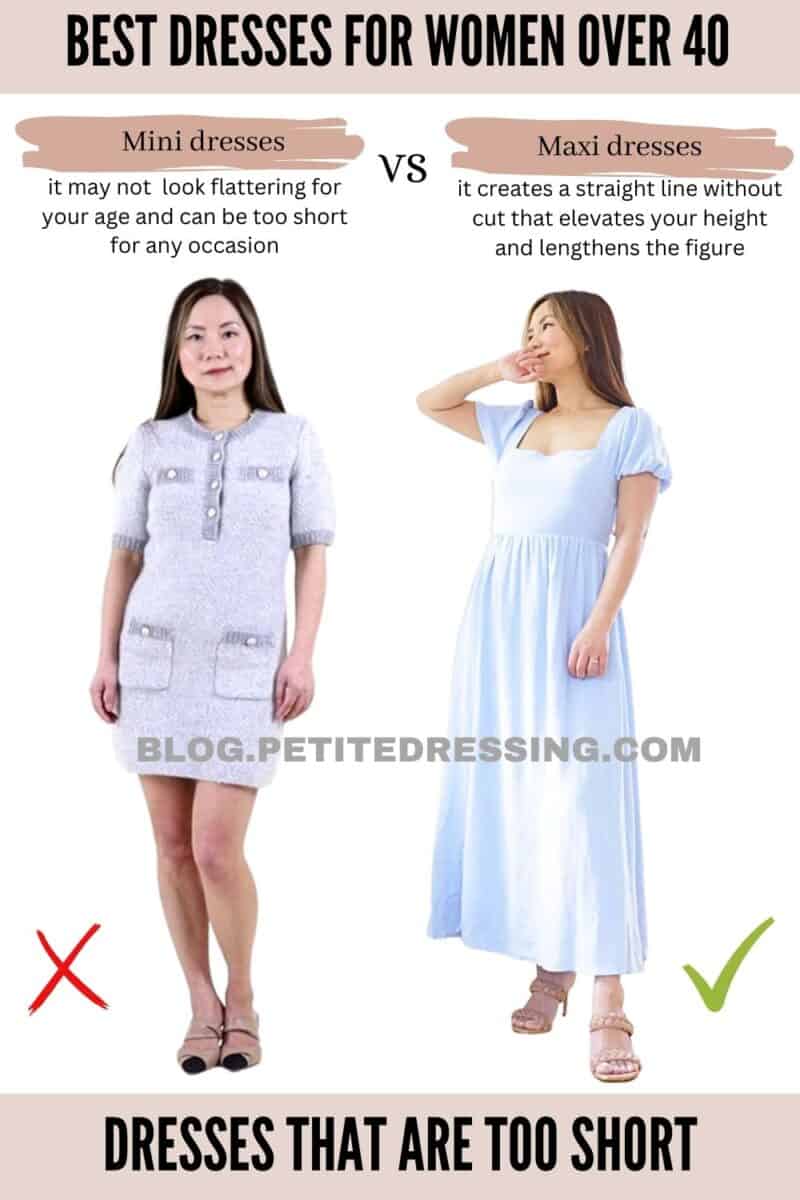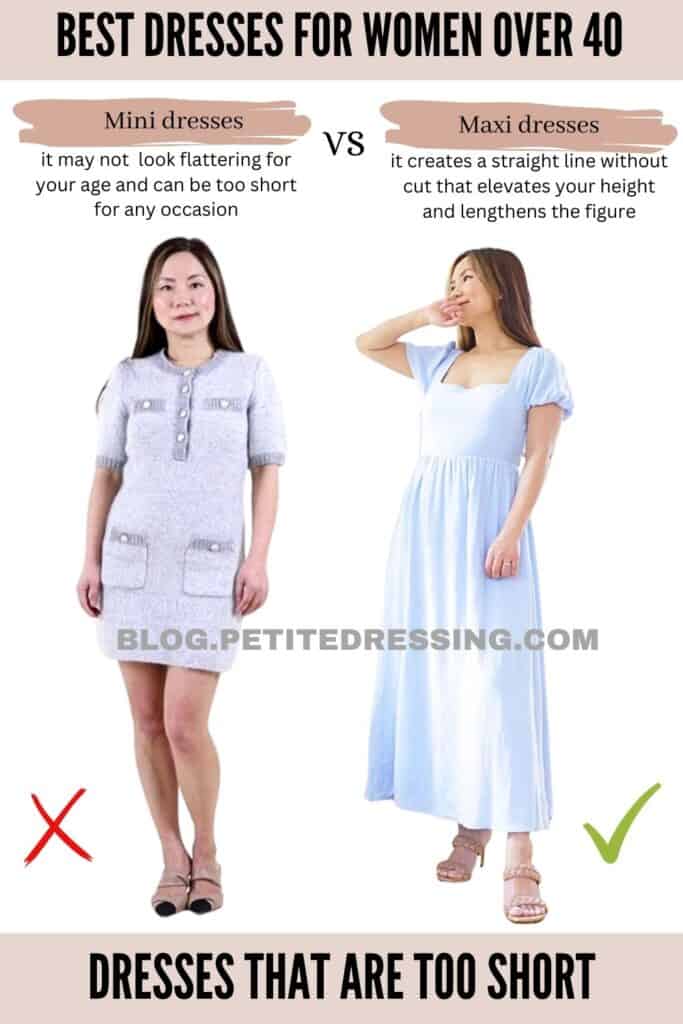 I totally believe that women over 40 can (and should) rock short dresses.
The question is how short is too short? I think the answer depends on the occasion you are dressing for.
If you are attending a formal or simi-formal event such as a wedding, then probably dresses below the knee are most appropriate.
Always wear the length that makes you feel confident, not self conscious.
Over accessorizing
We've all heard accessories can make or break an outfit and that rule definitely applies when you are a woman over 40.
You may have spent your previous years loading up and layering a ton of different accessories together when getting dressed. It's great to do when you're in your teens and 20's, but when you are over 40, it's time to simplify your accessories a bit.
Avoid too much accessories, and always remember to use one statement piece at a time.
Unflattering shoes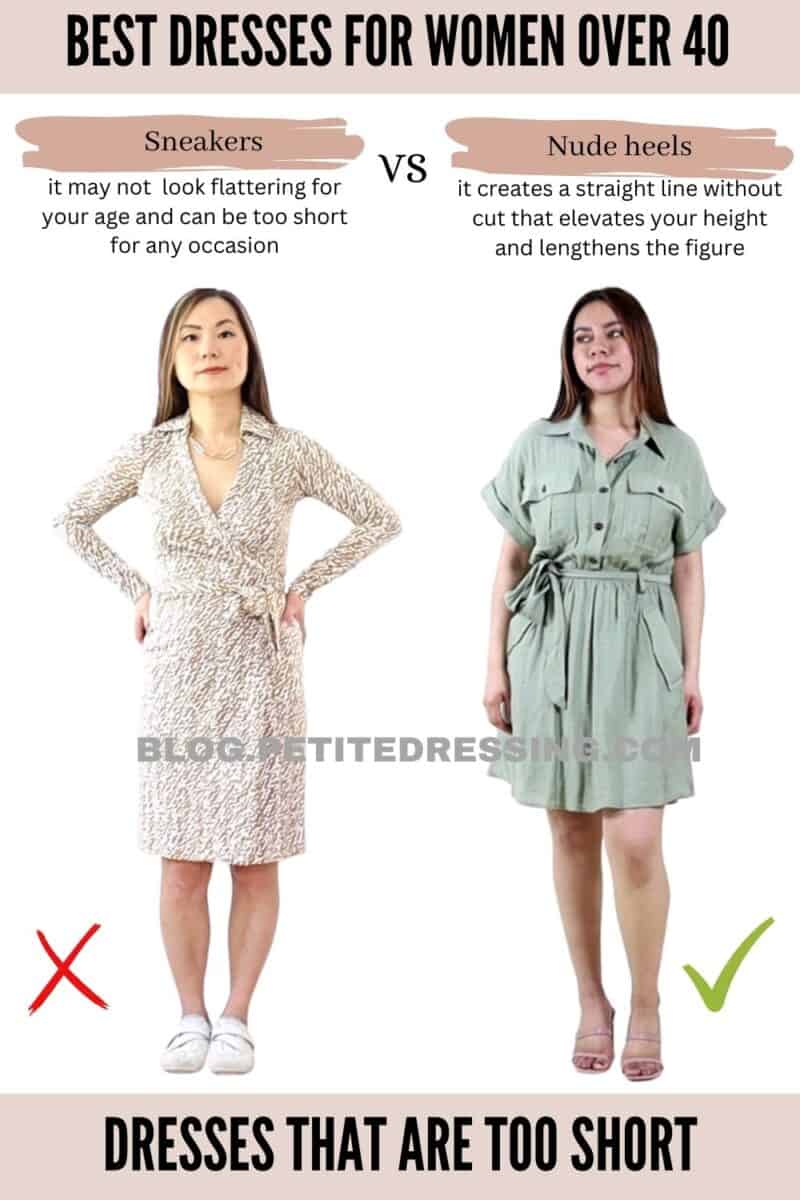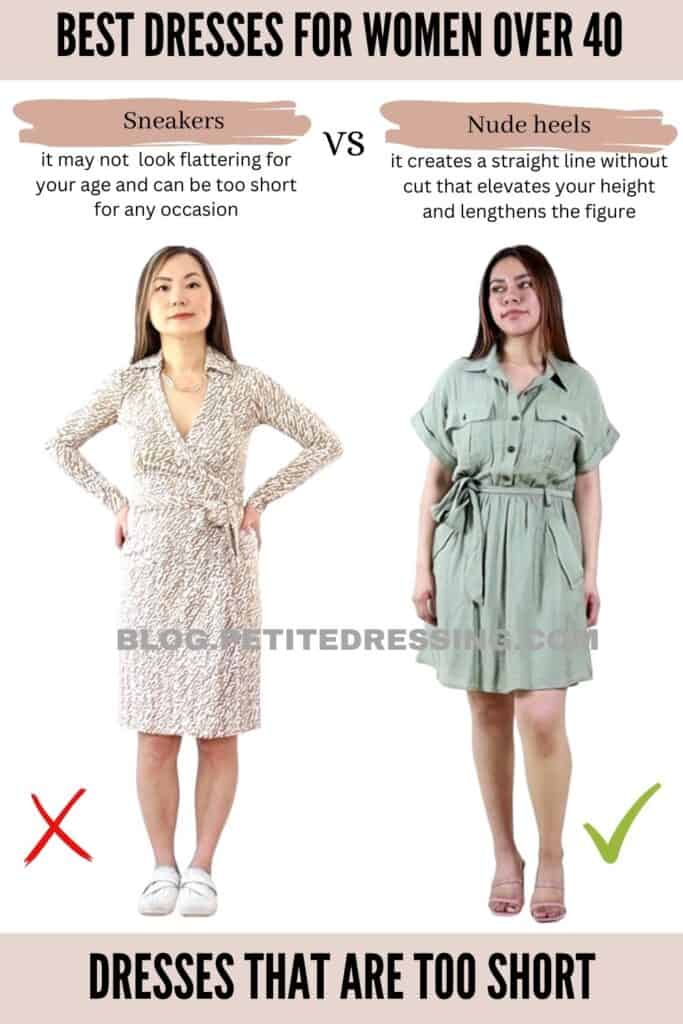 One of the common mistakes I notice is many women tend to be 100% focused on their dress, but forget to wear shoes that actually go with the dress.
As an example, if you have a bright red dress, keep your shoes and handbag on the neutral side to compliment the red in a stylish way without overpowering you (or the dress).