If you are 5′ and under, finding the right style of dresses is critical. I know this from first hand, since I am 5'2″ myself. Besides, I also have a petite clothing line for women 5'4″ and under, and many of my customers are under 5 foot tall.
Based on my first hand experiences as well as feedback from thousands of my customers, I've put together this detailed guide to help you find the best dresses for your next cocktail event.
Styling Goal
Elongate your legs and let them shine in your every outfit! Being a short girl means you need to maximize the appearance of your legs by choosing structures that give the illusion of length.
Go for dress structures that define the waist. Giving your waist extra definition will pull your entire look together to give you a much taller frame.
Be extra mindful of the dress length. Dresses that feature lengths that hit the floor will surely drown your short figure so make sure you keep the right cocktail dress length in mind.
Choose the right fabric that hugs your form in all the right places. The right flow and structure of fabric can make a huge difference in how the dress fits your petite frame.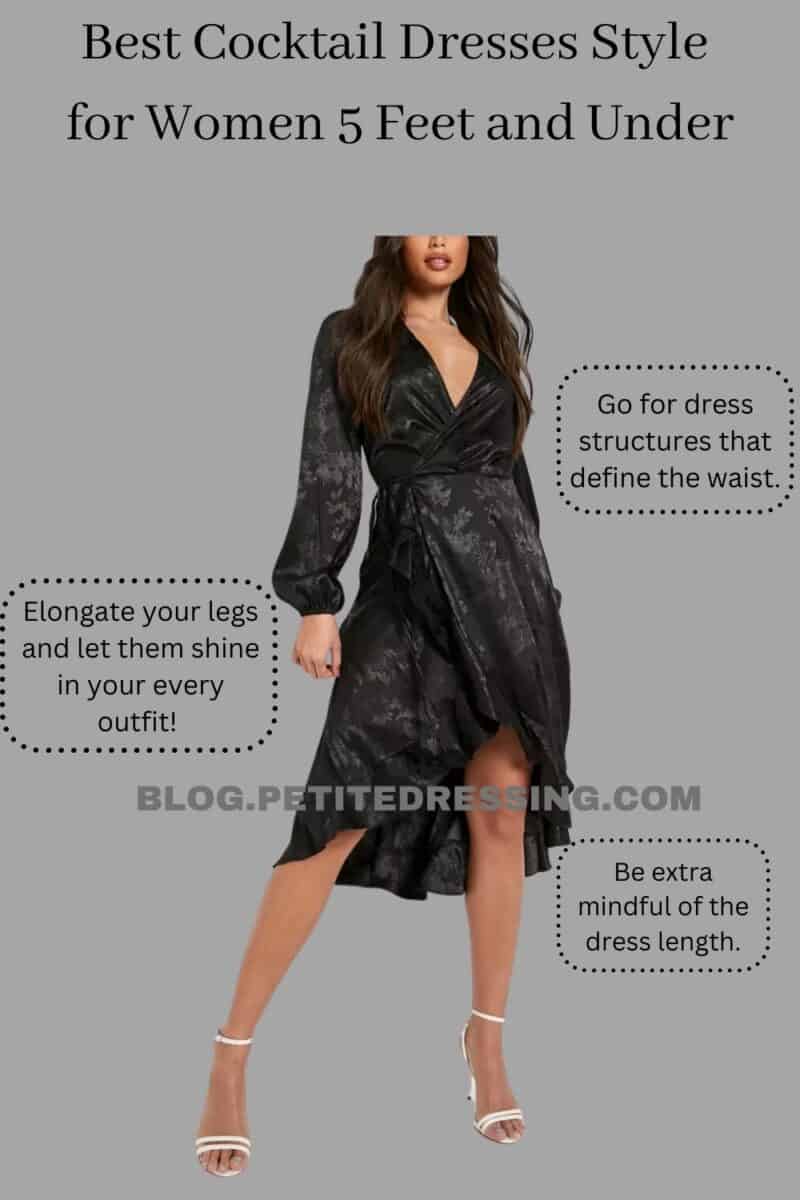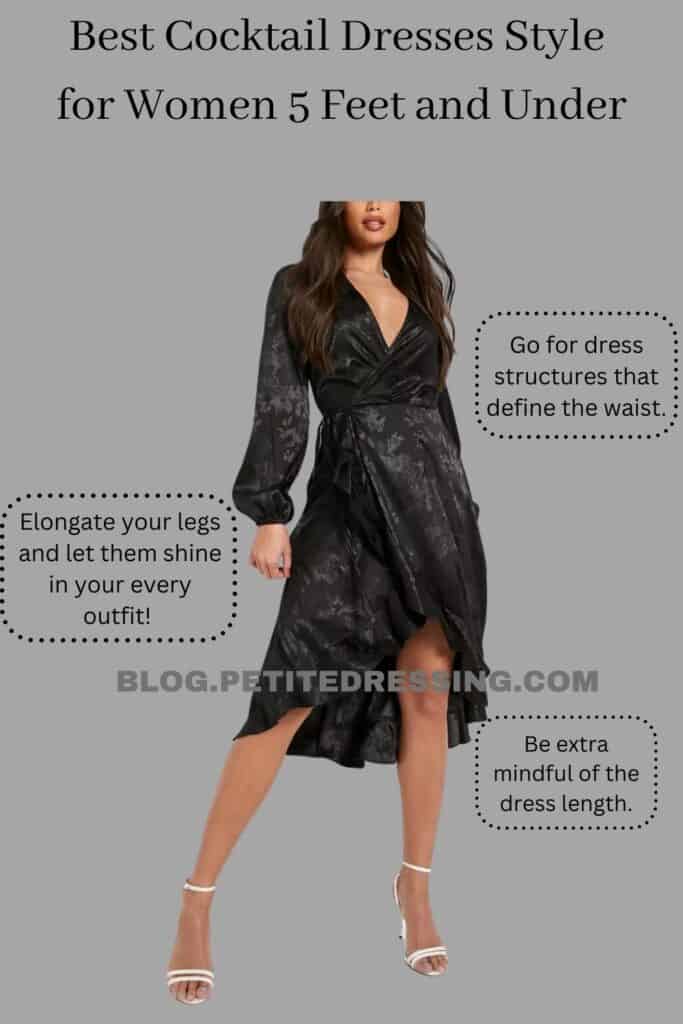 Aren't these styling goals pretty simple to find? You have more cocktail dress choices than you think and I'll share with you the specific styles you should look out for.
High-Low Dresses in Structured Fabrics
A high-low cocktail dress features a shorter length in the front and longer in the back. The length difference between the front and back can vary from a few inches to a dramatic high-low hemline which is quite a significant factor in why women who are 5 feet and under would find this flattering.
This style is perfect for short women because it creates an illusion of height by showing off their legs while still giving them the coverage they desire in the back. Additionally, the shorter front of the dress draws attention to the legs while the longer back adds volume and movement, creating a visually appealing balance.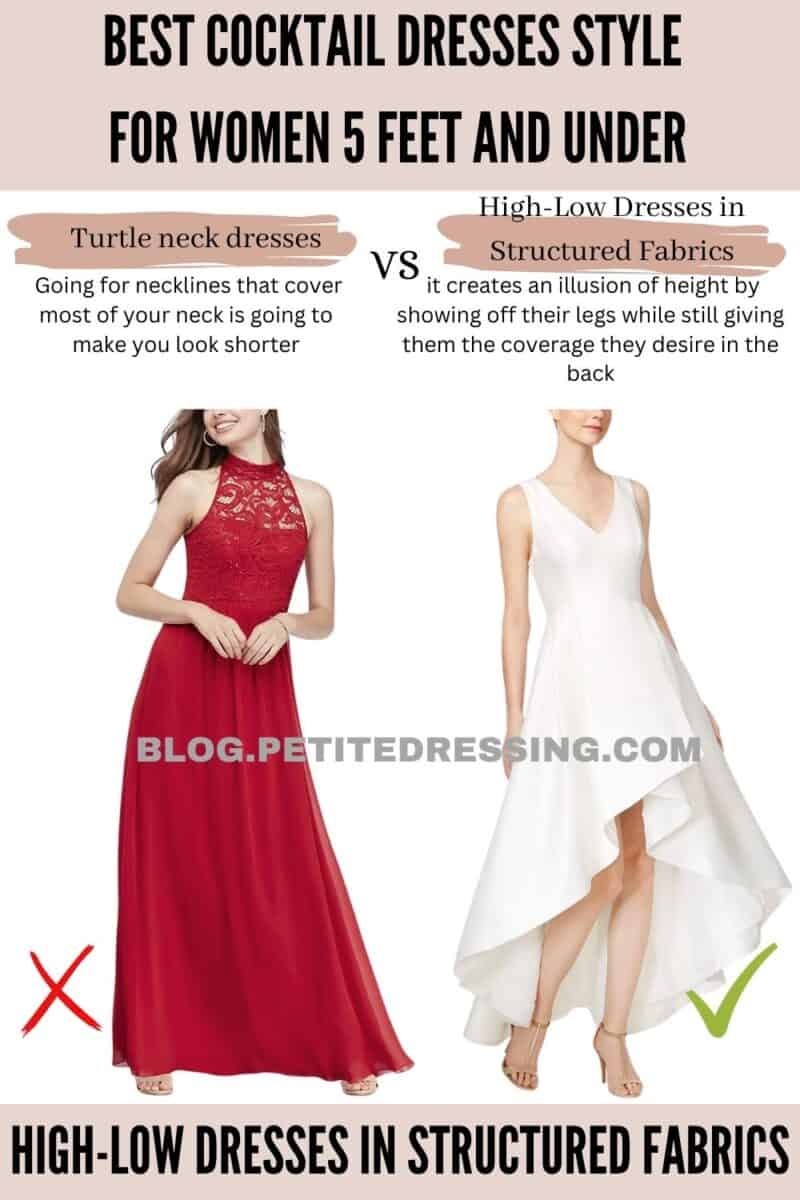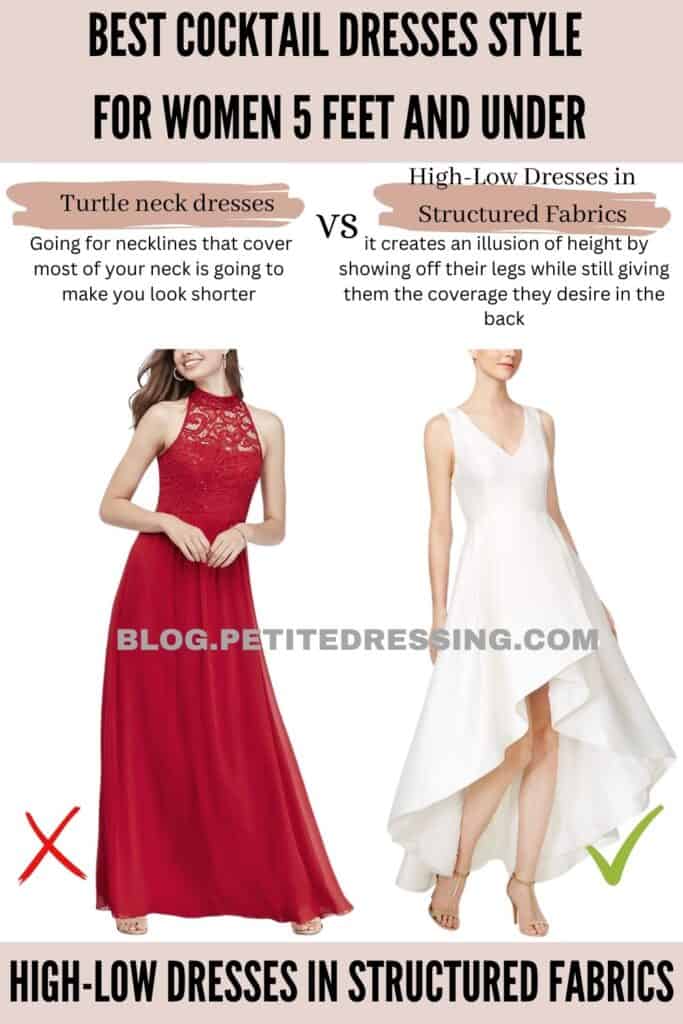 When choosing a high-low cocktail dress, it's important to select a structured fabric because it holds its shape and provides support, which is essential for shorter women. A structured fabric will help the dress maintain its shape and prevent it from becoming too loose or floppy, which can make you look shorter and wider.
Velvet Mini Cocktail Dresses
A velvet mini dress can be a flattering choice for women who are 5 feet and under because of the fact that its "mini" length can be a very efficient way to make you look taller. Ideally, if you're someone who's 5 feet and under, a mini dress that's around 28 to 30 inches long should look great on you.
In addition to this, velvet is a fabric that has a luxurious and rich texture, which can create the illusion of added volume and curves. For women who are petite or have a smaller frame, this can be quite flattering because it can help give the appearance of a curvier figure.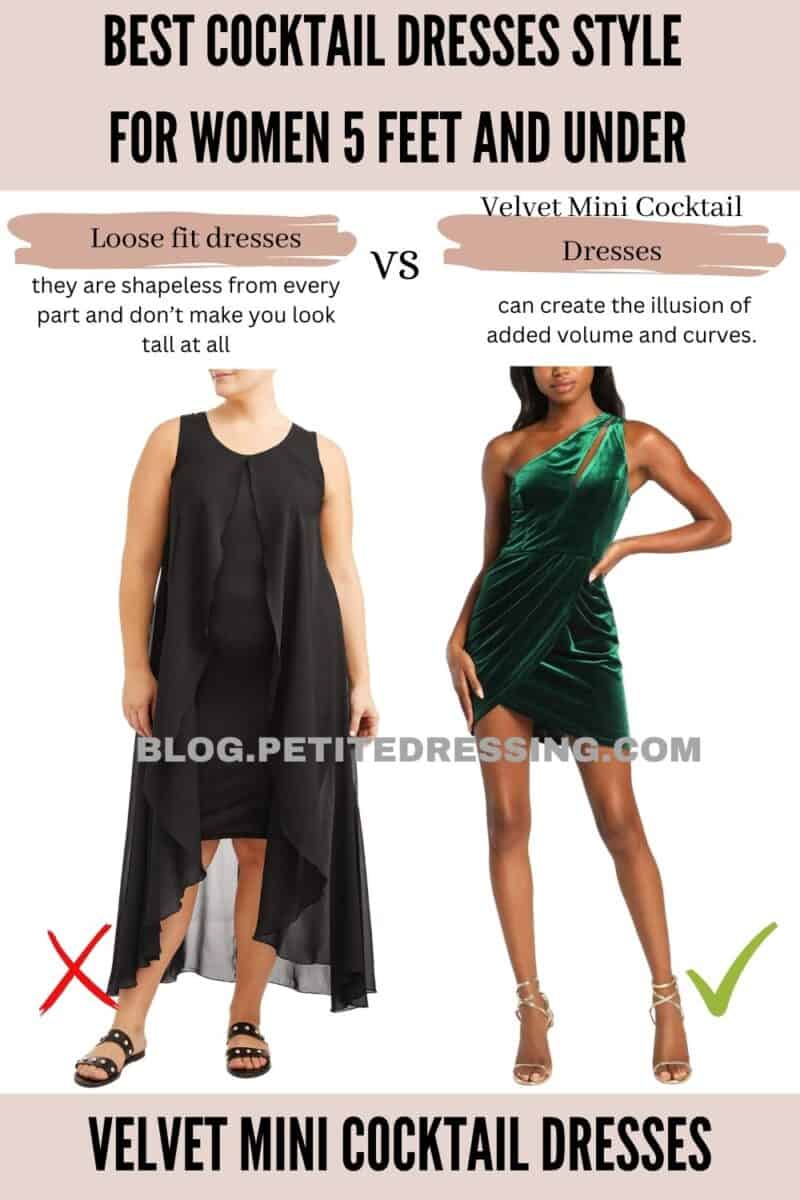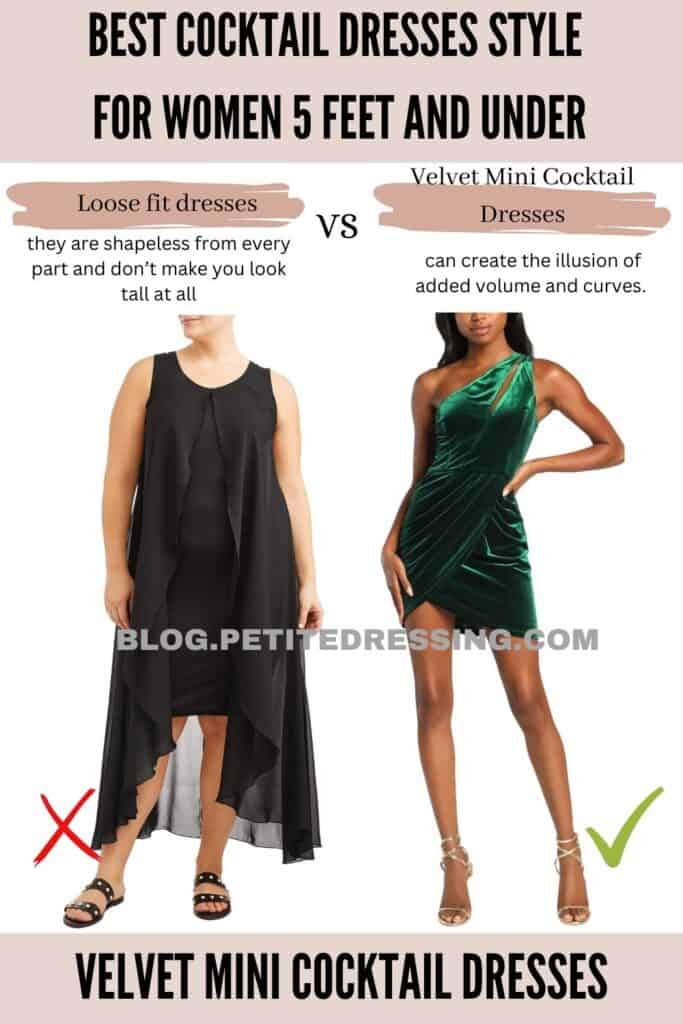 Velvet also has a certain level of structure and support, which can help to smooth out any areas that you may be self-conscious about. This can help to create a clean and polished look, which is important for shorter women who want to avoid anything that might make them look too frumpy or overwhelming.
Belted Cocktail Dresses
Just like what I have previously stated in our "Styling Goal", defining your waist can help give you a more balanced and taller frame. Dresses with belts or waist ties draw attention to the smallest part of the body, which is often the waist.
Also, a belt or waist tie can help to balance proportions by creating a defined separation between the upper and lower body. This can help to make the legs appear longer and create a more elongated silhouette.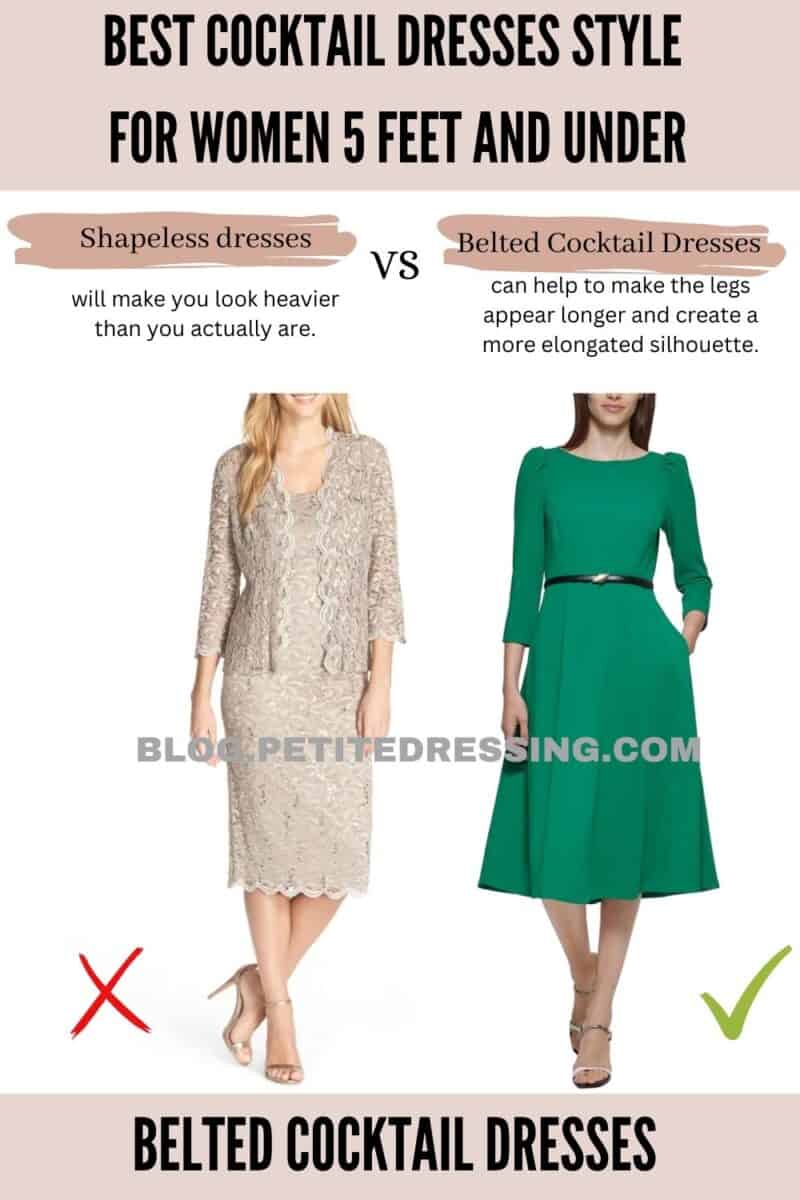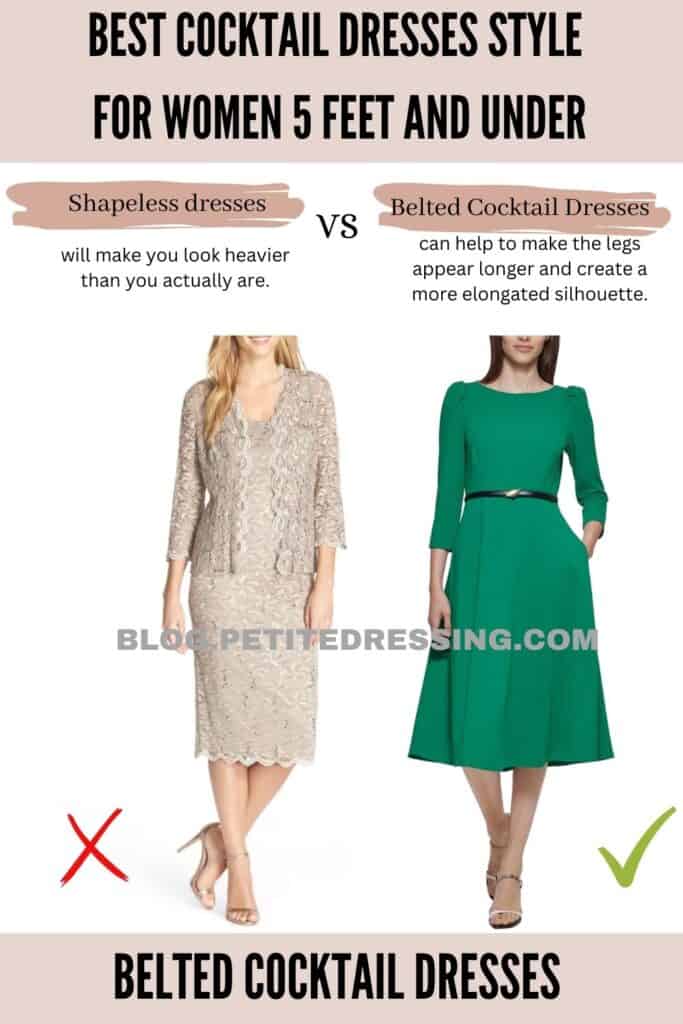 Lastly, they can add an element of structure to your cocktail dress in order to create a more polished and put-together look. You will find this very helpful if you're someone whose height is 5 feet and under because you would want to avoid anything that appears too loose or unstructured, as this can make them appear smaller or shorter.
Asymmetrical Hem Dresses
The asymmetrical hemline creates an uneven line that draws the eye up and down the body. This can help to create the illusion of longer legs to give you the appearance of a taller and leaner frame.
Not to mention how the asymmetrical hemline adds an element of visual interest to the dress, which can make it more exciting and dynamic! You can also opt for those that have subtle flounces of fabric at the hemline for additional depth.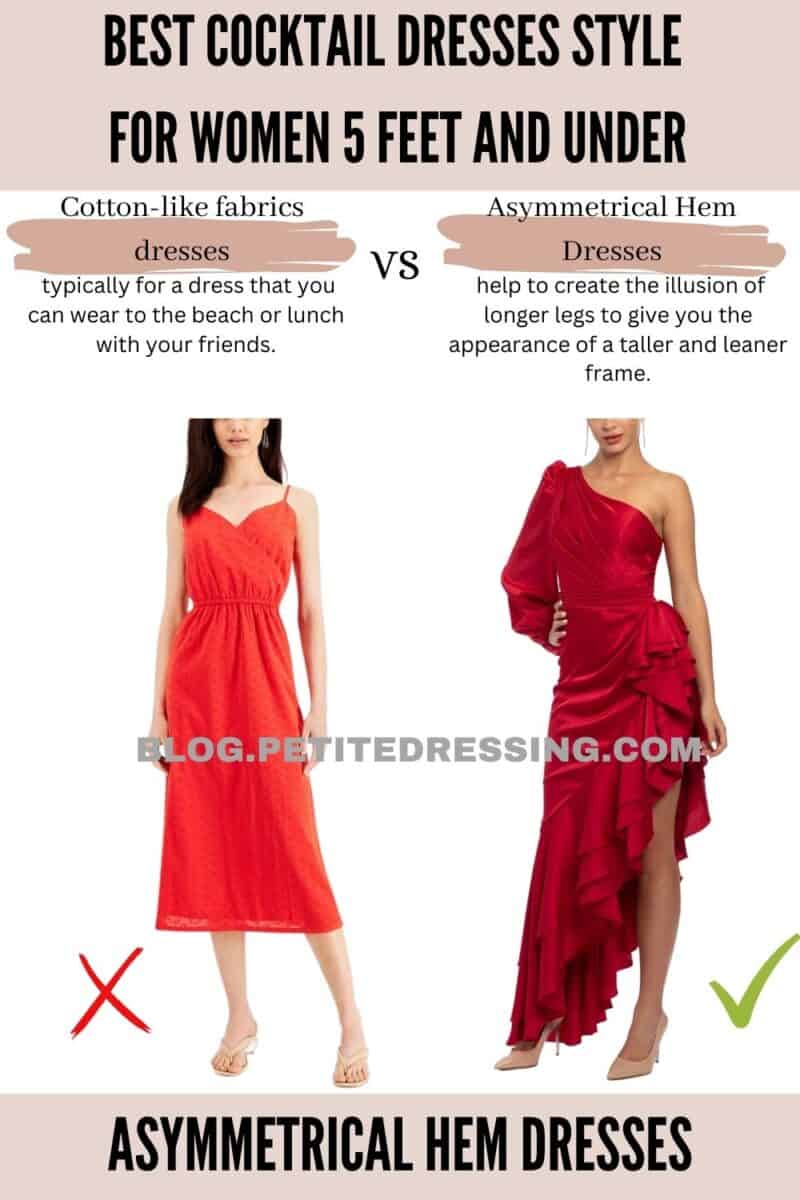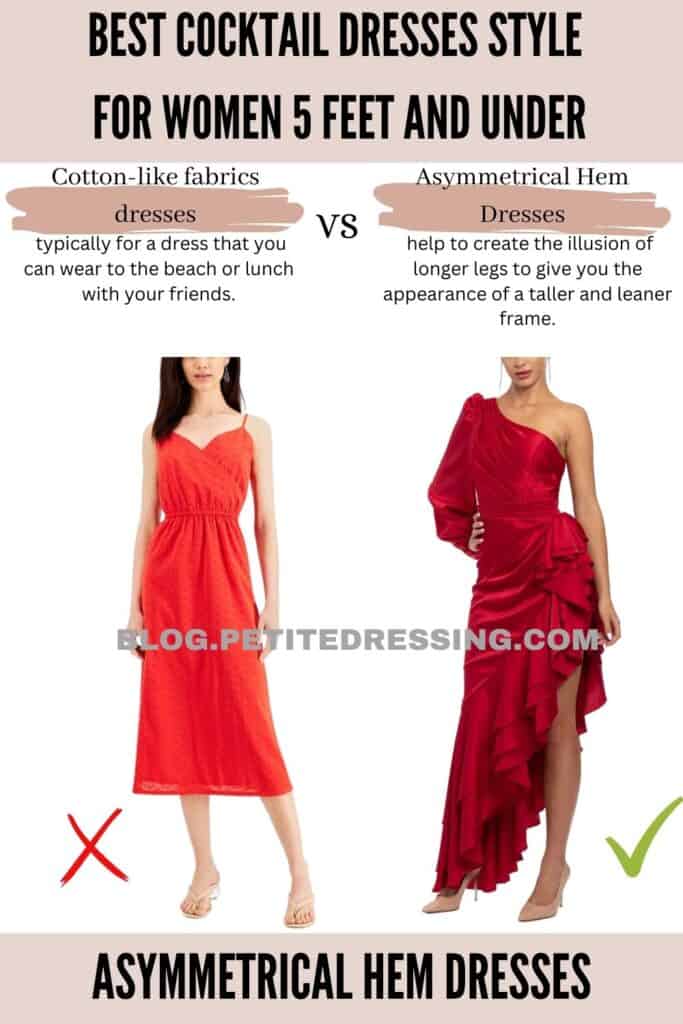 Because of its unique and eye-catching asymmetrical design, it draws attention to your legs and therefore accentuates its shape and appearance. Just choose the right length variation (not too long on one side) and it'll totally elevate your style.
One-shoulder Dresses
Wearing a one-shoulder cocktail dress can provide several visual advantages for short women who are 5 feet and under due to its structure which draws the eyes upwards. One-shoulder cocktail dresses draw attention to the shoulder and neck area, which can create an elongated silhouette.
By showing off one shoulder, the dress can help to balance out a short frame and make the shoulders appear broader. This effect can also create the illusion of a more defined waistline.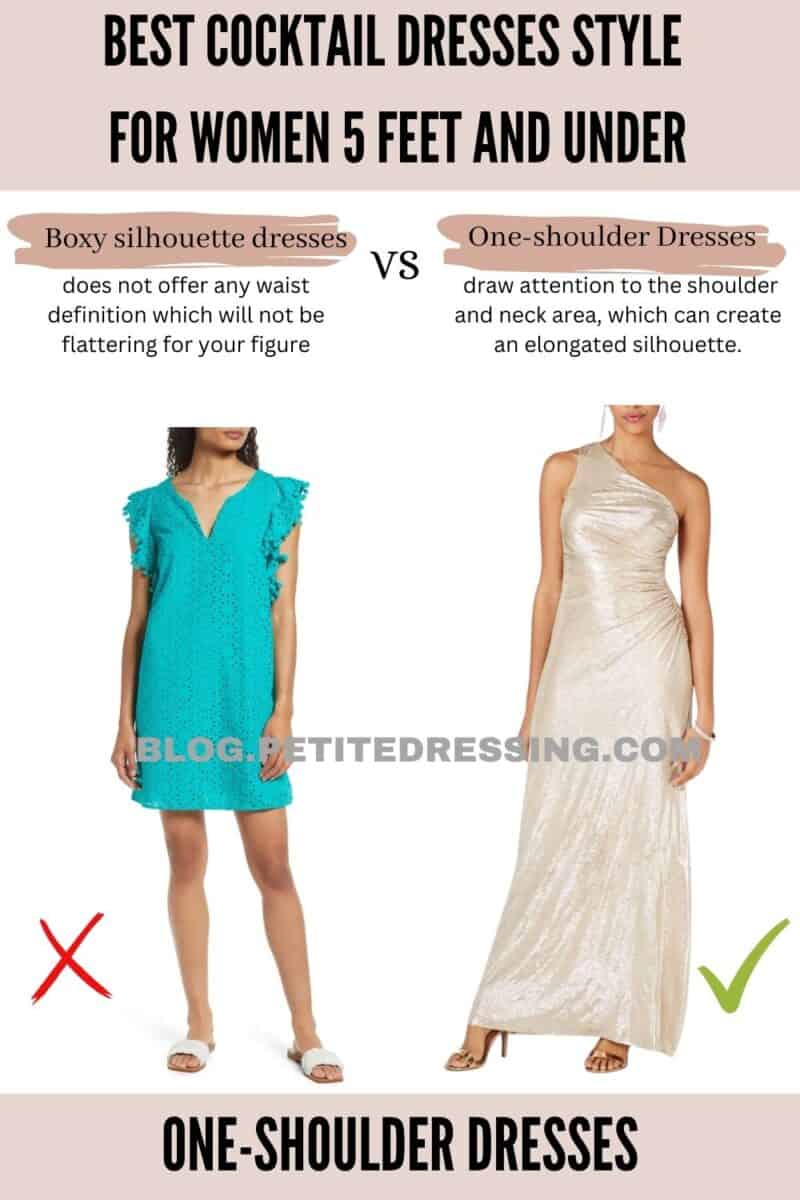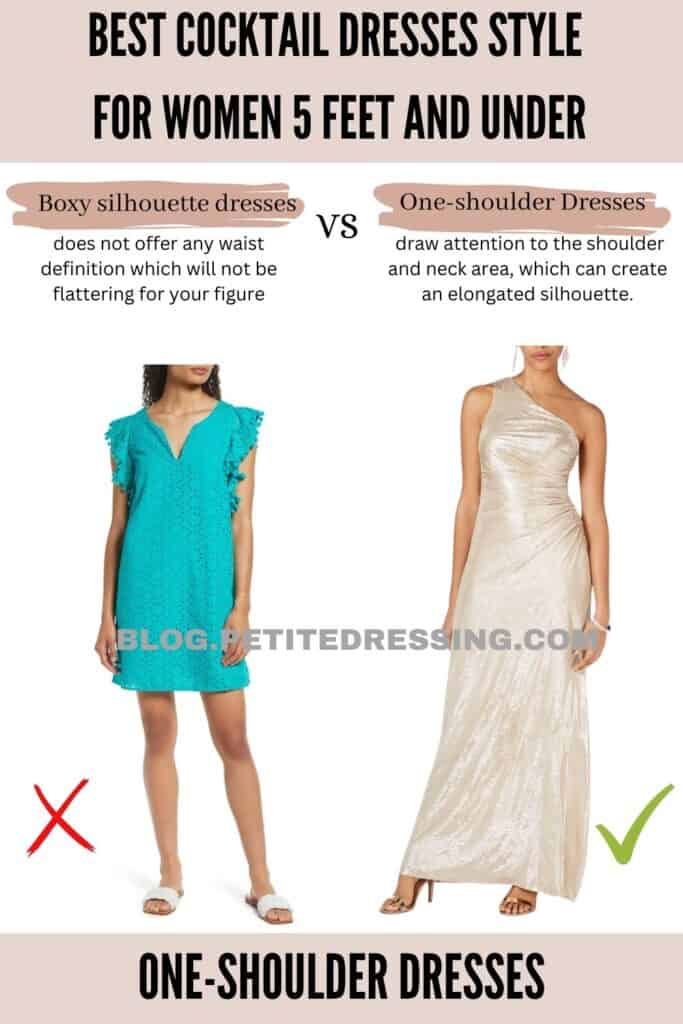 Can I also just say that this style gives an element of sophistication and glamour to a cocktail look? It's something shorter women would find super flattering as it adds some extra oomph to their outfits.
Little Black Dresses with Open Necklines
Every woman should own a little black dress and this is something highly essential for women who are 5 feet and under. To add to that, you need to have one with an open neckline.
Open necklines like V-neck, off-the-shoulder, or scoop neck can be visually flattering for shorter women because they create the illusion of an elongated neck and torso, making you appear taller and leaner.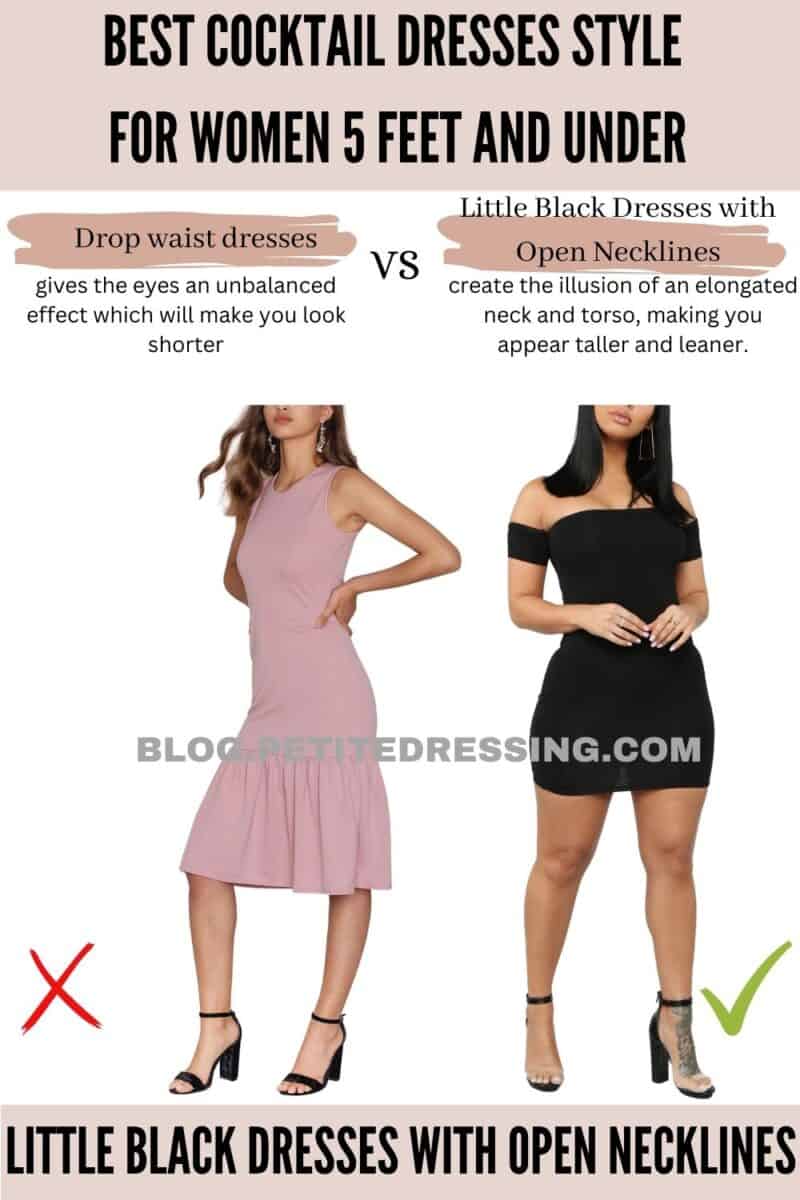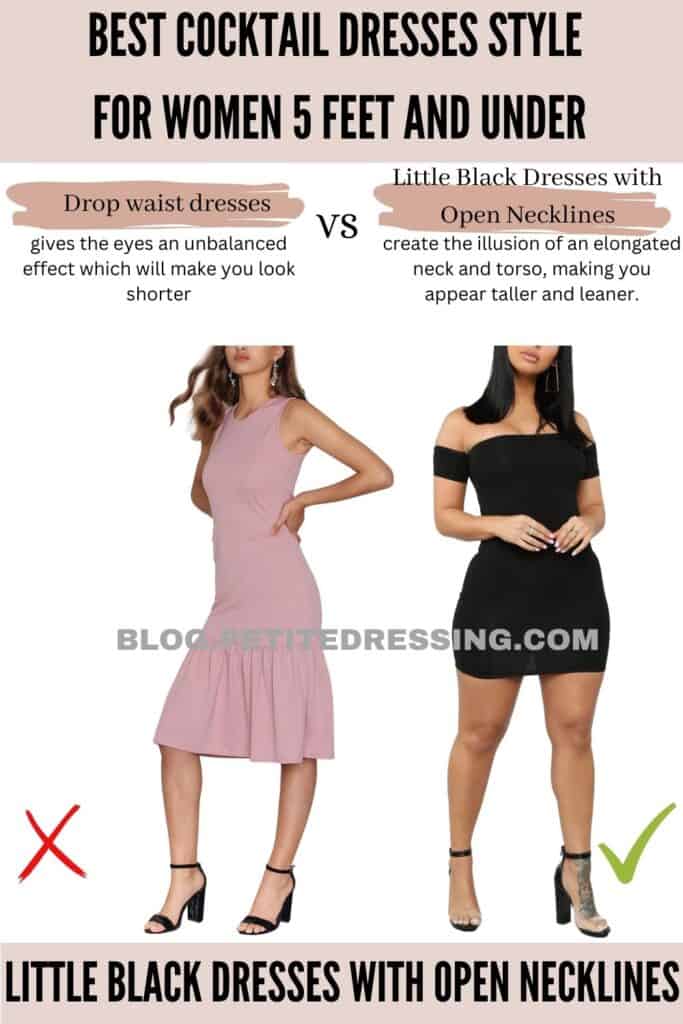 A little black dress with an open neckline can draw attention upwards towards the face and neck, and away from your short legs, creating a more balanced and proportional appearance. The open neckline also creates a vertical line that lengthens the neck, making you appear taller.
Satin Wrap Dresses
The wrap style of the dress, with its V-neckline and cinched waist, is very flattering features advantageous for shorter women. The V-neckline elongates the neck and torso, while the cinched waist helps to define the waistline and create an hourglass shape effect to make you look more proportionate and balanced.
In addition, the wrap style is also adjustable, allowing you to customize the fit and create a more flattering silhouette for your particular body shape. Also, because the wrap dress style is a classic and timeless look, you can wear it for many different occasions, including cocktail parties!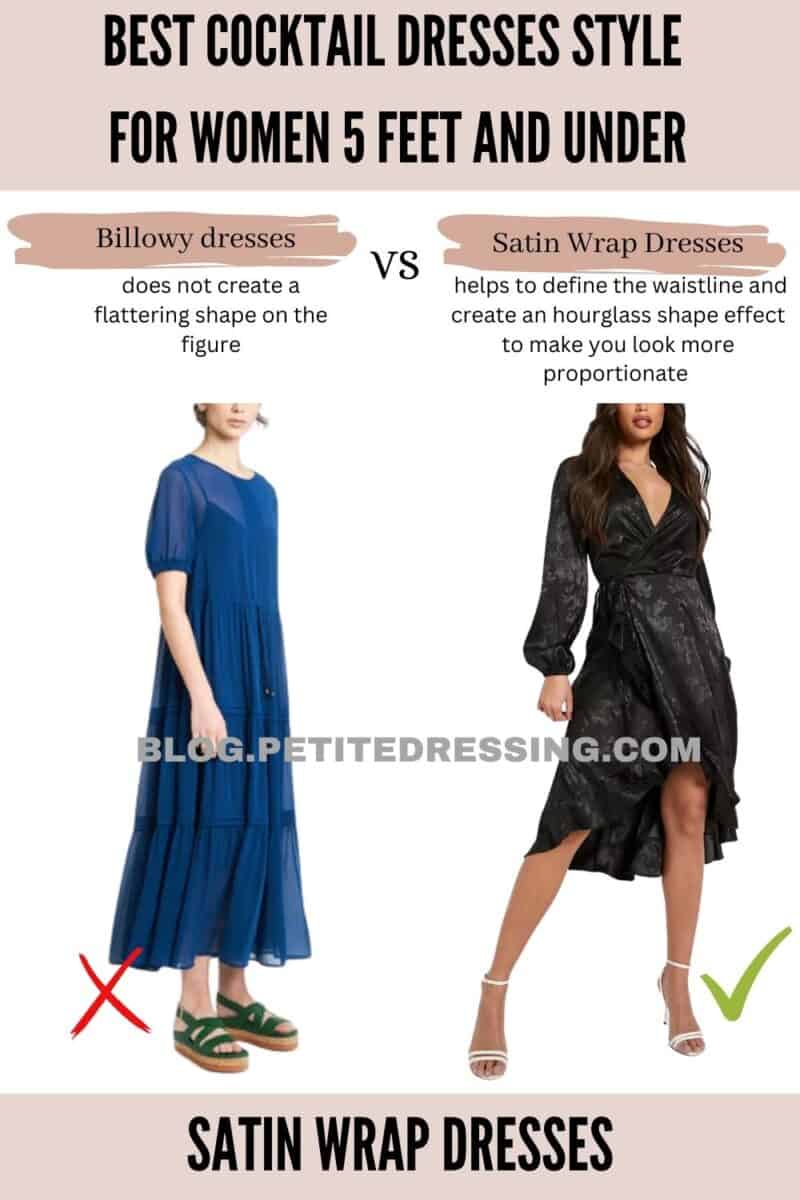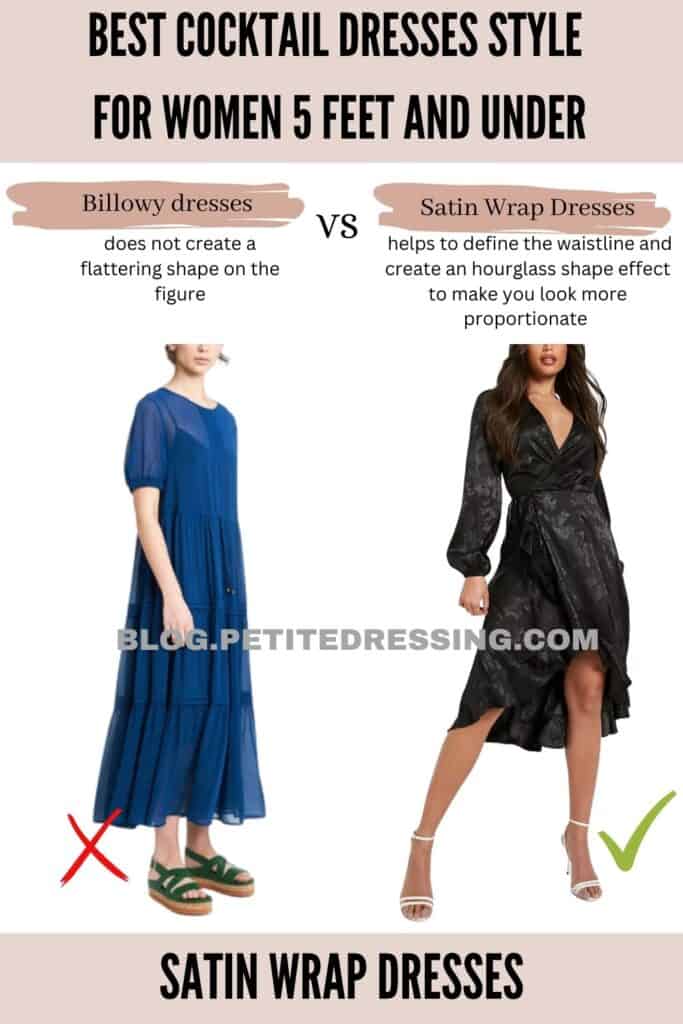 In terms of fabric, satin is a lightweight and fluid fabric that drapes well on the body, creating a smooth and elongated silhouette that can make you appear taller and leaner. The luxurious texture and shine of satin also give the dress a dressier, more formal look, making it perfect for a cocktail party or other special occasion.
Flowy Fit and Flare Dresses
The flowy nature of the chiffon fabric can help to create the illusion of length and height, making you appear taller and more elongated.
Apart from the visual benefits of the flowy fabric, the fit and flare style of the dress creates a balanced and proportional silhouette that can be very flattering for shorter women. This style accentuates the waistline and brings your ensemble altogether for a streamlined look.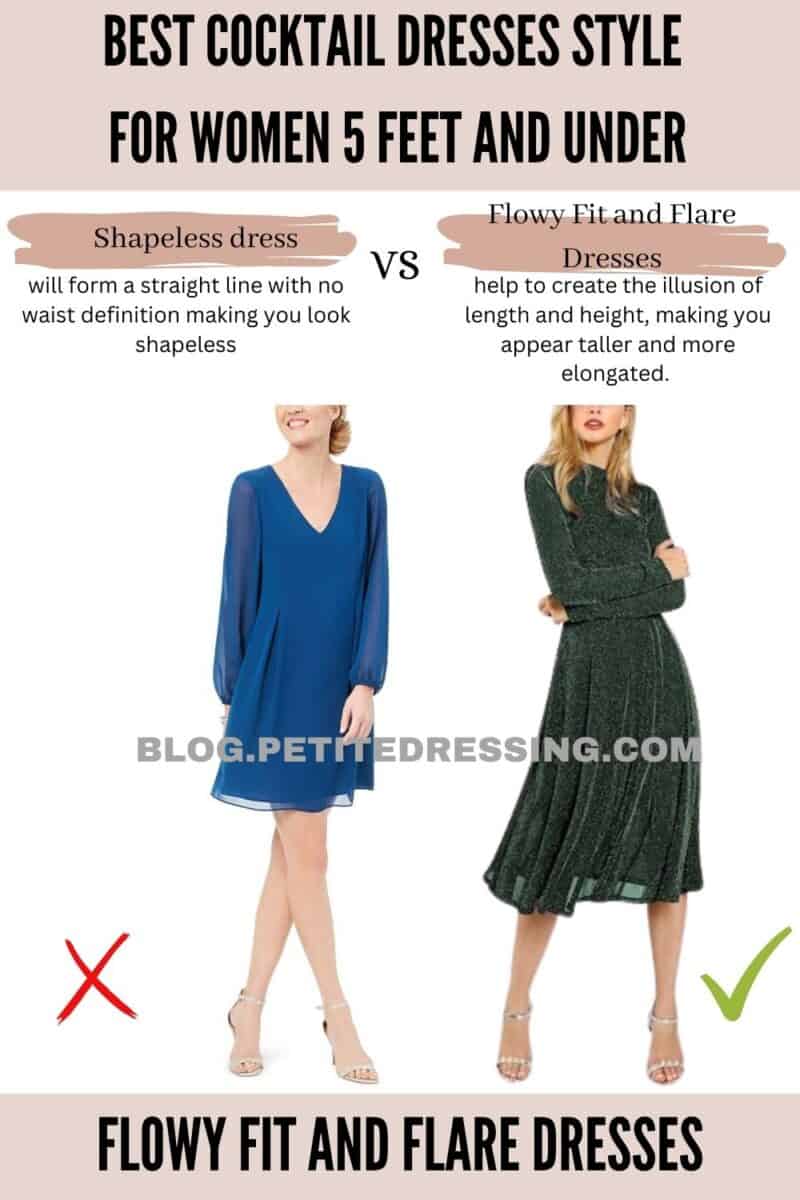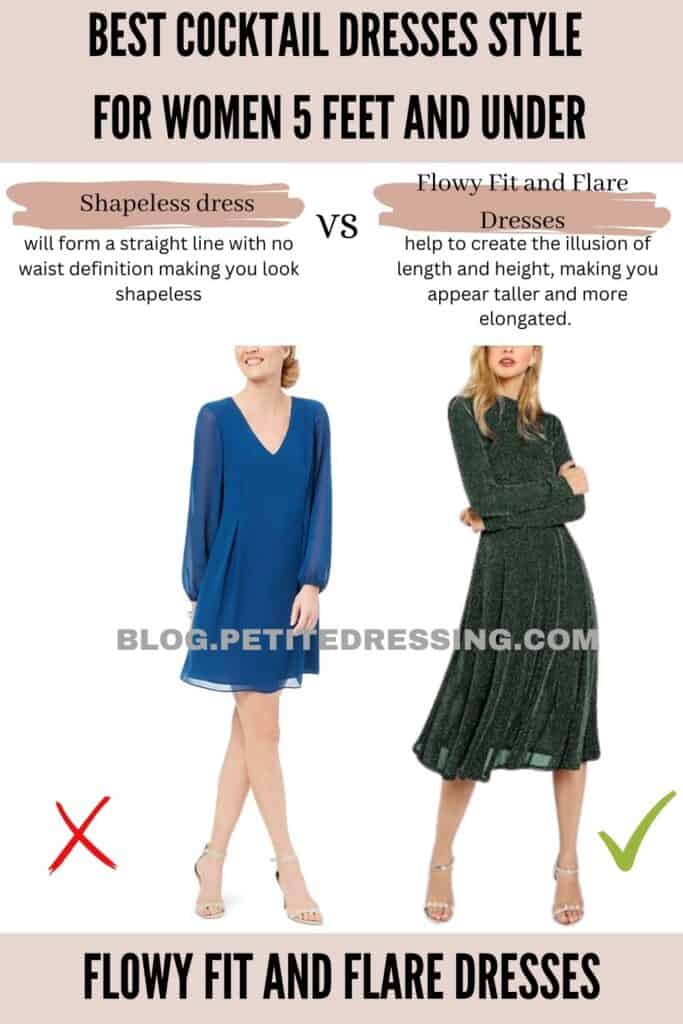 The Key Takeaway
By choosing the right cocktail dress style for you beautiful women who are 5 feet and under, feeling insecure about your height won't even be on your list of concerns! The right style, fabric, and color should make you feel confident and comfortable in any event you'll wear your cocktail dress to and you can be absolutely sure that you are presenting yourself in the best possible light!
I hope this style guide is detailed and helpful enough for you to gear your wardrobe up with cocktail dresses that embrace your figure and height!