Learning how to pick the right pair of shoes as a woman over 40 can be a challenging task. With so many different shapes, heights, and styles, there are plenty of options to choose from.
Shoes can become a woman's most powerful accessory. They can be utilized to elevate your appearance and determine the kind of look you are aiming for. Heels on shoes can completely alter your silhouette depending on the height, which will also affect the way your outfit looks.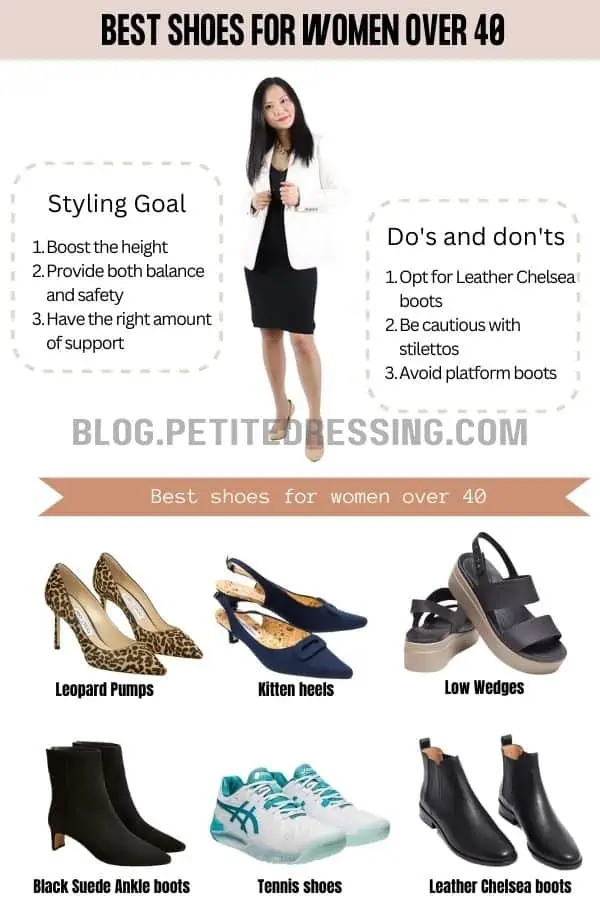 Leopard Pumps
Leopard pumps are the classic heel height, ranging from two to three inches tall. This height is just enough to boost your height, without making it too difficult to walk around or do basic activities.
This type of shoe is perfect for any style, as it is considered a timeless fashion piece to own. Even if you dress with vintage clothing, or stick to a more modern look, you can still pair plenty of outfits with a pair of leopard pumps.
Leopard pumps are an excellent option for those who work in the office and don't have to be on their feet all day. They pair perfectly with a nice pair of slacks and a blouse, and they also look amazing with a pretty dress.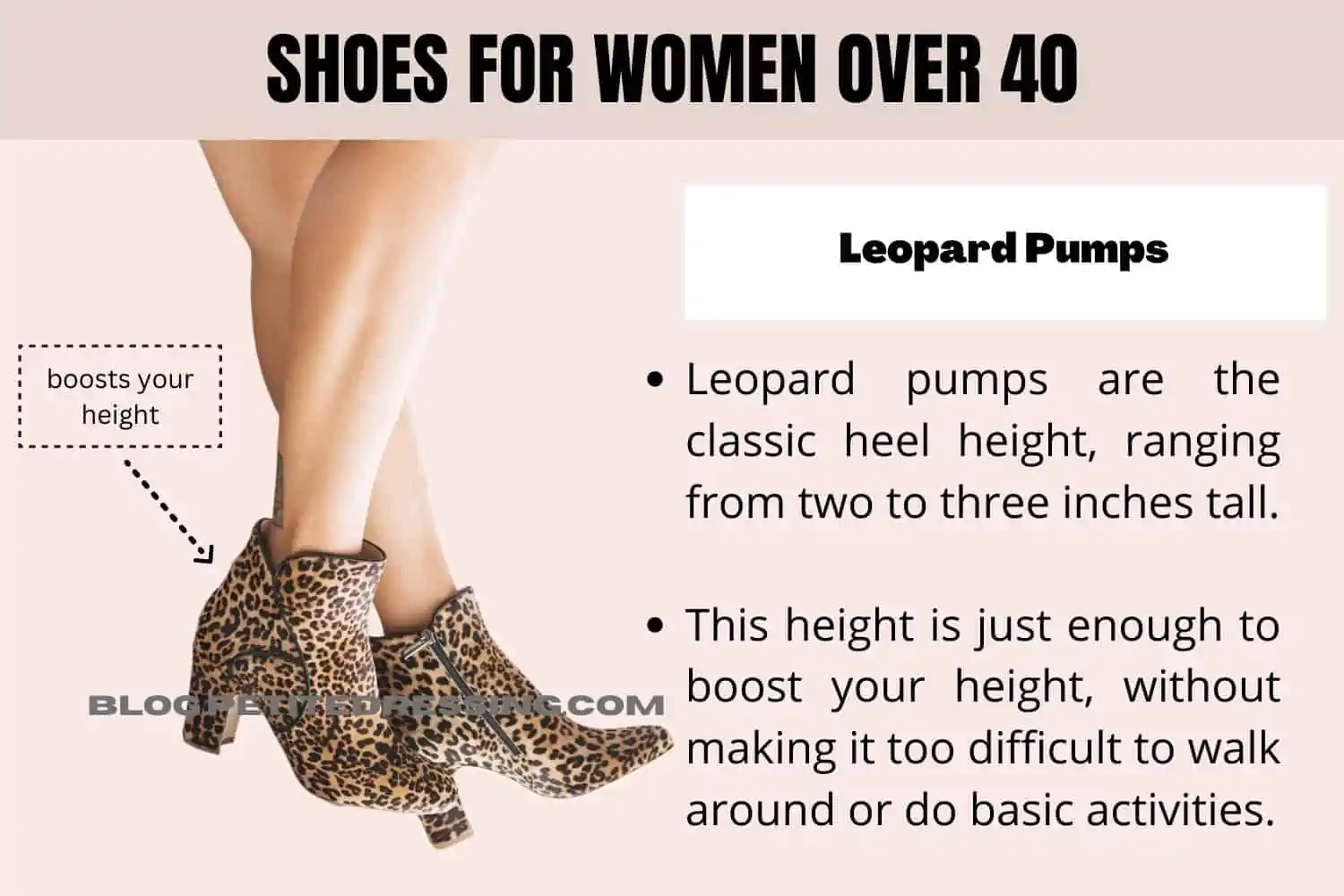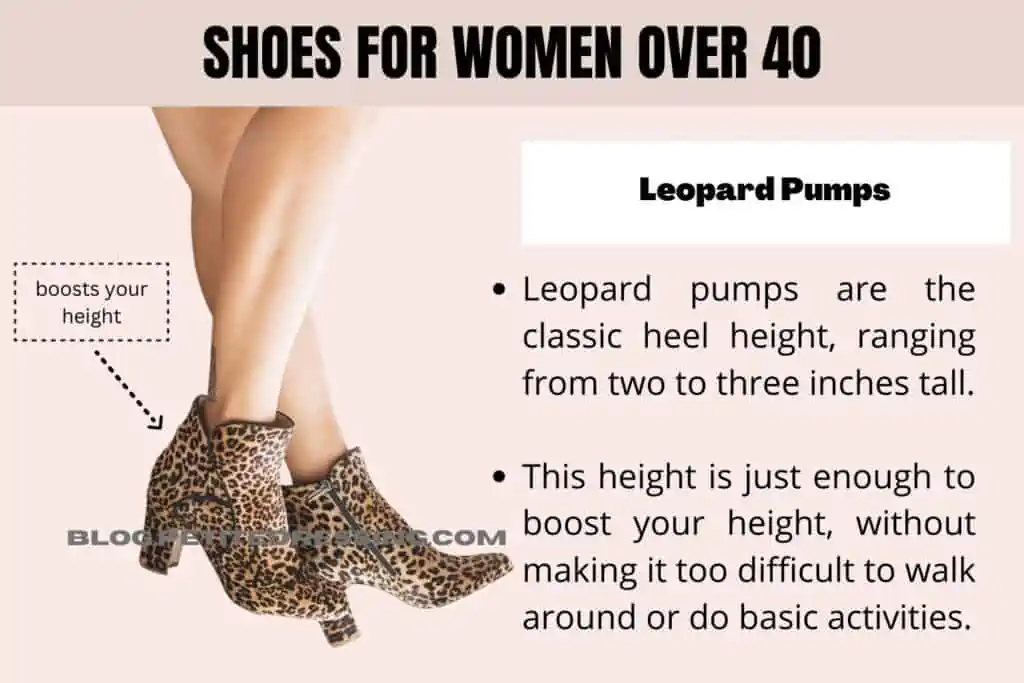 After the age of 40, you can't go wrong with a classic choice that can dress up almost any outfit, all while staying at a height that won't cause much pain for your feet.
Kitten heels
Kitten heels were extremely popular during the late 1950s, and they have recently made a powerful comeback. To qualify as a kitten heel, the heel will be less than two inches tall.
If you are on your feet a lot, that can be difficult for someone over 40. Kitten heels are ideal for those who have to walk around more often but still want to dress with more elegance. The short heel prevents your foot from having to mold into a higher arch as other taller heels enforce.
Kitten heels can be worn with formal outfits, but they are just as fashionable with a more casual outfit. Due to the short heel, these heels are seen as the most casual version of a heel that's been made.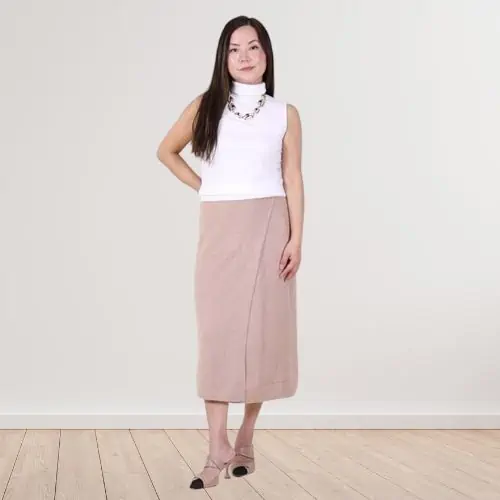 Why opt for kitten heels
Kitten heels can be worn with formal outfits, but they are just as fashionable with a more casual outfit.
Due to the short heel, these heels are seen as the most casual version of a heel that's been made.
Low Wedges
Low wedges are the best alternative to pumps and kitten heels. Sometimes, with such a thin heel, it can be difficult to balance. Heels also create difficulty when it comes to walking on metal grates in the city and walking through grass.
With low wedges, the entire bottom of the shoe becomes the heel, eliminating any problems with walking on any surface. Balance is not always easy for everyone, but these shoes provide both balance and safety, which is ideal for women over 40.
This type of shoe also does not require an extreme foot arch, so if you don't often wear heels and want to dress up a look, wedges are a perfect choice.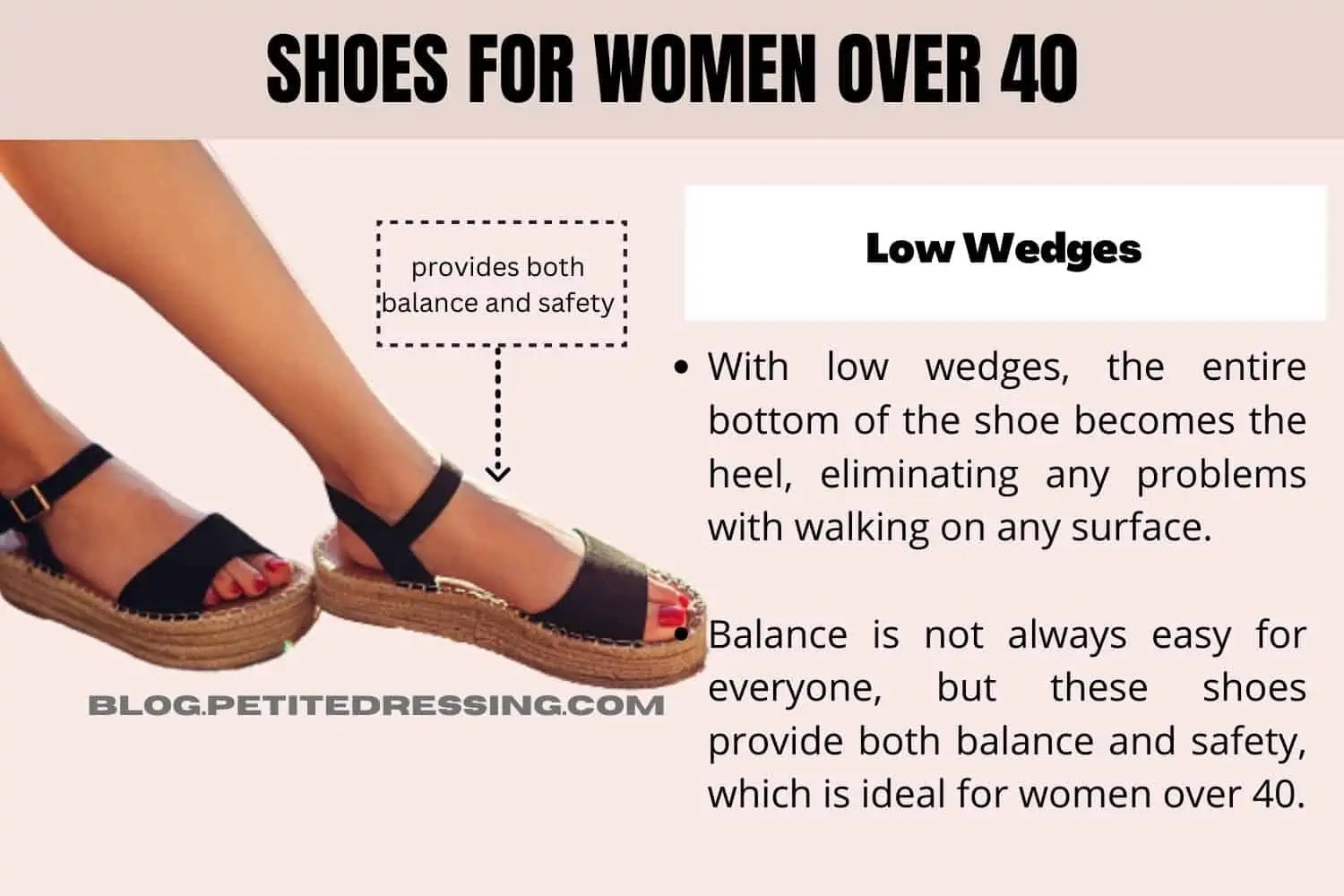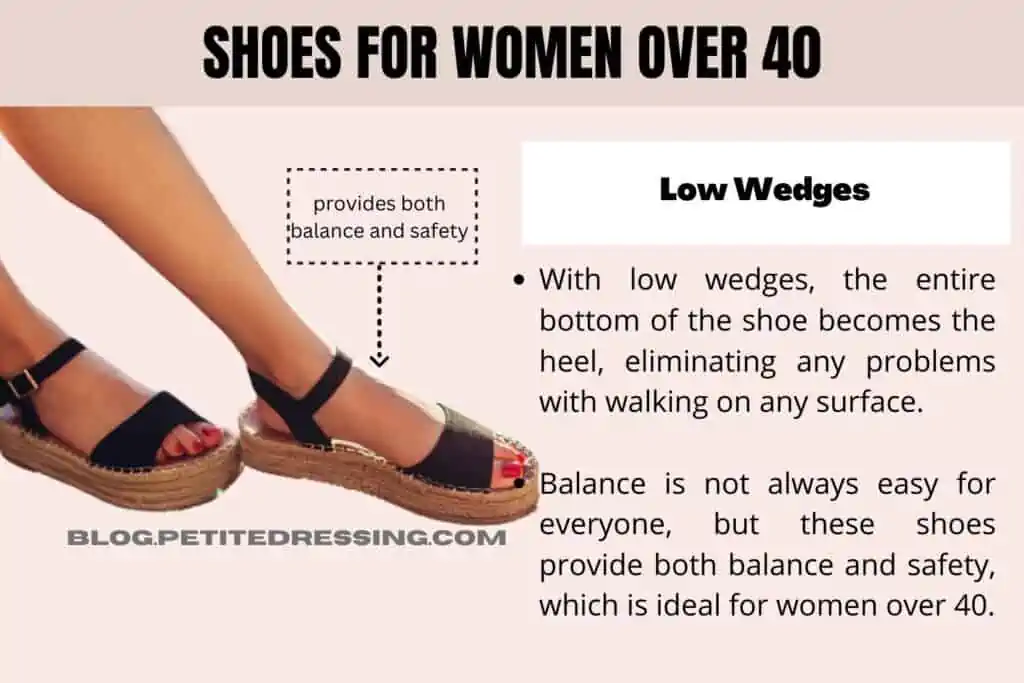 Black Suede Ankle boots
Suede ankle boots will always be essential boots to own. They are incredibly versatile and can be paired with almost any outfit. Ankle boots provide more coverage for your feet, which can be helpful during the colder seasons.
Suede ankle boots are very comfortable and supportive of your feet. If you are older than 40 and need a shoe that provides both comfort and versatility, this style of boot is ideal. Since they are boots and cover up your feet, you even have the option to put in insoles for your feet to provide even more support.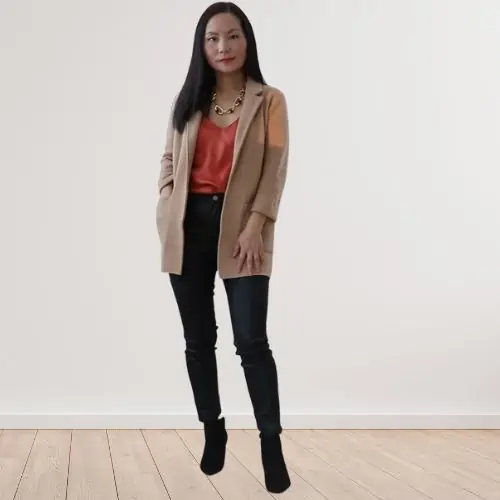 How to style Black suede ankle boots
Black suede ankle boots look best coupled with a flattering pair of jeans and a sweater.
These boots are often considered to be a more casual style.
Tennis shoes
If you are the athletic type, you should own a pair of tennis shoes to wear for all of your fitness activities. Tennis shoes will give your feet the right amount of support, which is so important when you've already been on your feet for more than 40 years.
Tennis shoes have also become popular in the fashion community, as they are now considered stylish with casual outfits. A plain white pair of tennis shoes is the golden choice, and many women are wearing them with a simple pair of jeans or neutral pants.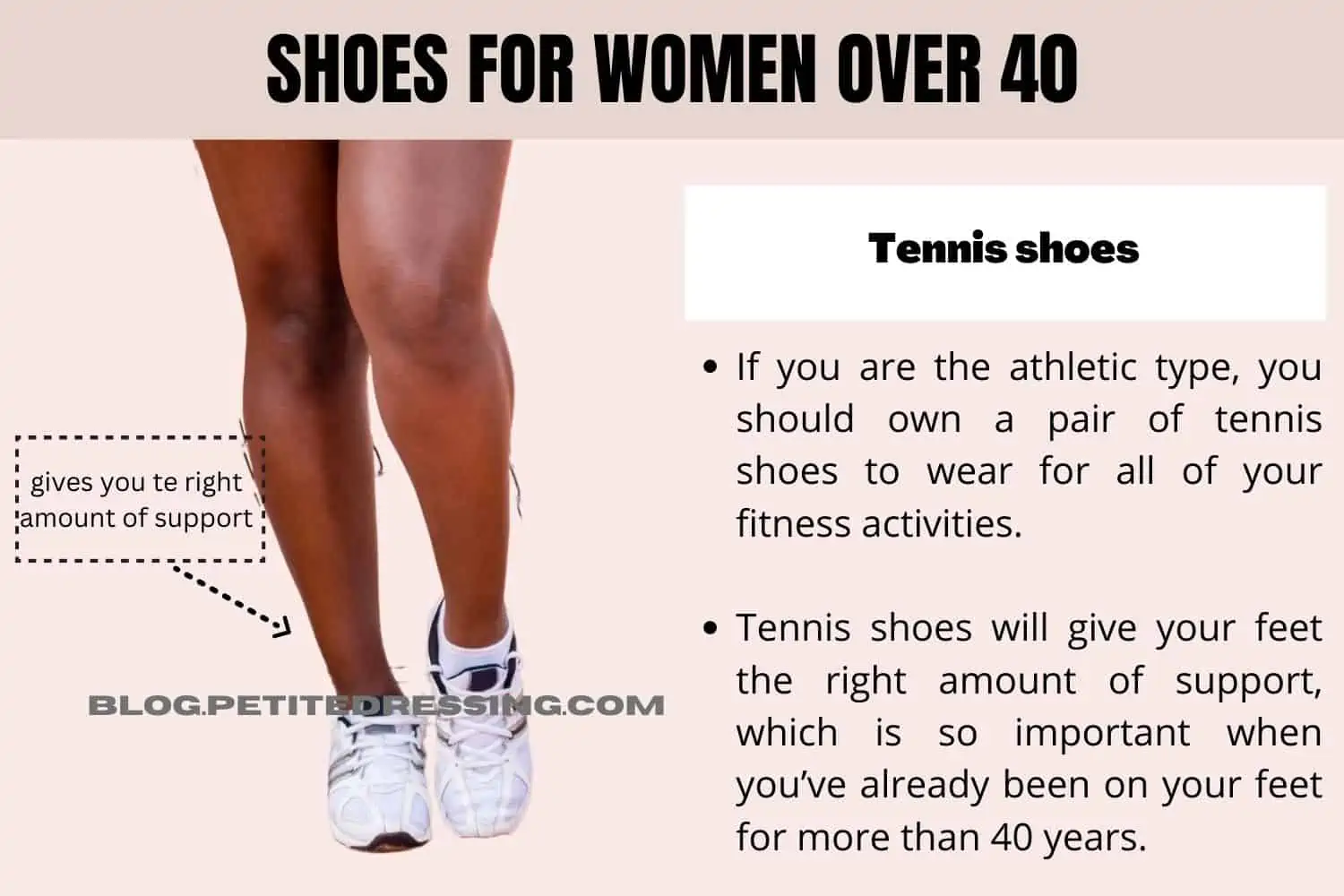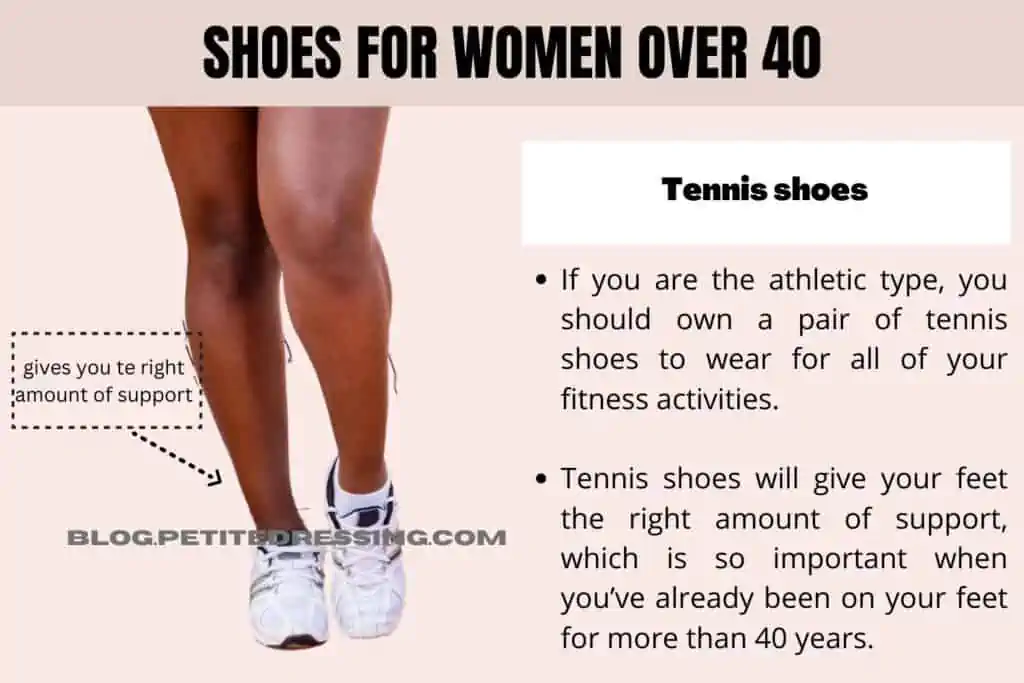 Leather Chelsea boots
Leather Chelsea boots fall just above the ankle and are known for the elastic panel on the sides of them. The elastic creates an easy way to slip these boots on and off. The panel can also be helpful if you have wider ankles and calves.
They are ideal for women with a more relaxed style. As a woman over the age of 40, you desire comfort for every activity, and you can count on these boots to keep you warm and comfortable throughout your day.
When searching for the right pair of leather Chelsea boots for you, it is important to find a pair that has built-in arch support, so that your feet can stay comfortable and you can avoid any pain or aches later on.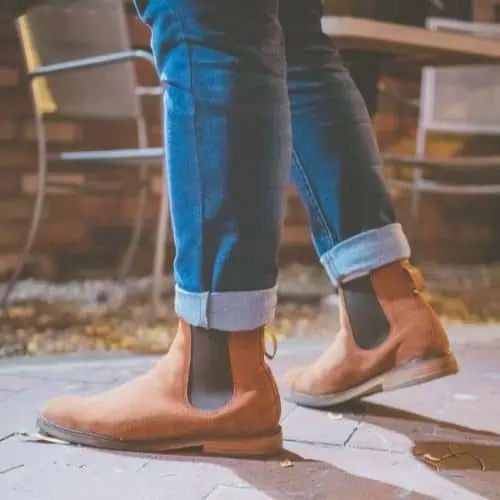 Activities with Leather Chelsea boots
These boots are great for hiking and walking around, or just running errands.
Knee-high boots
Knee-high boots are the perfect boots for colder seasons due to their large amount of coverage. If you are insecure about your calves, you can count on these shoes to cover up any imperfections that you are worried about.
With knee-high boots, it is most common to find a pair with one to three inches for a heel. You can get ones that have a skinnier heel, but a chunky heel is more popular currently. Chunky heels also provide more balance and comfort, which is important for women over 40.
Knee-high boots are often combined with a shorter skirt or a dress so that you can show a little bit of leg. You can wear many different styles of knee-high boots, but a simple black or brown leather boot is the most common and versatile.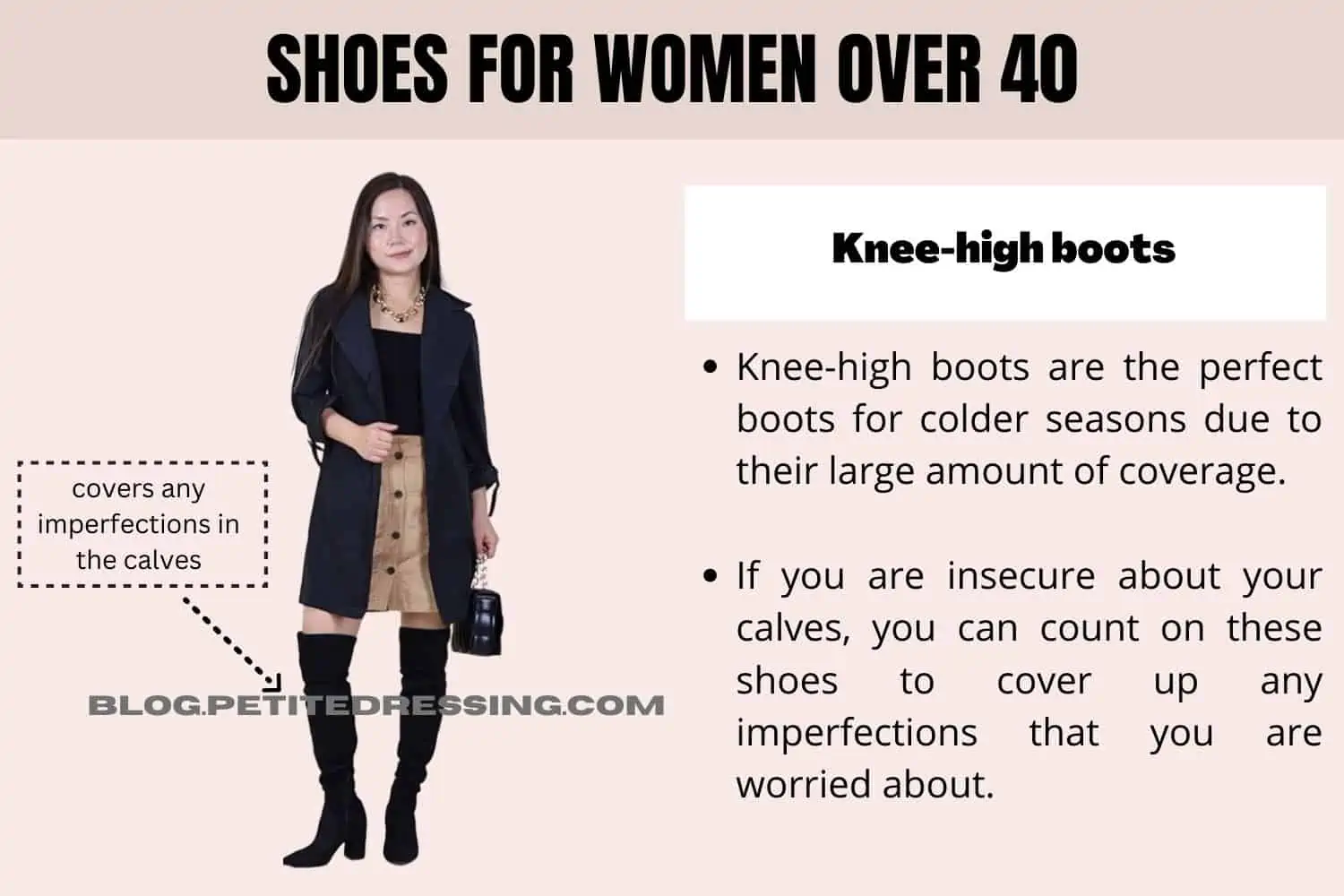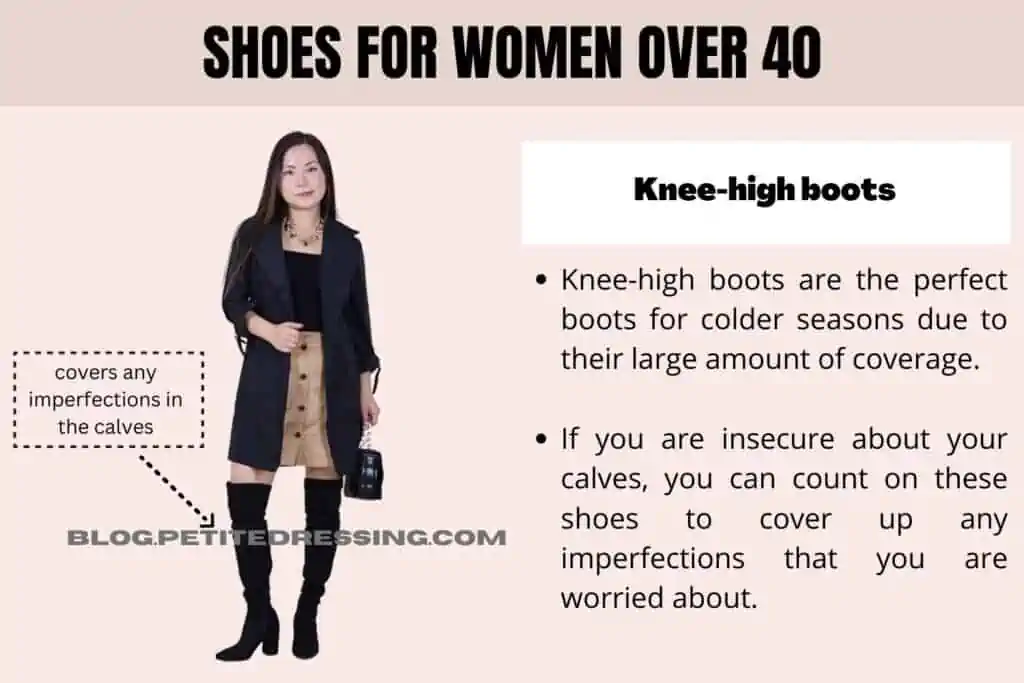 Moto boots
Moto boots, also known as combat boots, are essential for women with a bold and edgy sense of style. As you get older and move past 40, it may be challenging to keep in perfect shape, and the taller boots are able to cover any insecurities you may have with your calves.
Put together with a fitting pair of jeans and a t-shirt, you can ace the laid-back look. If you are looking to create an edgier outfit, you can add a leather jacket and wear darker colors.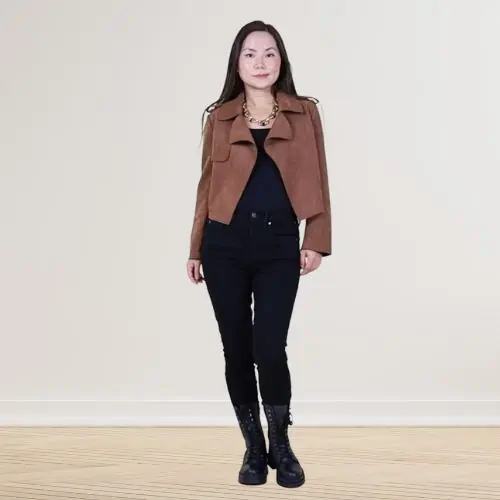 Why opt for moto boots
This style of shoe does a good job of elongating the body, giving you an elevated silhouette.
They are tall enough to rest around the mid to lower calf.
Be cautious with stilettos
Stilettos are very popular with formalwear. The heel itself starts at 3 inches, and some are as tall as 10 inches. This style of heel is seen as extremely feminine and attractive. If you are going to take on a pair of stilettos, your outfit should be more sophisticated and dressy.
The main concern with stilettos comes from the height. It can be difficult to walk in such high heels, especially as you get older, which can lead to injuries and embarrassing falls.
If you are completely confident with your balance, then these will work for you. But if you struggle with normal pumps, you will definitely want to avoid stilettos.
Stilettos are also not always seen as classy, which depends on the style of stiletto you wear. Try to avoid animal print, lace, and sequins.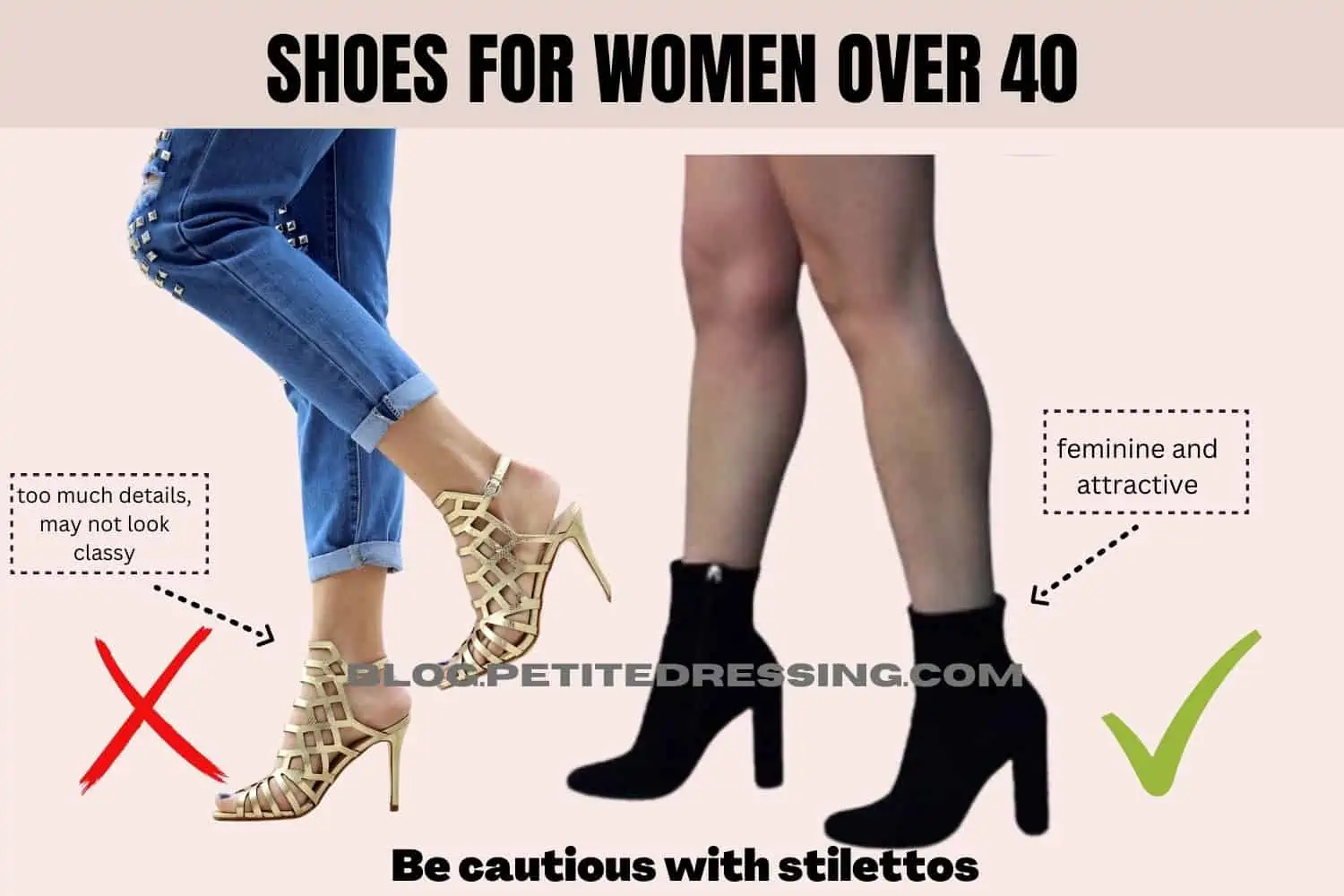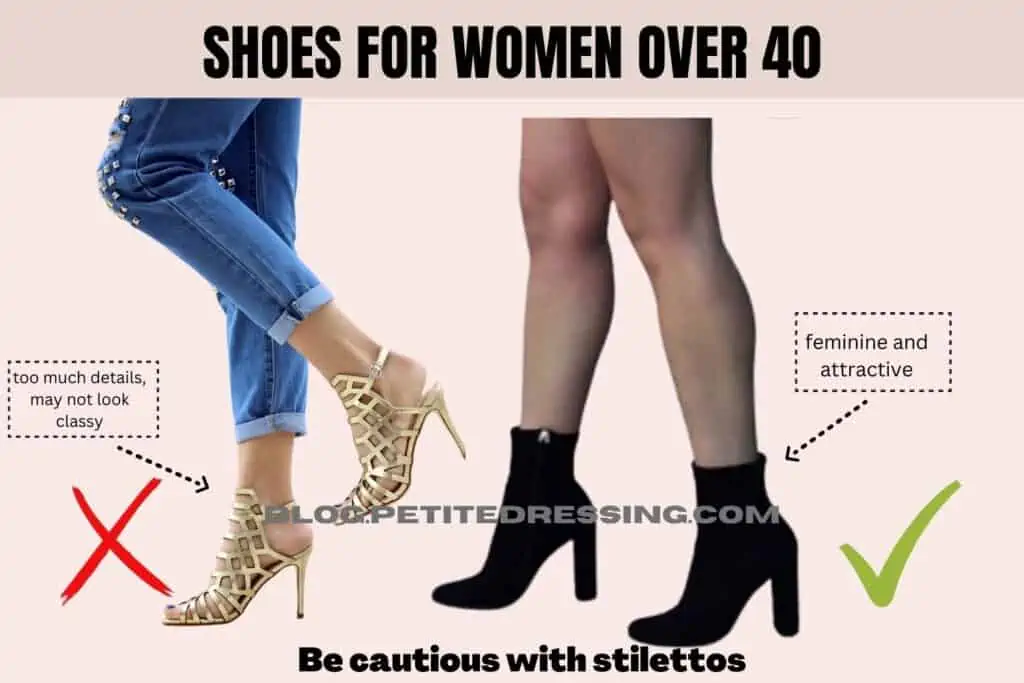 Be cautious with Converse
The converse may be extremely popular, but it is usually with younger generations. They are stylish when paired with a casual outfit, and can be worn during any season.
The only issue with Converse is the lack of cushioning and support. These shoes are extremely flat and provide no arch support or structuring. They are also very stiff and stick to the exact shape that they are made in.
As you get older, it is important to take care of your body and give yourself as much support as possible to prevent any future pain or issues. If you are willing to buy your own insoles in order to wear these shoes, then this concern will not be an issue for you.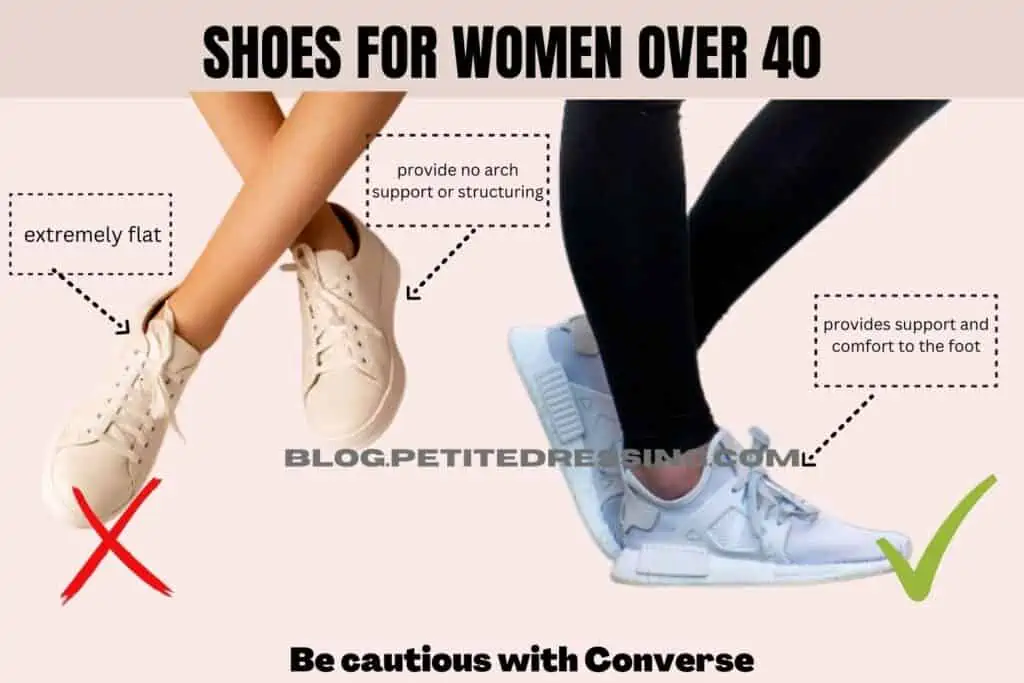 Avoid platform boots
Platform boots are very popular with younger generations. They often are useful for bold statements and are considered a part of an edgier sense of style. To qualify as platform boots, the boots have to have a sole that is one to six inches tall.
Platform boots are usually very tall. They are very chunky and heavy. If you are going for a light and breezy look, you will definitely want to avoid these boots. They are not comfortable and are known to cause foot pain. These shoes also require being broken in for many hours just for the pain to be bearable.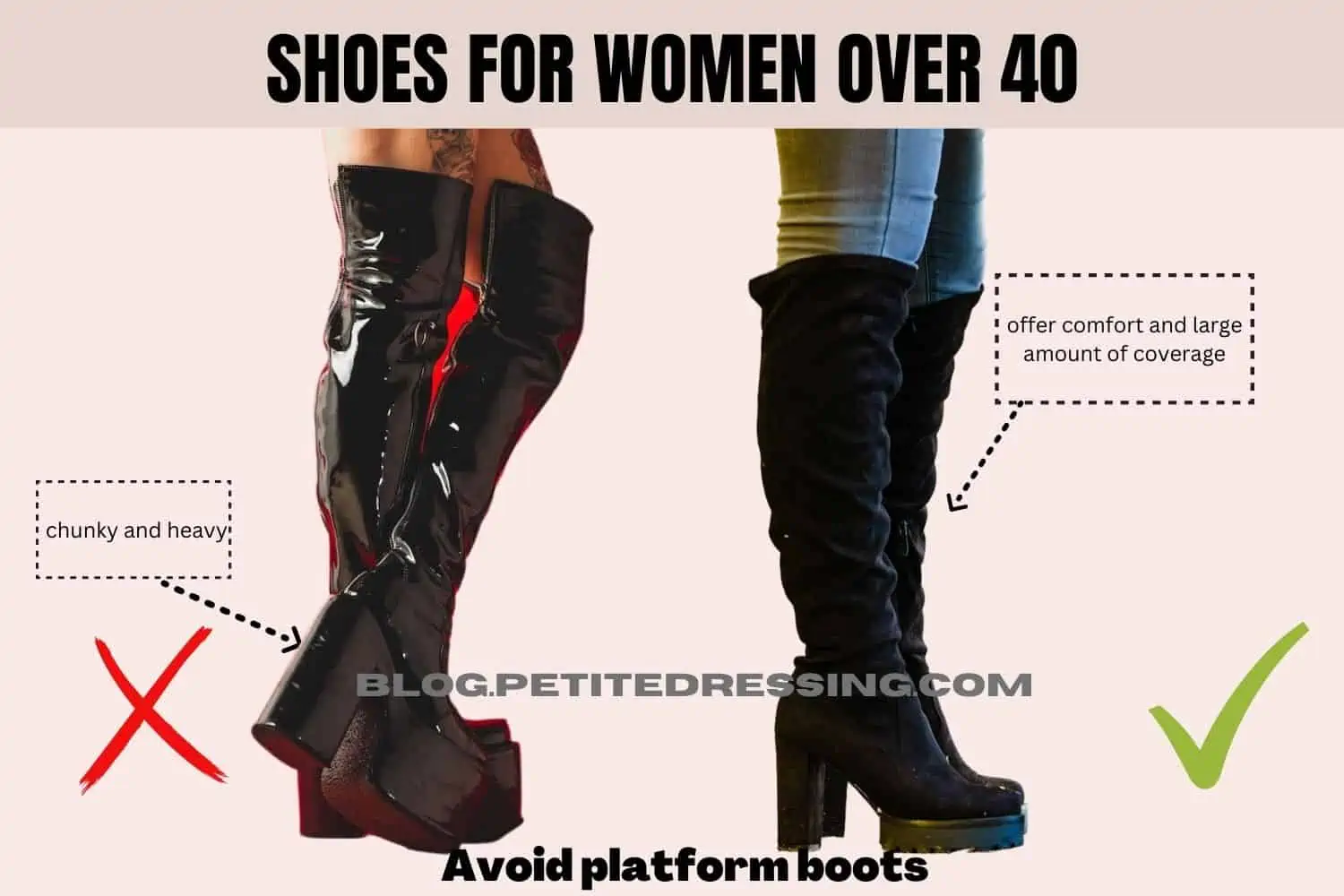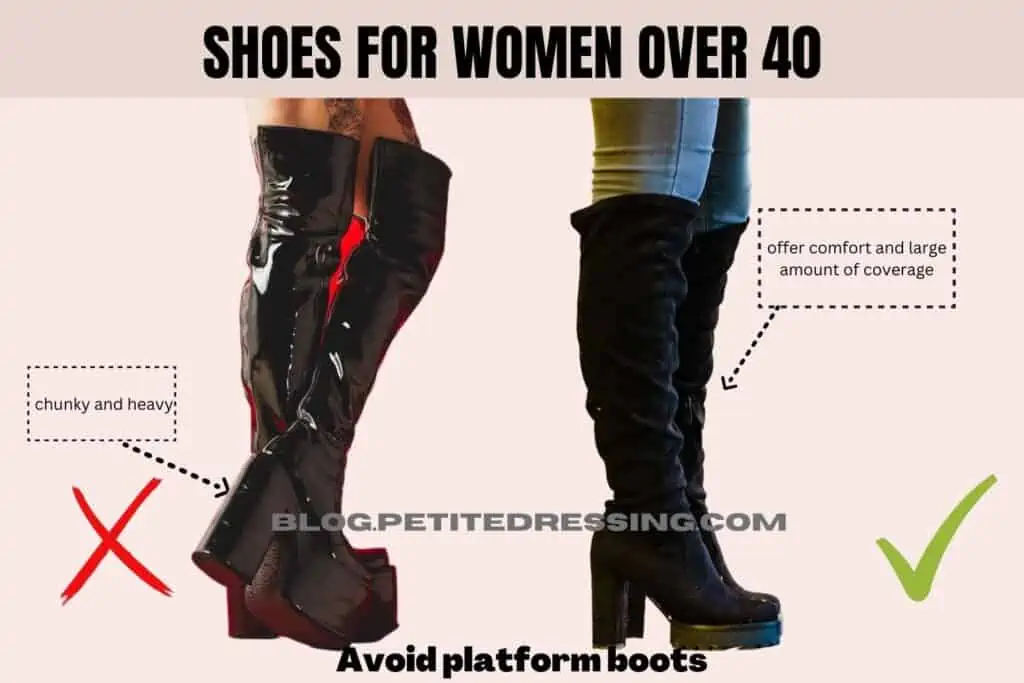 Avoid Mary Janes
Mary Janes are famous for the strap and buckle that always accompanies the closed-toe shoe.
Mary Janes may feel like a vintage style, but they are quite popular with casual outfits.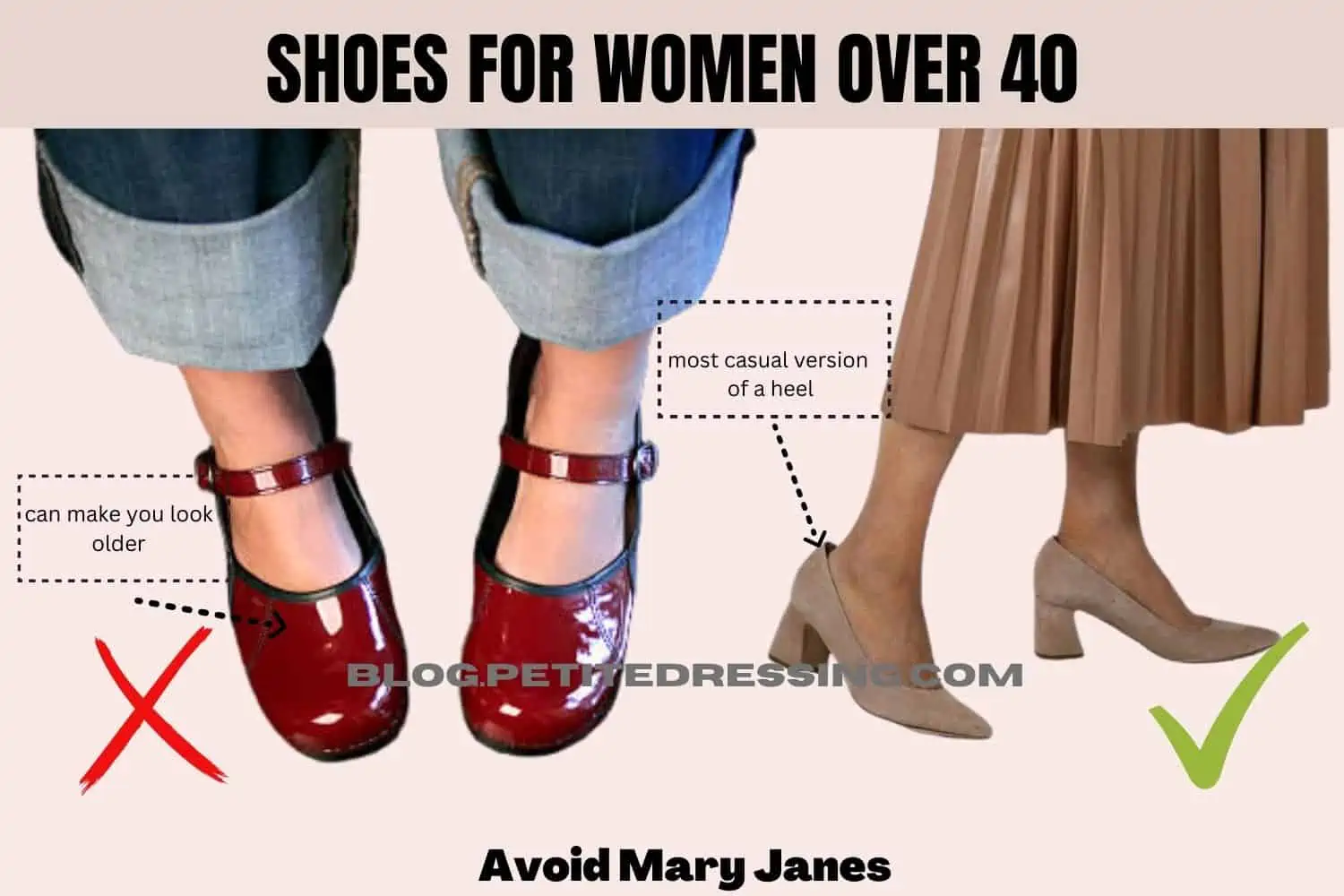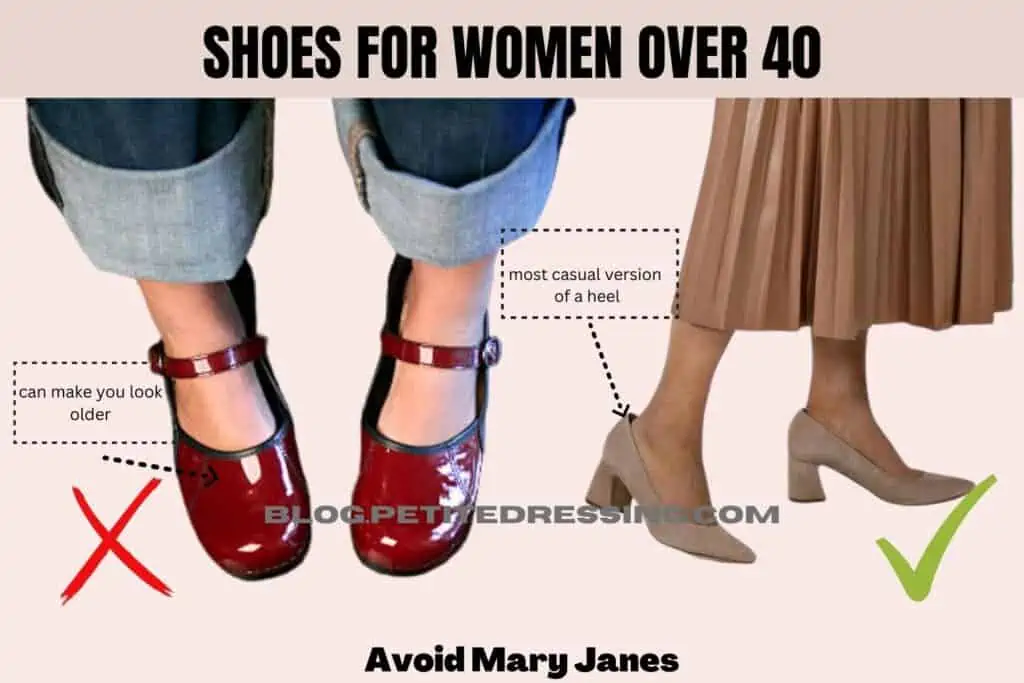 The main issue that arises with vintage shoes is the way they can age an outfit. As a woman over 40, Mary Janes can make you look older than you may want to.