There's nothing like a dress that flatters your body and accentuates your curves in a way that makes you feel amazing. Women over 70 can look great in dresses, and it's a must for your closet because you'll need to go out occasionally, whether to formal or casual events.
Because I have a petite clothing line for women 5'4″ and under, I get feedback from thousands of my customers on a daily basis and many of them are in their 70s.
That is why I understand finding a dress that doesn't make you look like you fell out of the middle ages and still feel great can be challenging. Based on feedback from my customers, I've put together this dresses guide for women over 70 to highlight eight unique dress styles and four tips to help you choose the right dresses.
Button-Down Shirt Dress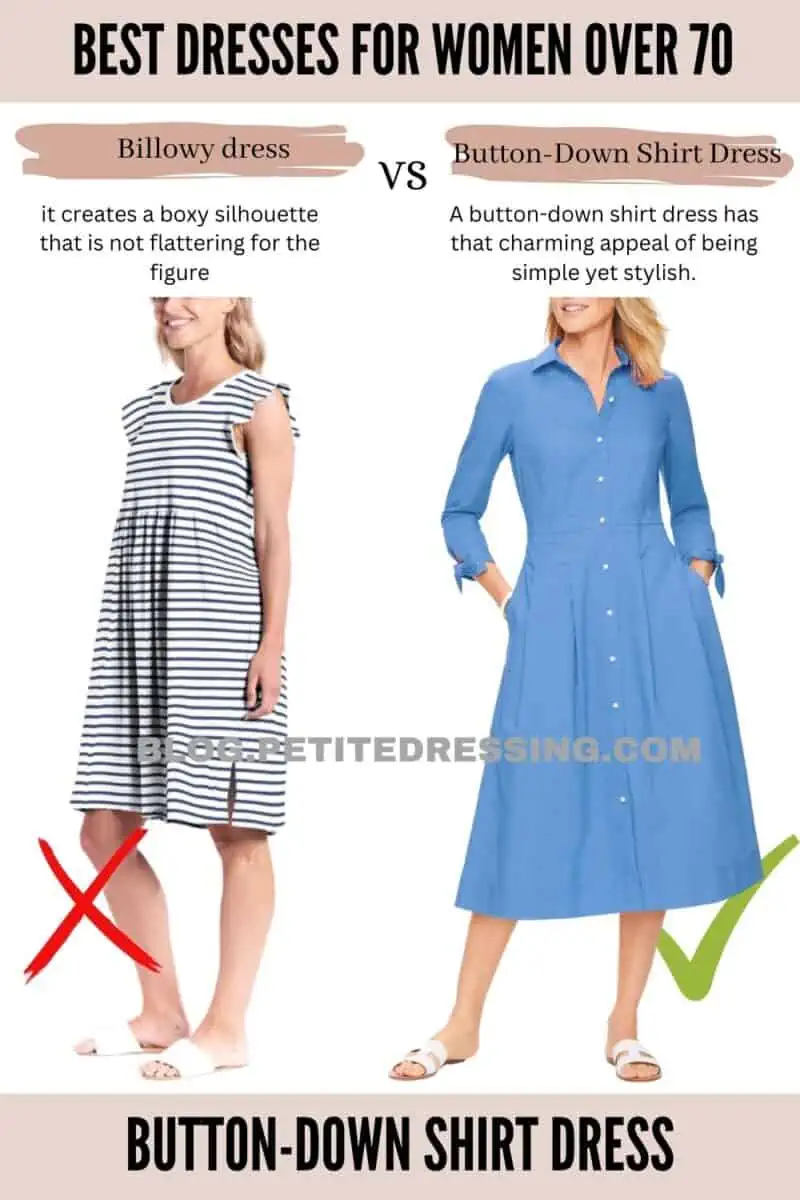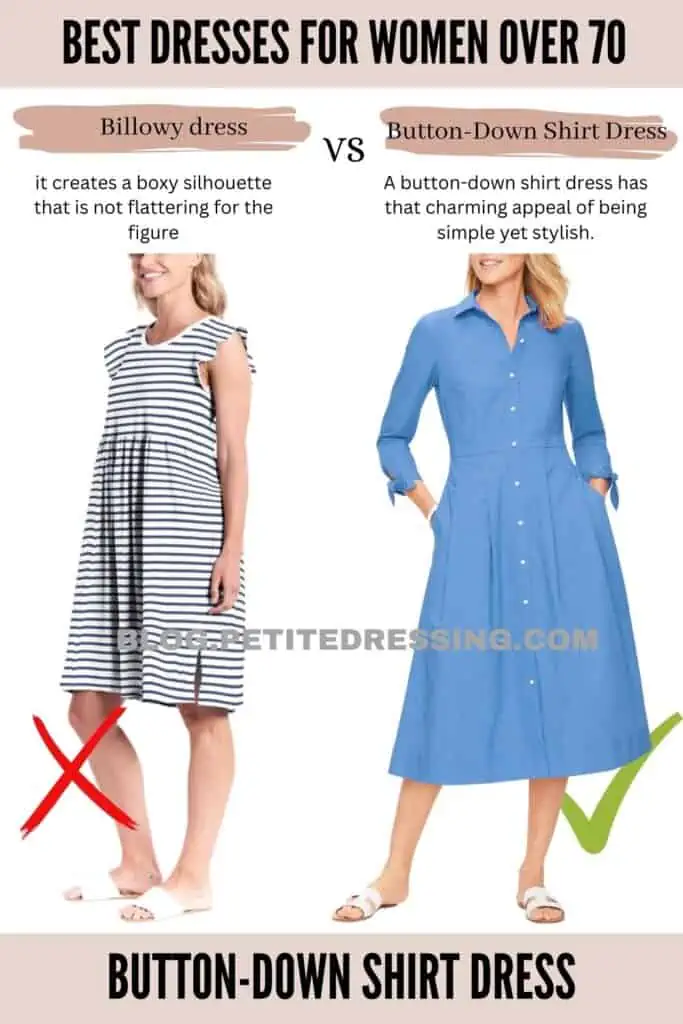 Think you can't pull this off? Well, we don't agree. A shirt dress in a neutral colour like black or white is an amazing addition to your closet as a woman over 70. This clothing will prove to you that knee-length dresses can be just as sexy as a mini without going over the top.
In fact, shirt dresses are one of the most popular dresses amongst my customers!
One of the main reason is it's perfect for many occasions, depending on your shoes and accessories.
So, we recommend putting on heels for a formal event and a pair of sneakers for casual outings.
For accessories, please keep it simple with some dazzling choice pieces. A button-down shirt dress will be one of your favourite choices for years.
A button-down shirt dress has that charming appeal of being simple yet stylish.
Cotton Midi Dress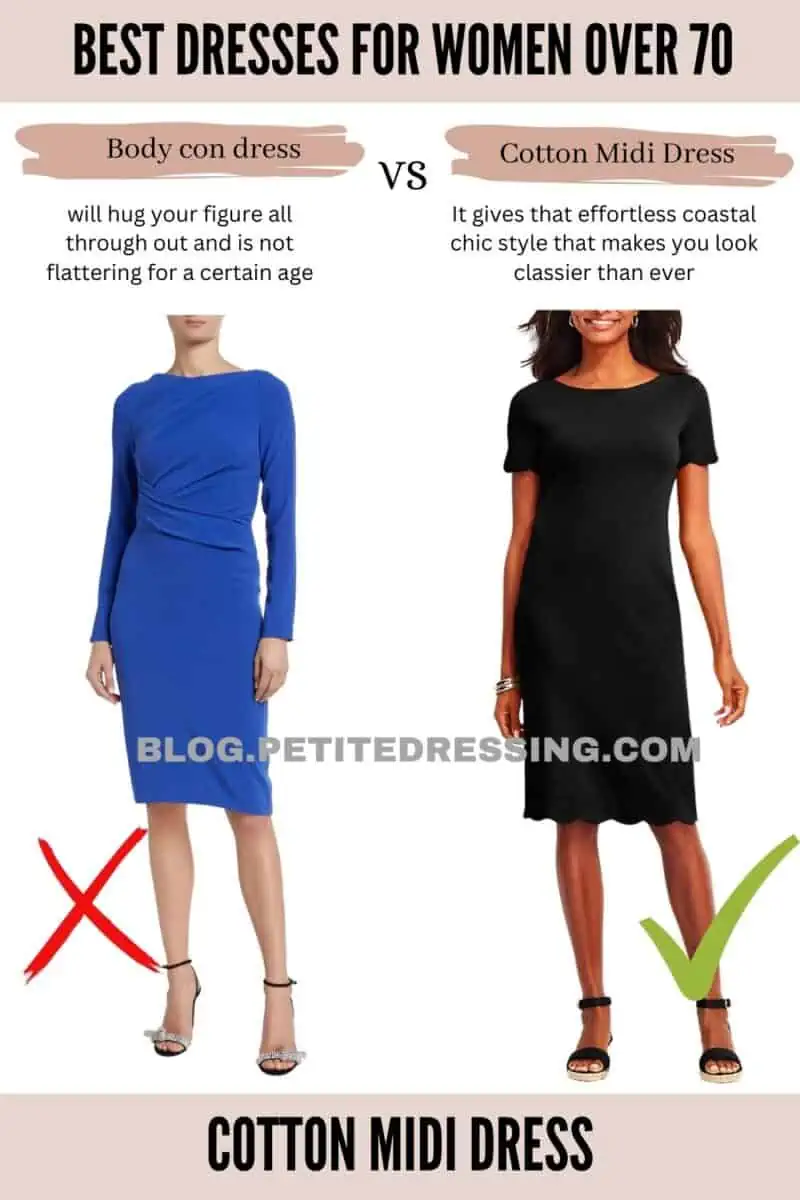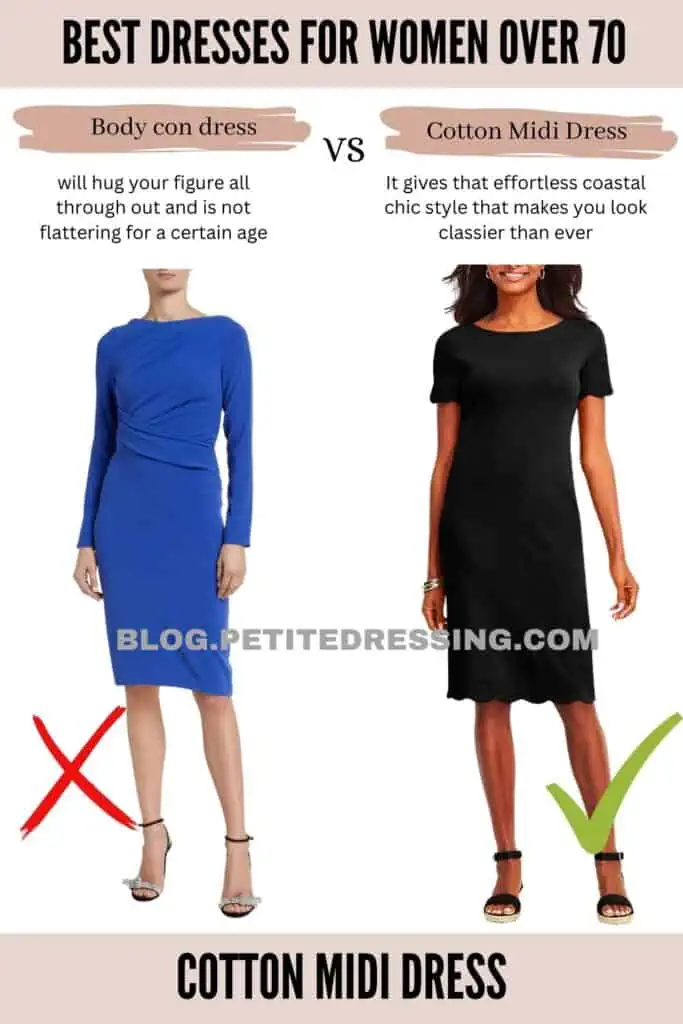 A cotton midi dress is never a miss, and it's a huge plus that the fabric is perfect for warm weather. Need something wrinkle-proof with a breezy vibe whenever you're travelling or on a casual outing? A cotton midi shirtdress is your guy.
It gives that effortless coastal chic style that makes you look classier than ever. While you may think that dresses with puff sleeves will make you look awful, that's not the case.
A cotton midi dress with a little puff sleeve has the amazing ability to mould perfectly to your body, making you look trendy like a fashion superstar.
Maxi Dress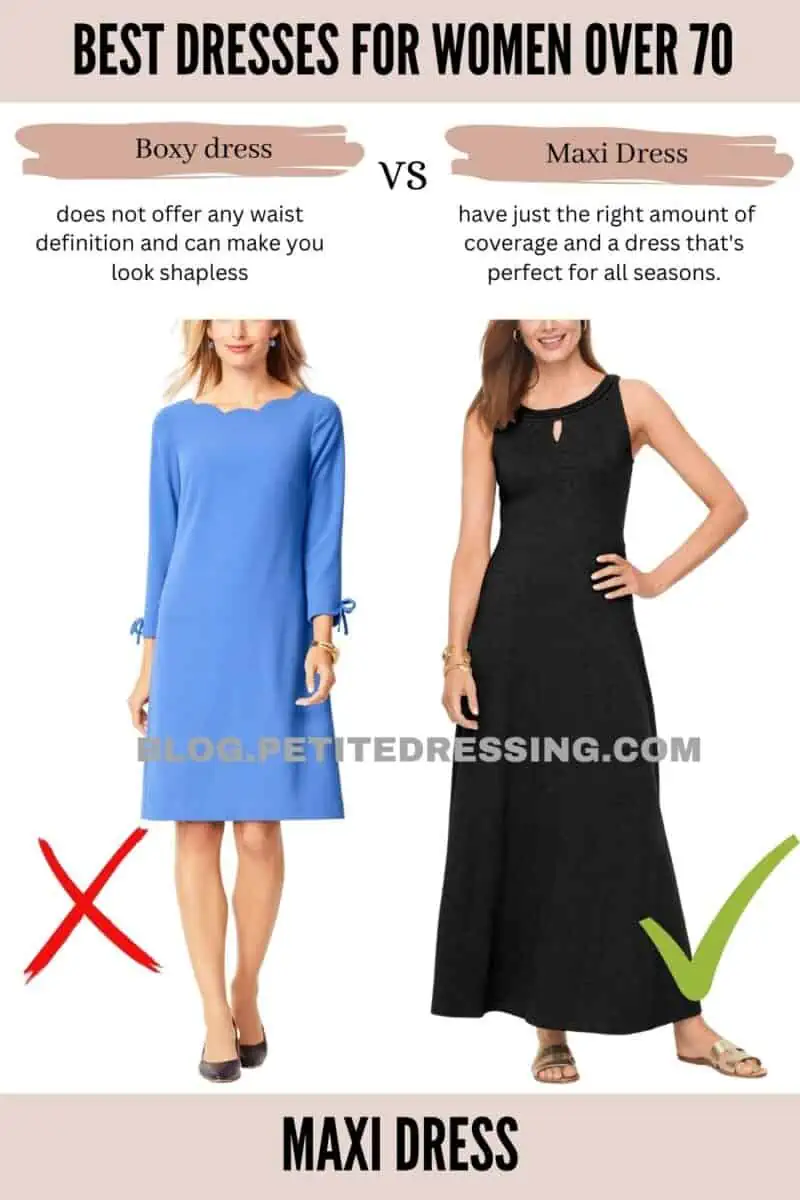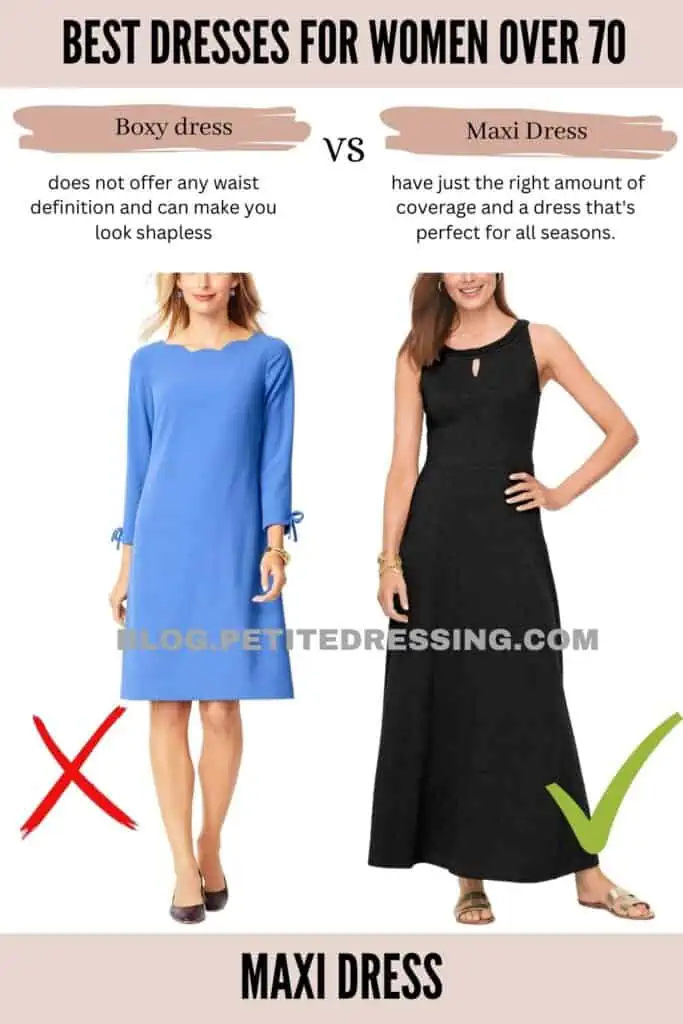 Whether you still have an amazing hourglass figure at 70+ or are a little less curvy, a maxi dress is an amazing way to flatter your body and ensure you step out in style at all times. You can try out maxi dresses in brighter colours like orange and pair them with shoes that slightly tone down this colour.
A colourful maxi dress proves that women over 70 can wear clothes that are not boring. Since we're going for flowing maxi dresses in bright colours, you have just the right amount of coverage and a dress that's perfect for all seasons.
The maxi dress is a winner, whether during hot summer days or the cooler winter season. What better way to scream fun with your clothing than with a bold maxi dress?
Three-Quarter Sleeve Dress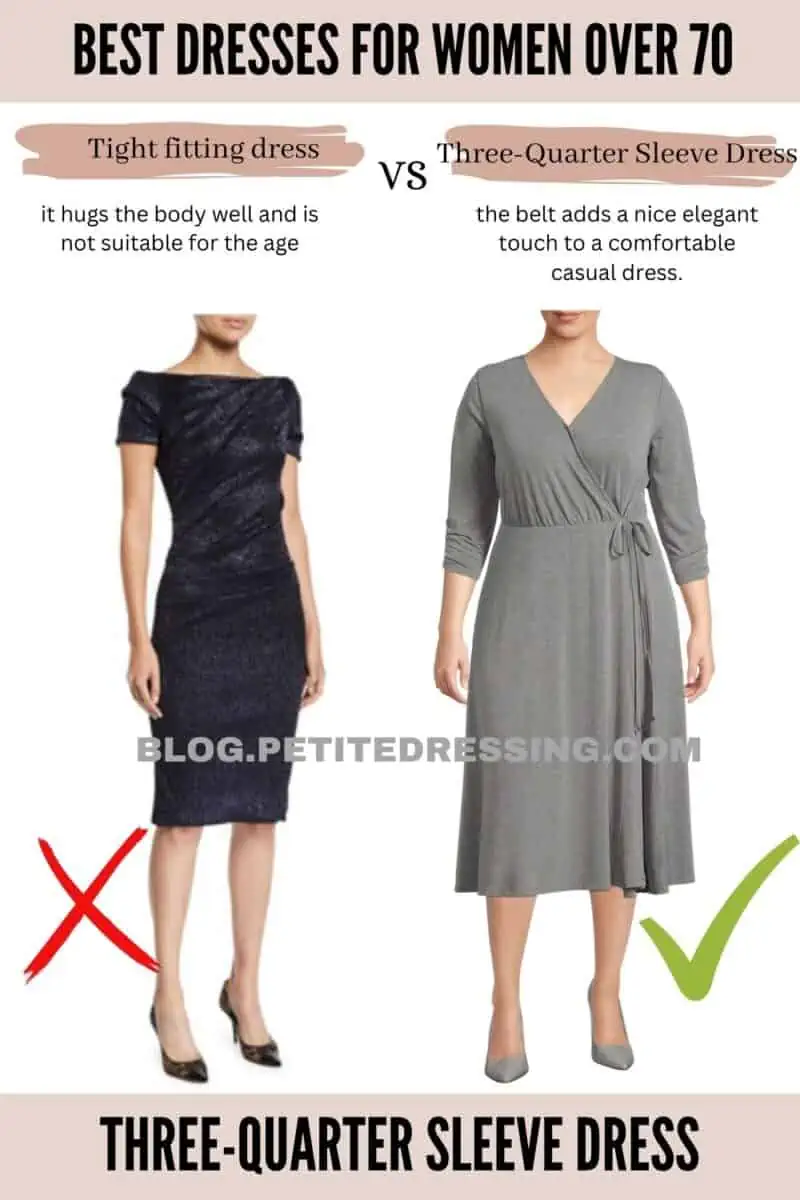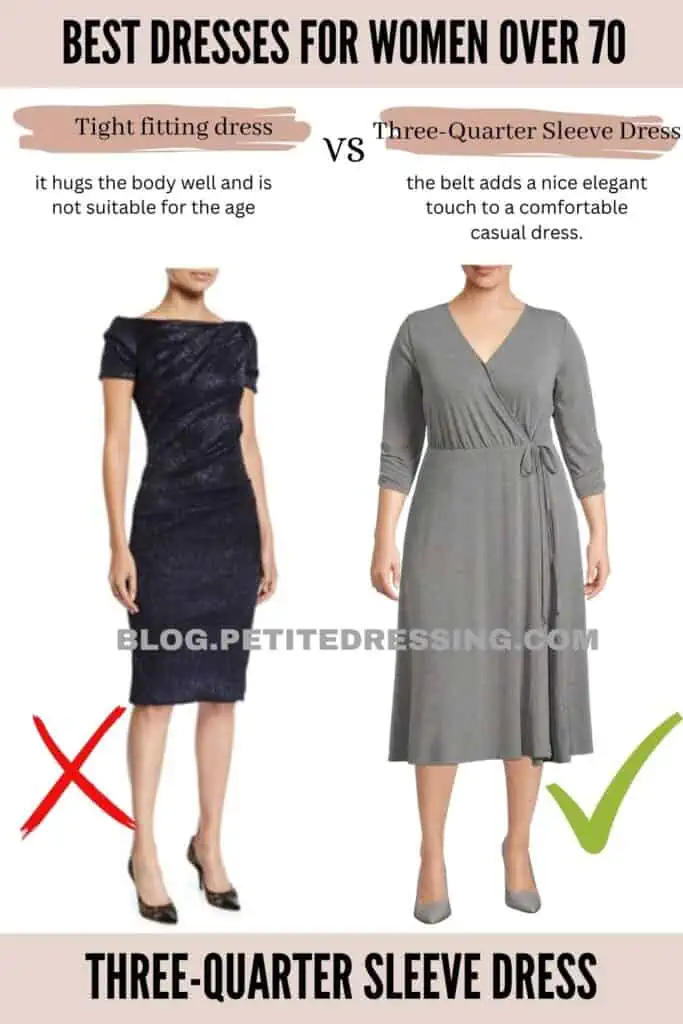 Not every dress in your closet has to be long-sleeve or sleeveless. You can switch things up with a three-quarter sleeve dress that stops just before your wrist.
While it's okay to be concerned about revealing arms that you don't find so appealing, the beauty of a three-quarter sleeve dress is that it helps you find that balance where your arms are covered in the right places, which translates to flattery for your overall body shape.
The theme here is a feminine dress that is not overly revealing but still makes you look classier than ever. You can choose dresses with a slightly folded neckline which are incredibly alluring.
Wrap Dress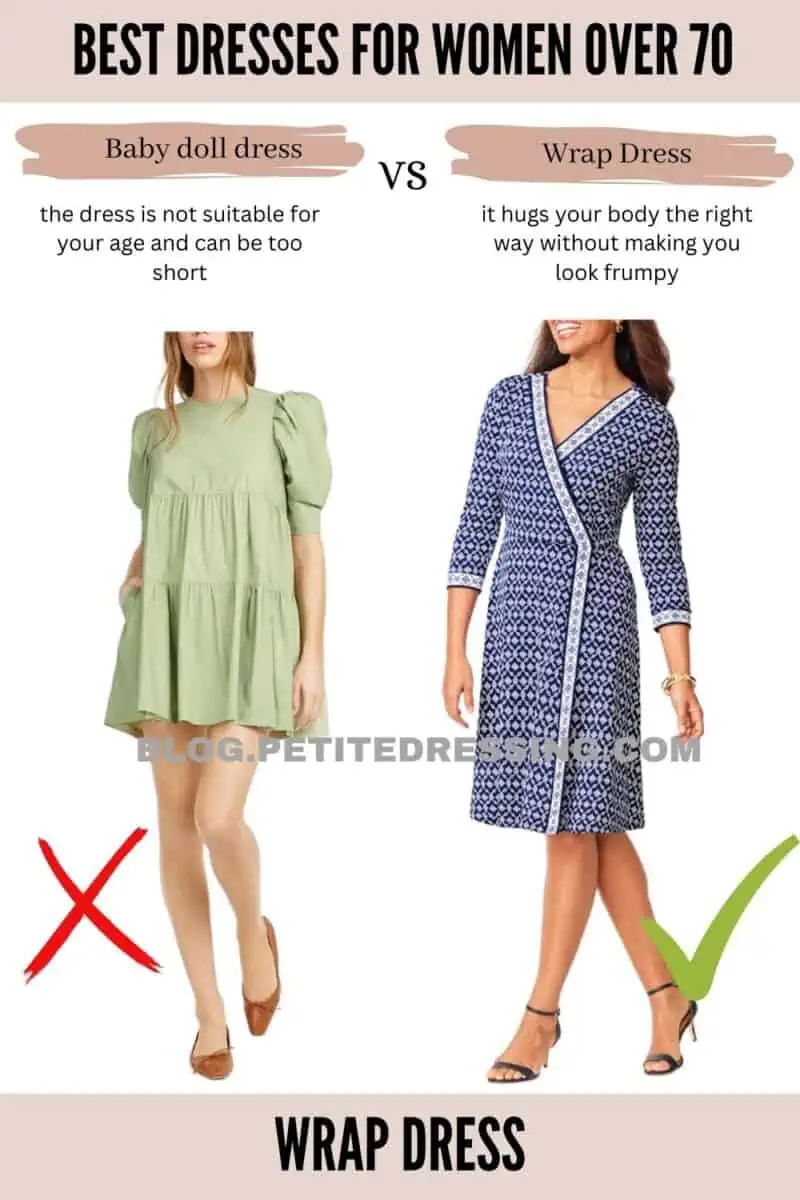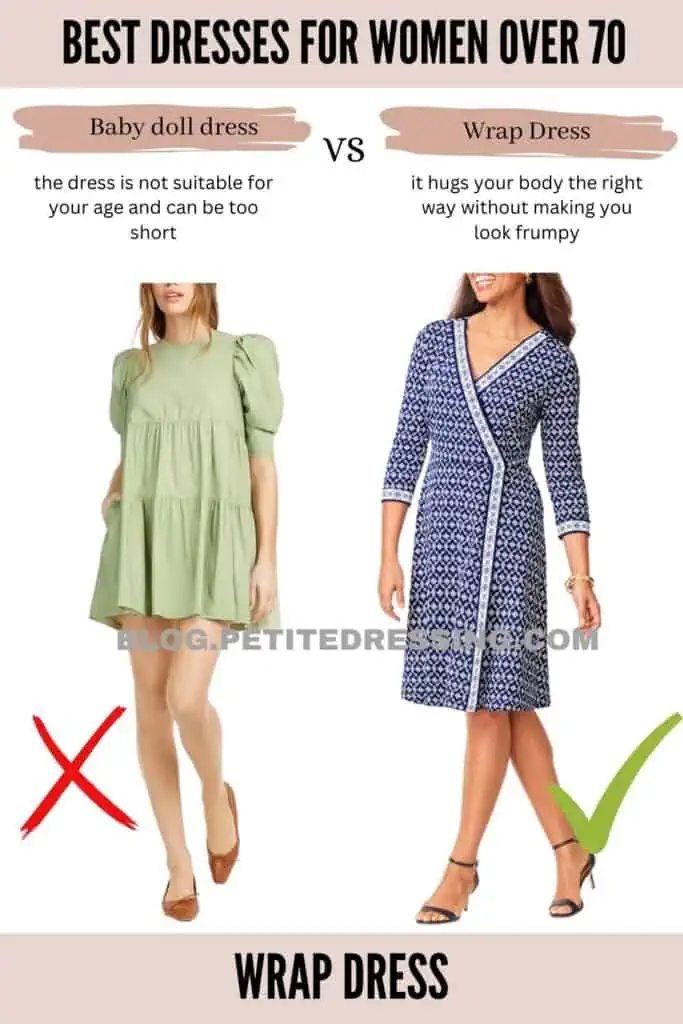 There are many words that describe the appeal of the wrap dress, but a few are versatile, flattering and classy. We love how wrap dresses are timelessly stylish and look amazing on almost every woman, especially women over 70.
No matter what your schedule throws at you, whether it's work or a birthday celebration, you have a figure-friendly wrap dress that's got your back any day. You can opt for silk wrap dresses that look effortlessly cool, with three-quarter-length or long sleeves. You can also choose the trench wrap dress style, which is the perfect practical dress for any season.
The beauty of wrap dresses is that it hugs your body the right way without making you look frumpy. So you can easily adjust it according to your body shape. For wrap dresses to work on you, your preference and style matter a lot. Be sure to choose those you're most comfortable in.
Belted Sun Dress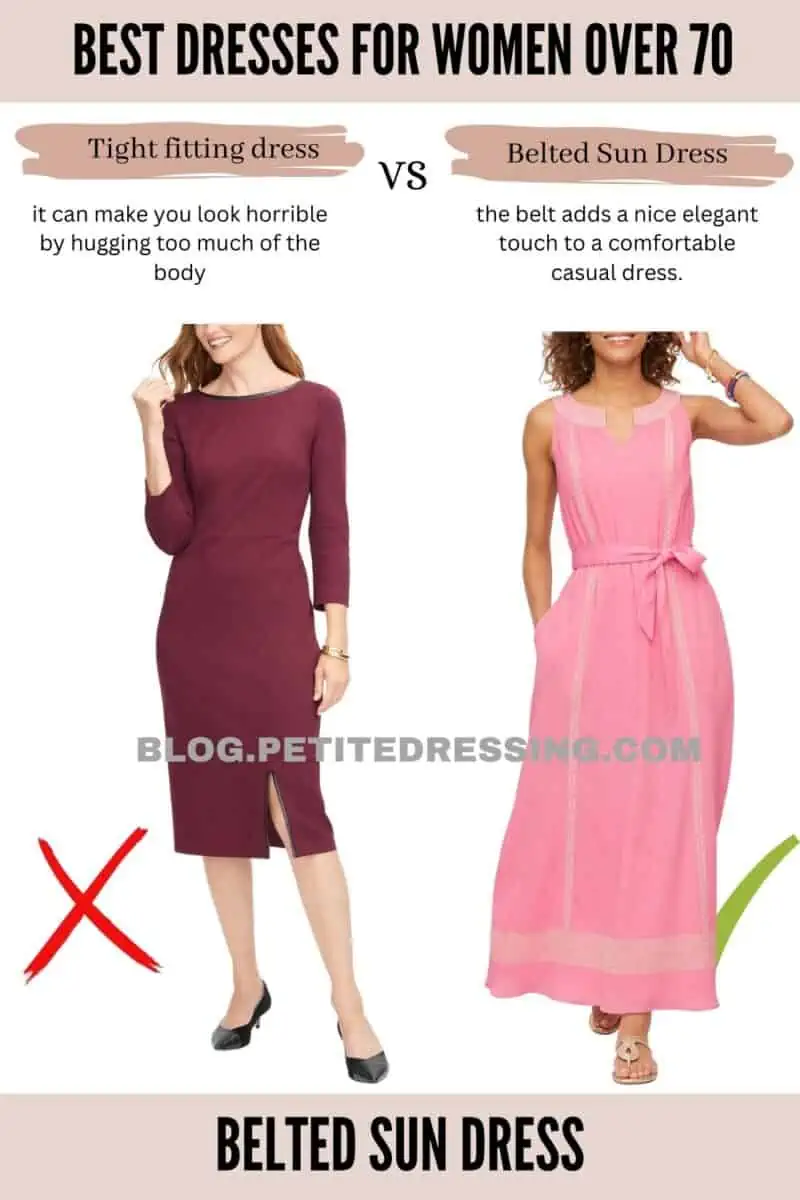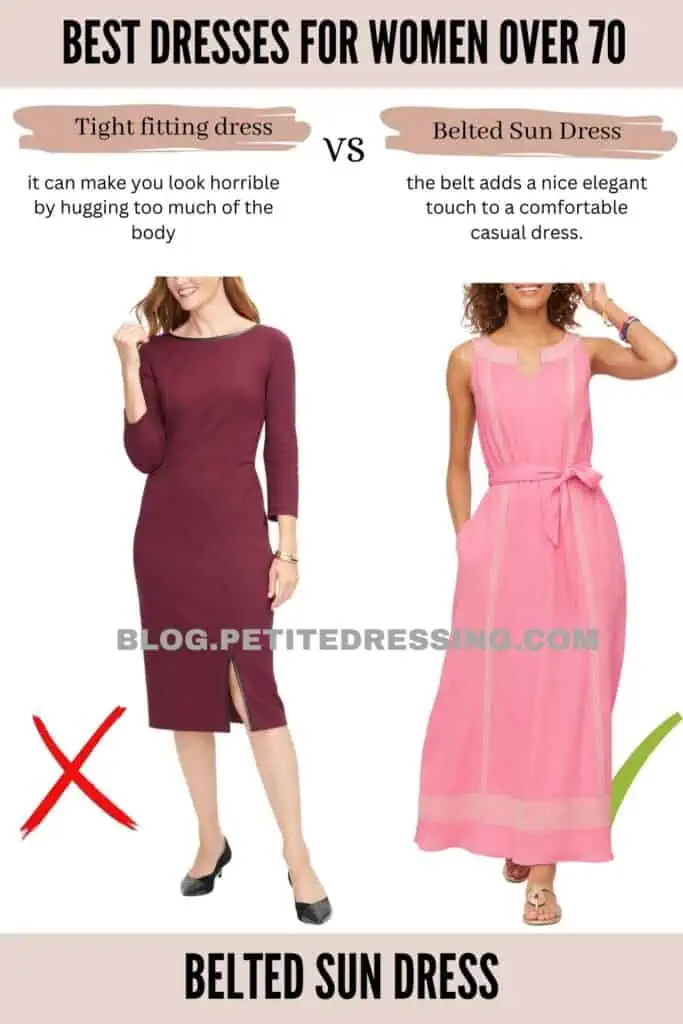 When you are in your 70s, a belted sun dress is a must-have for your wardrobe, as the belt adds a nice elegant touch to a comfortable casual dress.
You'll fall in love with the versatility of the belted dress, especially as the belt accentuates your figure. Choose this type of dress in solid colours, especially white, black, and blue.
Sandals or a heel on your belted dress are the perfect choices for a night out with the girls. However, you can still achieve a casual yet stylish look when you pair this with loafers or sneakers.
Fit and Flare Dress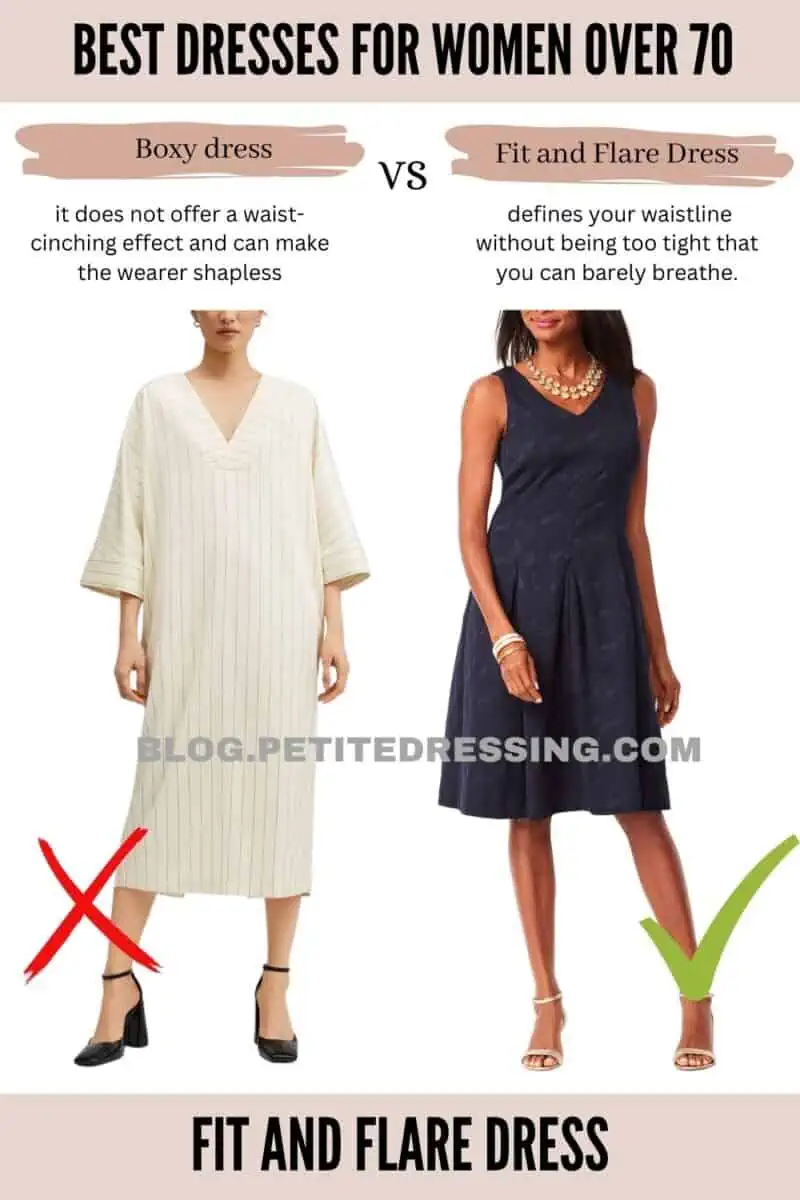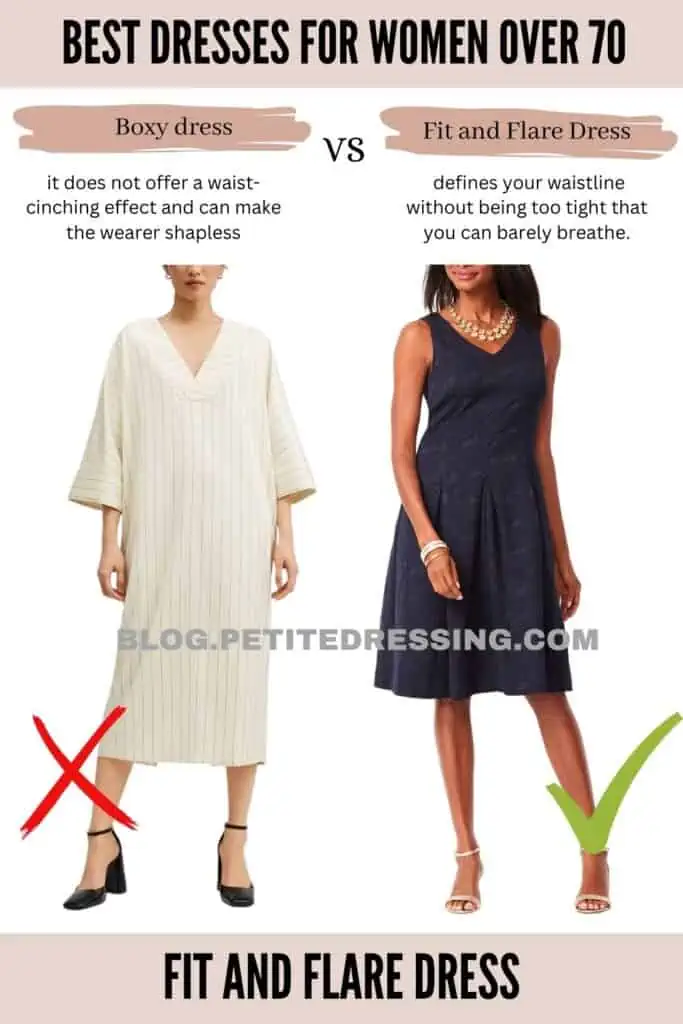 Like the name suggested, these dresses are fitted at the top and stylishly flare out from the waist down. This creates a flirty look with a dress that shows off your waist and highlights your arms without limiting your movement.
So, if you're going dancing, you know what clothing you should wear. For years, women over 70 have rocked the fit and flare dress with a silhouette that defines your waistline without being too tight that you can barely breathe.
So, feel free to explore these dresses in different styles as they come in various necklines, sleeve styles and colours. One great thing about the fit and flare dress is that they are perfect for every body type.
It draws less attention to your stomach for the apple body shape while not making the wide hips and thighs of women with a pear shape look too obvious.
Structured Sheath Dress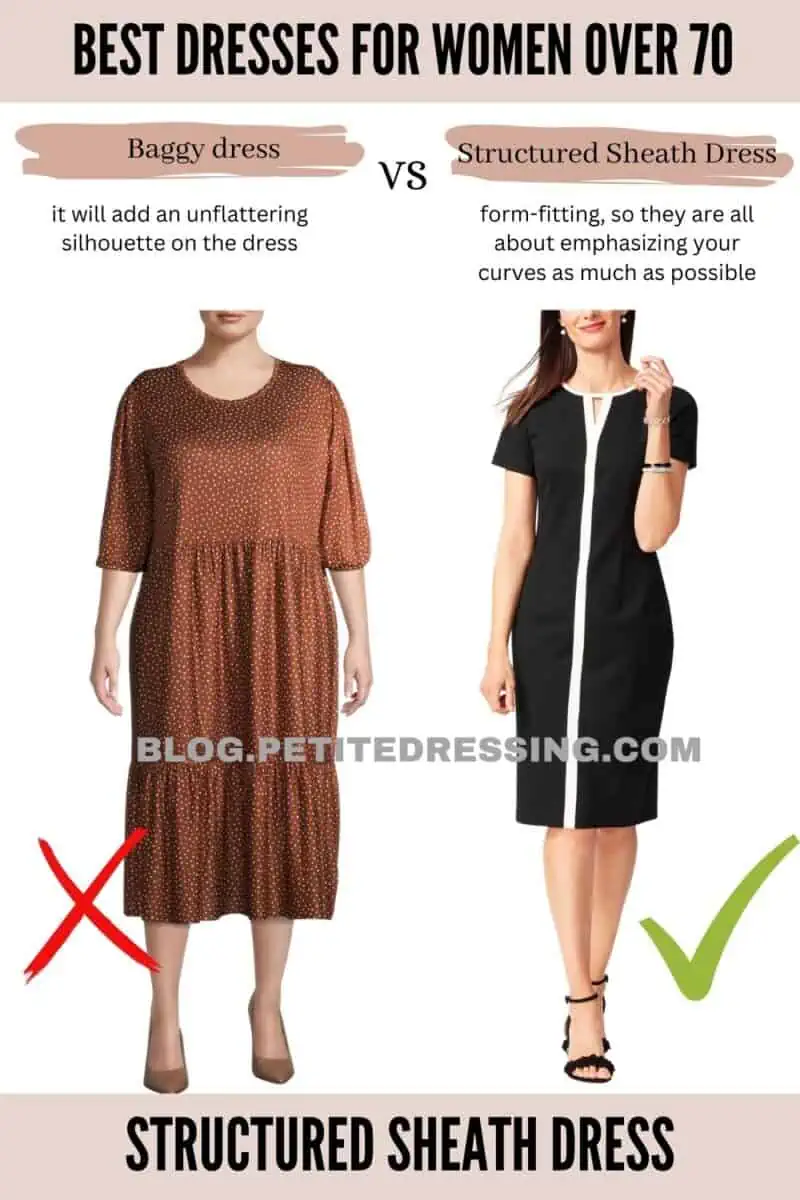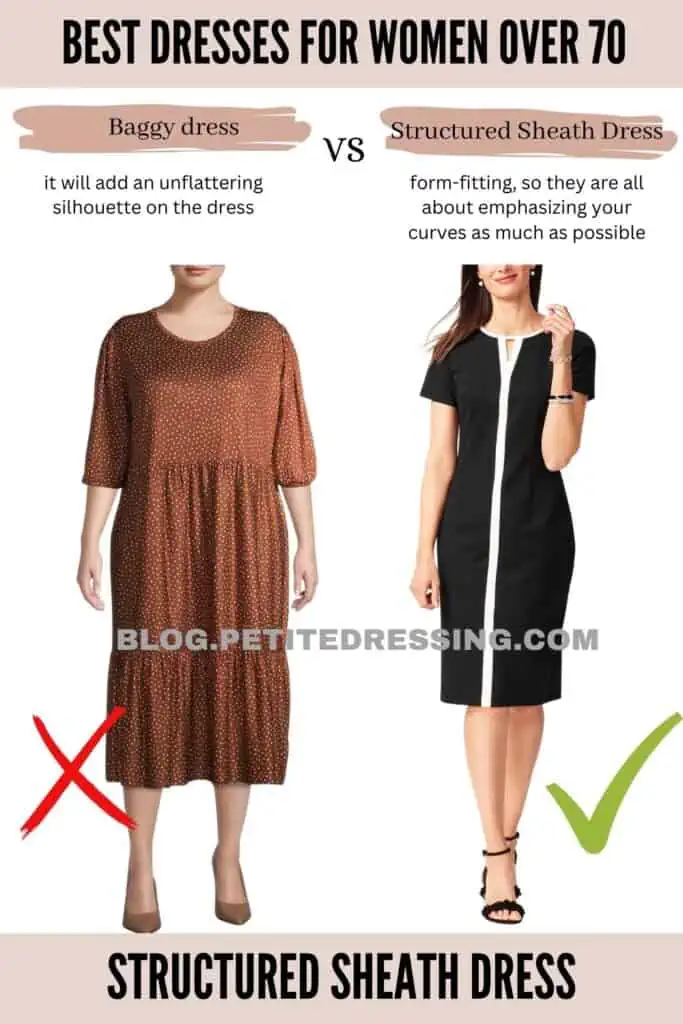 Sheath dresses are form-fitting, so they are all about emphasizing your curves as much as possible.
And yes, it is still ok to show off your curves even when you are in your 70s.
Be sure to go with one that is not too clingy to your body, the key is to make sure the fabrics have enough weight so that they will skim your body without clinging.
You would have to choose between various styles of necklines, including halter and v-neck, but don't choose dresses with plunging necklines that reveal cleavage. Also, you can switch up your sheath dresses a little bit by adding some extra cinching effect.
A ribbon, sash, or coloured belt is a great way to bring more attention to your waist. You can also pair sheath dresses with jackets or snug-fitting cardigans.
Avoid loosely fitted dresses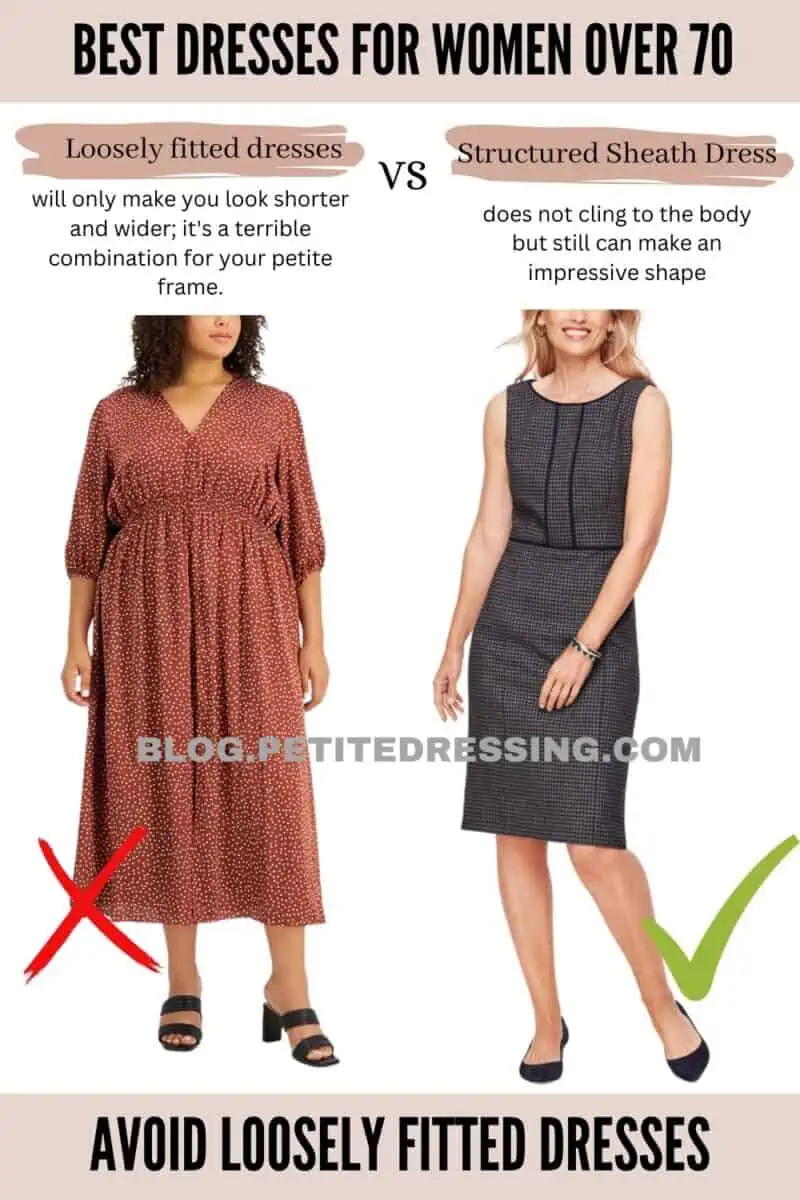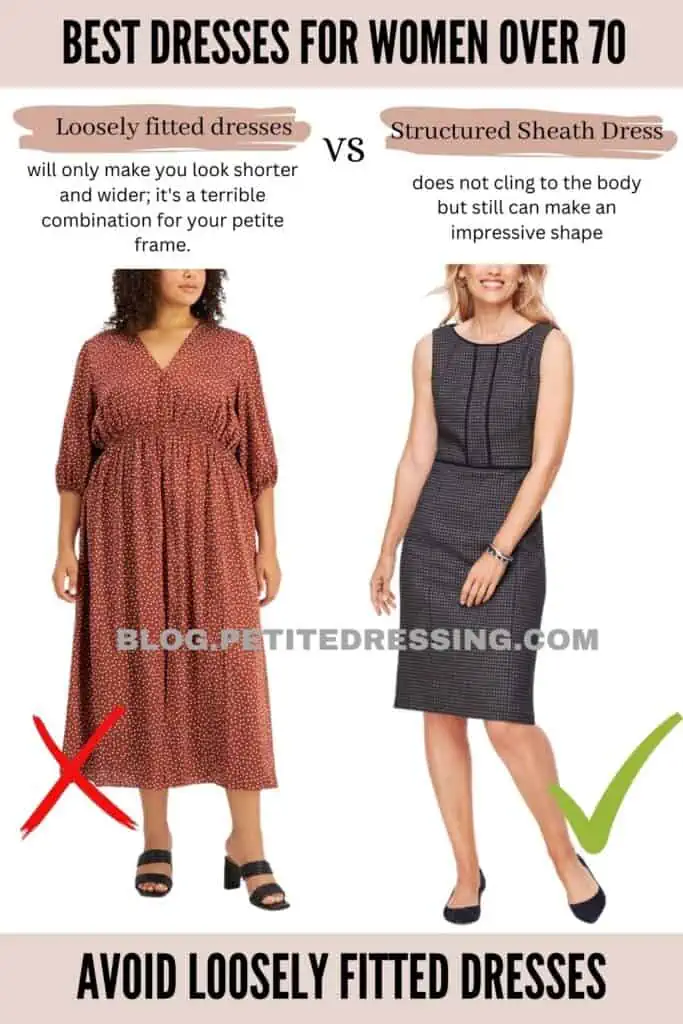 One of the biggest mistakes you can make as a woman over 70 is to wear huge clothing to hide your body. Sure, there'll inevitably be changes to the body as women age, and you can't avoid being concerned that your body shape is not as it used to look.
However, opting for loosely fitted clothes is wrong as this will only make you look like a shapeless blob. For petite women, this is excellent advice, as loose clothing will only make you look shorter and wider; it's a terrible combination for your petite frame.
If you must wear a loosely fitted cloth, pair it with a belt buckle that accentuates your figure nicely.
Avoid skin-tight clothing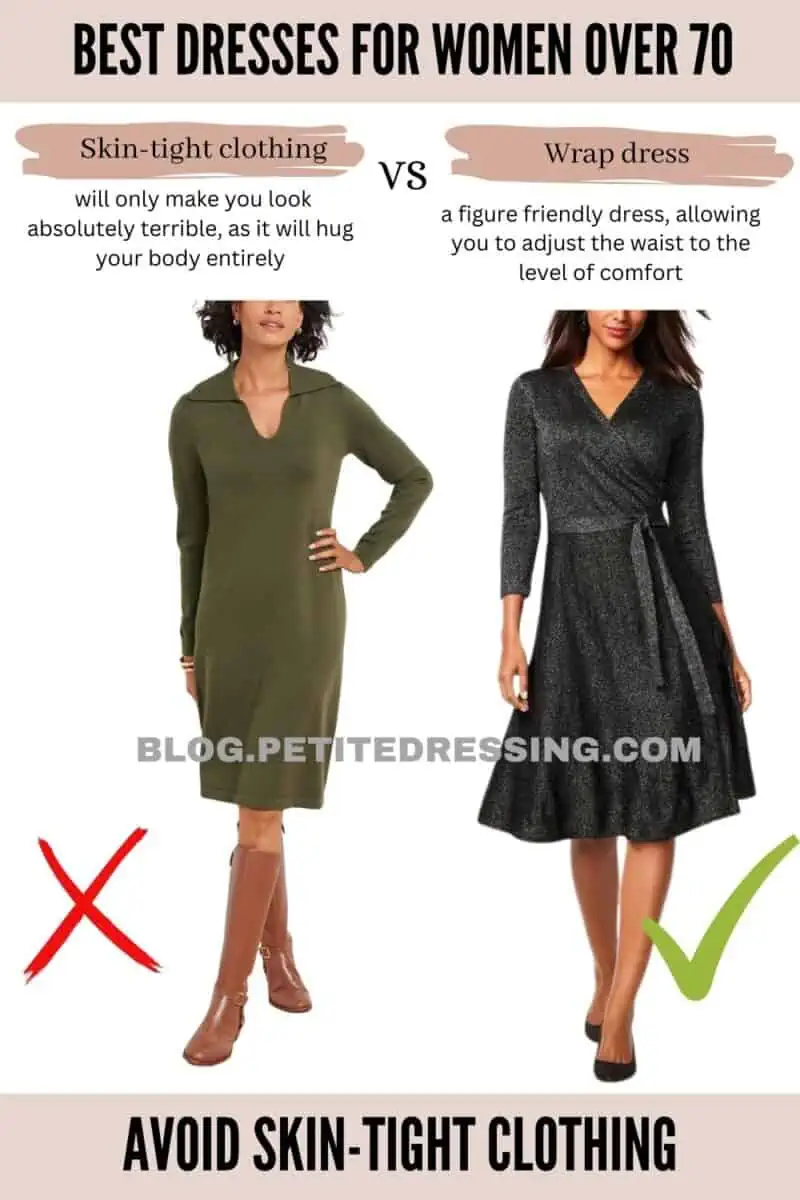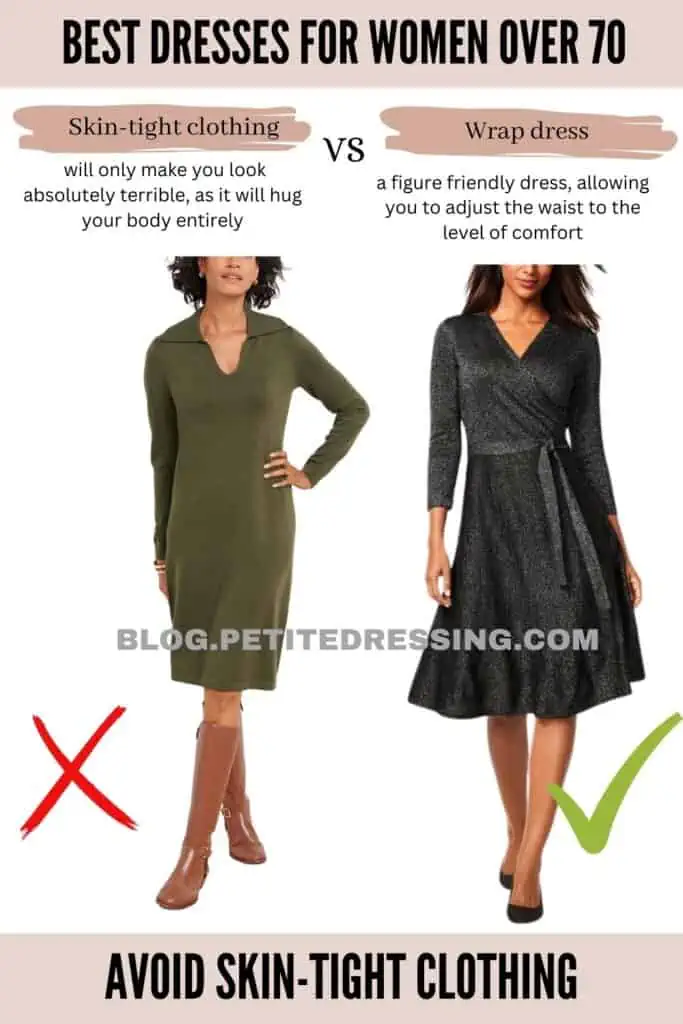 While you're advised to avoid loosely-fitted dresses, this doesn't mean you should wear skin-tight clothing. The key to looking fabulous as a woman over 70 is to wear dresses that are a perfect fit for your body and reveal your curves as naturally as possible.
It's more important at this age to wear dresses with the right shape and structure, accentuating your curves that have changed over the years due to ageing. Rather than wear skin-tight clothing that will only make you look absolutely terrible, look for something subtle that will flatter your curves and mid-section.
Avoid over-the-top dresses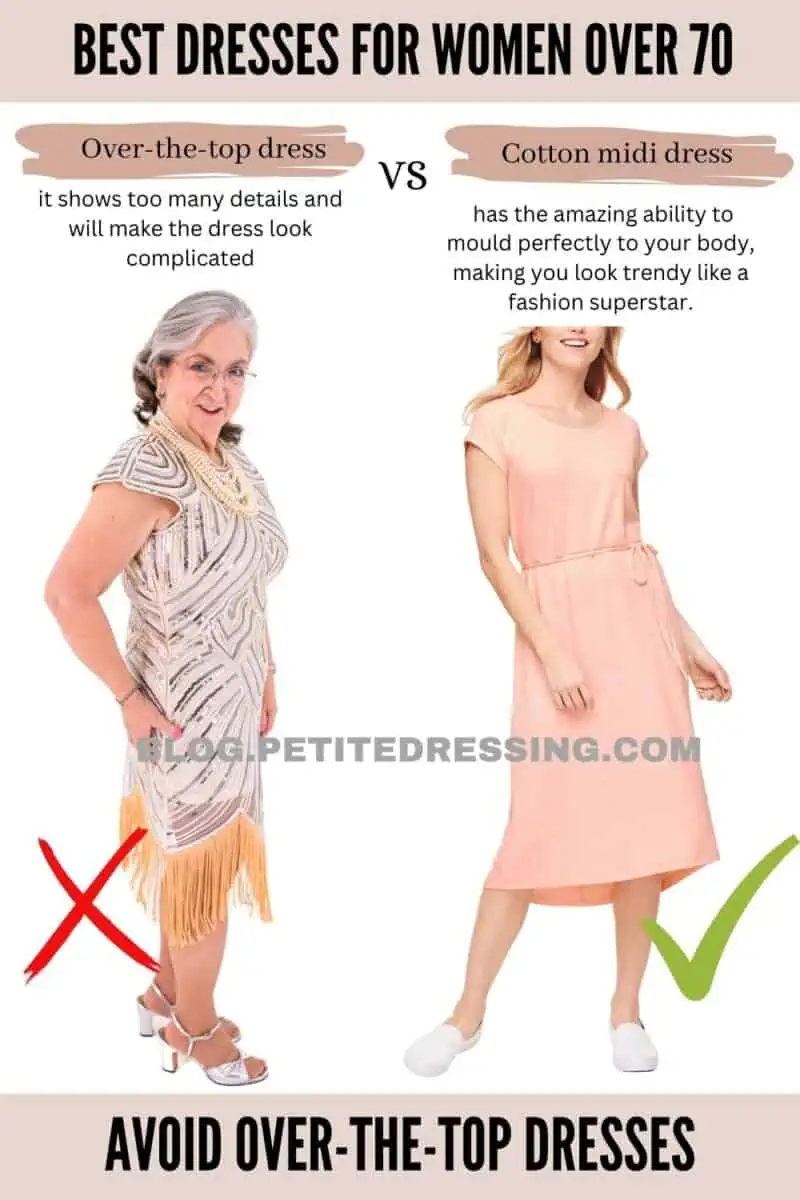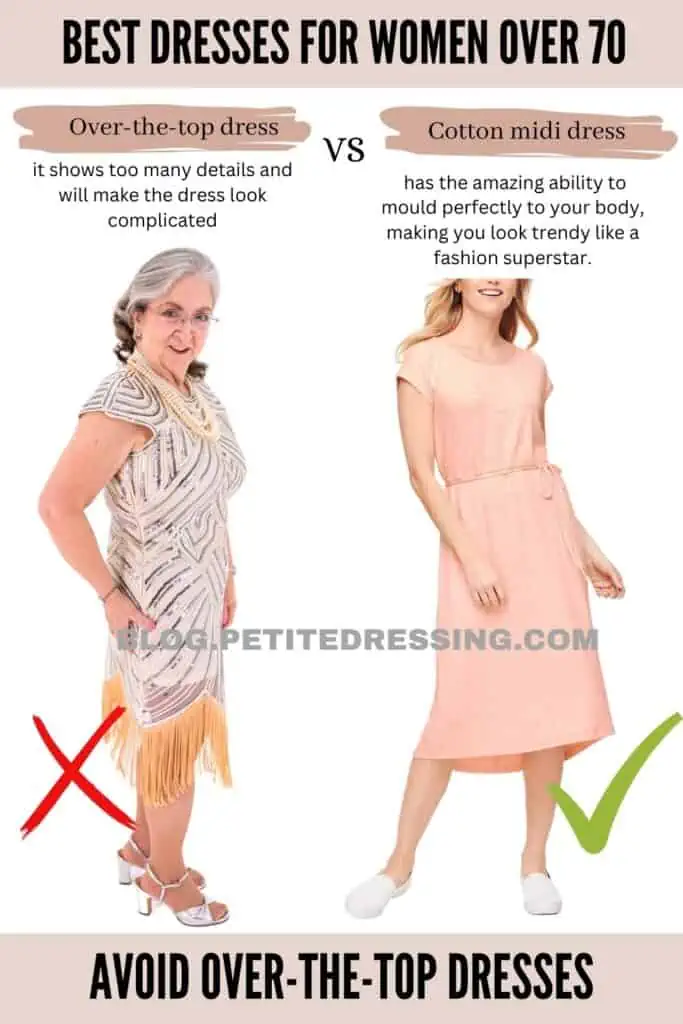 While some may argue that simple is boring, sometimes it's better. Simplicity can be your best friend if you combine your clothing in the most beautiful way possible. It's wise for women over 70 not to choose complicated dresses, but that doesn't mean you shouldn't have fun with your choices.
Keep it minimal by avoiding overly frilly dresses, over-the-top ruffles, or dresses with plunging necklines. Here's the bottom line: less is more.
Use minimal accessories
Don't be tempted to over-accessorize your dresses, as this will have the same extreme ageing effect as wearing over-the-top dresses. You should keep it as minimal as possible, with at most two statement pieces on your clothing.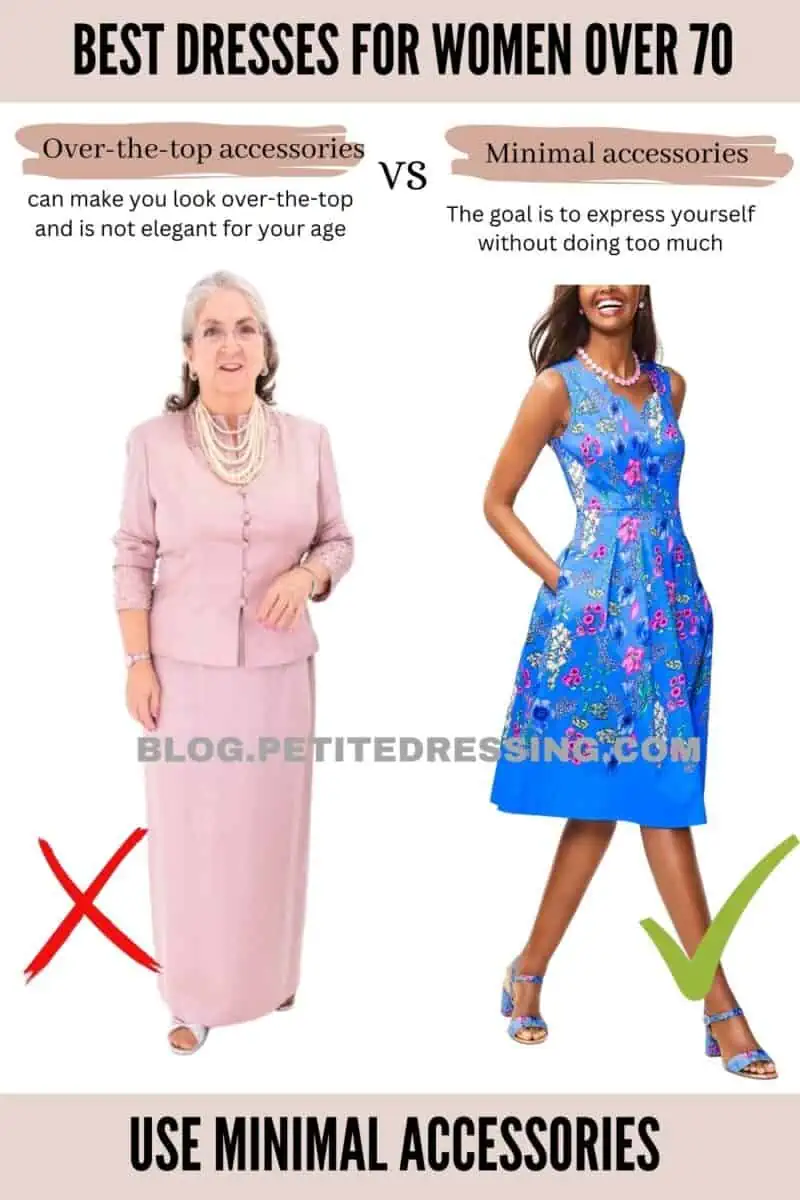 The goal is to express yourself without doing too much. So, you can wear statement earrings on a black wrap dress or throw in a belt to give it more glamour.
Don't be afraid to go a little outside your comfort zone and explore these dresses in the best possible way. Women over 70 are allowed to look sexy; it doesn't take wearing over-the-top dresses to achieve this.
The goal is to express yourself without doing too much. So, you can wear statement earrings on a black wrap dress or throw in a belt to give it more glamour.
With these simple yet classy dress styles, paired with the tips we've discussed, you're ready to step out confidently.