The key to choosing the right coats for women over 40 is the silhouette and the color.
With the right coats and fitting, you can elevate your style to turn a mere coat into a statement piece. It is common with fashion today to utilize layering different clothing in order to put a fashionable outfit together.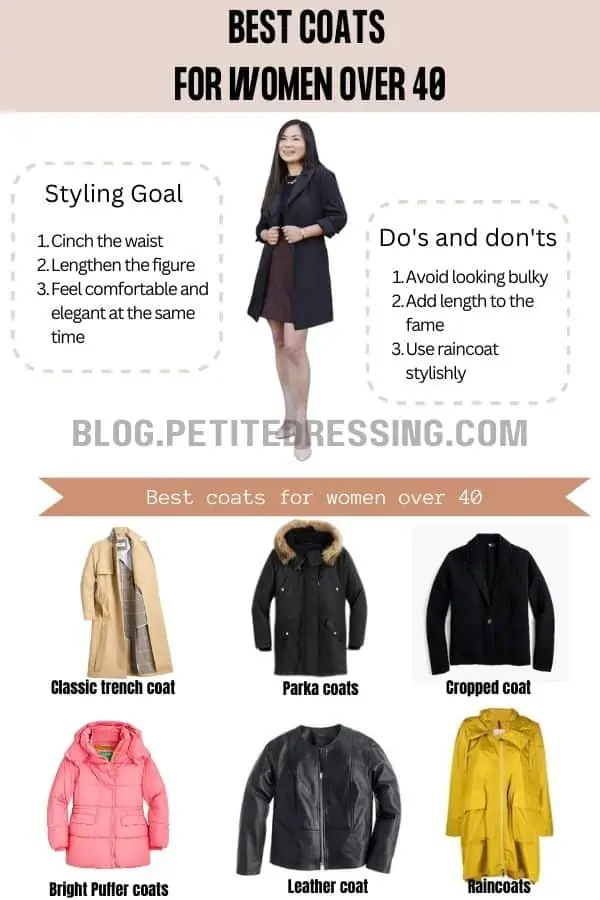 Classic trench coat
For women over 40, a high quality classic trench is worth the investment, as it will last for the decades to come in your closet. Even though the fashion trends change year after year, trench coat has been, and will always remain, a staple year round.
A trench coat is a long coat made of strong, thick, and waterproof fabric with straps on each shoulder. Trench coats are seen as classic coats for a reason.
While trench coats are popular due to the various neutral shades they come in, they are also perfectly versatile for many different types of weather.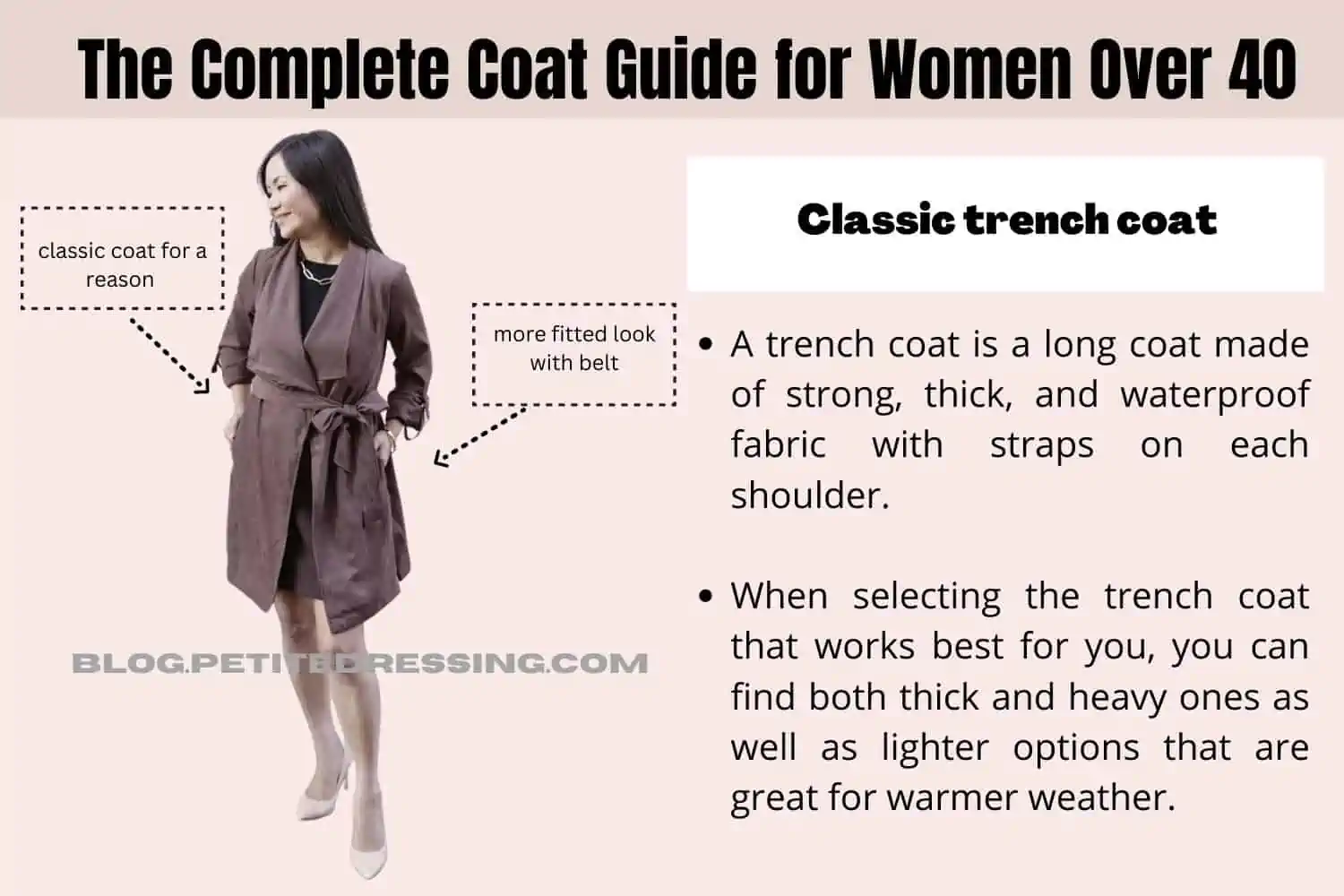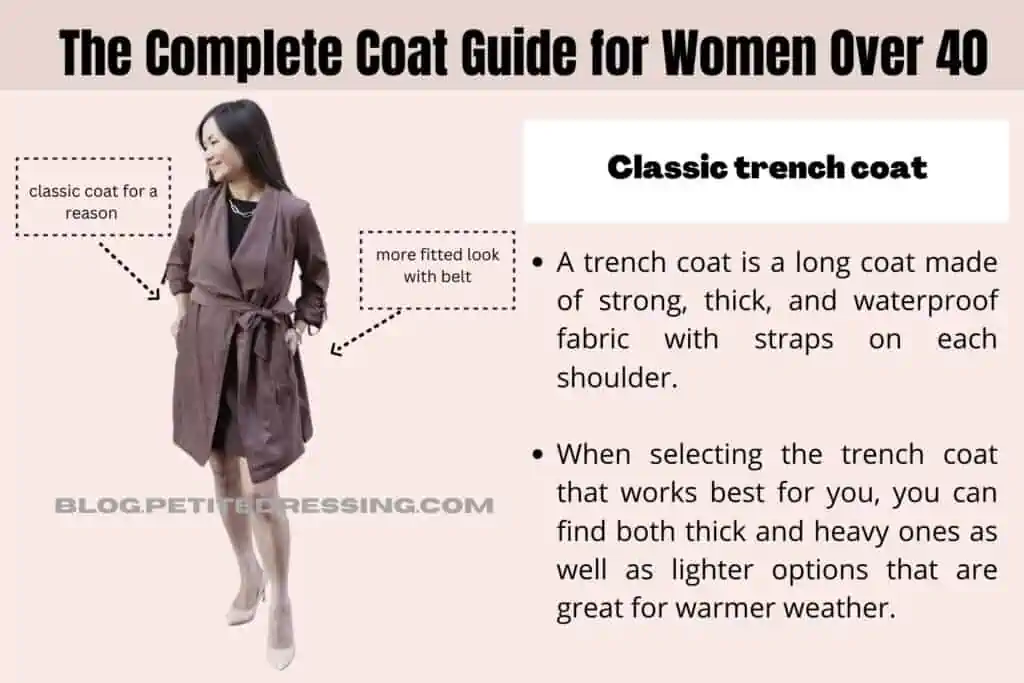 When selecting the trench coat that works best for you, you can find both thick and heavy ones as well as lighter options that are great for warmer weather.
Due to the trench coat originating from military practices, these coats are the ideal way to simplify a bold outfit.
Trench coats most often come in beige and black. These colors ensure that you can use one coat for countless amounts of styles and outfits.
In order to create a more fitted look, tie the belt directly at the smallest part of your waist, so that the flow of the coat will give your body more of an hourglass shape.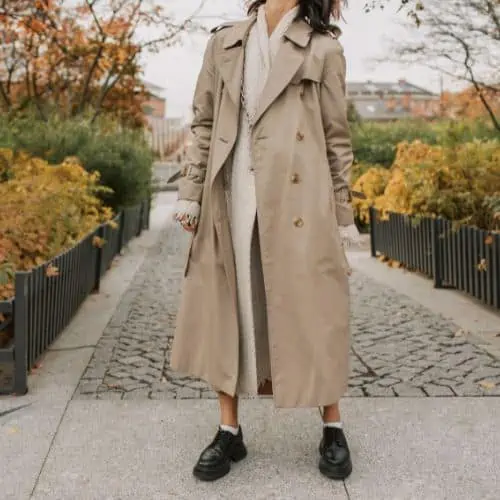 Why opt for trench coats
If you are looking to compliment the curves of your body, make sure you find a trench coat that comes with a belt.
Some of these coats will fit in a bulky and shapeless way, which may not be the most flattering style for women.
Parka coats
As winter finds its way to everyone's doorstep, it is time to consider shopping for a coat that will keep you warm and stylish during all of your outdoor adventures.
For women over 40, looking chic while staying active are both important, and parka coats come in handy to serve both purposes.
Parka coats are able to provide complete insulation to keep your body from feeling the effects of frigid temperatures.
Some parkas are designed with fur linings to ensure that you stay warm during your coldest times. Parkas can be patterned, neutral, or even decorated with bright and bold colors.
Since all colors are befitting for a parka coat, you have a wide variety of options to choose from.
Although parkas cannot be manipulated to hug your frame, they still stand as a classic coat option. This could also be an excellent choice for someone who is not interested in a coat that is drawn tightly to their shape. Parkas are made of a thick material that will hold its own shape, giving the wearer a bulkier look.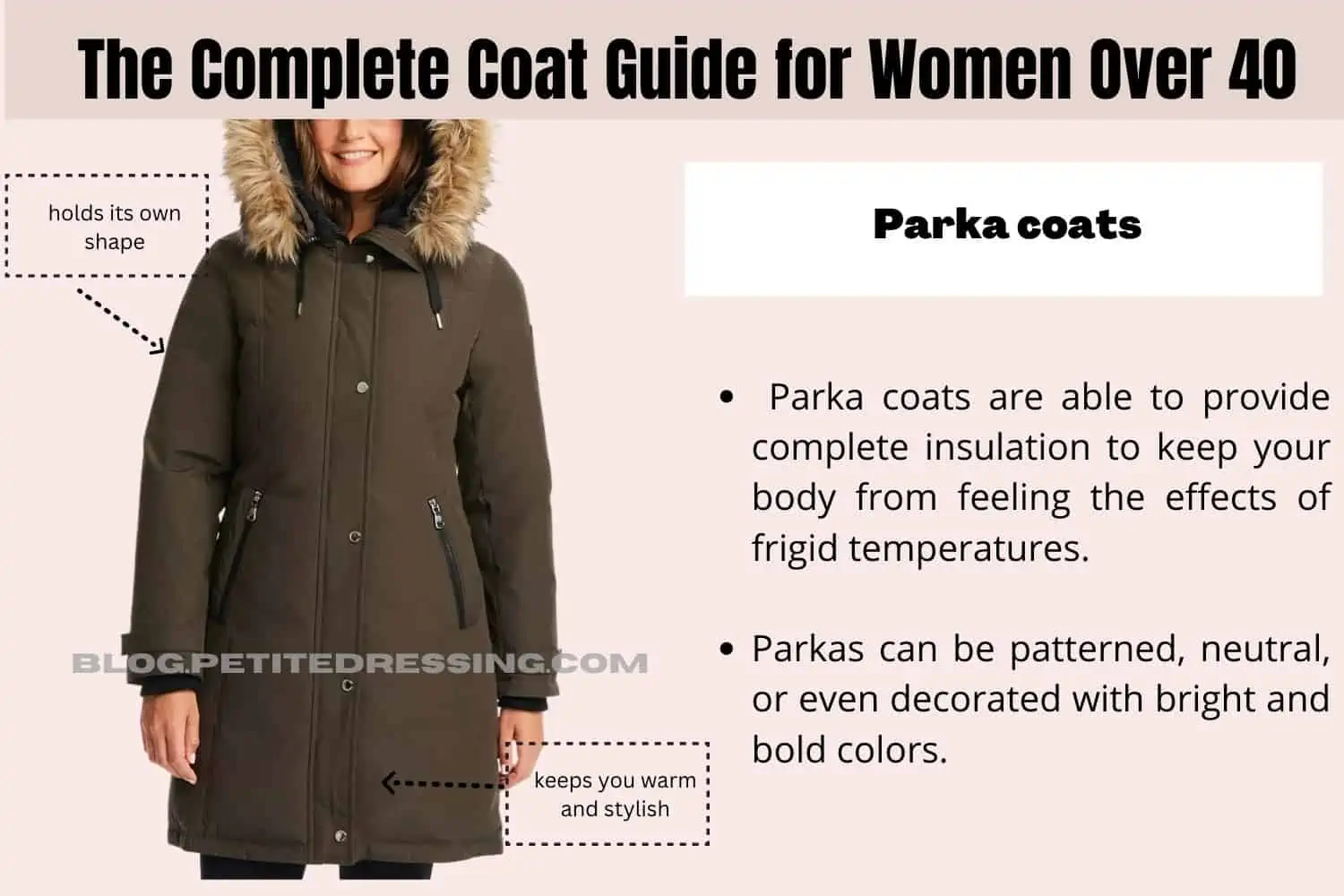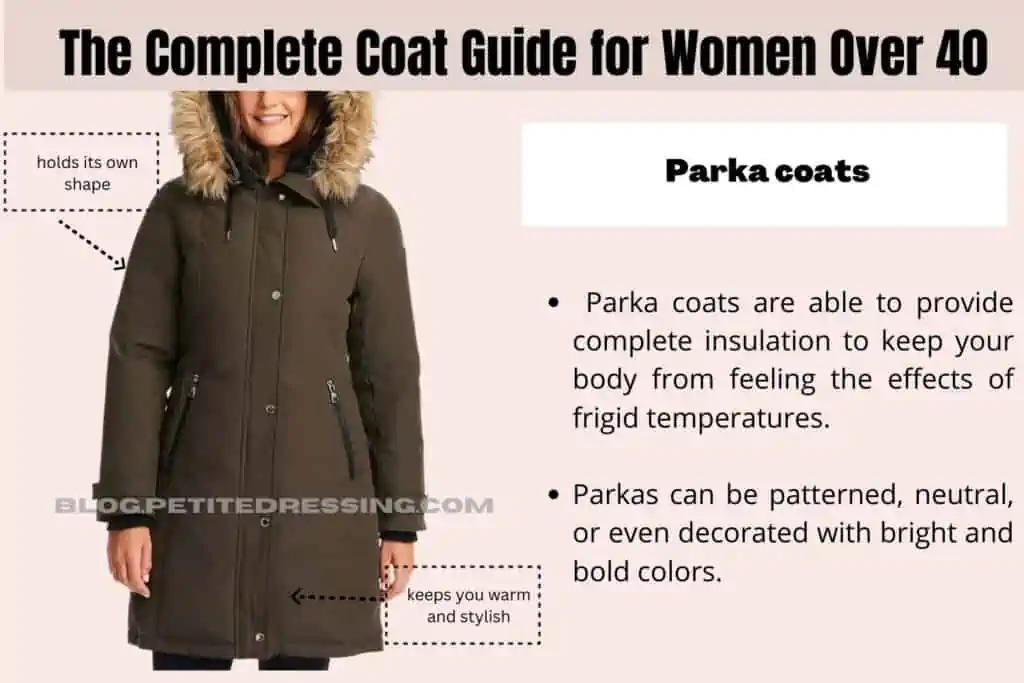 Cropped coat
Although cropped coats and jackets are usually reserved for teenagers and young adults, there are plenty of cropped coat options that are elegant and mature enough for women over 40.
There are different levels of what is considered cropped. The most common form of a cropped shirt or coat is when the fabric is cut to fall right at the smallest part of your waist.
This can be an extremely flattering look, and it still covers an appropriate amount of your body. If you pair a cropped coat with high-waisted pants or a skirt, it will enable you to form a flattering silhouette.
With a cropped coat, it will be more stylish to leave it unzipped or unbuttoned, so it may not be ideal for intense weather conditions. But you can use the coat to layer with your outfit, providing another texture, color, or pattern.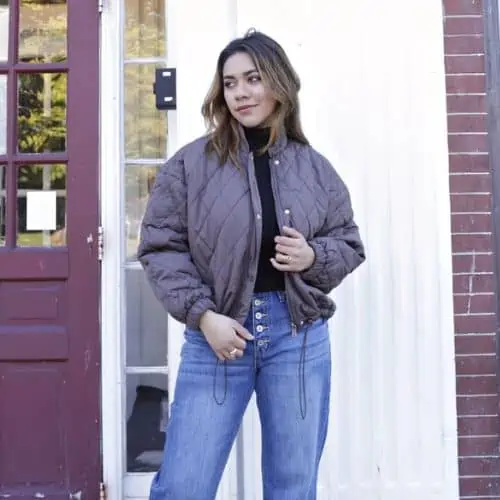 Considerations when choosing cropped coats
Make sure you avoid cropped coats that have fabric cut just where your chest falls.
This look is only popular with teenagers and extremely young generations, and it doesn't look as appealing on women with developed bodies.
Bright Puffer coats
The puffer coat has always been a popular winter coat choice for women, due to its insulation and ability to hold color well. Since puffer coats are already puffy and bold, you get to have fun with your style choices.
Puffer coats are known to be a bold style choice, so in order to embrace the flashy style, it only makes sense to go for a bright color and a crazy pattern. This coat can become your statement piece, the apparel you select when your outfit needs some spice.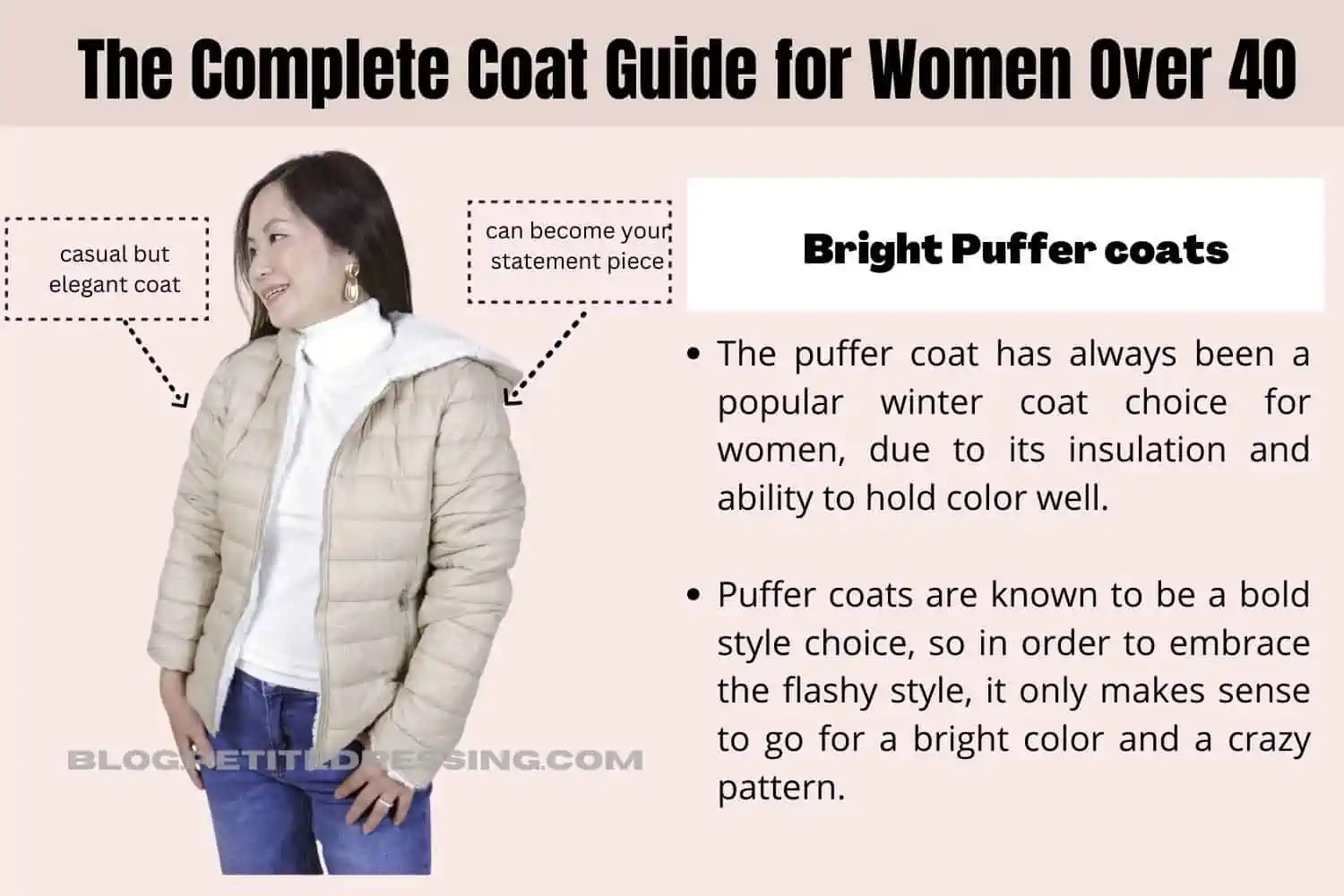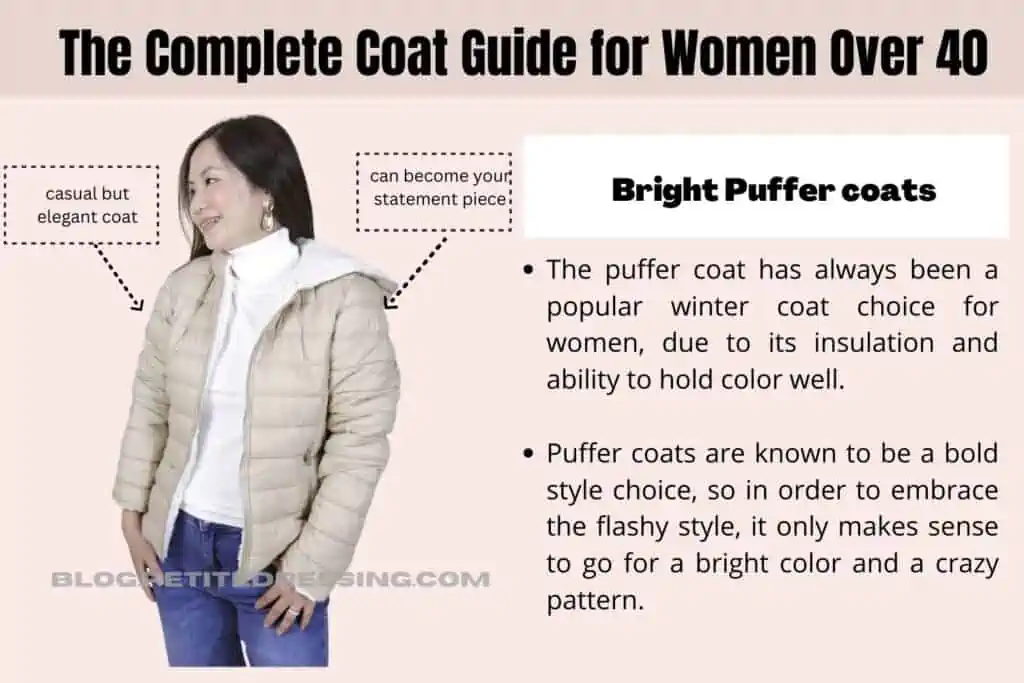 You can also find puffer coats that aren't as puffy, which is when you will get more into the territory of common winter coats. But if you are going for a casual look, that would be the best place to start.
If you want to have a casual coat but still want to look elegant, try for a lighter color to brighten up and elevate this style of coat.
Many of these coats are padded with down feathers for extra insulation. If you are interested in more ethically sourced materials, make sure to check what materials go into each of these coats.
Leather coat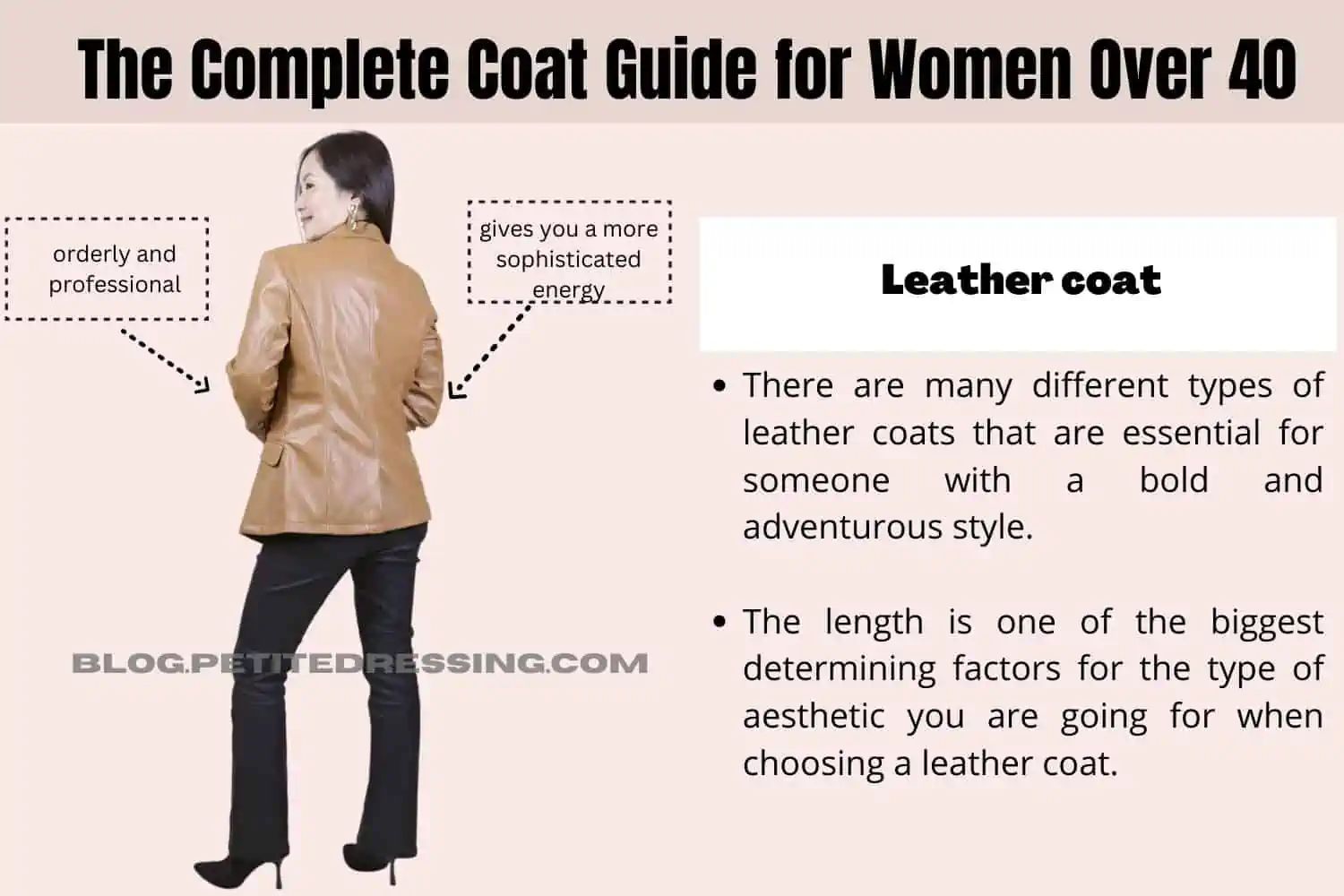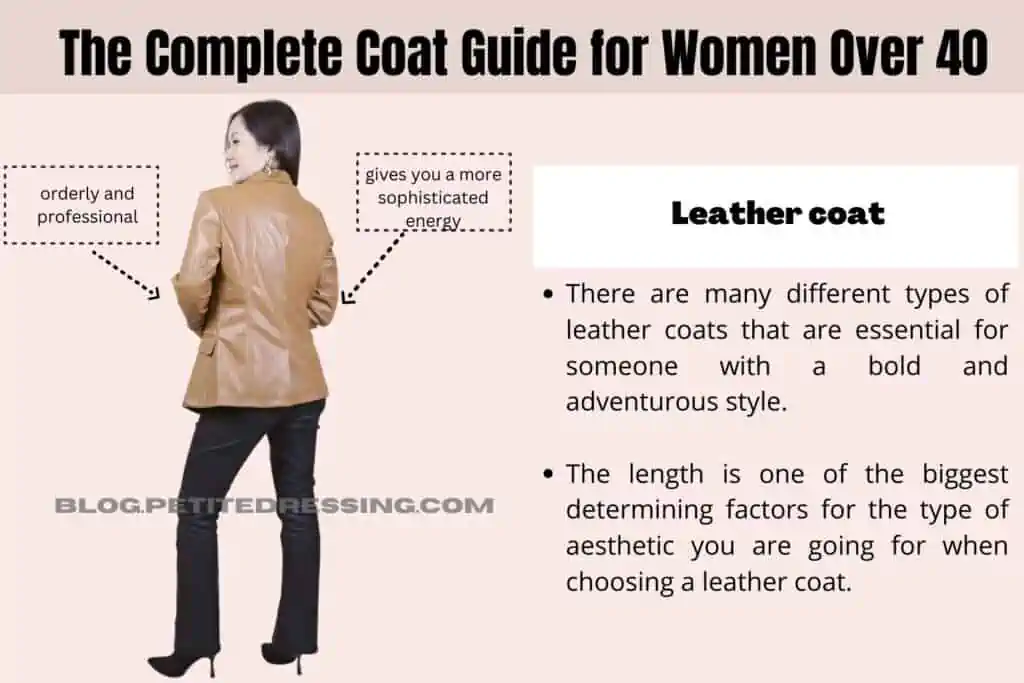 When you are over 40, nothing looks more sophisticated and chic on you than a classic leather coat. Just like the trench coat, leather coat is one of those evergreen styles that you will always wear, no matter how the fashion trends change every year.
There are many different types of leather coats that are essential for someone with a bold and adventurous style. The length is one of the biggest determining factors for the type of aesthetic you are going for when choosing a leather coat.
Leather coats that are longer usually take the form of a trench coat. This usually gives off a more sophisticated energy, since that length is more orderly and professional. If you wore this on your way to work or paired it with a business outfit, the leather would fit in.
Although black is the most common color for leather, you can add extra flair with vibrant color. Red leather is both striking and sexy, which may be the look you want. You can also go neutral with cream or brown leather, which will actually give your outfit a more polished aesthetic.
Leather is known to be eye-catching, so make sure you are the kind of person who is willing to take brave steps in fashion before choosing this type of coat.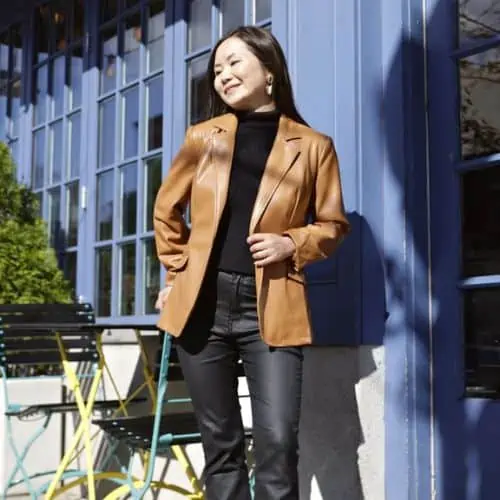 Lengths to consider when choosing leather coats
If you go for a shorter style, this tends to appear edgy and audacious. The shorter the leather coat, the more youthful your style will appear.
If you stick with a classic biker leather coat, your fashion approach will be considered more casual, and full of attitude.
Wear raincoats stylishly
In the past, raincoats have been viewed as a last resort for rainy days. But raincoats have become so much more in the fashion world, as they have evolved into shapes that are both flattering and stylish.
Raincoats are incredibly functional, especially if you find yourself walking outdoors more frequently than not. In order to find a raincoat that is both useful and fashionable, you have to focus on the material and the color.
When someone goes outside in a bright yellow raincoat that is obviously oversized, they don't exactly look like they attempted to be stylish. In order to achieve a visually pleasing aesthetic, search for raincoats that are available in neutral colors.
By utilizing these colors to conceal the fact that you are wearing a raincoat in the first place, you can stick to your own personal style while avoiding rain-soaked clothes.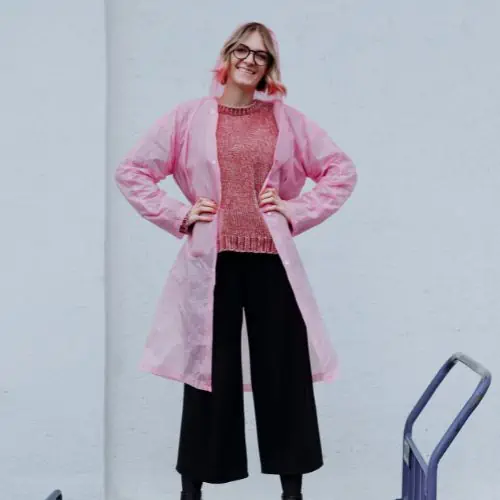 Recommended colors for raincoats
Darker greens have become increasingly popular for raincoats, as well as navy, black, beige, and cream.
These colors make a raincoat appear more sophisticated so that someone looking at your outfit would not automatically assume you are wearing a raincoat.
Avoid oversized coats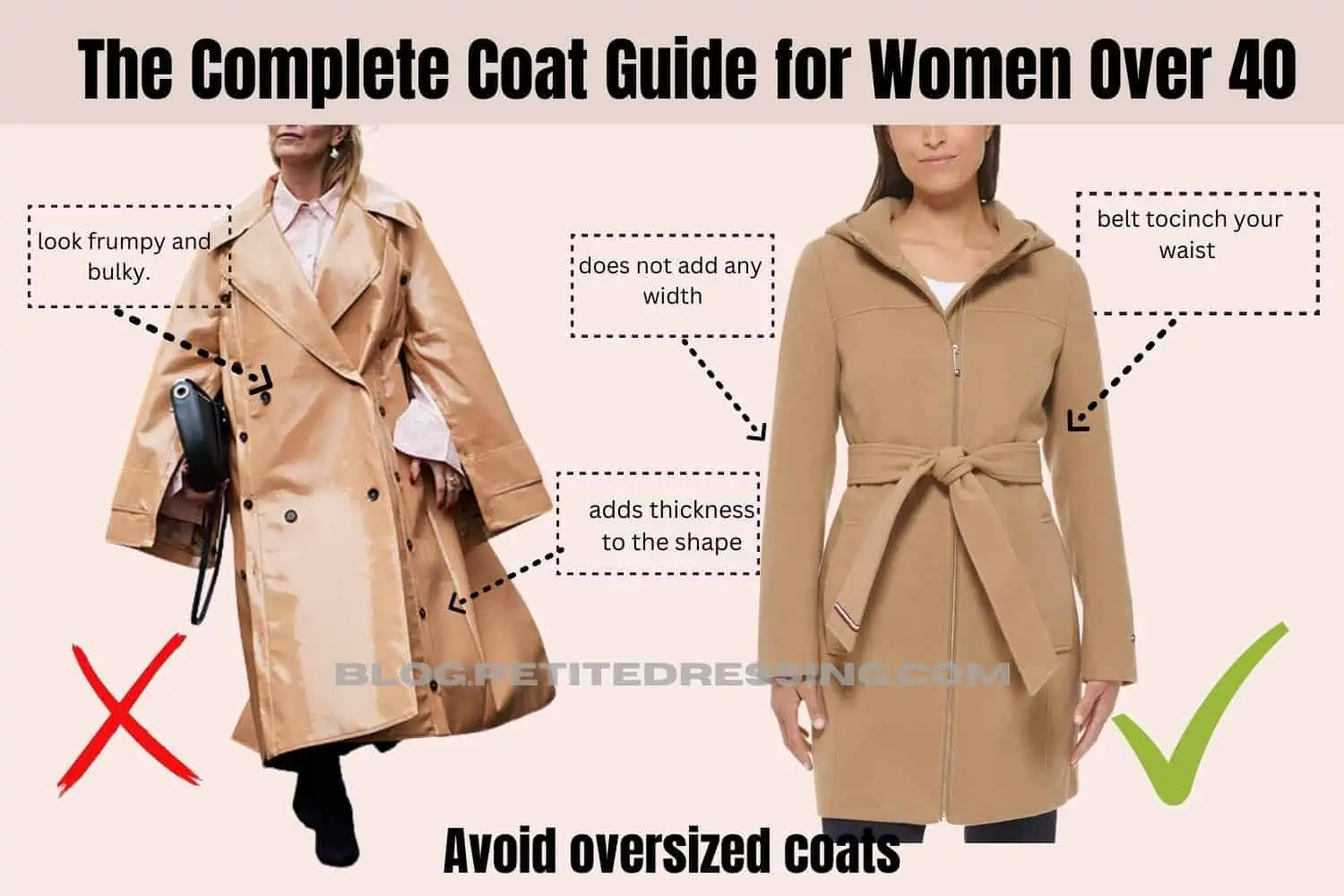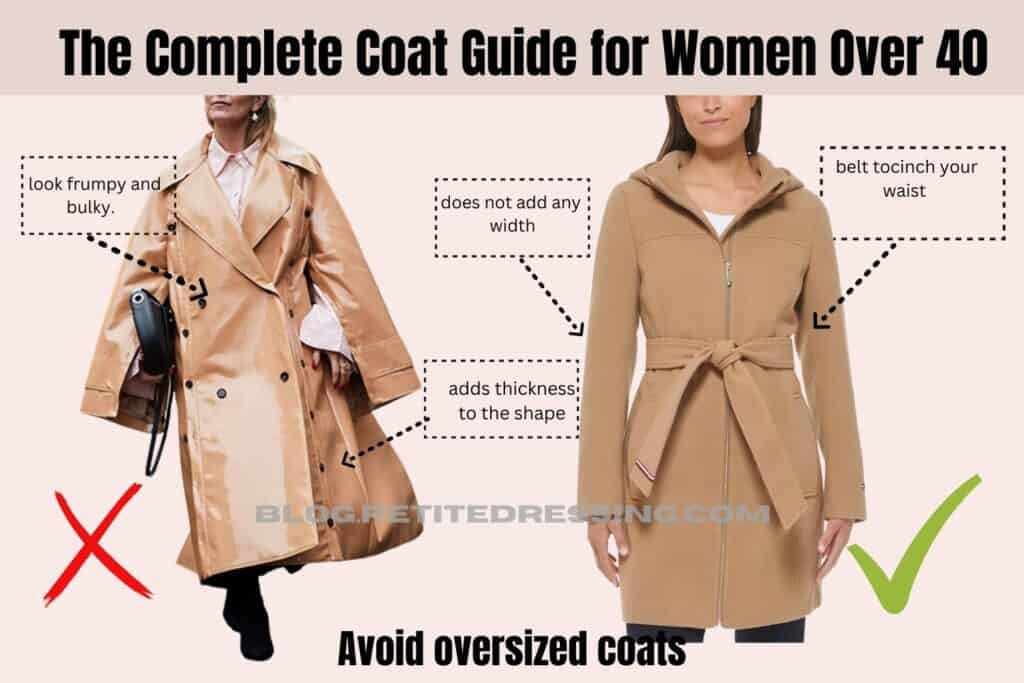 When it comes to the sizing of a coat, the way it fits your body is important. Some people worry that adding a coat to their outfits will make them look frumpy and bulky.
Although some coats can be unflattering, that problem can be solved by the way you style your coat and the type of coat you choose. Even if a coat is your size, it may still appear larger on you when you wear it, which could be due to extra padding and insulation.
When choosing a coat length, there are different ways to style a certain length to make your silhouette as flattering as possible. If you choose a coat that falls below your hips, or even right above your ankles, the long fabric will hide any shape your body has.
In order to solve this problem, try adding a belt to the coat to cinch your waist. The simplest solution would be a simple cloth belt that you tie around your waist, so that it can be adjusted easily.
If you choose a shorter coat length, make sure that it falls above your hips or below them. If the length rests directly at your hips, it can create an unflattering silhouette.