During every season, an event may pop up that requires cocktail attire. As a woman with a large bust, cocktail dresses can be intimidating. Many styles of cocktail dresses are known to fit tightly against the body.
There are plenty of cocktail dress types that look stunning on women with large chests. The styles listed below will make you look your best, while helping you create a better level of balance throughout your silhouette.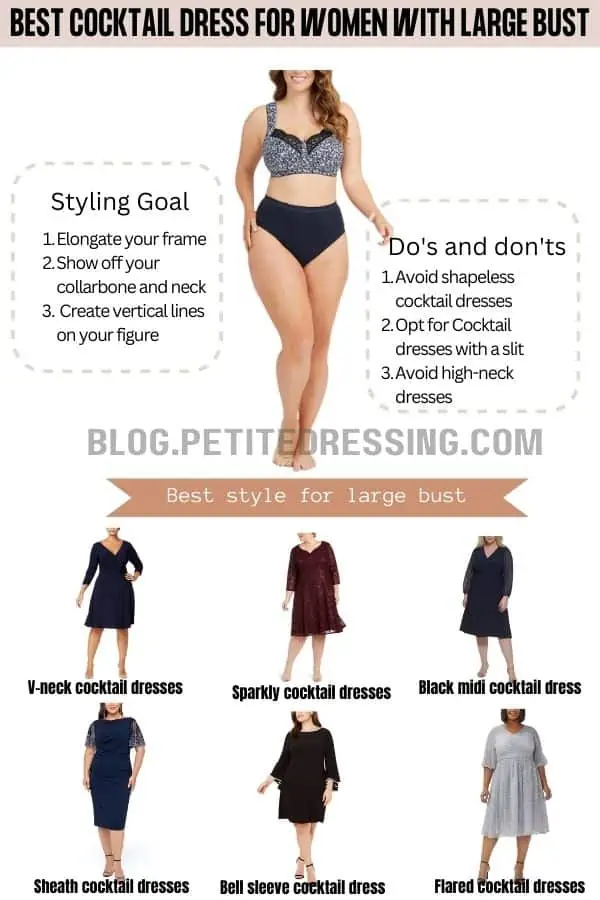 V-neck cocktail dresses
When you can successfully style your look to create the illusion of height, it will also help to slim your body. This is important when it comes to cocktail dresses that are more form-fitting, especially for women with a large bust.
V-neck dresses are amazing at making you look taller. They create vertical lines throughout the dress, which will end up elongating your frame. This illusion happens because of the column method. When you have columns or lines forming up and down throughout your outfit, the straight lines end up creating an illusion of added height.
V-neck cocktail dresses also give you the opportunity to show off your collarbone and neck. Showing a little skin can be useful for women with large busts because it draws the focus away from that direct part of your body.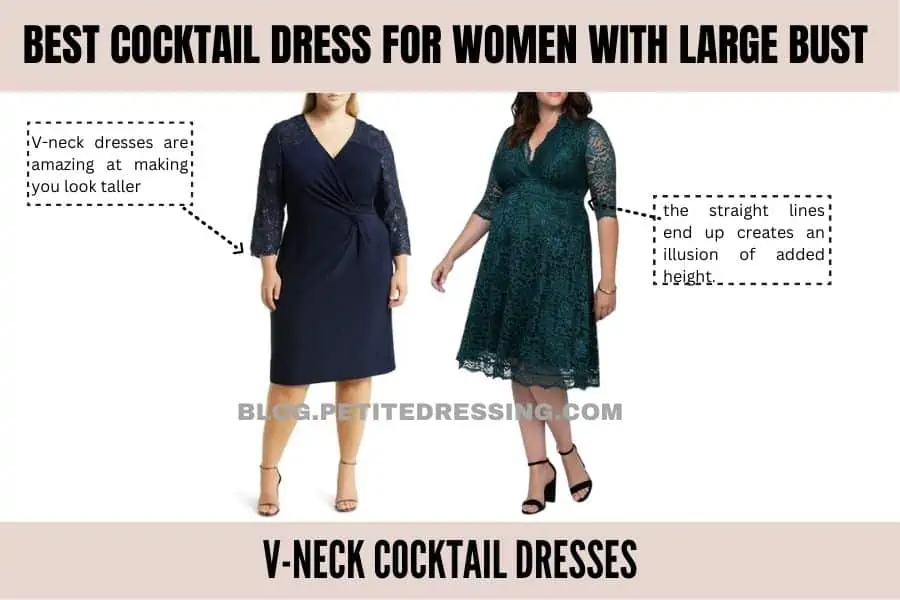 Sparkly cocktail dresses
A large bust may become the center of attention because of the way a dress falls against your body. Many cocktail dresses cling tightly to your body and make every curve you have very noticeable.
Adding a distraction is one of the best ways to make other parts of your look more eye-catching. Sparkly cocktail dresses will make every part of your body that your dress covers more interesting. A slight shimmer can be the addition that completely makes a difference.
Cocktail dresses should have a touch of elegance because of the formal types of events that they are worn for. If you want to wear a show stopping dress that is not too dramatic, wear a sparkly cocktail dress.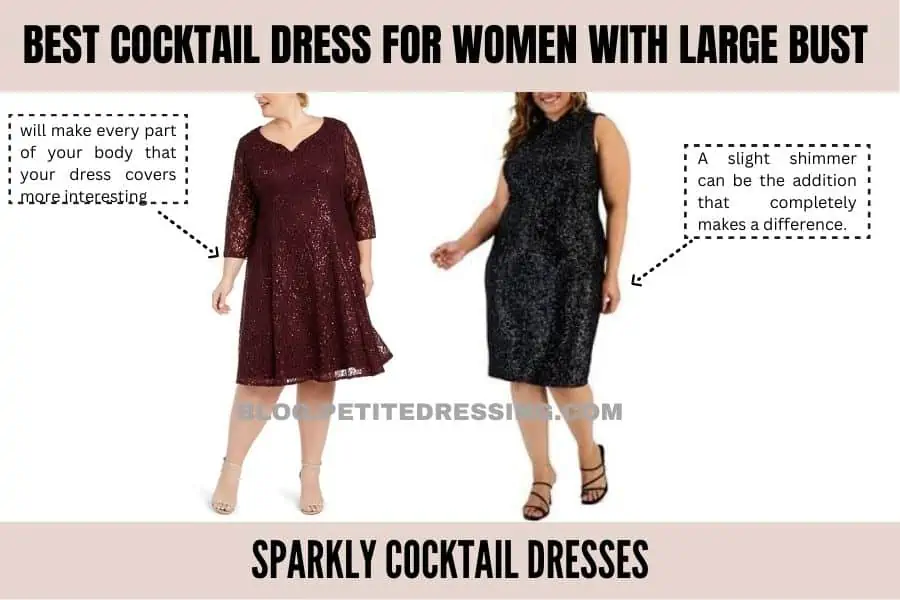 Black midi cocktail dress
Every woman needs a classic little black dress that they can easily pull from their closet and wear to various occasions. A simple black dress can often be the most flattering option for women of all shapes and sizes.
Black midi cocktail dresses are a simple choice, but often one of the most visually pleasing options available. Black is often seen as a more formal color, which is why most suits are black. It is easy to style because everything goes well with black.
A black midi cocktail dress will also be incredibly slimming. Even if the fabric is clingy, black will conceal any shadows that some of your less flattering curves will create. Black is amazing at camouflaging belly fat and making you look slimmer.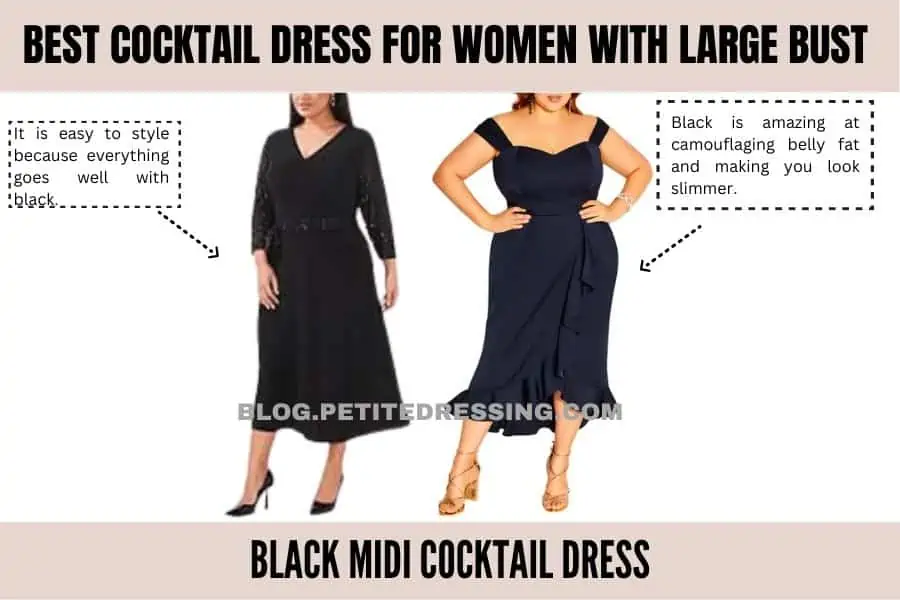 Sheath cocktail dresses
Cocktail style is all about subtle elegance. You don't want to look like you are trying too hard to look stunning, but you always want to be able to pull off a beautiful look.
Sheath cocktail dresses are an excellent choice for women who want a simple dress that flatters their large bust. Sheath cocktail dresses will cinch around the smallest part of your waist, but in a subtle way. This makes it look like your body naturally forms an hourglass shape.
The cinch is also incredibly flattering for women with a large bust because it helps to balance things out. With the invisible cinch, the skirt part will slightly flare out and create the illusion of wider hips. Since the effect is so moderate, it won't make you too wide.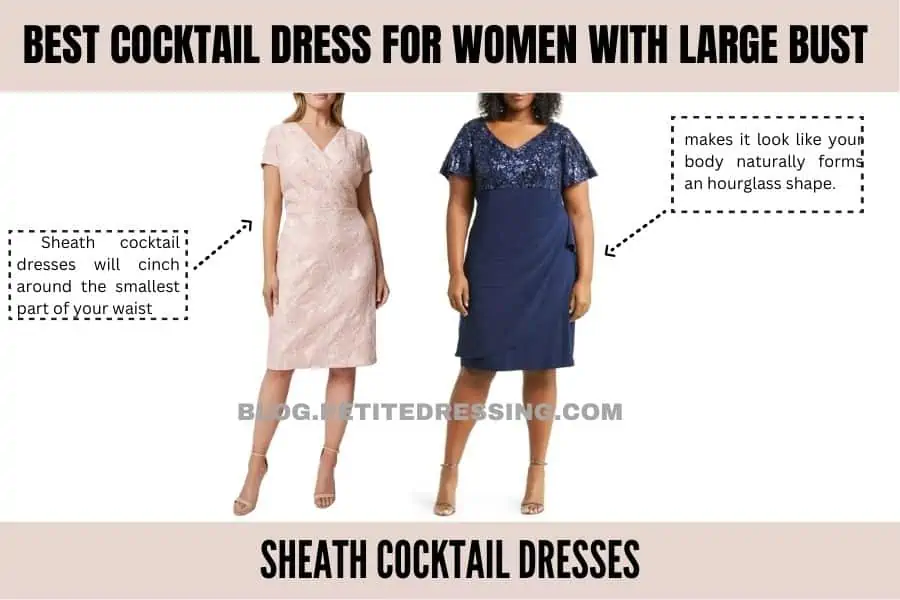 Bell sleeve cocktail dress
Many women forget to focus on the sleeves of a dress. Sleeves can completely change the way a dress looks on you. Bell sleeves are very feminine and look amazing on many different body types.
Bell sleeves on a cocktail dress are eye-catching and add another dimension of width to draw eyes away from your chest area. They also provide plenty of space for your arms. If you are insecure about your arms, these sleeves will help you feel more confident in a dressy ensemble.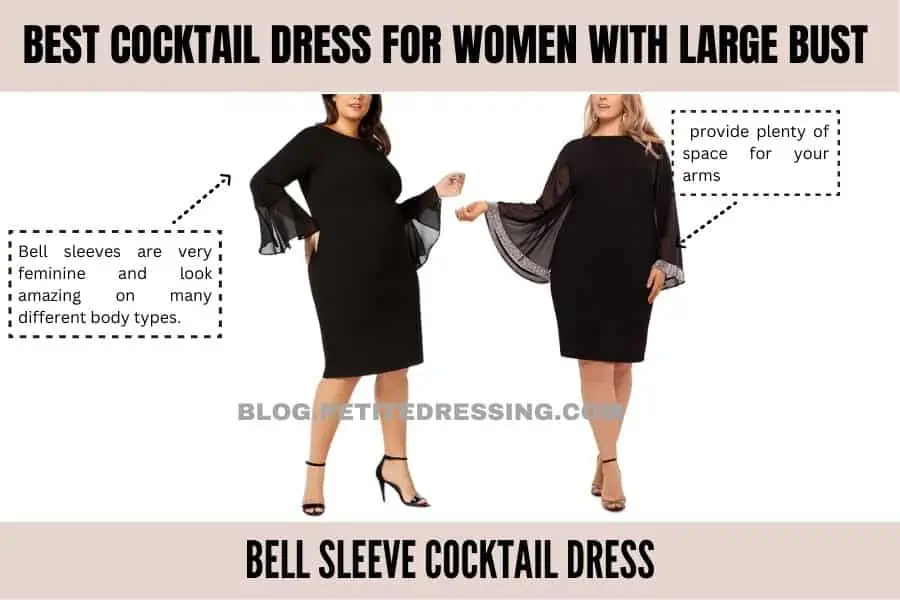 Flared cocktail dresses
One of the best ways to balance out a large bust is to add some width to the lower half of your body. A cocktail dress that cinches at your waist and then flares out for the skirt portion will be the ideal choice.
As the skirt flares out, it contributes towards the creation of an hourglass shape. This method will also make your waist look thinner. You do not have to wear a maxi dress in order for this technique to work. If you want to go with a mini cocktail dress that flares, the effect will be even stronger.
It is important that the dress is specifically designed to flare out so that it is structured properly. This cocktail dress style will do the work for you, slimming your shape and balancing everything out.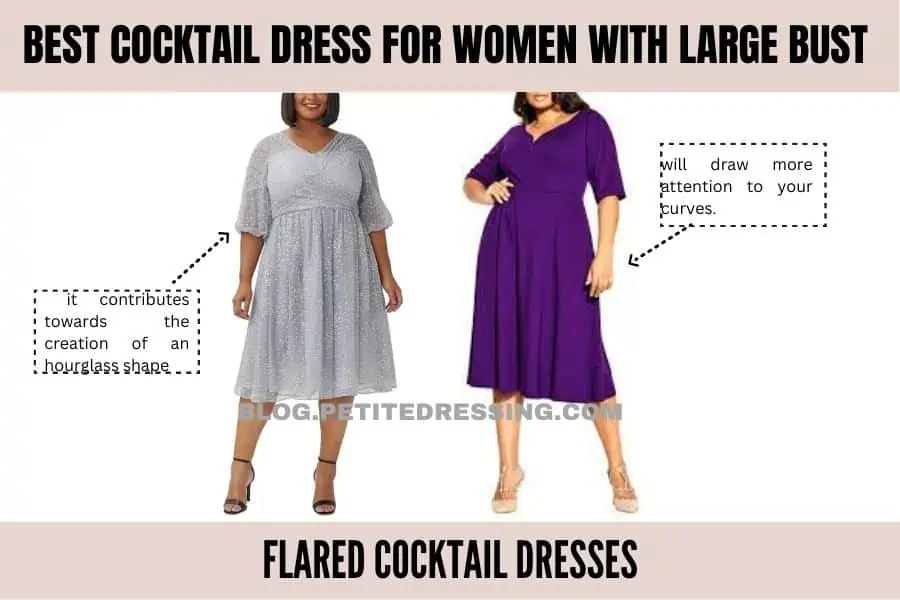 Cocktail dresses with a slit
There are many styles of cocktail dresses that end up being form-fitting and all one color. If you want to break up the fabric and create some space for your body, you should opt for a cocktail dress that has a slit.
The ideal slit would come up to the middle of your thigh. You can choose a lower slit if you are not quite ready to show that much skin. The leg slit will also help to create vertical lines and make you look taller due to the column method.
Showing a bit of leg is also a fantastic way to create another eye-catching place on your body. This will divert the focus from your large bust and create some balance throughout your look.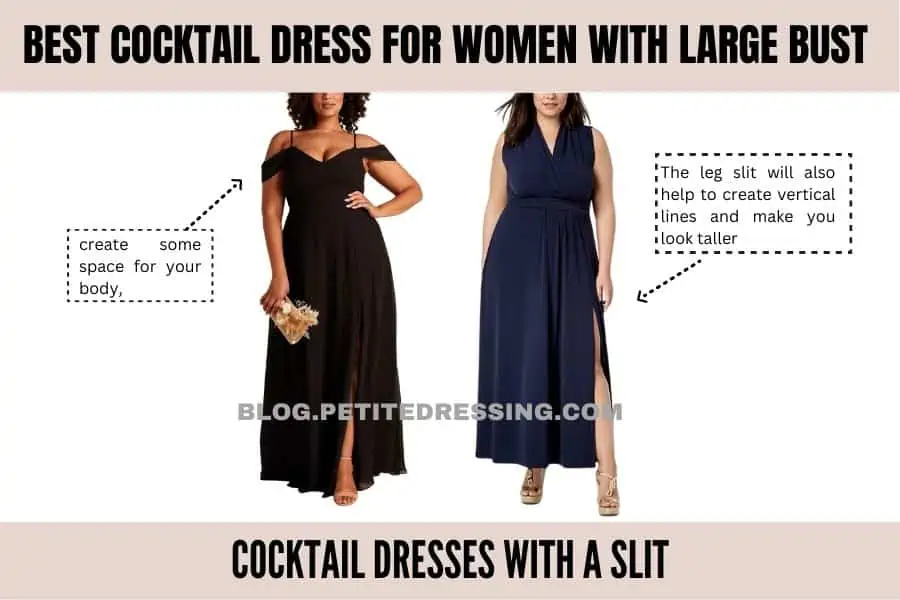 Caution with strapless
Strapless cocktail dresses have the potential to look incredibly flattering on women with large busts. Typically, strapless cocktail dresses have a sweetheart neckline, which shows a tasteful amount of cleavage while properly shaping your chest.
With a straight horizontal line as a neckline, a strapless dress will not look amazing. It is best to aim for a v-neckline or sweetheart. Another essential trait needed for a strapless cocktail dress is support.
Without proper support, you will struggle to keep the dress up as you walk around, or even as you are sitting down. Even though the top has more to rest on, improper support will just make it slip down. This could lead to an embarrassing wardrobe malfunction if you are not careful.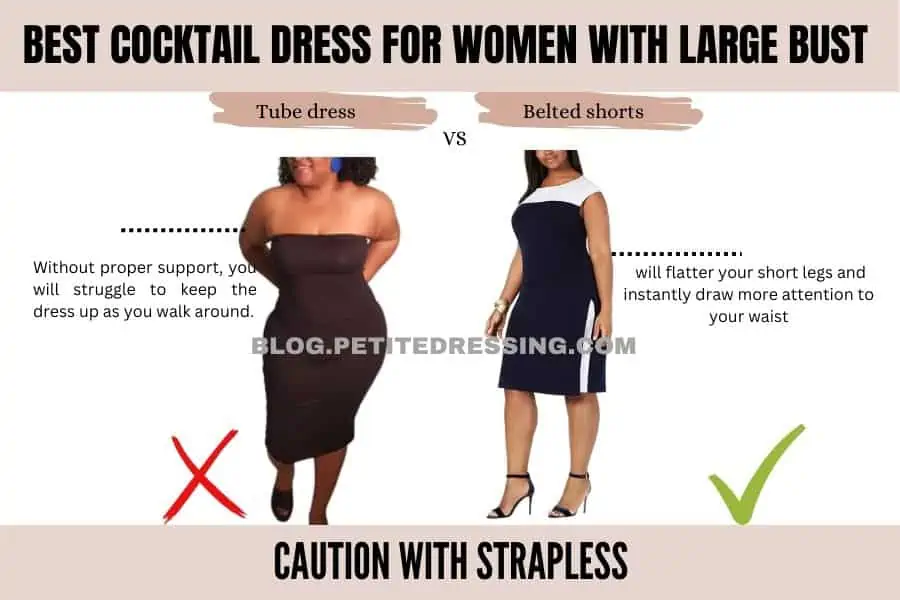 Avoid shapeless cocktail dresses
Shapeless cocktail dresses are supposed to be flowy and chic, and are considered very feminine. But they are not helpful when it comes to flattering your body shape. Some women prefer to wear shapeless dresses for the style, but some do it to hide their body.
This style of dress will only add weight to the silhouette of your body, especially if you have a large bust. The top of the dress will fall against your chest, and the shape of your chest will determine the shape of the dress itself as it falls across the rest of your body.
Although you may have plenty of room to breathe, this style will not look visually pleasing on your body type. If the bottom of the dress flares out at all, it will only make you look wider instead of slimmer and taller.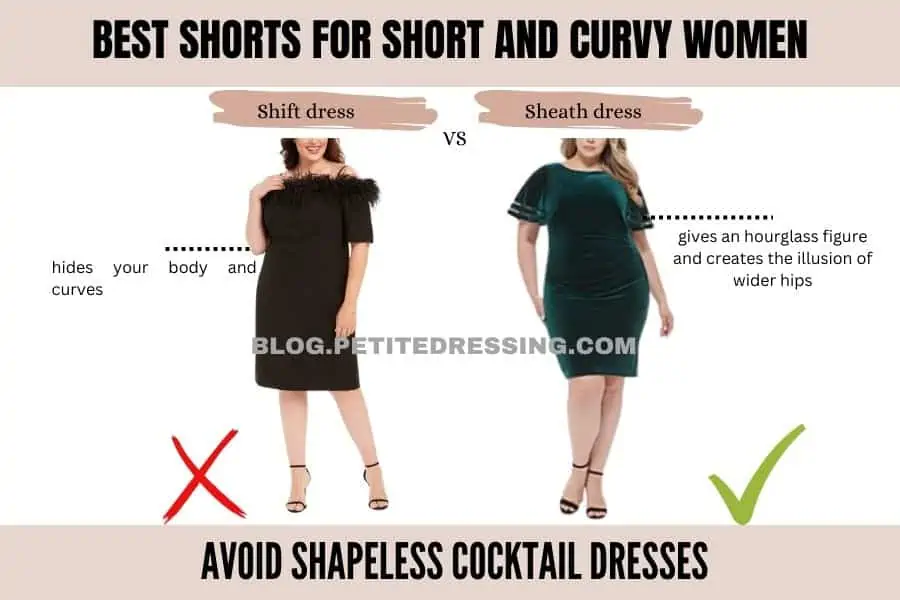 Avoid beads and ruffles
Since cocktail dresses are considered more formal than a lot of dress styles, some designers will get creative with the accessorizing. This could mean that they add a thousand tiny beads throughout the entire dress, or some bold ruffles across your chest.
These additions will only add weight to the area they are placed on. If beads and ruffles are only sewn into the top portion of your cocktail dress, it will draw even more attention to your large bust and make it look larger than it is.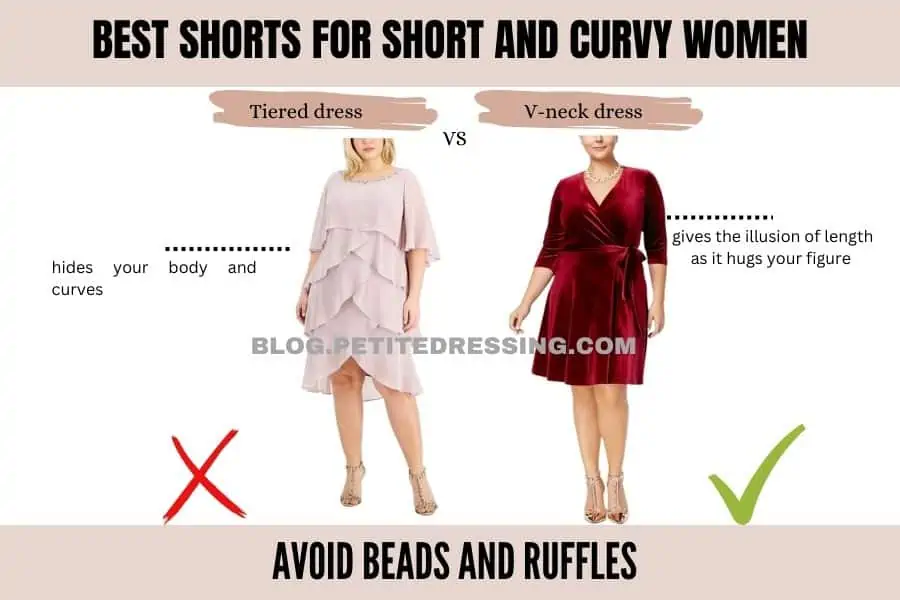 Avoid high-neck
Sometimes, the more fabric you add to a part of your body, the more the focus shifts to that exact part. Many women will fall into the habit of wearing extremely moderate necklines in order to conceal their large bust. Unfortunately, it will either make your chest look larger or just make it more obvious that you want to hide what you have.
High-neck cocktail dresses are supposed to look elegant in theory. For women with a large bust, they will often fail to fit them properly without an immense amount of tailoring. They are not designed to flatter women with curves typically, so it is best to just avoid this style.
It is more than okay to flaunt what you have, and there are plenty of flattering styles of cocktail dresses that will actually help you do so.