Short and chubby women find it hard to get suitable wedding gowns that will flatter their body type. That can make choosing a wedding dress stressful because an unflattering dress will ruin your entire wedding.
Therefore, we have a detailed guide that will help you choose the right wedding dress styles. Our guides explain which styles to go for and which ones to avoid. So, let's get started and learn everything!
What to Look for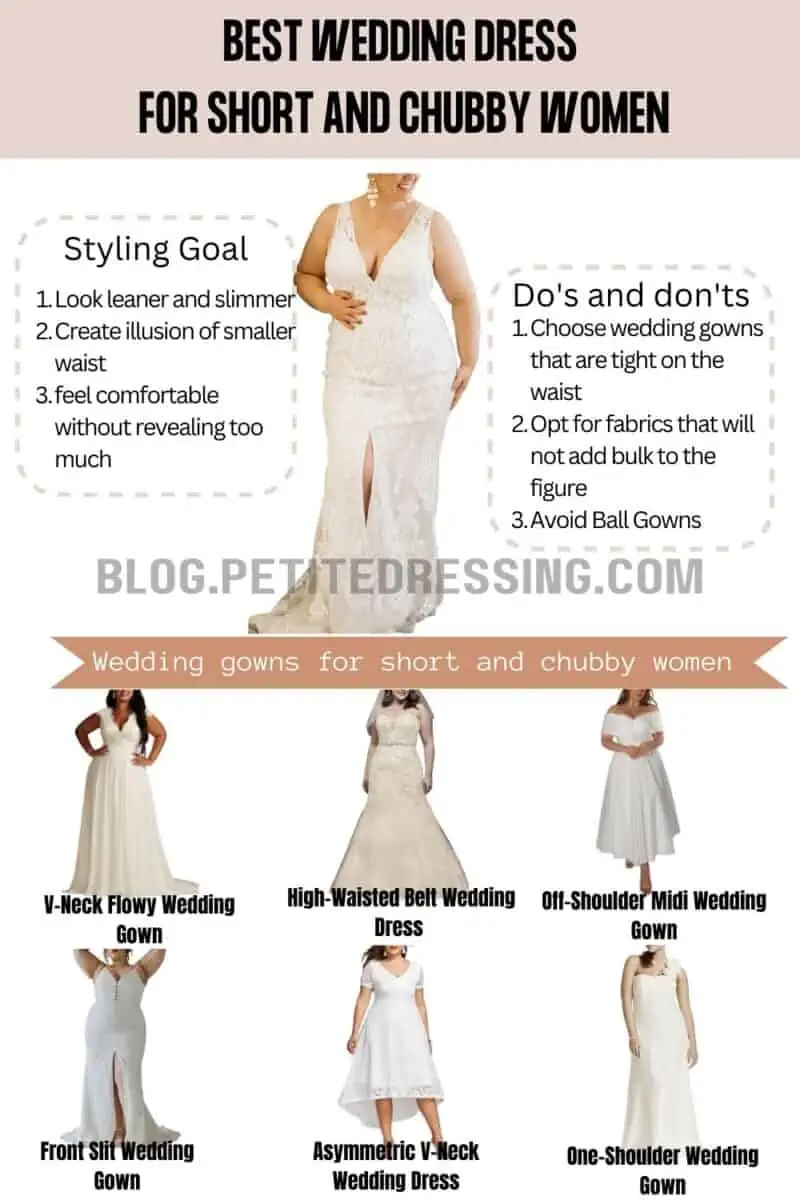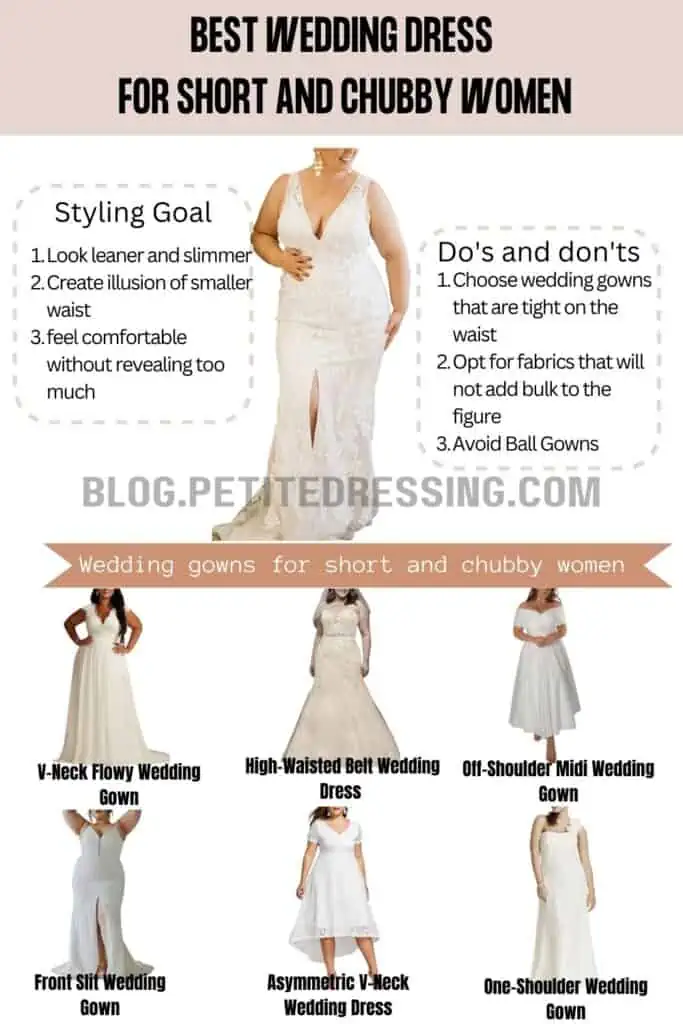 If you are short and chubby, focus on the following when you are looking for a wedding dress:
Choose a revealing neckline such as a sweetheart neck or queen neck. It will make you look leaner and keep the attention on your upper body.
Fishtails and flare wedding gowns are suitable as they will make you look taller.
Choose wedding gowns that are tight on the waist to give the illusion of a small waist.
The arm length makes a huge difference.
Go for a fabric that won't make you look like you gained a few pounds instantly. Stretchy fabrics are ideal for chubby women.
Below, we have summarized the best types of wedding dresses for your shape!
V-Neck Flowy Wedding Gown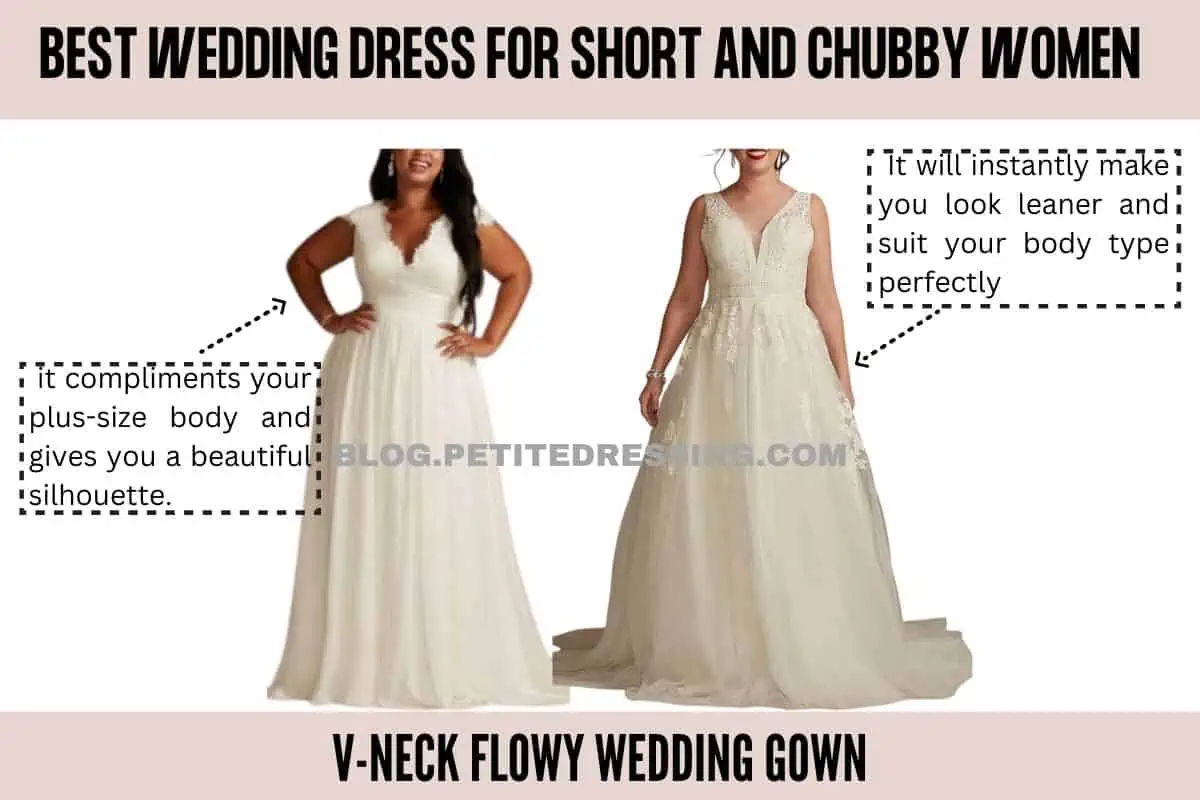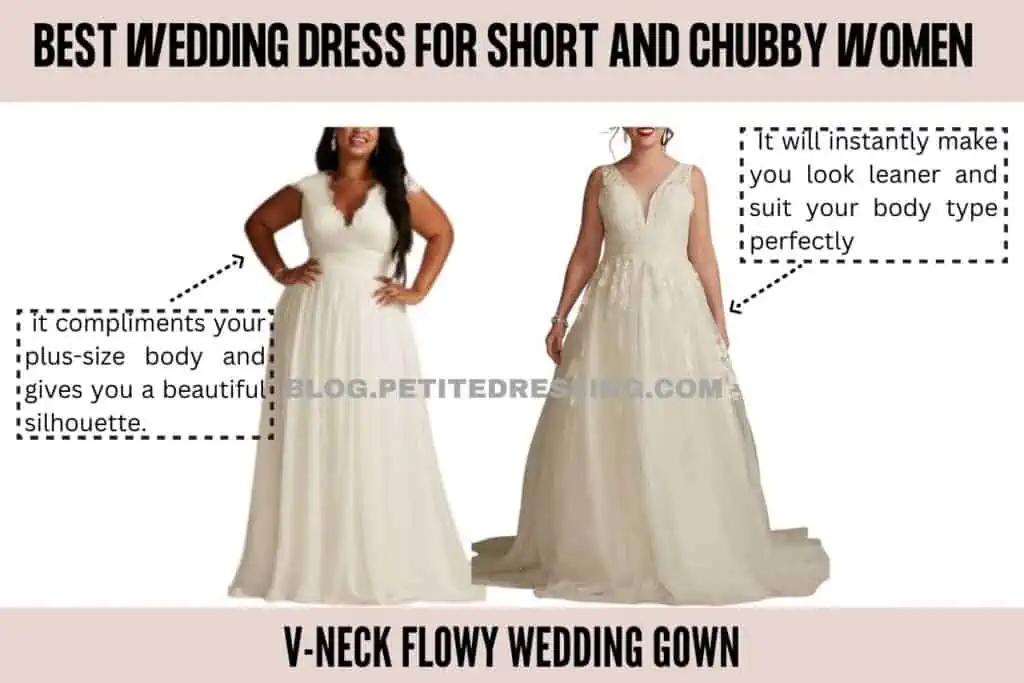 V-neckline is suitable for chubby women as it makes your upper body have all the attention. It will instantly make you look leaner and suit your body type perfectly. The V-neckline is a unique style that suits chubby and petite women a lot. So, you must give such a wedding gown a try!
Choose a wedding gown with a flowy bottom and tight waist. So it compliments your plus-size body and gives you a beautiful silhouette. 
The sleeve length and style matter here as well. You can either go for a sleeveless dress with wide straps or go for full tight sleeves. Both of them will look good on your body type.
High-Waisted Belt Wedding Dress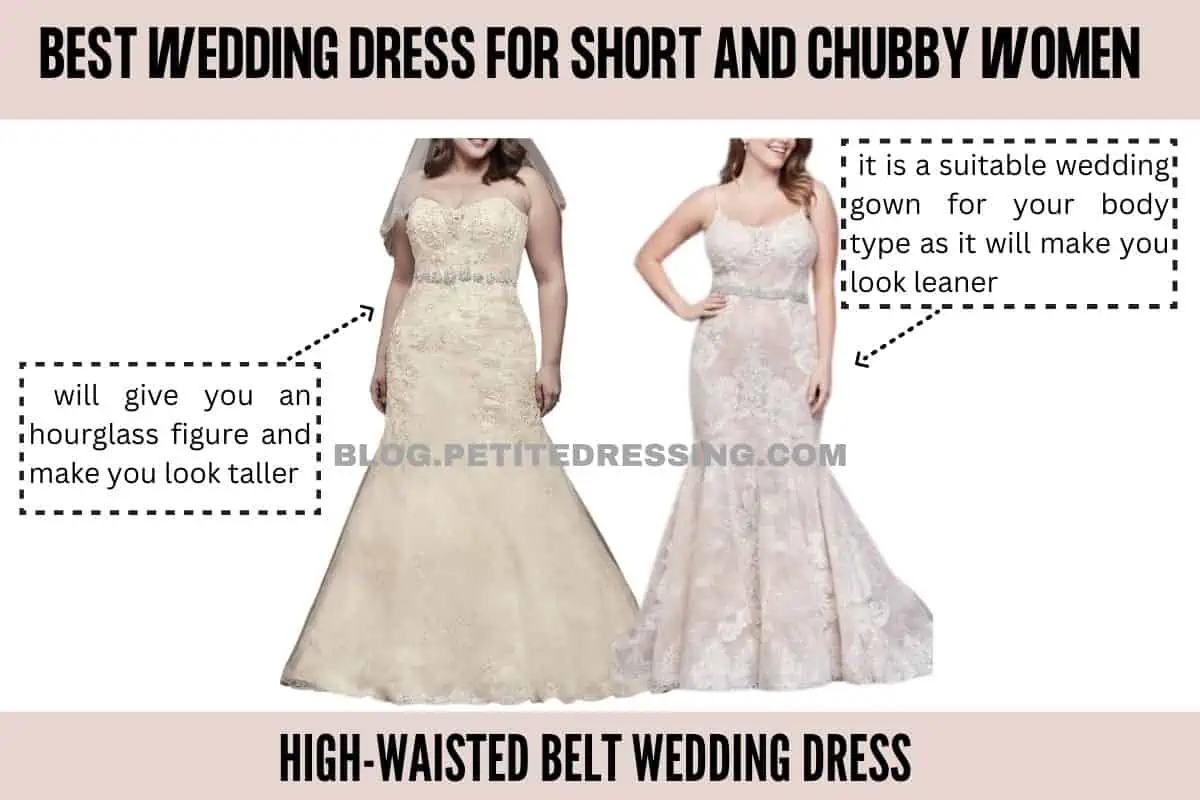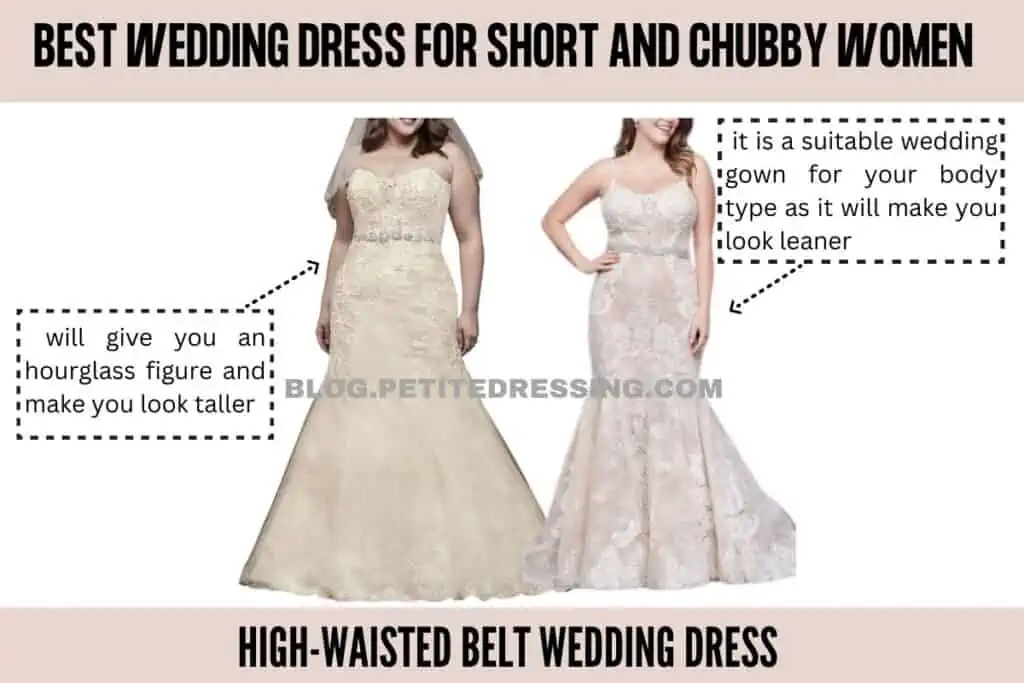 High-waisted belt wedding dress with is a gorgeous design for your big day.
The high-waisted belt will give you an hourglass figure and make you look taller. High-waisted dresses are perfect for petite women because of how leaner they make you look. So, it is a suitable wedding gown for your body type.
Go with a lower neckline such as a scallop V-neck, a perfect choice if you want a traditional and mesmerizing look.
Full-length tight sleeves will look good with this design as it looks alluring with a scallop V-neck.
Off-Shoulder Midi Wedding Gown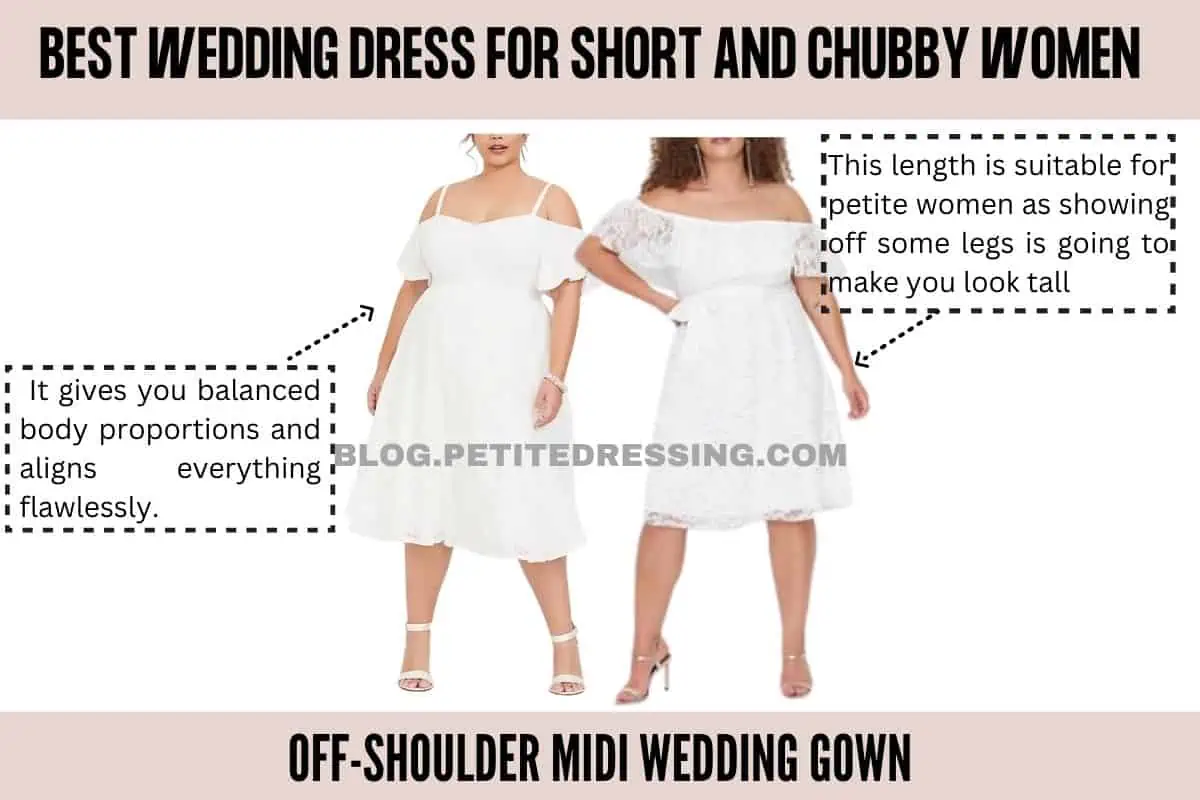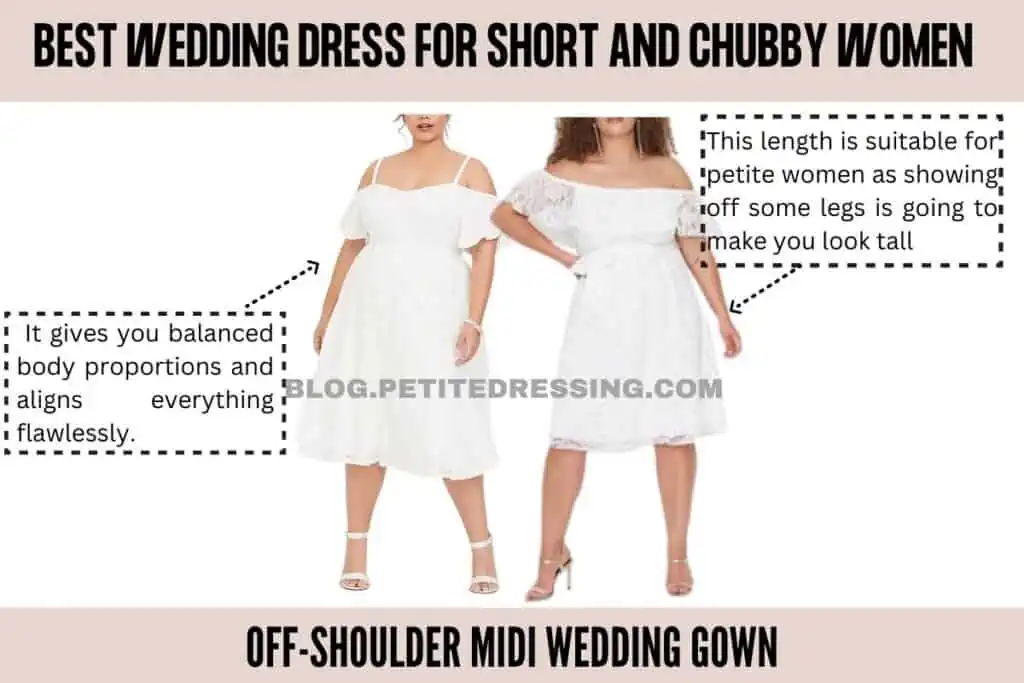 The midi-length might not be so common but you have to stand out on your wedding day. That's why it is a great choice for you. This length is suitable for petite women as showing off some legs is going to make you look tall. This way, you will feel confident on the most important day of your life.
Off-shoulder design is suitable for chubby women because it brings attention to the upper body. But remember that it can make your shoulders look broad. So, if your shoulder area is already broad, you might not like it. This style is good for women that have a larger lower body as compared to their upper body. It gives you balanced body proportions and aligns everything flawlessly. 
Front Slit Wedding Gown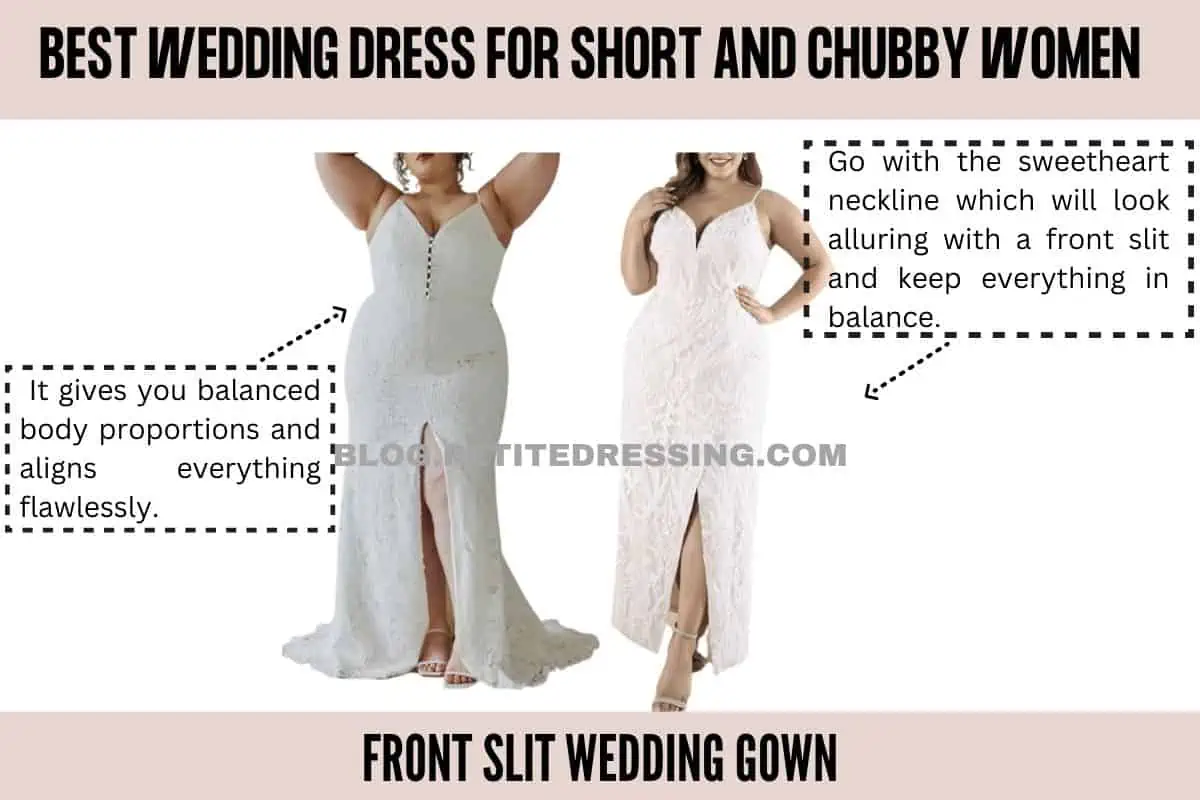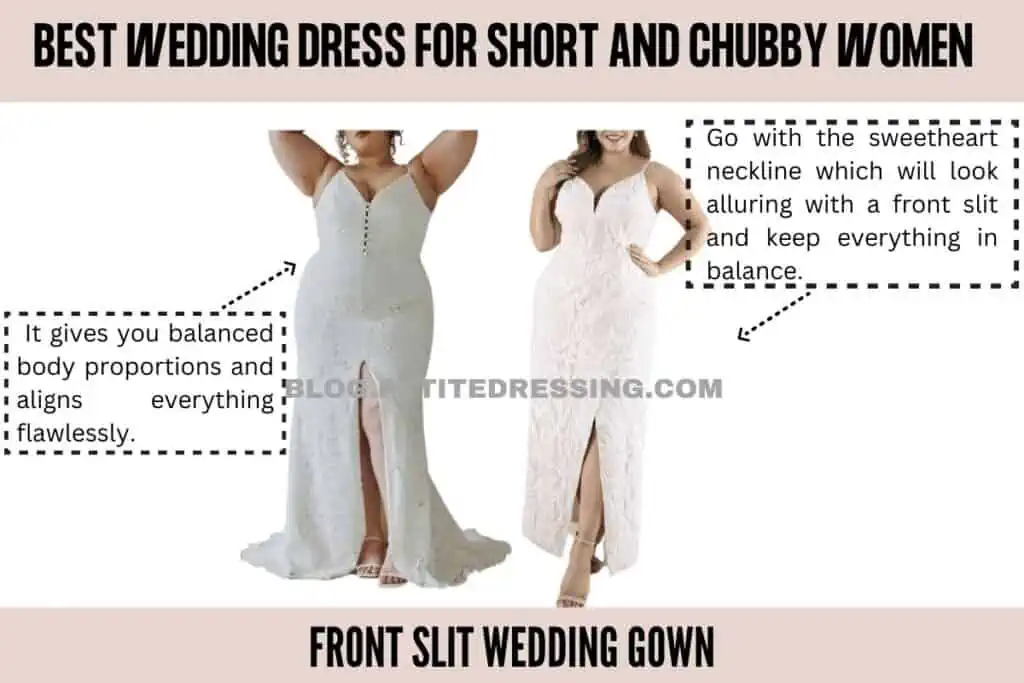 Front slits are one of my favorite wedding gown styles because of how gorgeous they look. The good news is that they look amazing on chubby and petite women. So, if you have such a body type, you must give it a try.
Go with the sweetheart neckline which will look alluring with a front slit and keep everything in balance.
The front slit can bring too much attention to your lower body but the sweetheart neckline will balance it out. That's why this combination is such a success.
If you like simplicity, a flowy front slit gown is your best choice. There will be a uniqueness to your outfit while still keeping everything subtle.
Asymmetric V-Neck Wedding Dress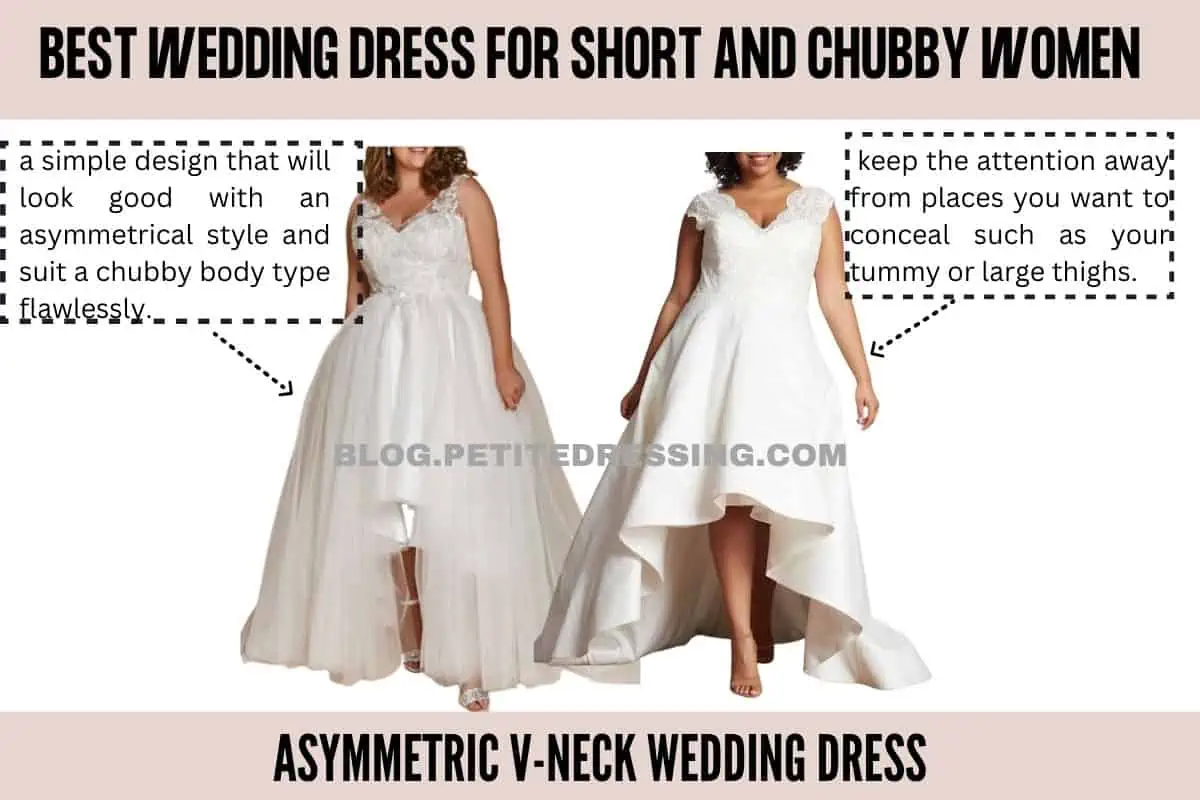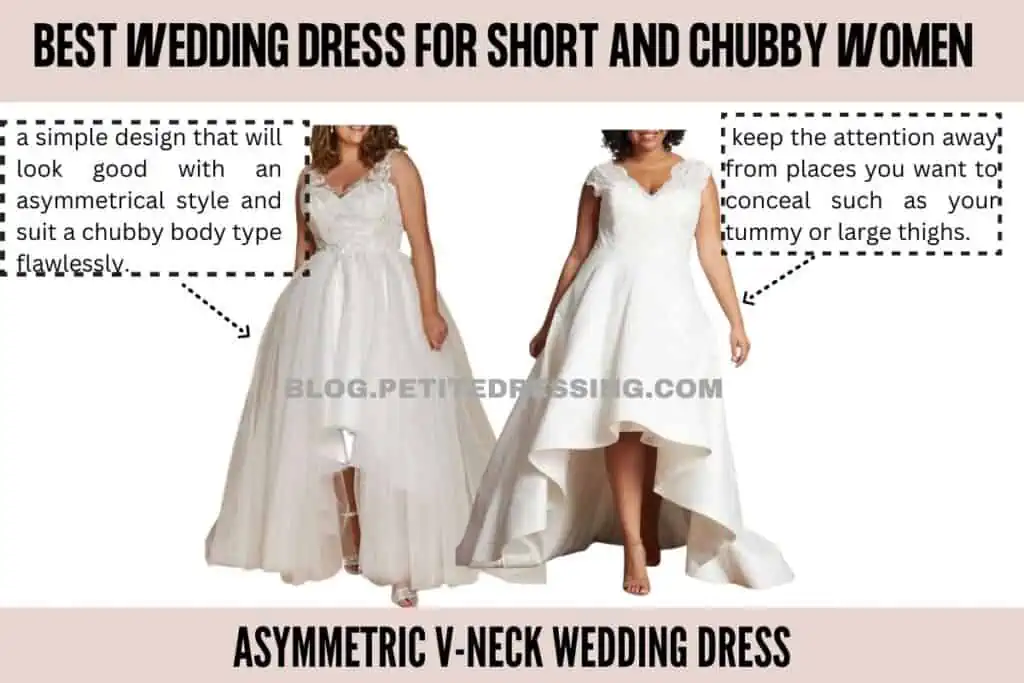 Asymmetrical dresses that are shorter on the front and longer at the back are trendy nowadays, especially for petite women. They are also great for chubby body types as they keep the attention away from places you want to conceal such as your tummy or large thighs.
The V-neck is a simple design that will look good with an asymmetrical style and suit a chubby body type flawlessly.
One-Shoulder Wedding Gown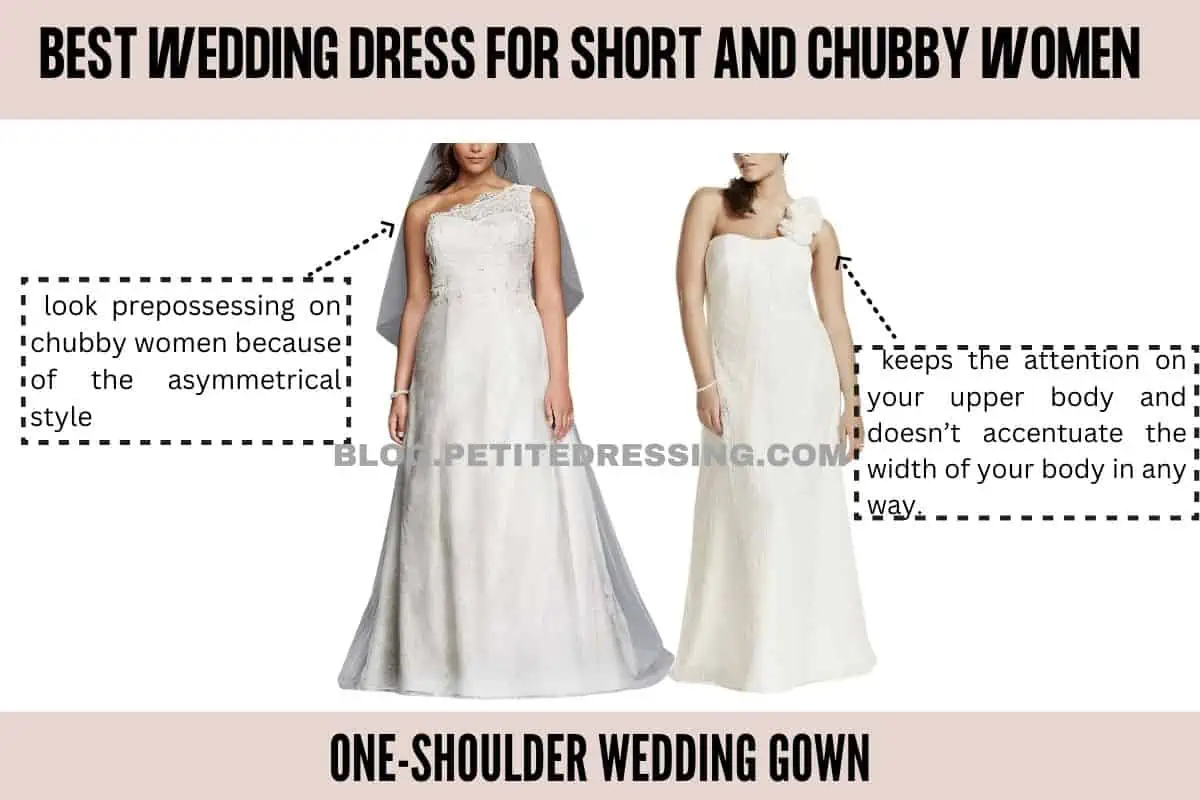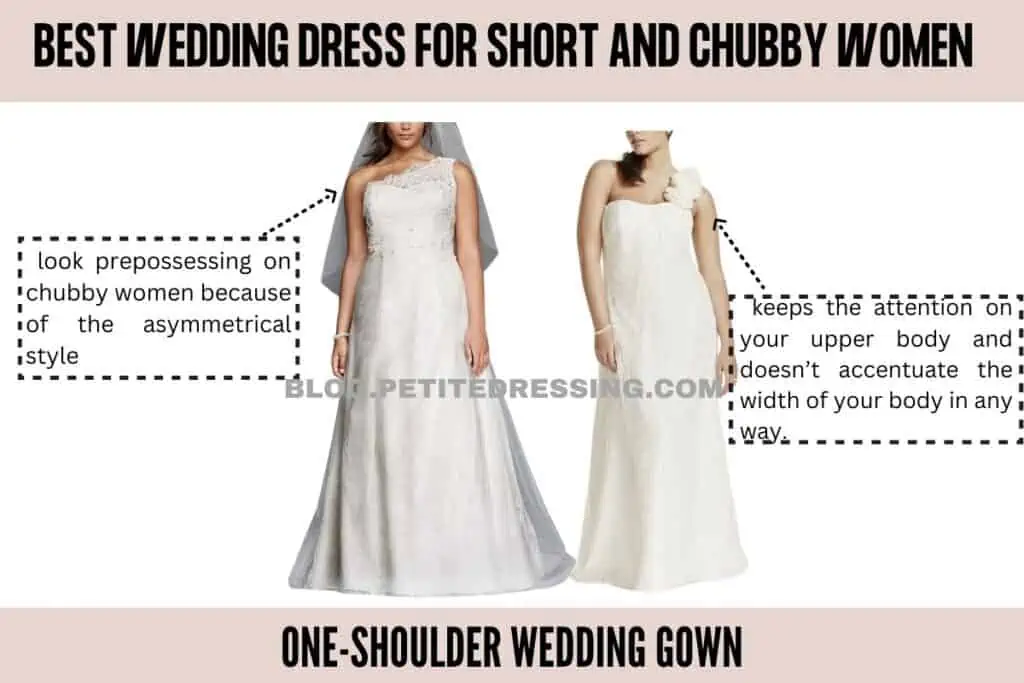 One-shoulder gowns look prepossessing on chubby women because of the asymmetrical style. The unique design of such wedding gowns keeps the attention on your upper body and doesn't accentuate the width of your body in any way.
Choosing a high-waisted style is suitable as it will make your waist look smaller. Anything tight on your waist is going to look amazing if you are a short and chubby woman. Therefore, it is a must-try for your body type.
Wrap Wedding Gown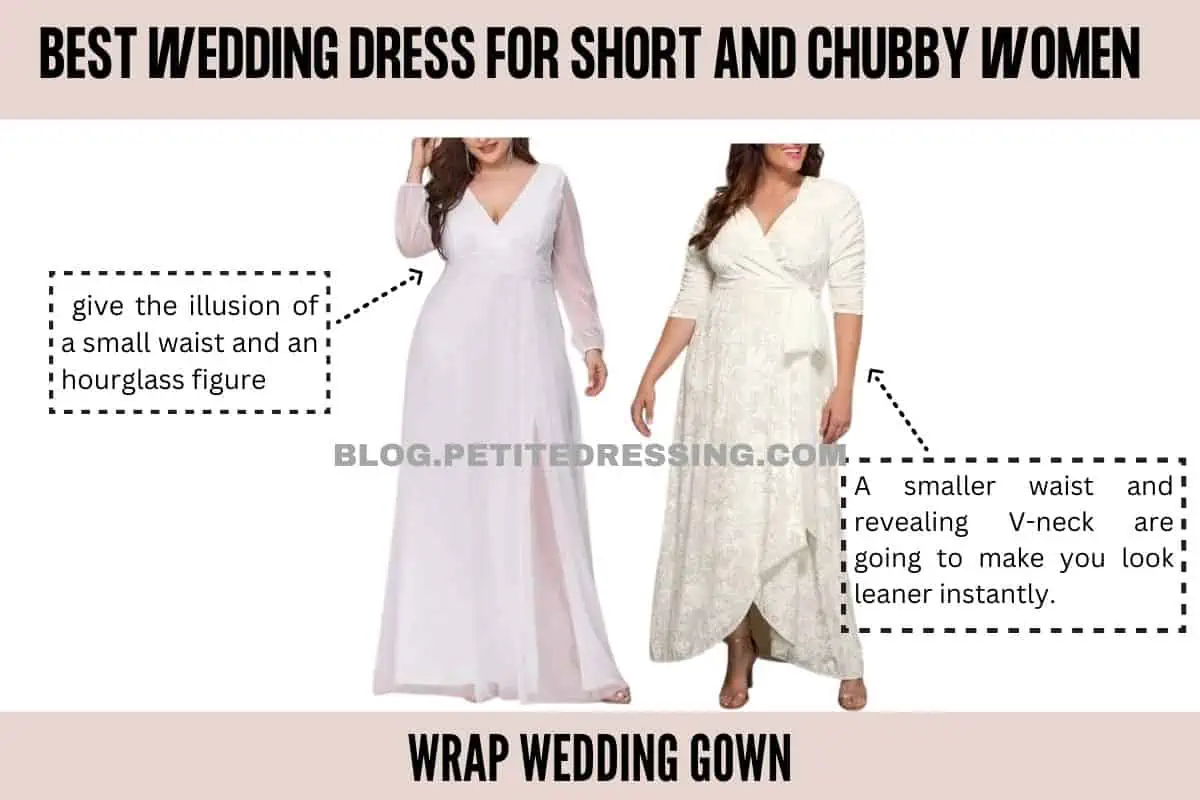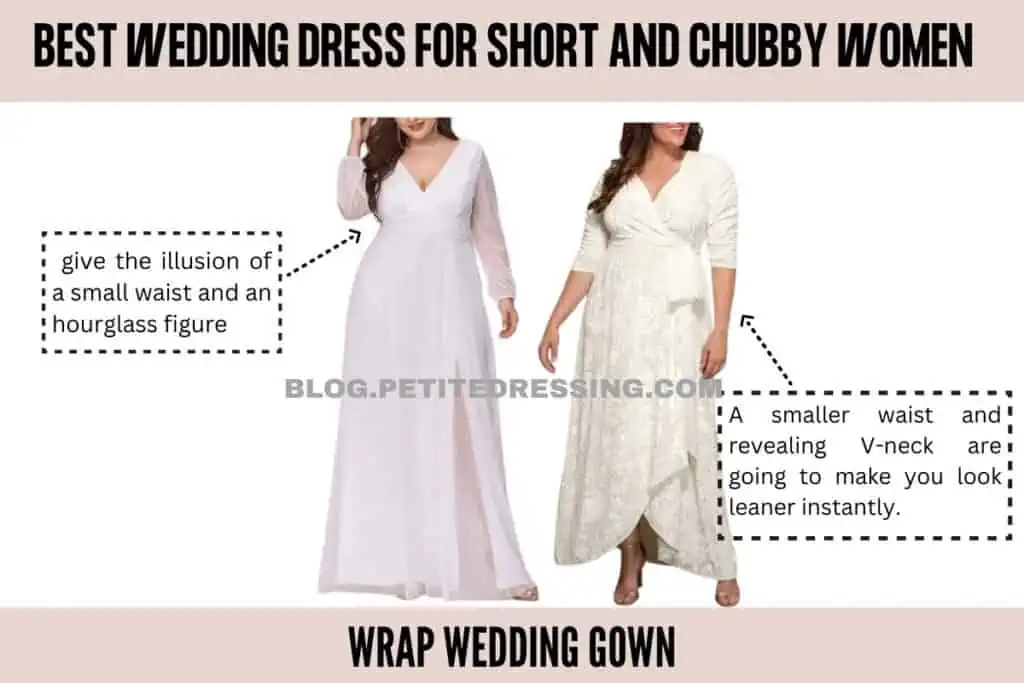 Wrap wedding gowns give the illusion of a small waist and an hourglass figure. It is a perfect choice for your big day as it will make you look confident and beautiful. You will feel much more comfortable in this style.
Wrap wedding gowns usually come in a V-neck style which is perfect for short and chubby women. A smaller waist and revealing V-neck are going to make you look leaner instantly.
Mermaid Wedding Gown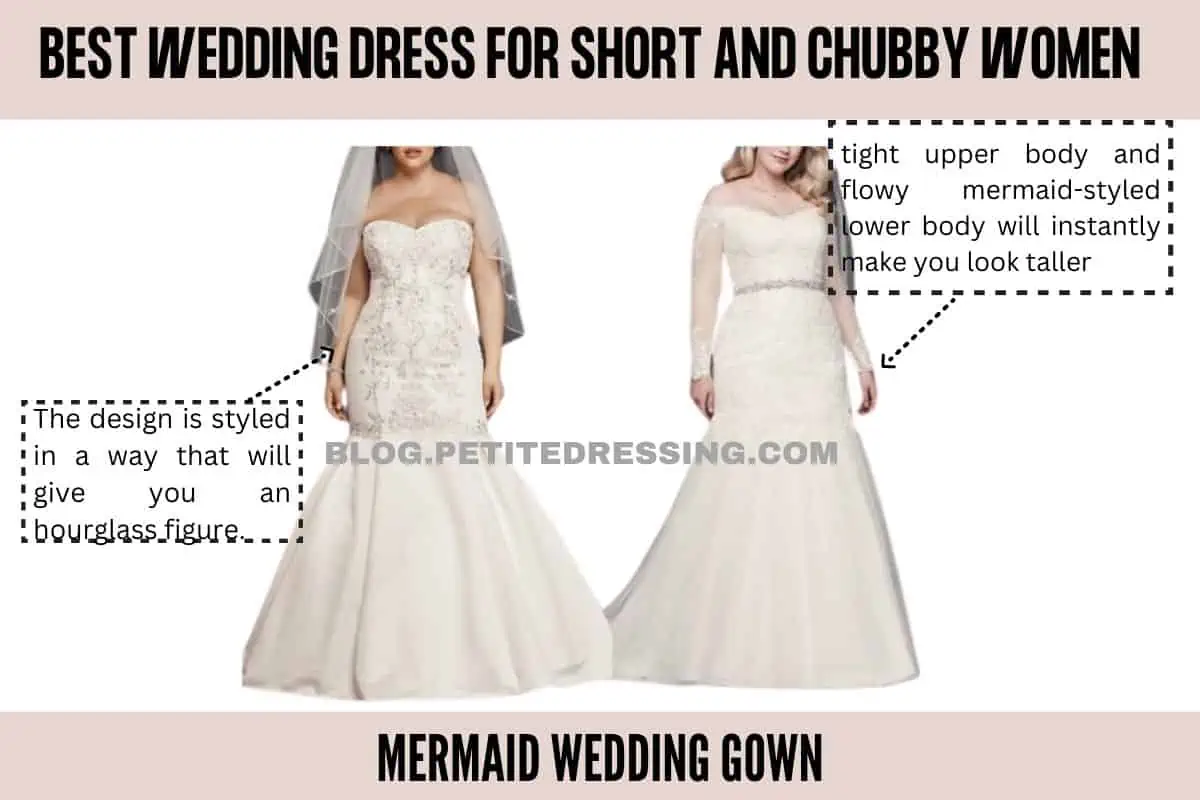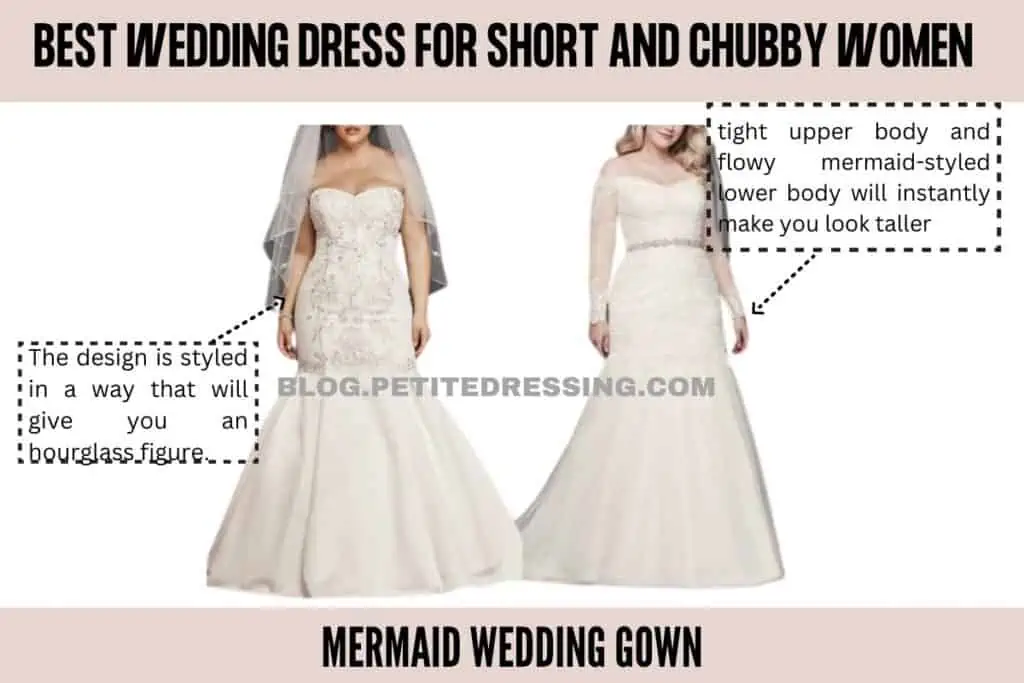 Mermaid wedding gowns sit on your curves perfectly.
The design is styled in a way that will give you an hourglass figure. The tight upper body and flowy mermaid-styled lower body will instantly make you look taller.
Go for either long sleeves or sleeveless as it is a great style for chubby and petite women.
Avoid Half-Sleeved Wedding Gowns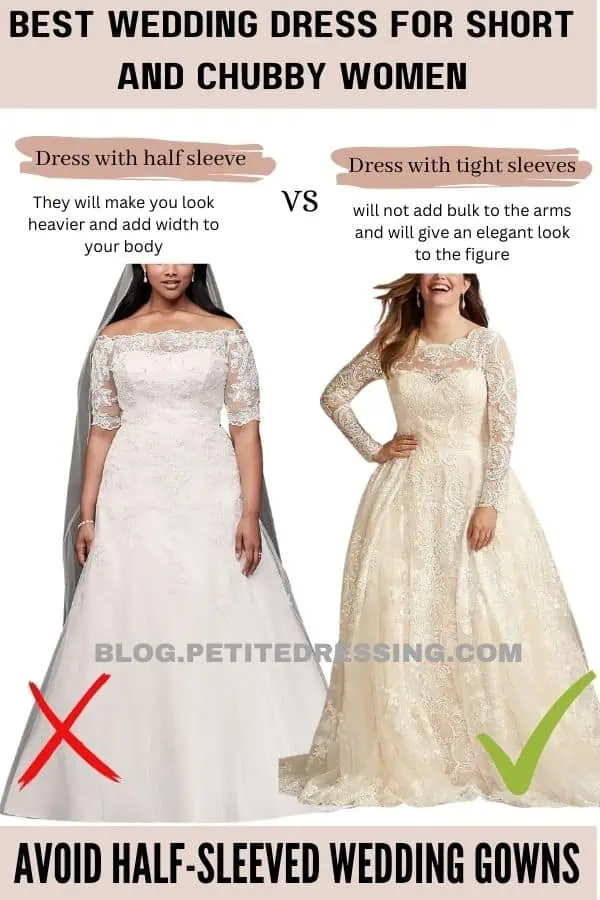 Half sleeves that end on the largest area of your arms aren't going to look flattering.
They will make you look heavier and add width to your body. It is better to go for sleeveless or full-sleeved wedding gowns in place of half-sleeves. Go for tight sleeves instead of loose ones for an elegant look.
Avoid Ball Gowns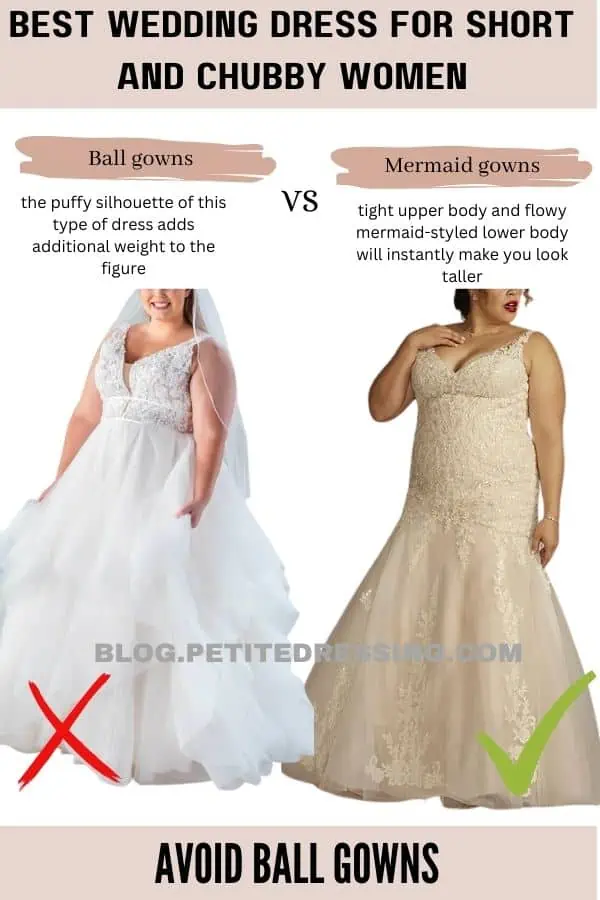 Ball gowns are generally challenging for any short woman, and they can especially be hard to pull off if you are short and chubby.
The reason is that the puffy silhouette of this type of dress adds additional weight to your figure, and they can also make you look drowning in the extra fabrics.
Avoid Halter Necklines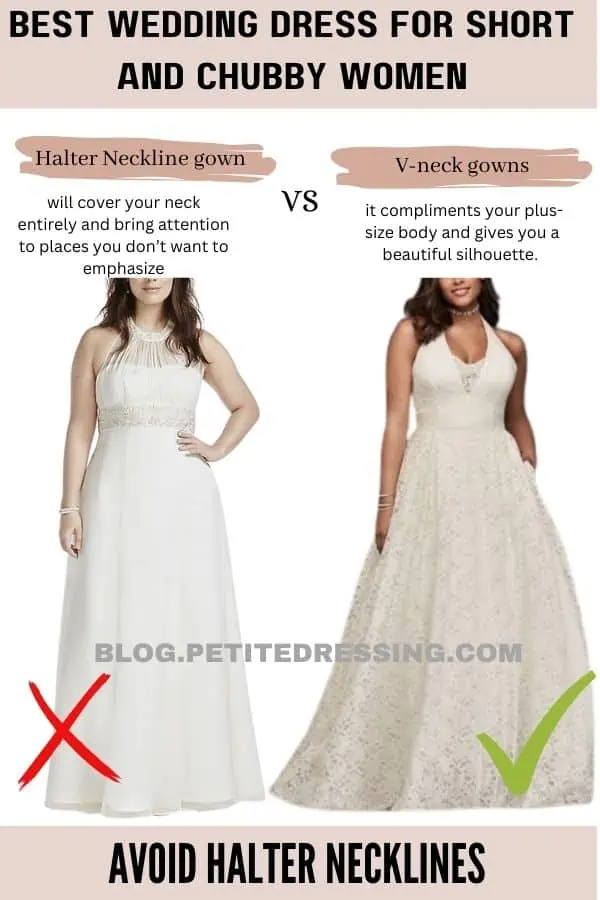 Halter necklines will cover your neck entirely and bring attention to places you don't want to emphasize. Therefore, you should avoid such a neck style.
The halter neck isn't suitable for a wedding gown for petite and chubby women because it disrupts the body proportions of such a body type. Instead, go for necklines that reveal your chest area to keep the attention on your upper body.
Final Thoughts
Our detailed guide will teach you which wedding gown styles are suitable for short and chubby women. Choosing the right wedding gown is as important as choosing the right groom. Otherwise, your wedding day will go in vain and you won't remember it as a good day. Therefore, you must try out a lot of different styles that suit your body type before making a final decision.