Corduroy skirts are one of the best classy closet staples with an vintage feel. Corduroy is a great material to try out during the fall and winter months, as they are very warm and stylish.
If you are looking for inspirations, here is some of the best corduroy skirt outfits.
With a pullover
One of the items you can pair with your pullover is a corduroy skirt.
Long gone are the days when pullovers were just meant for school-going kids and teachers. They are more than just prepp,y as pullovers can be even more stylish, when worn with the right pieces.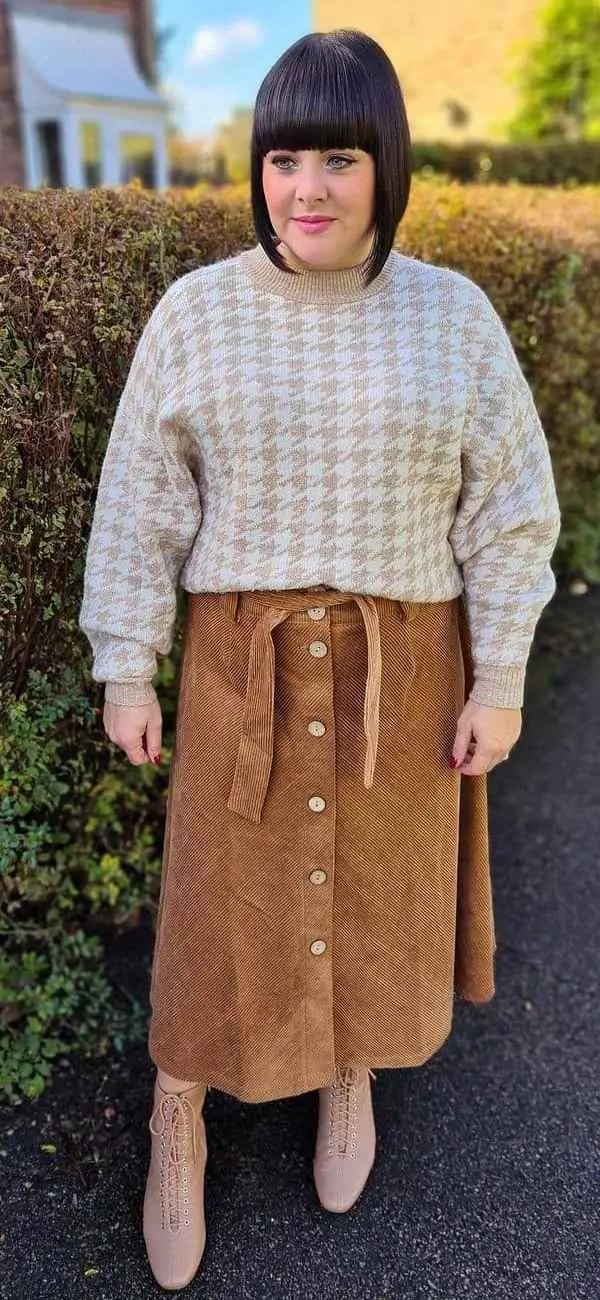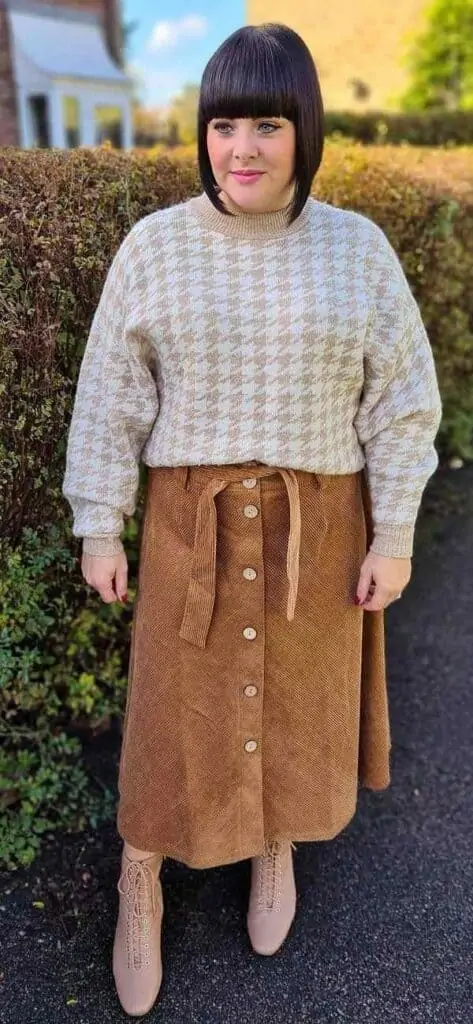 Claire (above) styled a houndstooth pullover with a brown corduroy skirt and a pair of brown ankle boots. A great tip to follow would be to ensure the color of your skirt is also on your pullover's print. Of course, you can still pick a plain pullover instead.
With a plain white t-shirt
A plain white t-shirt is a must-have, considering it goes with everything you have in your closet. This is an ageless wardrobe staple anyone should stock up at least a couple in their closet, whether you are in your 20s or over 50.
You can always count on one, if you want a simple casual look. Of course you can dress it up, considering it's plain. A great example of an item you can wear with your white t-shirt is a corduroy skirt.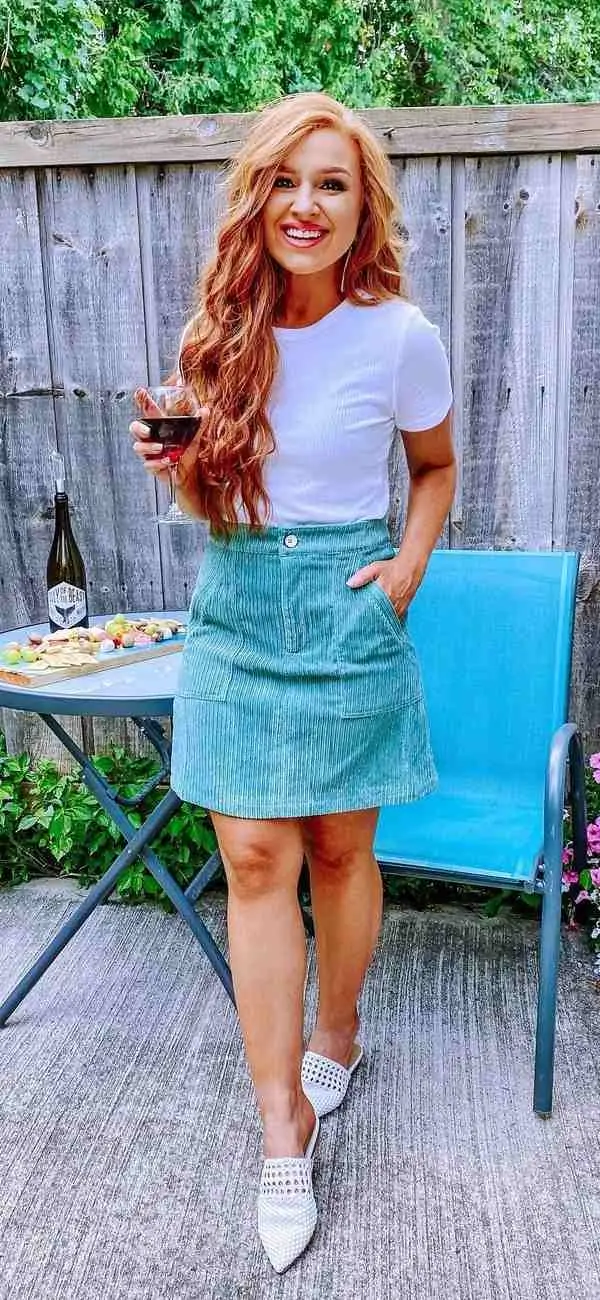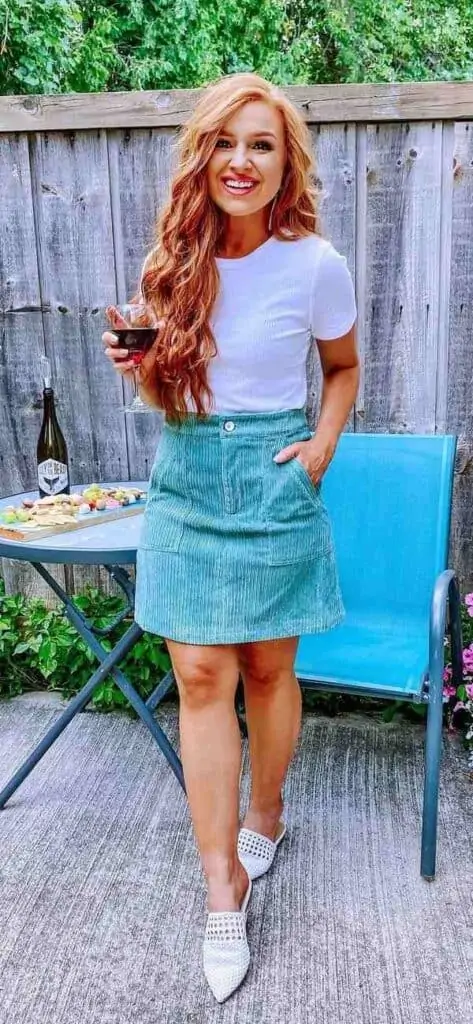 Jami (above) styled her plain white t-shirt with a corduroy skirt and a pair of mules. This pairing is easily casual, if you go for a shorter corduroy skirt. It can be dressy, if you pick a longer corduroy skirt and heels or stilettos and a few accessories.
With a cardigan
A cardigan, just like a pullover, is so cozy, and will make you feel like snuggling when it's cold outside. Aside from being so functional, they can be very stylish. Cardigans look great when worn with a corduroy skirt if you want that cute look for the day.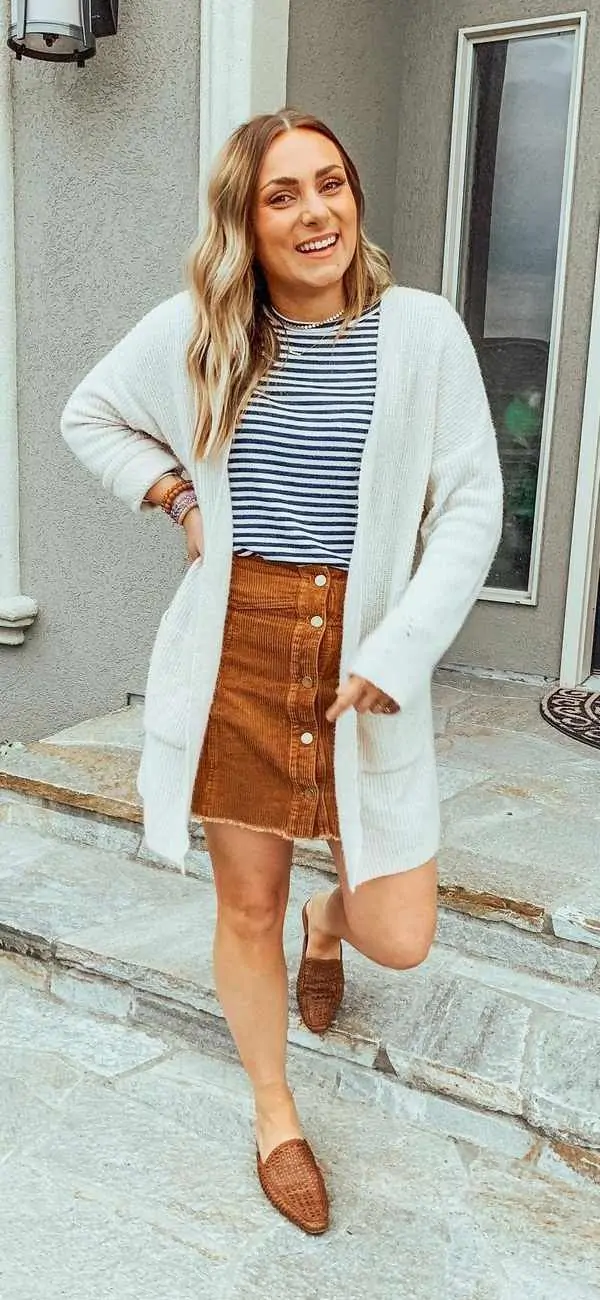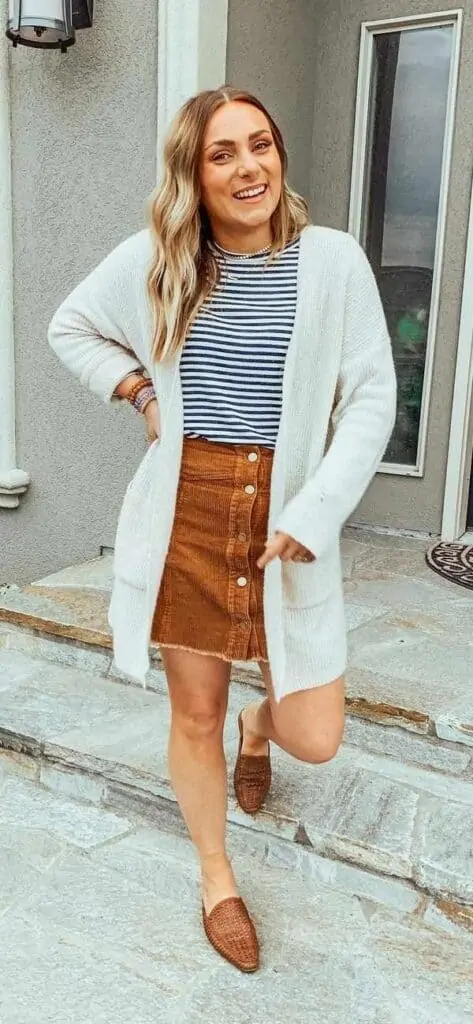 Bailey (above) styled a striped t-shirt with a brown corduroy skirt, and a white cardigan, and then finished her look off with a pair of brown mules. You can wear a similarly long cardigan or go for a shorter one instead.
With a jumper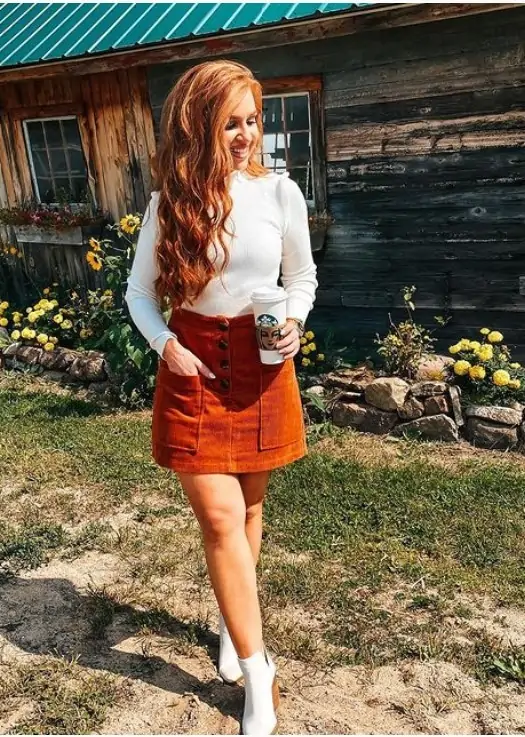 Wearing a jumper with your corduroy skirt balances out the casual and the feminine vibe of the outfit, especially if your skirt is on the shorter side.
Jumpers are great casual pieces best for wearing in cooler weather, since they are fun yet warm. It's quite common to see people wearing them with jeans, leggings, joggers and sweatpants. You will look more ladylike by pairing it with a skirt in a material like corduroy. Besides, this outfit also give you that extra warmth from the thick fabrics.
Jami (above) wore a button-down corduroy skirt and some boots. This is more of an edgy look. Alternatively, you can pick a plain jumper and some simple sneakers, if you just love a simple casual outfit.
With a tank top
Pairing a tank top with a corduroy skirt will give you a relaxed casual outfit.
If you are looking for a simple yet interesting neckline, then why not try a U neck tank top. You can choose any color you prefer, as long as it looks coordinated with the color of your skirt. Because tank top is so simple, you can be sure that it will look flattering with different pants and skirts.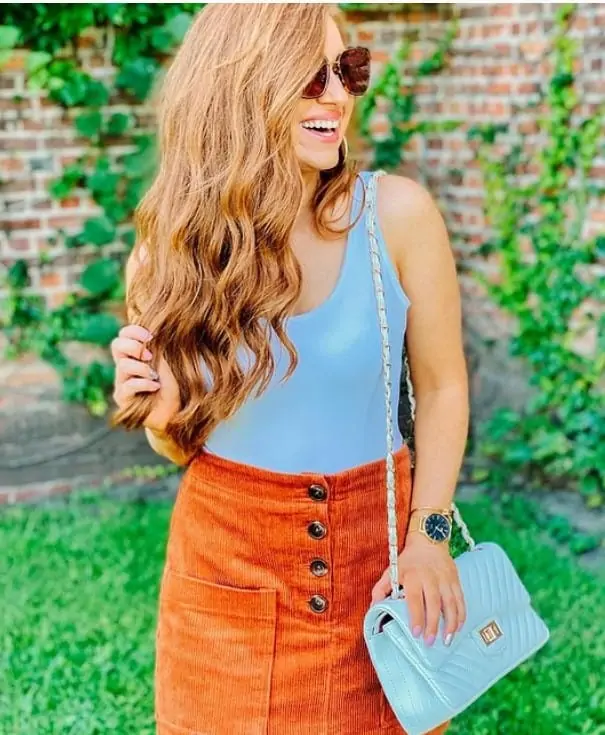 Jami (above) styled a blue tank top with her corduroy skirt, and carried a purse of similar color as the tank top.
This is a great way to go for a casual chic outfit and you can go for corduroy skirts in different fun and trendy designs.
With a plain top
A plain top comes in handy, when you just want a simple yet effortless look, or if you would like to wear some statement bottoms. They could be either short or long sleeved. These look great when paired with corduroy skirts, as they allow your skirt to stand out.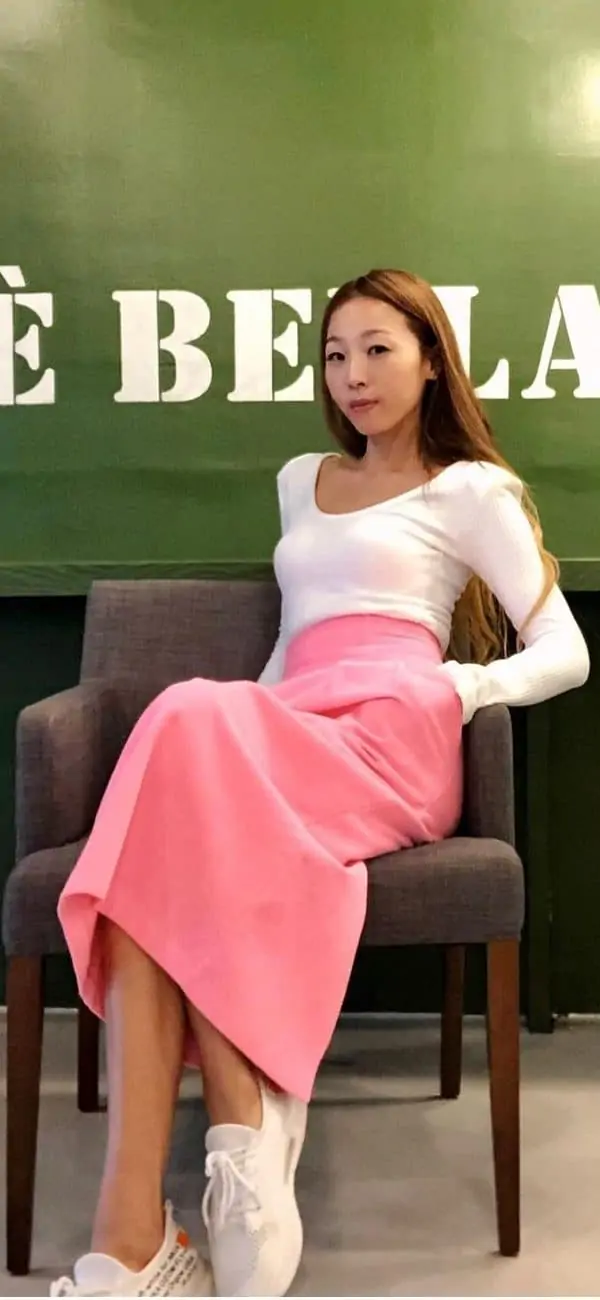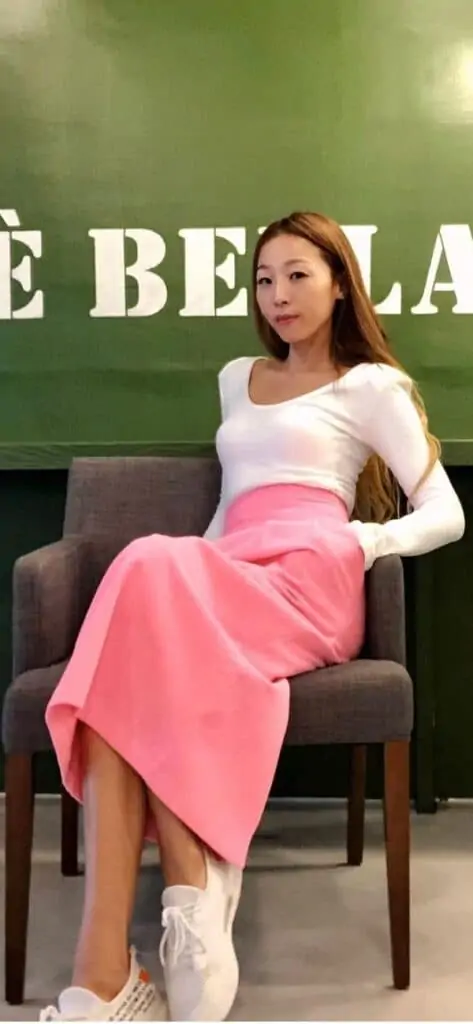 Cindy (above) wore a plain white top with a pink corduroy skirt and a pair of white sneakers. It's a simple combination that's suitable for anyone. Things get easier when you match your top and shoes on days when you can't figure out what to wear.
With a button-down
Button-downs, whether plain or slightly printed, are great for a smart or preppy look. They are easy to style, as you can just tuck them in or wear them out hanging. They go with different bottom styles, and a corduroy skirt is definitely worth trying with one.
If you prefer a more casual look with your corduroy skirt, you could simply knot the front and pick a pair of sneakers for the look instead.
With a graphic t-shirt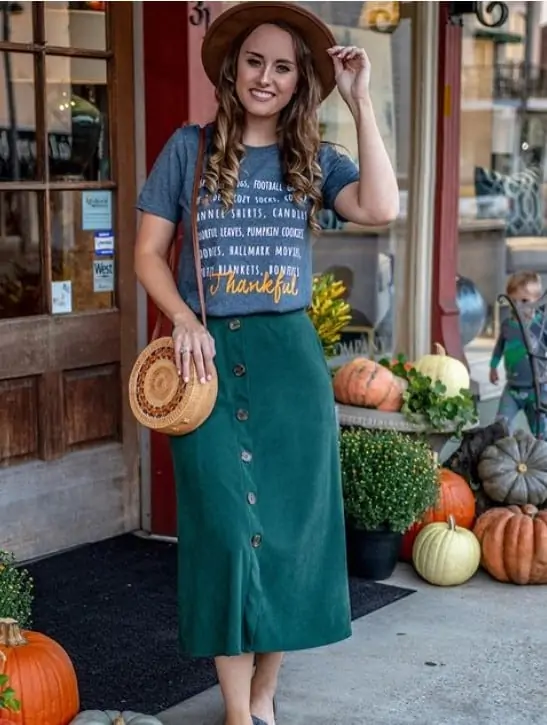 Graphic t-shirts can be paired with corduroy skirts to give you a nice casual look.
Graphic t-shirts are great, if you like an outfit that allows you to artistically express yourself. They come in different colors and are so cool. They offer you the comfort of a normal t-shirt.
Katie (above) wore a graphic T shirt with the cord skirt for a relaxed but chic look. If it's a bit colder outdoors, you could layer something warm and long sleeved over the tee, and leave it unzipped or unbuttoned for the graphics to be seen.
With a blouse
Blouses are feminine and ever so stylish. They are a great alternative to shirts, especially if you're looking for the perfect office look. They can be styled with different pants, shorts and skirts for example corduroy skirts.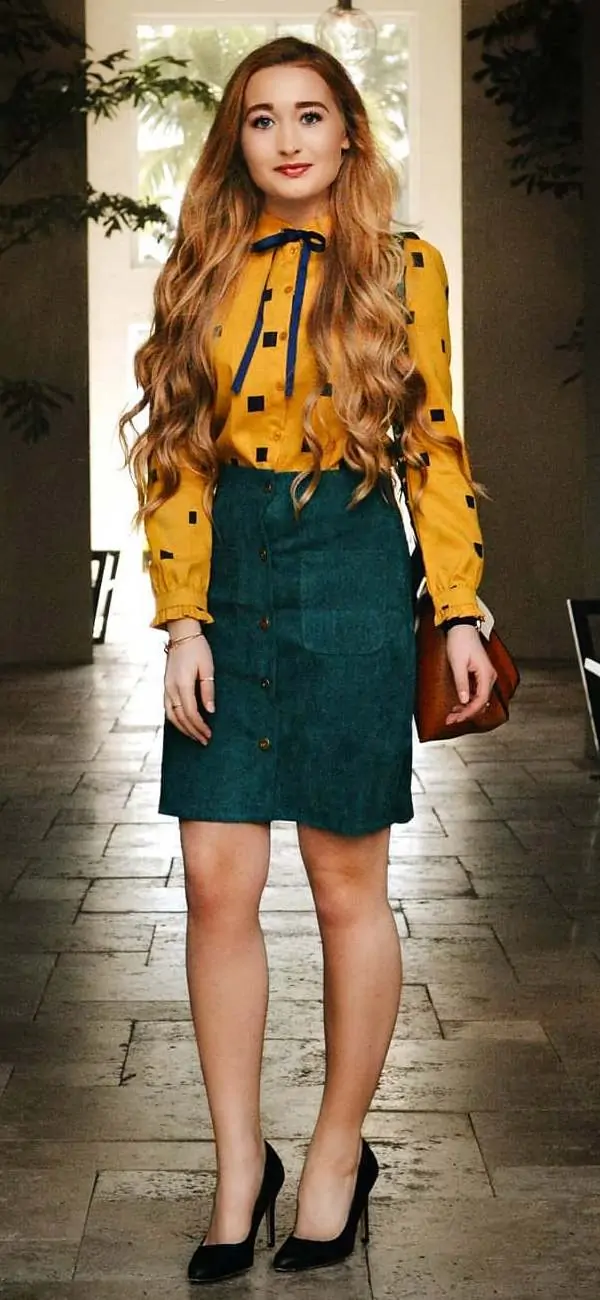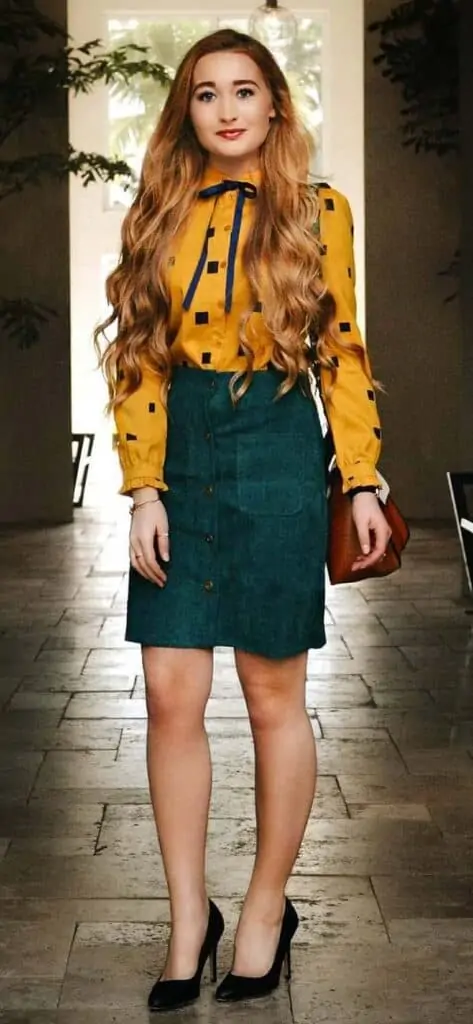 Katy (above) styled a mustard blouse with a green corduroy skirt and a pair of closed toe pumps. Her combination is great for the office ,and is unexpected, considering the texture of the skirt. You can also switch up the closed heels with some strappy heels for a first date outfit or if you're headed out to an event.
With a leather jacket
If you're looking for a classic and timeless piece then you need a leather jacket. These add some extra edge to any outfit, and you can style your leather jacket with a casual look or a dressed up one. Styling one with a corduroy skirt gives you a more elevated look.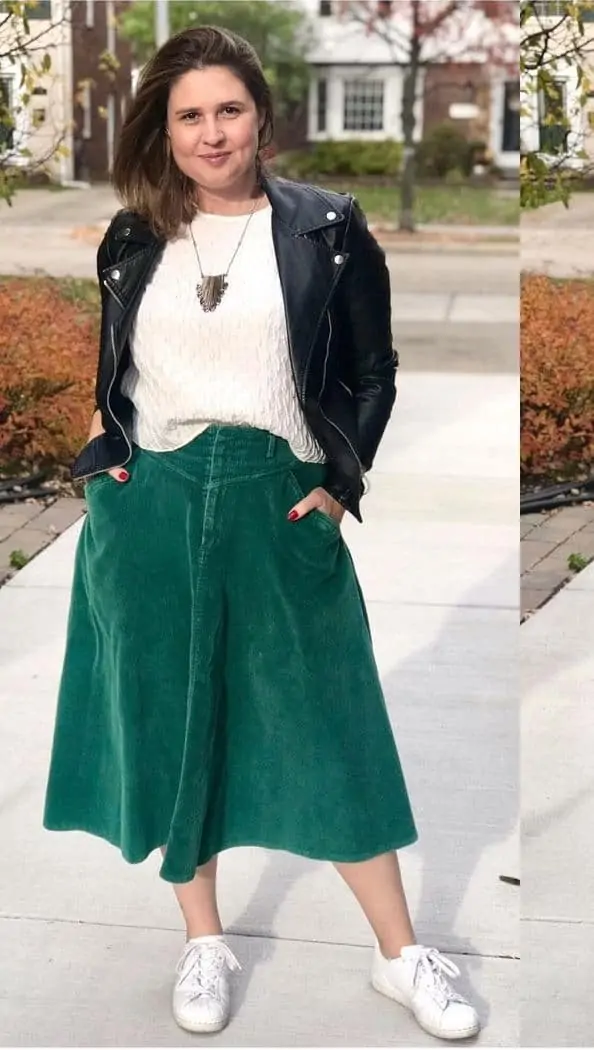 Marina (above) styled her green corduroy skirt with a white top and a black leather jacket. She finished the look off with some white sneakers. You can play around with different skirt lengths for this outfit.
With a striped t-shirt
Plain t-shirts and graphic ones may be great to wear with corduroy skirts, but there are others you could add to your closet such as striped ones to make your look more fun.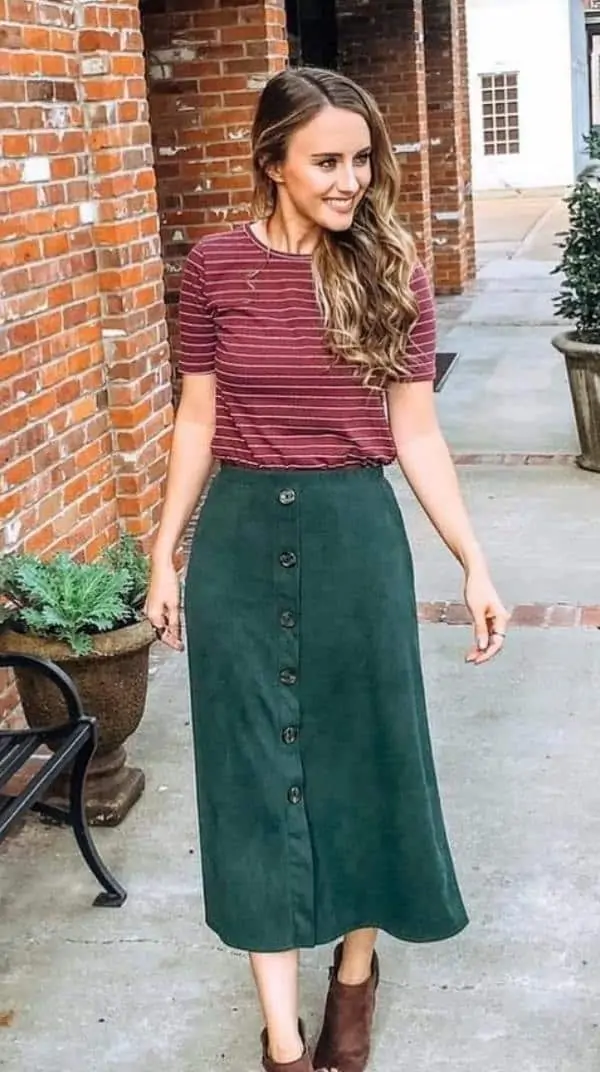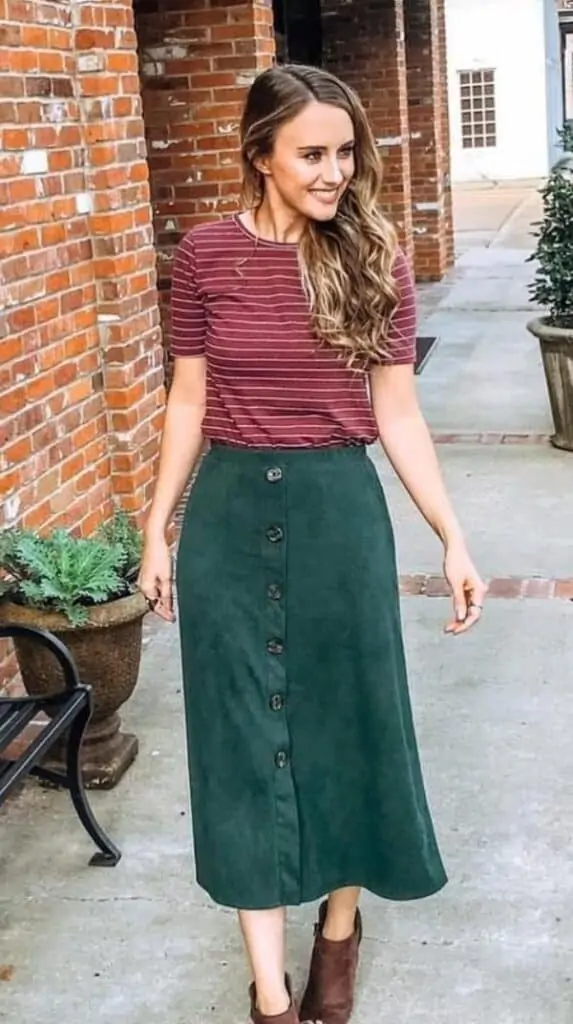 Katie (above) wore a corduroy skirt with a striped t-shirt and some simple shoes. It's a great look especially for when fall starts before it gets too cold outside.
With a peacoat
Peacoats can be paired with your corduroy skirt to make you look chic in fall or winter months.
A peacoat is ever so stylish and always looks amazing on any look, whether you want to go casual or you want something that's more dressed up. Peacoats come either long or short, so it's a matter of preference.
You can wear this look with boots, sneakers or heels and stilettos.
With a turtleneck
You can tuck the turtleneck top into your corduroy skirt.
A turtleneck top is a great one to wear when it's cold outside, as it fully covers you at the top. Since it follows the shape of your body, it highlights your curves too. These tops come in different colors, and are easy to tuck into your bottoms.
With this outfit, you can pair with thigh high boots for a great casual look in colder weather.
Turtlenecks are also available in knits that may be too thick to fully tuck into your corduroy skirt. In such a case, you could just tuck the front part and leave the back hanging.
With a denim jacket
Denim jacket with corduroy skirt is a comfortable and chic outfit anyone would love.
Denim jackets are nice and fun, so easy to wear regardless of your age and body size. They are versatile and can be worn with just about anything throughout the year. You can style them with different skirts in different materials like corduroy. The denim contrasts so well with this too.
You can finished look off with leopard print ankle boots and a matching brown bag. If you pick a plain and simple denim jacket in blue, you can literally wear it with almost any color of corduroy skirt.
With a suede jacket
Wearing a suede jacket with a corduroy skirt gives you a more unexpected look in the fall and winter.
There are different jackets you can pick when it's cold, and a suede jacket is a timeless staple. These are not only warm, but suede jackets also have an interesting look that makes an outfit even more fun. It's a material that gives great contrast to others .
You an wear a corduroy skirt with a printed top and a suede jacket, and then finished off the look with a pair of knee-high boots.  This outfit is easy to pull off but if you feel a bit intimidated by it, you can go for more neutral colors for the pairing, colors such as blacks, whites and nudes.
With a blazer
If you're looking to add a touch of class and sophistication to your outfit ,then the best way to go about it is by adding a blazer. Blazers are suitable for all women, regardless of their body size and figure. They can be worn with different bottoms including a corduroy skirt.
You can wear the corduroy skirt with a turtleneck and a pair of ballet flats. She finished the look off with a plaid blazer. You can wear printed blazers for this combination with a corduroy skirt.
With tall brown boots
Brown boots and corduroy are both staples for the fall. Wearing your corduroy skirt with brown boots will make that perfect stylish outfit for the fall.
With this outfit, feel free to add a pair of tights for that extra warmth. Women have been wearing tights for years, since they not only keep your legs warmer but also can make you look leaner. They can be worn to different settings under dresses or skirts, just as long as you style them right.
You can style the corduroy skirt with a long-sleeved blouse and then went for some tights and boots. It's definitely a fashion forward look for cold weather.
With a matching blazer
Wearing your corduroy skirt with a matching corduroy blazer gives you a great suit that's definitely unique. It's an easy look to put together, considering both pieces come together. With this combination, no need to worry about what goes with the blazer or skirt.
You can dress up this corduroy suit with some heels, or dress it down with some sneakers. Boots would give you an edgy look.
With a plaid shirt
You can wear a corduroy skirt with a plaid shirt for a youthful and preppy look.
Plaid shirts are great casual pieces loved by a lot of women, regardless of the age group. They are really easy to style throughout the year.
It's an easy combination because the colors in the outfit are matching.
With a faux fur coat
If it's too cold outside, then you can definitely count on a faux fur coat to keep you warm. Aside from that, faux fur coats are really stylish and are worth adding to your closet. For more warmth, you can style one with a corduroy skirt and then wear some boots.
You can pair faux fur coat with a top and corduroy skirt, then go for a pair of white boots. If it isn't too cold, some heels will do for the footwear.
These 20 looks with a corduroy skirt are definitely worth a try if you would like to get more wear out of the corduroy skirts that you have. If you don't have any, you might want to go out and buy one or a few corduroy skirts.