Leopard prints are a huge trend currently. If you want to have some fun with your pants, choosing an animal print will satisfy your adventurous side. Leopard pants in particular is great, as the leopard print never goes out of style. Leopard print pants can be styled in different ways, whether you want an all dressed up look or you prefer a laid back outfit.
Here are some of the best ideas on what to wear with leopard pants:
With a turtleneck
A neutral color turtleneck goes well with any leopard print pants.
When it starts to get colder outside, one of the best and most flattering things to wear is a turtleneck. They cover you up well to keep you warm, of course they bring out your figure too. You can wear them with different types of leopard pants.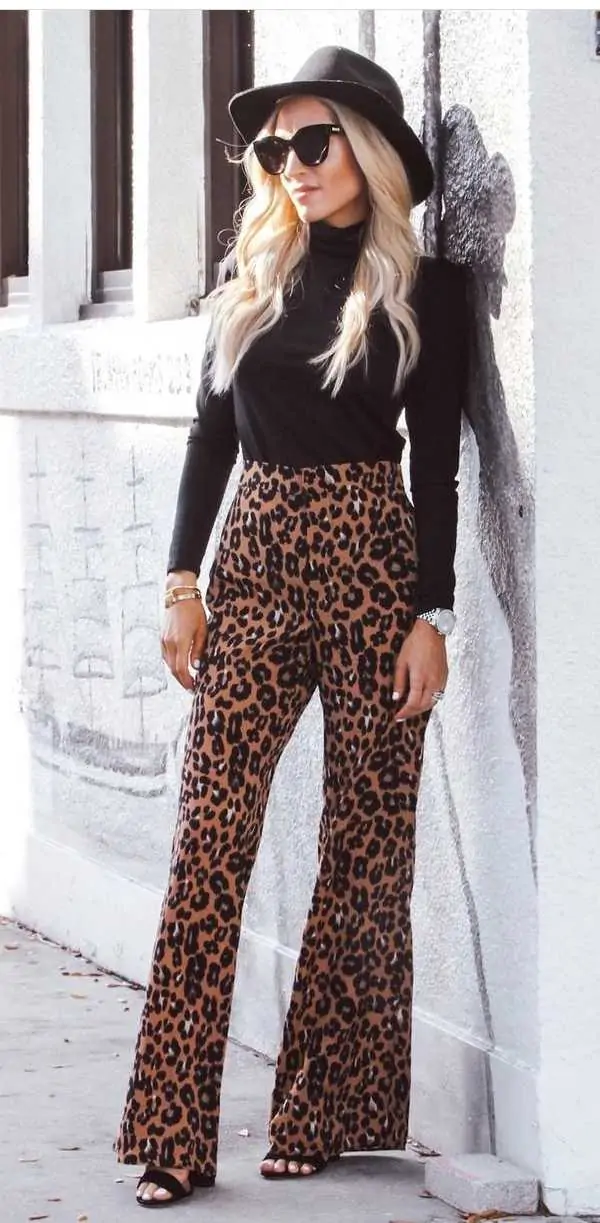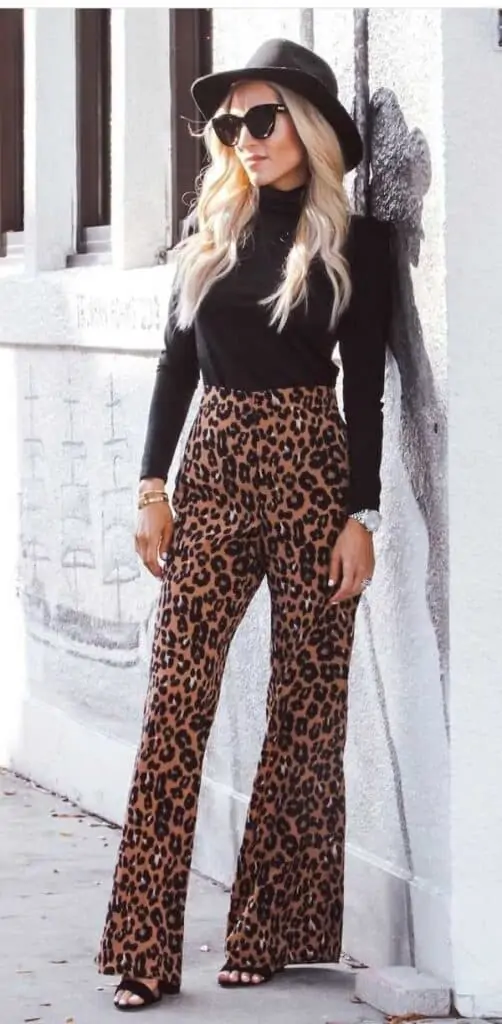 Shelley (above) styled a black turtleneck with a pair of flared pants, some open shoes and accessorized with a fun hat and sandals.
A well fitted top always looks great with a pair of flared pants. Make sure you tuck in right, which will balance out the volume from the flare legs. If you want your legs to look longer, this is the best outfits to elongate your legs and make you appear taller.
If it's hot, you can pick turtlenecks that are short sleeved, sleeveless or those with cut-outs that have been made with lighter material and then wear them with your leopard print pants.
With a leather jacket
A plain leather jacket will usually look great with a leopard pant outfit.
Leather jackets are one of the timeless wardrobe staples that will never run out of style. They are great for making any outfit look more elevated and add an edge to your look.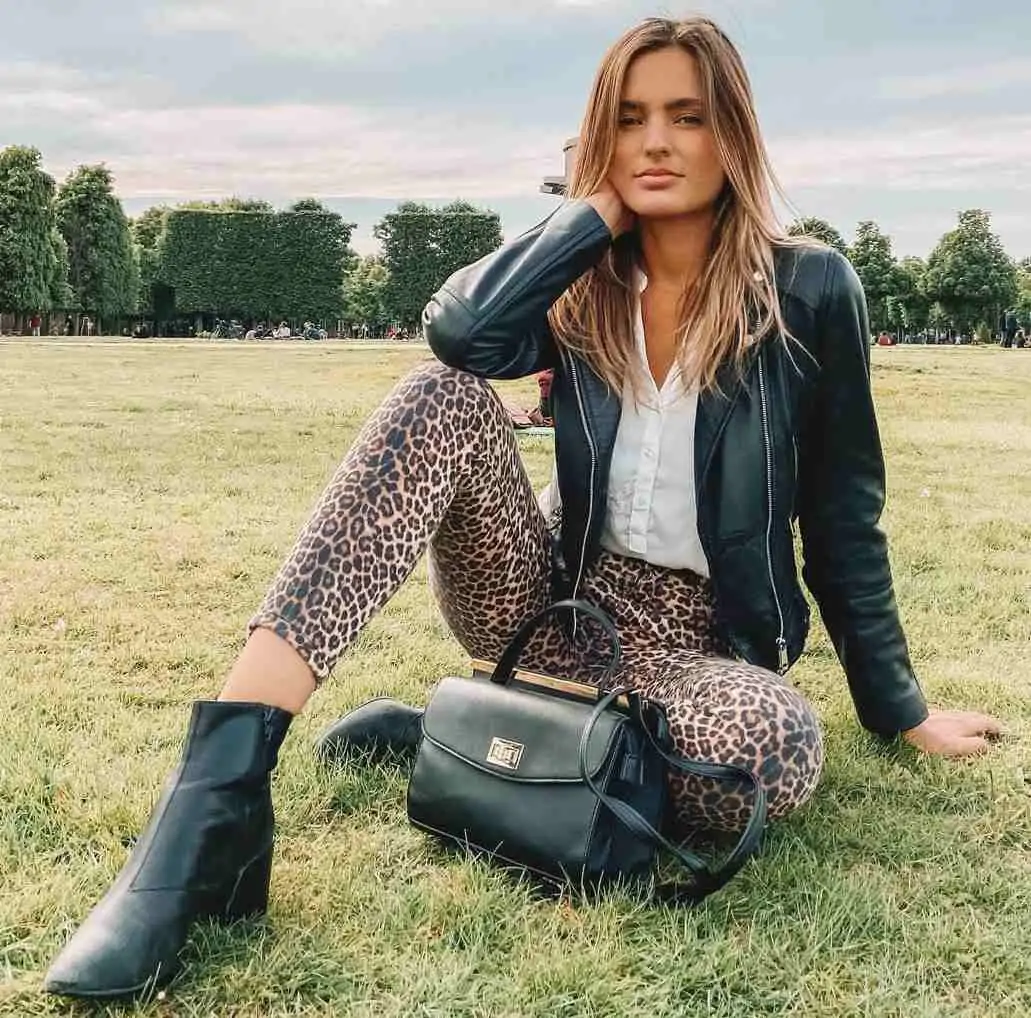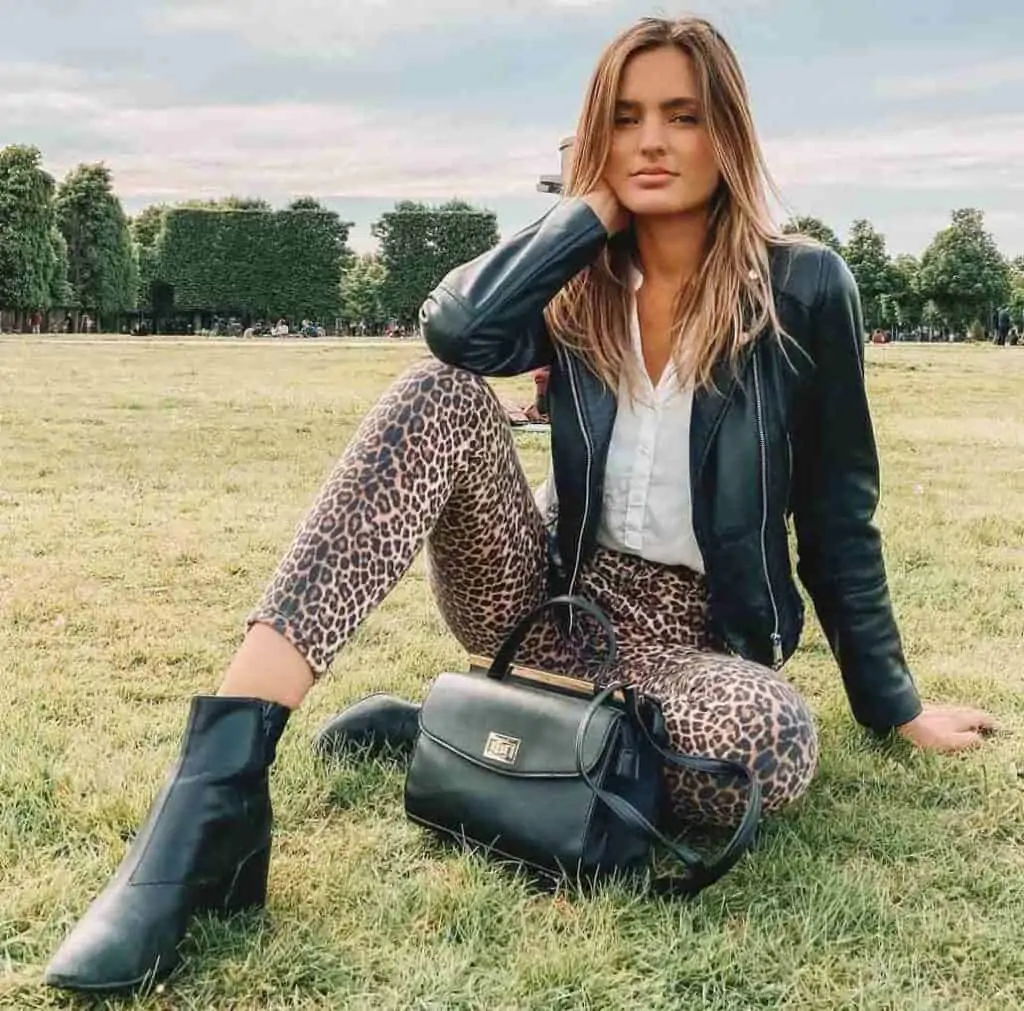 Vada (above) wore her leopard pants with a shirt and a leather jacket then finished the look of with a black leather jacket, some leather boots and bag.
This outfit combination is edgy and so casual chic. You can also pick a simple top instead of a button-down for your look. The best thing about this look is that it works for different ages and is very comfortable especially during the fall months.
With a denim jacket
Wearing denim jacket with some leopard print pants gives you the ultimate casual look.
A denim jacket is literally a must-have if you're into comfort. They are suitable for women of different ages and sizes, and go with a lot of things you already own.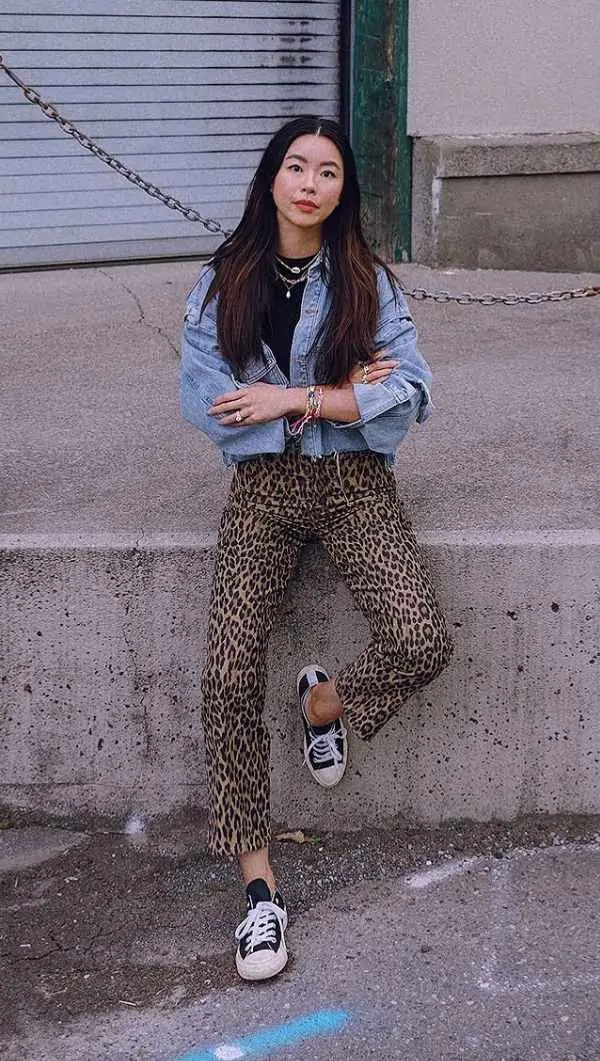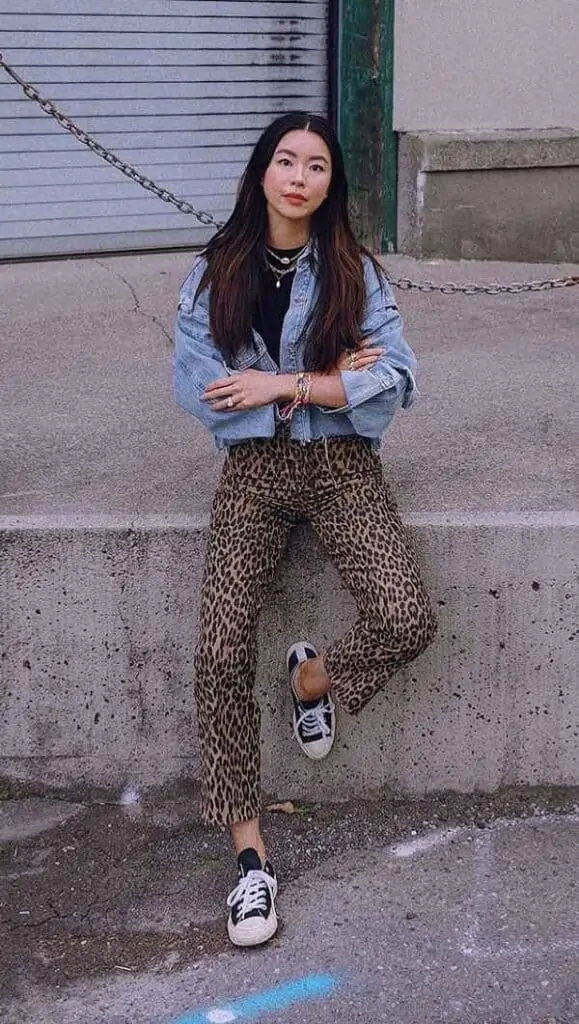 Carolyn (above) styled her blue denim jacket with a black top and a pair of leopard print pants. She finished the look off with some casual shoes, sneakers that is, and some accessories.
You can switch the sneakers for boots as well for another great casual look. To dress the outfit up, some heels would do.
With a blazer
If you like your outfit to have a touch of sophistication, then it's definitely worth adding a blazer to your look. Regardless of your age and size, there is a blazer out there for you and they come in different designs too. You can always wear one with a fun print pair of pants such as leopard pants.
this can be a chic outfit featuring some leopard pants, a top and a pair of ankle booties. She finished the outfit off with a nice plain and long blazer and wore a scarf.
As long as your blazer coordinates with the color of your leopard pants, you really can't go wrong with this combination. With this look, the best thing is that you can make the outfit either casual or dressy just by playing around with different types of shoes.
With a denim shirt
One way of getting that casual chic look with a denim shirt is by wearing it with a pair of leopard pants.
A denim shirt, just like a denim jacket gives your outfit a nice laid back feel but can also have you looking casual chic. Denim shirts are also so flattering on different body shapes. Regardless of your age, you can definitely look great in one.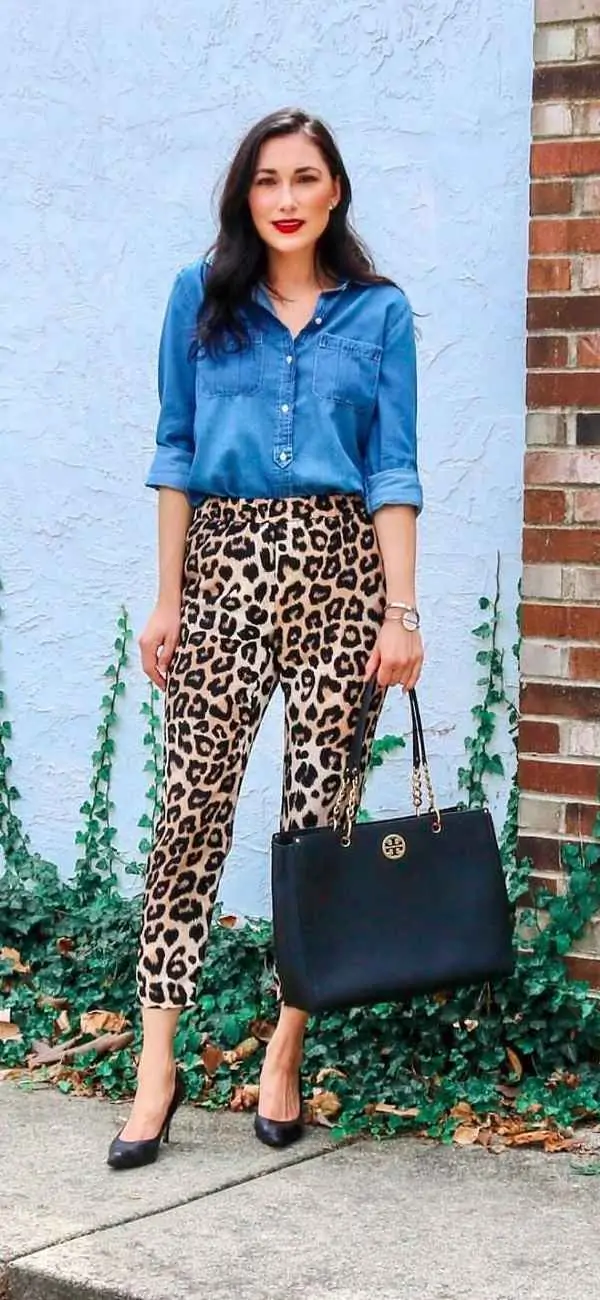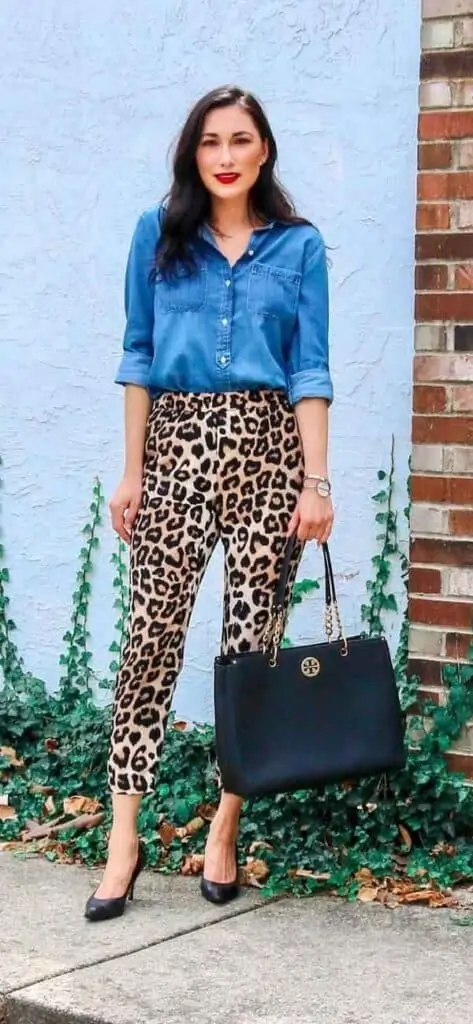 Taryn (above) wore her denim shirt with a pair of leopard print pants and then went for a nice bag and closed heels. The blue color on the denim contrasts so well with the animal print.
With this combination, you can also pick some strappy heels instead or go for a pair of stilettos, if you are going for an all feminine look. With a denim shirt, you could make your outfit even more casual by leaving it untucked or by simply going for a pair of sneakers to finish off your look instead of heels.
A plain top
Sometimes, a t-shirt just won't do when you want to feel and look all dressed up. It's on these days that you should go for a plain top in whichever design you wish for, if you will be wearing a pair of leopard pants. A plain one is always a great option, considering the pants are already printed. It simply gives a good balance to your outfit. ..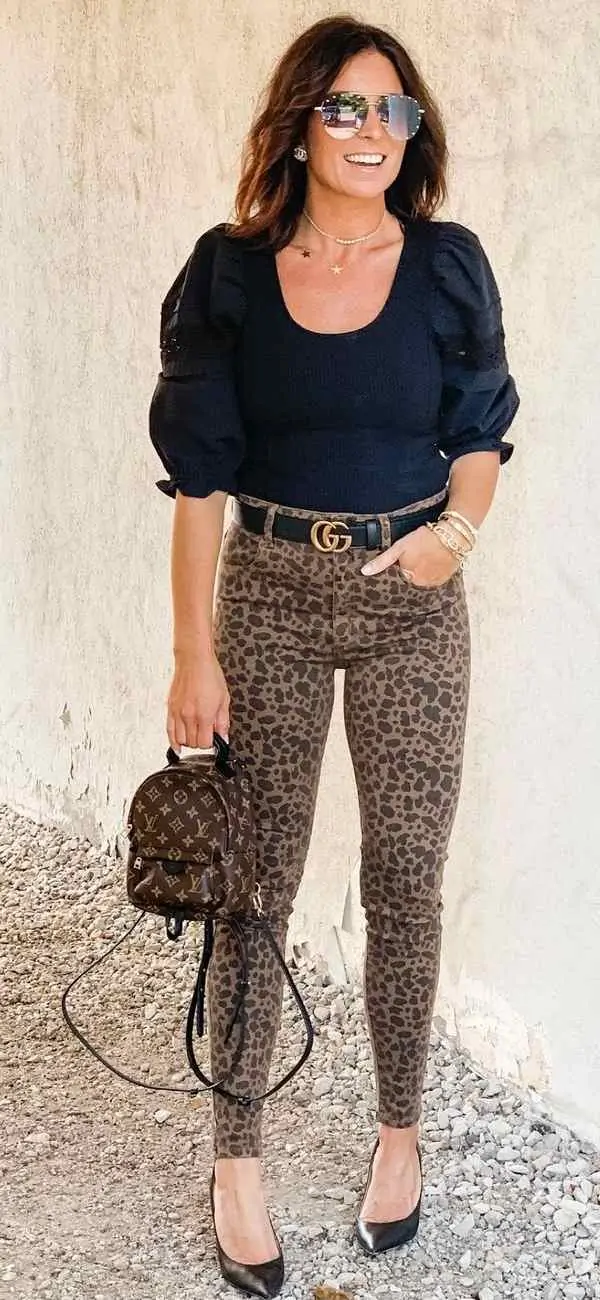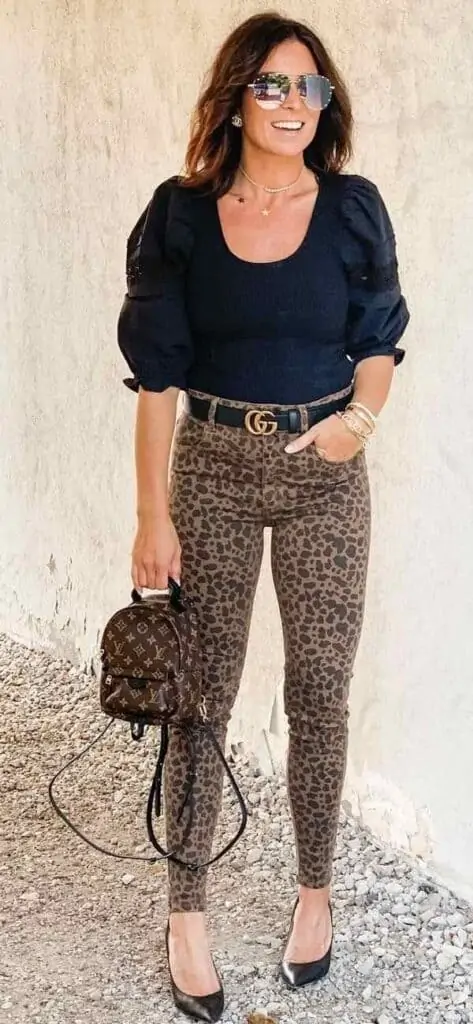 Shannon (above) styled a plain black top with puffy sleeves with a pair of skinny leopard print pants and finished the look off with some flats, a simple backpack and some sunglasses.
Just because your top is plain does not mean you can't pick different designs. Feel free to go for trendy ones such as off-shoulder, cold-shoulder, bell-sleeved ones and the likes.
With a pullover
A pullover is ever so cozy and is perfect in colder times. They used to be considered pieces of clothing for school-going kids and teachers, since they were very preppy, but not anymore. There are several different stylish ways to wear them including with your leopard pants look.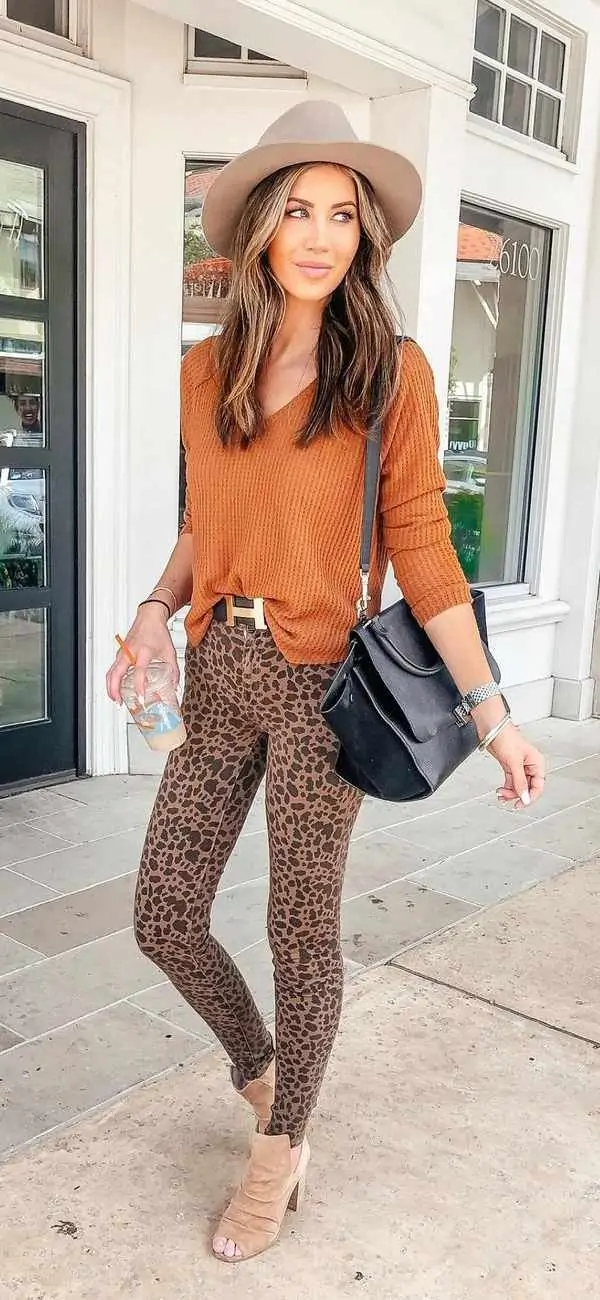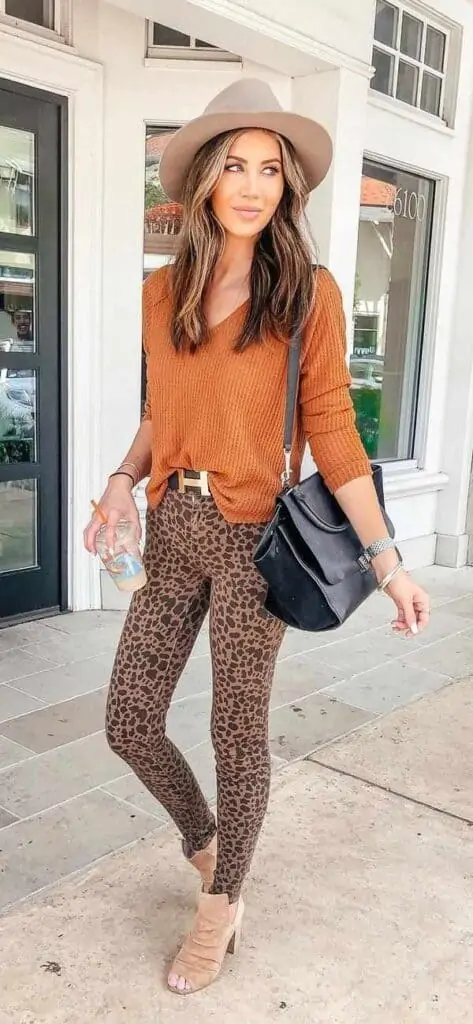 Jordan (above) styled her brown pullover with some skinny leopard print pants and finished off the look with some nude shoes and a brown hat. It's a great casual look. If your sweater is too chunky, it's better to only tuck the front part but if it's light, you can tuck it all in or just leave it hanging.
With a white t-shirt
A plain white t-shirt is one of the easiest tops to go with some leopard print pants.
It's definitely difficult to suggest tops to wear with pants without including a plain white t-shirt, considering it goes with everything. When you style one with your bottoms, you not only get a comfortable look, but you also get a cleaner one. So, it's a great option, even if you're after a more dressed up look.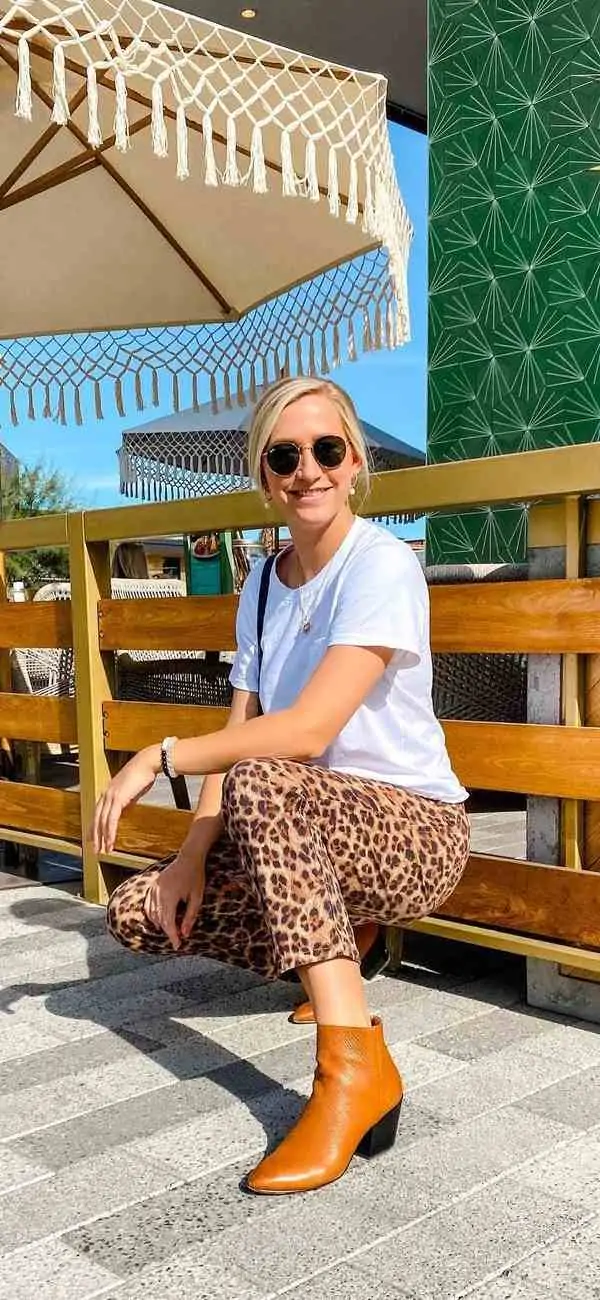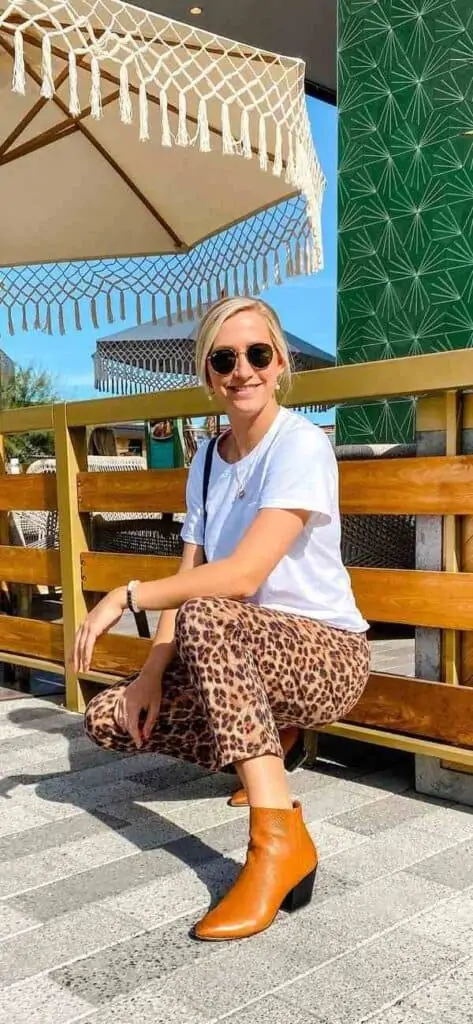 Taylor (above) styled her white t-shirt with a pair of leopard print pants and a pair of brown booties. It's a simple look perfect for a nice summery day outdoors, and is a great alternative to the very common t-shirt and jeans combination.
With a white button-down
A white button-down is another closet staple, considering just how versatile it is. Since it's in white, you can wear one with a variety of prints without having to worry about looking tacky. An example of something you can pair the outfit with is some leopard print pants.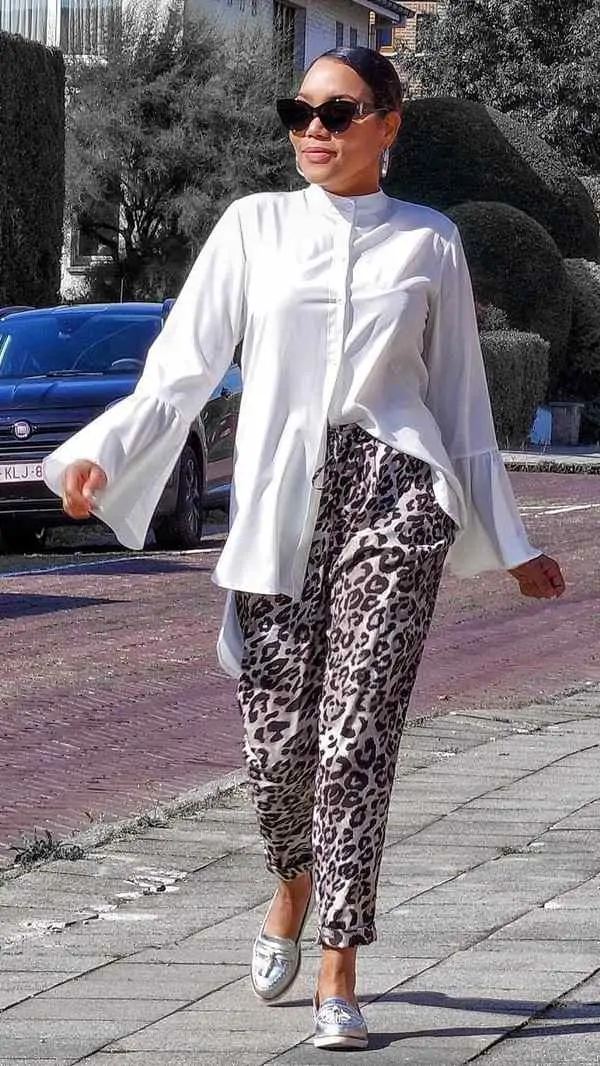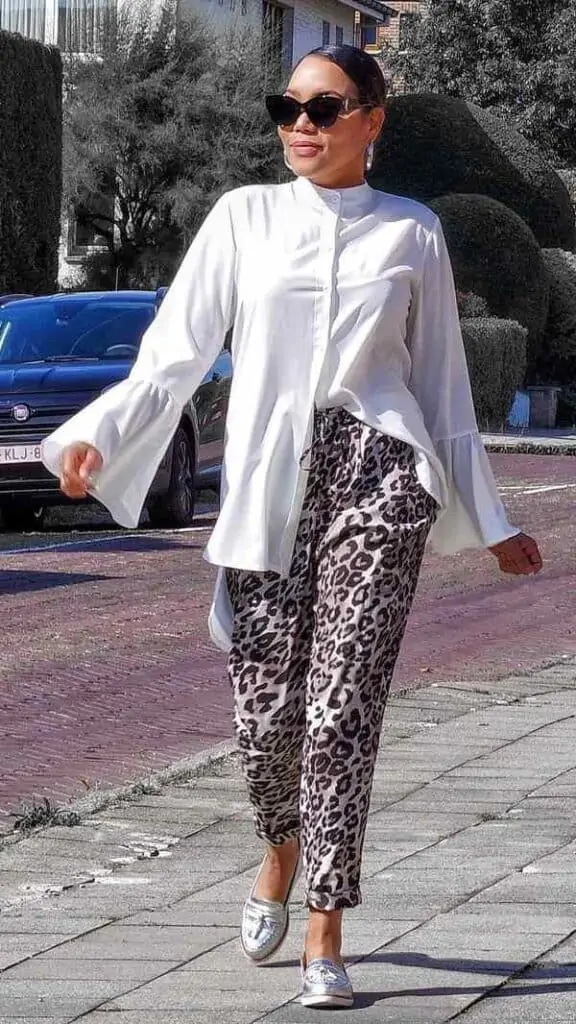 Rosalia (above) styled her white button-down with a pair of leopard print pants and some loafers.
You don't have to go for the conventional simple white button-down shirt, as you can have more fun with yours. You could try one without a collar, or even choose one that has bell sleeves for this outfit combination. Regardless of whether your pants are fitted or a bit loose, you will look great if you paired the leopard pants with your white button-down.
With a cami
Wearing a cami with your leopard pants will give the ultimate sensual look.
If you prefer to wear something feminine and delicate on a hot day, then a cami is a great option for you. These come in different fabrics such as lace and silk, which you can dress either up or down, depending on the kind of day you will be having. A great pair of pants you could pick for this outfit is a leopard print pair.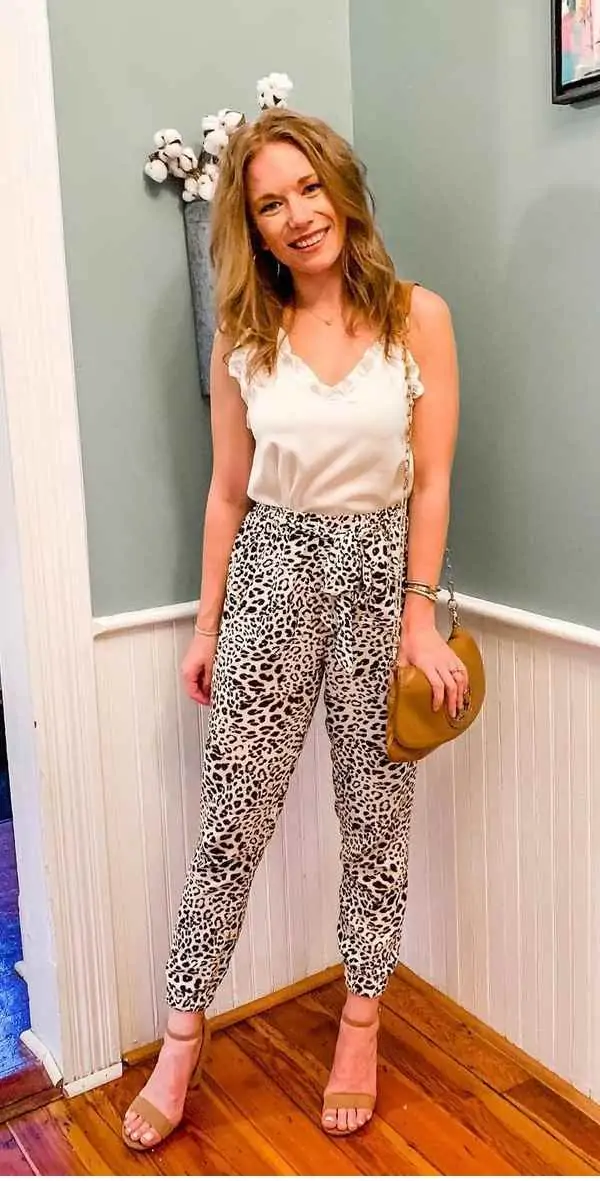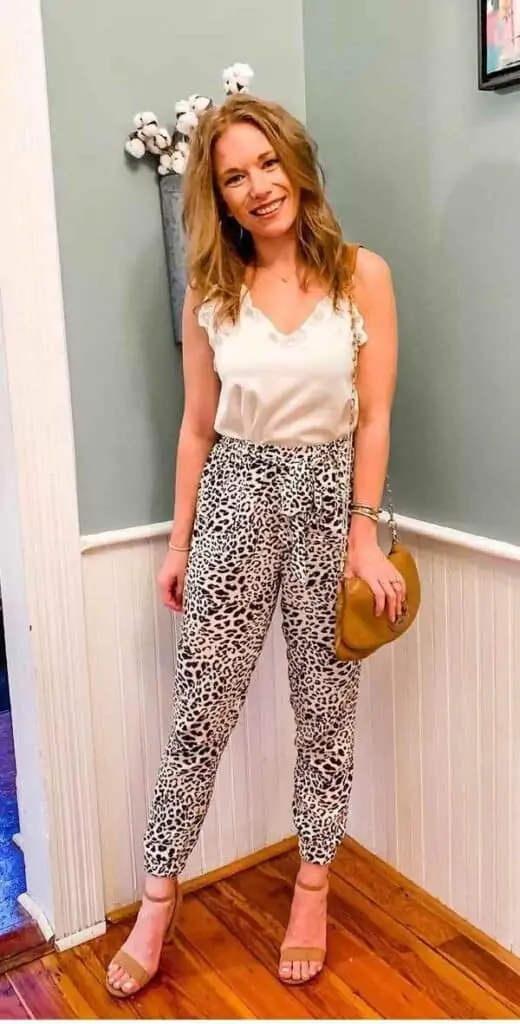 Taylor (above) styled a silk cami with a pair of loosely fitted leopard pants. She went for some brown heels and a bag that matches them. This outfit is a great one to go for, if you want to combine something tough such as the animal print with something that's more girlie and laid back such as the cami. You also have the option of picking skinnier or even more flared pants for this look since the top is pretty simple.
With these ten ideas, you should be able to enjoy wearing your leopard pants more. They can be highly versatile which means you will get more value for the money that you spent on your beloved pair. Remember, all you have to do is make sure the colors of your tops or outerwear matches with the color of the leopard print pants so that you don't step out in a tacky outfit.