Coats are a winter wardrobe must if you live in a climate that gets cold. Knowing how to select the best coats to flatter your body type is a major style win.
Coats – like any other item in your closet – can be incredibly figure flattering as long as you know some essential tricks.
Follow along some of these tips to upgrade your coat wardrobe this winter season.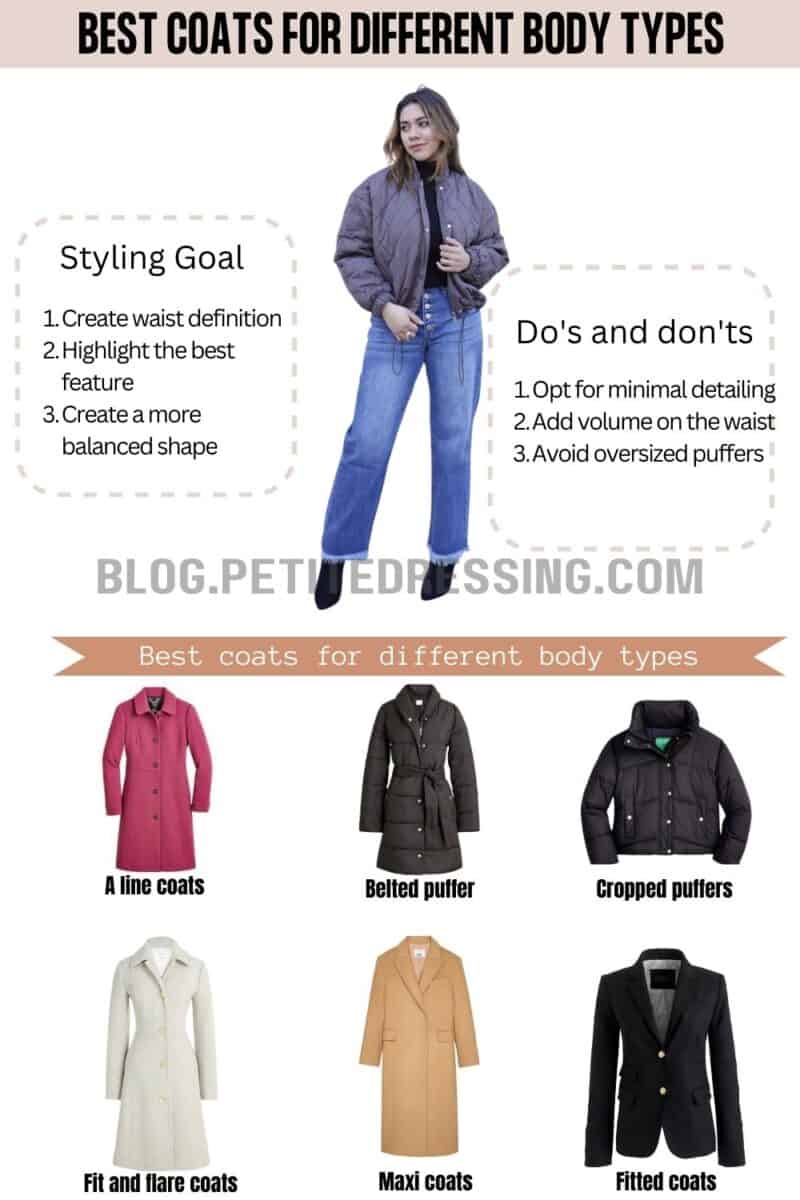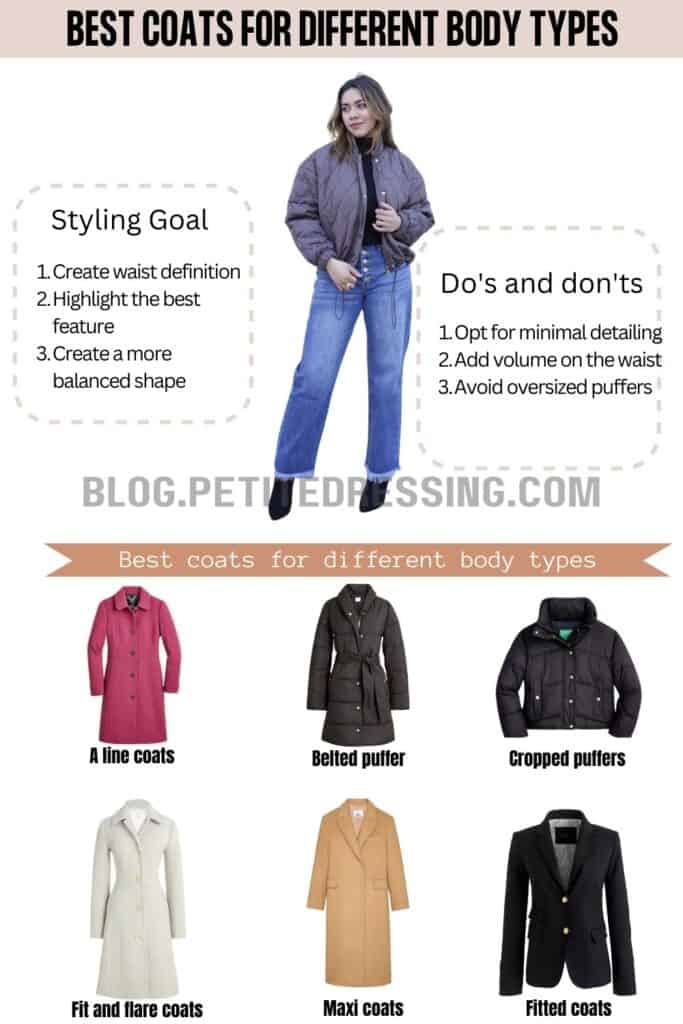 Women's Body Shapes
Body shapes have long been a pain point for women, understanding your own body shape AND how to dress it in a way that is flattering is no easy task.
That's part of the reason we like to break down tips and tricks for specific garment types.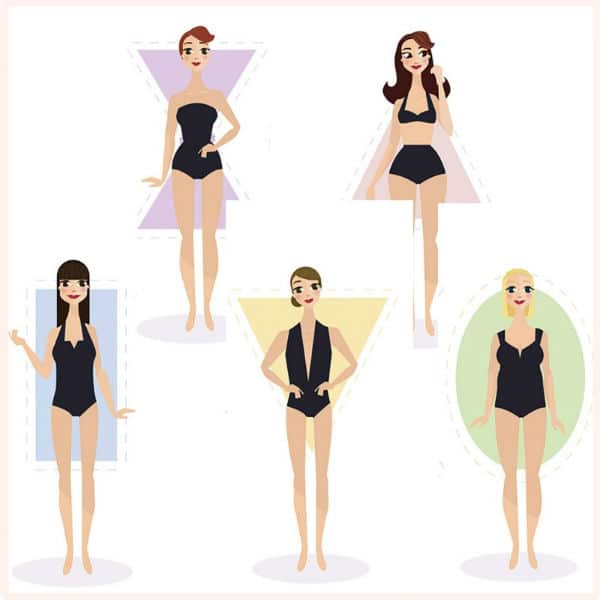 Before we get into the nitty gritty details of coats, let's break down each body type.
Even though women's shapes can vary from woman to woman there are a 5 common body types that most women can find they fall under.
These body shapes include:
Apple Shape
An apple body shape is typically defined as a shape where the bust, waist and hip measurements are fairly close to one another.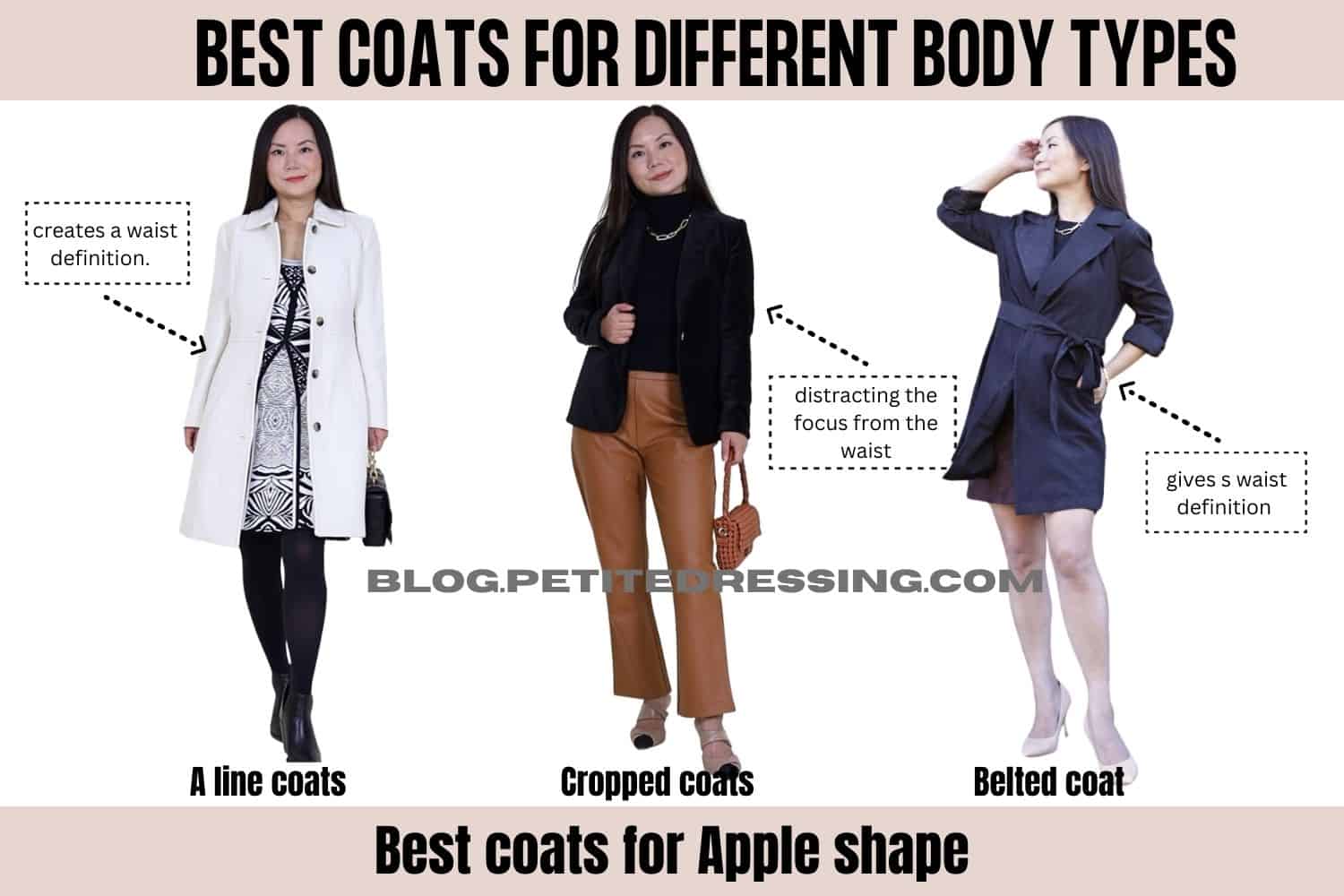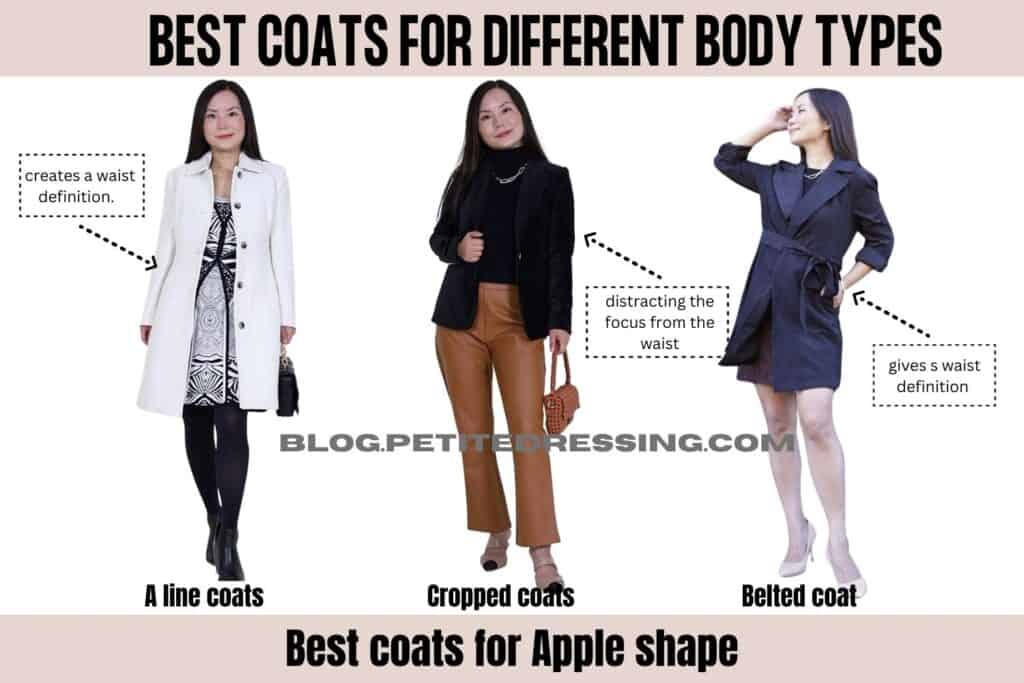 A-line coats
With an apple body type, there is no defined waistline, this is a key factor to remember when selecting clothing to suit an apple shape.
Because there is not natural waist definition, one of the most flattering ways to dress is by choosing items that create waist definition.
That is why the A-line coats can be very flattering for the apple, as they are fitted on top and widen under your waist, creating the illusion of having a smaller waist.
Cropped coats
The best coats for an apple body shape are going to be options that are cropped, meaning they rest above the widest area of the hips.
A cropped coat will draw attention to your face, distracting from the waist, where the apple typically carries weight.
Belted coat
Don't worry though, cropped isn't the only option that's flattering – longer coat styles that have a belt or some sort of waist definition that resembles a belt is another winning choice.
Or, you can also go longer, wear a coat that rests well below your belly (the concerned area of the apple).
Hourglass Shape
The hourglass body shape isn't incredibly common, but highly admired by women all around the world.
This is because an hourglass shape is proportioned, meaning the bust and hip measurements are the same, if not within 2" or so of one another, with a defined waist.
Because an hourglass shape is proportioned on its own there's a lot of flexibility around the types of coats that are flattering.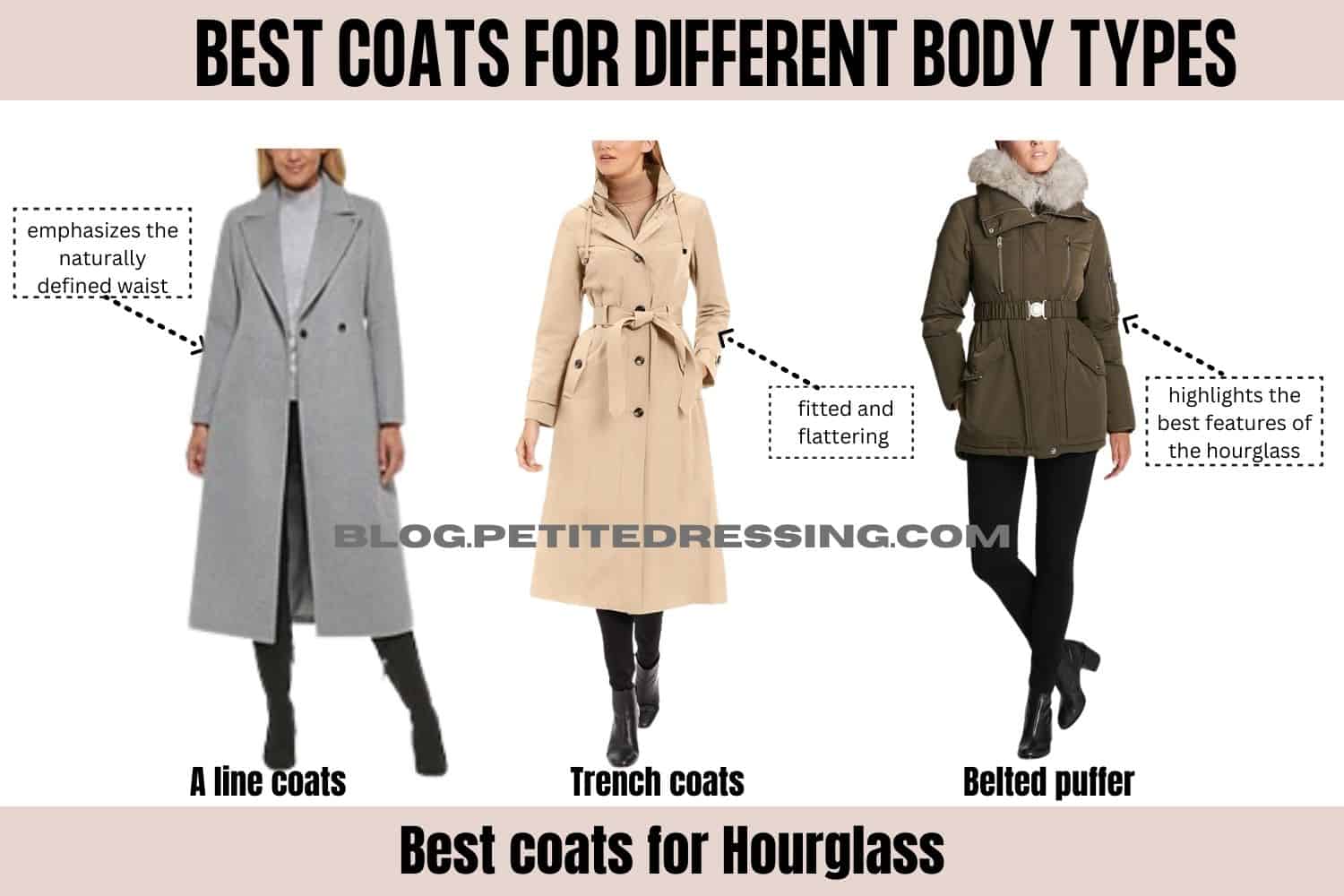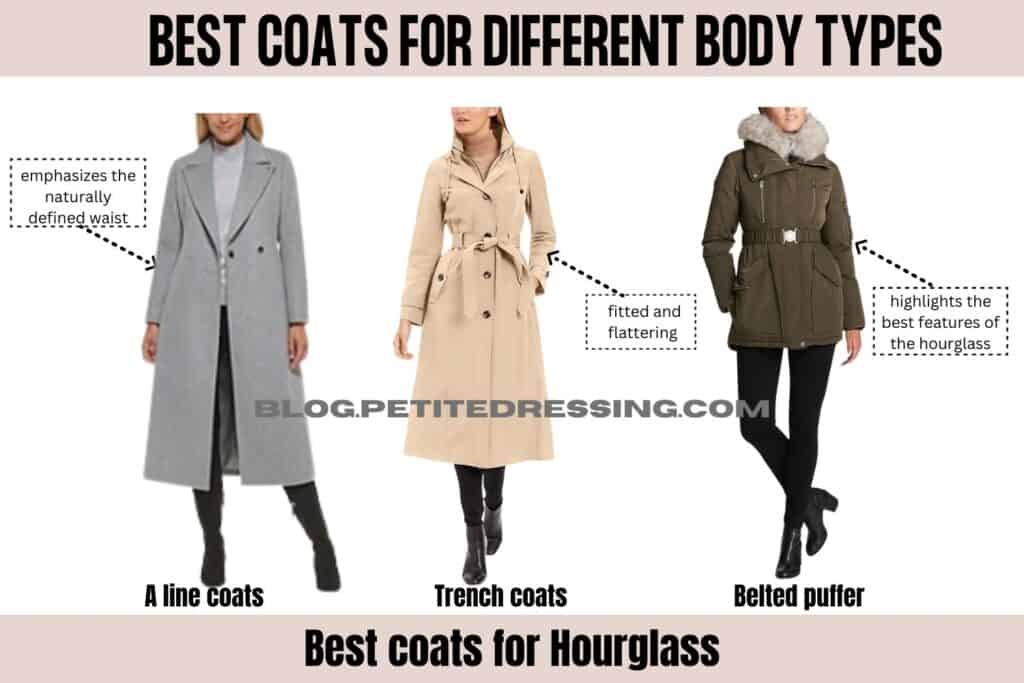 A line coats
Any coat style that emphasizes the naturally defined waist is going to help to reach ultimate figure flattery.
That is why the A shape coat is a perfect fit for the hourglass, accentuating your feminine figure.
Trench coats
A classic trench can be very flattering for women with an hourglass figure, because they are fitted and they all come with a belt.
Trench coats are typically neutral colors, which make it a staple piece that never goes out of style not matter how the fashion trends change.
Belted puffer
A puffer coat can be a double-edged sword for the hourglass.
Since they are voluminous, they can make an hourglass appear bigger than they actually are.
That is why the best puffer for the hourglass should be belted.
Not only the belt highlights your small waist, one of the best features of the hourglass, but also it tone down the volume of the puffer and make it more flattering for your shape.
Pear Shape
Chances are if you have a pear body shape, you're probably well aware.
If not, a pear shape is defined as a body type where the hips and thigh area are more pronounced than the top half of the body – resembling the shape of a pear.
All this to say, there are a few different coat options to try out and are sure to flatter.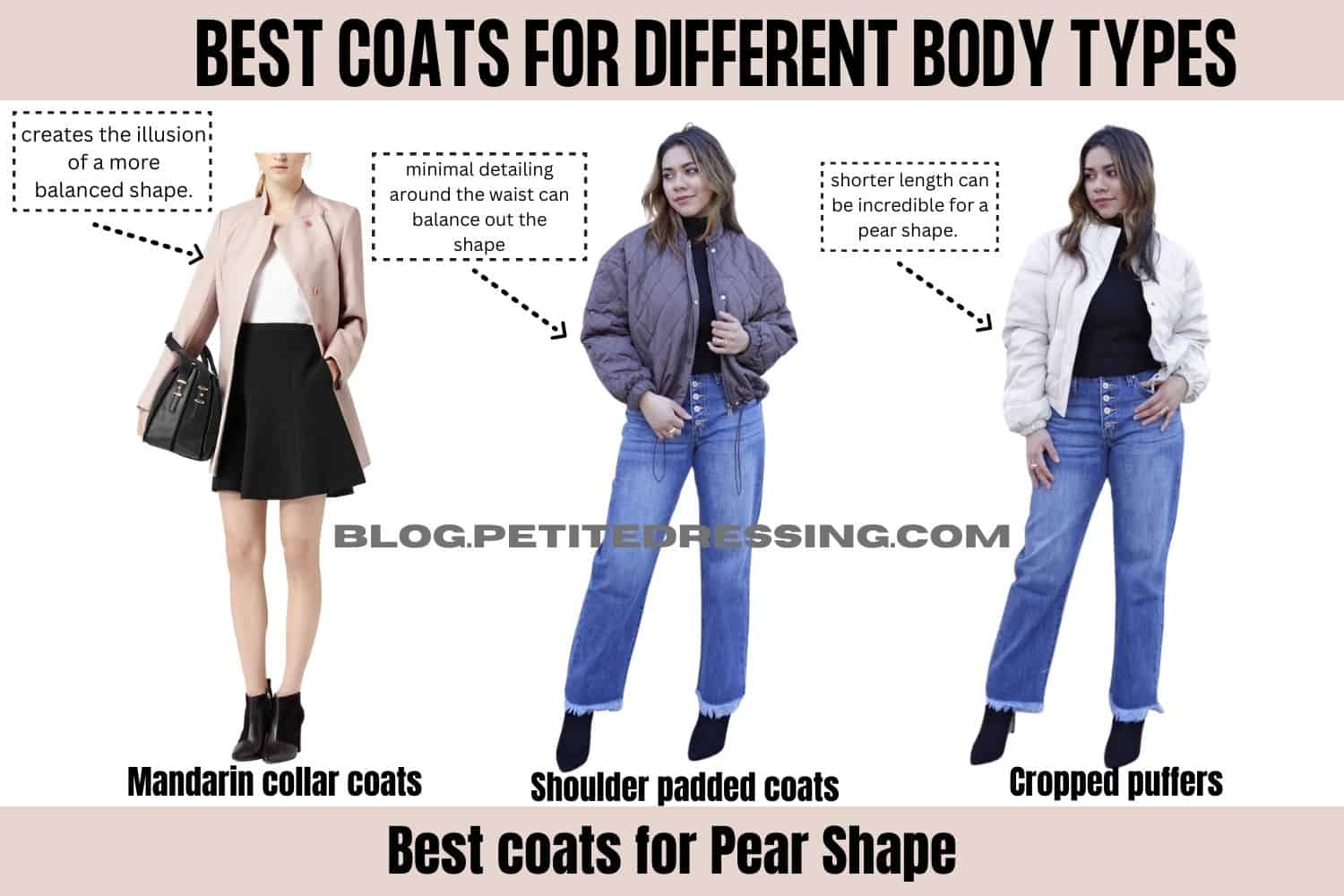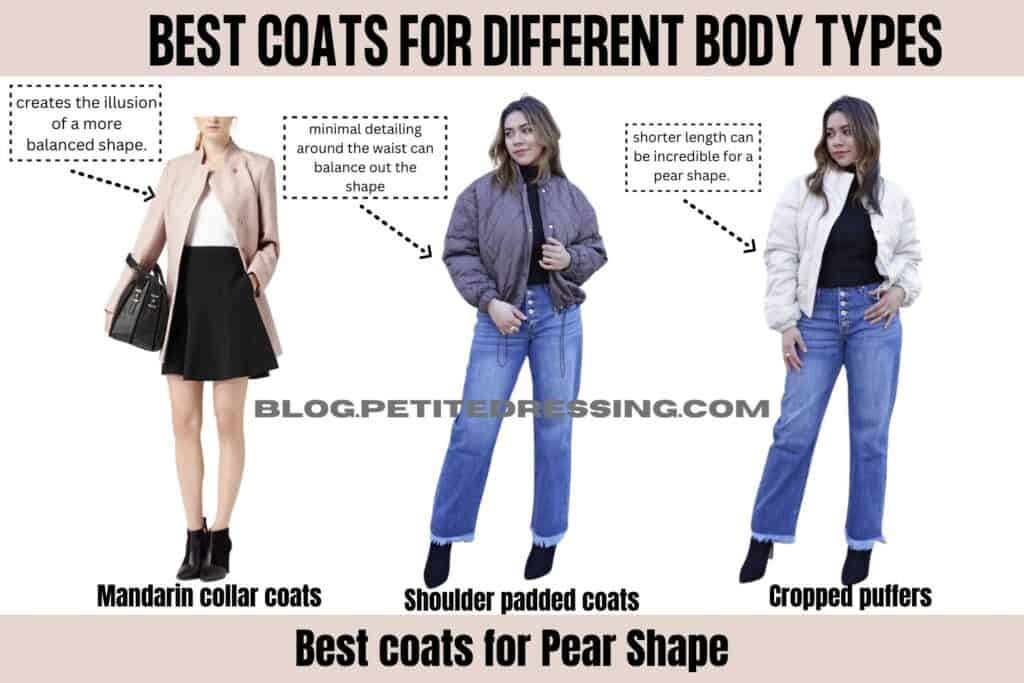 Mandarin collar coats
Because of the features of the pear shape, a key styling trick is bringing more of the outfit's focus toward the top half of the body. Doing this creates the illusion of a more balanced shape.
That is why a trench or wool coat with a defined collar – this will draw the eye up towards the face.
Shoulder padded coats
For the pear, it is quite typical that your shoulders are narrower than your hips, creating the impression of a bottom heavy.
That is why selecting coats with shoulder pads and minimal detailing around the waist and bottom half of the coat can balance out your shape.
Besides, they can also draw attention upwards.
Cropped puffers
Last but not least, try a cropped style coat.
It may sound intimating but the shorter length can be incredible for a pear shape.
Not to mention it's a great way to rock a puffer-style coat for your shape.
Inverted Triangle Shape
The inverted triangle body shape is essentially the exact opposite of the pear.
Meaning: the shoulder and bust measurements are more exaggerated than the waist and hips.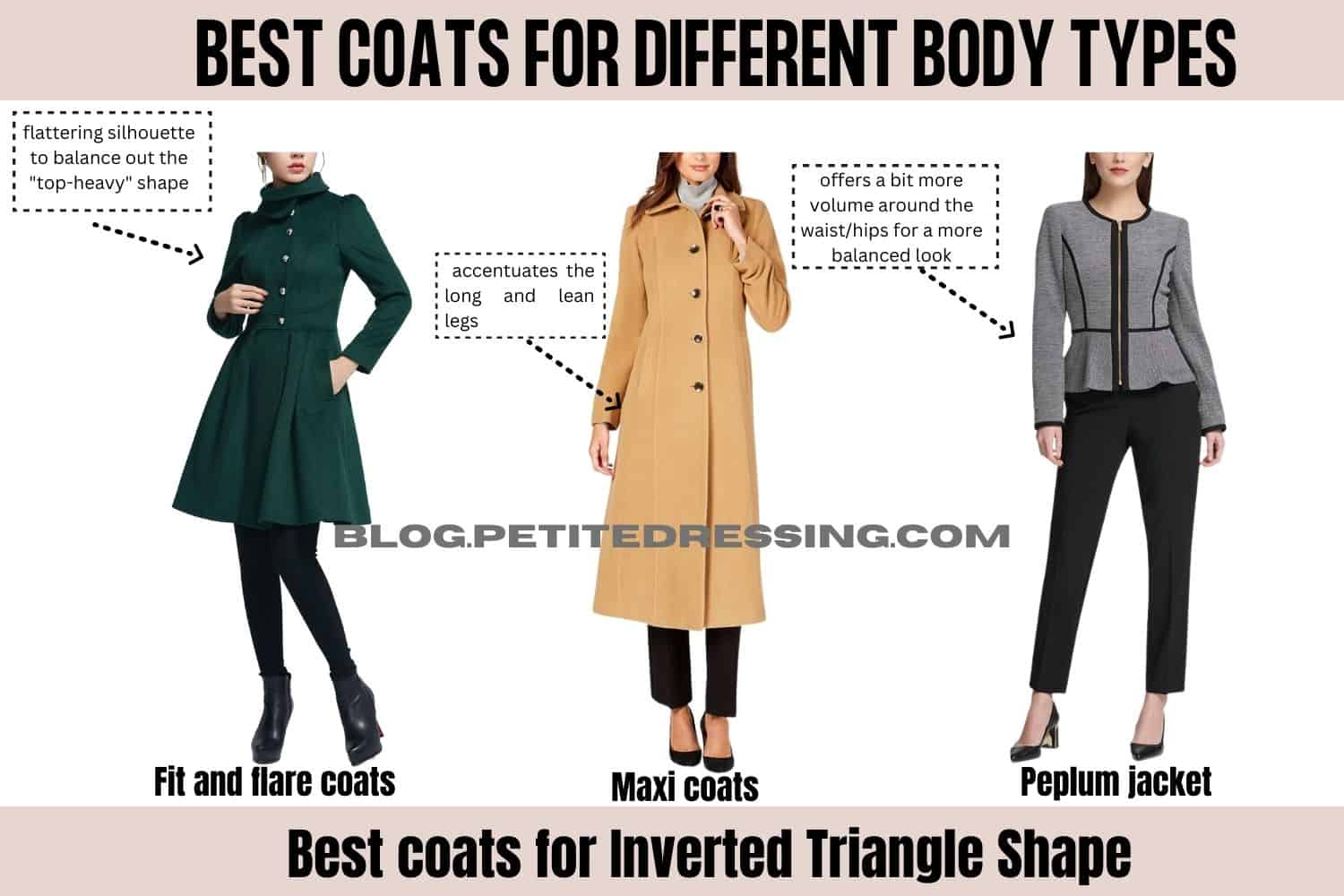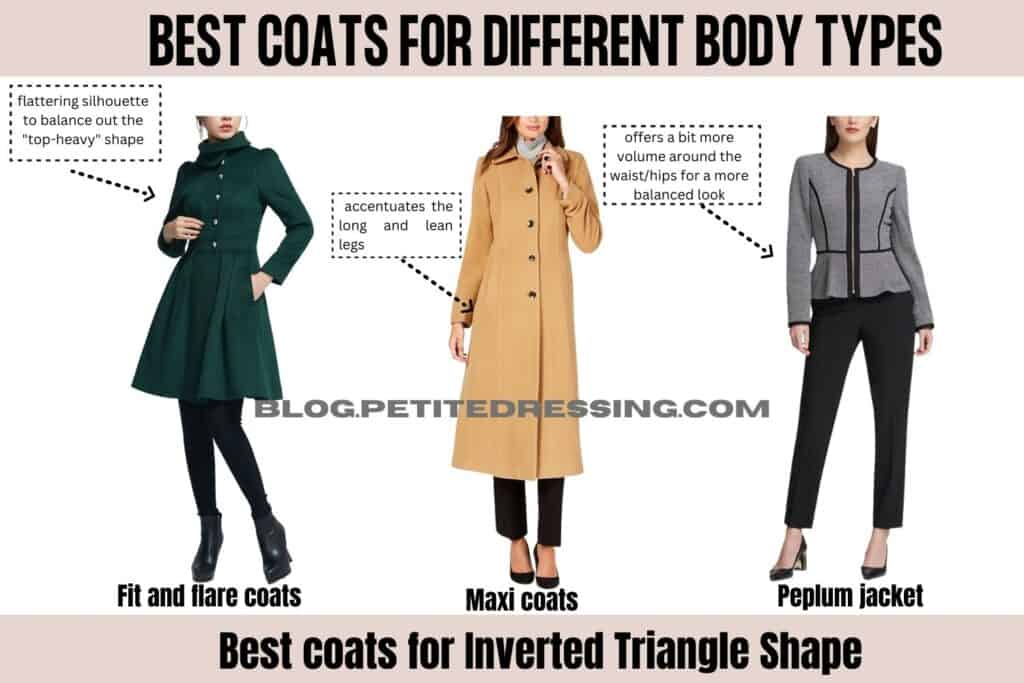 Fit and flare coats
For the inverted triangle, it is important to keep the shoulder and chest area of coats simple and minimal and leave the fun details for the bottom half of the coats.
That is why fit and flare is a flattering silhouette to balance out the "top-heavy" shape of the inverted triangle.
Avoid oversized puffers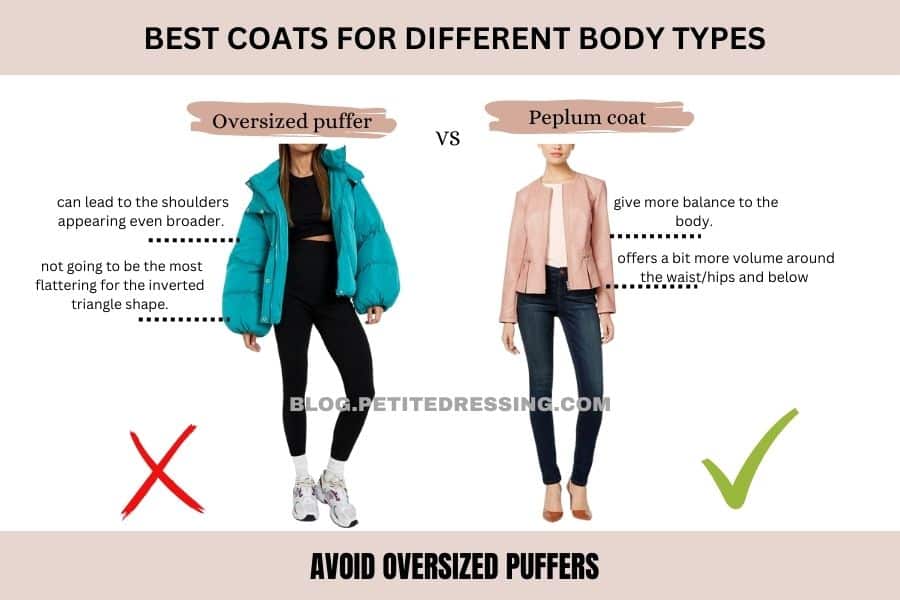 The best coats are going to be options that offer minimal detailing, exaggeration and 'puff' style around the top half of the body – these things can lead to the shoulders appearing even broader.
That is why the big trend of oversized puffers is not going to be the most flattering for the inverted triangle shape.
Maxi coats
Longer length coats can be a favorite choice for inverted triangle shapes because they can help to create length and elongate the body overall.
A long maxi coat to your ankle not only keeps you warm, but also accentuates the long and lean legs of the inverted triangle shape.
Peplum jacket
Another fun option is a coat that offers a bit more volume around the waist/hips and below to give more balance to the body.
That is exactly what the peplum jacket does. By having ruffles around the waist, they perfectly balance out the narrow hips of the inverted triangle.
Rectangle Body Shape
Rectangular body shapes are often also referred to as athletic or straight because there isn't much difference between the measurements.
Similar to an apple in that sense, but different in that this body shape doesn't typically carry weight in the midsection in the same way.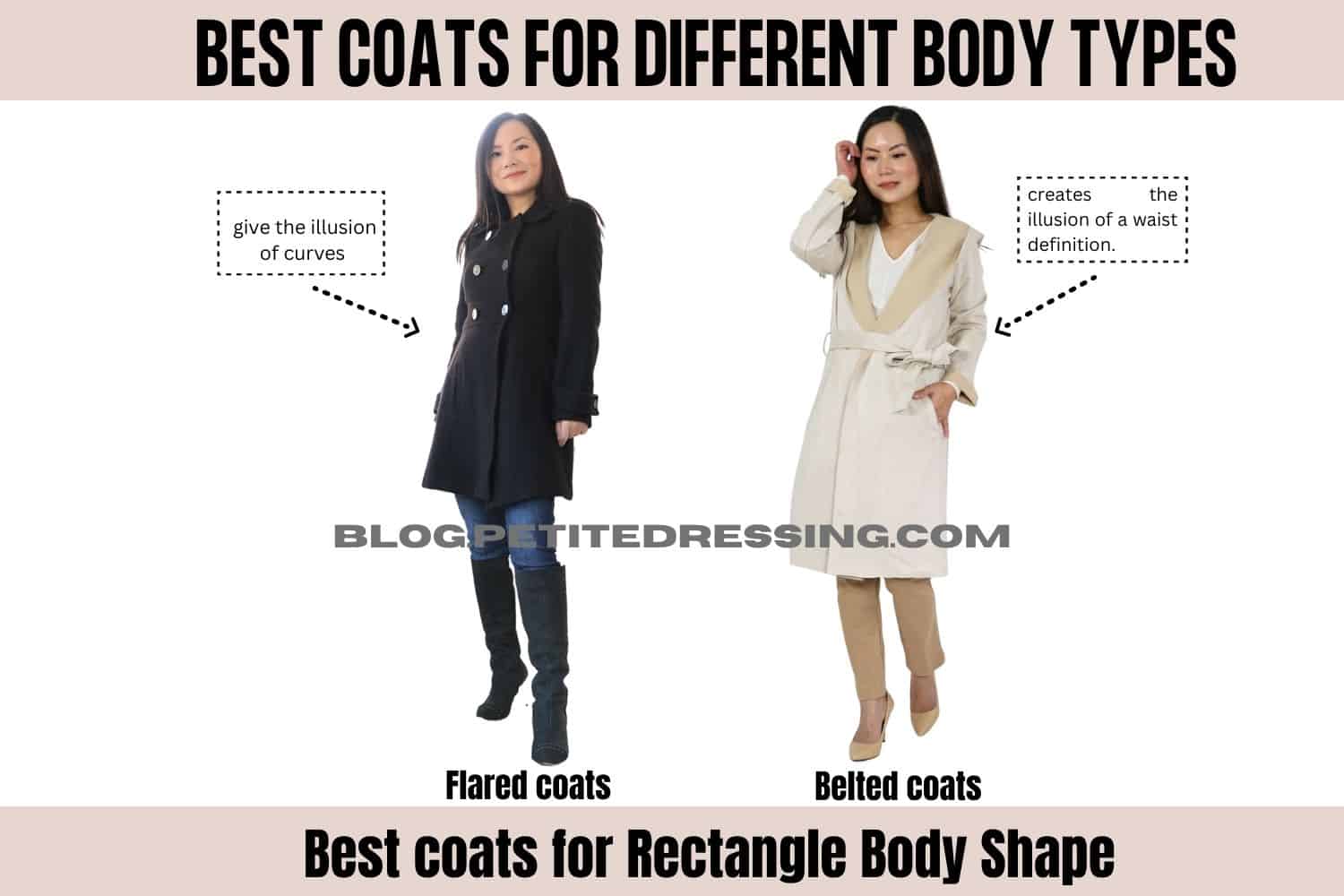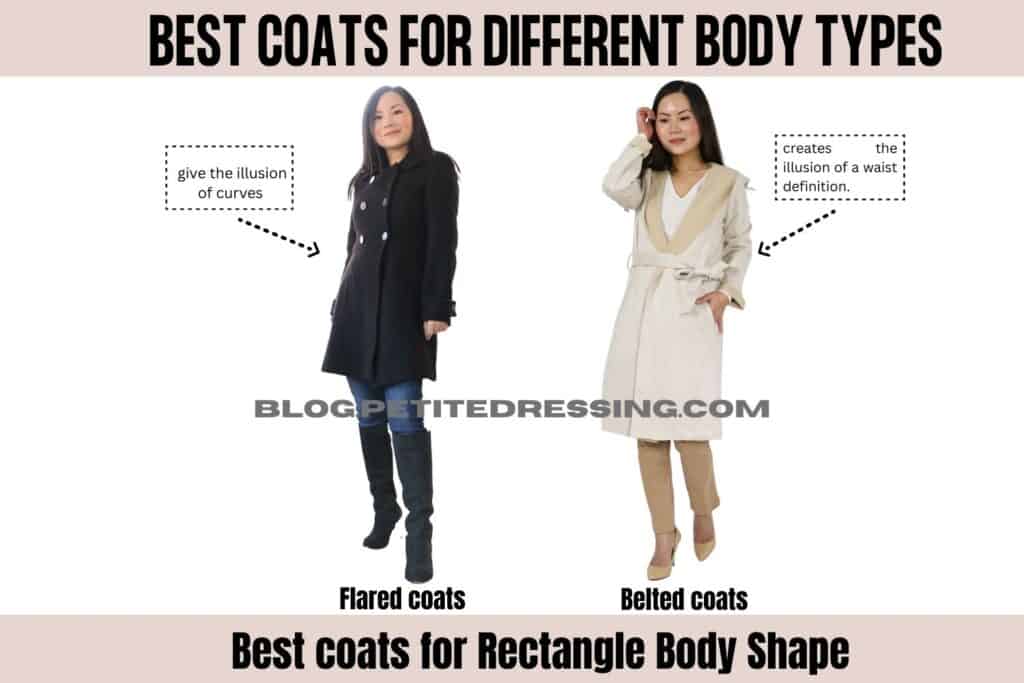 Flared coats
Because a rectangular shape is straighter in silhouette, this gives a lot of opportunity to give the illusion of curves utilizing various coat styles.
A coat that flares out under your waist will make the rectangle appear more feminine.
Belted coats
Similar to that of the apple body shape, rectangles don't have a defined waist. So any coat style that gives that illusion is a major style win.
That is why any coat with a belt is going to be very flattering on the rectangle because it creates the illusion of a waist definition.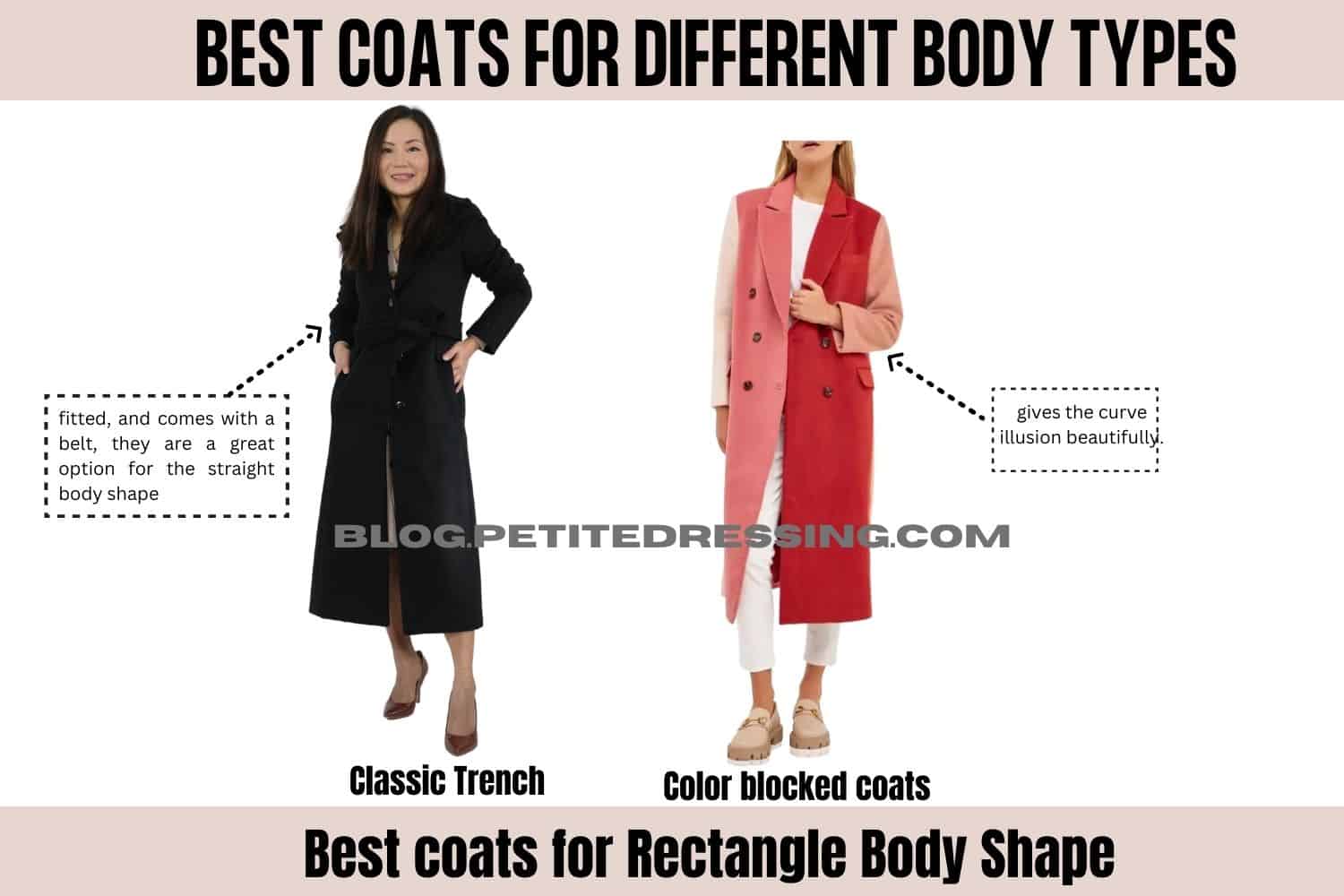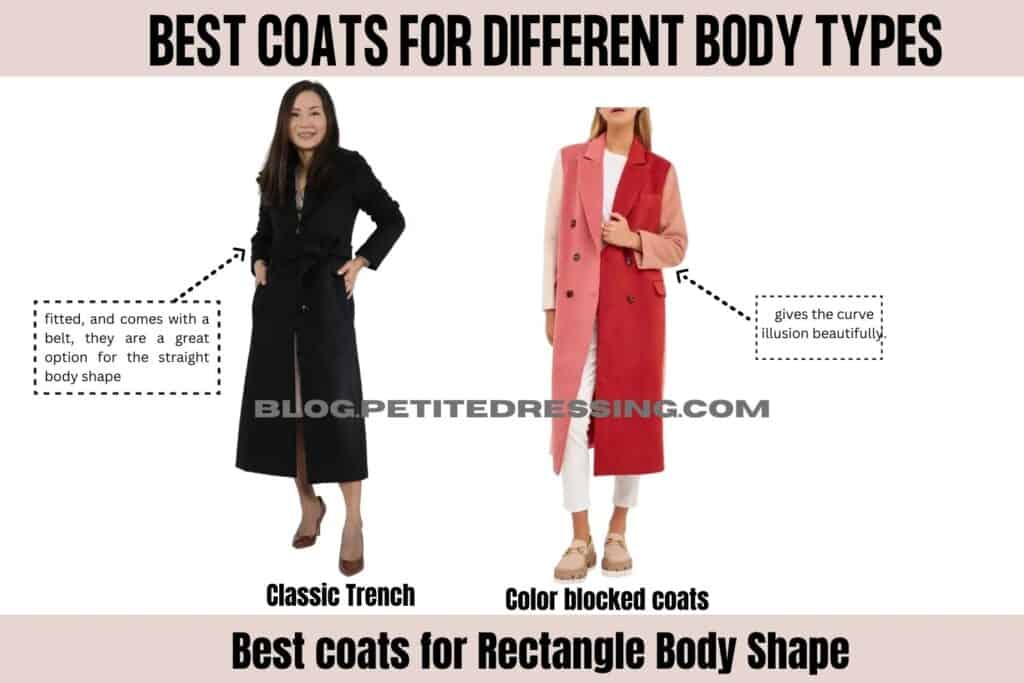 Classic Trench
Another really great coat style for a rectangle body shape is anything trench style.
Since trench coats are fitted, and all come with a belt, they are a great option for the straight body shape of the rectangle.
Color blocked coats
Anything with color blocking is always going to be very flattering for your. shape.
These types of coats lengthen and move with the body which gives that curve illusion beautifully.
Short Women
Knowing how to dress your body type is half the battle as a petite woman, if you're short, this is something you're well versed in.
As with any other garment type, there are some essential things to consider when on the hunt for the best coat to flatter your shape.
Avoid oversized coats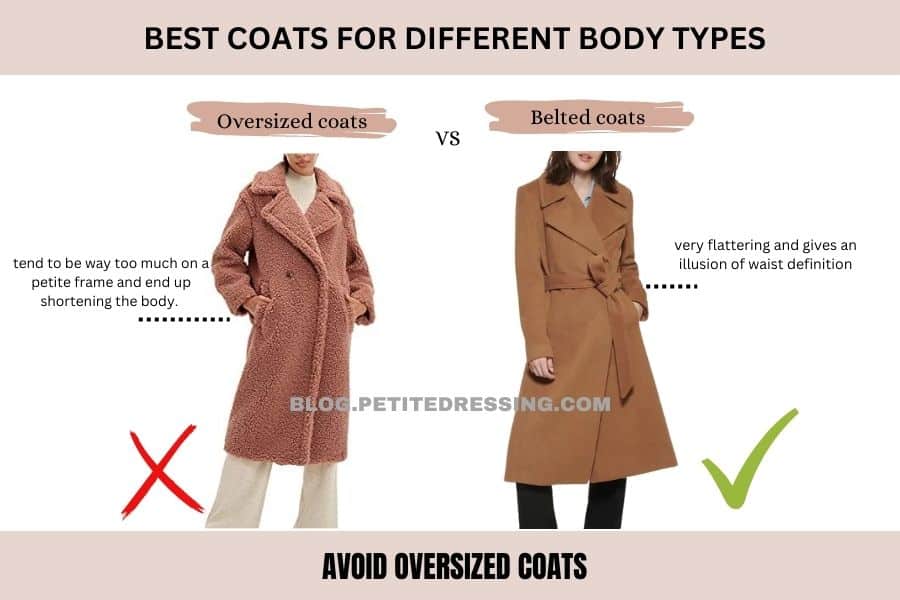 First things first, petite women are advised to avoid any coats that are oversized, really fluffy, or overwhelming to the body.
While oversized fits are trendy right now, they tend to be way too much on a petite frame and end up shortening the body.
These trendy styles are still able to be worn by petite, but just ensure that they still show the outline of the body shape – this will keep from hiding the body shape.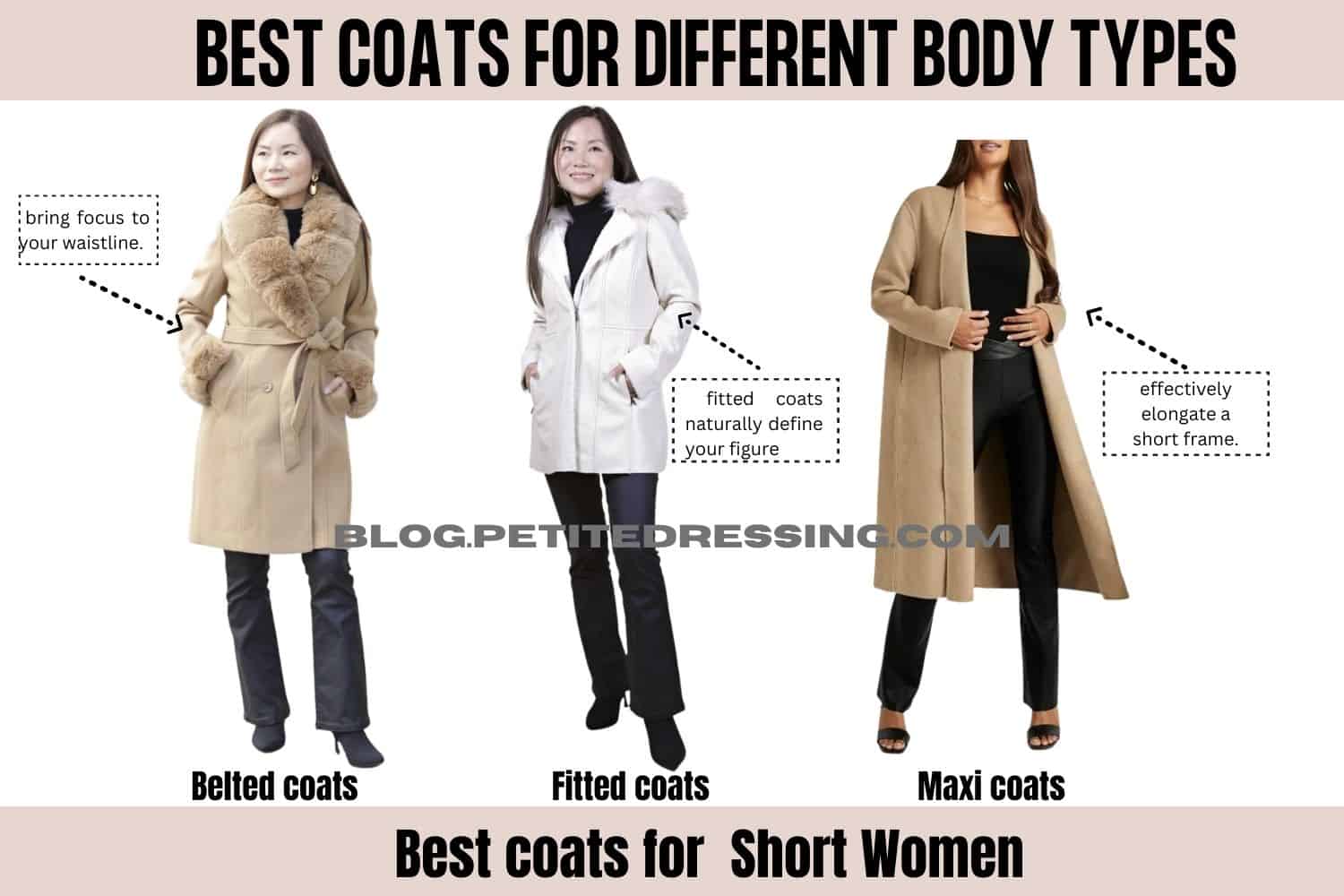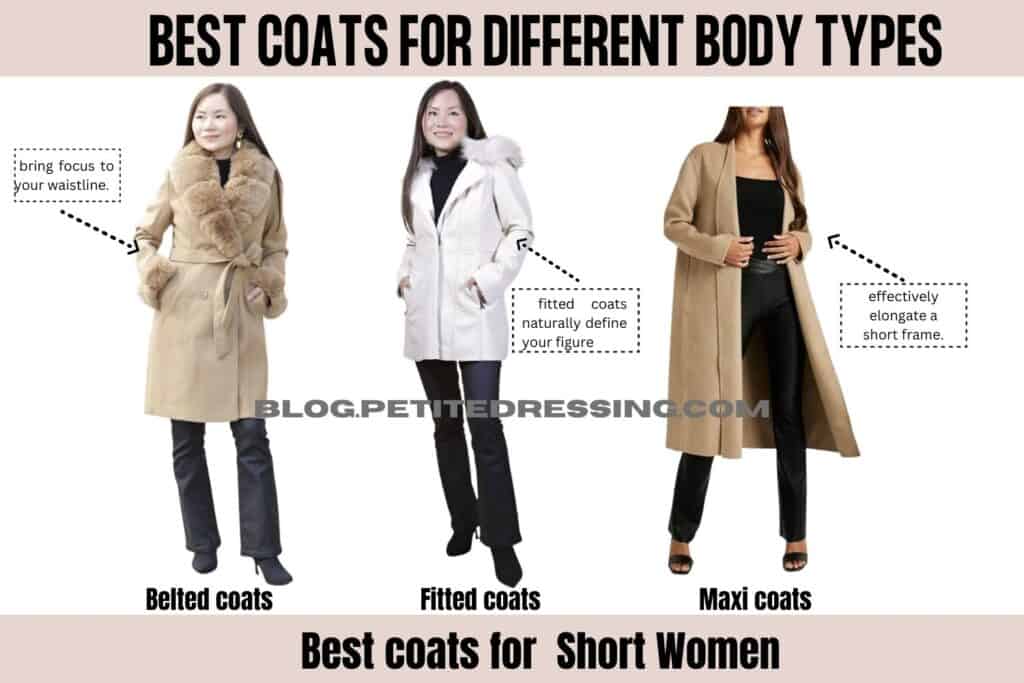 Belted coats
The reason belted coats can be so flattering on a short woman is that they bring focus to your waistline.
The eye is going to assume your legs are longer, when you wear a coat with belt.
That is a common goal for petite women who typically have shorter legs.
Fitted coats
Fit, in general, is something that should be the main focus when it comes to coats (or anything really) for petites.
That is why petites generally look much better in a coat that is well fitted.
Since fitted coats naturally define your figure, they are going to look flattering for a shorter woman.
Maxi coats
The reason maxi coats can be so flattering on petites is because they create a long and unbroken line, which effectively elongate a short frame.
It is highly recommended to pair your maxi-length coats with heeled booties or tall boots.
This will ensure the longer length will not overwhelm a petite woman.
Women with a Belly
Dressing a body shape with more of a midsection can be a pain point for many women, coats in particular.
If you are someone who carries more weight around the midsection (i.e. muffin top)- don't worry, there are plenty of coats that will look incredibly flattering on your shape.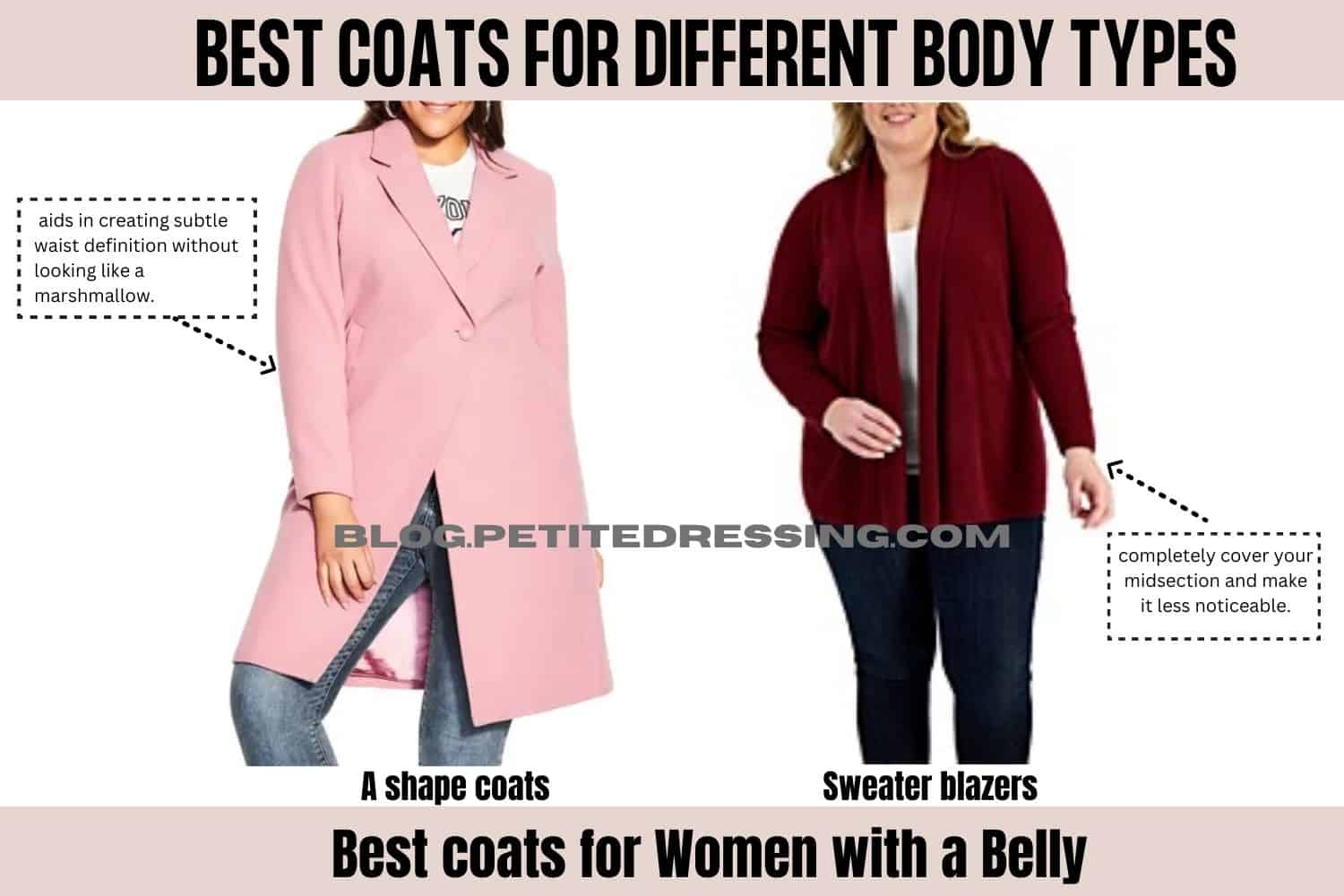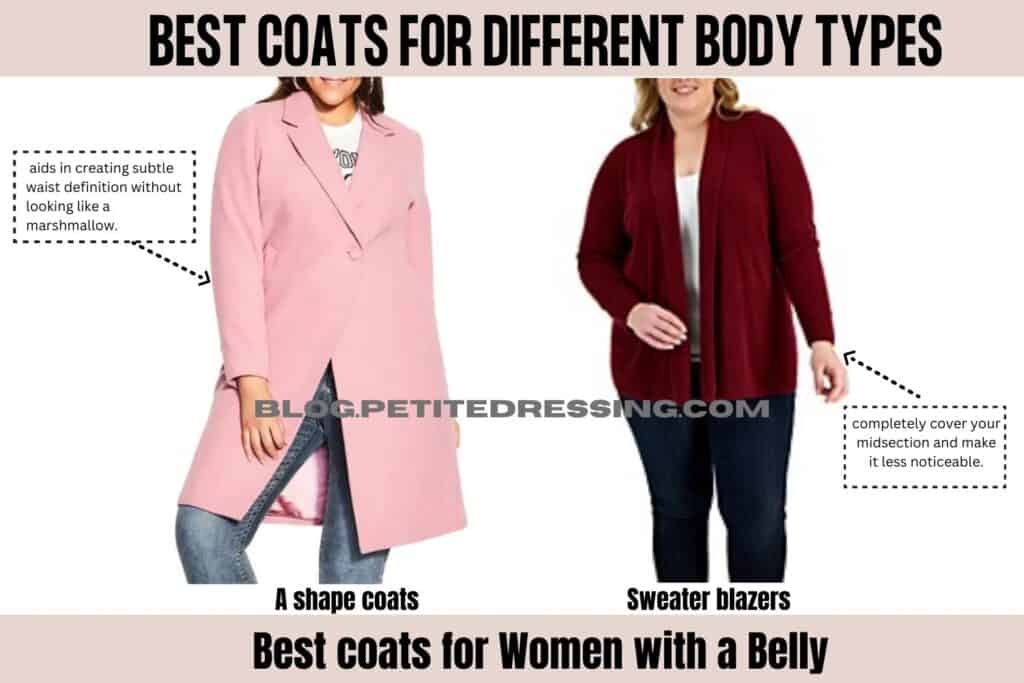 A shape coats
Hands down the most flattering coat style for you is going to be something with an a-line silhouette.
This silhouette isn't just for dresses, it's available in coats as well!
It's a semi-loose fit that won't have you feeling constricted but also aids in creating subtle waist definition without looking like a marshmallow.
Sweater blazers
Since sweater blazers are normally longer and end on your thighs, they can be one of the "safest" bet for women with a belly.
Because they are longer, they can completely cover your midsection and make it less noticeable.
Avoid peacoats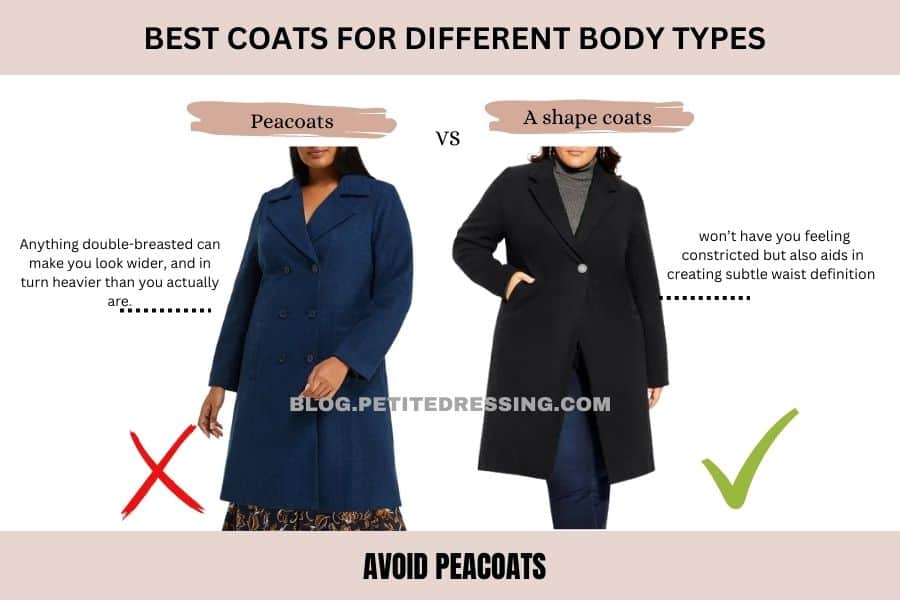 The reason peacoats are not the best options for women with a belly is that they are typically double-breasted.
Anything double-breasted can make you look wider, and in turn heavier than you actually are.
Big Bust
Another body type that can cause a hang up for women when it comes down to finding flattering coat options to wear: big bust.
If you have a big bust you've probably experienced some struggles in the coat department.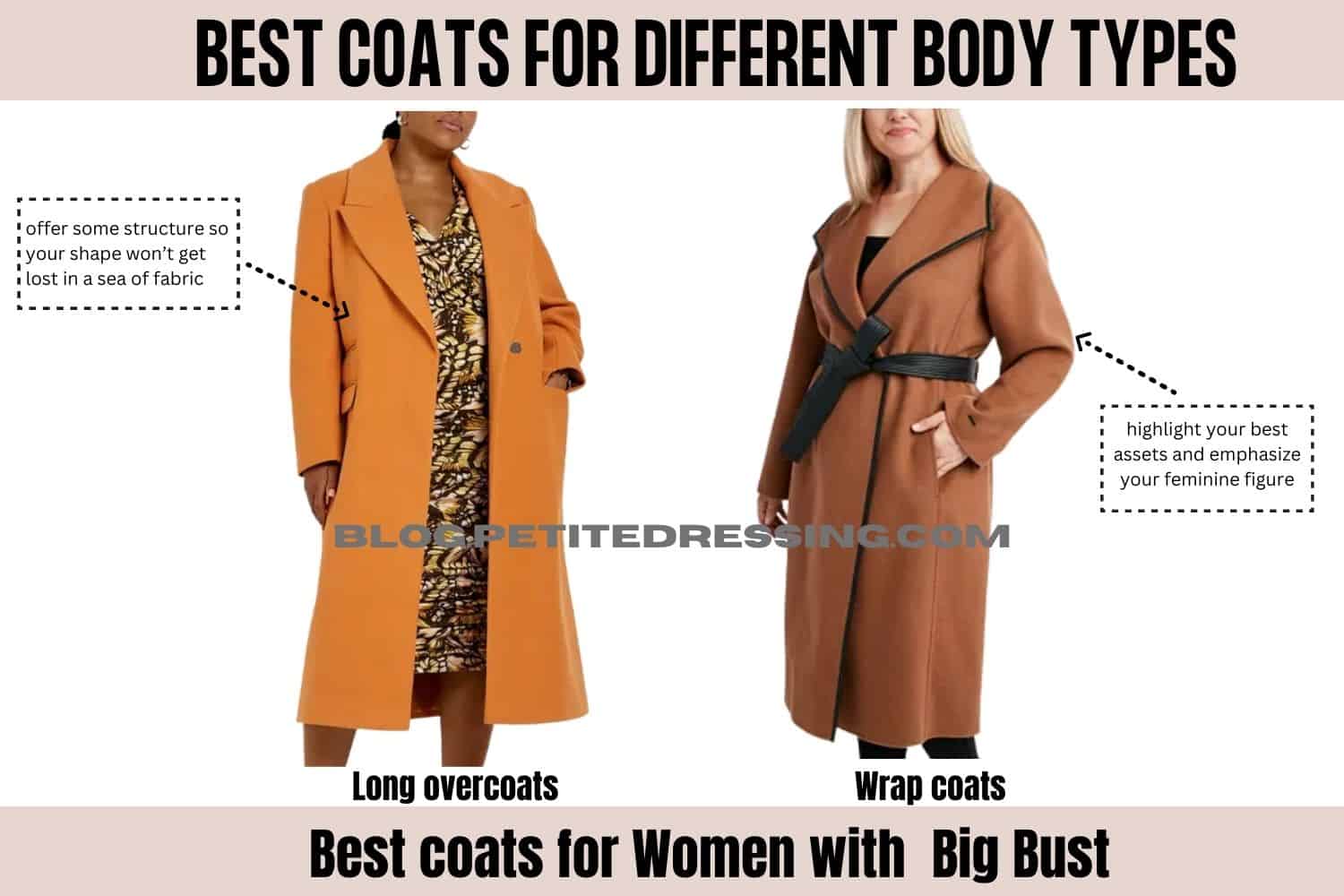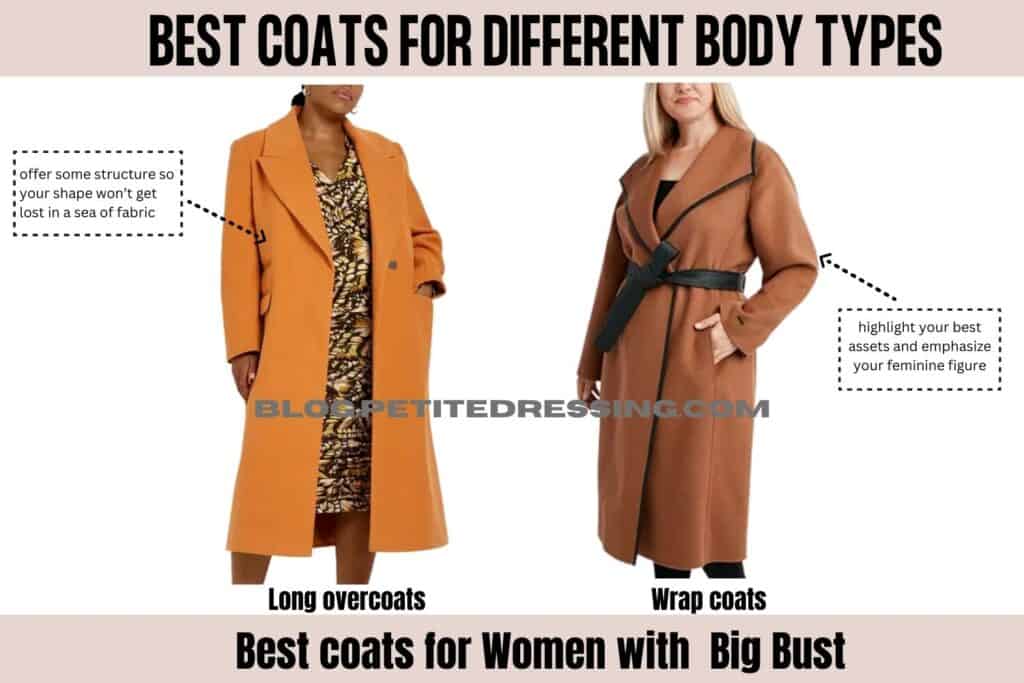 Long overcoats
These style coats offer some structure so your shape won't get lost in a sea of fabric, but aren't too fitted causing your chest to feel crushed when wearing them.
Wrap coats
One of the most favored coat options for women with bigger busts is wrap-style coats.
These are universally flattering, but, for women with full busts, they are one of the most flattering styles since they highlight your best assets and emphasize your feminine figure.
Avoid double breasted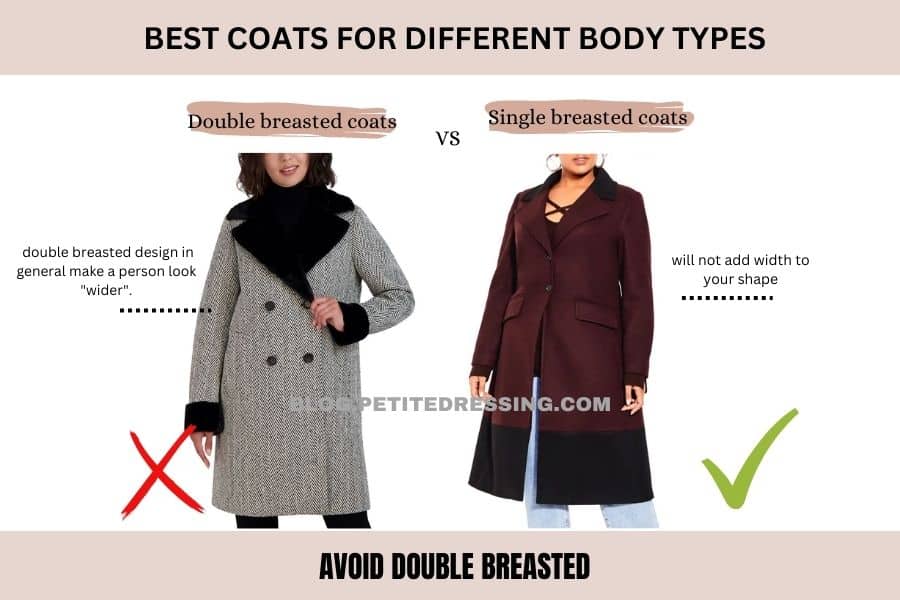 If you have a big chest, single breasted coats will be a much better option than the double-breasted coats.
The reason is double breasted design in general make a person look "wider".
So, if your bust is bigger to begin with, wearing a double-breasted coat will only make you look bigger than you actually are.