We all have to admit that shopping for coats can be an absolute headache for many of us, regardless of what your body shape is! So can you imagine the struggle of choosing a nice coat for someone who is petite and busty?
Being short already brings quite a challenge in terms of styling, so being a petite woman with a large bust makes the challenge even more difficult. In this blog post, we'll definitely make things easier for you so you can fill in your wardrobe with coats that flatter your shape.
Styling Goal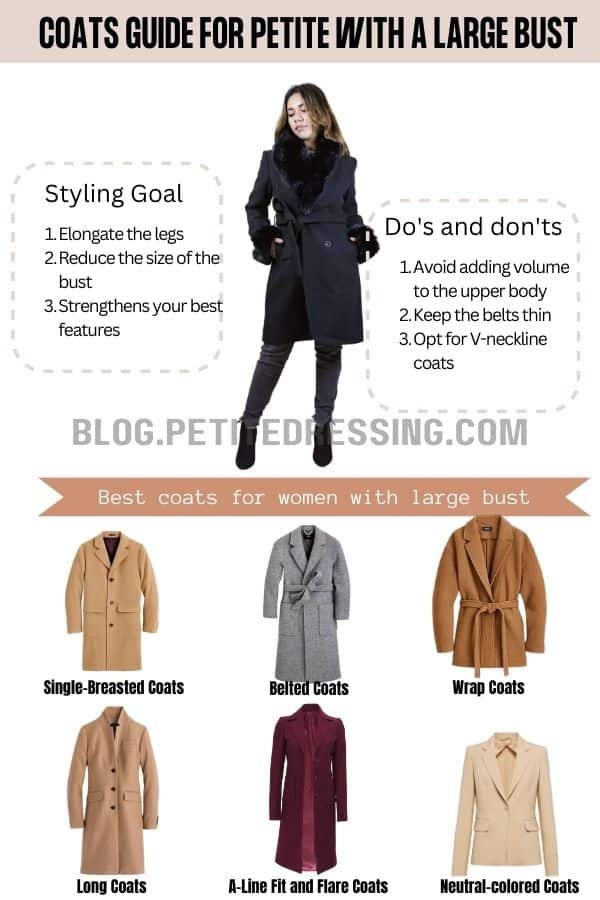 Coats, most particularly winter coats, are usually quite bulky. The last thing you'd ever want for your top-heavy petite body is to add more bulk so this is where the challenge mainly reposes.
This is where you should play up with your proportions and create as much definition to your frame as much as possible. Cinching your waist to make it look slimmer and more defined is one example of what your coat should do to flatter your short height and big bust.
The color and design patterns are also key factors for you to consider. Choose ones that are not too overwhelming so you won't end up adding more volume to your upper body.
Single-Breasted Coats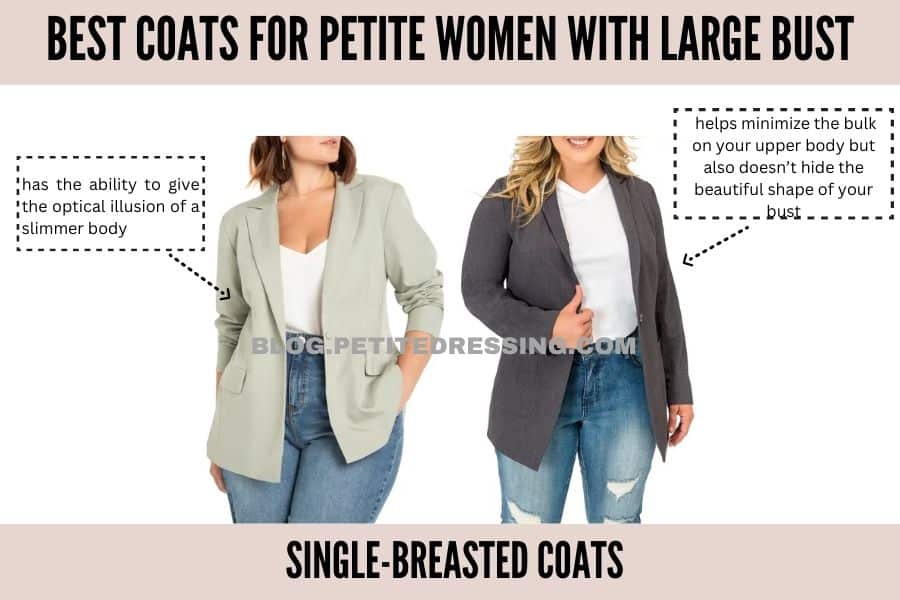 Single-breasted coats have a singular straight column that gives an effective slimming effect. Due to its ability to give the optical illusion of a slimmer body, it's much easier to layer clothes in it without any worries of adding that extra volume to your top-heavy figure.
It looks flattering both when worn buttoned and unbuttoned. Though if you'd like to create more definition around your waist area, closing the button will give you that nicely cinched waistline.
It also helps minimize the bulk on your upper body but at the same time, doesn't hide the beautiful shape of your bust. Single-breasted coats are also very versatile in a way that they can be easily paired with a number of different wardrobe pieces.
Belted Coats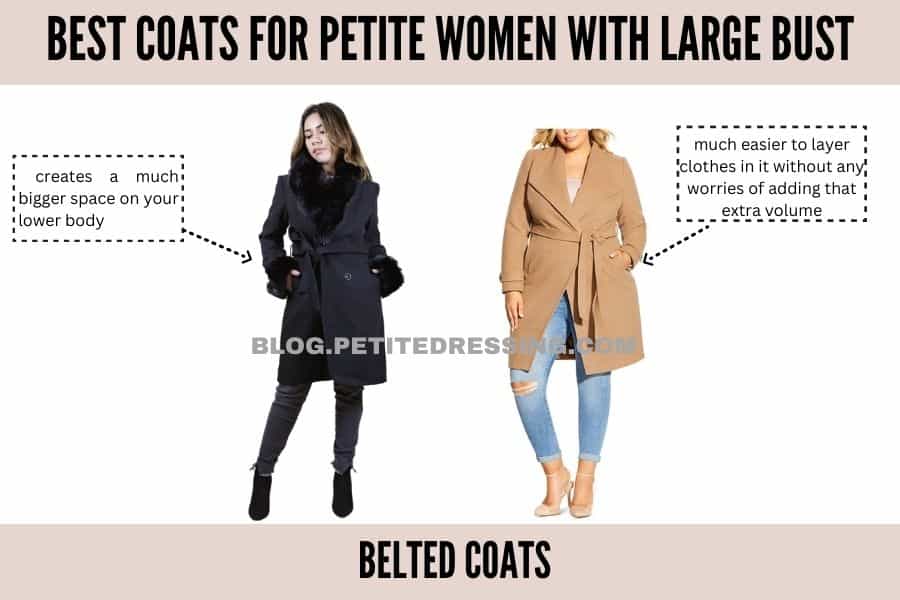 Belts always give that edgy vibe in every type of clothing because it always does a very good job of creating depth in the upper body by cinching the waist and skimming through your curves. As it secures the waist with a belt, it draws the focus more on the waist and legs instead of having the eyes solely focus on your large bust.
It also creates a much bigger space on your lower body so it makes your legs appear longer and therefore makes you look taller than your real height. To keep this straight line continuous from top to bottom, opt for a belt that is the exact same color as the coat.
Another thing to note too when styling a petite woman with a large bust is to keep your belts no more than 5 centimeters wide. Belts that are too wide or thick can make you look shorter by breaking the continuous line flow from your top to bottom.
Wrap Coats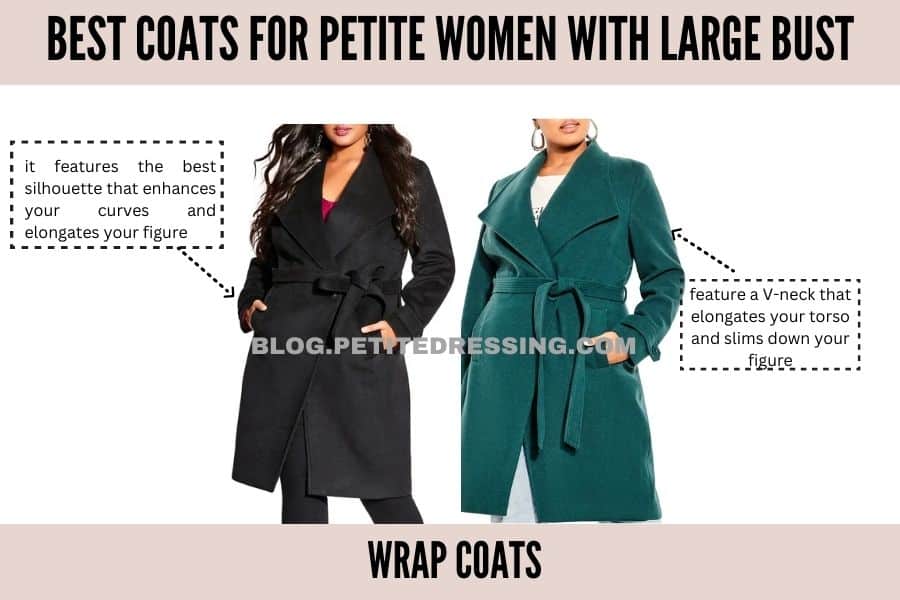 A wrap coat will always be a universally flattering choice for petite and busty women for it features the best silhouette that enhances your curves and elongates your figure. It also adds definition to the waist, just like belted coats but wrap coats do it more subtly.
Since the waist tie isn't as noticeable as belts, it enhances your curves more naturally. You also have better control over how tight you want your wrap coat enclosure to be in order to fit your body more comfortably.
Wrap coats also usually feature a V-neck that elongates your torso and slims down your figure. This visual effect that wrap coats make is a great way to create a more balanced proportion for someone who's busty and petite.
A-Line Fit and Flare Coats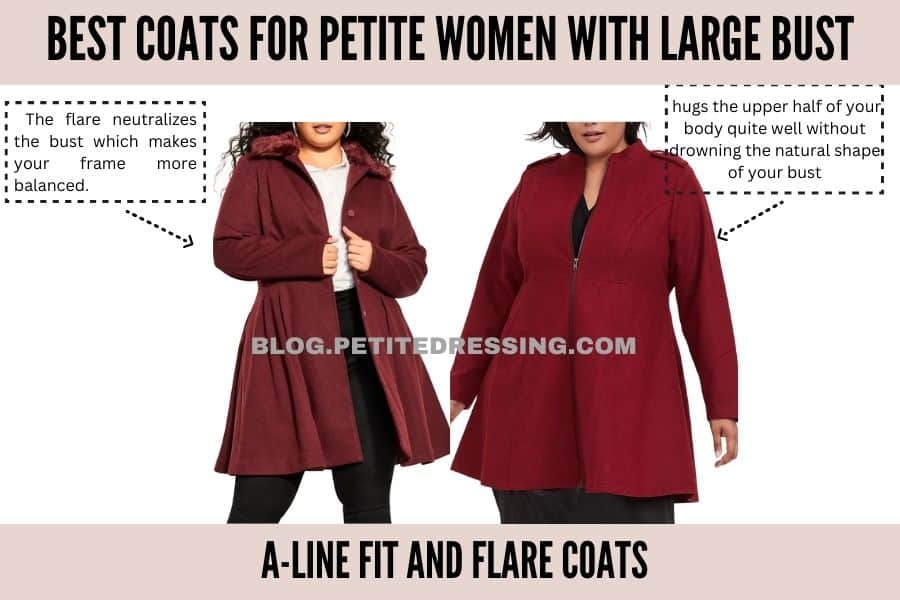 A nicely-fitted top and a structured flare skirt-like bottom is an absolutely amazing combo when it comes to dressing up a busty petite. Since you're top-heavy, you need something that hugs the upper half of your body quite well without drowning the natural shape of your bust – this is what A-Line or Fit and Flare coats do for you.
This coat style is also suitable for busty petite girls who have less-defined curves, especially on the lower body. The flare neutralizes this factor too which makes your frame more balanced.
There are many different types of fit and flare coats so the style is really all about your personal preference. Just choose one that nicely skims your natural body shape.
Structured Coats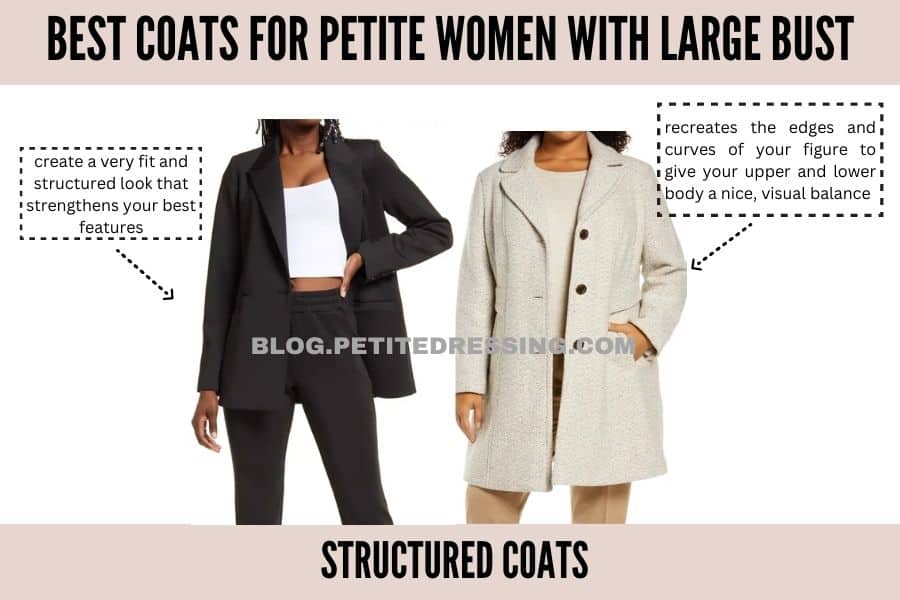 Tailored or structured coats feature seam lines that usually focus on your shoulders, bust, and waist. These seams create a very fit and structured look that strengthens your best features while also minimizing the attention from your large bust.
The neat lines that structure coats have recreates the edges and curves of your figure to give your upper and lower body a nice, visual balance. It makes the shoulders look more prominent which balances your large bust.
The key to structured coats is the proper size so you really have to take your measurements exactly.
Long Coats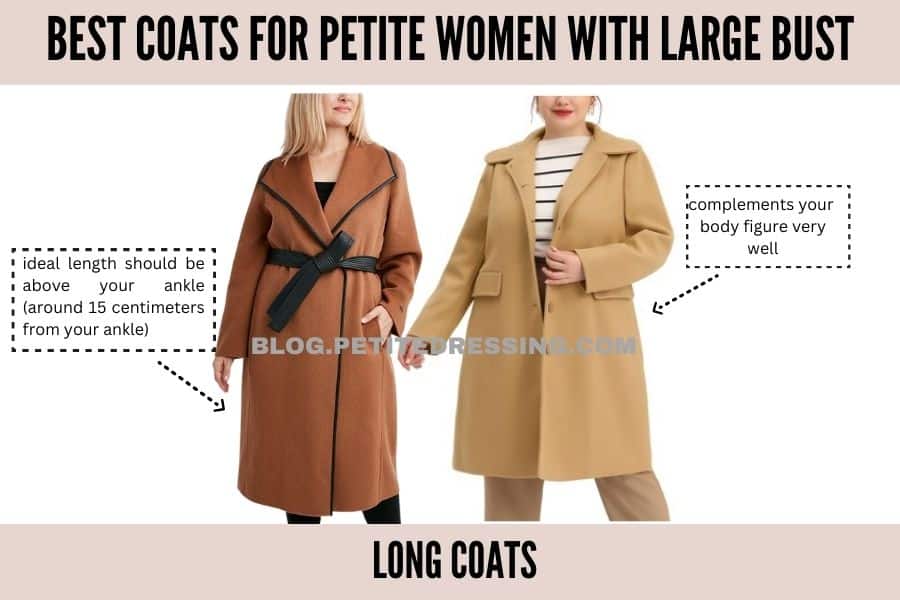 Alright, we know that we're dealing with petite girls here so long coats might make your brows raise a bit. However, busty Petites shouldn't be intimidated by long coats because they actually complement such a body figure very well!
The key to flaunting a long coat when you're short and busty is to be mindful of the length. The ideal length should be above your ankle (around 15 centimeters from your ankle), just enough to expose a bit of your skin.
If your coat is too long, then there's a possibility that your figure will get drowned. Due to the overwhelming length and coverage, you might look shorter and wider.
Coats with Vertical Patterns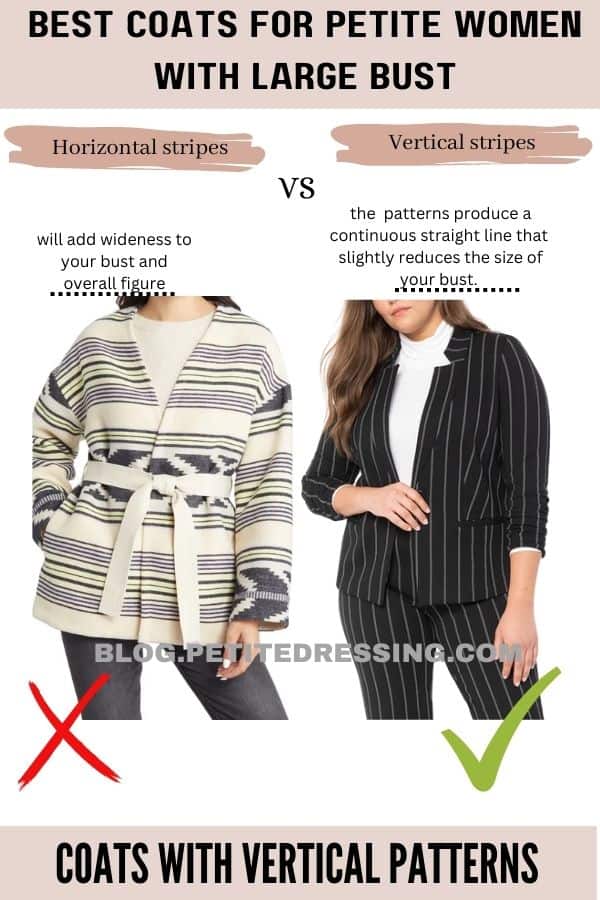 To visually elongate your body and create an illusion of a slimmer body, one of the most classic solutions to work this out is by going for vertical stripes or plaid patterns. These design patterns produce a continuous straight line that also slightly reduces the size of your bust.
Such patterns will help create balance by drawing even attention from your upper body to your lower body and not solely on your large bust area. Try to stick to patterns that aren't too overwhelming by going for muted or neutral colors.
Neutral-colored Coats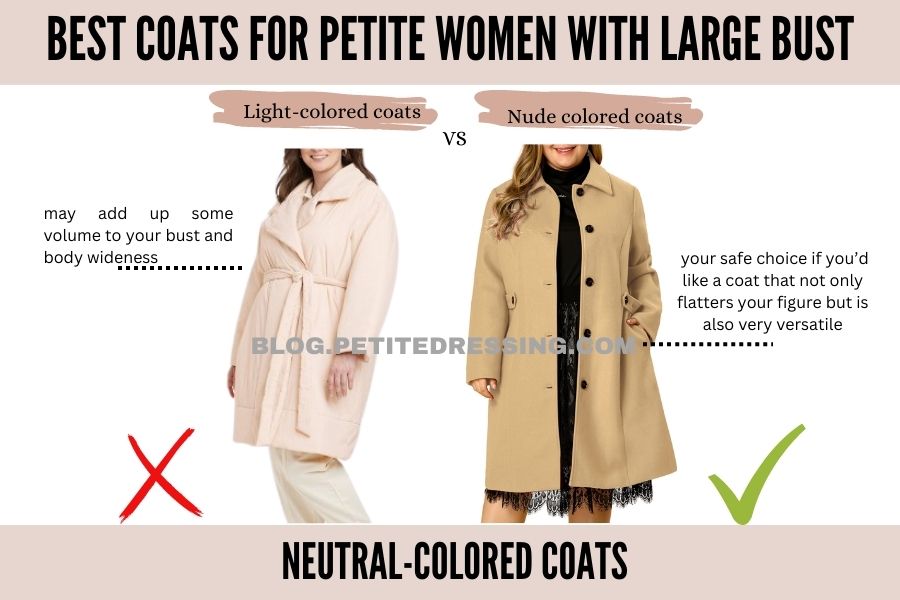 Neutral colors will always be your safe choice if you'd like a coat that not only flatters your figure but is also very versatile. Neutral coats are much easier to style with your other wardrobe ensembles, that's for sure!
In addition, neutral colors don't draw too much attention so you wouldn't put your top-heavy petite figure under the spotlight. If you actually opt for darker colors, you can also make your figure look leaner and your bust a bit smaller.
Not that you're trying to hide your large bust by concealing it with a dark-colored coat. Instead, it's just to make your upper body and lower body more perfectly proportioned.
The Key Takeaway
Shopping for fall and winter coats may bring some struggles but if you'd take some time to fully understand and know your busty petite figure, it's much easier to know which silhouette, fit, and colors would fit you.