If you are short like me, finding the right clothing is never easy. I am 5'2″ and I have a petite clothing line for women 5'4″ and under, so I hear feedback on a daily basis from petite women of all sizes and shapes.
Inverted triangle shape is known for wide shoulders and narrow hips. Because you are also petite, which means your torso is shorter, this combination can make you look top heavy.
Based on my first hand experiences, below is what works and what you should avoid, when you are petite and have the inverted triangle shape.
Styling Goal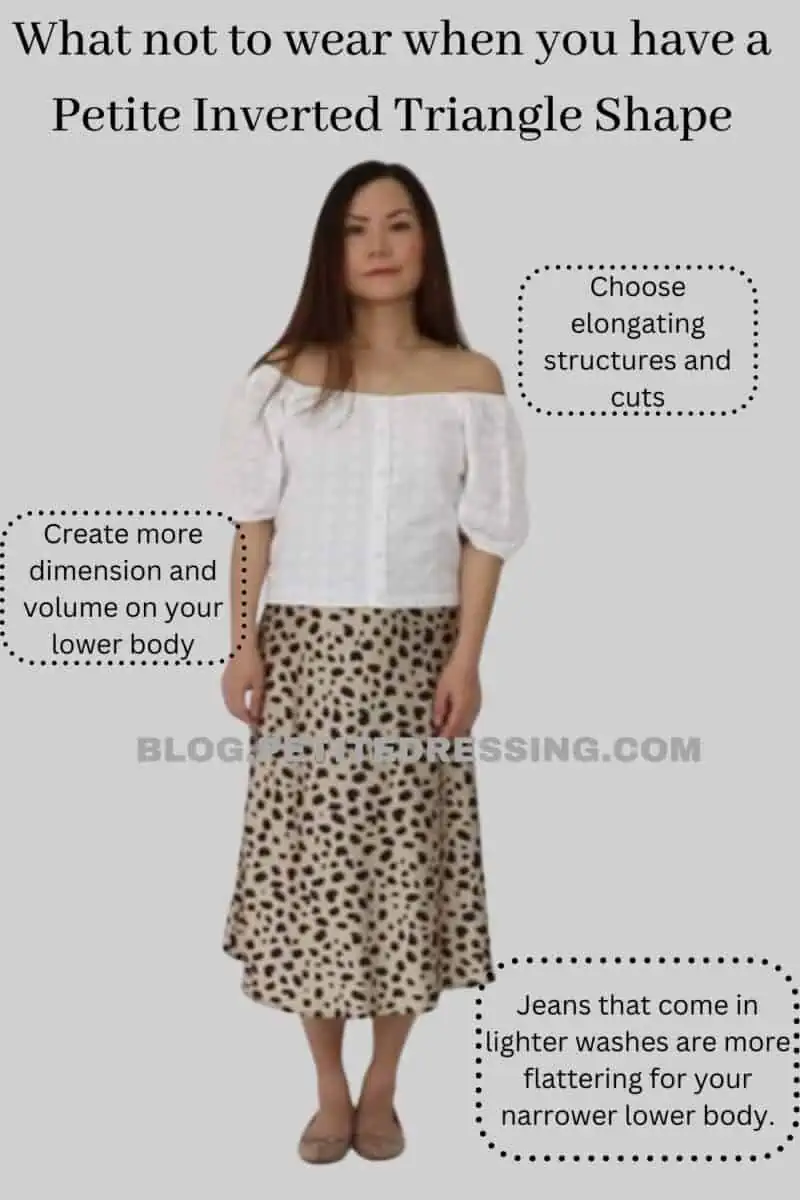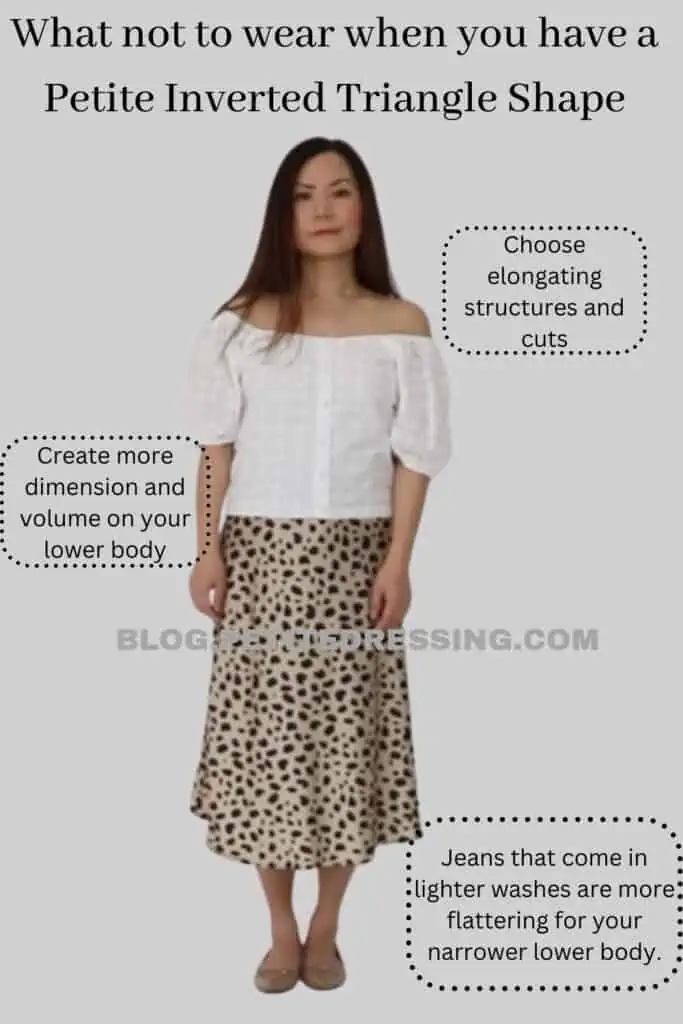 Choose the right silhouette that will bring balance to your prominent broad shoulders. Avoid structures that will add more bulk on the upper half such as shoulder pads or puff sleeves.
Be mindful of your neckline as it can make or break your look. As someone with an inverted triangle body shape, your key concern is your upper half (broad shoulders and big bust) so well-structured and minimal necklines should help neutralize this area.
Opt for elongating patterns and structures to help elevate your height. Well of course, petite girls can use a bit of help in terms of making them appear taller as this can also help to bring balance to the overall frame.
Off-the-shoulder neckline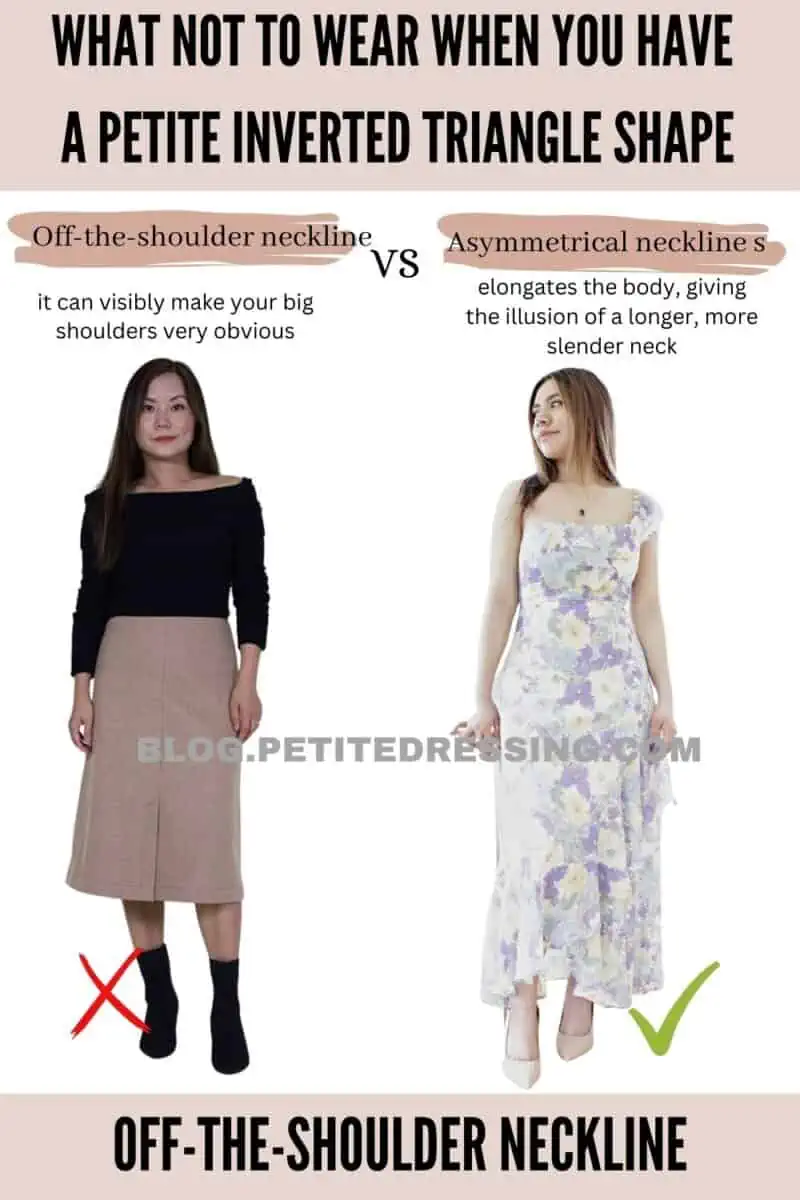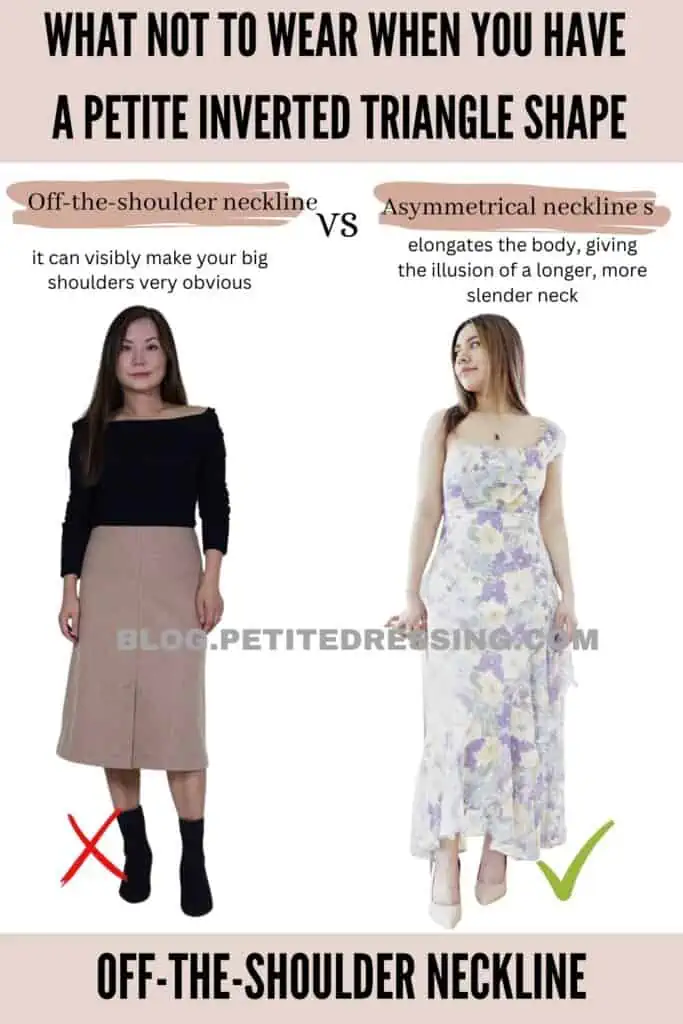 Broad shoulders can be an asset in general, but for petite women with an inverted triangle body shape, it can be an insecurity. Since you've got a small body, big shoulders can be quite overwhelming.
This is why off-the-shoulder necklines can be too much for your inverted triangle body shapes as it can visibly make your big shoulders very obvious. This can also create an imbalance in your body frame by making your lower body look way smaller and less prominent compared to your torso.
Bulky details on shoulders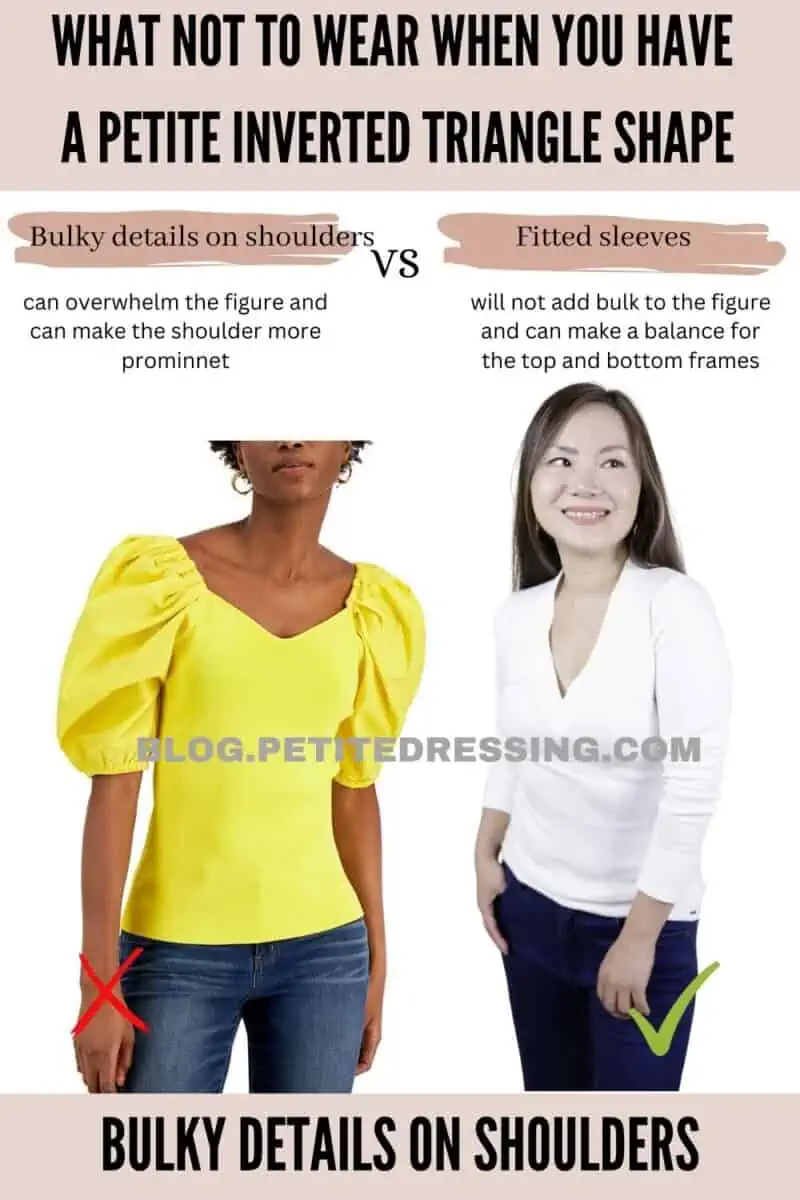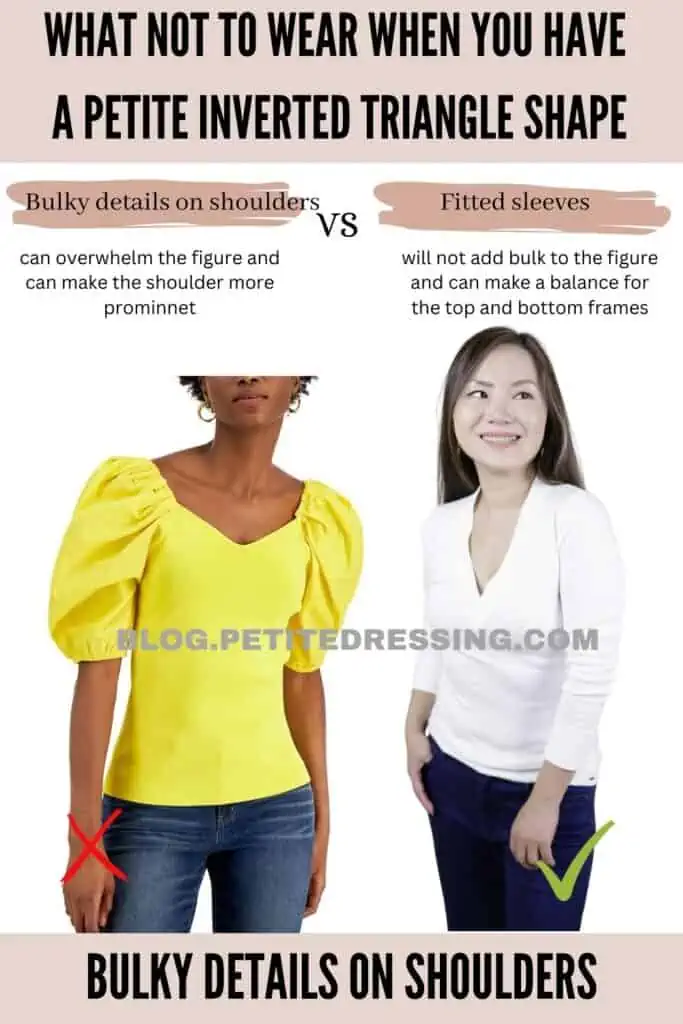 This is also something you should avoid if you don't want your shoulders to overwhelm your figure! Bulky shoulder embellishments such as beadwork, epaulets, or ruffles are some of the samples of clothing details you should avoid.
Instead, just go for tops or dresses that have a minimal design on the upper half and shoulder line. A neat seam line that runs through the shoulders is also an efficient way to keep your frame balanced without underwhelming or overwhelming your upper body.
Heavily-ruffled neckline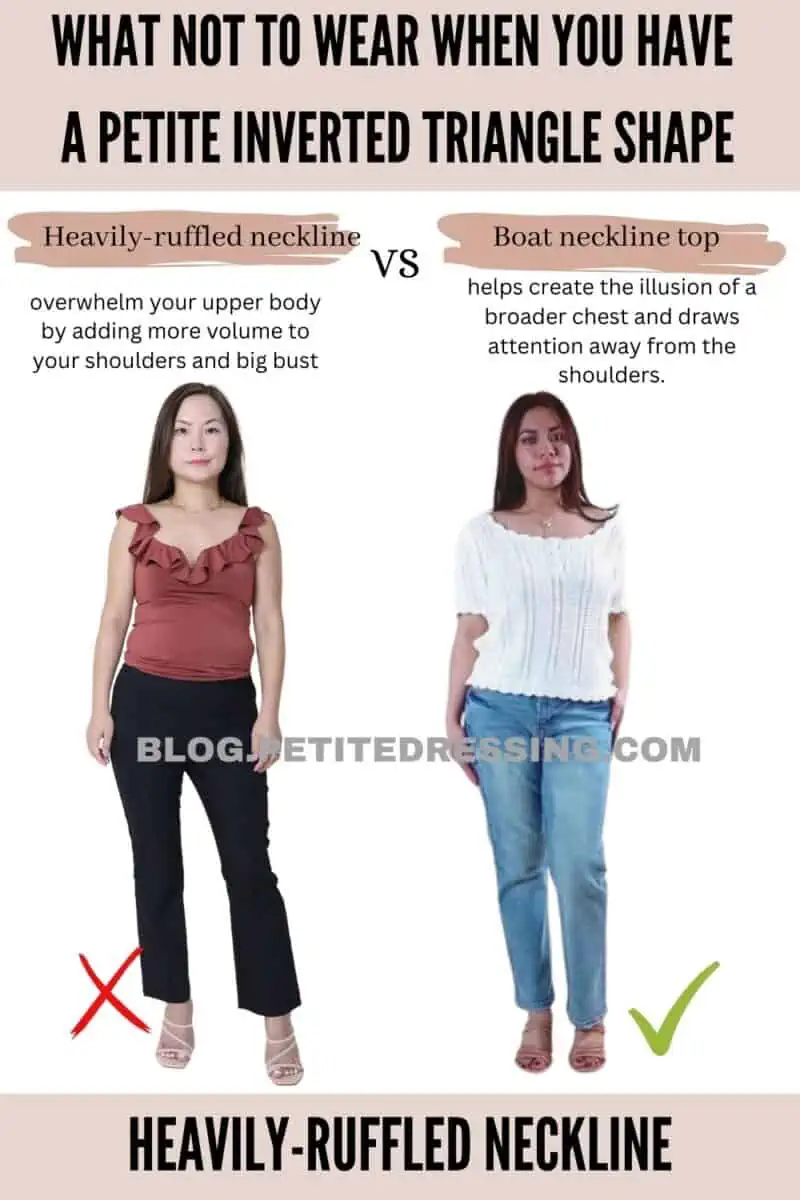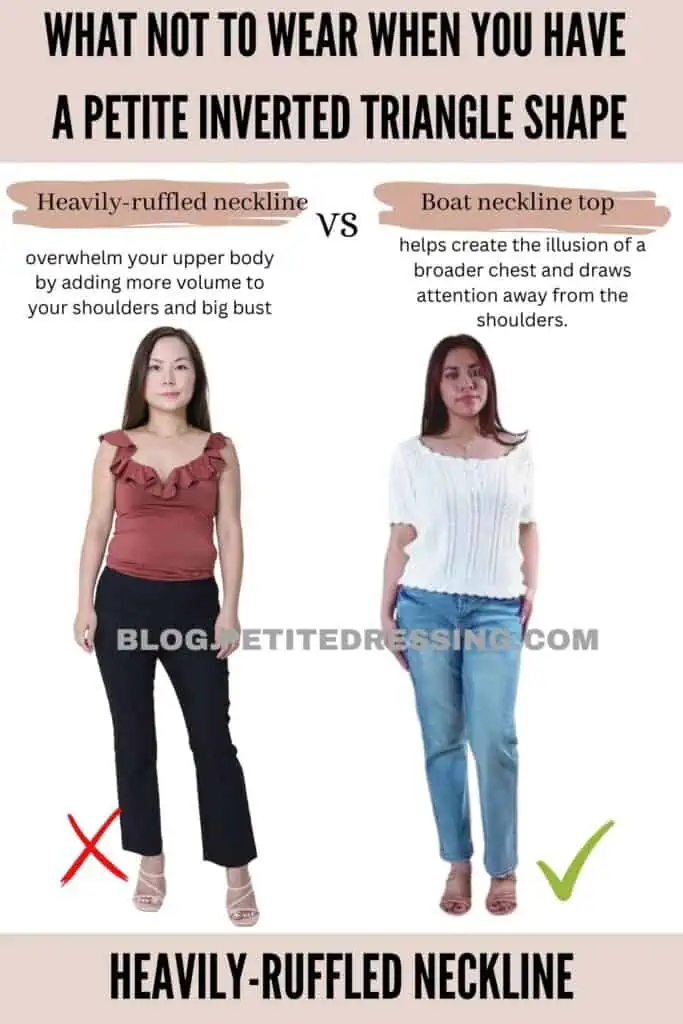 Vicotrian-style ruffle neck blouses are undeniably elegant and sophisticated to look at. However, if you're a petite girl with an inverted triangle body shape, this may be something you need to skip.
Just like the first two fashion faux pas in our list, heavily-ruffled necklines can also overwhelm your upper body by adding more volume to your shoulders and big bust (that are already broad and prominent!). This will draw too much attention and completely engulf the rest of your body's visuals.
Puff sleeves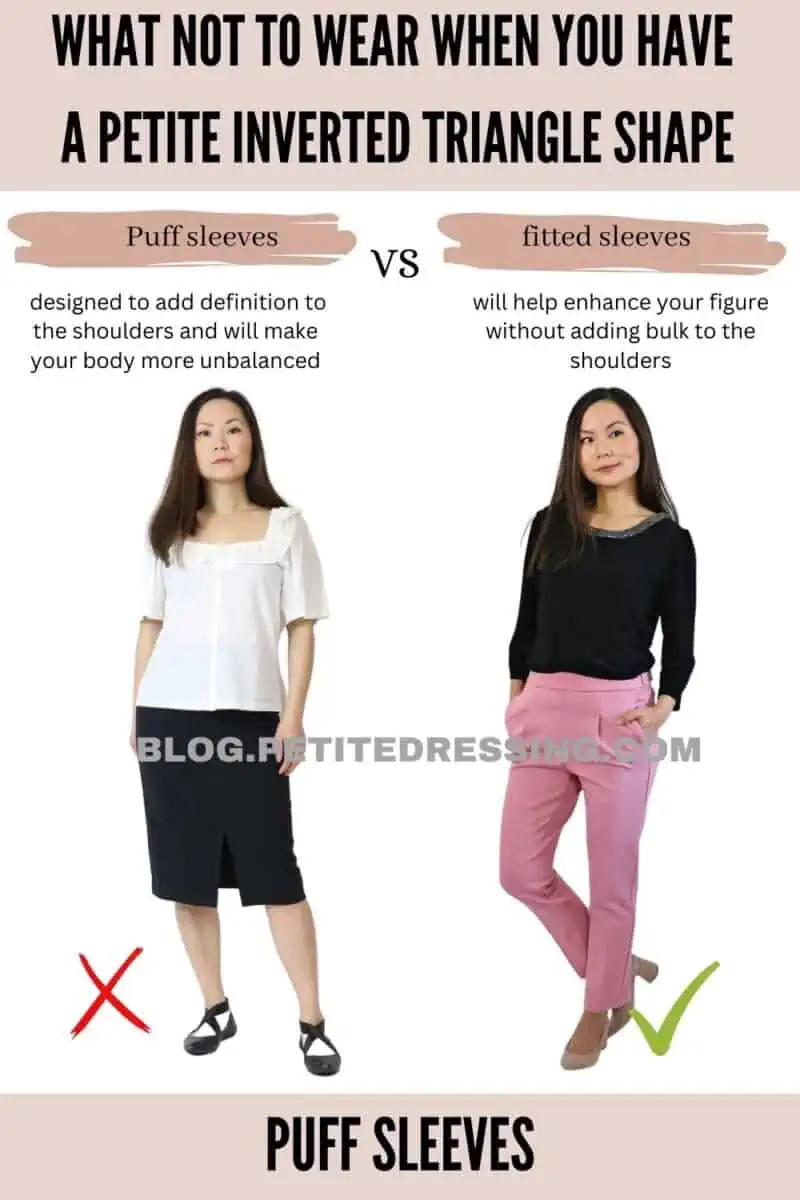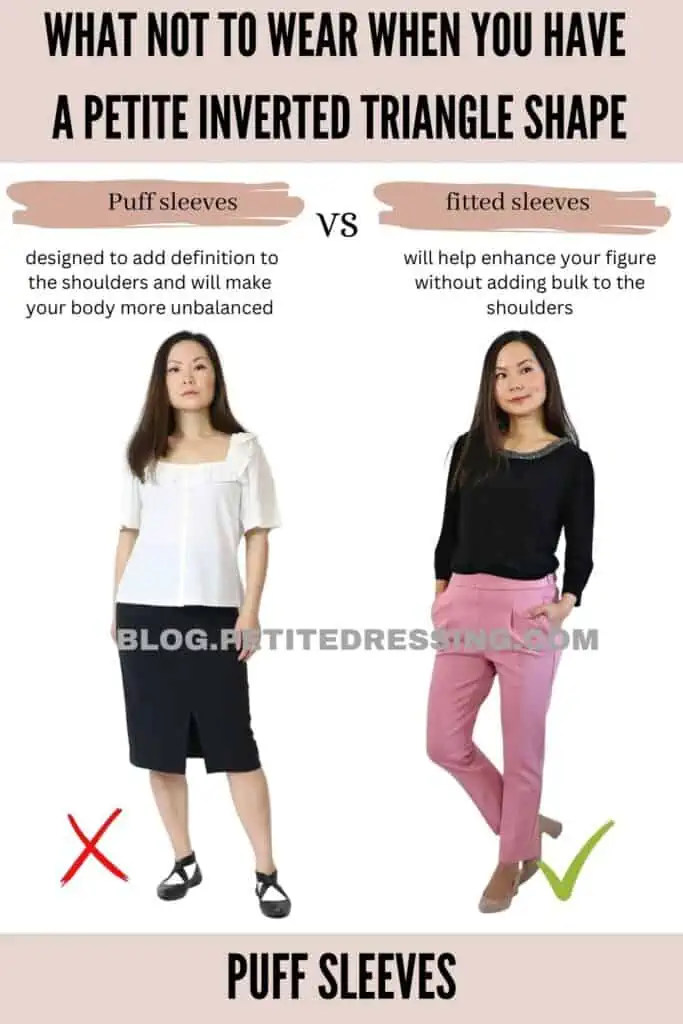 Puff sleeves have been quite trendy as well in recent years and you'll see a lot of dainty pieces in fashion stores. Unfortunately, it's also one of the styles you should avoid as a petite inverted triangle-shaped woman.
Puff sleeves are designed to add definition to the shoulders, but since your shoulders are already prominent and well-defined wearing puff sleeves will only make your upper body look even bigger.
Instead, go for tailored, form-fitting sleeves that skim through your body's natural shape. If you want to go with sleeveless tops or dresses, you may do so as long as you keep the right neckline in mind.
Large prints on the bustline area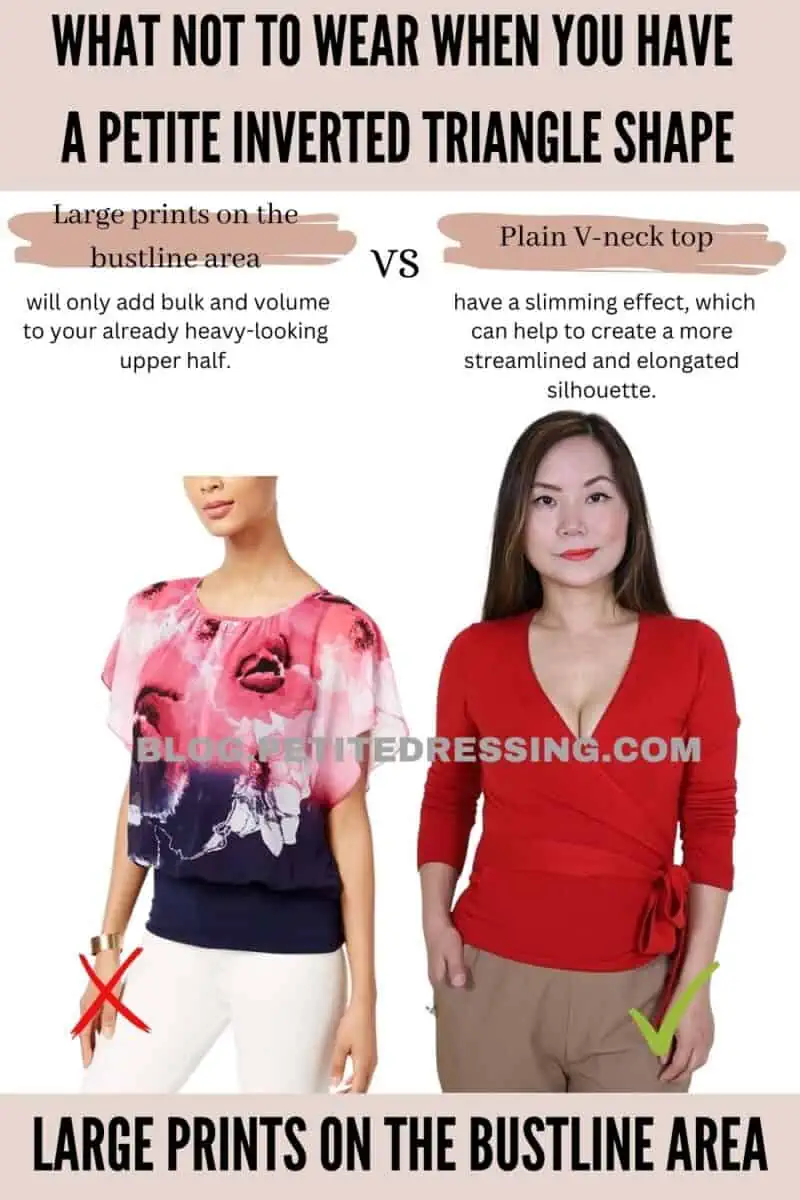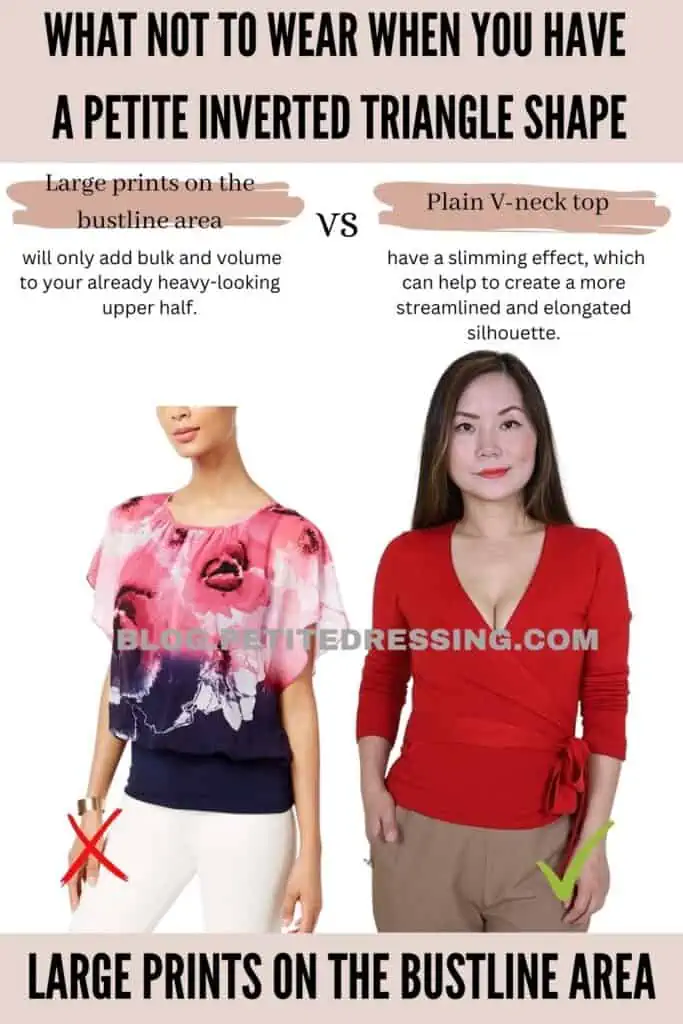 Petite inverted triangle-shaped women generally have big breasts as well, so this can also be an area of concern. Don't get me wrong, a big bust line is beautiful (and so is any other bust size!) but here, we'll be talking about proper frame balance.
The size of your bust is almost as comparable to how prominent your shoulders are. With this mentioned, the last thing the upper half of your body would need is more volume.
Large prints placed on the bust line will only add bulk and volume to your already heavy-looking upper half. So for your tops, just go for plain or minimal designs, or If you'd like statement prints, just consider having them on your bottoms instead.
Chunky or Baggy Clothes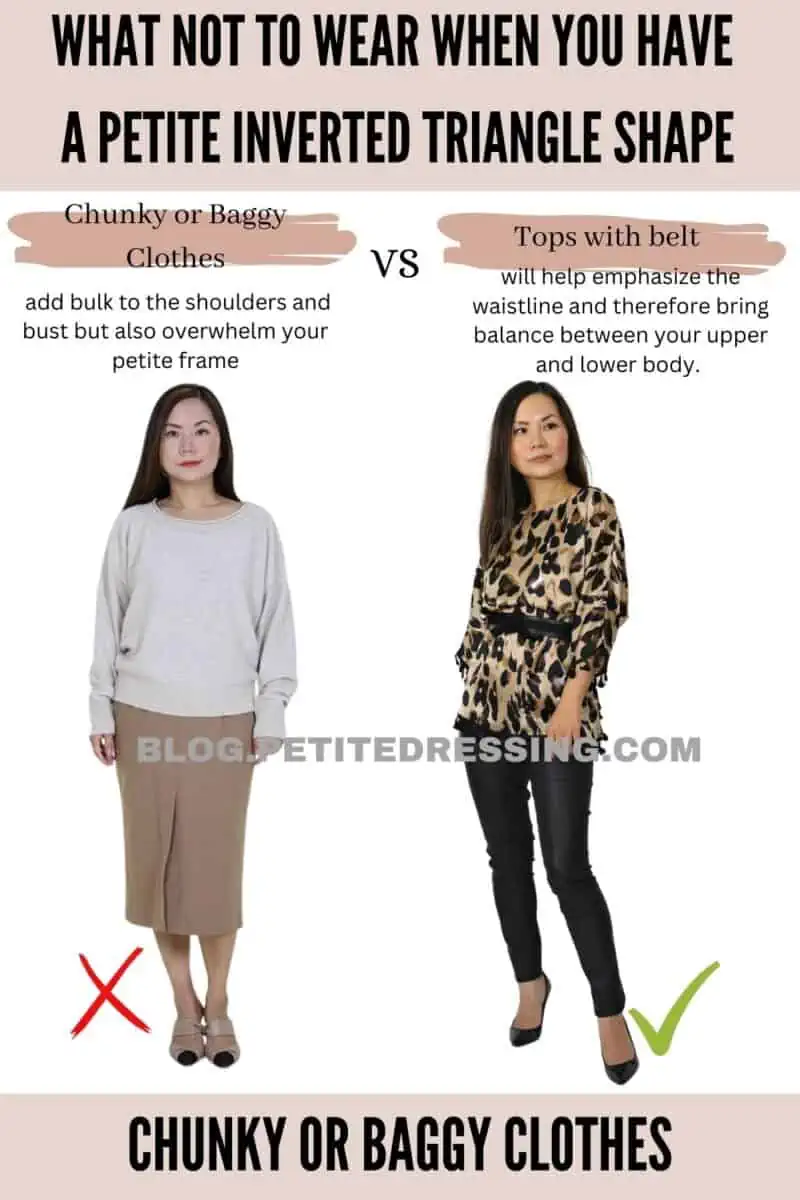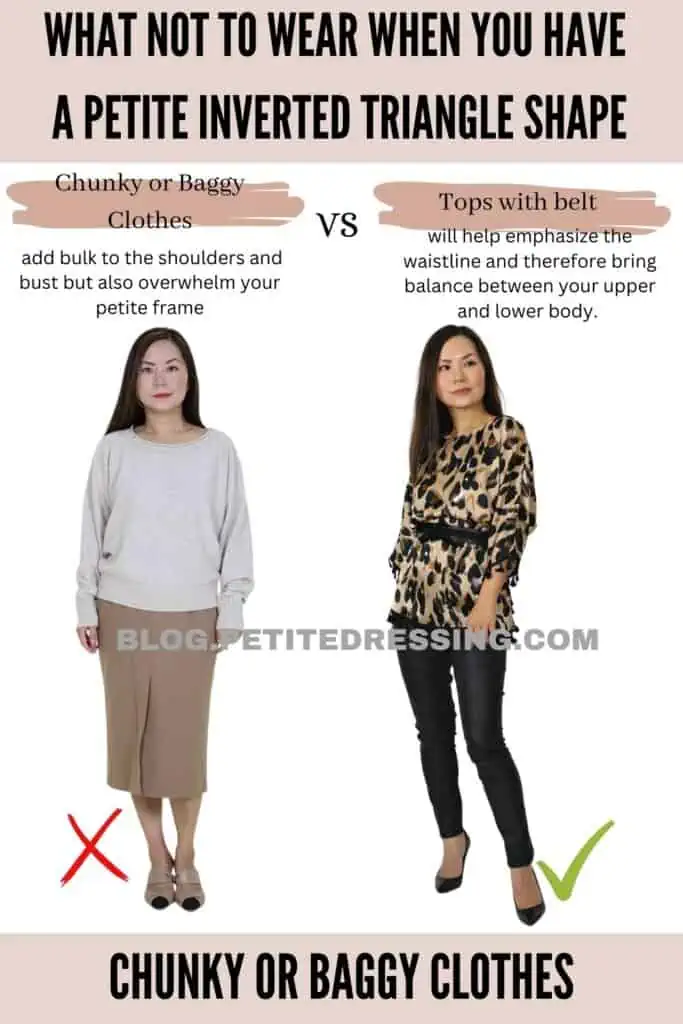 Chunky knits and oversized clothing are not really the best choices for your body shape because they don't flatter your silhouette. In our "Styling Goal" section, we briefly discussed how important silhouette is to make your body shape look well-balanced and defined.
Clothes that are chunky or bulky not only add bulk to the shoulders and bust but also overwhelm your petite frame. This will make you look shorter and wider so it's best to steer away from these types of wardrobe pieces.
Cropped Jackets and Cropped Blazers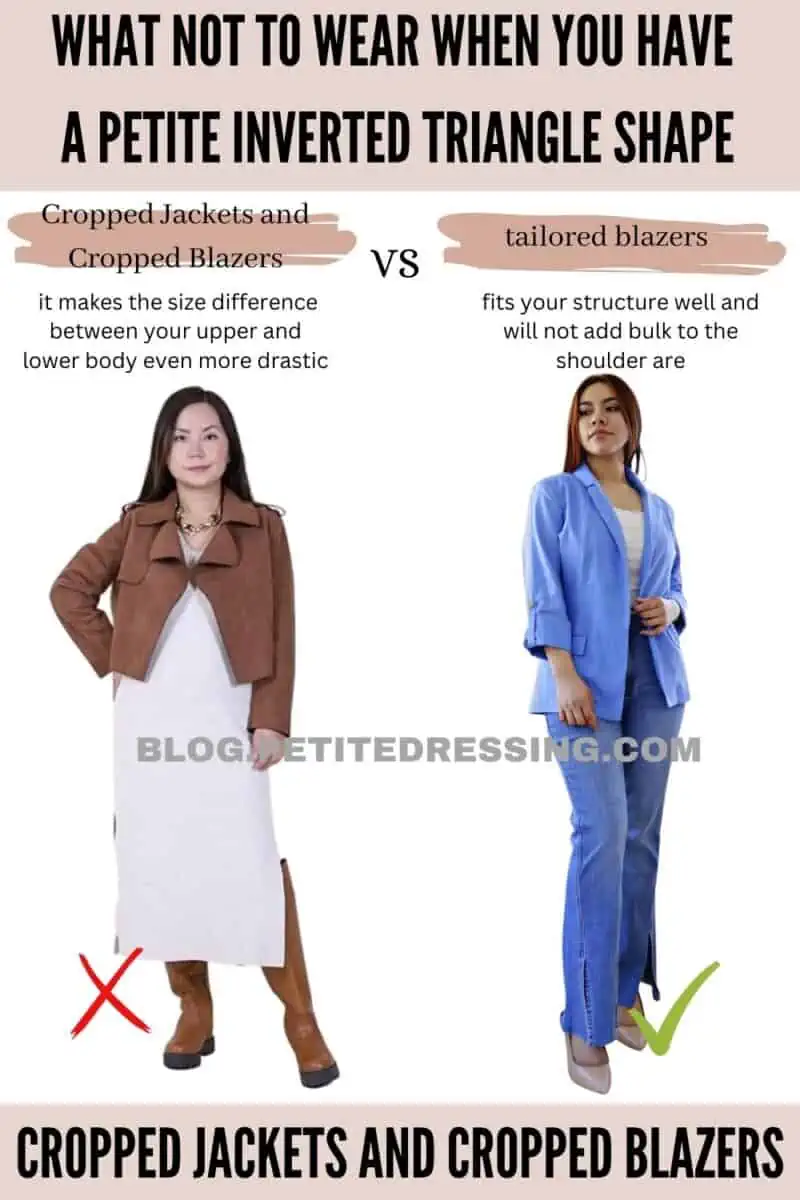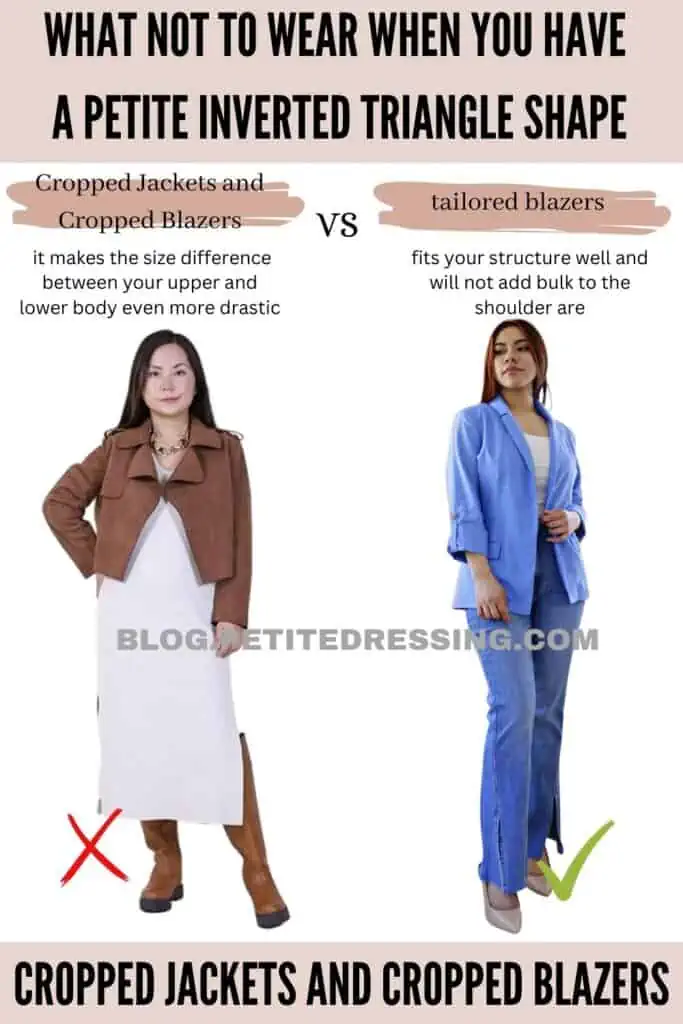 Cropped jackets and blazers can make you look way heavier on the top part of your body. Since it hangs and ends right at your waist or midriff, it only highlights your upper half, most specifically your bust.
This results in a clear imbalance of your silhouette as it makes the size difference between your upper and lower body even more drastic. Instead, choose jackets and blazers that come in a flattering length.
Instead, go for those that are hip-length and form-fitting. Ideally, those that come with a cinched waist for your body figure to look more balanced and defined.
Double Breasted Trench Coats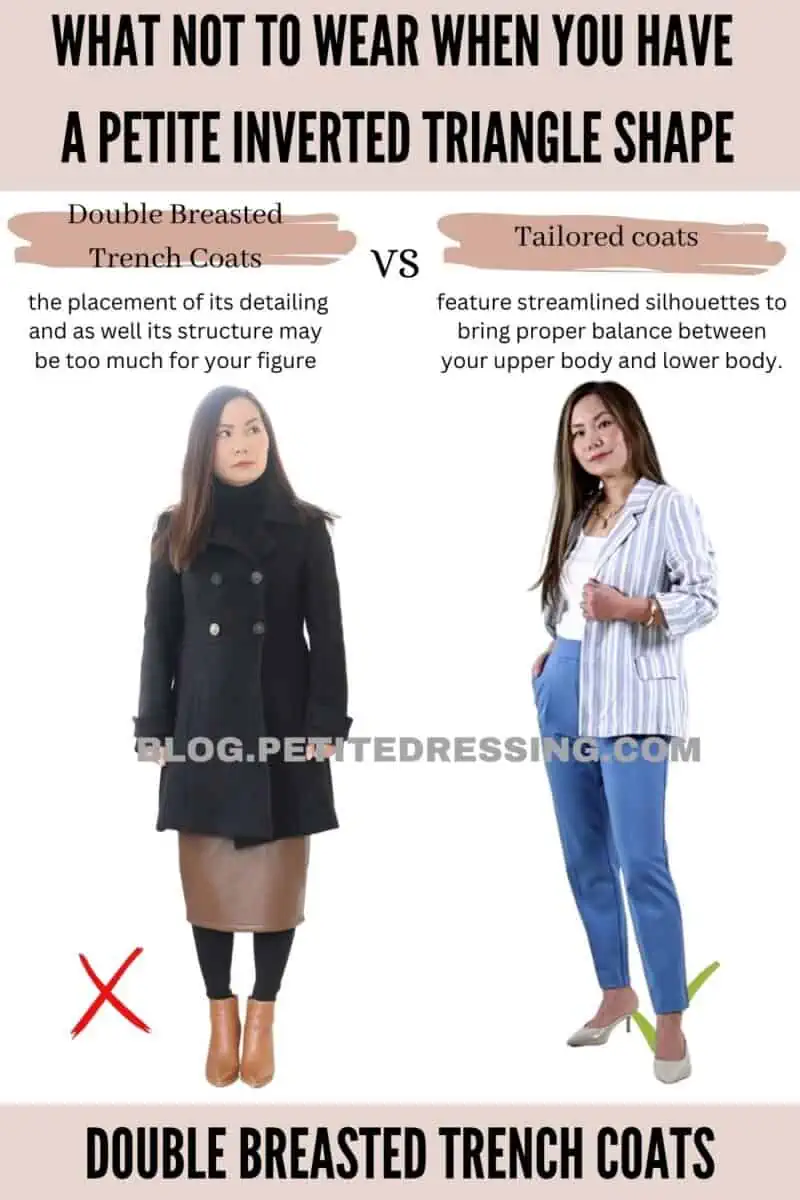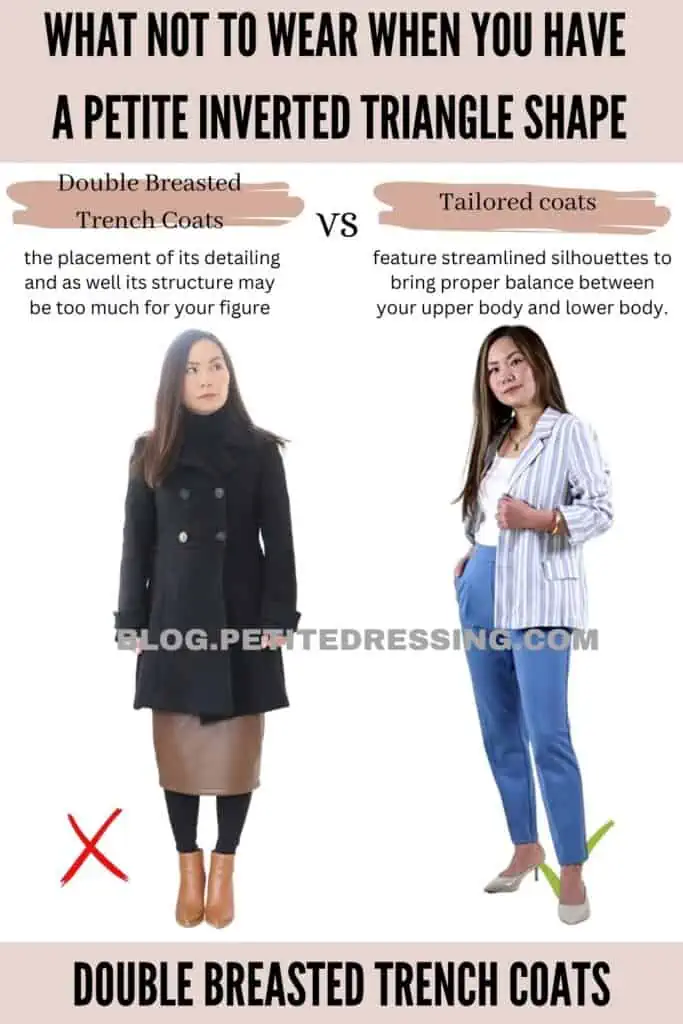 This is the type of coat that you should really avoid because of the placement of its detailing and as well its structure. While it's totally a fashion statement, its structure may look too much for petite inverted body shapes.
Trench coats have epaulets which make the shoulders look broader and bigger. They also come in double-breasted structures which will make your bust look even bigger.
These effects can visually affect the balance and appearance of your frame so it's much better to avoid them. Instead, go for tailored coats that feature streamlined silhouettes to bring proper balance between your upper body and lower body.
Tight Pencil Skirts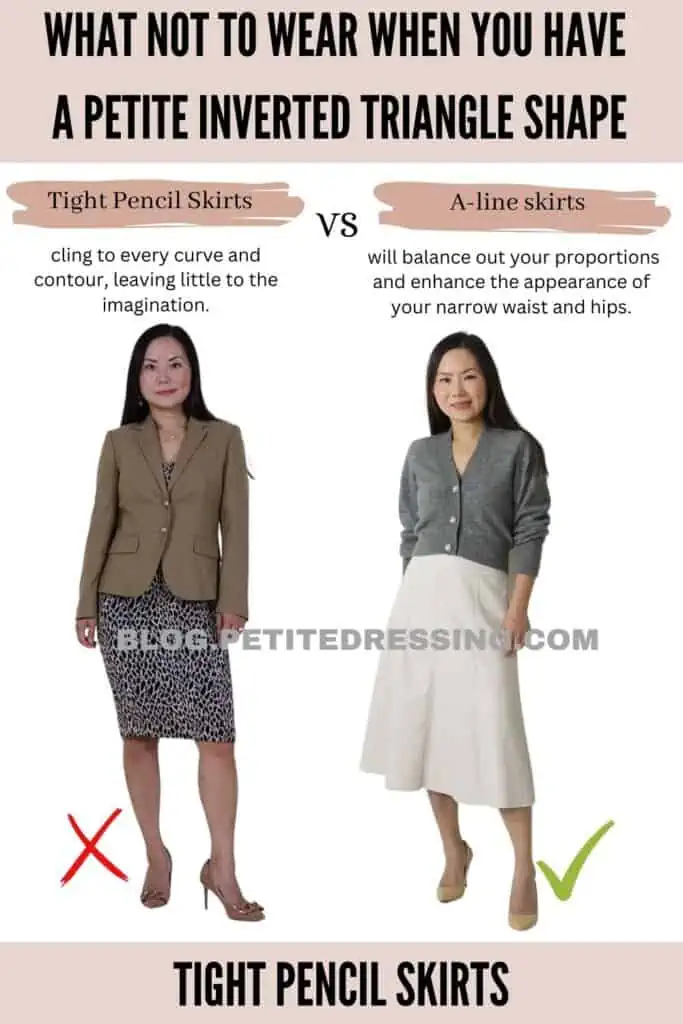 You see, pencil skirts are sleek and slimming, but they're also tight and unforgiving which can make your narrow waist and hips look even narrower. They cling to every curve and contour, leaving little to the imagination.
Your upper body is already broad and attention-grabbing, and a tight pencil skirt will only emphasize that. It'll draw the eye upward, towards your shoulders and chest, making you look even broader and top-heavy.
Instead, think A-line skirts, flared pants, and wide-leg trousers. These styles will balance out your proportions and enhance the appearance of your narrow waist and hips.
Exaggerated Shoulder Pads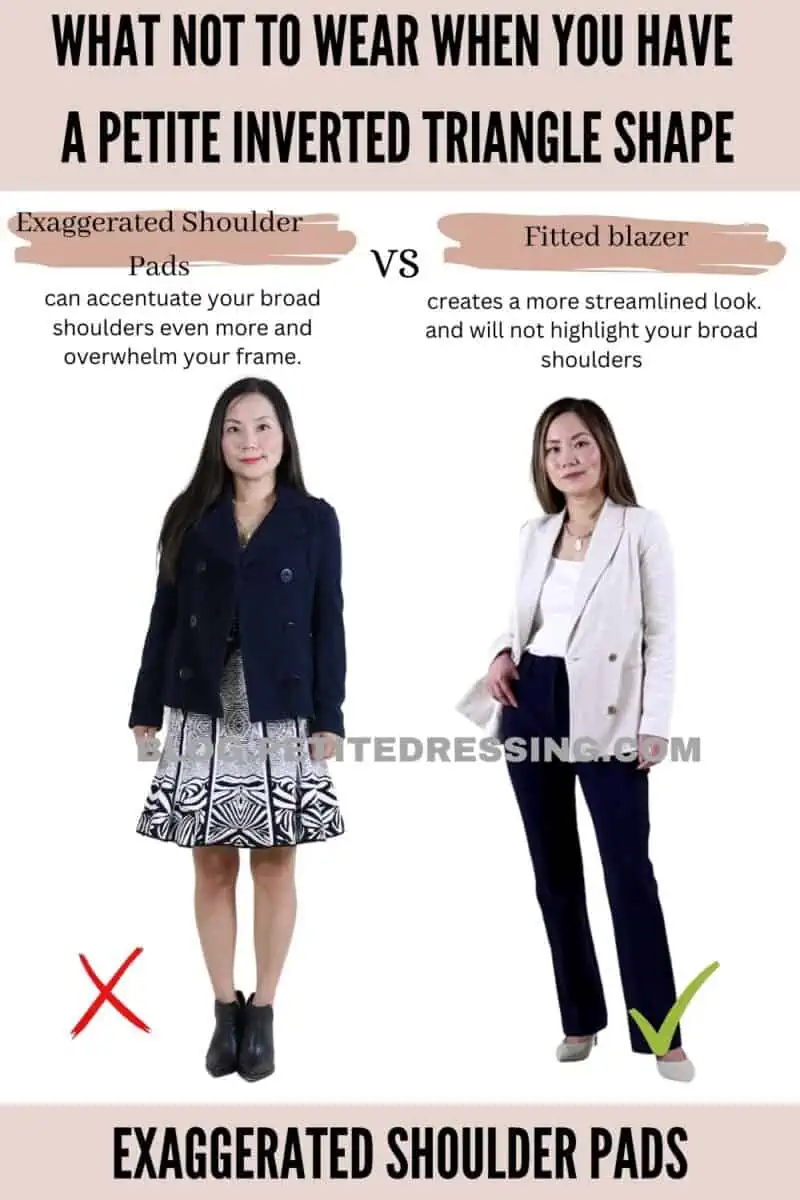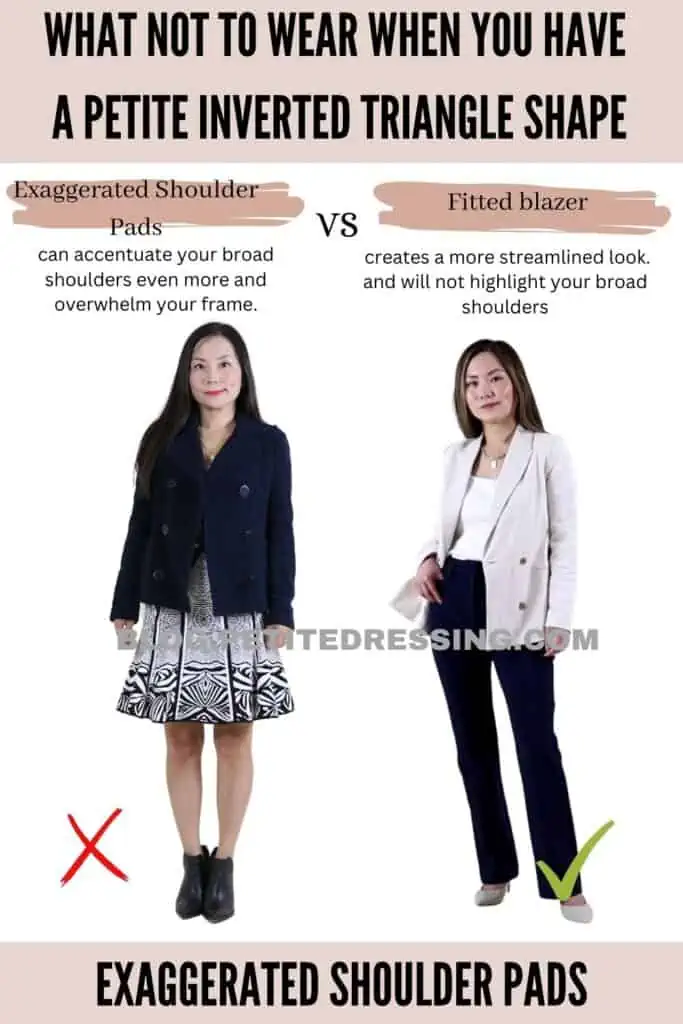 Shoulder pads were all the fashion rage from the 70s to the 80s, and they can still be an edgy style to pull off today. As for inverted triangle-shaped women, they can be particularly challenging to work around.
Shoulder pads add bulk to the upper body, which can make an inverted triangle shape look even more top-heavy. Instead of balancing out your body-frame ratio, shoulder pads can accentuate your broad shoulders even more and overwhelm your frame.
But then, if you're really set on trying out a dress with shoulder pads, there are some ways to make it work. Look for styles with smaller, more subtle pads, or try layering a fitted blazer over the dress to create a more streamlined look.
Bodycon dresses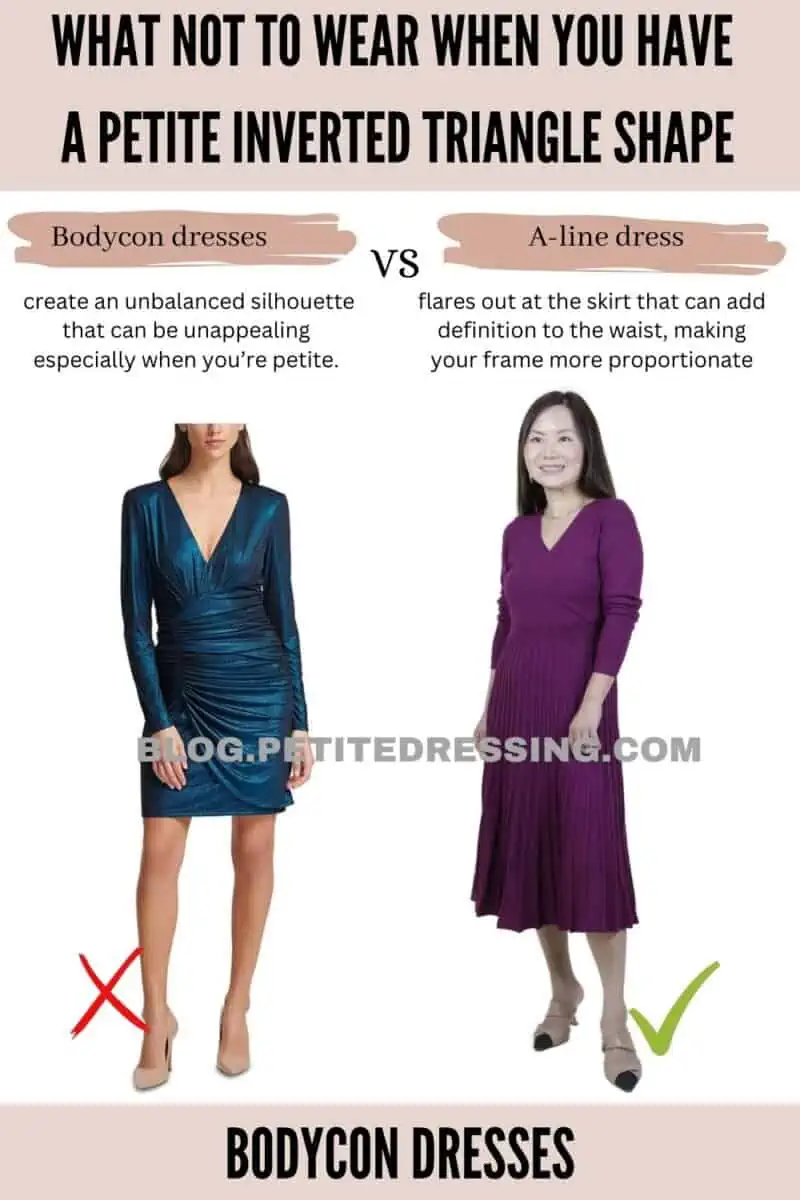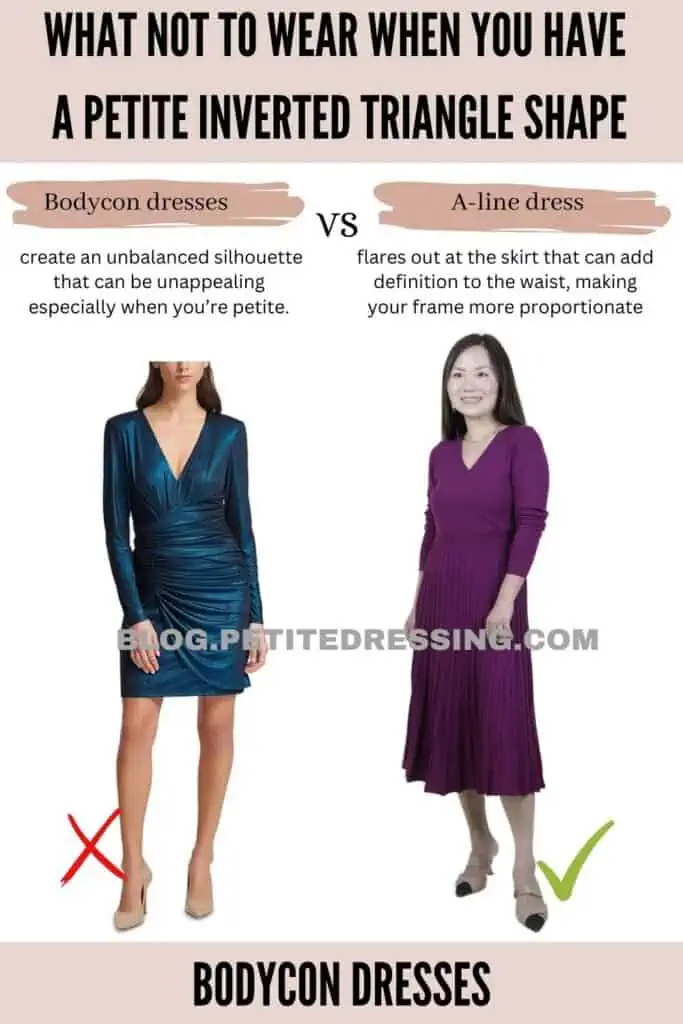 Bodycon dresses are designed to hug every curve and contour of the body, creating a sleek and sultry look. It can surely look sexy, but for petite inverted triangles, this style can be unflattering for several reasons.
They can emphasize the already-broad shoulders and chest of inverted triangle shapes, making them appear even larger and more top-heavy. This can create an unbalanced silhouette that can be unappealing especially when you're petite.
This can be particularly unflattering for petite inverted triangles, as it can make them appear smaller and more compact than they actually are.
Skinny jeans and leggings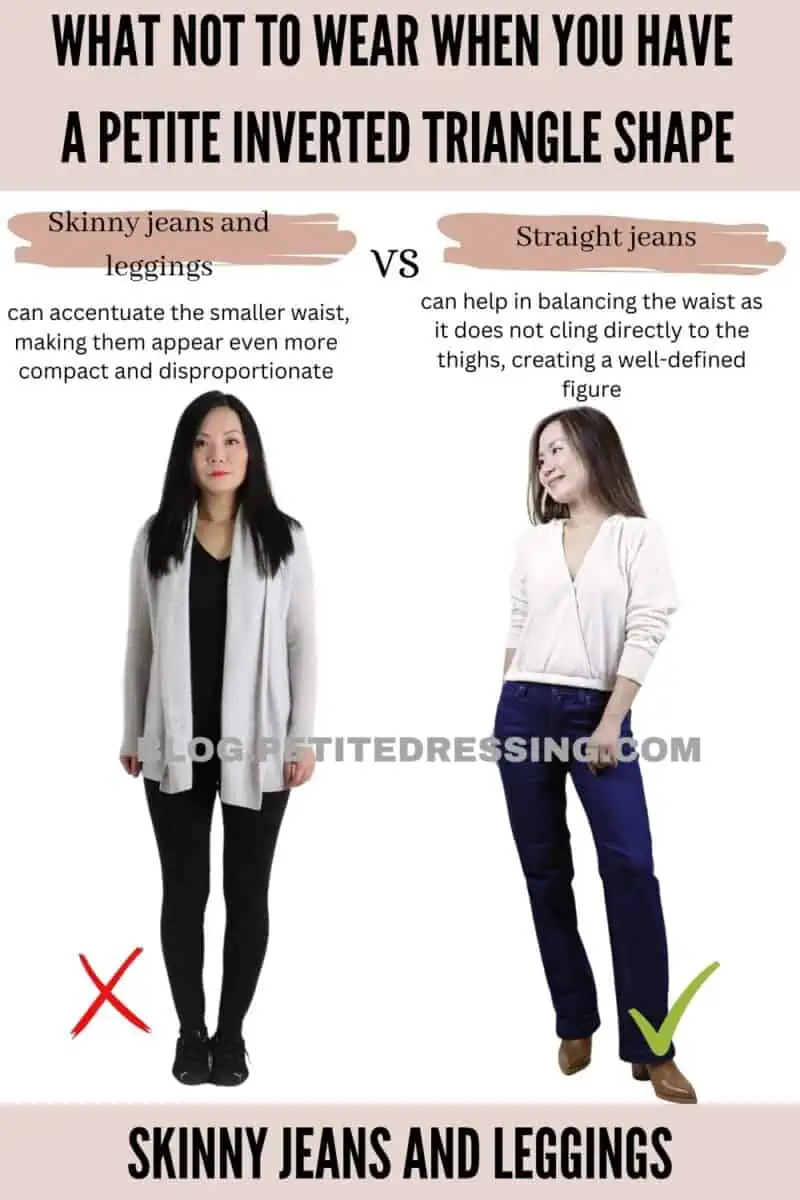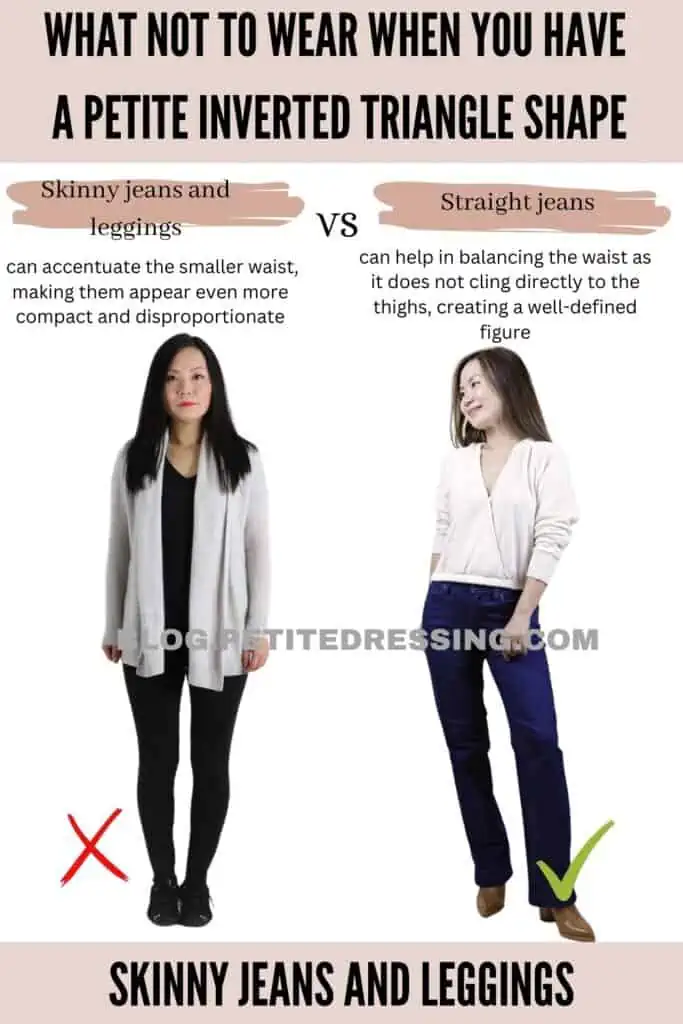 As you may have already noticed in this style guide, tight-fitting clothing pieces aren't exactly what your body figure wants. That said, skinny jeans and leggings can be quite unflattering to pull off for you as well.
Why? Skinny jeans and leggings can accentuate the smaller frame and narrow lower body of petite inverted triangles, making them appear even more compact and disproportionate. This can create a stumpy appearance that can be unappealing.
The Key Takeaway
Your body figure is absolutely amazing and you have to embrace it in any way! The best way to show it some love is to know and understand which type of clothing would flatter and enhance it.