Petite women that also have large busts can be quite challenging to style since these are two different features that are both tricky to work with. But well, there are a lot of busty petites out there and we're here to make sure you find the right clothing pieces to bring the most out of your beautiful figure.
Styling Goal
The goal is to create a visually appealing line that elongates your body frame while also neutralizing the size of your bust. This is to make your figure appear more balanced from top to bottom.
Being short and having a large bust at the same time can easily make you wider and heavier. This is why you should carefully pick clothing structures that will narrow you down and give you a leaner look without losing your curves.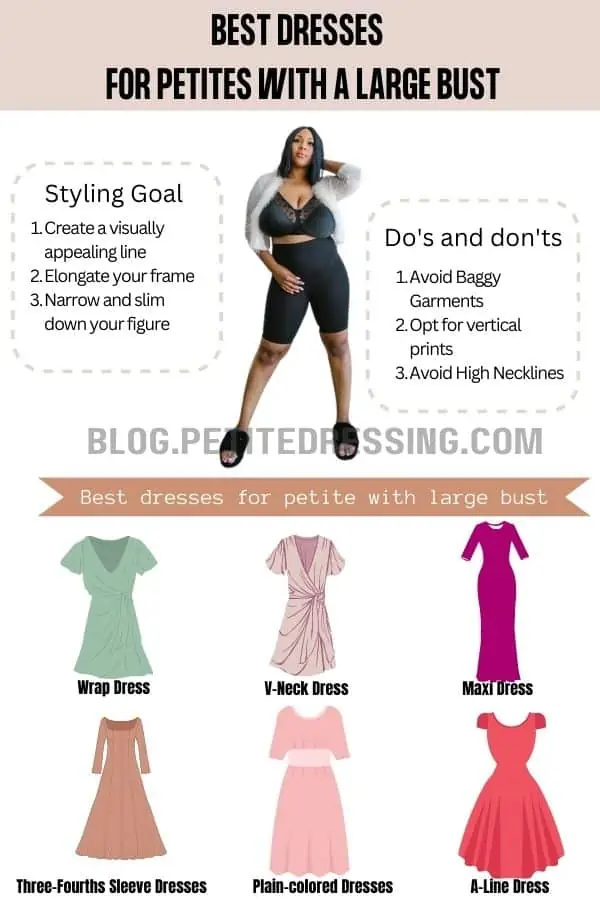 Wrap Dress
Wrap dresses will always be a safe option for you since it features a structure that's universally flattering for almost all types of body shapes. The tie that goes around the waist gives a better definition to your midsection and therefore gives the illusion of a longer torso.
Since the goal is to create a vertically larger space for your large bust, go for a wrap dress that has a V-neck, boat neck, or square neck to enhance the shape of your bust while also adding more length to your upper body. You'd also like a fabric that gently skims through your curves so choose ones that are soft and semi-stretchy.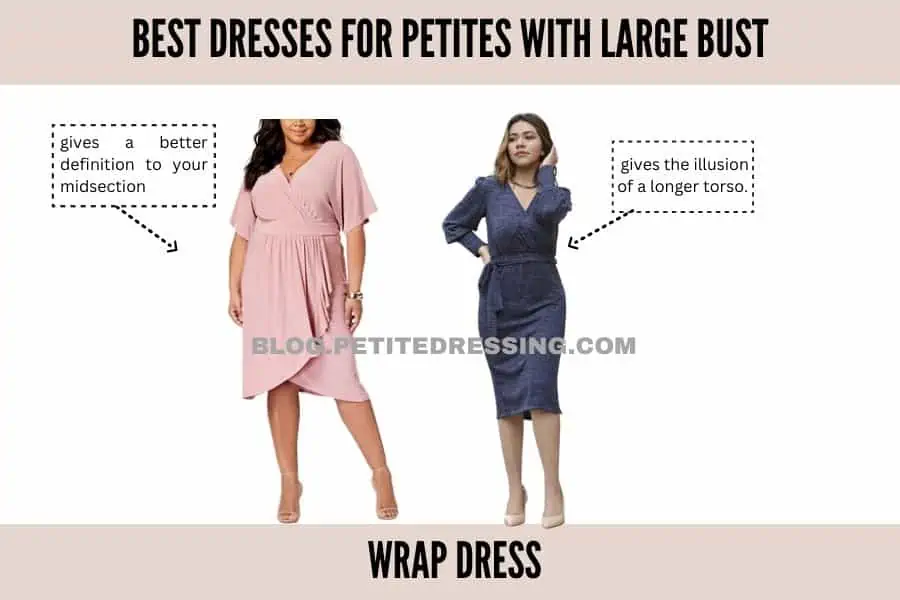 V-Neck Dress
The most flattering neckline for petite women with a large bust is a proper V-neck. Note that for it to give your body a flattering proportion, the tip of your V-Neck should end just right above where your cleavage is.
Avoid V-neck dresses that are too plunging because not only will they draw too much attention to your big bust but also constrict your movements. Because plunging necklines expose a large part of your bust, then you may not have enough support to secure them with your every move.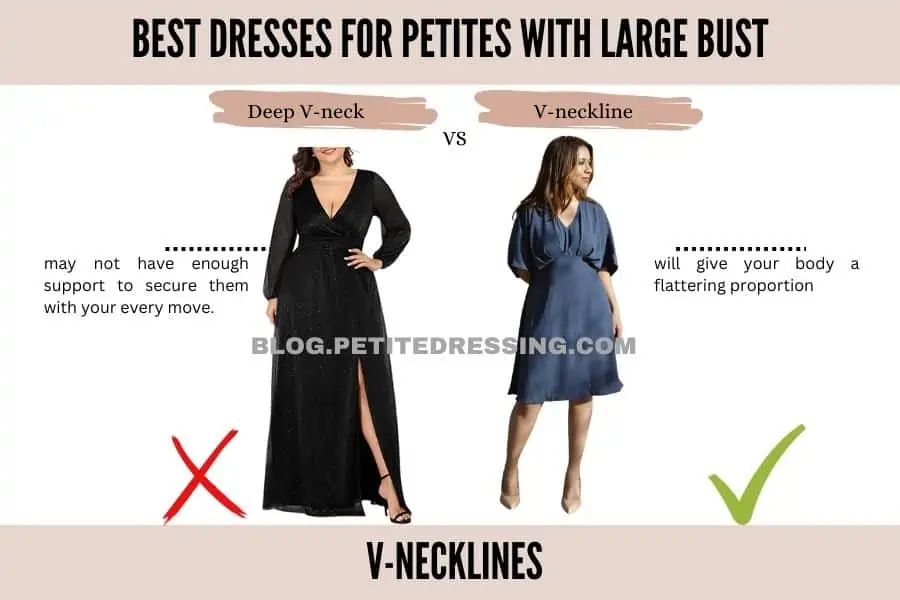 Maxi Dress
As a short girl, you may feel like maxi dresses are quite intimidating. But by opting for the proper length and flattering neckline, you can actually maximize its lengthening effect to make you look taller and leaner.
Busty Petites are obviously top-heavy and one way to effectively neutralize this is to choose a maxi dress that has a spacious neckline. Just be a bit more careful when choosing a fit on the upper body as it shouldn't be too tight or too loose.
In terms of length, maxi dresses work well on petite women if they're not too long. Ideally, the length should be a few centimeters above the ankle.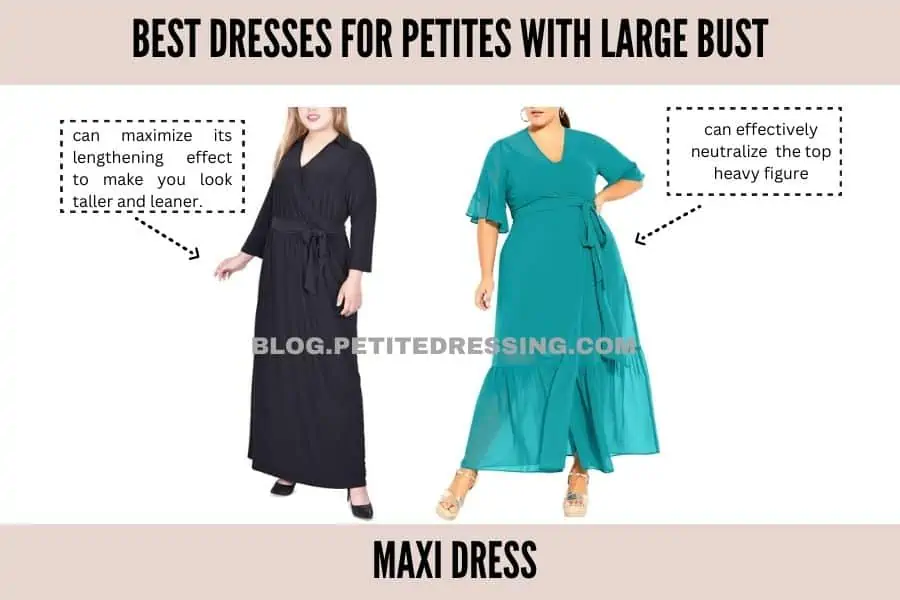 Three-Fourths Sleeve Dresses
If you'd like to have some coverage on your arms, then go for ¾ sleeves instead of full-length long sleeves. Petite girls have shorter limbs so ¾ sleeves provide just the right length that is deemed flattering.
Sleeves that are too long will only make your short arms more apparent. The proper length should at least be a few centimeters above your wrist as the more part of the arm you show, it'll have more elongating effect overall.
Another effect that ¾ sleeves give is that it draws attention to your well-defined wasitline rather than having the sole focus on your large bust area. Such an optical illusion will give you a visually lengthened frame and more defined curves.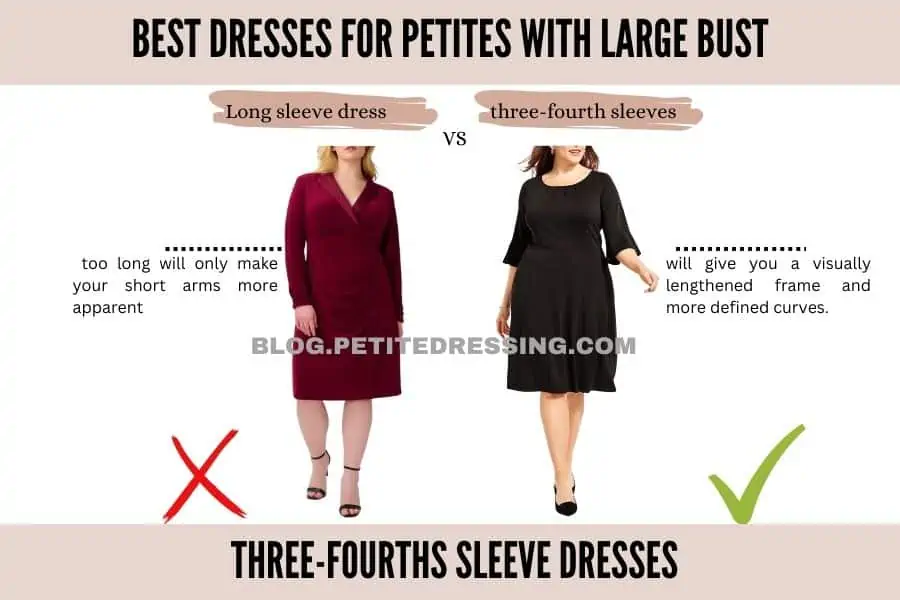 Plain-colored Dresses
Design patterns that are too bulky and distracting can greatly overwhelm your figure and may tend to hide your body's best assets. The key is to stick to minimalist designs – the simpler, the better!
Monochromatic dresses and vertical patterns such as stripes visually elongate the body by giving your silhouette a continuous line flow. You can also go for soft hues or muted patterns to avoid making your figure too heavy-looking.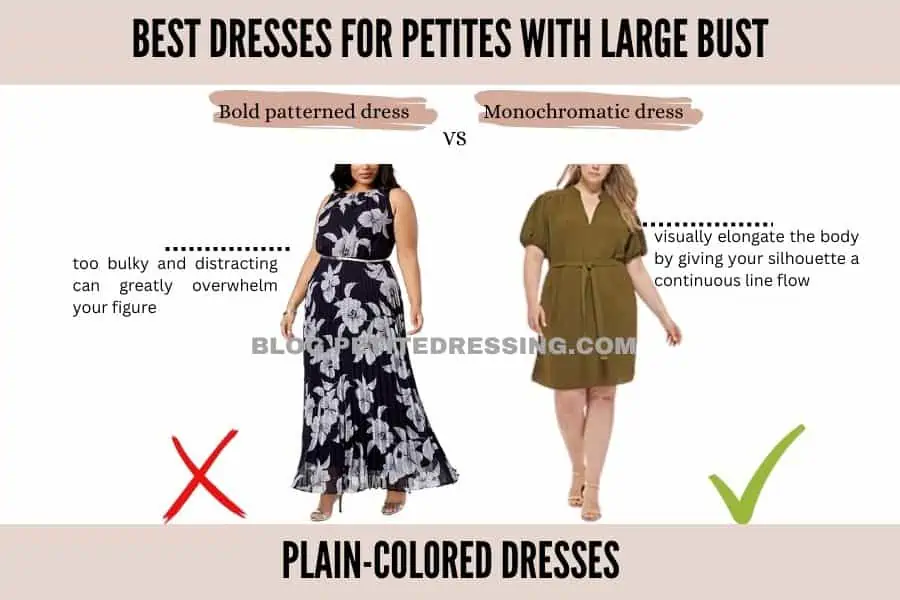 A-Line Dress
A-line frocks feature a fit and flare silhouette that brings a very good balance between your upper and lower body. The seam that separates the top and bottom part of the dress defines the waist to make it look smaller.
This effect gives a snug fit on the upper body which also gives your large bust a better definition. The flare of the skirt, on the other hand, features a nice flow that makes your legs appear longer.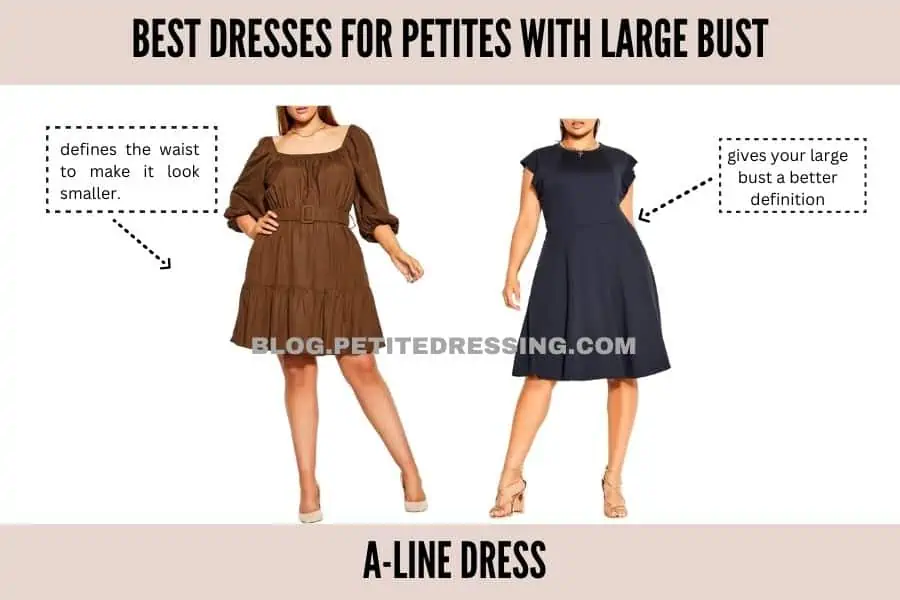 Form-Fitting Dresses
Form-fitting dresses such as sheath dresses make great wardrobe pieces for busty Petite women. A proper form-fitting dress skims through your natural curves while also extending your body vertically, especially if you go for a flattering length that shows off your legs.
Additionally, since it features a tailored structure and neat seamlines, it embraces your large bust quite naturally. There aren't any excess fabric details so it minimizes the attention pointing toward your bust area without making your shape disappear.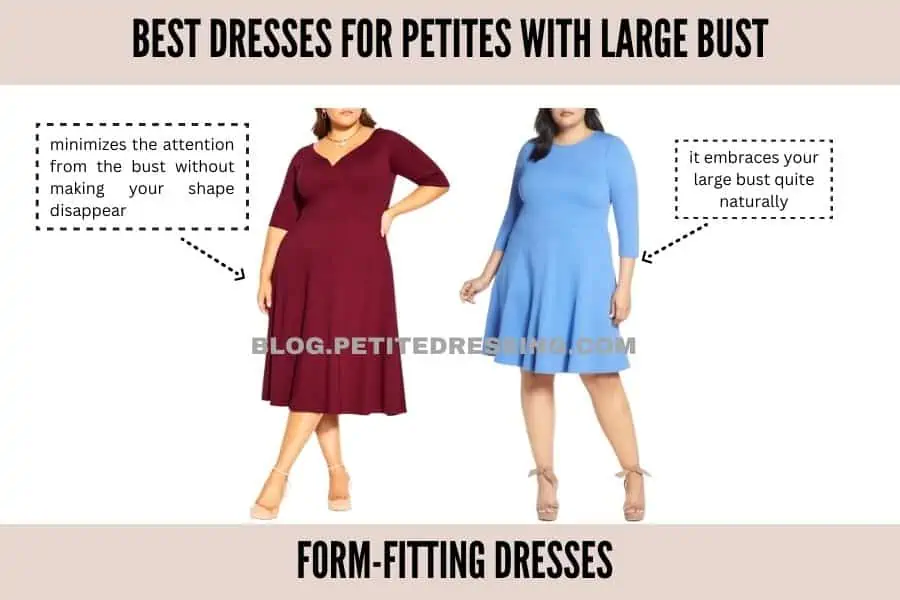 Avoid Baggy Garments
Shapeless clothing structures and layers of bulky fabric are what baggy garments are all about. Loose-fitting wardrobe pieces will drown your natural figure and make your natural curves disappear. 
Some busty girls feel quite conscious of their large busts so they tend to hide it by going for baggy clothes but if you're also short, this type of structure will make you look way shorter than you already are.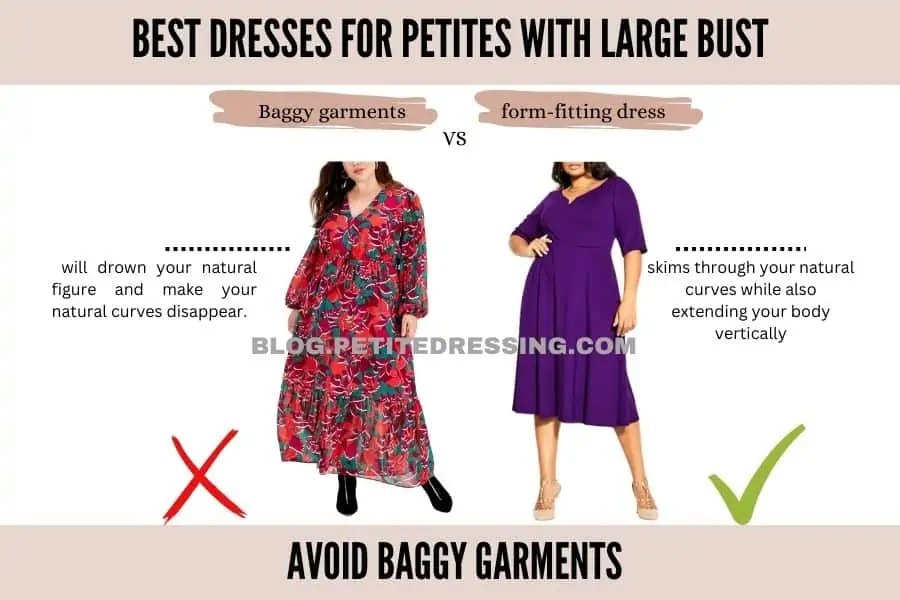 Avoid Voluminous Sleeves
Dresses with dramatic sleeves can look quite distracting and can also visually add weight to your upper body. Balloon sleeves, batwing sleeves, and bulky ruffled sleeves are some examples of voluminous sleeves that create an unflattering look for busty girls who are also petite.
Your large bust size already draws enough attention so adding a chunk of volume on the sleeves will cause visual imbalance. Since the placement of sleeves is parallel to your bust, then this can look too overwhelming and heavy.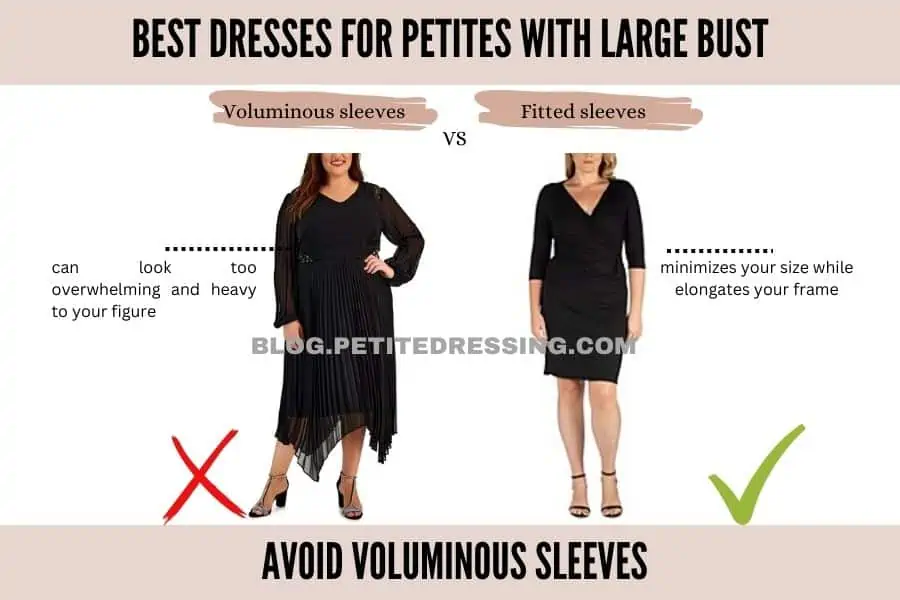 Avoid High Necklines
Covering up too much by going for very high necklines will make your body frame appear heavier and shorter. One example of this would be turtleneck tops as this particular clothing style cancels out the entirety of your neckline and creates the illusion of a smaller and shorter torso.
Creating enough space on your bust area is very critical because the visual lines your look would give will have an effect on how to make your bust look more proportioned compared to the rest of your body.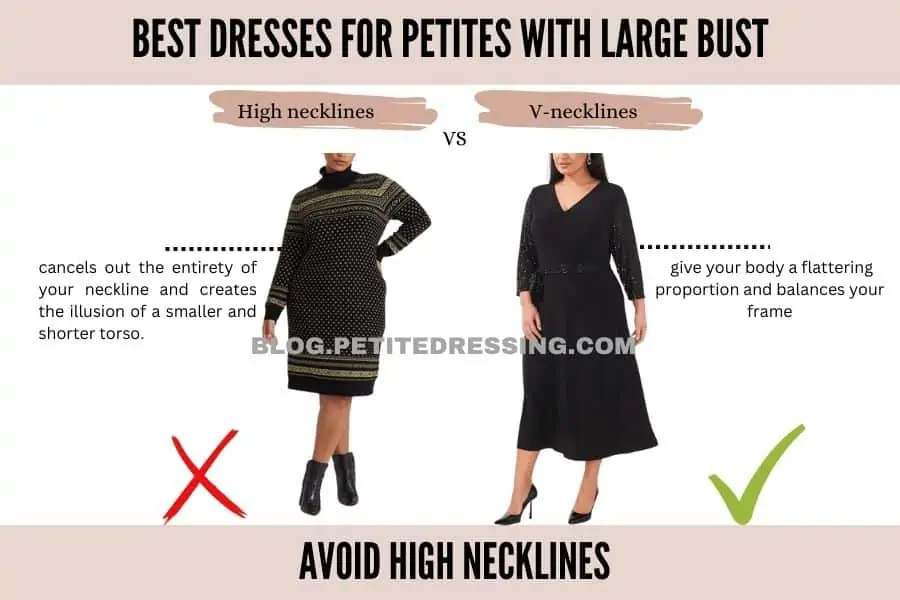 Avoid horizontal prints and patterns
Obviously, any type of horizontal pattern can visually make you look wider and bigger. As a busty and petite girl, the last thing you'd want your clothes to do is to reduce the appearance of your height.
This will also make your bust look bigger and so as it takes a lot of space on your upper body, it will make your other features look less apparent or even nonexistent! This is why it's important to be very mindful of your design and pattern choices.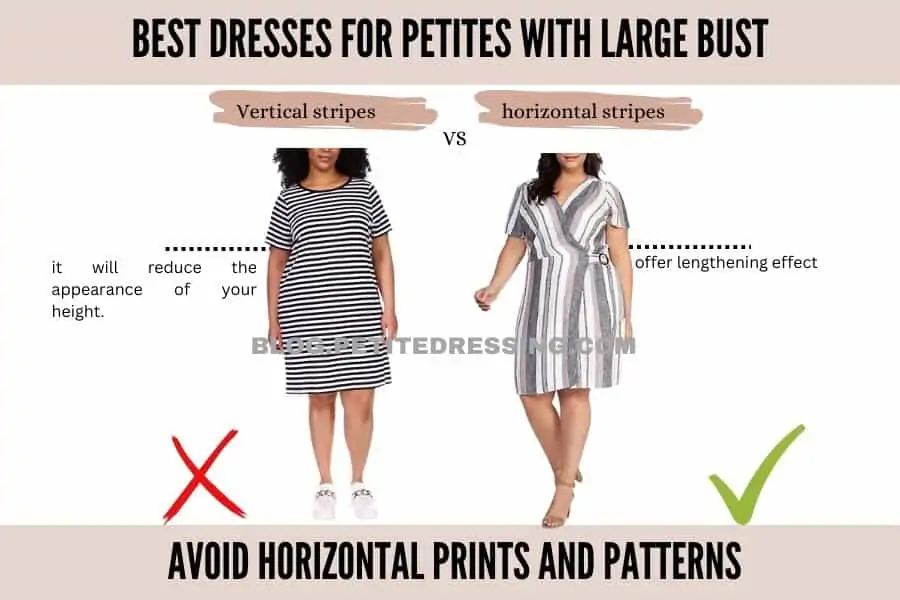 The Key Takeaway
Being a petite woman with a large bust has a wide variety of fashion choices that can truly bring out the best of your figure. The secret is to always work with your proportions by neutralizing overwhelming features and enhancing your natural curves.