It's not always easy to choose a swimsuit style that suits petite women with large busts. You need to be more particular with the details for it to be able to give support to your large bust and also be able to give you a longer frame.
If you are busty and petite, then you no longer need to be anxious about which types of swimsuits should suit you because we'll thoroughly guide you right here! 
Styling Goal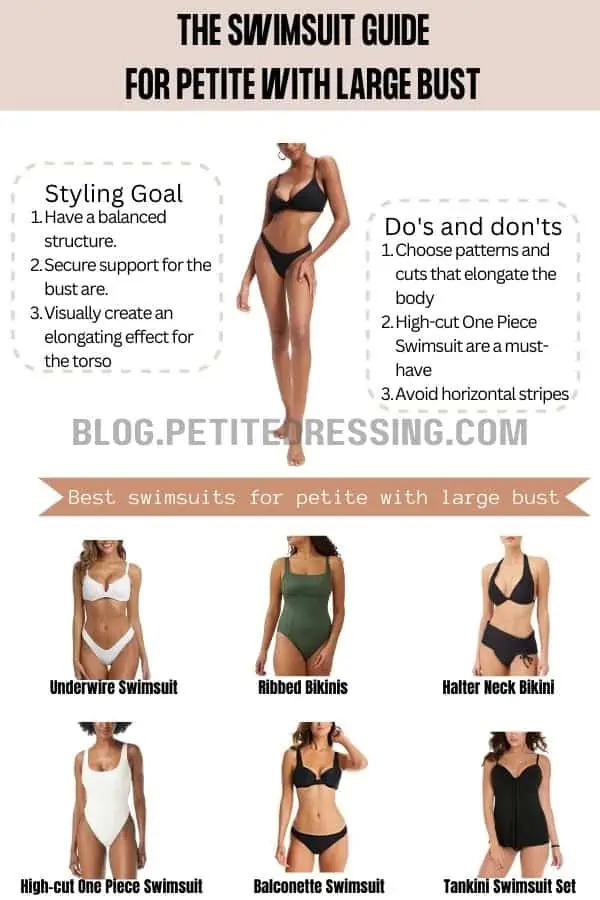 Having a large bust can make you more prone to exposure so it's very important to choose a swimsuit that offers great support for your breast. This doesn't mean that you need to fully cover up your upper body but choose a structure that will give security while also having your voluptuous curves shine.
You also need to consider your height by visually creating more space on your torso to not make your large bust too pronounced.
Choose patterns and cuts that elongate the body and reveal enough skin to trick the eyes into having a longer frame.
Underwire Swimsuit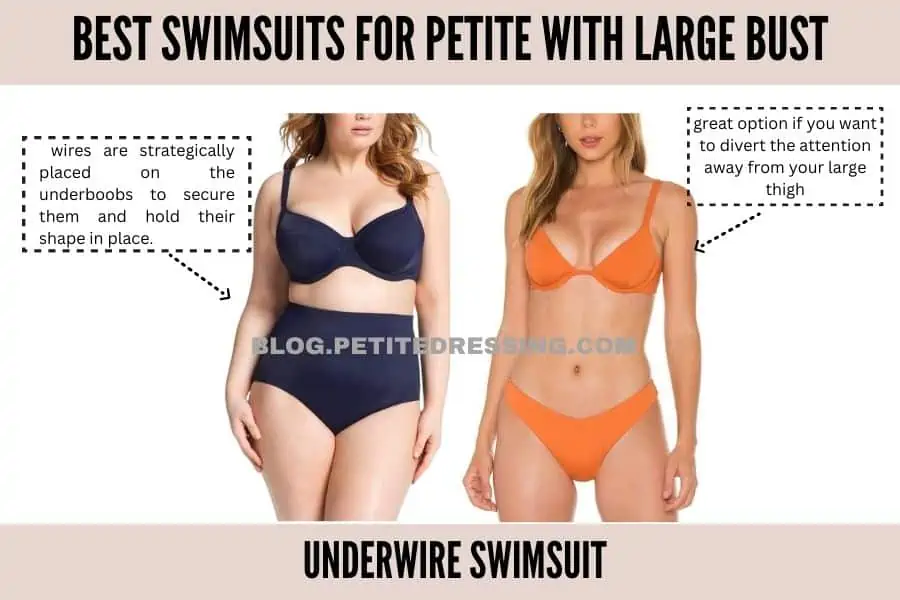 Underwire swimsuits are always a summer staple for every busty girl out there. These wires are strategically placed on the underboobs to secure them and hold their shape in place.
Note that the proper fit is very important when it comes to choosing an underwire swimsuit because if it's too tight or too loose, it can cause great discomfort.
If your breast are a bit far apart, you can opt for underwire swimsuits that have some sort of a simple embellishment in between to make the shape of your breasts look more even and balanced. 
Ribbed Bikinis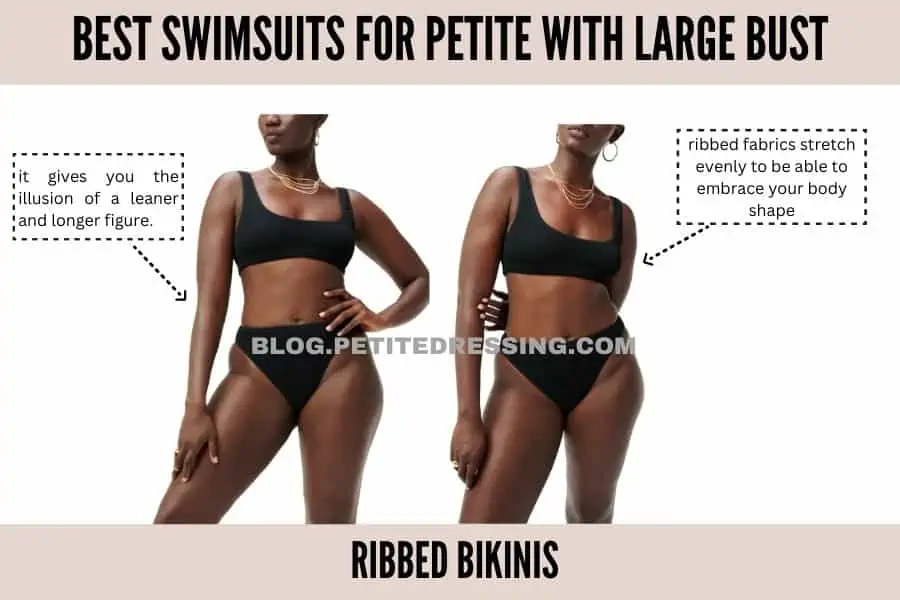 What's great about ribbed swimsuits is that they feature vertical ribs of fabric that create a visually slimming effect. As these ribs draw the eyes up and down, it gives you the illusion of a leaner and longer figure.
Ribbed bikinis also do a very great job in terms of providing bust support because ribbed fabrics stretch evenly to be able to embrace your body shape. You can choose ribbed bikinis that offer more coverage on the bust area if you want extra security but since the secret here is the flexibility of the ribbed fabric, you may also go a bit risque with your style options!
Halter Neck Bikini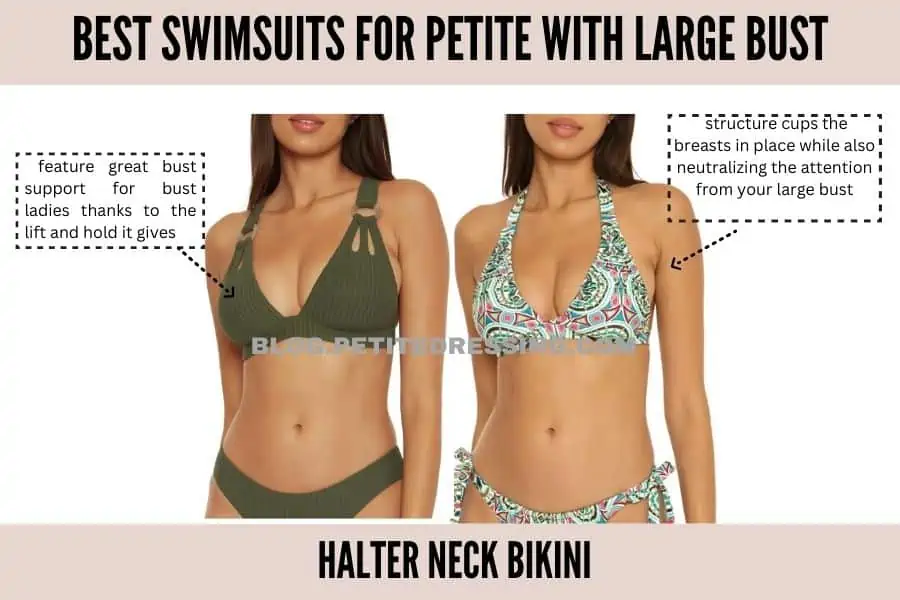 Halter neck bikinis feature great bust support for busty ladies thanks to the lift and hold it gives when fastened around the neck. This structure cups the breasts in place while also neutralizing the attention from your large bust by showing more of your shoulders.
There are different types of halter neck bikinis in which most of them differ in how they are fastened. This is why this swimsuit style is also very versatile because you can adjust the tightness according to your comfort.
High-cut One Piece Swimsuit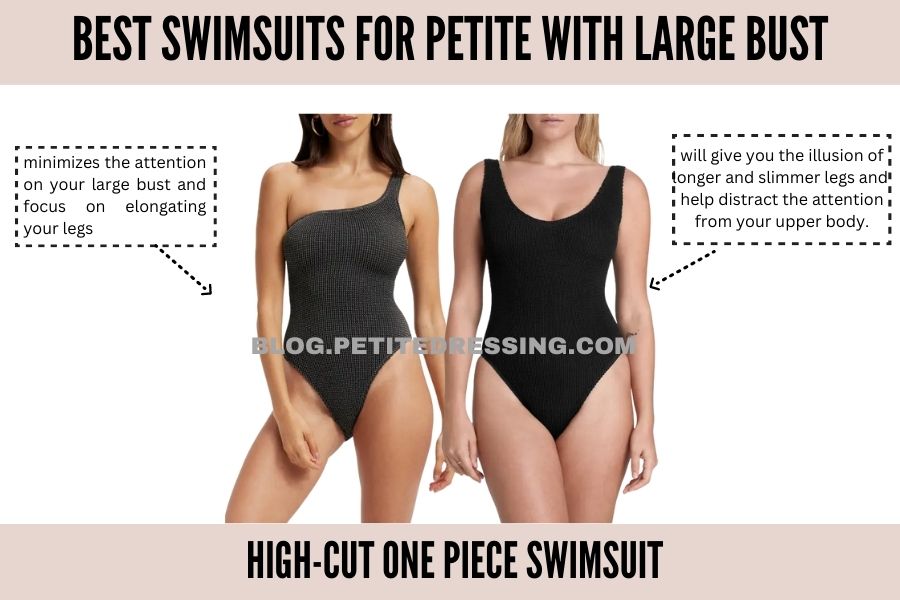 This can also be a nice option if you'd like to minimize the attention drawn by your large bust and instead, focus on elongating your legs. Swimsuits with a high leg cut will not only give you the illusion of longer and slimmer legs but also help distract the attention from your upper body.
High-cut one piece swimsuits come in different styles as well, but if you're a petite woman with a large bust, always opt for those that offer extra support such as underwires, halters, or balconettes.
Balconette Swimsuit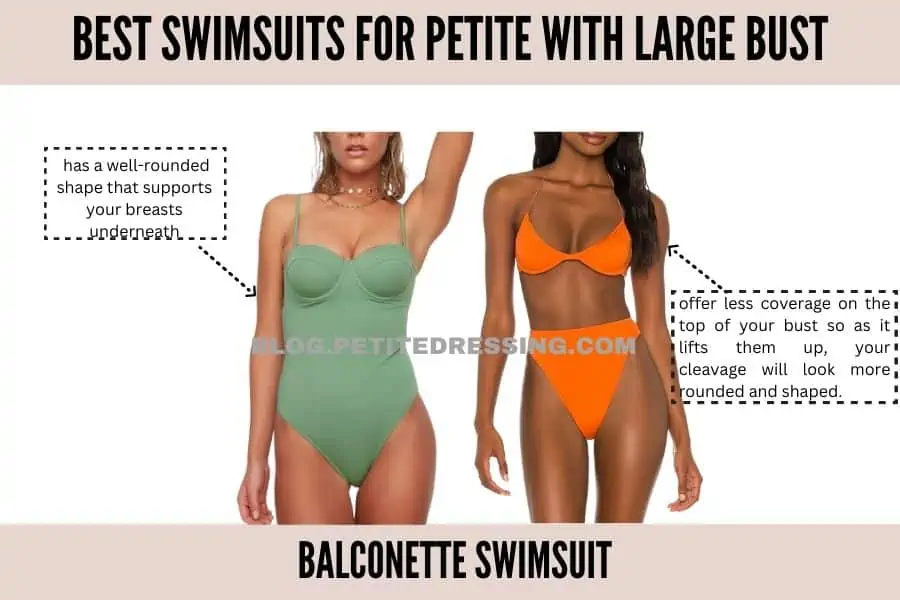 If you'd like to show off the beautiful shape of your breasts while also giving them extra support, you'd love the coverage that balconette swimsuits give. It has a well-rounded shape that supports your breasts underneath while also giving them more prominence.
The straps of balconette swimsuits are placed at the side edges of each cup which gives this wider space for your cleavage and shoulders to fully show. Balconettes offer less coverage on the top of your bust so as it lifts them up, your cleavage will look more rounded and shaped.
Asymmetrical One-Shoulder Swimsuit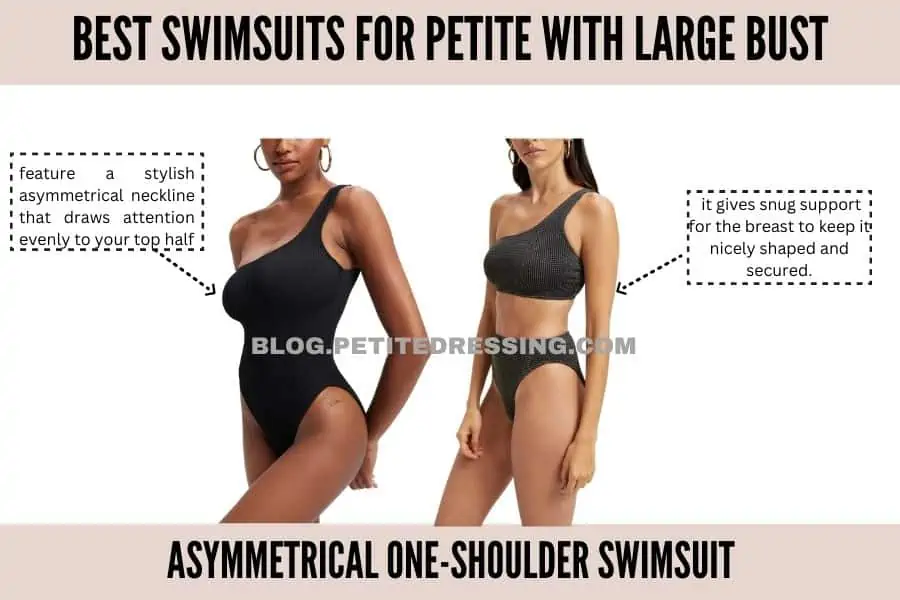 Creating some space on your upper body also means that you're cutting off some weight on your top-heavy upper body. Your large bust needs some more space so that it won't look too cramped on your petite figure.
This is why necklines that are more open are quite ideal for petite girls with large busts. One-shoulder style swimsuits feature a stylish asymmetrical neckline that draws attention evenly to your top half and does not let the focus be solely on your large bust.
Since the one shoulder strap is seamlessly connected to the rest of the swimsuit bodice, it gives snug support for the breast to keep it nicely shaped and secured.
Bikini Tops With Thick Straps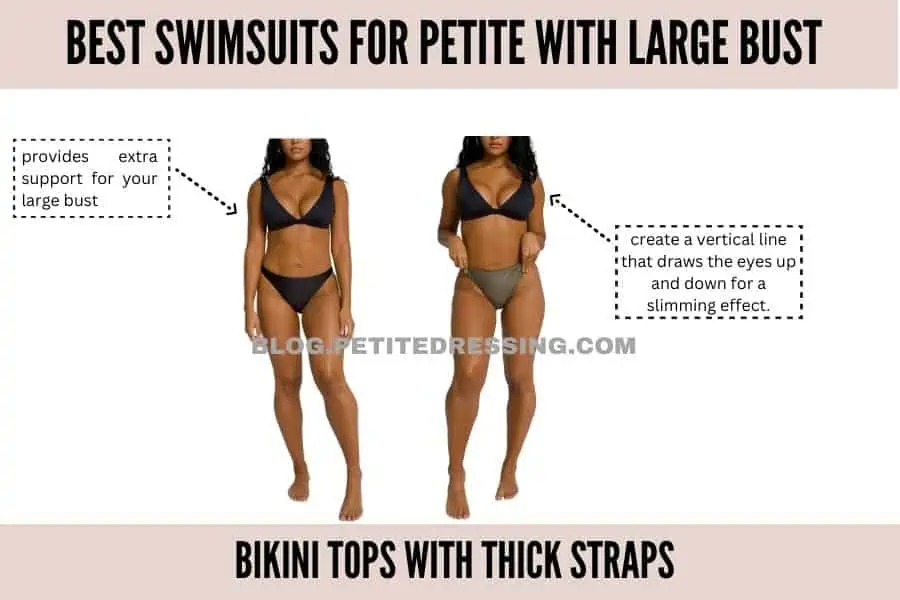 Another way to provide extra support for your large bust is to have thick straps attached to the swimsuit itself. Apart from the great bust support that thick straps give, they also create a vertical line that draws the eyes up and down for a slimming effect.
Thick strap bikinis are also very stylish and are quite reminiscent of vintage pin-up swimsuits that enhance one's womanly curves. You can go for thick straps that are seamlessly connected to the swimsuit bodice or those tie-up ones that you can fasten by ribbon knots, either way, any design will give you the support you need.
Wrap or Criss Cross Front Swimsuit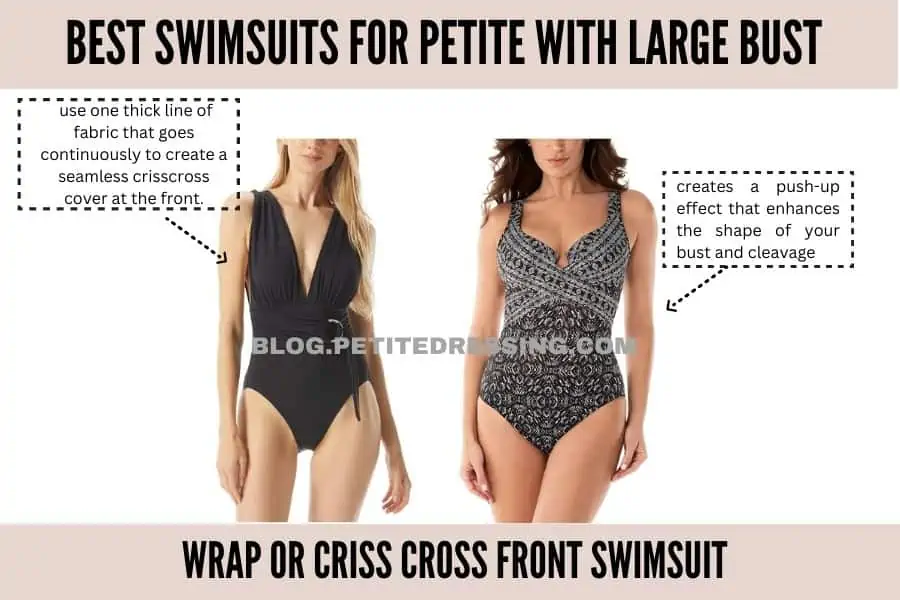 This shares the same style principle of halter neck bikinis and thick strap bikinis for they all provide support mainly because of the structure of how the straps are placed. Wrap or crisscross front swimsuits use one thick line of fabric that goes continuously to create a seamless crisscross cover at the front.
Since its crisscross structure pushes the breasts from the side, it also creates a push-up effect that enhances the shape of your bust and cleavage. It's a very nice option if you want a swimsuit that's sexy but provides enough support.
Swimsuits with Vertical Patterns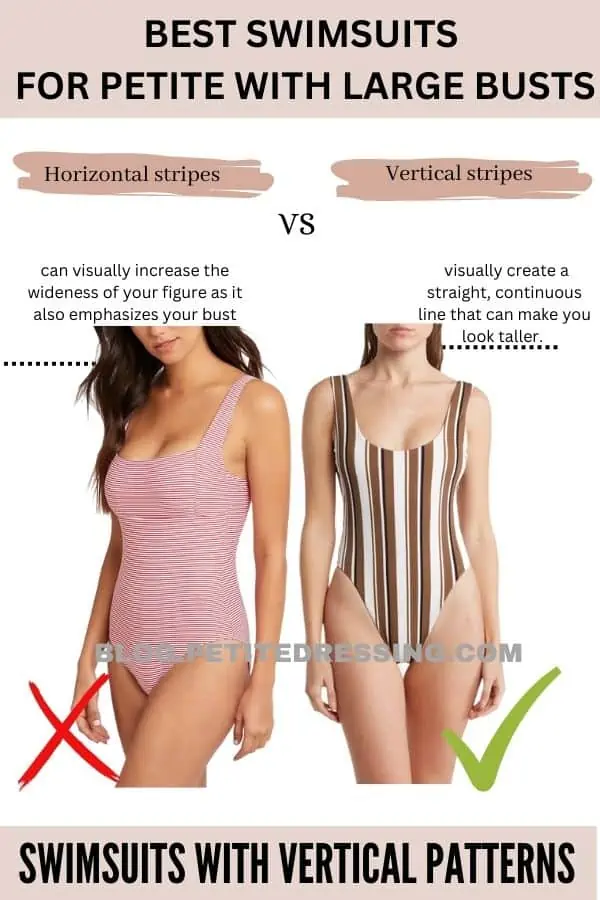 Dealing with a petite and busty figure is all about structure and patterns. Vertical prints and patterns are always a classic option if you'd like to visually create a straight, continuous line that can make you look taller.
This is also a good styling hack if you'd like to give balance to your entire figure from top to bottom and not have the attention solely focused on your large breasts. By going for vertical patterns, you'd look leaner and taller.
Tankini Swimsuit Set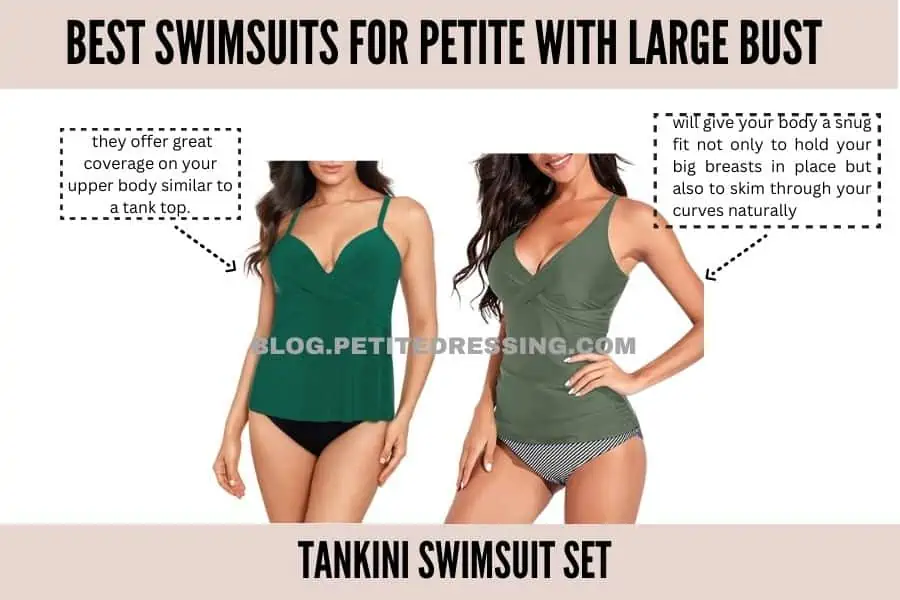 Tankinis make a great summer swimwear set for petite and busty ladies because they offer great coverage on your upper body similar to a tank top. Since the fabric covers the entire bust area, you can expect extra support that will allow you to freely move.
They come in two-piece sets (tank top and bikini button) made from spandex. This will give your body a snug fit not only to hold your big breasts in place but also to skim through your curves naturally
If you want to look taller and you'd like a bit more "skin reveal" without compromising the coverage on your upper body, you can opt for a tankini that has a high-cut bikini bottom. This will draw attention to your legs and make them look longer as well.
The Key Takeaway
Let swimsuit shopping be a chill experience for you! A better understanding of what your body frame needs will help you come up with the proper structure that matches your petite and busty figure.