Waiting for your prom day eagerly but don't know how to dress for it properly? No worries, as our detailed prom dress guide for short and chubby women, is here to help you out. Short and chubby women find it hard to get prom dresses that suit their body types. That's why we have mentioned every prom dress style you should try and avoid. So, let's get started!
What to Look for
Shopping for prom is extremely stressful when you don't know what styles look good on you. But you can look your best on prom by learning some tips and tricks about dressing up for prom. These tips are suitable for short and chubby women!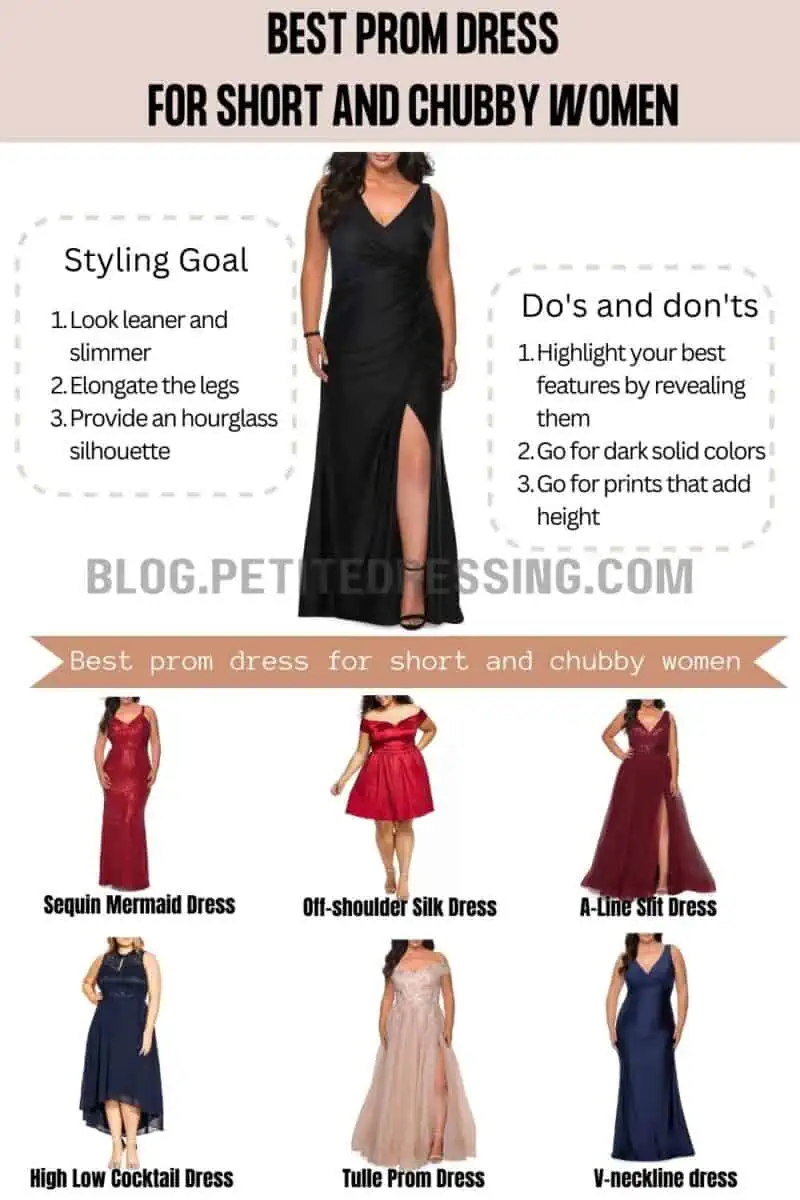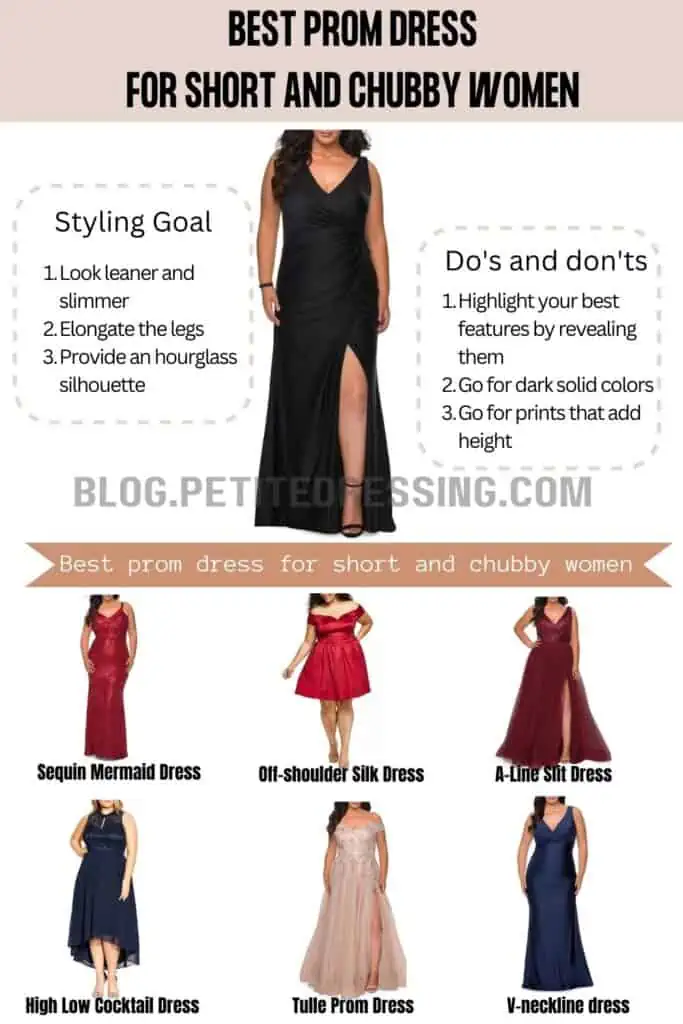 Highlight your best features by revealing them or bringing them to attention for example a low cut back, V-neckline dress, off-shoulder dress, slitted dress, belted waist, etc.
Go for dark solid colors to make yourself look slimmer.
Choose styles with fewer fabrics so that the dress doesn't add width to your body silhouette.
Go for prints that add height to your body such as vertical stripes.
Make sure the neckline you choose is suitable for your body style. Usually, V-neck, sweetheart neck, off-shoulder, one-shoulder, etc are good for short and chubby women.
Sequin Mermaid Dress
Mermaid-style dresses beautifully accentuate your curves. They make your waist look slimmer and provide an hourglass silhouette. Mermaid dresses are the best if you want to make yourself look leaner. 
The sequin style is a great choice for a prom dress. It isn't too extra but not too simple either. And this design looks mesmerizing on chubby women without adding width to their bodies. You will definitely turn some heads if you show up in a sequin mermaid dress.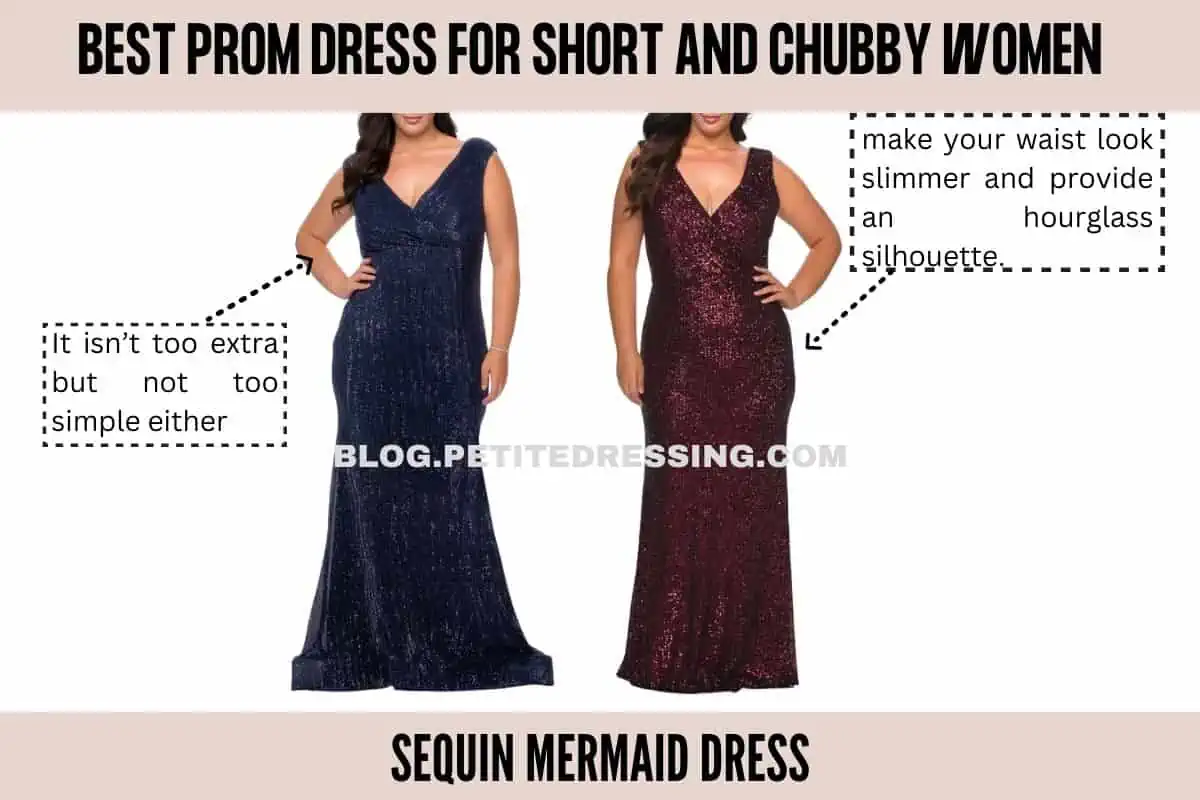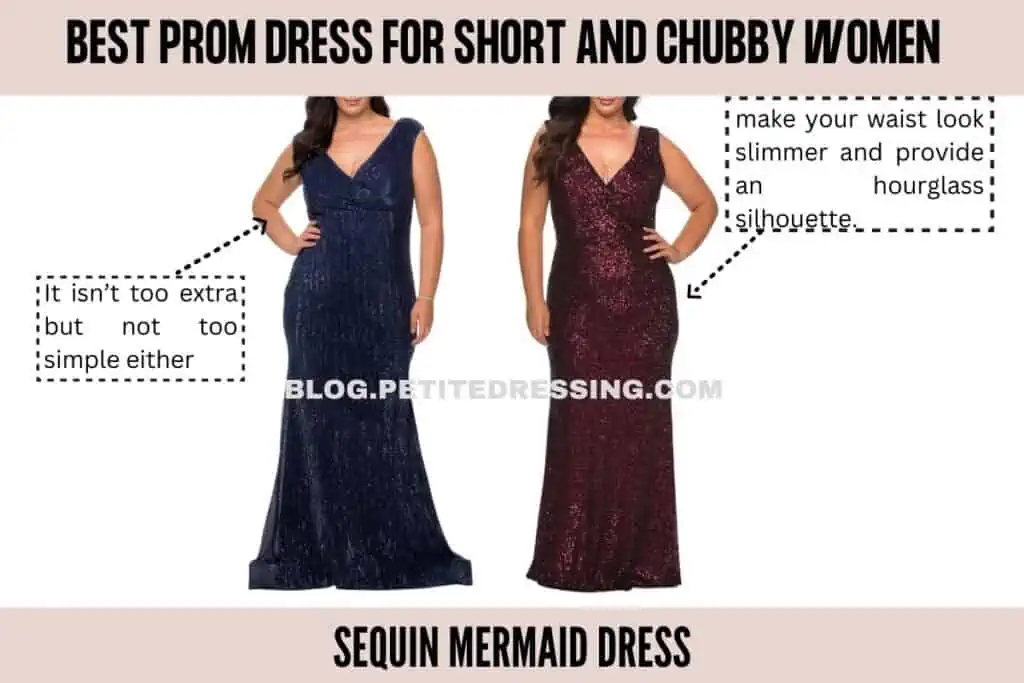 Choose a suitable neckline for the prom dress. As the mermaid dress goes below your ankles and is flowy at the bottom, choose a revealing neck style. Styles like off-shoulder, deep V-neck, or sweetheart neck are good.
Off-shoulder Silk Dress
Off shoulder dresses are the safest choice for short and chubby women. They look alluring for prom and make you look leaner as well. Off-shoulder style in a silk dress is going to make you look royal and luxurious. 
If you are looking for something simple that will suit your body type and make you look prepossessing, an off shoulder silk dress is your best bet.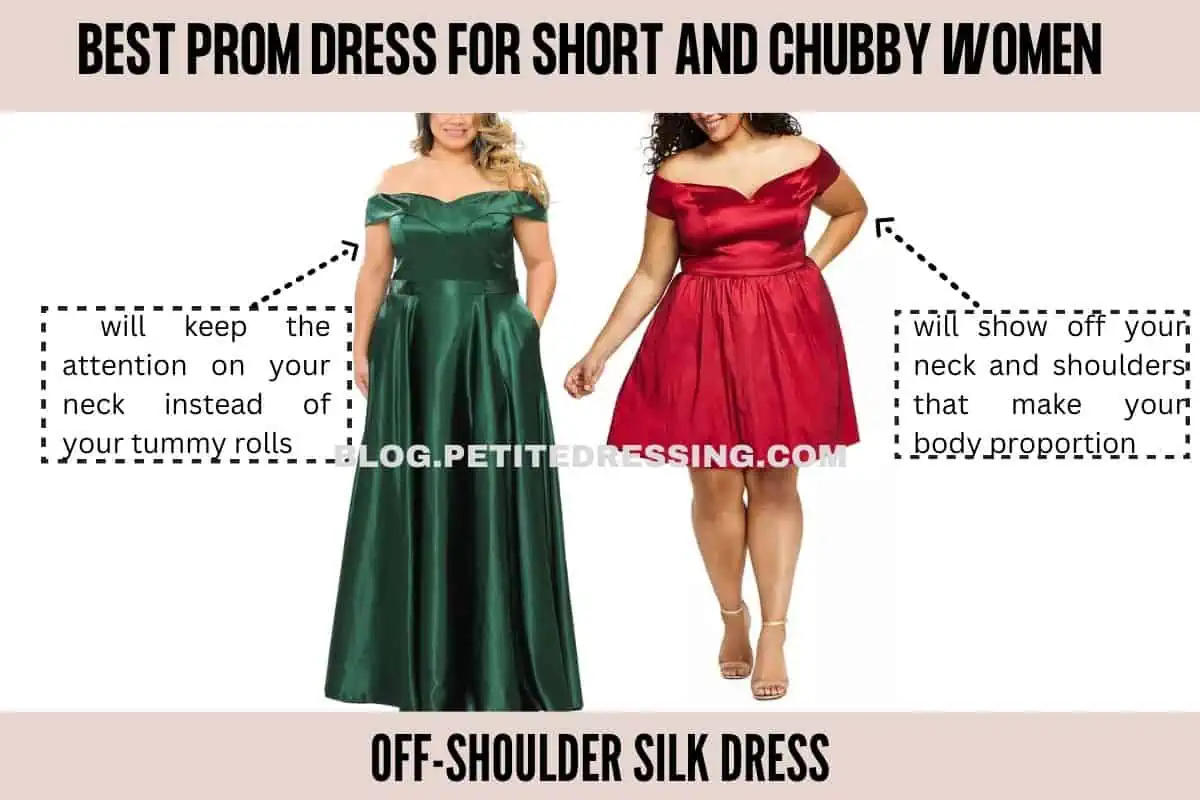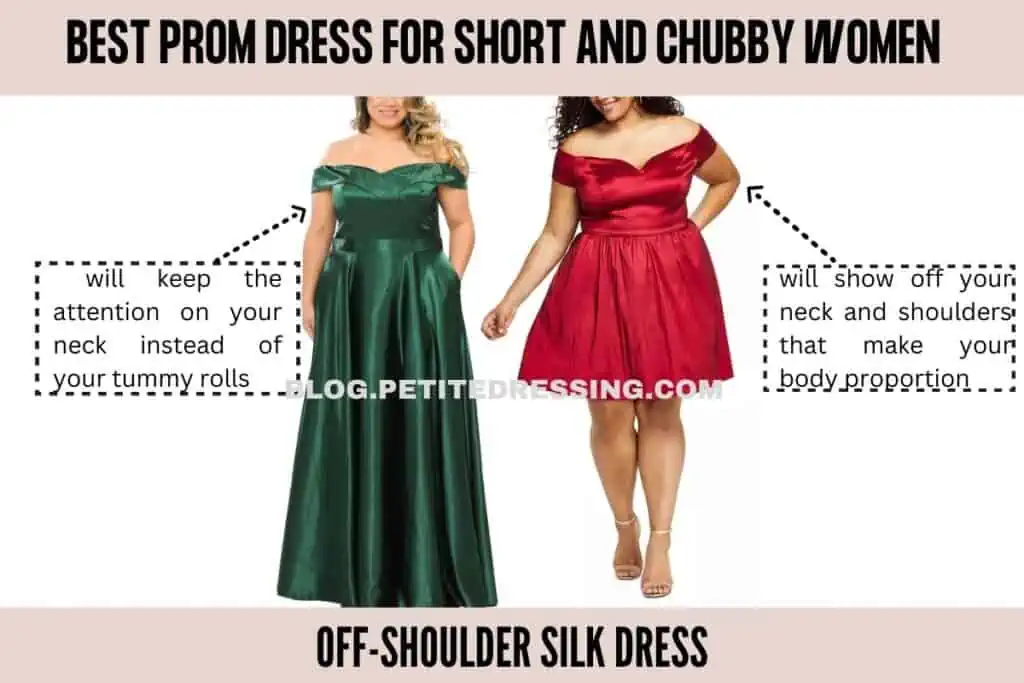 The off-shoulder dress will show off your neck and shoulders. You get to flex your cleavage as well. Moreover, the dress keeps your upper body in proportion with your lower body. It will keep the attention on your neck instead of your tummy rolls or other such areas.
A-Line Slit Dress
A-line dresses make your waist look slimmer and suit short and chubby women a lot. On top of that, a slit in an A-line dress is your best choice for prom. The slit will reveal your leg and add height to your body. You will look taller instantly. This style will suit your body type perfectly.
A-line dresses hide the large hips seamlessly and tuck in your tummies perfectly. You won't attract any attention to areas you would like to conceal in an A-line prom dress.  
The slit will be an element of chicness in your dress. Make sure to pair the dress with gorgeous high heels and rock your look.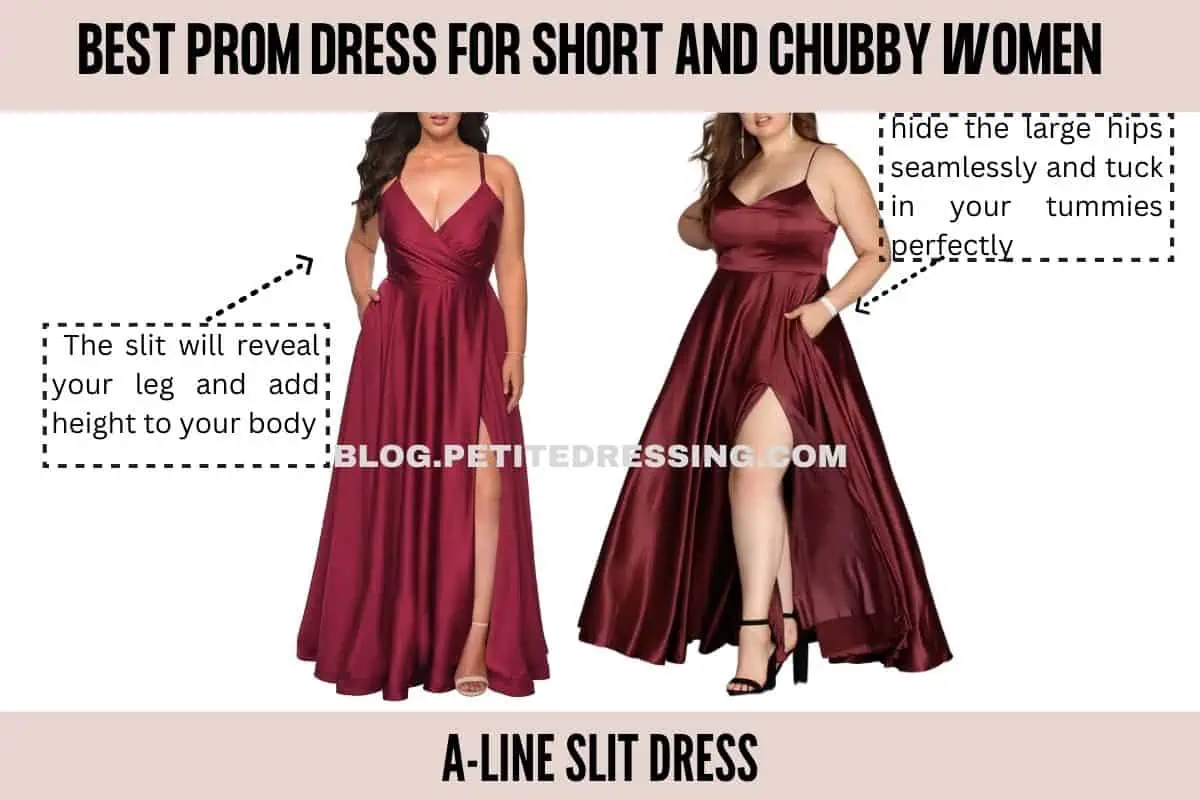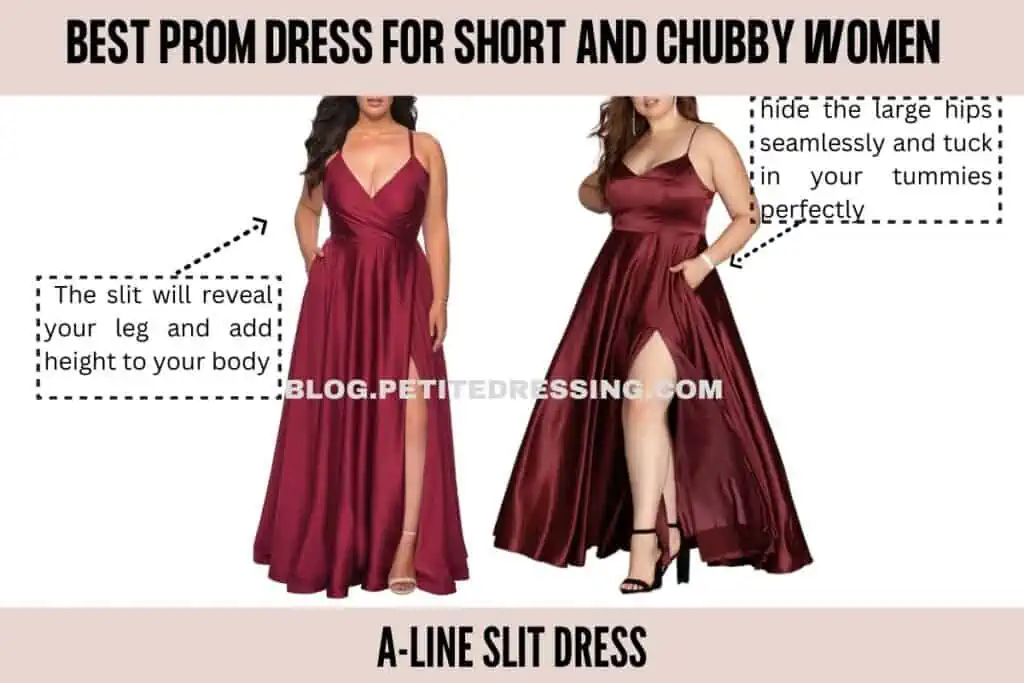 The neck choice is also important here. But as you are revealing your legs, you can go for simple styles such as V-neck, round neck, etc.
High Low Cocktail Dress
High-low cocktail dresses make you look taller instantly. They are high at the front and reveal your legs. Showing off your legs will make them look longer. 
Moreover, the cocktail dress is tight at the upper body and flows down from the back and front. This way, your waist looks smaller and your hips and thighs can sit in it perfectly. It will seamlessly make you look leaner.
The best part is that you can pair this dress with strappy heels. Strappy heels are always so gorgeous and make you look fashionable.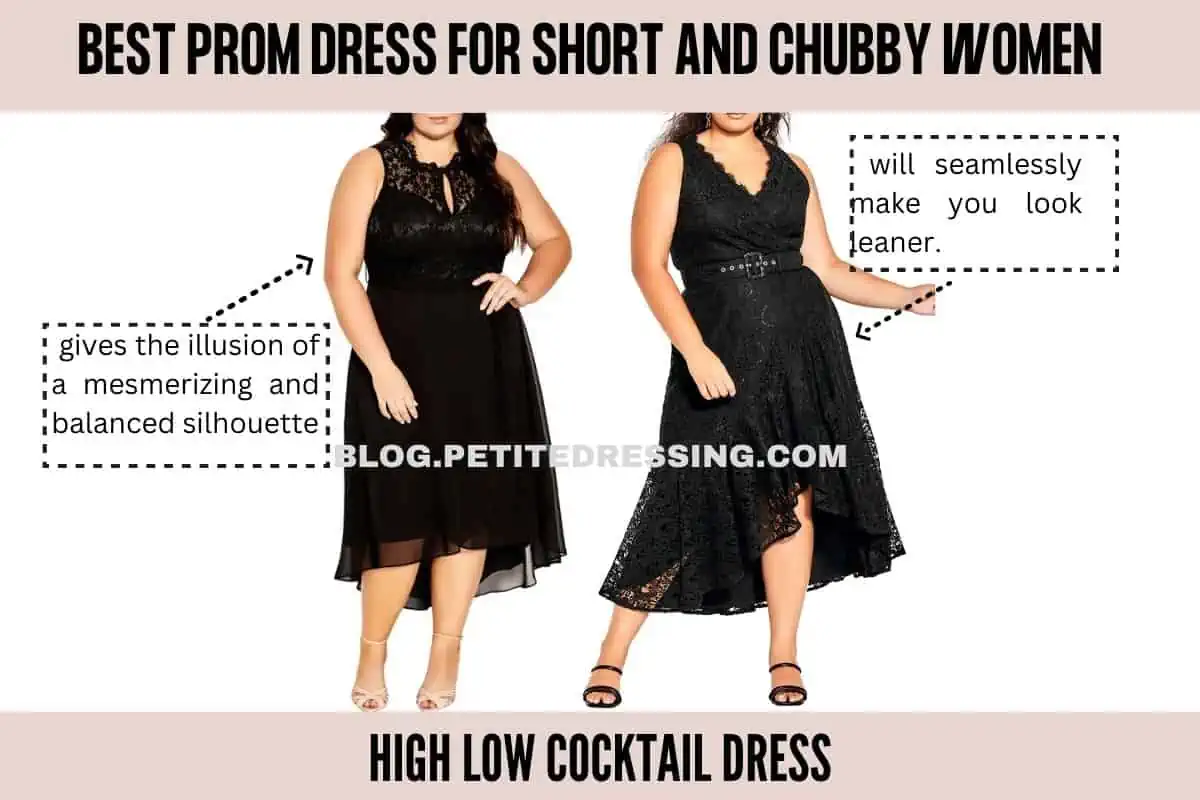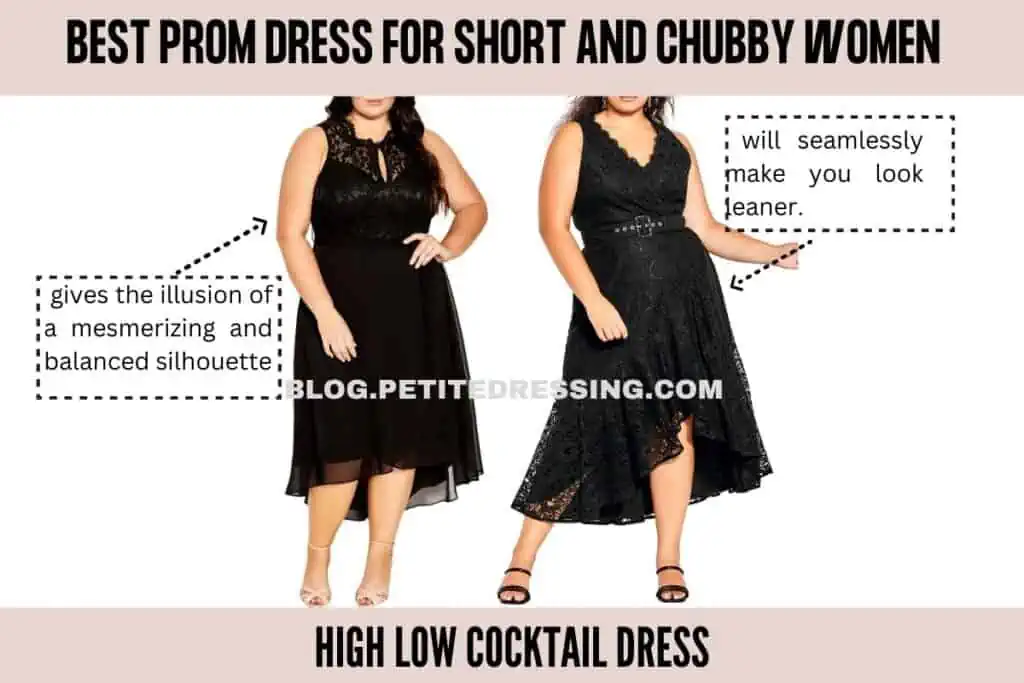 The asymmetry of the dress gives the illusion of a mesmerizing and balanced silhouette. None of the body parts you want to conceal will look heavy in this style.
Tulle Prom Dress
Whenever we hear the word "prom", tulle automatically comes to mind. Tulle can make you look heavy so short and chubby girls might think it isn't a good choice. However, the corset style in a tulle dress is perfect for your body type.
The corset style is extremely tight on the top and brings out your chest area. It keeps the focus on the upper body and gives the illusion of an hourglass figure. It is a perfect choice to make you look leaner.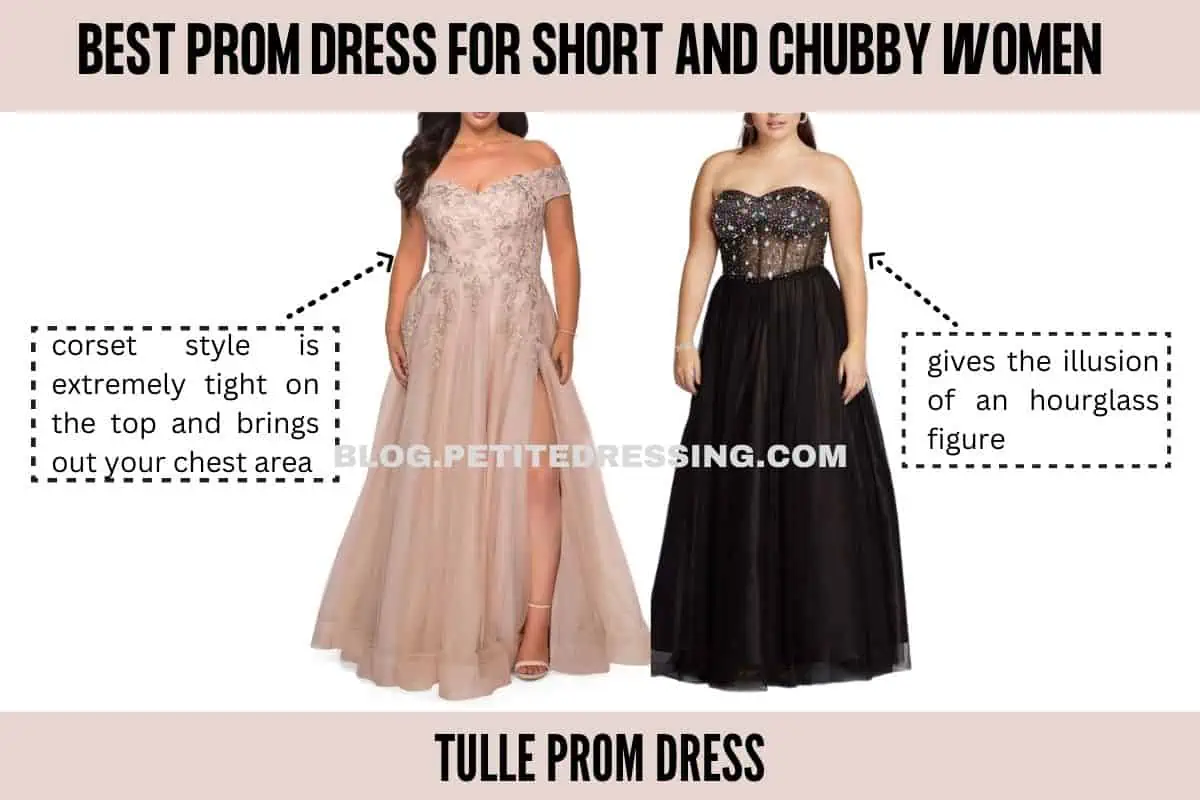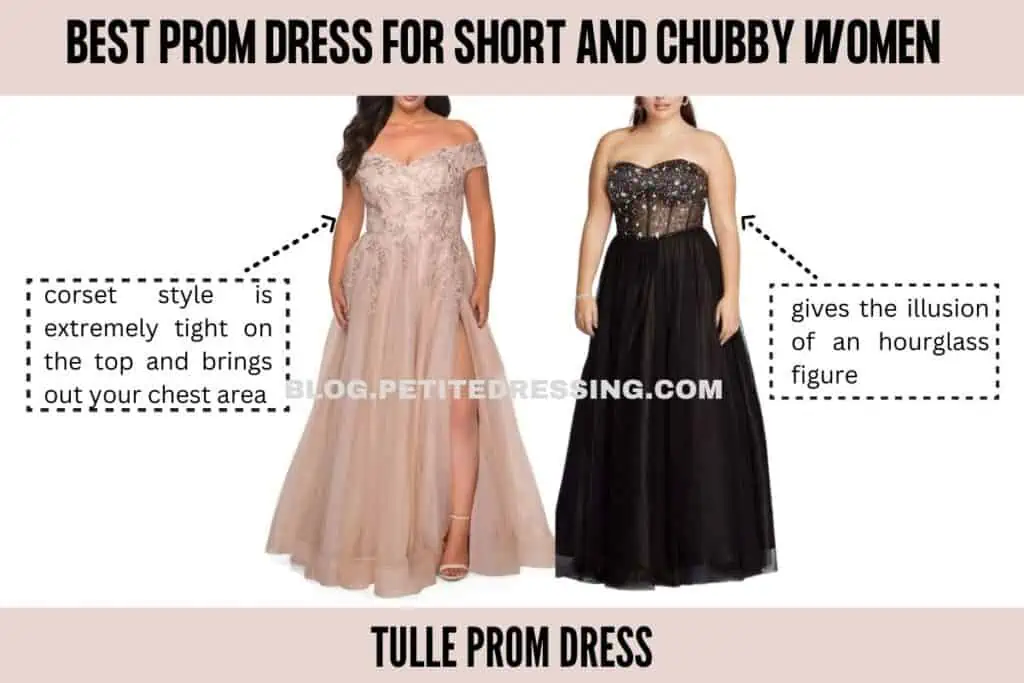 Caution with Ball Gown Dress
Ball gowns emphasize your upper body. That's why they can work to the advantage of shorter girls.
However, if you are short and chubby, the dress can also make you bigger than you actually are, and potentially, even shorter.
You need to make sure the dress is fitted on the waist and chest area so all the attention goes there.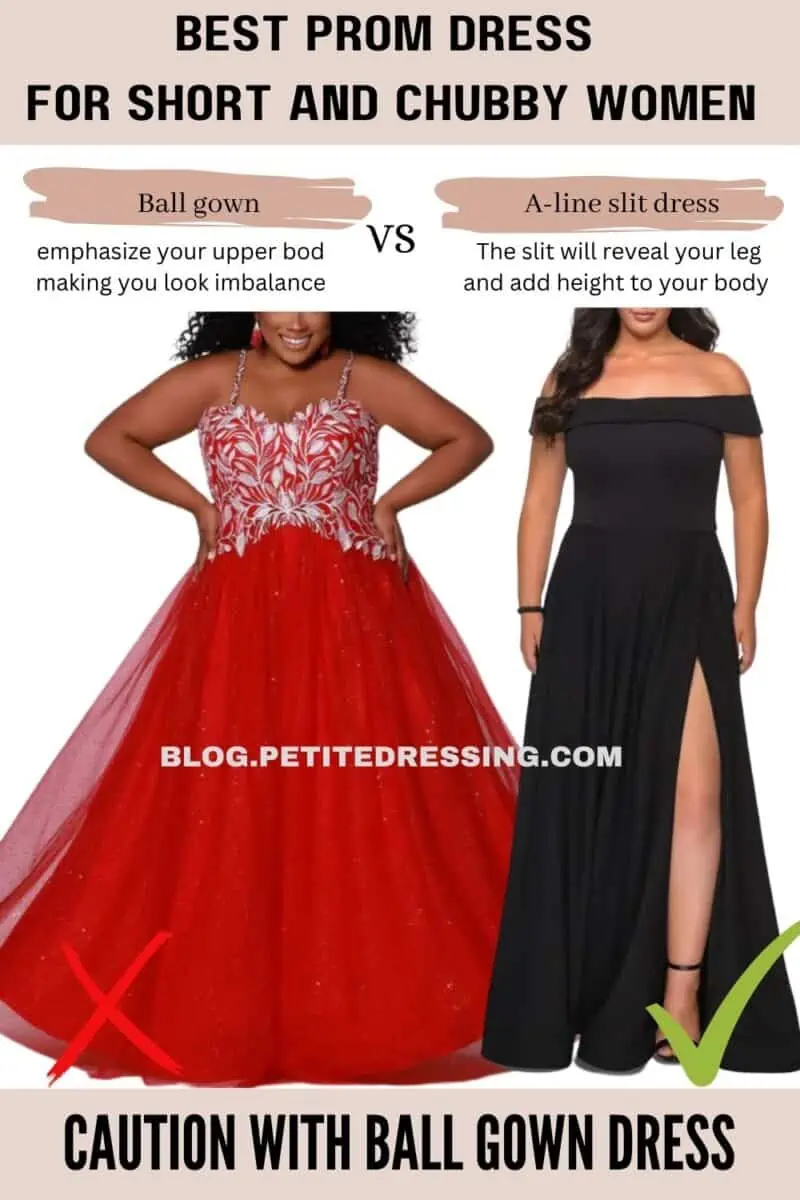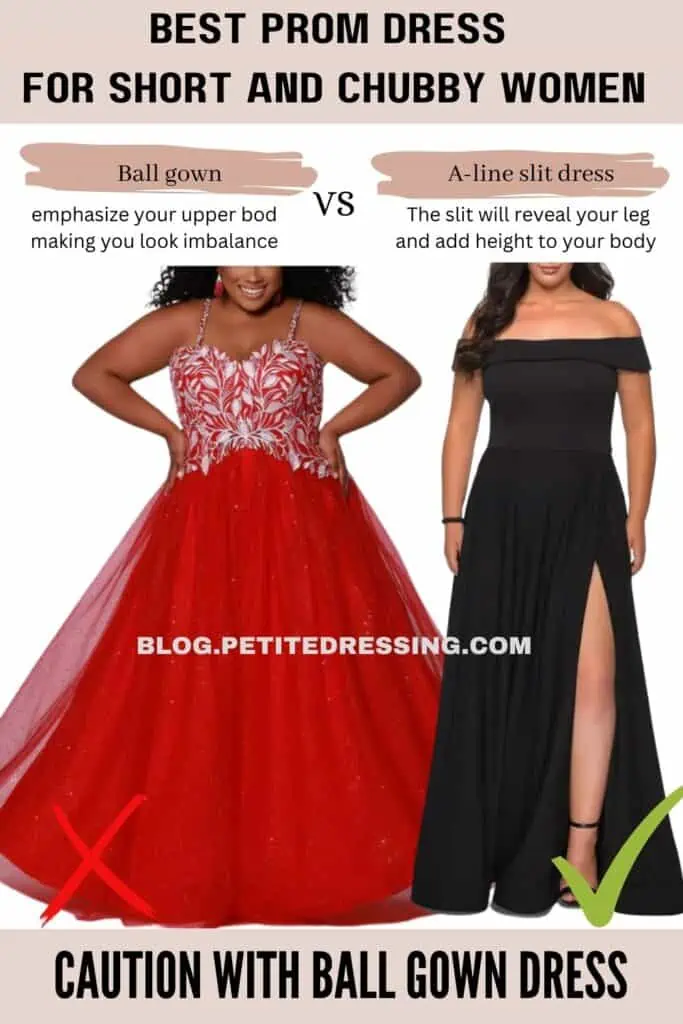 The illusion of a slim waist makes you look leaner as well. Go for a sleeveless style with necklines like deep V-neck, sweetheart neck, etc.
Wearing a revealing neckline will keep everything in balance as the bottom is already heavy with fabric. So, something light on the top will make sure you look leaner.
Avoid Frill Prom Dresses
Too much frill in your prom dress is going to add width to your body. You should be looking for something that makes you look leaner and not wider. Therefore, steer clear of frills in your prom dress.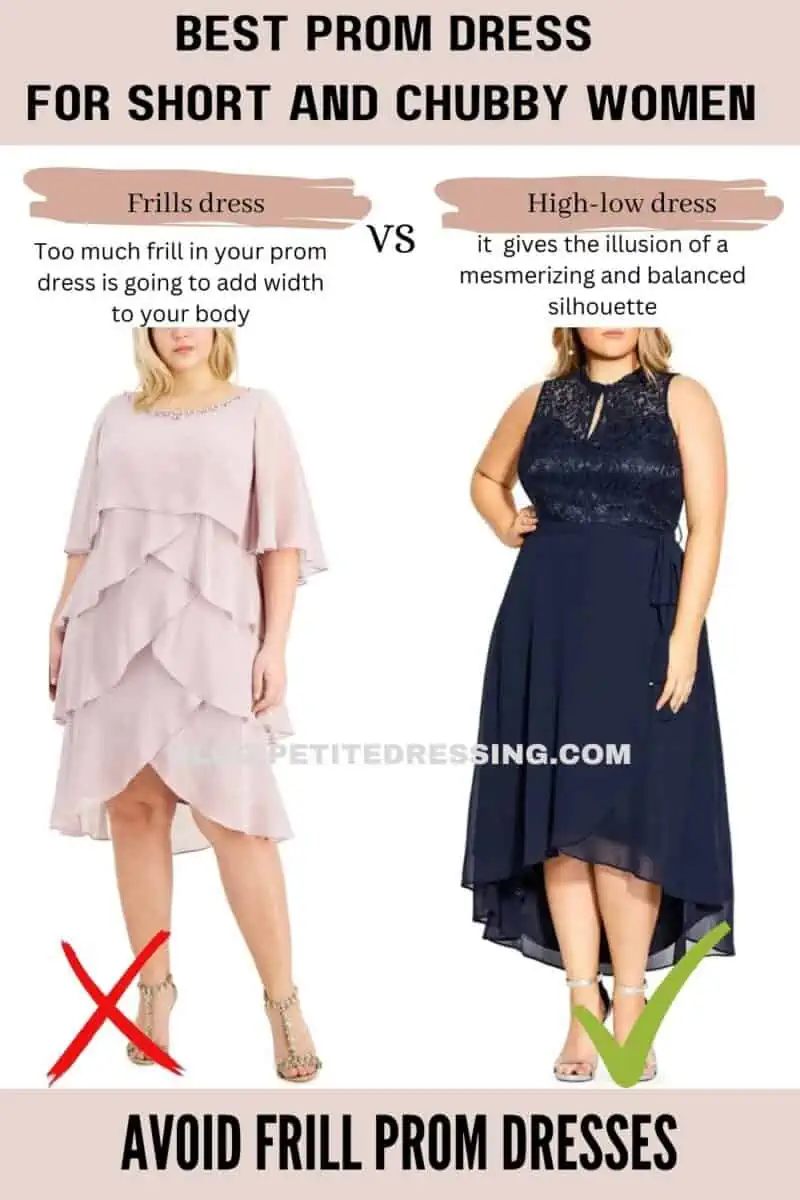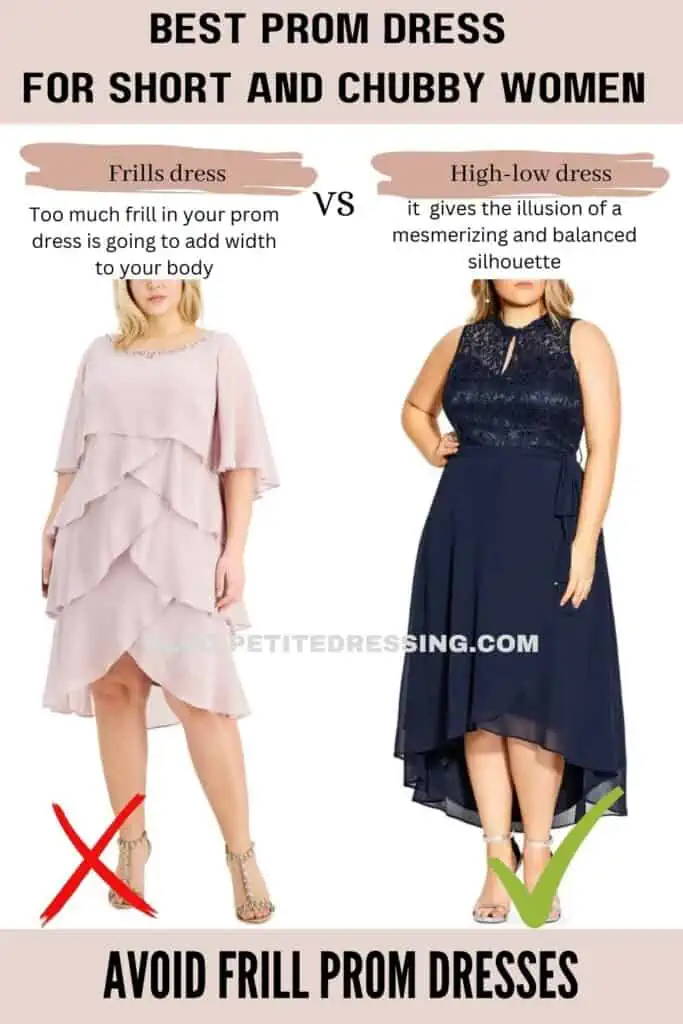 Frills look beautiful on prom but they aren't suitable for a short and chubby body type. You can go for other styles that make you look taller such as asymmetric dresses, mermaid dresses, etc without the frills.
Avoid High Necks
High necks cover your upper body entirely and make you look shorter. If you don't go for a short dress or a dress that reveals your legs, you won't feel confident in a high-neck dress. High necks only look good if you have elements that add length to your body (such as slits, cropped dresses, high-low dresses, etc). Otherwise, you can end up looking shorter than you already are.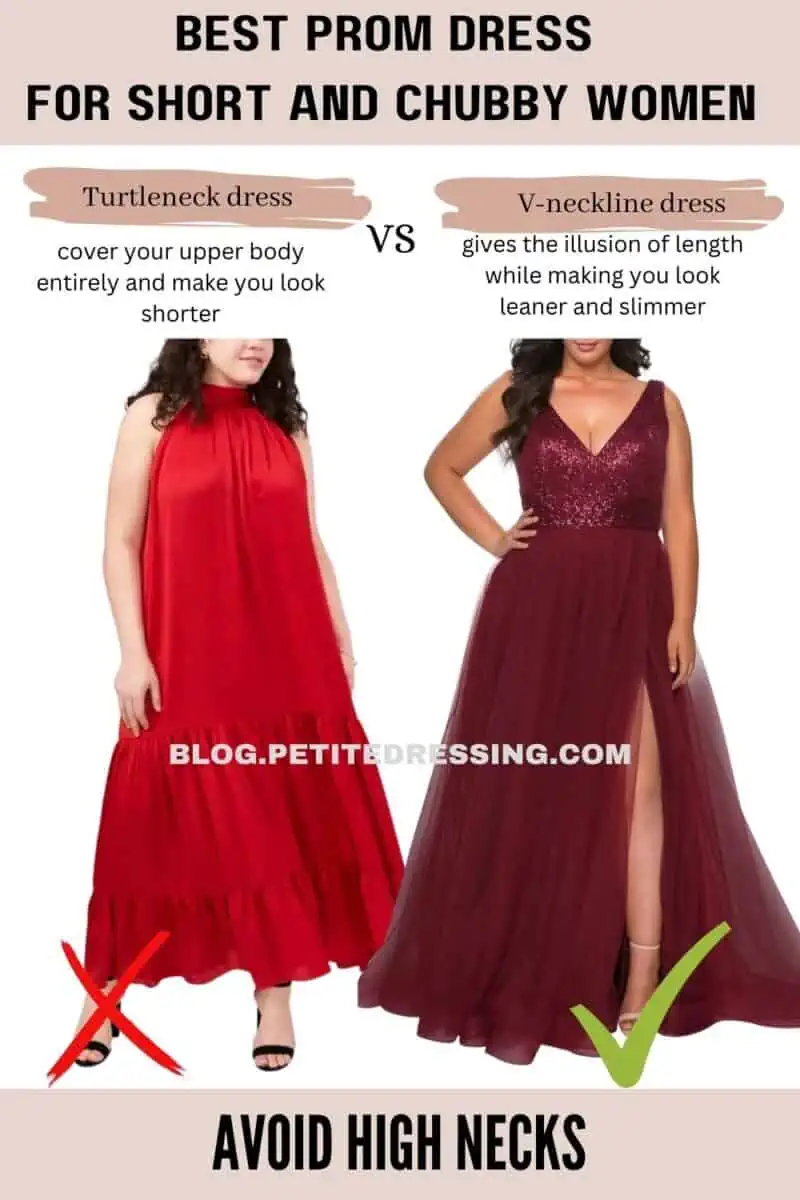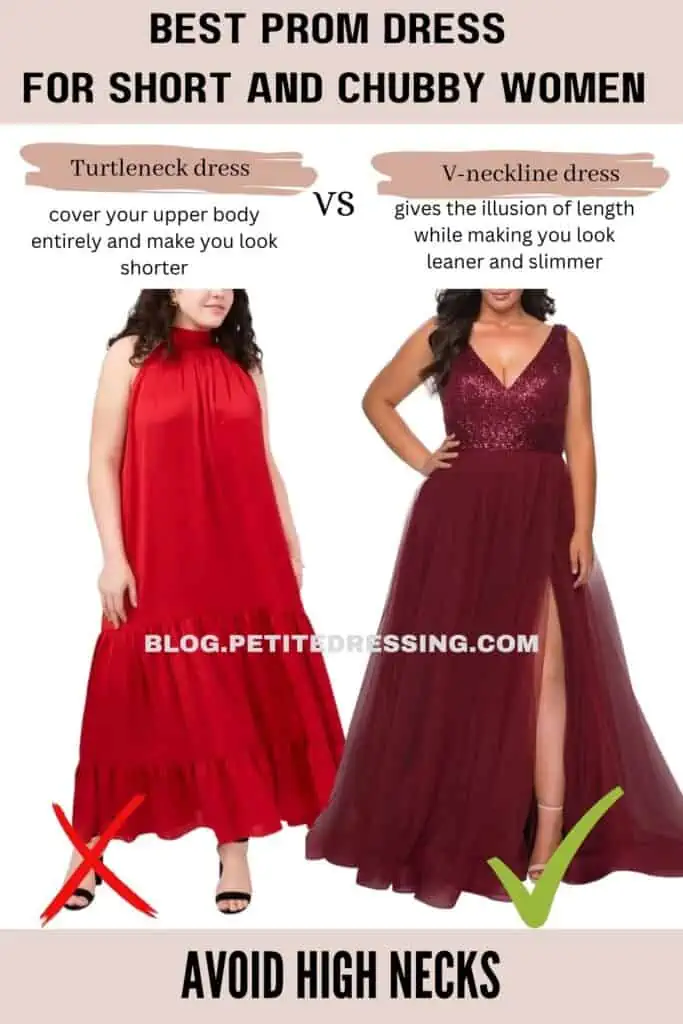 Avoid Drop Waist Dresses
The drop waist isn't suitable if you have short legs. They make your torso look longer while your legs look shorter. So women with short legs aren't going to look good in drop-waisted dresses. Drop waist also sits below your tummy and accentuates it. So, it will bring focus to areas you want to conceal.
Final Thoughts
Now you know what styles of prom dresses are suitable for your body type. You can easily choose a gorgeous dress for your special day and make it memorable. Always remember to follow those trends that suit your body figure. Otherwise, you won't feel comfortable and confident in it. Consider all the elements of a dress before making a choice such as the sleeve length, fabric, color, dress style, print, necklines, etc.