If you have broad shoulders, I would consider you very lucky. Women with broad shoulders typically can pull off a lot of looks, thanks to their shoulders. I know this from first hand experience, because I style petite models of all body shapes for my petite clothing line.
Generally speaking those with broad shoulders often fit into the inverted triangle body shape (also known as the strawberry shape), but that is not always the case.
Based on my experience as well as feedback from my customers, I'm going to dive into some key factors that you should keep in mind so you have a better sense of how to dress broad shoulders in order to achieve a balanced silhouette.
NECKLINES
Now let's get into the best necklines you should be leaning towards to flatter your broad shoulders. The thing to keep in mind when you have broad shoulders is you want to pay extra attention to the clothes you're wearing and their details around the top half of your body.
Since your shoulders are, well…broad that's the area you want to make sure you're creating balance around.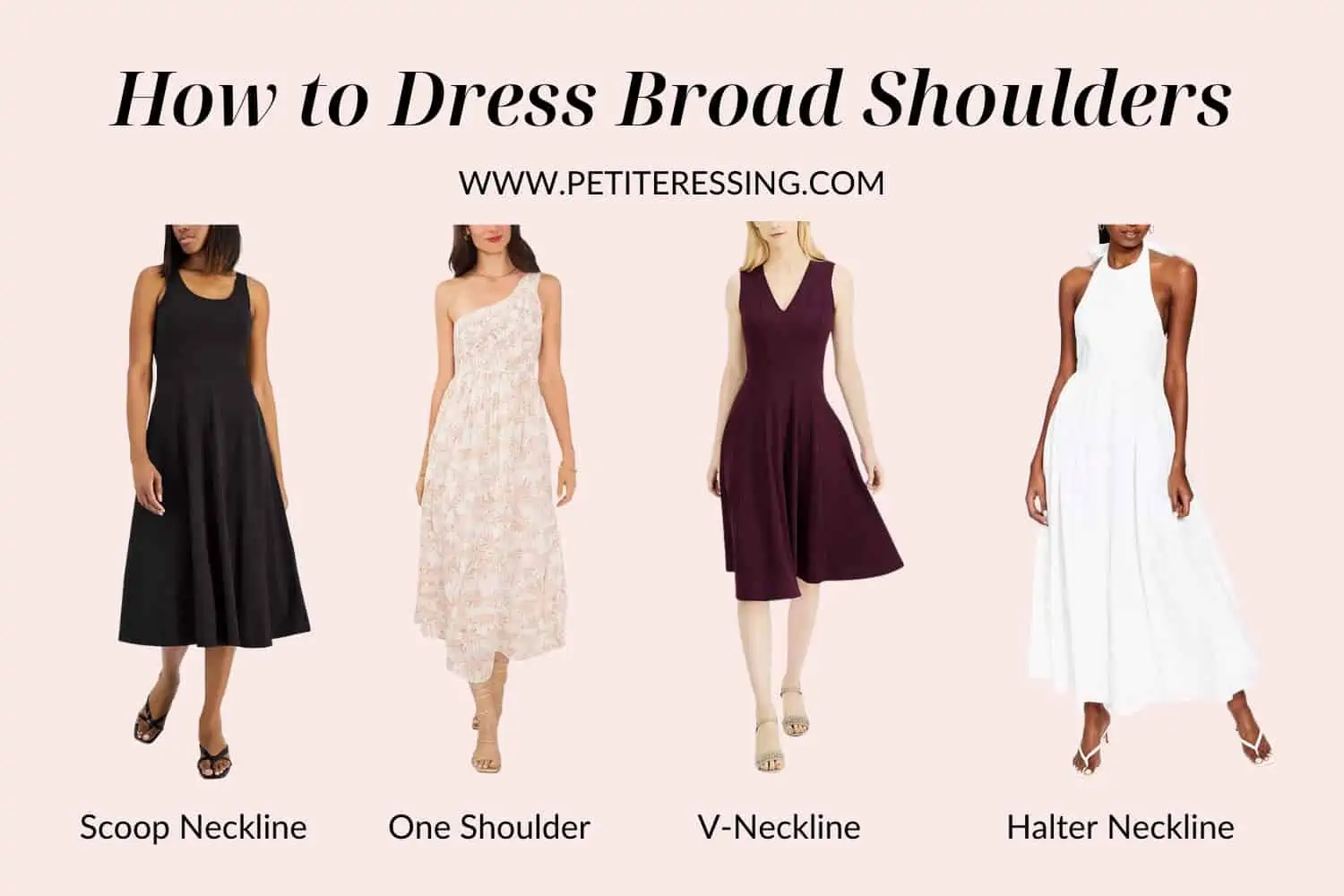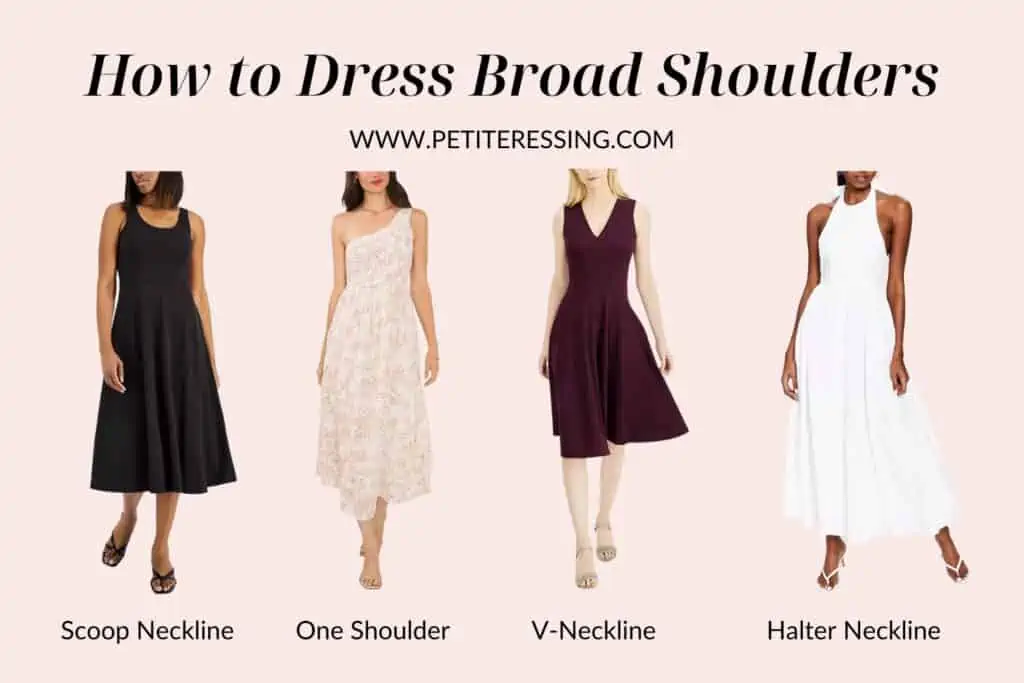 BEST
Scoop
V-necklines
One shoulder
Halter
Starting with the scoop neckline and v neckline- these two are going to help you to create some balance around your top half and keep your shoulders looking even broader than they are.
When you stick with the v-neck and scoop necklines, they are going to bring attention to the center of your body to establish a more balanced figure.
Of course, there are other necklines you can have fun with, but if you're ever in doubt always know that you can lean on v and scoop necklines to flatter broad shoulders.
The halter neckline can divide your broader shoulders, thus making them less noticeable.
When you wear an asymmetric neckline such as the one-shoulder tops or one-shoulder dresses, they actually break up your broad shoulders, thus achieving a visual balance.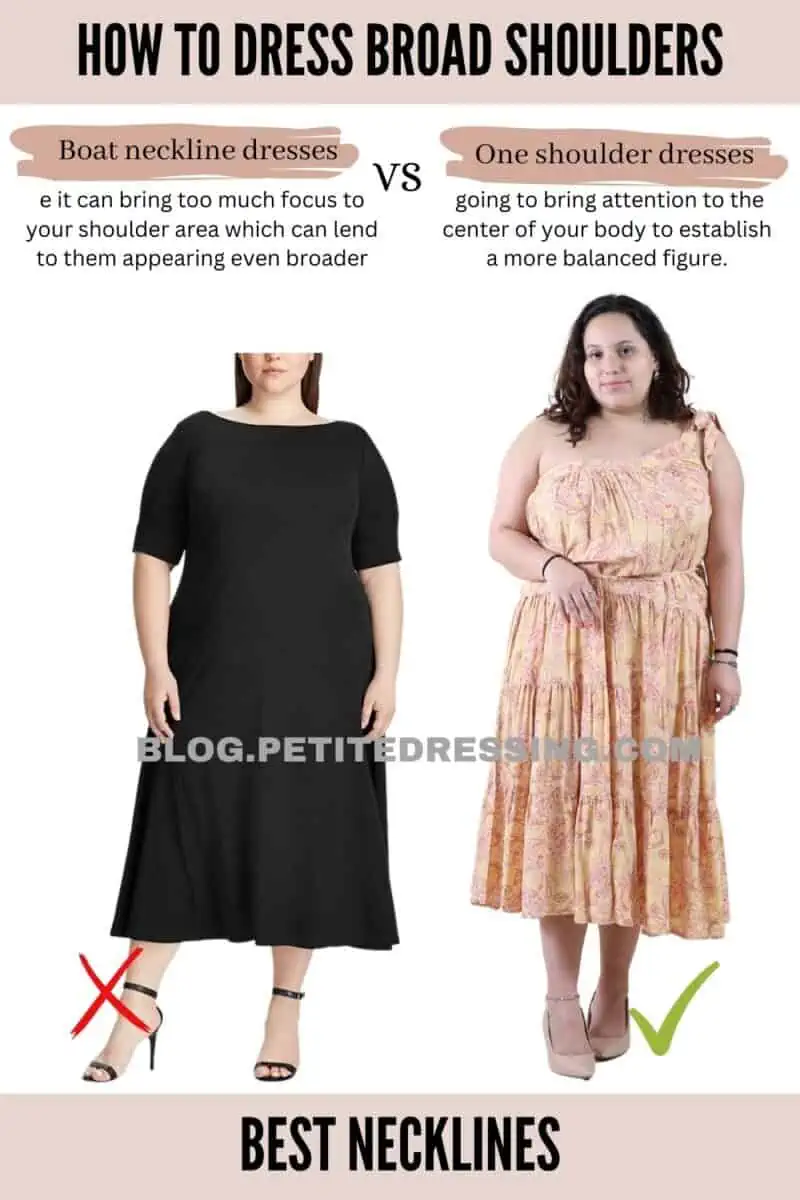 What to avoid
In general, avoid wearing off-the-shoulder and boat necklines.
These style necklines can be tricky to wear when you have broad shoulders, because it can bring too much focus to your shoulder area which can lend to them appearing even broader, creating lack of balance within your body shape.
TOPS
There are a few key traits to keep in mind when selecting tops to flatter broad shoulders.
Peplum tops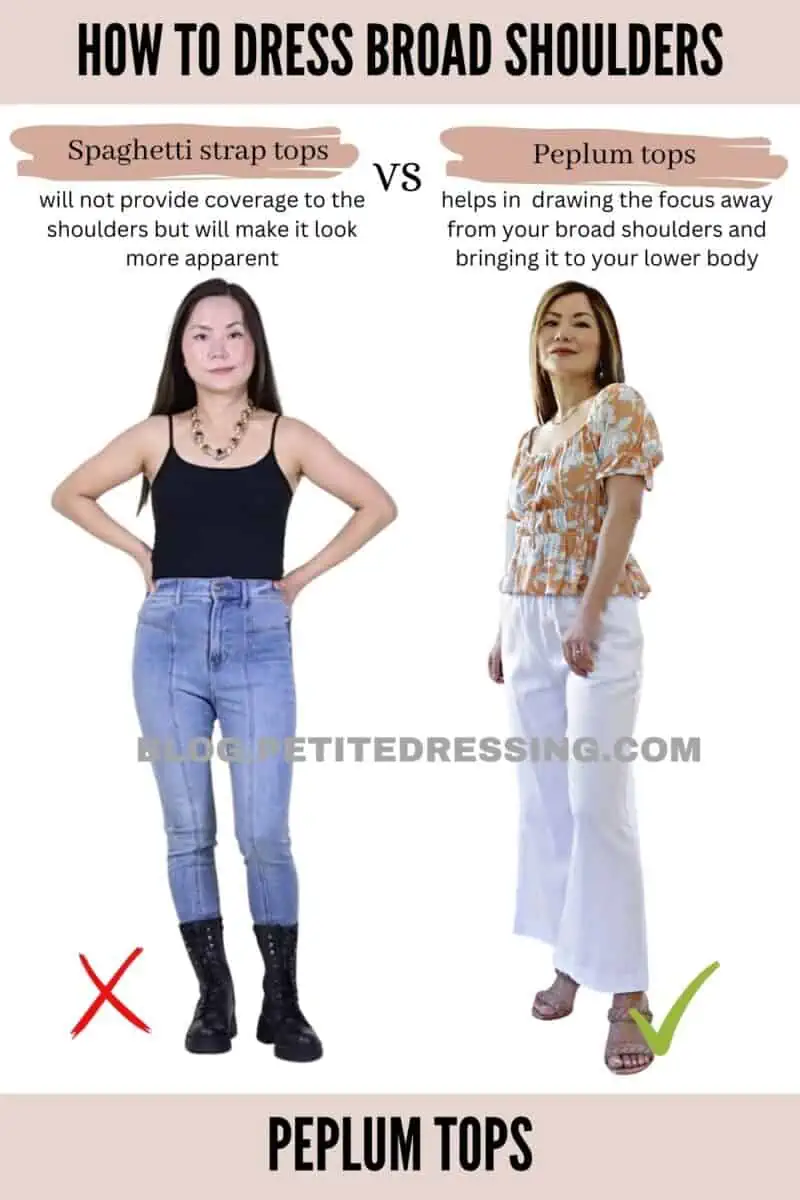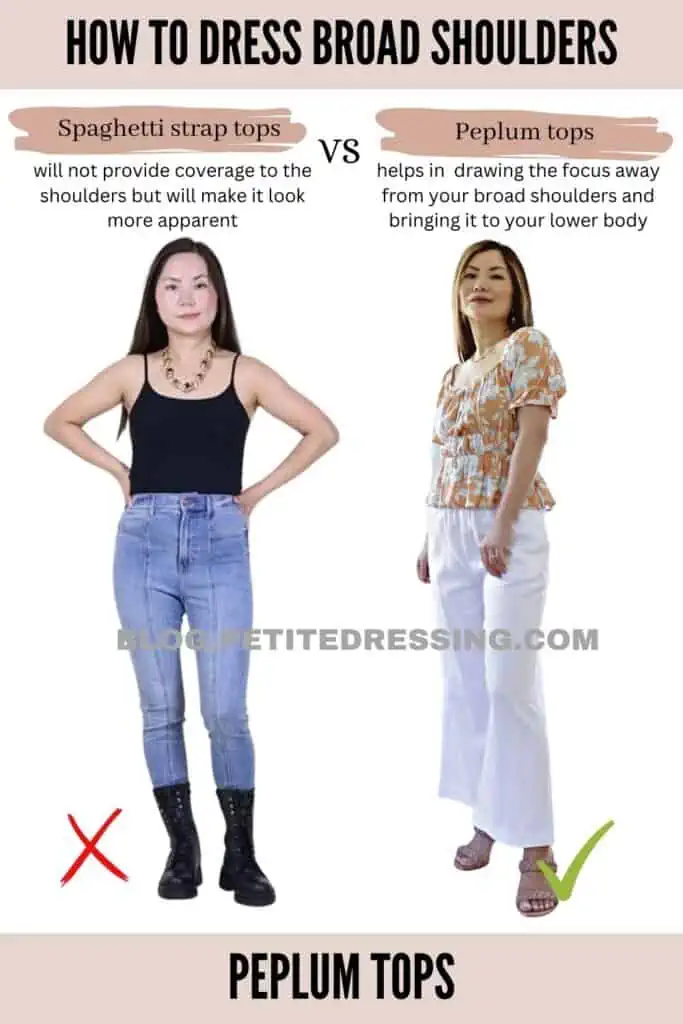 Another detail I suggest all broad-shoulder ladies keep in mind is looking to tops that offer detail and some sort of volume at the bottom of the top.
This is going to bring the attention away from your broad shoulders and create the illusion of balance within your figure.
Basically, we're drawing the focus away from your broad shoulders and bringing it to your lower body.
Tops like a peplum are great to achieve this! The volume comes from the peplum area.
Peplum tops are also great to add waist definition to your figure – another key element to keep in mind when dressing broad shoulders because it, once again, will bring the focus away from the shoulder area.
Avoid shoulder details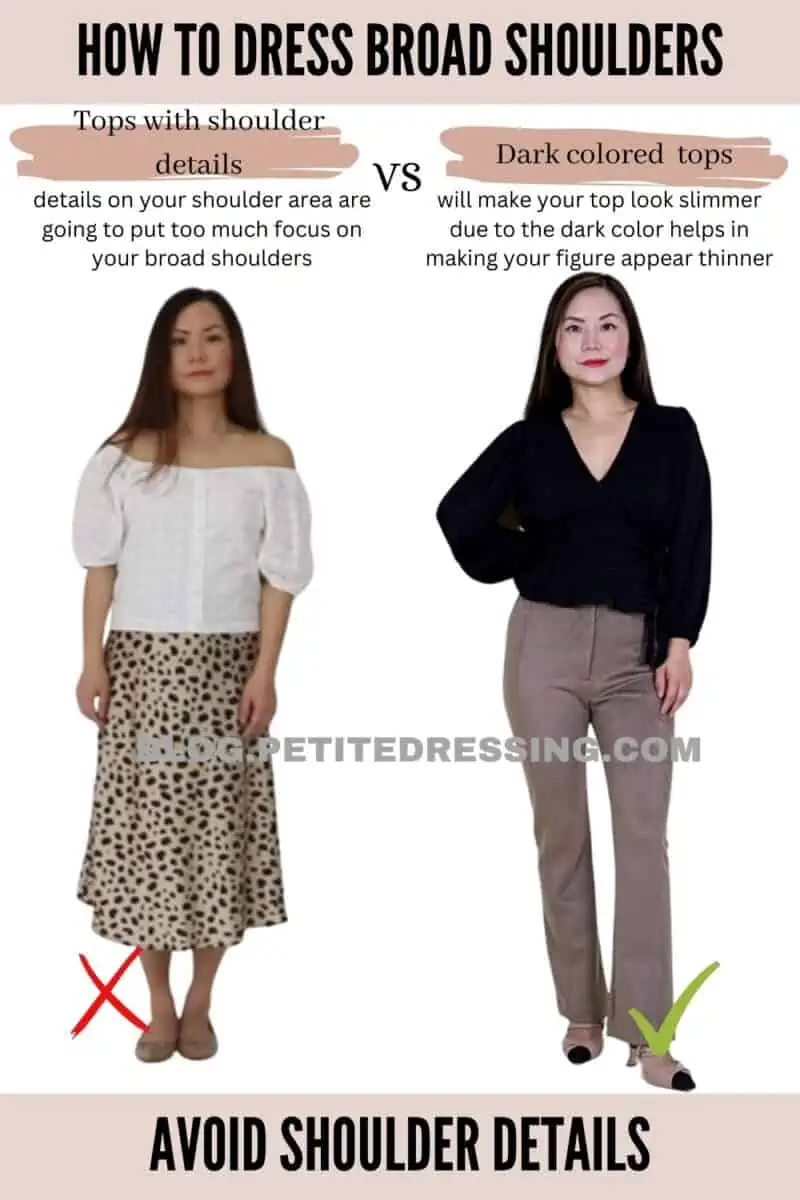 You will want to stay from tops that have a LOT of detail in the shoulder area.
Think of details like puffed-up shoulders, cap sleeves, ruffles, etc.
These details, because they're at the shoulder area, are going to put too much focus on your broad shoulders. Since we work on balancing your shoulders, this isn't ideal!
Avoid padded shoulders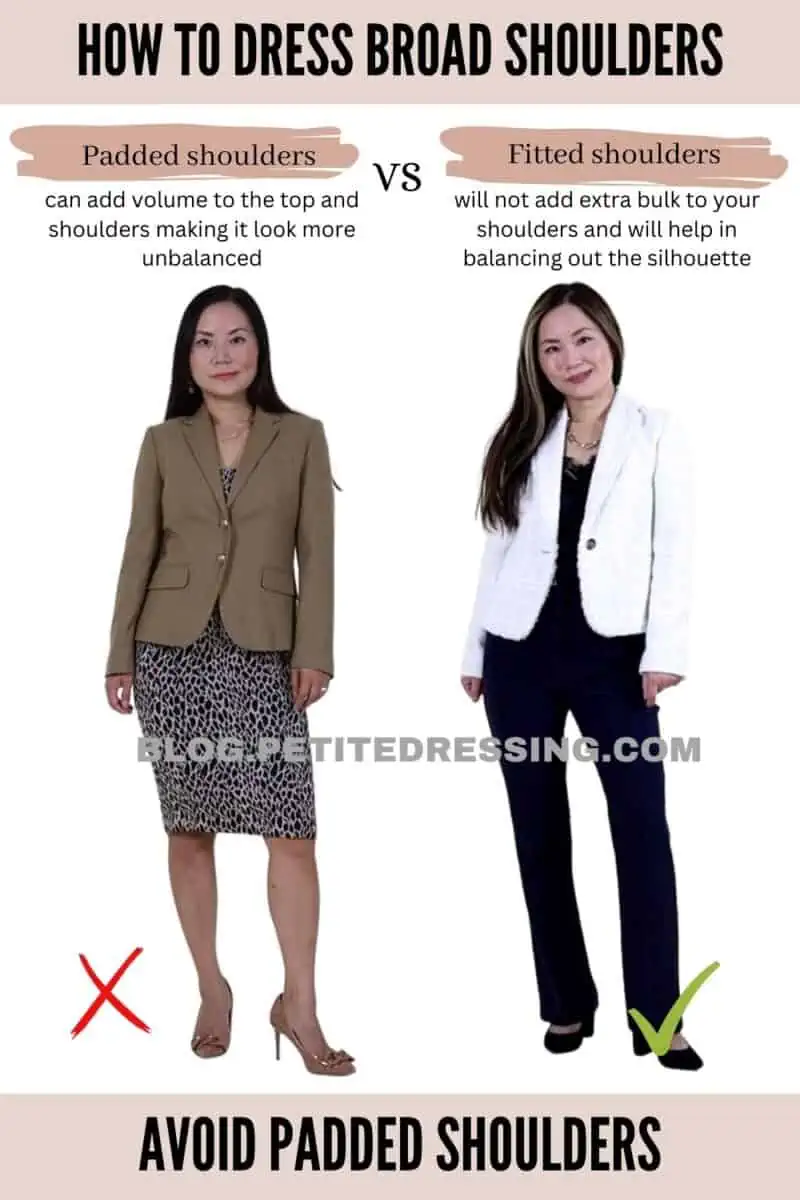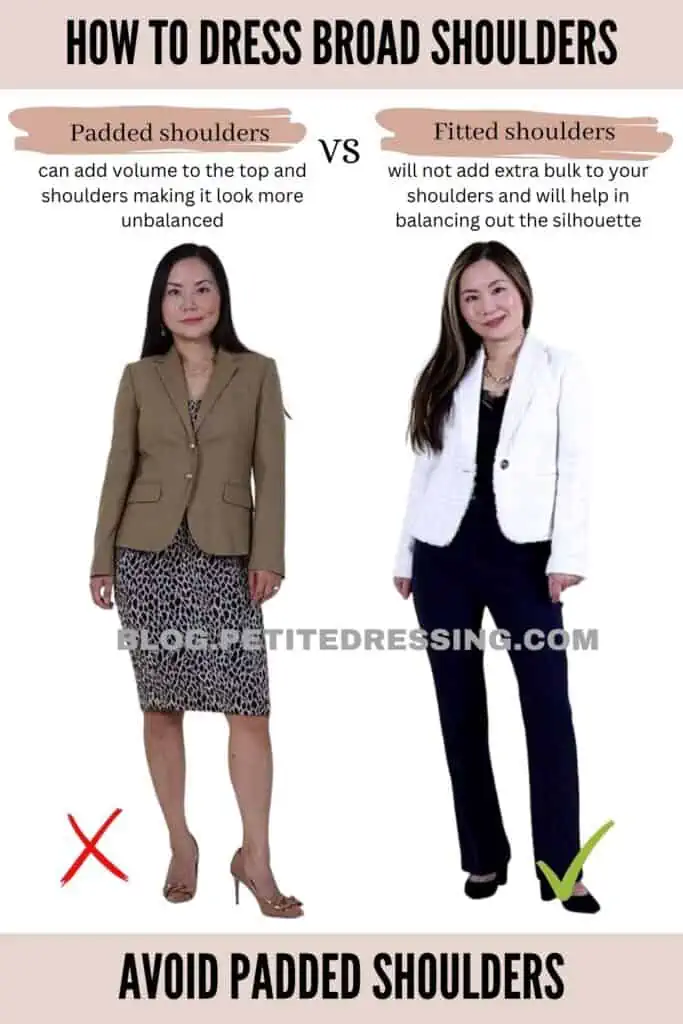 Another important thing to keep in mind is to stay away from any tops, including jackets, blazers and layering pieces that have extremely defined and/or tight shoulders.
Not only can these types of blazers/jackets be tricky for you to fit into easily with broad shoulders, but they're not the most flattering.
The fit of blazers and jackets is highly dependent upon the shoulder area, most of the time it's a pretty slim fit which just isn't your friend when you want your shoulders to look smaller.
In fact, these types of blazers are often going to cause your shoulders to look bigger.
Last but not least – keep all the tips I mentioned above in mind! If you follow the tips we went through above your figure is going to look incredibly flattered in your clothing which in turn, will lead to your shoulders appearing smaller as a default. Pretty cool, right?
Caution with statement tops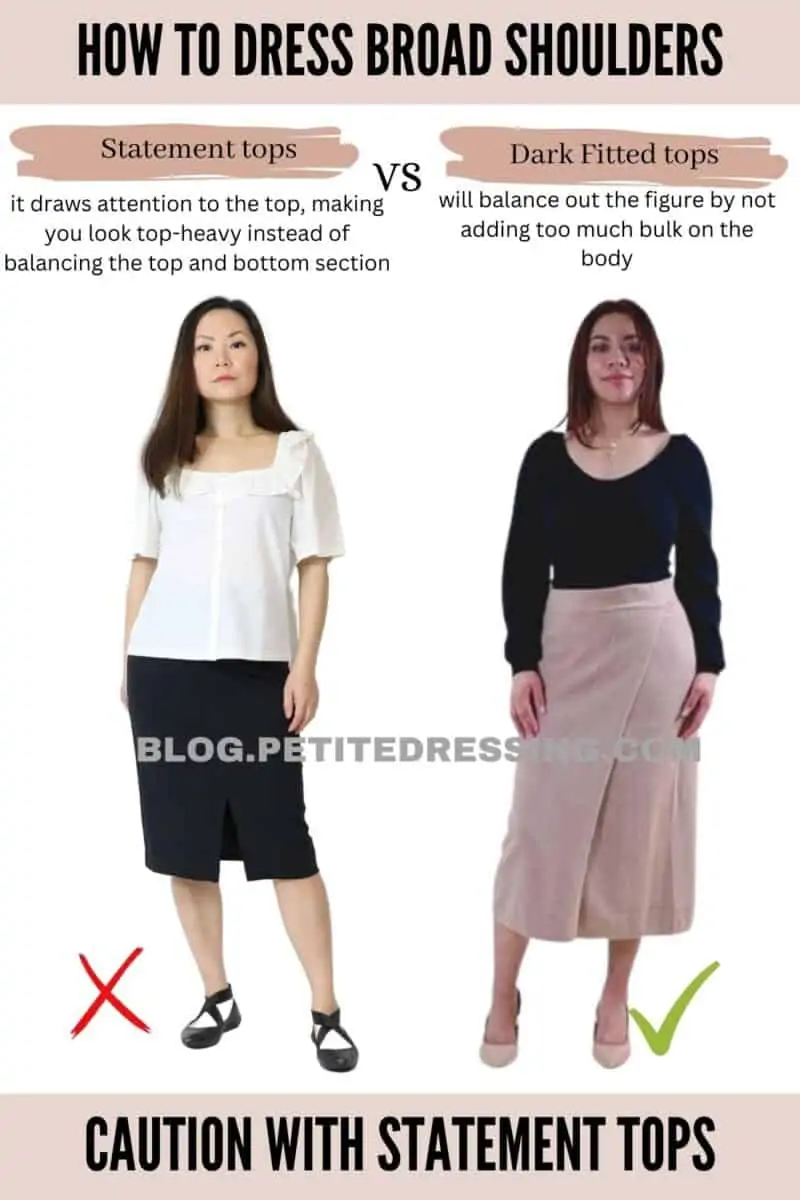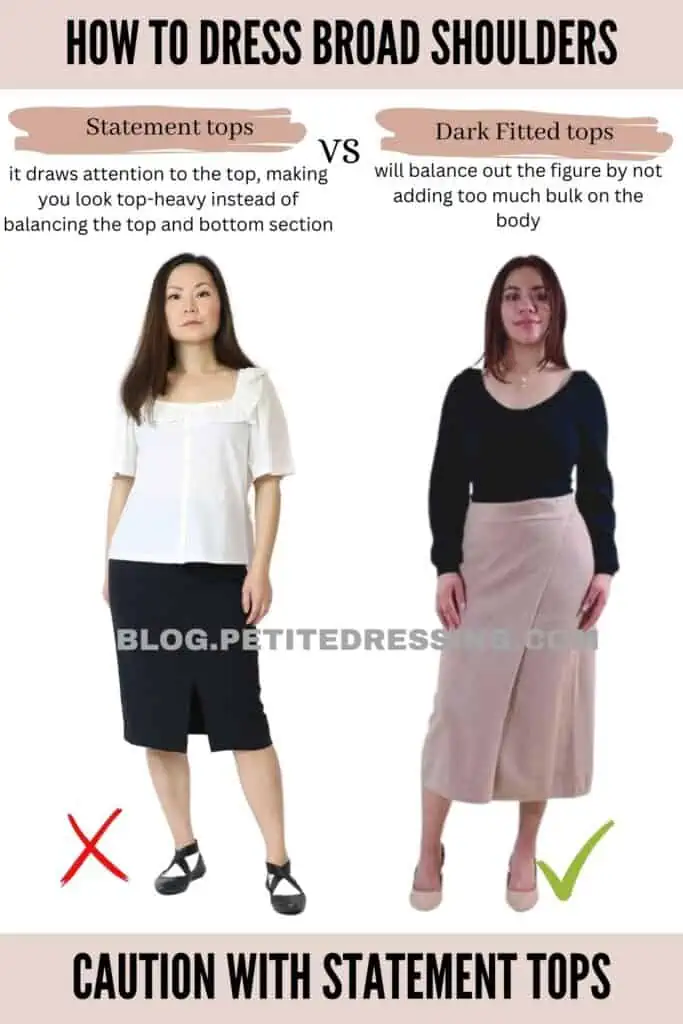 Statement tops are fun, but if your goal is to balance your shape, it's best to draw attention to your bottom instead of your top.
It is not that you cannot wear a statement neckline, but in general, ALWAYS have the majority of the focus of your outfit on the bottom half of your body.
This can be done in a number of ways like wearing a full skirt, high-waisted trousers in a fun color, etc. You get the point here.
This is probably the most crucial tip to keep in mind to accomplish smaller-looking shoulders.
DRESSES
The thing about learning how to dress broad shoulders, and any body type for that matter, is many of the tips and tricks build off of one another. A lot of the points I mentioned above are going to play a role in the things you're considering when selecting dresses to flatter your broad shoulder figure.
So don't forget everything from above!
Ok so aside from what I've already mentioned about how to dress broad shoulders let's get into dresses a bit more specifically.
Fortunately, there are quite a few dress silhouettes broad shoulder figures can embrace. A few go to silhouettes I always recommend to those with broad shoulders:
Fit and flare
A-line
Wrap dress
Sheath
That should give you quite a few options to work with!
Fit and flare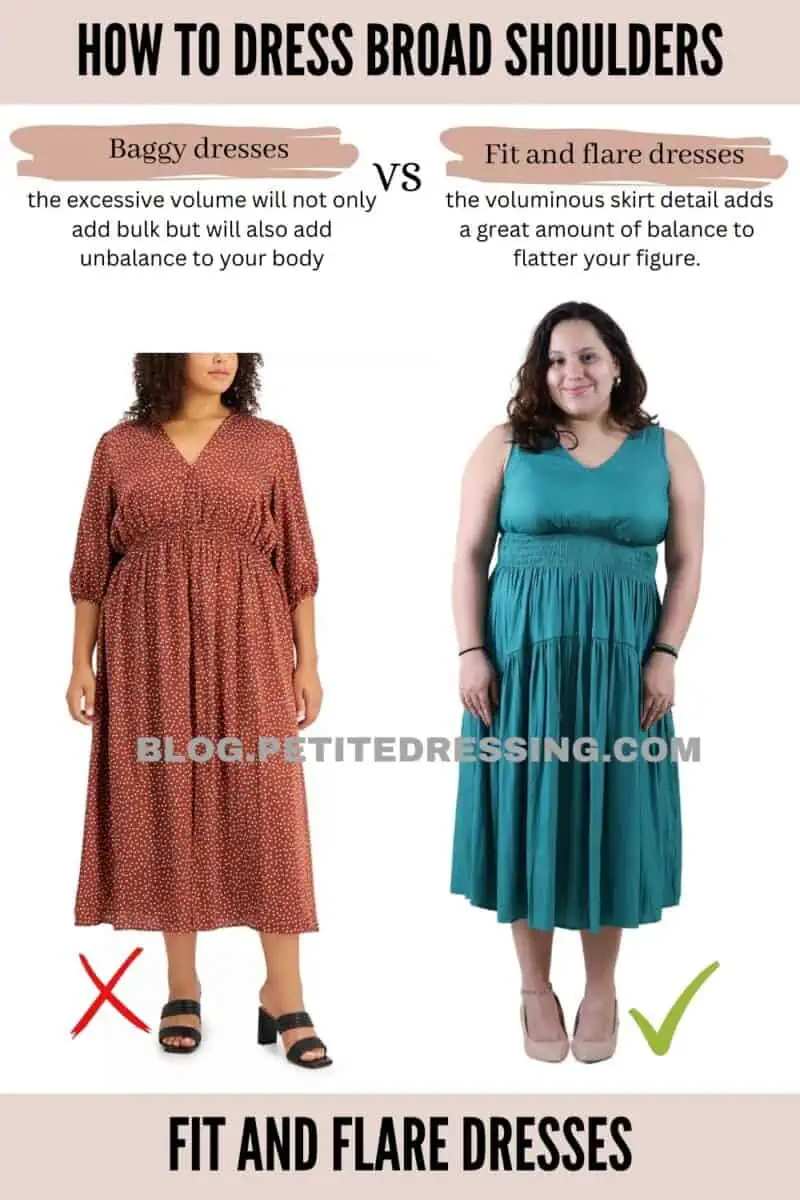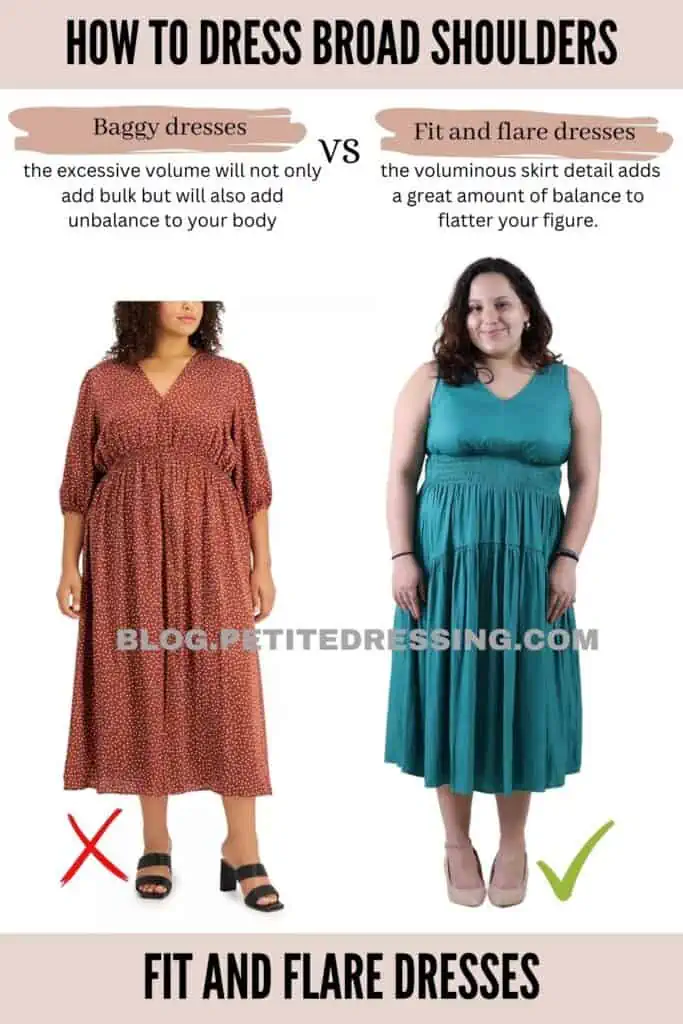 Fit and flare dresses are perfect for broad shoulders because the voluminous skirt detail adds a great amount of balance to flatter your figure.
Bringing some of the attention down to the bottom half of the dress is what does the trick here!
Just like the peplum tops I mentioned above. Another reason I suggest fit and flare for broad shoulders is that the necklines are often low key and the waist area is defined – all ideal for figure flatter to your body shape.
A Line dresses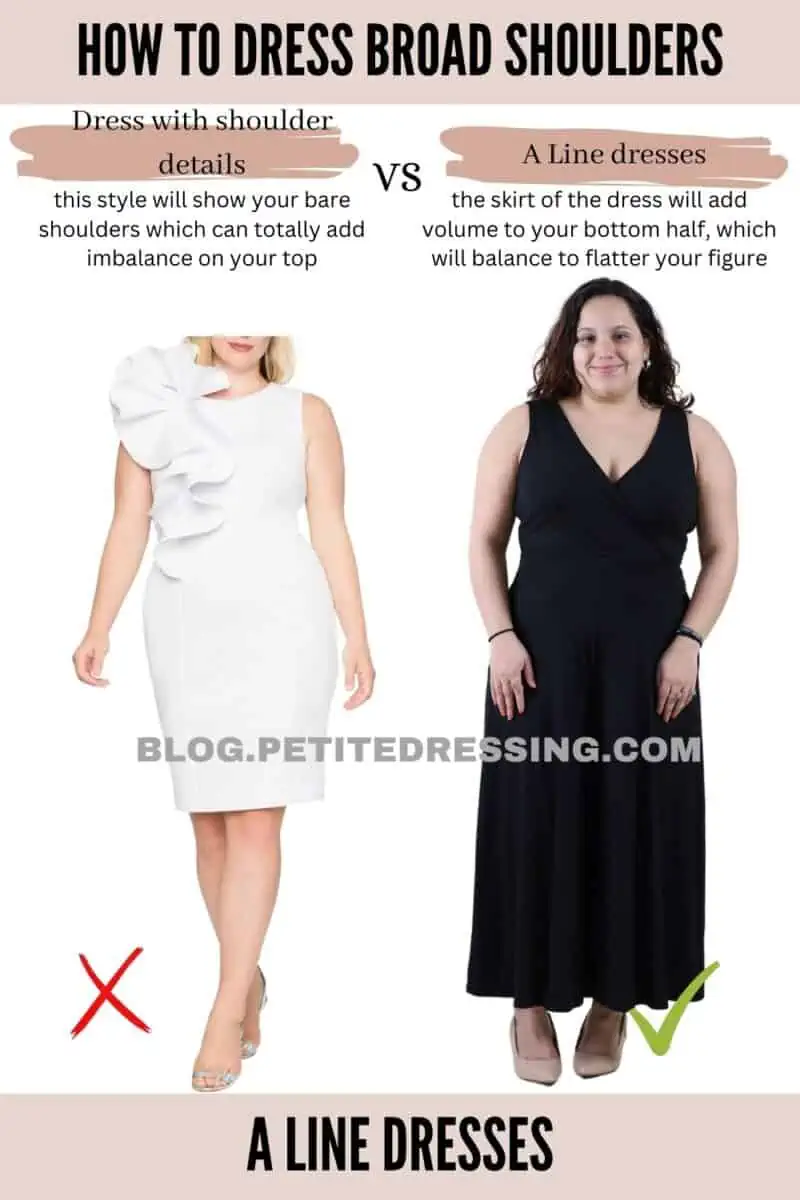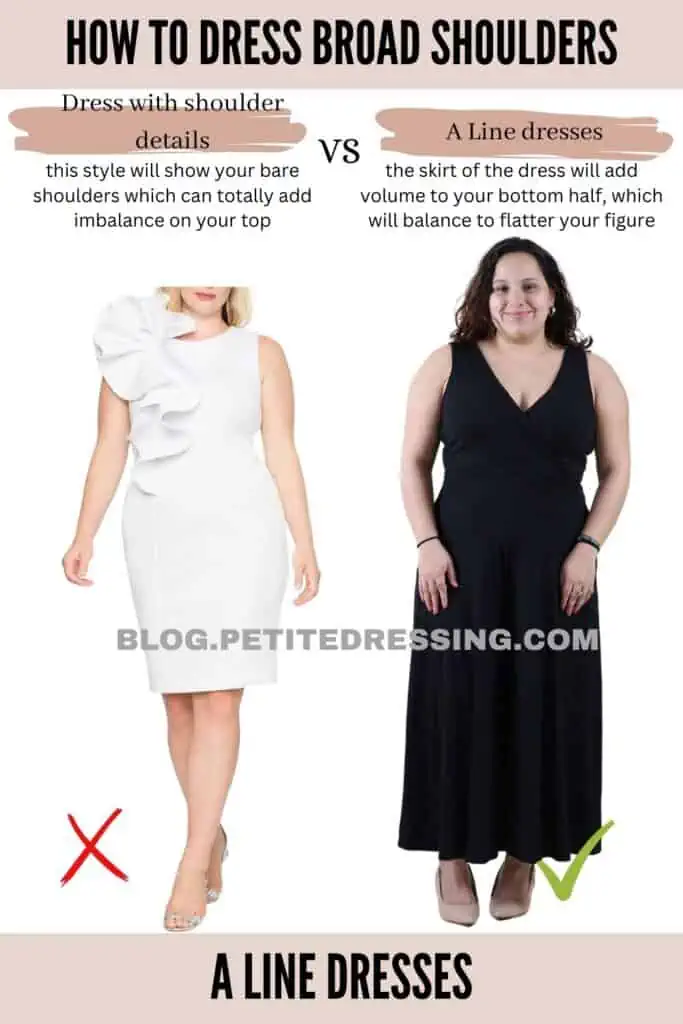 All of these elements play a role in why a-line silhouettes are flattering to broad shoulders as well. These two silhouettes are quite similar but because they are slightly different I wanted to make sure I mentioned both here for you.
Wrap dress
Ok, so I'll start by saying wrap dresses are one of those silhouettes that are pretty much universally flattering.
They give you a lot of amazing attributes that flatter most women's figures. Attributes like an open, v-neckline, defined waist, and fabric that fits closely to the body without being bodycon tight.
Those are all the reasons I love them for broad shoulders. Well, those attributes in addition to the slim fit around the shoulder area.
I mentioned that v-necklines are flattering for broad shoulders and because wrap dresses fit close to the body all over you're getting two benefits here.
See a theme with the best dresses for broad shoulders?
There are certain things that just simply work when it comes to figuring flattery.
Of course, I can't forget to mention the length of the dresses because length plays a huge role! Since our focus is balancing broad shoulders you can play around with lengths of dresses that are a bit longer to help aid in balancing your shape.
Of course, length does depend upon your height.
Avoid spaghetti straps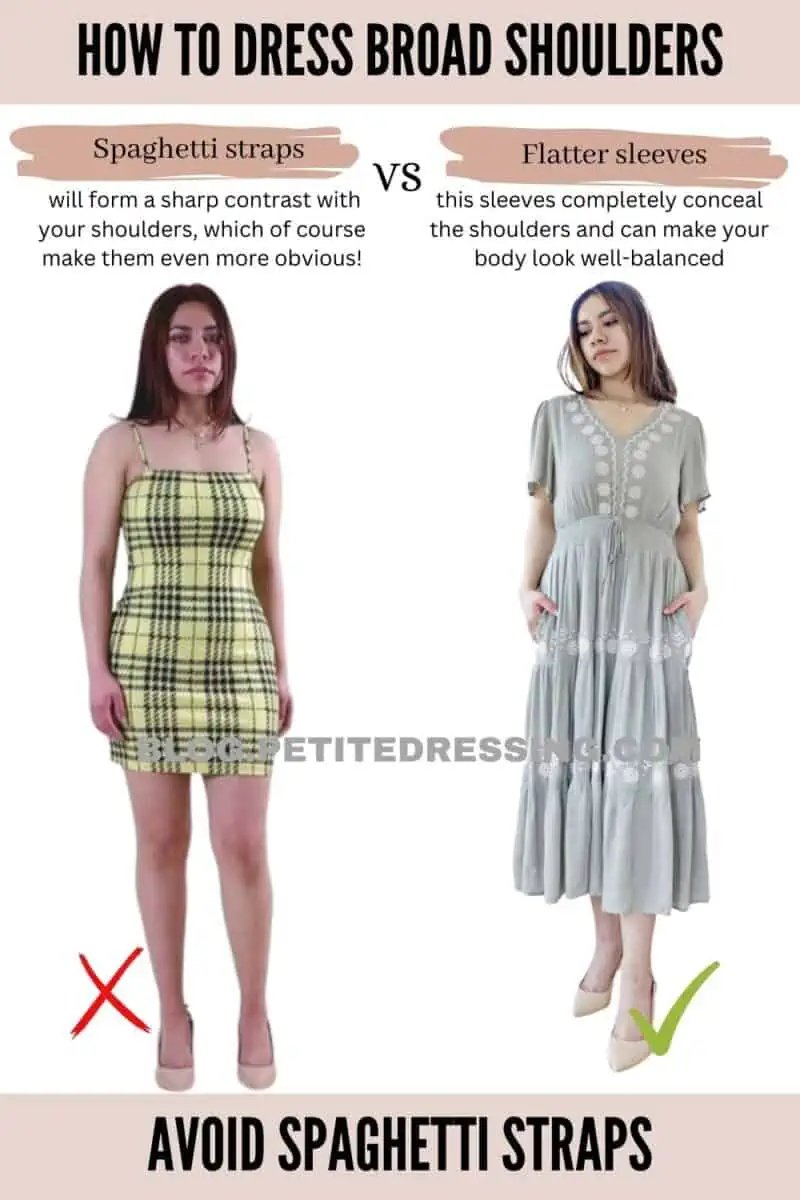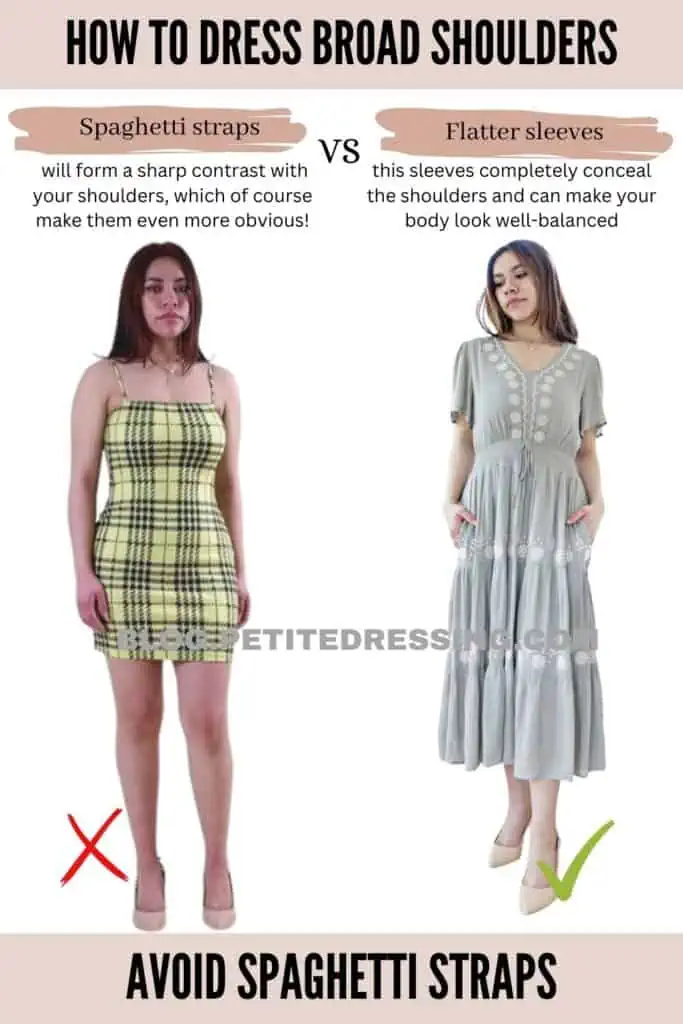 If you want to achieve a more balanced look and make your broad shoulders less of a focus for your outfit, then you should stay away from the spaghetti straps.
One of the most common mistakes I often see is that women with broad shoulders wear dresses with really tiny straps. That is not at all flattering on them.
The reason is the thin spaghetti straps will form a sharp contrast with your shoulders, which of course make them even more obvious!
On that note, have fun styling!
CELEBRITIES WITH BROAD SHOULDERS
Believe it or not, there are quite a few celebrities who have broad shoulders. These are women who dress their figures incredibly well, which makes them great individuals to reference when dressing YOUR broad shoulders.