Women in her 70s can look stylish and beautiful, as it is apparent that women naturally become more graceful and confident with age. Therefore, their wardrobe choices should be a true representation of their fashion evolution process.
Style icons in their 70s and above include Carmen Dell'Orefice and Diane von Furstenberg continue to prove that fashion can be still exhilarating beyond society's expectations on the image of more mature women.
This is a comprehensive guide to help women in their 70s to make wise choices about their wardrobe.
Dresses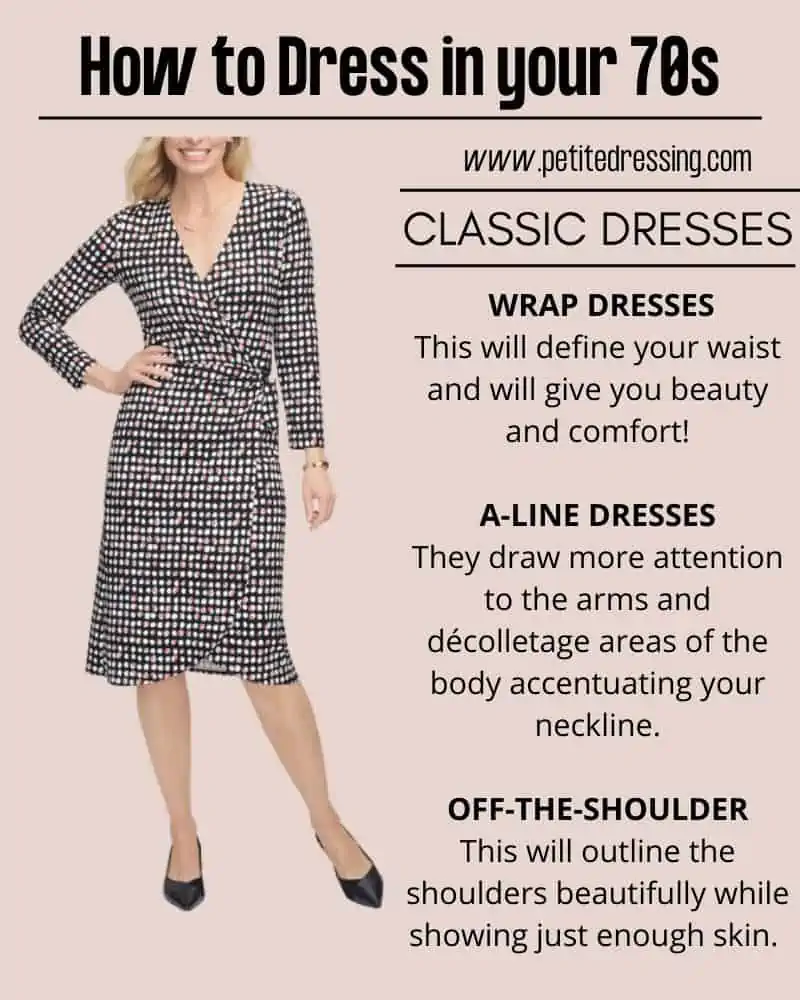 If you are over 70, it is key to go with the classics, when it comes to choosing your dresses. Here's some of the most flattering dresses for women in their 70s and above.
Wrap
One of the most iconic women in the world, Diane Von Furstenberg designed the wrap dress for women of all shapes, ethnicities, and ages.
The wrap dress is elegant, comfortable and an absolute need in your closet.
It comes in beautiful colors, prints, lengths, and sleeve designs that will brighten up your features and maintain class and modesty. The dress defines the waistline and drapes over your curves effortlessly guaranteeing comfort and beauty.
A line
A line shape is one of the most flattering types of dresses for women of all age, and they are particularly great option for women over 70 because how accommodating the shape is.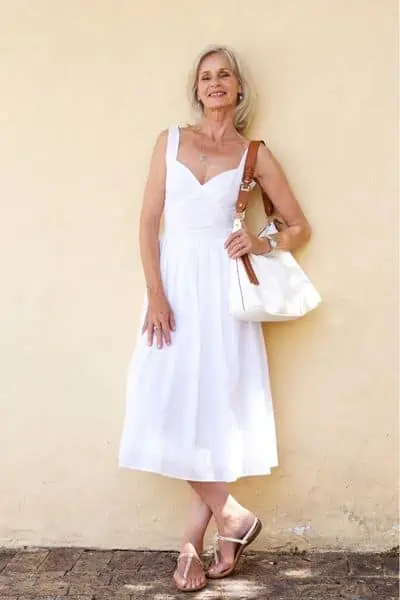 What is A line silhouette?
A line refers to the shape of the dress which hugs your body in your top half and flares out under your waist.
When you are over 70, chances are you may have gained weight in your tummy area, or you may have bigger thighs or wider hips.
No matter where you carry weight in your body, A line dresses can smartly camouflage it and make you look slimmer.
Column
Column is another classy dress silhouette are flattering for most body shapes.
Opt for a lower neckline, as they draw more attention to the arms and décolletage areas of the body, accentuating your neckline.
These dresses can be styled by accessorizing with statement bangles, earrings, and necklaces.
Waist cinching dresses
No matter what type of dress you go with, one key element to look for is waist cinching.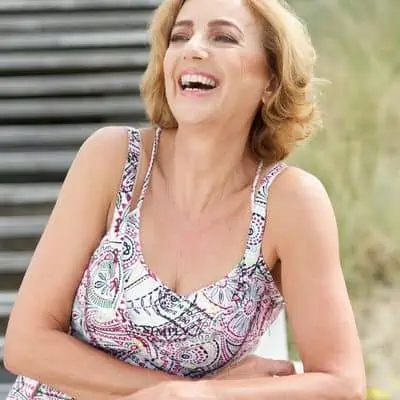 Why you should always define your waist
There is a common myth that as we get older, we should dress in loosely fitted dresses.
It is true that as we age, we value comfort over anything else. However, defining your waist is key when dressing women in 70s. When your dress shows your waist, this instantly gives you a more youthful look.
The opposite is also true. If you dress does not have any waist definition, they make you look bigger than you actually are, and they make you look older.
Long dresses
Well-fitted off-shoulder, long dresses are a staple for curvy women, particularly for high-scale events.
They are youthful, sexy, and ideal for women with a big bust as they draw attention upwards, outlining the shoulders beautifully while showing just enough skin.
Pants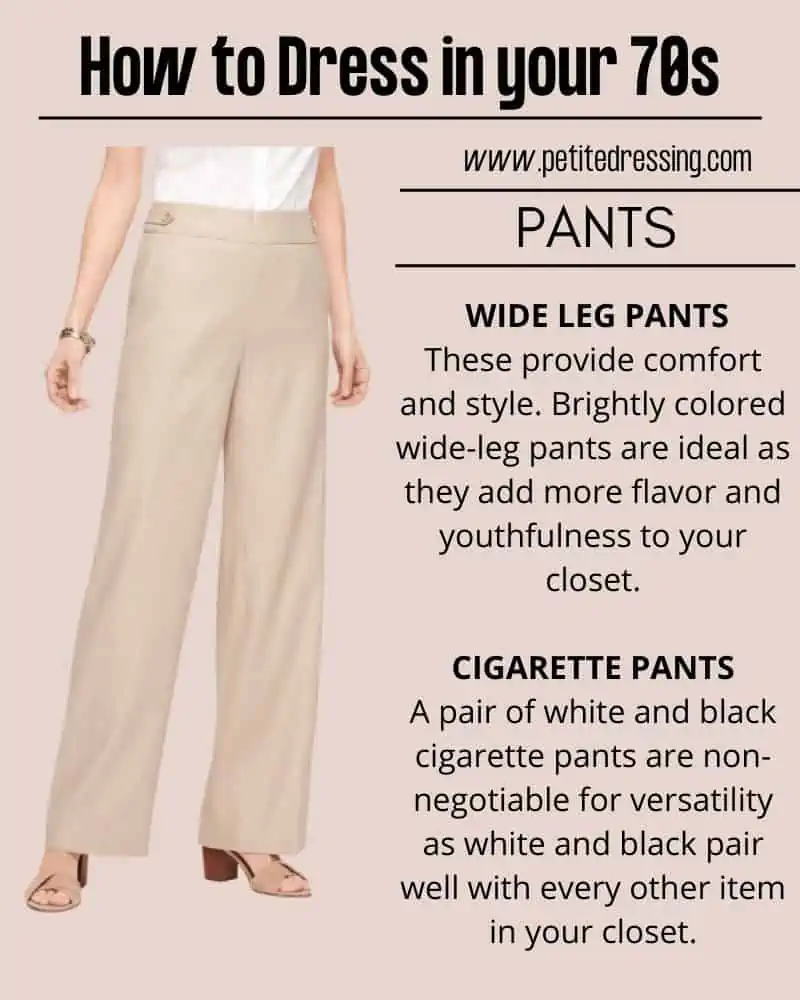 Pants with different colors, prints, lengths, and silhouettes are key in building your dream wardrobe. Choosing pants in your 70s means you want to strike a perfect balance between comfort and style.
Cigarrete pants
Firstly, a pair of white and black cigarette pants are non-negotiable for versatility as white and black pair well with every other item in your closet. They can be styled with classic sweaters, statement blouses, turtlenecks, long-sleeved tops, and blazers.
Wide Leg pants

Secondly, wide-leg pants provide comfort and style as they pair effortlessly with long coats, trenches, and classic white shirts.
Brightly colored wide-leg pants are ideal as they add more flavor and youthfulness to your closet.
Blouse and Tops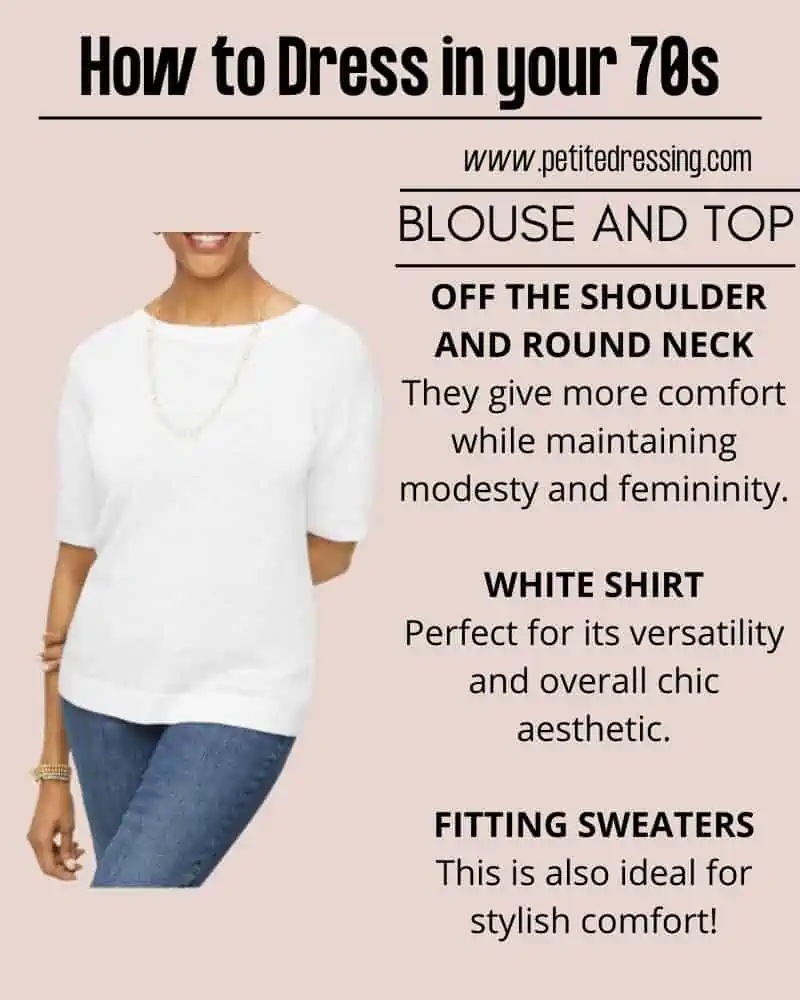 When it comes to tops, round neck and off-shoulder designs are more appropriate as they give more comfort while maintaining modesty and femininity.
White button down
A crisp white shirt is perfect for its versatility and overall chic aesthetic for women in their 70s.
It can be styled with white flared pants, fitting pair of jeans or leggings, pleated skirts and so much more. Accessorize it with a beautiful printed scarf on your neck, a classic bag, and comfortable pair of heels or sneakers.
Fitted sweaters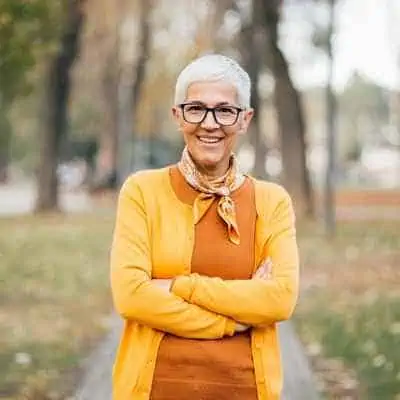 How to choose sweaters
Fitting sweaters are also ideal for stylish comfort.
You should avoid oversized fitting and stay true to size for a more flattering silhouette.
Pair them over a long dress, with well-fitted pants, under a classic blazer, trench coat or skirt.
Sweater blazers
Sweater blazers are a combination of sweaters and blazers, combing the comfortable knits with the structure of a blazer jacket. This is one of the most flattering items on women in their 70s, because it gives you the best of two worlds.
You can easily style these over a skirt or layer over a dress, looking chic and keeping you warm at the same time.
Skirts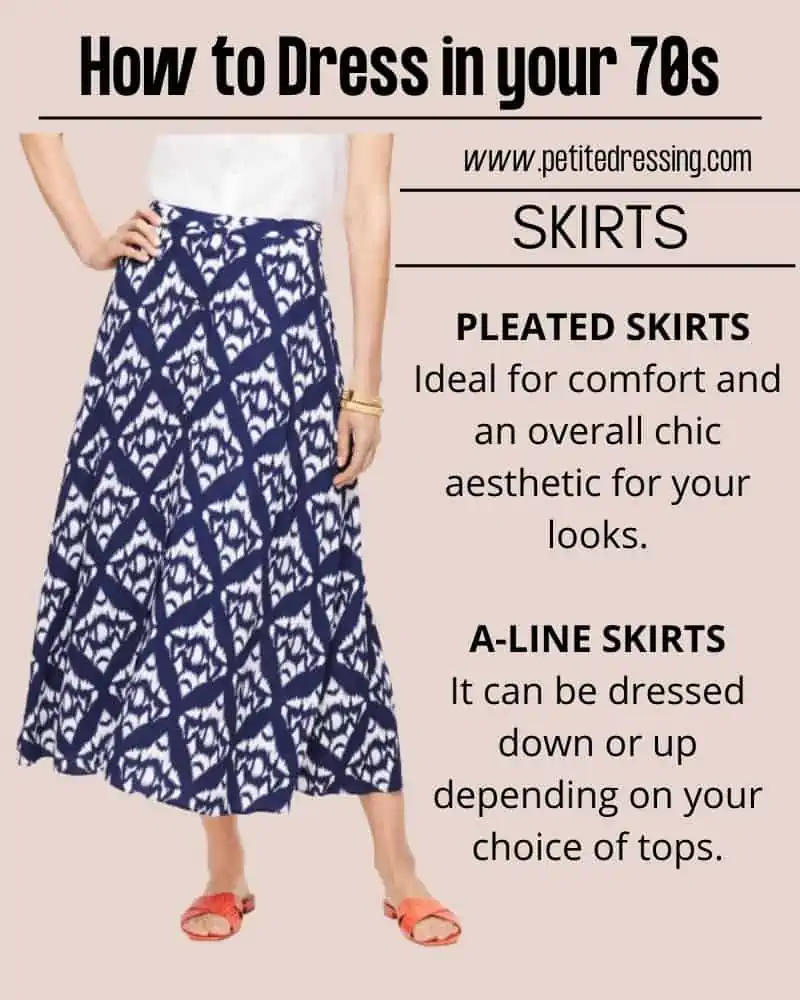 Women in her 70s should choose skirts that are chic, but are also easy to dress up or down. Having a versatile wardrobe with fewer pieces can make sure you invest in the most worthwhile high quality items.
Pleated
Pleated skirts are ideal for comfort and an overall chic aesthetic for your looks.
They can be dressed down or up depending on your choice of tops. Style them with full-sleeve turtle necks that complement the colors on the skirt, fitting blazers, and bell sleeve tops.
A line
Just like the A line dresses, A line skirts are wonderful options for women in their 70s, as it is one of the most accommodating pieces no matter what body shape you have.
A line skirts can be worn not just in warm weather, but also a great piece for layering when the weather turns colder.
Midi
Midi length skirts, no matter what style, can be a great addition to your wardrobe in your 70s. This is the most elegant length for mature ladies, and it is versatile for any occasions.
Blazers are timeless pieces that automatically elevate an outfit by making it look more sophisticated and expensive.
Coats and Jackets
Even though most people are enjoying their retired life at this age, coats and jackets are still essential pieces for women in their 70s for layerng.
Because coats and jackets are structured pieces, they can instantly upgrade an outfit and add an elegant touch to anything you wear under them.
When it comes to outerwear, the key is to choose quality over quantity. Invest in pieces that are well made and well tailored is more important that following the latest trends.
Blazers
A well- fitting, structured blazer is a necessity in your wardrobe as it flatters all body types.
The styling options are infinite. It can be layered over the shoulders in a fitting dress, with a white pair of pants, belted over a pleated skirt and so much more.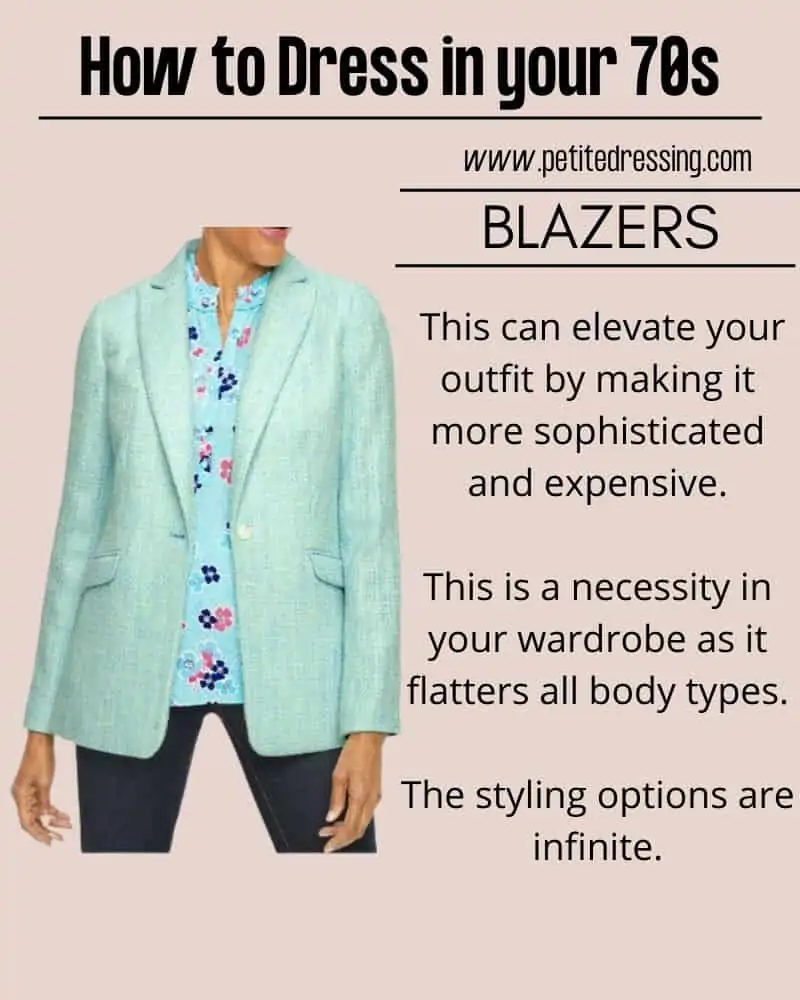 Coats
Double breasted trenches and tweed coats are some of the statement pieces that could easily upgrade your day to day looks.
Different designs, cuts, colors and details are essential while purchasing these pieces as they add more individualism into an outfit.
Style them over your staple basics such as a turtle neck, belt, well fitted pants and skirts.
Suits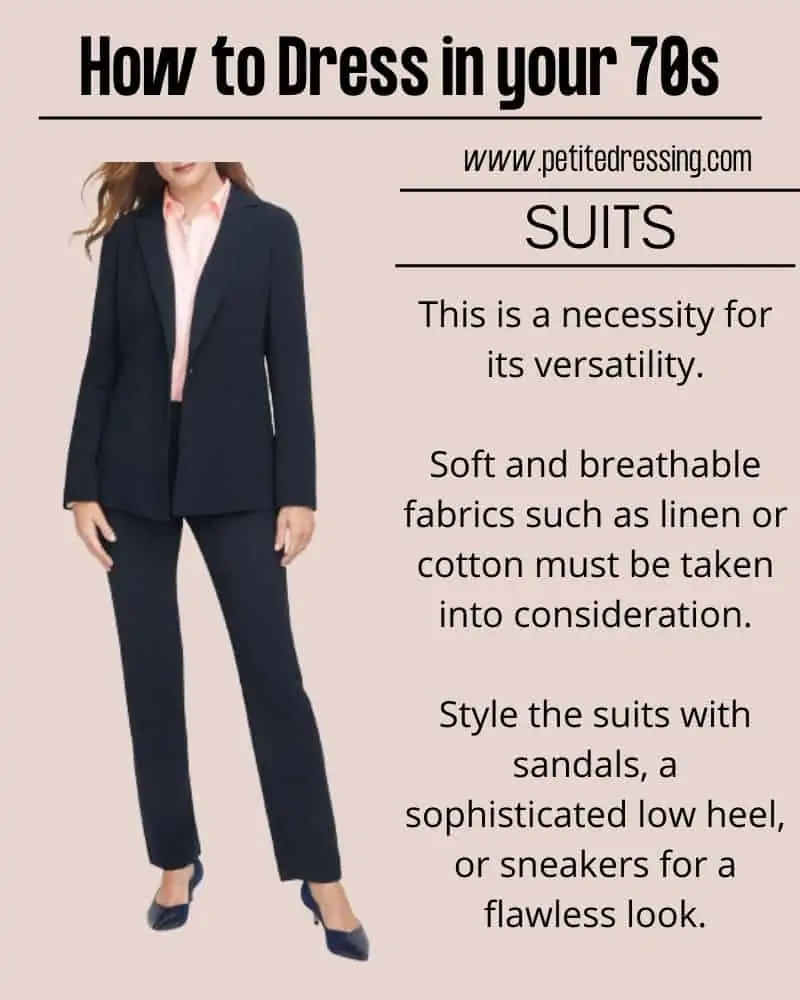 Although there is no such thing as an age appropriate bag, high quality structured bags tend to flatter more mature women.

A classic suit is a necessity not only for its versatility but also its ability to be a statement piece that can be styled with minimal effort.
Comfort is key and therefore, soft and breathable fabric such as linen or cotton must be taken into consideration. The incorporation of bright colors like pinks, blues and whites are an added advantage to brighten up the skin. Style the suits with sandals, a sophisticated low heel or sneakers for a flawless look.

Shoes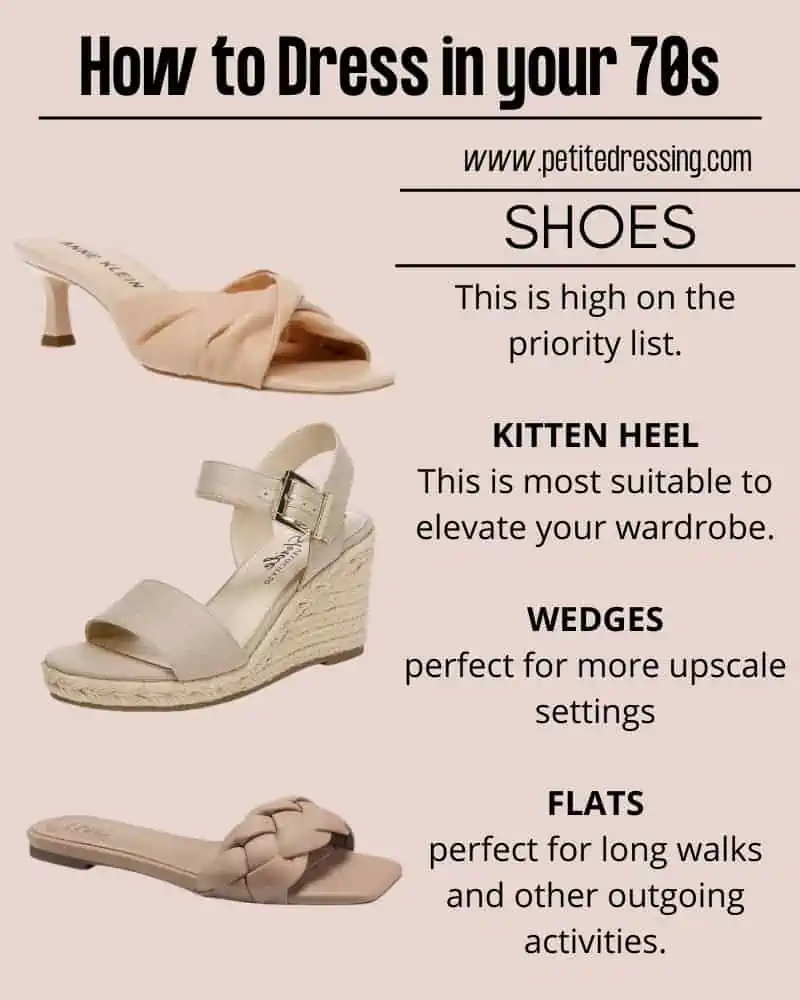 At 70, comfort, particularly in footwear is high on the priority list.
Low heels
A blocked low heel, pair of boots, classic wedge, kitten heel, sandal and sneakers are most suitable to elevate your wardrobe.
Blocked heels, wedges and kitten heels are perfect for more upscale settings like lunch with friends, high teas or dinners as they pair well with evening gowns.
Flats
Sandals, flats and sneakers are perfect for long walks, fitness and other outgoing activities.
They can be styled effortlessly with well fitted pants, sweaters, trench coats, skirts, and other complimenting pieces in your wardrobe.
Accessories
Accessories introduce individuality and personality into your outfits. For women in their 70s, having a nice selection of accessories that go with your outfits is the key to elevate your personal style.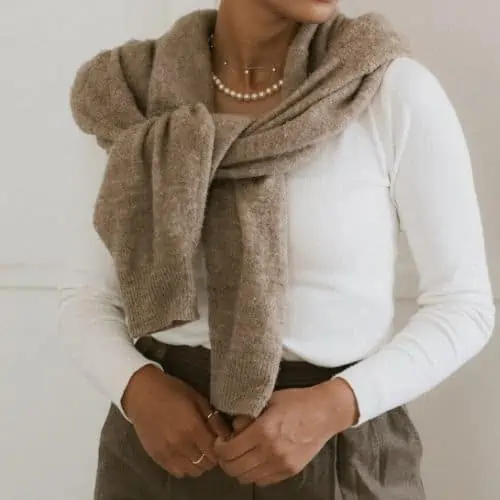 How to Choose Statement jewelry
Incorporating statement jewelry in your outfit is an easy way to make your style stand out.
The key is to emphasize just one to two pieces of statement jewelry at a time.
If you are going with an eye catching statement necklace, then skip the earrings.
Vice versa, if you are wearing a pair of bold earrings, then go with a subtle necklace, or just skip the necklace, to give all the spot light to the earrings.
Bags
Handbags can be the missing link needed to complete an outfit therefore they are absolutely essential in your wardrobe.
Whether it's a small clutch for dinners and important functions or a huge straw basket bag for your holiday style needs, you just cannot get around curating a sizable collection of bags that take your looks to the next level.
Other
Sunglasses, scarves, and even hats could tell a beautiful story of your own personal style.
This category gives you free reign to style your outfits up for more sophisticated events and down for relaxed days.