Shorts are one of the best pieces of clothing out there, due to how perfect they are for casual wear. When you don't want to go through the rigors of putting on heavy clothing, shorts are the perfect summer wear.
However, not all shorts flatter the body, especially if you're short and chubby. The plan is to put on shorts that don't make you look bigger or ride up your thighs uncomfortably. Our shorts guide for short and chubby women will answer your questions on what to look out for when shopping for shorts and which ones are perfect for you.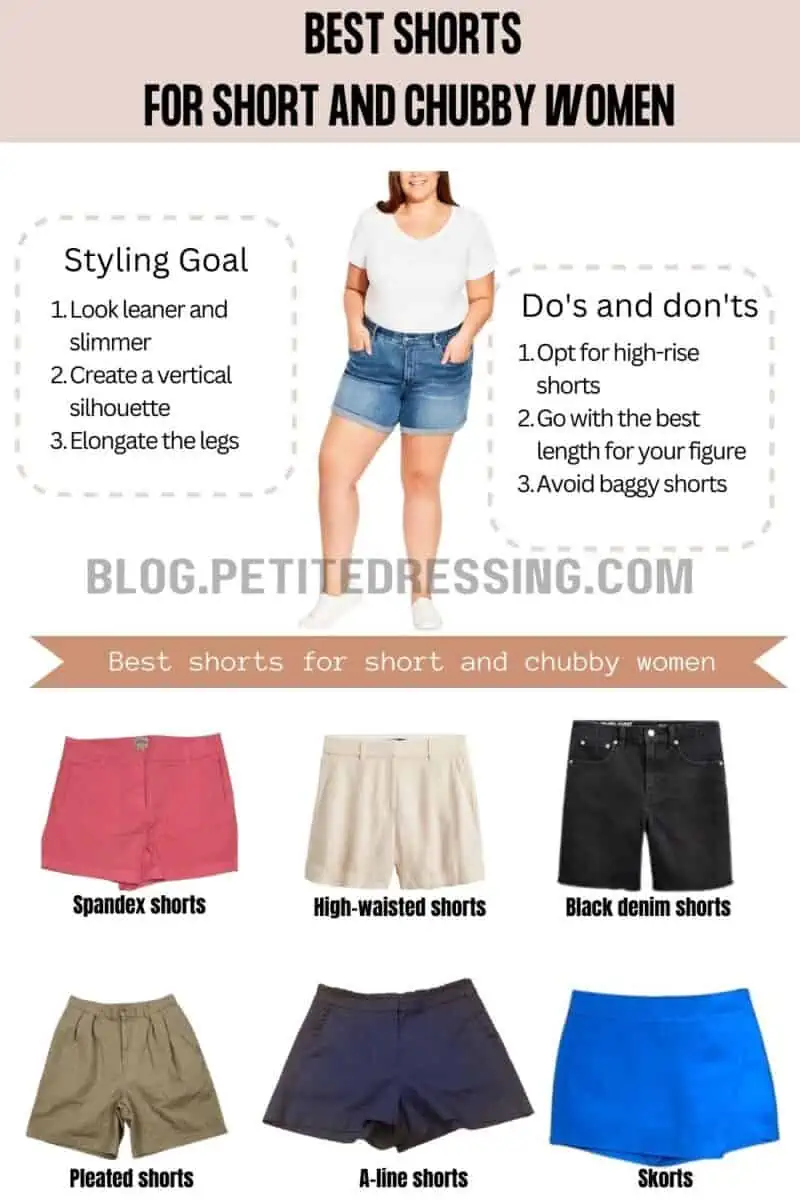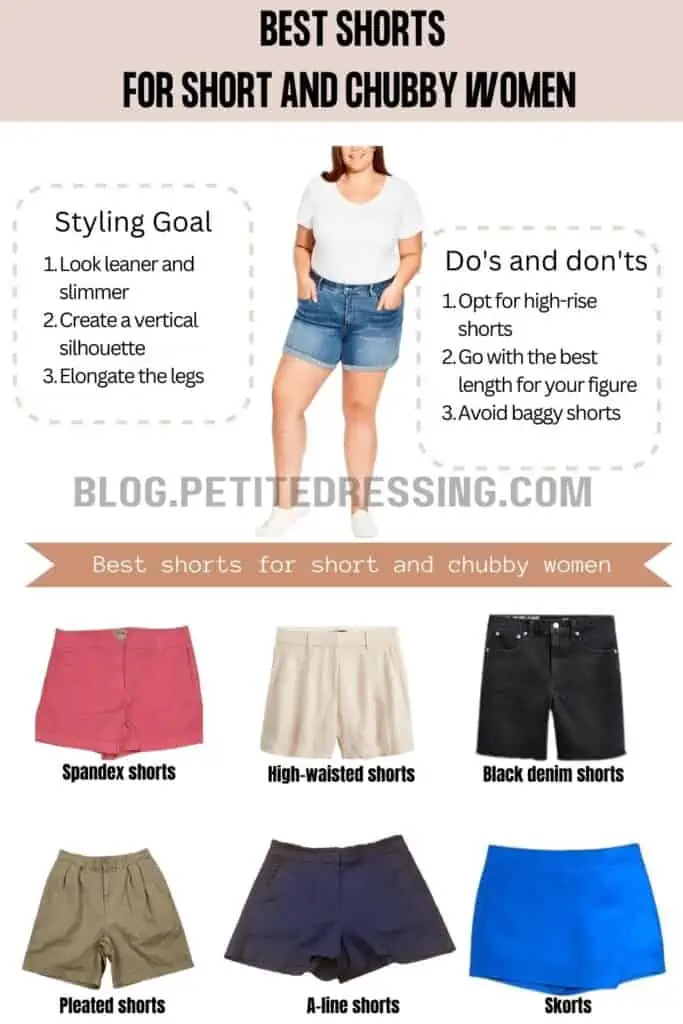 Best Fabrics
Wearing the right shorts for short and chubby women has a lot to do with your choice of fabric. For anyone who is always physically active and loves to engage in different activities, you should go for stretchy fabrics rather than cotton.
This type of fabric, especially spandex, will help you stay comfortable on those warm, sweaty days. However, the biggest consideration should be fabrics that are not easily susceptible to losing their shape after wearing for a while.
So, we would rather recommend going for shorts with elastic bands at the waist which will give a lot of extra comfort around your belly and butt area.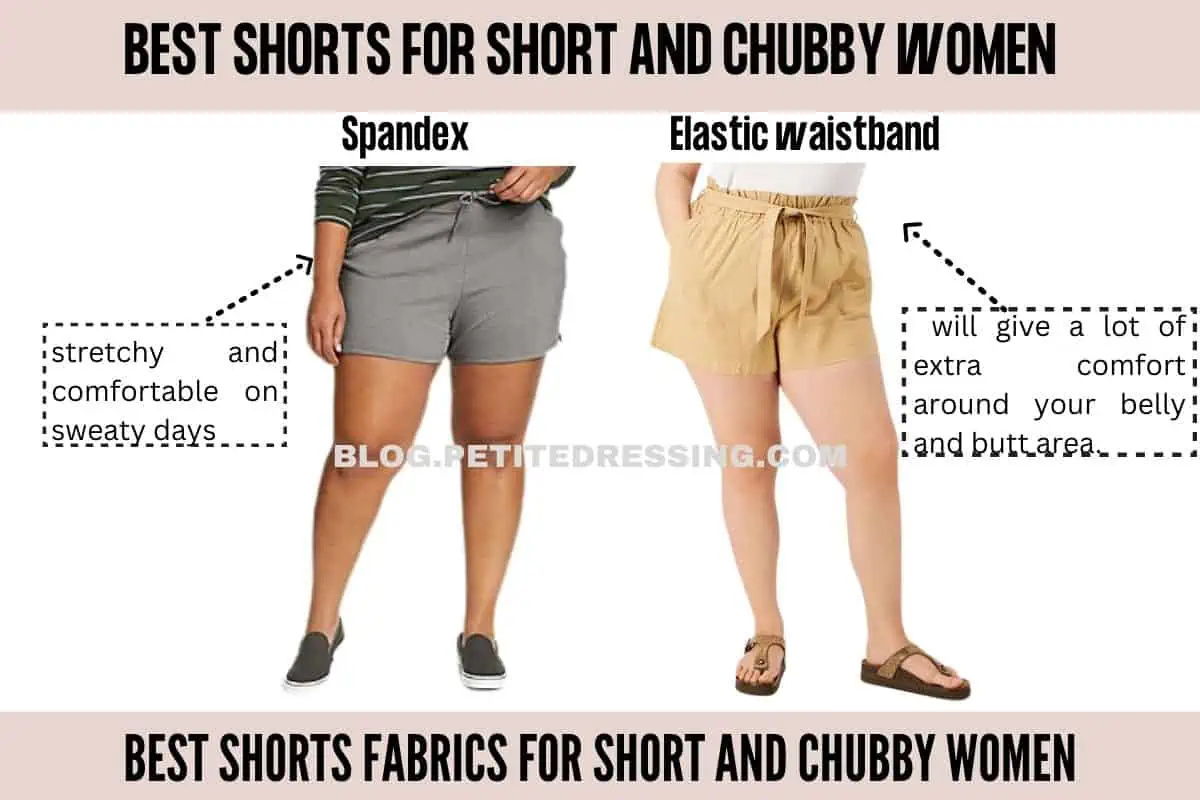 Best Fit
It can be pretty frustrating to find size guides that never seem to get your body size right. This is an all-too-familiar struggle with short and chubby women. A good way to avoid this is to be fully aware of your measurements, so you can use this against the different charts and find one that's a perfect fit for you.
To be on the safer side, use estimates for your waist and hip measurements that are at least two sizes down. Also, short and chubby women should stay away from shorts that are too tight or baggy, as these will draw more attention to your bigger body size.
Best Length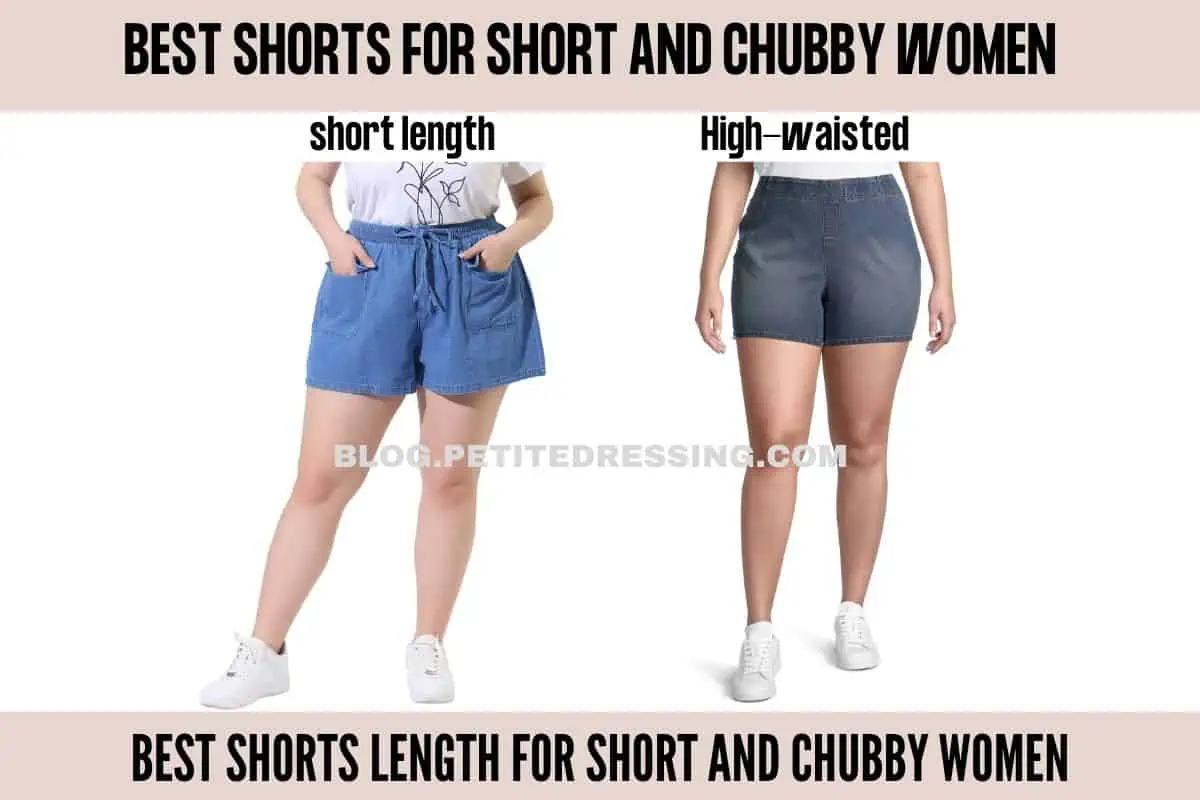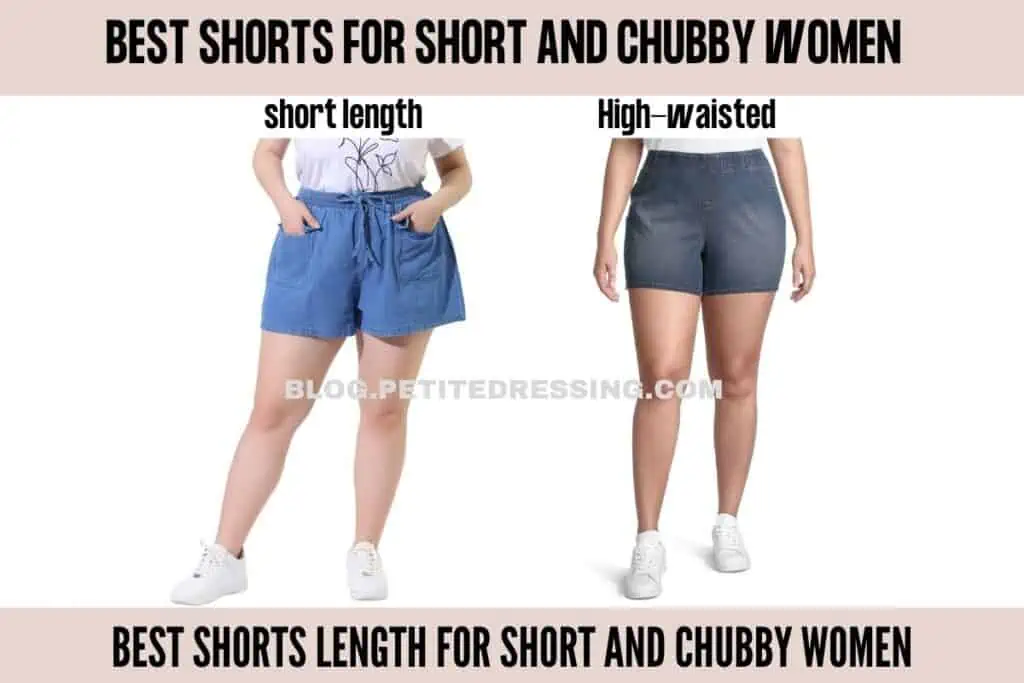 For short and chubby women, the inseam size is important because this ensures that the short feels firm on your thighs, just the way you want.
Of course, the cut of the shorts is important, whether it's a short length or high waisted, but longer inseams are a great choice if you have a muffin top. This will help to eliminate any discomfort when the hems ride up.
So, what short styles will look absolutely amazing on short and chubby women? Let's check out these five top choices.
High-waisted shorts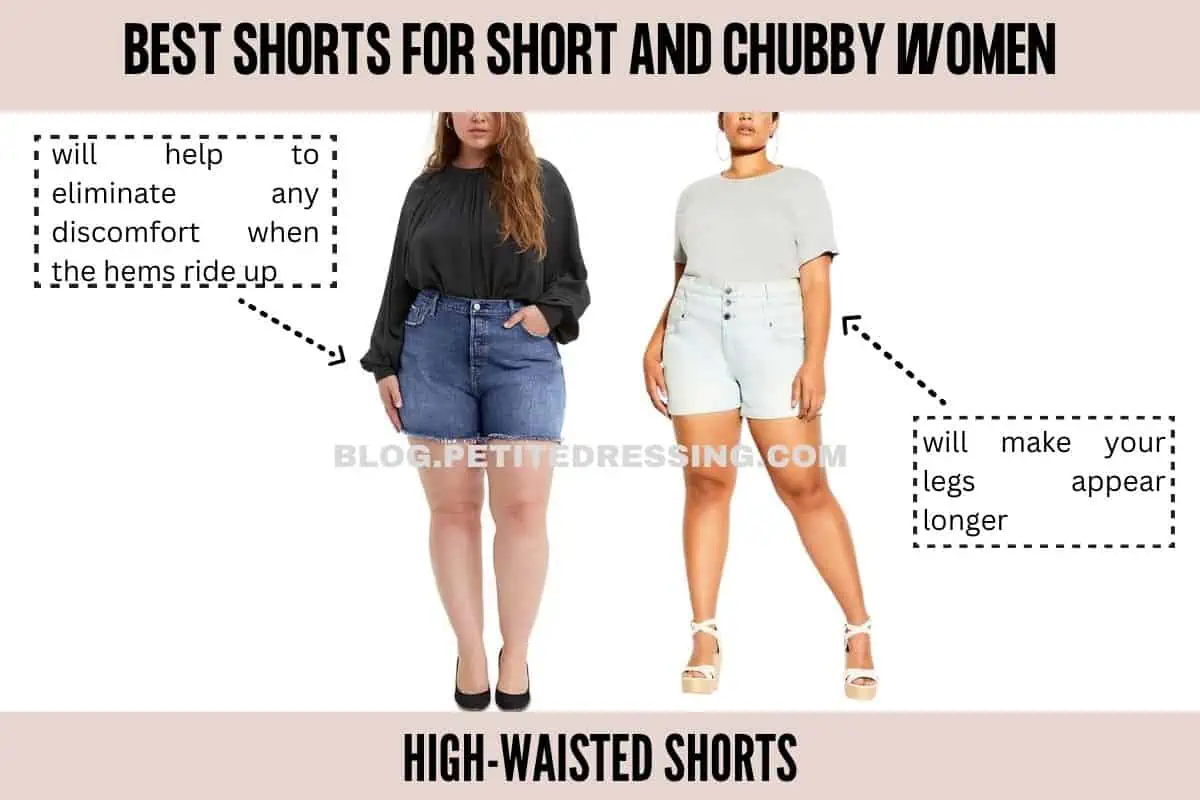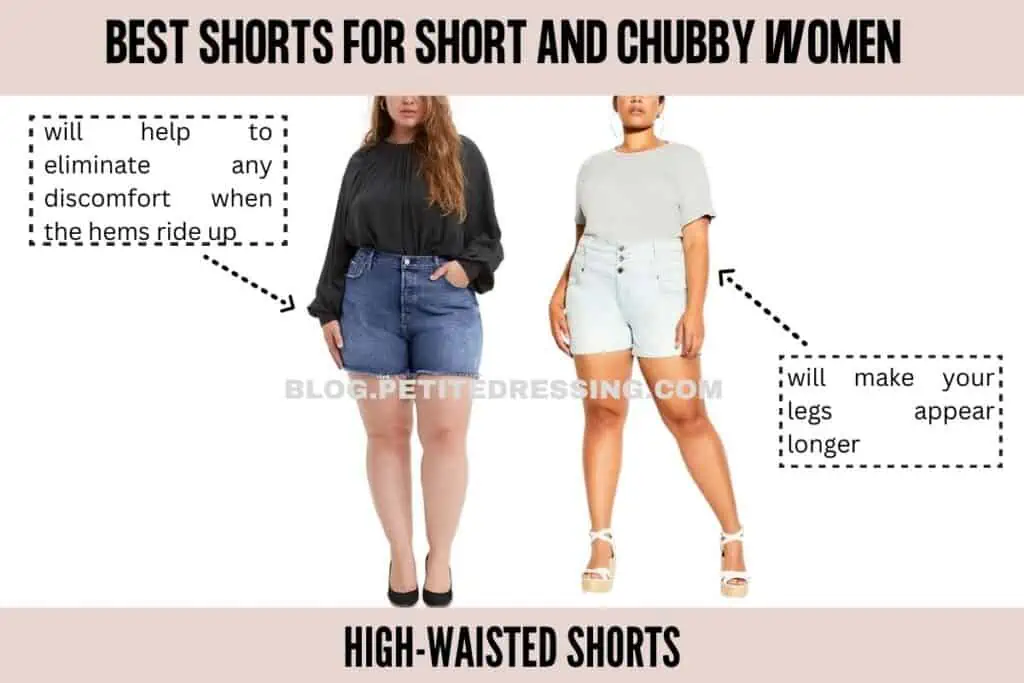 High-waisted shorts are a trend that is here to stay and you'll love how they streamline your body as a short and chubby woman. So, for women with short legs, you don't have to step out looking extra conscious of your height.
The beauty of high-waisted shorts is that they make your legs appear longer and for those styles that are fitted to your body without being too tight, they also have the extra advantage of slimming your body.
So far, you have the benefits of high-waisted shorts as making your legs look longer, accompanied by a slimming effect on your body. However, there's more. You can enjoy these advantages without sacrificing your comfort.
Since you usually have to go several hours in shorts, high-waisted shorts in the right fabric can be very comfy. We recommend wearing this shorts style in black with oversized tops which will cover your wide thighs.
Black denim shorts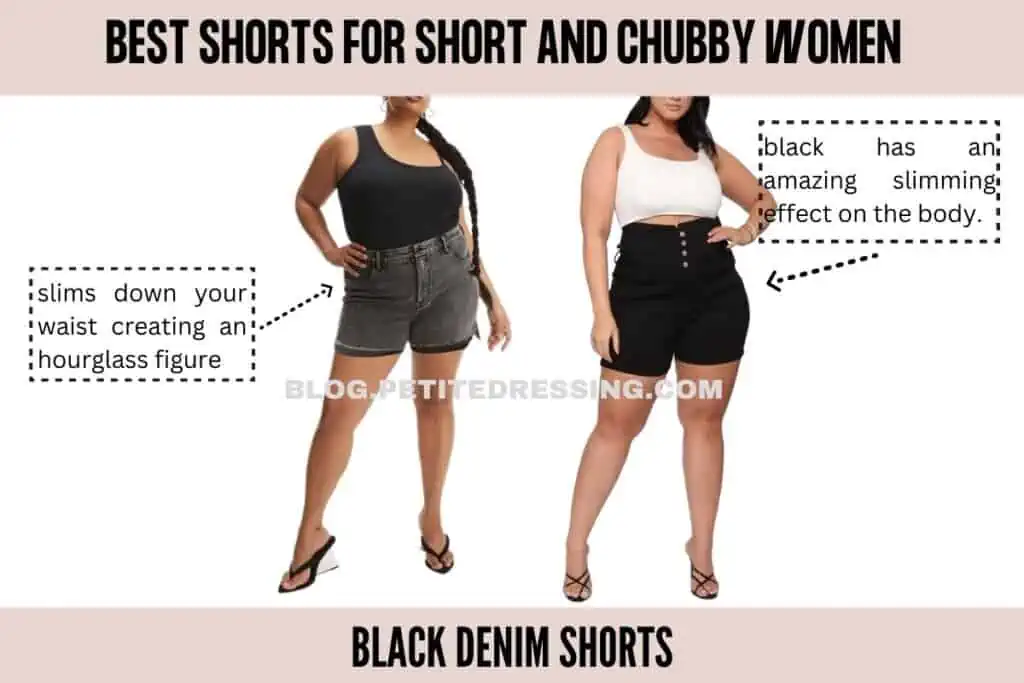 Black denim shorts are a must-have in the closet of every short and chubby woman, and we guarantee that you're going to look absolutely amazing in them. One of the biggest open secrets about black is that this color has an amazing slimming effect on the body.
It works on every item of clothing and not just shorts. However, today's focus is on the best shorts for short and chubby women. With dark colors creating a slimming illusion, all you need are black denim shorts that stop above your knees and you'll look slimmer than you actually are.
This is one of the best ways to create a flattering body silhouette, especially when combined with a v-neckline top. The v-neckline on your top helps to draw attention to your neck area, which makes your huge bust look smaller too. This is a powerful combo for every chubby woman.
Pleated shorts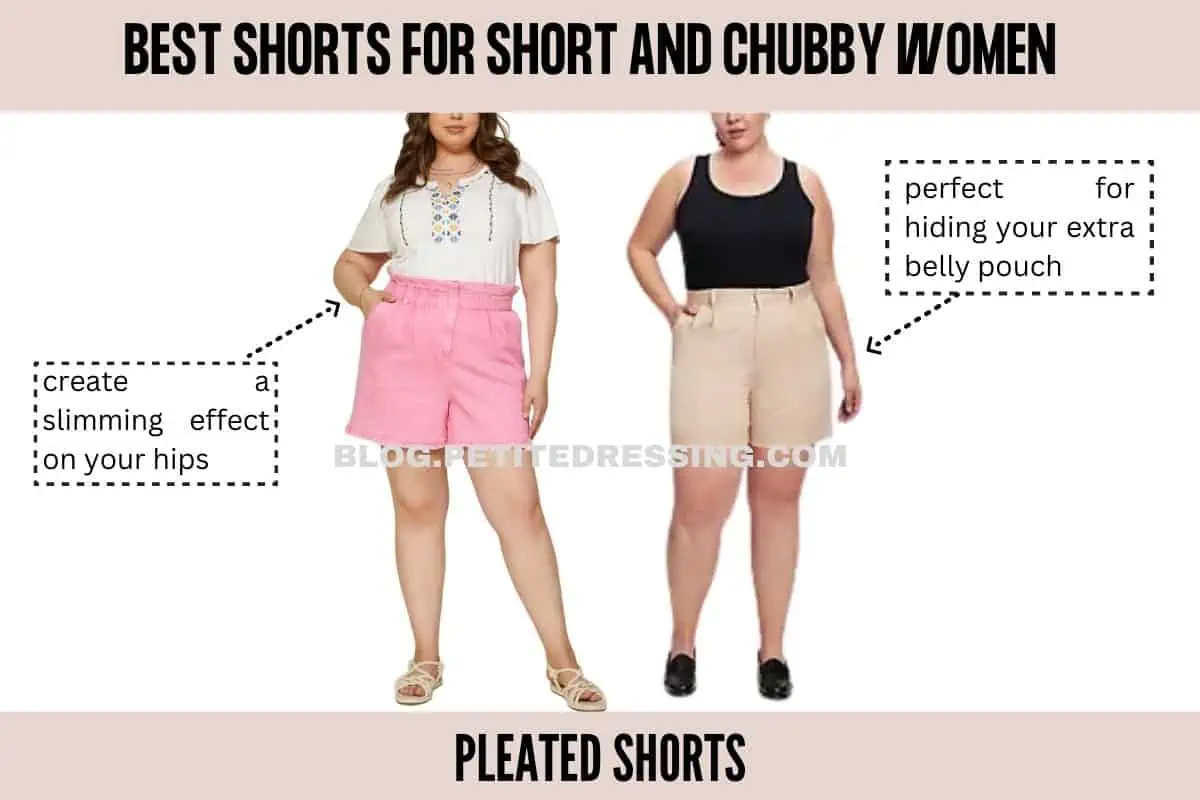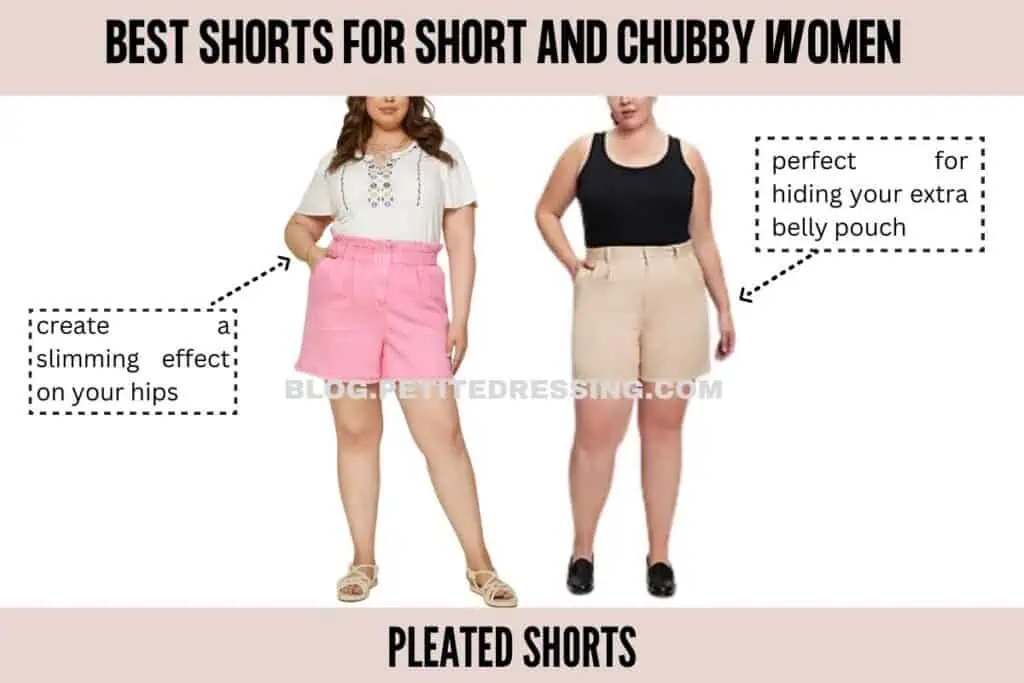 Got a muffin top and worried about how to hide them when you were in shorts? Well, you can make this happen by wearing pleated shorts. It sounds a lot like magic but this perfect mechanism for hiding muffin tops works on a really simple principle.
Pleats around your tummy area are perfect for hiding your extra belly pouch while there is more focus on your waistline. With this, you don't have to put on shapewear all the time as this can get pretty uncomfortable.
It also works double-time to create a slimming effect on your hips. So, you can get the best out of this shorts style by pairing it with a simple black top and a vertically lined blazer. It's always best to wear clothing with vertical lines as they also add to the overall elongation effect.
With this, you're ready for a relaxing evening at the beach or even a hangout with friends at your local restaurant.
A-line shorts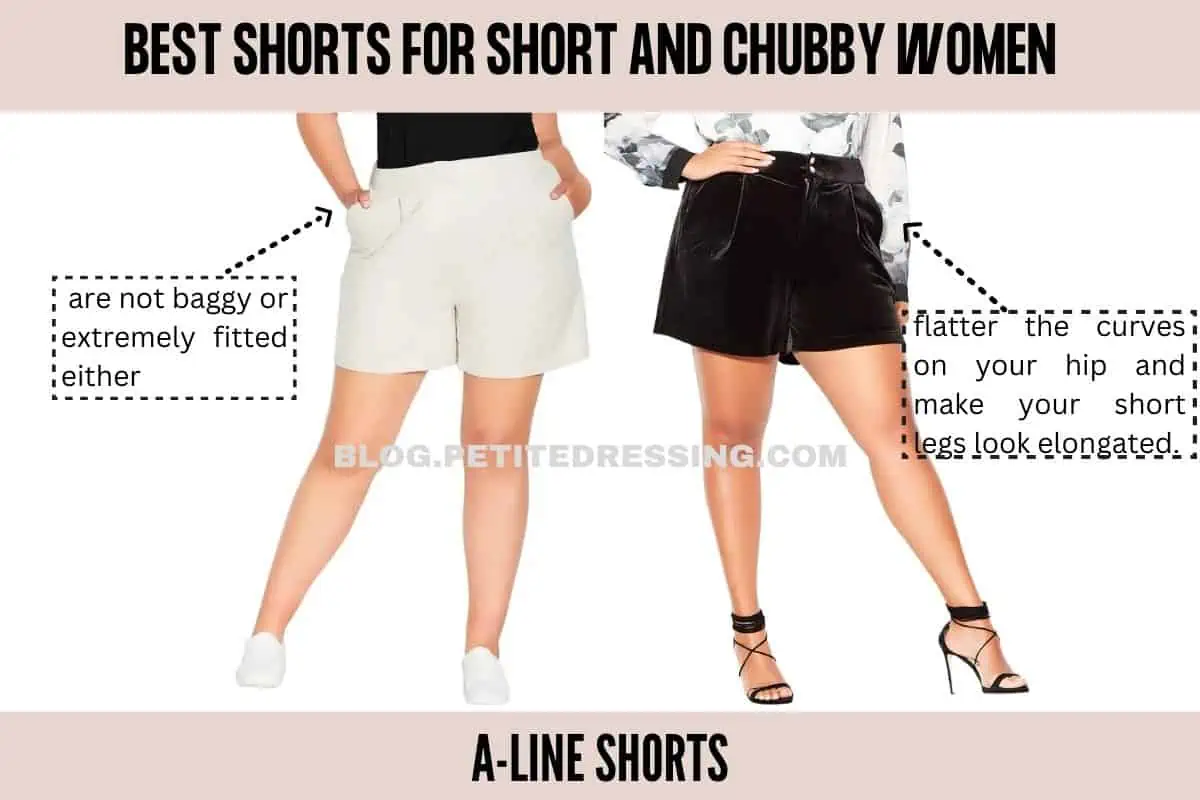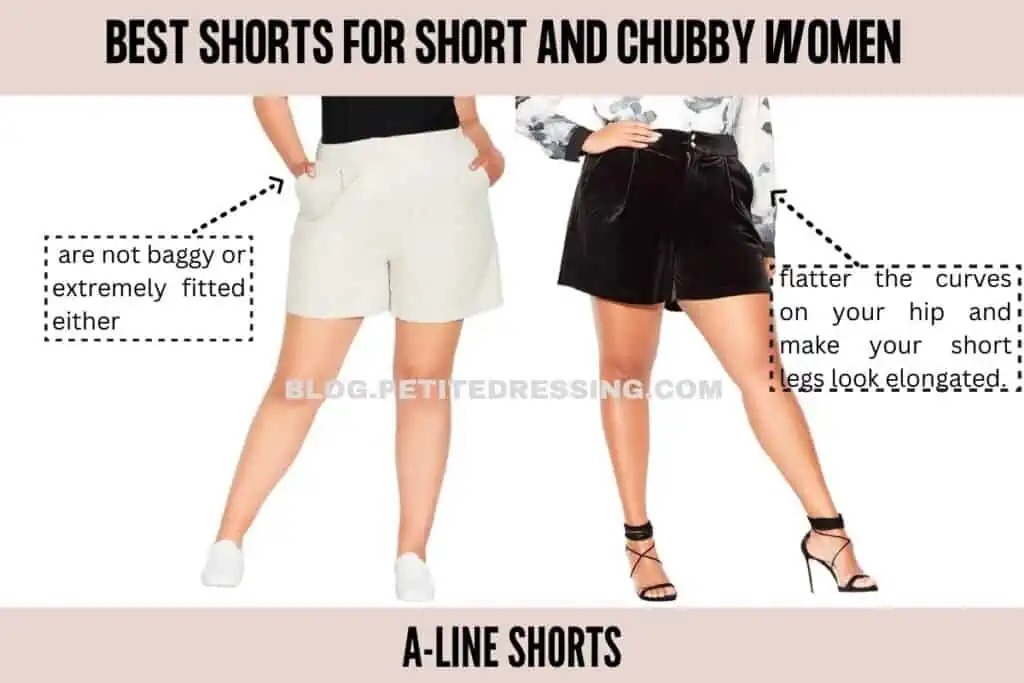 If you've never heard of A-line shorts, here's a quick description. These shorts are usually narrow at the waistline but as they progress toward your hip area, they spread into a flare with a feminine finish.
Therefore, the A-line in the name describes the lovely A shape that the shorts form on your body. We love this style of shorts because they are not baggy or extremely fitted either. Instead, they flatter the curves on your hip and make your short legs look elongated.
Short and chubby women can wear A-line shorts in darker shades and pair them with sandals if you don't want to put on heels. The result is a style that is incredibly flattering to your curves.
Skorts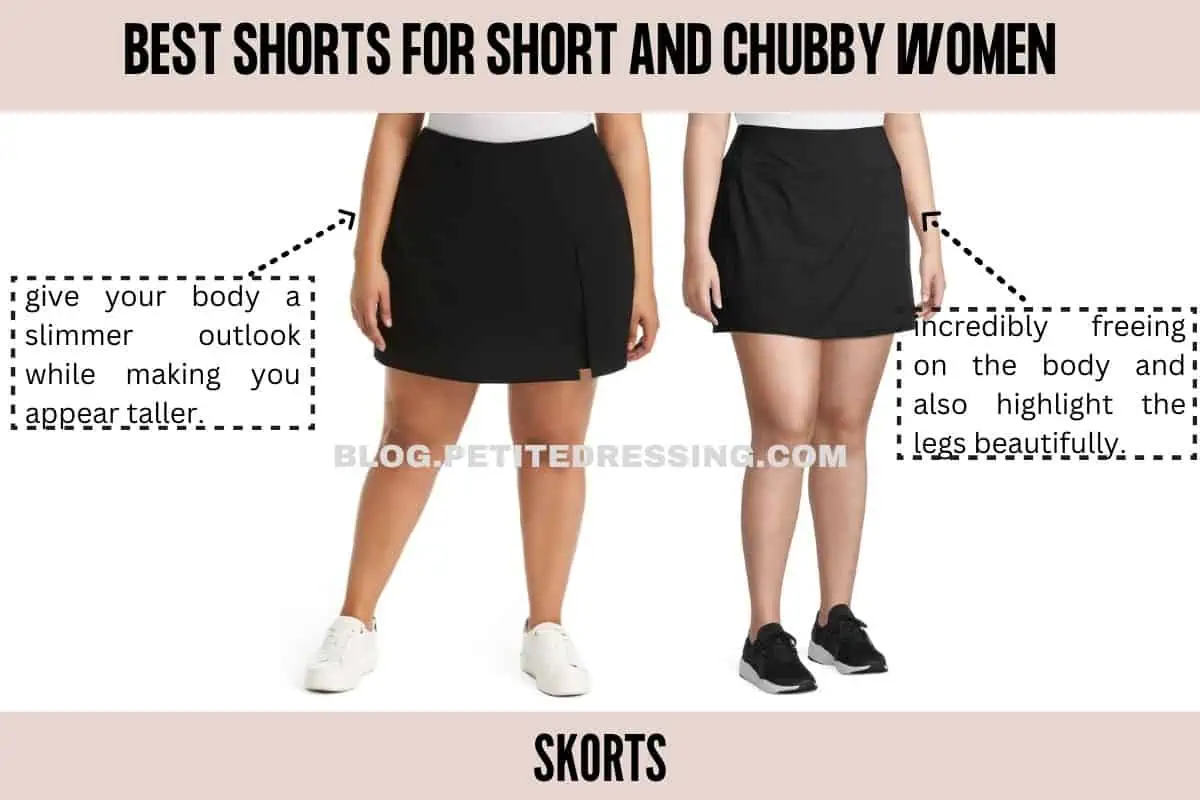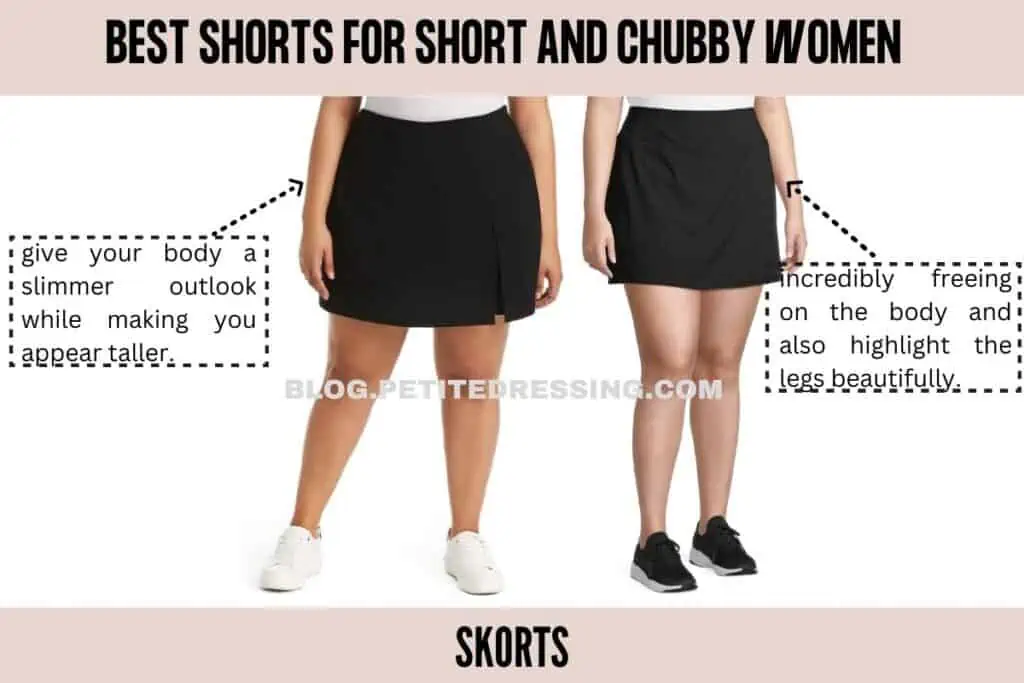 Skorts are quite common in the sporting world, especially as many female tennis players love to put them on. They are incredibly freeing on the body and also highlight the legs beautifully.
So, short and chubby women can get in on this skirt-style short which is a combination of shorts and shirts. Just like the previous styles of shorts we've talked about, skorts give your body a slimmer outlook while making you appear taller.
Of course, we love how they look chic on chubby women where your hips look smaller. We recommend that you wear styles that are above the knee as the length is important in getting the desired effect. Also, don't wear this with baggy tops.
If you've been avoiding shorts for a long time due to your short and chubby body frame, it's time to dust out your shopping bags and snap up some shorts for your closet. These styles have all proven to be flattering for your body type and it's so easy to fall in love with them. Be sure to buy only the ones you feel extremely comfortable in as your preference matters too.