Looking for suitable coat styles for short and chubby women? Finding a flattering coat that won't make you look heavier than you already are can be hard.
Therefore, we have a detailed guide on what to look for and what to avoid while choosing a coat style for petite and chubby women. So, let's dive right in!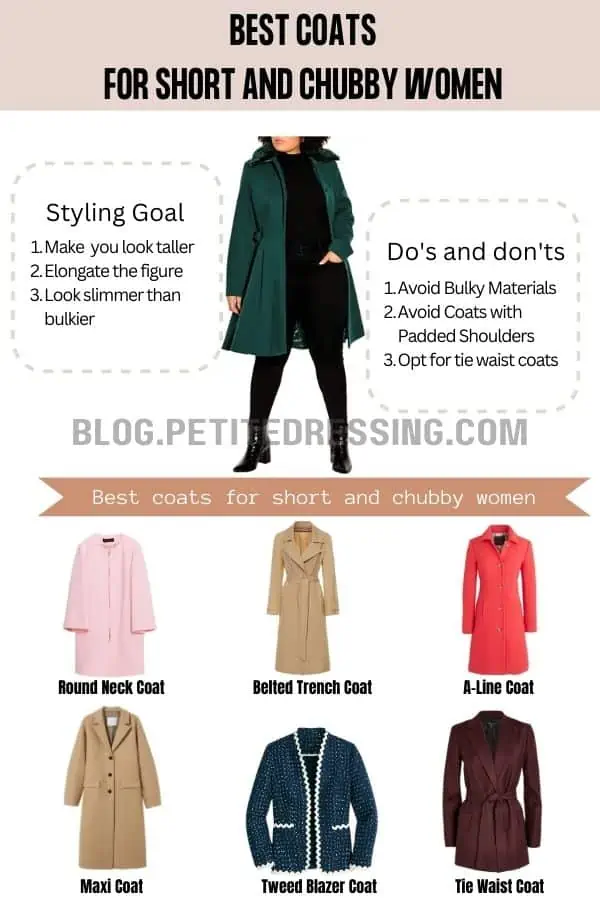 Round Neck Coat
We have to look after everything from the neck style, fabric, length of the coat, fitting, and design of the coat. Only then you can learn what suits your body type. So, a round-neck coat is a perfect choice in this regard.
Round-neck coats never go out of style. It is a neckline style that suits chubby women a lot. Unlike traditional coats with collars, round-neck coats are better for chubby women. They reveal your neck and are better to make you look flattering in a winter outfit.
Round-neck coats are easy to style for short and chubby women. A round-neck cotton wool coat that stays beneath the knees is a perfect length for short women. You can wear stockings underneath or go bare legs. It will instantly make you look leaner.
The best thing about round neck coats is that you can wear turtle necks under the coat without making it look too much. Covering your neck and upper body with heavy and bulky clothes and different layers can add a few pounds to your actual look. It gives the illusion of a bulkier body.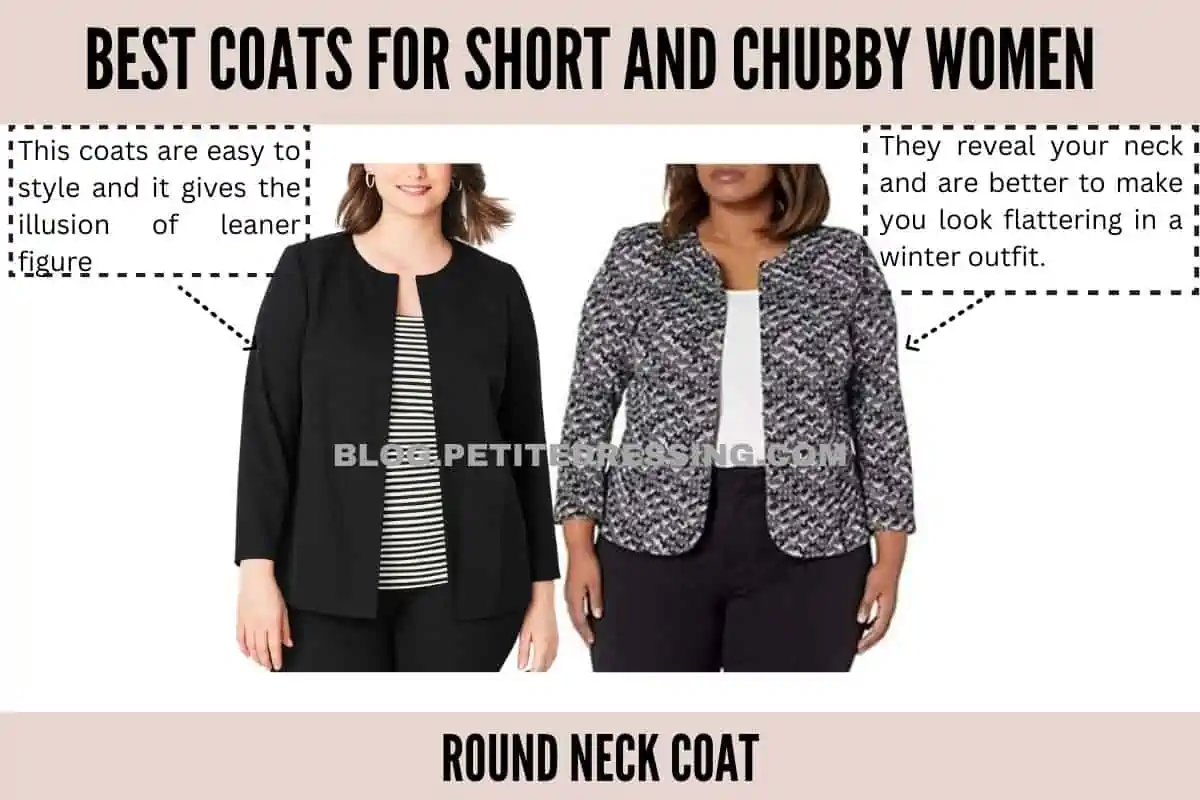 Belted Trench Coat
A trench coat is a must-have in the winter. You can make any outfit look elegant by wearing a trench coat over it. The best choice of a trench coat for chubby and short women is the belted one. The belt allows you to make your waist look smaller giving the illusion of an hourglass figure.
Tie the belt of the trench coat in a way that your waist looks smaller than your body. This way you will look leaner and it will suit your body type a lot.
Pair the trench coat with ankle boots and a plain white ribbed top. Complete the look with black skinny jeans and you are good to go!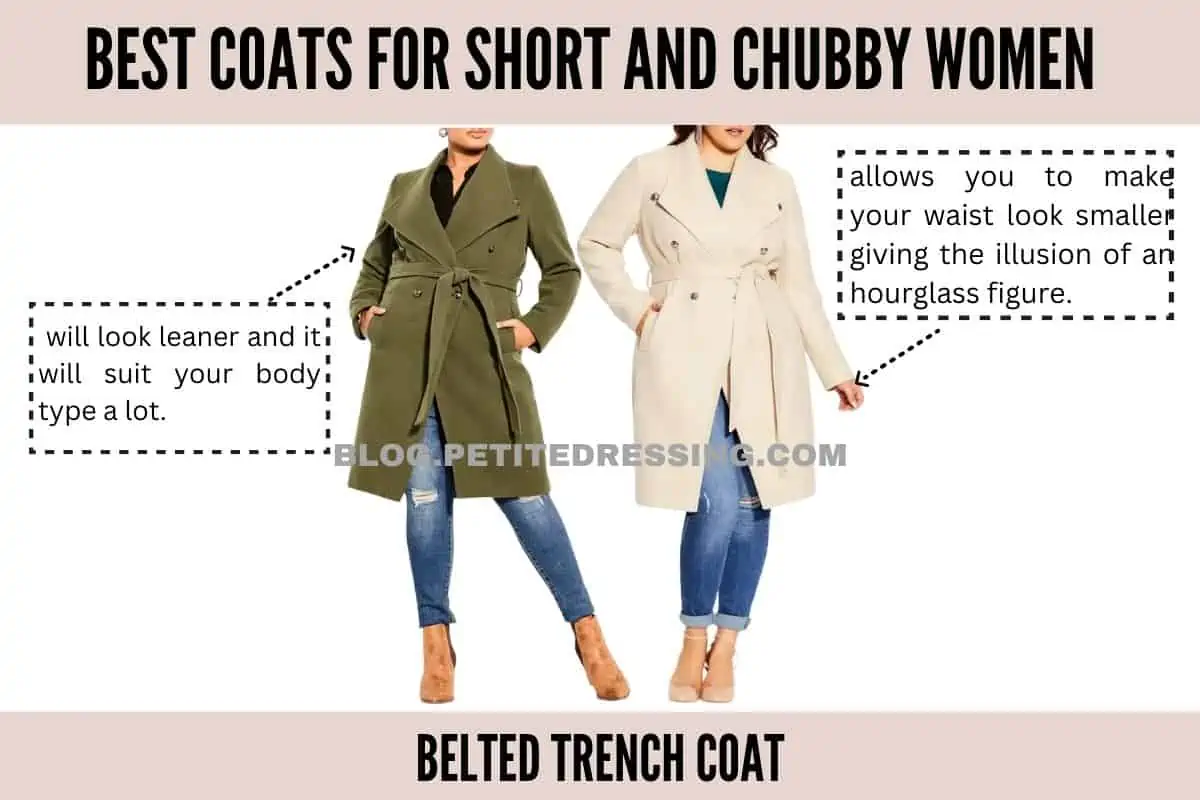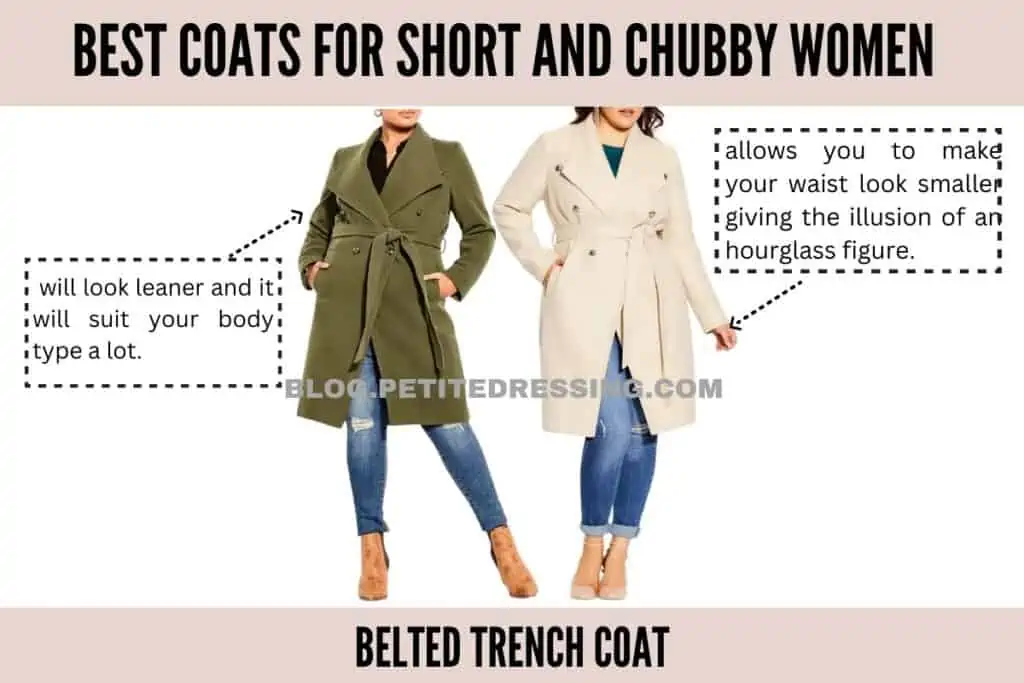 A-Line Coat
A-Line coats are great if you want to look stylish. Their design complements short and chubby women a lot. The above-the-knee length of an A-line coat is going to look extremely flattering on you if you have such a body type. It will not only make you look chic but also make you look slimmer and taller.
The A-line coats are tighter on your waist so they bring out an hourglass silhouette. It is perfect for chubby women who want to flaunt their bodies. A-line coats look better when you tie them up all the way. So, you don't have to worry about what you wear under the coat.
Wear stockings on your legs for an elegant look.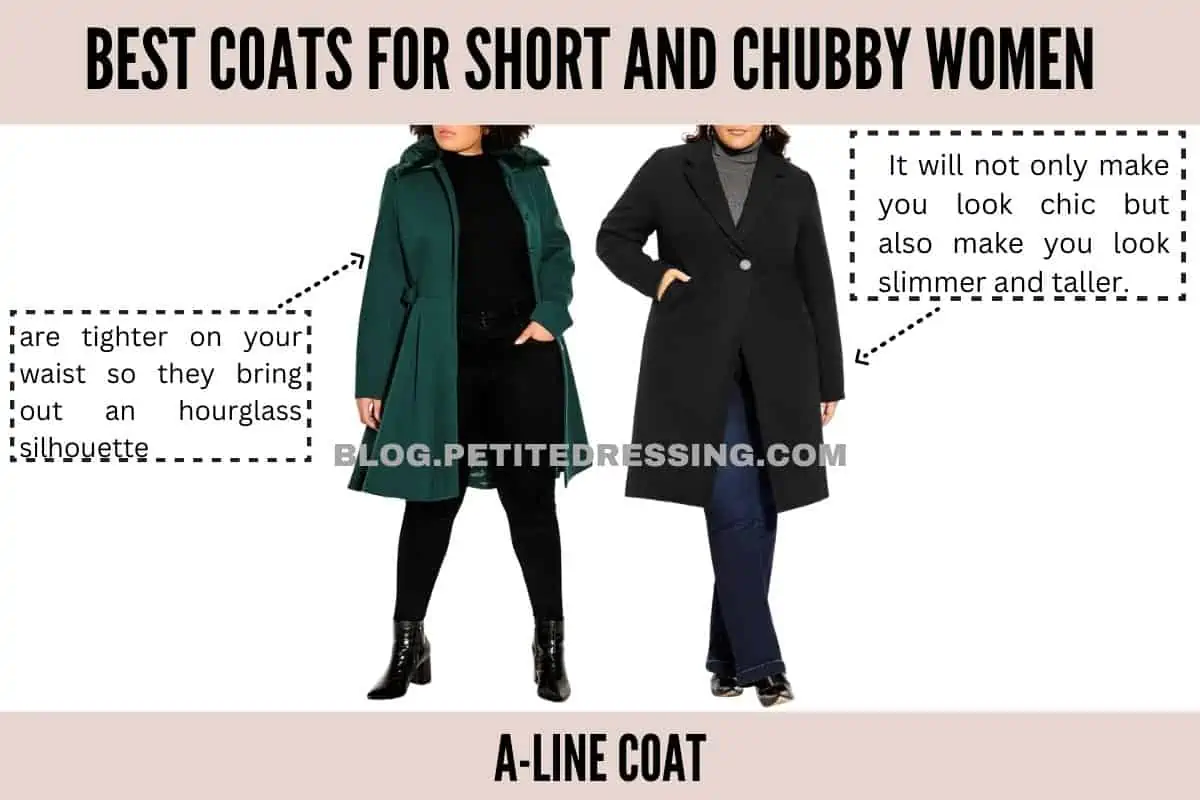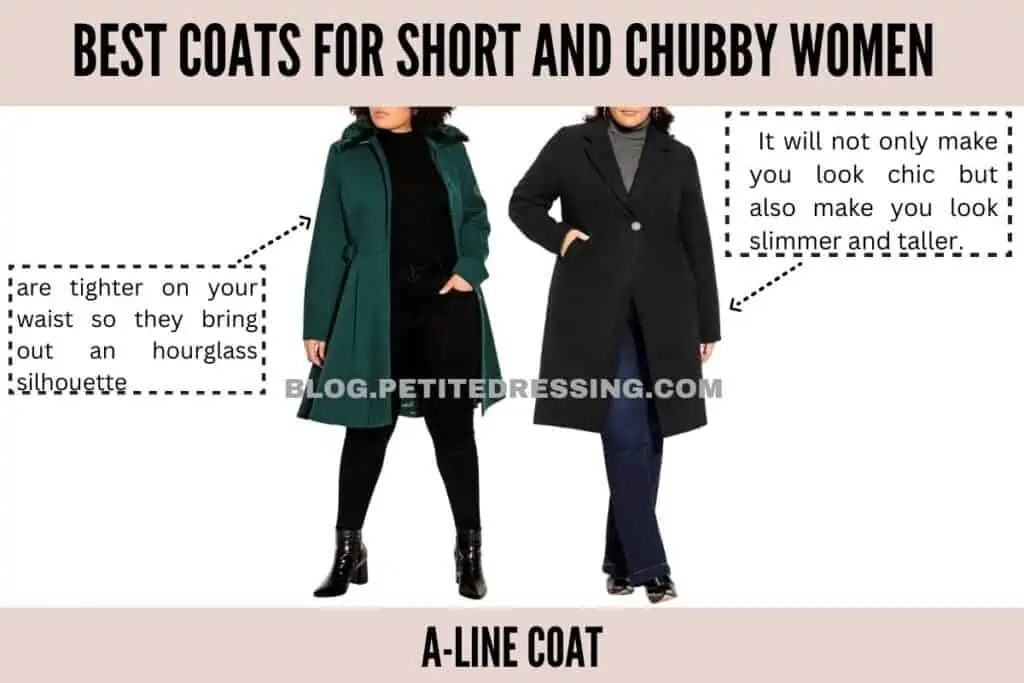 Maxi Coat
Who said you can't wear a maxi coat if you are a short woman? Short women can wear maxi coats and still look stylish and leaner. All you have to do is choose a maxi coat with side slits. The side slits show off your legs seamlessly and you look amazing as ever.
Maxi coats will make you look like you are on a runaway. You can tie up the coat with its belt or leave it open. If you decide to leave it open, wear a delicate shirt underneath that makes you look slimmer. Anything fitted is a great choice.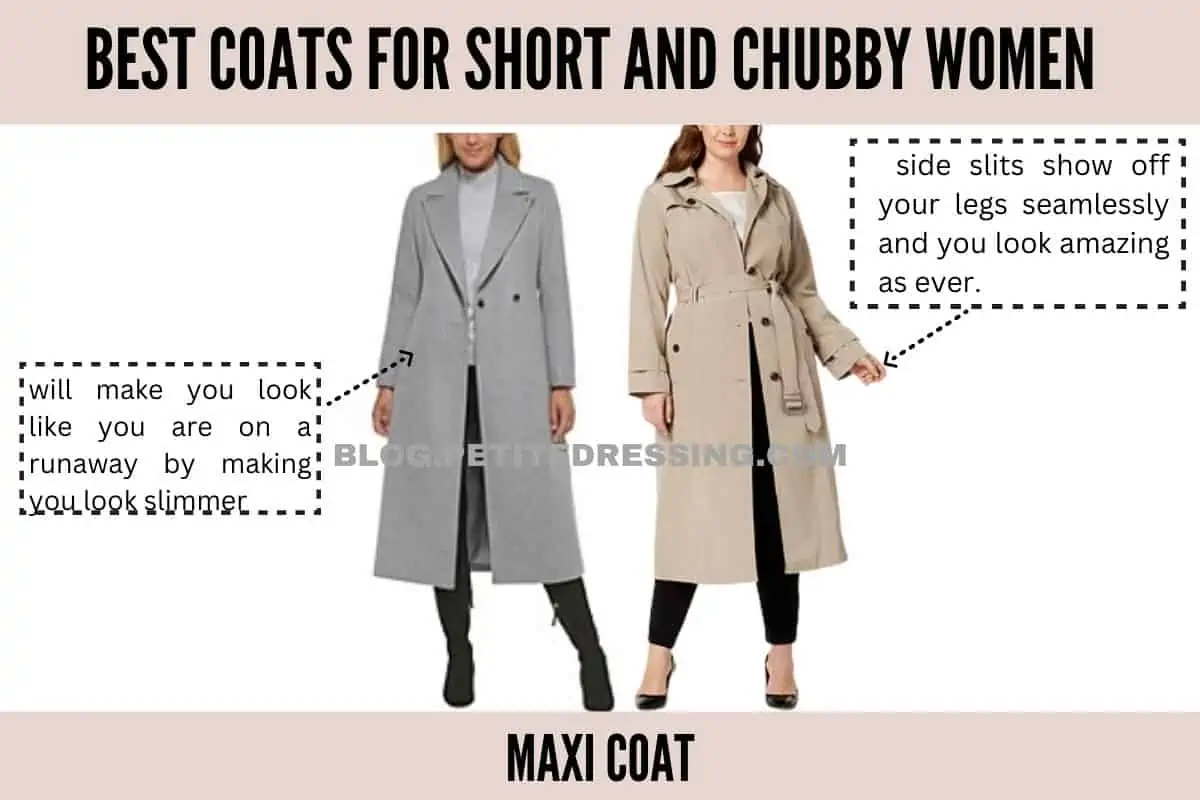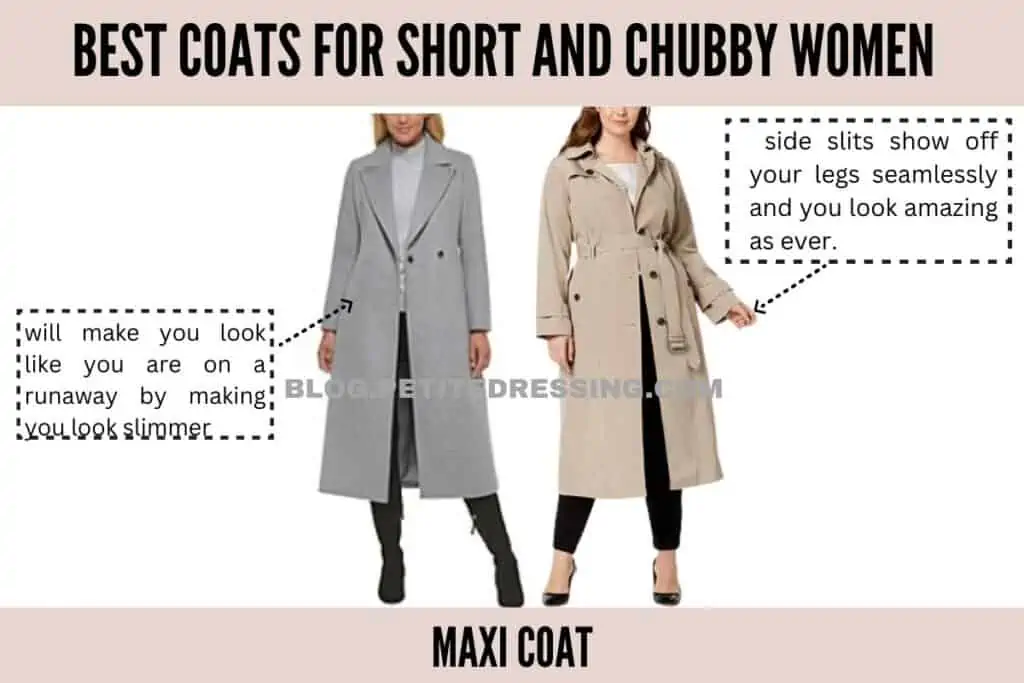 Tweed Blazer Coat
Instead of going for a traditional knee-length coat, why not go for something short like a blazer? Tweed blazer coats are in trend nowadays. They will make you look fashionable within a second. Tweed looks luxurious and boujee so you will look like that as well.
Short coats complement chubby and petite women like magic. They will make you look tall and beautiful. Pair a blazer coat with long boots and skinny jeans.
Another outfit idea is to buy a matching tweed skirt. It is a gorgeous outfit choice for formal workwear in winter.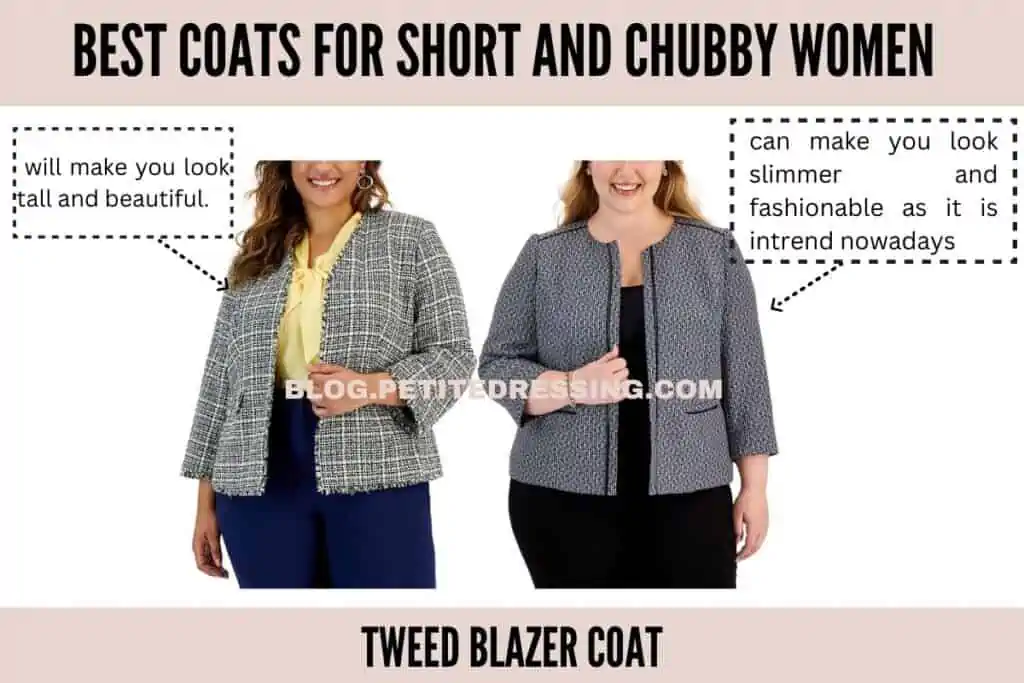 Tie Waist Coat
Corduroy is another material that will make you stand out and grab the attention of everyone around you. Choose a brown-colored corduroy midi coat with a tie wrap and see how beautiful you look in it. It is a not-so-heavy and bulky material so chubby and short women can confidently wear this style.
The tie wrap allows you to tie the coat as tight as you want and give yourself an hourglass figure. The vertical corduroy lines give the illusion of a leaner body so it is perfect for short women.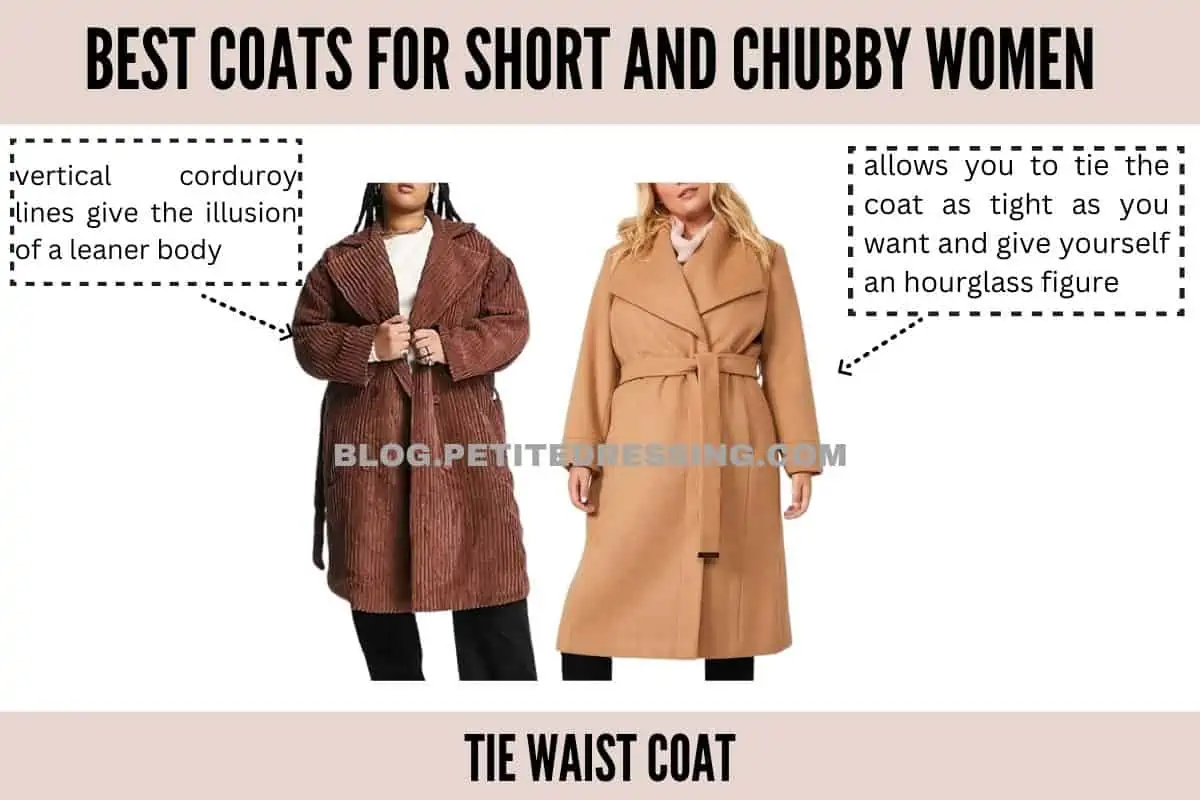 Denim Long Coat
Denim is our favorite material no matter what the season is. Get yourself a denim long coat, pair it up with an all-white outfit (white ribbed shirt and white skinny jeans) and you are ready to look flawless.
Denim will maintain the shape of the coat as it is a sturdy material. Therefore, it is a great choice for chubby women. Choose a knee-length coat and show off your legs in skinny jeans. You will look amazing and it will give you a flattering silhouette.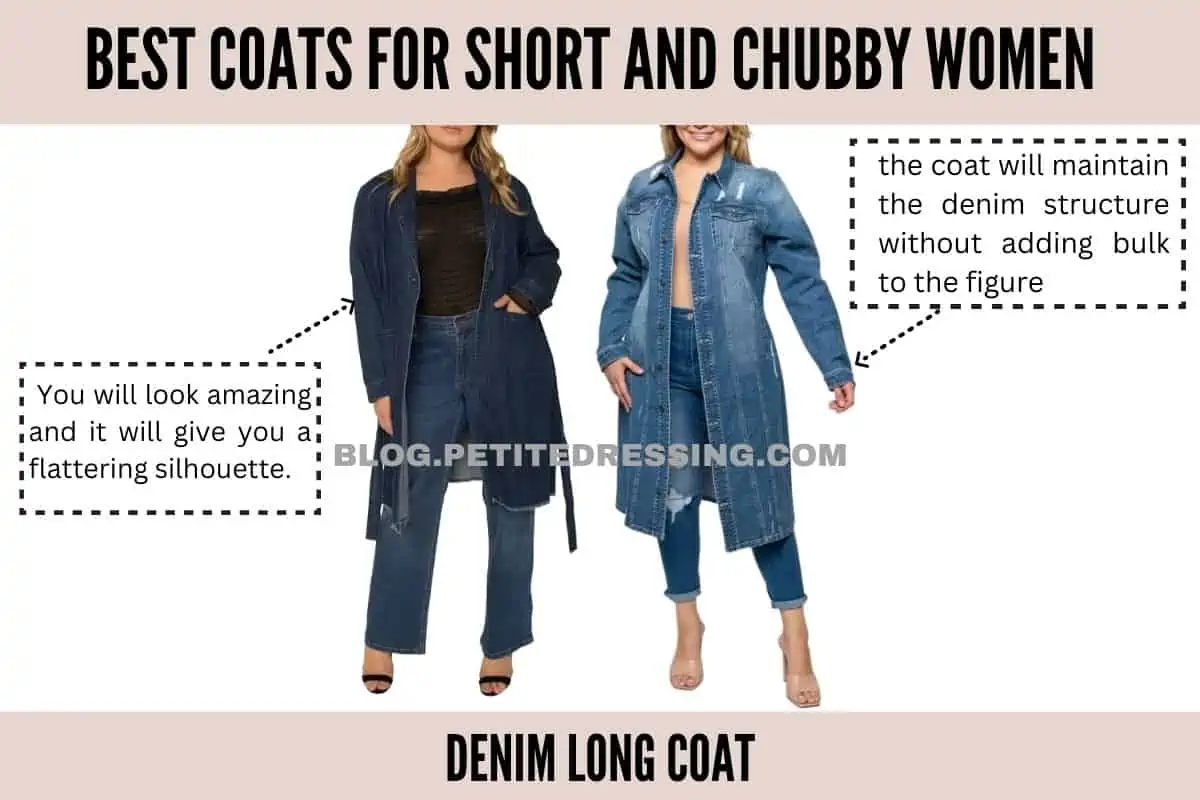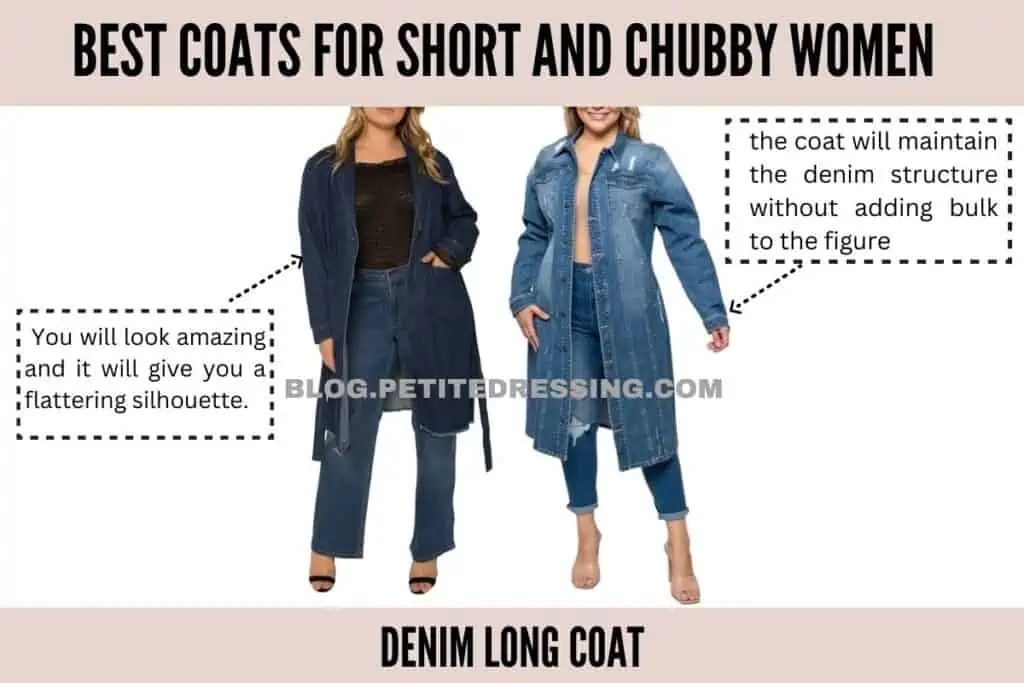 Leather Trench Coat
Leather and royalty go hand in hand. You can never go wrong with a leather trench coat. V-neck leather coats are very trendy this season. They look amazing on any occasion.
You can style the V-neckline easily. It looks chic and complements short and chubby women.
Avoid Bulky Materials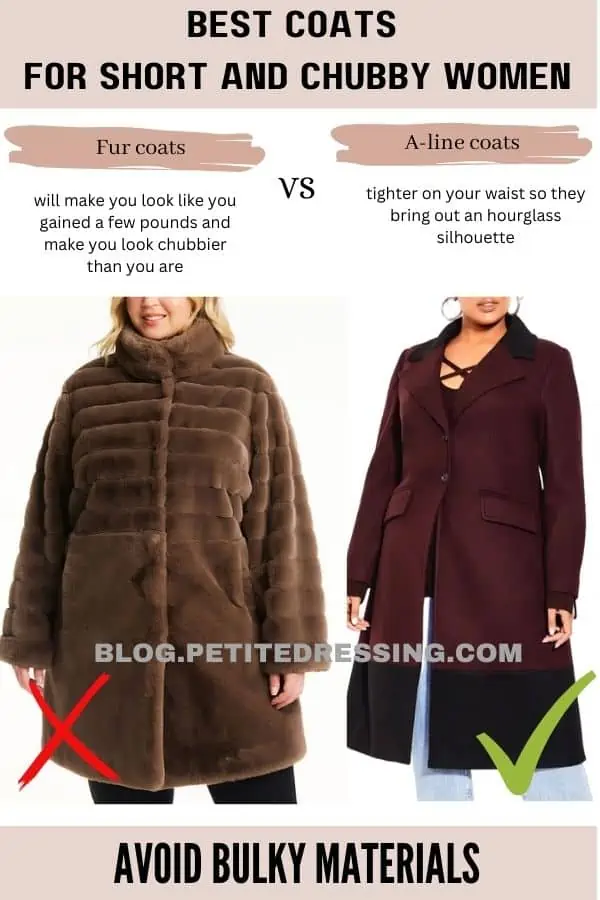 Fur coats and quilted long coats aren't suitable if you want to look slimmer. They will make you look like you gained a few pounds. These long coats are hard to style because you won't be able to wear sweaters underneath. It will make you look chubbier than you are and won't flatter your body type as well. 
Avoid Coats with Padded Shoulders
Using a padded shoulder coat is only going to look smaller. It adds to your horizontal width and doesn't look good at all. You need something that makes you look taller and not wider so a padded shoulder coat is a no go. Anything that is bulky and makes you look heavier than you are is not suitable for your body type. It will definitely bring attention to your upper body but not the kind we are looking for.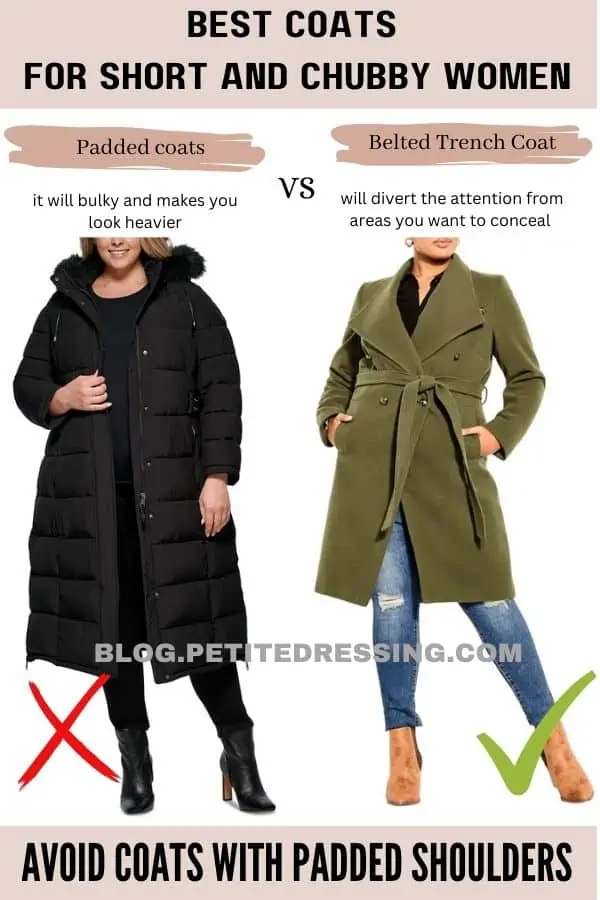 Avoid Coats with Large Fur Collars
We know fur looks luxurious but it will make you look less lean. Large fur collars will bring attention to your body and give the illusion of a large upper body. It won't compliment a short and chubby body type. The same goes for coats with big hoods.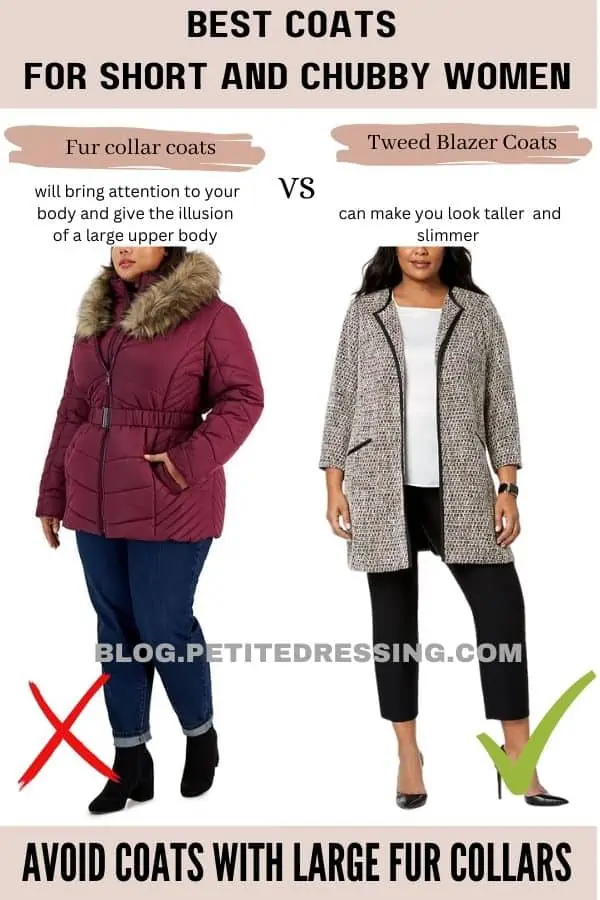 Final Thoughts
Now you know which styles of coats look good on short and chubby women and which ones to avoid. You can find great coats of all lengths for winter if you know what looks good on your body type. Find clothes that complement your body and make you look beautiful in your own body. This way, you will look confident and trendy. And who doesn't want to look like that? So, up your fashion game by choosing the right style of coat!