Casual dresses will always be a wardrobe staple for every woman. These versatile wardrobe pieces can take you to pretty much any daily occasion – whether it's a quick grocery run or a nice brunch date with your friends.
As you fill your closet up with casual dresses, you may find it a bit challenging to choose which ones should flatter your thick arms. Thick arms can be a concern to many of us and having them too obvious in our clothing can make us a tad conscious.
But don't worry, there are a lot of stylish casual dresses out there that can help flatter your figure and tone your thick arms down. Here's a comprehensive style guide that will help you pick the best casual dresses to suit your style and figure.
Styling Goal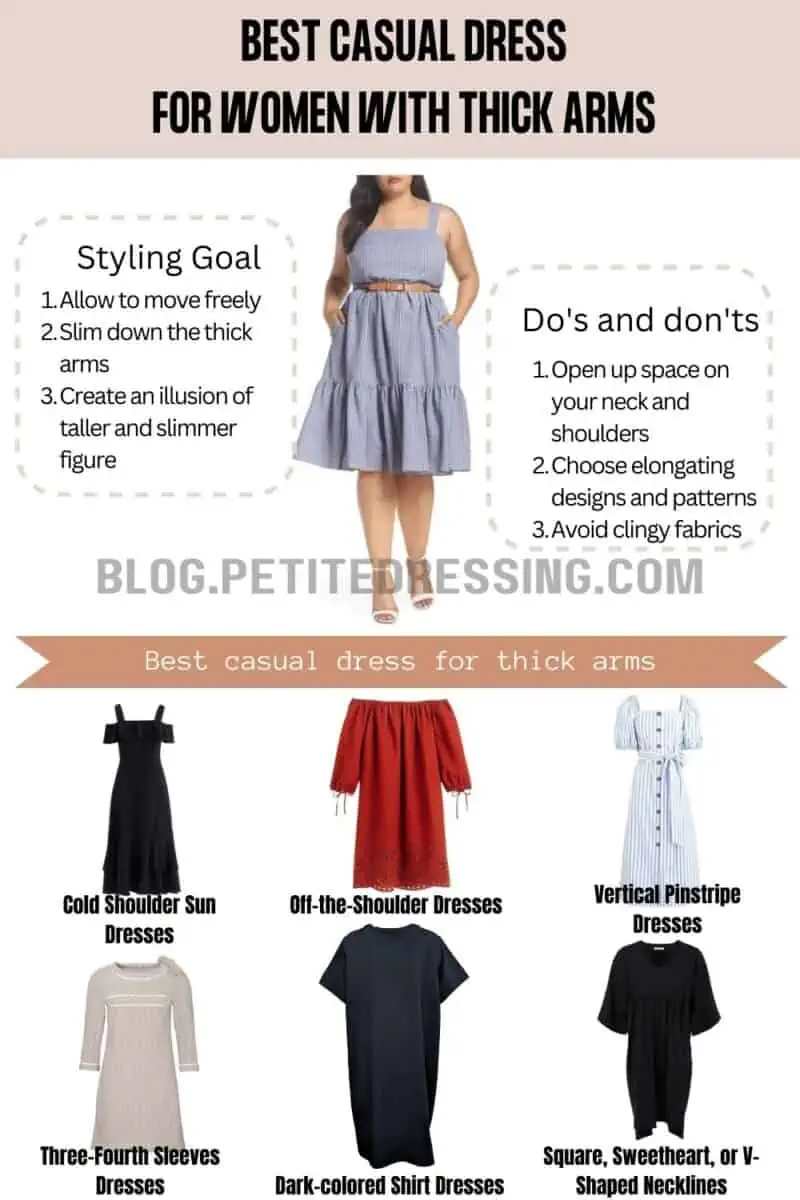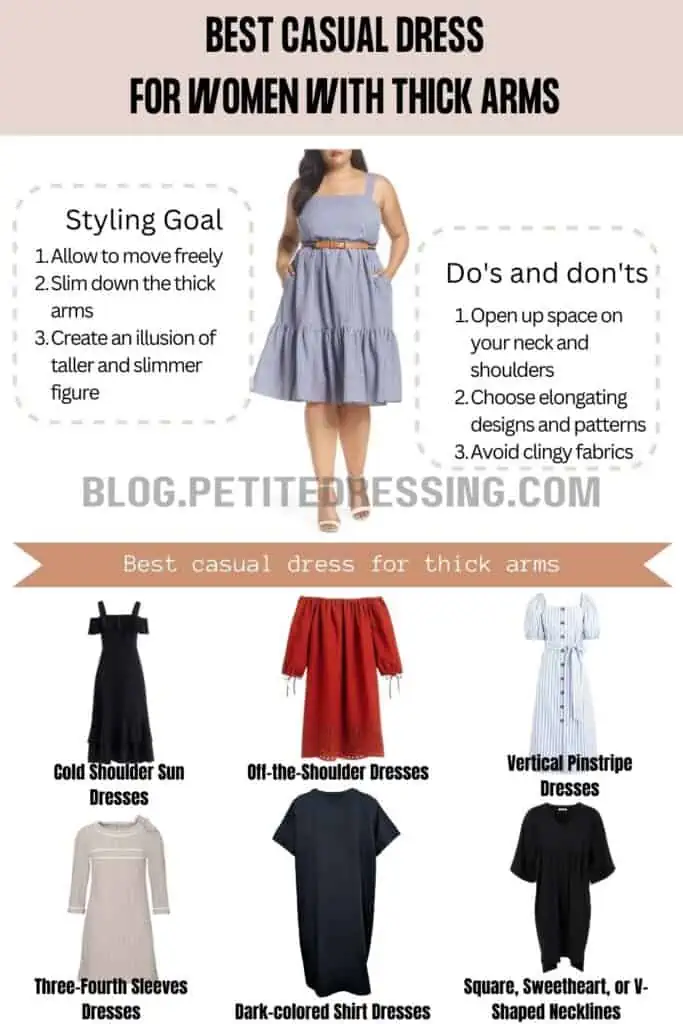 Open up space on your neck and shoulders by choosing wide necklines or shoulder-baring cuts. Dresses with these structures draw attention away from your thick arms as the eyes are more focused on the neck and shoulders instead.
Choose elongating designs and patterns such as vertical stripes or embroidery. Vertical patterns generally give the illusion of a slimmer frame which also helps minimize the bulk from your thick arms.
Wide sleeves will always be your go-to style when you have thick arms because they are comfortable and they don't cling too tightly to your arms therefore not making them too obvious. They should give enough space to your arms but remember that they shouldn't be too big as well to not draw too much attention.
Let your best features be the focal point of your look so the eyes would look at these areas and not at your thick arms. Usually, these flattering focal points should be the shoulders and waist area.
Now without further ado, let's dive into the specifics of what types of casual dresses you should go for to efficiently flatter your thick arms.
Cold Shoulder Sun Dresses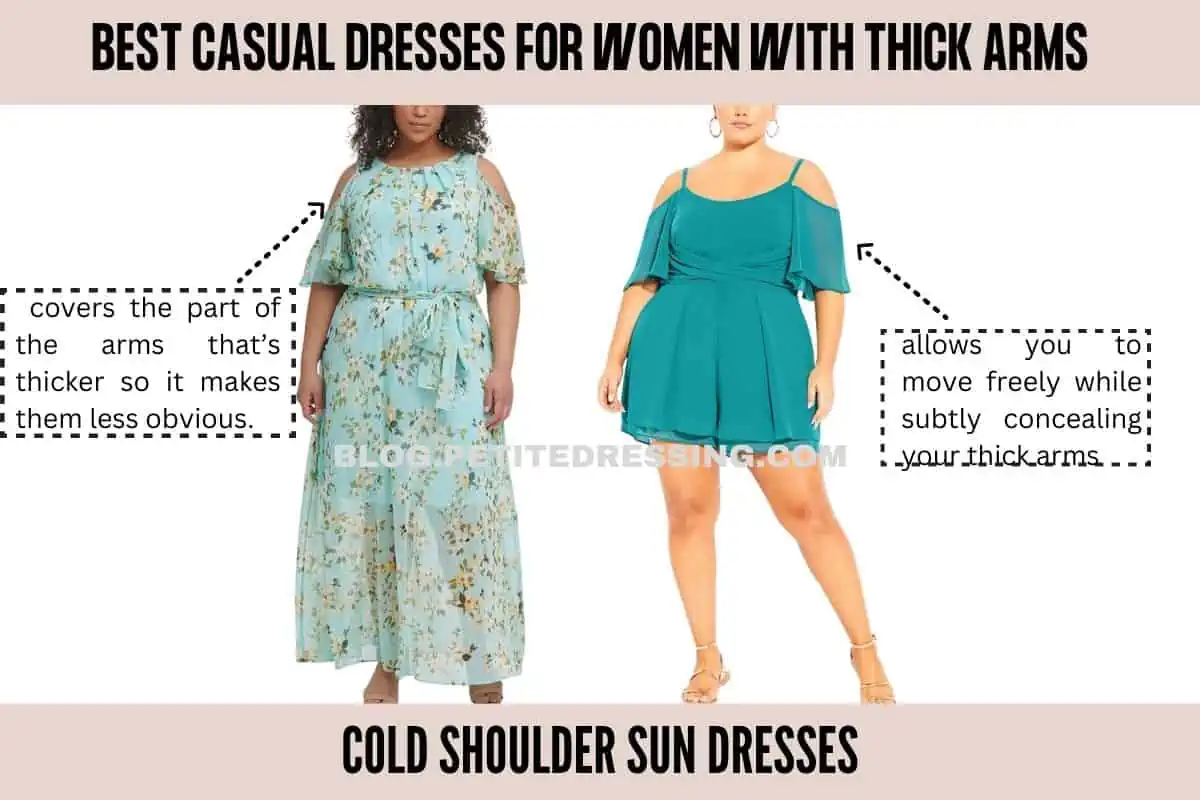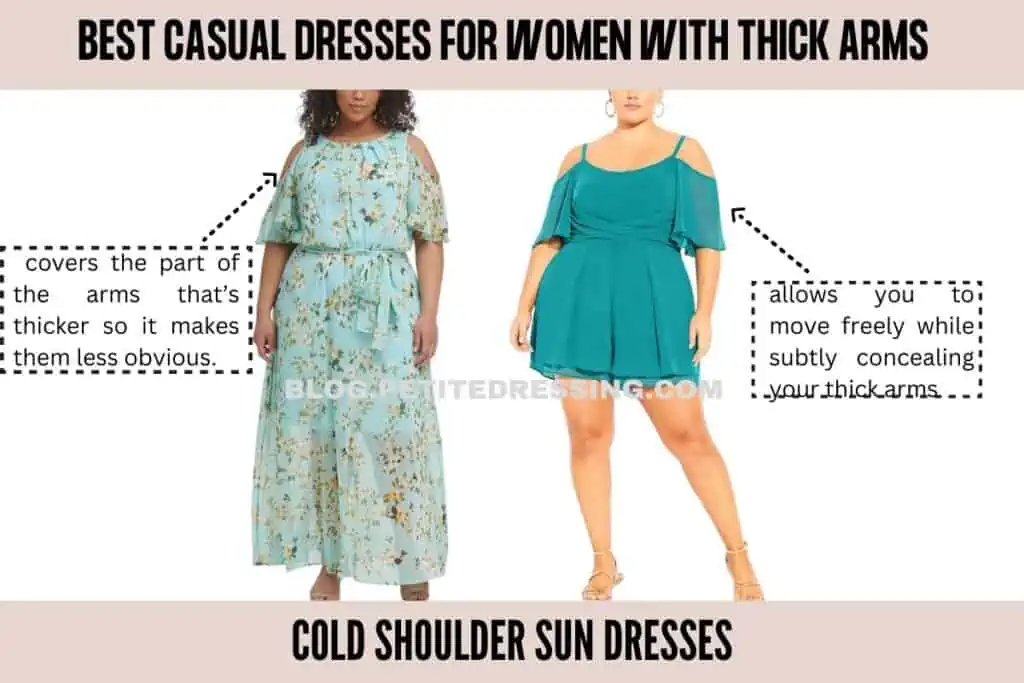 Cold shoulder casual dresses feature partial cutouts on the upper half part which exposes a portion of the shoulders. Such a clothing top cut covers the part of the arms that's thicker so it makes them less obvious.
This unique style of this casual dress draws the focal point on the shoulders so it's a very effective way to conceal thick arms. They are also quite stylish and they come in different kinds of lengths and fabric types.
Since we're talking about casual dresses, you should choose a fabric that's comfortable enough to allow you to move freely, especially on the arm area. Some cold shoulder dresses come in tight-fitting types and so if you have thick arms, you need to avoid such fabrics because you don't want your arms to look more prominent by going for tight sleeves.
Off-the-Shoulder Dresses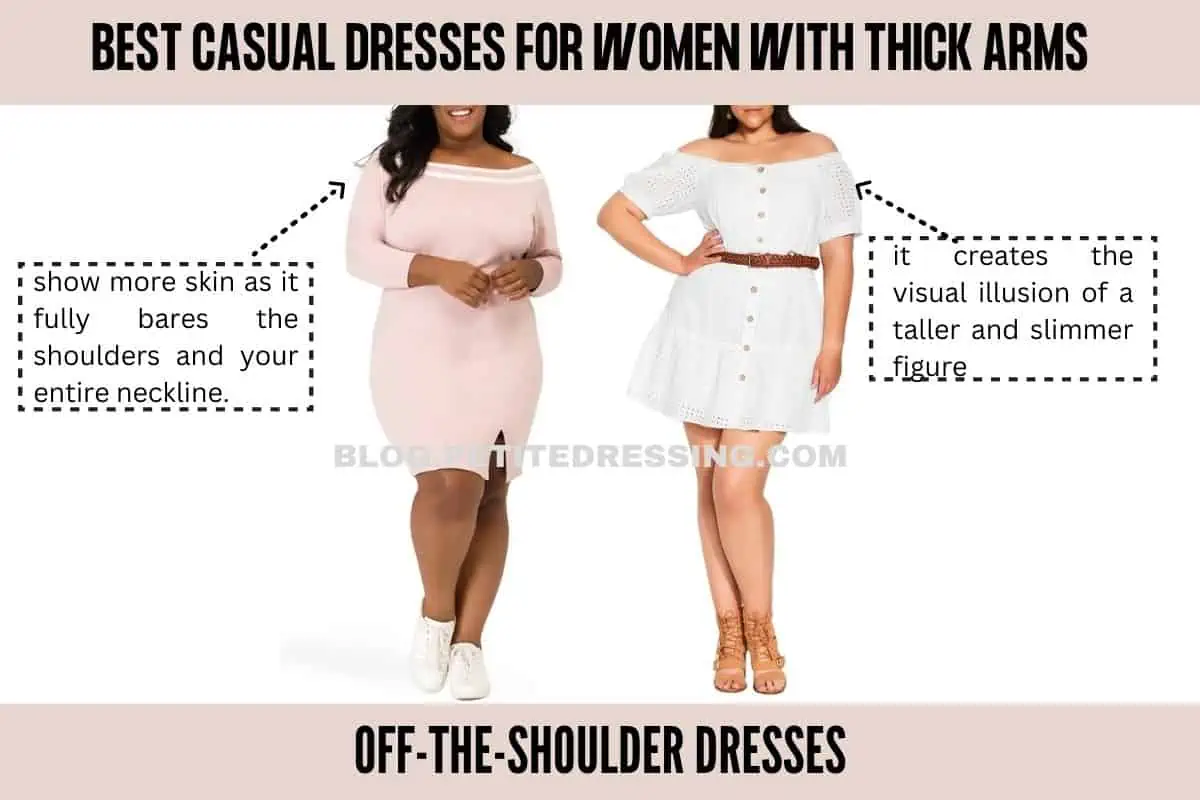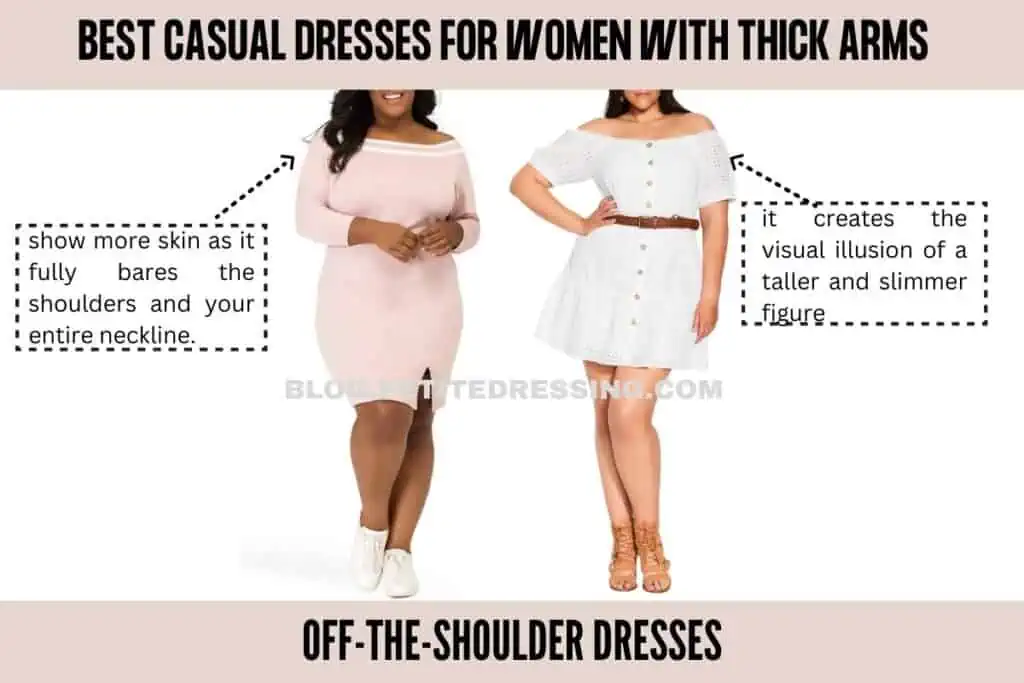 Another classic way to tweak your way through your thick arms is to go for off-the-shoulder casual dresses. It almost shares the same principle as cold shoulder dresses although off-the-shoulder ones show more skin as it fully bares the shoulders and your entire neckline.
This stylish dress structure efficiently distracts the eyes away from your arms, making your neckline and shoulders the key focus of your ensemble. As it opens up generous space on the upper half of your body, it also creates the visual illusion of a taller and slimmer figure.
One thing to take note of is the design that adorns the sides (arm area) of the dress. Some off-the-shoulder casual dresses feature bulky embellishments or voluminous flounces of fabric placed on the arms which might be overwhelming and will definitely draw more attention to your thick arms.
Vertical Pinstripe Dresses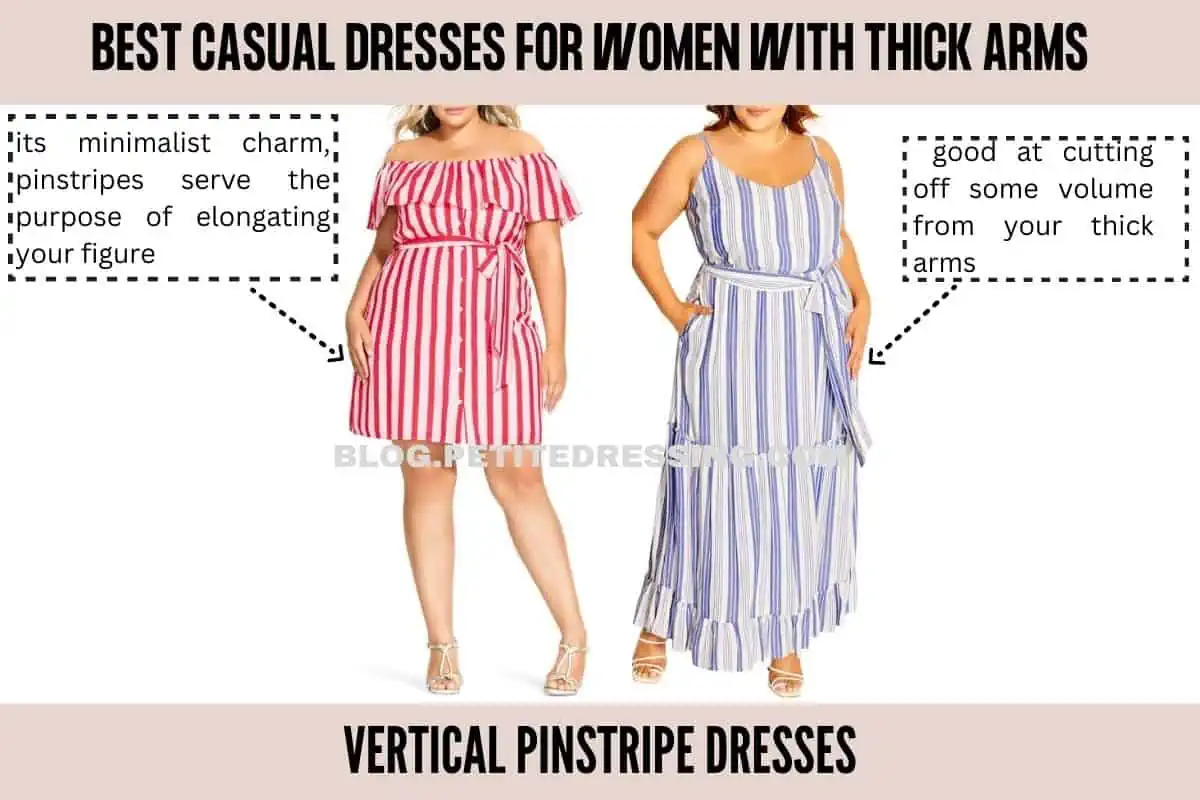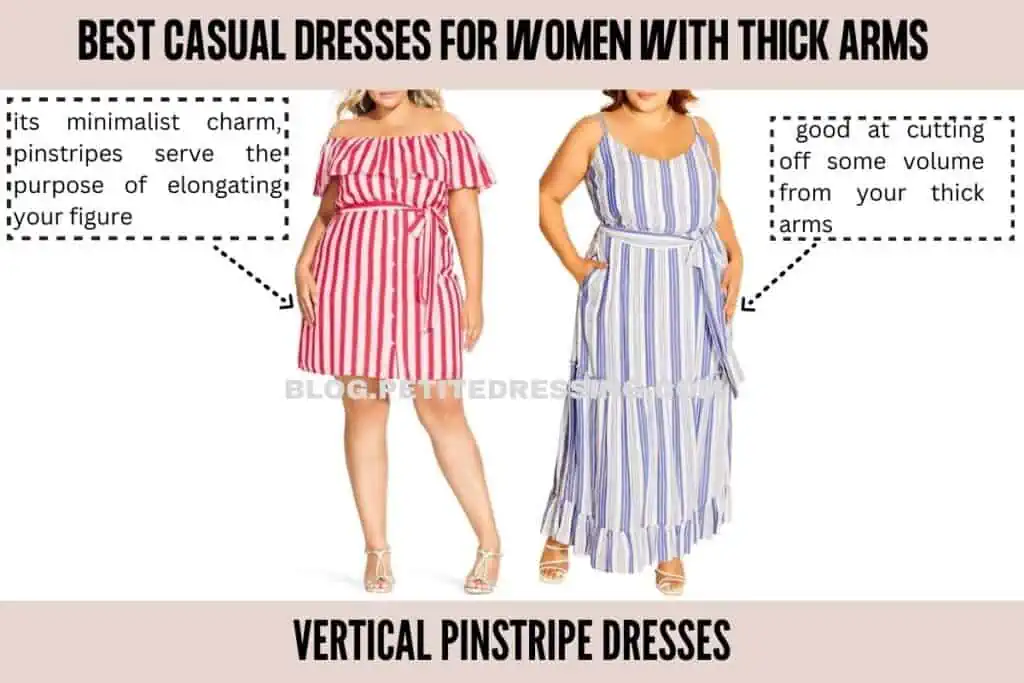 Just like what we have mentioned in our styling goal section earlier, vertical stripes can be a really good choice for ladies with thick arms. You can go for any type of vertical pattern or stripes but we highly suggest going for the minimal beauty of pinstripes.
If you're someone who likes your casual dresses to be more versatile, then you'll love the subtlety of pinstripes because they are not too obvious or dramatic. Despite its minimalist charm, pinstripes still serve the purpose of elongating your figure and therefore cutting off some volume from your thick arms.
Three-Fourth Sleeves Dresses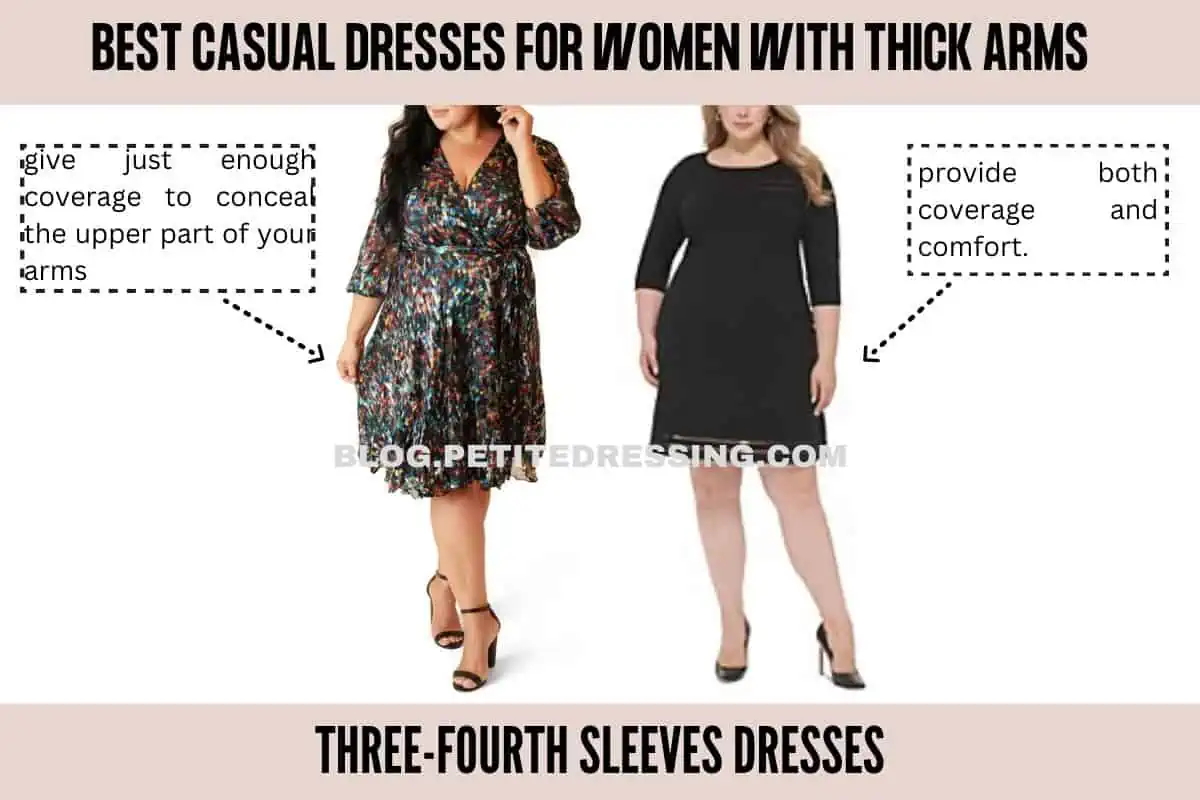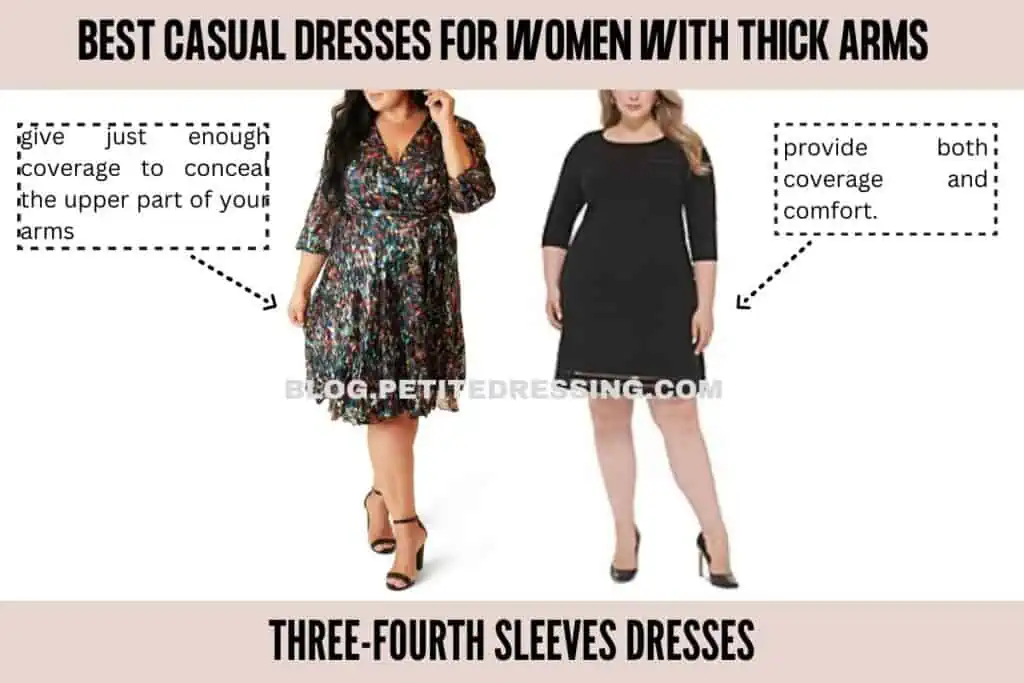 When you feel conscious about your thick arms, there's a tendency you'll always go for long sleeves just to hide them. However, full sleeves can be quite uncomfortable and restrictive during the hotter seasons and so this is when you should consider three-fourth sleeves.
Three-fourth sleeves give just enough coverage to conceal the upper part of your arms, which is usually the bigger part. It's basically having sleeveless and long sleeve clothes to meet halfway to provide both coverage and comfort.
Three-fourth sleeve casual dresses can come in different styles and fabric types so make sure to choose the one that suits the season and your personal preference as well. Stay away from tight-fitting fabrics because regardless of the length of your sleeves, body-clinging sleeves will definitely highlight your thick arms.
Dark-colored Shirt Dresses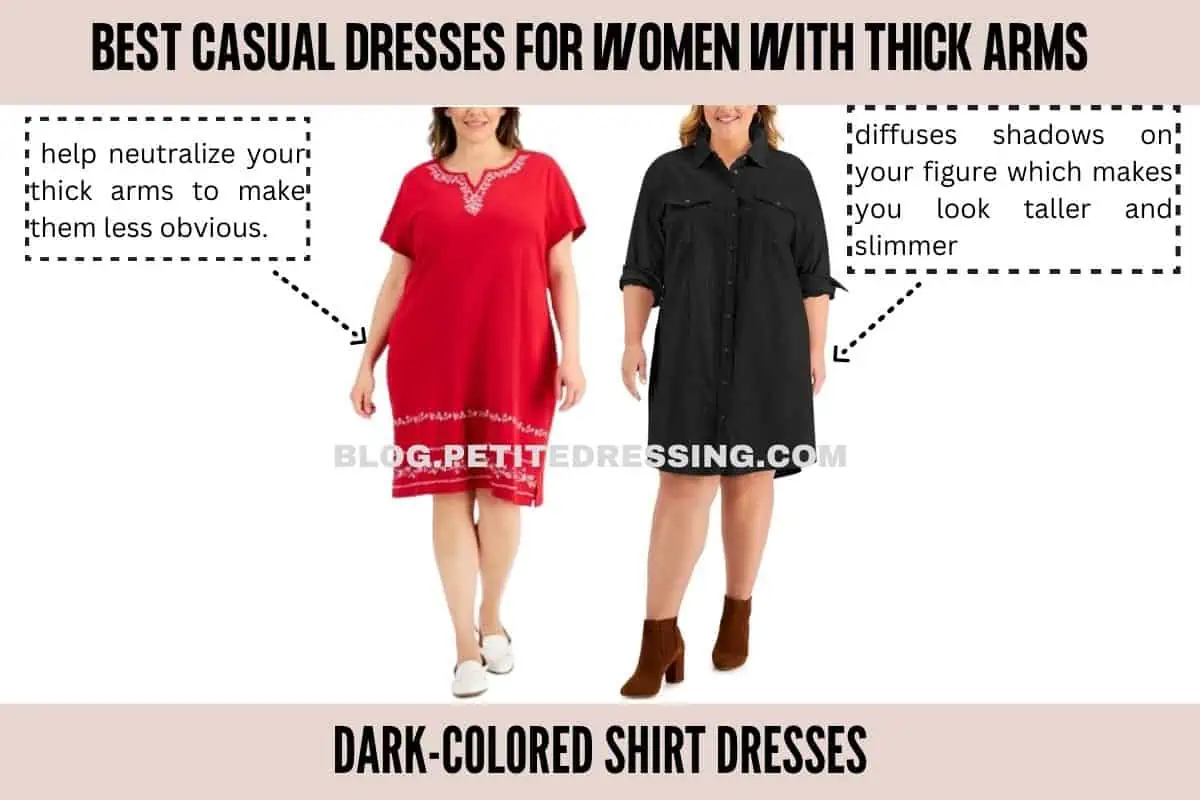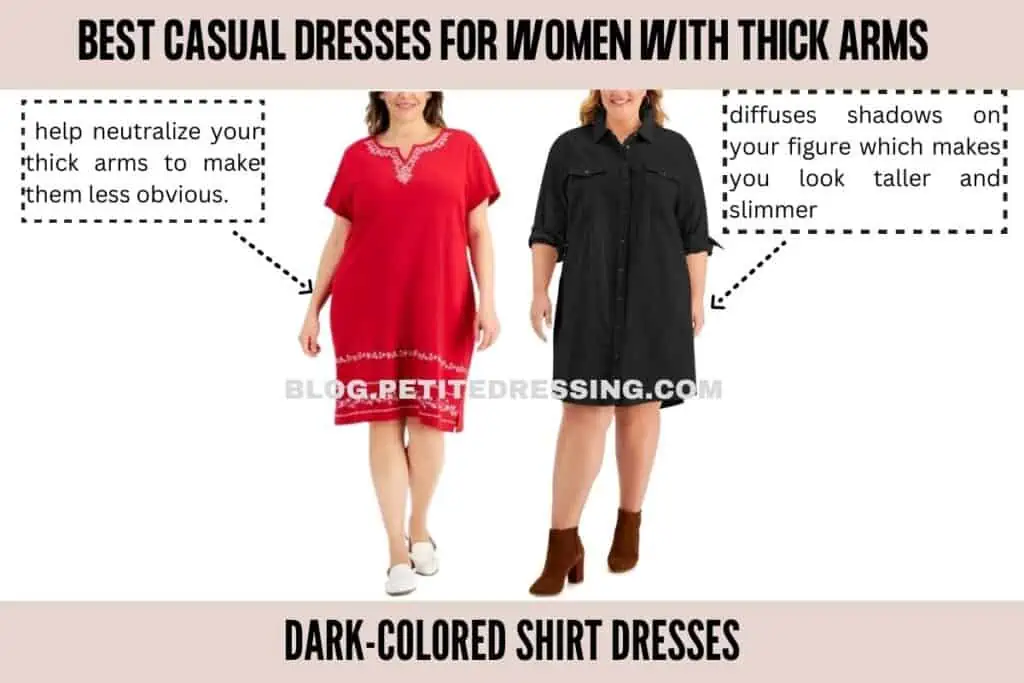 As a general style rule, dark colors absorb light so they diffuse shadows on your figure which makes you look taller and slimmer. Wearing dark-colored shirt dresses should help neutralize your thick arms to make them less obvious.
There are times when some casual dresses have a snug bodice, especially if it's made from knitted material or cotton stretch fabric. Under these circumstances when you want to go for a snug fit, go for dark colors and this trick won't highlight the size of your arms.
Square, Sweetheart, or V-Shaped Necklines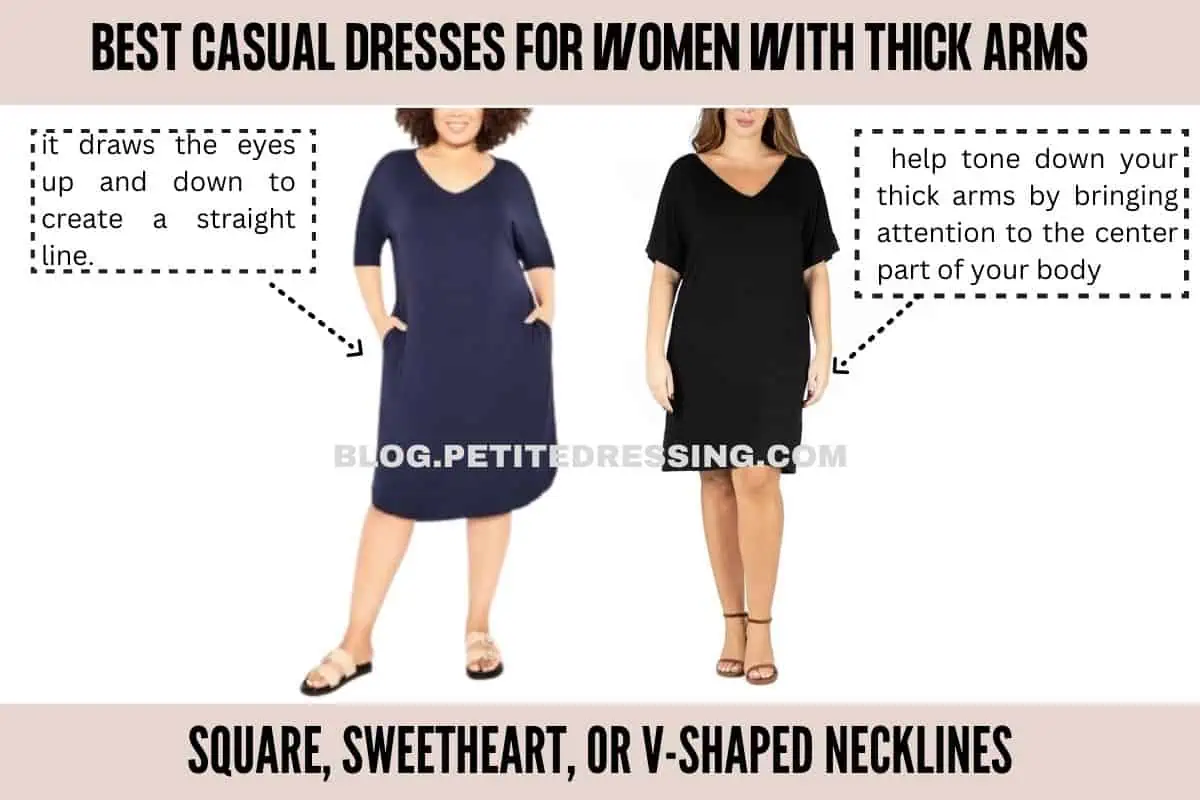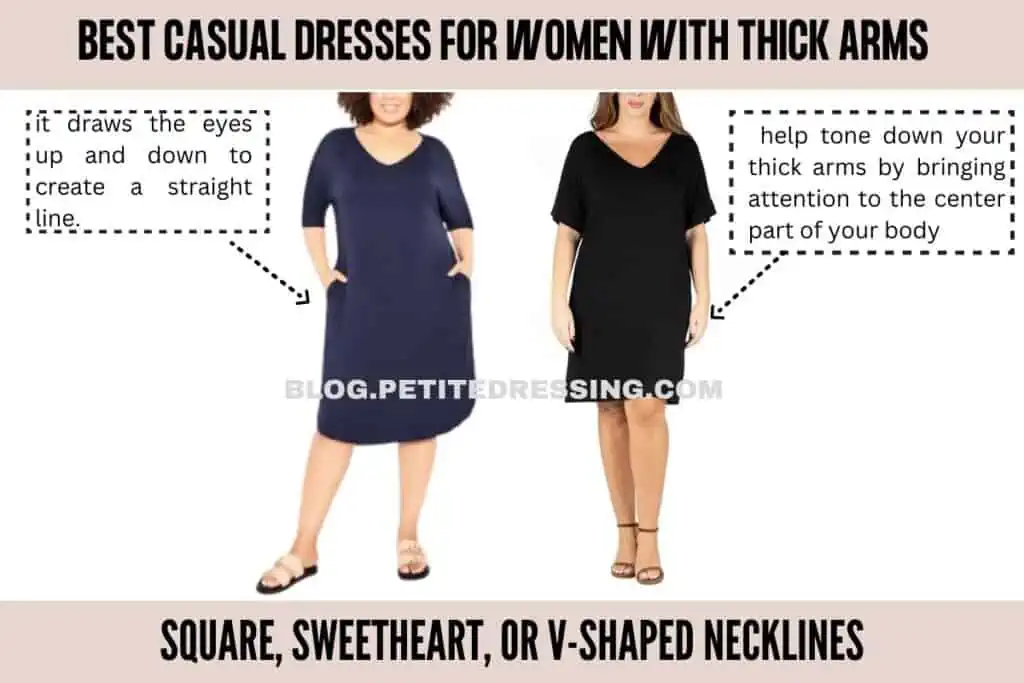 Choosing the right neckline will also help tone down your thick arms by bringing attention to the center part of your body where your neckline is. The best visually slimming necklines for casual dresses would be those that have a square, sweetheart, or V shape.
Among these three, the V-neck is the most classic choice and it's also the most universally flattering for most body shapes. Its pointed edge is the key to its slimming effect because it draws the eyes up and down to create a straight line.
Kimono Style Floral Dresses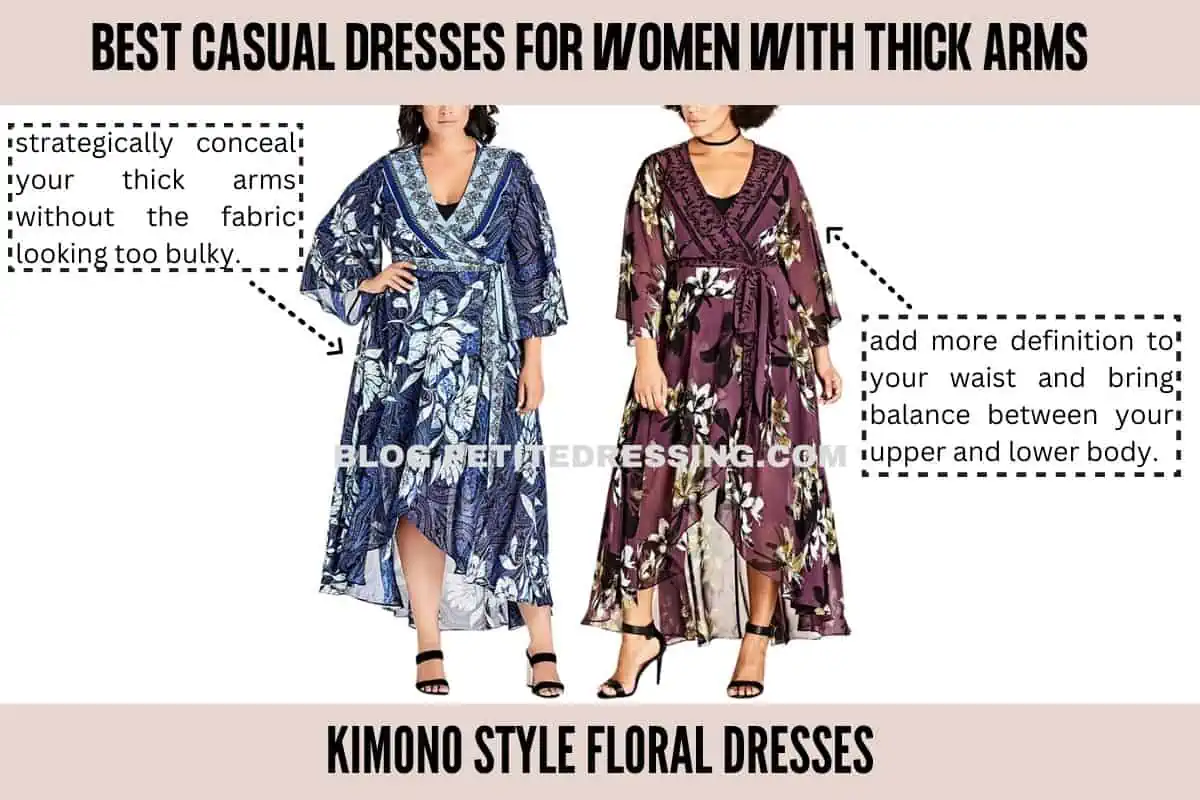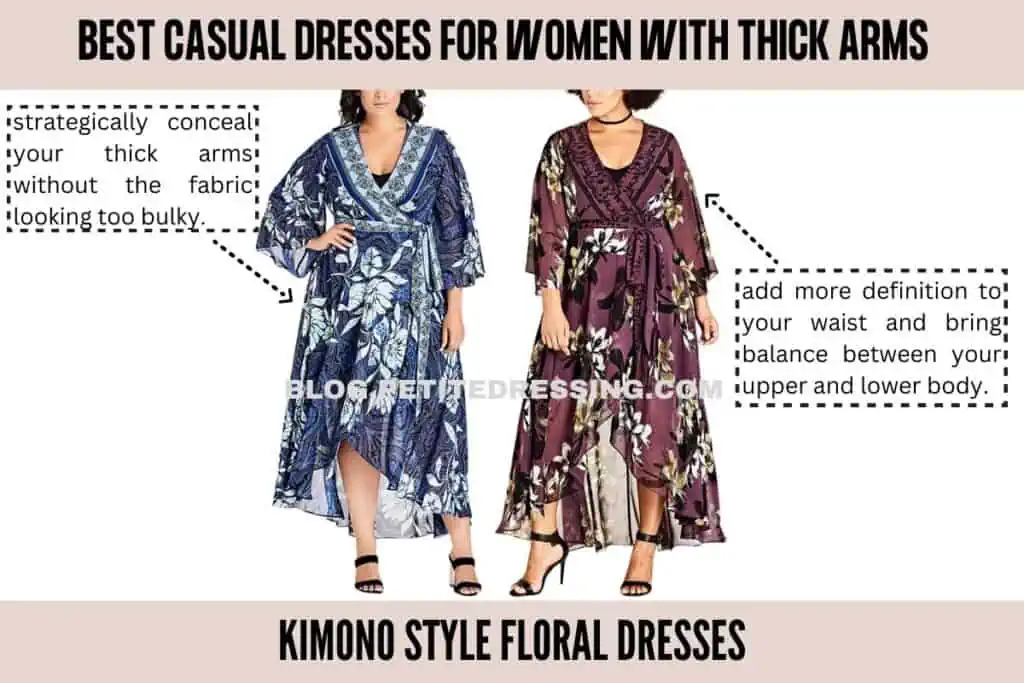 Derived from traditional Japanese wear, kimono-style casual dresses are characterized by their T-shaped silhouette with wide, square sleeves. Their very distinct and spacious sleeves are deemed best for thick arms because they strategically conceal your thick arms without the fabric looking too bulky.
Kimonos nicely drape down from the shoulders to the arms and the sleeves are also not too long in terms of length. They usually just end right at the elbow level or slightly longer, just enough to cover the upper portion of the arms that are bigger.
Most kimono-style casual dresses have waist ties or belts as well which perfectly cinches the waist. This way, you'll add more definition to your waist and bring balance between your upper and lower body.
Belted Dresses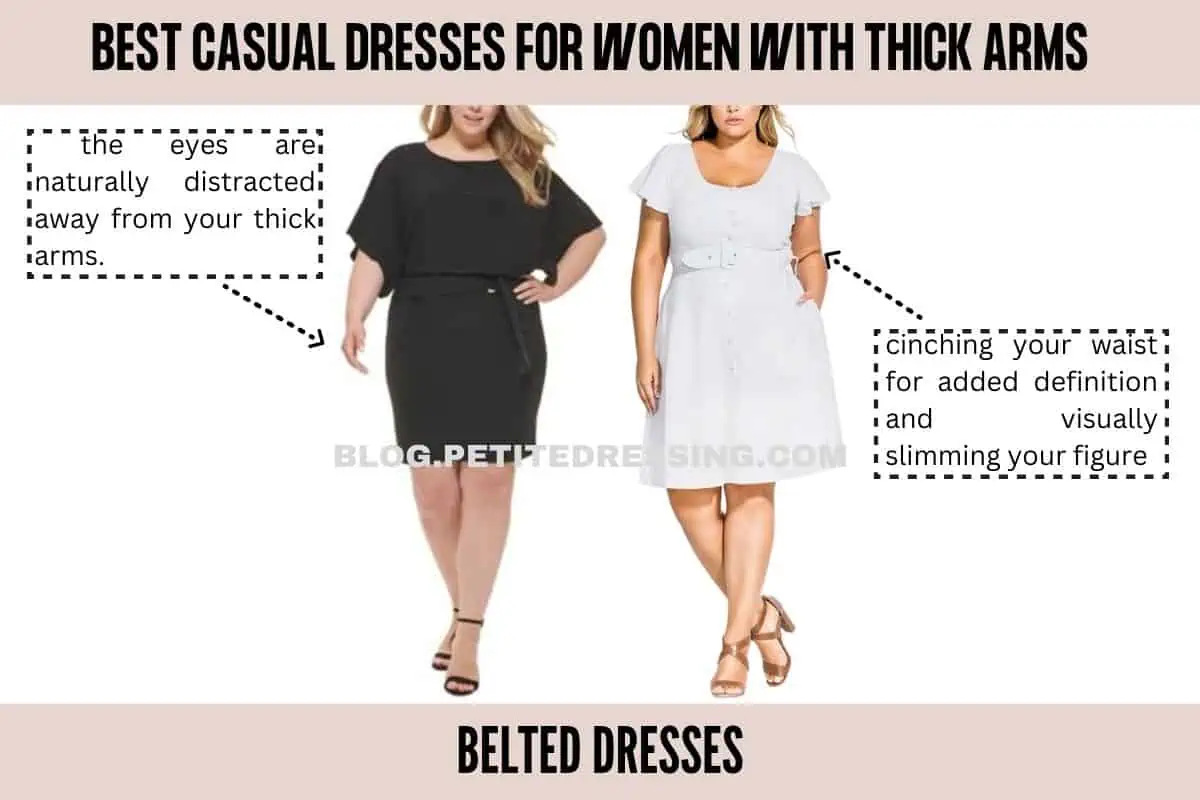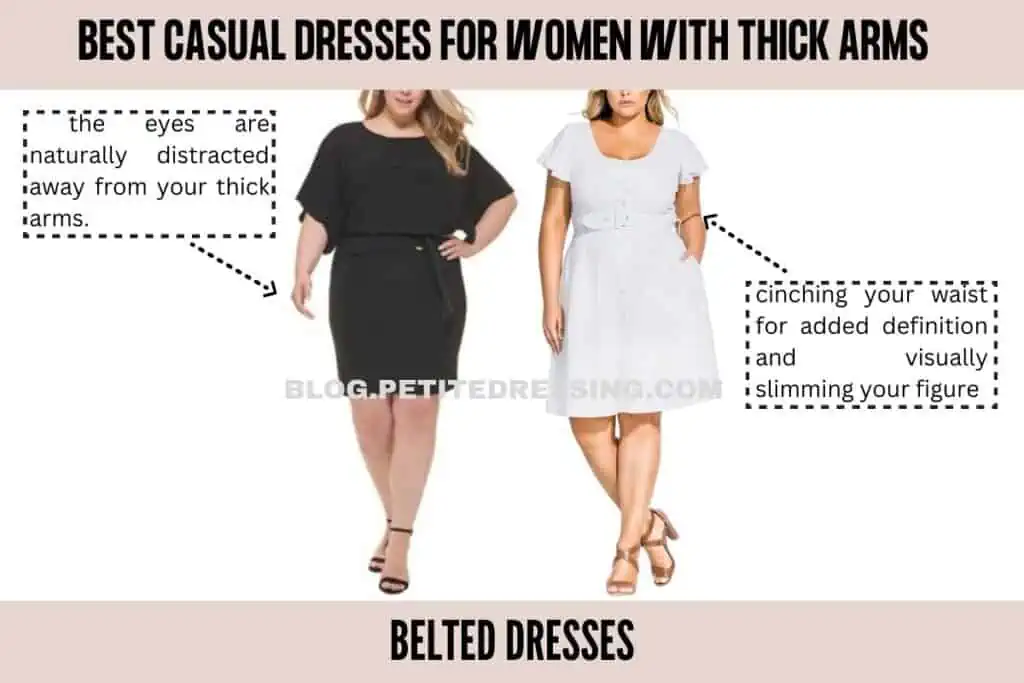 A nicely nipped waist is one of the best ways to draw attention and create a more flattering silhouette resembling an hourglass figure. Because of this, the eyes are naturally distracted away from your thick arms.
You may go for casual dresses with a matching belt included or you can just simply accessorize by adding your favorite belt to any of your dresses. Whichever of the two you choose, it'll serve the same purpose of cinching your waist for added definition and hence visually slimming your figure.
Wide Straped Sun Dress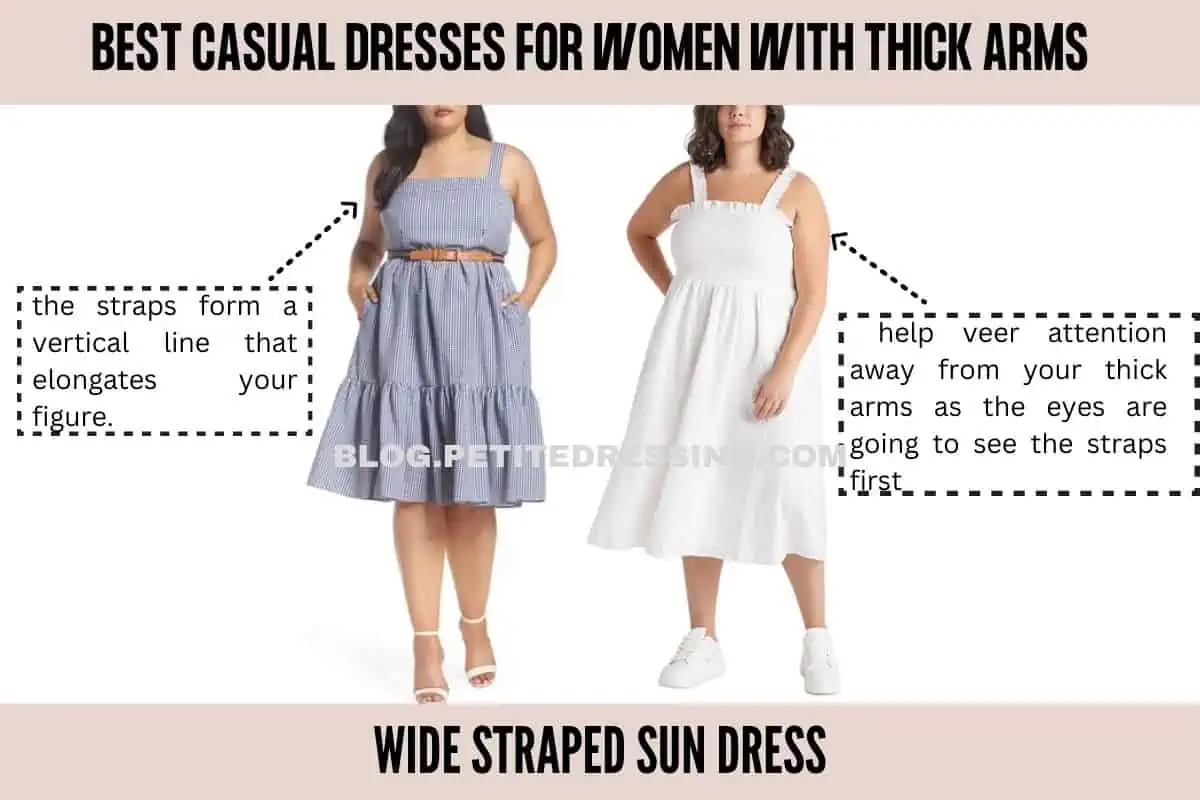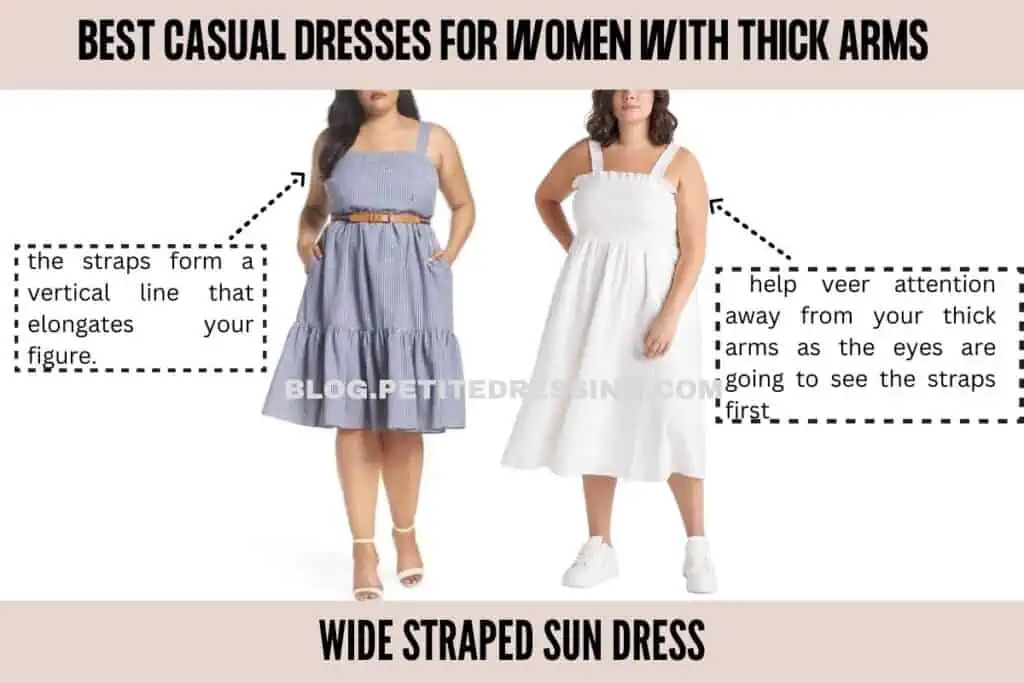 You may feel intimidated by wearing sleeveless dresses because of your thick arms and that's totally understandable. You may hear that you should not wear sleeveless clothes at all costs, but what if you really want to give it a shot?
Well, in times when the scorching summer heat becomes unbearable, sleeveless dresses may seem to be very fitting. If you have thick arms, you may try to wear them with caution by going for wide straps.
Wide straps, especially those with catchy embellishments, can help veer attention away from your thick arms as the eyes are going to see the straps first. Additionally, the straps form a vertical line that elongates your figure.
The Key Takeaway
We always believe that we should be confident and loving of our own bodies. And one of the best ways to do that is to find clothes that will bring out the best of our figures!
Having thick arms is totally okay. All you really have to do is understand which patterns, silhouettes, and structures can work well to bring balance to your overall frame.