As a 5'2" woman with a clothing line for petite women, I've discovered that getting tops that are a perfect fit for my body shape takes an extra bit of effort.
Besides being petite myself, I also have a very typical apple body shape feature, i.e. always gain weight first on my stomach, even when I am overall skinny.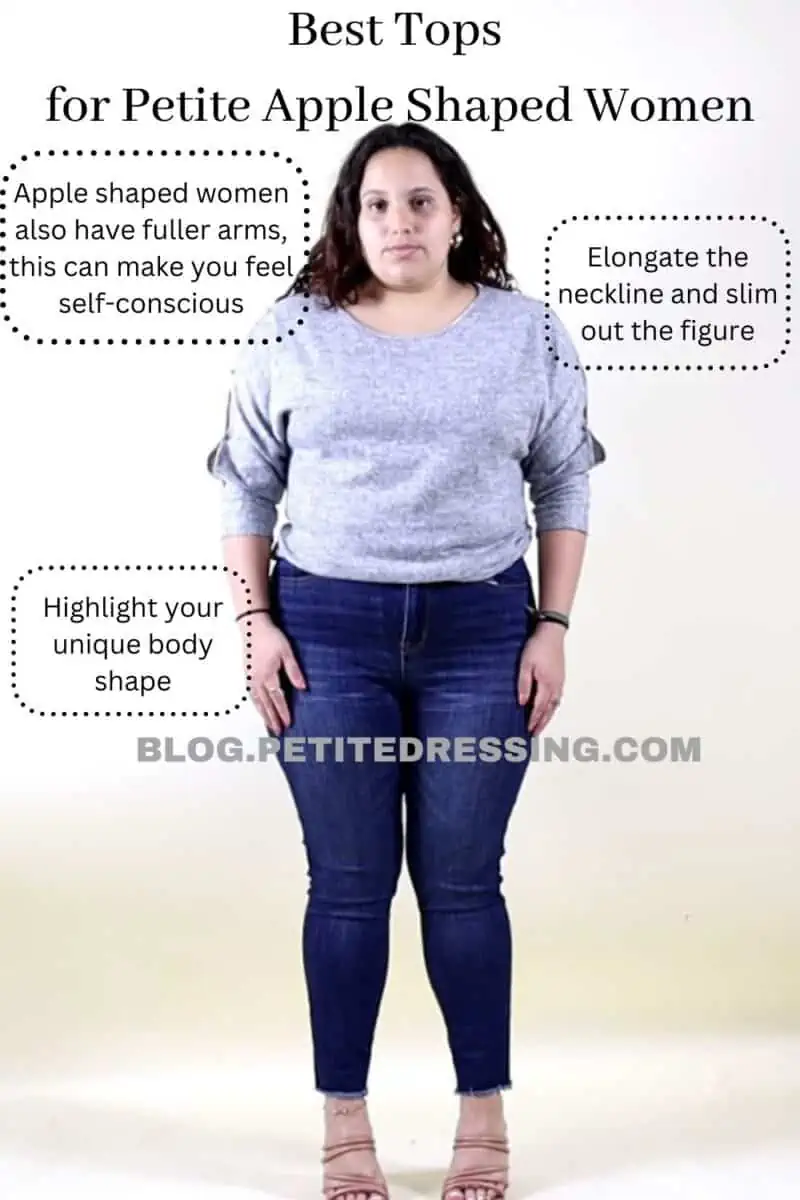 Based on my own experiences as well as feedback from thousands of my petite customers of all shapes and sizes, below are the best tops for short apple shape women!
Surplice tops
As a woman with a petite apple shape, wrap tops are one of the best choices to highlight your unique body shape and help you stand out beautifully. There's so much to love about wrap tops starting from how they accentuate the waist of apple-shaped women.
Usually, your body shape means that you carry a little weight around your midsection area. So, this makes it harder to have a defined waistline and that's where the perfect wrap top comes in.
Wrap tops are designed to cinch at the waistline and I haven't seen an apple-shaped petite woman that hasn't looked good in this style of top. The cinching creates an hourglass shape that highlights the narrowest part of your waist.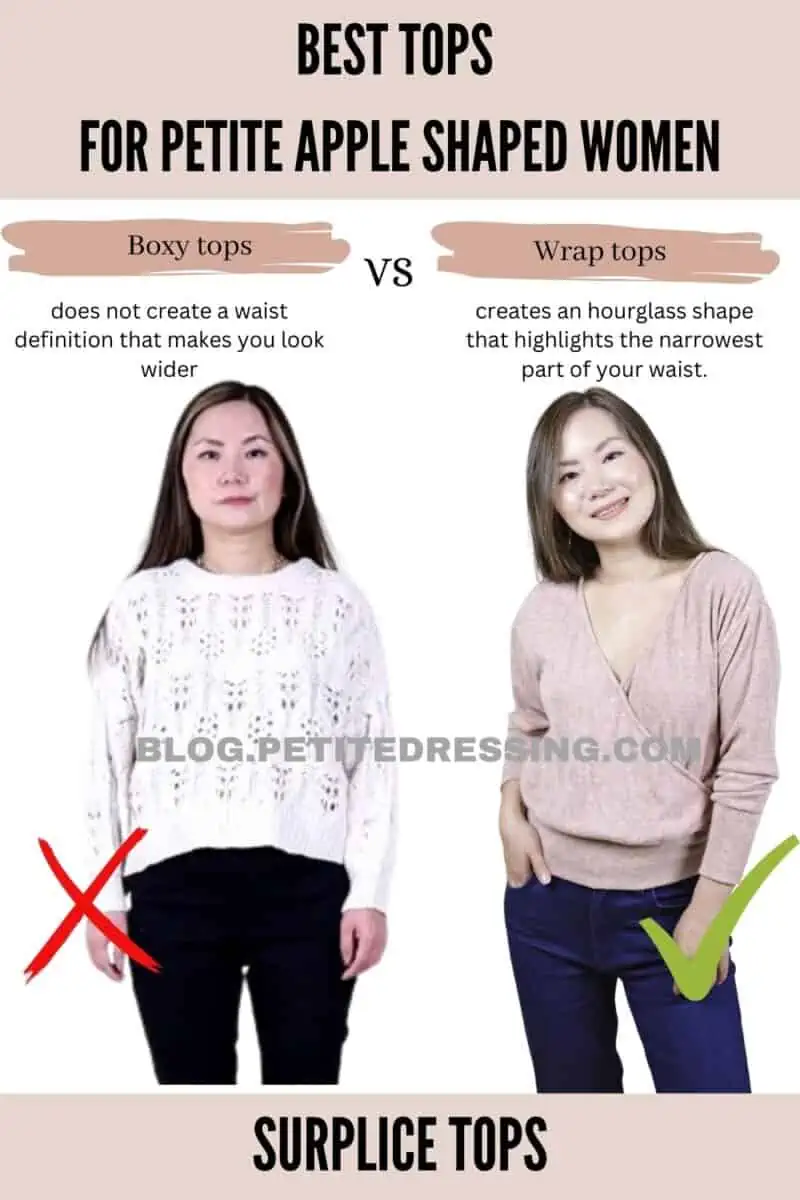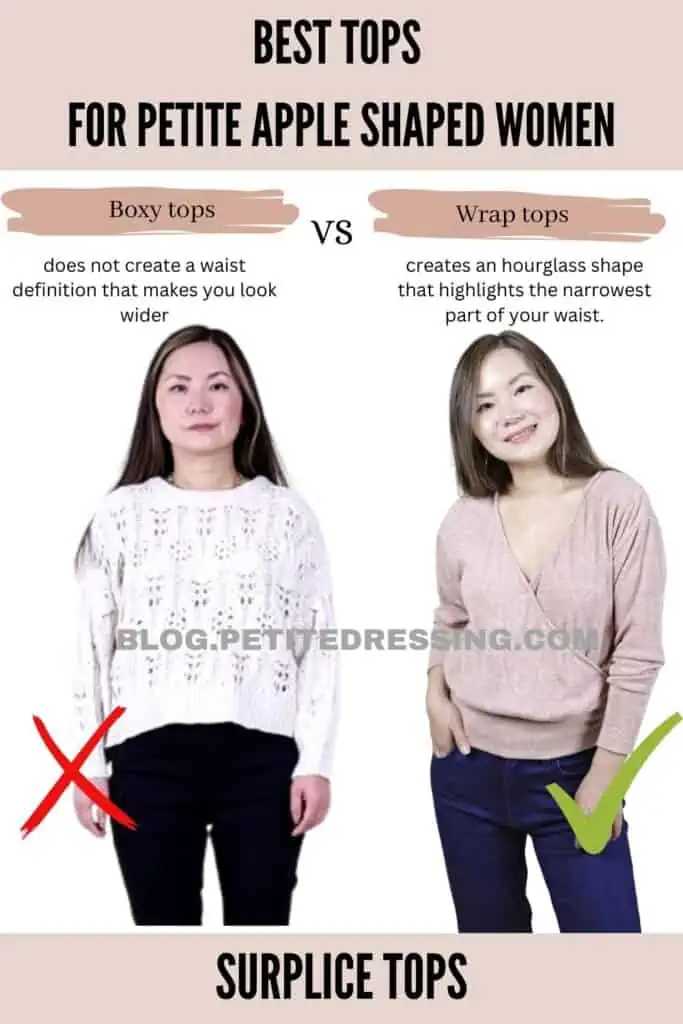 Another amazing thing about wrap tops is that they create vertical lines, thanks to the v-neckline. Since it draws the eyes up and down, this creates the illusion of height and elongates the body.
Ruched tops
Ruched tops create a textured look that makes the petite apple-shaped woman stand out in numerous ways. Solid-colored tops can look quite monotonous, but with a ruched look, you can easily break that monotony and create a more balanced look.
No doubt about it, this style of tops are incredibly flattering with how they hug the body without being too tight on your body frame. It's important for petite women with an apple shape to wear clothing that defines your waistline and highlights your curves.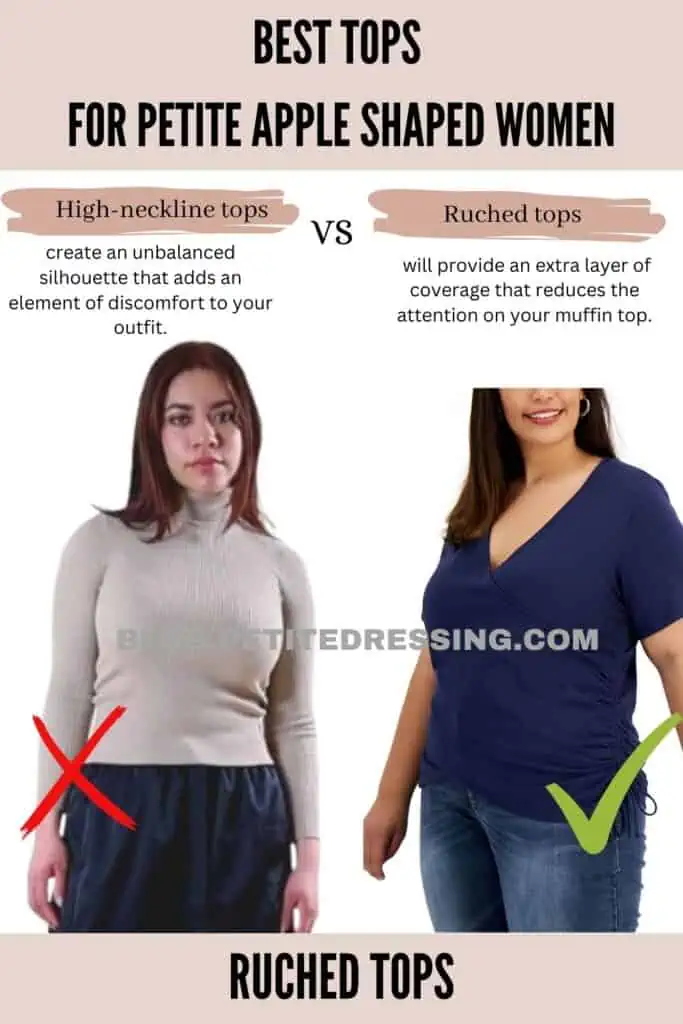 So, if you want to maintain a flattering look, ruched tops are one of your great options. Another beautiful thing about this style of tops is that you can dress them up in different ways to suit various occasions.
Apart from that, you don't have to feel so self-conscious about your tummy area because ruched tops will provide an extra layer of coverage that reduces the attention on your muffin top. Overall, this is a great choice for versatility and a flattering fit.
Peplum tops
Add a feminine touch to your outfit with peplum tops that are known for sophistication and elegance. Whether it's a formal or casual occasion, you can trust peplum tops to fit in all the right places and hide any areas you're not so confident about.
This is perfect for petite women who don't mind the cinching effect at the waist that creates an hourglass silhouette. If you have a bulge in your tummy area and don't want to always bother about this being visible, peplum tops provide that extra coverage you need.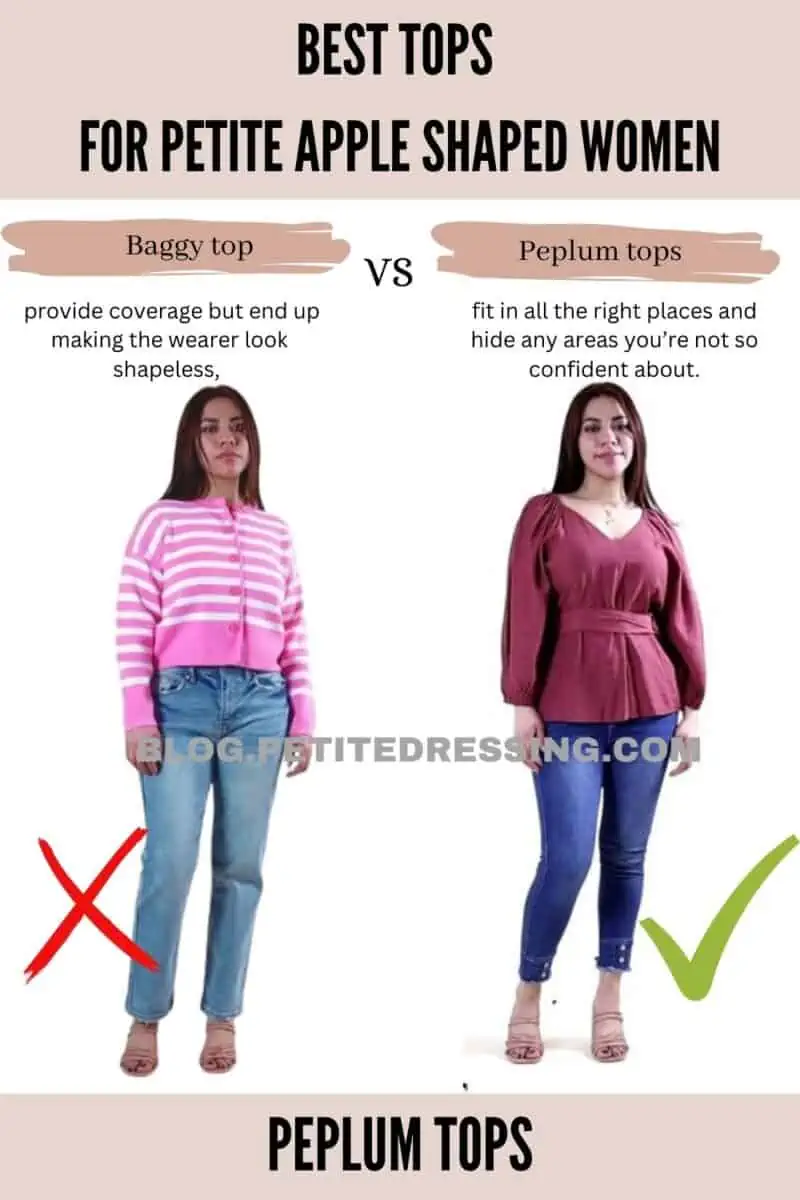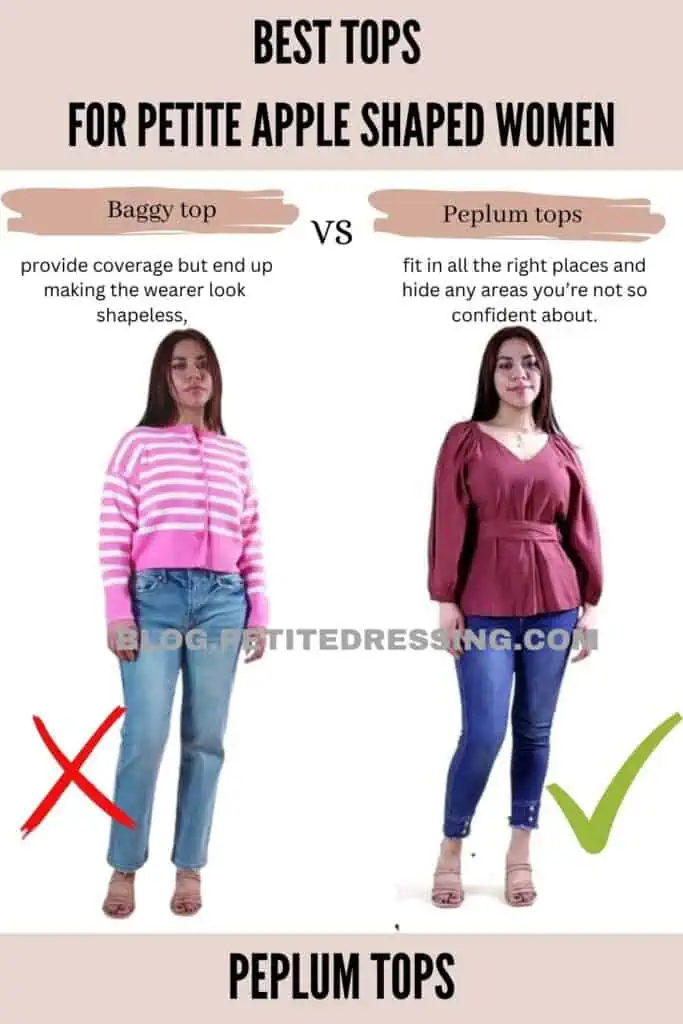 The great thing is that unlike baggy tops that provide coverage but end up making the wearer look shapeless, peplum tops will still highlight your waistline. There are many ways to style yours to work well with your body shape, including pairing with high-waisted jeans to create a balanced silhouette.
If you're into skirts more, you can layer your peplum top over a fitted pencil skirt and complete this look with a pair of heels to create a sleek look for formal occasions.
V-neckline tops
V-neckline tops are simply magical on petite apple shape women, and that has a lot to do with my personal experience. Since this neckline creates a vertical line down the center of the body, this makes short women appear taller due to the elongation effect.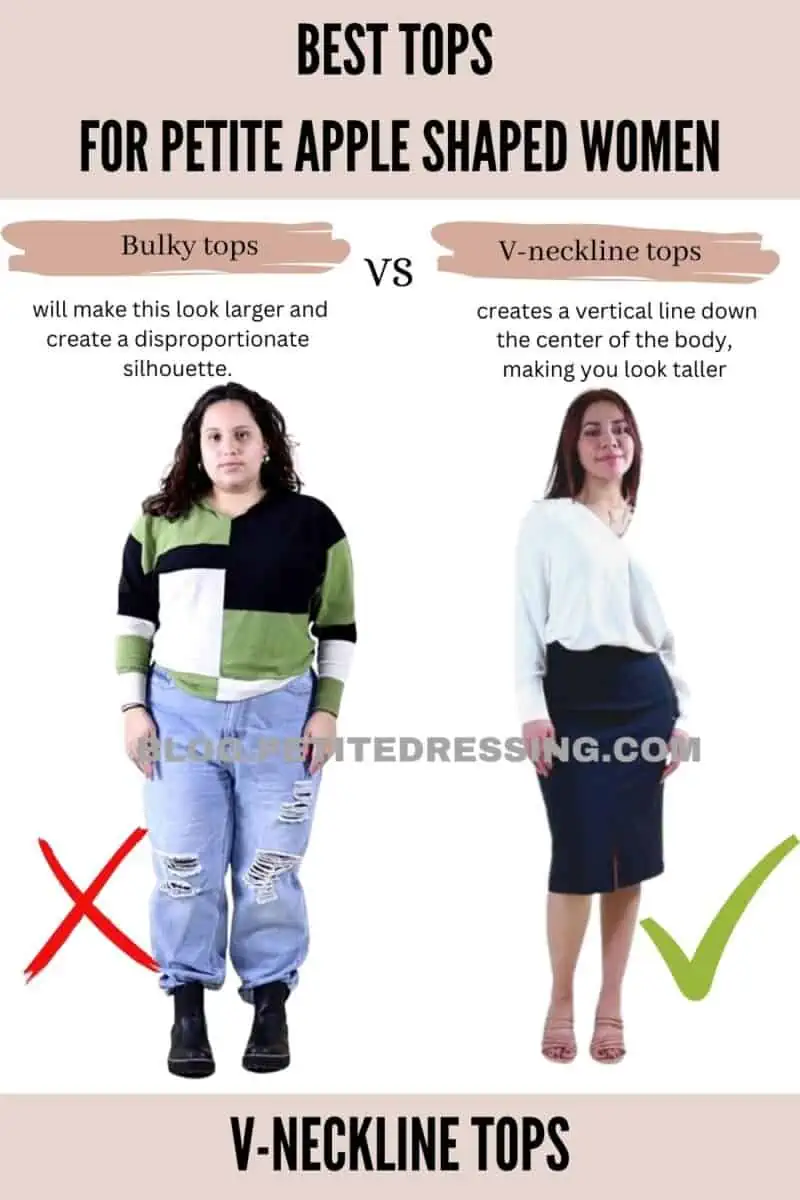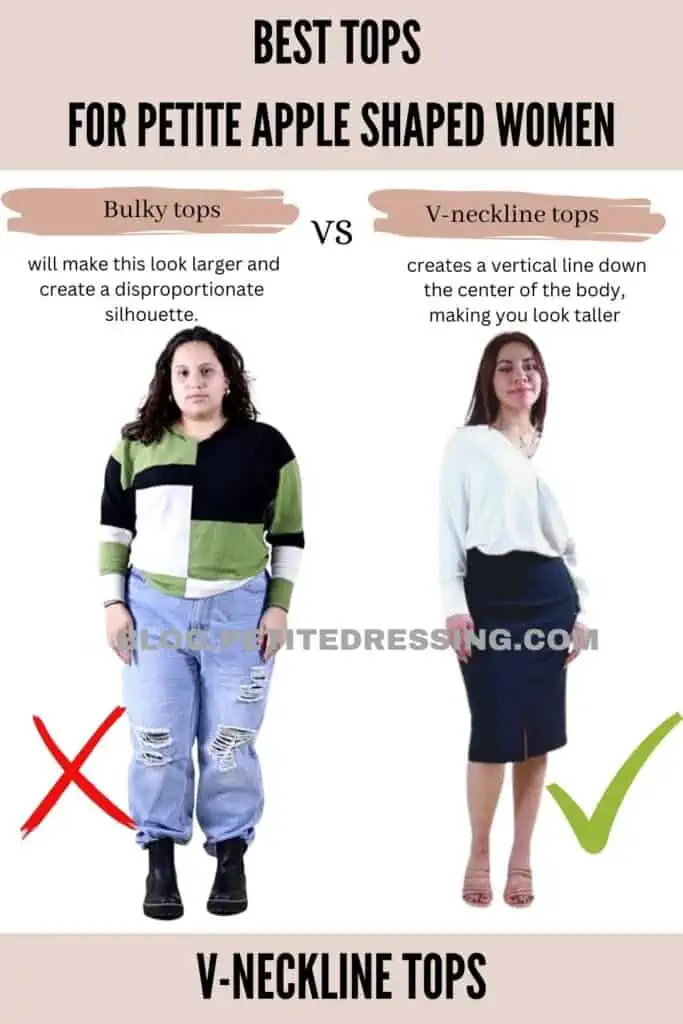 This means an elongated and more balanced overall silhouette. Of course, this also helps to conceal muffin tops and that's a huge win in my books. There's really nothing like a top that inspires you to walk with an extra spring in your step.
Off-the-shoulder tops
What's so great about off-the-shoulder tops? Well, they are known for creating a balanced silhouette since this neckline style draws more attention to your neck and shoulders. This creates a more proportionate overall look that enhances your petite apple shape.
This style is also incredibly feminine and dare I say has a bit of a romantic feel to it. So, it won't hurt to take that element of sophistication up a notch with an off-the-shoulder outfit in your ensemble.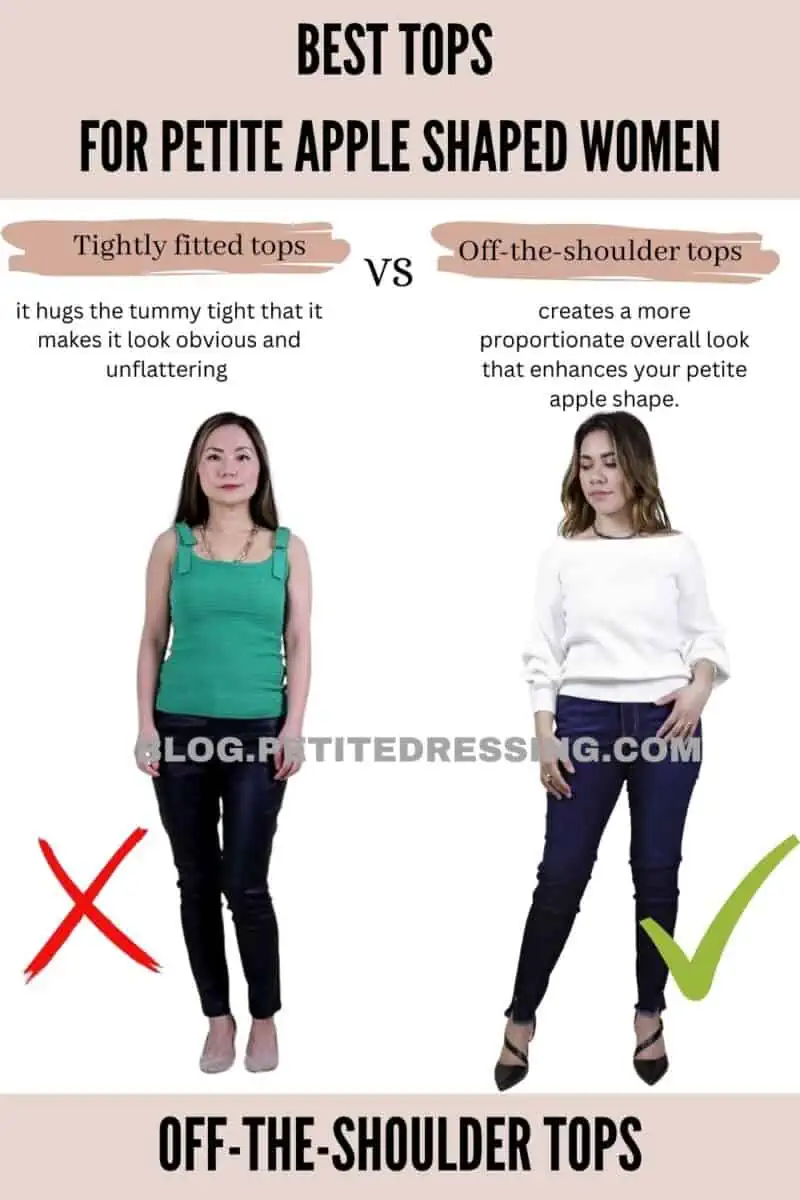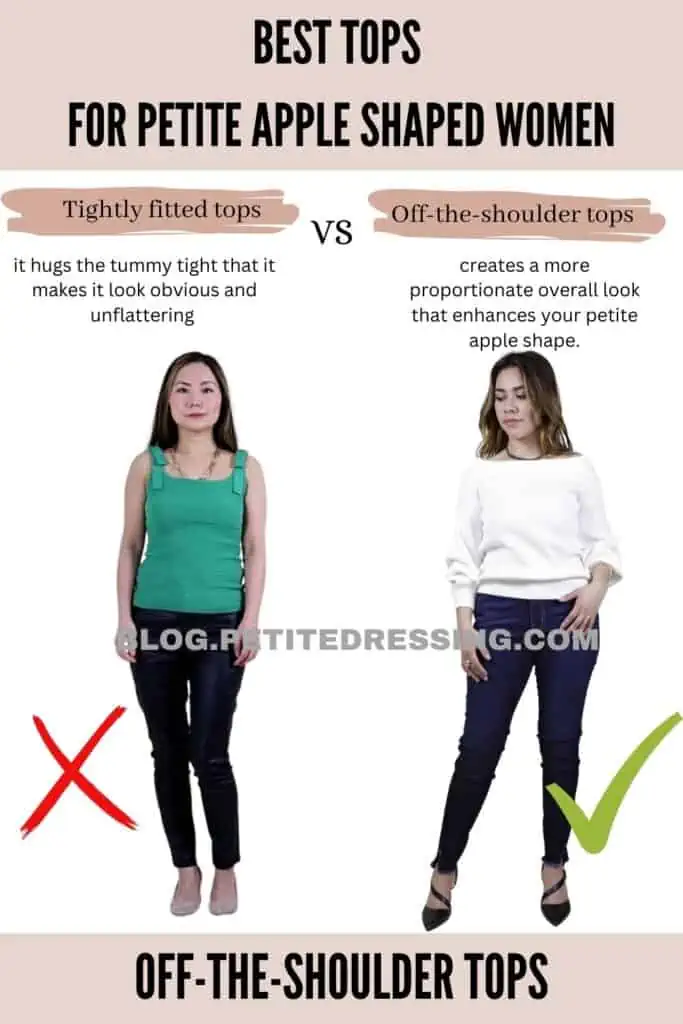 It's always a good idea to go for off-the-shoulder tops with a flowy fit, so this is not too tight on your body shape but provides just the right amount of concealing effect if you have a tummy bulge. This style also helps with a flattering silhouette, especially when paired with fitted pants.
Avoid bulky sweaters
If you're a woman with a petite apple shape, then you should completely avoid wearing bulky sweaters as they can be extremely overwhelming on your small frame. Since it is common for short apple shape women to have a bit of weight around the midsection area, bulky sweaters will make this look larger and create a disproportionate silhouette.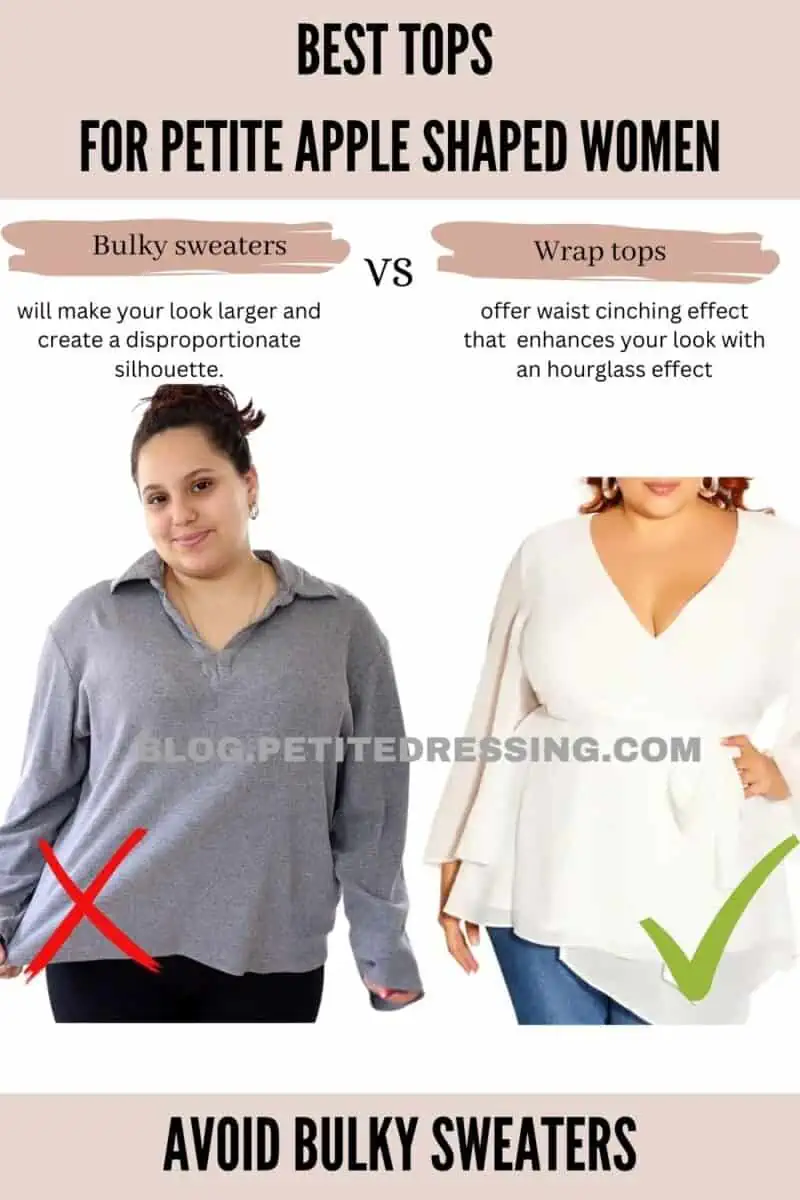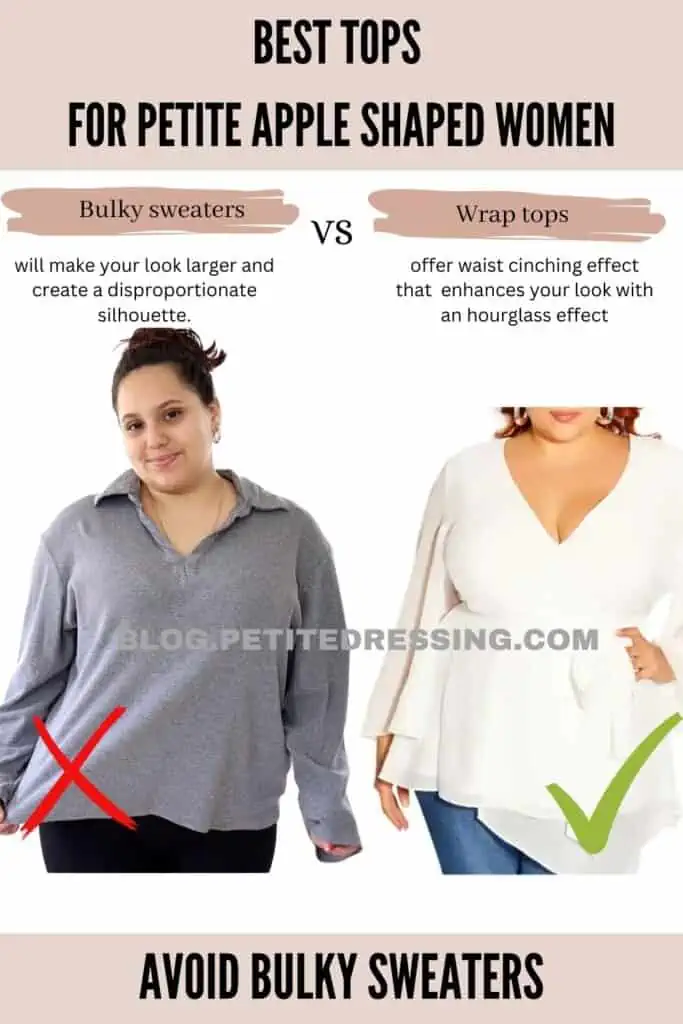 A better option is a fitted and streamlined top that doesn't leave you feeling uncomfortable. This can range from fitted sweaters to tunic tops as all of these skim your body without adding more bulk to your frame. You shouldn't completely let go of sweaters as there are open cardigans and fitted knit tops that are stylish enough for apple-shaped women.
Avoid crop tops
Crop tops are known for emphasizing the midsection area and that's the part of the body that most petite apple-shaped women would want to minimize. Another point not in favor of crop tops is that they cut off the torso at an unflattering position and that makes the body look shorter than it is.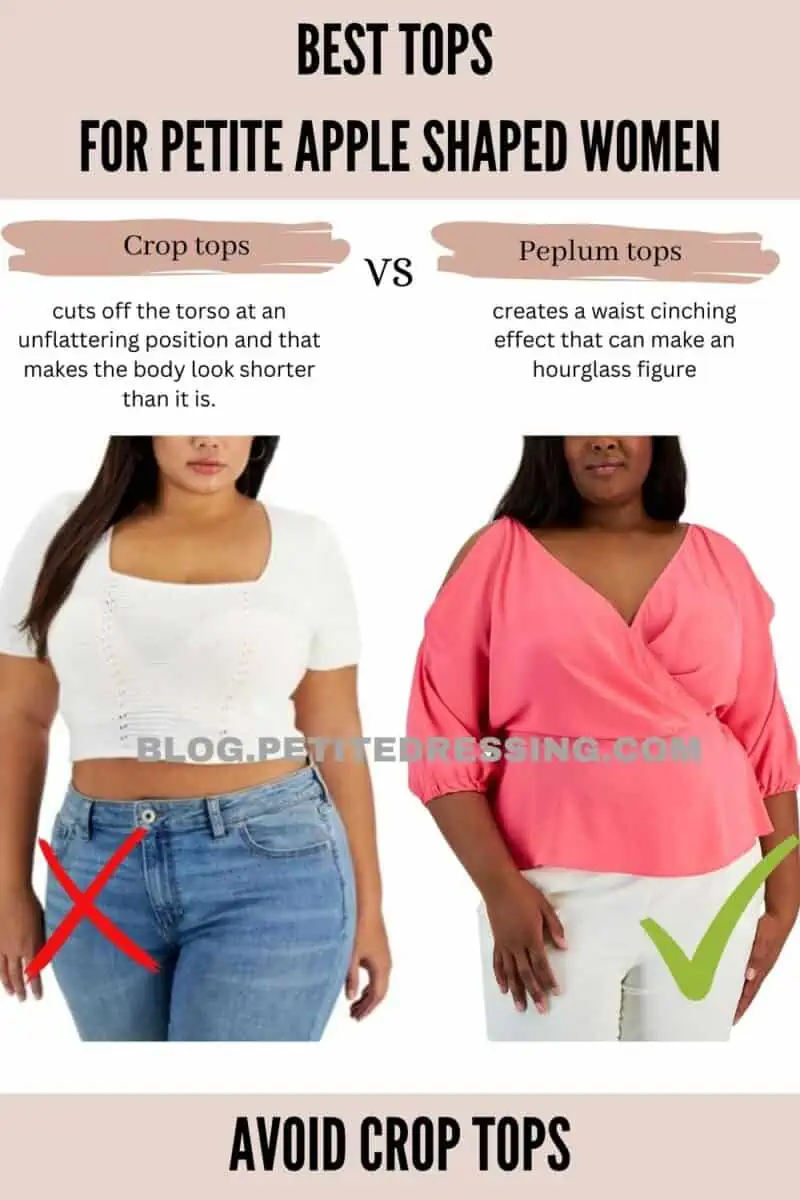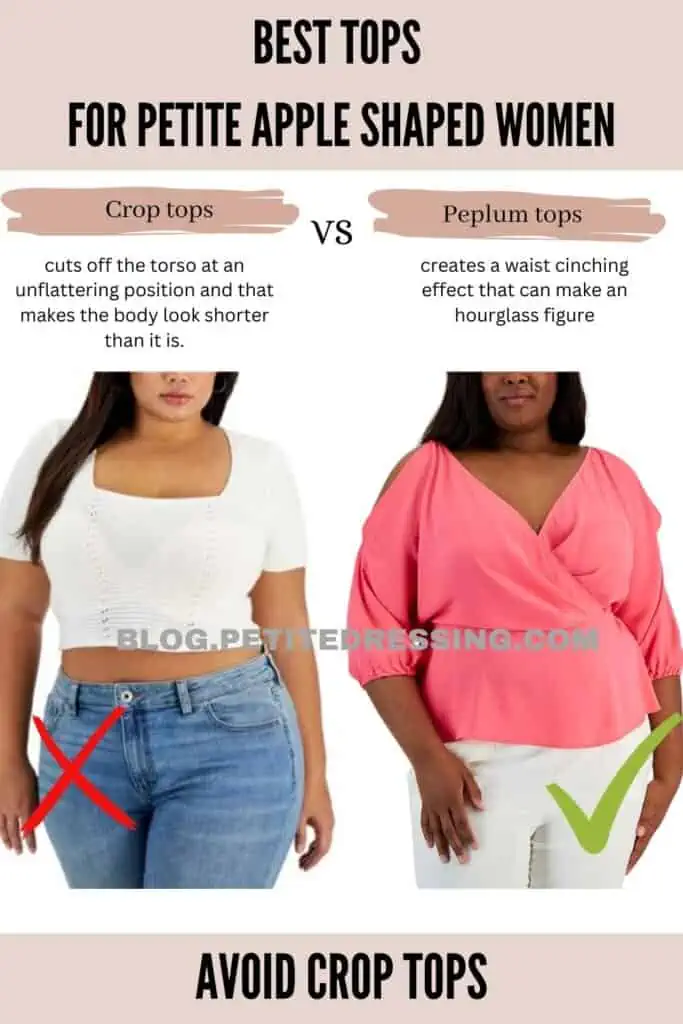 Since crop tops create a silhouette that's not proportionate with your body frame, it's best to avoid them and opt for styles that draw attention to your neckline or shoulders. These are better at creating a balanced silhouette. Crop tops may be a bad idea, but that doesn't mean you can't wear shorter styles like tops that hit at your natural waistline.
Caution with spaghetti stripes
Spaghetti styles place a lot of emphasis on your neckline and shoulders, which makes your upper body appear bigger compared to your lower body. This is not a flattering look for short apple shape women, especially since your body will benefit more from an elongated silhouette.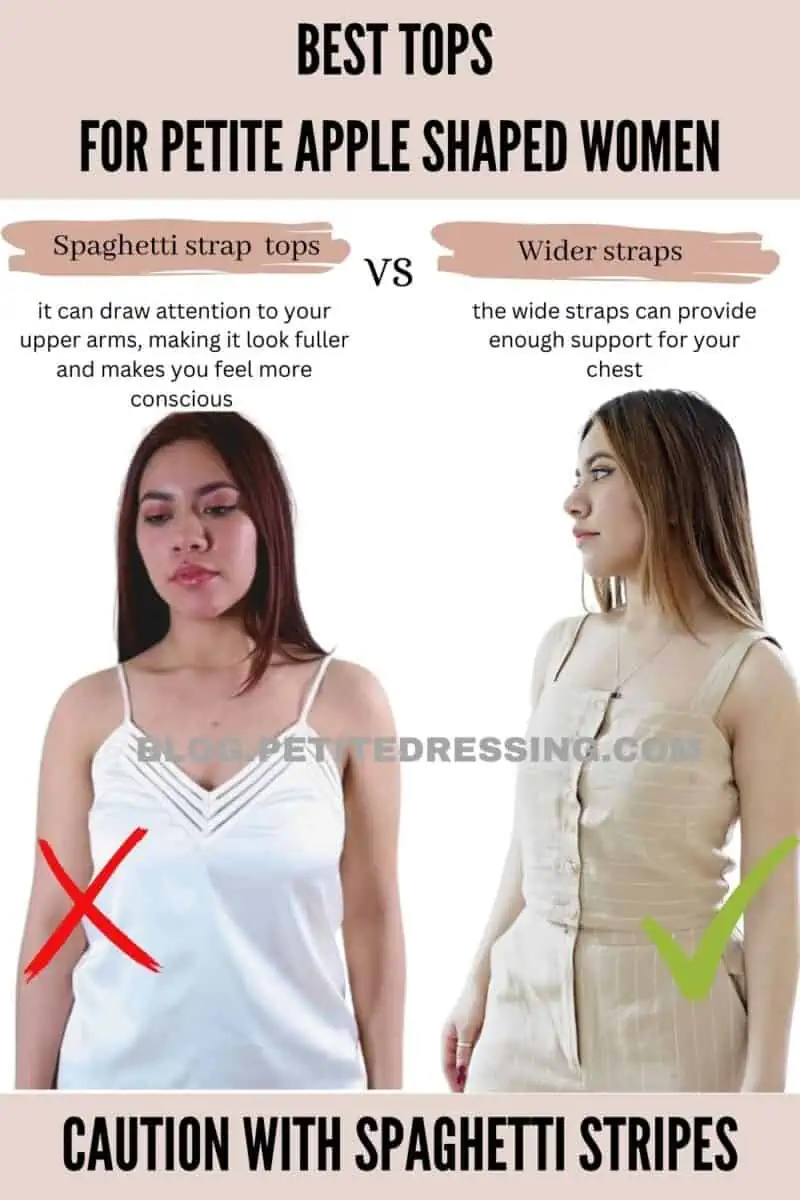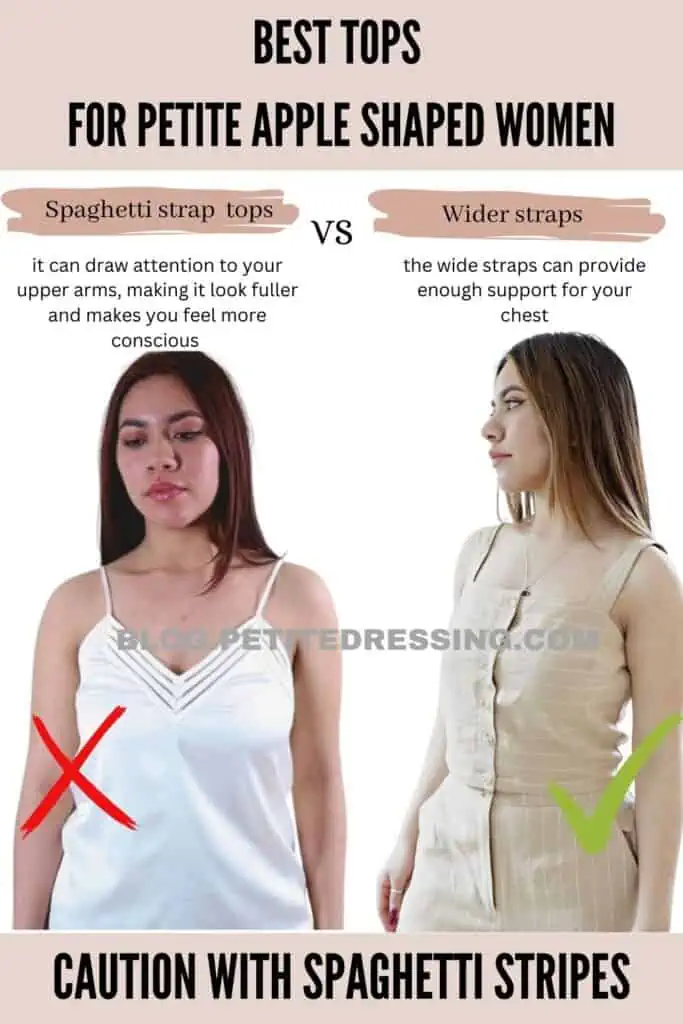 A huge disadvantage of this types of tops is that it can draw attention to your upper arms. Since many apple shaped women also have fuller arms, this can make you feel self-conscious.
Besides, since you have full bust, they may not provide enough support for your chest. So, go with a top that has wider straps instead.
Avoid high-neck tops
High neck tops are not a very flattering choice for women with a petite apple shape. Since this body shape comes mostly with a wider upper body while the lower body looks narrower, it's better to go for tops that draw attention away from the tummy area and elongate the torso.
High neck tops won't help you achieve this. Instead, they create an unbalanced silhouette that adds an element of discomfort to your outfit. So, it's best to avoid this style of tops.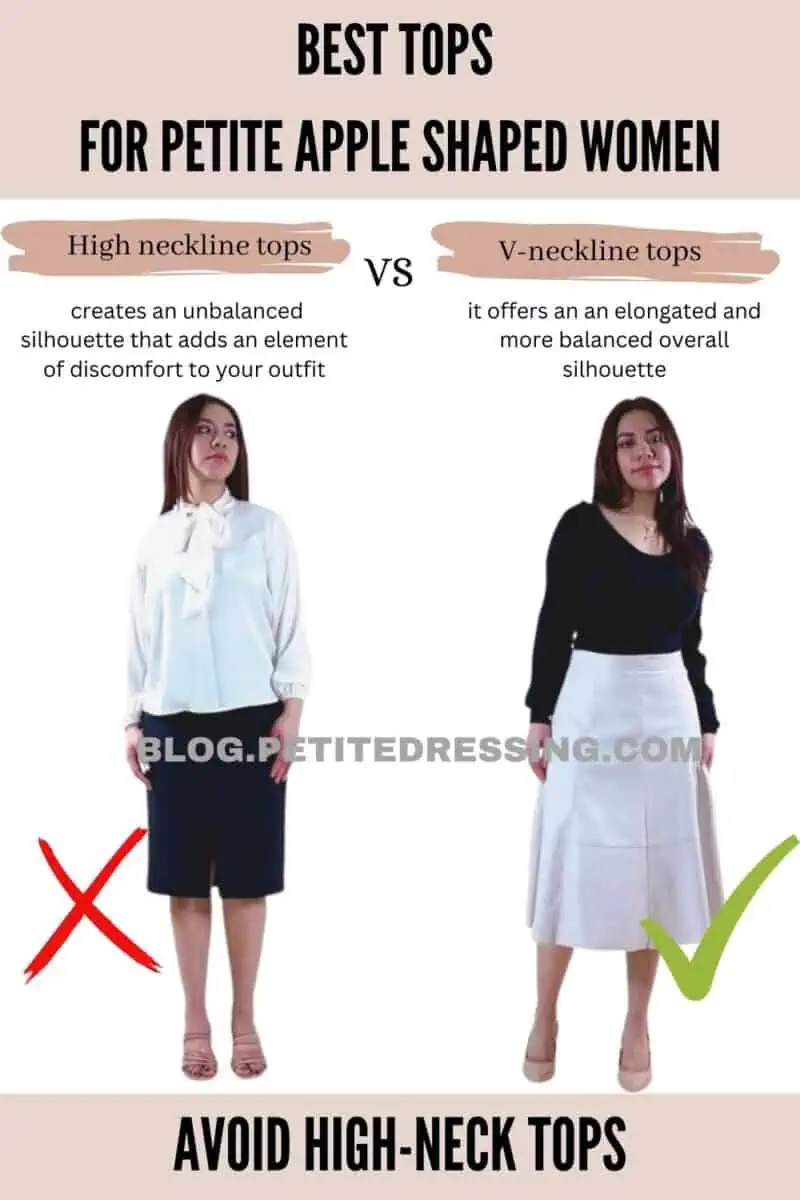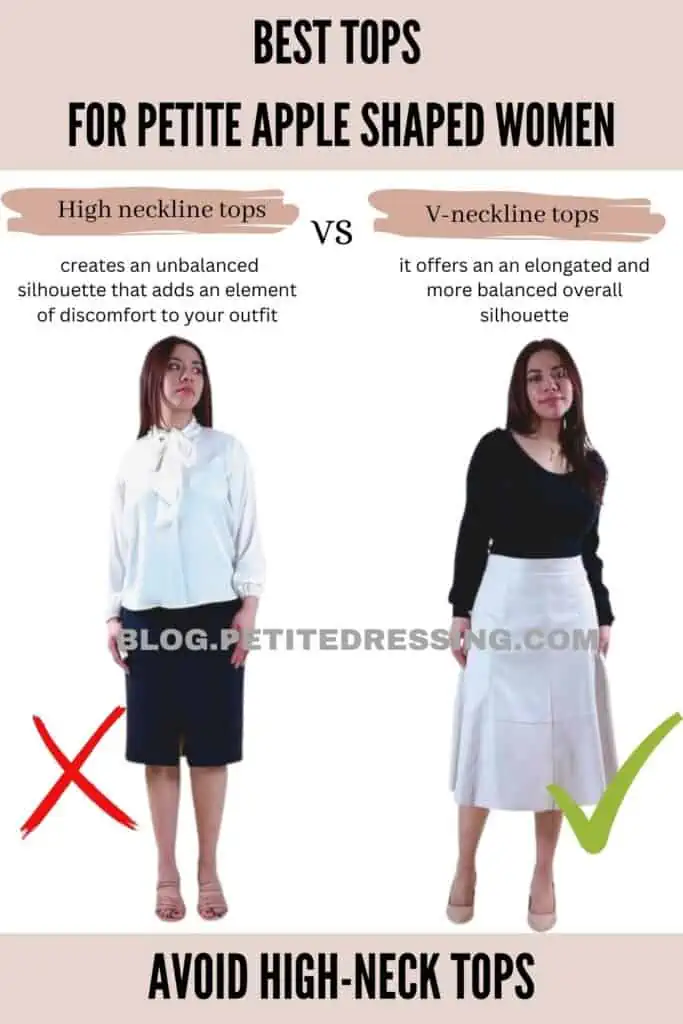 Dressing up as a woman with a short apple shape means going for tops that makes you feel confident and comfortable. The tops on this list will help you achieve this and more. So, be sure to keep this in mind when next you're out shopping.