Suede boots are a great option for colder times, as they are not only warm and comfortable but are also very stylish. You can wear your suede boots either in ankle boot style or you can wear longer ones like the thigh high boots, depending on the kind of outfit you want to wear out.
Suede boots are also interesting and fun to wear because they are available in different colors such as brown boots or the traditional black. All you have to do is ensure you get the ones that suit the type of outfit you've decided to go for. They can also be worn to different places such as the office, dates, and events or just for running errands on a random day. Below are some of the best outfit ideas on what to wear with your suede boots:
With some skinny jeans
Suede boots are one of the best shoes to wear with skinny jeans.
Everyone should own a pair of skinny jeans, if not a couple, especially in the versatile blue or black colors. These are always very comfortable and highly flattering to women of different age and sizes. They can be worn with a variety of tops, outerwear and footwear including some suede boots.
The best part about suede boots is that they follow the shape of your leg, so it's very easy to tuck them into your boots. They can also be worn with suede boots in different styles.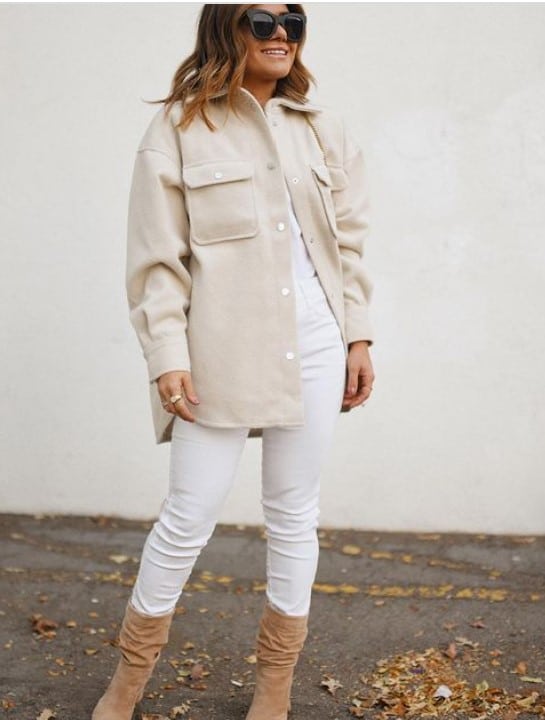 Chictalkch (above) wears a white skinny jeans with her tan suede boots, a classy and chic color combination that never goes out of style.
Depending on the season, you can change the colors of your jeans and your suede boots. The most versatile are black jeans with black suede boots and blue denim with any color suede boots, which you can wear during fall, winter or spring.
With a leather jacket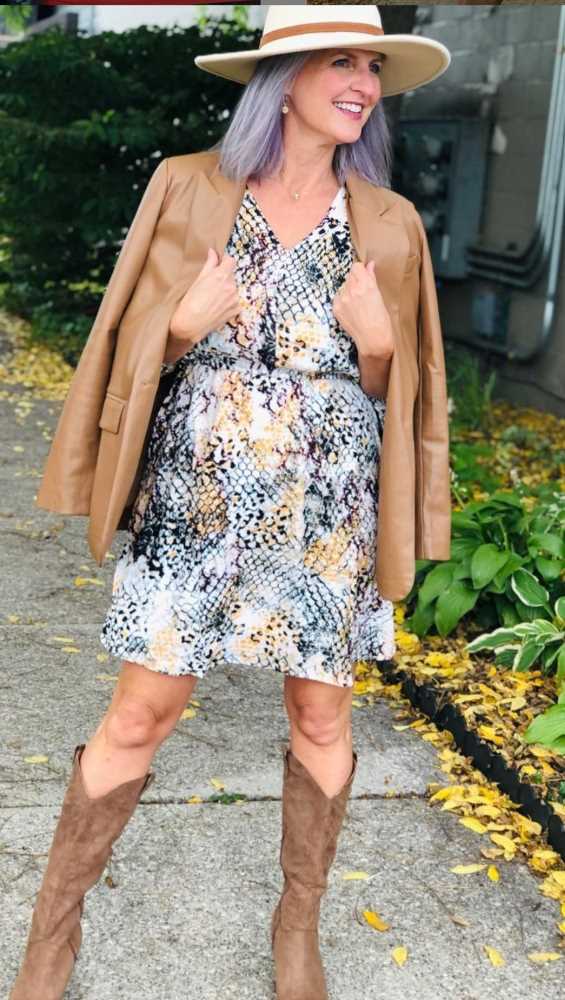 iamterrib (above) wear a camel leather jacket on top off a print dress with her western suede boots, a chic outfit for the fall when the weather is up and down.
Your leather jacket doesn't have to be the same color as the suede boots. Most leather jackets are in neutral colors such as black or brown, which go with any color suede boots.
With a sweater skirt
Sweater skirts and suede tall boots are both the staple for the fall, so they naturally look great together. If your suede boots are neutral colors such as tan or black, that gives you many options to choose the color of the sweater skirts you perfer.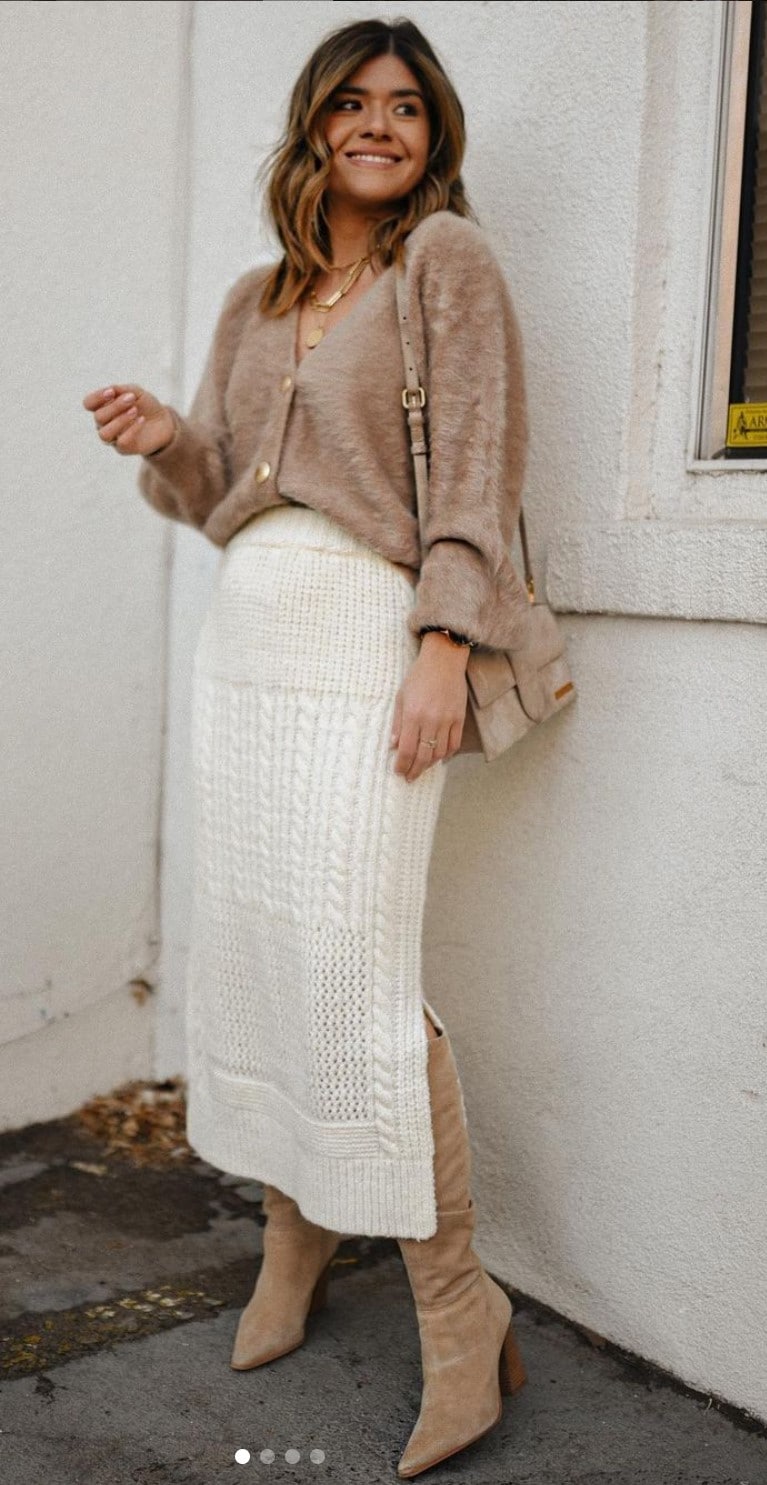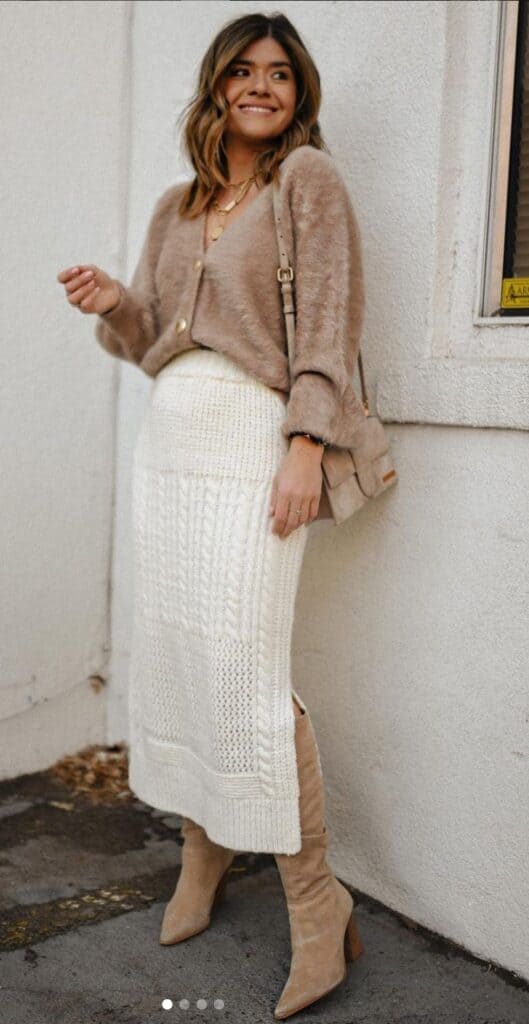 Chictalkch (above) wore a cable knit sweater skirt with beige suede boots.
With a leather skirt
Leather skirt and suede boots are close cousins when it comes to the fabrics, so they naturally go well together.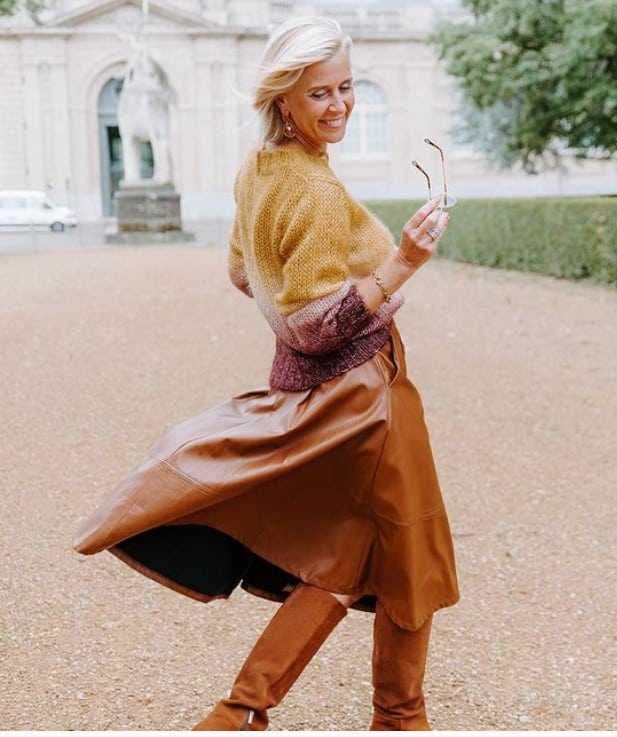 Sophie (above) wore a tan leather leather skirt with suede tall boots of similar color, This is one of the best ways to elongate your legs and appear taller.
You can also switch to a leather skirt of different color than your suede boots. Your leather skirt can also be different length. Whether it's a midi leather skirt or midi leather skirt, they can both go well with the tall suede boots.
With a sweater dress
A sweater dress is ever so cozy, and is definitely a go-to piece during colder months due to its functionality. Aside from keeping you warm, a sweater dress can look very stylish, and can be found in several trendy and flattering designs. They go well with a pair of suede boots considering both are meant for colder seasons.
In case it's too cold, this combination allows you to layer some stylish outerwear over the look. You can also pick a chunkier sweater dress as it will still compliment the boots.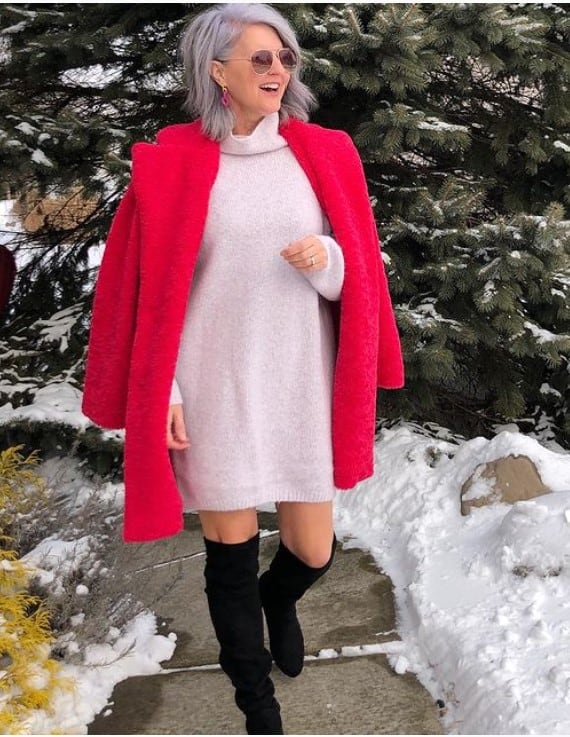 Iamterrib (above) wore a light pink sweater dress with black knee high suede boots, and topped it off with a red overcoat. A functional but chic outfit for the fall and winter, especially around the holiday season.
With a chiffon dress
Wearing chiffon dress with suede boots combines adds a casual vibe to the all feminine style, making the outfit unusual and interesting.
Chiffon dresses can come in different cuts, prints and colors. Chiffon is a fabric that is often considered a summer type fabric, but you can make chiffon dresses transitional by wearing them with some suede boots and a cardigan. This is regardless of the length of the dress.
Sophie (above) styled her printed chiffon dress with a pair of suede boots and a matching cardigan. A flowy chiffon dress is best for such an outfit as it's more fun but you can always pick other styles of chiffon dresses.
With leather shorts
For an edgy look, you can also pair your suede boots with a pair of leather or faux leather shorts.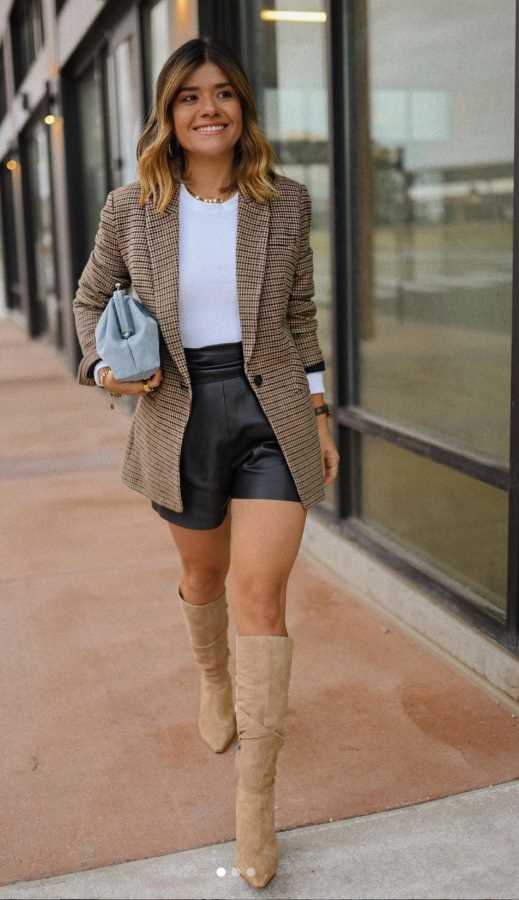 Chictalkch (above) wore a plaid blazer with a pair of leather shorts, and paired it with tall suede boots, a fashion forward look that works great for the fall or even the winter if you live in a warmer area.
With a denim skirt
Pairing a denim skirt with suede boots will make your denim look edgier and will give you a more youthful look.
Denim is a go-to material for several people looking to step out in a casual look, because with denim you don't have to think much about styling. A great example is a denim skirt, which you can wear with different tops, jackets and shoes.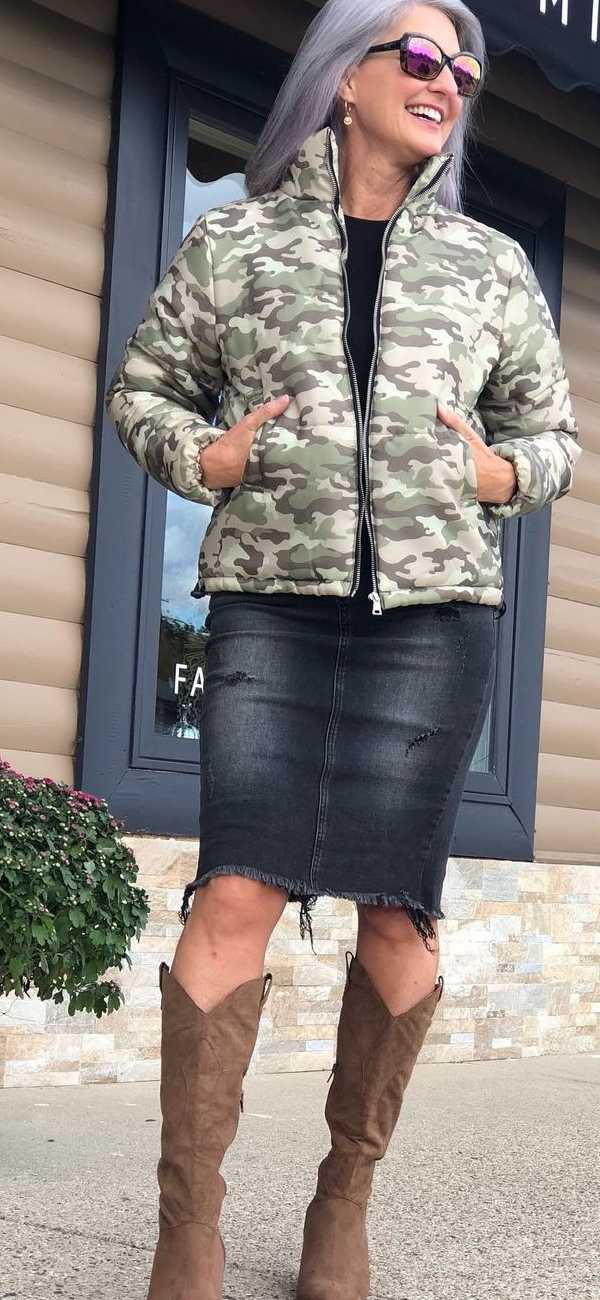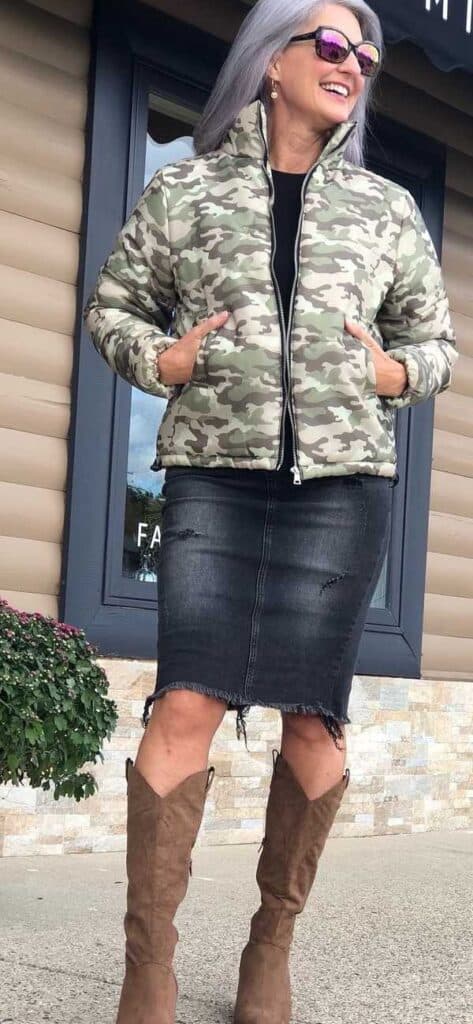 Iamterrib (above) wore her black denim skirt with a black top and camouflage jacket. She then went for a brown pair of suede boots to complete her outfit. With a denim skirt especially in black, different colors will work for your suede boots.
With wide-leg jeans
Wide leg jeans go really well with suede boots, especially ankle booties.
Wide-leg pants are always such a great option, if you want a pair of pants that's more comfortable. These come in different fabrics from linen to denim and anything in between. Since these are available in year-around styles, you just have to choose the one you find most comfortable for the season.
Whether you pick cropped ones or longer ones, you might want to choose an ankle suede boot style for this. With a wide-leg jeans outfit, it is advisable that you pick a more fitted top so that you get a more balanced look.
An easy outfit is to wear wide-leg jeans with a turtleneck and a pair of suede ankle boots in a similar color. Alternatively, you can go for the wide-leg pants, top and suede boots in different colors.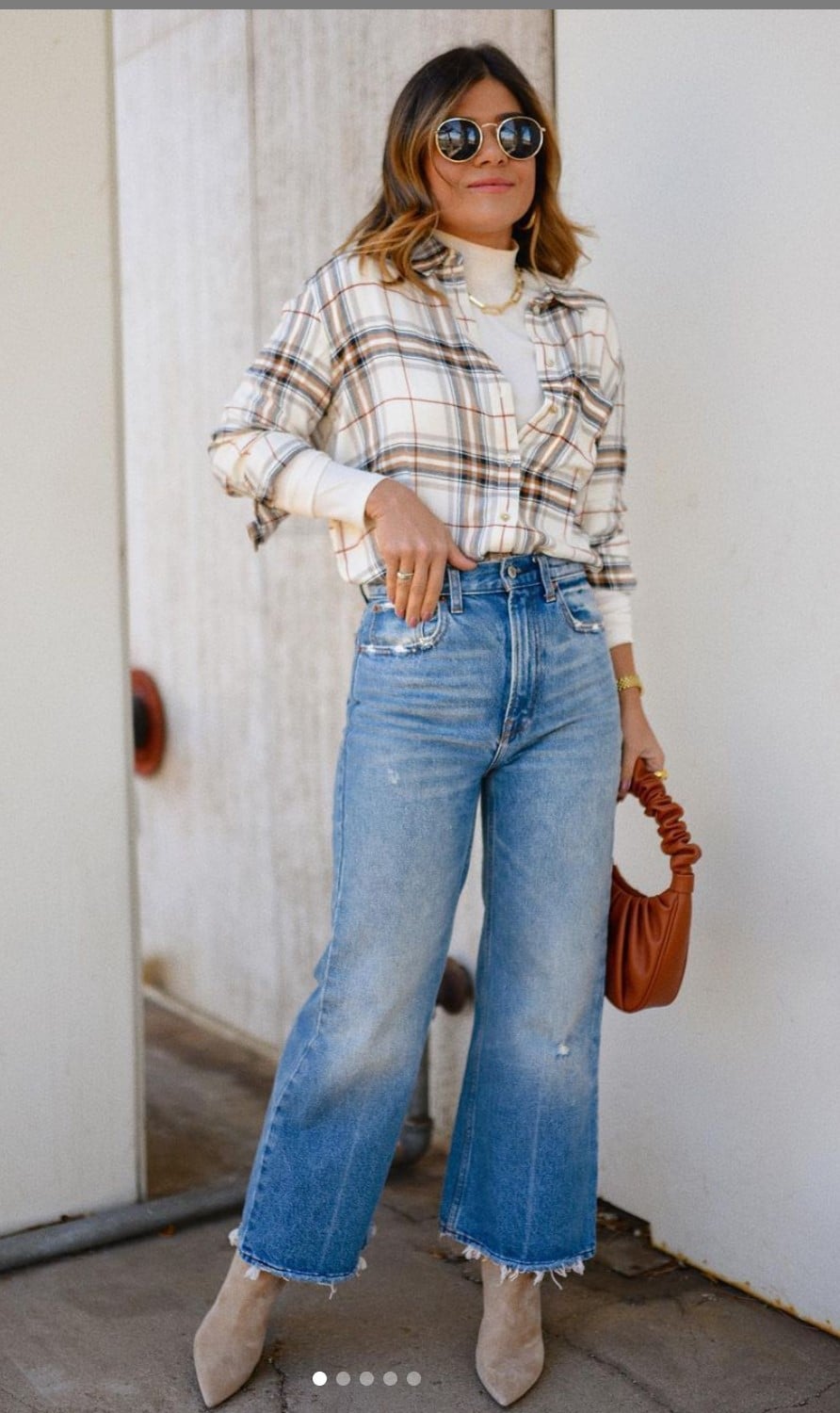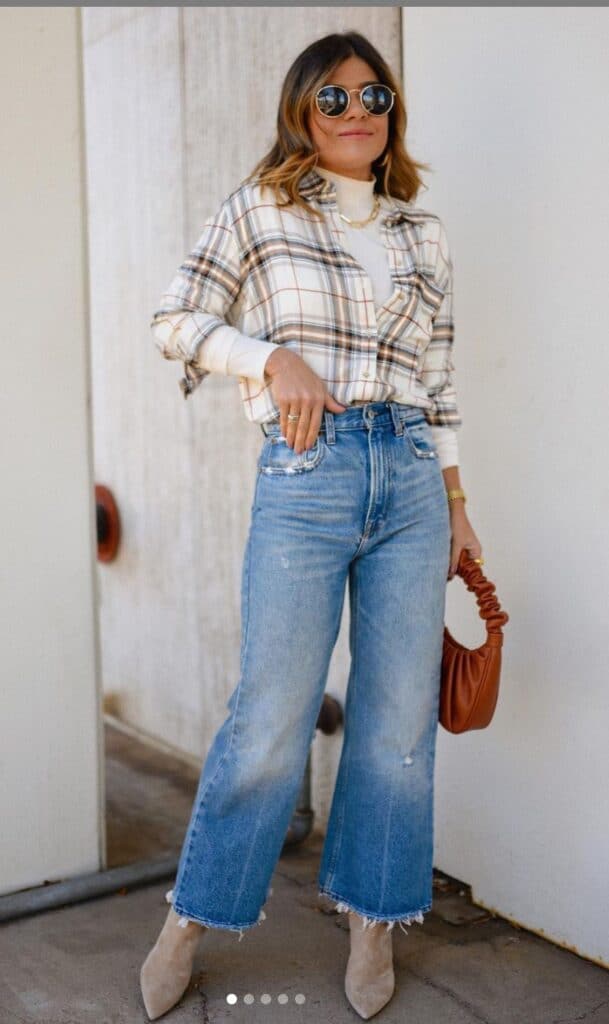 Chictalkch (above) wore a plaid shirt with wide leg jeans, and finished off the look with pointed toe suede booties, a chic and functional outfit for everyday wear that can be pulled off by women of any age.
With a skater dress
Skater dress with suede boots is one of the easiest casual outfits.
Skater dresses are one of the most flattering silhouettes, since they are very forgiving for women concerned about midsection bulge, wider hips or thicker thighs. Besides, they always make your waist look smaller and give you that nice figure that will make you more confident whenever you step out. They come in different prints, colors, designs and lengths, so you can have as much fun as you want with them. The silhouette also makes it easier for you to wear them with suede boots when it's cold outside.
You only need to make sure that the colors on the dress go with the color of suede boots you pick. Otherwise, you will love just how flattering your outfit will be.
With a shirtdress
If you want to look smart in a dress, then the best option for you is a shirtdress. These are ever so flattering. While they give a very professional look, they can be worn in different ways that can make them more casual and even event ready. A shirtdress will work with different footwear too and an example is suede boots.
You can top off the outfit with a trench coat, when the temperature starts to drop in the fall or spring.
This outfit combination will look great with or without any outerwear. As long as you pick the right colors, you will have a great look for fall or winter time.
With a maxi dress
Maxi dresses are also a preserve for spring and mostly summertime, because of how flowy and comfortable they are, truly perfect for the heat. However, you don't have to limit them to just these seasons. You can find different ways of making your maxis work when it's cold too. One way is to wear them with a pair of suede boots, as opposed to your usual sandals or slides.
You can also finish the outfit with a leather jacket ,which nicely tied her look together making it edgier. A tougher-looking or plain maxi makes more sense, but you can still pair your suede boots with your floral maxis or some in brighter colors if you like a more girlie look.
With a matching set
A matching set saves you so much time when you have to go somewhere looking all dressed up but can't seem to decide on what to wear or worse if you have very limited time. This is because the top comes with the bottom so you only have to think of the shoes. A good pair to go for would be suede boots in fall season or during winter.
You can also pick a matching set in pants style for a look with suede boots. With sets, you are not only limited to knits so feel free to play around with the different styles you can find them in.
With a midi dress
A midi dress is ever so classy, and will make you step out looking like such a lady. Midi dresses can be styled in a variety of fun ways, thanks to their length. One of the many ways to wear your midi dress is with a pair of suede boots.
You can work with midi dresses of different materials from tougher ones to the more delicate materials such as lace.
So, don't miss out on these amazing shoes. Suede boots will never go out of style, considering they can be worn with a lot of trendy pieces for the perfect outfit of the day. These ten ideas should inspire you to wear them more.
That said, there are more ways in which you can wear your suede boots aside from the ones highlighted above. The beauty of it is that you can pick even more delicate pieces such as silk or satin dresses, or tougher ones like camouflage and leather pants. All you have to do is play around with them more. Have fun trying out different styles with your suede boots. That way you also get the most value for the money you spent on them while you enjoy some amazing Instagrammable or photo-worthy outfits with them.