Sweater dresses are cute and feminine. They never run out of style and because of their knit material, they are flattering on women of any body shape and any age.
What should you wear with sweater dresses? Here's the 25 best outfit ideas for your sweater dress to ensure you look elegant and classy every time you step out in them.
With a coat
You can wear an over coat with the sweater dress for a polished look.
A coat is a must-have during cold weather, understandably because you want to feel shielded from the weather that can be harsh and uncomfortable. Coats also look very stylish and can enhance your look. They look great when layered over sweater dresses, espeically in colder months.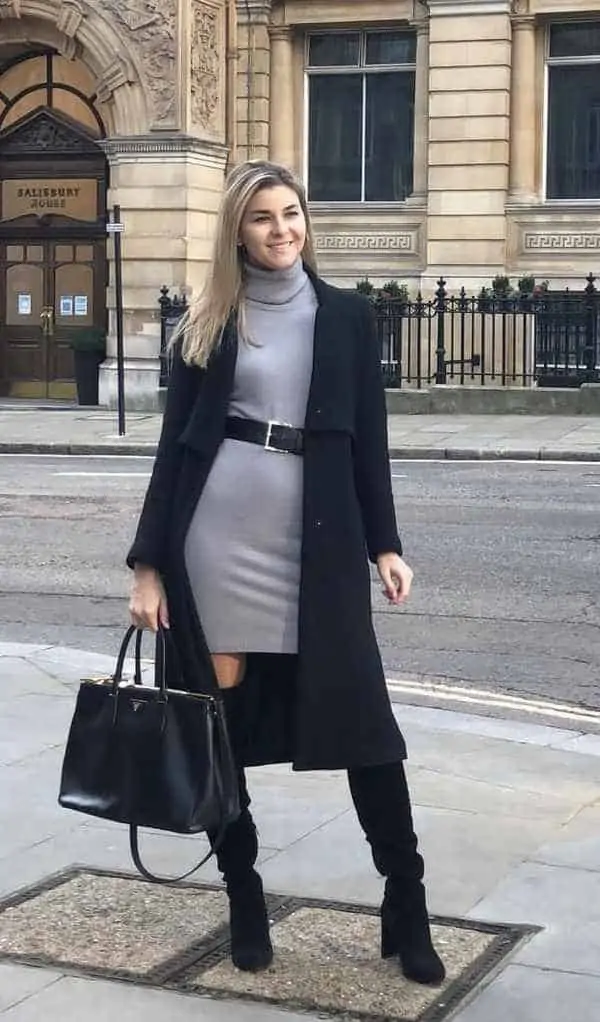 Marta (above) styled her grey sweater dress with some boots and layered a coat over the dress. Wearing a coat over your sweater dress is a good idea especially if your sweater dress is a bit on the shorter side. The coat will give you the extra warmth you need.
With a leather jacket
Leather jackets are those outerwear pieces that will serve you for a long time. They just never go out of style which is great because you get value for the money you spent on them. They can be worn with your sweater dress to add a touch of edginess to your already cozy look.
Taylor (above) wore a pink sweater dress with a black motto style leather jacket and a pair of ankle boots. Going for a black leather jacket in particular allows you to accessorize even further for this combination and makes your otherwise very simple outfit more interesting.
With a long cardigan
You can wear your long cardigan with a sweater dress too for a chic look.
A long cardigan always comes in handy if you want a cozy yet stylish outfit in the fall or winter. These can work for the early days of spring too before it gets warmer. Getting them in a duster length in particular ensures you have that third elusive piece that holds the entire outfit together. They are both knits so you will feel more comfortable and cozy in the two pieces.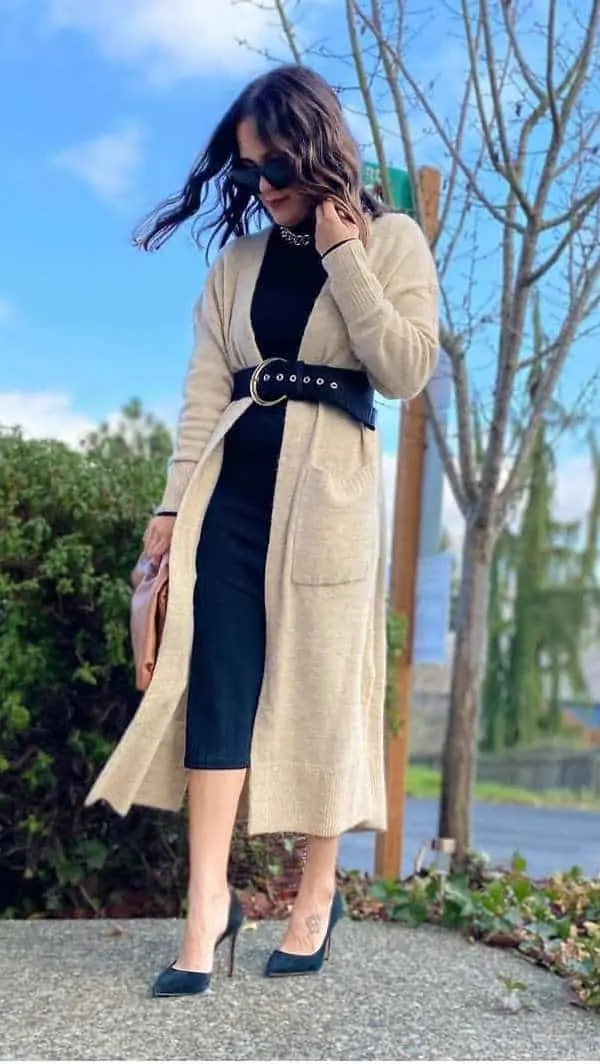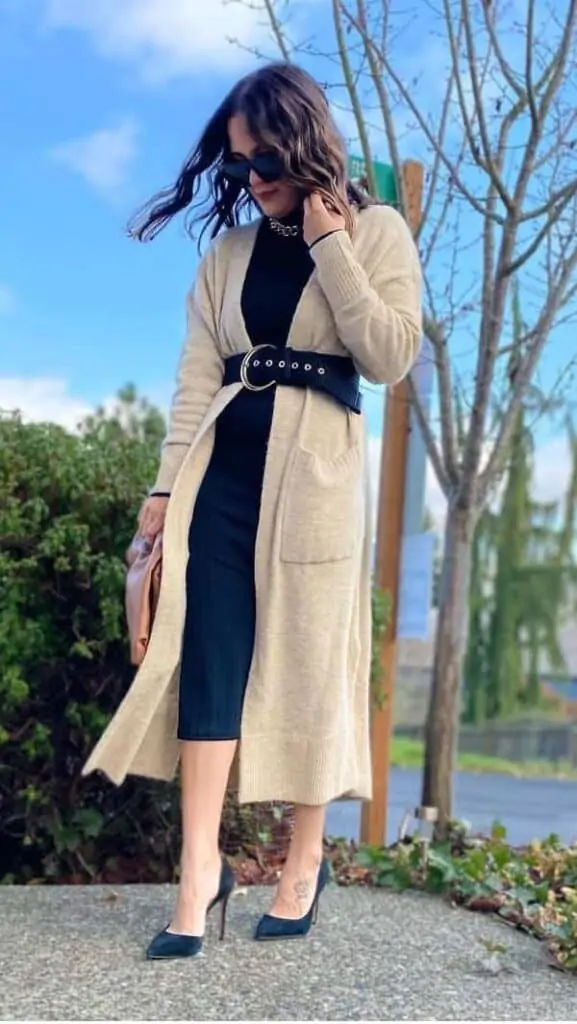 Jennifer (above) styled a black sweater dress with a nude color duster cardigan which she belted, then completed her outfit with a pair of stilettos. Belting your cardigan allows you to cinch your waist so that your figure is enhanced. You can always leave the cardigan looking flowy as belting it is not a must.
With some leggings
A creative way to wear sweater dress is to pair them with leggings and booties.
A pair of black leggings are usually the easiest way to ensure your look is still decent. There are several types and colors for leggings but black works best, as it allows the sweater dress to still be the focus of your outfit, plus, it goes so well with different colors and sweater dresses in a variety of prints.
This is a look that's so simple to wear, almost sort of like leggings and a t-shirt so anyone can pull it off on a casual day.
With a trench coat
Trench coats are the wardrobe staple not only stylish but also functional. They can be layered over warmer pieces, and can either be longer or shorter. One of the pieces you could wear your trench coat over to feel much warmer is a sweater dress.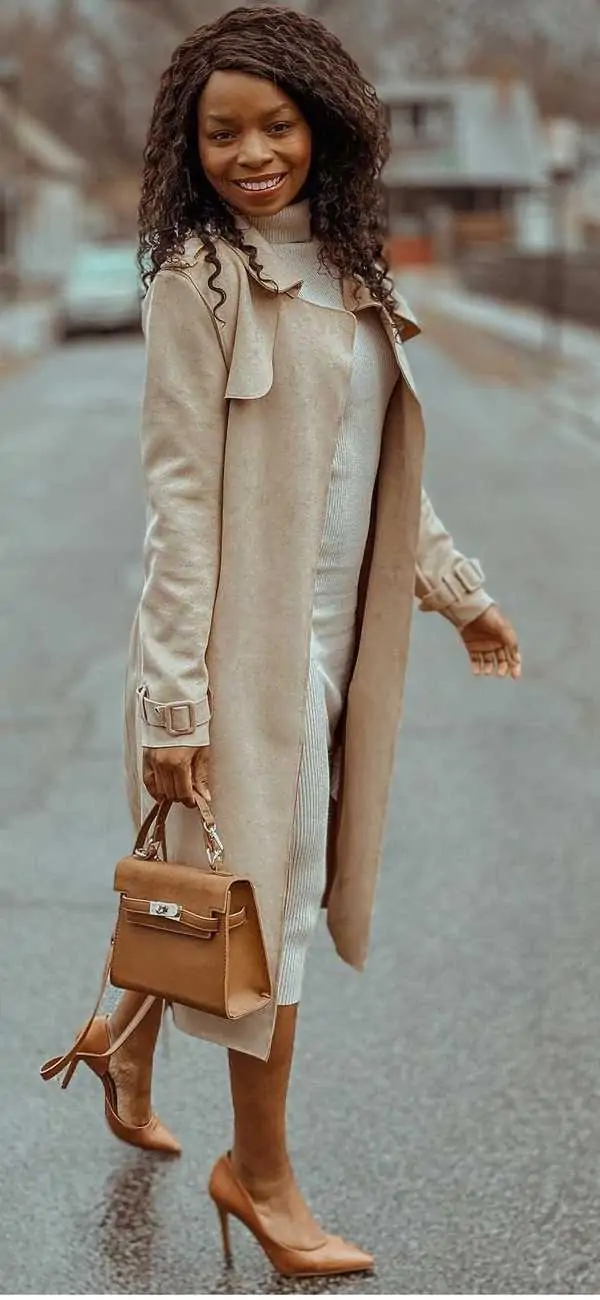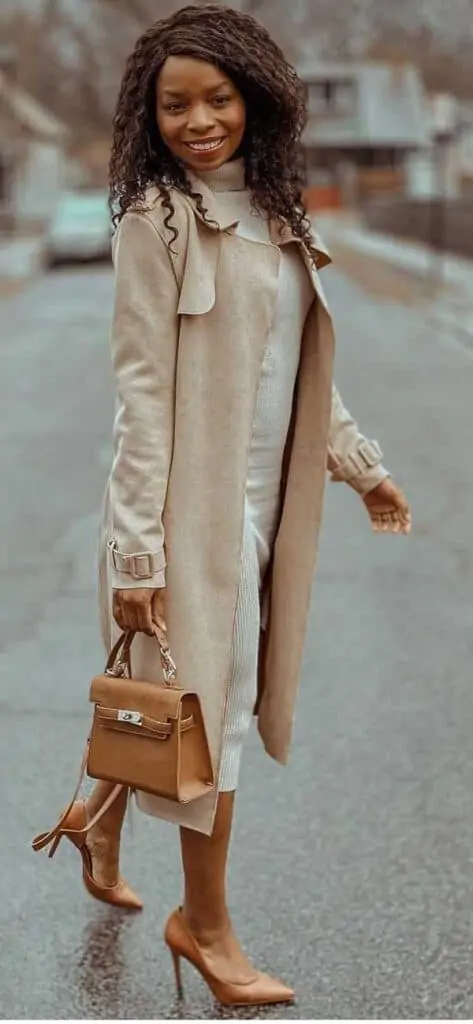 Payshaunce (above) styled her sweater dress with a trench coat in an almost similar color as the dress, giving the look a monochromatic feel. She went for a brown bag that matches her brown pair of shoes. Going for a monochromatic look is very chic but then you could pick a look with different vibrant colors for a fun look, just as long as the colors of the trench coat and the sweater dress go well together.
With knee-high boots
Sweater dresses look great when styled with knee-high boots.
Knee-high boots are great on colder days, and they are comfortable. They keep you warm during chilly months, and they can add a stylish touch to any outfit you wear them in. Regardless of the length of the sweater dress, they will look chic with a pair of knee high boots.
It's nice to pick a fit, cut or length of your sweater dress that allows the boot to be seen. After all, it is part of the outfit.
If your sweater dress is a midi dress, the best is to go with a side slit. However, you can pick a simpler dress as the boots will still make it look all dressed up.
With some ankle boots
When wearing a sweater dress, styling it with a pair of ankle boots is such a great idea as it will give you that youthful and edgy feel but you will still look so stylish.
Ankle boots are really easy to style because their length allows you to wear pants, skirts, and dresses of different lengths and styles. They are a great alternative to taller boots, especially during transitioning months if you don't want most of your leg covered by your shoe.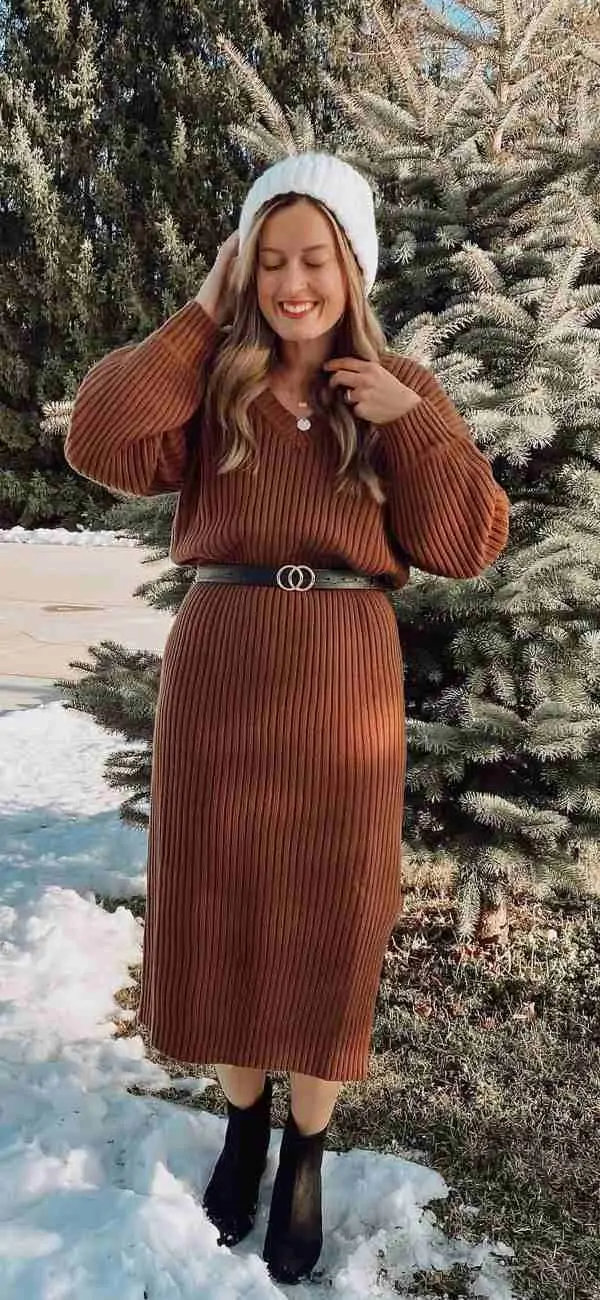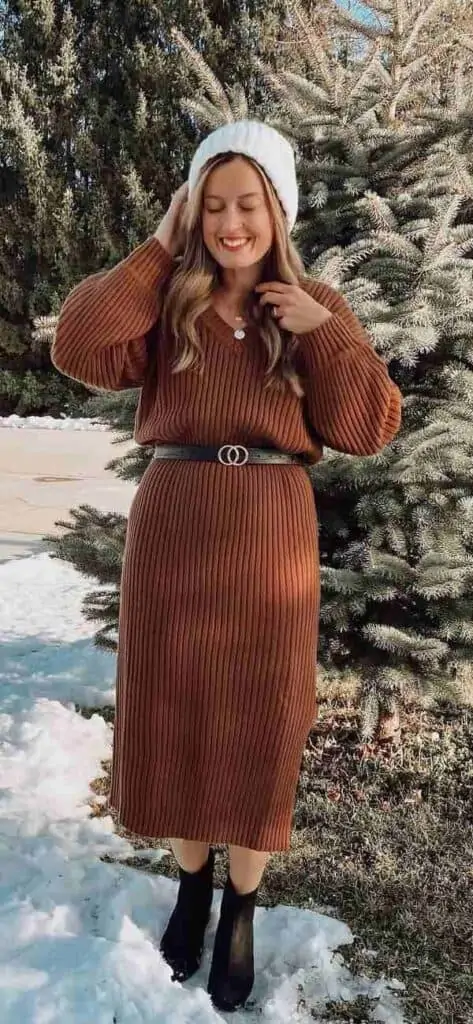 Krysta (above) styled her brown sweater dress with a pair of black ankle boots. Going for plain black ankle boots is the easiest way to get a great look as it's the most universal color. It coordinates with any color or design of the sweater dress you choose to wear.
With a denim jacket
Layering one over a sweater dress adds a nice casual touch to your sweater dress outfit.
Denim is perhaps the easiest material to wear, whether you go for a pair of pants, a skirt or a jacket. A denim jacket in particular flatters women of all different figures and ages, and the best part is that your denim jacket will never run out of style.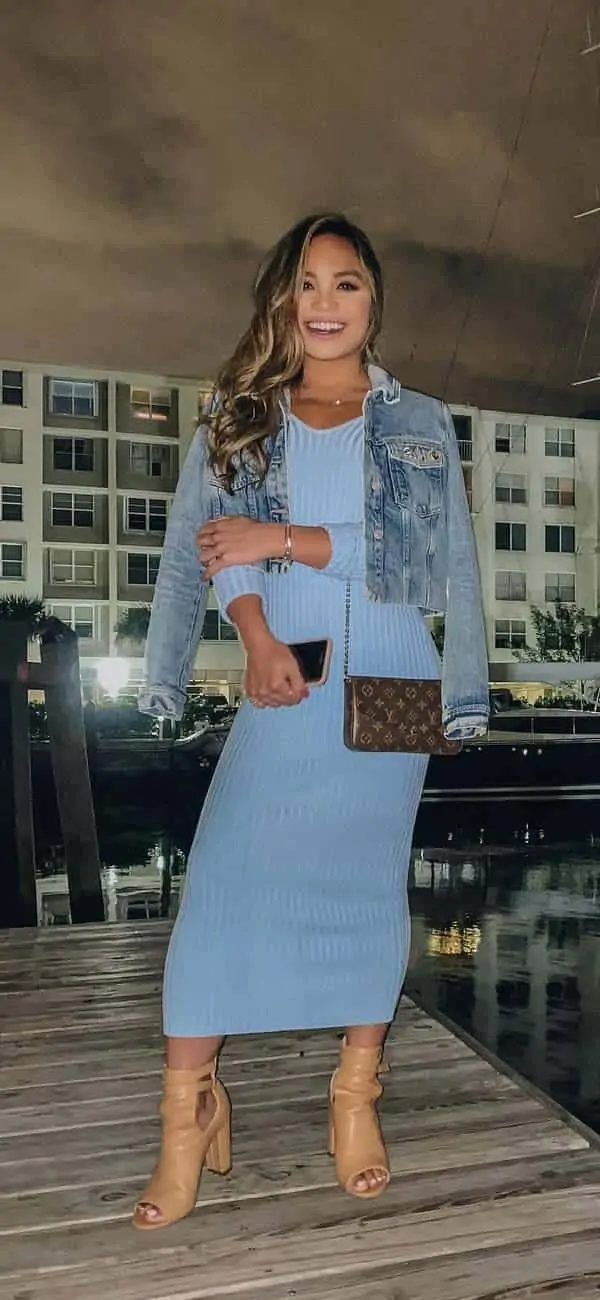 Carina (above) wore her blue midi sweater dress with a blue denim jacket and completed the look with a brown pair of shoes. You can wear a cropped denim jacket for a cleaner look but if you want your outfit to have a more casual feel, you can wear a slightly longer one or size up and pick more casual shoes for the sweater dress look.
With loafer mules
You can style loafer mules with your sweater dress for a casual chic look.
Different types of loafer mules are very much on trend for the past couple of seasons. The fact that they are flat and closed at the front is what makes them even easier to wear. Wearing them with your sweater dress is so cozy.
Queencarlene (above) styled her simple and plain sweater dress with a pair of loafer mules. Her mules have some fur on them, making them cuter and cozier.
If you're not a fan of going extra with your footwear, you can always go for plain loafer mules instead. With this casual outfit, you can go for a crossbody bag and a hat but if you want it to look chicer, pick a more structured and slightly bigger bag.
With leopard print heels
A pair of leopard print pumps is the best choice if you want to make your sweater dress outfit look more formal. Pointed closed heels in particular are simple yet sophisticated in design.
You can have fun while wearing pumps with your sweater dress. How? Well, choose any any prints. You could pick an animal print, polka dots or any other pattern you love.
Theultimatefashionista (above) styled her turtleneck sweater dress with a pair of leopard print closed heels. She accessorized with a brown hat and everything else brown.
If you choose printed shoes, it's worth going with a plain dress and to keep everything else simple so that you have a balanced look.
With a blanket scarf
A blanket scarf can easily be thrown over your sweater dress when it gets colder.
In colder days, sometimes you want to throw on a poncho or a scarf over your look to feel warmer. A scarf is a great idea and they come in different styles, of which a blanket scarf is one of the warmest. They are cozy and lighter than some coats so you will feel very comfortable with one on.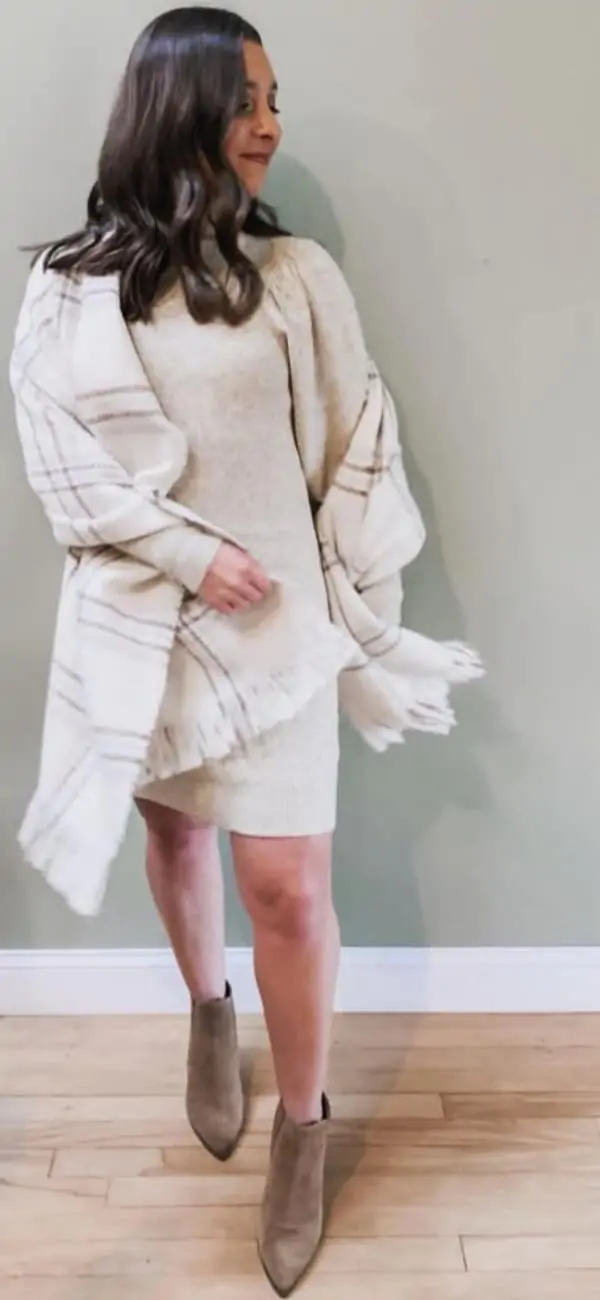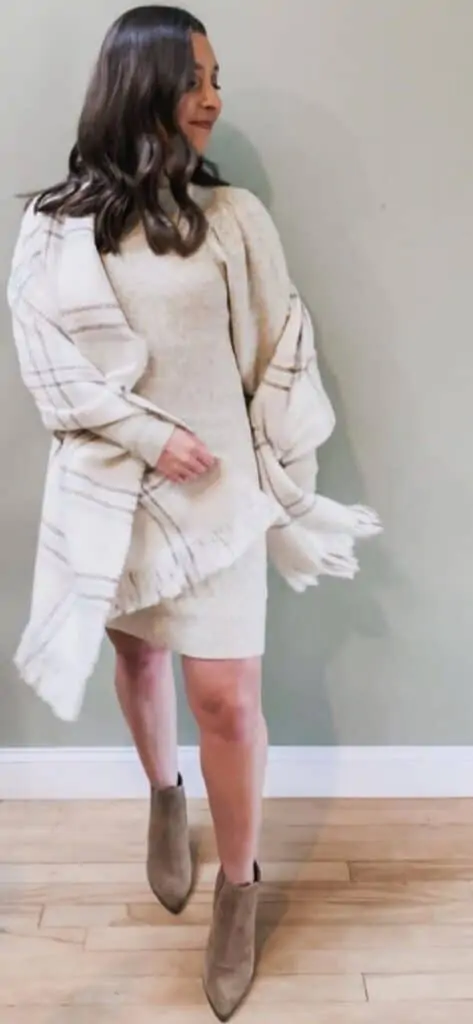 Kaitlyn (above) styled her sweater dress with a pair of ankle boots and then threw on a white printed blanket scarf to finish off her look. Going with a blanket scarf in a color almost similar to your sweater dress is the easiest and safest way to go. If you pick a printed one, it will look better when the color of the dress can be found on the scarf's print or pattern.
With a white button-down
A white button-down shirt is a wardrobe staple, considering just how versatile it is. When worn with different bottoms such as skirts, jeans or trousers, it gives you a smart look. It can also be layered under a sweater dress to give you a preppy outfit.
Yulia (above) wore a grey sweater dress with a pair of knee-high boots. She layered a simple white button-down under the sweater dress. This makes for a great combination for work during fall season, definitely something you should try out. You can switch up the boots with a pair of closed pointed heels or go all preppy by wearing some brogues instead.
With a suede jacket
You can wear your suede jacket with a sweater dress.
The suede material is so soft and contrasts well with any other fabrics you might choose to wear such as denim and knits. These jackets are available in different lengths, but most people prefer the cropped, motto style.
Samantha (above) styled a grey midi sweater dress with a grey suede jacket in motto style. Her look is pretty monochromatic and easy to put together.
You can pick two contrasting colors that go well together. However, if you aren't too certain and want to play it safe, pick a black suede jacket to wear with your sweater dress.
With a matching cardigan
Wearing your sweater dress with a matching cardigan means you get a matching set. Yes, they are not just limited to tops and bottoms, as you can get a dress with outerwear and well. A sweater dress and a cardigan is as cozy as it gets for a matching set.
Michelle (above) wore a sweater dress with a matching cardigan. She went for a simple white although you can get your matching set in different colors or even prints. It's a combination that can be worn in a casual way with sneakers or dressed up with heels.
With tights
You can wear a pair of tights with a sweater dress in cold weather.
Dark tights have been worn by women of all age for years for many different reasons such as, to get them some extra warmth, or to make their legs look leaner or longer. Dark tights can also add a touch of sophistication to your outfit, especially if your dress or skirt is shorter.
Susan (above) styled her sweater dress with a pair of dark tights and some booties. This is a great look to go for when it's cold outside and picking dark tights over any other color is the best decision as they go with just about every color of sweater dress you will pick.
With a vest
A vest can also be layered over a sweater dress to make your outfit less plain.
A vest is a great layering piece, whether you go for a vest that looks more like a blazer or one that mostly resembles a jacket. They also come in different lengths. You can choose one that flatters the kind of look you are going for on that particular day.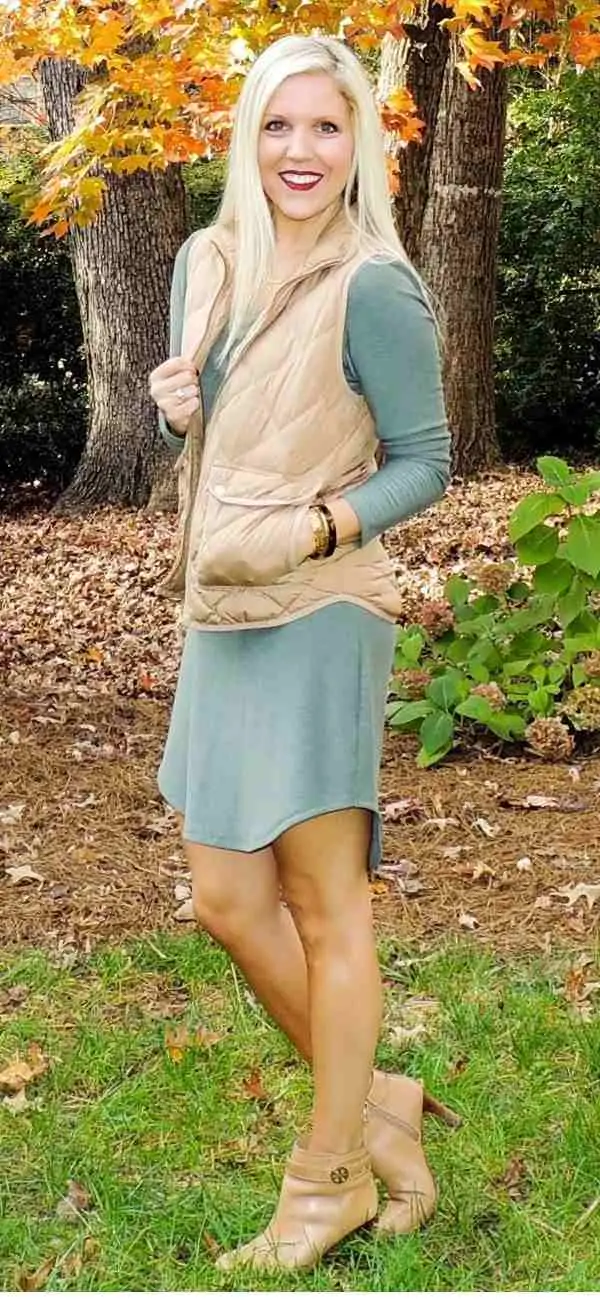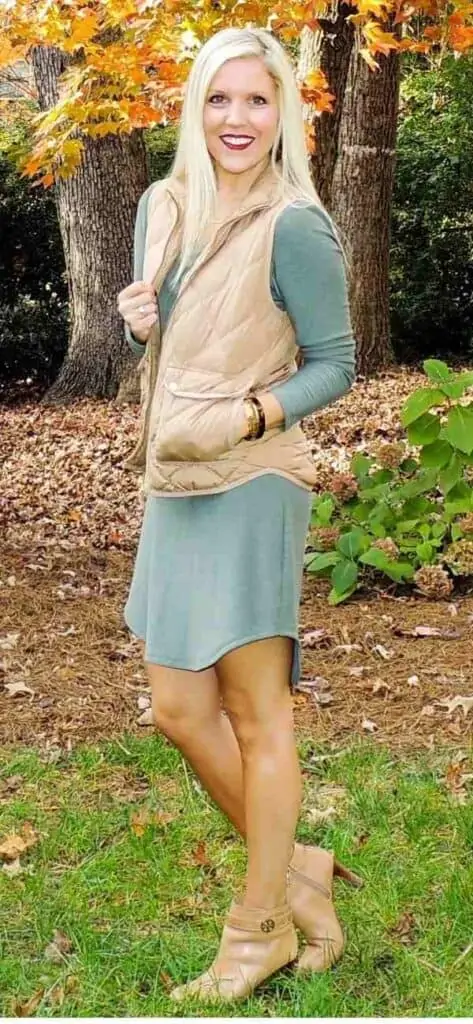 Kristie (above) styled her grey sweater dress with a pair of boots and then layered a vest over her outfit. She went for a jacket style vest making her outfit more casual. It's also worth keeping the color of your dress in mind when you're picking the vest.
With tweed boots
Tweed is known to be chic and it stands out. These tweed boots can be worn with your sweater dress for the ultimate fashion-forward look.
It's common to find boots in leather or suede, but these are not the only materials you can get boots in. You could go for a unique style such as a pair of tweed boots that will make your outfit stand out even more.
It's a chic look because of the tweed and also the length of the dress. The midi length might not be the easiest for most women to style but it certainly gives you a classy look when worn right.
With nude sandals
You can style a light weight sweater dress with a pair of strappy nude sandals, a great outfit for the transitioning months either in the spring or the fall.
With a pair of clear heels
Clear heels have really grown in popularity recently and lots of ladies are investing in them. They come in different styles but regardless of the ones you go for, they will make your legs look longer, which is great. Another good thing about a pair of clear heels is that you can wear them with anything including sweater dresses in different colors since the heels are clear anyway.
This is a simple look but so instagramable as it's very trendy. The heels make the long sweater dress outfit cleaner and classier.
With slingback shoes
Slingback shoes have become very popular, with a lot of choices in different designs and colors. Trendsetters and models are often be spotted in them, considering they look very stylish. They can add a touch of sophistication to your sweater dress outfit in the simplest way.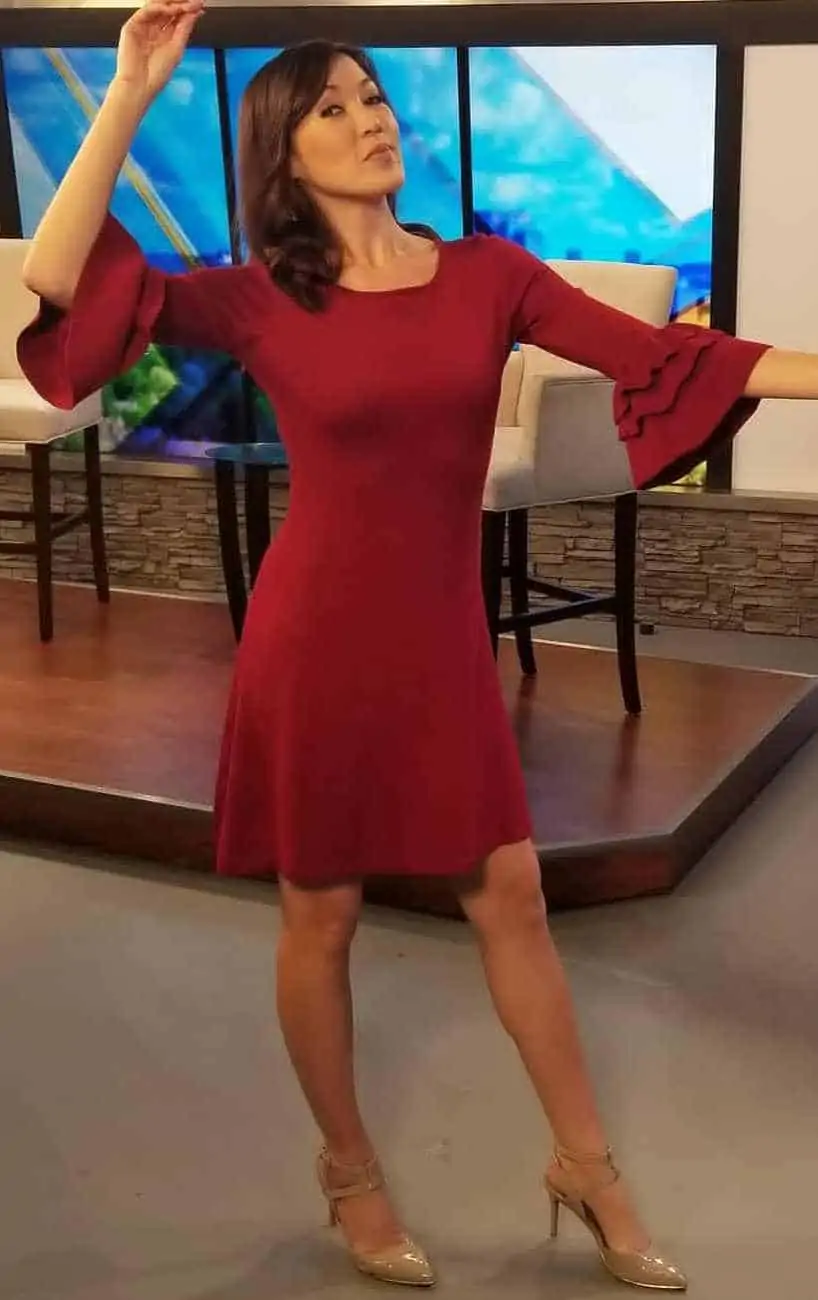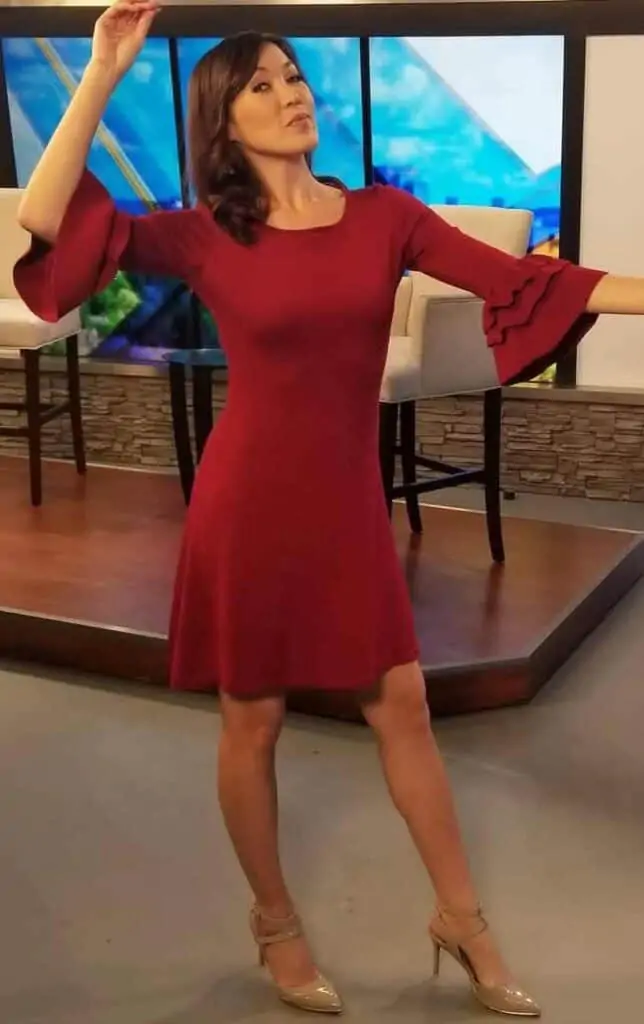 Erica (above) styled her bell-sleeved sweater dress with a pair of nude slingback shoes. The nude shoes generally allow you to play around with the color of your dress.
You can pick bell sleeves, cold shoulder, and any other cut for your sweater dress, as the shoes are simple but stylish.
With a pair of sneakers
Sneakers are a must-have, as they are the most casual shoes you can wear that will look stylish with anything. Sneakers can be worn with skirts, dresses and pretty much everything you can think of. Among the types of dresses that will look amazing with a pair of sneakers are sweater dresses.
Brooke (above) styled her turtleneck sweater dress with a pair of white sneakers and went for a brown bag. It's a simple outfit that looks so dressy. White sneakers in particular can be worn with everything you can think of.
With strappy heels
Strappy heels are great for making your outfit dressier especially if you are stepping out headed to a more formal environment. They are minimalist and can easily be worn with different type of outfits. One great way to style them is with a sweater dress. Sweater dresses can be a bit chunky and heavy-looking sometimes, so these shoes tone the look down a bit but at the same time dress you up more.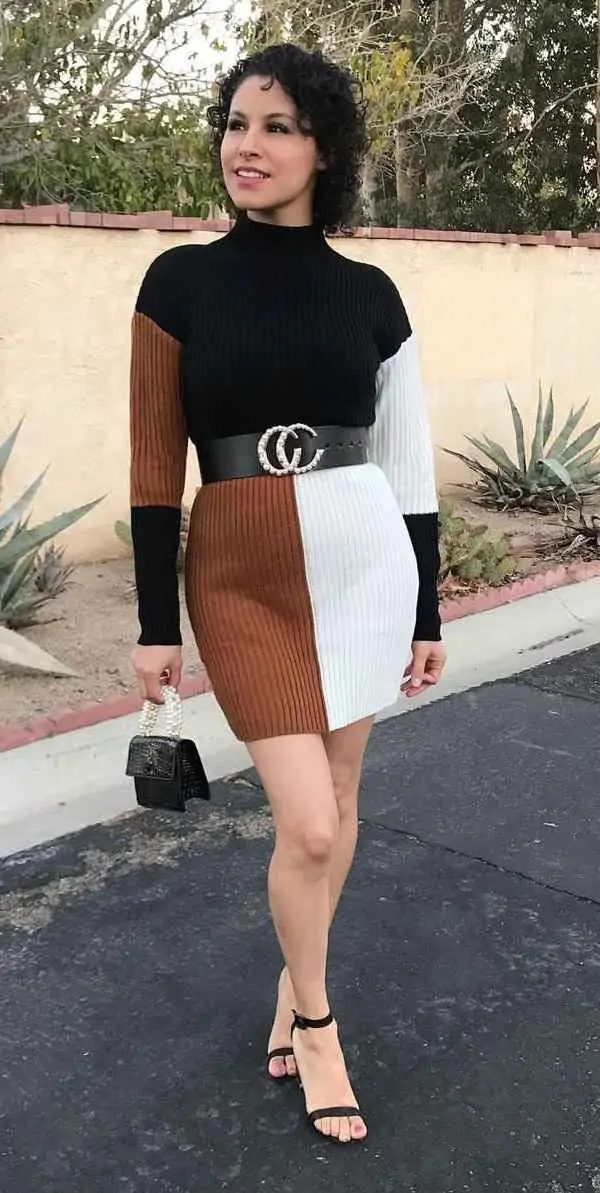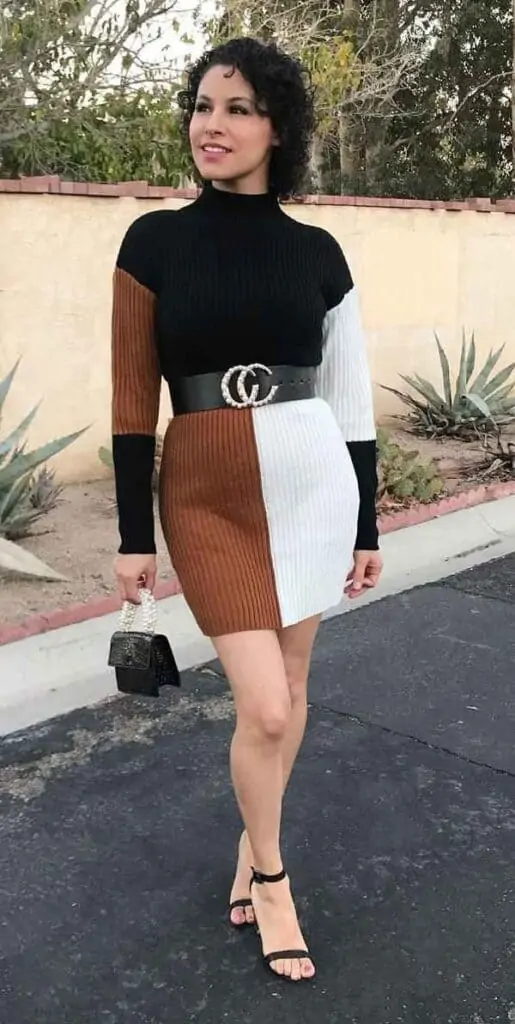 Ana (above) styled her sweater dress outfit with a pair of black strappy heels. Choosing a pair of black strappy heels allows you to pick the sweater dress in different colors and prints. It's the simplest color to style although you can always play around with others depending on the color of your sweater dress.
With combat boots
Combat boots are a good option if you're looking to achieve a cool and youthful outfit. They are mostly comfortable especially if you pick flat ones. Combat boots, when styled with a sweater dress, gives you the best fall look. This can also work for winter times when you layer something heavier like a coat over your outfit.
Rebecca (above) wore a nude sweater dress with a black pair of combat boots and accessorized with a simple bag. For this outfit, you can always layer a pair of tights underneath the dress if you want an edgier look or if you feel like the dress is a bit too short. You can also go for a longer dress instead.
With matching shoes
For any outfit you wear, finishing it off with a pair of matching shoes is the surest way to ensure you look great. So, if you wear a sweater dress and are not too sure what color of shoes to go for, better pick a pair in its exact color if you have them. It will also make you look chicer and makes the outfit look more expensive than it actually is.
This is a great way to elevate a sweater dress look, which can sometimes be very simple. Doing this will give you a look fit for an event in the fall weather or a brunch. It could also have you office-ready depending on the cut of the sweater dress and the style of shoes you decide to go for.
With block heels
When you go for a pair of block heeled shoes, you get a more comfortable option. These allow your feet to air, and your heels feel less pressure, or none at all, even if you have to stay up on your feet for longer hours. These too look amazing, when worn with sweater dresses. You just need to pick them in a flattering color that goes well with your sweater dress.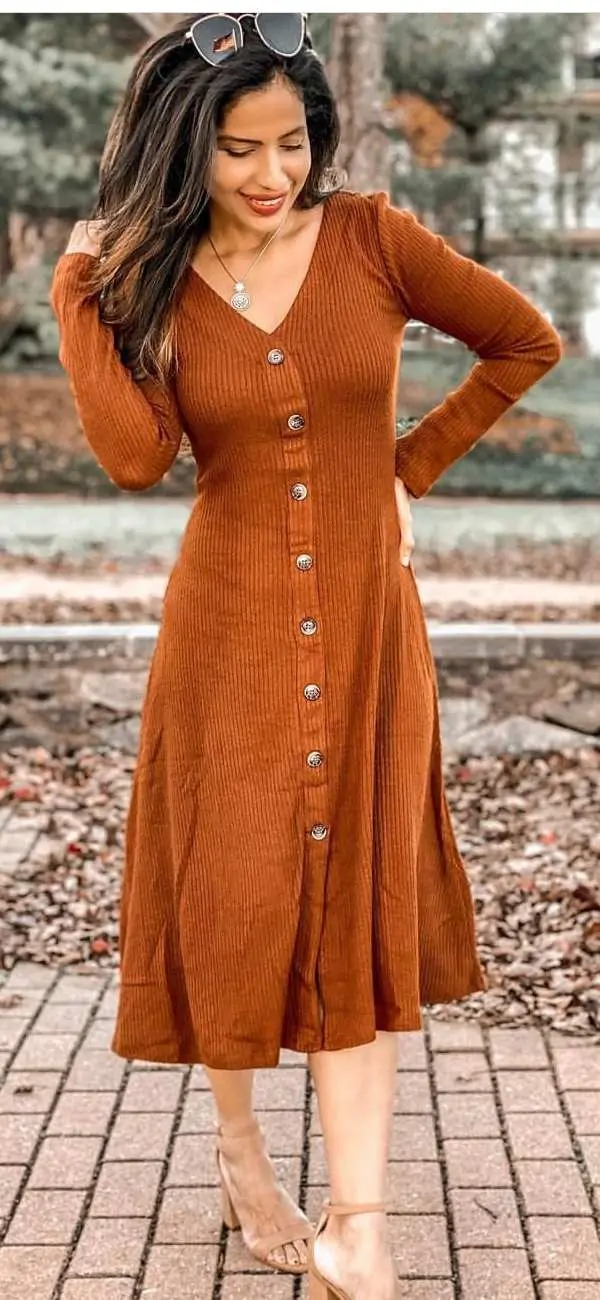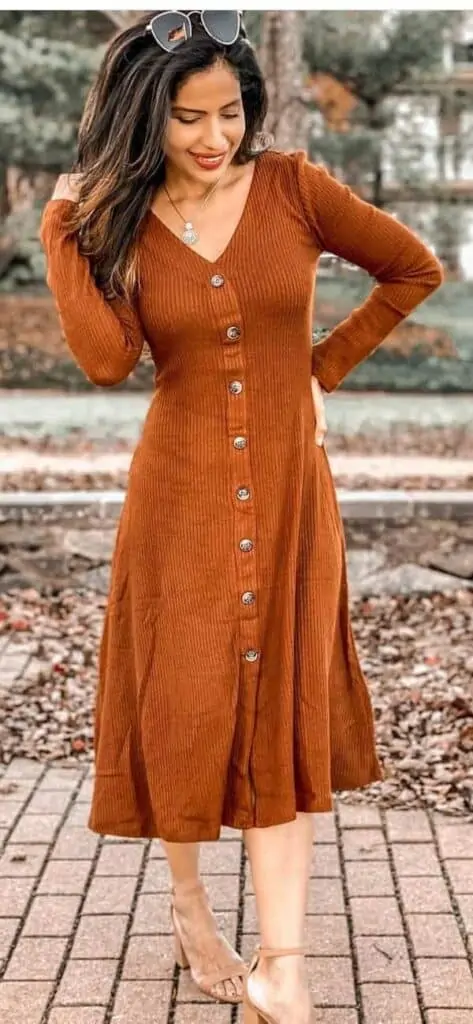 Zee (above) styled her chunky open heels with a skater style sweater dress. It's a simple outfit considering the shoes are in a nude shade and the dress is in the ever forgiving skater silhouette. This therefore brings focus to the waist and is more flattering.
From these 25 ideas, you can see that a sweater dress is easily one of the hottest pieces for fall and winter.
A sweater is one of those wardrobe pieces that are highly functional because you can count on it to feel warm on colder days, but you can also count on it to have you looking stylish at the same time. That said, you can get even more warmth and coziness by going for a sweater dress in the colder months.
They are stretchy and because of this, you will feel very snuggly while wearing them. They also come in different chic, stylish and trendy designs. You can get your sweater dress in a skater dress style if you want more attention around your waist. They are also available in more fitted cuts that will hug your body from the top to the bottom. You can also pick one with a v-neckline, a cold-shoulder, or an off-shoulder design. They are available in asymmetrical hemlines whether you pick a shorter one or a longer one. This means you can have as much fun with your sweater dresses as you want since there are no limitations to the designs you can pick when it comes to them.
They will have you looking fashion-forward and you don't have to freeze and shine while in them since they keep the cold away. They are also easy to find as you can get them at different stores in the mall. Better yet, why not thrift for them if you want a couple for a cheaper price. Always ensure the fit is right for you considering these sweater dresses can be quite stretchy. You don't want to have yours bulging awkwardly. Try these pairings. You'll have so much fun with them.