Denim is one of the most comfortable and easy-to-wear fabrics. The best part is that it suits all ages and body shapes. A denim skirt is a great piece to add to your closet as you can style one in so many ways. Here are some of the best outfit ideas on what to wear with your denim skirt:
With a trench coat
Trench coats have been around for a long time, and remain popular particularly in the colder months. That is quite understandable because they are a classy and stylish wardrobe staple, which can be worn over a number of things including a denim skirt.
Wearing a trench coat with denim skirt is an outfit not only functional, but also versatile. If your denim skirt is a bit on the shorter side, then you can wear a longer trench coat for more coverage.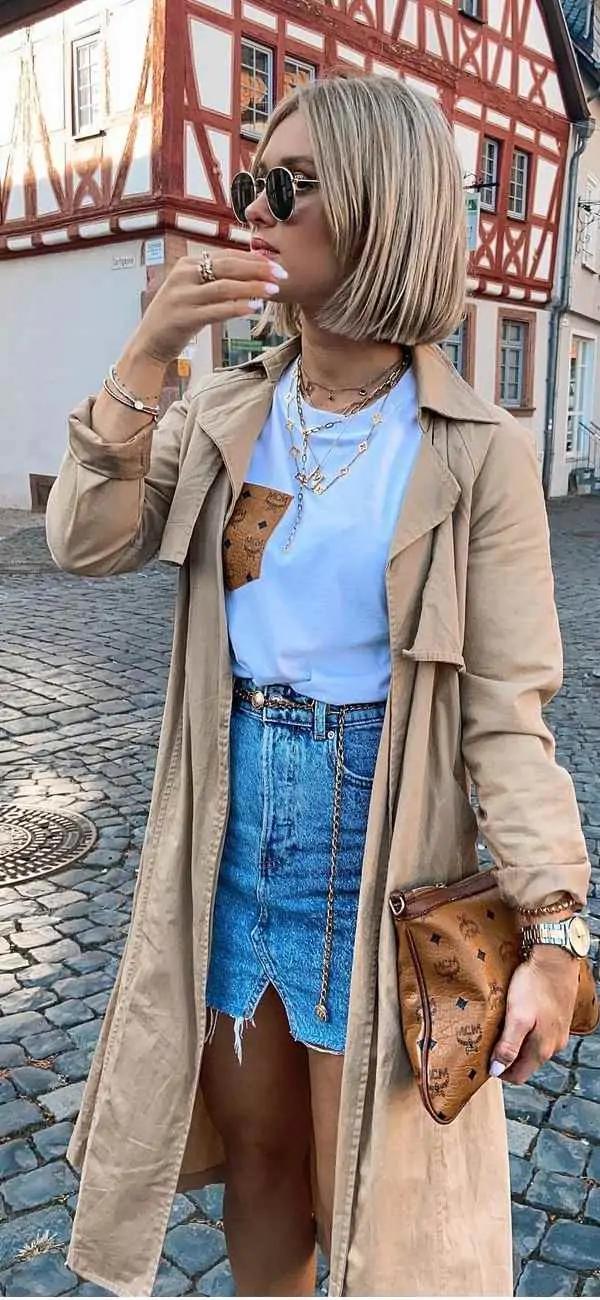 Danielle (above) styled her denim skirt with a trench coat and a t-shirt.
A denim shirt
You can easily style your denim shirt with a denim skirt. It gives that girl-next-door outfit when worn with some sandals or converse.
A denim shirt is an easy top item of clothing to wear and can easily be dressed up or down. It makes for the ultimate casual piece regardless of what you wear it with.
This denim skirt outfit can look more polished, if you go with a pair of ankle boots or high heels.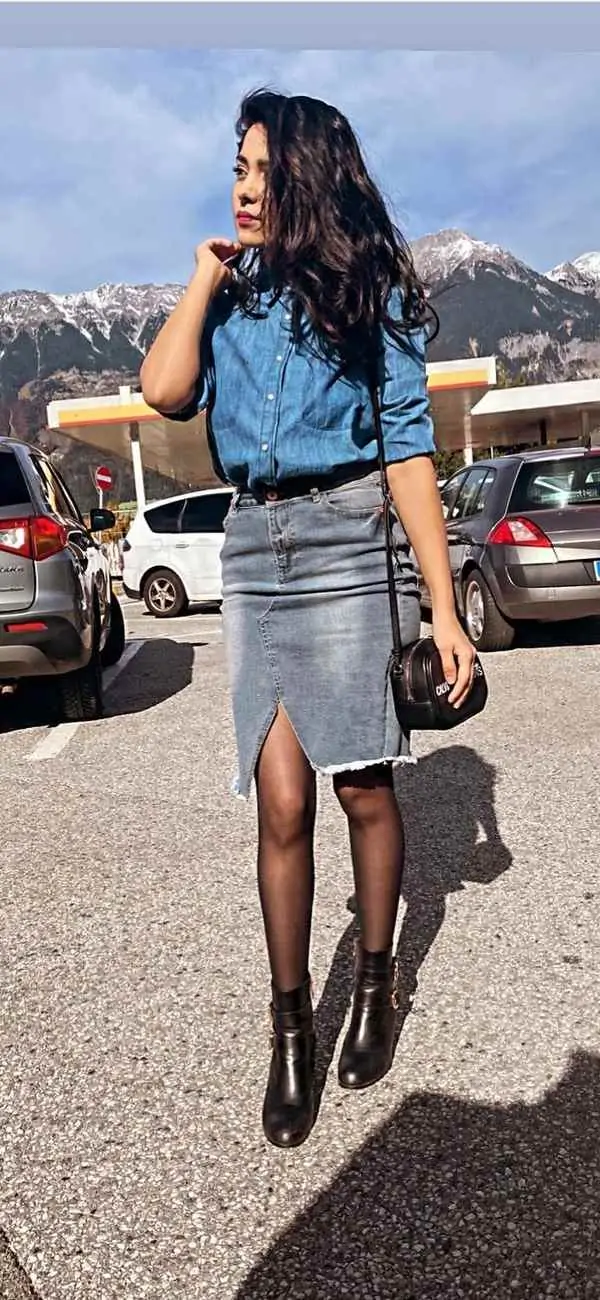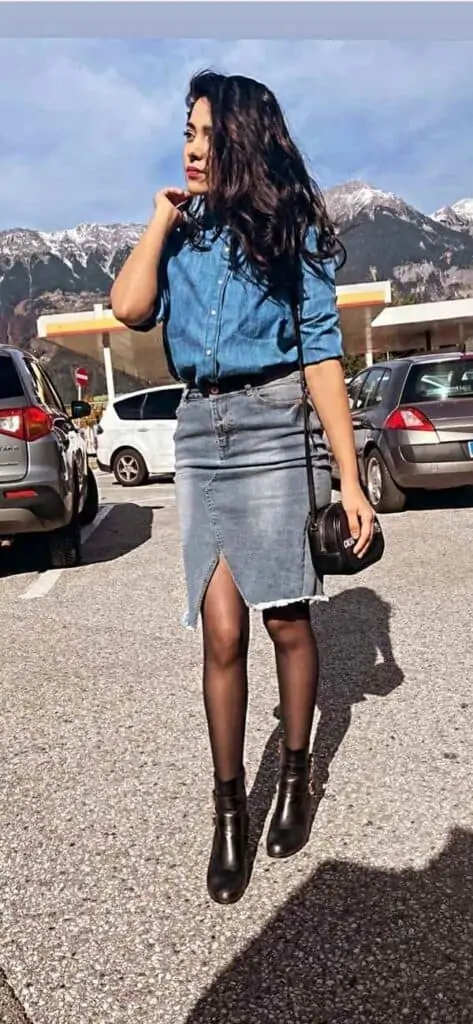 Meghna (above) styled her denim skirt with a denim shirt and some boots. Boots are a great way to dress up this simple look aside from just heels, plus they're more comfortable.
A tank top
You can wear your tank with a denim skirt for a relaxed and casual outfit.
A tank top is great to wear out when it's hot, and is a simple piece that can go with all types of bottoms. Your choice of denim skirt can be any shape, such as straight, fitted, or flared skirt, because tank tops are minimalist and literally goes with everything.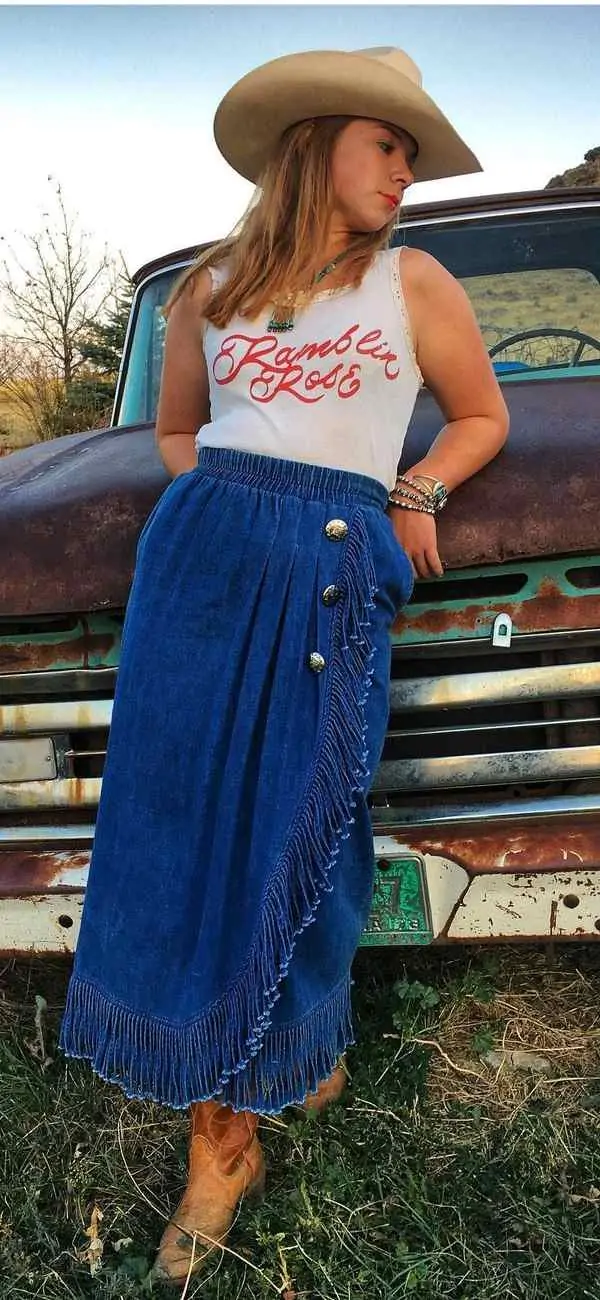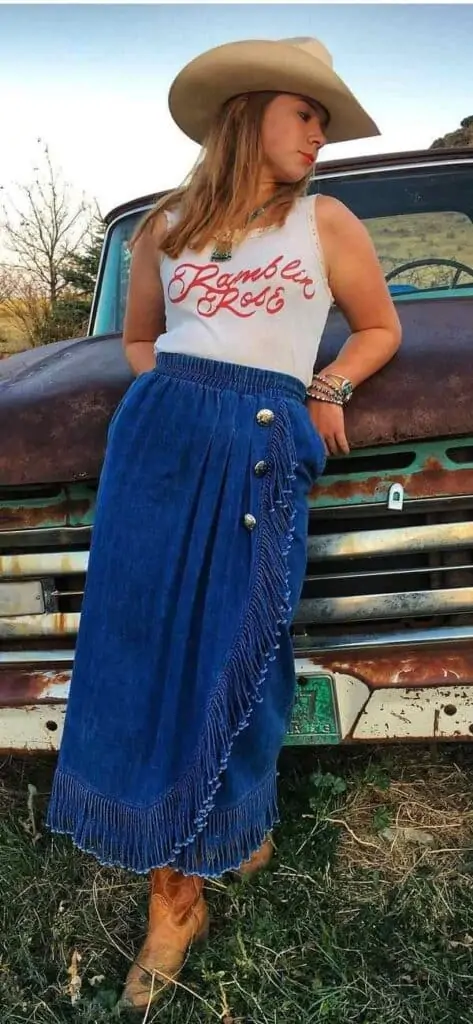 Kenzie (above) styled her fringed denim skirt with a simple white tank with a message on it. Denim skirts do not have to be short or knee-length.
With a trendy top
There are plenty of different trendy tops, from off-shoulders, cold-shoulders, to some with halter necks and others strapless, the list is endless. They come in handy on days when you want to wear your denim skirt, but a simple t-shirt just won't do it for you.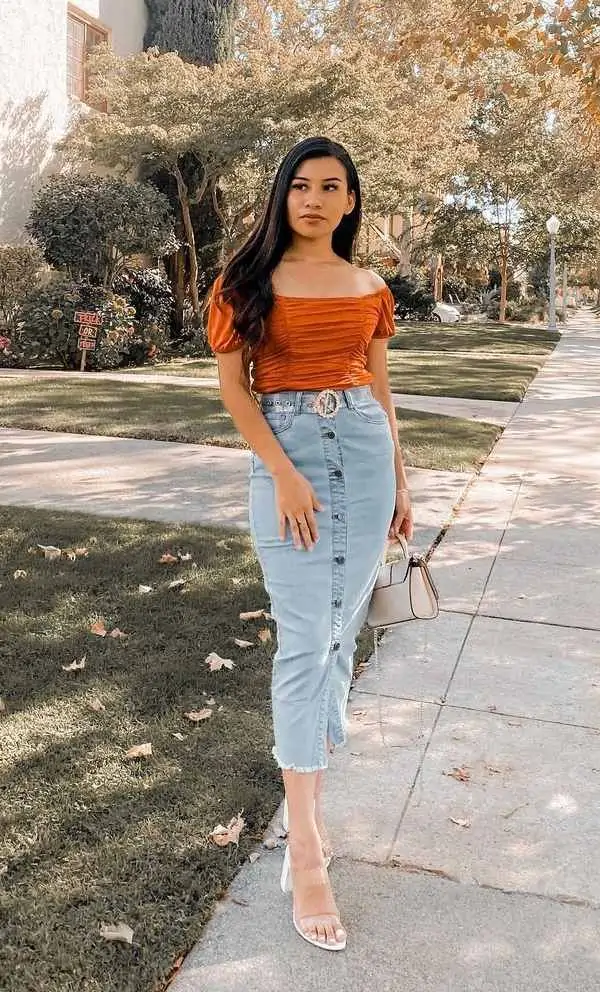 Kenia (above) styled her midi denim skirt with an off-shoulder top and a pair of clear heels.
Whichever style of top you go for, make sure it balances well with the cut and length of your denim skirt.
With a graphic t-shirt
Wearing denim skirt with a graphic T-shirt is a fun and laid back outfit.
A graphic t-shirt is a great way of saying what you feel or think through clothes. They also go with a lot of denim pieces including a denim skirt. This pairing is great if you want to easily stand out from the crowd.
If you'll be wearing a long denim skirt with a graphic tee, pick a t-shirt that fits you properly, which will give a balance to the look.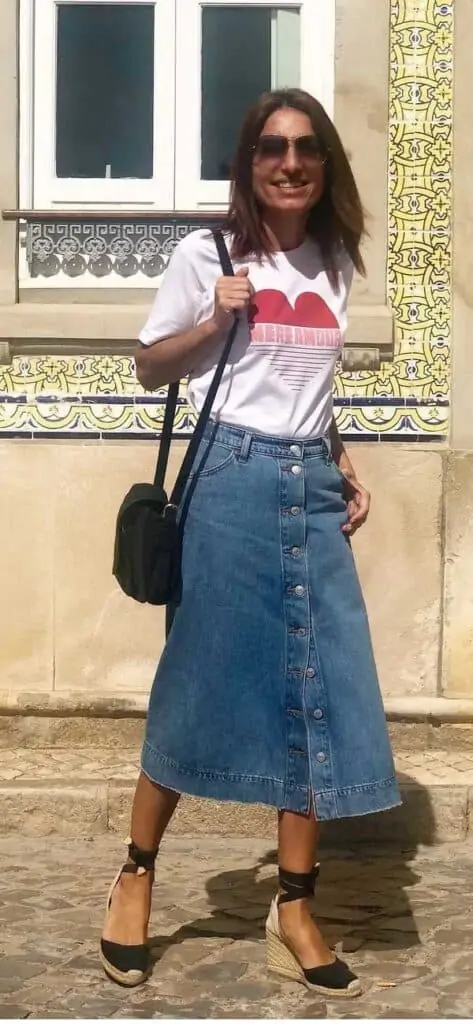 Tia (above) styled her white graphic t-shirt with a midi denim button-down skirt and some espadrilles.
With a blazer
A blazer can add the polished finished touch to a denim skirt outfit.
The best way to wear this look is to find a structured blazer that fits you right. It goes with different pants and skirts, including a denim skirt.
A blazer easily makes your look more elevated.  Wearing one is an easy way to make any outfit, regardless of how casual it is, look more dressed up.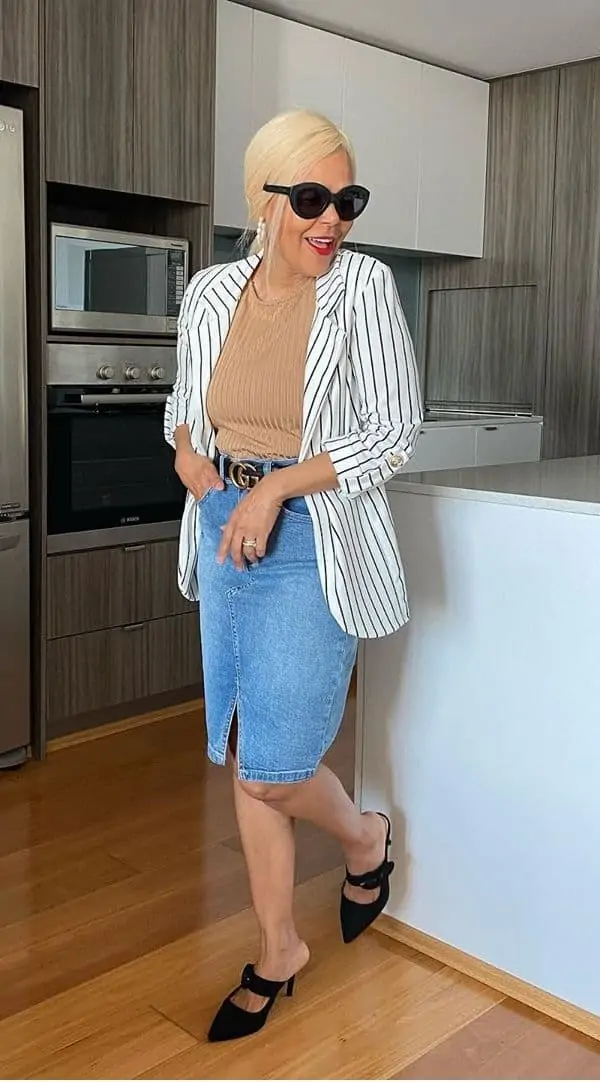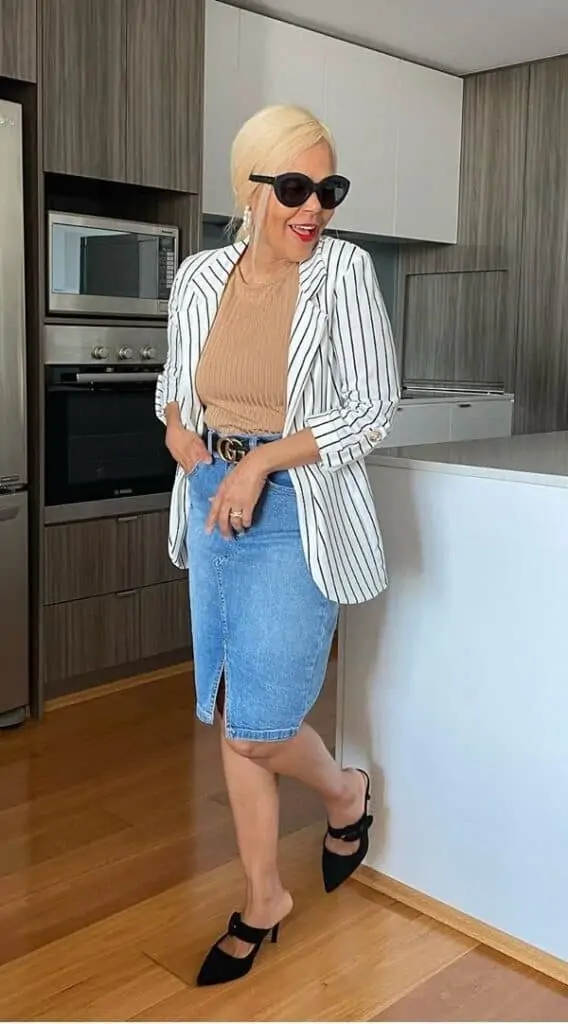 Zilla (above) wore her striped blazer over a top tucked into her denim skirt.
This is a pairing that works for brunch, for an event, and even the office on a casual Friday, just as long as you pick a pencil style skirt.
With a white t-shirt
A white t-shirt is a piece of clothing that will just never let you down. It's versatile and can be styled with your denim skirt.
White t-shirt with denim skirt is the go-to outfit when you need something comfortable but are unsure of the direction to go. Regardless of the skirt's design, you can never go wrong when you wear it with a white t-shirt.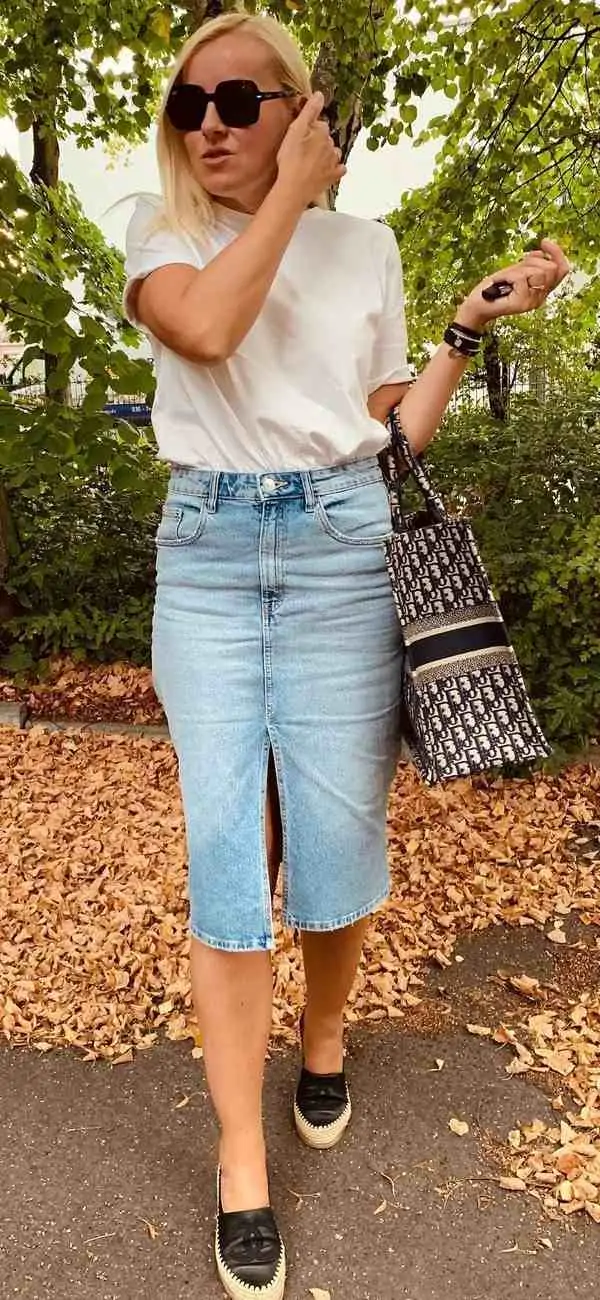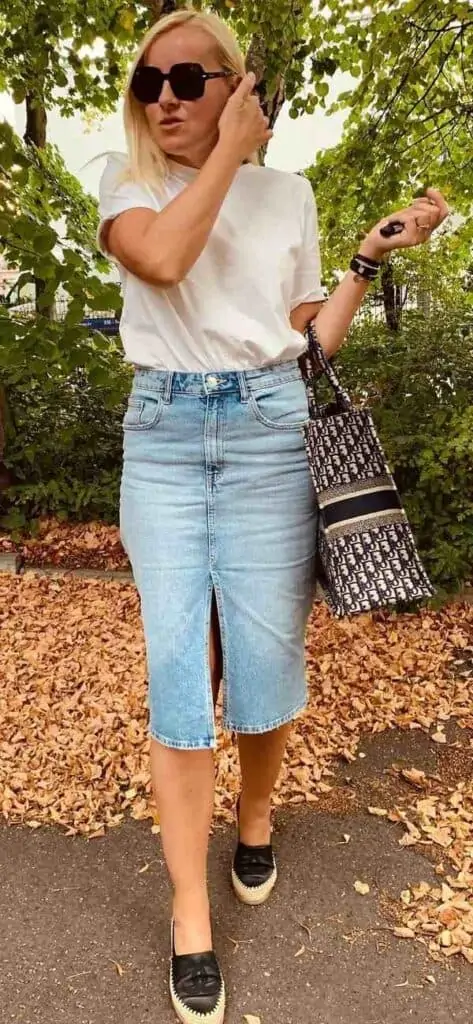 Romy (above) wore her denim skirt with a white t-shirt and a pair of simple slip-on shoes.  
When you choose to go for a simple denim skirt with your white t-shirt, you can easily go for more statement accessories or pieces.  You can also play around with their colors as white is simple and coordinates with everything.
With a cardigan
You can style your cardigan with a denim skirt for that girl next door look that's cute and easy.
A cardigan is your best bet if you're looking for a functional piece that you will look cute in. Whether you pick a long or a short cardigan, make sure the fit is flattering.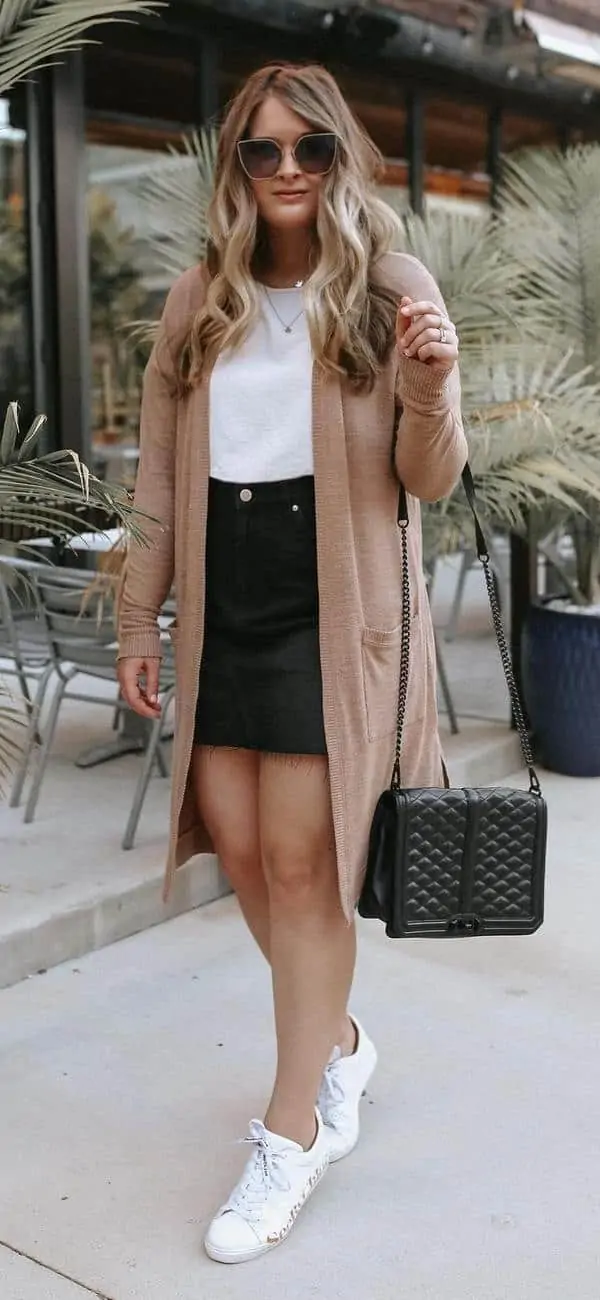 Cameron (above) wore her denim skirt with a white t-shirt and sneakers then threw over the look a brown cardigan.
Keep in mind that denim skirts do not always have to be blue in color. They can also be black and sometimes other brighter shades.
With a button-down
You can tuck one into your denim skirt for a classier denim skirt outfit.
A button-down, whether a plain or a printed one, always makes you look like you put in quite some effort to look great, but is actually very effortless.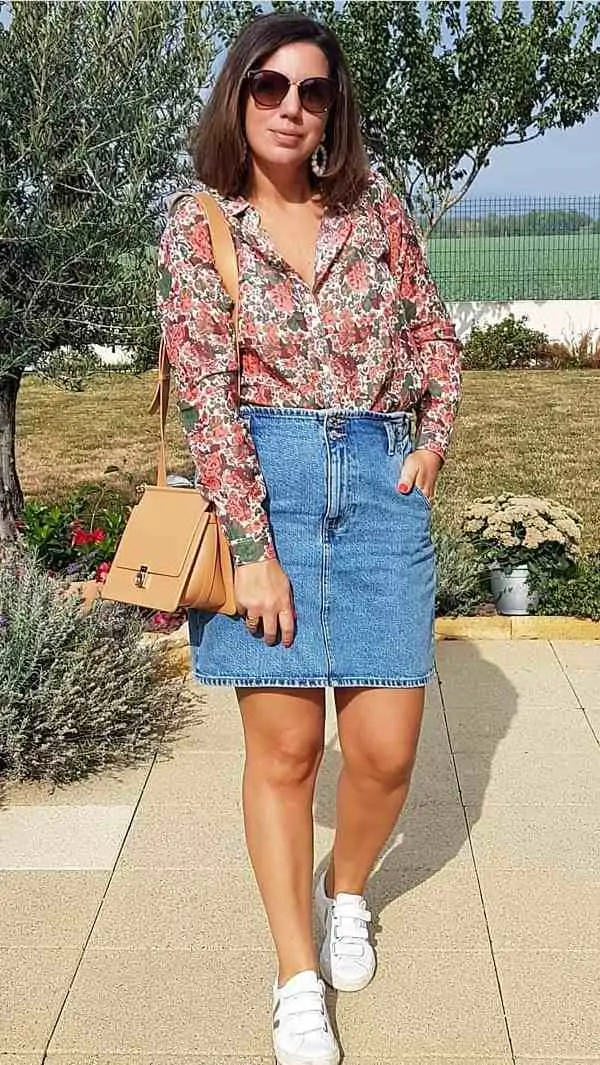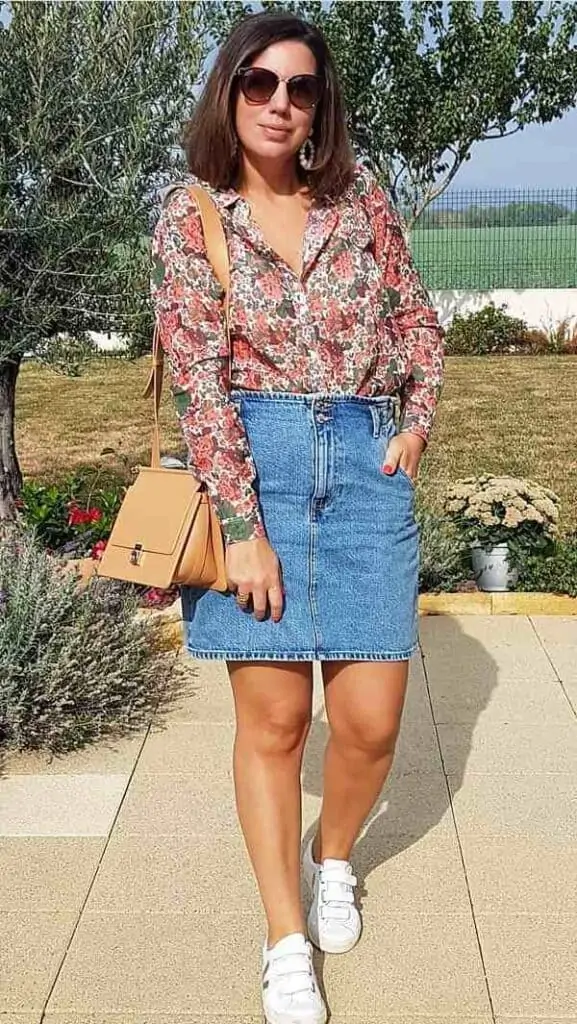 Ana (above) paired her denim skirt with a printed button-down and a pair of sneakers.
If you'd like to dress this outfit up some more, you can go for a pair of stilettos, strappy heels or even ankle boots. A pair of sandals will give you a great, more laid-back
With a plaid shirt
Wearing denim skirt with plaid shirt gives you a laid back yet polished prep-school outfit.
A plaid shirt is one of those wardrobe pieces that works for all body shapes and sizes. It's a fall favorite that can be worn with several things, including your denim skirt, whether short or long.
Depending on the shoes, this denim skirt outfit can give that edgy look, or simply an effortlessly casual one that still looks great.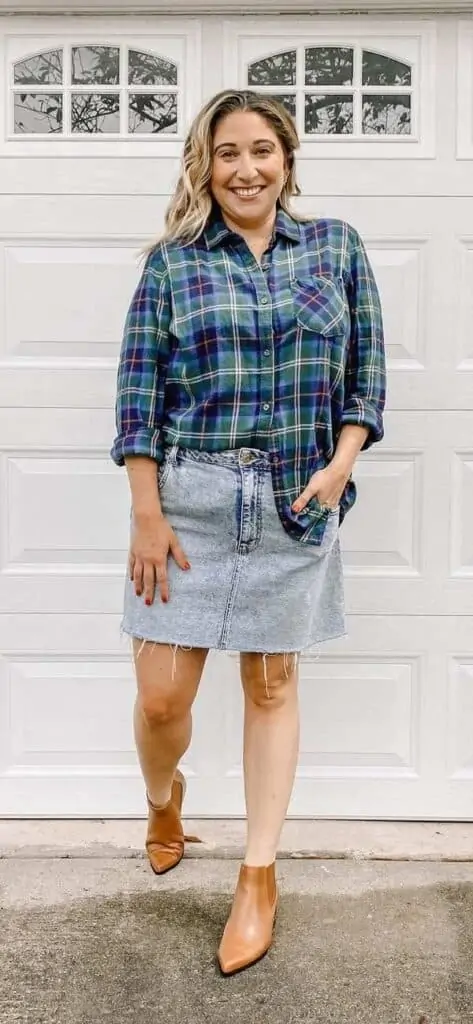 Jen (above) partly tucked her plaid shirt into her denim skirt and completed the look with some ankle boots.
Bonus tip! With this outfit, you can also use the plaid shirt as a layering piece, by pairing your skirt with a tank top and then wearing the plaid shirt over it and leaving it unbuttoned.
With a leather jacket
Regardless of what you pick to wear your denim skirt with, the leather jacket will properly tie everything up.
A leather jacket is one of those must-have timeless pieces. It is not only very versatile, but also looks great and stylish. Just throwing one over an outfit will elevate it, including a denim skirt outfit.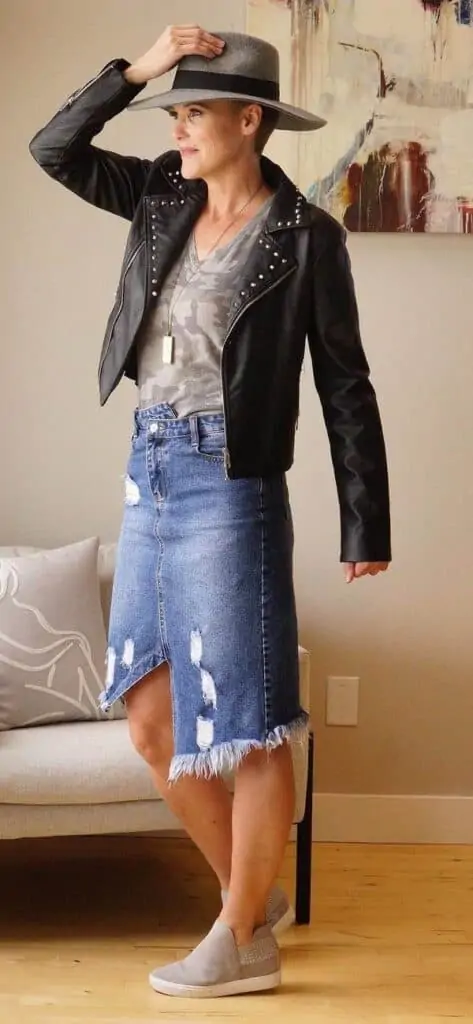 Shannon (above) wore her denim skirt with a grey t-shirt and a black leather jacket. She finished the look off with a pair of slip-ons.
This pairing is easiest when the colors are neutral. If you choose a black leather jacket, then that can open up a lot of options for your top- you can pick a brighter top or t-shirt of any color.
With a cami
Camis are easy to style. You can easily wear a cami with your denim skirt for that feminine outfit.
Camis are minimalist in design and can be worn out as they are on warmer or hot days. In case it's cold, you can wear them under some warm outerwear.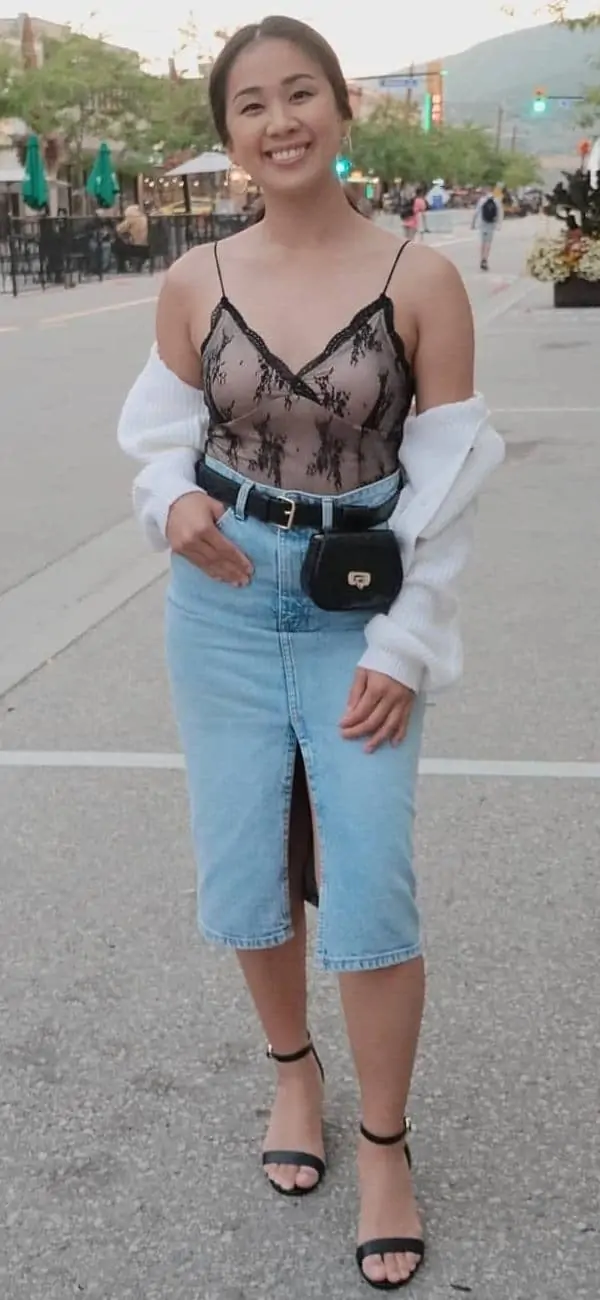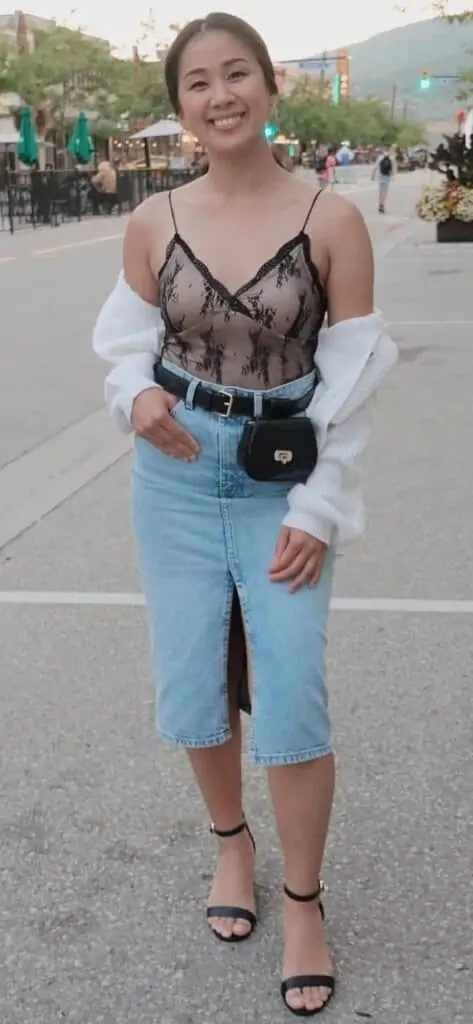 Mitchell (above) styled her cami with a denim skirt and a pair of heels. She also layered a cardigan over the look, although it also works without outerwear.
Bonus tip: It's worth ensuring that your cami straps are well fitting so that they do not slide down.
With a denim jacket
Just like a denim shirt, a denim jacket is not only versatile but also suitable for all body types. It's easy to wear and goes really well with a denim skirt. In fact, if the shades match, you form what is known as a Canadian tuxedo.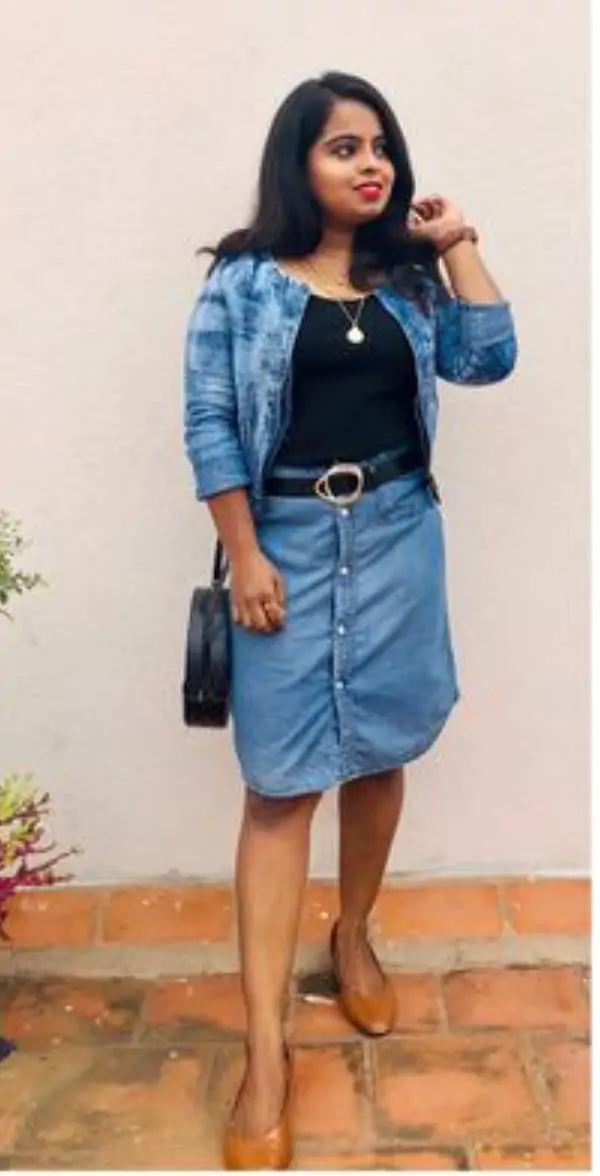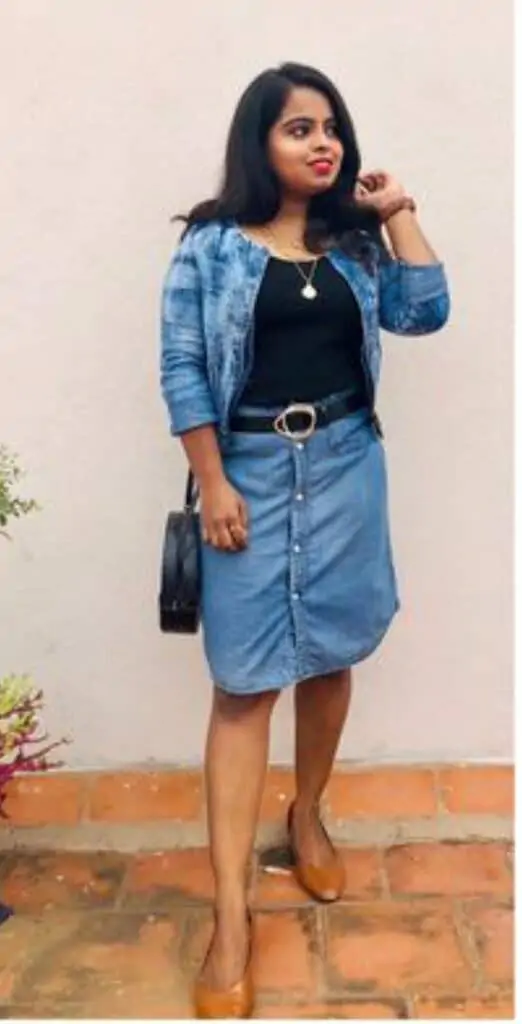 Udaya (above) styled her denim skirt with a denim jacket and a black top underneath. She finished the look with a pair of brown flats.
Your denim jacket doesn't always have to be collared, as it can also come without a collar but will still look amazing.
With a crop top
Crop top and denim skirt makes a fun and flirty outfit.
Crop tops are so much fun to wear, especially if you want to look taller. Depending on the type you go for, you can look very chic or casual in them.
You can wear your crop top with a denim skirt in any style, but it's better to go for longer skirt to balance out the shorter length of the top.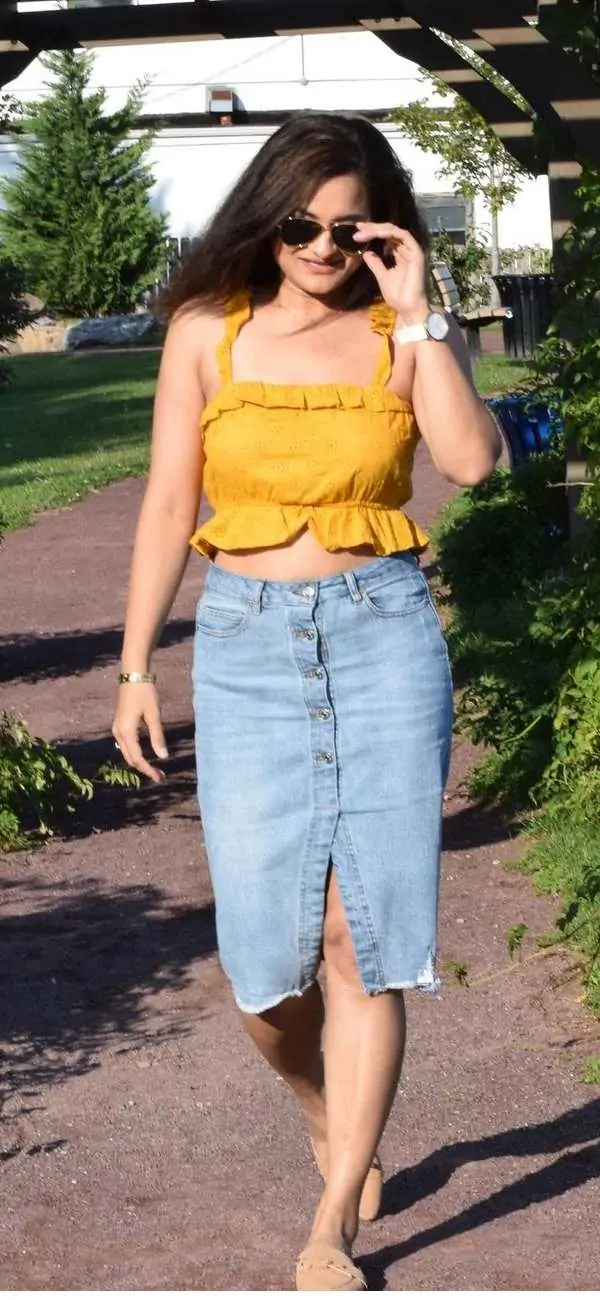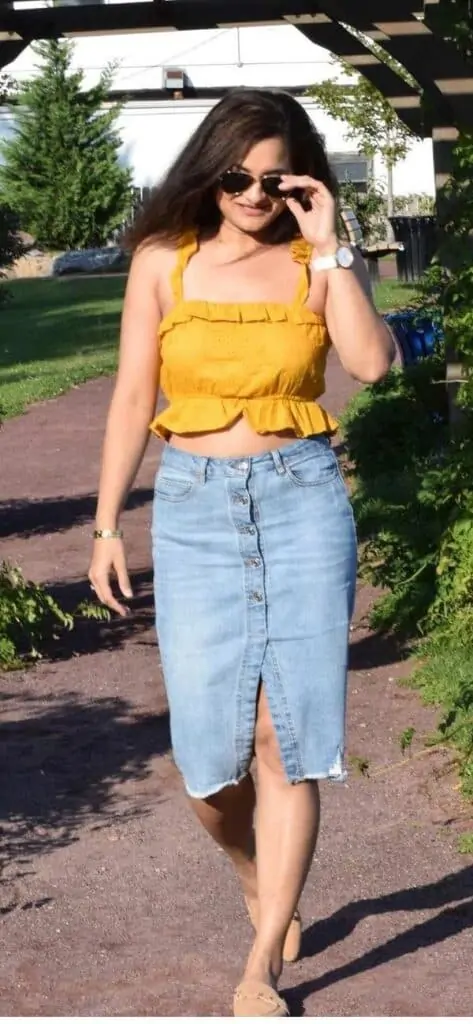 Sushobhita (above) styled her knee-length denim skirt with a yellow crop top and flats.
This is a simple denim skirt look that emphasizes your natural curves. When you're showing skin at the top, make sure you're a bit more covered at the bottom and vice versa.
With a pullover
A pullover, just like a cardigan, feels very cozy and is functional. After all, they're both knits with the difference being in how you wear them on your body. Pullovers can also be styled with your denim skirt for that nice preppy or just everyday girl look.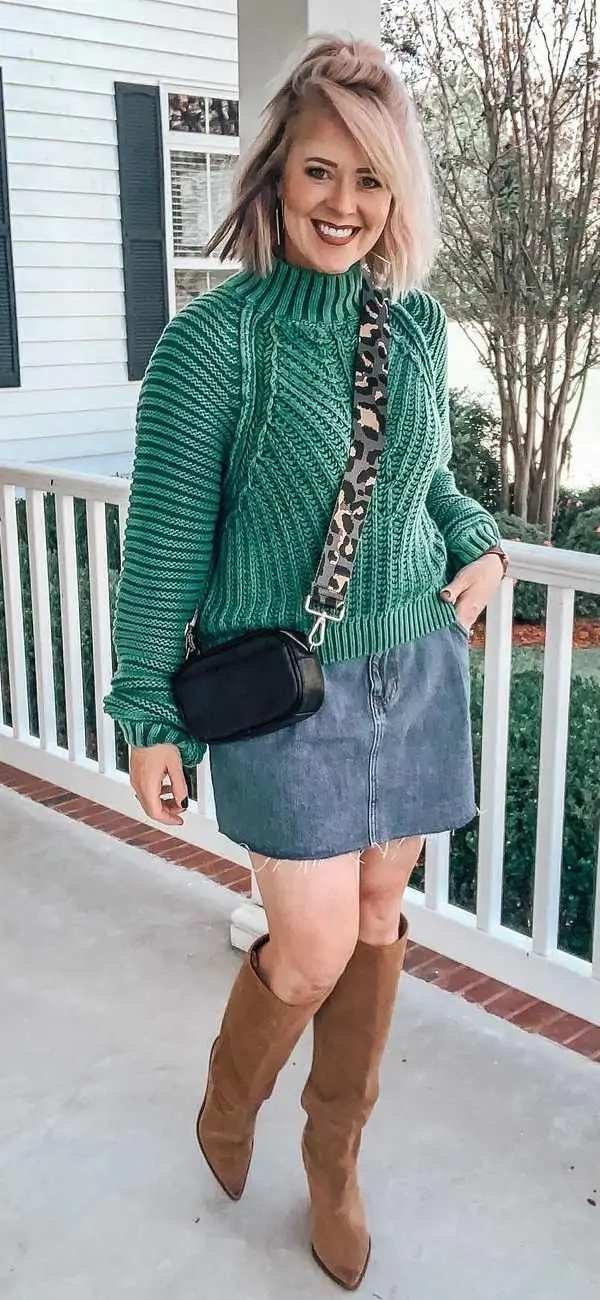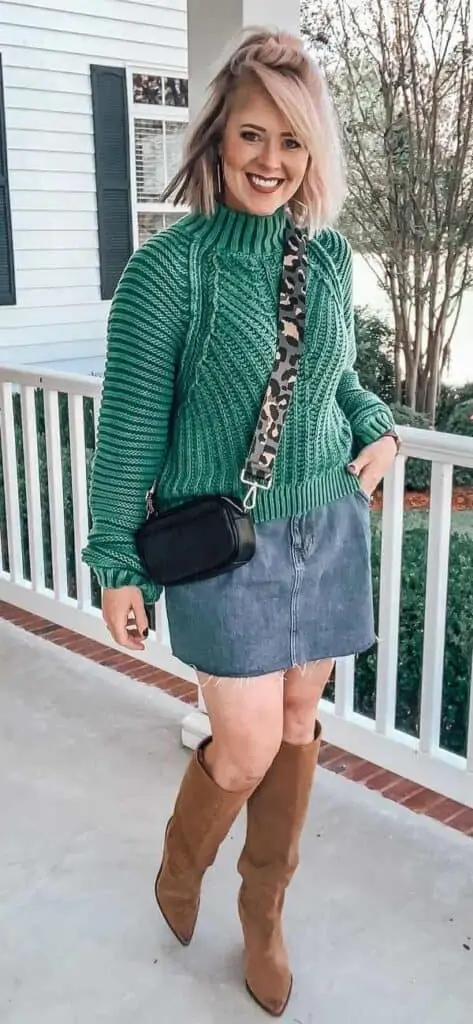 Mandie (above) styled her green pullover with a denim skirt. It's a simple look but you can make this kind of pairing preppy by wearing a button-down underneath the pullover.
There you go, 15 amazing ideas on what to wear with your denim skirt. Try them sometime.