Finding the right pair of pants that will make you look slimmer and enable you to feel more confident can be very challenging. With so many different lengths, waistlines, fabrics, colors, and patterns, there are plenty of style choices that will create a slimmer frame.
Understanding what looks best on your body is not as easy as just trying on a pair of pants in your size. There are many factors that go into what determines the overall silhouette of your body. This guide will show you what types of pants will slim down your frame, and what you should avoid.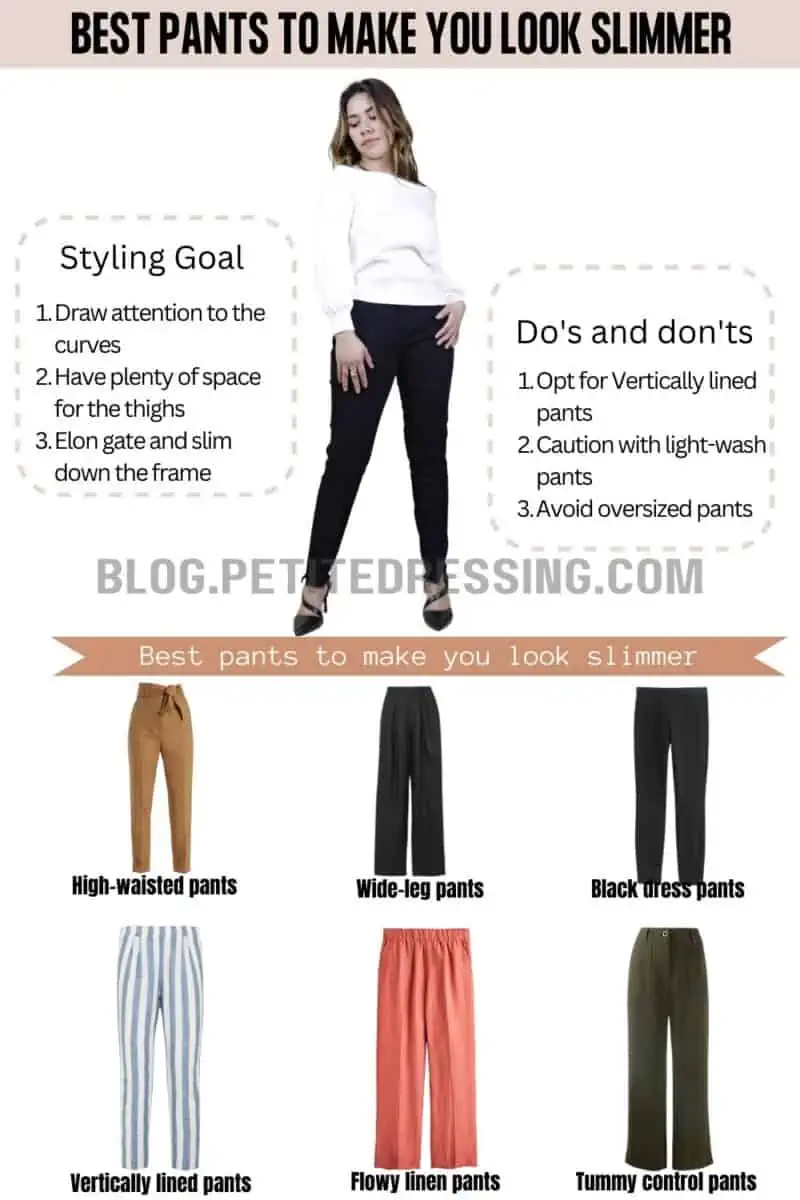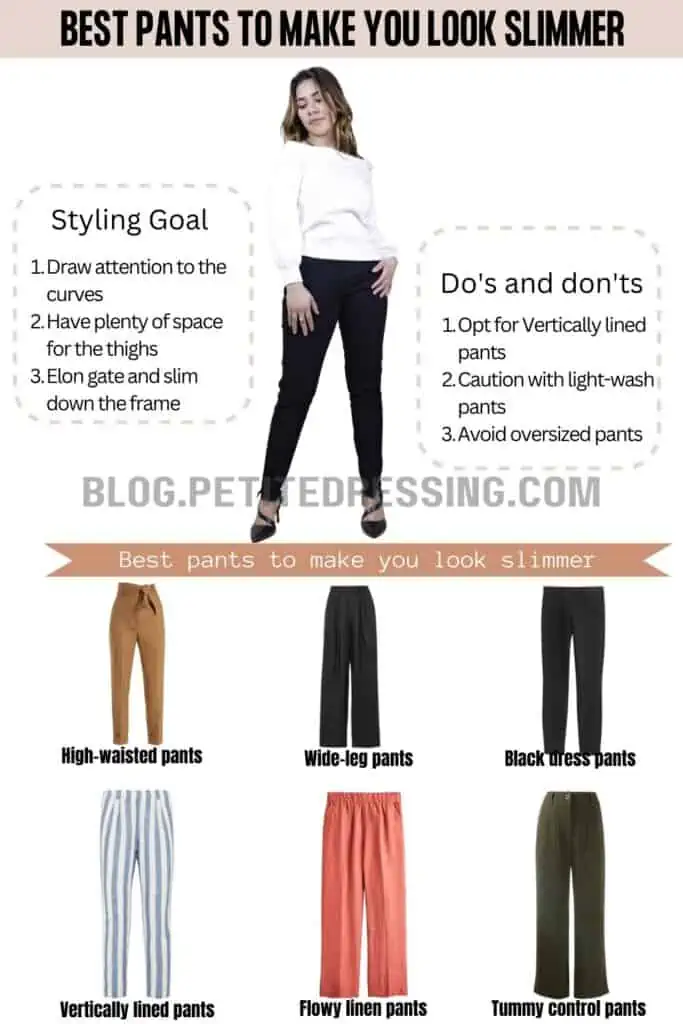 High-waisted pants
One of the most classic choices to look slimmer are high-waisted pants. They are universally flattering on almost all body shapes. They draw attention to your curves and help to create an hourglass shape. High-waisted pants should always be an easy choice for women who want to look slimmer.
High-waisted pants have a waistline that hits at the smallest part of your waist, which is automatically flattering. Then they flow down past your hips and give off the illusion of widened hips (depending on how tight the fit is). The smallest part of your waist will become the highlight of the silhouette and will help to make you look like you are much slimmer.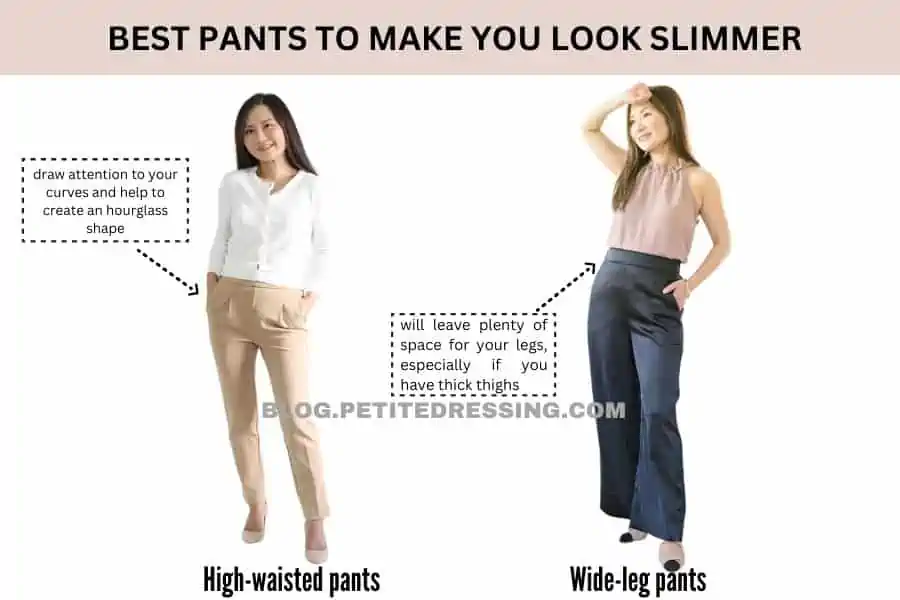 Wide-leg pants
Pants that cling to every part of your body often show the imperfections that you want to hide. The shape of the pant leg can be very helpful when it comes to concealing certain features. If you want a pair of pants that will conceal both your thighs and calves, wide-leg pants are an excellent choice.
Wide-leg pants will leave plenty of space for your legs, especially if you have thick thighs. It is obvious that this type of pant leg is designed to be wider than your leg, so it won't look like you have wide legs.
Wide-leg pants will draw attention to that part of your body, which will help to distract from your stomach. Since the focus will not be on your tummy, and your legs will be concealed, you will look slimmer.
Black dress pants
A lot of women struggle to find business and office attire that is both appropriate and slimming. The classic pencil skirt is not always a great choice for women with a belly or women with insecurities with their legs.
Black dress pants are ideal for more formal events, while also helping to slim your frame and conceal anything you may feel insecure about. Black dress pants will help to hide any shadows or creases that certain curves may create.
The color black is also known to be universally slimming for all types of pants. If you need to create a classier outfit, find a pair of black dress pants that will fit the formal and elegant theme while also making you look slim and fantastic.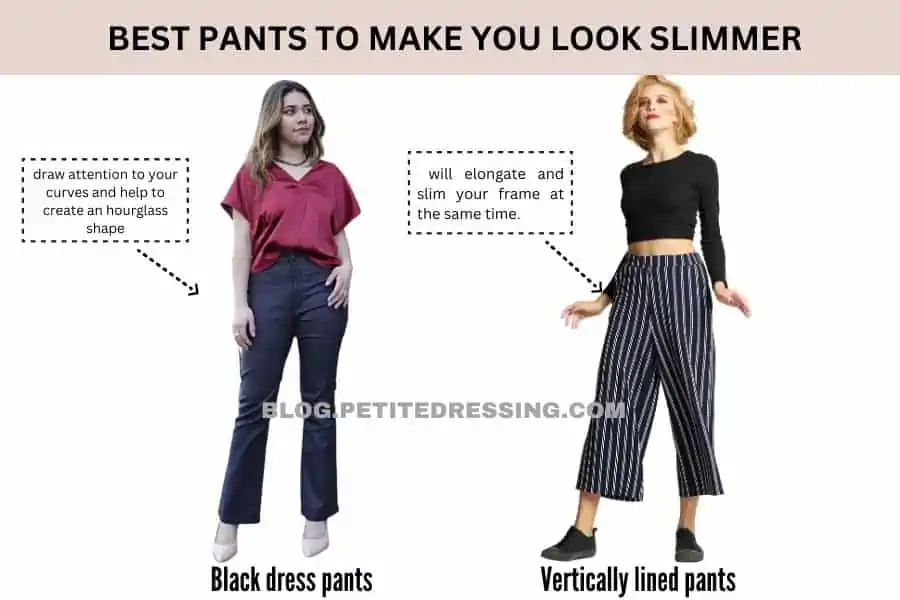 Vertically lined pants
Utilizing patterns will help you choose a pair of pants that will elongate and slim your frame at the same time. Vertical lines on pants are the ideal pattern choice when it comes to looking slimmer.
When you wear pants with vertical lines on them, the lines reach from the waistline all the way to the hemline at the bottom of each pant leg. These lines stretch out your bottom half and make that part of your body look longer and slimmer.
The thinner the lines, the more effective this technique will be. Thin vertical lines will make you look thinner, and the attention will be focused on the height of your body, rather than the width.
Flowy linen pants
Every woman should have a pair of pants in their closet that is comfortable and breezy while also looking amazing on their body. Linen pants are very breathable, so you won't have to worry about feeling claustrophobic or uncomfortable.
Flowy linen pants have wider legs, leaving plenty of room for thick thighs or calves. The wide legs also help to balance out your body, especially if you are heavier and higher up on your frame. Flowy linen pants do not cling tightly to you, so you can hide things without wearing pants that look unflattering or oversized.
Flowy linen pants are also typically stretchy and breezy, so you can count on always feeling comfortable and confident in a pair of pants that will flatter and slim down the way your body looks at the same time.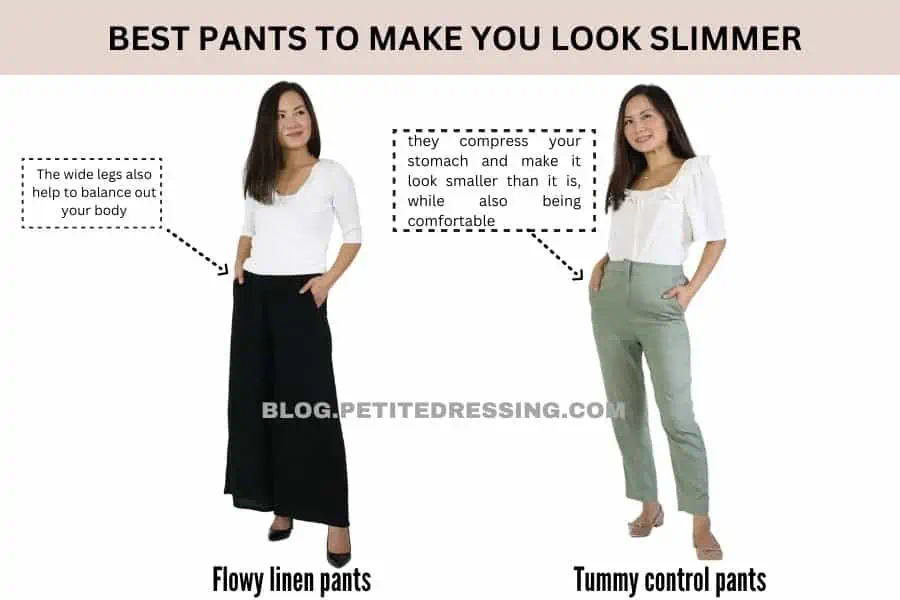 Tummy control pants
Structure and comfort are important qualities to look for in a pair of pants. Some pants are not built to conceal your stomach without also appearing bulky and unflattering. Tummy control pants are specifically designed to make your belly look smaller.
Tummy control pants work similarly to shapewear since they compress your stomach and make it look smaller than it is, while also being comfortable. This level of support is important for women who have a belly but want to look slimmer.
Tummy control pants also hug your curves in order to draw more focus to those parts of your body. Since they make your stomach look smaller, you will be able to achieve a slimmer look.
Caution with light-wash pants
If you already have a petite frame, wearing pants that are all light-washed is not going to create a huge problem. This means that instead, you will want to focus on the waistline and other features of the pants to look slimmer.
If you have a belly or thick thighs, you will learn that light-wash pants are extremely revealing. They will show the shadows of every crease and wrinkle that your body shape creates. If your stomach is larger and more curved, you will almost always be able to tell.
You don't necessarily need to avoid light-wash pants if you have the correct shapewear that will help to smooth over some of the curves you may want to conceal or hide.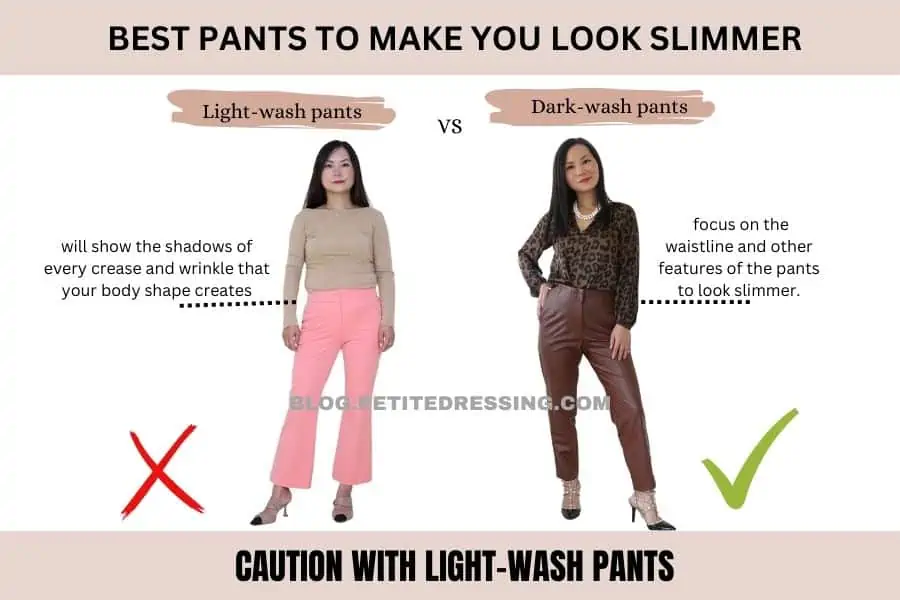 Avoid oversized pants
A lot of women feel insecure about their stomachs, so they reach for a pair of pants that are larger and oversized to conceal it. This technique will only make you look bigger than you are. Even if you wear a form-fitting top that fits your body properly.
Oversized pants will not fit your body in a flattering way because they are not made to fit the size of your body. The waistline will fall lower than it should be, and the pant legs may drape around your ankles.
Even if you are a bigger size in pants, you should always go for the correct size. Clothes that fit you are essential because they are the most comfortable and the most flattering. You should take the time to figure out exactly what your size is so that you never make the mistake of buying a pair of oversized pants.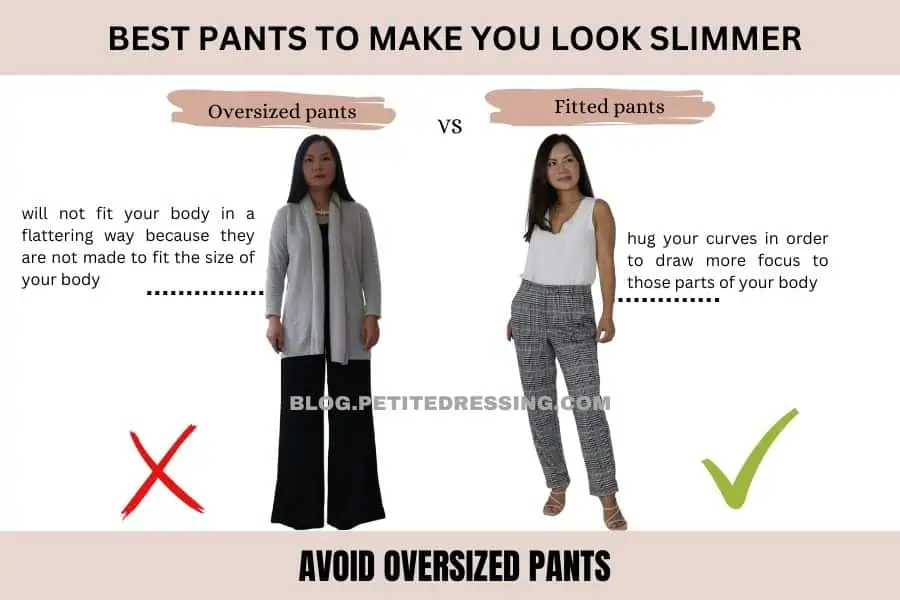 Caution with yoga pants
Yoga pants are typically a looser fit of leggings. They are stretchy, but tight and form-fitting around the waist. They will cling closely to every bump and crevice of your body. Yoga pants are made of a thin but stretchy material that is designed to be breathable and athletic.
If you already have a flatter stomach, yoga pants will actually accentuate your curves and look aesthetically pleasing when you put them in an outfit. But women with a belly will find that the clingy fabric will highlight the stomach. This will make it challenging to create the illusion of a slimmer body since your stomach will be so noticeable.
Some women will wear longer t-shirts or tank tops to cover up their stomachs so that they can still be comfortable and wear yoga pants. If you can find a top that is not too bulky, you may be able to avoid the showcase on your stomach and create a slimming outfit.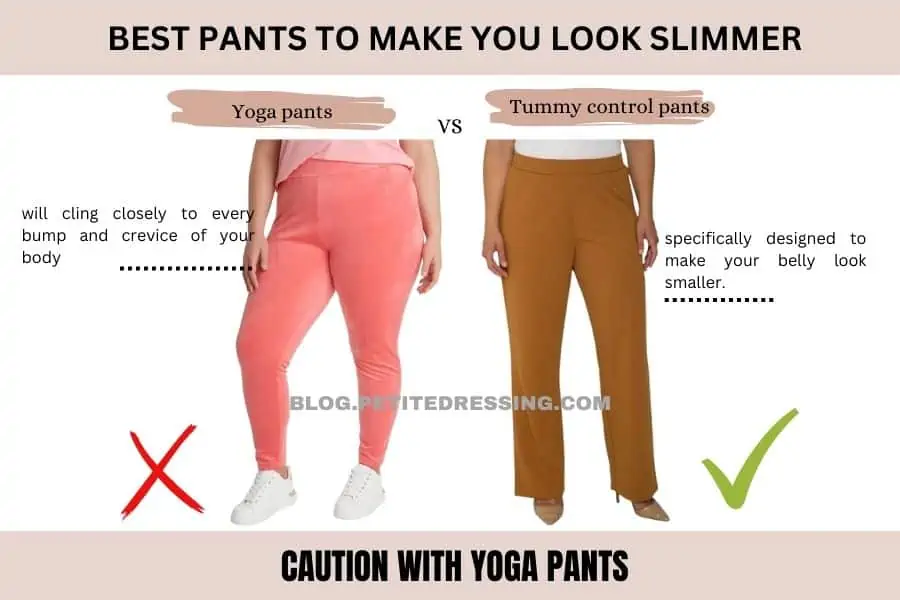 Avoid baggy pants
It is common for women to wear baggy pants so that they can use the bulk of the fabric to hide the shape and size of their bodies. Baggy pants will only highlight the size of your body and give the lower half of your body a much bulkier look.
Baggy wants will create creases and wrinkles throughout the pants because of the way the fabric will fall. If your body doesn't fill up the space provided by the fabric, it may give off the illusion that your body is as big as the pants themselves.
Baggy pants are also typically too long on the woman who wears them due to the extra fabric. This means that the pant legs will fall very low on your body and may even cover up your shoes entirely. Without being able to see where your feet are, it may shrink your height and give off the illusion that you are wider.
If you want to create the look of a slimmer body, you should wear pants that aren't completely form-fitting but have a defined shape that accentuates the best parts of your body.