If you have the pear shaped body, that implies you carry weight in your bottom half. Since a typical pear has wider hips and thighs compared with your shoulders, you can come across as bottom heavy. Meanwhile, if you happen to have short legs as well, this can look even more obvious because of your shorter frame.
Since I'm 5'2″ and have a clothing line for petite women, I know the ins and outs of flattering someone with shorter legs not only based on my personal experiences but also from my customers' feedback. I've put together this complete guide to help you look and feel your very best.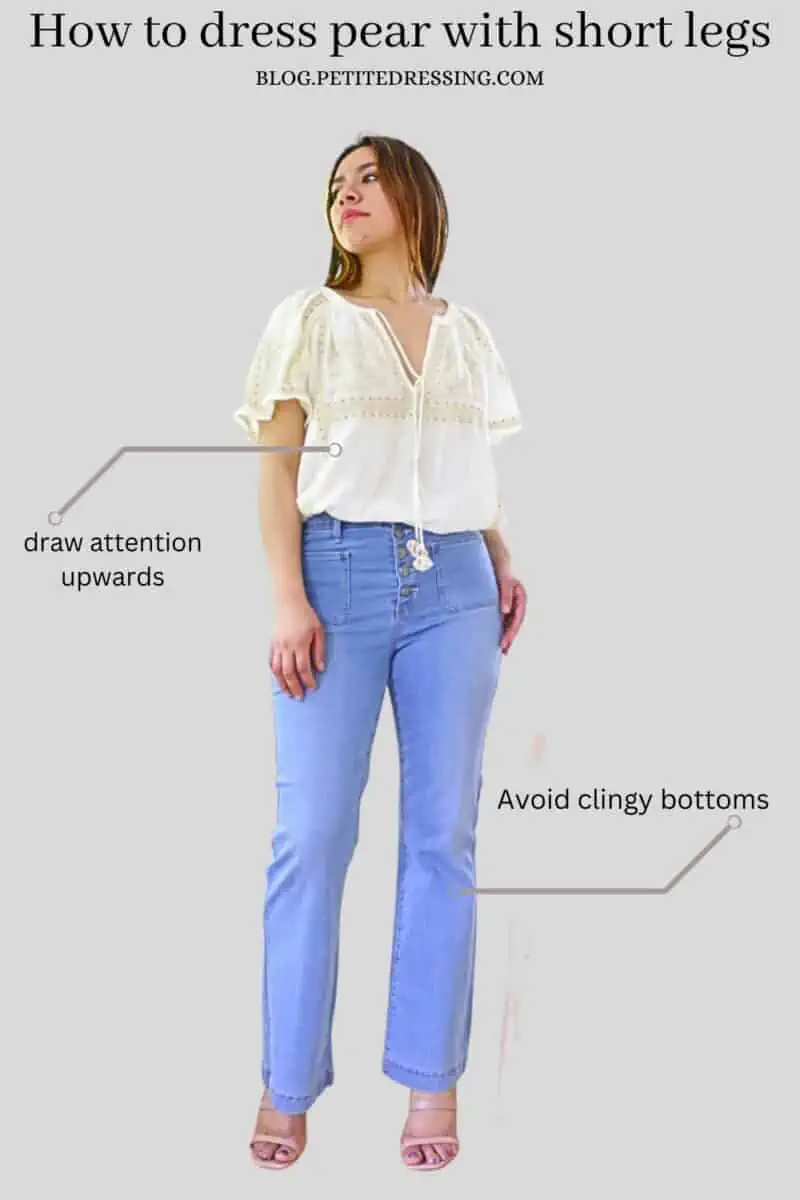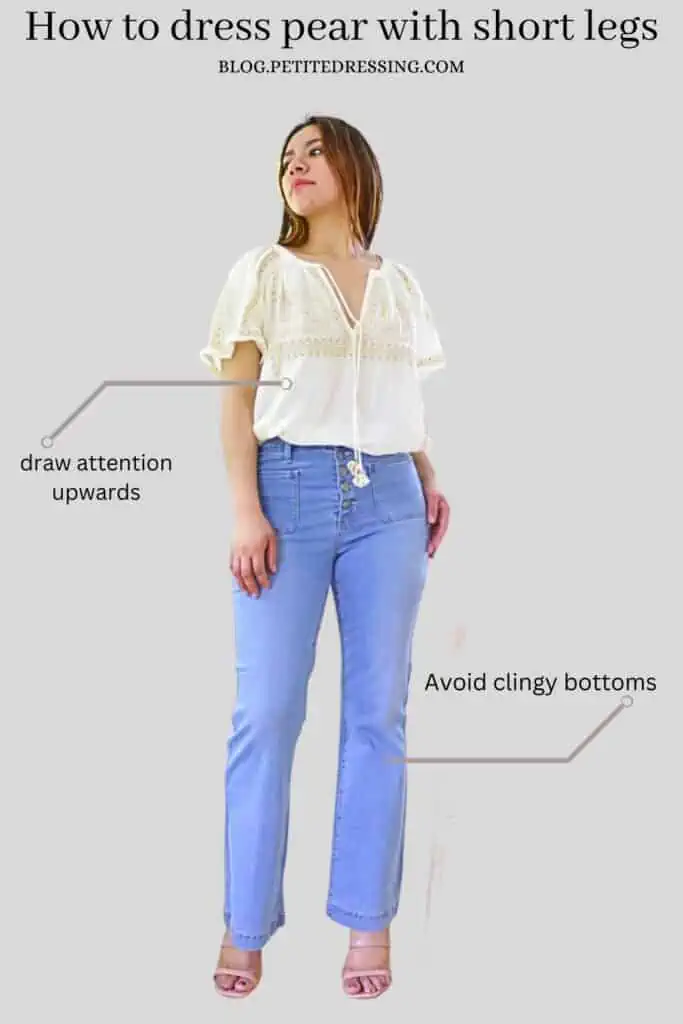 Wear off-the-shoulder necklines
Given that your shoulders naturally have limited prominence, highlighting and drawing attention to this area is particularly important. One way to enhance the appearance of your shoulder line and decolletage is by going for clothing styles that feature an off-the-shoulder neckline.
This stylish cut not only elevates your shoulder line and enhances your collarbones but also creates the optical illusion of a lengthened frame overall. As someone with narrower shoulders and a smaller bust, off-the-shoulder tops and dresses can instantly give you that much-needed upper half definition.
When choosing off-the-shoulder tops and dresses, you may want to consider those that feature flounce fabric for added movement and dimension.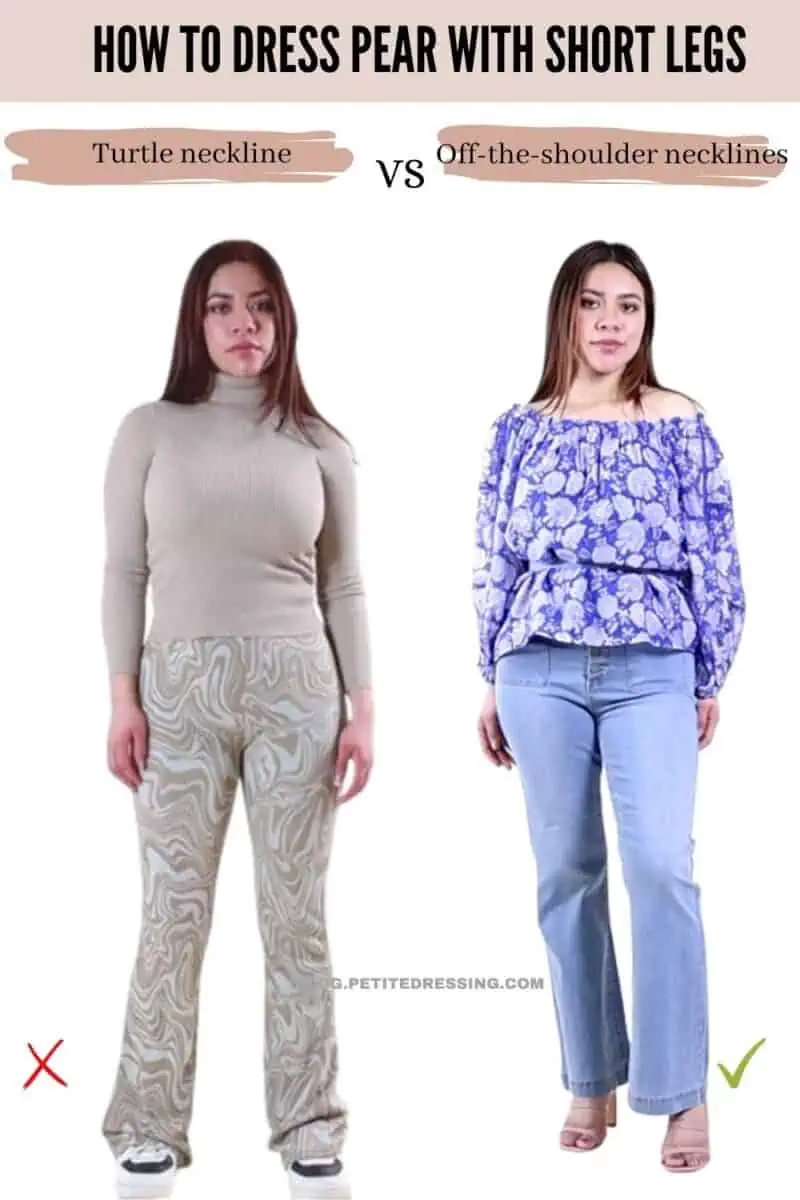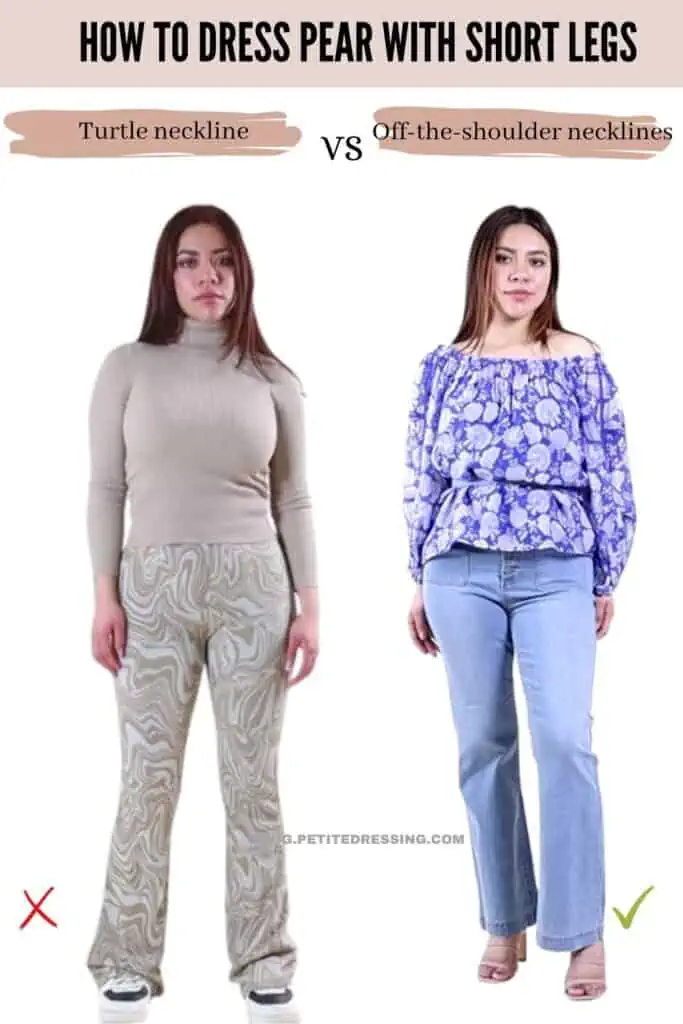 Favor Structured Tops
What you need to do to make your overall frame look more balanced is to bring more shape and structure to your less prominent upper body. Structured tops have a well-defined shape and form that feature strategic seams to enhance your shoulder line, neckline, and bust area.
Wearing structured tops can visually broaden your shoulders and create the illusion of a fuller bust, which helps balance out the proportions between the upper and lower body. Since pear shapes tend to have very defined waistlines, it's only ideal to maximize this feature with the help of strategic seams that follow the sides of your waist.
The structured nature of these tops also helps produce a sense of verticality, which visually elongates the torso and counteracts the shorter leg length.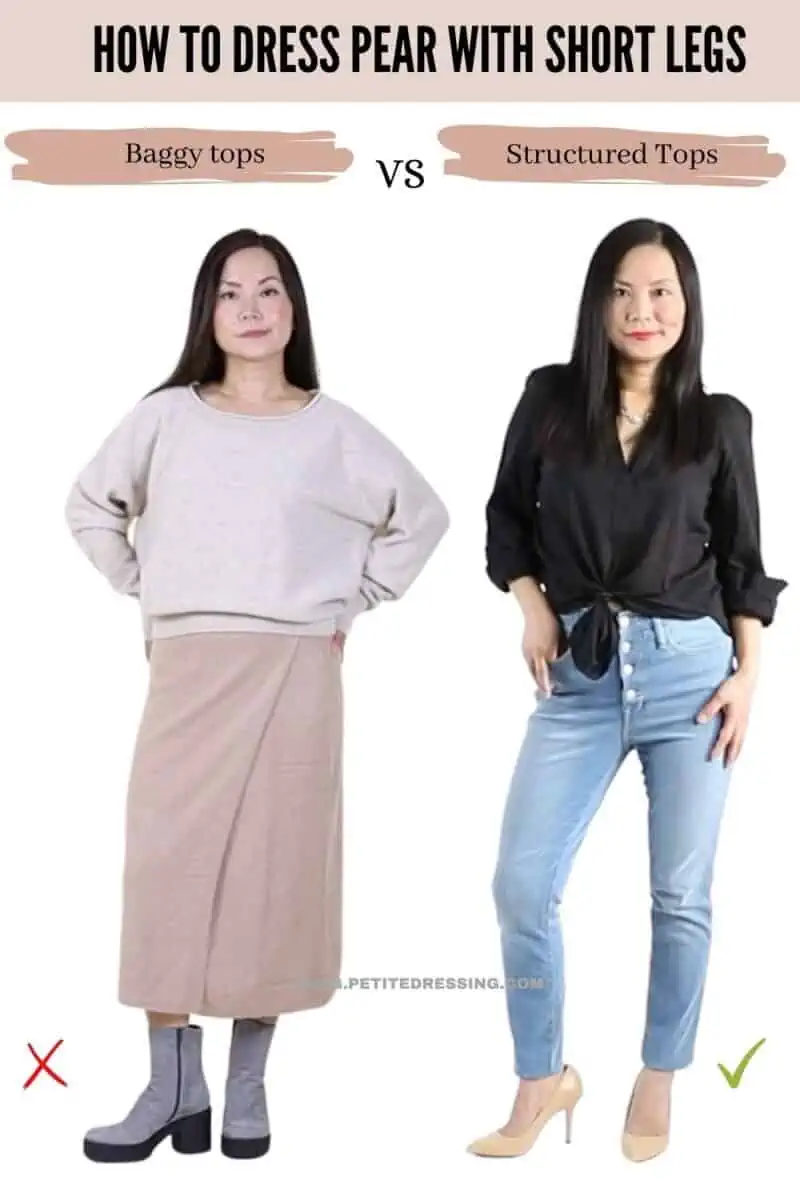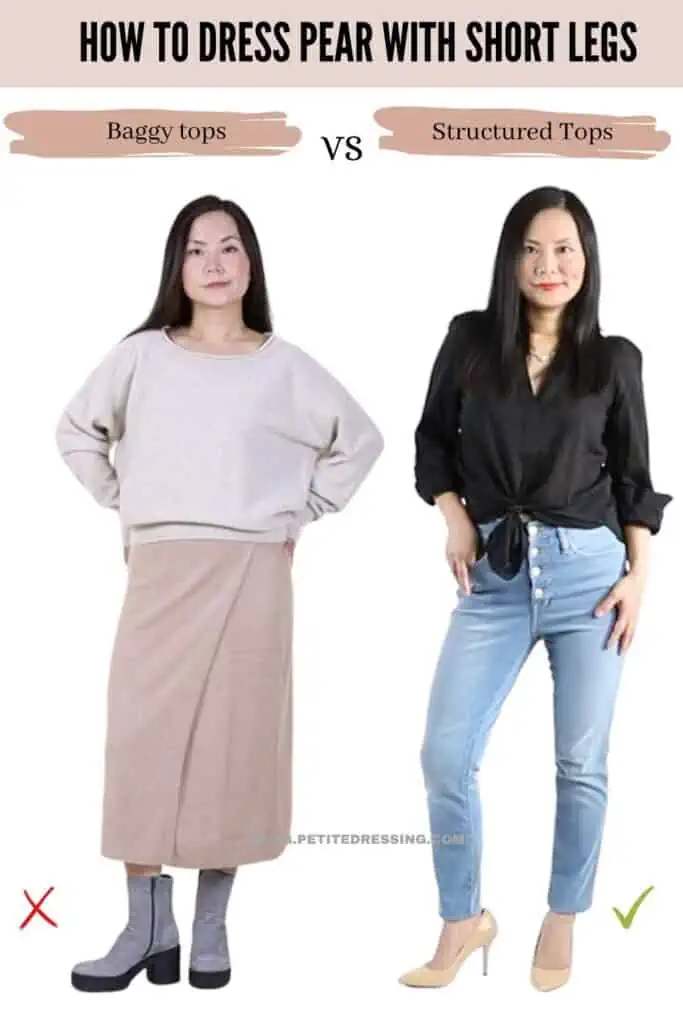 Wear X-Line Dresses
Just like how the name makes it obvious, wearing dresses that possess the "X" shape creates the illusion of an hourglass figure. The design of X-line dresses effectively accentuates your waistline and amplifies your upper half, while gently skimming over the hips and thighs.
This particular dress structure results in a better-looking visual balance. The fitted bodice of the dress emphasizes the waist and draws attention away from the heavier hip area.
Additionally, X-line dresses swoop beautifully from the waist down, skimming far away from any worries you may have about your hip and thigh areas. These dresses provide a flattering and forgiving fit that allows you to feel comfortable while minimizing the focus on the lower body.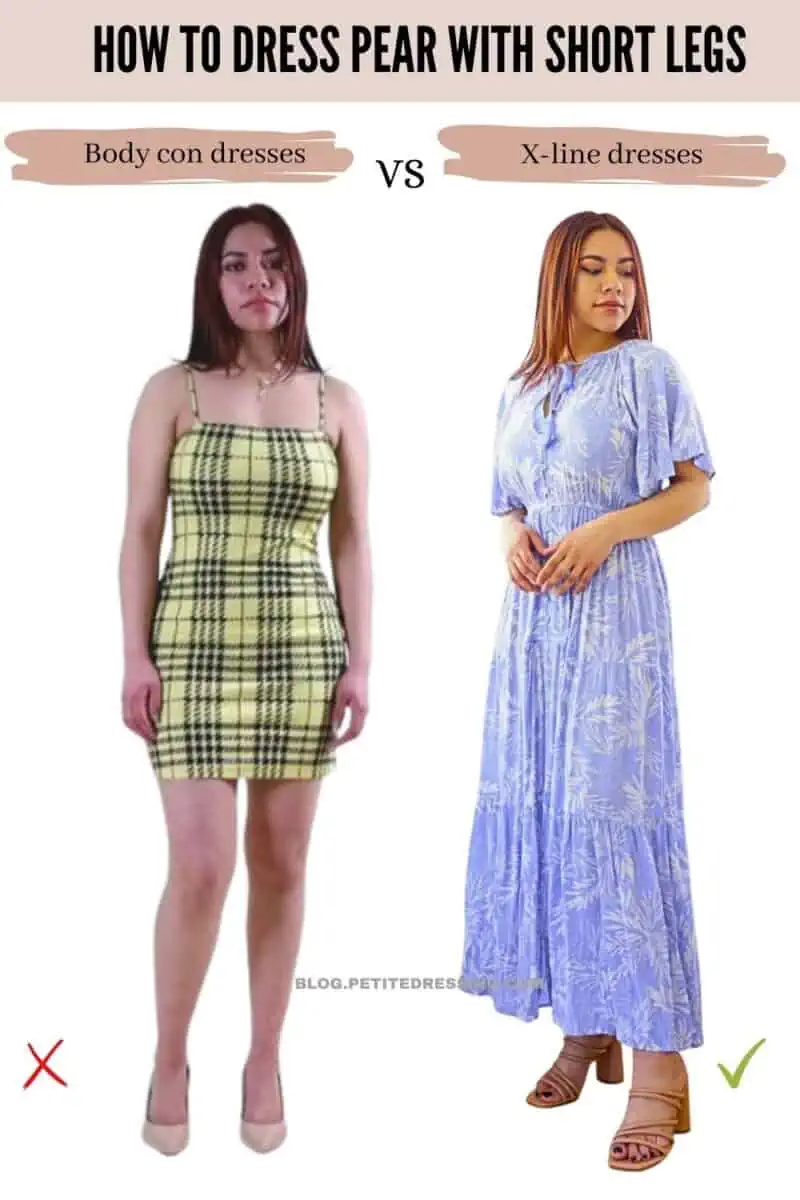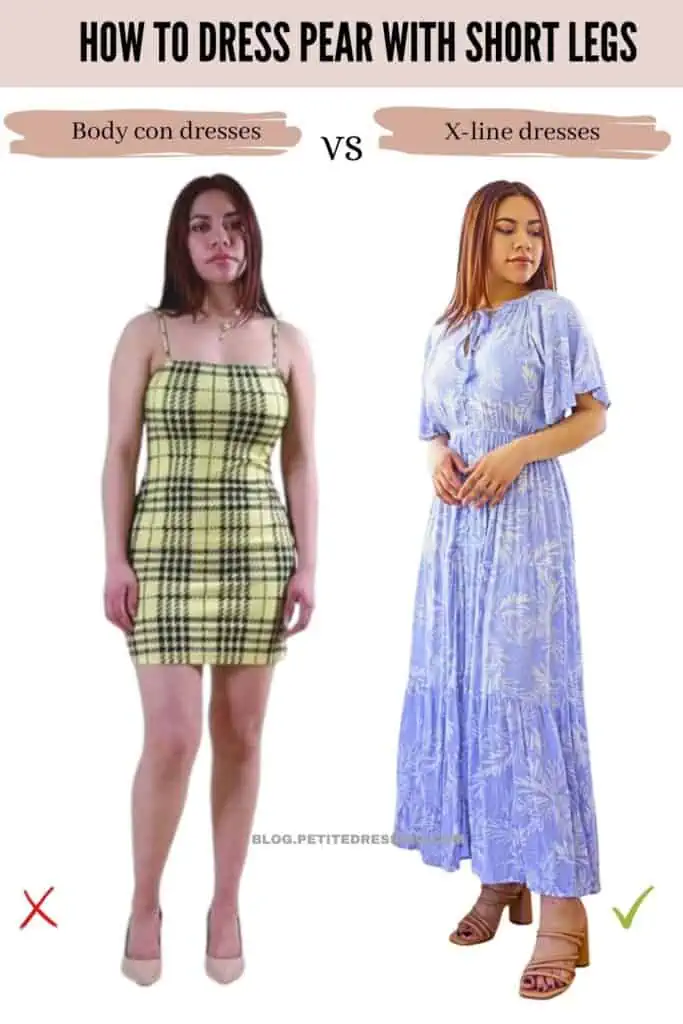 Opt for Wide Legs
Wide-leg pants or jeans can create a visually elongated silhouette that can absolutely counterbalance the short length of your legs. The wide cut of the legs adds volume and produces an invisible vertical line from the waist to the hem to make your legs appear longer and more proportionate.
Additionally, the relaxed fit of wide-leg pants allows for more freedom of movement while also gently draping over your hips and thighs in a way that doesn't cling or accentuate these areas. This can create a smoother and more streamlined appearance to tone down the broadness of your hips in comparison to your less prominent upper half.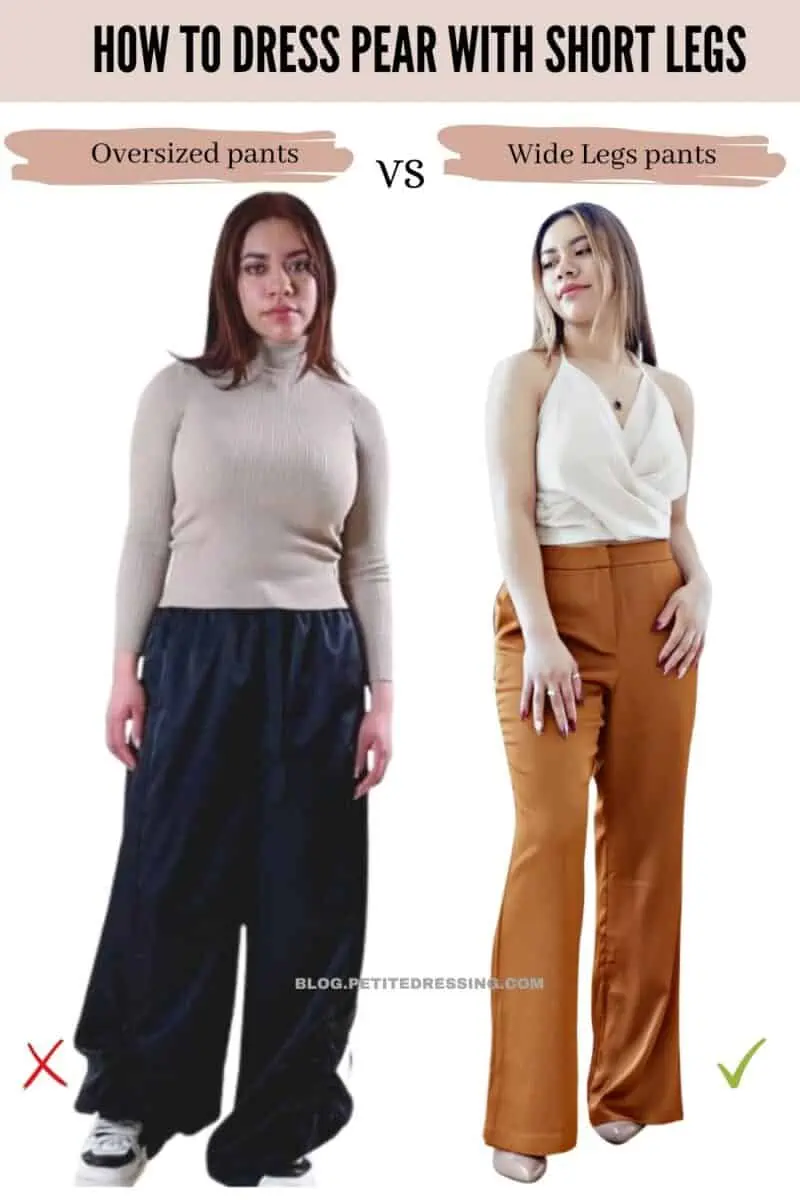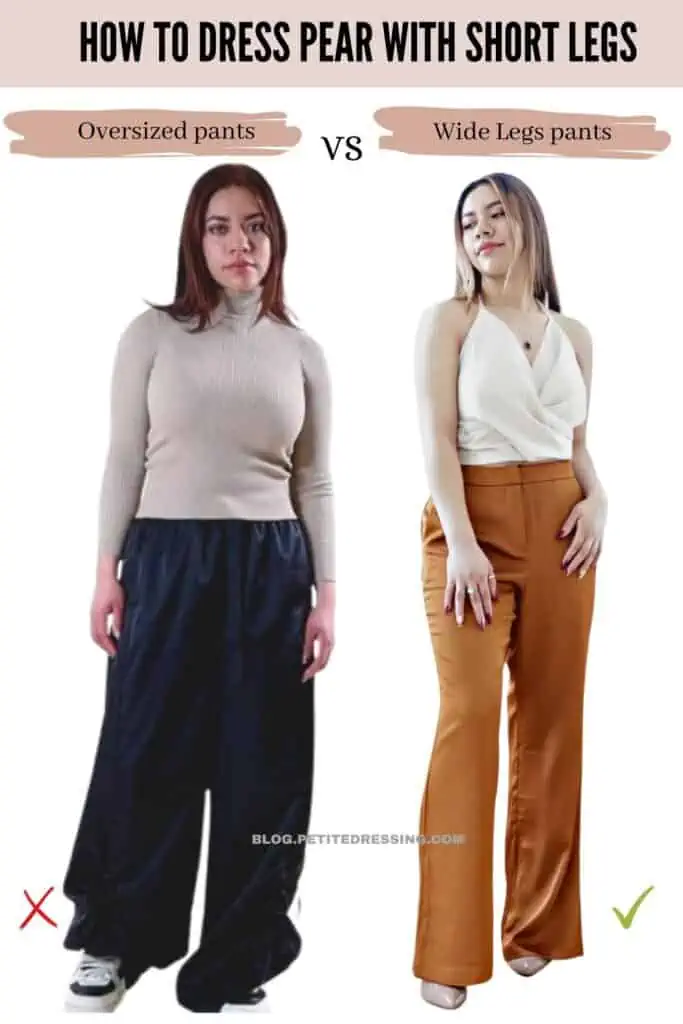 Go for A-Line Silhouettes
The A-Line silhouette is undoubtedly one of the most universally flattering clothing structures out there, which is why it also looks amazing on pear-shaped bodies with short legs. This design is very advantageous for your figure as it helps balance out the proportions between your narrower shoulders and smaller bust and the wider hips and thighs.
In addition, the skirt's gradual flare creates vertical lines that visually elongate the lower body, resulting in longer-looking legs. This elongation helps to create a more balanced overall look and can counterbalance your proportions to make your frame and ensemble more put-together.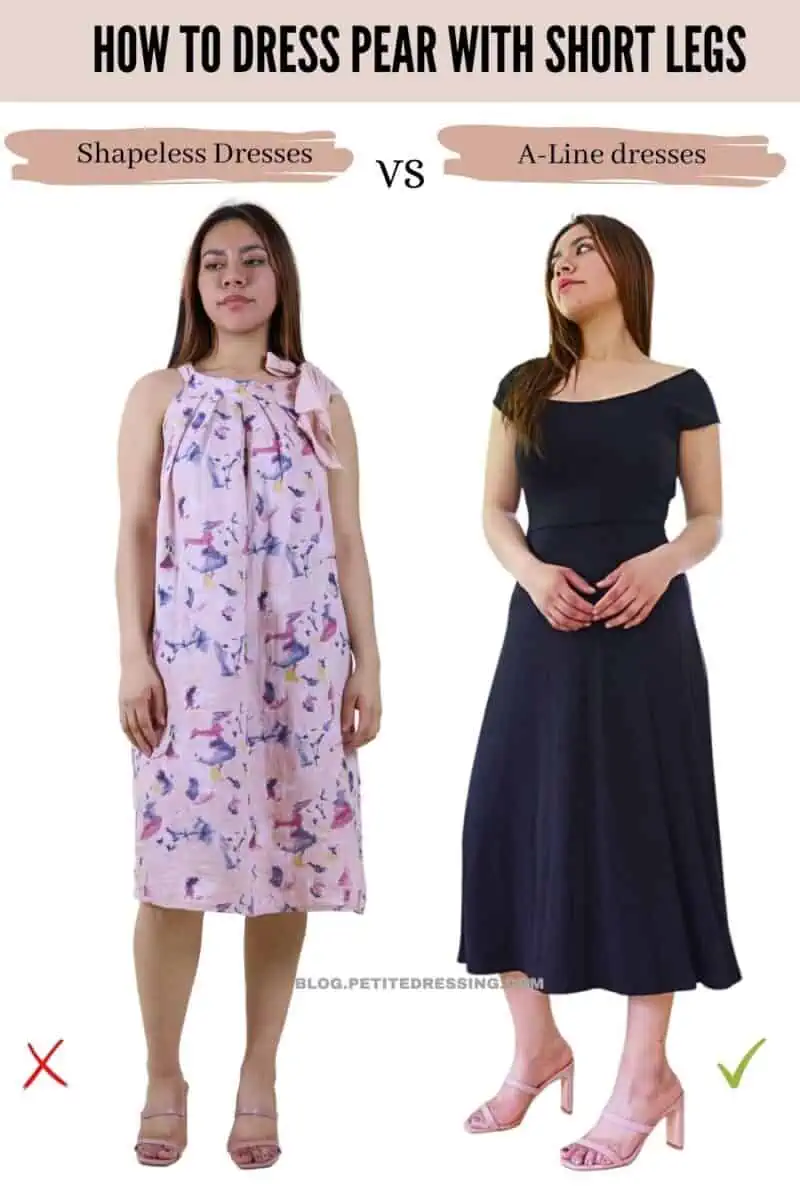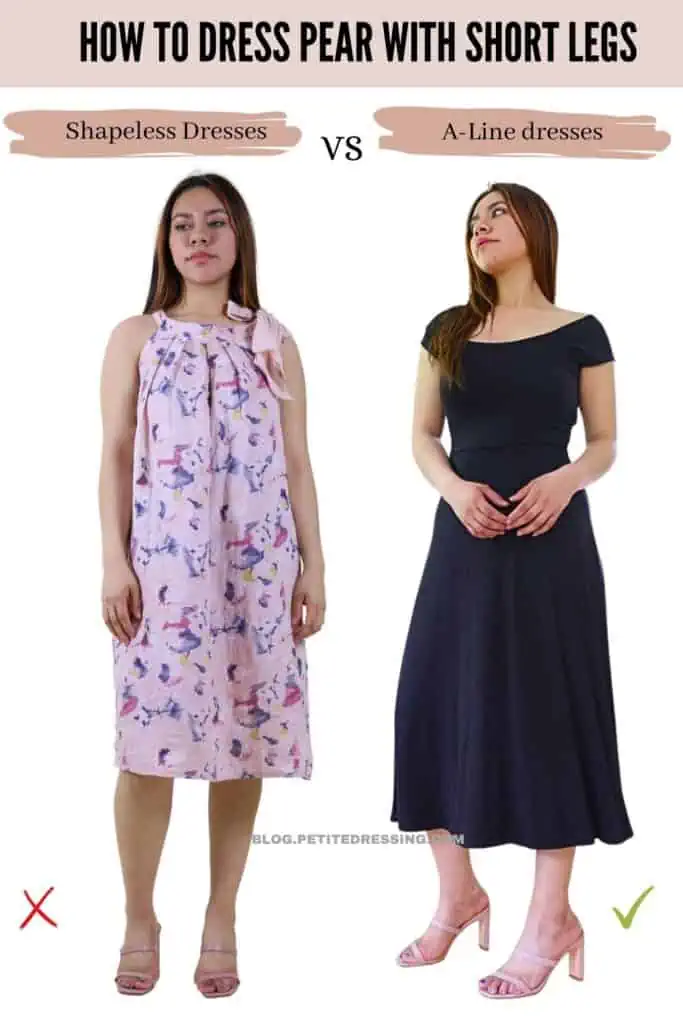 Enhance your Bust with Ruffles
Having smaller breasts can be one of the main insecurities of pear-shaped ladies so it could use a bit of enhancement. This is where ruffles placed on your upper half can be especially helpful in neutralizing your wider lower half.
Ruffles that are placed strategically around the bust area can create the illusion of increased volume and fullness. By adding a nice flounce fabric and injecting some texture into your outfit, ruffles help to visually enhance the bust line to make it appear more prominent.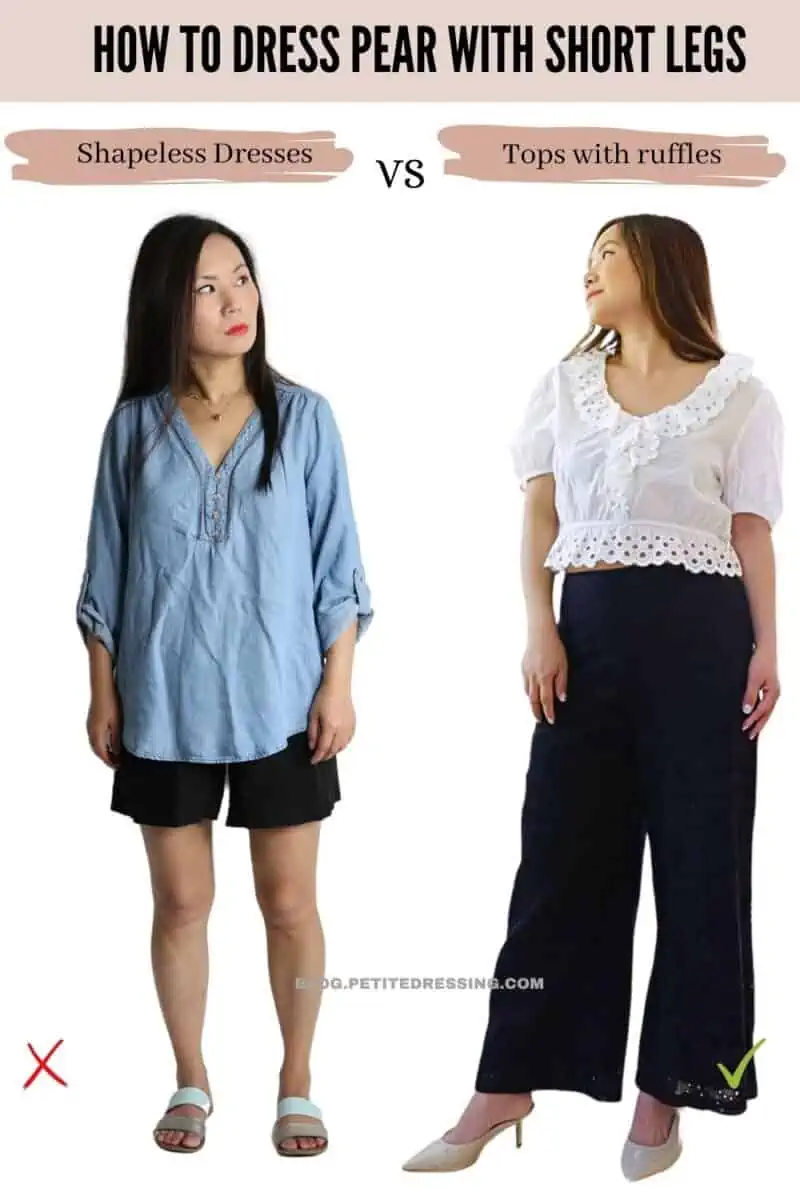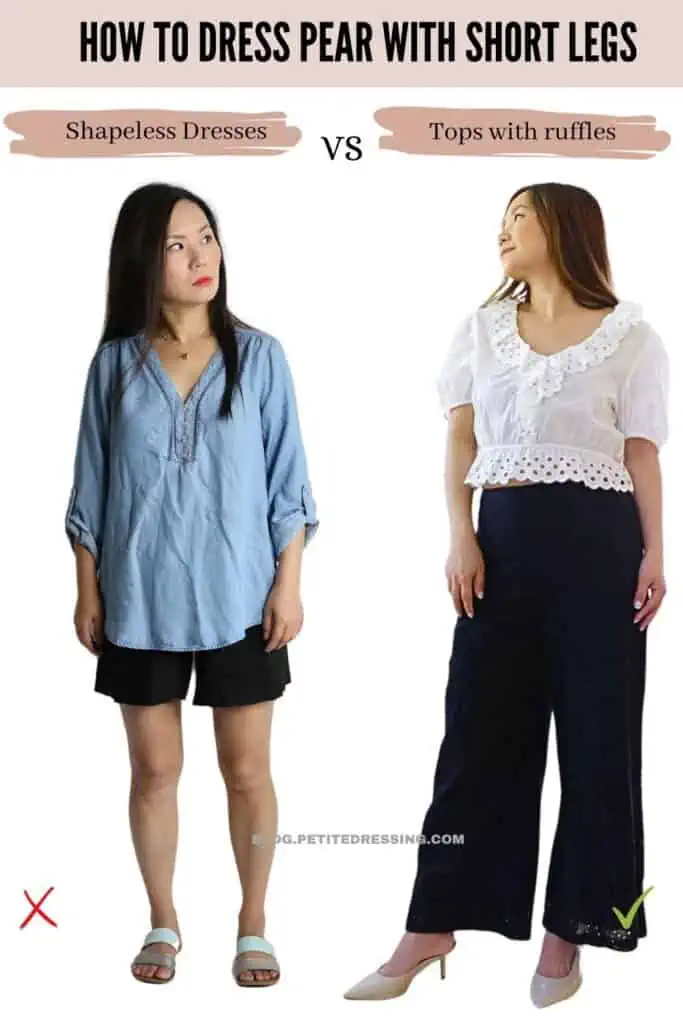 Wear Deep V-Necks
Deep V-necks aren't just something you wear whenever you're feeling a bit risque! They are also something that you should absolutely wear if you're looking to flatter your pear-shaped body while also giving your legs the illusion of length.
This also helps amp up your narrow shoulders and give more focus to your decolletage. By doing so, you are toning down the attention from your wider hips to create a more balanced silhouette.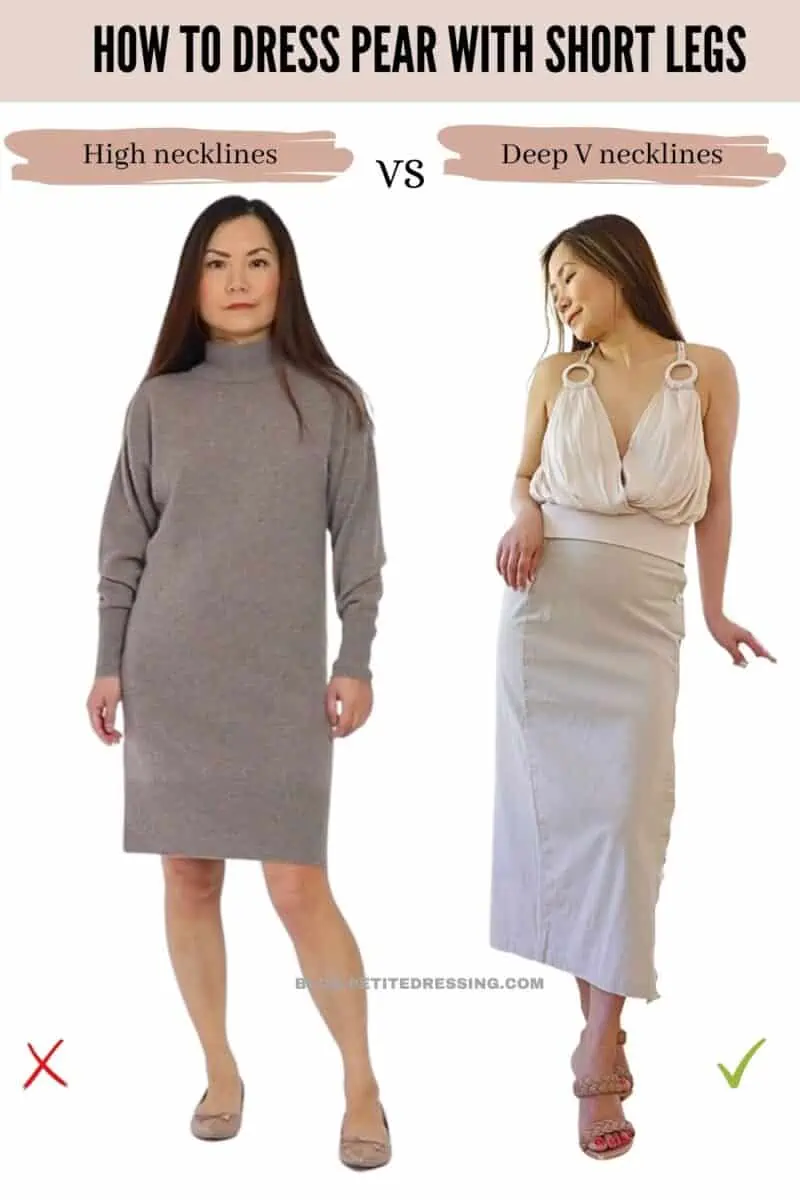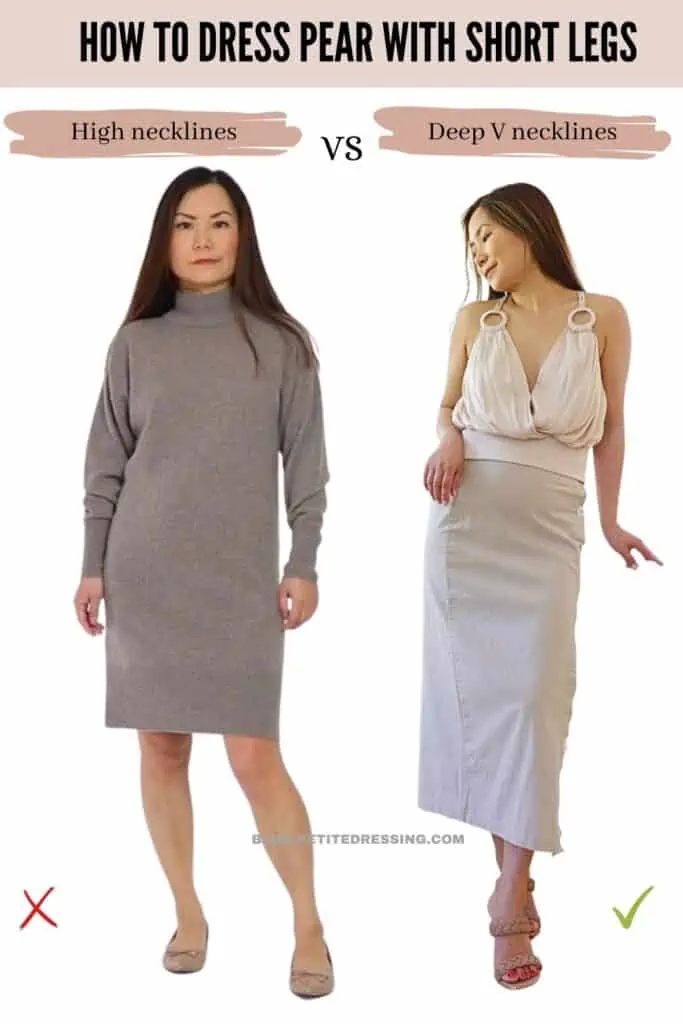 Cinch your Waist
Cinching your waist creates a clear distinction between your upper and lower body, and this helps draw an even balance to your frame. Emphasizing the waistline efficiently draws attention to the slimmest area of your pear-shaped body, diverting the focus from the hip and thigh region and creating a more harmonious overall shape.
In addition to this, it also has a transformative effect on the visual length of your frame, particularly for pear-shaped individuals with shorter legs. By defining the waistline, you give your legs instant elongation that can help draw attention away from your heavier lower half.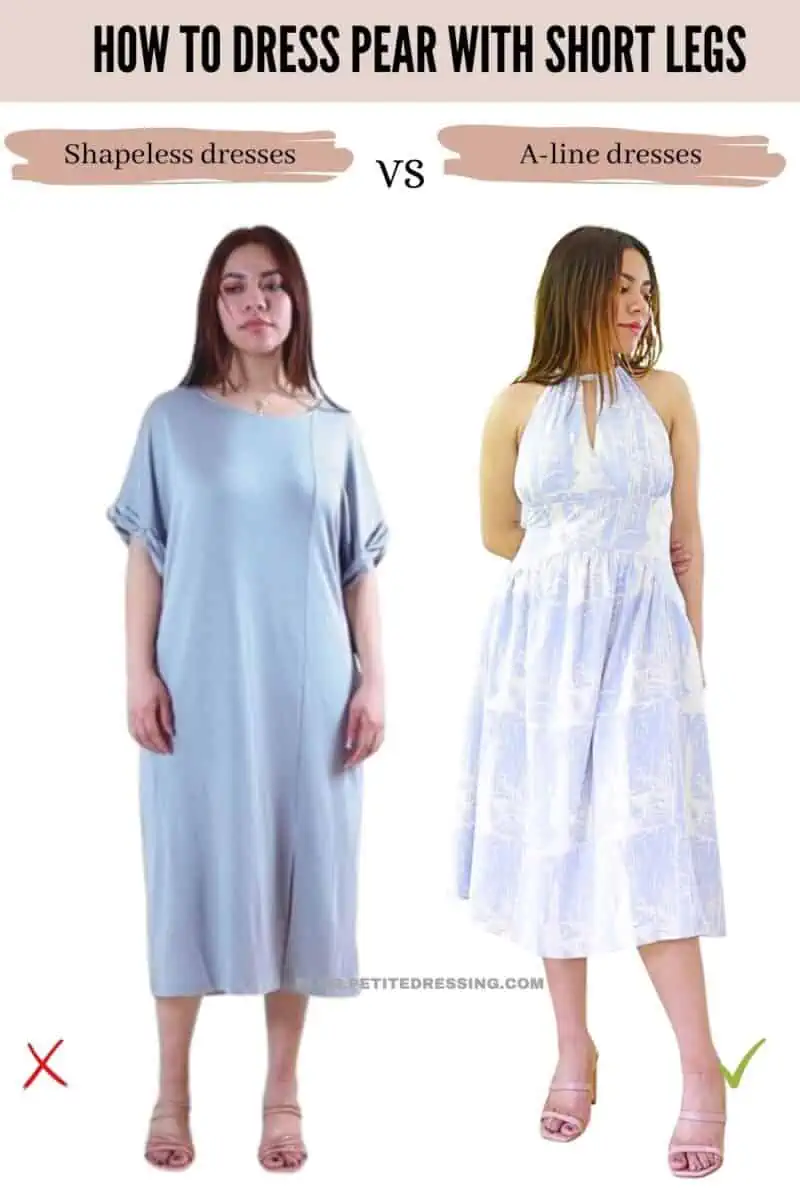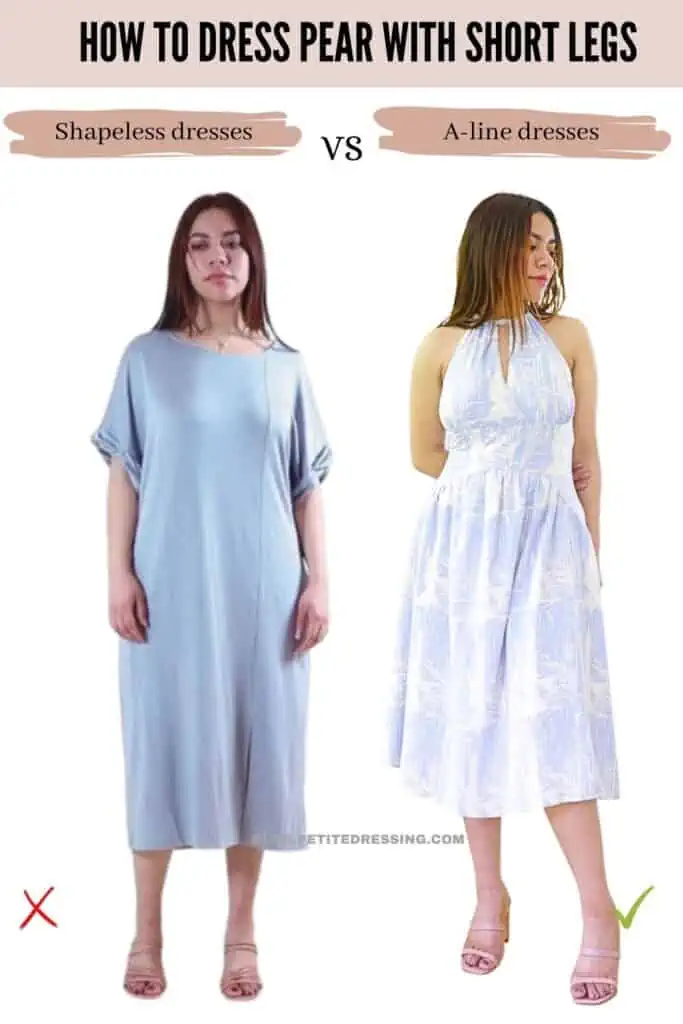 Minimize your Layering
Layering your clothes, most particularly your tops effectively helps create better depth and dimension for your less prominent upper half. But this doesn't mean that you have to bulk up on too many layers just to create more definition on your shoulder line and bust.
The key is to keep things minimal and layer your clothes strategically to work around the size discrepancies on your figure and create more balance. You can do this by experimenting with lengths, textures, and your basic pieces.
Minimal layering simplifies the process of styling your ensembles to easily create cohesive and balanced looks. Instead of fussing over multiple layers and trying to achieve a harmonious combination, focusing on a few well-fitted pieces achieves a more polished and put-together overall look.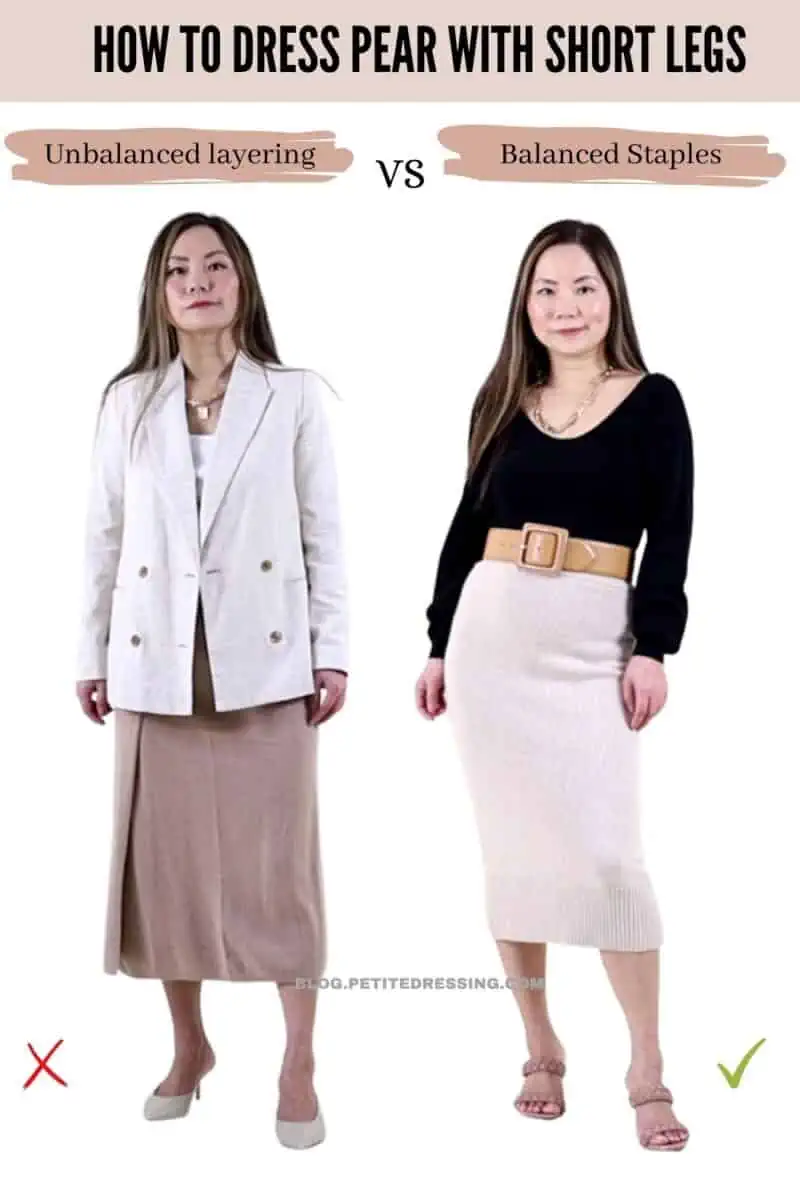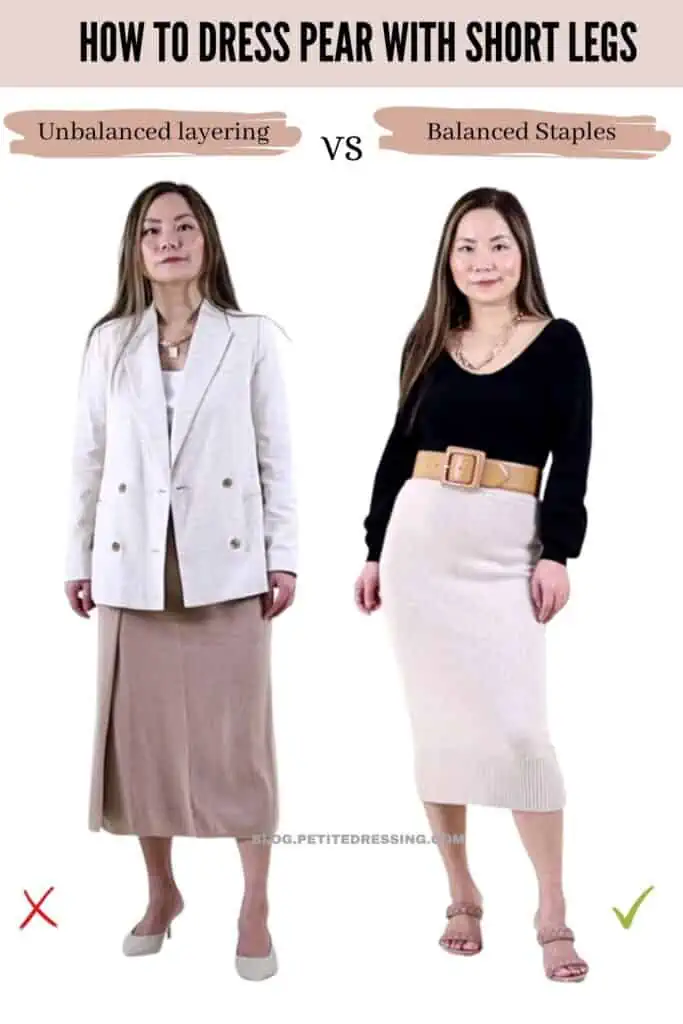 Wear Neutral-colored Heels
Neutral-colored heels bring out visual continuity as your legs seamlessly blend with the color of your shoes. This makes the line of the leg remain uninterrupted which results in the perception of longer legs for a taller-looking appearance.
This sense of verticality brought by the seamless transition between the foot and leg is also quite helpful in keeping a nice overall balance for pear-shaped bodies.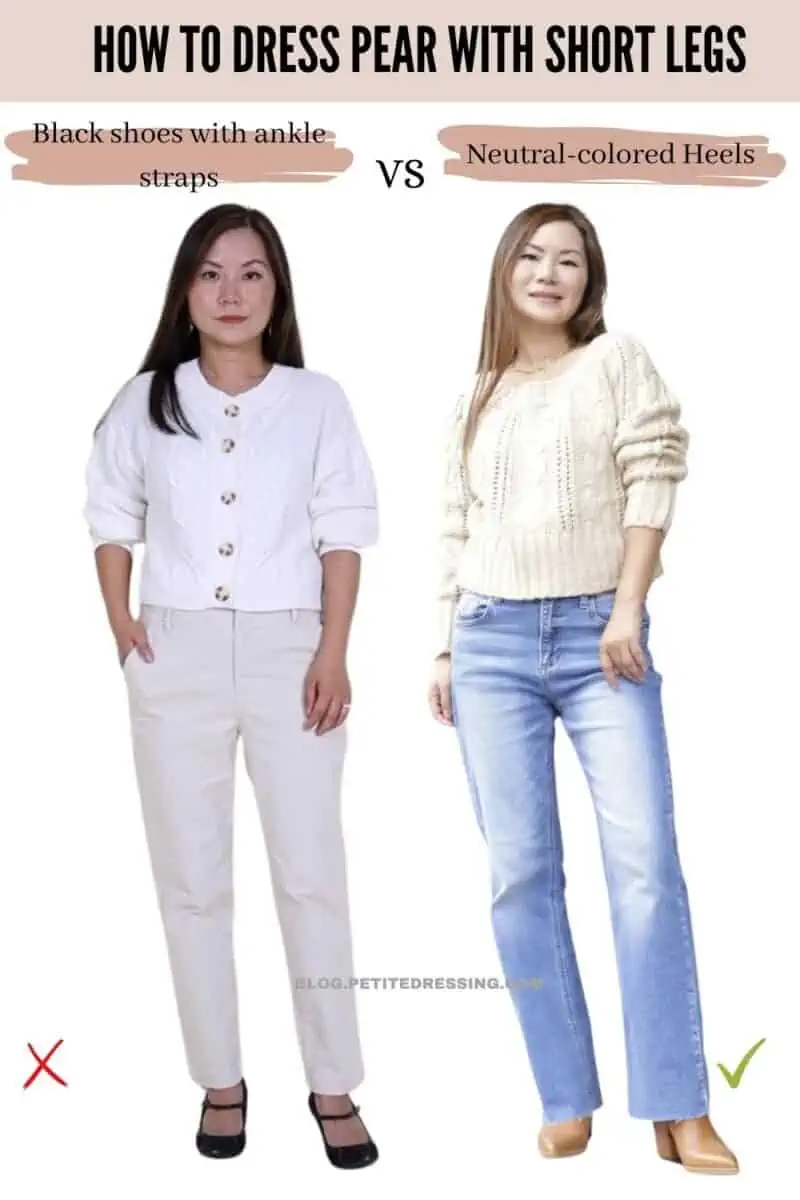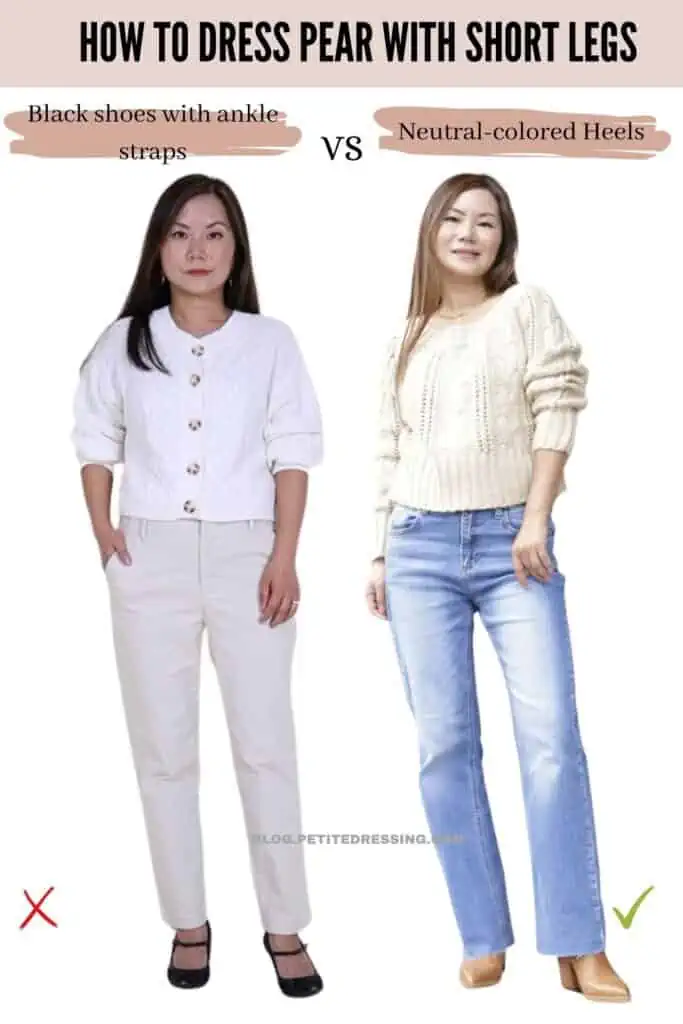 Avoid Tiered Dresses
Tiered dresses may look dainty and fabulous, which is why you usually see them worn at parties! However, for your pear-shaped body and short legs, tiered dresses can be an absolute fashion faux pas.
The main reason is that their multiple layers of fabric cascading down from the waist or bodice can only cause more imbalance by making your hips even wider. They can also overwhelm your petite frame and make your short legs even shorter.
The multiple layers of fabric featured in tiered dresses visibly add bulk and width to the lower body, which makes your significantly smaller upper half look even less pronounced. The horizontal lines created by these voluminous tiers can also visually disrupt the vertical flow of your outfit.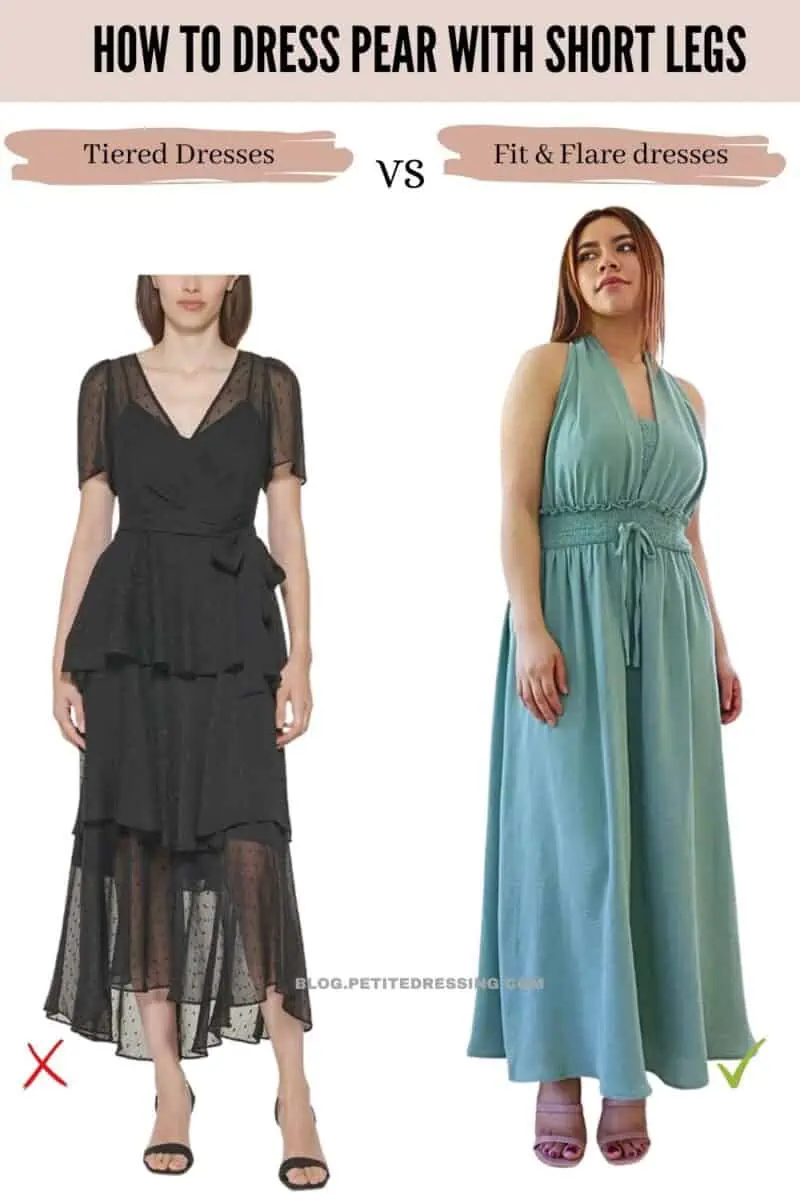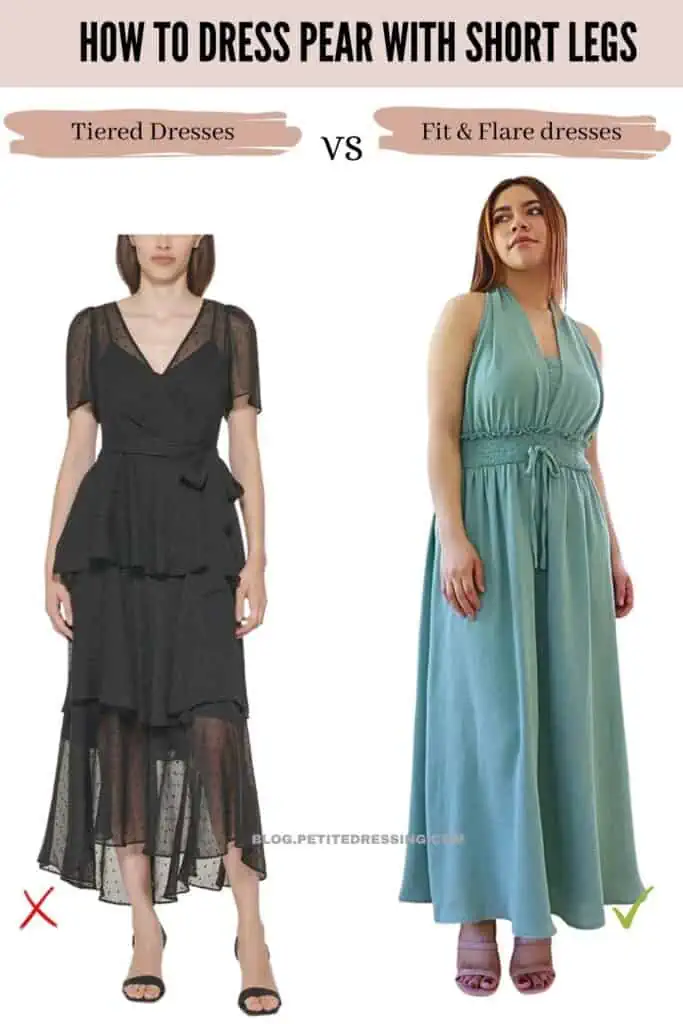 Don't wear Crop Tops
As someone with short legs, you need to avoid clothes that cut off at the midsection as this only makes you look shorter in height. Other than causing a visual break on your frame, crop tops draw attention to the waist and hip area which are a pear-shaped girl's areas of concern.
Crop tops may significantly emphasize your wider hips and make them appear even more prominent, and therefore make you look disproportionate. This also detracts the eyes from your body shape's best features, just like your well-defined waistline.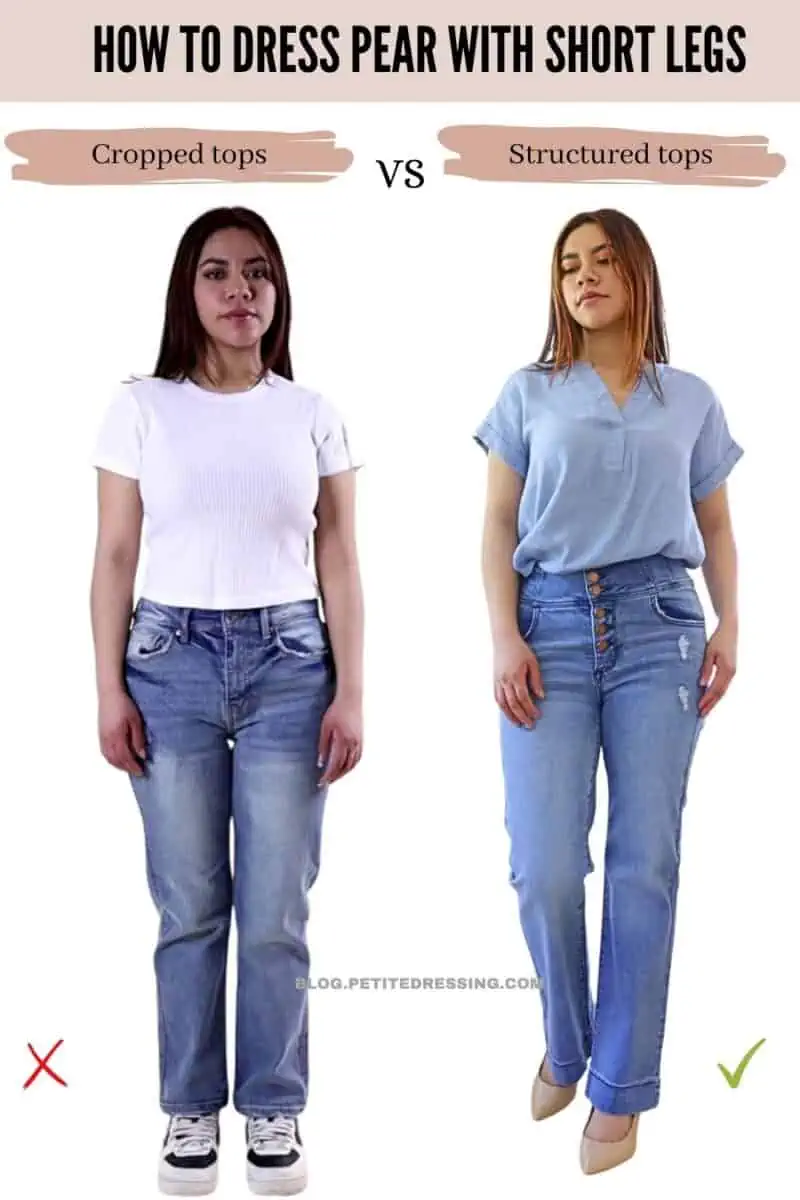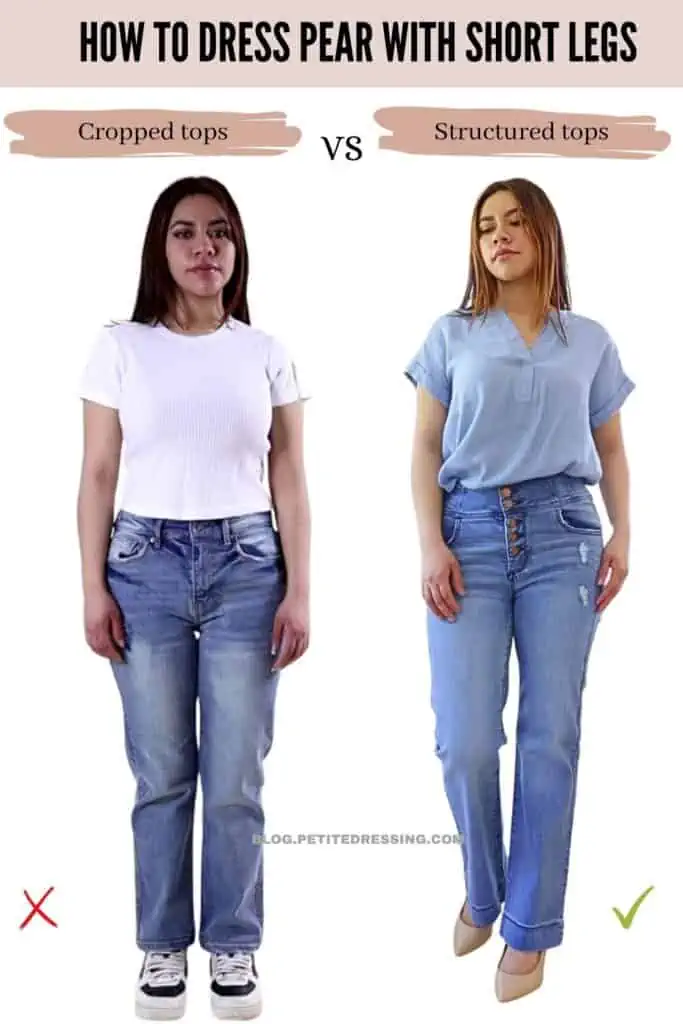 Avoid Boxy Blazers
While it's true that adding some volume (most particularly on the upper half) is essentially helpful for short pear shapes, wearing overfit or oversized blazers isn't really the best way to do it. They generally have excess fabric and bulk around the waist and hip area, which are factors that emphasize the wider proportions of a pear-shaped figure.
Instead of providing a sleek and tailored look, these overfit blazers will only add unnecessary volume to the lower body, resulting in a larger and unbalanced silhouette. The excessive size and shapeless structure may swallow up your natural curves such as the contours of your waist and bust.
Another reason why you shouldn't wear overfit blazers is that their length can also be problematic for those with short legs. If the blazer is too long, it can visually shorten the legs even more, and make you look wider and shorter.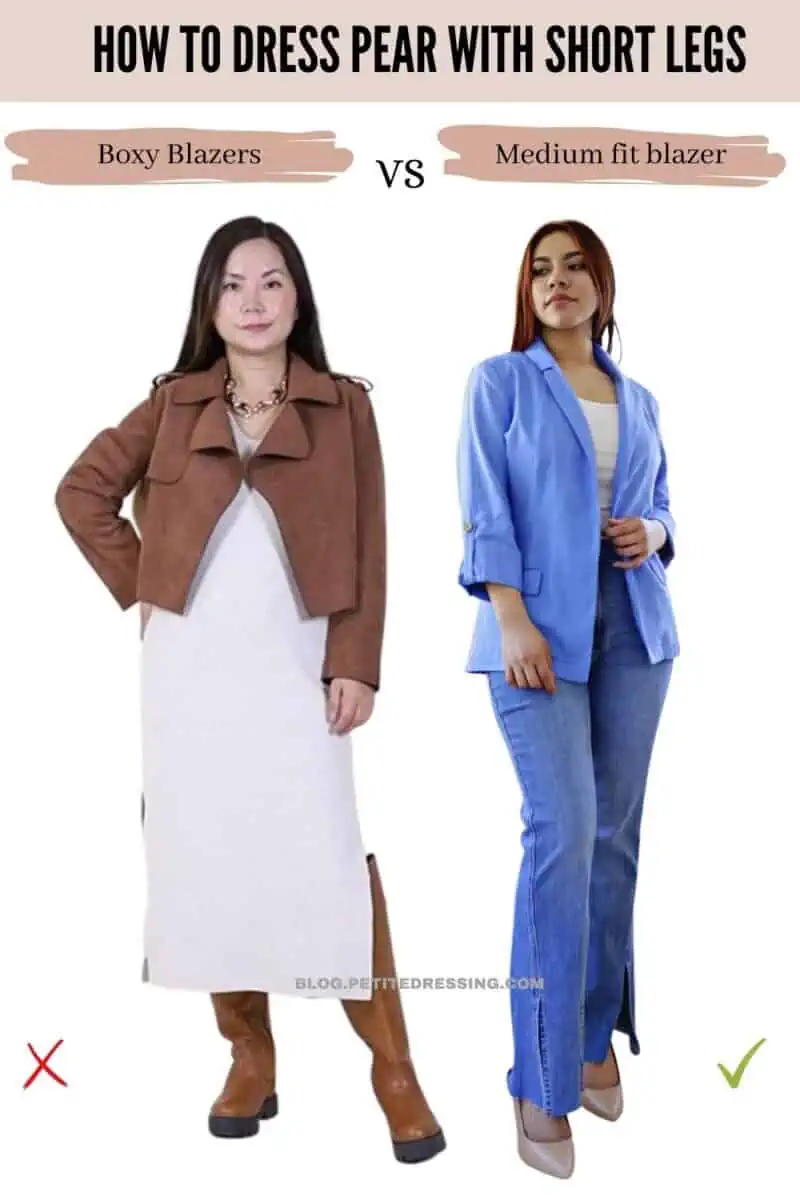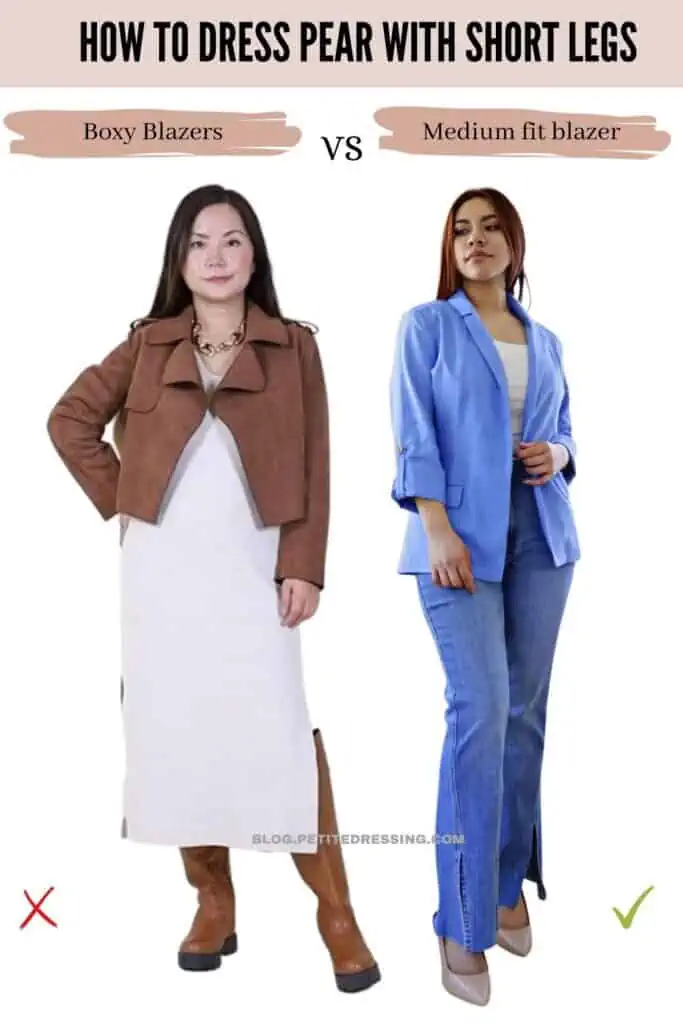 The Key Takeaway
Having short legs and a pear-shaped body is a lot more common among women than you think so you shouldn't be too worried about styling your beautiful figure! While it's true that your body shape may not have the most balanced proportions, there are still a vast variety of style options that can help you offset this.
I hope this guide made styling much easier and more fun for you. Always keep in mind that having your individuality shine through your personal style is the most important thing for you to be able to rock your body shape.