If you are shorter like myself, at times you might want to appear taller in your skirts, especially when you are not wearing heels. Since not all skirts are created equal, it is critical to find the right styles and lengths.
Not only I'm petite, but also I have a petite clothing line for women 5'4″ and under, so I style petite models in our weekly photo shoot and product fitting.
So, based on my first hand experience, I've put together this guide to help you!
Styling Goal
Choose skirt details that draw the eyes up and down to give you a visually elongated look. Vertical stripes and slits are some best examples of skirt details that would perfectly give the optical illusion of elevated height.
Consider the right length to suit your body type. This factor can greatly vary depending on your height and body type so what you need to keep in mind is to avoid skirt lengths that are too overwhelming (i.e. floor-length skirts).
The structure and right fit of your skirt play a very important role in making you appear taller. Don't settle for skirts that don't fit well such as ones that are too tight or too baggy.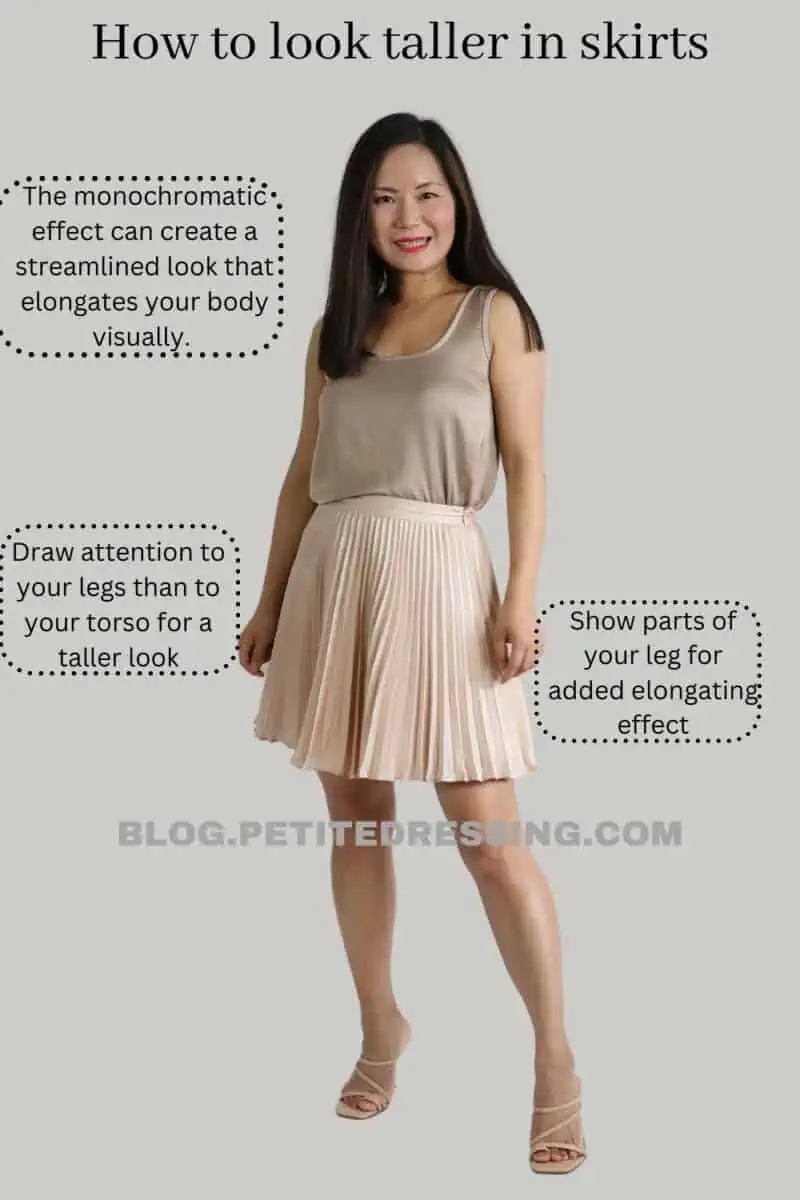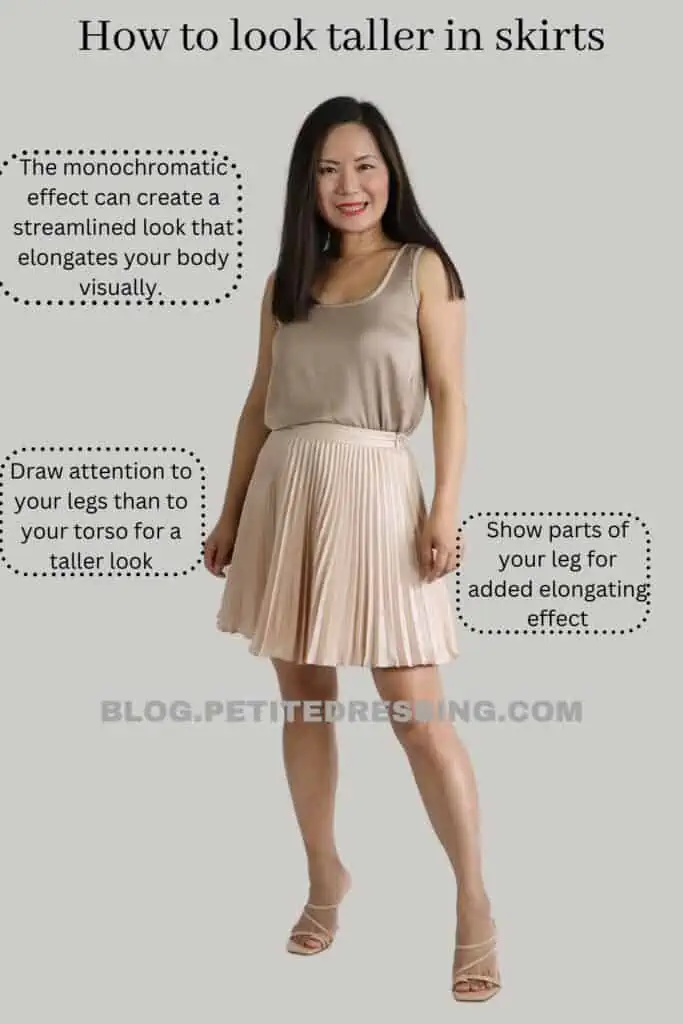 Flaunting the right skirt to make you look taller is not as difficult as you would imagine! Now let's dive into the different types of skirts that can instantly give you some extra height.
High-waisted Skirts
Generally, any type of high-waisted bottoms can be visually elongating for your frame. Of course, this includes high-waisted skirts.
High-waisted skirts sit higher on your waist, which gives the effect of longer legs and a taller frame. This is because the skirt starts higher up on your body, making your lower body appear longer.
By sitting at the narrowest part of your waist, high-waisted skirts can also create a more defined waistline. This makes your torso look well-balanced and your legs look longer.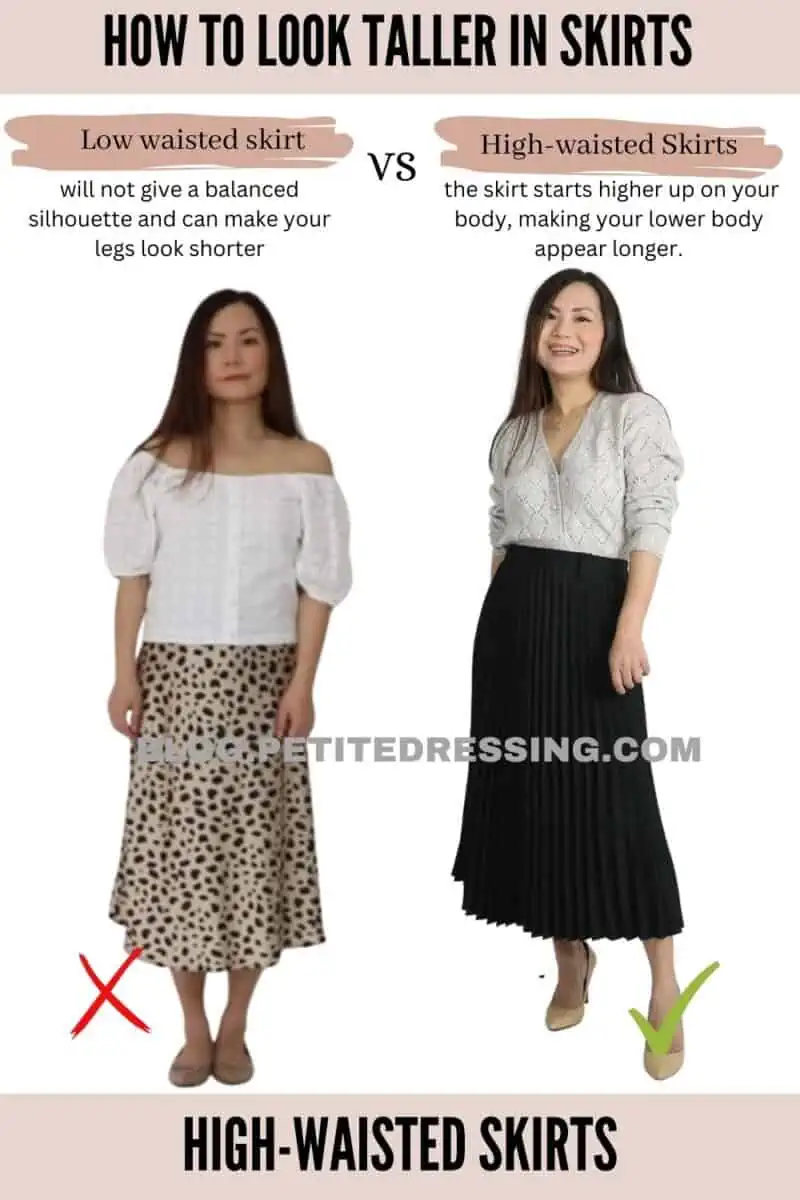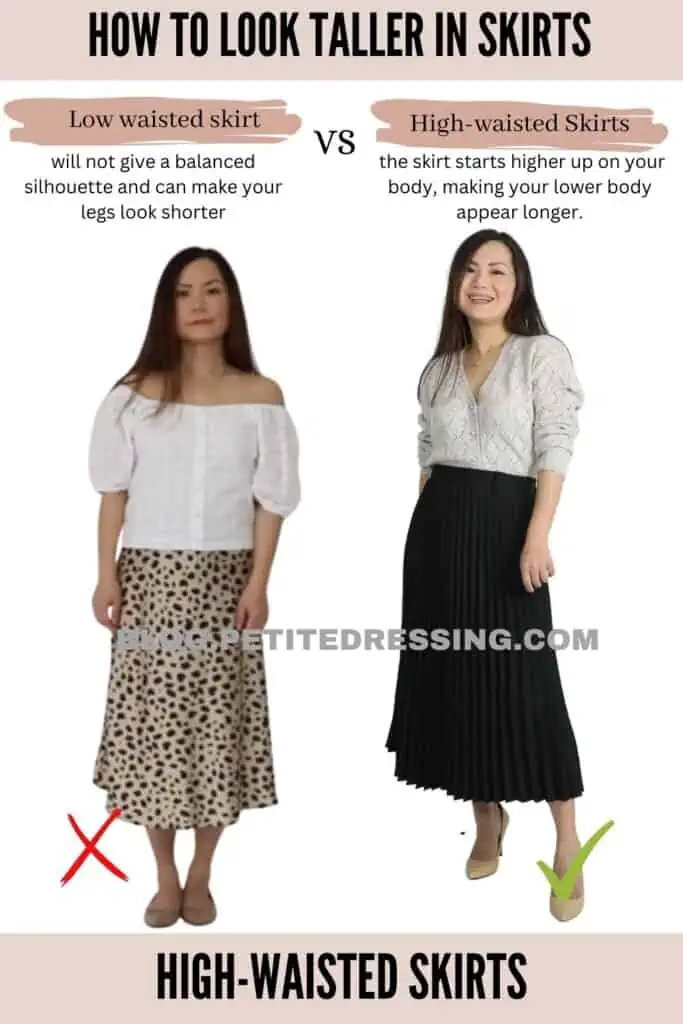 Skirts with Vertical Details
When you wear a skirt with vertical details, your eye is drawn up and down the length of the skirt. This creates a visual effect that elongates your body and makes you appear taller.
Think of it like an optical illusion – the vertical details trick the eye into seeing a longer, leaner you. They come in many different forms such as the classic pinstripe, a subtle pleat, or a bold and graphic stripe – all serve the same purpose of elevating your height!
Quick style tip: how you style the skirt can also play a role in how tall you appear. Pair your vertical detail skirt with a simple, fitted top tucked in to show off your waistline.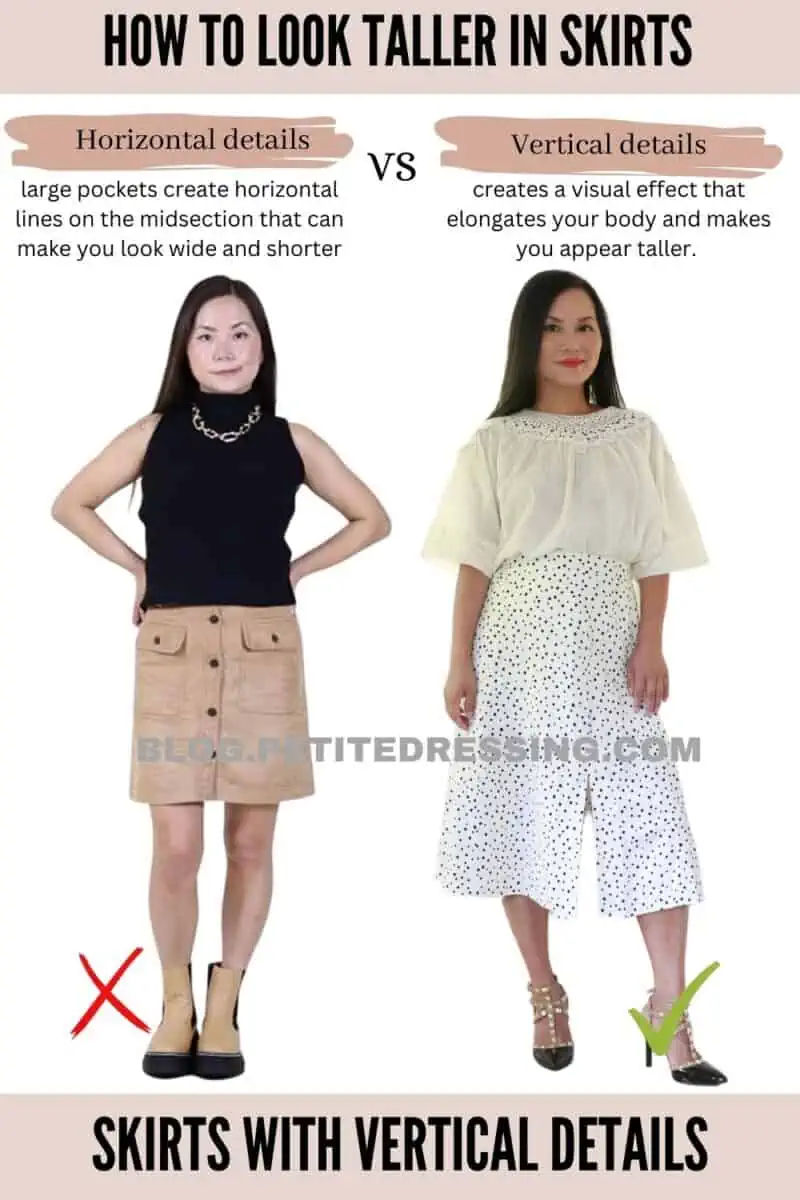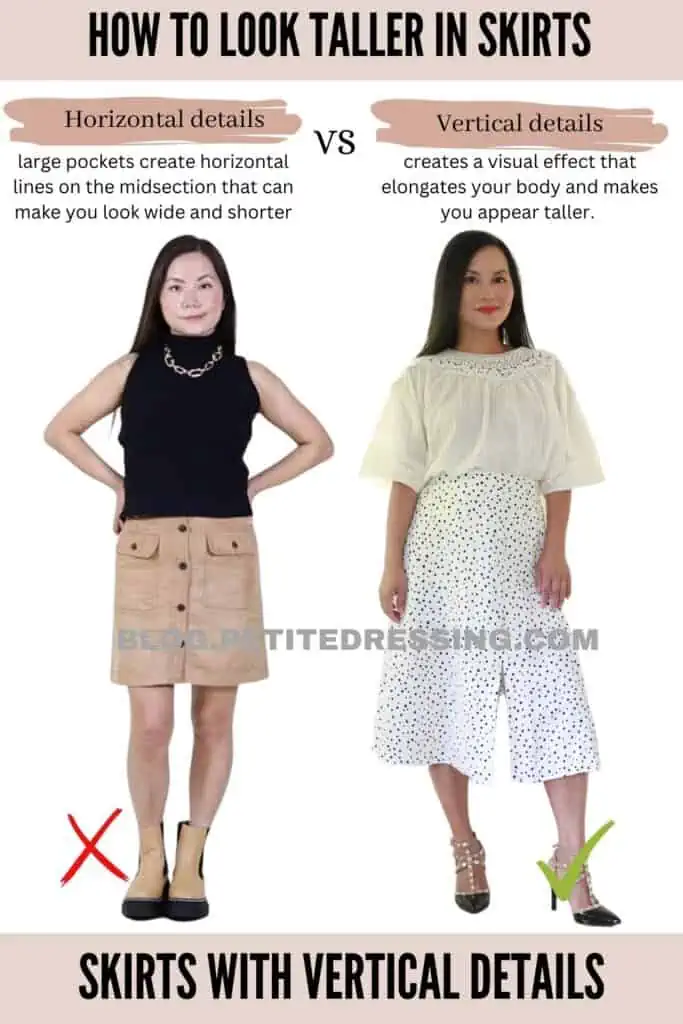 Pleated Skirts
Pleated skirts also go by the styling principle of drawing the eyes up and down with the help of fabric pleats or folds. This lengthening effect is especially noticeable when the pleats start at the waist and fall all the way down to the hemline.
Moreover, pleated skirts can add volume to the lower half of your body, which can balance out a shorter upper body. By wearing a pleated skirt, you can create the appearance of longer legs, especially if you pair it with high heels or platform shoes!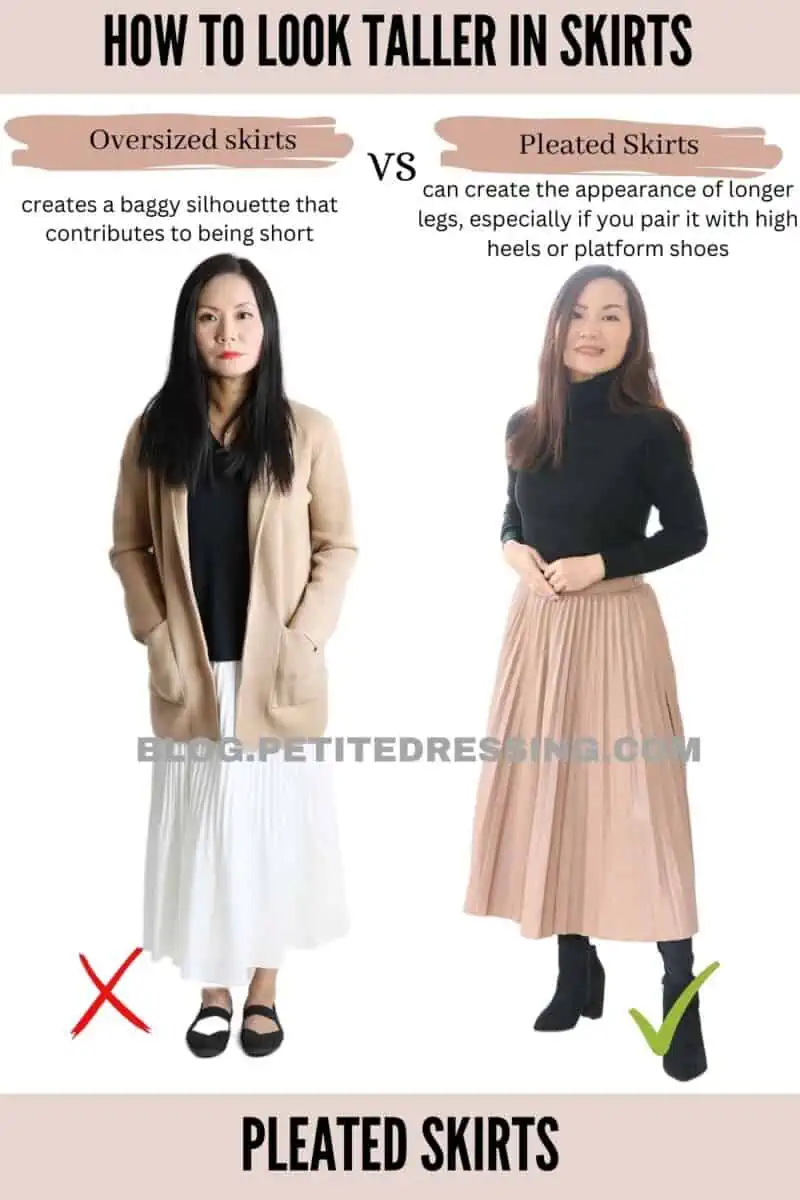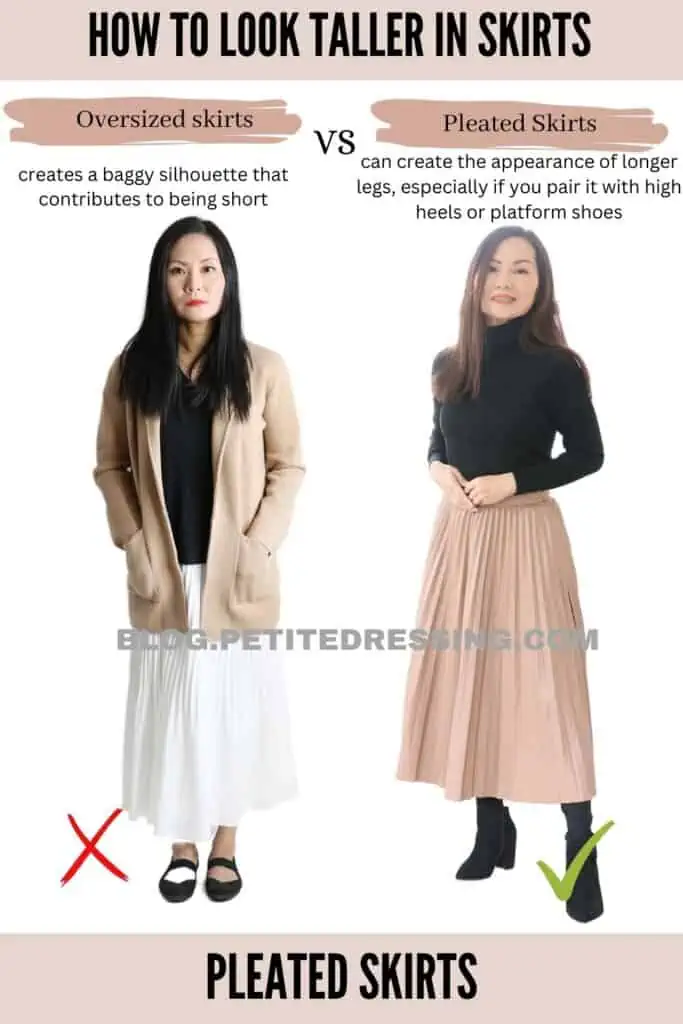 A-Line Skirts
A-Line skirts will always be a classic style choice for those looking for something to make them appear slimmer and taller. An A-line skirt is fitted at the waist and seamlessly flares out forming an A-shape which is a great silhouette to create a well-balanced frame.
This shape draws the eye down towards the hemline, which can make your legs appear longer. Most A-line skirts tend to be high-waisted so by cinching at the waist and flaring out from the hips, an A-line skirt brings balance between your upper and lower body to give you that highly-coveted tall frame!
When paired with high heels, an A-line skirt can further enhance the illusion of height by adding inches to your overall height. Additionally, choosing an A-line skirt with vertical stripes or patterns can add extra height by creating a visual line that runs up and down the body.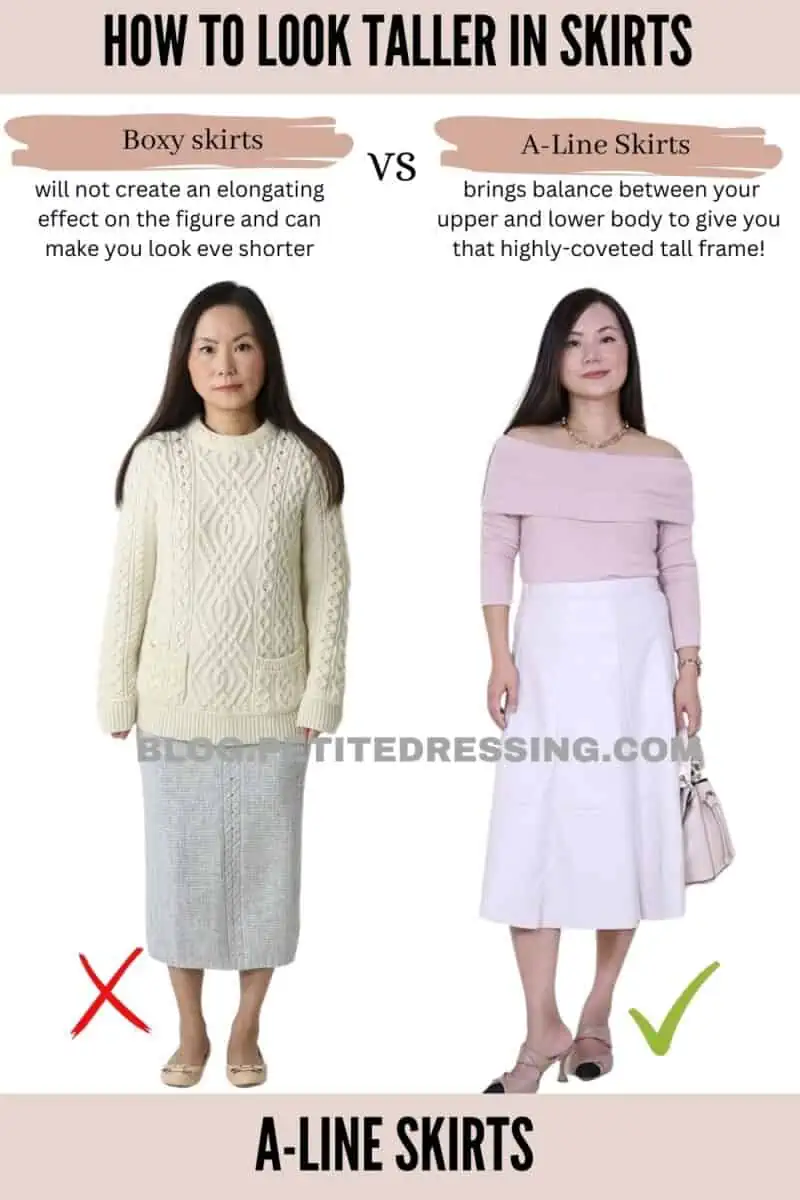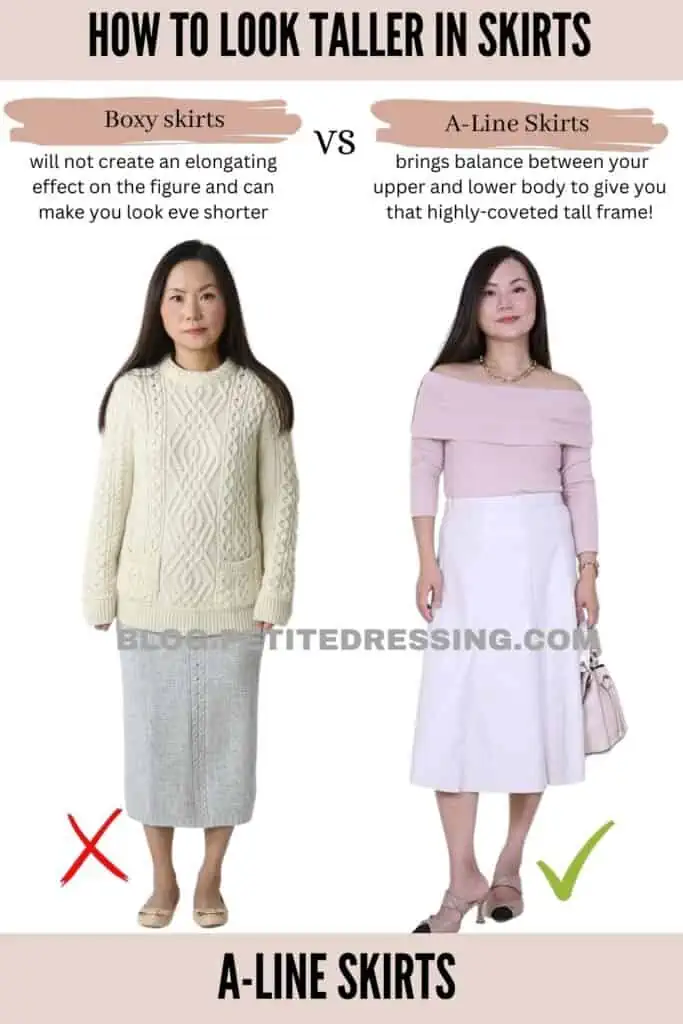 Mini Skirts
Mini skirts can make you look taller by exposing more of your legs and creating a longer leg line. Additionally, by showing off your legs, it draws more attention compared to your torso, which can create the illusion of a taller frame.
This effect is especially noticeable with the right pair of tops and shoes, which can greatly add extra inches to your height.
Another way to create the illusion of height with a mini skirt is to choose a monochromatic outfit in a single color. By wearing the same color from head to toe, you can create a streamlined look that elongates your body visually.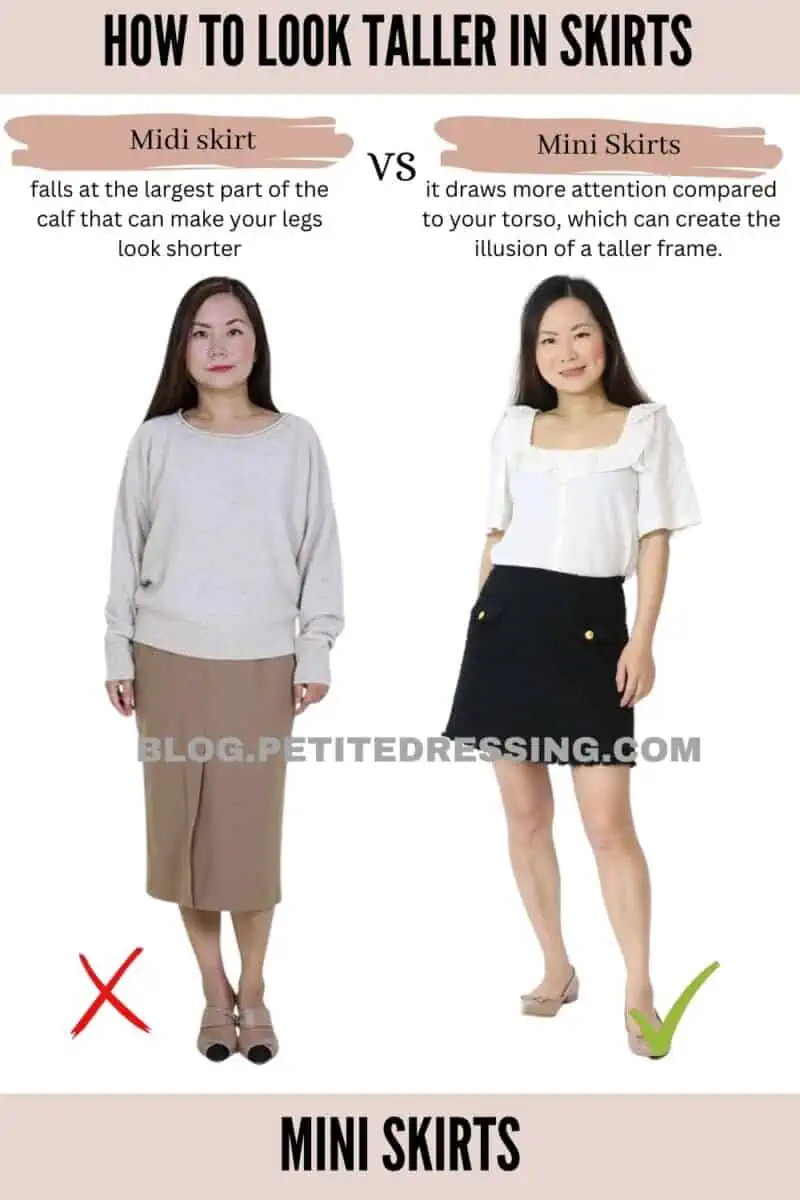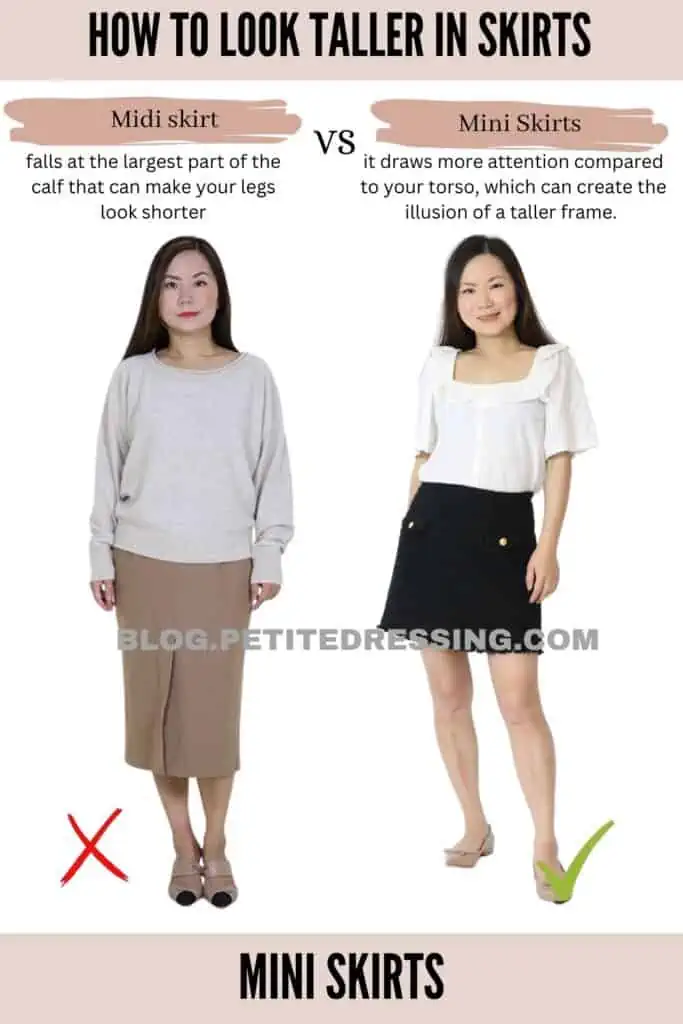 Slit Skirts
Slit skirts will always have that seductive charm that truly turns any outfit sexier! Not only does it add a touch of glamor and allure to your outfit, but it can also help create the illusion of height.
The secret to using a skirt with a slit to appear taller is all in length and placement. A well-placed slit can elongate the leg line, creating the appearance of longer legs and a taller frame.
A high slit that starts above the knee can be especially effective, as it exposes more of the leg and creates a longer, leaner silhouette. When you walk, the slit opens up and reveals just enough leg to draw the eye upwards, creating a visual line that elongates your legs.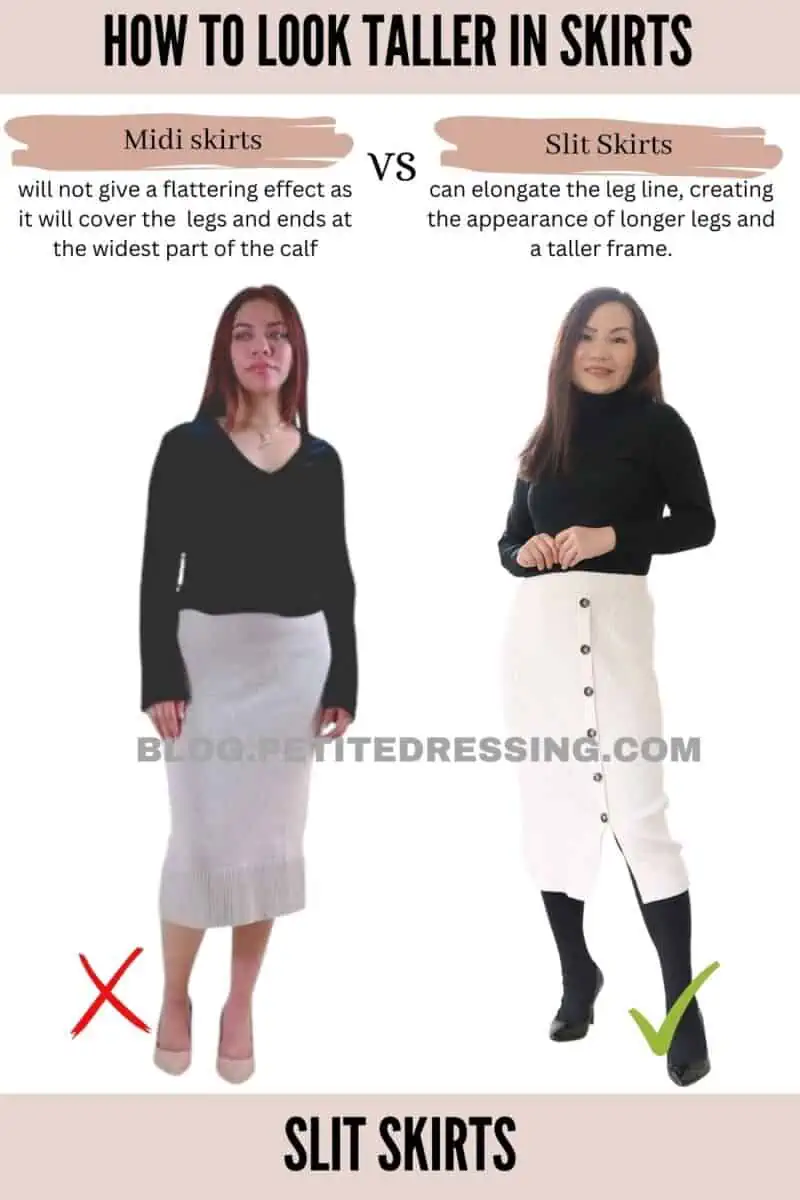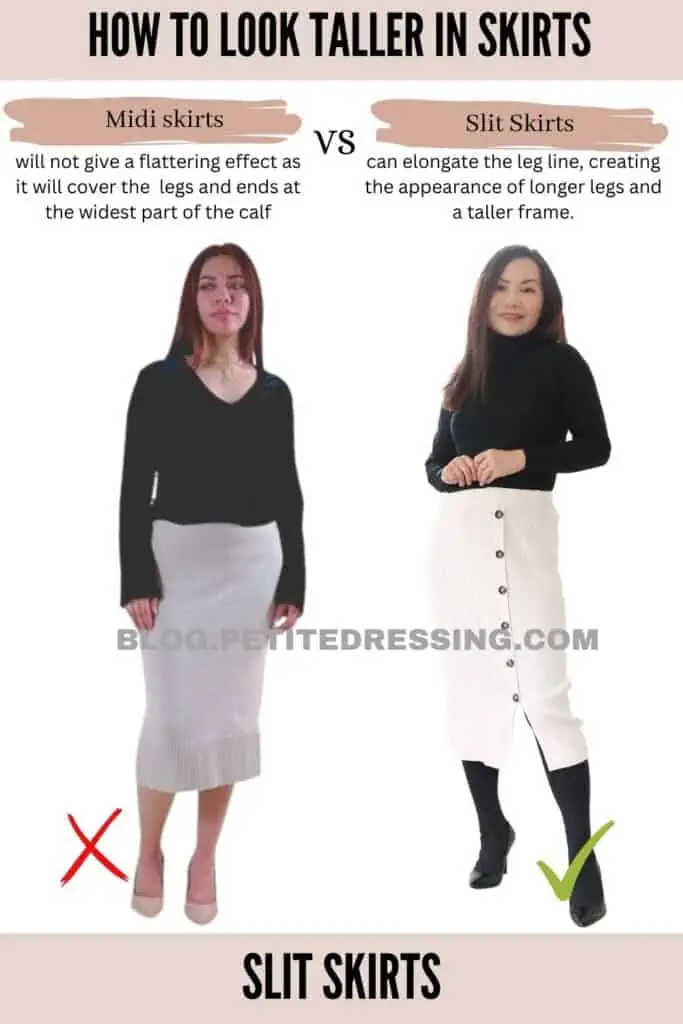 Flowy Maxi Skirts
Flowy maxi skirts are the epitome of grace and as you walk around wearing one, the soft movements the fabric does is just majestic! Apart from their obvious elegance, flowy maxi skirts can play a huge role in making you look taller as well!
Some petite girls may find maxi skirts intimidating but with the right choice of length, you can definitely pull this off! A maxi skirt that falls just slightly above the ankle elongates the body by creating a long, unbroken line from the waist down to the toes.
The movement of the fabric also contributes to giving you a much-elongated frame. This lengthening effect creates the impression that the wearer is taller than they actually are.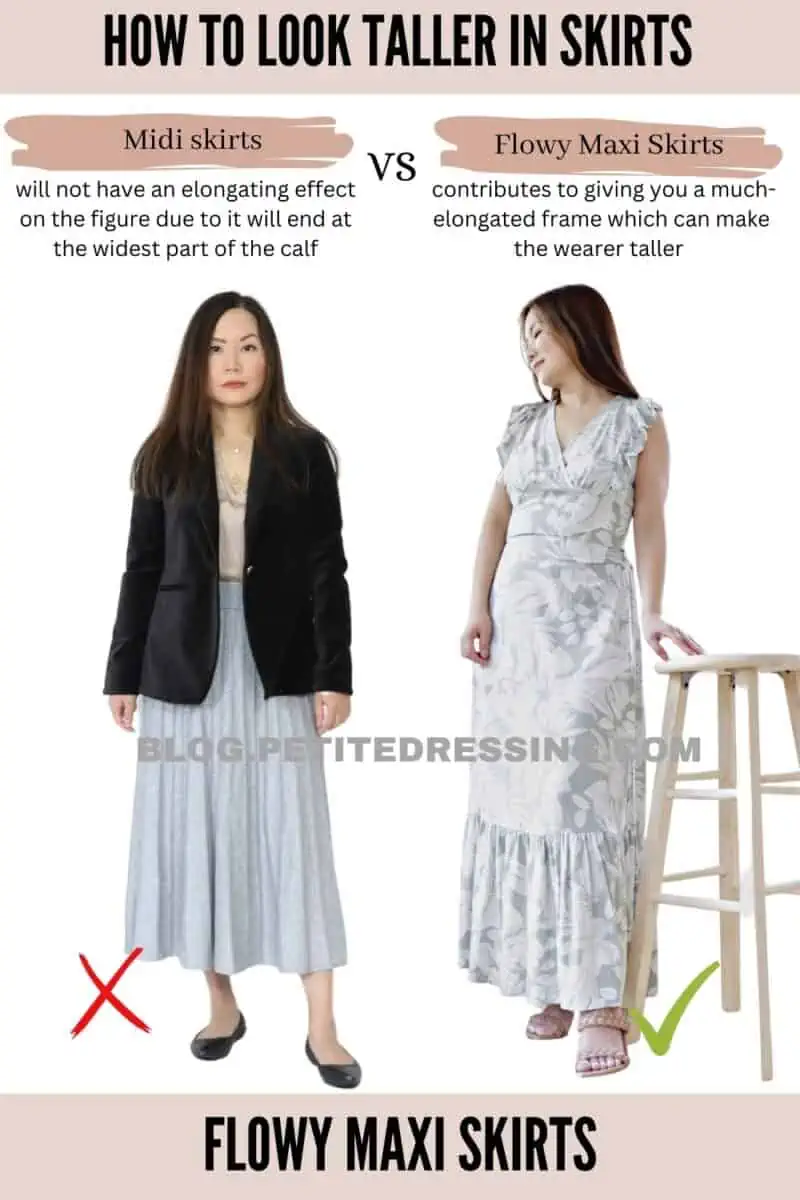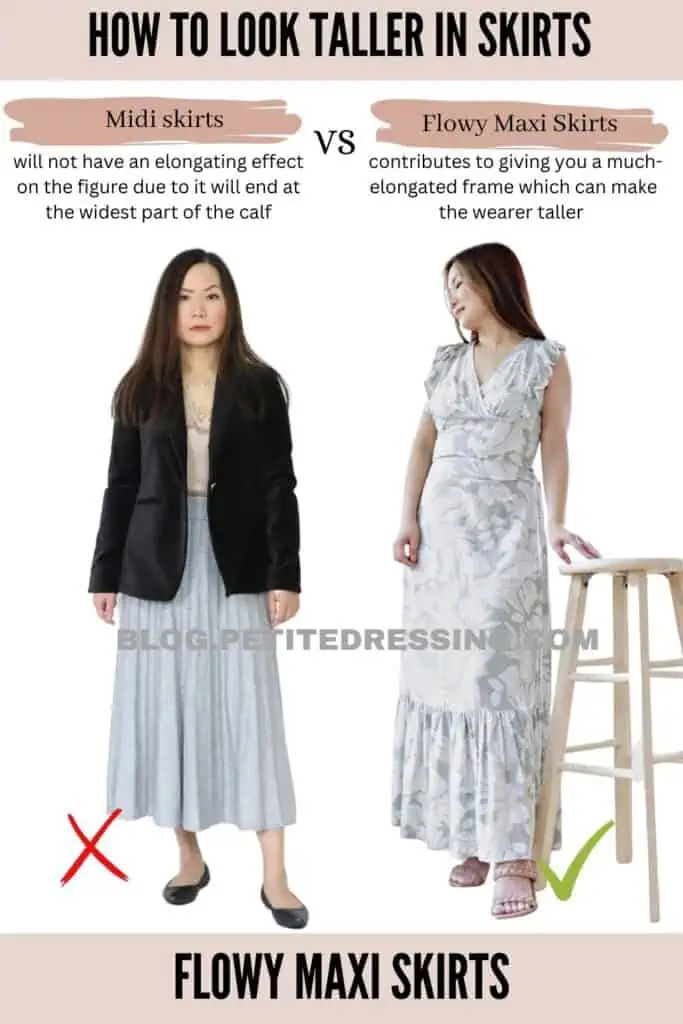 Button-down Skirts
Button-down skirts are skirts that feature a row of buttons down the front, allowing the wearer to adjust the opening and style of the skirt. These skirts come in a variety of lengths, from mini to midi to maxi, and can be made from a range of fabric materials, including denim, corduroy, and cotton.
Button-down skirts are good for making you appear taller for a few reasons. One of them is that the vertical line created by the row of buttons draws the eye up and down, creating a sense of length and height.
This effect is particularly noticeable when the buttons are left open at the bottom, creating a subtle slit that adds further length to the legs. Secondly, button-down skirts often feature a high-waisted design, which elongates the lower half of the body and makes the legs appear longer.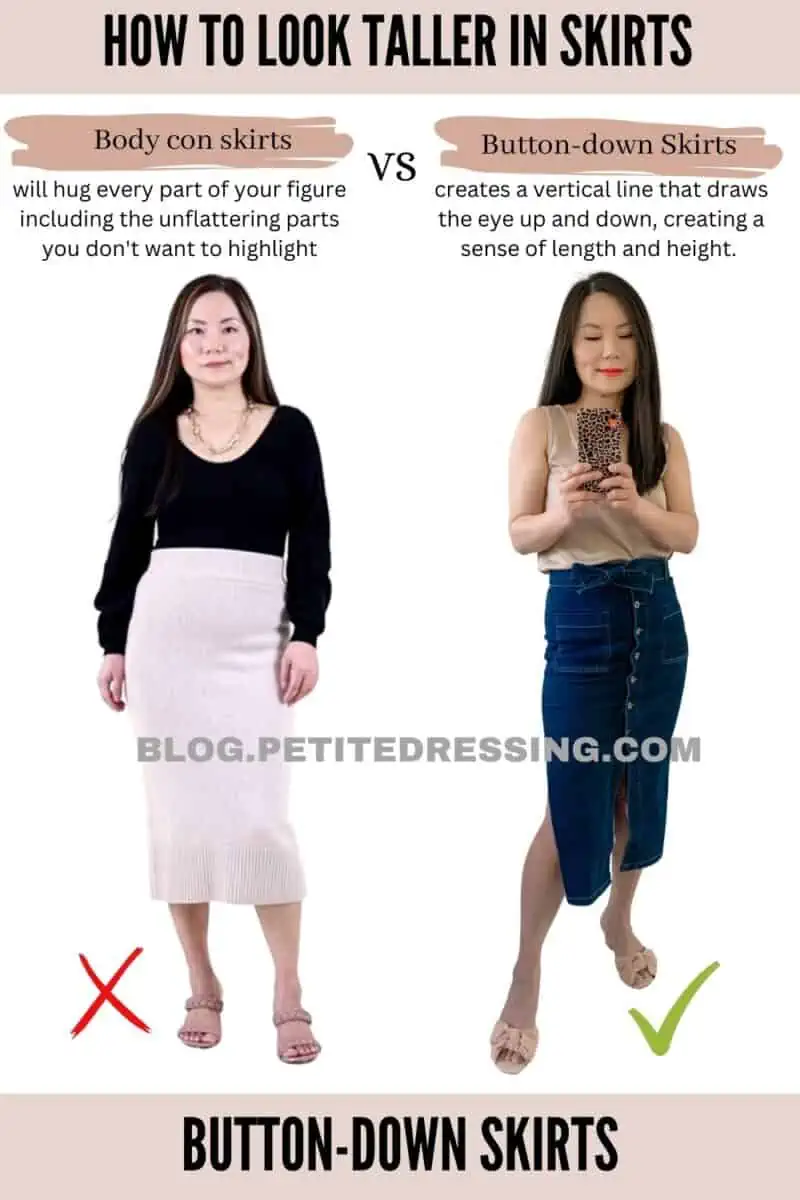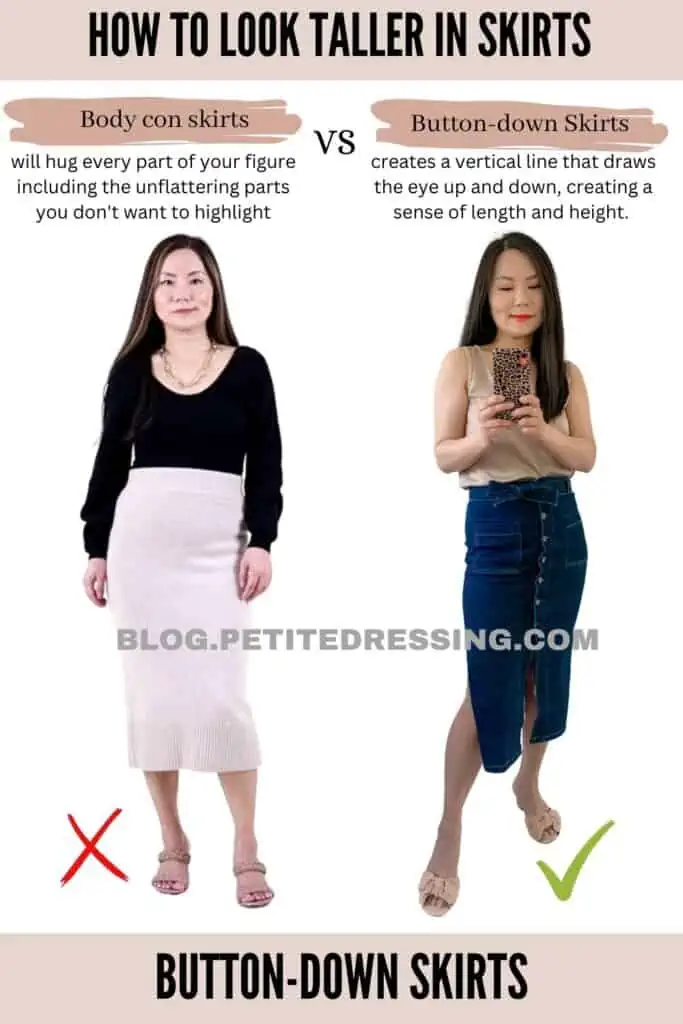 Avoid Long Tiered Skirts
Long-tiered skirts are skirts that have multiple layers or tiers of fabric that extend down to or below the ankle. They can be made from a variety of materials and are often designed to be flowy and feminine.
If you want to look taller, it is generally recommended to avoid long tiered skirts because they can visually shorten your height. The multiple layers and tiers of fabric can create bulk around the legs and make them look wider and make you appear shorter.
Additionally, the length of the skirt can hide your feet and ankles, which are important visual cues that can make you look taller. If you still want to wear a long skirt, it is recommended to choose one with a single layer of fabric and a high waistline instead.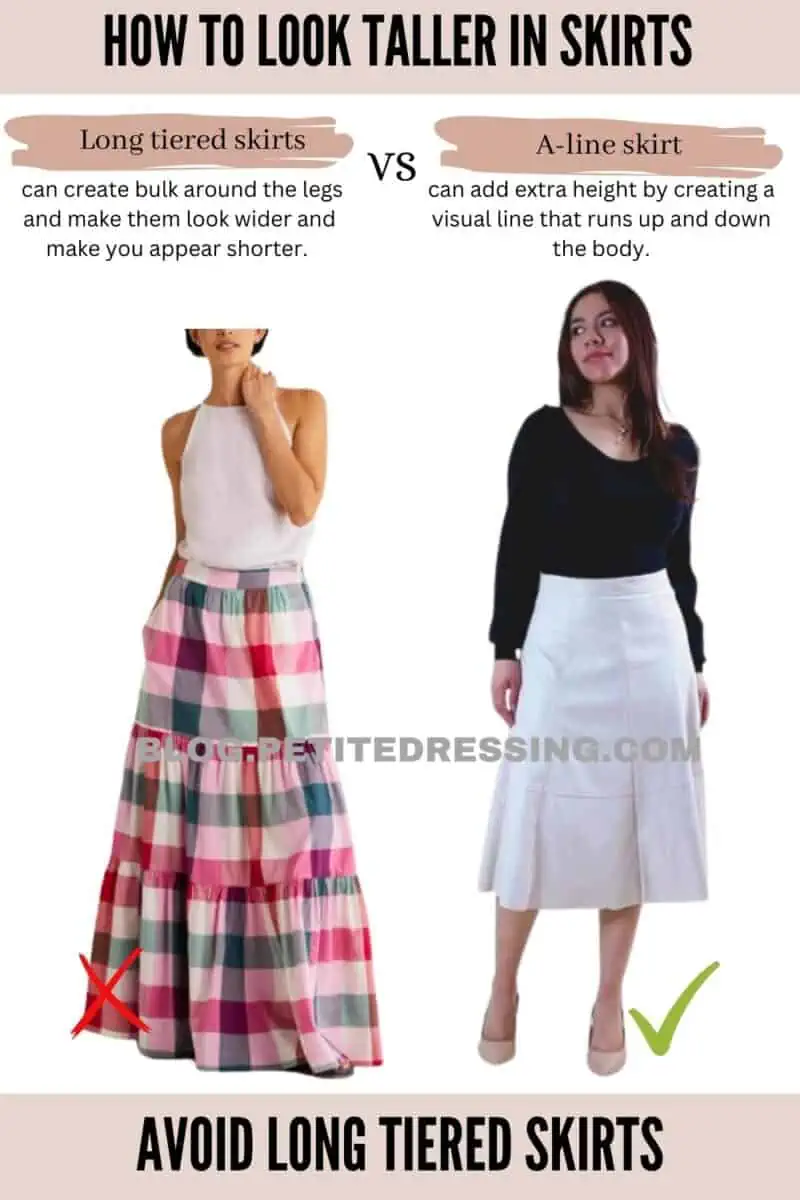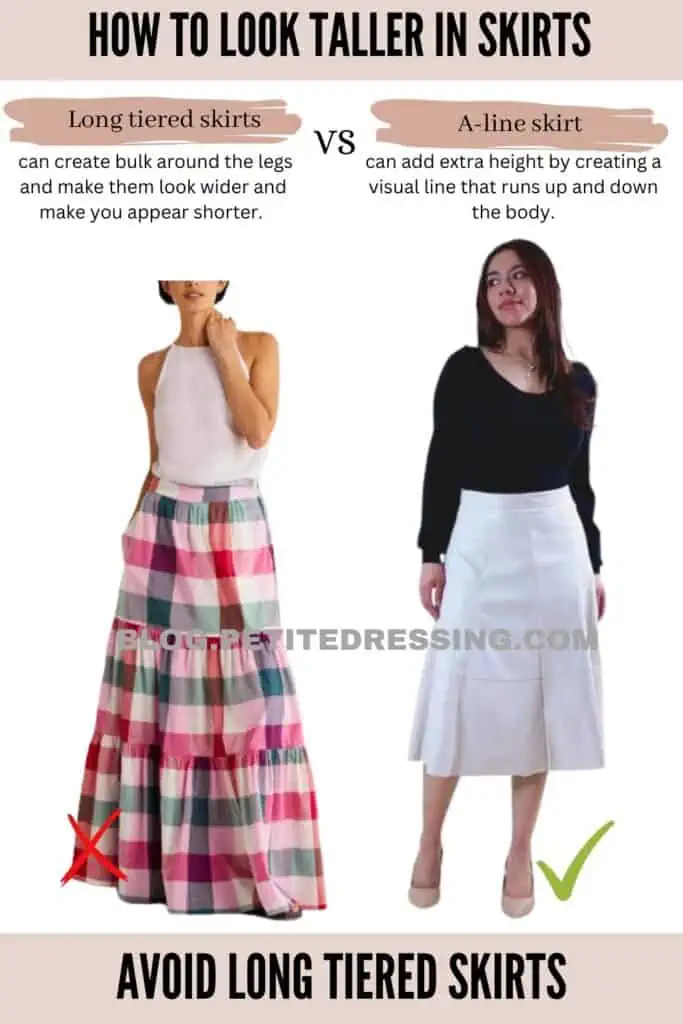 Avoid Bodycon Skirts
If you're a petite girl, bodycon skirts tend to be an unflattering choice. Bodycon skirts can create an unbalanced silhouette on a petite frame.
The tight fit of the skirt can draw attention to the hips and thighs and therefore make these areas appear larger in proportion to the rest of the body. This can make the overall look appear disproportionate and shorten the appearance of the legs.
Additionally, they can also be restrictive and uncomfortable, limiting movement and making it difficult to walk or sit comfortably.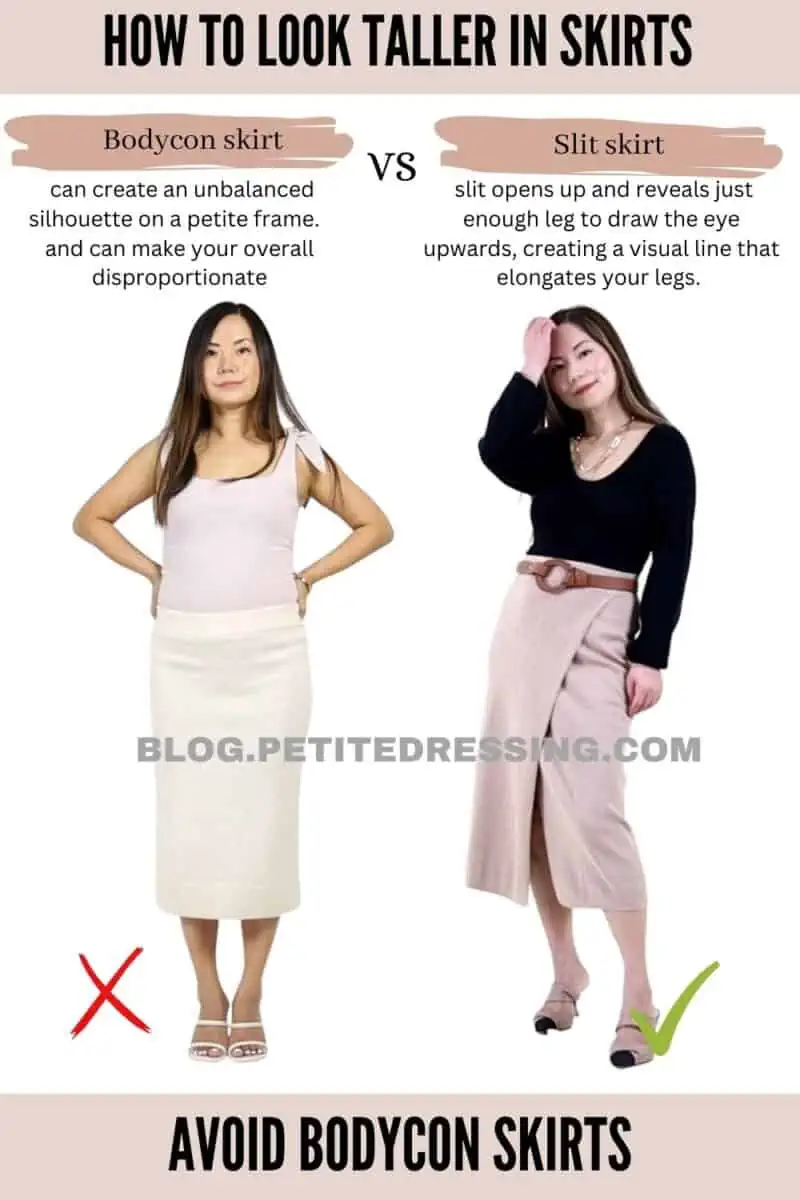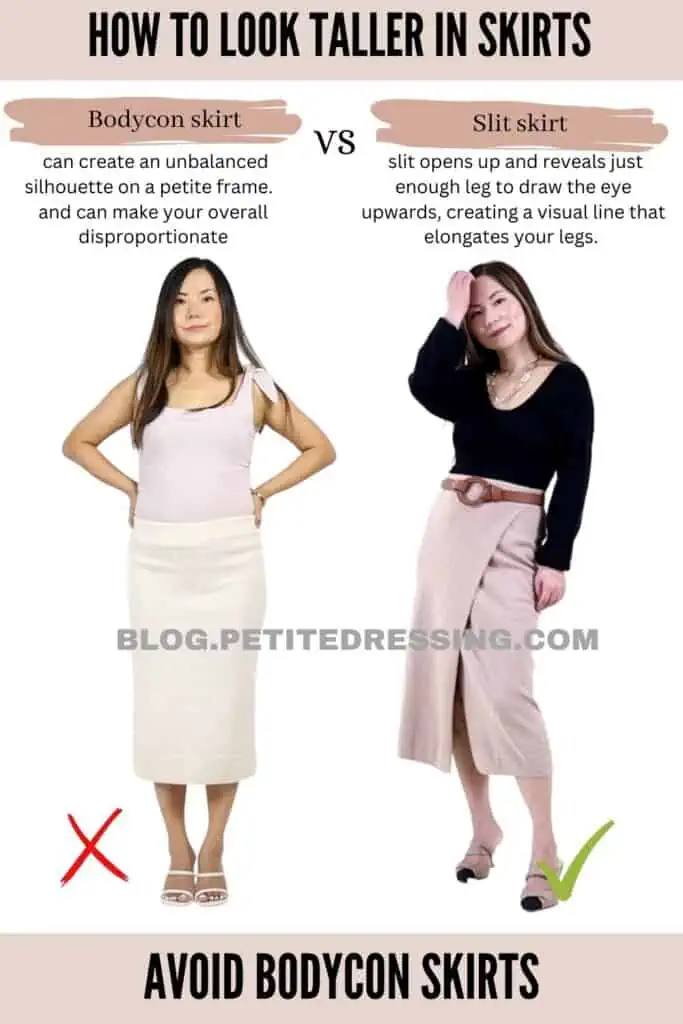 The Key Takeaway
Skirts are very versatile wardrobe essentials that can take you to many different types of style ensembles. By carefully choosing skirts that tick the styling goals I listed, you can easily add more inches to your height effortlessly and stylishly!