Skirts are an essential part of a woman's closet, and having a larger belly should not get in the way of you feeling confident in a skirt. There are many different styles of skirts that will be incredibly flattering for all of your curves.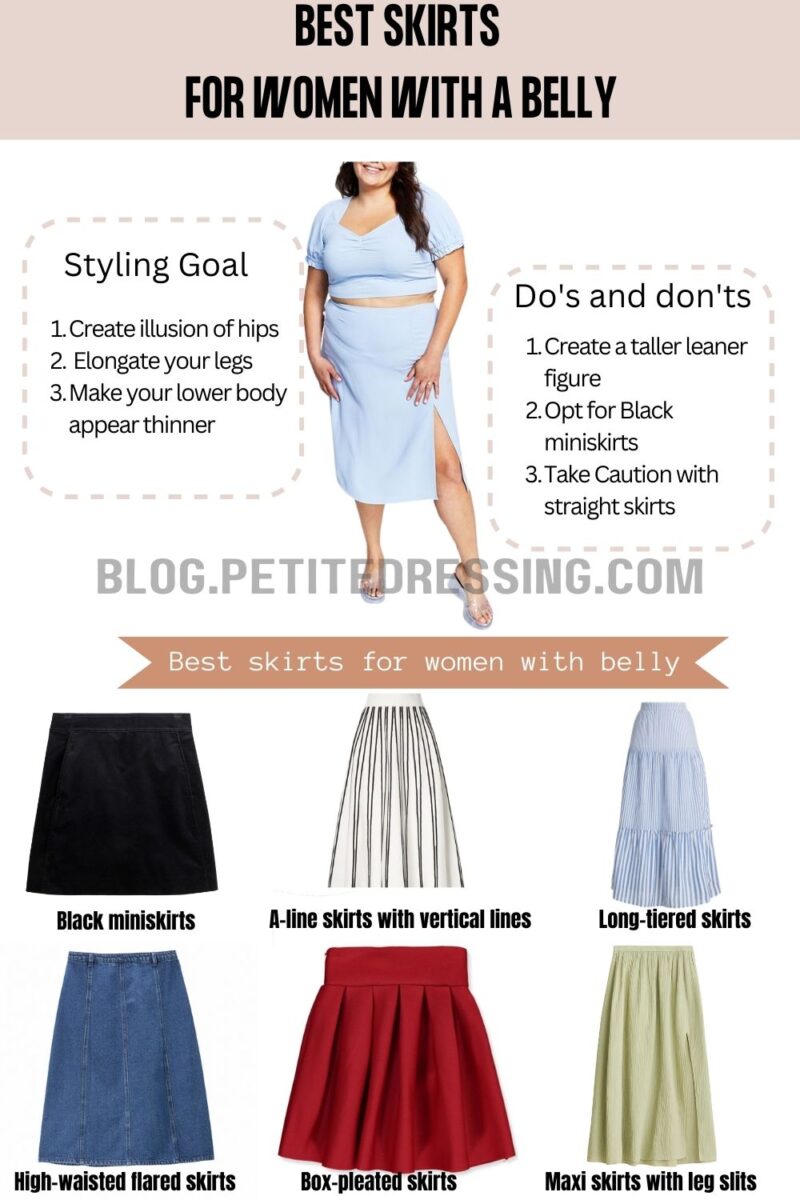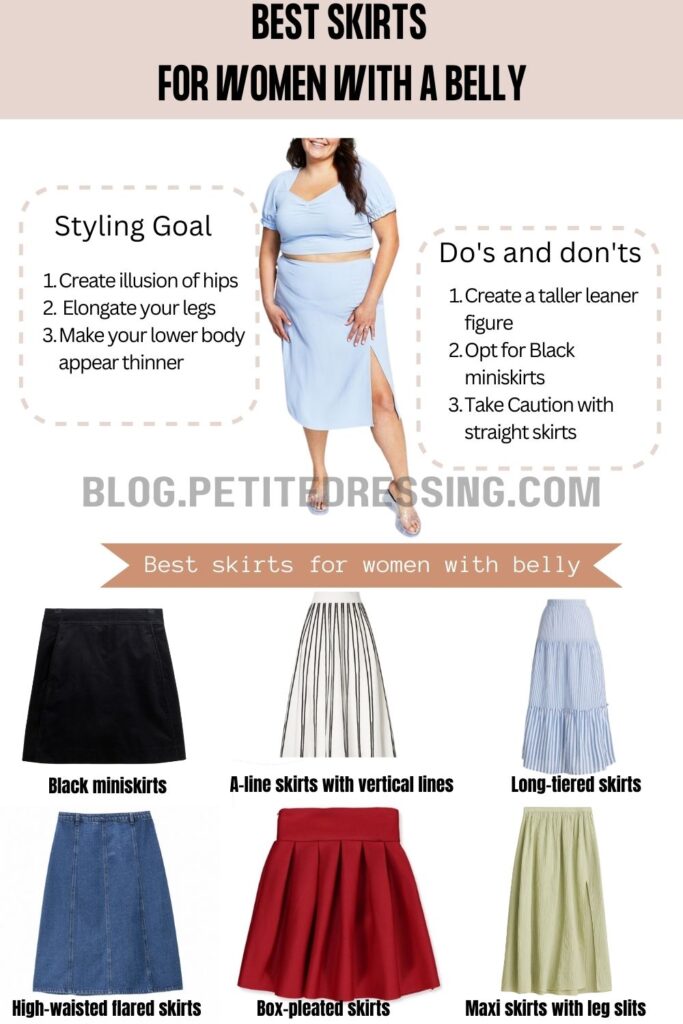 You should be able to feel self-assured, beautiful, and feminine when you put on a skirt. Some skirts may not give you the look you want, but there are plenty of options listed in this guide that will help you feel amazing and alluring all at once.
High-waisted flared skirts
High-waisted flared skirts are ideal for concealing the tummy and creating an hourglass shape all at once. These skirts are designed and structured to create a slimming shape for all body types.
A high-waisted flared skirt will have a waistline that lays at the smallest part of your waist. The skirt is made to flare out after the waistline to create an illusion of hips that are much wider than your waist. The flare will cover your stomach and leave plenty of room for weight fluctuation and bloating.
This type of skirt can be any length since the important part of the functionality is located at the waistline. As you add length to the skirt, the hemline will be wider and start to form a bell shape.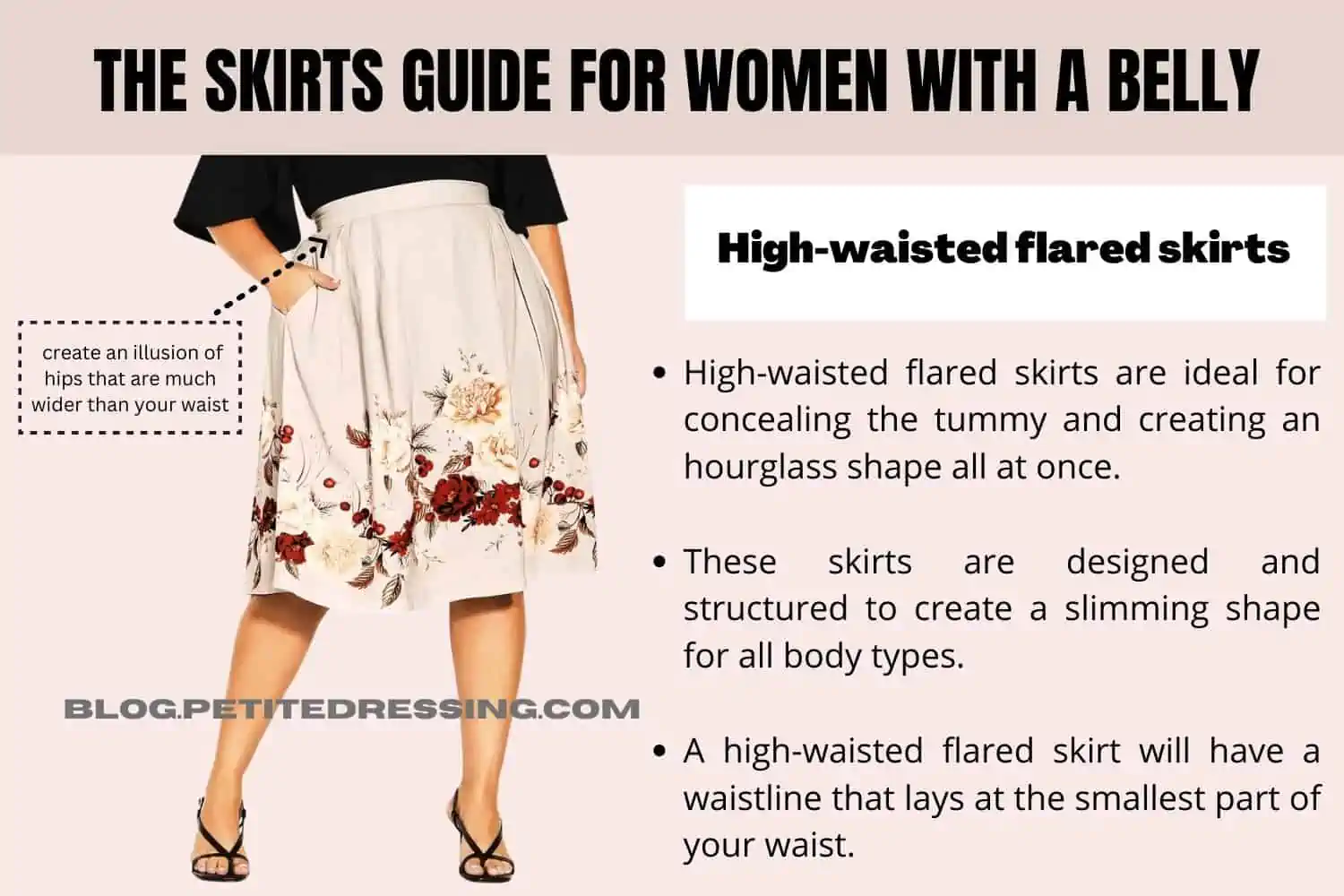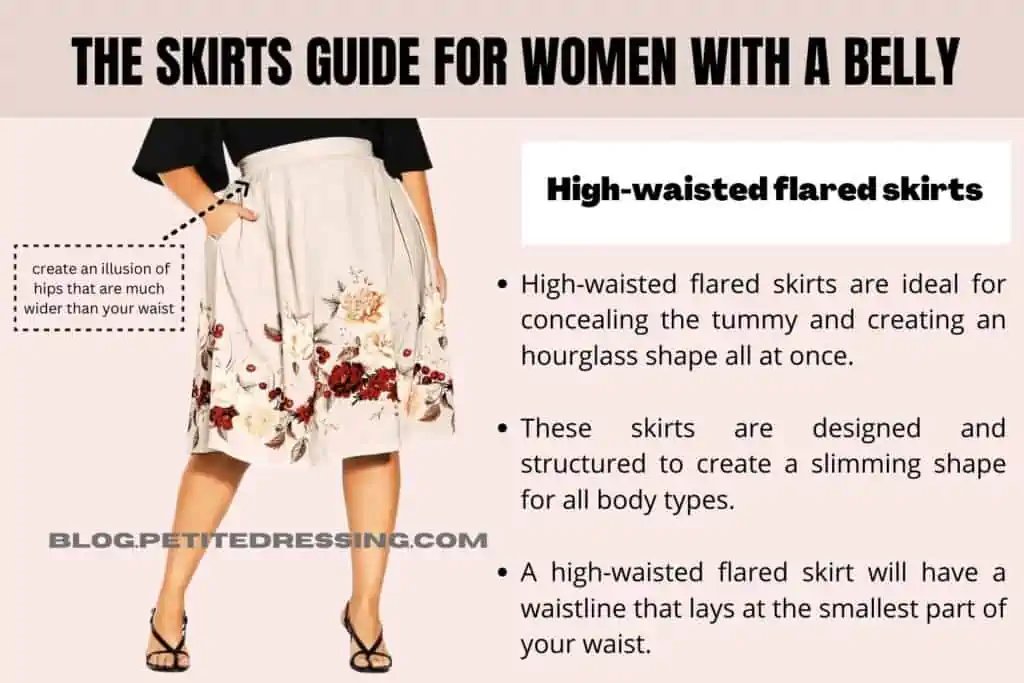 A-line skirts with vertical lines
A-line skirts are named after the fact that they take the shape of an A. With a smaller waistline that leads to a wide hemline, this skirt is ideal for creating an hourglass silhouette. If you place the waistline of the skirt at the smallest part of your waist, you can trust that the design of the skirt will do its job.
When you add vertical lines to an A-line skirt, it increases the slimming effect already in place.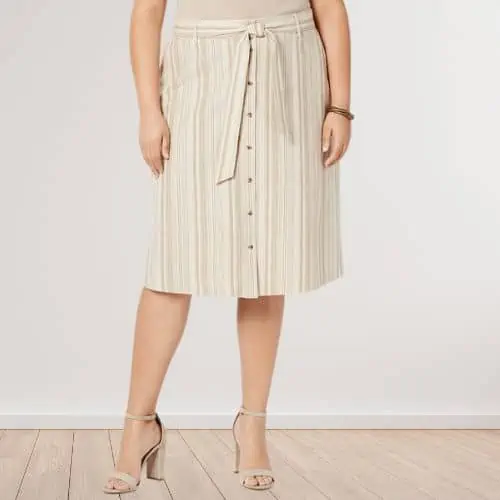 What does an A-line skirt offer to your figure?
The lines help to elongate your legs and make your lower body appear thinner than it is.
With both the flare effect and slimming effect happening at the same time, this skirt is an essential piece for the closet of women with a belly.
Maxi skirts with leg slits
Maxi skirts provide complete coverage for your stomach, thighs, and calves. Most maxi skirts are flowy and made with plenty of fabric that won't cling to your body.
When you wear a skirt with so much fabric, it is likely that the bottom half of your body may look bulkier than you would prefer. When you add a large leg slit into a maxi skirt, you break up the flow of fabric and allow some skin to show.
The split of fabric will also allow the skirt to highlight your curves, which is always a plus if you've got curves to show off. This slit will remove any aging that a maxi skirt may bring, and the leg will distract from any belly that may be noticeable.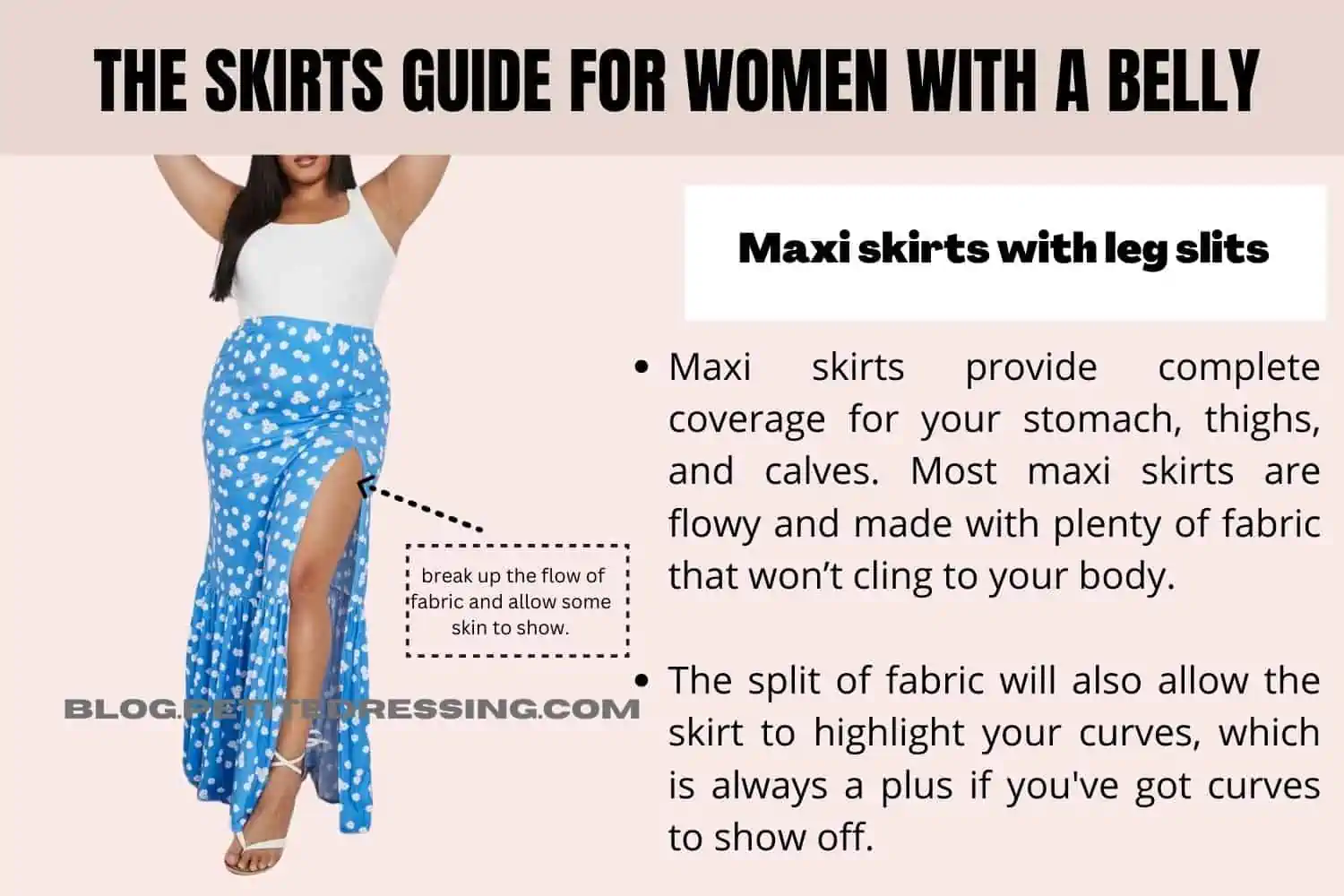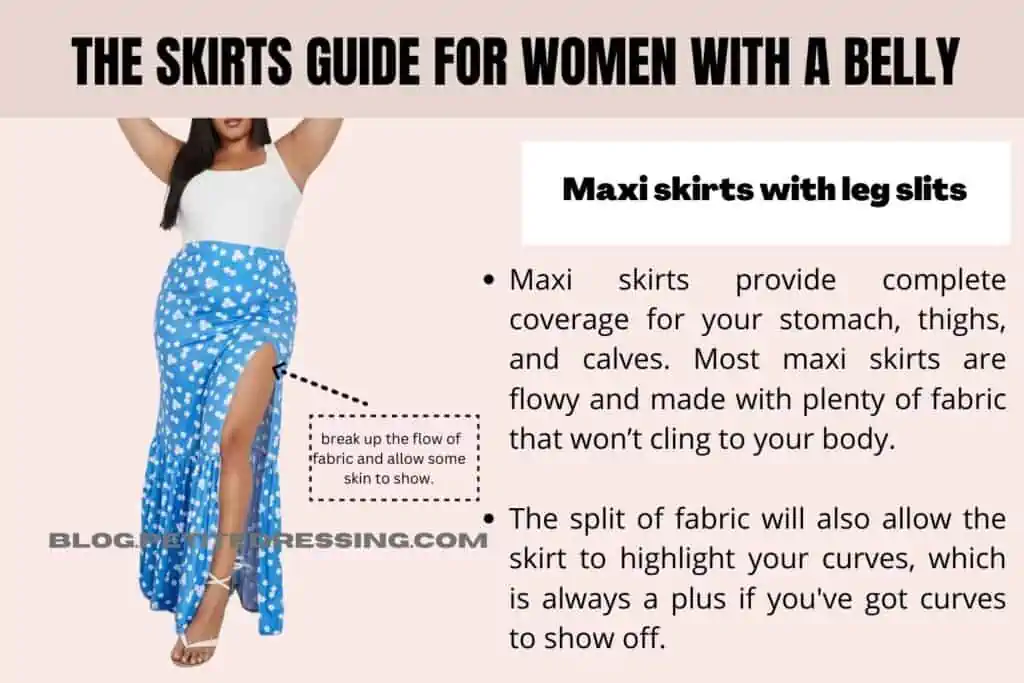 Black miniskirts
A lot of women with a belly are weary of wearing a fitting miniskirt because it can show the shape of their stomach more than they would want it to. But miniskirts can be incredibly flattering, especially if you have curves that you want to accentuate.
When you wear a black miniskirt, the black hide any shadows or creases that your stomach may create. Black is universally known as a slimming color, and it looks flattering on all skin tones.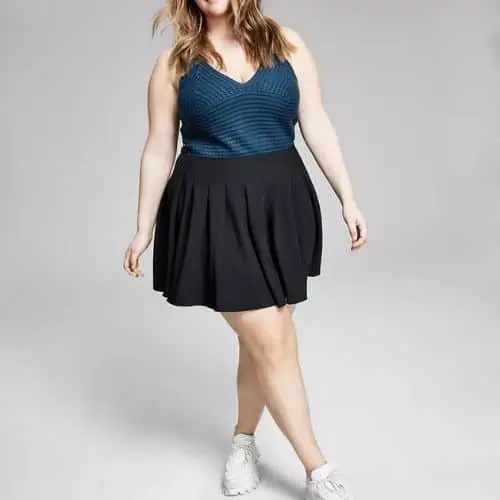 When can you wear a black miniskirt?
You can wear a black miniskirt with any season, especially if you add tights to the outfit.
They can be worn with oversized sweaters, which is helpful if you are still nervous about showing your stomach in any way.
Box-pleated skirts
Box-pleated skirts have large pleats that form around the entirety of the skirt. The pleats create a flared shape because of the increase in the fabric throughout the length of the skirt.
The box pleats are the ideal distraction because they are cute and chic and cover up your stomach. If you find a high-waisted box-pleated skirt, the pleats will start before your stomach, which means that they will cover your stomach entirely.
It is important to go for a shorter box-pleated skirt so that the flare effect works the way it is designed to. With a longer skirt, the weight of the pleats will cancel out with any flare and create a straight falling skirt.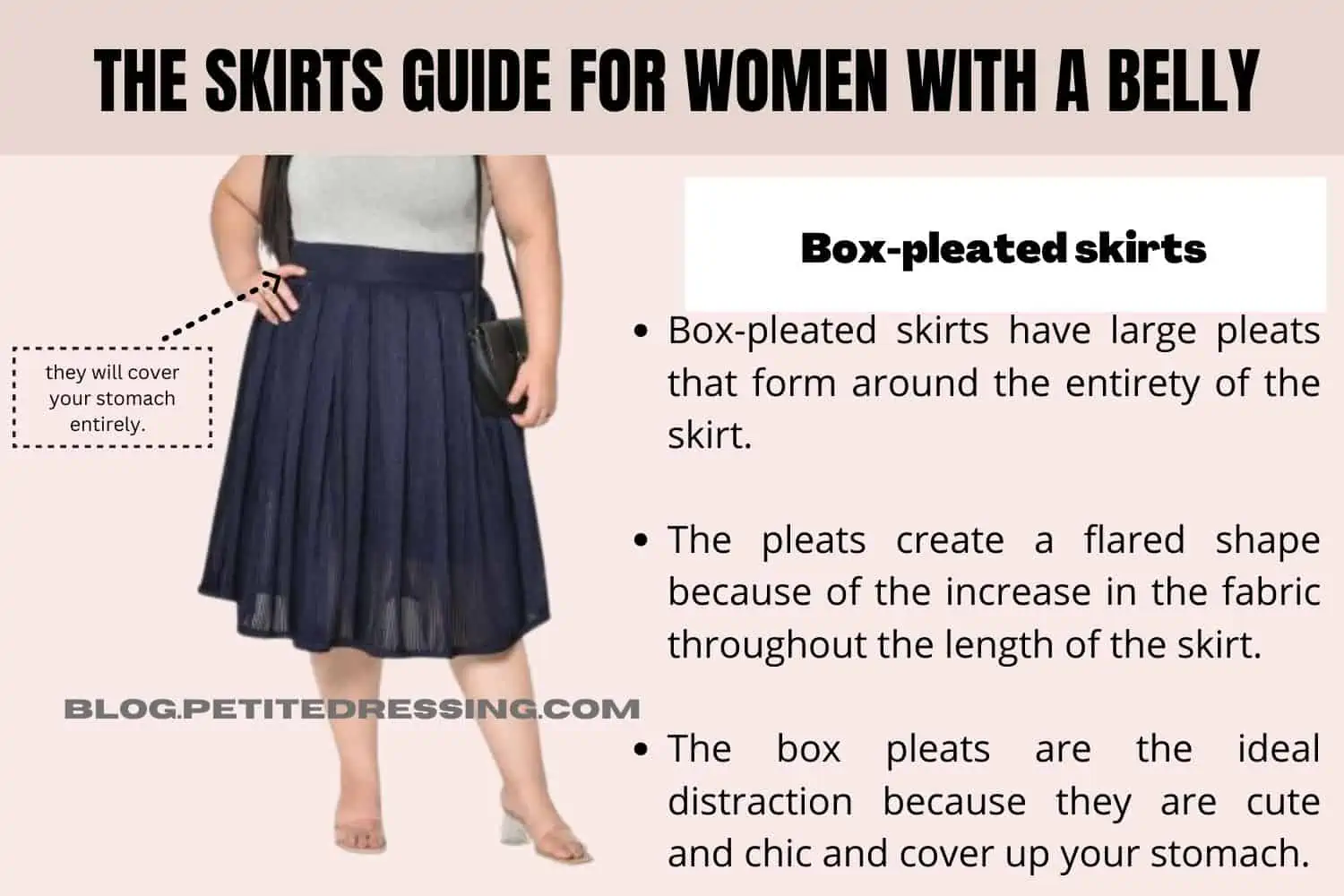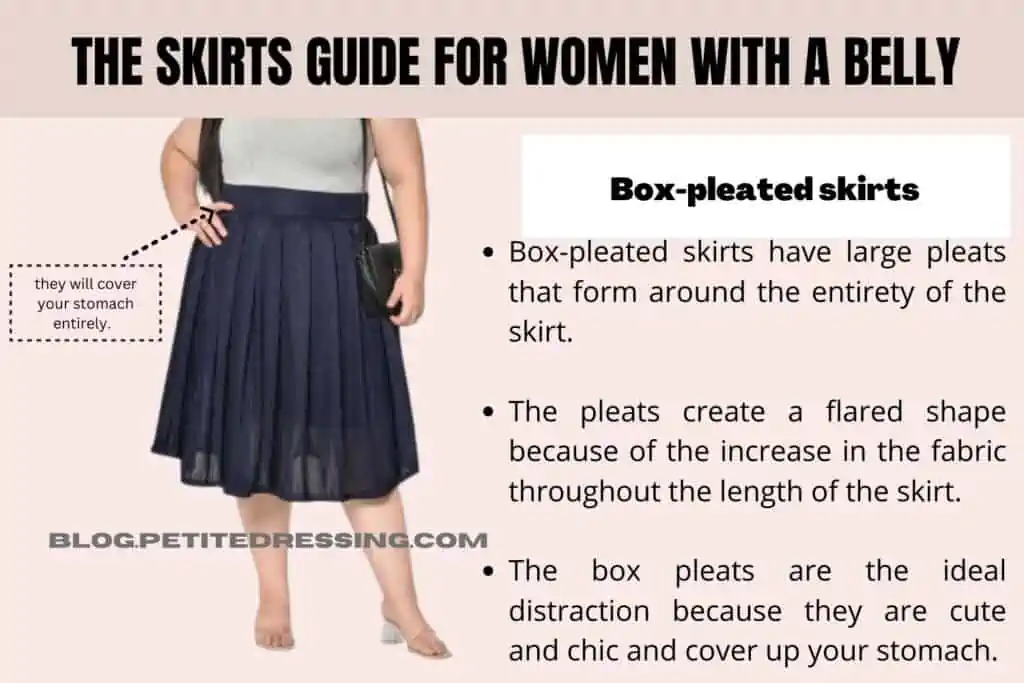 Long-tiered skirts
Long-tiered skirts are skirts that are built with panels that increase in size as each panel is added on. When you wear a tiered skirt that is a maxi length, the panels spread out and create a flared effect that is visually pleasing.
Although there may be a lot of fabric used for this style of skirt, it can be paired with a more fitting top to create more balance throughout your outfit. You can also tuck in the shirt to make the silhouette more concise and clear against the bulk of the skirt.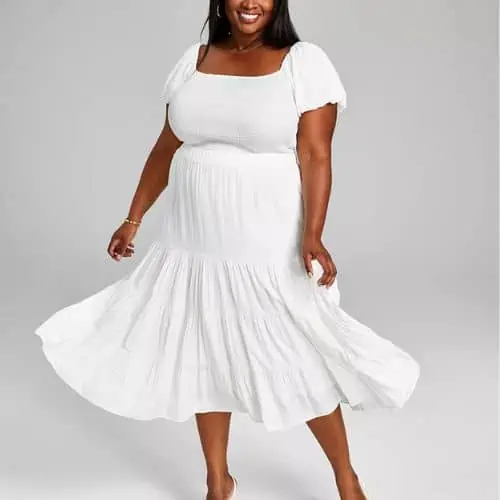 Why opt for long-tiered skirts
Due to this skirt's design, the largest part of the skirt is at the hemline, which makes your waist and stomach appear smaller.
This slimming style is ideal for women with a belly because it conceals the parts of your body you may be feeling insecure about.
Flowy wrap skirts
Wrap skirts are skirts that you have to wrap around your body and tie in a knot in order to create the skirt. There are plenty of reasons why this skirt is an excellent choice.
Due to the fact that you can tie this skirt anywhere and in any way, you are able to choose the waistline that looks best for you. Typically, a flowy skirt would be most flattering for a woman with a belly if tied high-waisted.
The high-waist slimming silhouette along with the flow of the skirt will create an hourglass shape all while covering up your stomach.
The tie can be strategically placed to conceal your belly. It can become a helpful distraction, especially if you can tie it in a bow and cover more surface area.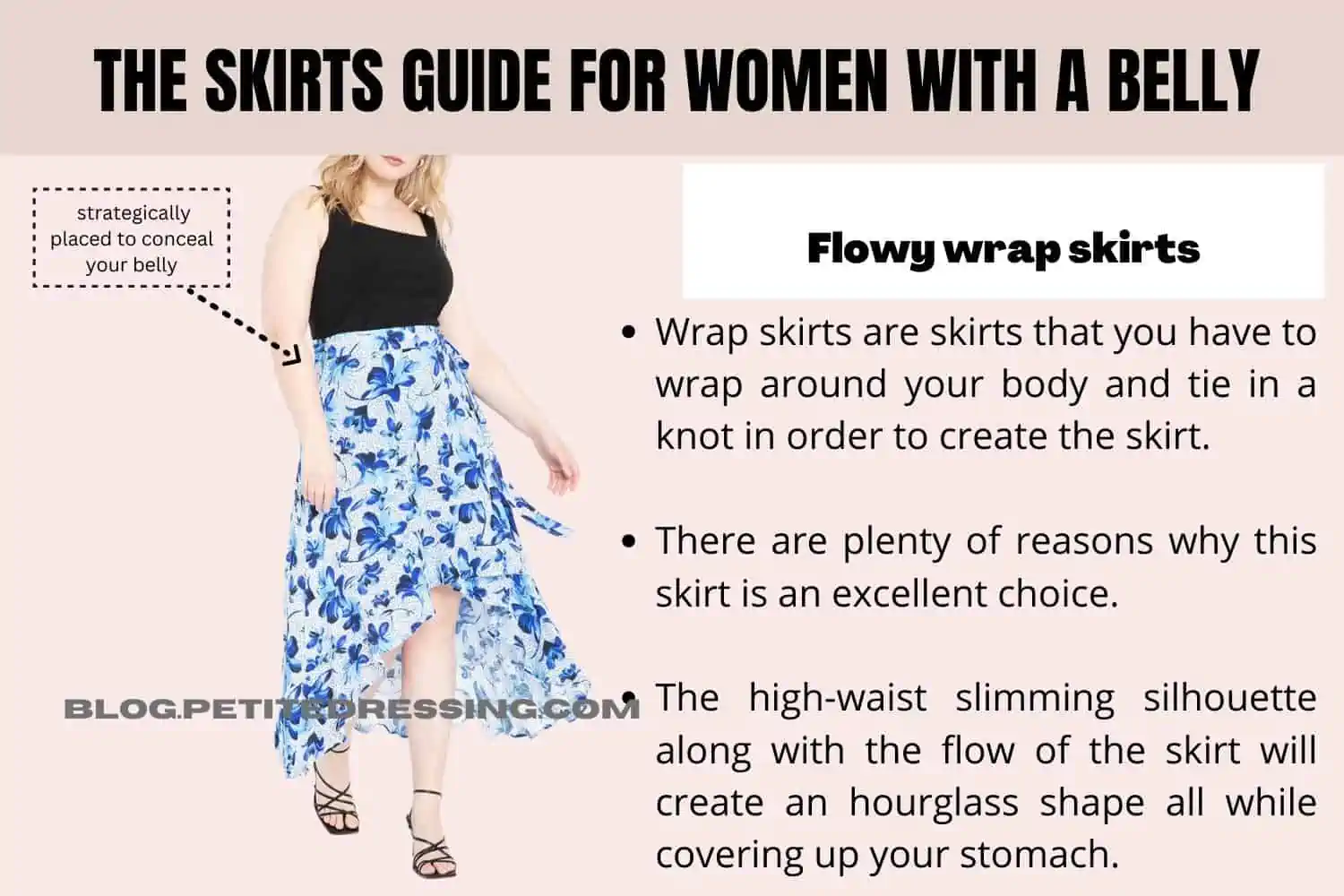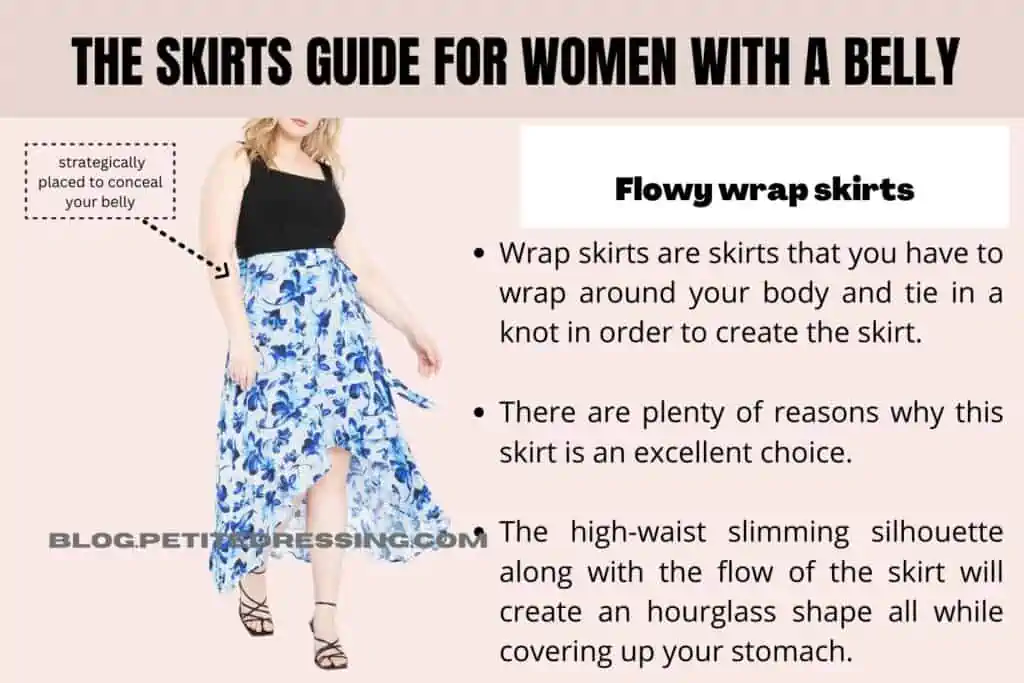 Caution with straight skirts
Straight skirts are exactly what they have been named after. The skirt falls straight down and is often slightly stiff and boxy. Straight skirts typically fall below the knees and hold the same shape from waistline to hemline.
These skirts are not very forgiving of stomachs, and the lack of a flared or angled shape leaves no room for a bigger belly. It is best to avoid straight skirts because of the stiff frame that is not made for women who are not extremely petite.
The longer this skirt is, the more it closes in and creates an unflattering shape for your body. A straight skirt will not do anything for a woman with curves anywhere on her body.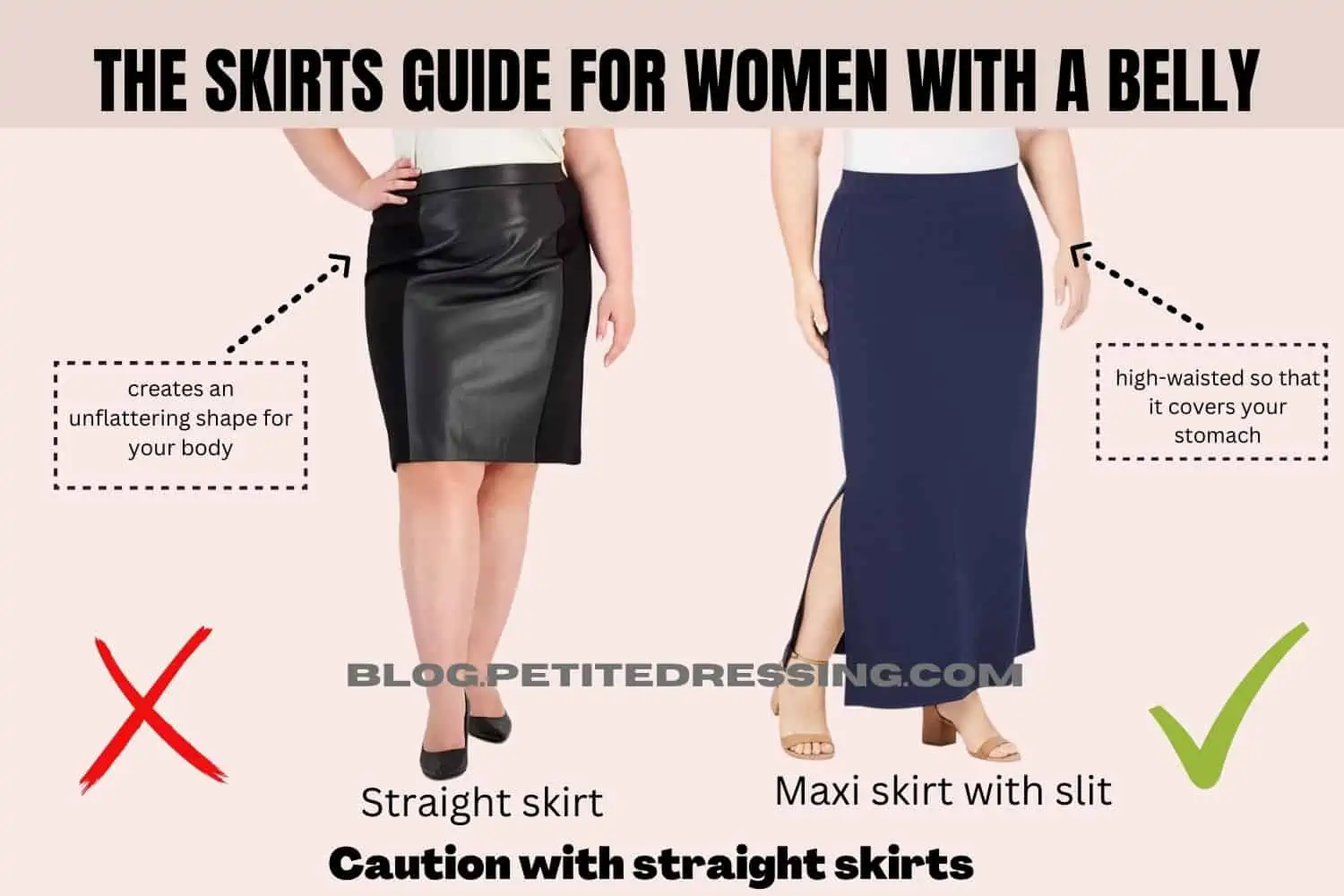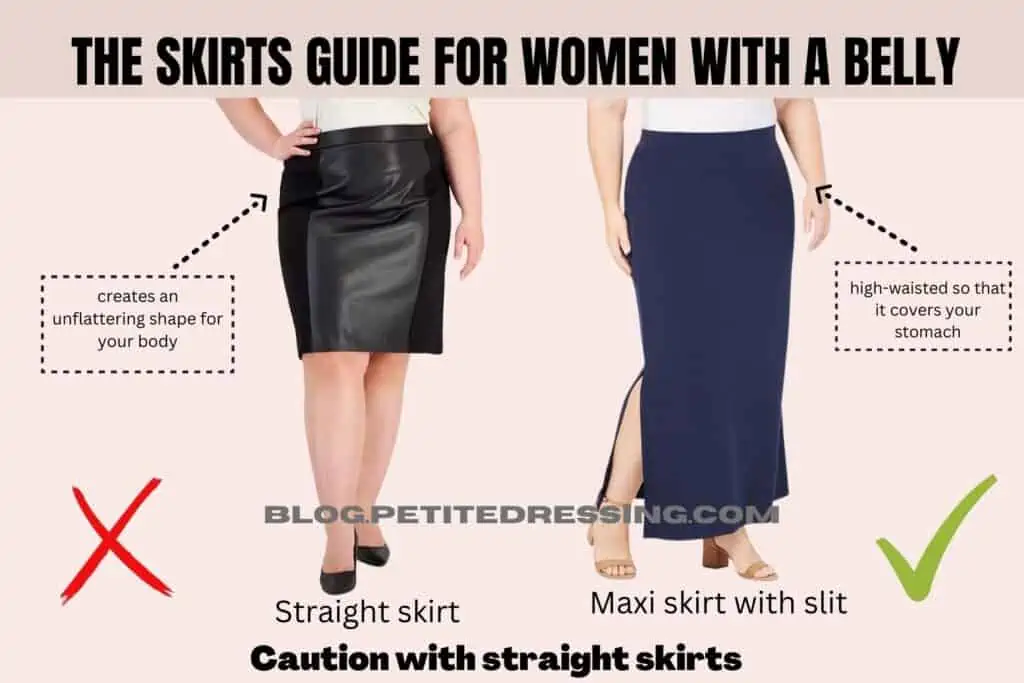 Caution with pencil skirts
Pencil skirts are known to be extremely form-fitting skirts that are worn in more formal settings.
The problem with this style of skirt comes from the way the skirt fits a woman's body. Due to the fact that these skirts are designed to cling to your body, the skirt will then rest on your stomach.
Pencil skirts make it impossible to avoid your belly, and any other insecurity you may have. Hip dips are also very noticeable with this type of skirt. It will be difficult to style this skirt in a flattering way because the pencil skirt looks best with a tucked-in blouse. This means that you won't be able to hide your belly at all.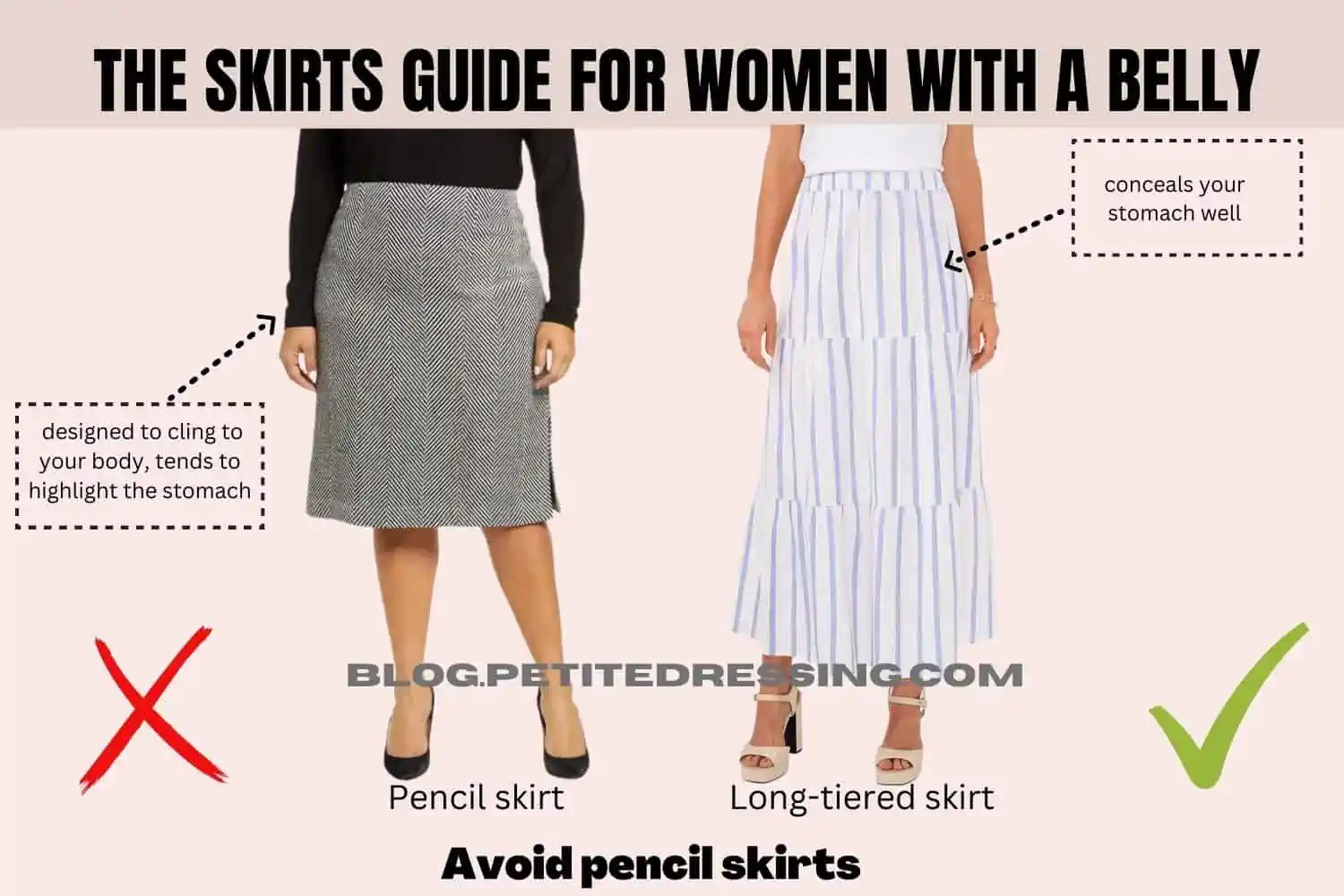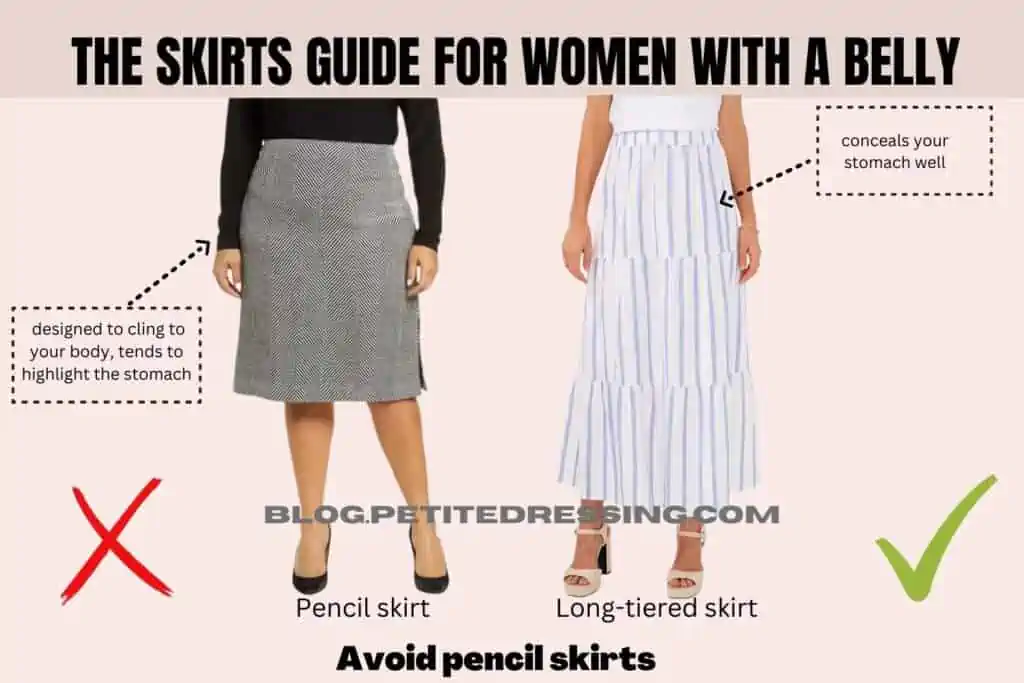 Avoid low-waisted skirts
Low-waisted skirts are not ideal for women with a belly. When you wear a low-waisted skirt, your stomach will poke out above the skirt and could even fall over it as well. This will be difficult to conceal with a top without it looking frumpy and oversized.
You also won't be able to wear shapewear with a low-waisted skirt without the shapewear showing. Low-waisted skirts do not give you any opportunity to conceal your stomach or create any distractions from it.
Since low-waisted skirts rest so low on your hips, your stomach because the centerpiece of the outfit. This will always be an issue with low-waisted skirts, which is why this waistline is not as popular as it used to be.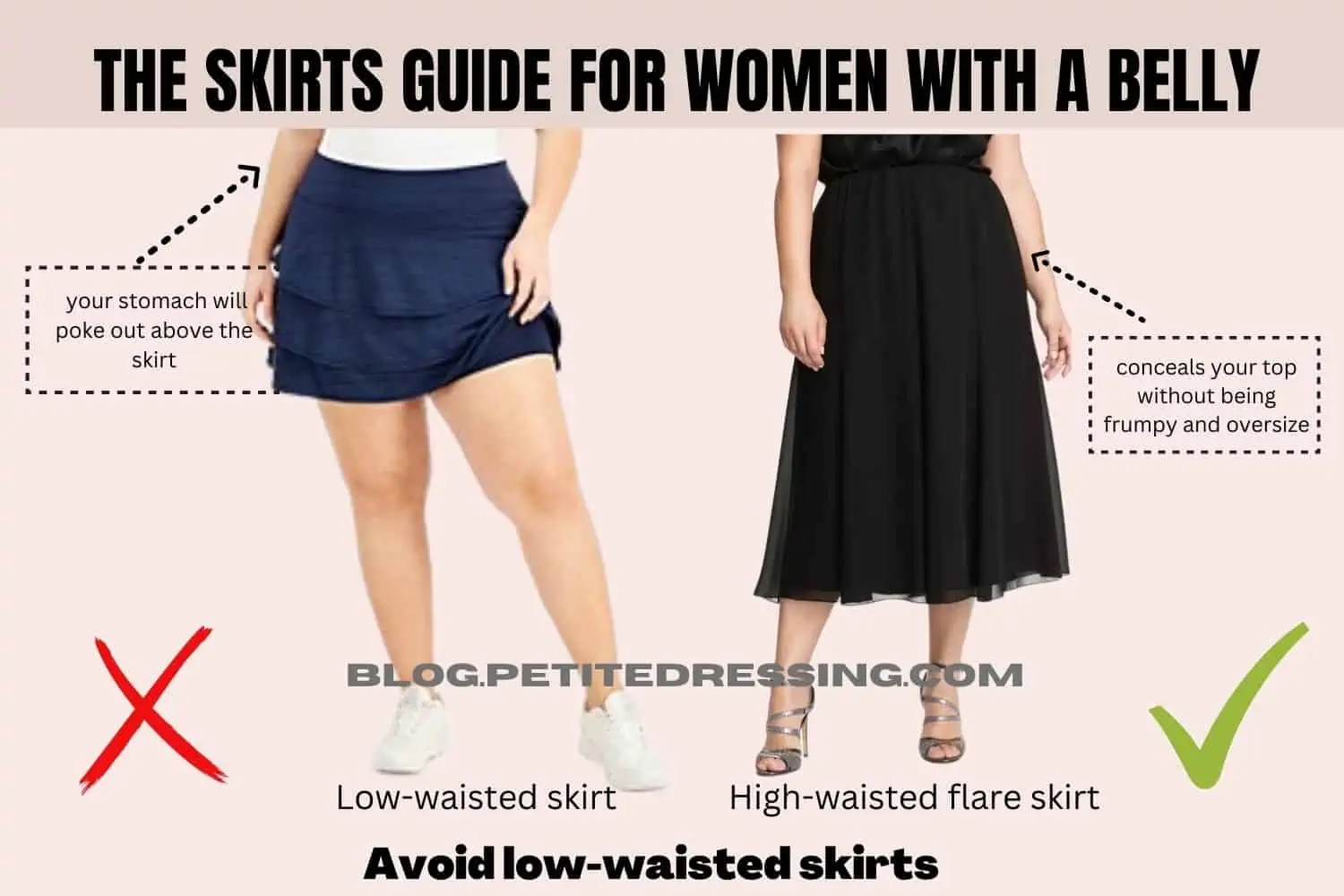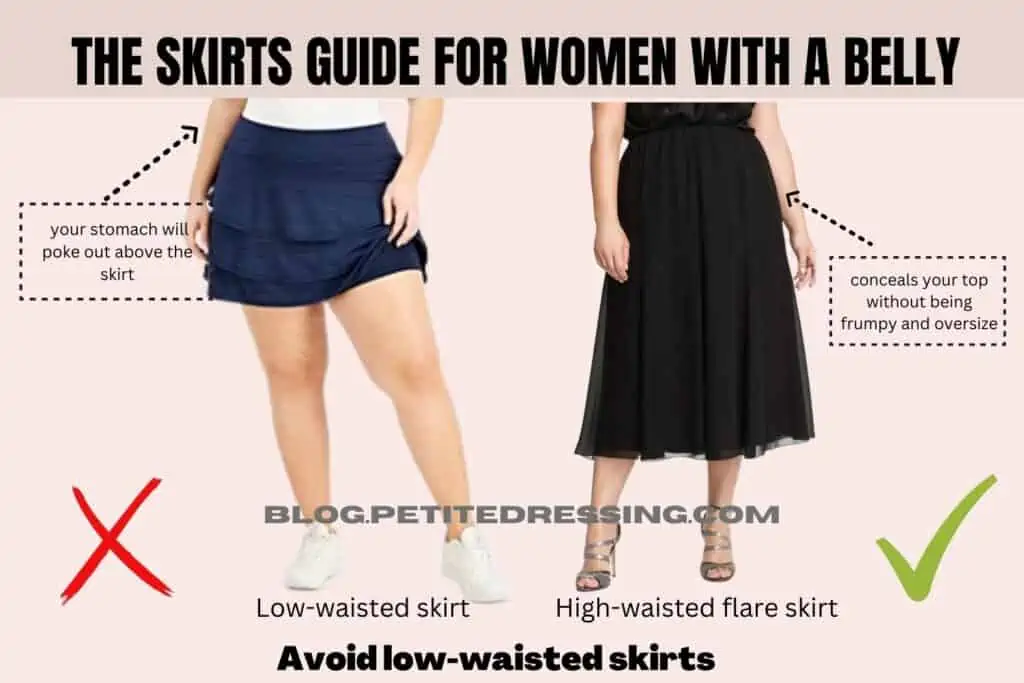 Caution with mermaid skirts
Mermaid skirts are not flattering for all body types. They hug tightly to the stomach and then flare out further down at or past the knees. This style is not made for women with a belly, mainly because of the tight fit.
Mermaid skirts will draw attention directly to your stomach if you are not extremely slim. It will hug every curve and every crevice, which is not the goal if you are trying to hide your stomach.
The main problem with mermaid skirts is the structure because the flare is not where it should be. It creates more flow for your lower legs instead of your stomach and hip area.