Anyone can rock a great pair of jeans, even women over 40. So, if you're looking for top jeans to flatter your shape and the best ways to style them, you're in the right place.
Check out our complete guide, starting with what to look for in your jeans to seven top jeans styles and two styles of jeans you should never wear.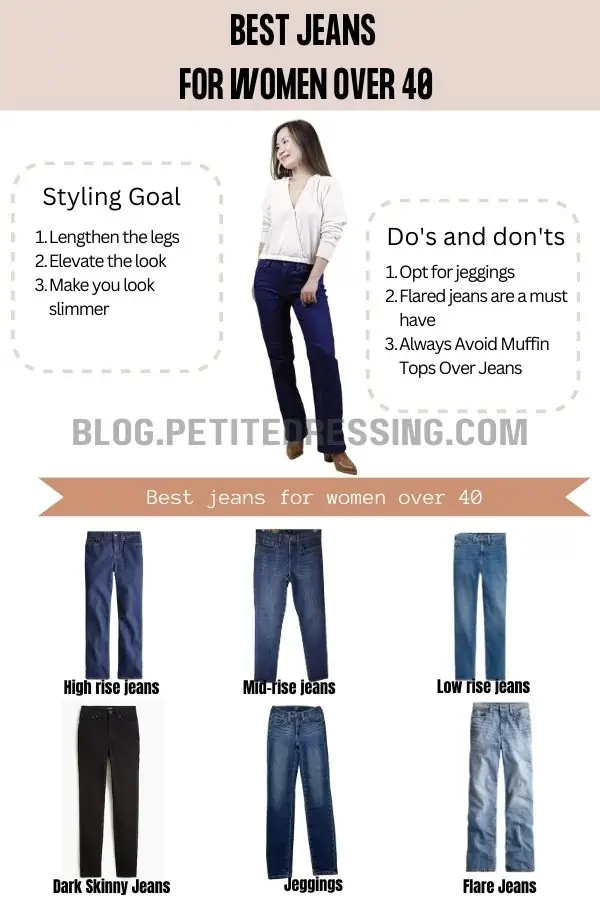 Choosing The Right Fit
Before shopping for some great jeans for your wardrobe, you should know what to look out for to avoid embarrassing wardrobe malfunctions.
One of the biggest tips that will always work for women over 40 that want to get the best out of jean styles is to always check the waistband.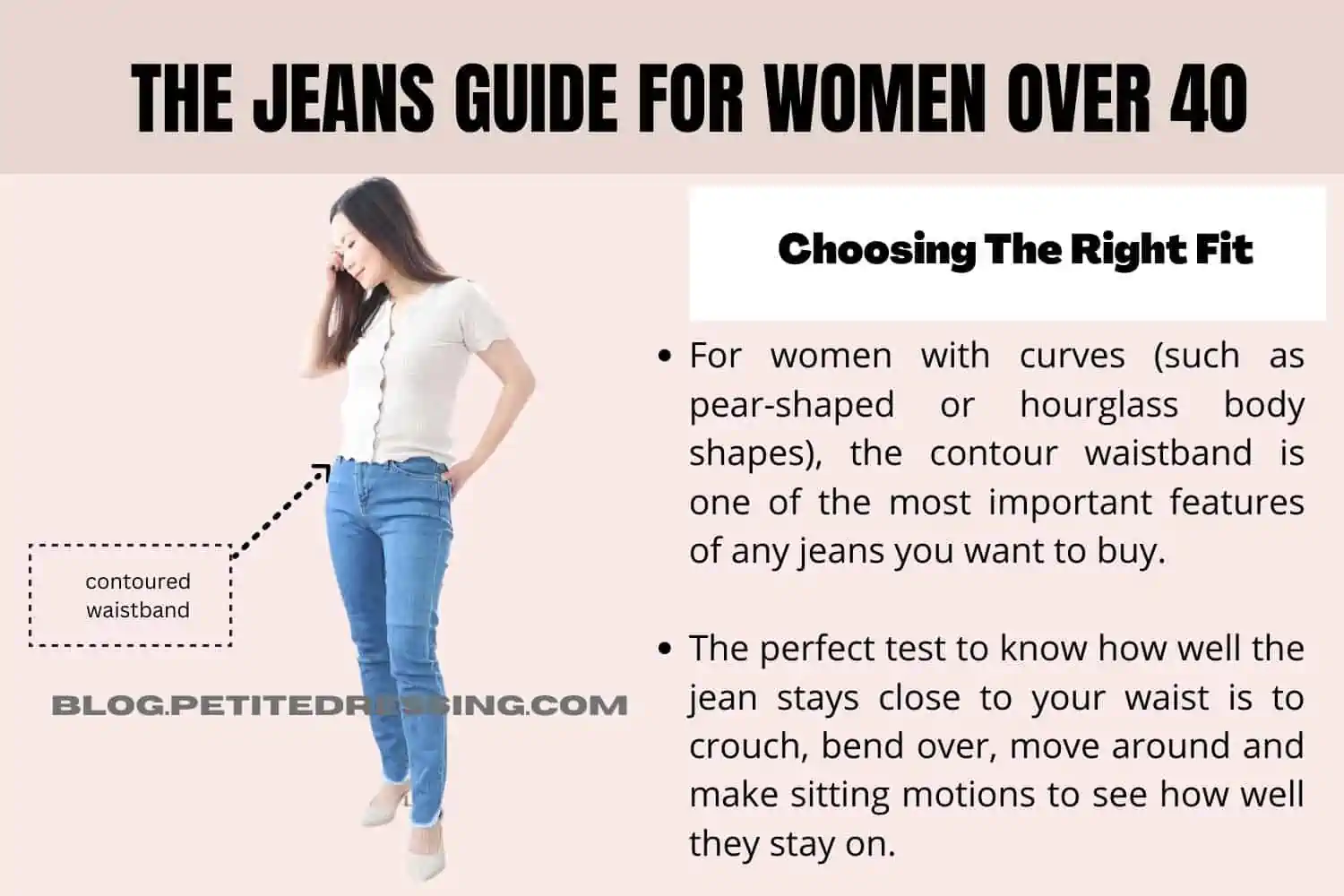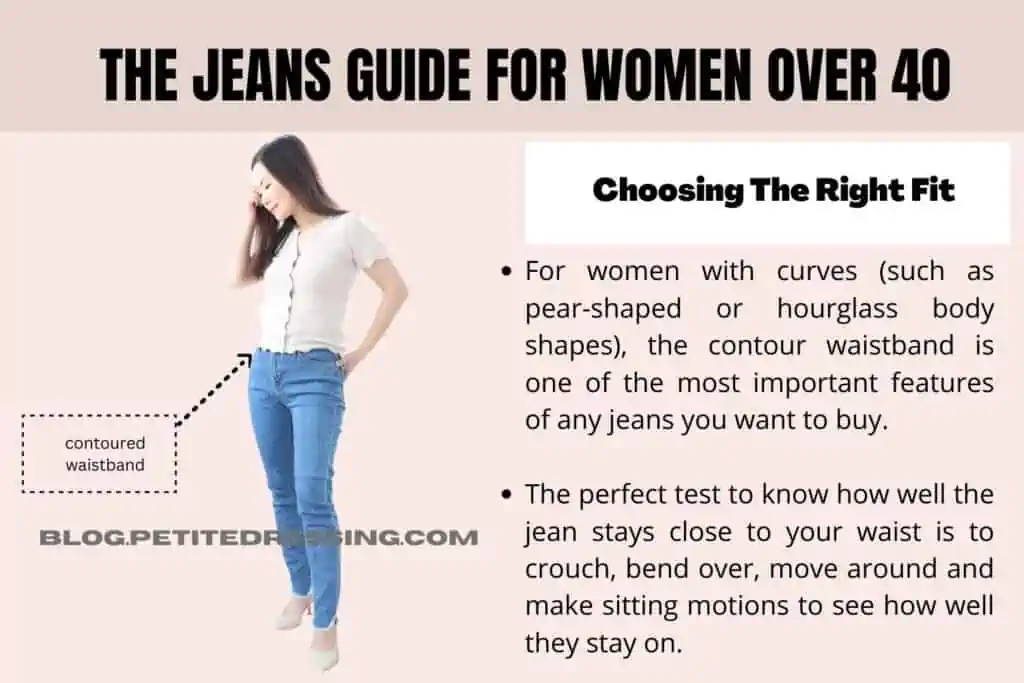 For women with curves (such as pear-shaped or hourglass body shapes), the contour waistband is one of the most important features of any jeans you want to buy.
The perfect test to know how well the jean stays close to your waist is to crouch, bend over, move around and make sitting motions to see how well they stay on.
For jeans with a contour waistband, you'll be able to move around without worrying about exposing your backside (or worse, your underwear) every time.
Choosing the Rise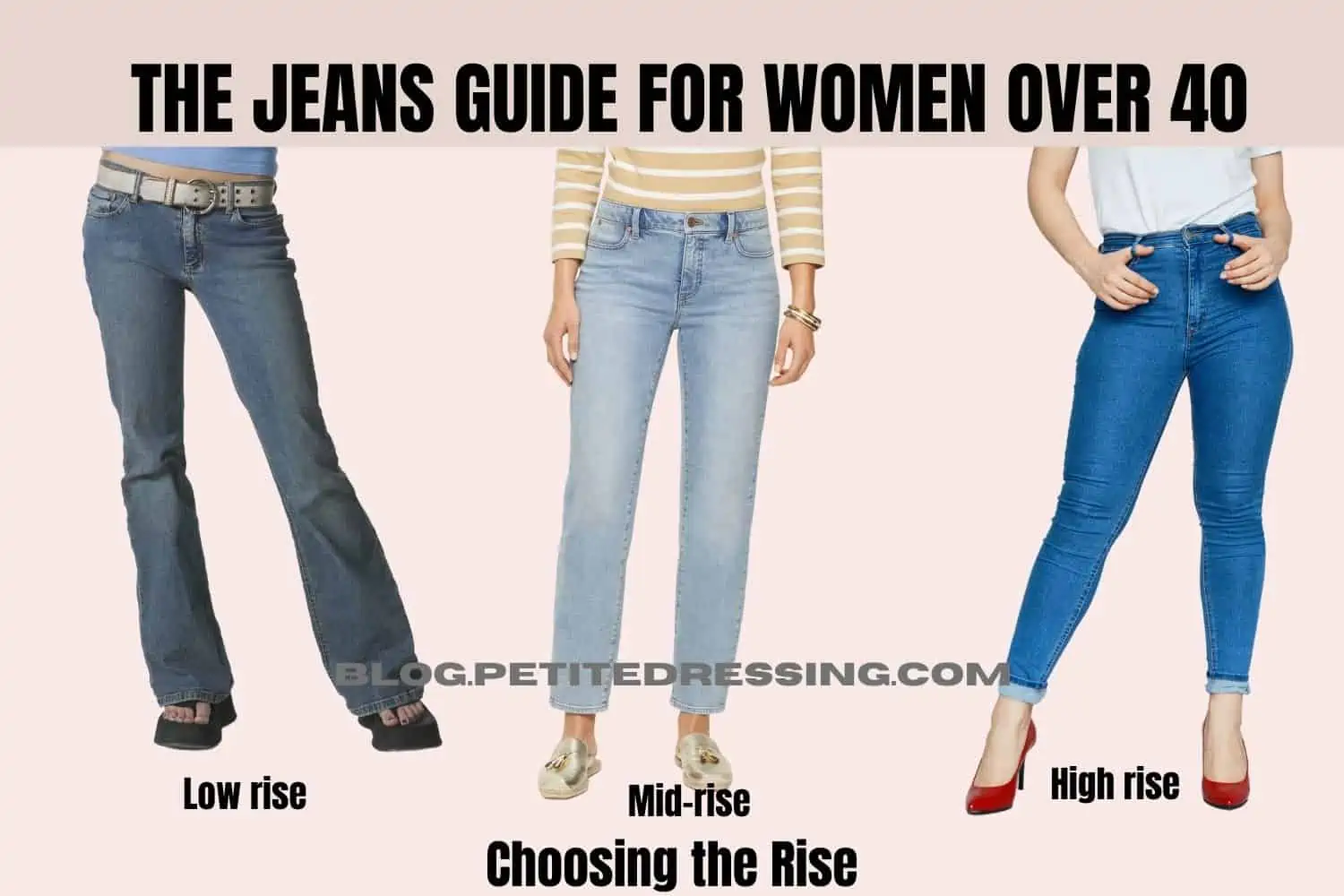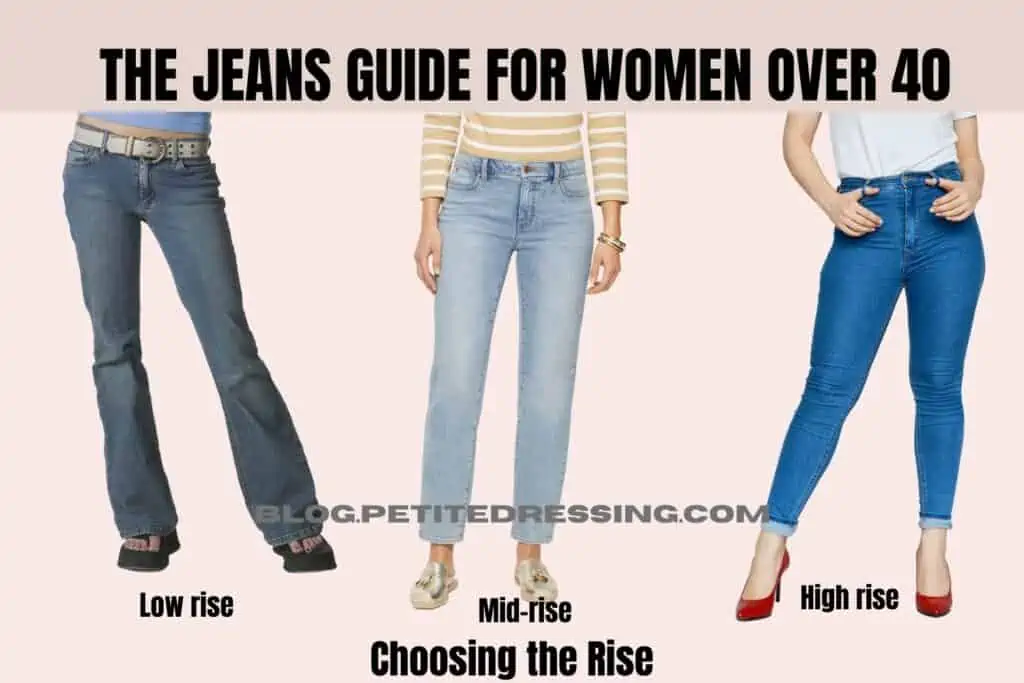 Rise is an important factor when choosing jeans.
High rise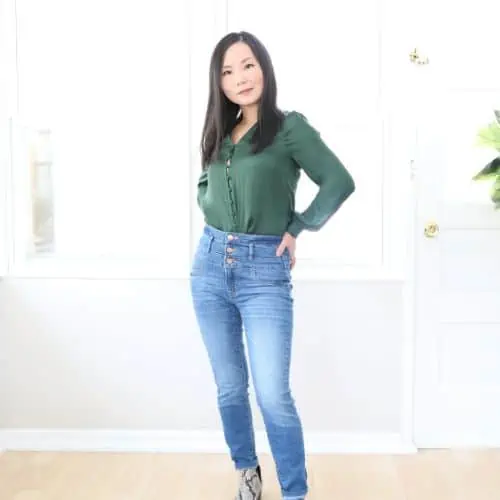 High-rise jeans for women in any size
High-rise styles are also great for plus-size women, while fitted straight-leg jeans make petite women look classy.
For women with hourglass figures, high-rise jeans will flatter your figure. The perfect jeans for you are skinny jeans with stretch that follow your curves and crop flare jean that starts outfitted on the thighs until it flares towards the hem.
Mid-rise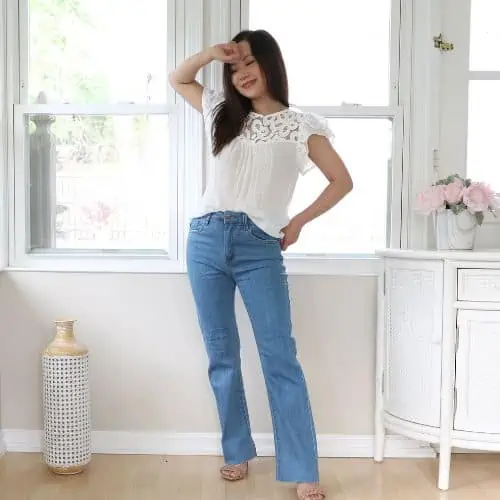 Mid-rise jeans for added lengths
Mid-rise bootcut jean works like magic if you have longer legs.
Low rise
Cautions with low-rise jeans
Wear with caution. Avoid if you have a belly.
Designs To Look For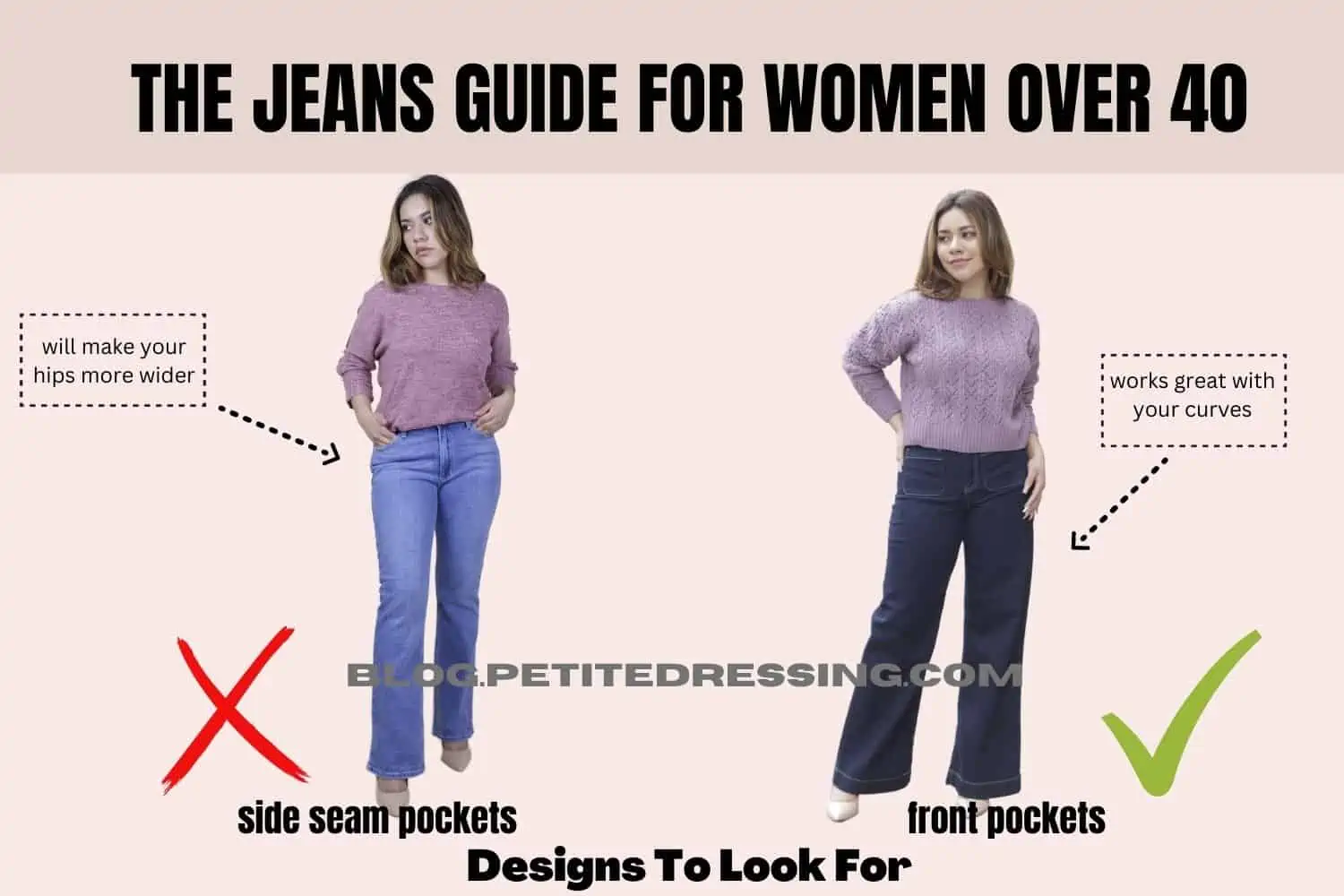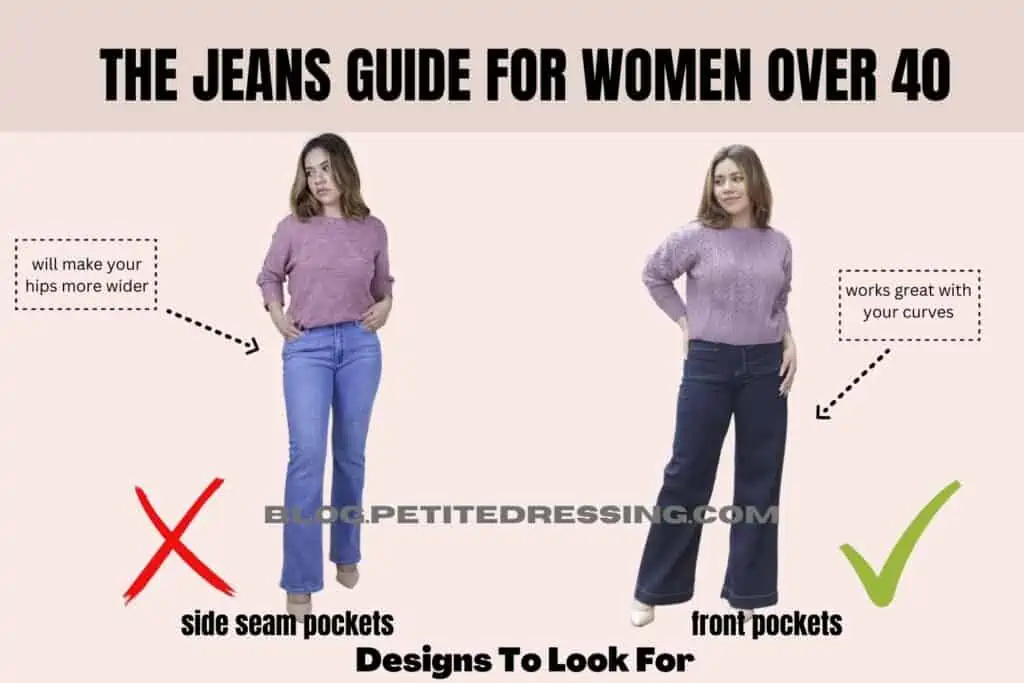 Pocket placement and size matter: Yes, pockets matter. They aren't just for squeezing a few small items in but add a lot to your overall look.
Jeans with side seam pockets are not great for women with wide hips as they will make them look bigger.
Instead, you should opt for horizontal tab front pockets that work great with the curve of your hips. Also, avoid low-placed back pockets as they give the impression of your backside being lower.
Very small back pockets will also make your big bum look too attention-grabbing. And not in a good way.
Now, let's talk about the best jean styles for women over 40.
Dark Skinny Jeans
While it may seem like skinny jeans are quickly going out of style, they are still a hit any day. There's almost no top that you can't slay on dark skinny jeans.
That means you can wear almost any style of shoes and accessories and look amazing. They are also super sexy, especially if you have a lot of curves.
A great combo is dark skinny jeans on a v-neck top and flats. Complete this assemblé with a mini purse and headband, then head out there with more spring in your steps.
If you're a lot more ambitious, pair your dark skinny jeans with knee-high boots, and have heads turning in admiration.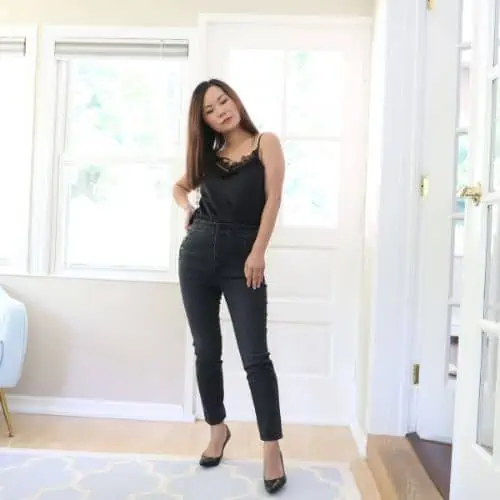 Want to look slimmer without going over the top?
Dark skinny jeans can do that magic.
No doubt about it, this style of skinny jeans has always been up there in the classy category, and the best part is that they are incredibly versatile.
Jeggings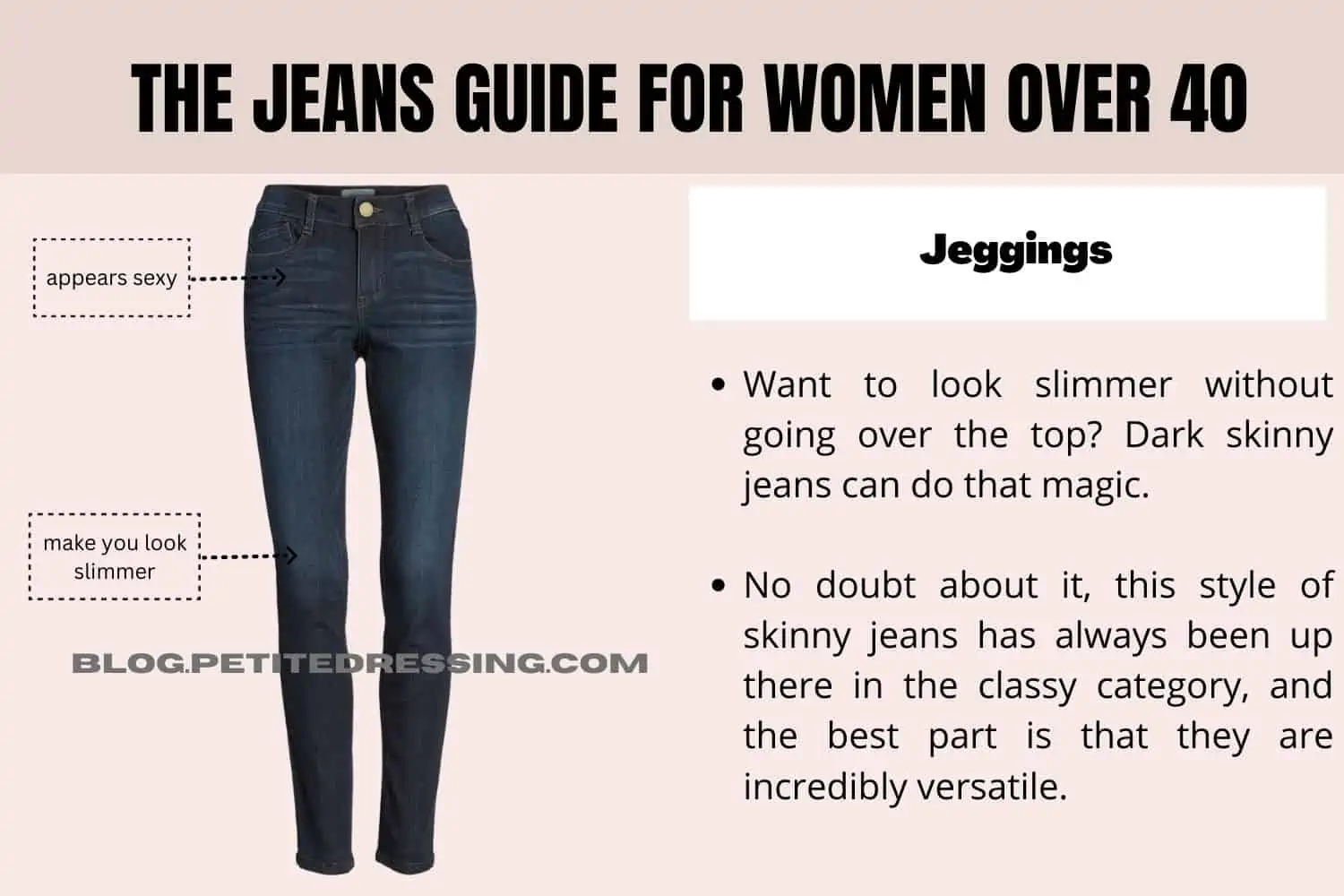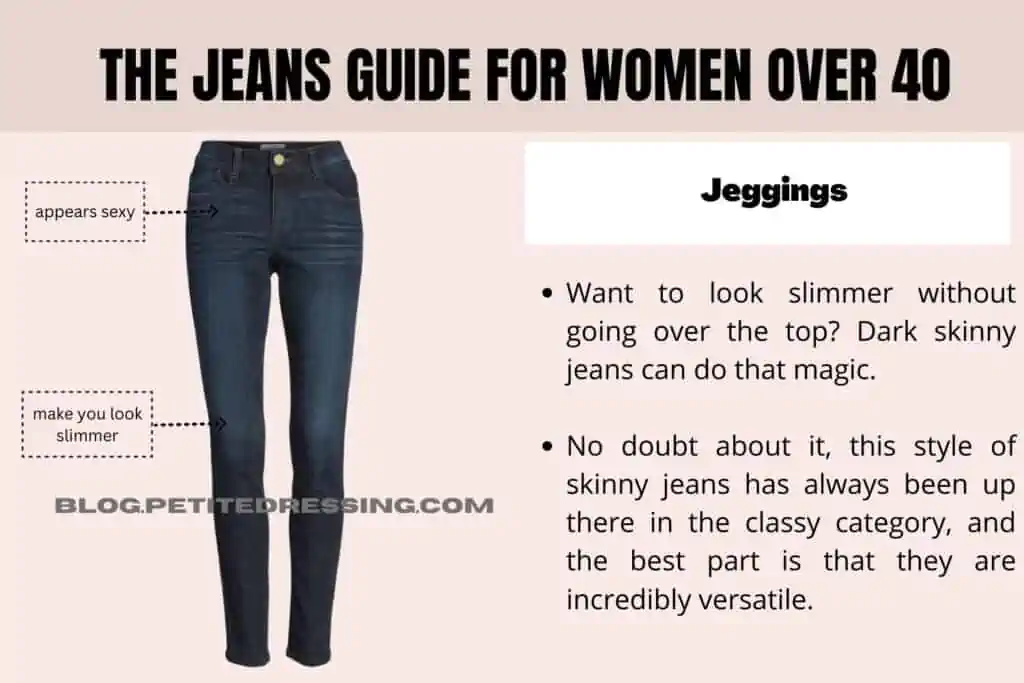 Say hello to the leggings plus jean trend. Some people have the wrong idea that women over 40 shouldn't be wearing skinny jeans. However, the truth is that they are not so different from leggings, and we all know how comfy they can be.
So, if you can't let go of leggings, why should you let go of how awesome you can look in the denim equivalent? The good news is that denim designers have come up with jeggings that are designed to mimic the look of jeans.
So, they work too. Rock them as you would do with dark skinny jeans, and you'll be glad you did.
Flare Jeans
Who says style from the 70s is dead? That era still had some of the best jean styles, and the flare jeans have come here to stay. This is one throwback you should get behind as a woman over 40, and it helps you experiment with the look that's perfect for you.
There's no one-size-fits-all approach, but we bet that this would absolutely slay with a slouchy sweater.
You can take it further by pairing this with short-cropped tops. However, be sure to choose the high-waist equivalent, as you wouldn't want flare jeans that ride lower on your waist every time you bend a little.
If it's the low-waist flare jeans, rock this with tunic-style tops, which are usually longer or mix things up a bit with an off-the-shoulder top.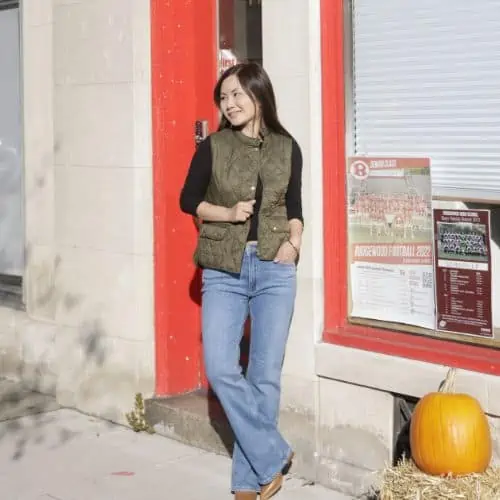 Why opt for flared jeans
Flare jeans are perfect as they highlight your waist in that classy way, especially when they fit snugly around your hip and waist.
Be sure to opt for long jeans, that almost touch the ground.
They help to lengthen the legs, especially in petite women.
This wider style is also great for women with an inverted triangle body shape, and you can read all about more tips for styling if you have this body shape.
Cropped Jeans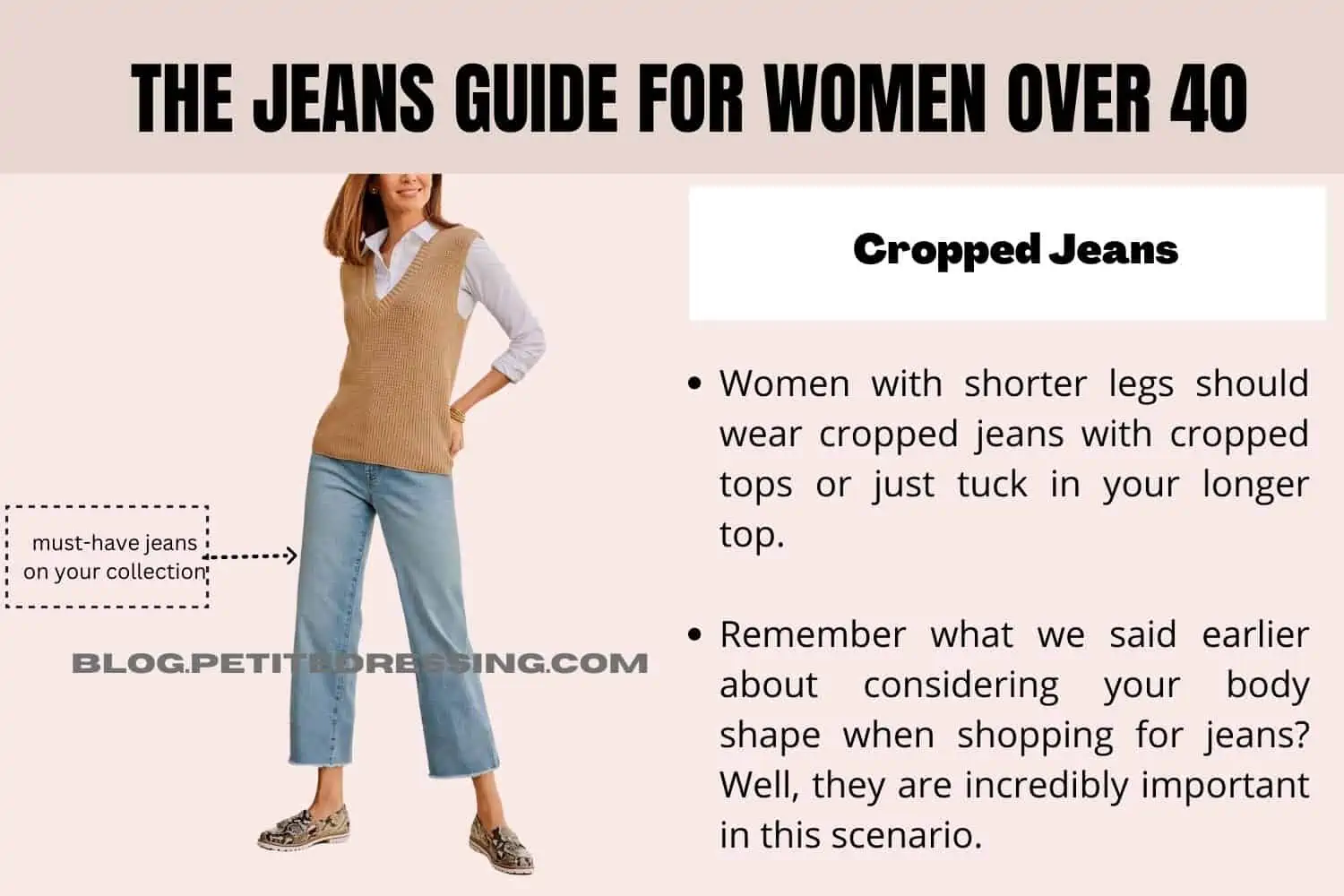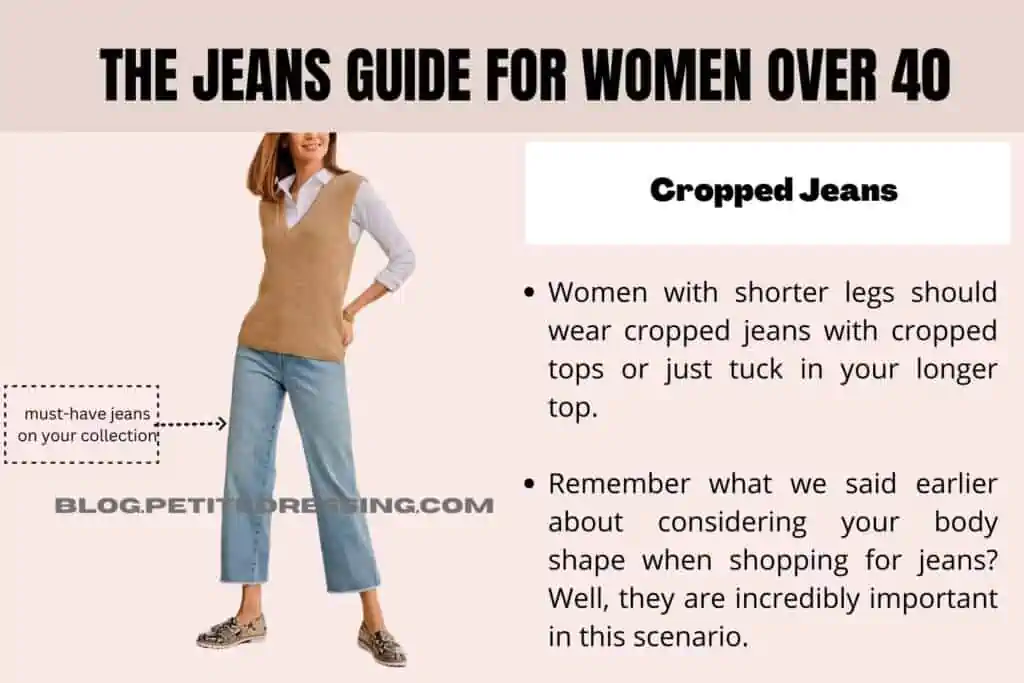 If you style cropped jeans the right way, they are a must-have in your jean collection. Remember what we said earlier about considering your body shape when shopping for jeans? Well, they are incredibly important in this scenario.
Women with shorter legs should wear cropped jeans with cropped tops or just tuck in your longer top. This also works if you love your legs appearing longer in trousers. To give yourself that feminine and chic look, finish up this look with white sneakers.
Any other sneaker color also works great, so this depends on your preference. Imagine yourself in cropped jeans, a simple tee on a blazer, and sneakers, and then complete this look with a tote bag. This is perfect for a casual day out.
Boyfriend Jeans
If you're a great fan of Jennifer Aniston, you won't be so surprised to know that she's obsessed with boyfriend jeans on a blazer. And she gets it right every time. Boyfriend jeans are fabulous for women over 40 who want to keep it simple yet sophisticated.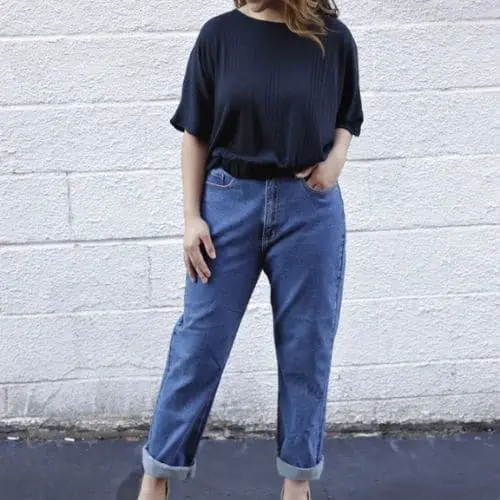 How to style Boyfriend jeans
So, you can simply pair them with flats and a white shirt, and that's good enough for a chic look.
You can also rock them with tees, especially plain ones, or those with a few words that won't make the shirt look too busy.
For accessories, hoop earrings are great; before you know it, you have that celebrity look locked in.
Buy boyfriend jeans that are just the right size without hiding your frame and making you look closer to a hippie.
White Bootcut Jeans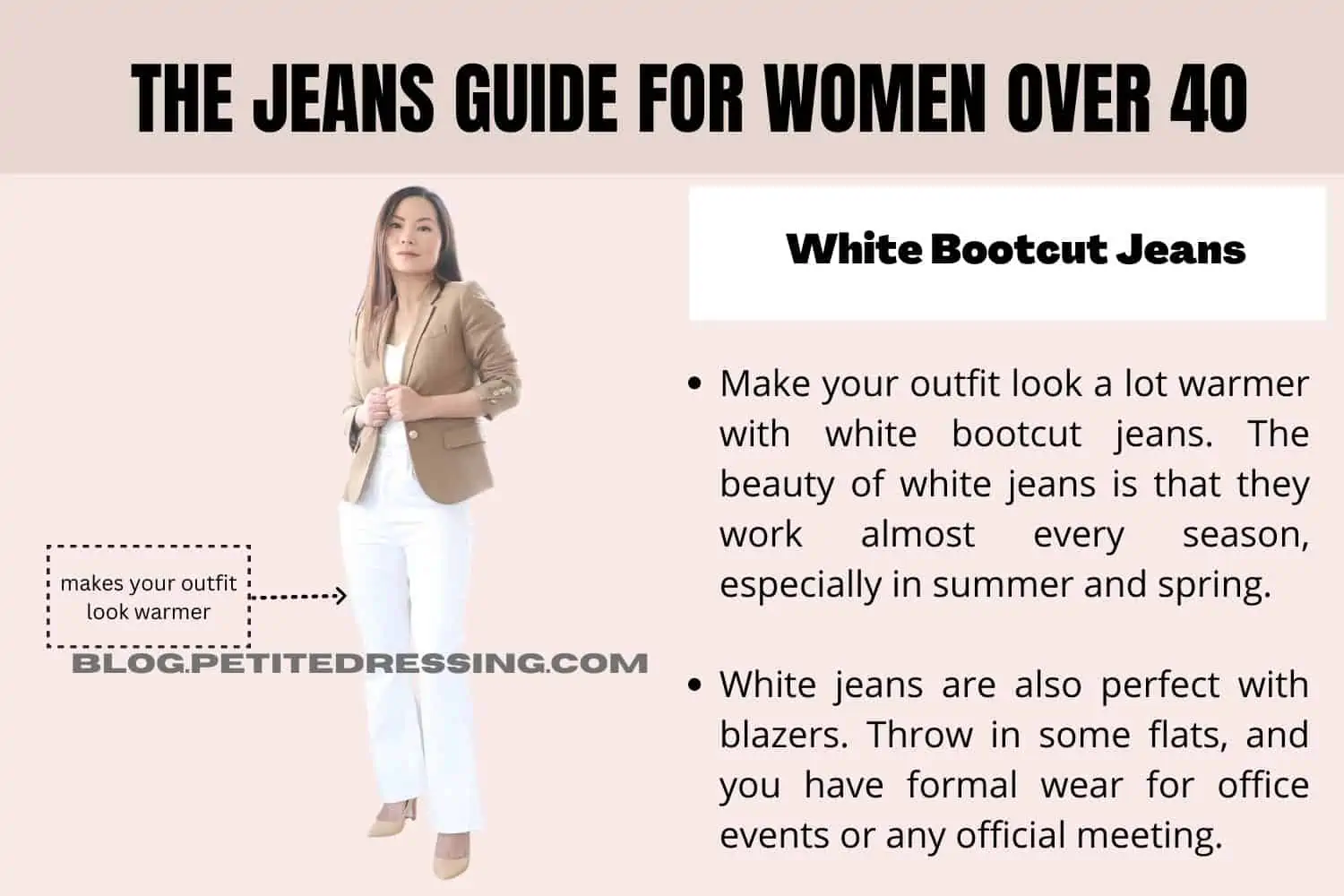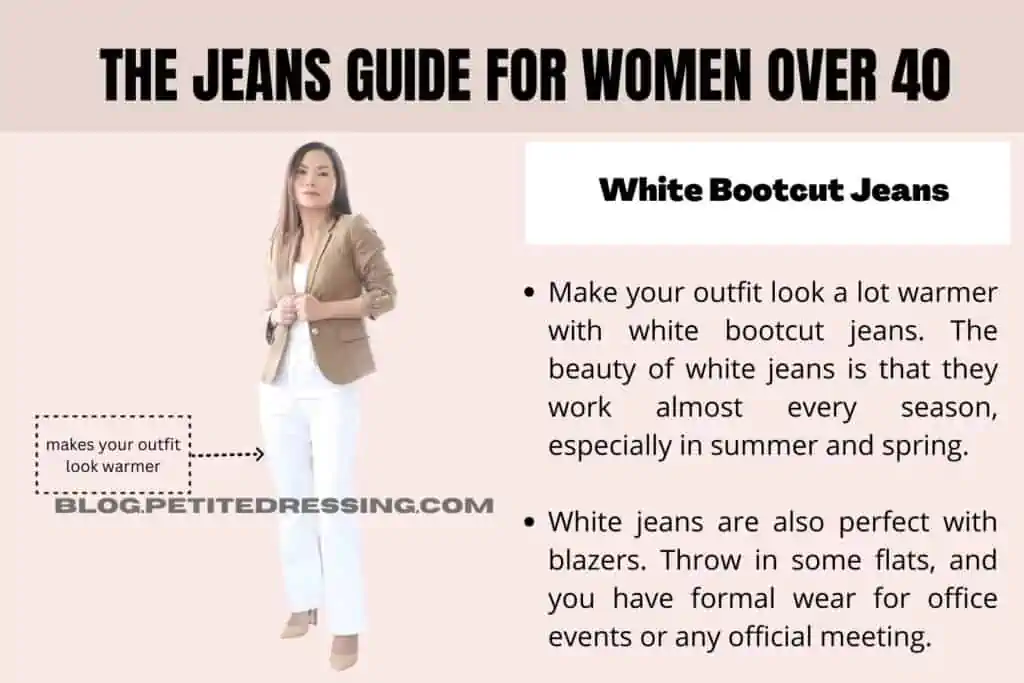 Make your outfit look a lot warmer with white bootcut jeans. The beauty of white jeans is that they work almost every season, especially in summer and spring.
For those colder months, you can pair your white jeans with a coat, and you'll be warm enough to go about your day without compromising your style.
White jeans are also perfect with blazers. Throw in some flats, and you have formal wear for office events or any official meeting.
Wide Leg Jeans
Similar to flare jeans, the major difference between these two is that wide-leg jeans are usually loose around the knees. It works nicely for women looking to hide their legs as stylishly as possible.
So, whether your legs are too slim, or big or you're just not satisfied with the proportions, consider wide-leg jeans that will make you look amazing. You can also style this as you would with flare and bootcut jeans but with a few minor changes.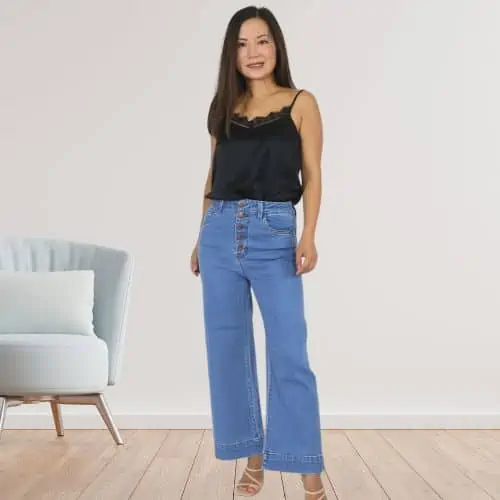 Wide-leg jeans are a must-have
Since the jean has more volume at the bottom, you shouldn't have too much going up at the top.
A simple top with a blazer will work wonders for your figure and when paired with short heels, you're sure to stand out for your unwavering style as a woman over 40.
Always Avoid Muffin Tops Over Jeans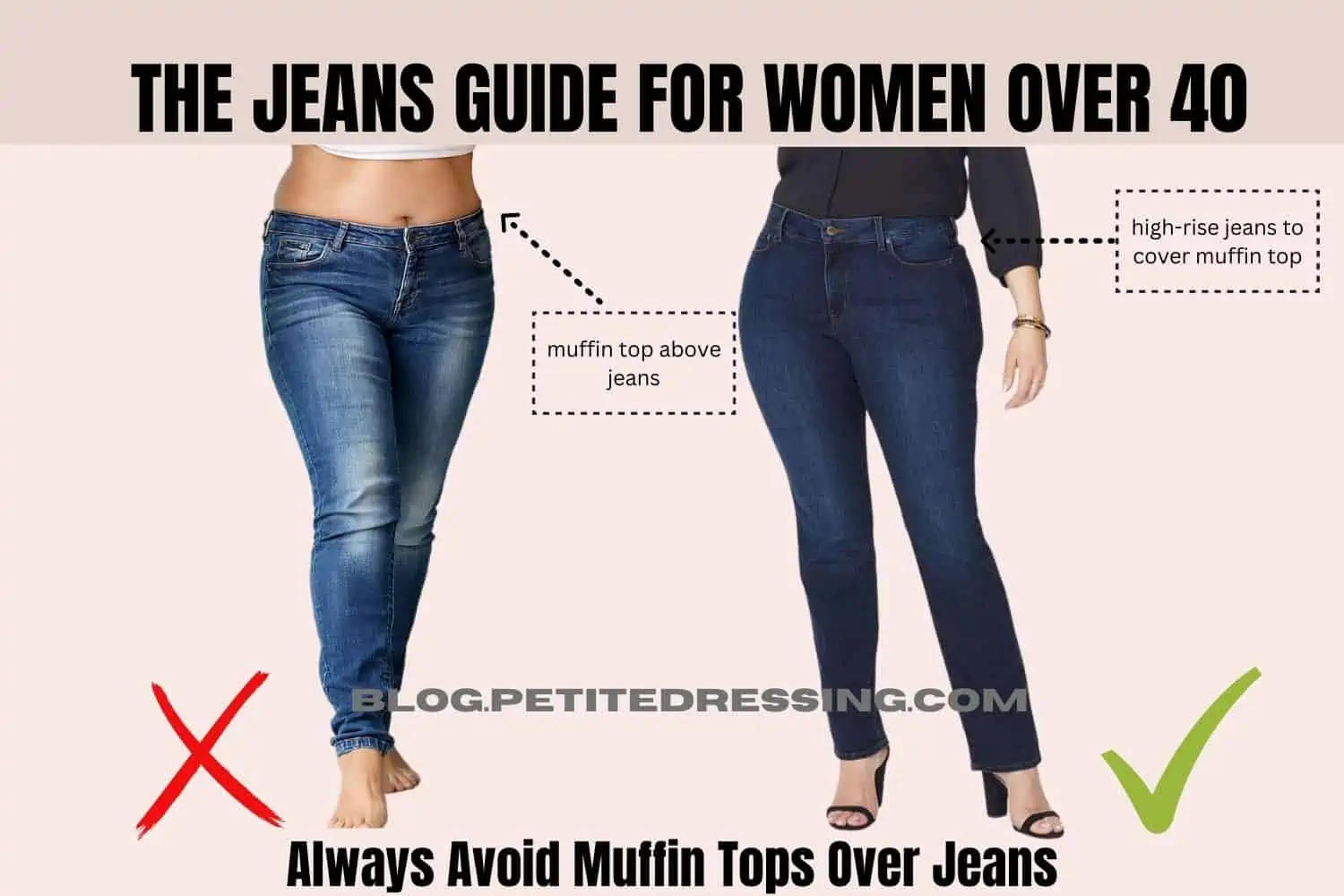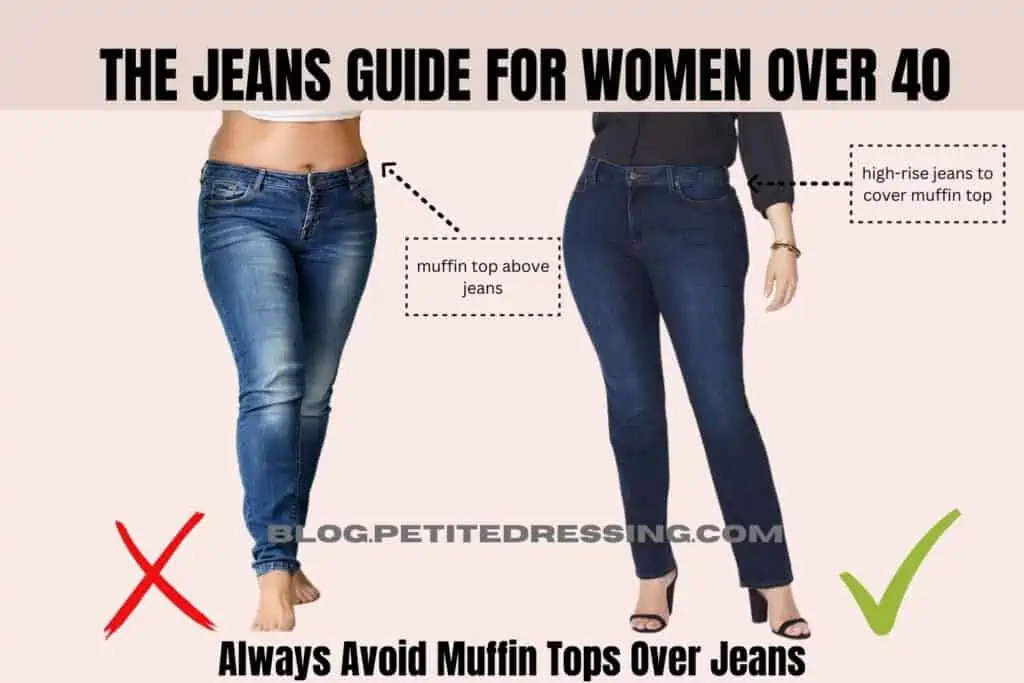 Muffin tops are those extra bits of stubborn belly fat that pop out when you wear jeans that are too tight. No one likes them, and you should avoid this when you wear jeans.
So, your best bet is to opt for jeans made with firm, stretch fabric and high-waist. The beauty of this is that they will tuck your tummy in, so your clothes have a better fit all day.
Avoid Baggy Jeans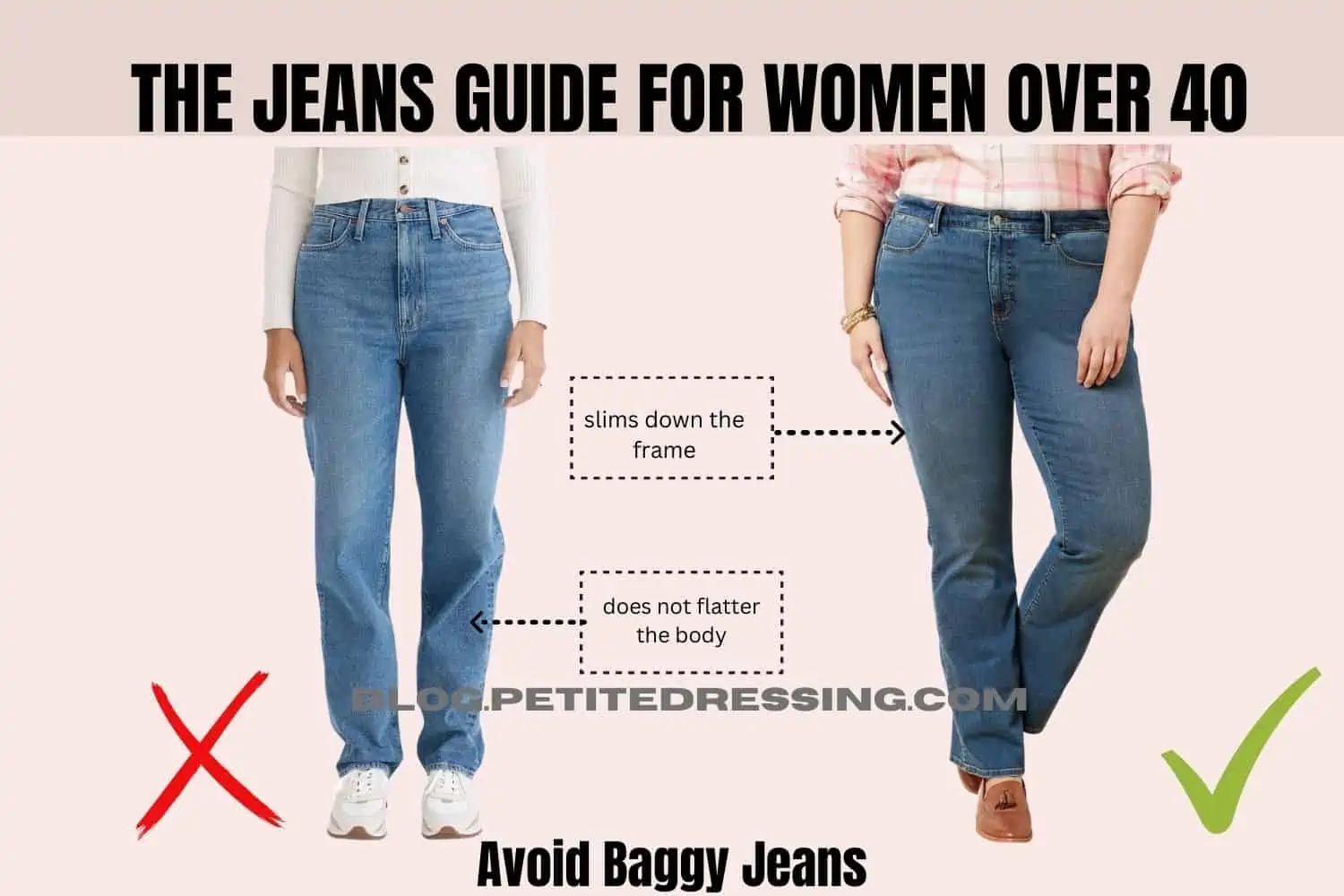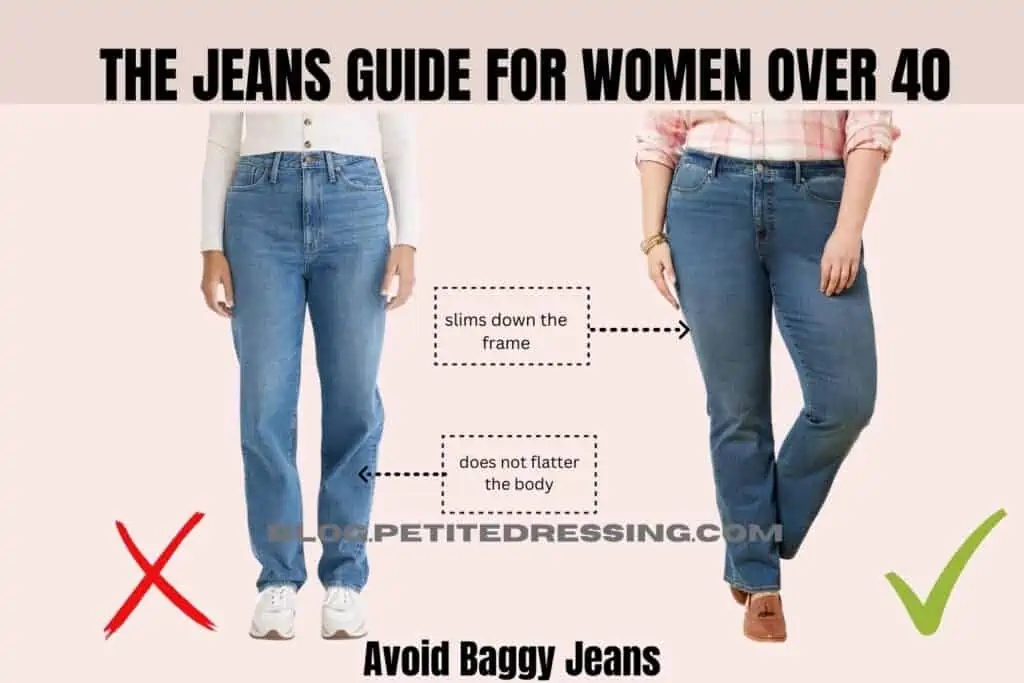 If you can, avoid wearing extremely baggy jeans. It's important to choose boyfriend jeans that are not too baggy.
The problem with baggy boyfriend jeans, especially on a slim frame, is that there is a thin line between extremely casual and oversized wear that doesn't flatter your body. So, baggy jeans are great for casual days but be sure to know when it's extreme.
And there you have it! Get started with these styles and light up your closet.