As a petite woman, midi dresses can be seen as a challenge to wear and style properly. Many women who are short are constantly trying to find ways to look taller and avoid looking even more petite than they are.
There are a couple of pros and cons to consider when deciding whether or not a midi dress will work for you.
Pros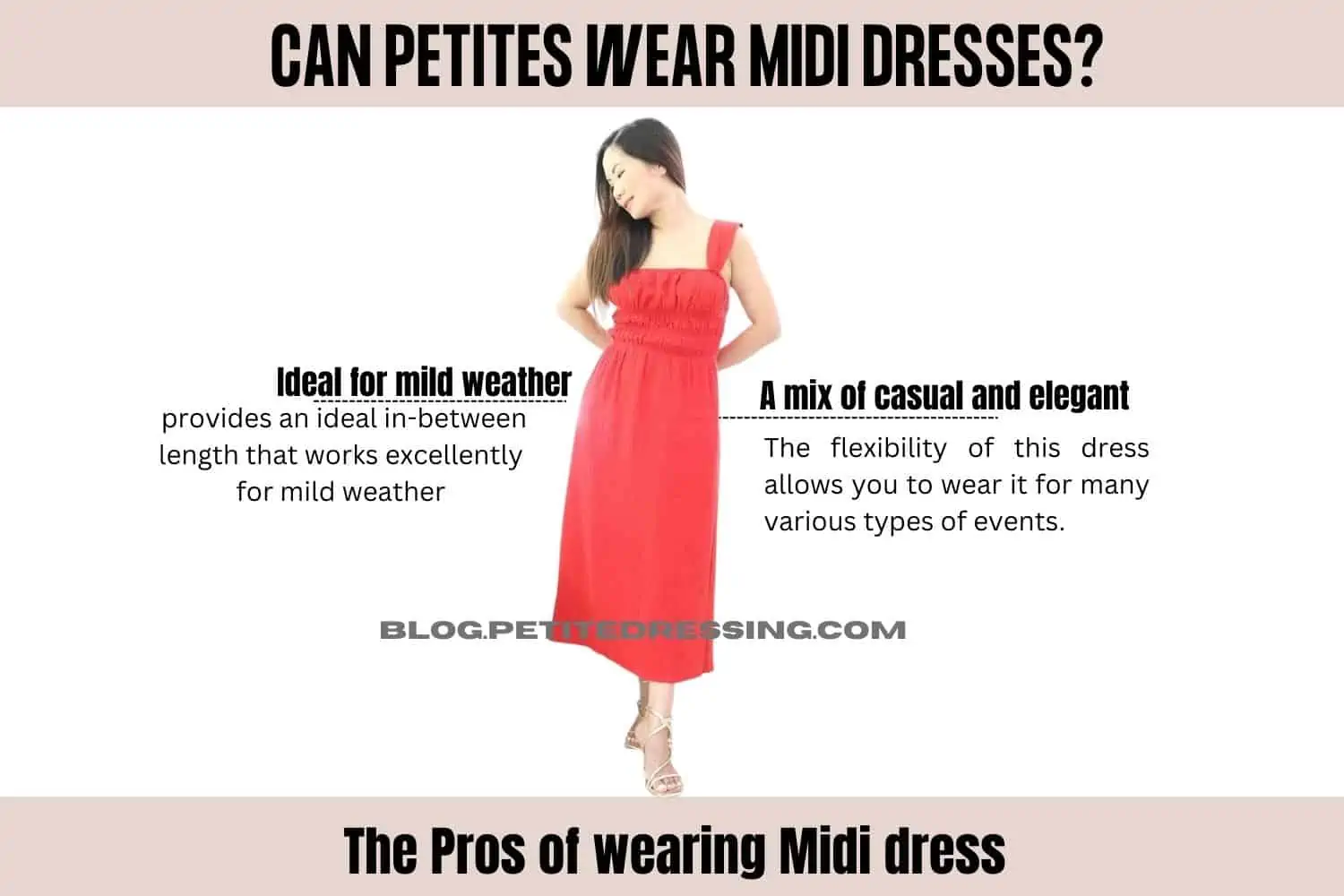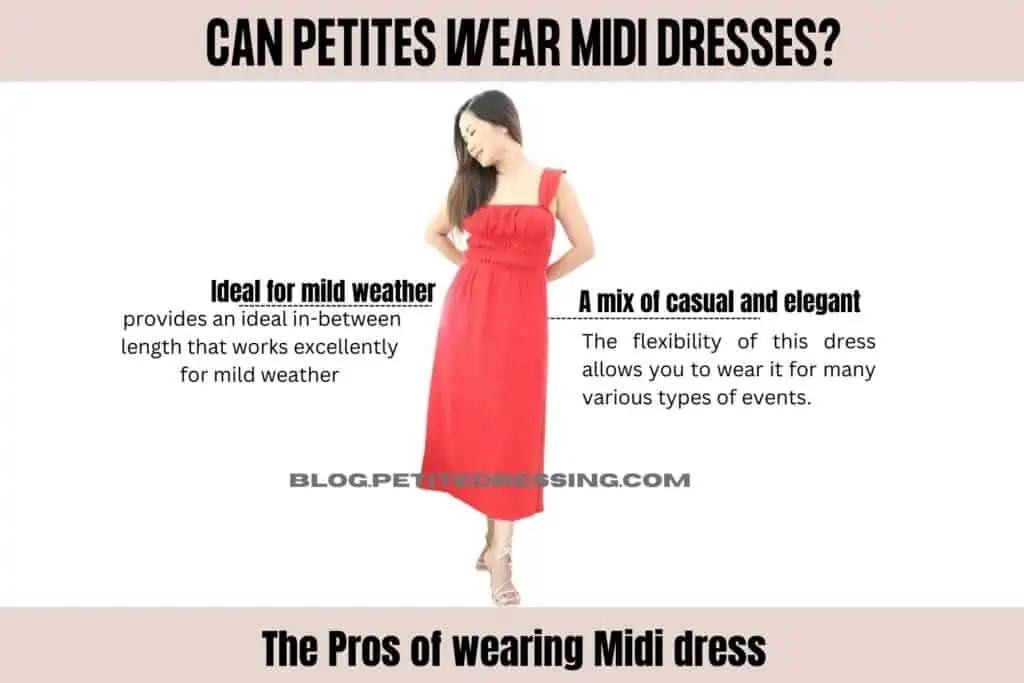 Ideal for mild weather
Some dresses are too short to wear during the fall and winter because they expose so much of your legs and will make you cold. The opposite issue rises during the spring and summer, when a long dress may make you too warm. Midi dresses are the perfect compromise.
Midi dresses fall just above or below the middle of your calves, providing an ideal in-between length that works excellently for mild weather. You won't have to worry about being too cold or too warm with a dress that always meets you in the middle.
A mix of casual and elegant
Since midi dresses are often seen as a middle or more moderate option, they are also a great mix of casual and elegant. The dress isn't long enough to look like a ball gown type of formal, and it isn't so short that it looks very casual.
The flexibility of this dress allows you to wear it for many various types of events. You can wear a midi dress at a casual game night, an art museum, a stroll in the park, and even a day in the office.
Cons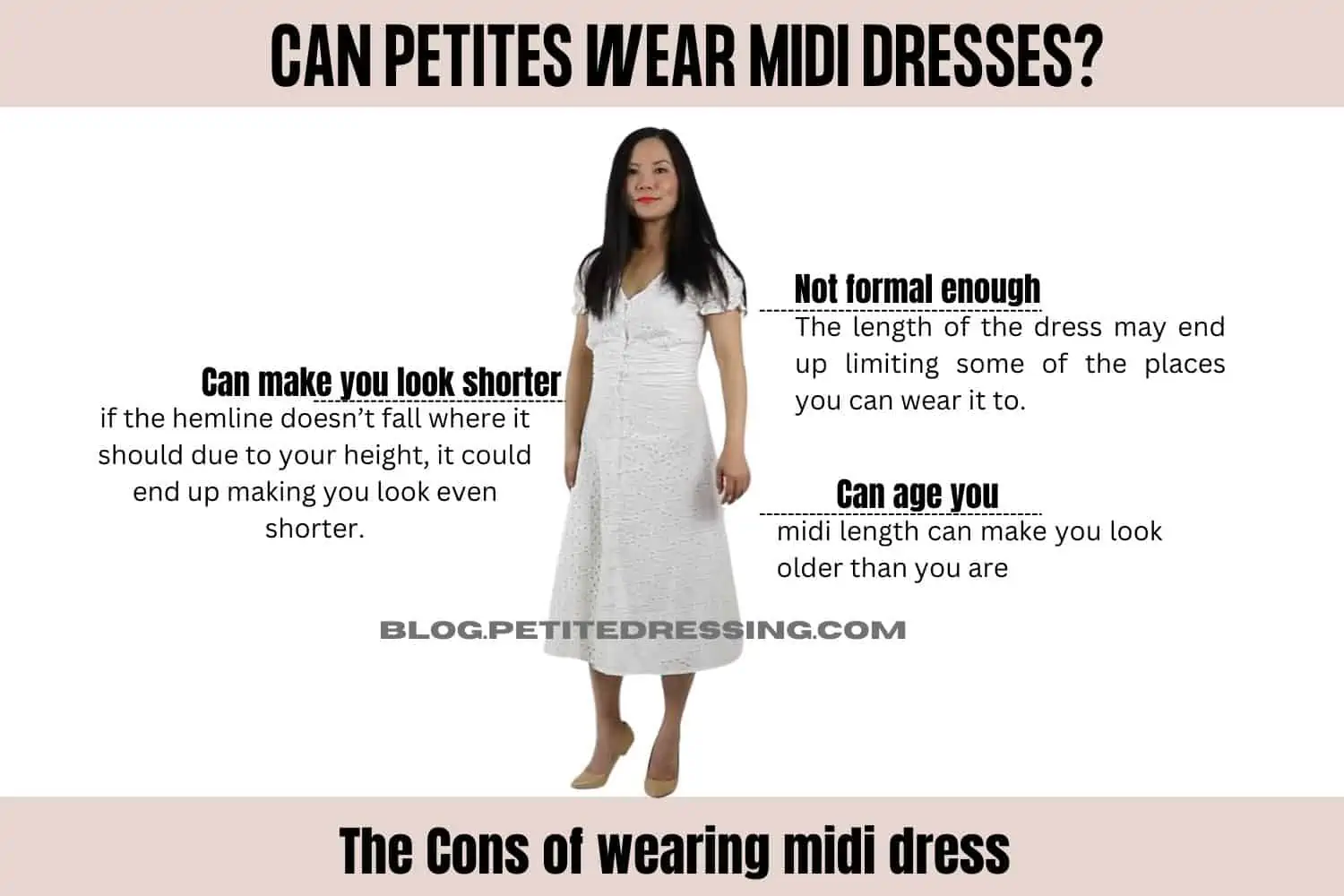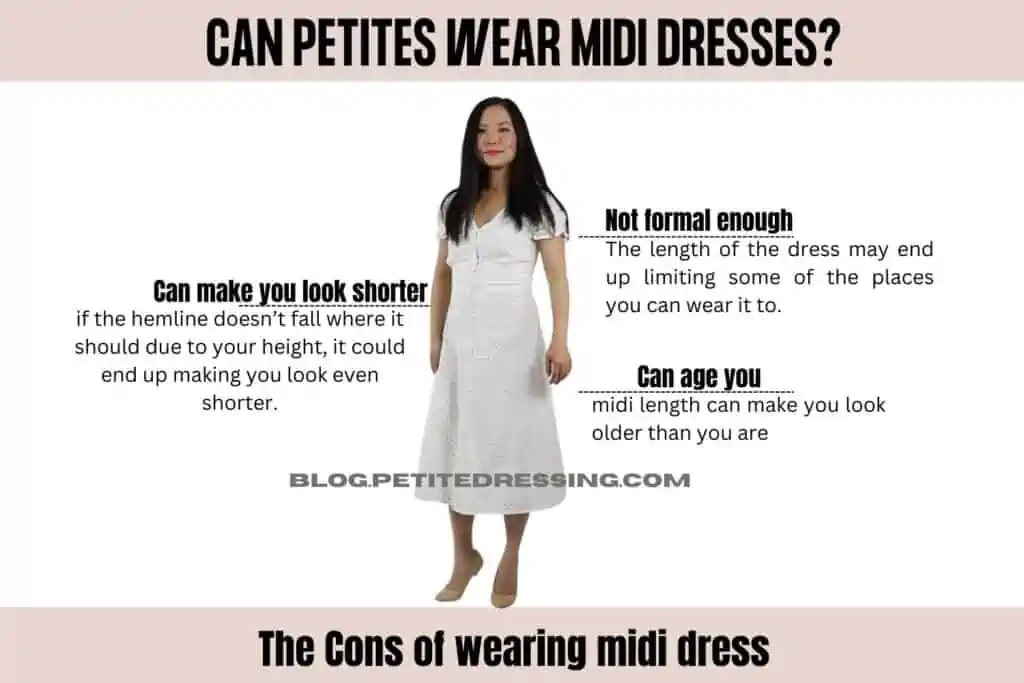 Can make you look shorter
As a petite woman, the awkward length of a midi dress can sometimes be the reason why shorter women avoid this style entirely. If the midi dress hemline doesn't fall where it should due to your height, it could end up making you look even shorter.
Also, if the midi dress falls directly at the middle of your calves, which is the thickest part, it could make your legs look thicker. This widening illusion will also shrink your height.
Can age you
Another big risk is midi length can make you look older than you are, compared with knee length or above the knee length
Not formal enough
The length of the dress may end up limiting some of the places you can wear it to.
Although a longer dress is typically seen as a formal option, it is not quite long enough to be appropriate for classier events. You can't pull off a midi dress at a white tie event.
Midi dresses can be an excellent dress choice if they are styled and worn correctly! Any petite woman can pull off a midi dress, and the following tips will assist you in the search for the perfect midi dress.
How to Style if you are Petite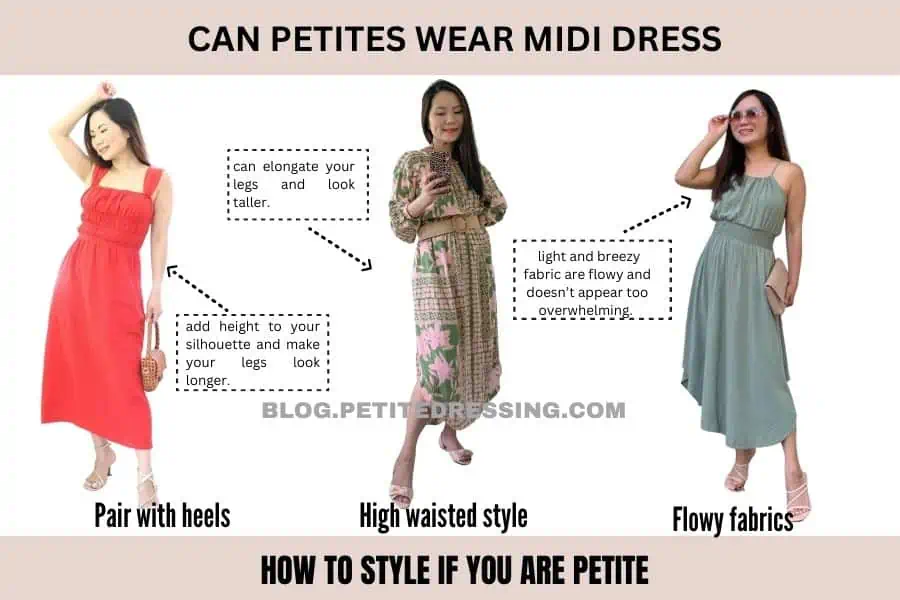 Pair with heels
Although you may want to avoid any major stilettos for this style of dress, a moderate pair of heels will complement the dress length nicely. The heels will, of course, add height to your silhouette and make your legs look longer.
This is a great way to combat the con of an awkward length. Since you are a petite woman, moderate heels will always help to add a little boost to an outfit that may make you look a little bit shorter than you are.
High waisted style
Longer dresses can have the issue of swallowing up a petite woman. In order to add some shape and fix this problem, you can add a belt to cinch the waist. The belt should be placed higher up on your waist so that you can elongate your legs and look taller.
It is important that the belt you add is not a thick belt. An extremely thick belt will take length away from your torso and then go against all of the other ways you were creating a taller body shape.
Flowy fabrics
When a petite woman wears a midi dress, the longer fabric can sometimes add more bulk and width to a woman, especially if she is petite. Try to opt for a midi dress that is made of a light and breezy fabric so that it flows and doesn't appear too overwhelming.
Slited midi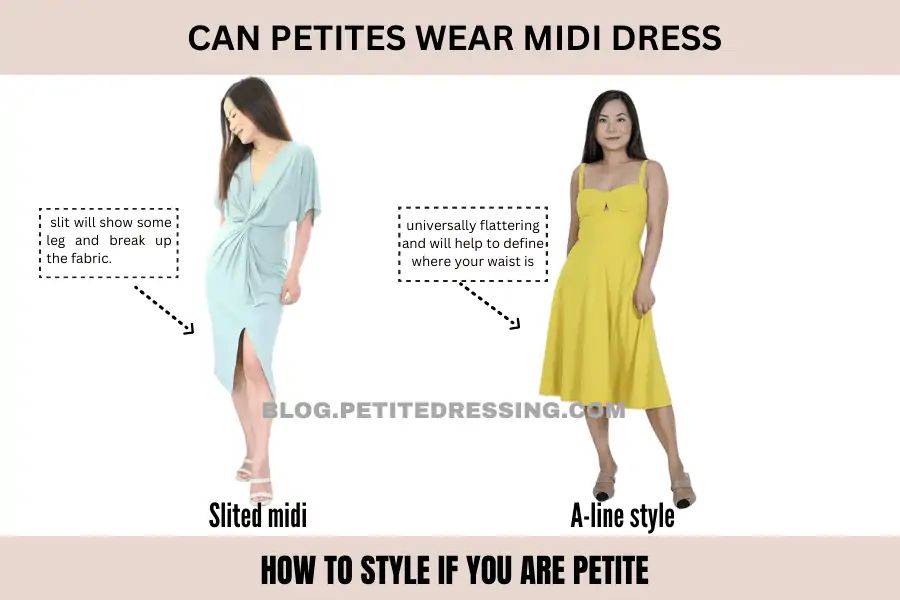 Since midi dresses cover most of your body, they have the potential to make it obvious that you are petite. In order to avoid this issue, you can choose a midi dress that has a slit. The slit will show some leg and break up the fabric.
The slit will also create more vertical lines in your outfit, which is essential for the column method. The column method is utilized to make yourself look taller than you actually are.
A-line style
An A-line midi dress will flare out at the waistline, which adds more shape to the dress. An A-line style is universally flattering and will help to define where your waist is. Since your waistline will be more cinched, the lower half of your body will look longer.