I've always been a die-hard fan of skinny jeans and they've been my go-to for years. But as fashion trends continue to evolve, I've come to realize that it's crucial to adapt and keep my beloved skinny jeans at the cutting edge of style.
The great news? With a few well-kept secrets and some clever hacks, your skinny jeans can not only stay relevant but also become a timeless staple in your wardrobe.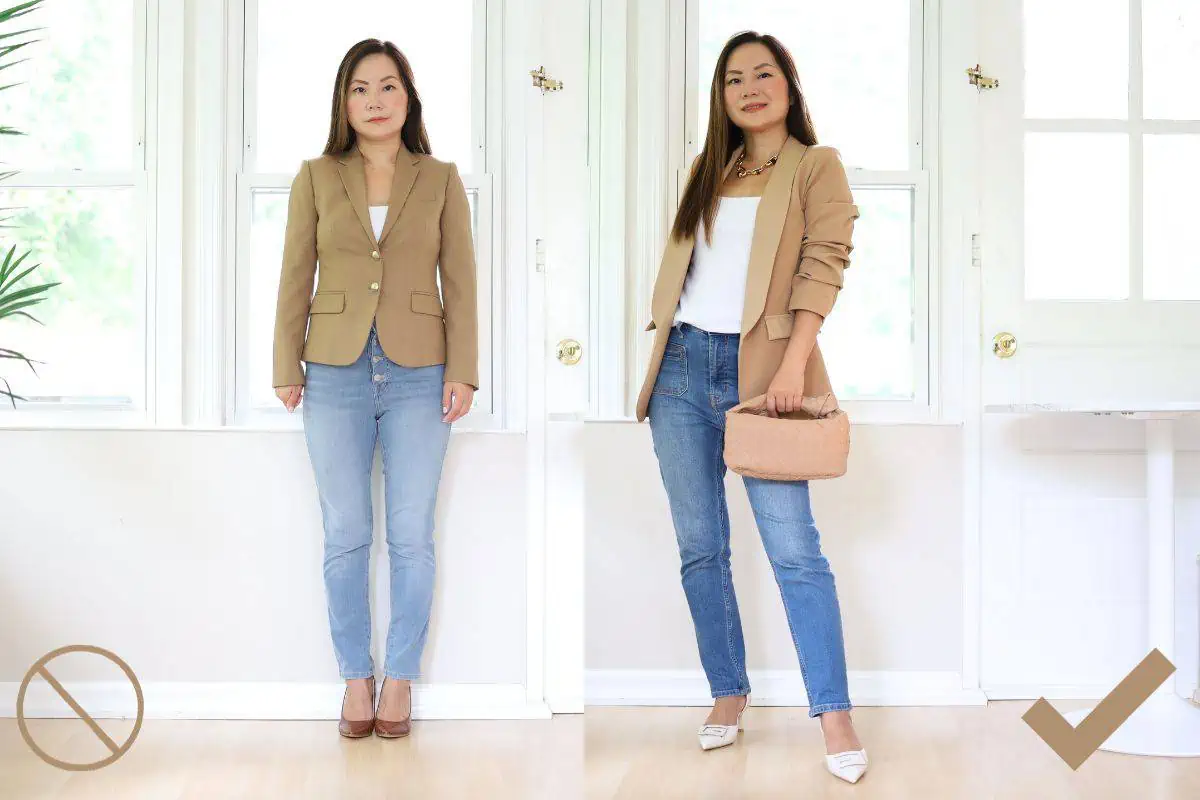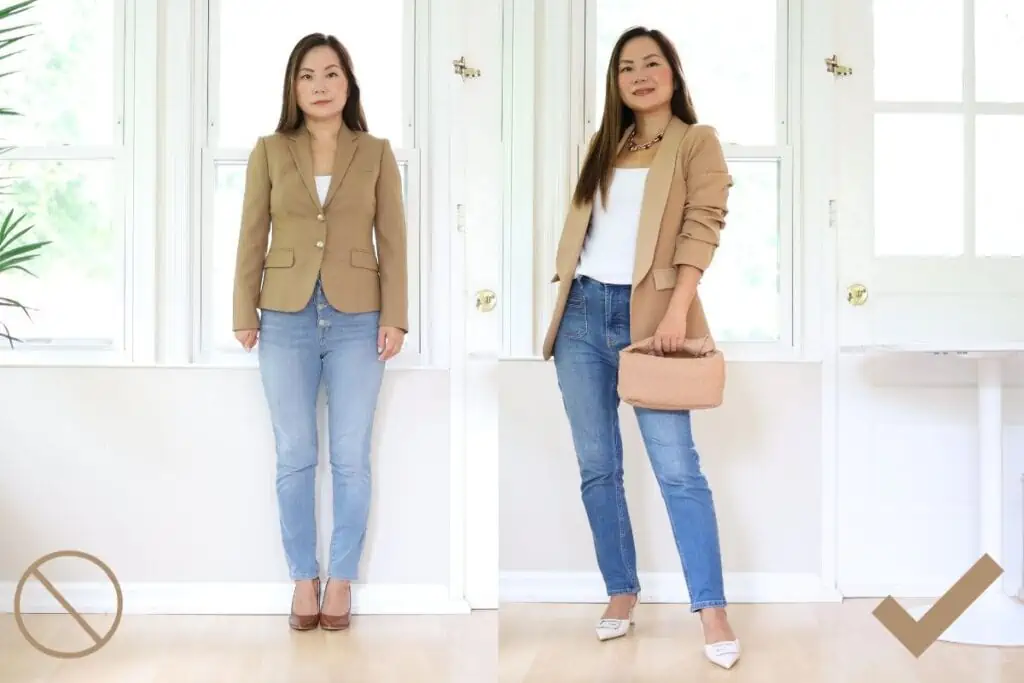 I am more than glad to guide you through these style secrets that will ensure your skinny jeans remain a go-to item in your closet. So, if you're curious about the latest trends and timeless hacks for donning skinny jeans with confidence and flair in 2024, keep reading to reveal how to make the most of this "seemingly outdated" piece!
Wear Crop-Length Tops
For petite ladies like me, it's crucial to strike a balance between the upper and lower body. Crop-length tops do just that by showing a bit of skin without being overly revealing; they help achieve a harmonious proportion, which is visually pleasing and stylish.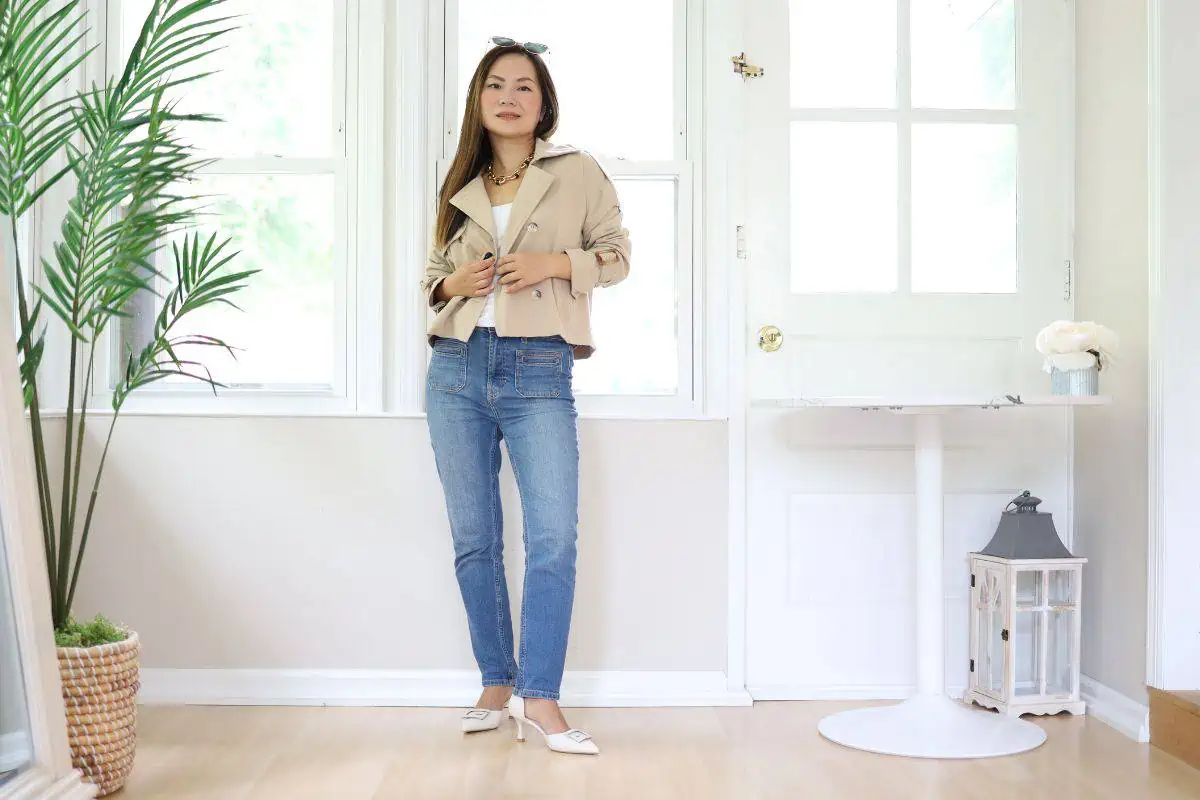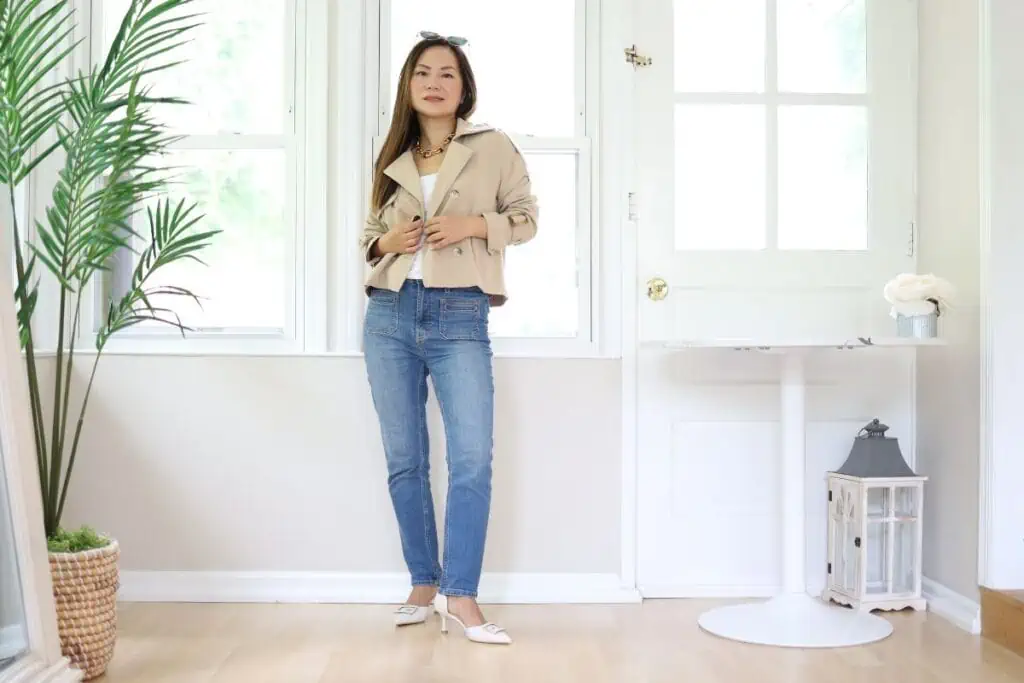 Skinny jeans, despite their seemingly uniform appearance, actually come in a vast array of styles. Take, for example, the majority of the pairs I own—they're ultra-skinny, wrapping around my curves tightly.
When it comes to these ultra-sleek skinny jeans, I like to think of them as close cousins to leggings. But here's the golden rule to remember when wearing them: Steer clear of overly short tops.
Caution with anything too short
Allow me to explain – I stand at 5'2", and I've often been tempted to wear shorter tops, with the primary objective of elongating my legs. However, I've observed that overly short tops can lead to a fashion fiasco, especially if you, like many of us, carry a little extra weight around your midsection.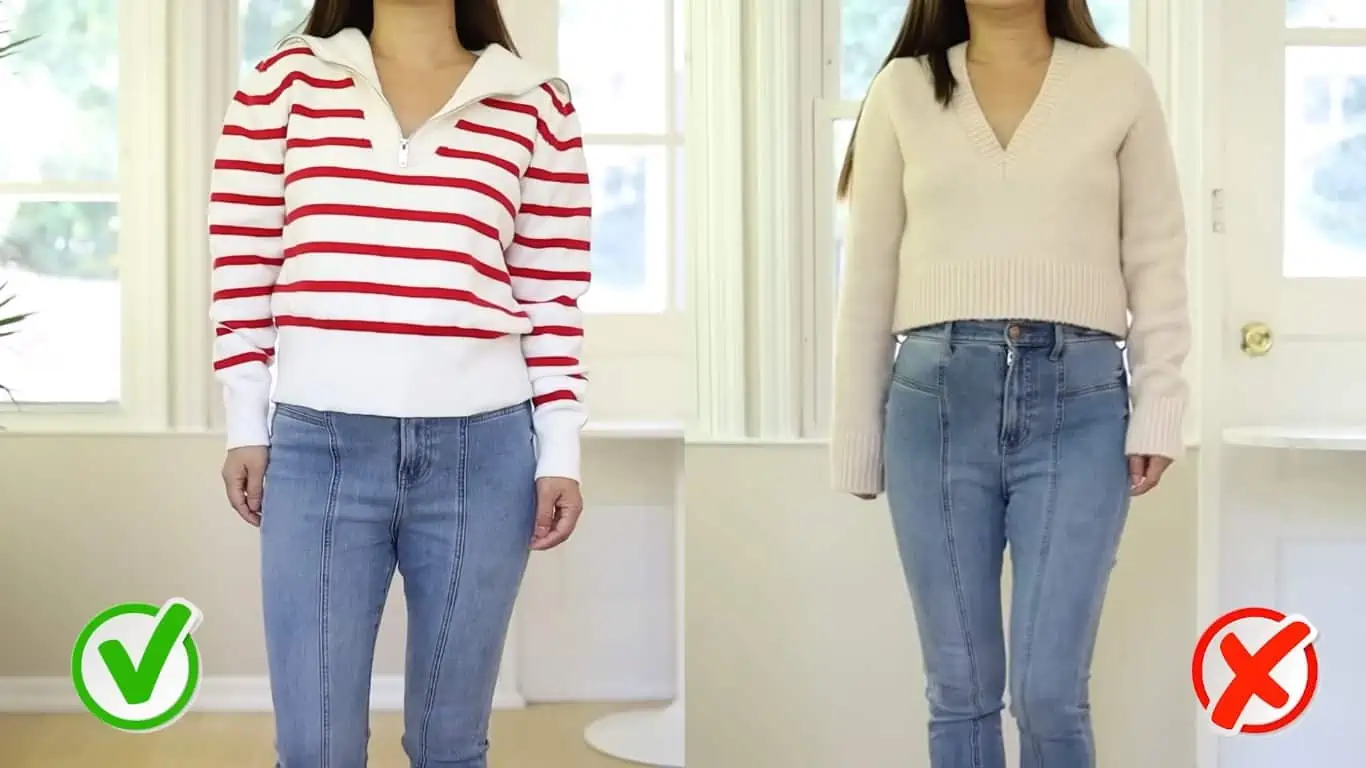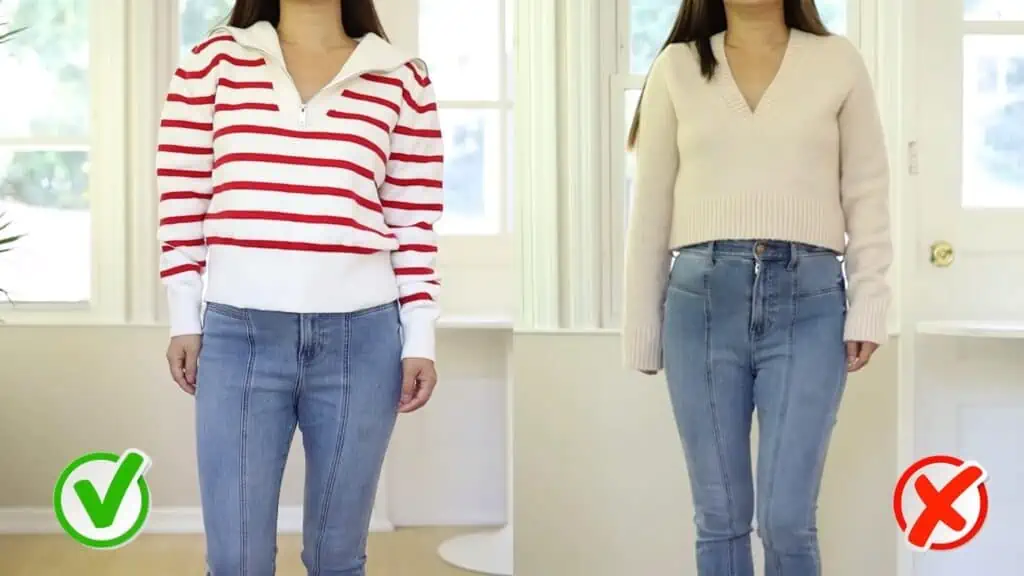 And let's face it, that's a lot of us! Hence, to strike the perfect balance, you have to opt for tops with just the right amount of length to cover your waist level – always go for crop-length tops! They create the illusion of longer legs without exposing your stomach, and it's a game-changer, trust me.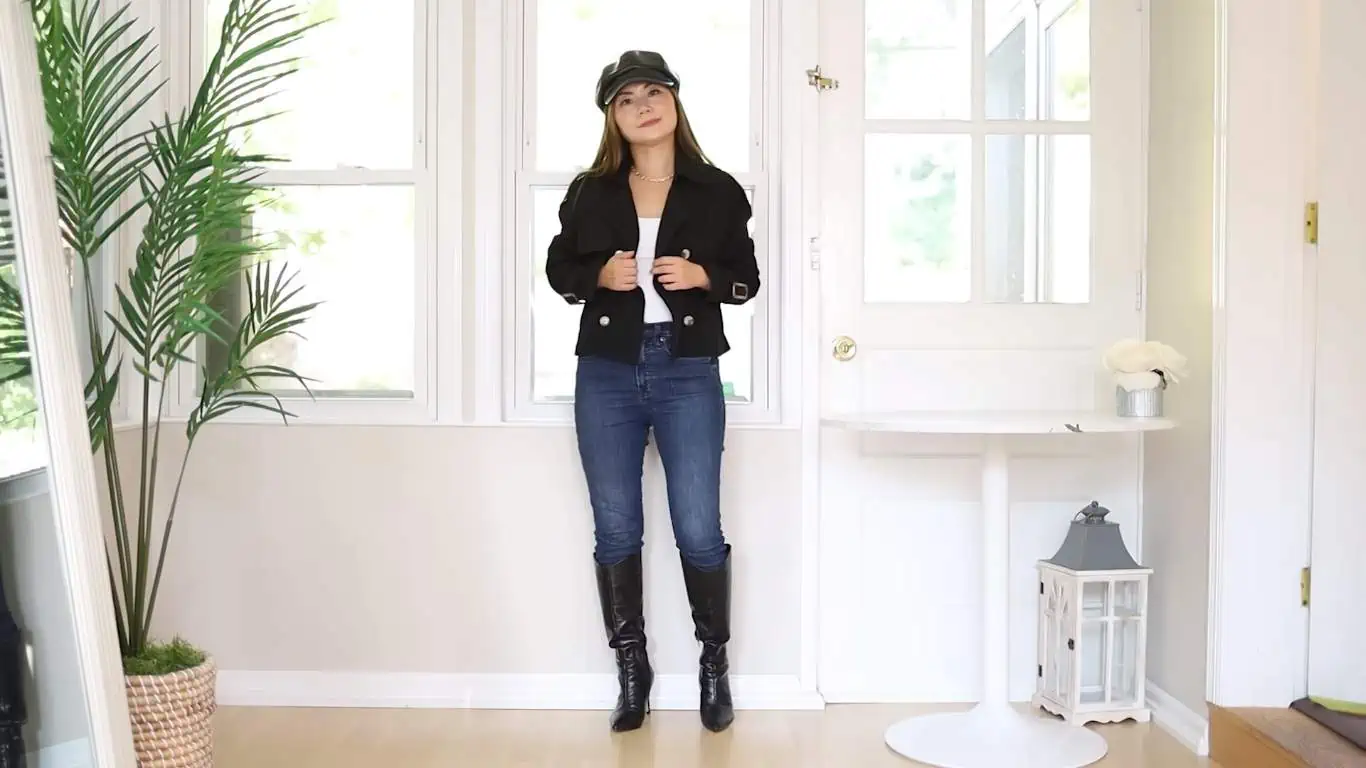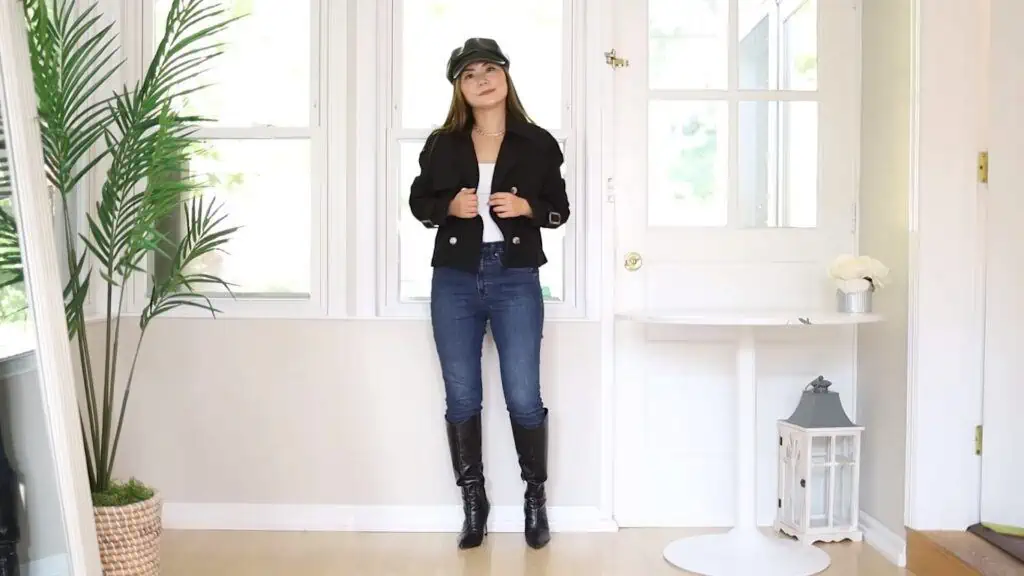 To make sure that you're achieving a flattering look, especially for those with a shorter stature, it's essential that the crop-length tops offer enough coverage for the midsection. Exposing the belly can create an unbalanced and less elegant silhouette.
Wear Long Blazers
Let's uncover one of the key secrets to immediately elevating your skinny jeans look – pair them with a longer blazer. You see, long and oversized jackets have been all the rage for quite some time.
Yet, as someone on the shorter side, I've had to adapt the trend to suit my frame. Rather than going wide with a Daddy blazer that's both broad and lengthy, I've opted for a longer but more streamlined blazer.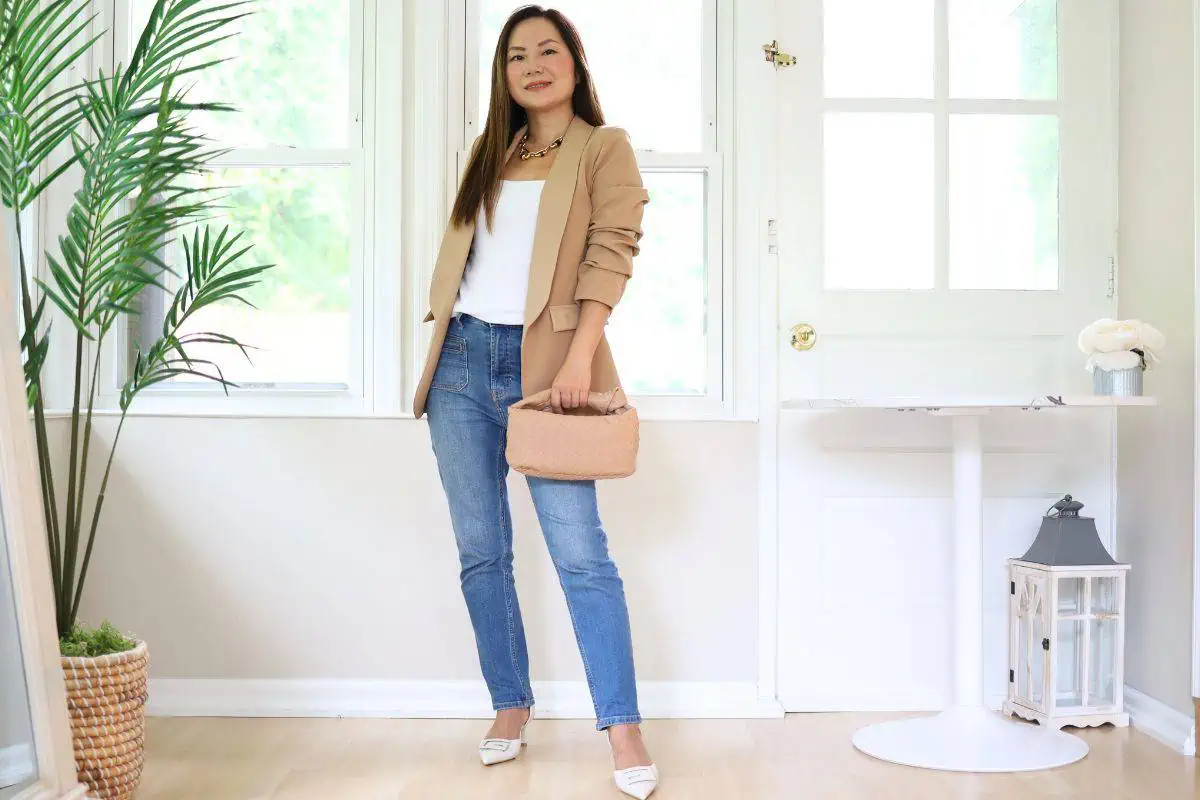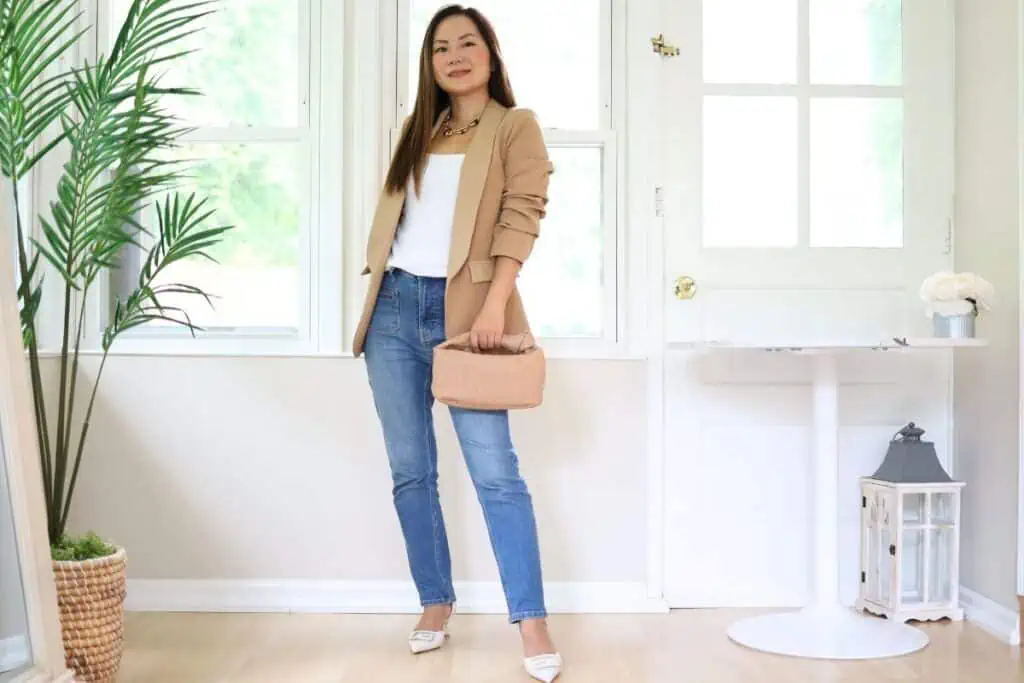 This simple switch not only gives my outfit an instant upgrade but also offers a more flattering fit. This is especially suitable for those of us who might carry a little extra weight in the hip area.
Moreover, one other reason why long blazers are an exceptional pick is that they instantly elevate your entire look and add an element of sophistication that's hard to match. When I put on a long blazer with my skinny jeans, I feel like I'm ready to conquer the world with my elongated frame – it's a powerful confidence booster!
Wear Denim Blazers
For those feeling adventurous and looking to infuse a touch of edge into their skinny jeans style, here's a winning outfit idea: denim on denim. It's a bold move, but it screams style!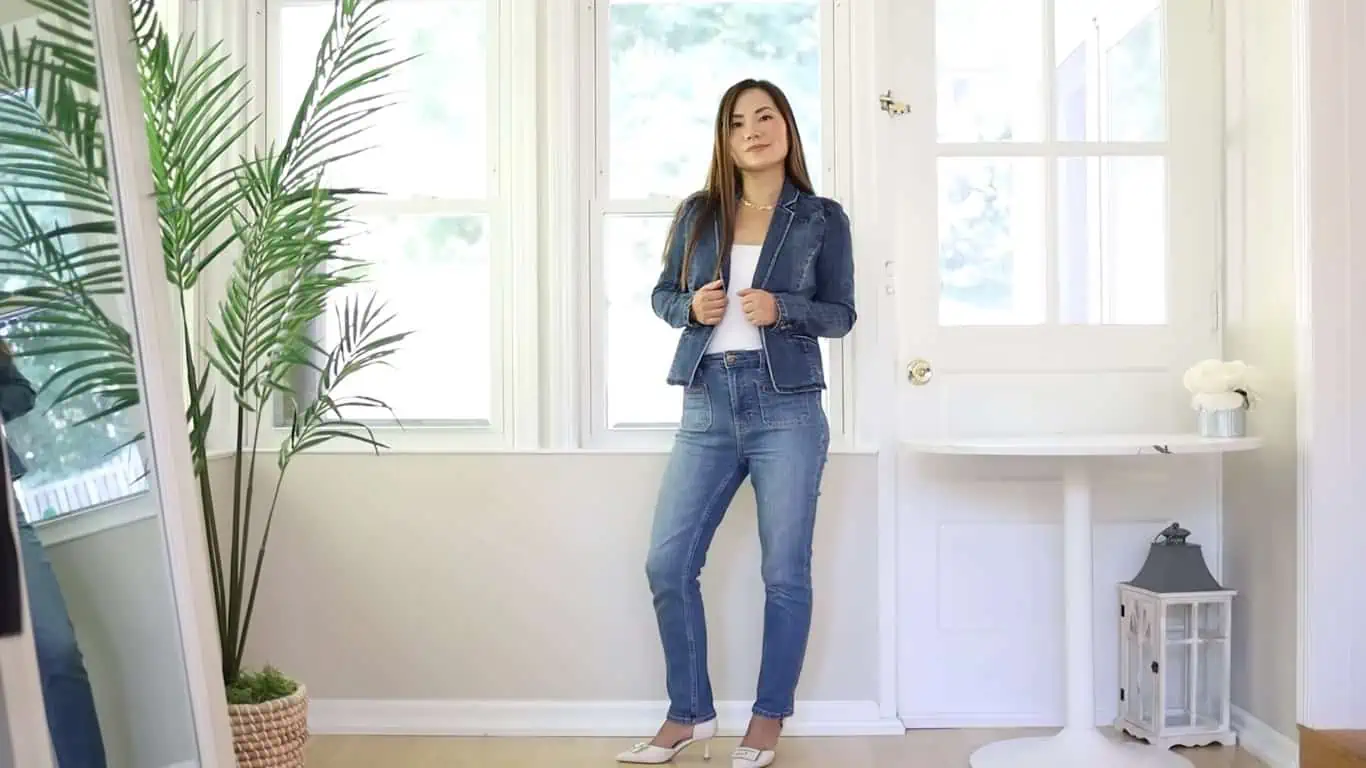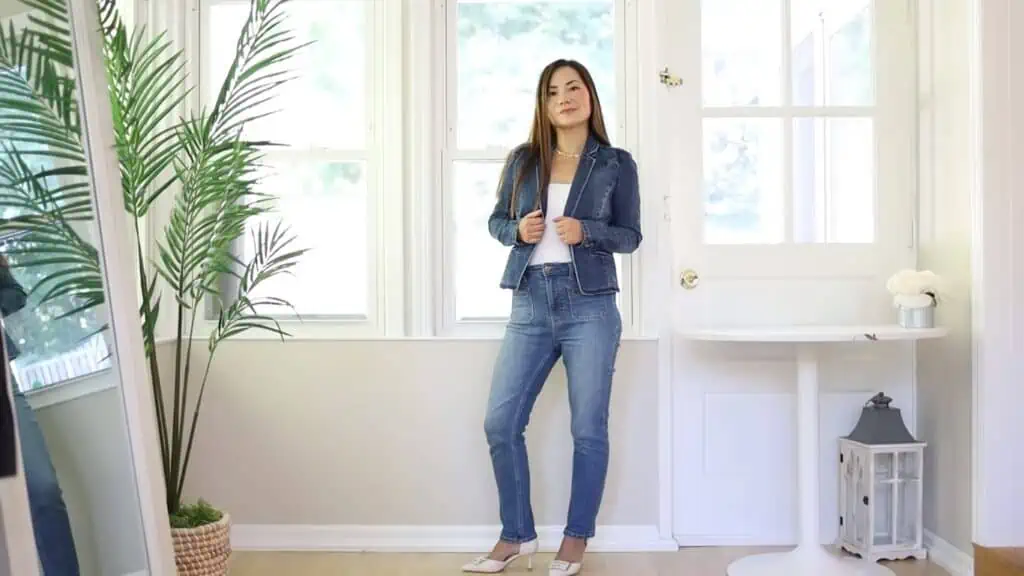 Denim blazers and denim skinny jeans can create a harmonious and striking outfit – the key is to ensure that the shades of denim complement each other. You want them to be similar but not overly identical, allowing for minimal contrast while maintaining that denim-on-denim charm.
I just love how the structured charm of denim blazers helps shape a super sleek silhouette; when you pair them up with those snug-fitting skinny jeans, it's like a match made in style heaven. This combo not only highlights your body's natural curves but also gives you that long and lean look.
Wear Chunky Knit Sweaters
Chunky knit sweaters are a paradigm shift when it comes to elevating your skinny jeans game, and the reasons go beyond just style. Skinny jeans are all about a snug fit; they hug your curves and define your lower body beautifully.
However, to create a well-balanced look, you need some volume up top, and this is where chunky knit sweaters really shine; they bring in that extra coziness and help create a nice balance with skinny jeans, so your outfit doesn't end up looking too top-heavy. It's all about finding that perfect harmony!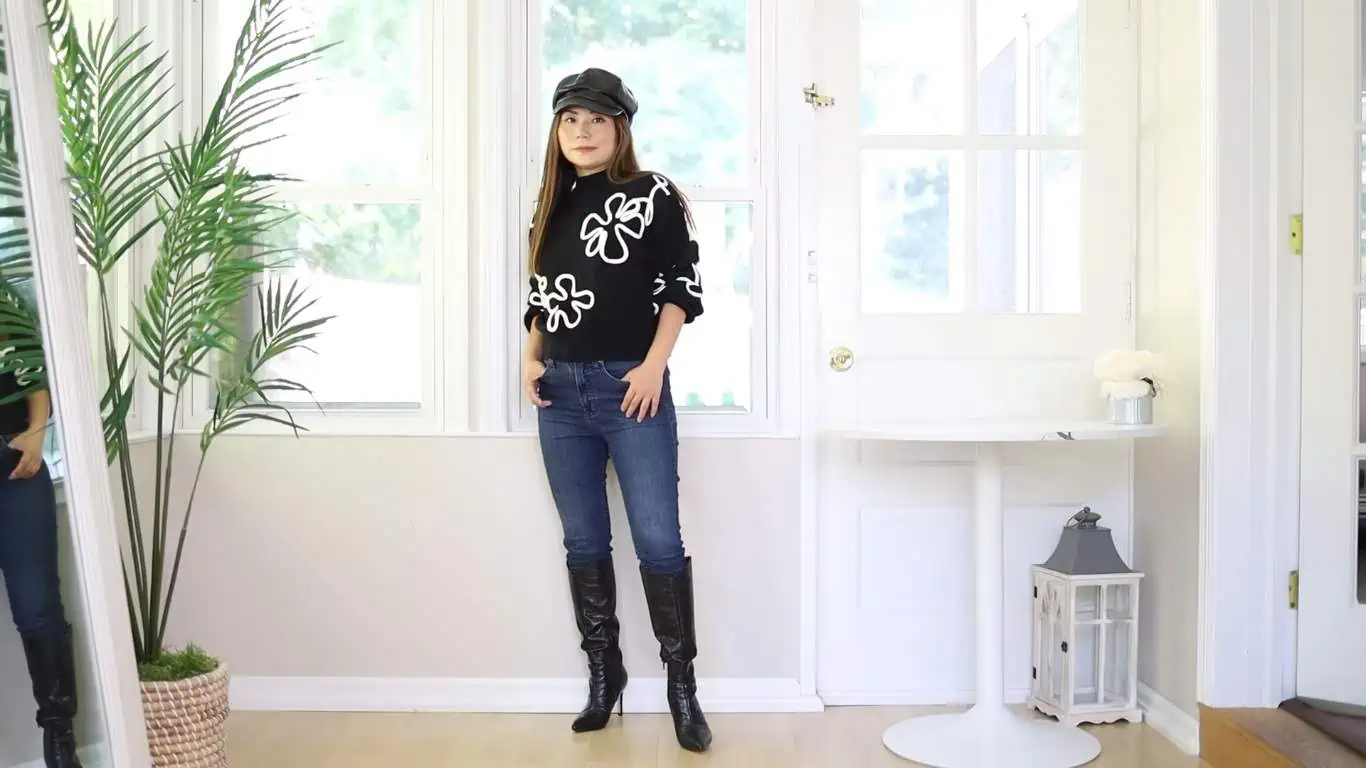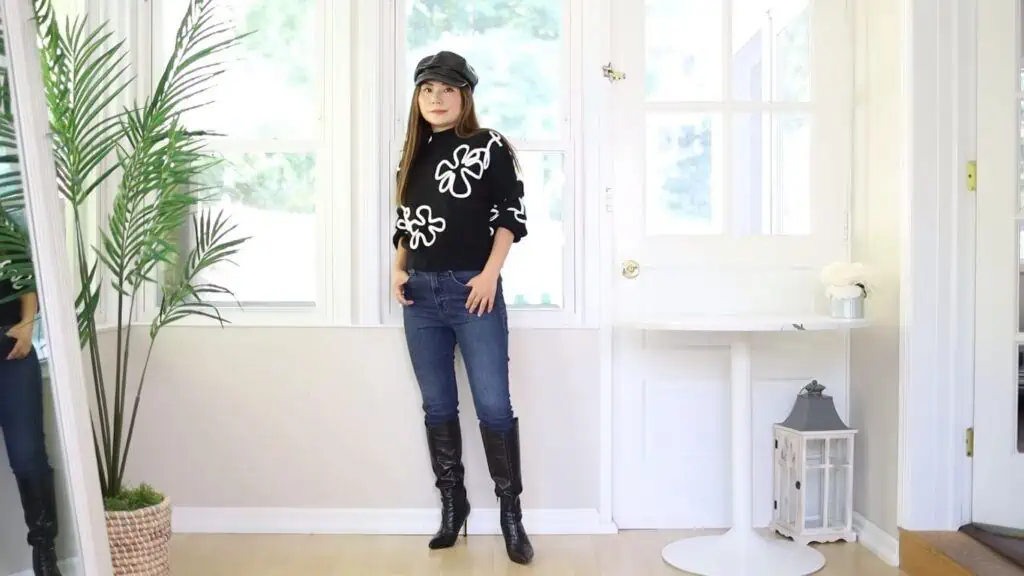 Avoid Tight Tops
Skinny jeans are known for their snug fit, hugging your legs closely; however, when you pair them with a tight-fitting top, it can sometimes lead to an unbalanced and not-so-flattering appearance. Your silhouette might end up looking a bit top-heavy, which isn't ideal for various body shapes.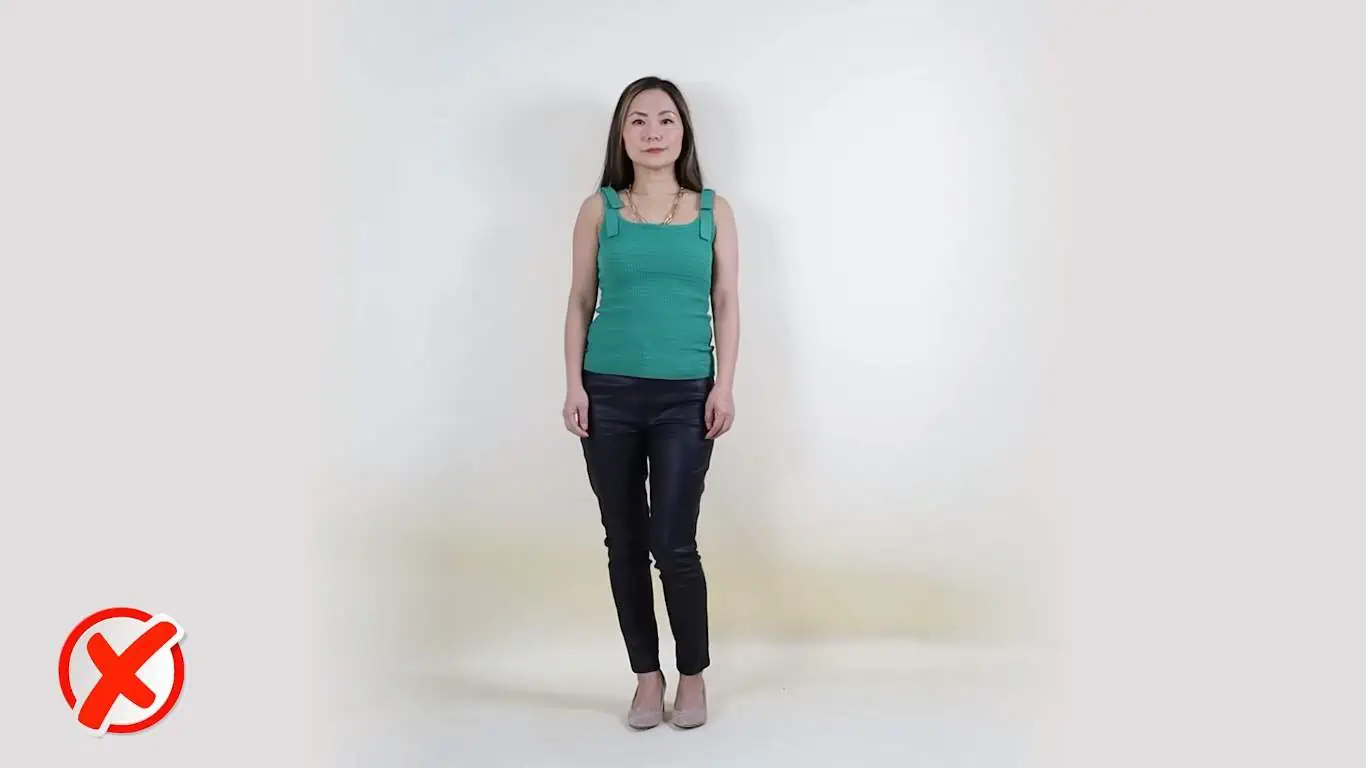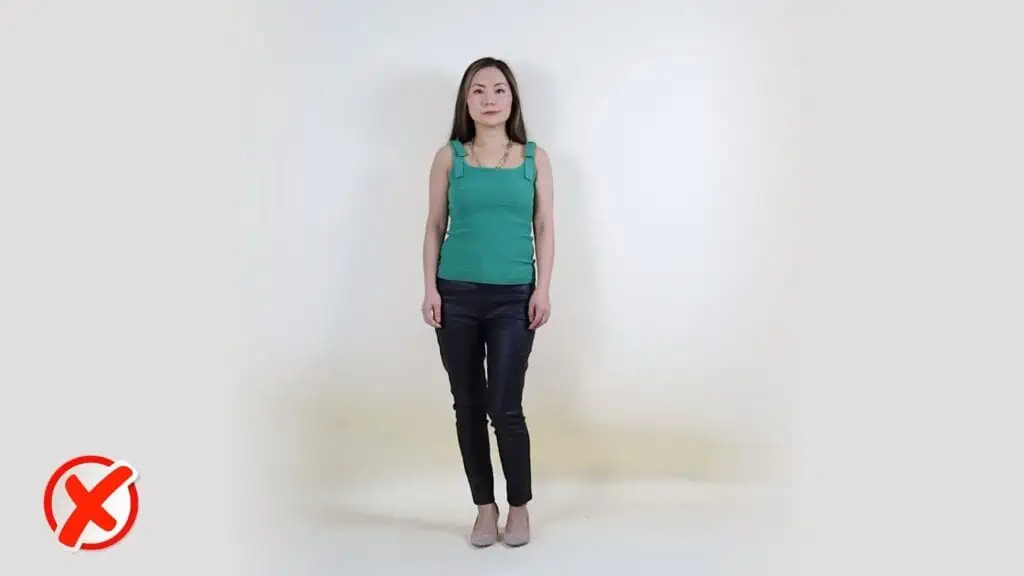 Speaking of balance, one of the golden rules when it comes to skinny jeans is the importance of volume. Always avoid the temptation to pair tight tops with your skinny jeans; it's a recipe for both an out-of-proportion look and a lack of comfort!
Instead, opt for tops that have a bit of volume. Such tops such as chunky knit sweaters are bigger and create the ideal counterbalance to the sleek fit of skinny jeans.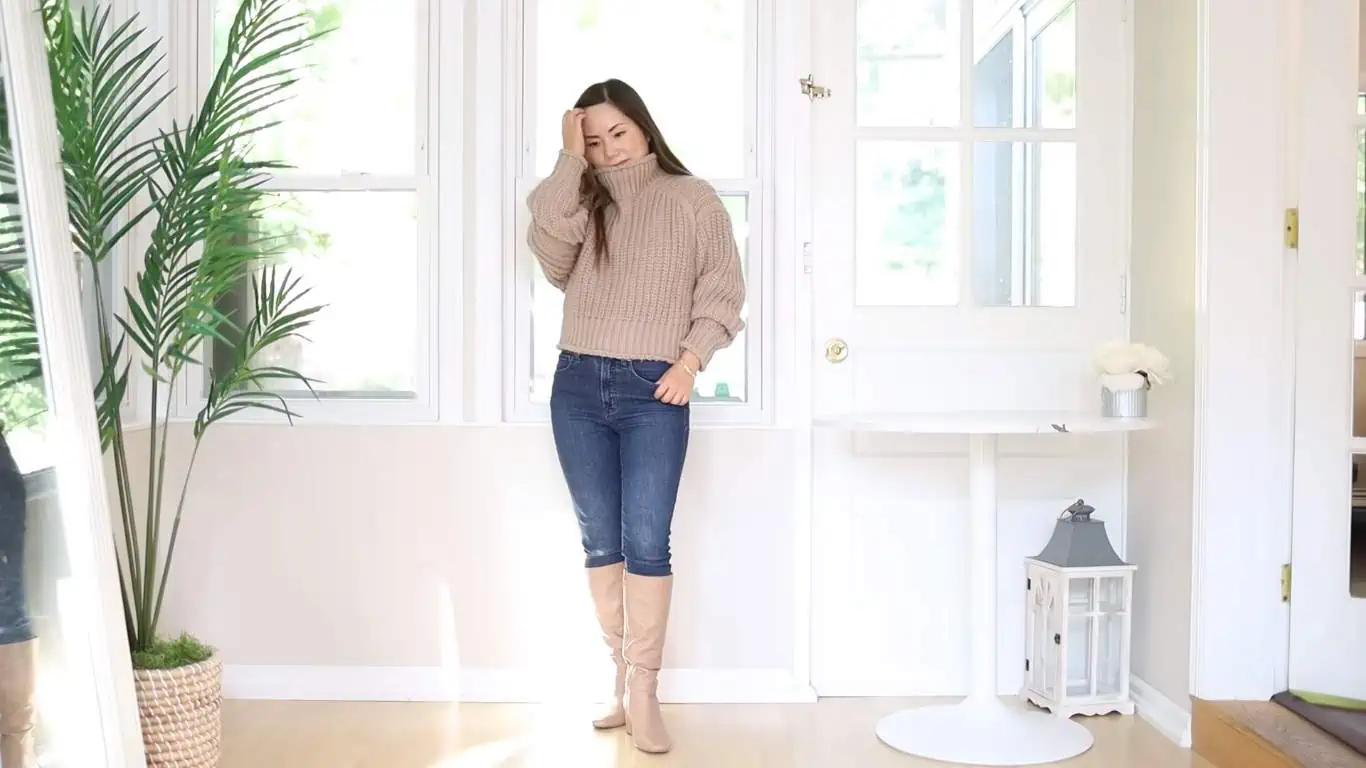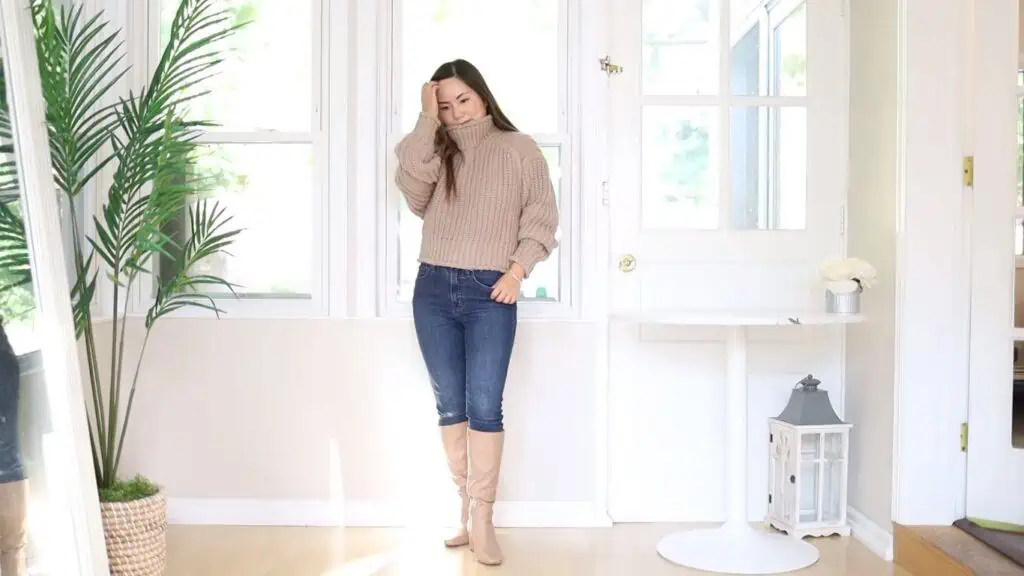 Here's a pro tip – if the sweater is already wide, ensure it's not too long. The goal is to have it sit above your hips, striking that perfect balance that won't overwhelm you, particularly if you're on the petite side like myself.
Wear Peplum Tops
Here's another style savior for skinny jeans – peplum tops. These are absolute heaven-sent pieces as they feature a little extra fabric that flares out, providing a lovely skirt-like effect that covers your tummy without causing any self-consciousness.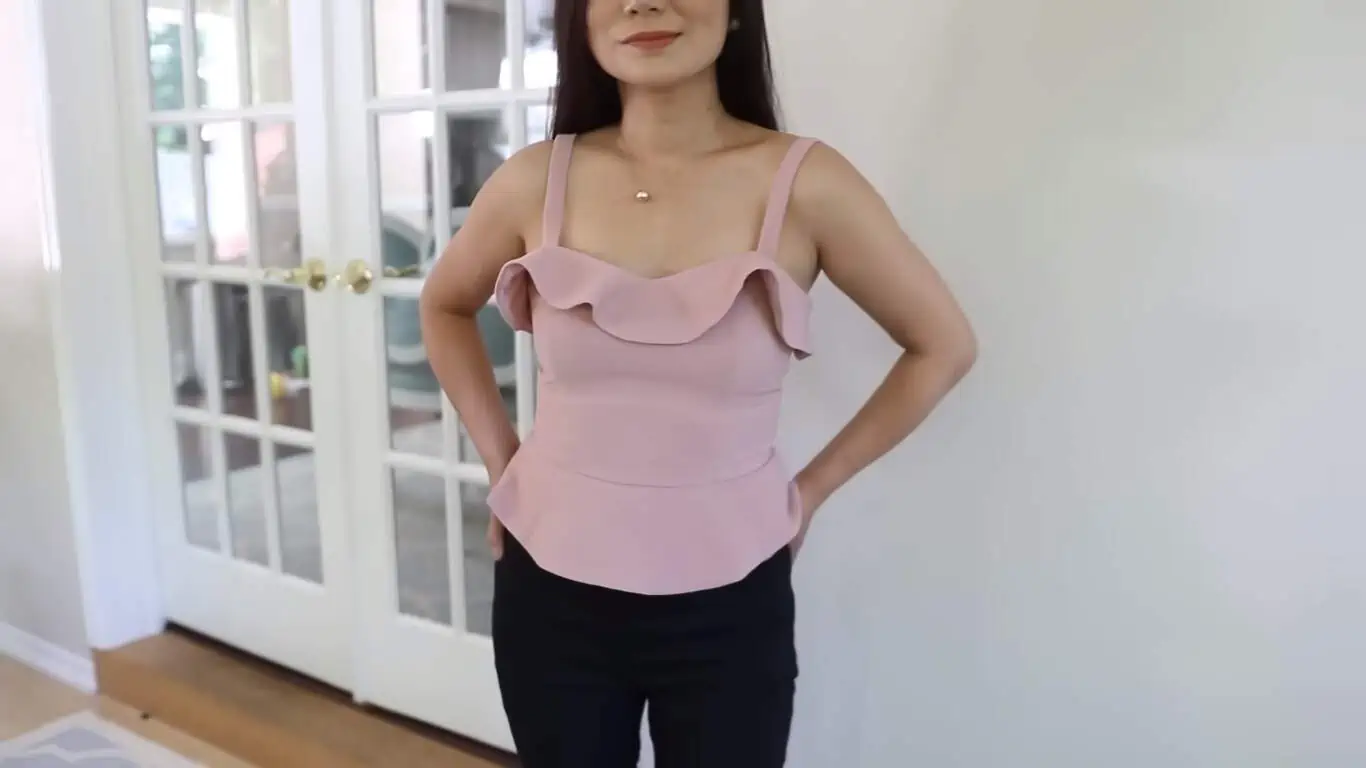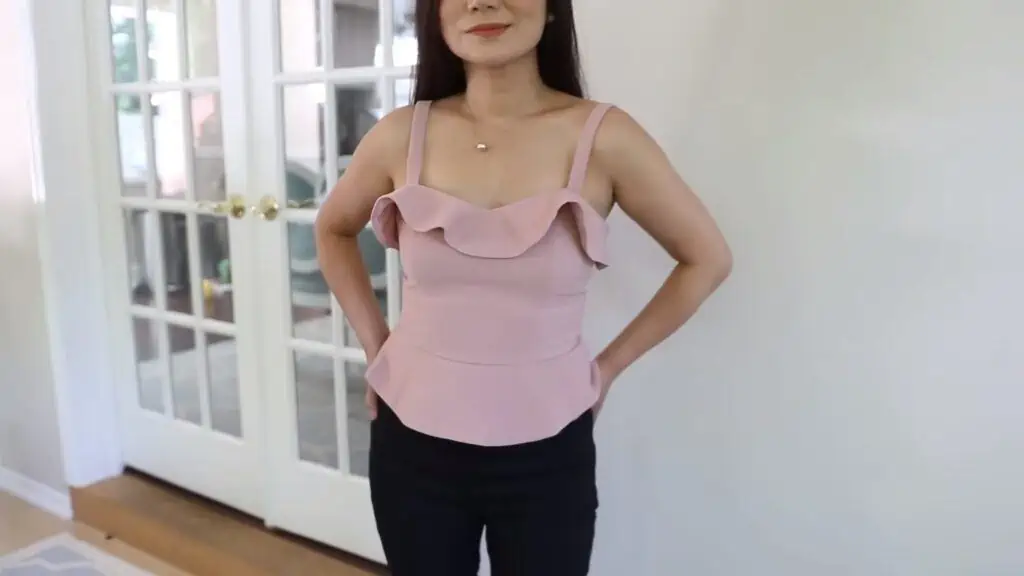 Peplum tops are basically like a little extra fabric miracle around your waist. They create a subtle flared effect, kind of like a mini skirt, which beautifully covers your tummy without making you feel self-conscious.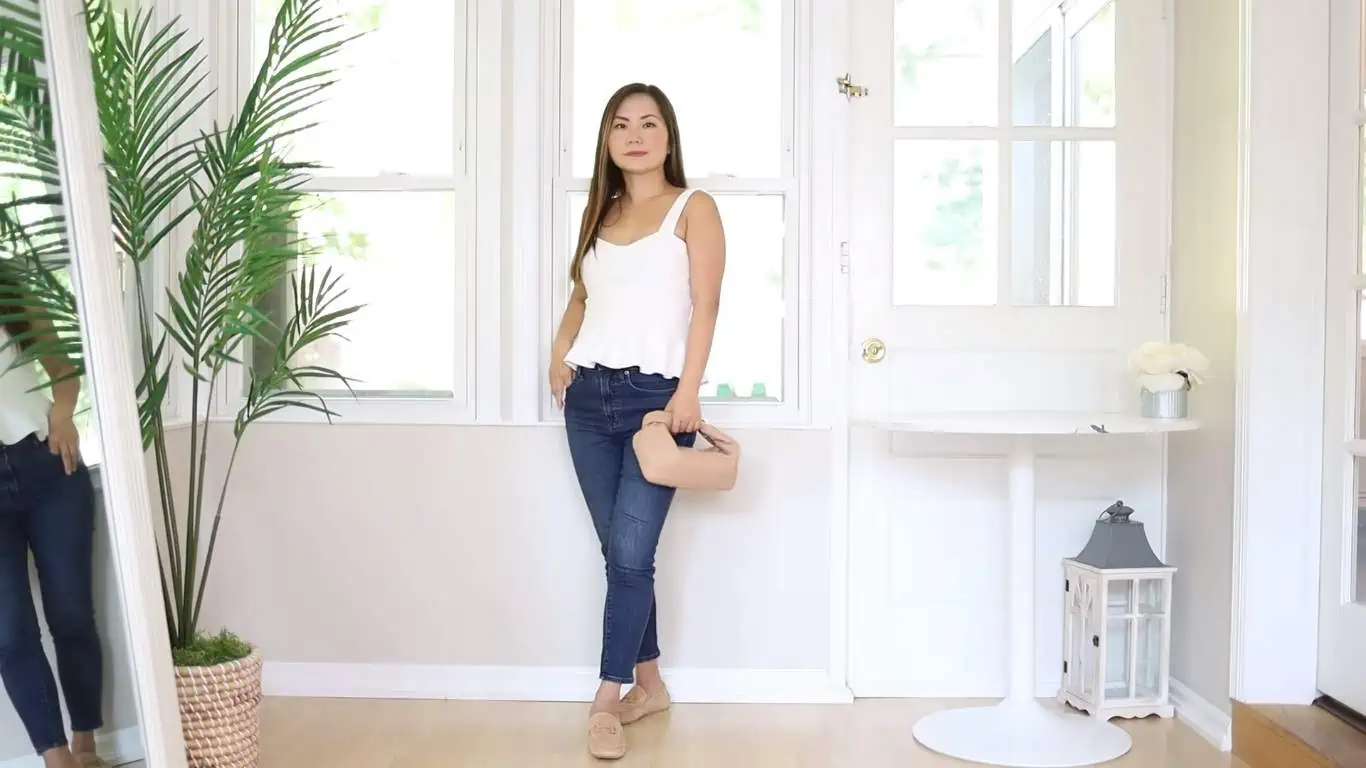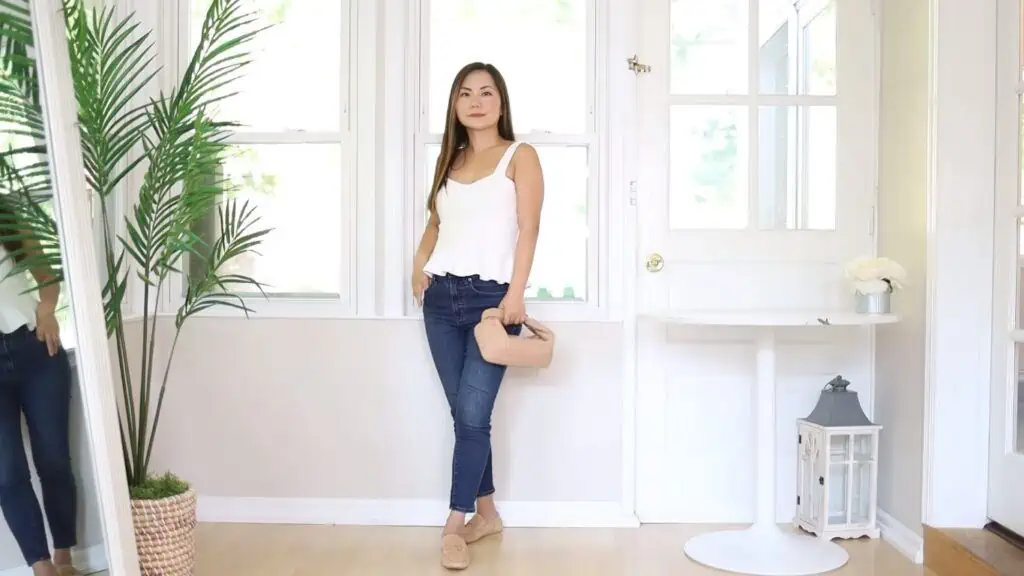 Here's the exciting part: peplum tops are making a stylish comeback this season, and they're popping up in all sorts of designs and styles, injecting a breath of fresh air into your wardrobe. It's a great time to explore these trendy options!
Wear Light-Colored Boots
Light-colored boots are like a style jackpot, especially when you're working with light-colored skinny jeans.
The beauty of light-colored boots is that they create a seamless transition from your jeans to your footwear. This uninterrupted line gives the impression of elongated legs, which is a fabulous bonus, especially if you're on the shorter side like me.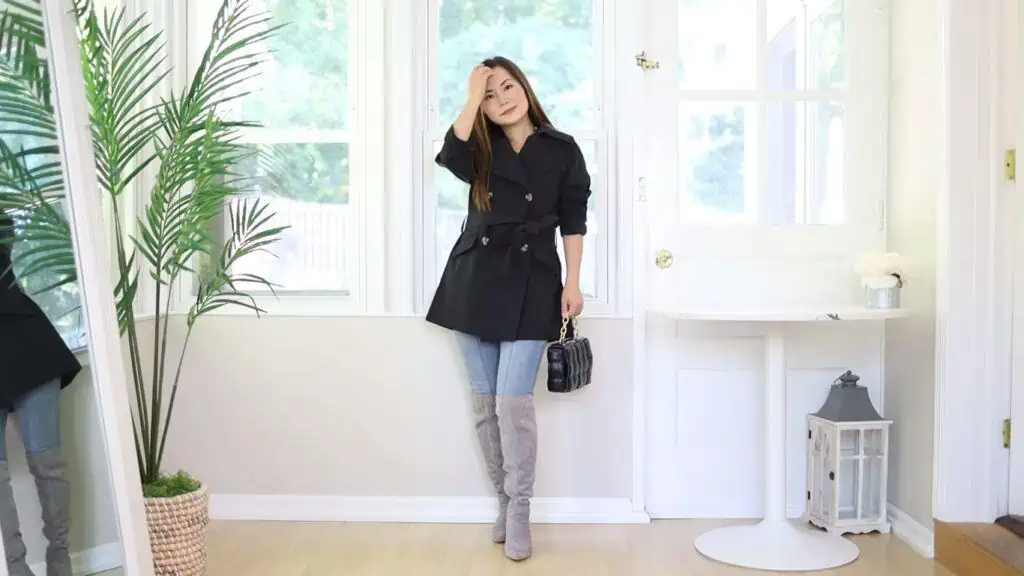 One of the most prevalent blunders I've observed is the pairing of light denim with dark boots. I've been guilty of this in the past, mainly because, during the colder months, most of my go-to boots are black.
Even so, here's the catch: this typical combination creates a stark contrast, which can be unflattering, especially if you're on the shorter side. It visually cuts your legs in half, which isn't the desired effect.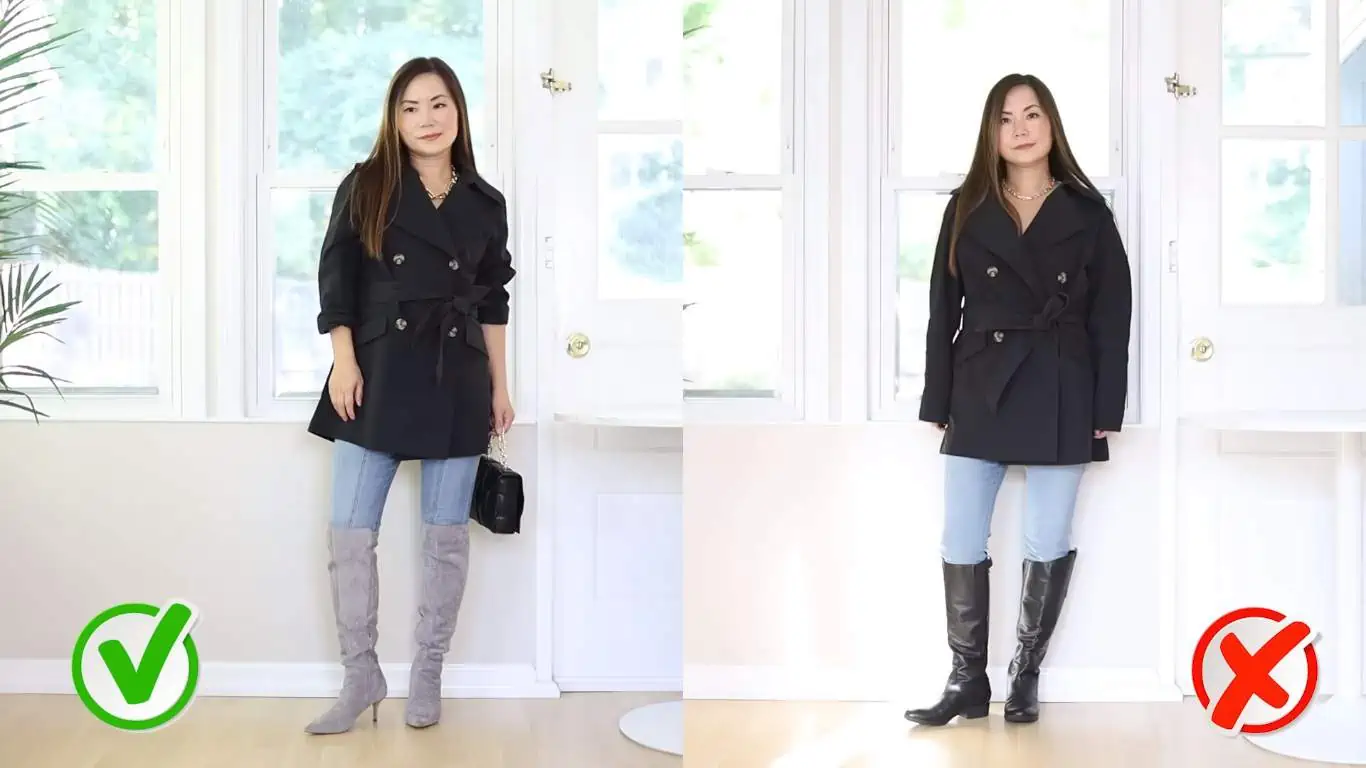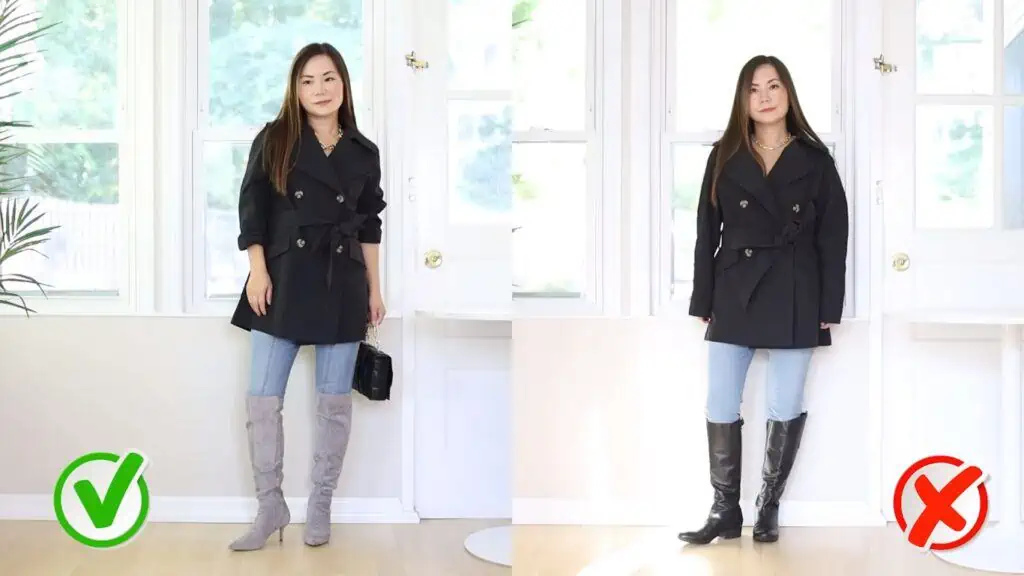 After some trial and error, I've discovered that light-colored boots, particularly light gray boots, are the best match for lighter skinny jeans. The key is to maintain a harmonious color palette that elongates your legs rather than truncating them – it's merely a simple change that works wonders!
Wear ankle length
Your choice of length is critical, especially if you're like me who's short. Skinny jeans don't flare out at the bottom so this makes the space to accommodate your shoes quite limited.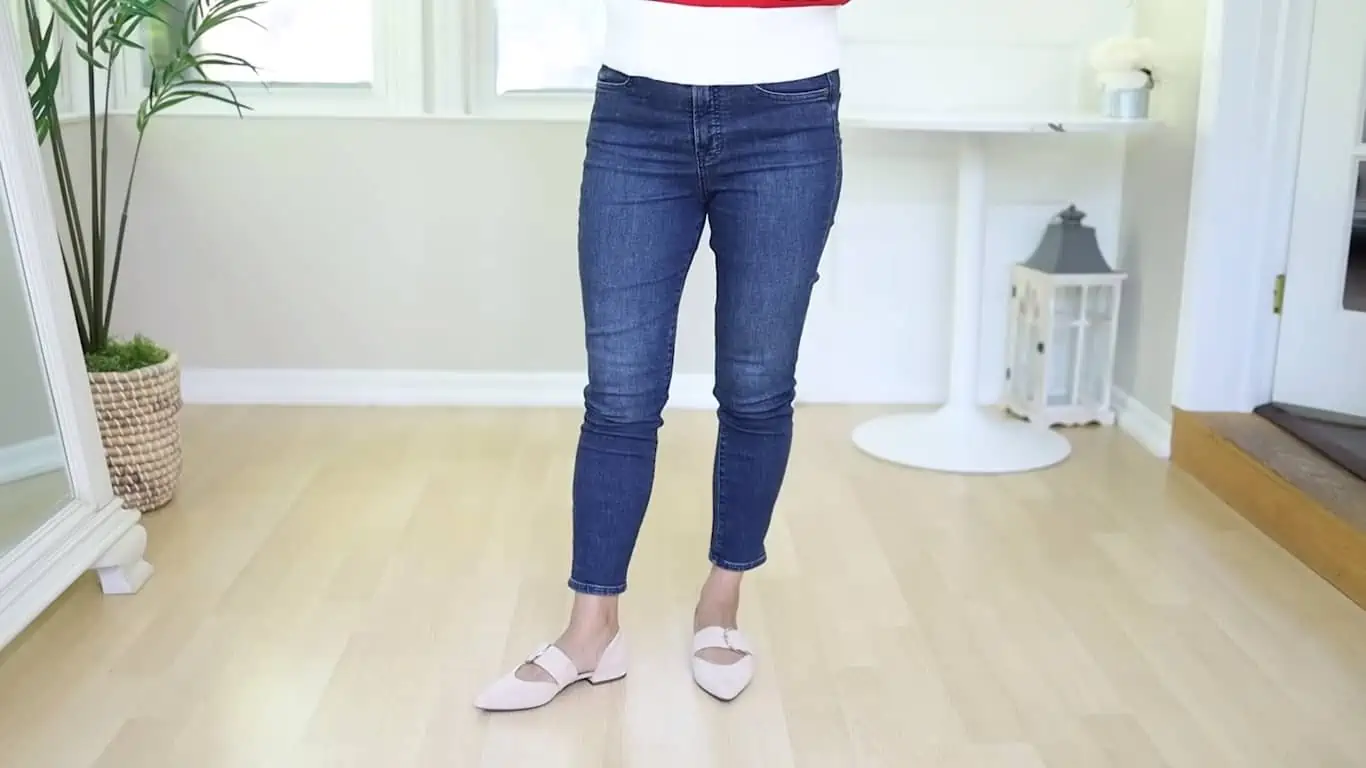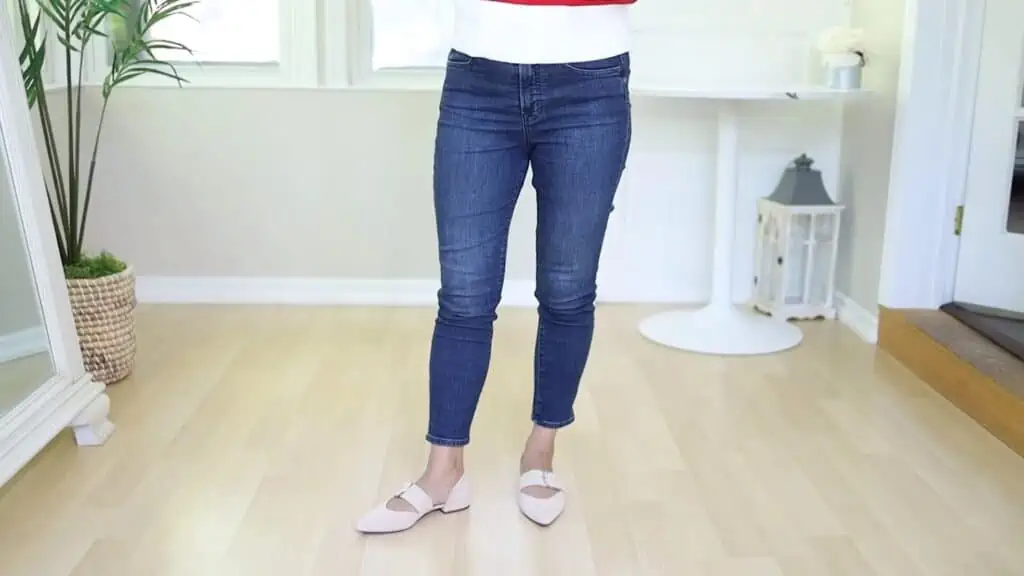 When your skinny jeans are too long, this can clash with your shoes, especially those that come in higher heights like ankle boots or booties. In cases like this, you can still wear your long skinny jeans but just roll them up so that they won't create unflattering creases when they get in contact with your booties.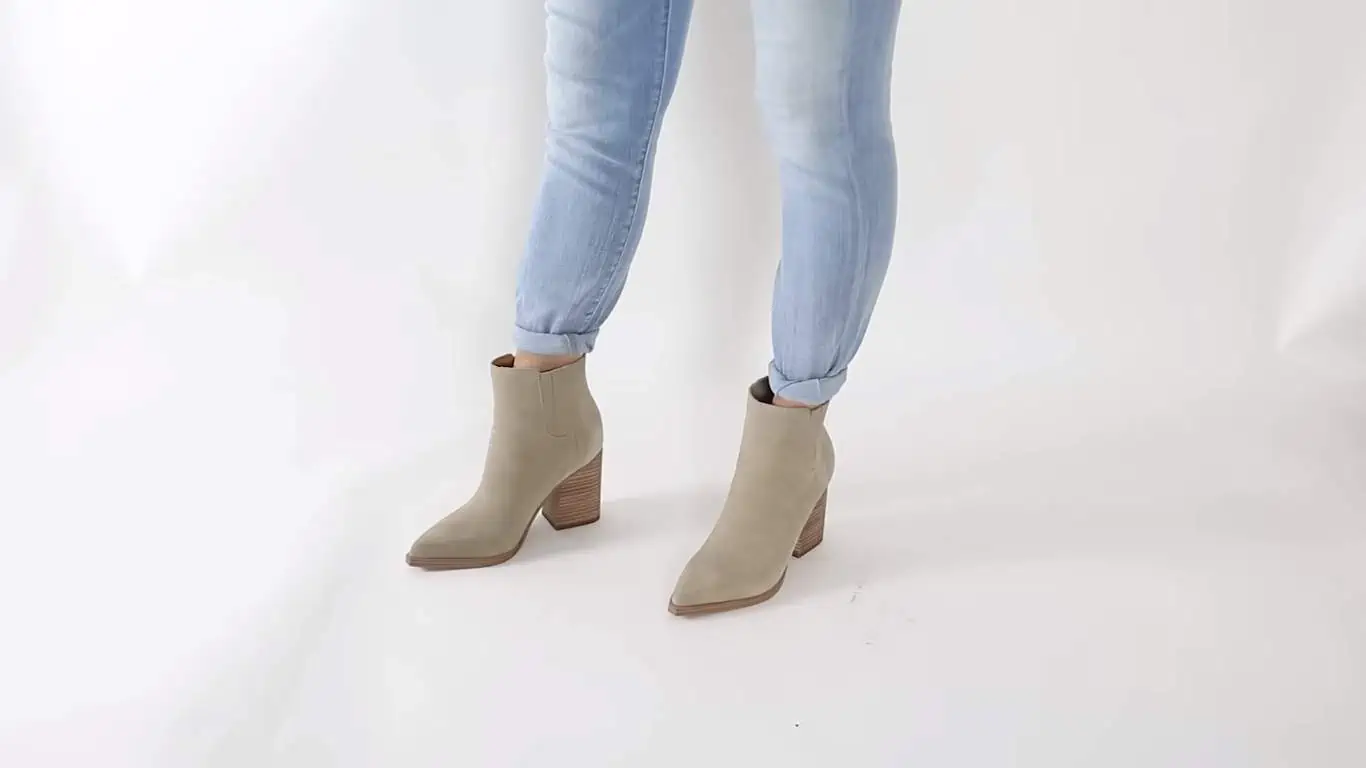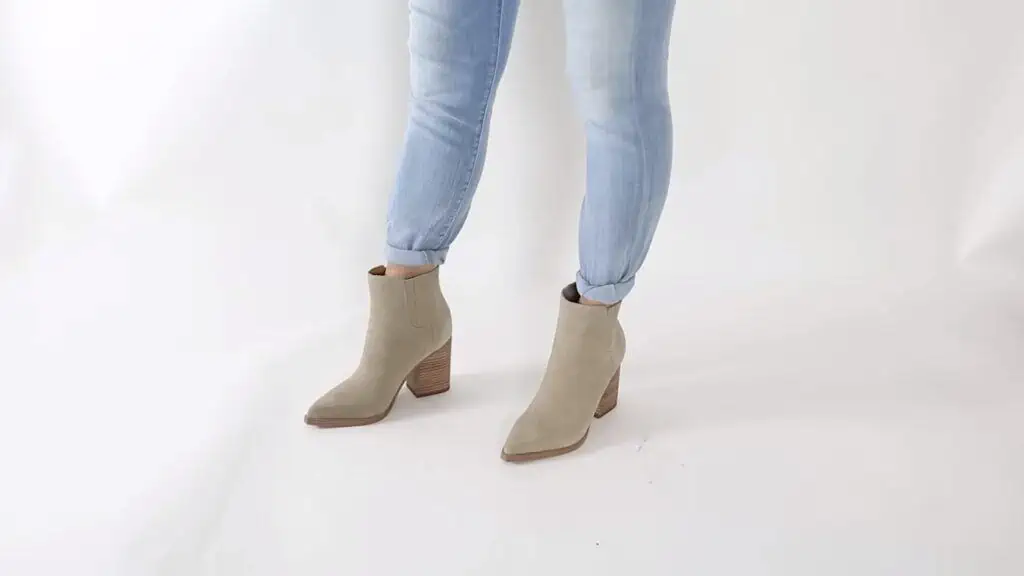 In order for your skinny jeans to not bunch up over your shoes, go for the ones that come in a slightly shorter length. I highly suggest you go for skinny jeans that hit just slightly above your ankle to make sure you can wear them flawlessly with pretty much any type of shoes – even flats or booties!